I posted the conclusion to my Full Circle Japan autumn tour already but want to follow up with few things from my trip notes I excluded to reduce the word count.
(Links are all internal, I have no affiliations, not selling anything. No seriously)
Riding Tohoku in Autumn is possible but the temperatures are cool-ish. 2º-6º some mornings needed the right gear. I posted a review of my new jacket from Macna and without that this trip would have been far less comfortable. The other stand out item was my Tourmaster Cold-tex 3 gloves. These have double the insulation on rear of glove and in conjunction with the bikes grip heaters my hands were never cold.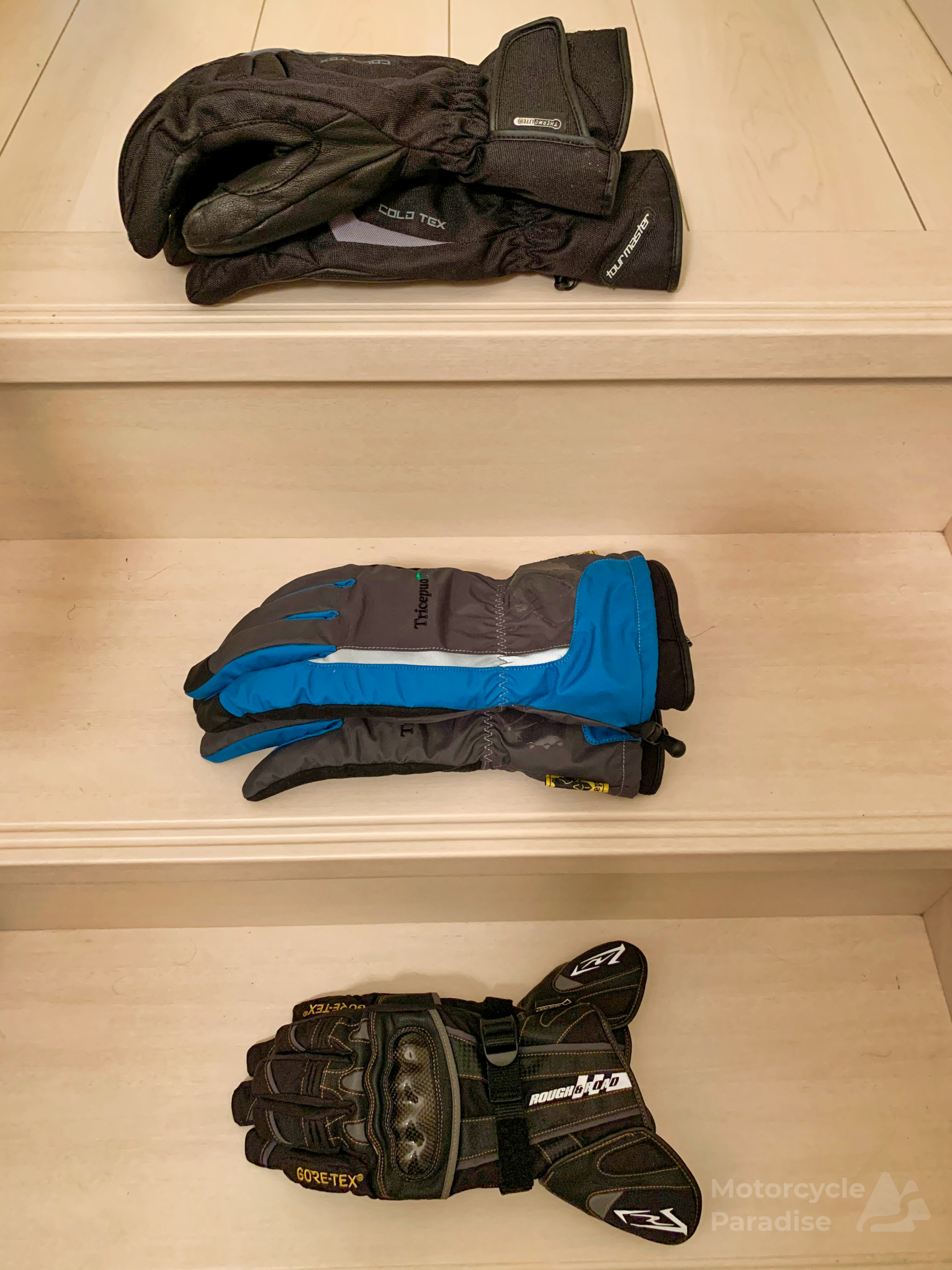 I actually packed three pairs of gloves for this ride, The Tourmasters for very cold days, the Rough and Road gloves for milder days and in the middle my old Alpinestar Transitions gloves here wearing rain covers by Tricepuot which were a backup not used. Seems a lot until you are hours away from hotel in 8º rain with 'waterproof' gloves soaked through.
I continue to use the Zumo 660 for navigation in Japan. I would find it difficult to ride here without it. I got a cheap phone mount (review later) and looked at a couple of phone based navigation apps side by side on this trip to see if they have improved as guys in forums preach. Yes Google does show traffic and I wish Garmin Japan would migrate to a newer model in the Zumo range that has traffic but otherwise Google navigation is still crap in comparison.
I wasn't the only fool riding in the northern chill but that Harley rider ended his tour there with the bike refusing to run in morning. Would be mighty cold in 'cruiser' riding gear with no wind protection.
The convenience store coffee machines have improved considerably from when they were introduced a few years ago and you can get a pretty good espresso now at Family Mart for just 100¥ so I was able to warm up with a break there each morning whilst riding Tohoku.
My camera gear this tour was the Lumix LX100M2, iPhone Xr, the Cube tripod by Velbon and my Ricoh Theta SC which I did not use as much as usual. I have of late found myself too concerned about pixels rather than being creative and considered the Theta was too low res. I tried unsuccessfully to replace it but I'm going to try refocus to making images that please me regardless of how many pixels they lack. Who cares long as I like it should always be my motto.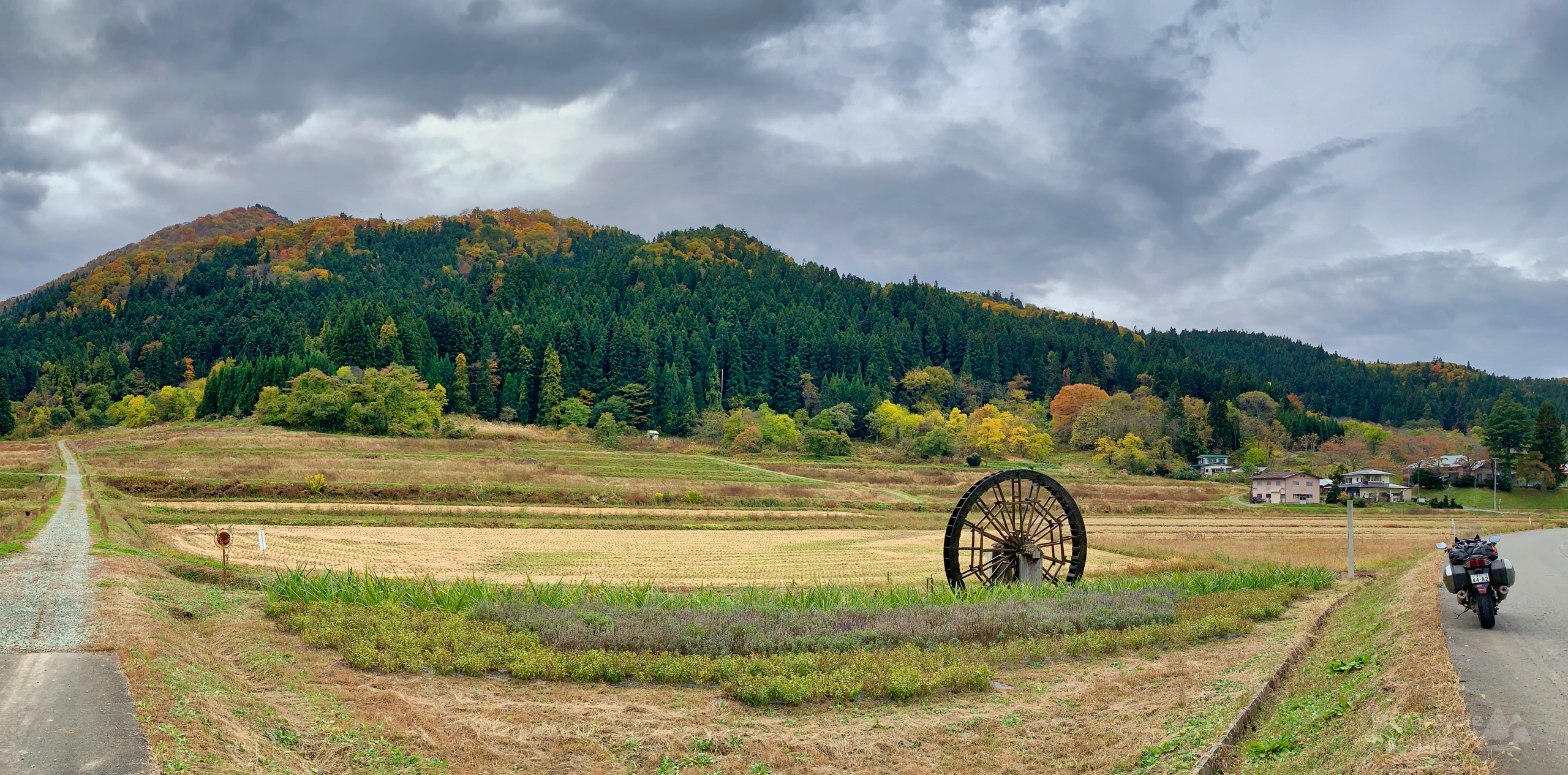 I rerouted south based on forecasts promising 16 degrees but each day never got above 9 degrees. Despite owning newer Alpinestar Andes pants I find them to be poor so used my old Alpinestar ST5 pants which have a better thermal liner. By themselves they can hold off light drizzle if provided with water repellent outer coat. I tried the wash in waterproof treatment previously and a number of spray on repellents and found the best is the below 'hybrid' treatment (in green can). But this will be the pants last outing, now out to pasture with the Andes jacket.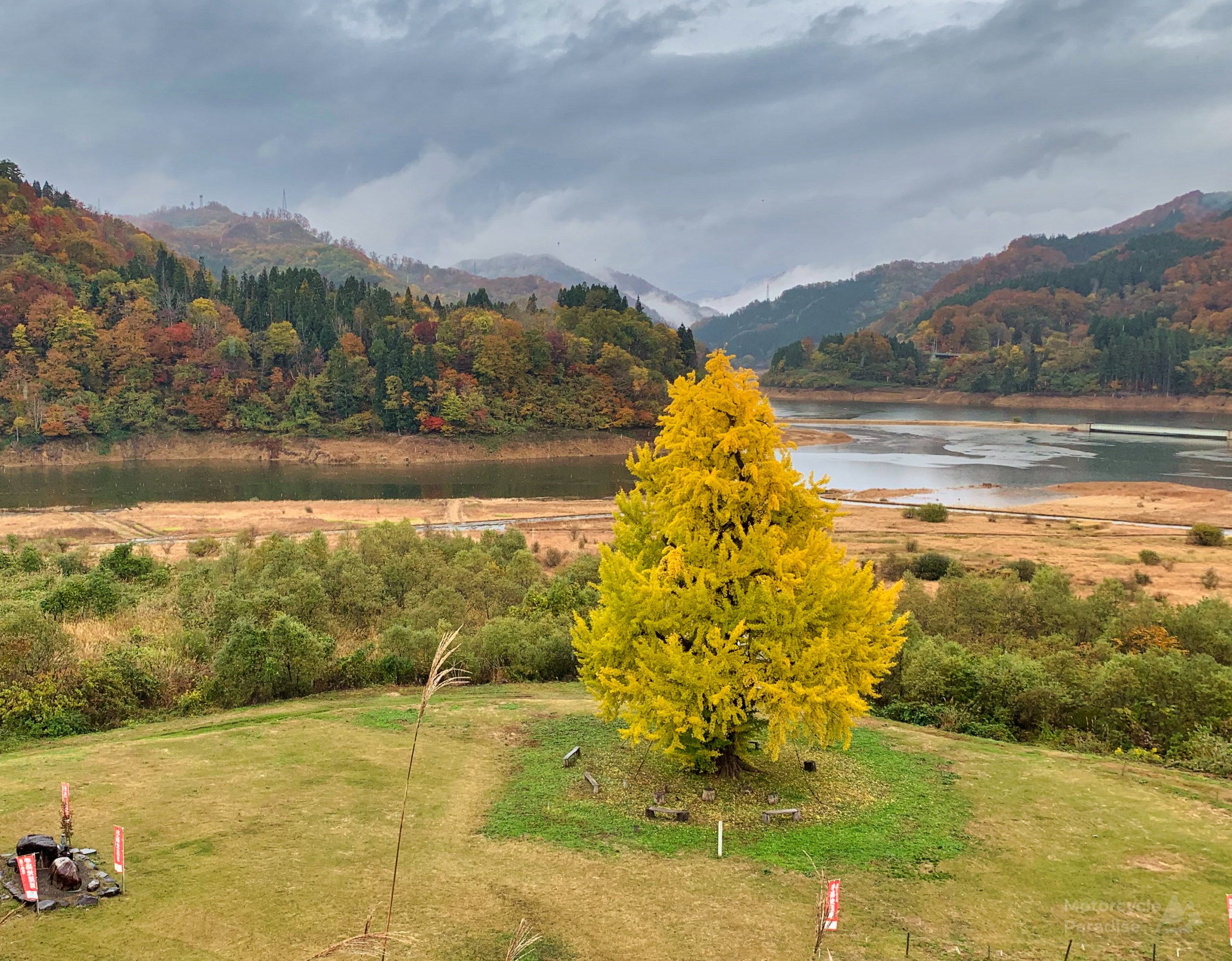 I omitted from my ride report visiting this lucky Ginko tree just to limit the number of grey sky photos. When the dam was built they moved this old tree from a spot that would be inundated. It was quite wet this day but while having a sandwich watching the rain I thought "still better than working in any warm dry office".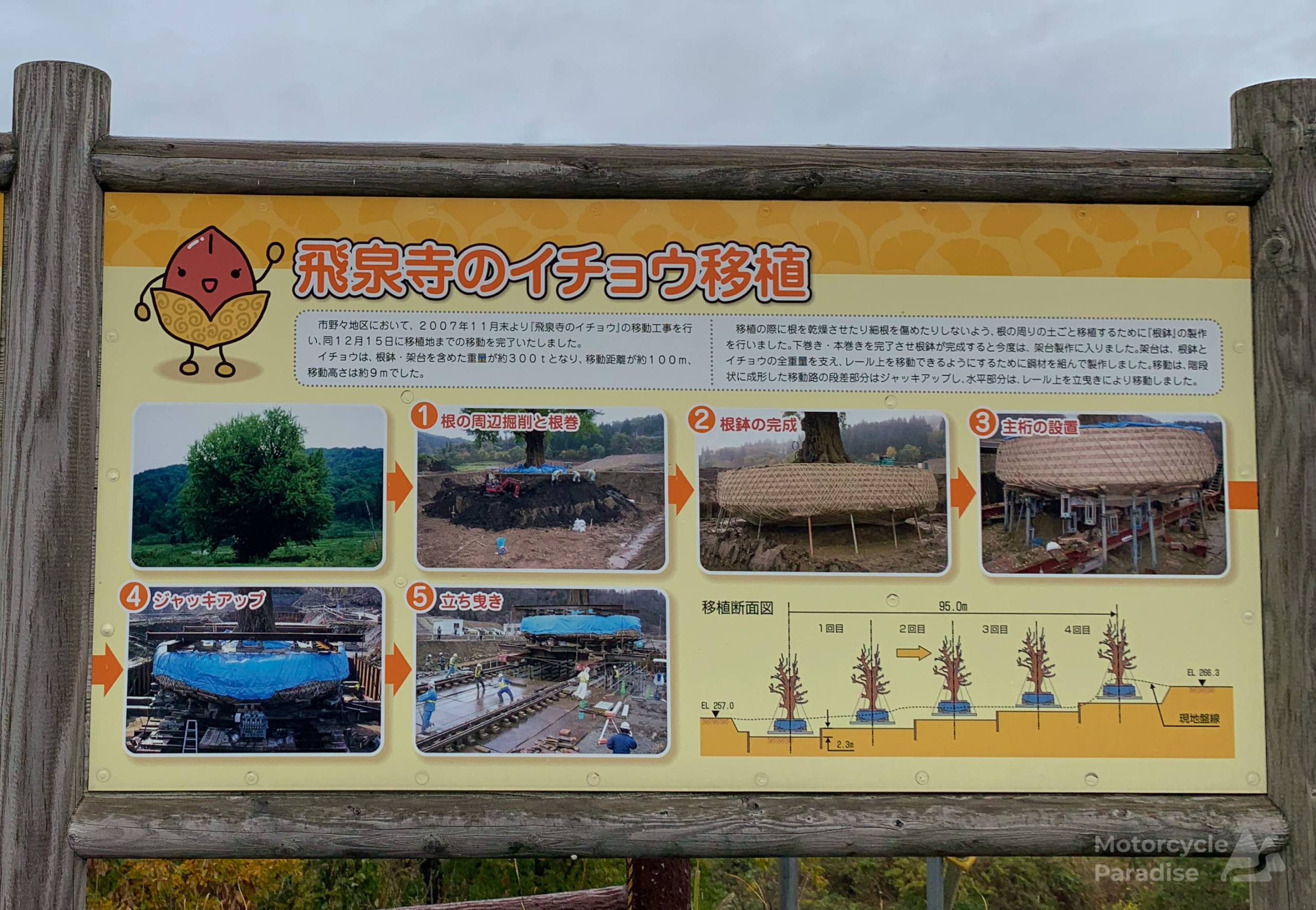 When a cold air blast brings sleet and a dusting of snow near Fukushima only the big shaft drive tourers are still riding. ADV bikes might be in vogue but they have stuff all protection from rain, wind or cold.
In many prefectures, once off the main roads you can still find people living in grass roof houses. I've said it many times but people who just visit just Tokyo and Kyoto have really not seen Japan.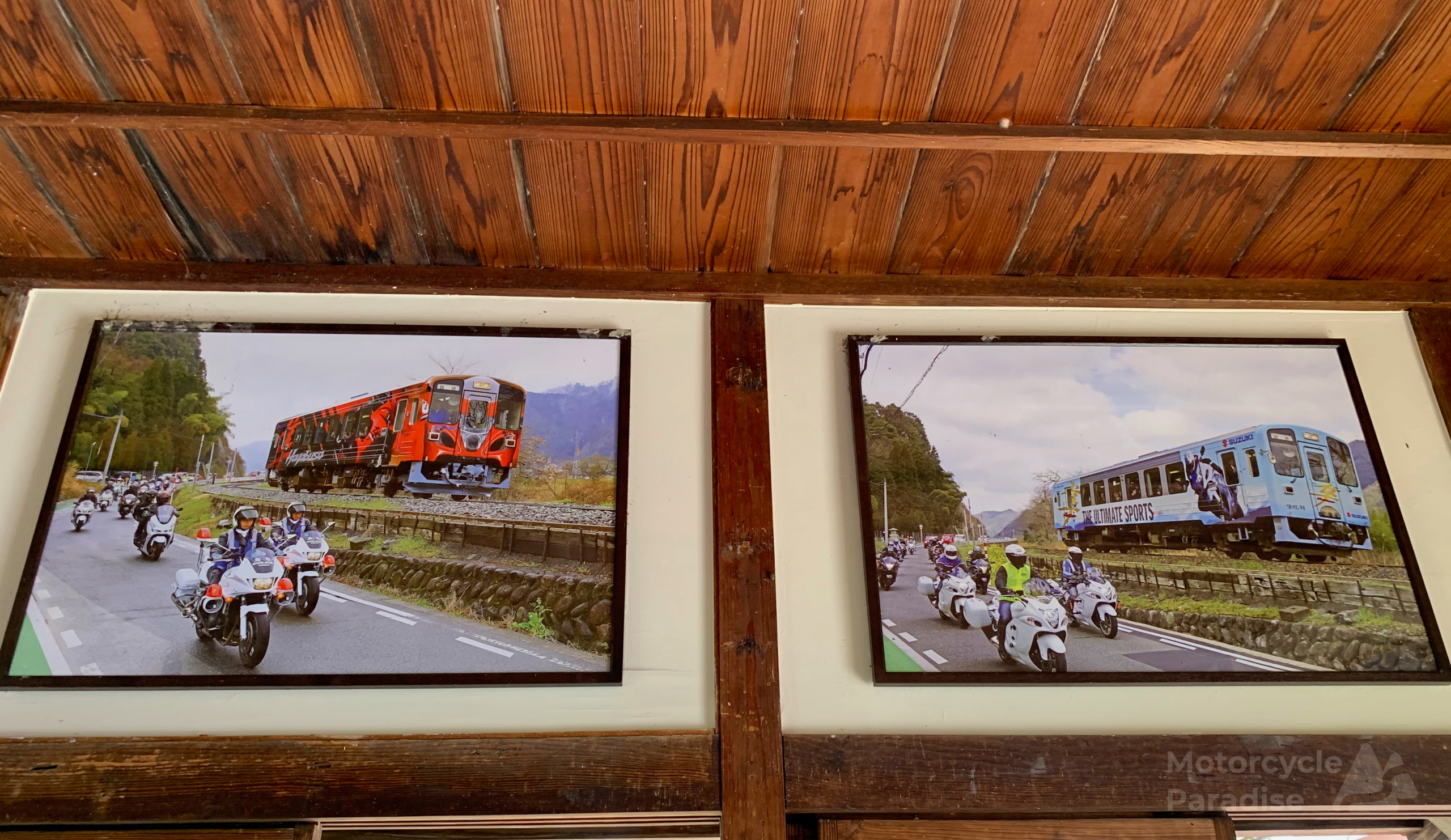 Many interesting things displayed in the Hayabusa train station this year. The rollingstock on this rural line consists of those two single carriage 'rail motors' in Hayabusa livery. Without sponsorship the service would more than likely have been replaced by a bus. Cheaper to operate but tourists never visit anywhere to 'take a ride on a bus'…
I don't always stay at the Route Inn chain, this is the Super Hotel chain, but their breakfasts always run out of food too early. The other photo reminds me of the countless weekends I sacrificed working overtime in rail operations to get a little ahead. Talking about my travels now people say 'you are lucky' which I agree but perhaps working 7 days a week for years whilst others partied might have more to do with things than being lucky.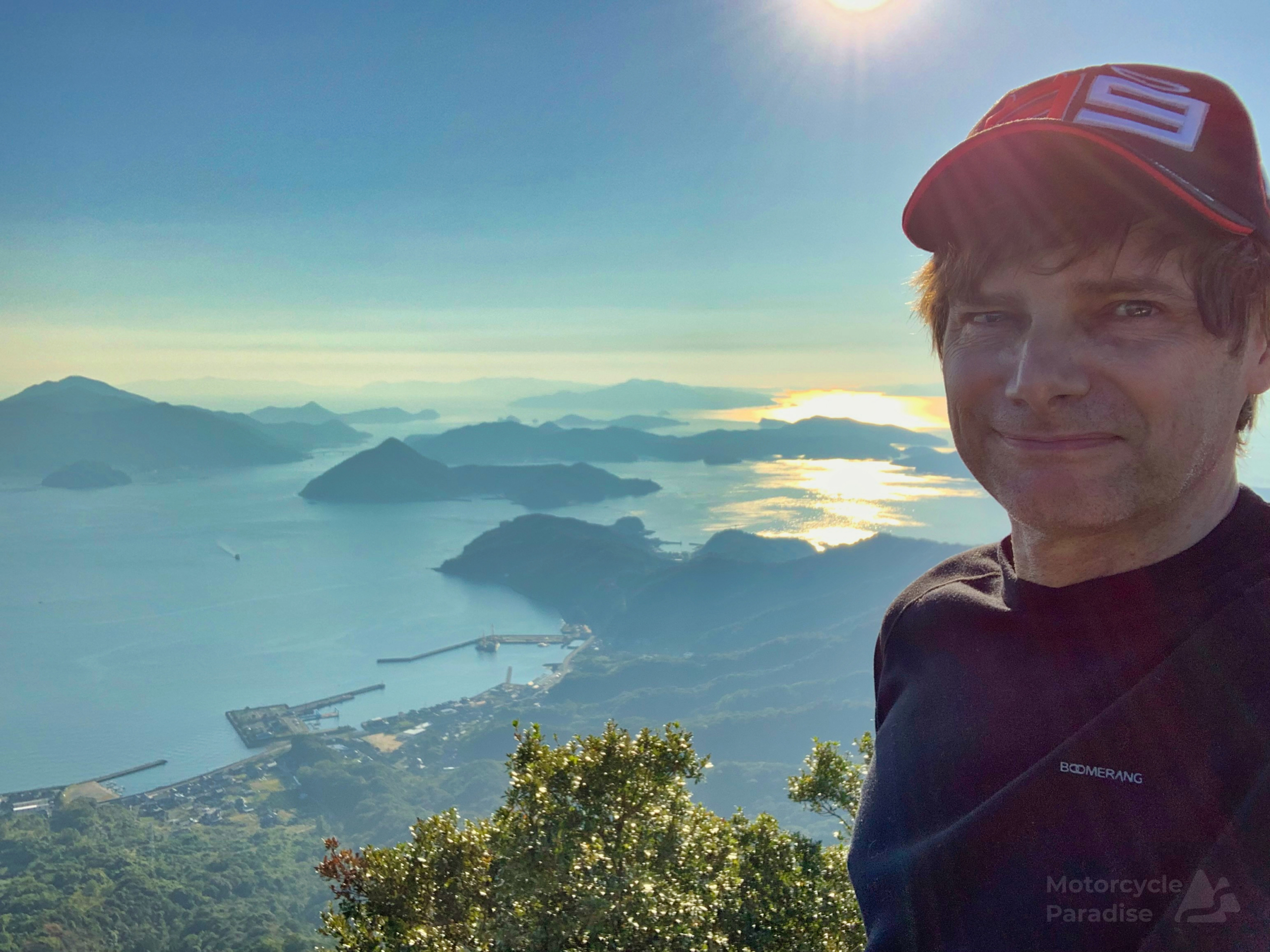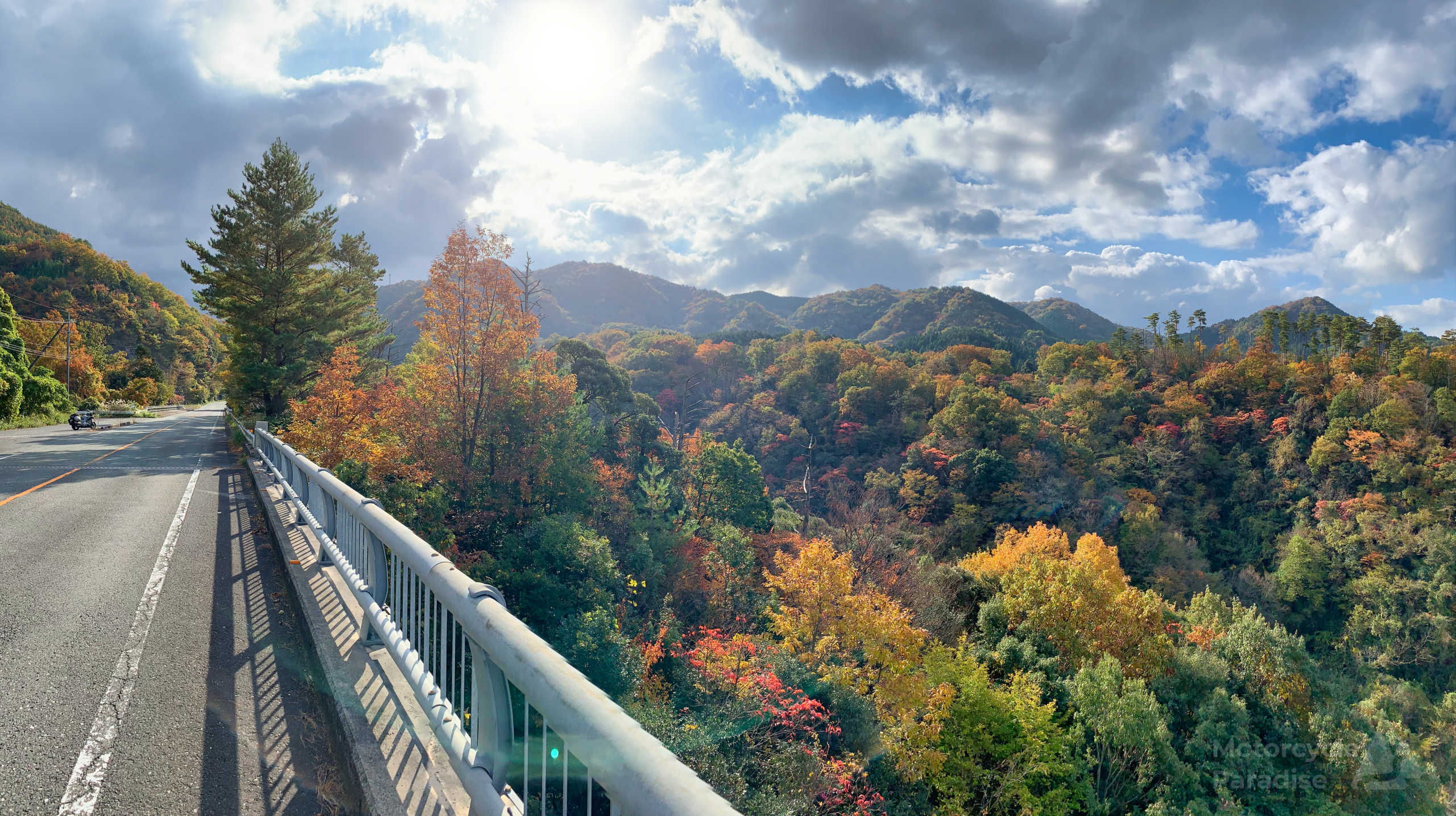 Leaves only just turning in some places whilst already fallen in Totorri and Shimane, a pattern that I encountered for most of the ride never being in a place when it was at peak colour – but look at that weather!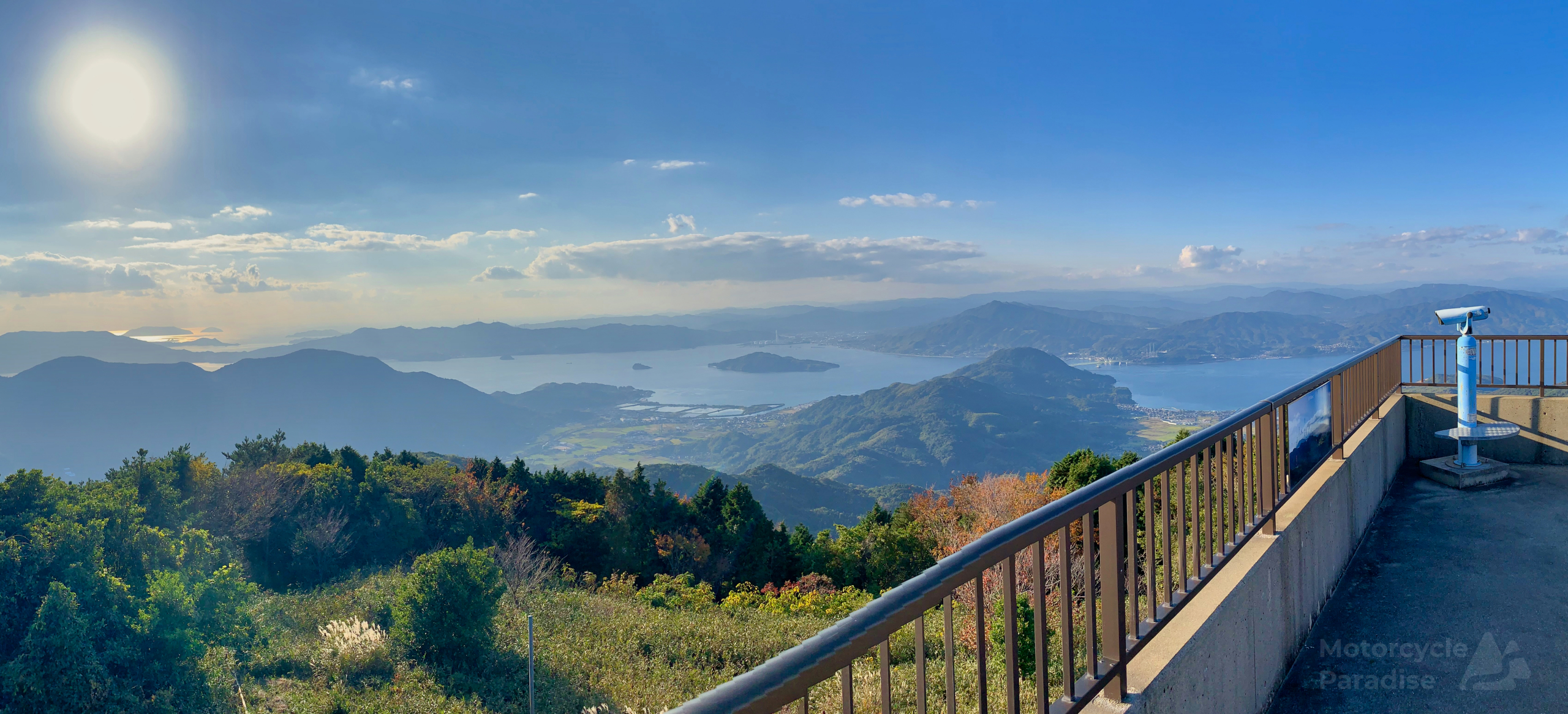 Getting to some of the viewpoints was at times 'a bit hairy', this one had wheel tracks free of leaves initially but became a carpet of damp mulch later. I didn't blink an eye that a highway rest area shop has a girl in a skimpy school uniform as their mascot until I was leaving.
I think I would like to live in southern Kyushu. The temperature is much milder although they do feel the effect of typhoons more… I would explore the many islands there endlessly on a small Honda Cub. That blue building was the local general store and ticket office run by a couple who were probably in their 70's then when the ferry arrived they came over and secured the ropes and operated the ramp!
Can't have too many photos of the amazing Koshiki islands which I visited in last part of my autumn tour.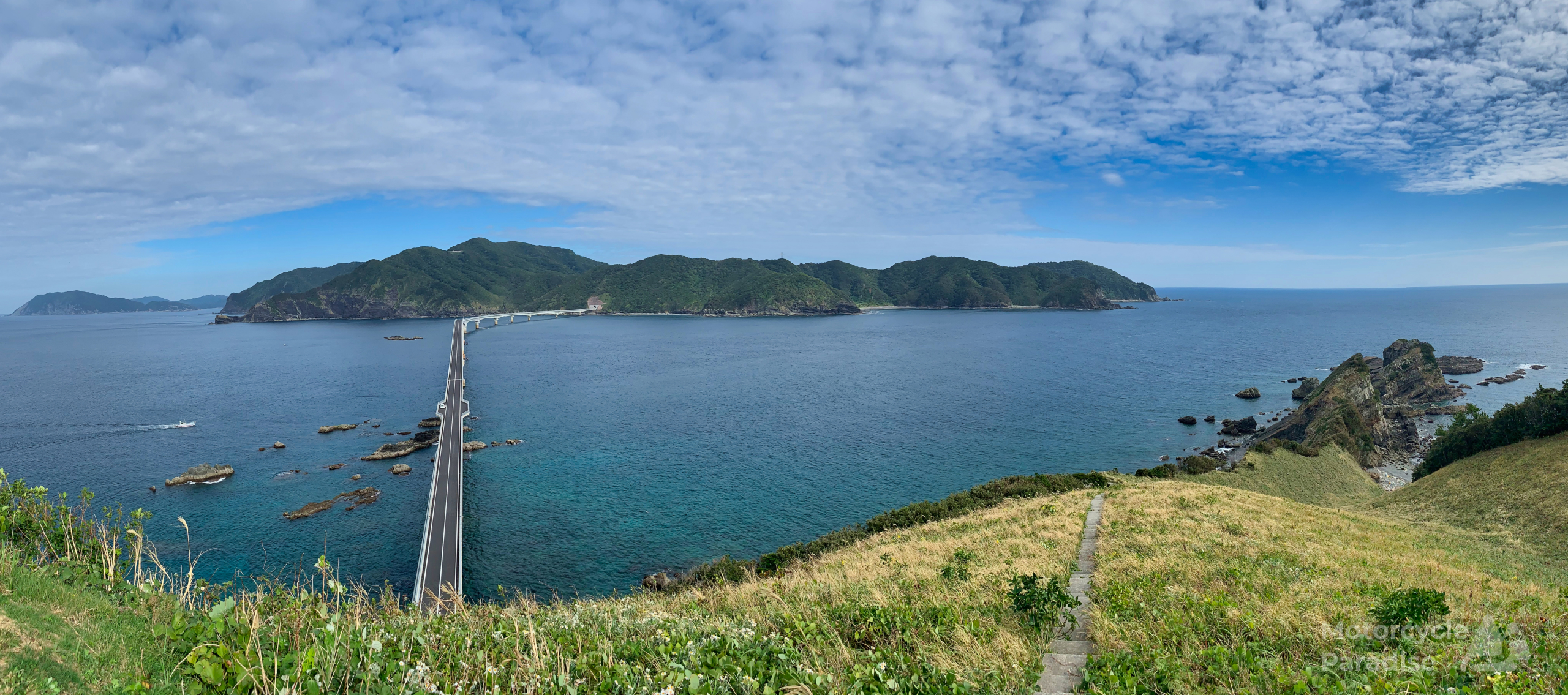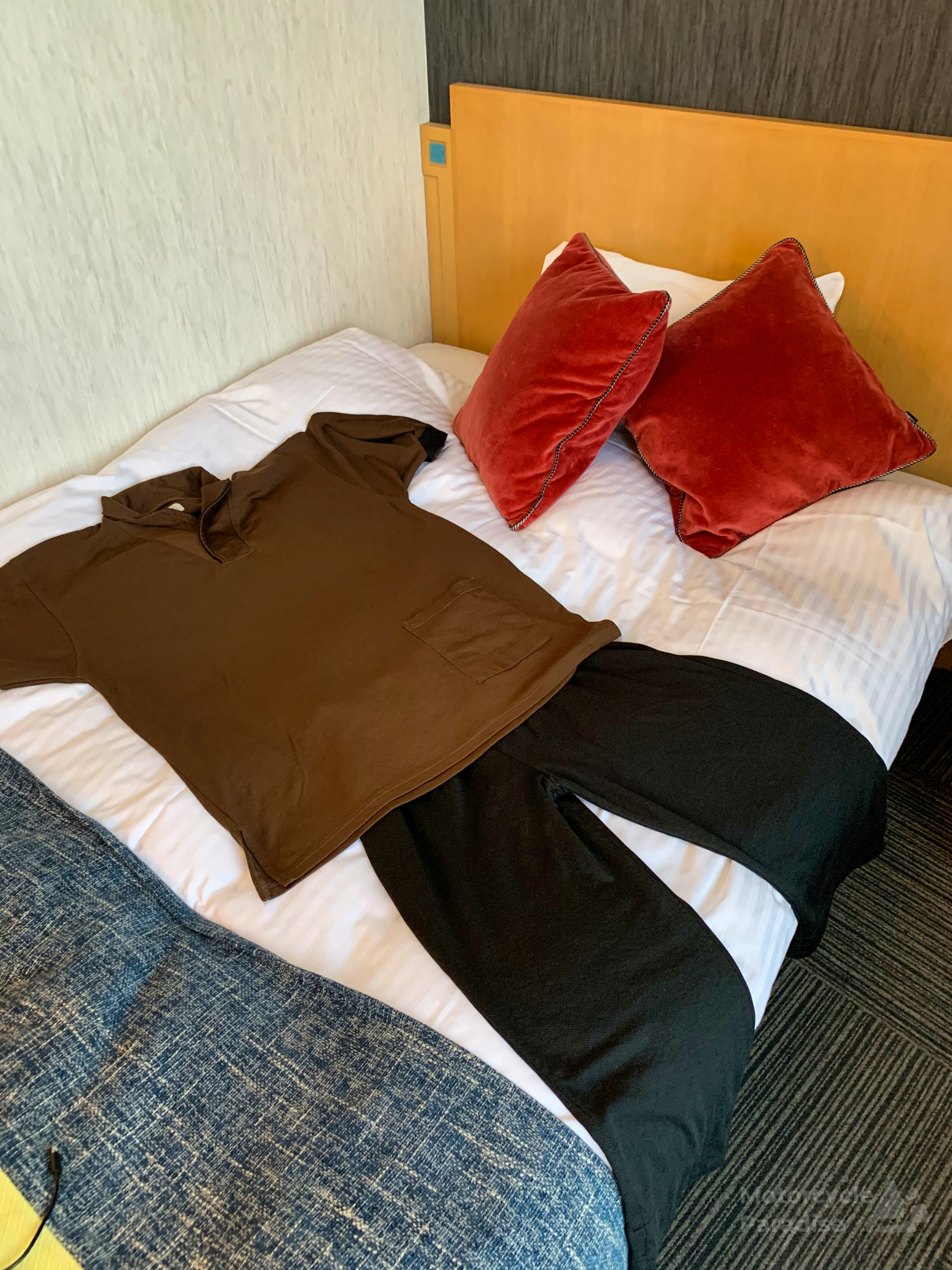 One thing I might never have spoken about is hotels often give you room clothes. That might be a traditional robe type of garment in a place with a onsen but in this hotel it was regular soft comfy items. I have never used them.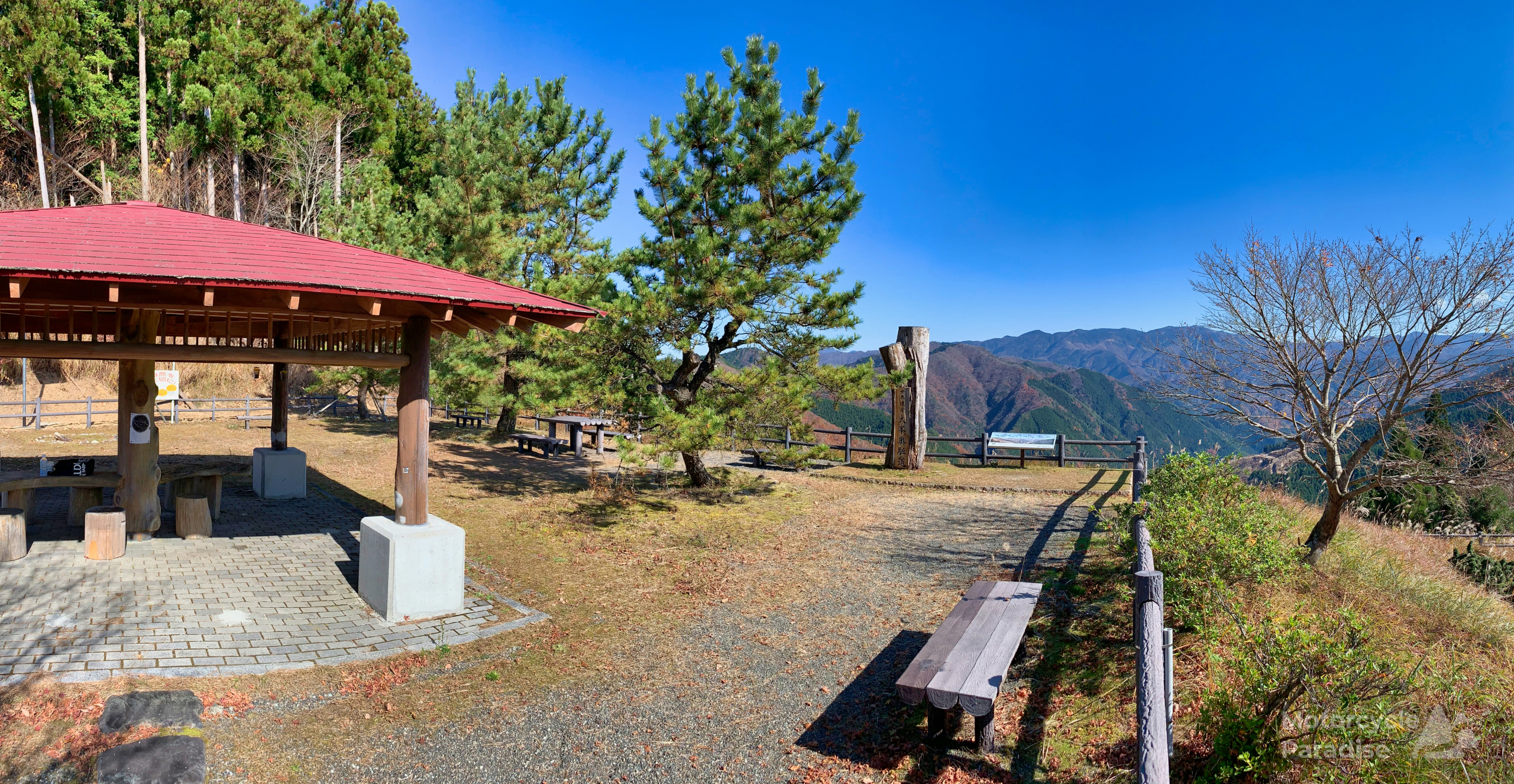 The penultimate picnic lunch spot was my favourite of the tour, literally miles from anything yet perfectly looked after and so peaceful. I found this (and all the viewpoints on this tour) just surfing the user uploaded images in Google maps. It's a terrific way to find POI not listed. Simply click the show imagery button or hover the Street View icon to reveal user uploaded 360º photos. I was amused last year when the admin of a certain ride group I am no longer associated with announced 'hey everyone you can now see the roads in google maps' – Ahm, Street View was launched in 2007… (◔_◔)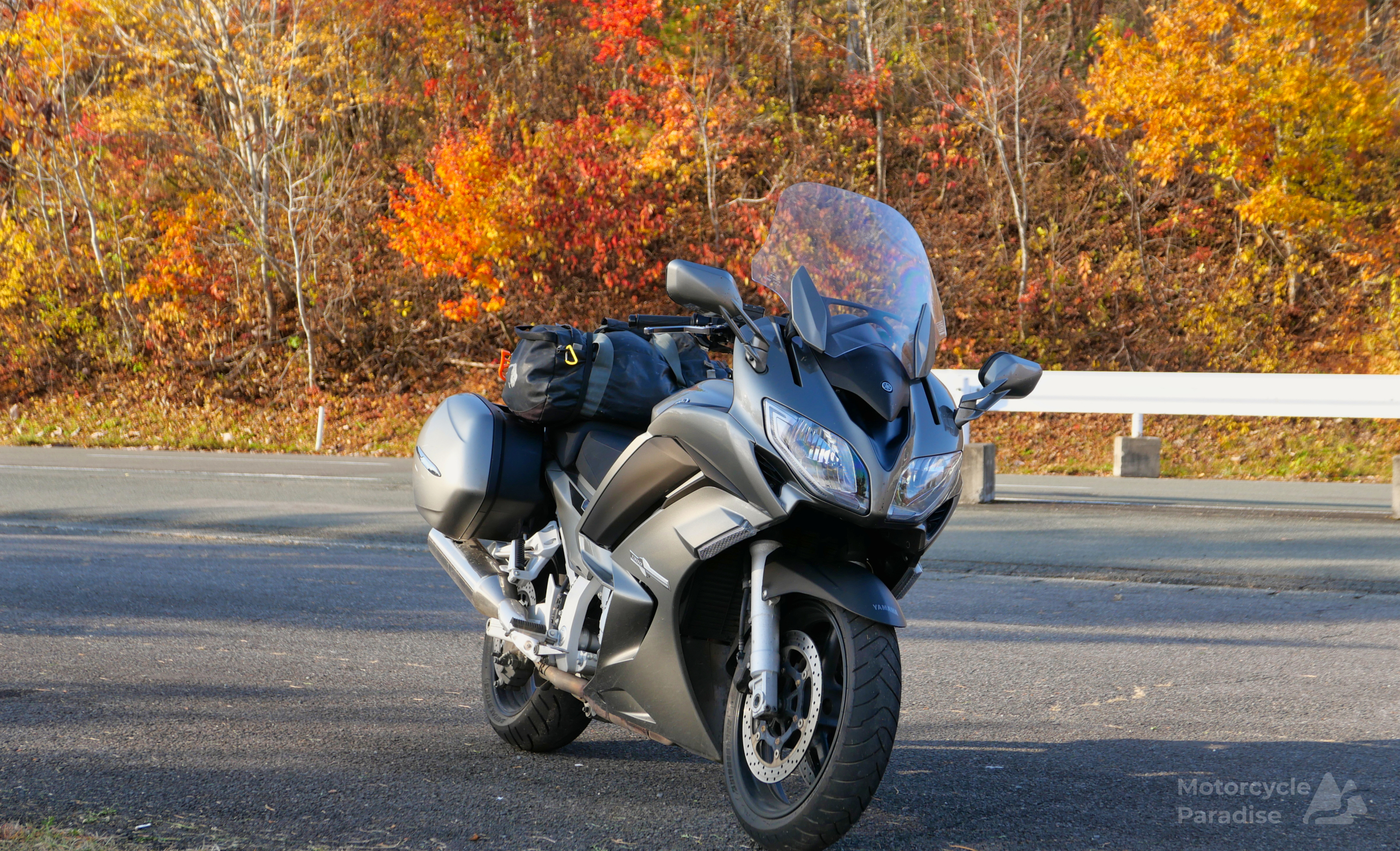 I don't give girl names to bikes or refer to them as the mistress. I think that's kinda daft, but each to their own. The FJR, as I call it, despite getting on in years again competed everything asked of it. I wish Yamaha would give this model an update however it is slated to be discontinued which will leave just the Goldwing as the last standing Japanese (proper) tourer.
Everyone rides ADV styled bikes but having tried a few there's no comparison in comfort. If I was in Australia sure I'd have a bike suitable for dirt as half the roads are unsealed but for here I guess I will be on this one some time to come.