Day nineteen of my Japan autumn tour I am in Amakusa region of Kumamoto prefecture with option to ride or rest.
I decide to take a small ferry to Goshoura island then make my way to the top of the mountain there. However on the way I noticed there was considerable haze and with just one ferry out and back per day did not want to lock myself in if views were obscured.
I return to a place I could visit many times and never tire of the view. Great spot to enjoy a coffee I packed earlier and do some reflection.
At the top. This viewpoint I've posted before, it was not well known but now has been featured on tv and soon after I arrive a stream of people and another tv crew turn up who probably wanted me to leave but I just sat and waited to get my photo. I have all the time and not a care in the world today.
I meander around Amakusa. Beautiful wide sweeping roads in every direction through these mountains.
Superb place to have lunch on a balmy day. I take an extended rest here. When riding my mind really wanders but at some point things come back into focus. This tour has allowed me to unclutter events in 2020 and see how I want to proceed.
The haze did clear so I should have stayed on course but any choice here is good.
A shower overnight produced lovely clear air next morning. I make my way to a fourth viewpoint in the region not expecting much but am quite taken back at how beautiful it is.
Standing here I am struck by the thought people travel the world to see things like I have here.
I can't bring myself to leave, in real life it is many times better than I can show you in my photography. I stay as long as I can until I have to get the ferry.
Looking up to the hill I was on (left photo) as I sail out of Amakusa. I don't want to leave this wonderful part of Japan.
I stop for lunch looking back to Amakusa and have to make a call on my route today. The Garmin has my ETA out to 5.30pm and with breaks it will be much later. My ferry ride this morning put me well behind – but it was beautiful. With the sun setting about 4.00pm I elect to abandon todays route and ride south as the crow flies to my hotel on minor roads. Shame to miss the volcanic region but I don't want to be watching the clock and feeling I have to push on anymore.
Last nights hotel was staging for what is perhaps the most important day of the whole tour as I take a ferry to the Koshiki islands. Very fortunate the weather is calm for this sailing as it is not a particularly big boat.
These islands are located west of Kagoshima and are not widely known or visited but two years ago I found the above picture of a bridge being built to link the islands and a seed was planted to ride it when finished. I kept that photo until the day I could post about doing it. Today is that day.
From the moment we dock it is wonderful riding. I expected minor roads but they are grand and sweeping. My GPS doesn't know the bridge exists and spits the dummy but I can navigate easy without it.
And then suddenly here I am. At a place I dreamed about two years ago.
These islands are incredibly beautiful.
One of the most amazing places in Japan I have visited yet still largely unknown.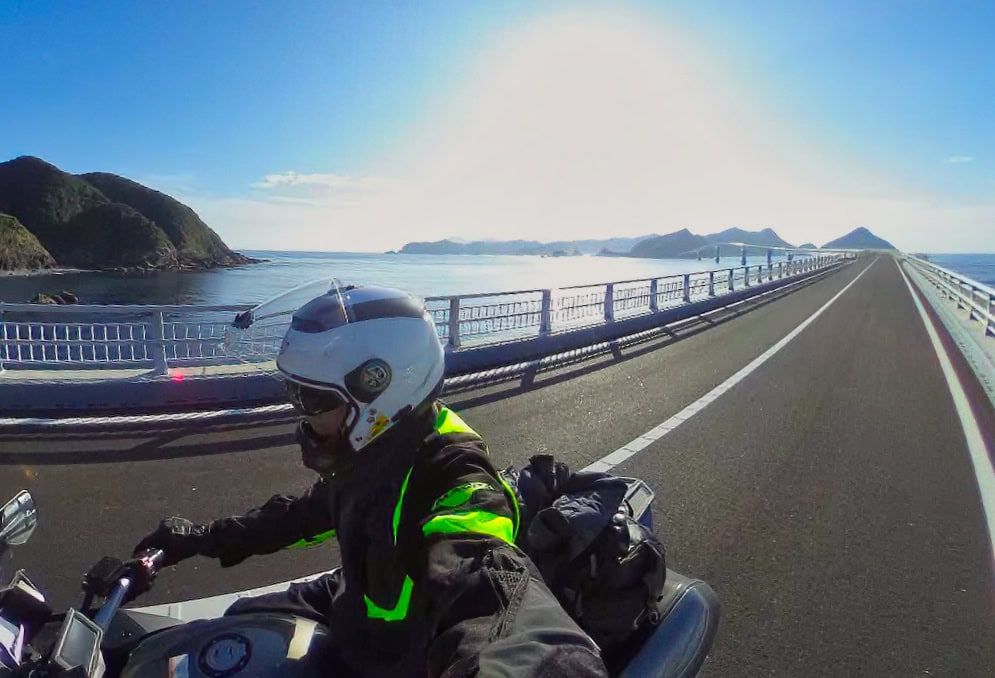 I end this glorious day at the very spot the original photo was taken.
There are few people here or facilities but one nice new hotel. The viewpoints are all new as is the main road so they have been gearing up for the bridge opening but as of my trip I saw just one general Co-op store and only restaurant open was one in the hotel serving a very expensive meal like found in onsens. (12000Y)
Fortunately I am prepared having brought food in my cooler bag packed with freezer block for lunch on the ship, dinner and lunch tomorrow. I even have a bottle of Bulgarian wine to celebrate todays achievement. It might be simple fare that the pretentious would turn their nose up at but simple is fine for me.
On my balcony watching the last light fade it strikes me I am the only foreigner on these islands which are themselves well off the beaten track, but it's a good feeling, nothing anxious.
I explore the islands west coasts on day two and run into a few road closures. What roads exist also differ from what Google and my GPS have so I just meander and turn back here and there as some are beyond a heavy tourer but I do ok and you don't need a ADV bike to explore.
All too soon it is time to make my way to the ferry port for the afternoon return sailing.
It's my last day in Kyushu but I have lots to try see today before taking an overnight ferry north to Osaka.
I'm not photographing roads too much but I hope you still get the idea.
I'm on the south west coast of Kagoshima now. It's an area with few people and a spectacular coastline.
This is the place where they filmed the 1967 James Bond movie. With the recent passing of Sean Connery I was reminded to visit the village again.
Not a lot has changed here in 53 years.
It is lovely riding from one small bay to the next on well surveyed roads.
Once I round Bo Cape moving east I turn inland through tea plantations that blanket rolling hills here (but surprisingly difficult to photograph).
I make my way to a terrific viewpoint of Mt Kaimondake. I was planning to go east via a ferry here but I can see heavy rain in that direction.
I decide to ride north on the Ibusuki Skyline, not a particularly hard choice as it is one of the best motorcycle roads in the country. Then I can take the Tarumizu ferry across and decide on a new route.
This a big detour but I gain time I would have used sitting around the Ibusuki ferry port since it requires early arrival to guarantee a berth. The other ferry operates frequently with two ships so can simply roll up.
The rain chases me all the way but I outrun it while enjoying the Ibusuki skyline. Fantastic road. I can hardly believe the toll is now reduced to just 100Y, so much joy for one coin.
Easy ferry crossing. I have lunch on deck with a view to Sakurajima puffing away.
Once docked I see my plan to ride east here is no good as the rain has now engulfed the mountains. But it looks clearing to the south so I turn my wheels that way and rejoin some of my original route having dodged the rain in a big arc.
I was tempted to try squeeze more into this afternoon but decided to ease things back which let me stop a few times to do some photography, none of which amounted to much but I arrive in a relaxed frame of mind at the ferry port.
Besides getting 35% off my hotels this trip I also got same discount off the ferry. Bikes start boarding a full hour prior to departure and no sooner after I arrive I am being directed into this massive ship.
It is a lovely ferry and as before on this tour I was given vouchers but could not find how to use them on board. Turns out I could have dined in the buffet restaurant for free. Oh well, not to worry, just lost in translation.
I spent a little more to get a single private mini room which made for a pleasant sailing. After docking bikes have a long wait as we are first on last off. I have the option of a short or long day depending on weather and it is fine so set off to explore the mountains.
But first I need to escape the huge metropolis that is Osaka. With highly complex expressway junctions it was no surprise when I came to first spaghetti flyover the junction guidance in the garmin could not keep up and I ended up guessing wrong. But fortunately I wound up heading south away from the gridlock.
I rejoined my route and rode up the valleys then into the mountains to a fantastic spot.
I am amazed to keep finding new wonderful places like this in Japan. A lovely picnic area with views of the mountains on either side and not a soul around. I enjoyed lunch here with warm mild weather that I have never encountered this late in the year before.
There are no name roads here all through these mountains. I have so much yet to explore in Japan.
Pleasant riding on minor roads through scenic valleys then a back road that crosses a high ridge.
It's very pretty here but I am unsure if the road is actually open all the way. There were some signs I stopped and used Google translate on which spoke of roadworks. I'm relieved when I can see I will soon rejoin a main route as it would have been hours to backtrack if blocked.
An abandoned house that was once someone's 'Falling Water'. A reminder time is the only important thing. With the light fading early I make tracks to my hotel.
Last day of my tour. Seems a long time ago I set off north into the cold wondering how much of this loop I might achieve and if a typhoon will force me to stop. I slowed down time a little with this trip. Something I plan to do much more once borders reopen.
I depart early in sunshine to explore some minor roads but soon after descend into in fog. Visibility is poor, alas nothing I can do except abandon this mornings route.
The unseasonal warm spell is coming to an end and this morning is fresh but there is always a vending machine with a hot coffee nearby.
I take the expressway east past Nagoya and with it being low clouds was just going to hit the Home button on GPS but thought I will try my original route via Aichi prefecture on the chance it might clear.
As I near the mountains rain sets in so I again cancel my route and ride east but am soon clear of the rain. By sheer chance I find the old temple I thought was on my original route and that I wanted to revisit today! I stop here for lunch and before I leave the sun reappears.
Coming back into Tokyo I run into a 50km traffic jam which takes a couple of hours into the evening to lane split through. Not a very gracious ending but even this cannot dull what has been an incredible tour.
It's hard to express how lucky I have been. No typhoon. Almost four weeks with just a few wet or partially wet days – unheard of and then the highest temperatures in November ever recorded! Whilst unable to ride overseas due to Covid I have been gifted amazing weather here and a domestic travel campaign that covered a good portion of my expenses.
I'm nearing 90,000km touring Japan yet still riding new roads and exploring new places. That's incredible, and so different to my home country which has a handful of good roads spaced far apart thus riders tend to ride same over and over. The density of roads here is hard to grasp and being all mountains it offers almost endless riding options. The pace is much slower, something that might not suit riders who still need to carve every corner but for me that change has been rewarding in many ways.
In 2006 I named this blog after the Northern NSW region of Australia where I enjoyed riding unbeknown to me then I would one day I find myself blogging about a part of the world where that title is even more fitting.