With less riding and more idle time this year I took a closer look at my touring gear and noticed a few things could do with being replaced. My Alpinestars Andes jacket is just five years old but in poor condition. Stitching is coming apart, the velcro no longer holds cuffs or collar closed and the shell is very faded.
Macna is from the Netherlands and one of a limited number of foreign brands distributed in Japan*. I became aware of the name originally from reading a round the world ride blog by Sheldon Thomson. Many RTW motorcycle bloggers are sponsored, which makes their gear comments worthless but that wasn't the case.
Japan has many domestic brands however sizing tends to run a little small on westerners and nothing has a CE rating. Amour and materials used are much lighter quality to European brands, actually borderline unsafe, which makes me then question how good Japanese helmets are compared to European and how much is marketing hype, but I digress. Anyway when I came across the Macna Vosges three season jacket at 37% off online it seemed meant to be.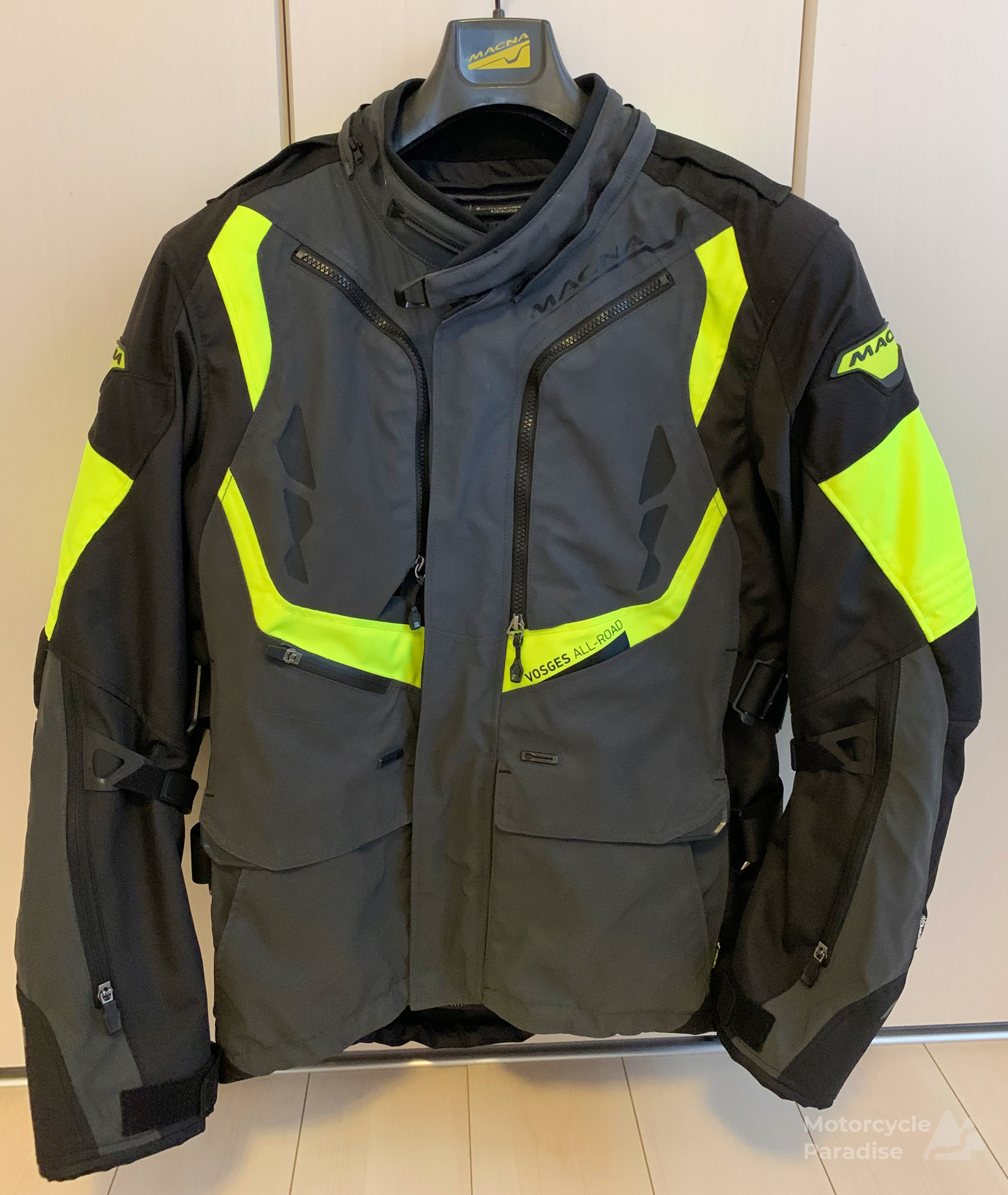 I went and tried some other Macna jackets on in store however (at the time of purchase) it was early summer and shops were only carrying that season items. I wrote to Macna in Netherlands and gave them my measurements explaining I have long arms and they recommended I get XL.
The XL initially seemed an odd fit however after using the adjustment straps and filling pockets with camera gear it is the right size with the arms only just having enough length. However the collar seemed to be designed for a sumo wrestler. Macna use a rail type closure system (see above) and at full closed position there was a large gap between my neck to the jacket collar which would let cold air and rain straight in.
Wearing a Buff will reduce the gap in regular weather. Using my Halvassons waterproof gaiter (sitting on top for illustration purposes) reduces the gap more and is enough to stop cold air, fog/mist or passing light shower. But I wanted a jacket for riding in rain, one that I need not don a PVC rain coat and be sweating away like crazy.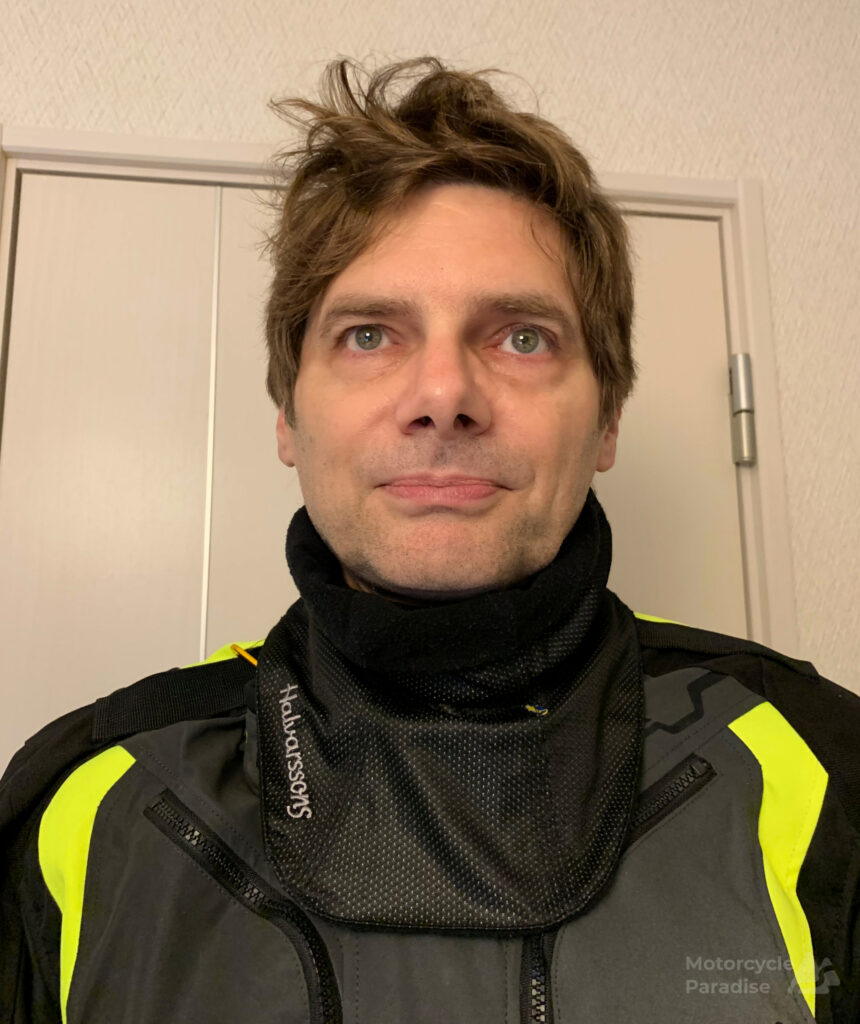 I put the jacket in the cupboard still with the tags where it sat for few months. If the neck area cannot be sealed then the jacket is not suitable for Japan where every ride involves one or more wet days.
Eventually my Andes jacket was beyond further service so I got the Vosges out deciding I would MacGyver something even if that meant taking it to alterations shop. But a solution then materialized. I can seal the neck by pulling the end of the rail enclosure to a strap that runs along the shoulder line and secure it using a carabiner. With the Halvassons neck gaiter in place (not show below) the upper area is now firmly sealed from water. The gaiter extends up front and back and this combo has proved effective in heavy rain. (In everyday use I have no need to do this, just for serious rain).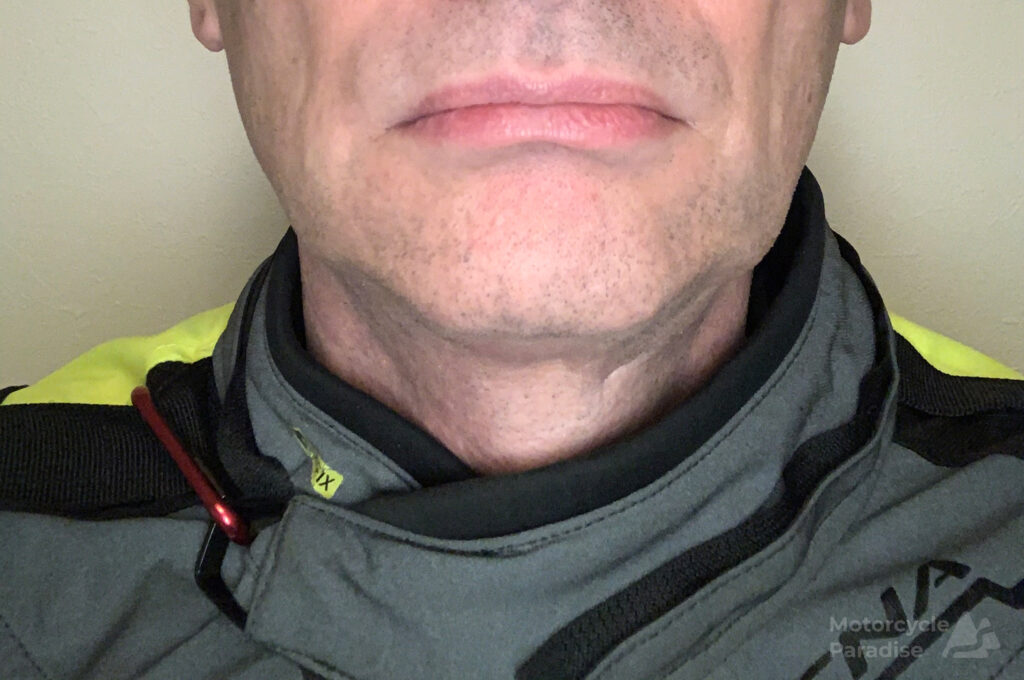 Ok with all that fuss about the collar done lets actually take a look at the jacket. It certainly has some weight to it, the construction seems very sturdy in 500D with extra materials in impact areas. CE 2 elbow and shoulder protectors but merely a EVA foam back pad.
It has two front waterproof cargo pockets and also two hand warmer pockets. It also has a tiny coin pocket with a waterproof zip which is handy for a bike key (maybe that was the intention). A chest inner pocket but it's not water proof that I am certain of – will test that more in future. The arms have zippered air vents with waterproof seal zips which is good as otherwise water might gather inside due to how rain liner is fitted to outside of cuffs.
The chest has large vent panels that can be unzipped then folded in and then held full open via velcro. Those zippers unlike the arms are not waterproof style which seemed disappointing but makes them easy to operate while riding letting you control air flow. The arm waterproof zips really need you to stop to alter. There are gaps at the bottom of the chest zippers but also mini rain or wind flaps (but a bit of cold air can sneak in there or through the zips). There are the usual two rear exhaust vents and large rear pocket that easy holds the rain liner when not installed.
There are two liners, a breathable waterproof liner and a thermal liner. The thermal liner is very warm although no details from Macna on the filler (actually they give very little details at all on any of their gear but the Japanese distributors site is more informative) The waterproof liner zips to outer end of jacket sleeves thus sealing that area good in rain but that means the cuffs are same thickness right round and thus cannot be as easy folded when tightening them around a glove in rain. The velcro used is the new less aggressive style and I am curious how it will wear as this jacket needs good velcro grip to hold cuffs closed with rain liner installed.
The zippers used throughout the jacket are not YKK and whilst the main zipper and front pockets are sturdy the one used on the liners are a little fiddly. The three liner system with zips is more time consuming to use than an over jacket. If using the thermal liner already then you need to stop and remove that then install the rain liner then the thermal liner again. I found that too time consuming so I could just wear the thermal liner loose not zipped back in initially then fit it when I found more cover at roadside rest area or toilets. You do get quicker at it and if cold and chance of rain then easy to just leave the rain liner in from start of day.
The rain liner does actually breath and more importantly it works. I was never wet at all with this jacket in multiple rainy days (used in conjunction with Halvassons neck gaiter). However I found the jacket had almost no outer layer water resistance so I bought a can of water proof spray and applied that which assisted. Then the shell could bead up and not immediately absorb water so I had longer time from riding into rain to find a place to stop and put rain liner in as well it helped the jacket not absorb as much water. At no point did the outer layer became water logged like the Andes jacket used to.
When it was cold, for first two weeks on tour I left the rain liner and thermal liner in all the time. That gave me a supremely warm jacket that kept me warm in weather that hovered in the 6-8 degree range wearing just a technical base layer t shirt underneath. When it warmed up I could use the jacket with just the thermal liner in and control temperature with the front vents and even when wearing it with just rain liner in on damp mild day those front vents can flow air to cool or assist in breathability.
The arm vents also help control temperatures. I found not so much for drawing air in – that can be done by making the cuffs bigger at wrists, but the long openings on the arms could vent body heat out when in traffic. I never tried the jacket with all liners out as it was not that hot on my four weeks of touring but I feel that this jacket could easy be used up to 30 degrees with no liners and I will report back on that in future. (Update – yes it works well on hot days but is not a substitute for a proper summer jacket once temperature goes beyond high 20's)
There is a zipper to affix jacket to pants but it is not the common size other makers use but instead a very large teeth zipper like used in mains of jacket so this is not compatible with any of my pants. Offsetting this is two drawstring adjustments for the lower edge of the jacket and the tail is extra long. I did not have any issue with cold air sneaking up the back and the combo of thermal and rain liner and good technical base layer (long sleeve merino thermal) kept me warm and dry even riding through a 0 degrees sleet rain storm.
This jacket has what Manca call Night Eye, a reflective coating to the main front and rear panels. I did not seek that nor the bright yellow splashes. There were two choices, white. Or black with yellow. White once impregnated with road grime looks forever dirty so I chose black. Below the flash on my phone camera shows how the jacket's reflective coat comes alive.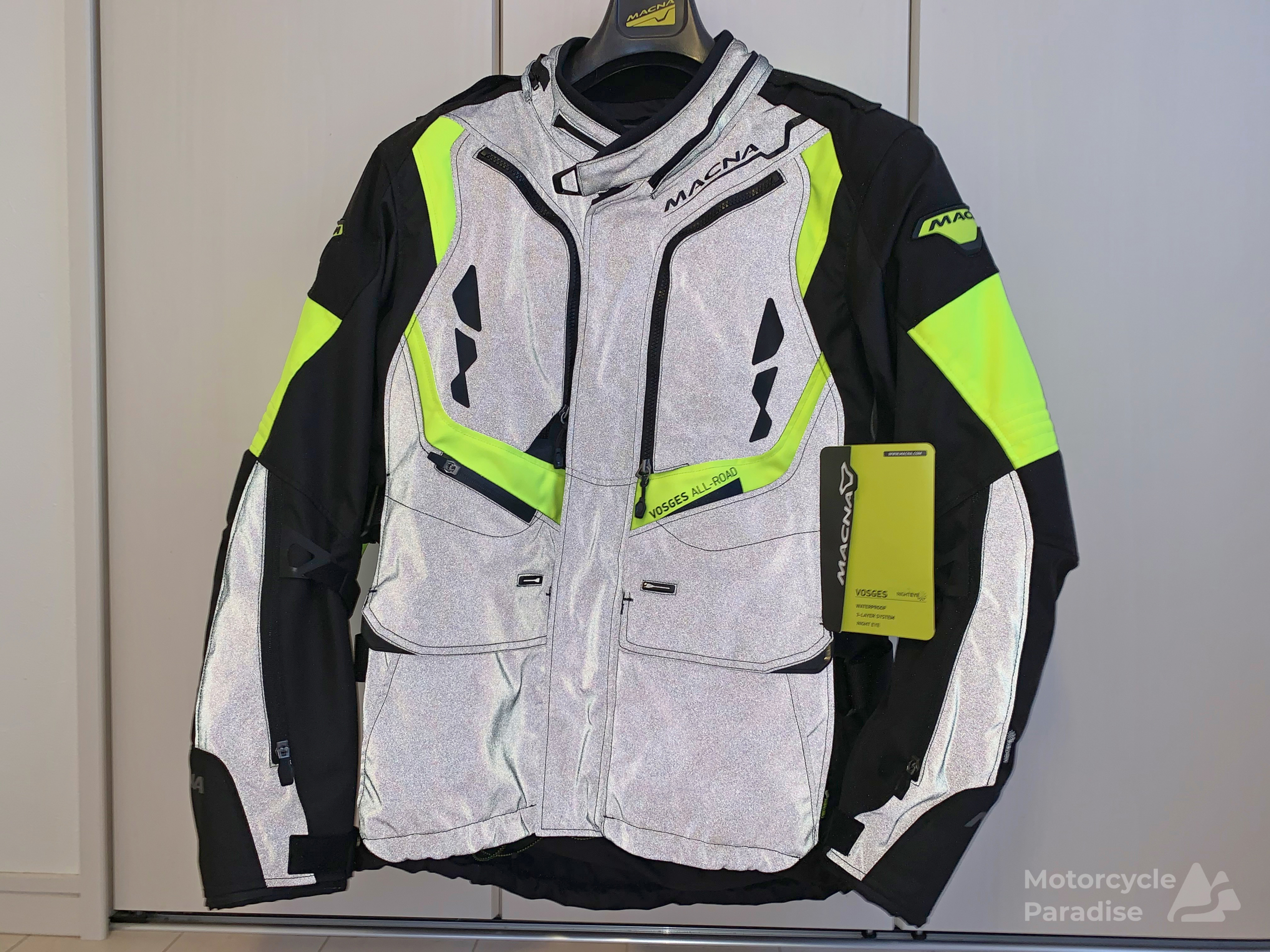 I am not a believer in hi-vis. I don't trust cars not to kill me because I am in fluro and my experience is they still don't see you. I ride on the offensive, watch everyone like a hawk, assume the driver is looking at Facebook on their phone.
But even professional drivers have shown in studies to tune out some of the things they see to focus on risks, and motorcycles are not viewed as a risk and can be tuned out regardless of what they wear. I think hi-vis tempts a rider to think the cars should have seen them instead of 100% focus on scanning ahead and being prepared.
I did wonder if the jacket might help me off the bike. I'm referring to my wandering beside the roads to take the photos you see on this blog which is probably more dangerous than riding. Road workers here often have yellow and are positioned where one lane is closed and cars take notice of that because they need to stop or crash – but again I am not putting any faith in this idea. You may have seen I leave my lights on when stopped as well usually my hazard lights to give cars earlier warning. I always am reminded of a moto blogger I followed for years who had a terrible accident when off his bike hit by a car while taking a photo for his blog.
Found on the rear is a velcro mount area for an accessory LED visibility light which costs a whopping $50 yet is rated just 2-3 hours run time. I have LED taillight on my bicycle and the battery lasts 6 months… Anyway not something I want. There is a $40 accessory zip on neck collar extension. I can use my existing gaiter but the neck extension is in reality a $2 item that really could have just come fitted to what is supposedly a top tier jacket… No idea what marketing people think when they make a decision to try gouge the customer like that.
When I first got the jacket I had my doubts and thought I had made a mistake however it has performed well over four weeks of riding in conditions that varied from cold sleet and drizzle to fine and humid. The collar rail system I initially found limiting and hard to use has become one of the features I like best for when the weather is anything but heavy rain. The three layer system was also hard to adjust to and initially frustrating but 'it works' and kept me dry unlike Alpinestars Drystar liner.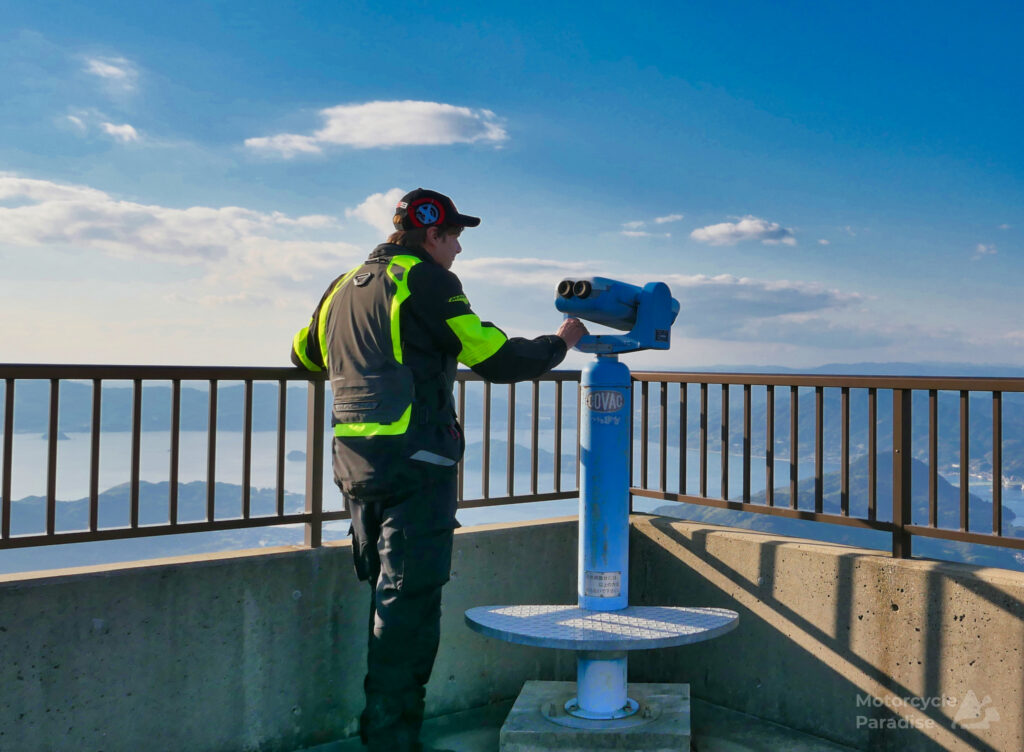 Update 2021.
Well it is 12 months into ownership and time for an update. The jacket has been mostly very good and has repelled water very well until just this last month when I started having issues.
The waterproof liner uses seam tape and this is coming unpeeled from seams. I have now experienced very heavy/torrential rain and twice water got into the jacket. It's possible the jacket just needs a proper wash and then treatment with water repellent and seams repaired but still my confidence has dropped a little because my Alpinestars jackets also were great for 12 months then lost their waterproofing.
Because seam tape needs to be affixed by heat and the liner is a nylon not cloth type of material I decided to try repair the existing seam tape with seam glue.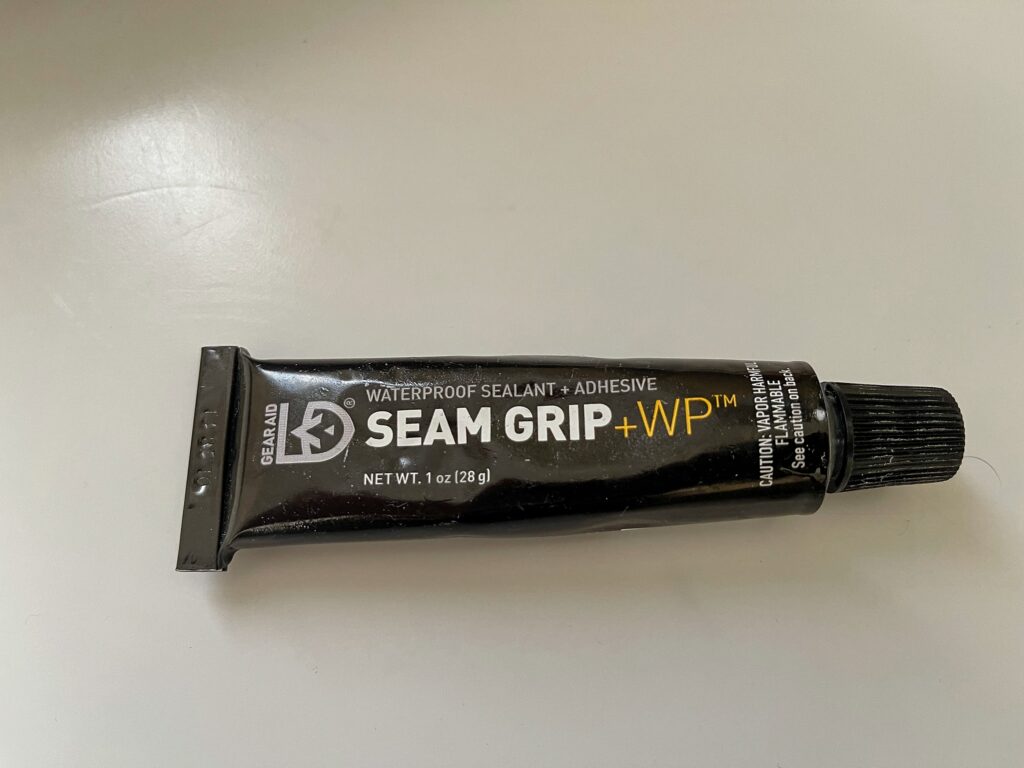 This had reasonable reviews but I found it not a good match. You apply using a small brush but it has very low tackiness. Thus the seam tape even if pressed down with glue in place will just lift away repeatedly. Then the glue did not set for weeks and actually never seemed to fully set so I got smudges of this material everywhere and my seams are now half glued on half with air gaps. But the actual seam itself got a good coat of this glue applied so I hope it will work – come back in a month to get the result.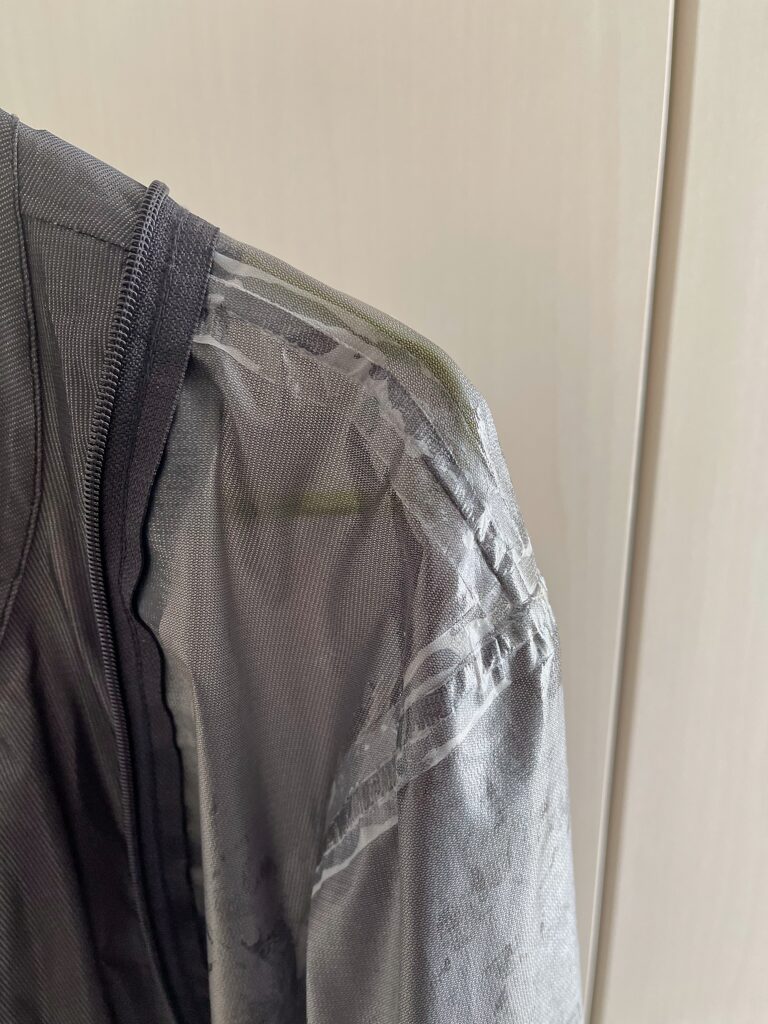 Follow up. This seems to have done the trick. I had a couple of wet days on my 2021 Autumn tour and arrived to my hotel dry. Prior to that tour I also had washed the outer jacket and reapplied a waterproofing spray. The waterproof sprays don't seem to last very long and probably are not necessary but having the outer coat clean so it does not retain water I think matters. Additionally I tried to take more breaks when in heavy rain, this tour resting the gear and myself.