Knowing I will face plenty of rain on my autumn tour I decided to examine all my gear and update a couple of items.
My Autumn/Spring season primary glove for ten years has been the Held Rainstar. It is incredible to think those gloves were still in good shape externally at that age but sadly their days are over as the Gore-tex liner is no longer working and the Outlast liner also worn out.
It was my intention to get another pair from Held but importing items from EU at present is difficult, I should have done so before Covid – but hindsight is a wonderful thing.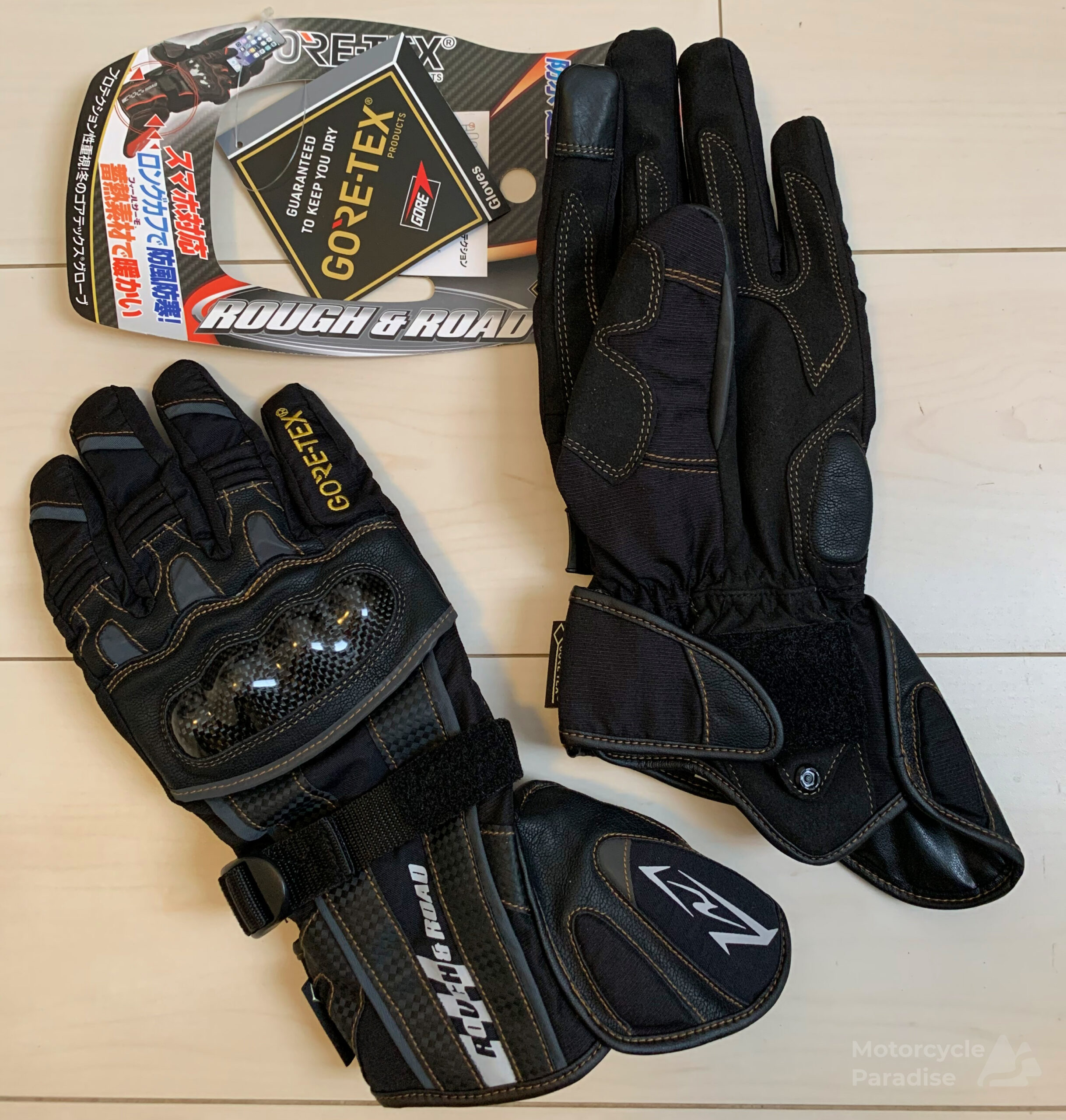 I went searching for a local item but ended up having to shop online as Goretex gloves were impossible to find in store. Rough and Road are one of the larger manufacturers of motorcycle rider gear in Japan and this is billed as their 'ultimate' glove. They are constructed in a lighter style and perhaps not really comparable to the Held items but are made for the same role.
The use of leather is limited in these gloves to parts of the rear and small part of palm, otherwise construction is a mix of textiles or synthetic materials. I guess the good point of that is they dry much faster. The multiple leather layers of the Held gloves would take me 3 hours with hair dryer in hotel to get them dry for next day. On this tour I could dry these maximum 15 minutes with hair dryer. But obviously down side of this is less robust, less protection and unlikely to last as long.
I have touched on it before but so much Japanese rider gear is of a lighter construction and nothing seems to have any CE rating and that continues with these gloves despite them supposedly being the companies best.
The gloves are all day comfortable with a plush liner inside the Gore-tex and the stitching is done to a high standard (unlike the Alpinestars Atom gloves that have terrible stitching). These gloves do not work at as low temperature as the Held. For winter they are best in the teens – 19 to 13 degrees. If I have the grip heaters on high then a couple more degrees lower, however they handled the warmer days in the mid to high 20's well so can be used over a wide temperature range.
Style wise the gloves are a mixed bag. I like the use of carbon fibre for the hard knuckle and reflective logos looks nice. But these gloves have a slash cut opening which is a negative as less area for jacket cuffs to hold on to. I am tempted to call them too short, however it also depends on your jacket. My old Alpinestars Andes has enough length in arms for it not to matter but my new jacket is a touch less and on cold days I want a perfect seal around the cuffs and found I needed to readjust that a few times.
Another thing missing is most textile gloves have some sort of anti slip on the palms or fingers. That might be rubber or leather in place as suede does not give you as good a hold of the throttle or levers i.e. it offers less grip than leather. I get a bit of strain trying to hold the throttle open all day with these gloves – but half of that is Yamaha's use of a heavy return spring which is unnecessary on a ride by wire throttle.
So to the $64,000 question do they work in rain – yes. They kept my hands dry in all day rain and then they are easy to get dry at end of day unlike my Held Rainstar gloves. (Update – just did two weeks with rain every 2nd day and these gloves are by far the best I have used in the rain)
German Vs Japanese – however both gloves are made in China. The same Held gloves now days cost about $300A plus shipping which despite their good quality is getting hard for me to justify when not getting a made in Germany product. On the other hand these gloves at less than half the price are not as versatile or well made but are not miles away. You pay a lot to get the extra of the Held.
You can find good products at a range of price points. My Tourmaster Coldtex 3 winter gloves have been amazing on this tour, toasty warm and dry hands in any conditions yet incredibly I got them for just $59US (via amazon). These Rough and Road gloves are neither cheap nor highest quality but will probably fill a gap in my glove lineup successfully for a fair while.
Follow up/further thoughts:
With another two weeks use on tour these gloves started to wear in and offer a little more grip. The slash design at cuffs reduces the overall length by a little but I find my jacket without the thermal liner, just rain lined installed sit over these gloves fine. When I am wearing my liner I could use other gloves thus this slash cut will not be a problem.
No affiliation.