Japan is famous for its cherry blossoms, less known is it has a spectacular Autumn display of coloured leaves.
Even more than the cherry blossoms timing is difficult as things can happen quickly. Most years I try to do a ride south with mixed success. I saw magnificent displays of colour in 2014 and 2015 but since then have been too early or too late.
With no overseas travel still I came up with an idea to ride a full circle of Japan. However it simply is too late for Hokkaido on a motorcycle so I trimmed it a little but kept the name. (small tribute to Michael Palin's 90's travels that inspired me)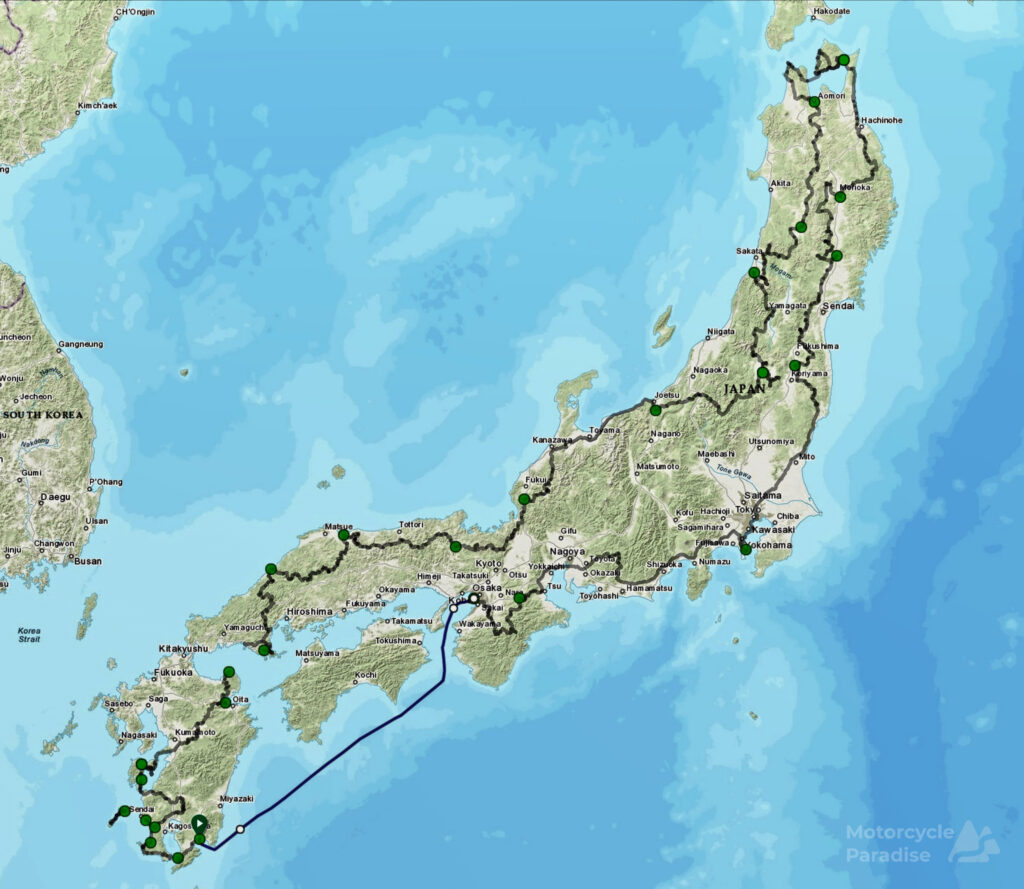 25 days is ambitious for this time of year with Japans unsettled weather. But I will just give it a go, doesn't matter if I make it all the way or not I will have seen something and that is success enough. I googled the historical dates for leaves changing colour and end of October seems peak but it's really just luck of the draw.
Before setting off I changed tyres. The Bridgestone T31GT's I got in Aomori on my Tohoku tour have been by far the best tyres I have had on this motorcycle and shame to throw away with still some life in them but getting tyres mid tour is a huge hassle. Few other bits I will mention later and some new rider gear on this tour also.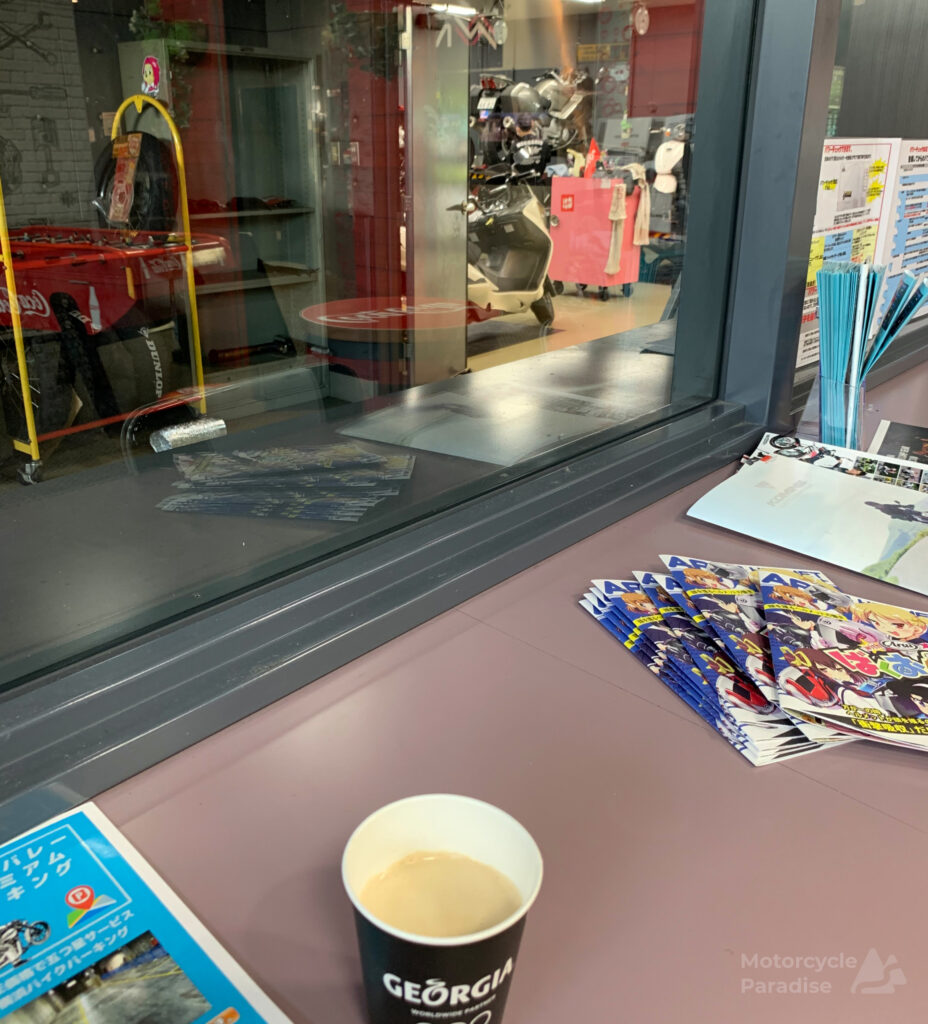 I went with the old Bridgestone BT-023 tyres. Not a great tyre but the T31's cost twice as much and whatever I put on will have to be replaced after this tour to pass my next safety inspection so I could not pay twice as much then throw them away after this one (albeit long) ride.
Setting off I foolishly attempted to ride via the Tokyo expressway and was reminded why I have taken a 70-80km detour the last 6 years. Total gridlock. I had to give up or I'd still be there now.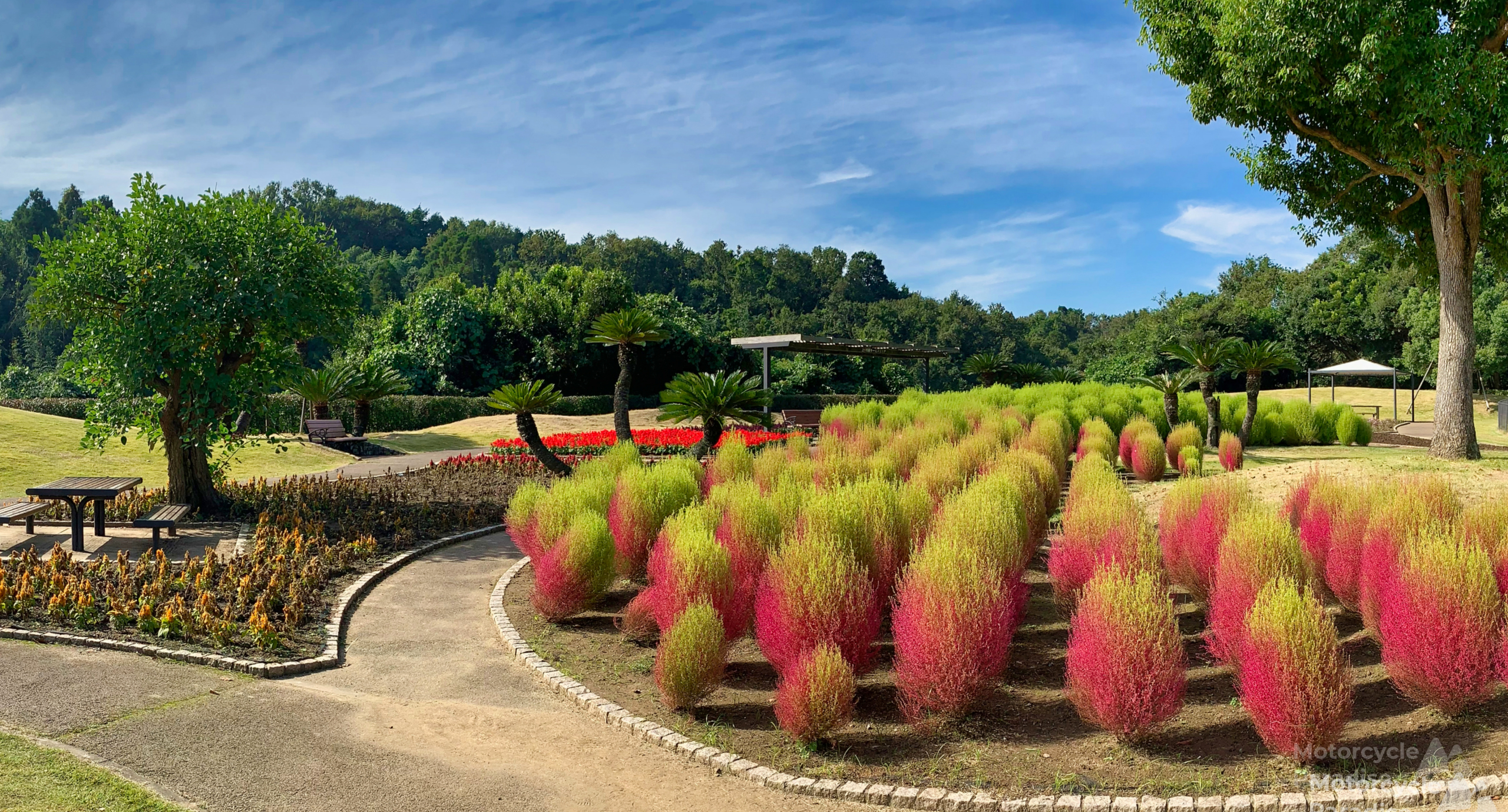 Lovely weather for a ride. These Kochia bushes have just started to change colour, they turn bright red in autumn.
Mostly highway north today, I exit in Ibaraki prefecture. Some nice back road riding but first I visit this neglected tower on top of a small ridge I saw a fellow expat rider post.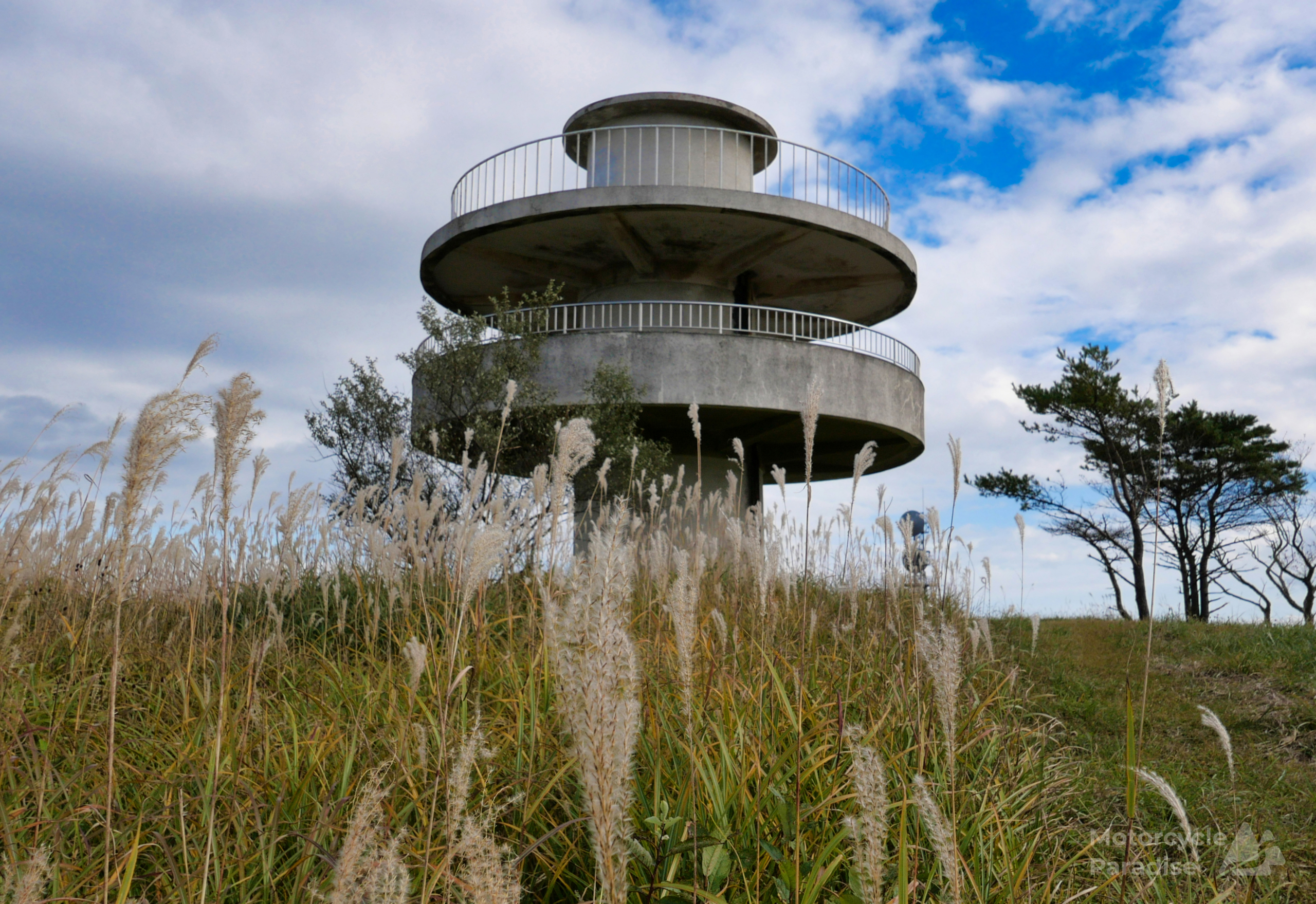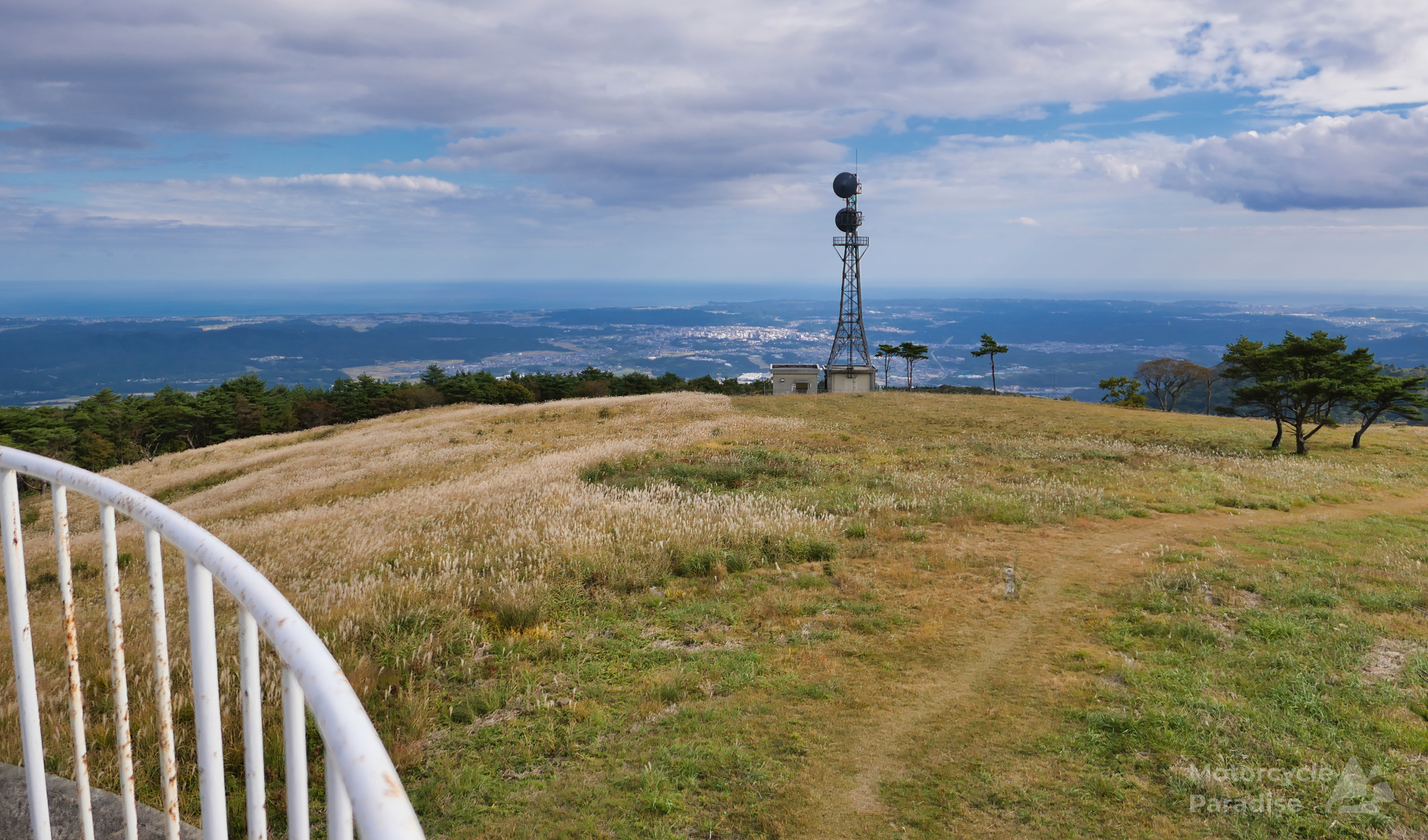 Then my first road closure of the tour. Detours are a feature of any ride here with constant repairs needed due to either the torrential rain or earthquakes. There is a web site listing the hundreds of roads closed at any time but it never has all so bound to encounter more if exploring the roads less travelled as I prefer.
The weather made a sudden change. I soon found myself in light drizzle but made it to another view point I wanted to see where the sun then returned. Always four seasons in every day here.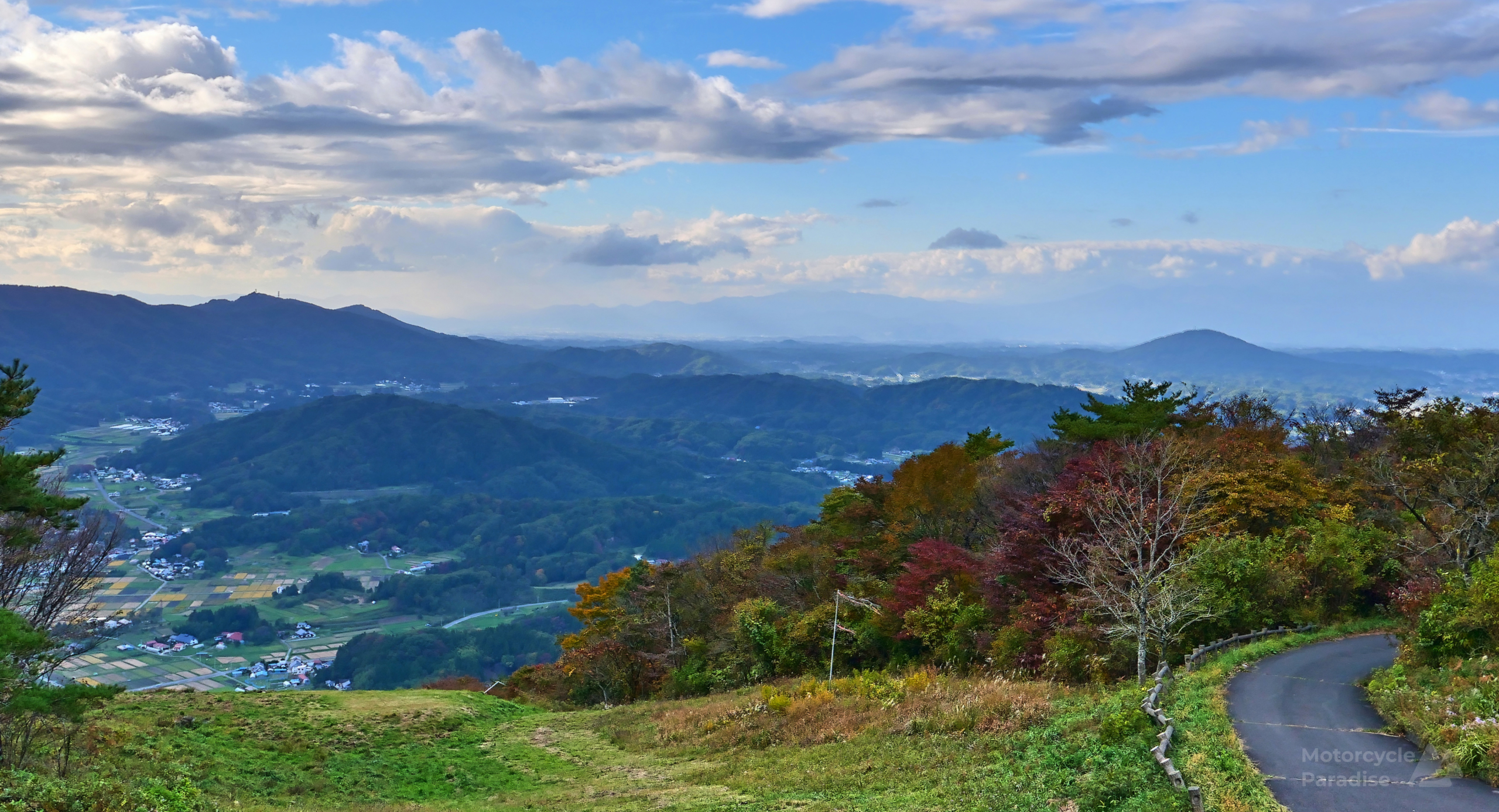 I am happy with this start to the tour and with light fading early make for my hotel skipping rest of route.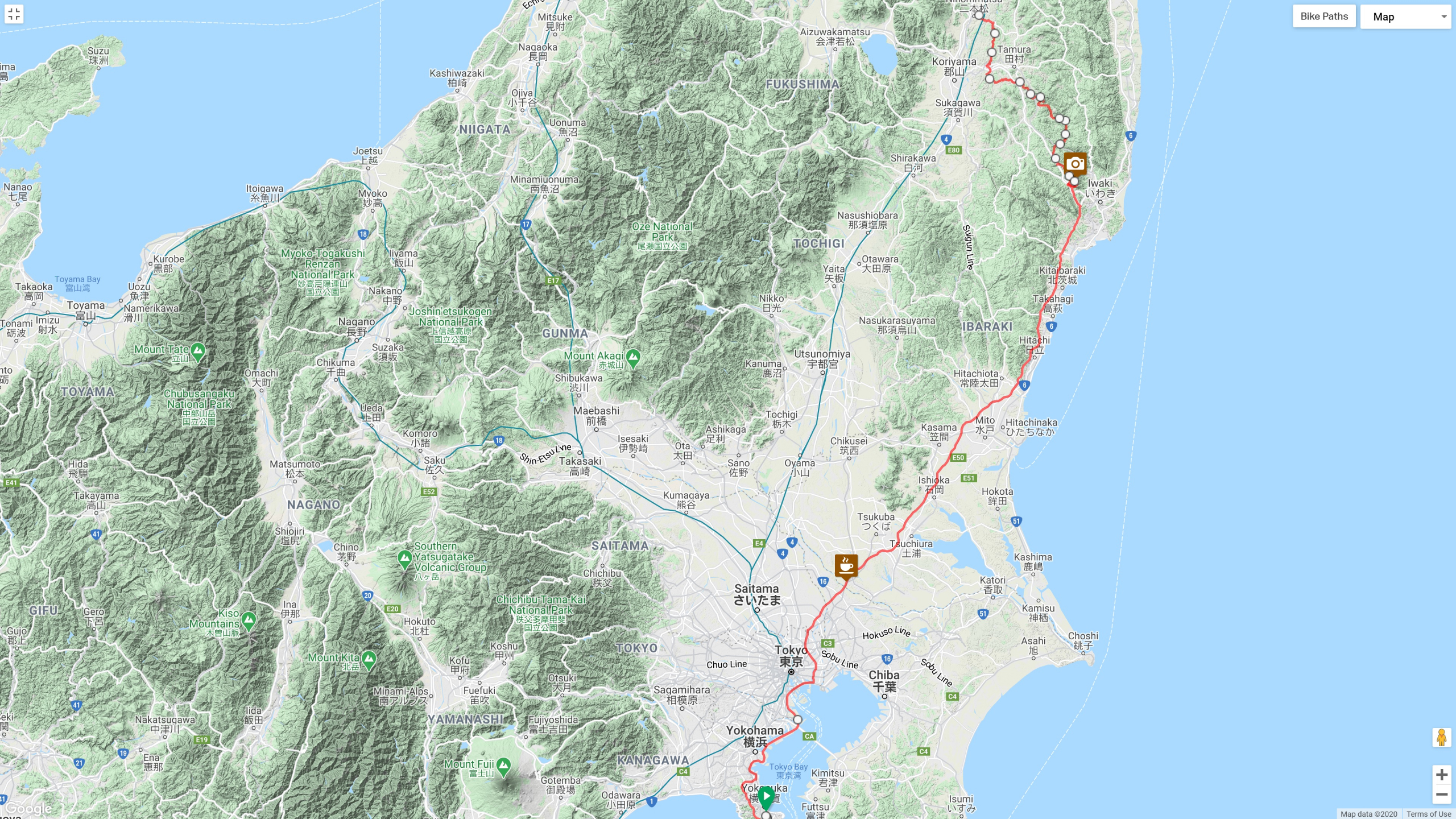 That made today's ride a long (for Japan) 478km, which I did on one tank. Love this bike's touring capability.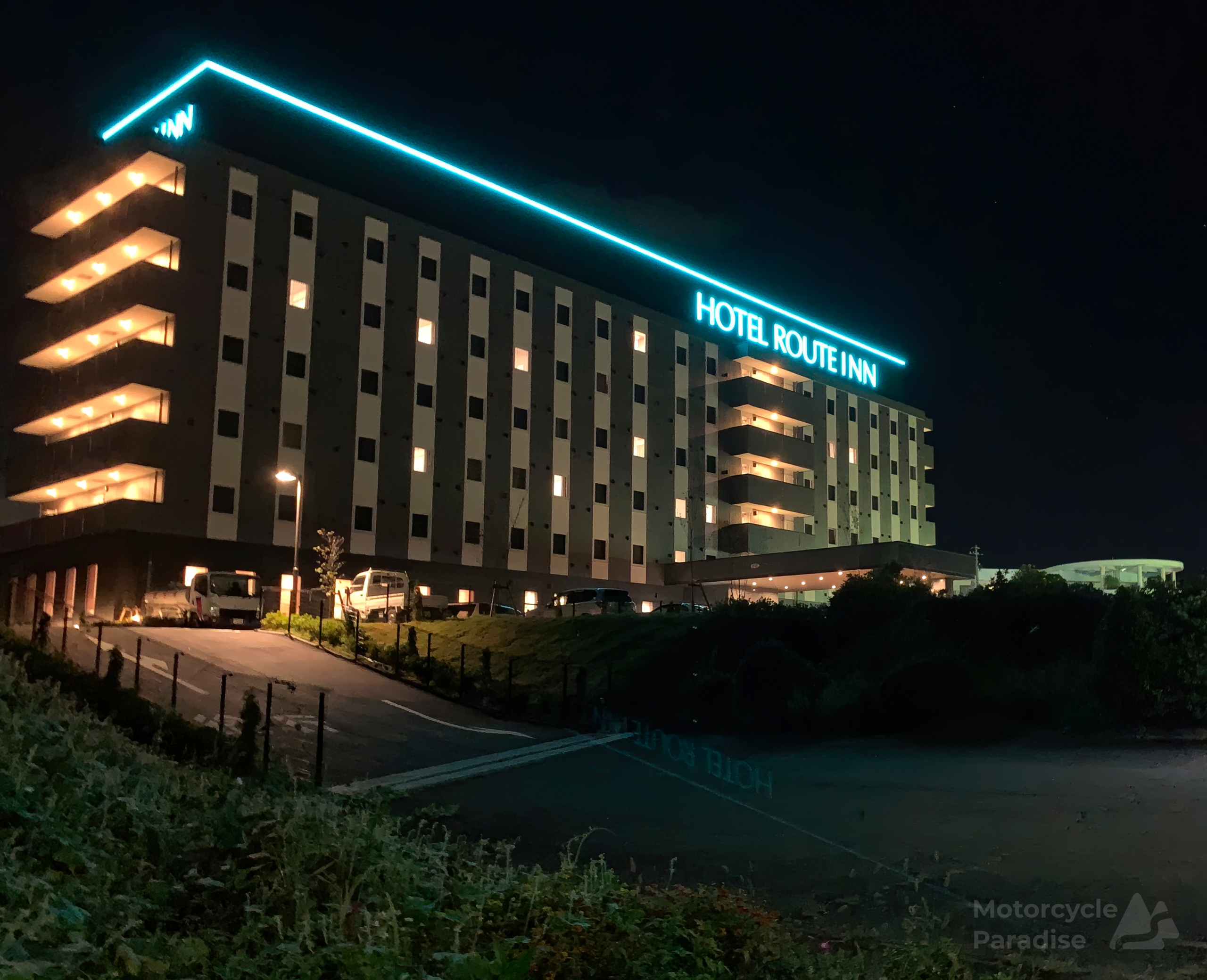 At my usual hotel chain. Now check this out – the Japan government has a domestic travel campaign so I am getting 35% off hotels and 1000 Yen coupon to spend locally every night. I also still get my usual 10% discount using my JAF card (like RAC breakdown service) and the 'usual fruit' like free welcome drink, free espresso coffee and buffet breakfast.
But wait there is more. Everyone in Japan was given 100,000Y by government as a covid support, even me! So this trip is all paid for by the former Japanese PM. It's absolutely delighted me and is the polar opposite of my own country one of only two in the world blocking it's own citizens from returning and charging huge fees for the few allowed back. But I digress, lets ride.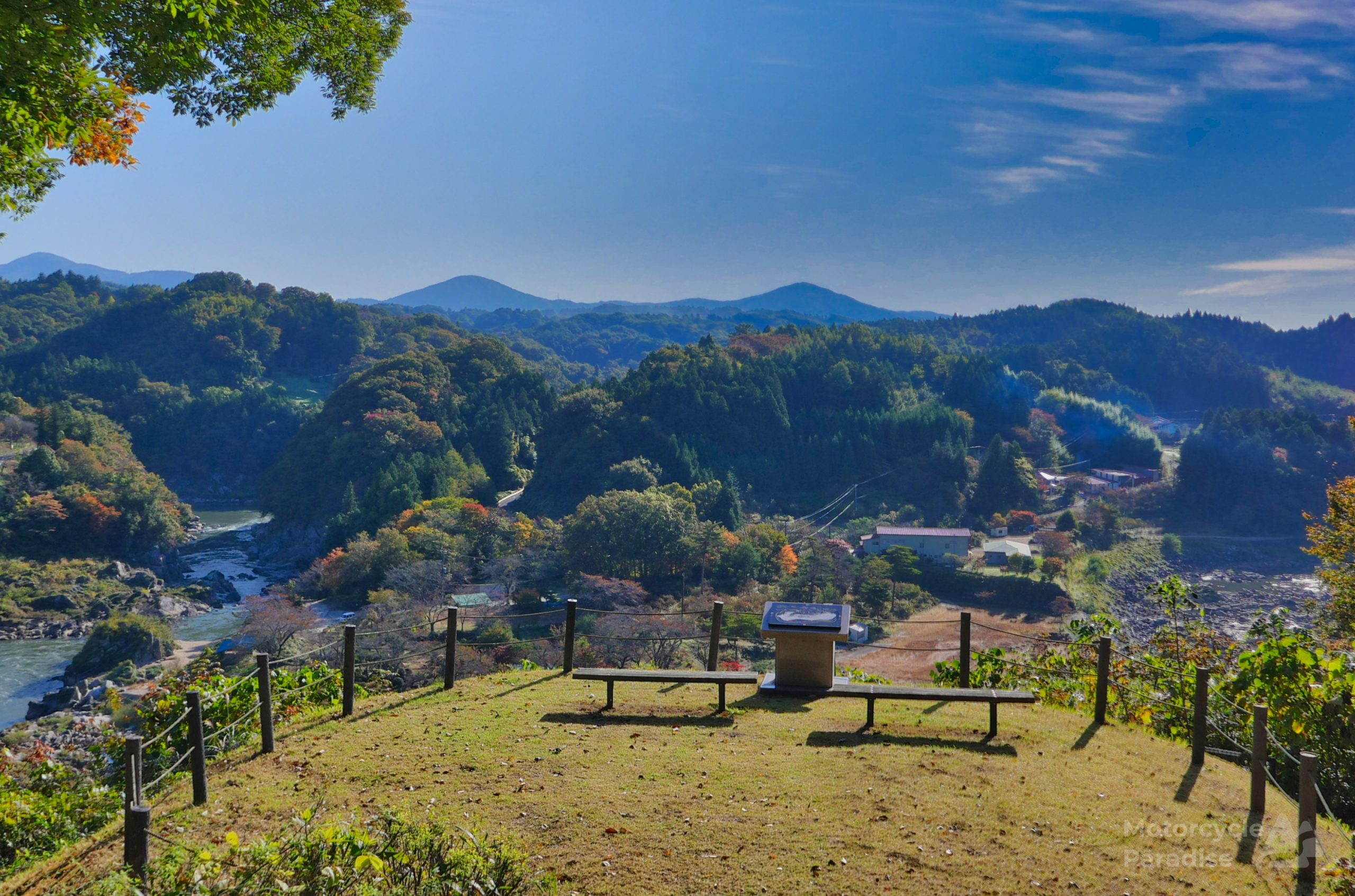 Quiet back roads this morning. In the Japanese countryside there is something of interest in every little community. You could spend your life exploring here and never see everything.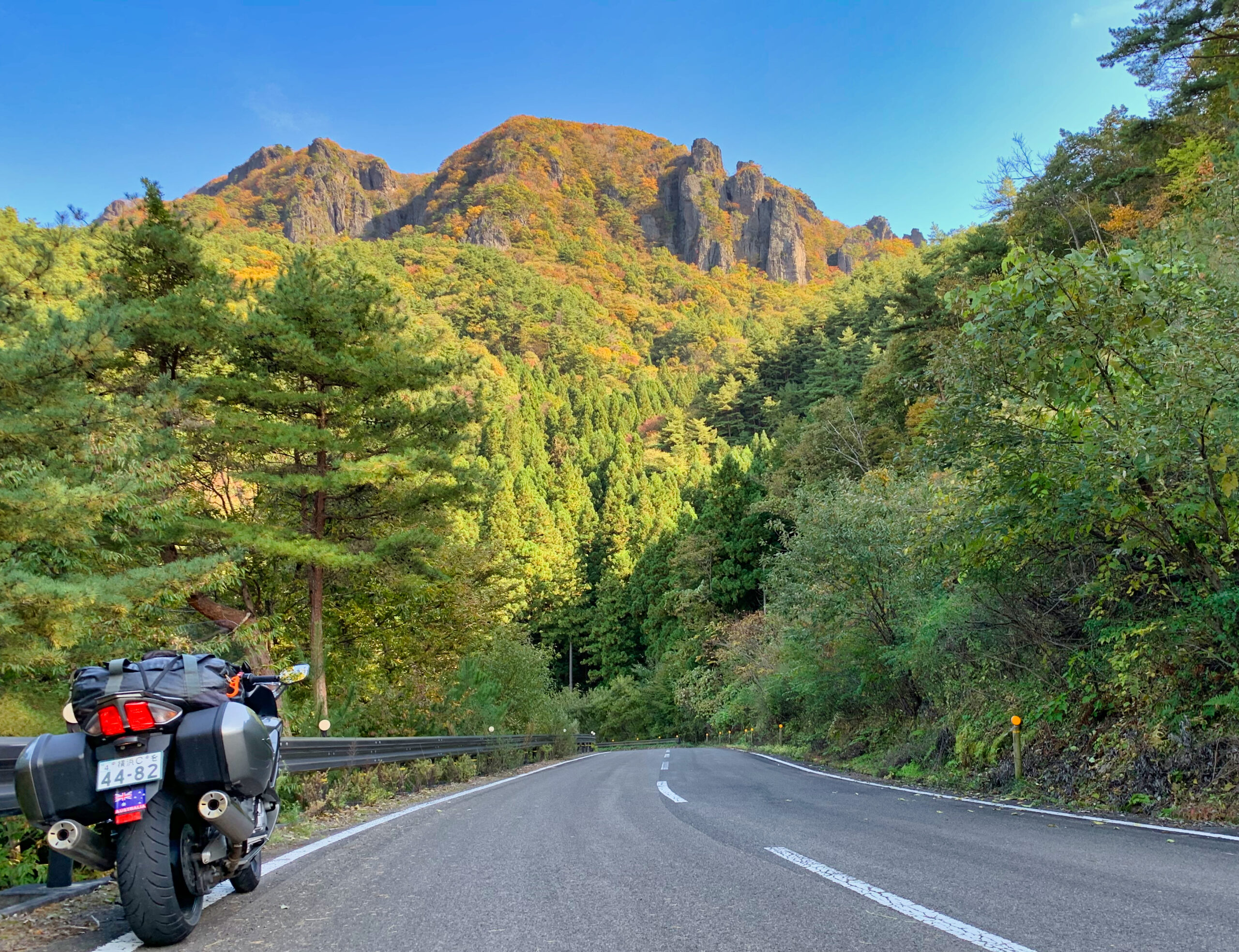 I have chosen many new roads with little idea what to expect but this morning I have found a couple of fantastic ones hidden away.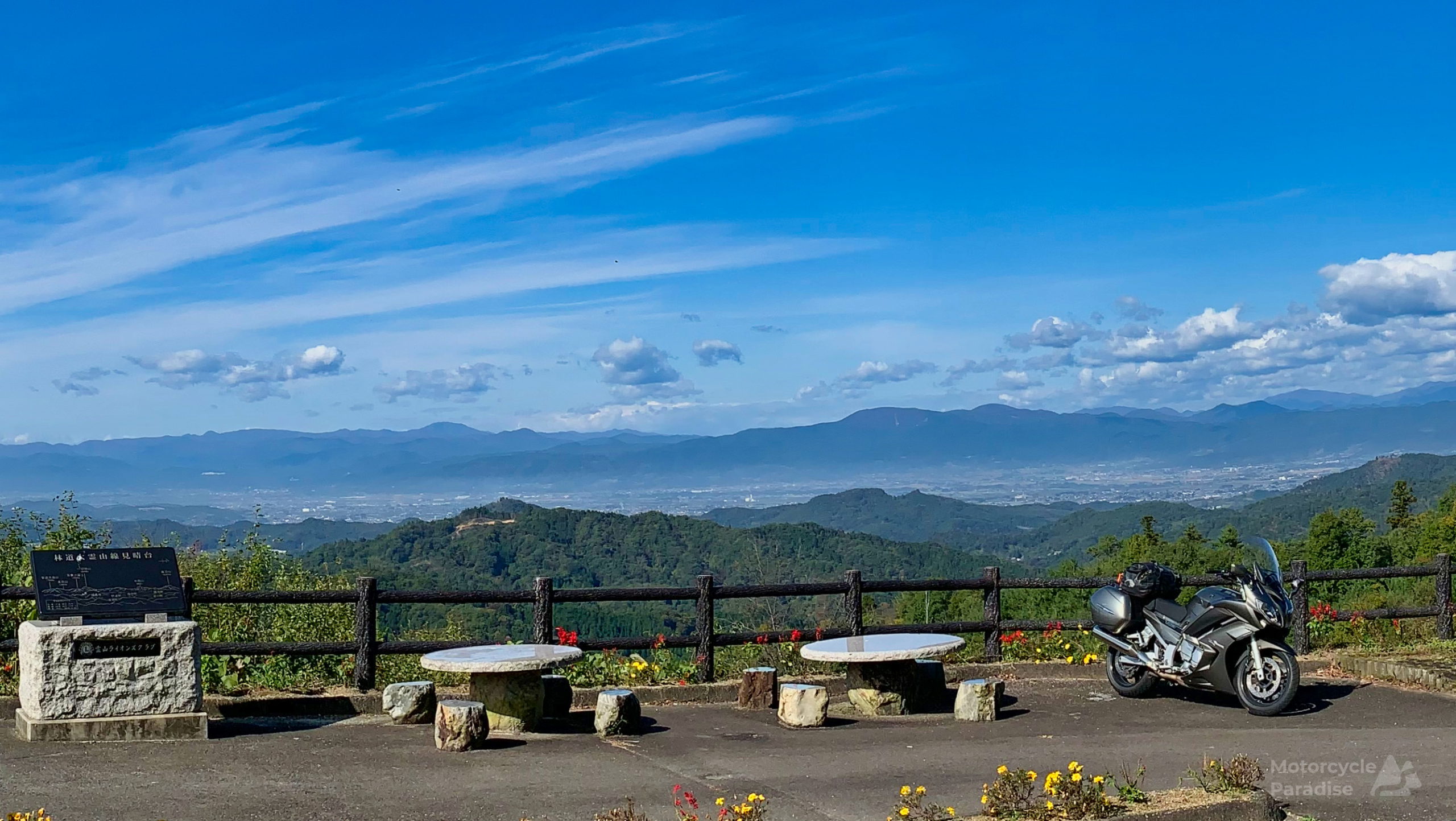 This road follows the ridge for some distance with great curves and views.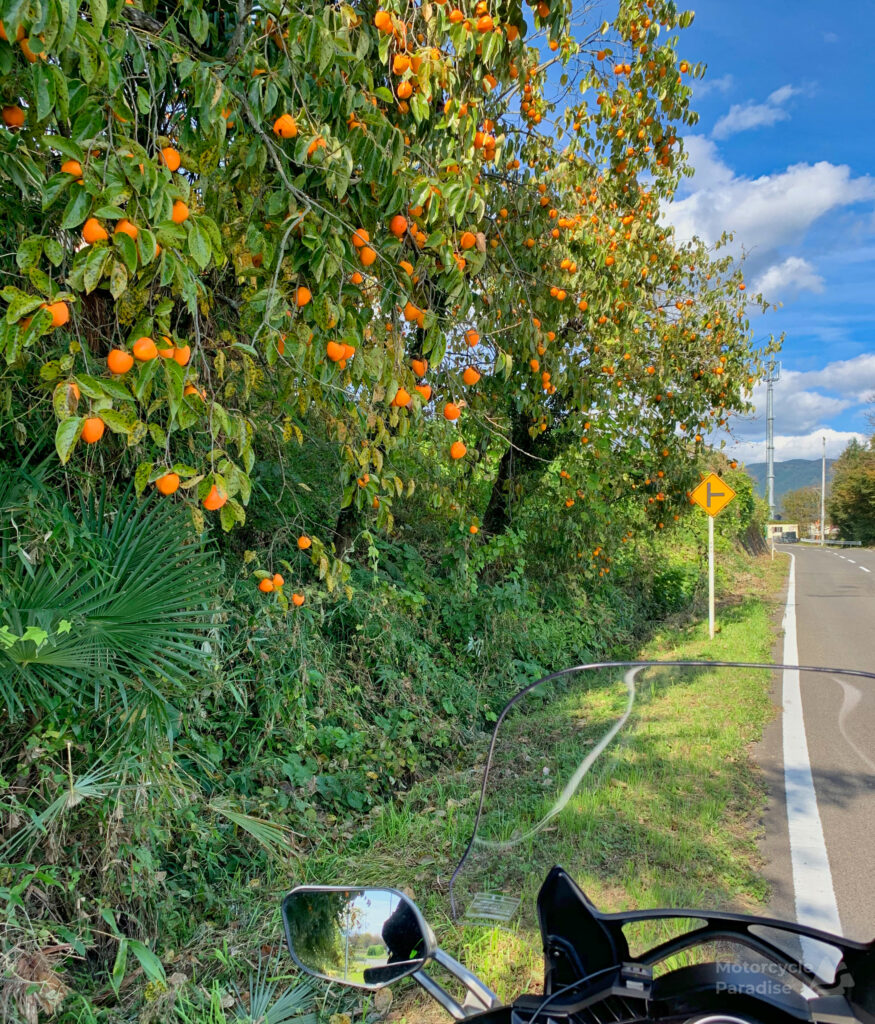 Persimmons are popular in Japan and they seem to grow wild in many places with no fruit fly to ruin them.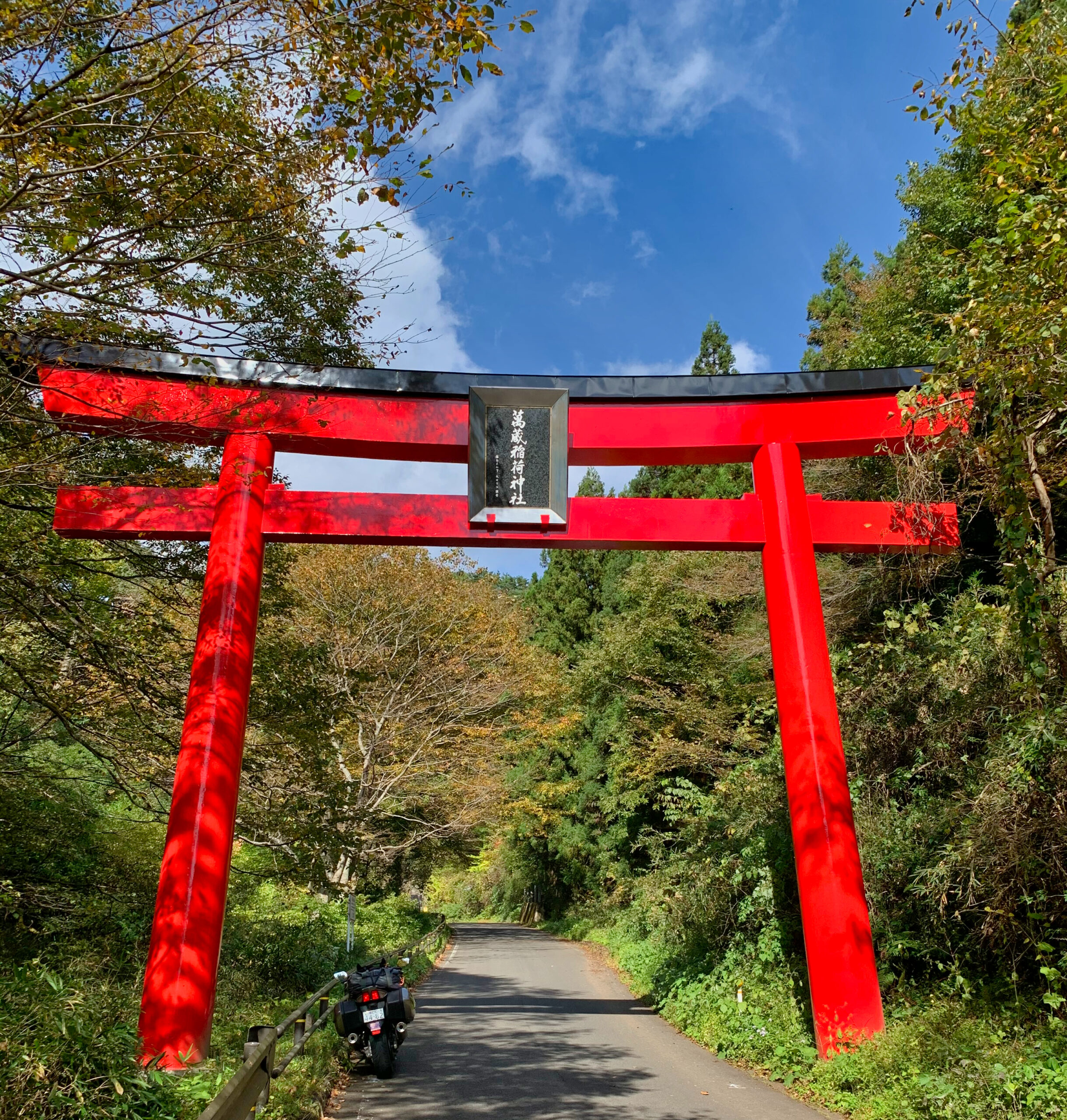 This road lead up to a large temple, this is number one of many Torii gates.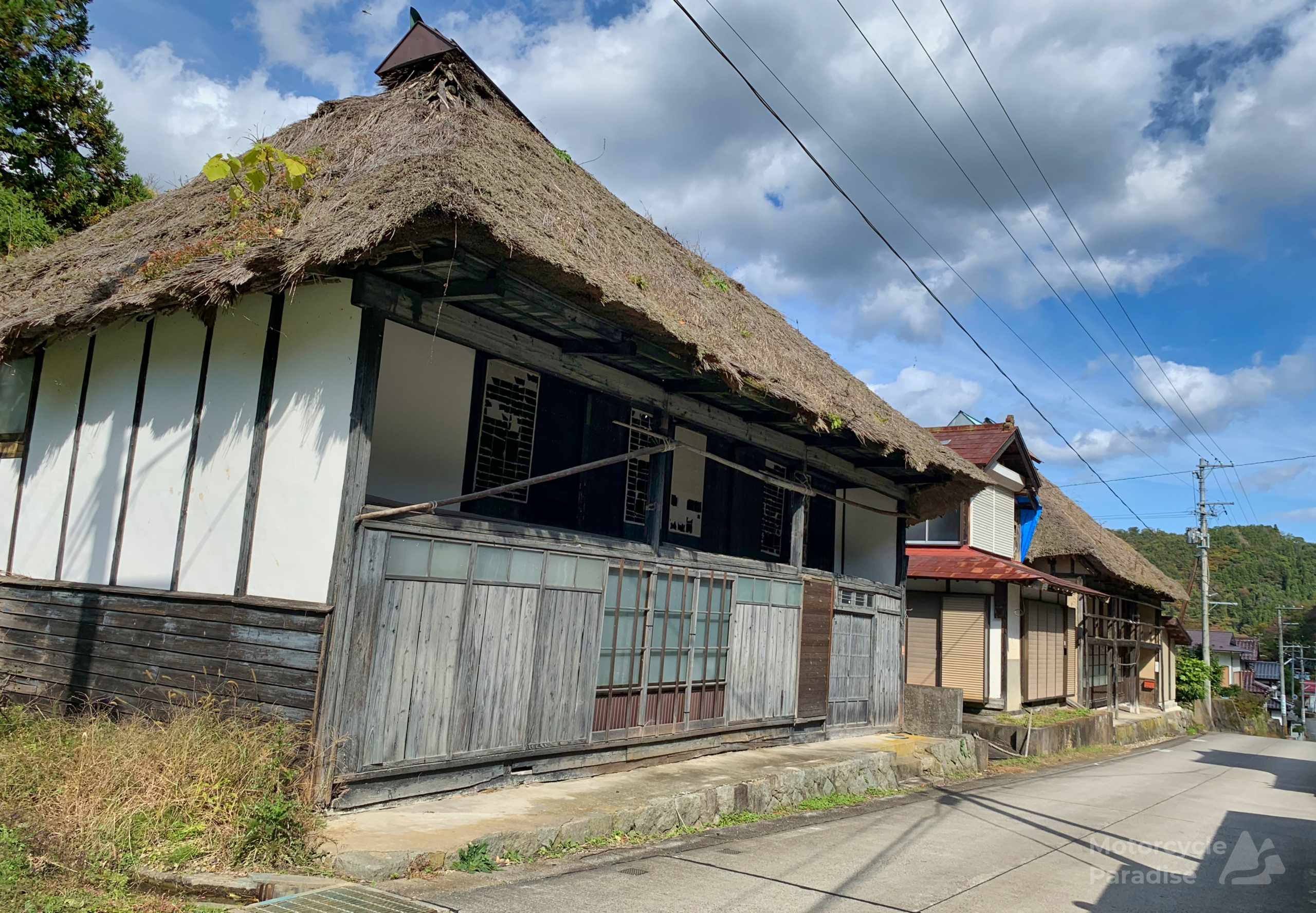 Soon as you enter the countryside you move into a different Japan, the real Japan most people who visit never see.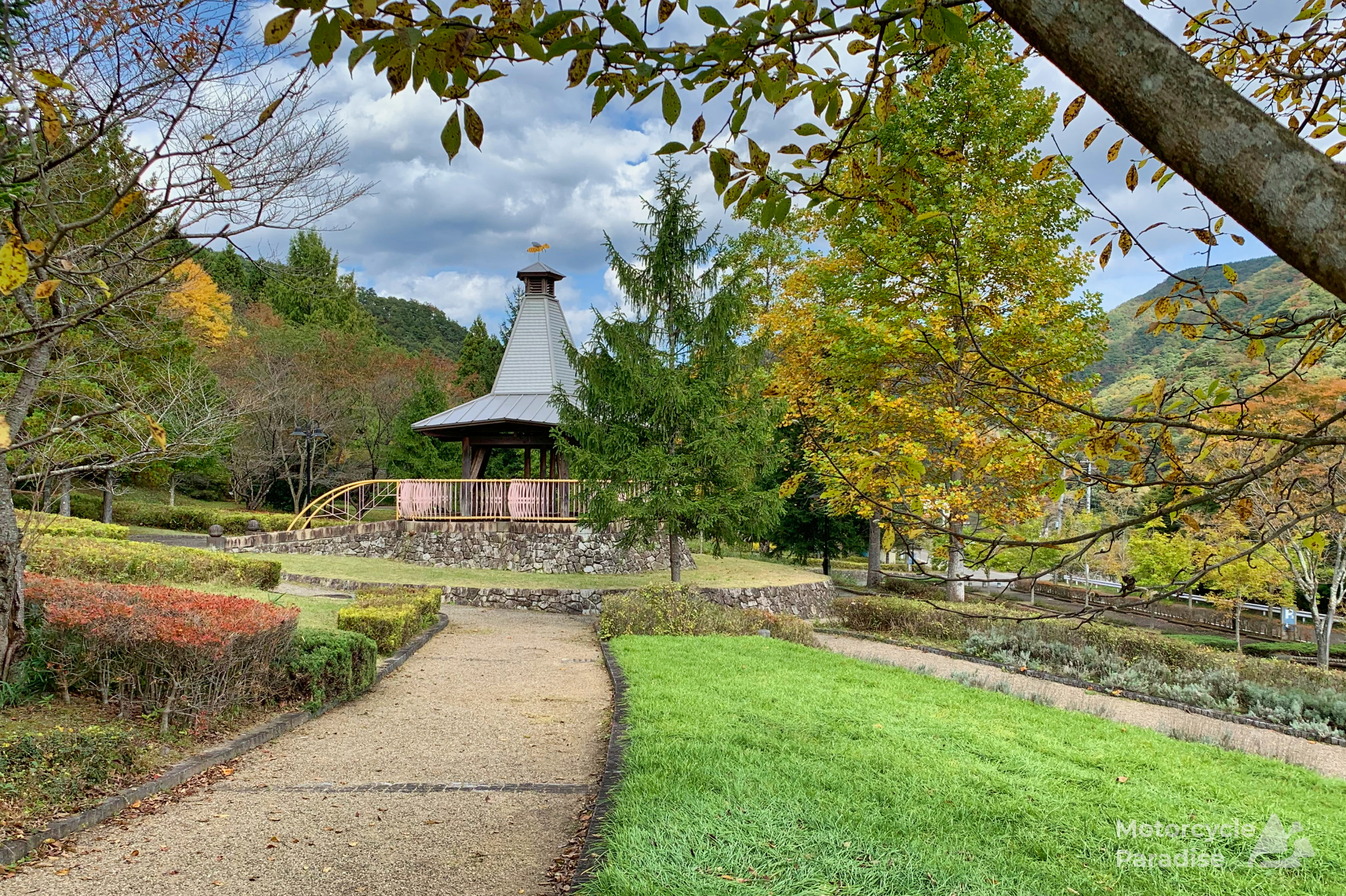 In Tokyo there is very little public space, a handful of big parks in a metropolis of 30 million, but in rural Japan every town and village has a park, this one I chose for todays picnic lunch.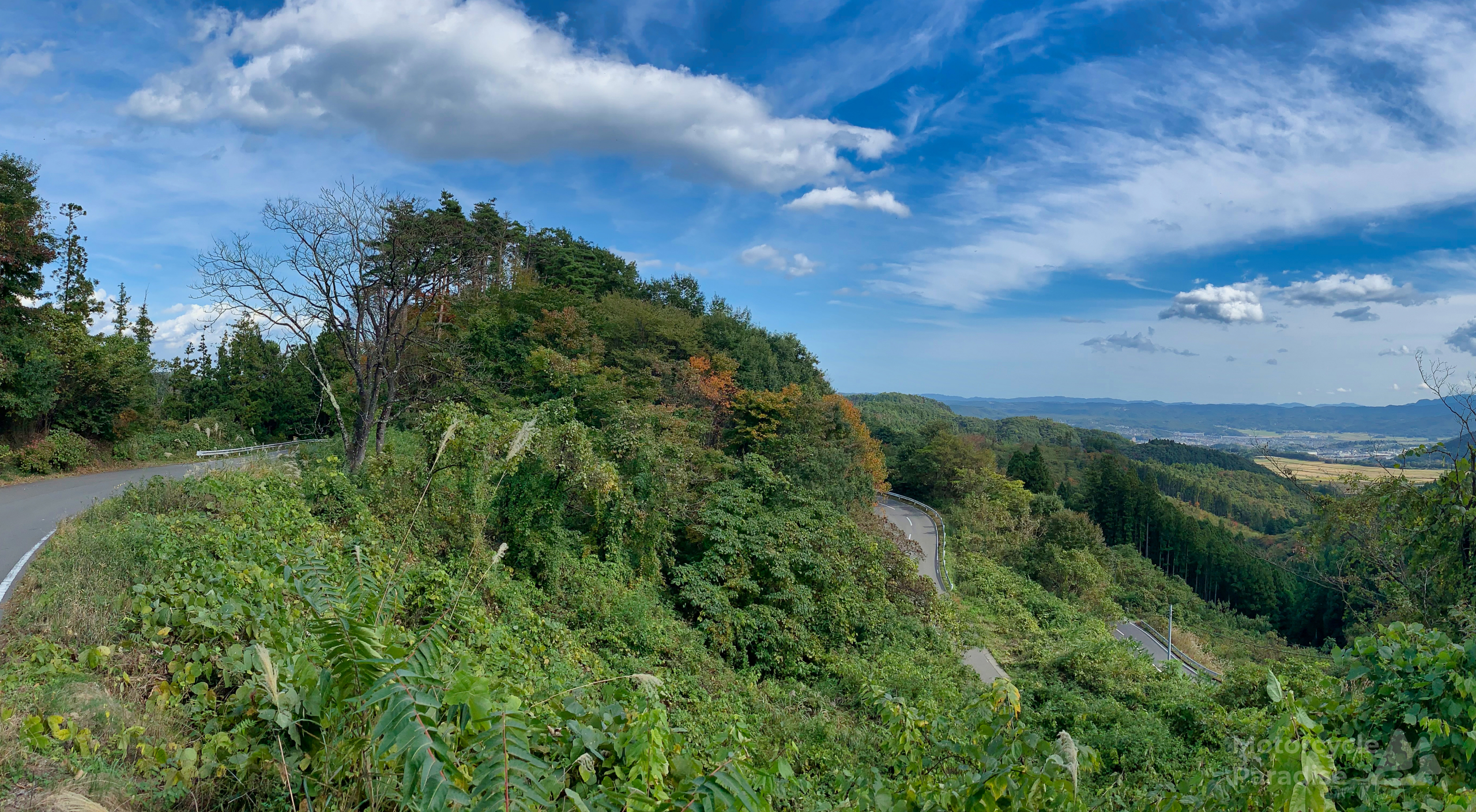 I don't photograph roads much these days, in a country that is all mountains I'd never get anywhere if I did.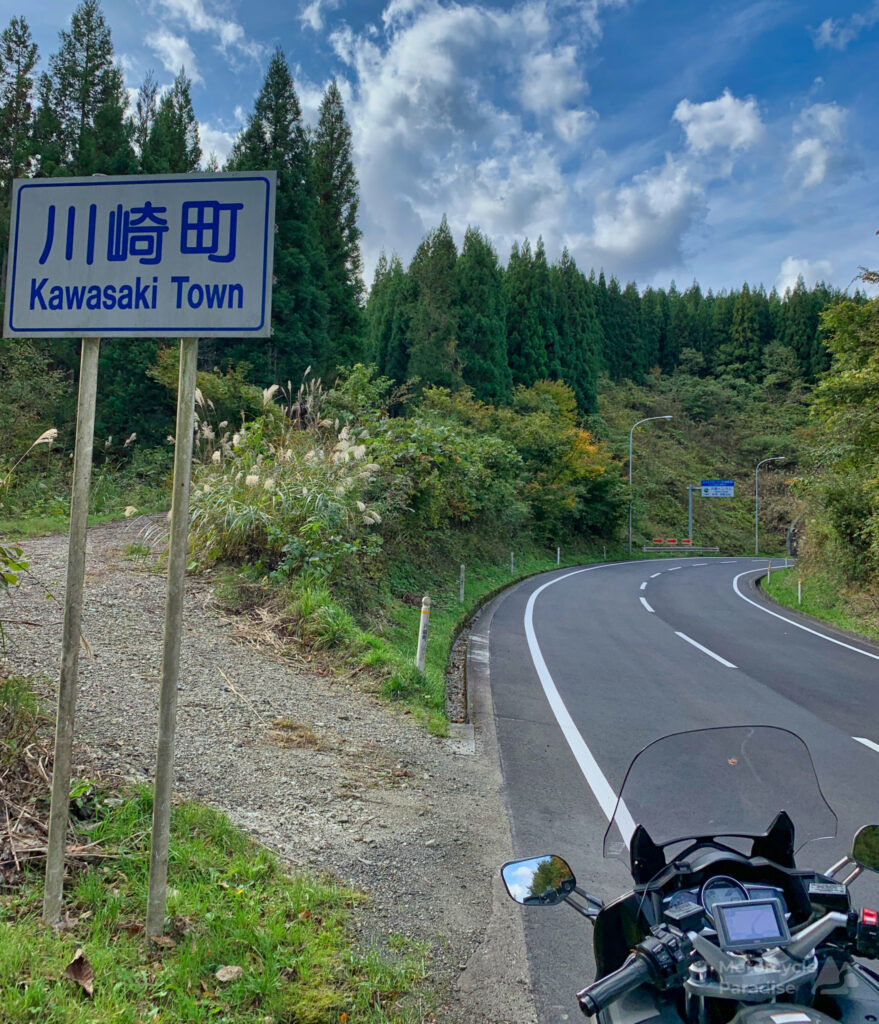 Some beautiful sweepers this afternoon and I'm in my happy place with the Yamaha 1300cc in it's turbine smooth rev range when I see this sign. Reminded me of a Clint Eastwood movie, High Plains Drifter. "Yamaha riders don't usually stop in Kawasaki town, life here is a little too quick for them" "Perhaps you think you're fast enough to keep up with us" Yes my mind does wander like that when I am in the saddle and it's a welcome respite.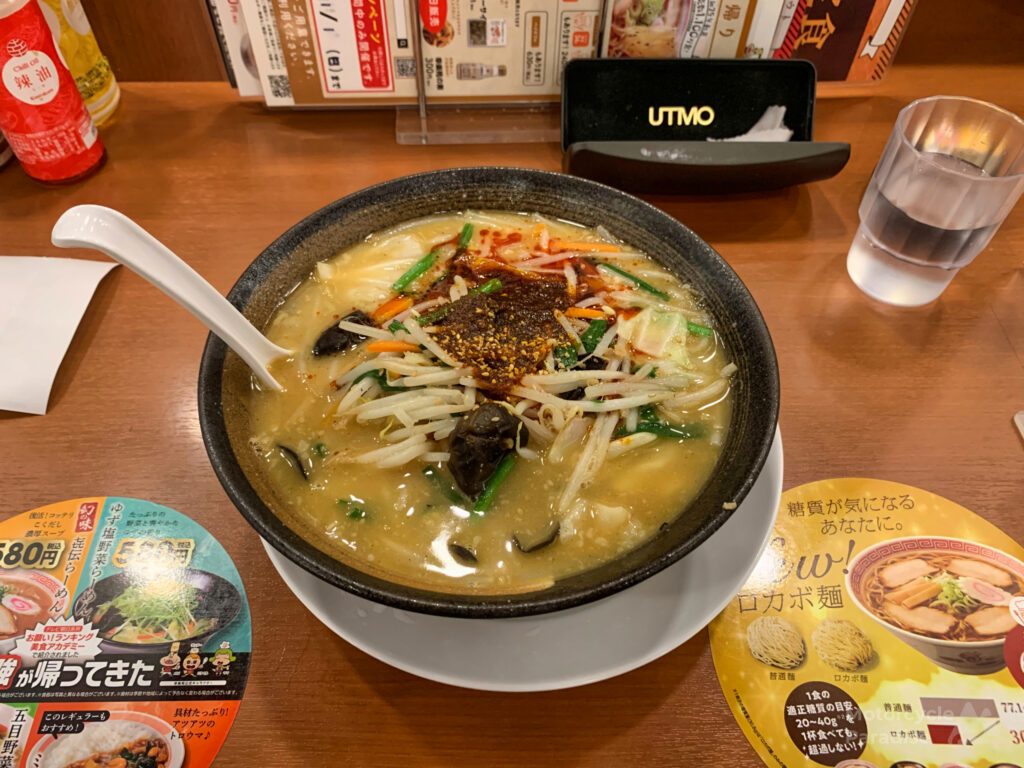 What a beautiful peaceful day of riding and exploring. I topped it off with a huge bowl of spicy miso ramen. I haven't mixed the spice in here yet but wow it kicked in big time. Now I find my jeans seem to have shrunk…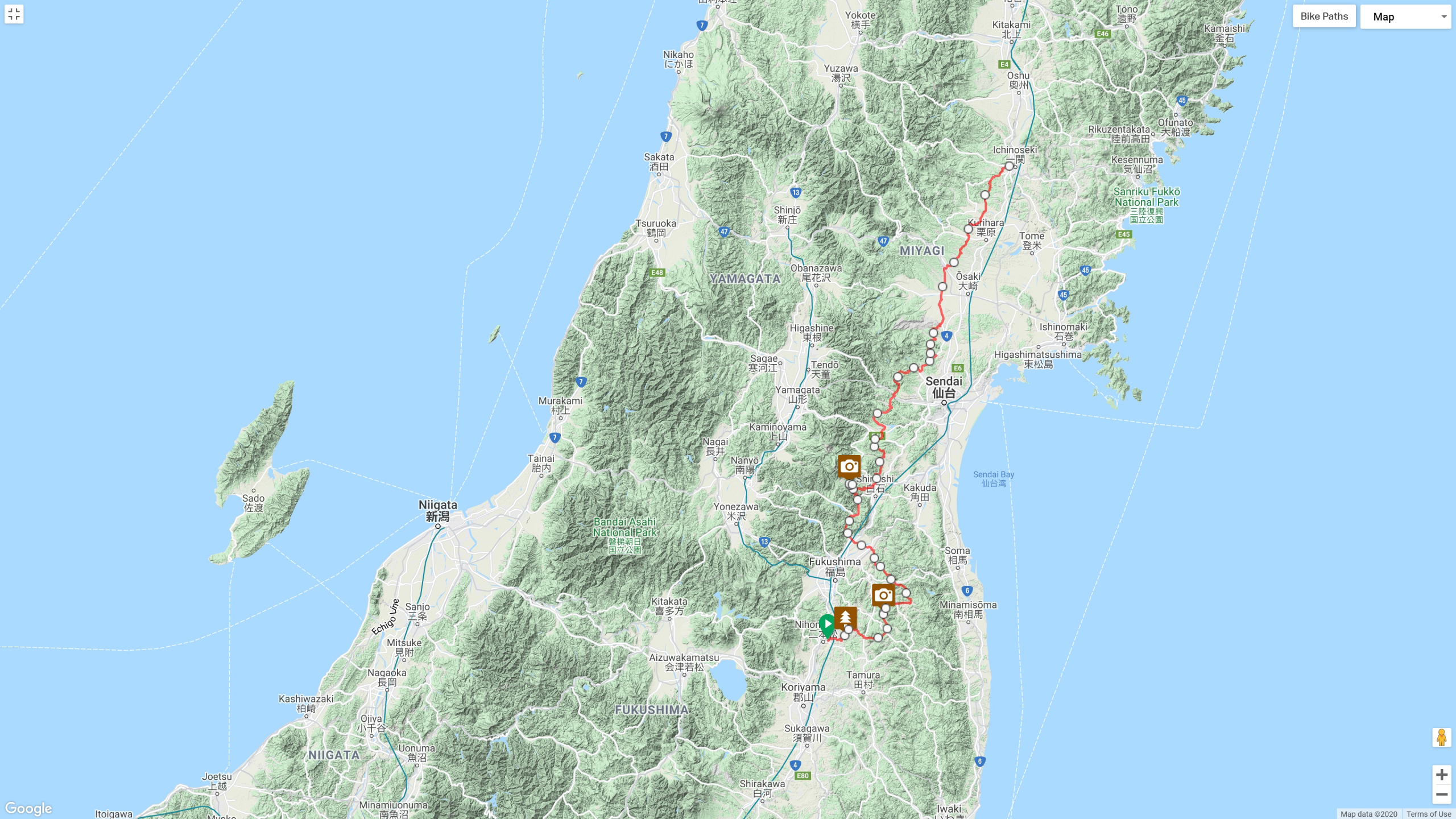 A fine but brisk morning I am riding a one way (dead end) road to visit Mt Kurikoma – just to see what is there.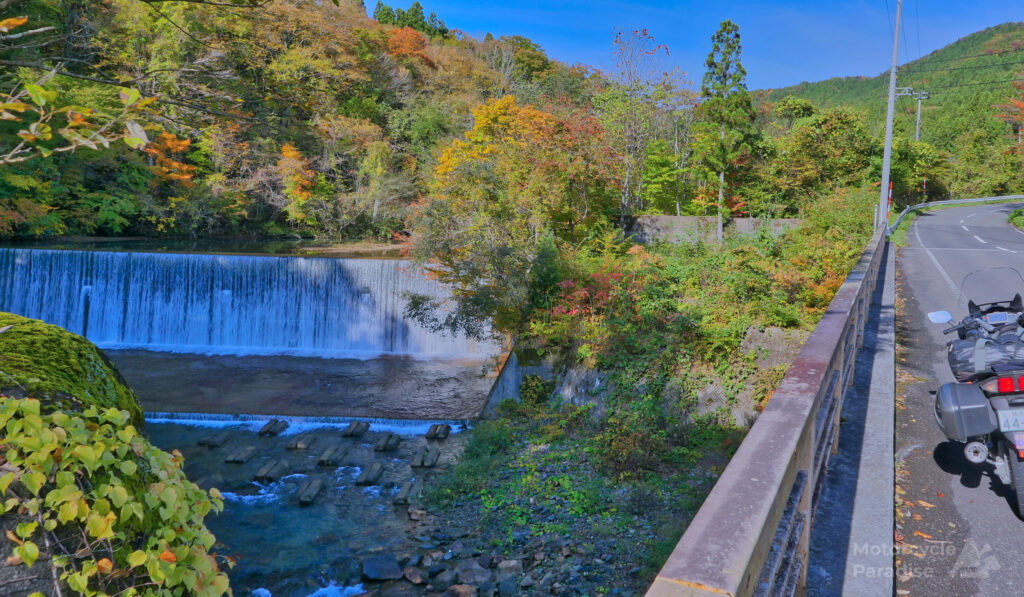 Made a right mess of the exposure on this but I wanted to share anyway, many weirs on a river the road traced.
I am a week late for the leaves this area as already in burnt orange but I am not complaining. Quite some view (yes I did scale that wall to get this shot).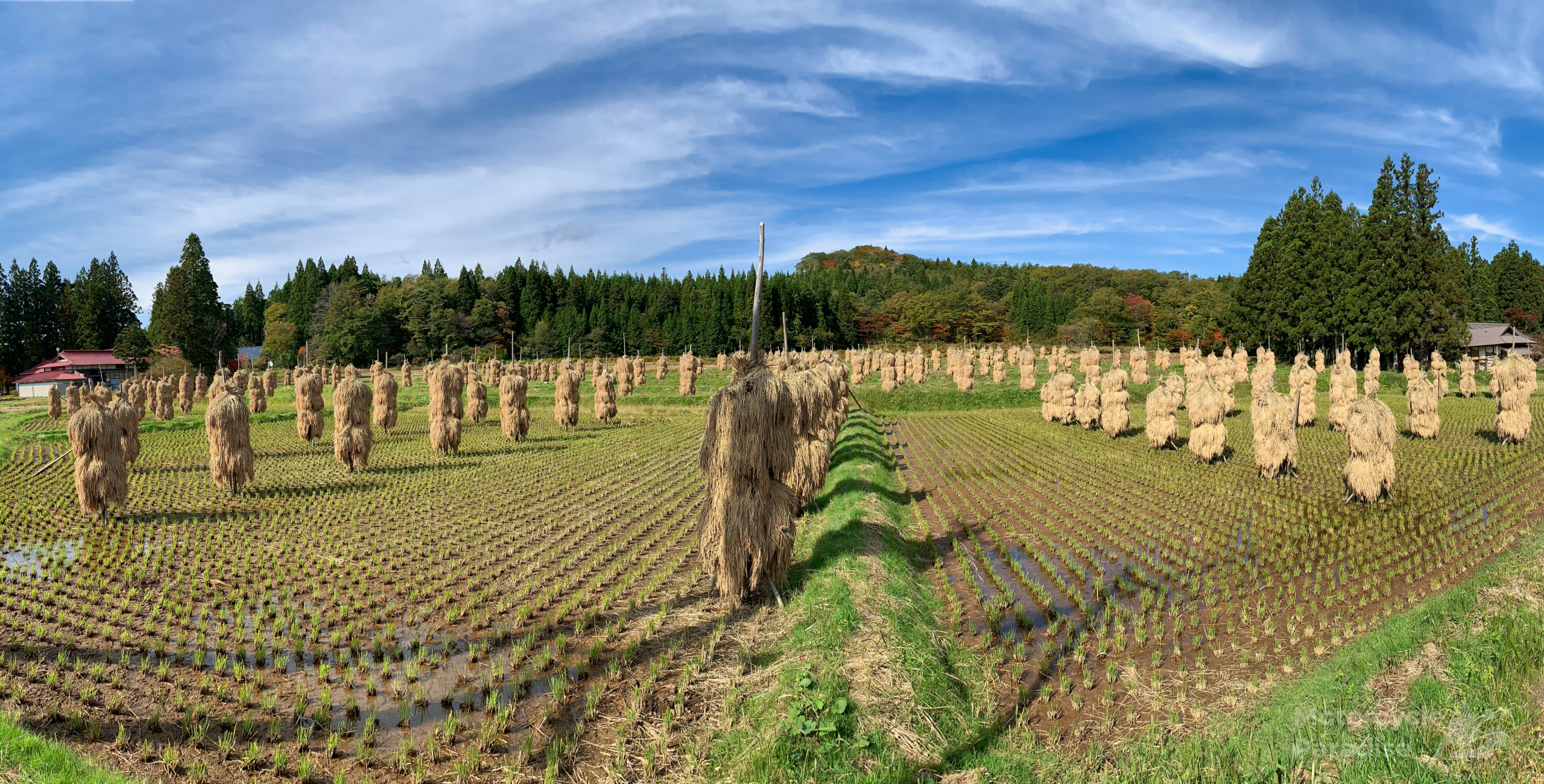 Coming down from the mountain I drift north on easy flowing rural roads. I really enjoy the interesting sights and traffic free riding on these wide farm roads.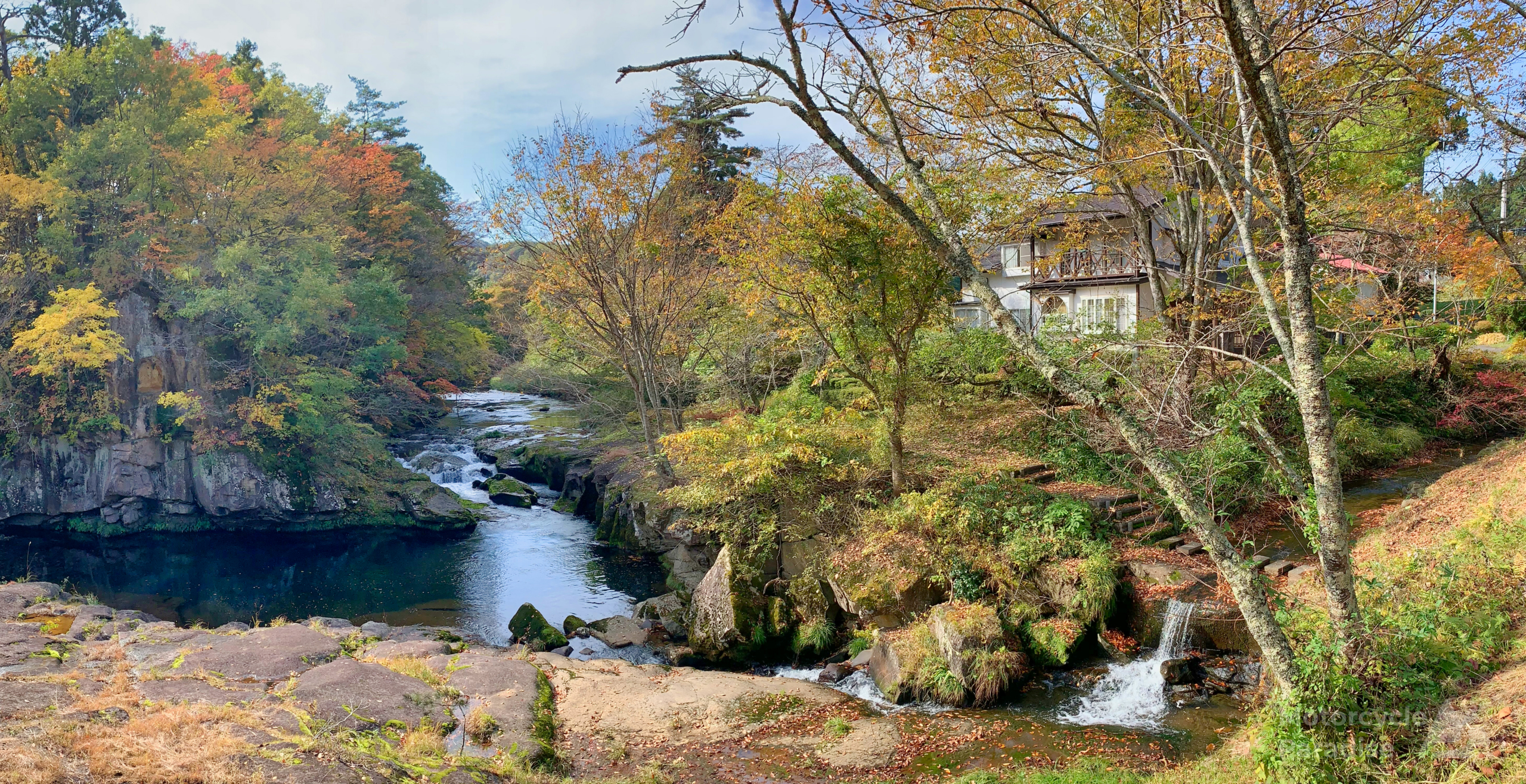 Rounding a corner I am presented with this. Location, location. Someone has their own 'Falling water' here in Japan. Beautiful.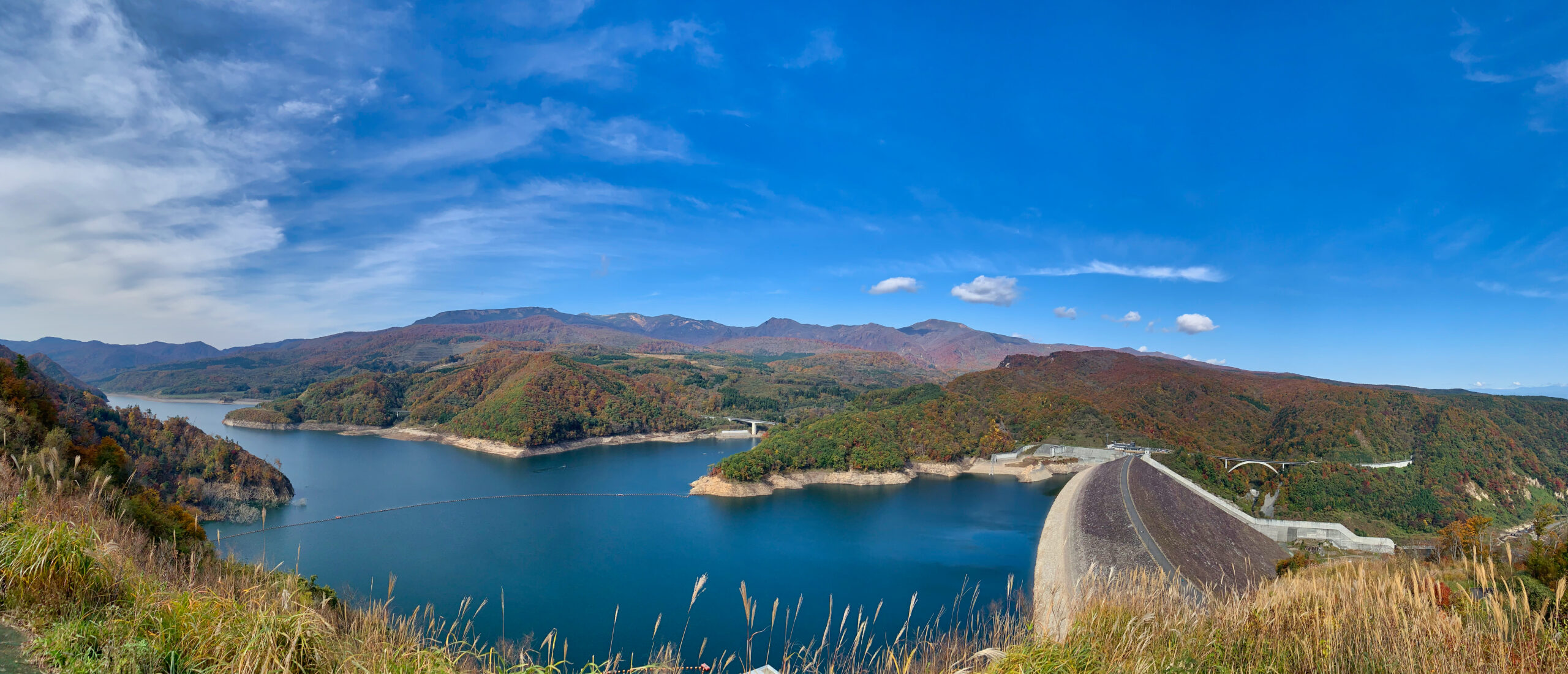 This is a kind of secret view point. The road up here is not in the GPS I just knew it existed from some photos so bit of exploring got me here. Actual view much more grand than this photo suggests.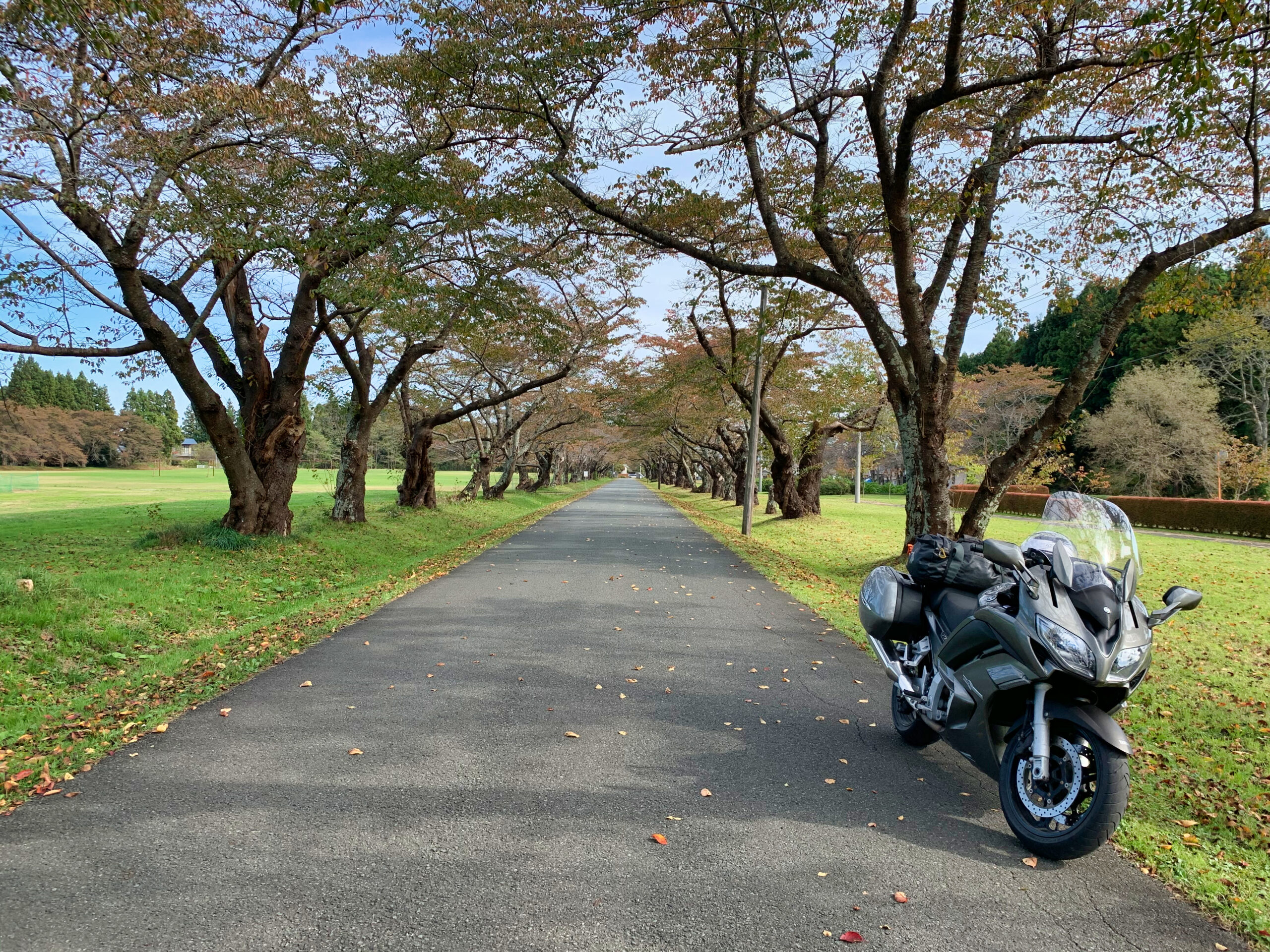 My lunch spot today is just right of screen. Another beautiful park in a small rural community which is so large I can ride through it. Felt somewhat European in it's style and layout.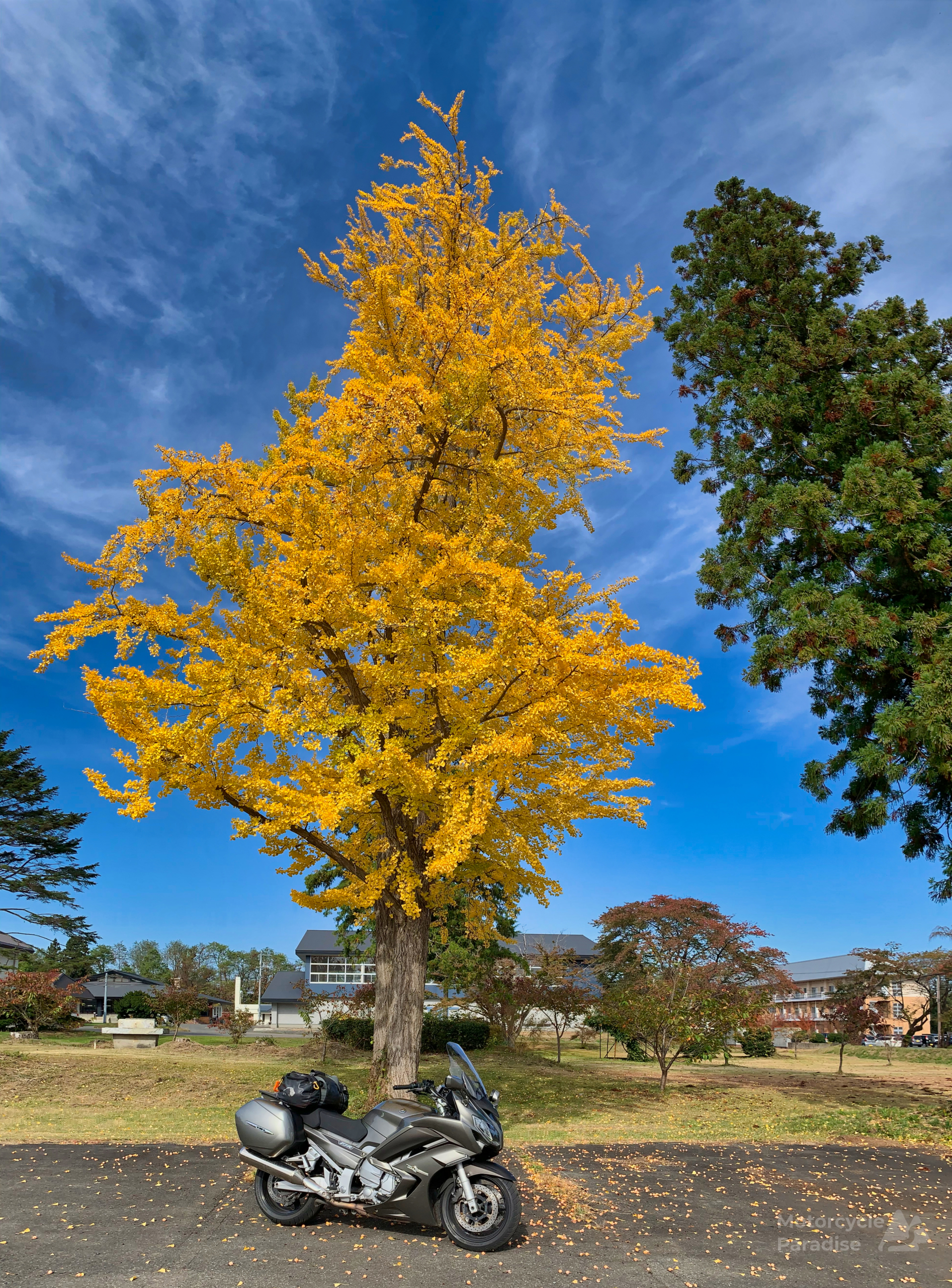 But now it looks Japanese. A magnificent Ginko tree.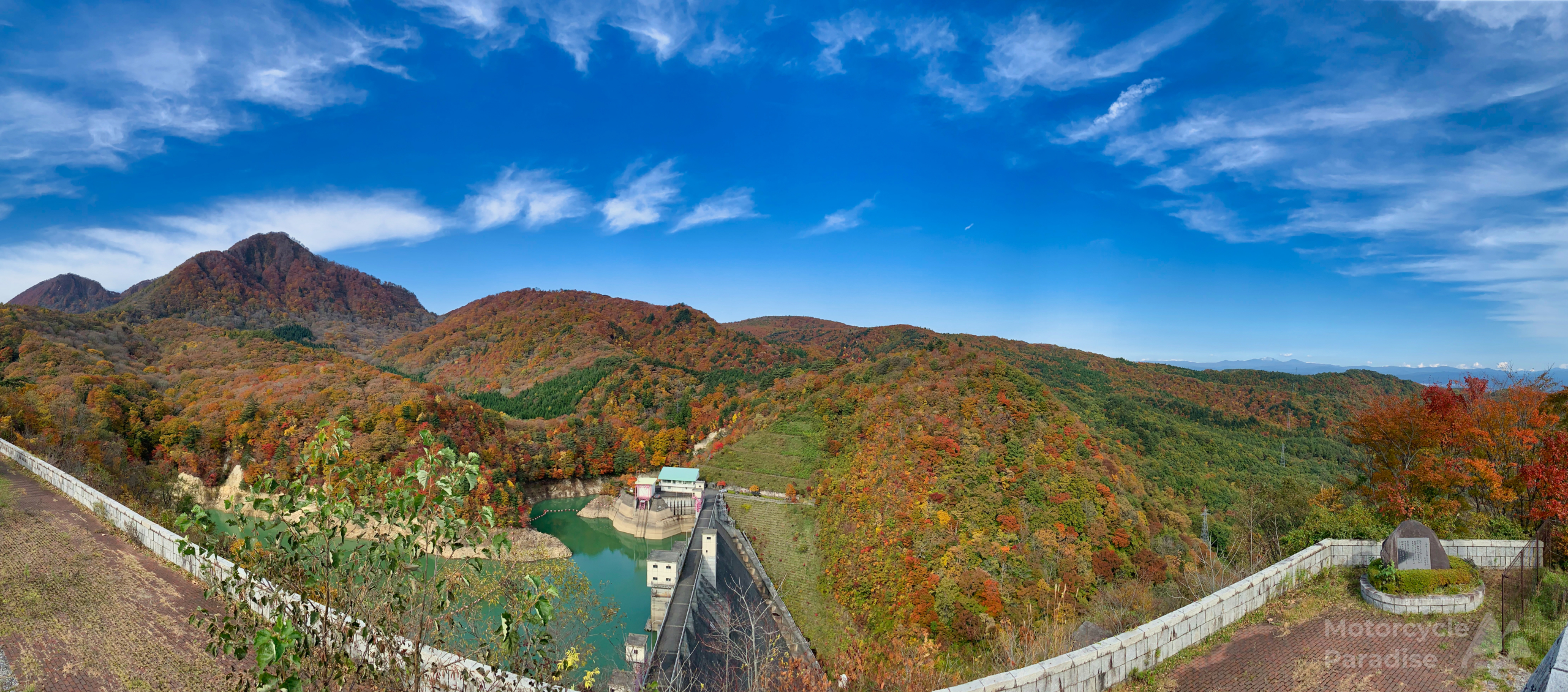 Another side trip rewards me with first real bit of leaf colour at this dam.
Alas from here my route this afternoon is closed so I make a big detour to be able to visit Mt Iwate still.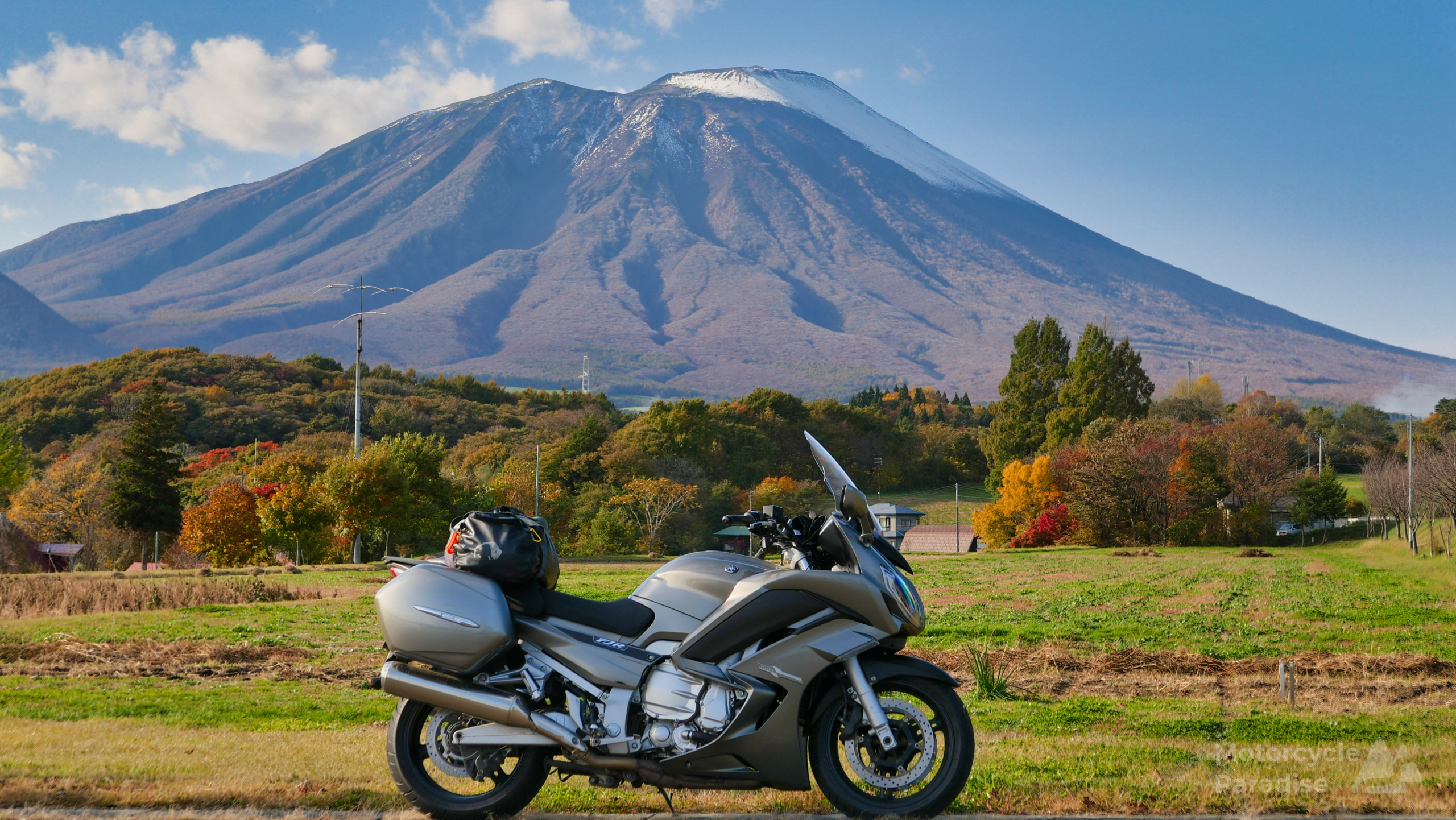 I'm a bit late here for the colour but some very enjoyable riding around the base of Mt Iwate.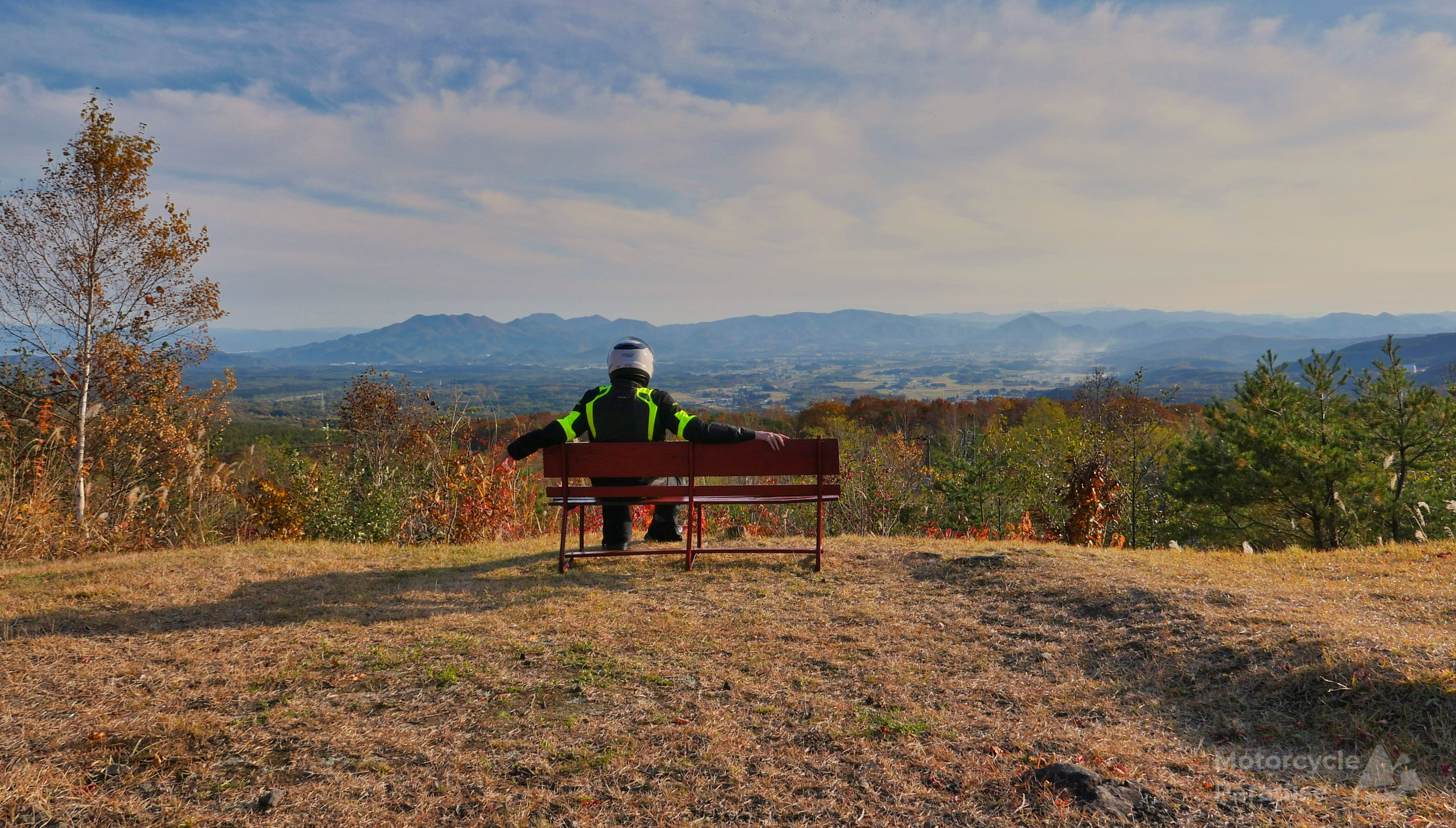 A fine end to one fine day.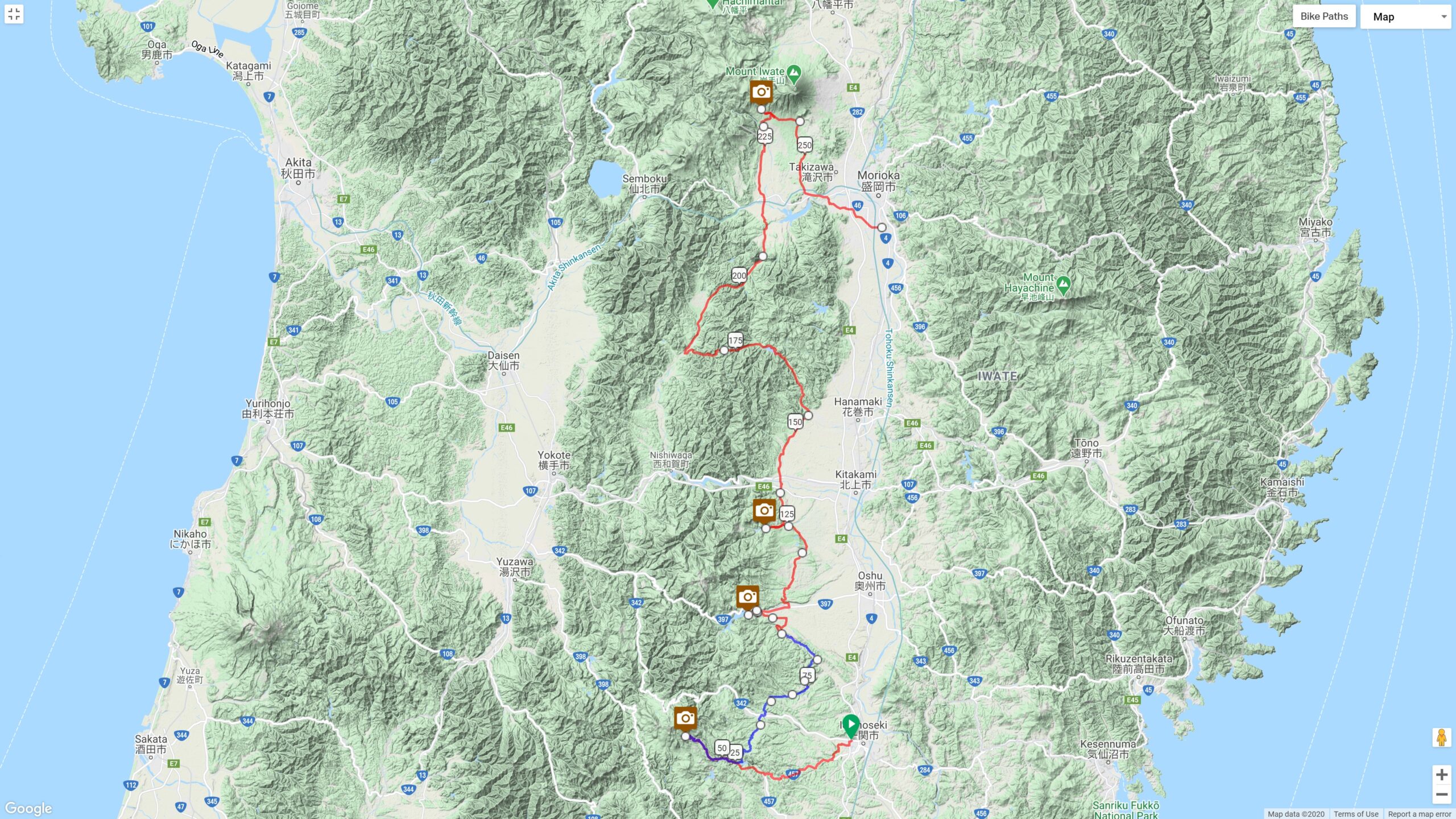 Very cold start day four on wet roads but I am exploring minor routes and not in a hurry or uncomfortable.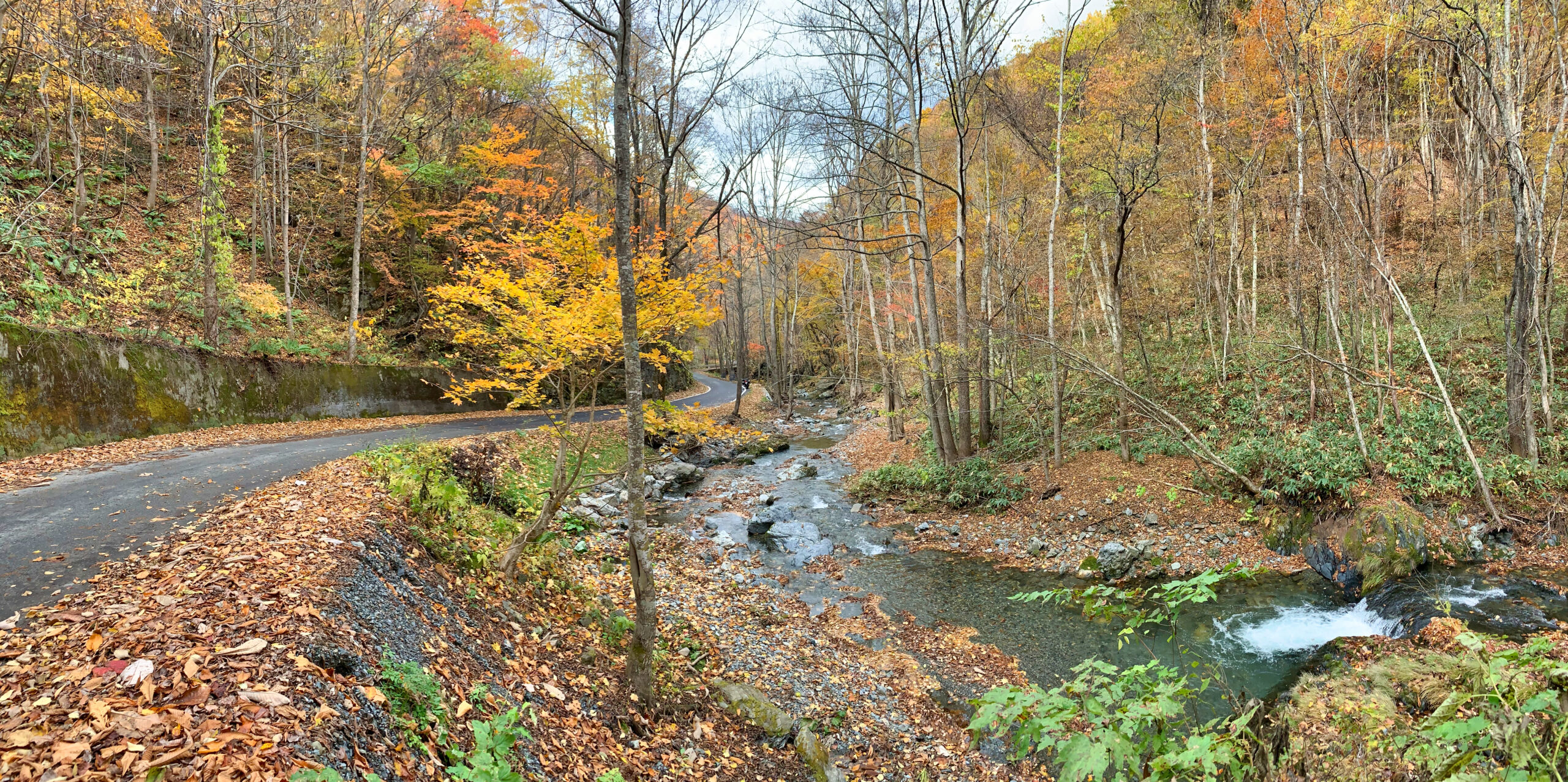 Just as well too because I made my way 20km along this mountain road to find it was closed. This will be a big detour.

But the detour took me onto a route that is one of my favorites in this area where I discovered the old narrow section I previously disliked had been upgraded to beautiful new hotmix (above).
A wrong turn took me to a small park where I decided to stop and eat lunch. Quite cold still only 9 degrees at midday. I found out as leaving there is a view tower in the park, and I am a huge fan of viewpoints but I lost so much time detouring today I just had to get my wheels turning.

Nice farmer was trying to talk to me here about my tour but my Japanese is so poor we both shrugged and agreed it was cold and laughed.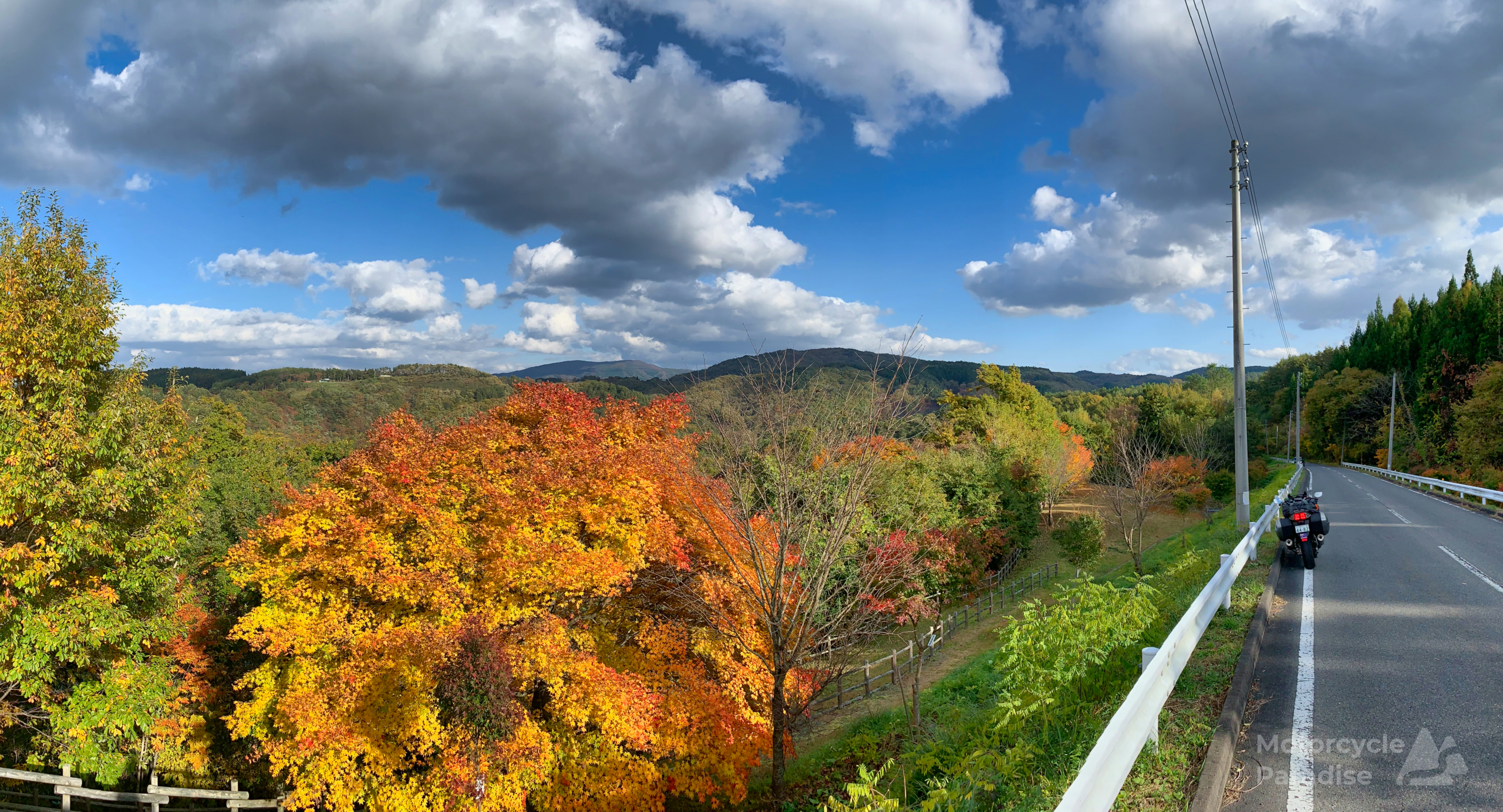 Very much enjoying the low traffic scenic country roads of Iwate prefecture this afternoon. Every time I come here I am more impressed with this region. However I have to make a move north to my hotel so hit the highway and cross into Aomori.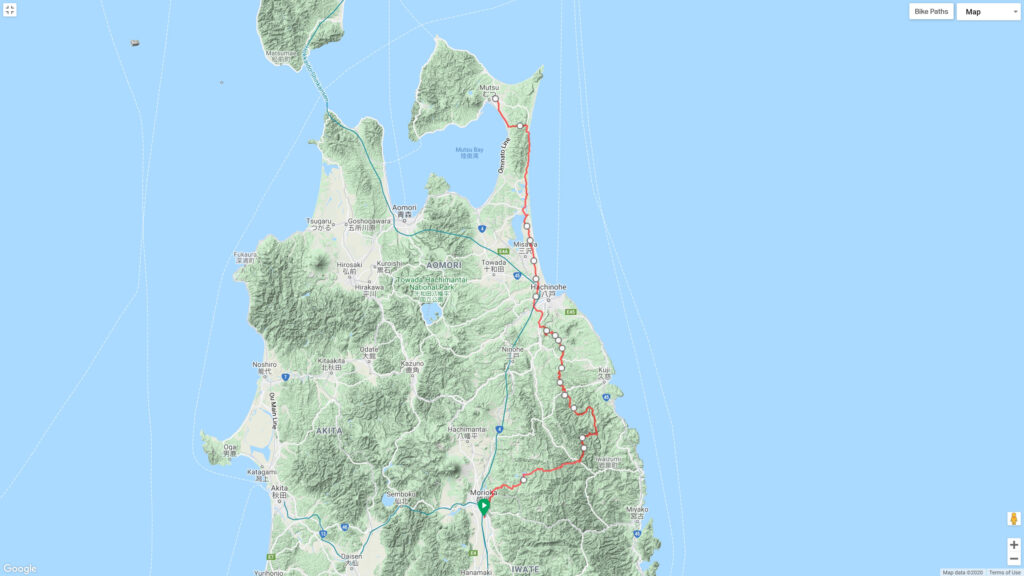 Above you can see I am now a long way north. Not far off Hokkaido and it is 2 degrees tonight which explains why I got brain freeze and went out for dinner minus my face mask. I felt a complete idiot, it's been 100% face masks required here since covid began but is not something hard wired into me yet. I quickly got a new pack at the 7/11 and thought oh well I'm just the 'stupid foreigner' here anyway as far as Japanese are concerned which you can view negatively or positively as I choose – because I think it gives me a free pass to do wrong things and get away with it. That sense of freedom I have here would be hard to give up.
I have a two night stay here. Last couple times when in this area it rained and washed out my ride. It looked like mother nature was on course for a hat trick the next morning when I heard the rain hitting my hotel window but that passed so I ventured out into a brisk 6 degrees.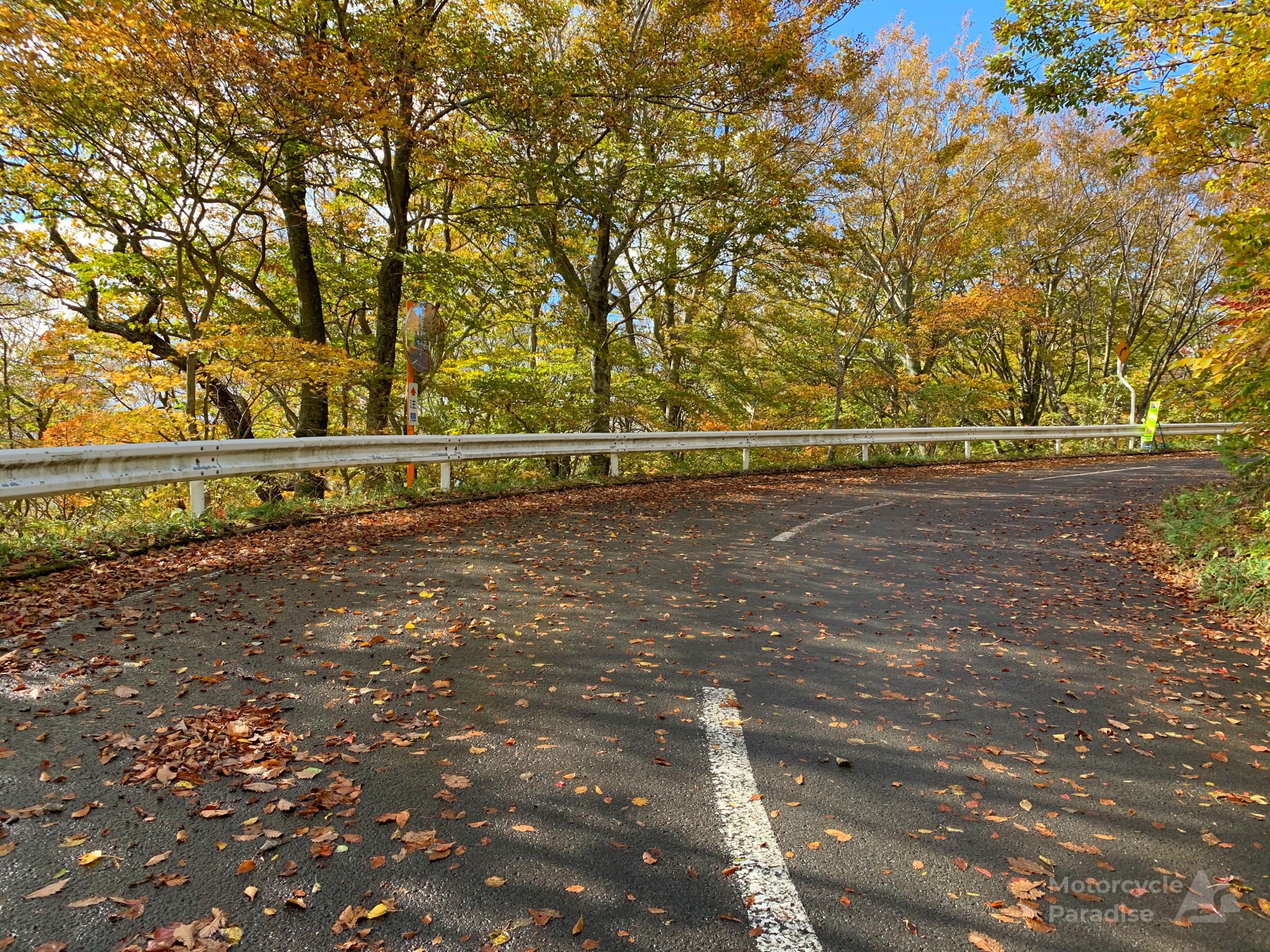 These roads had me thinking again about the Yamaha Niken. Would love to have it today but besides the front end grip it lacks quite a few things I want from a touring bike. Actually having a heavy bike seems to be good on wet roads and the FJR mostly feels composed.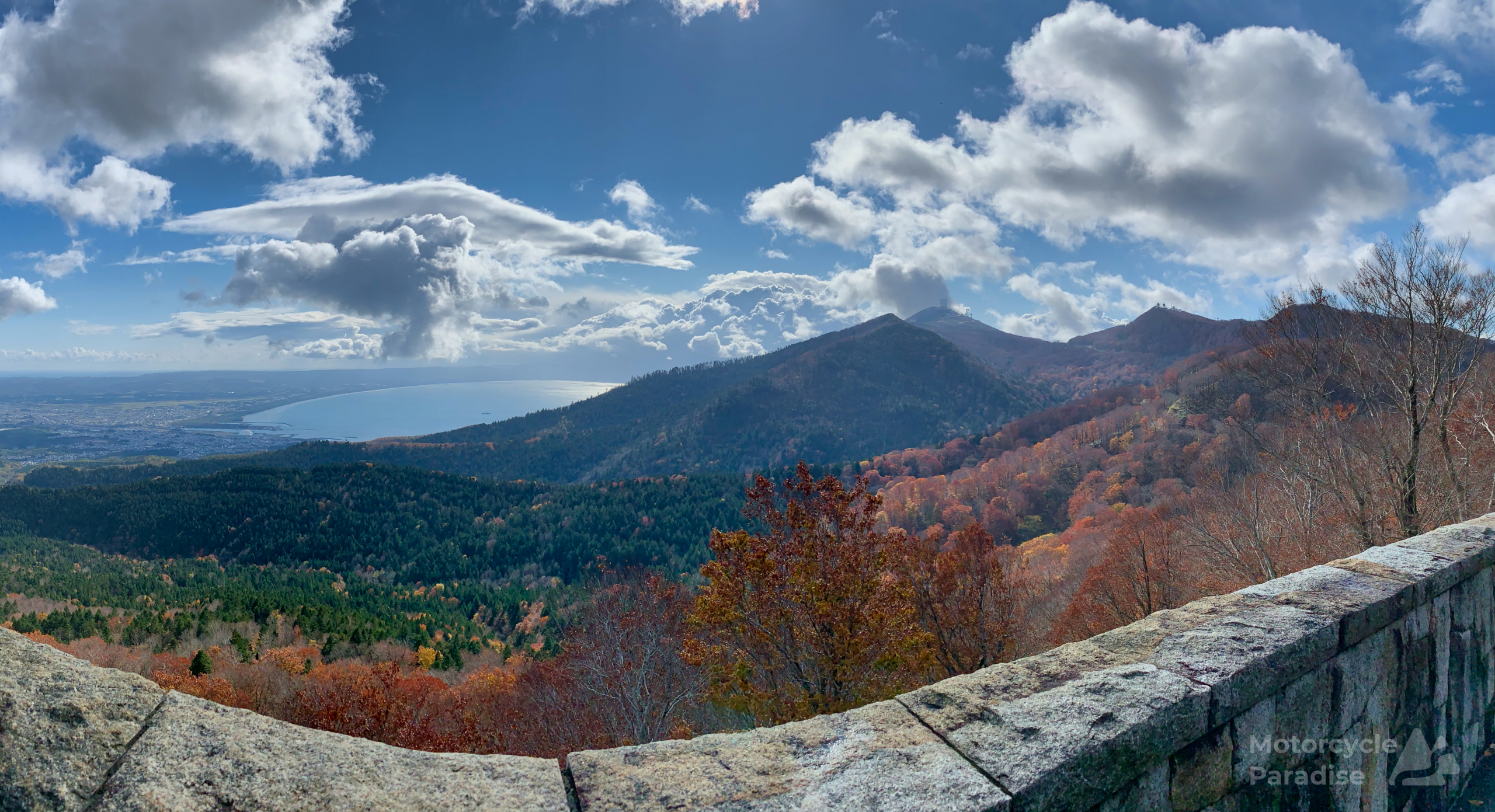 There is a observation platform up on that mountain with 360 views I was aiming for – but alas the military have taken it over for missile defense so this is as close as I can get.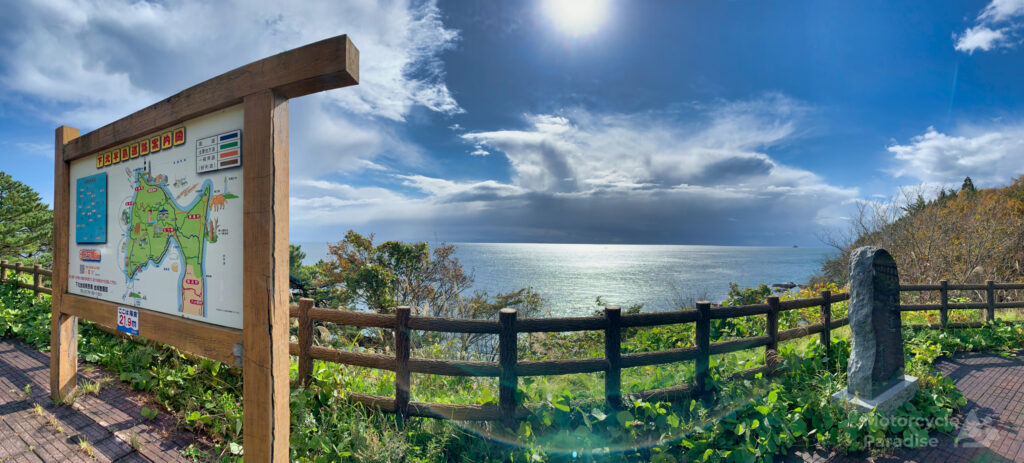 There are showers blowing in from the cape and I am trying to stay in between them.
On my way to Hokkai cape which I long have been curious about. Briefly on dry road but there is some wild weather all around me.
It's a pretty place even under gray skies. That land in distance far left of photo is Imabetsu on other side of the bay.
The roads are terrific here. Shame they are wet but I am still dodging the heavier rain so not complaining.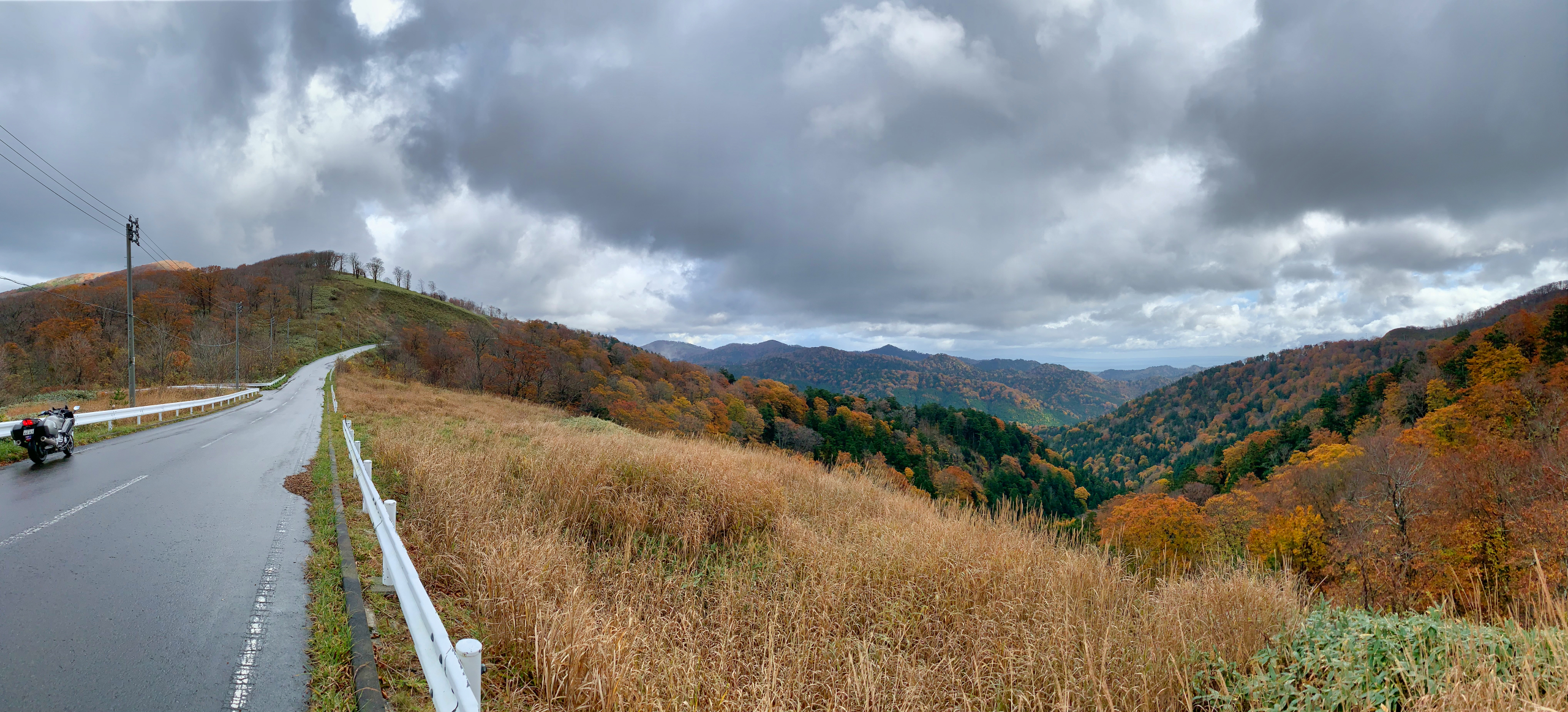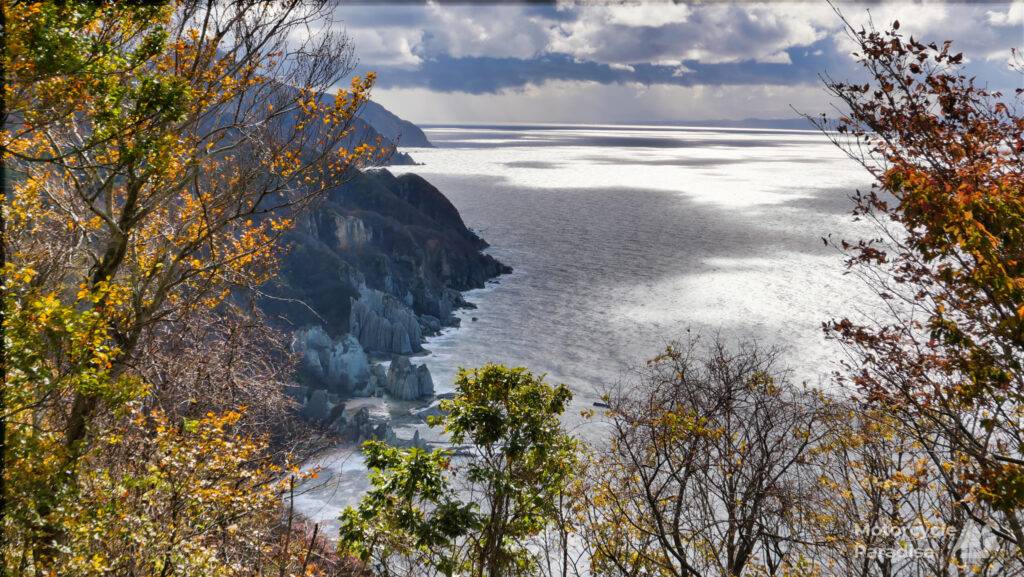 I previously visited this spot and would like to hike down to the ocean (there is a path) but too slippery today. Very scenic on a fine day and still interesting now but I need to move away from that rain.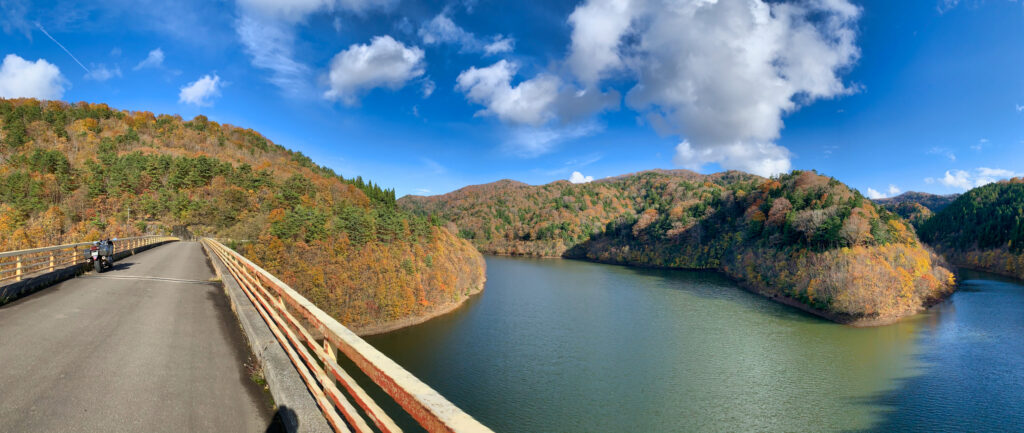 I find more good roads inland, a little leaf colour and Mr Blue Sky does an encore.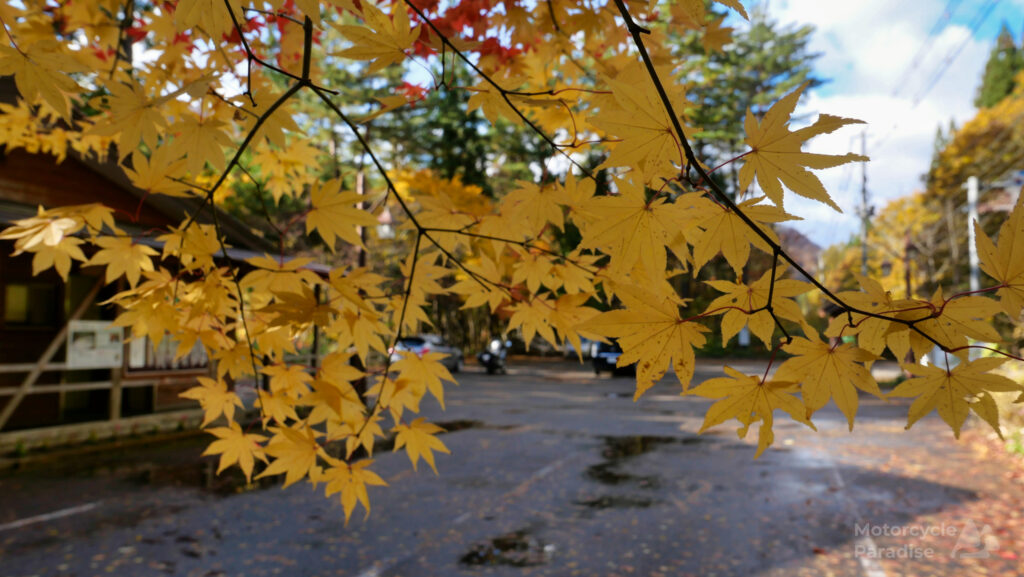 I think it is too late in year to be this far north. The temperatures rarely have been above single digit last three days and I have been very fortunate to only encounter passing showers. A full wet day would be rather miserable and frankly I'm now pressing my luck quite a bit.
I make it a short day out and while doing my laundry start planning some changes to my route and hotels as I feel a need to move south sooner rather than later. Thanks to some new tour electronics I am able to edit photos and post this on tour. Quite a few gear reviews coming up but first lets get somewhere warmer.