Nylon Vs Cloth
Nylon mesh jackets are what I have always worn in peak summer or if I am in SE Asia where days are steamy but recently I started to question this choice.
In Japan summer is high 30's with humidity that has you perspiring 5 steps outside of air-conditioning. Despite the open weave of mesh jackets nylon itself has no breathability and in traffic once I start to perspire even with a perforated liner it will stick to my arms which makes me even more hot.
I noted my BMW City 2 pants which are made of a heavy weight fabric (cordura or similar) were still comfortable despite having no vents due to natural breathability and moisture wicking.
In the red corner Fantastic Plastic and in the blue corner Bitchin' Threads
I decided to try a summer jacket from Rough & Road made from similar fabric to my rider pants. It has 7 piece CE1 armor, a soft perforated inner liner and 4 front, 2 rear vents.
I've never considered cordura or fabrics for a jacket before despite both my summer pants being this construction. There is this emphasis on abrasion resistance like we are going to slide magically as a moto-gp rider then hop up and run for our bike – but crash analysis shows road riders tumble in an accident and having armor in place is what's important as well neck/spine protection. (Related is the idea that helmets need to have very hard shells which is also incorrect as FortNine talks about)
Accepting the challenge is my RS Tachi summer mesh jacket. Links are to my reviews of each jacket.
The Results
At low speed my RS Tachi mesh jacket flows more air – it's mesh panels put up little wind resistance however the Rough and Road cloth jacket counters by having natural breathability. In heavy traffic or stopped at lights neither will make you feel cool when the temperature is 35+ but the cloth jacket wicks away perspiration and I found it more comfortable.
Away from the city on open roads the mesh still flows more air but the difference now is less as the cloth jacket can flow air through it's vents, front zipper, and a some through the fabric itself – and it still has that natural breathability and is wicking away moisture the whole time.
Which jacket is cooler in summer? That's a pretty close thing and may come down to personal preference but I find the Rough and Road is more comfortable if not more cooler when worn with main zipper as shown above – but Rough and Road jackets have an accessory item.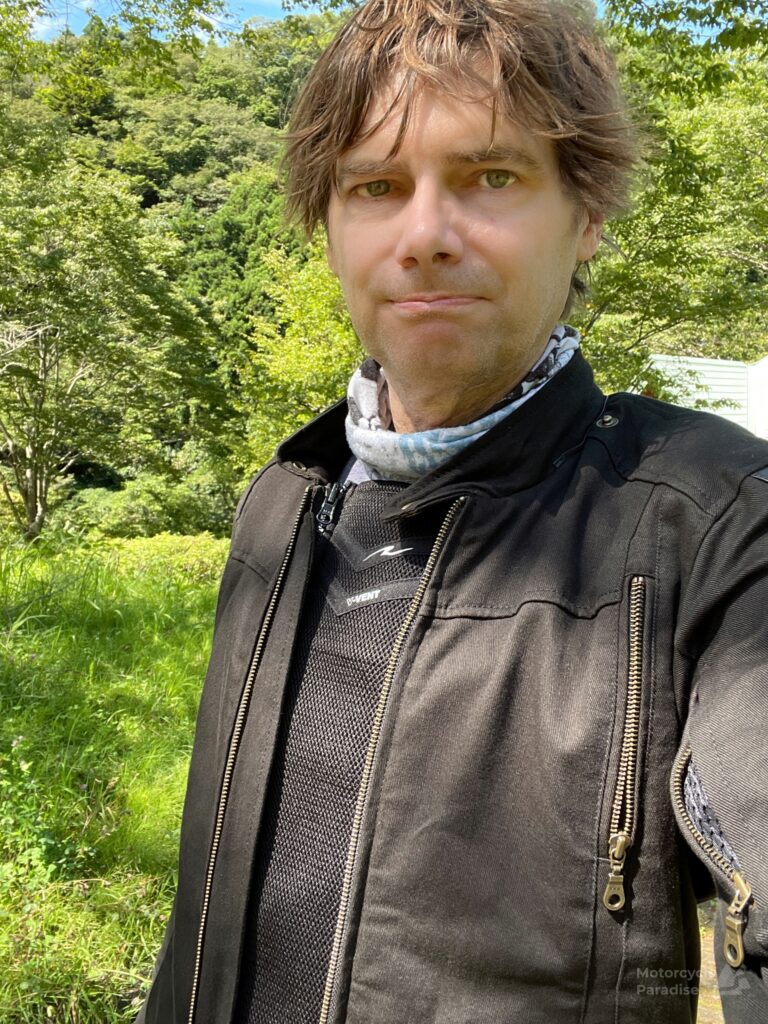 With this front mesh panel fitted the Rough and Road jacket flows as much air as my nylon jacket to the chest and that circulates well inside but now perhaps it is almost a hybrid jacket. Coming back to just the performance of fabric vs plastic without this panel I still find fabric is the more comfortable of the two.
If it was a pale colour it would perform even better but regardless I doubt I will use my nylon jacket in summer again.