Examining my DriRider brand mesh summer jacket I noticed it was a bit tired looking. I thought this must be over ten years old then when I counted back realised actually it was 20 years old!
I went to Naps motorcycle accessories shop Yokohama where I tried on a number of items. Both my summer and 3 season jackets are well worn but I will start by replacing the current season's item. My choices were varied and I pondered do I go with a new design or same again. Normally I would choose new or different but given the DriRider did the job for last 20 years then logic suggests get same.
The RS Taichi Crossover Jacket is very similar to design of old DriRider. There is a Yamaha branded version (known as Y's Gear in Japan) which is a lighter colour so I opt for that as I find light colours in other gear I own do not soak up heat as much.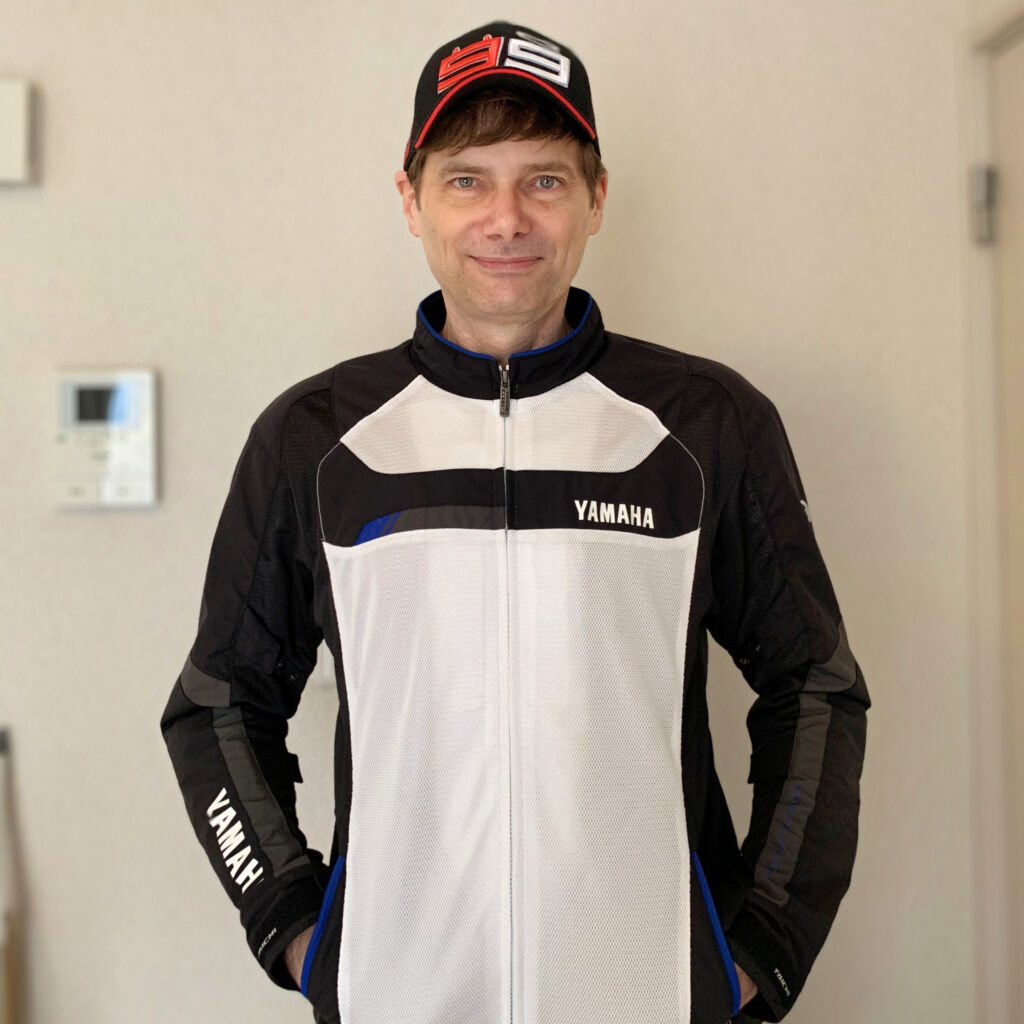 The construction is light weight and that is something I wonder about with all these mesh jackets. Are they able to protect you. Obviously not as well as leather. I had a very good summer leather jacket once but ended up giving it away to a friend as I found it did not suit a tropical summer. I still have a BMW summer jacket which is built like a tank but that is bit snug on me. But still the idea we slide down the road like Moto-GP stars is not what I have witnessed, rather a fall and tumble off road or into something like guardrail or gutter. The armor and having it sit in place is what stopped me from injury when I hit black ice on my second ride in Japan, but no denying these summer jackets are very light…
Still, based on my experience coming from the sub tropics mesh is most effective for a summer ride where it is hot and humid. If it was dry heat then other styles work. I even used my three season jacket in Oman where it was in the 40's. In that dry oven condition better not to be blasted with air and instead have jacket puff up with a insulating cushion of air.
This mesh jacket has reasonable quality armor but as usual the back pad is flimsy. The cut of the jacket keeps the elbow armor in place unlike more loose jackets and that is something I was seeking. The zipper is better quality item than my old jacket but no secondary fastening at the base and no chest padding or lower tail padding. The pockets are also mesh so it flows a lot of air but less convenient to hold things. An inner pocket is placed low but there is no inner chest pocket.
There is a zip in windbreaker or rain jacket which I can get separately for little extra. Not sure the rain jacket would do much, but the wind breaker which folds up to tiny size might be handy. I already have a solution for both in the form of a water resistant breathable spray jacket I carry when using this type of jacket so I probably won't get either.
On the road.
I'm on tour with the jacket now, my 7th day and its 32-36 degrees and high humidity every day. Mornings are already sticky, no need for a liner. As expected it flows a heap of air same as my old jacket did. As long as I am moving and keep hydrated it is not unbearable.
The collar is comfortable. The DriRider had a loop attachment there to keep it closed with the zipper lowered. However with the entire front having nothing to obstruct air there is less need to do that with this jacket and keeping the zipper up reduces the chance of it being pulled backwards in wind exposing the rear of your neck to sun.
The cuffs do not open much but that also limits them riding up my arms exposing upper wrist to sunburn with shorty summer gloves (as other jackets have done for me). Inside the arms there is a smooth touch perforated liner which helps avoid heat rash and this is also in the body of the jacket.
Considering this is not a base model from RS Tachi I think the construction could be improved with extra layers of something like super fabric in couple of impact sections and some chest armor (its an option apparently). I tried a few other heavier construction jackets but they were going to be hot same as my existing BMW jacket. That is the trade off.
And this type of jacket is really just for use in the tropics, a steamy hot summer ride that with heavier gear you simply would never do. I hope to try more of that riding in SE Asia when travel is permitted again with this jacket and will update long term use but that might be long way off with current global situation. For now I can say its reasonable but compromised and I think could be little better all things considered.