I'm going to pick up where I left off my Ishigaki to Wakkanai motorcycle tour that was washed out in May.
It's been a wet year. And Japan is a country that has no dry season to begin with.
A semi reasonable looking forecast appears so I book an overnight ferry from Tsuruga then departure day this happens.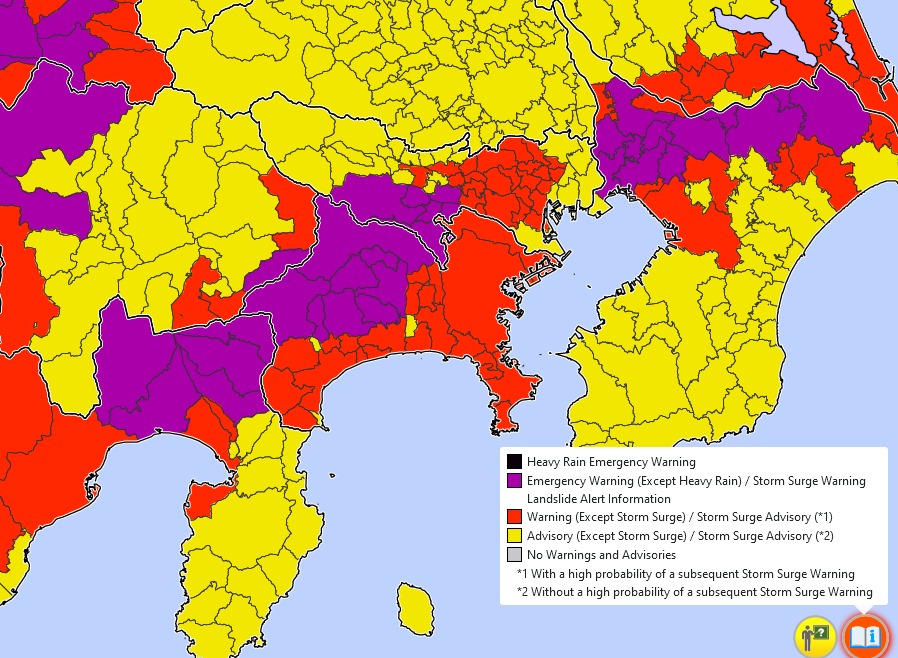 I'm on the right and have to ride left. It's normally a 5 hour journey, I set off 10 hours in advance unsure if I can make it.
Both highways west are cut causing a 40km traffic jam at total standstill. It took 4 hours to clear that squeezing past cars a few at a time in the gutter.
Eventually I am past the worst of it and put the hammer down stopping for quick dinner of curry udon then push on into the night to reach the ferry about 10.30pm. Everything is wet, the rain defeated my double bagged storage but I made it.
This is the ship I am on for 20 hours. It's big and comfortable. You can zoom and rotate this image.
I put some words together about reaching 100,000km on my current motorcycle and touring bike replacements. That post can be read here.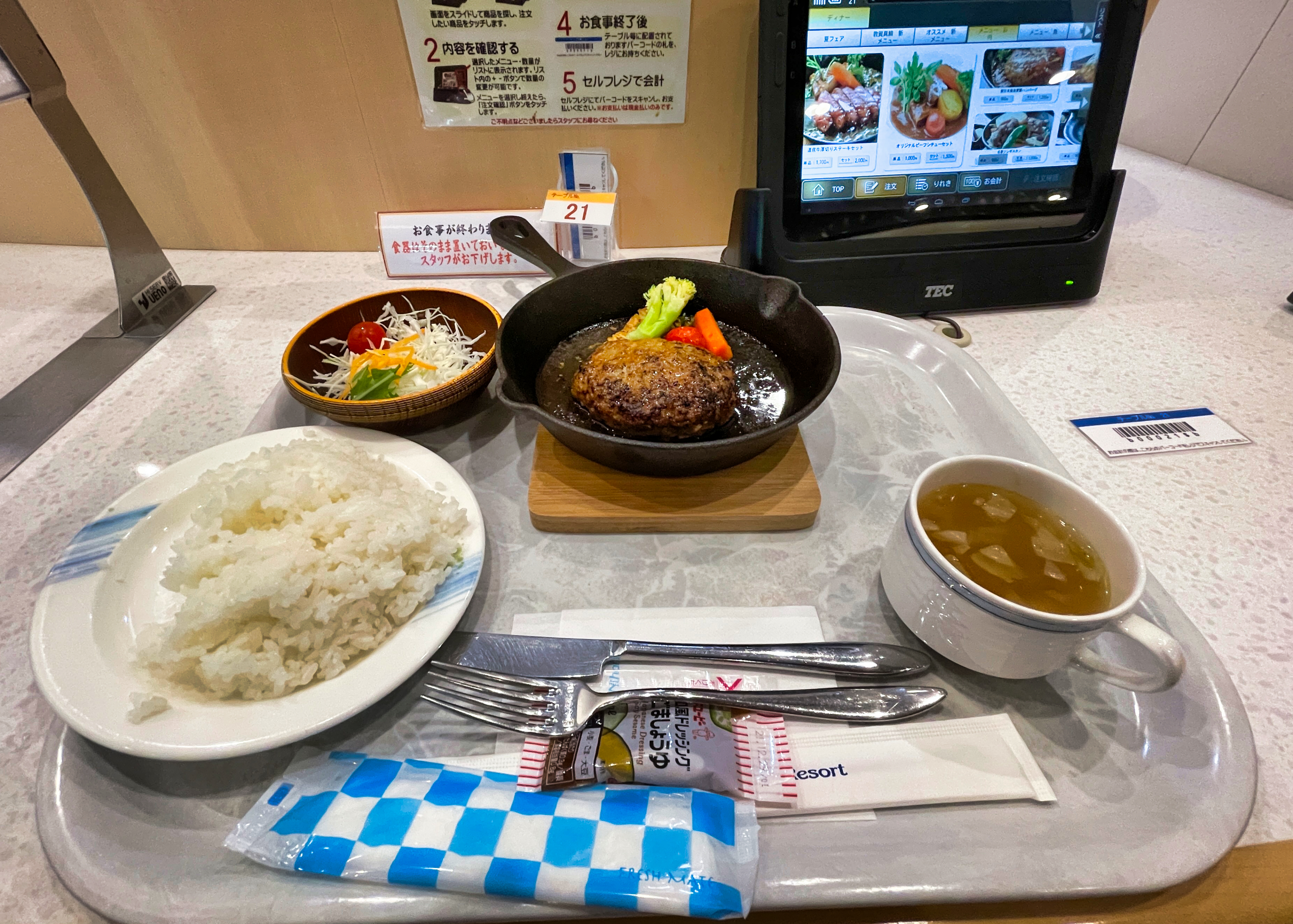 Taking a long distance ferry to start a motorcycle ride adds a sense of adventure, but I've no interest in being a cruise ship person. What do people find interesting in just sitting around on a boat?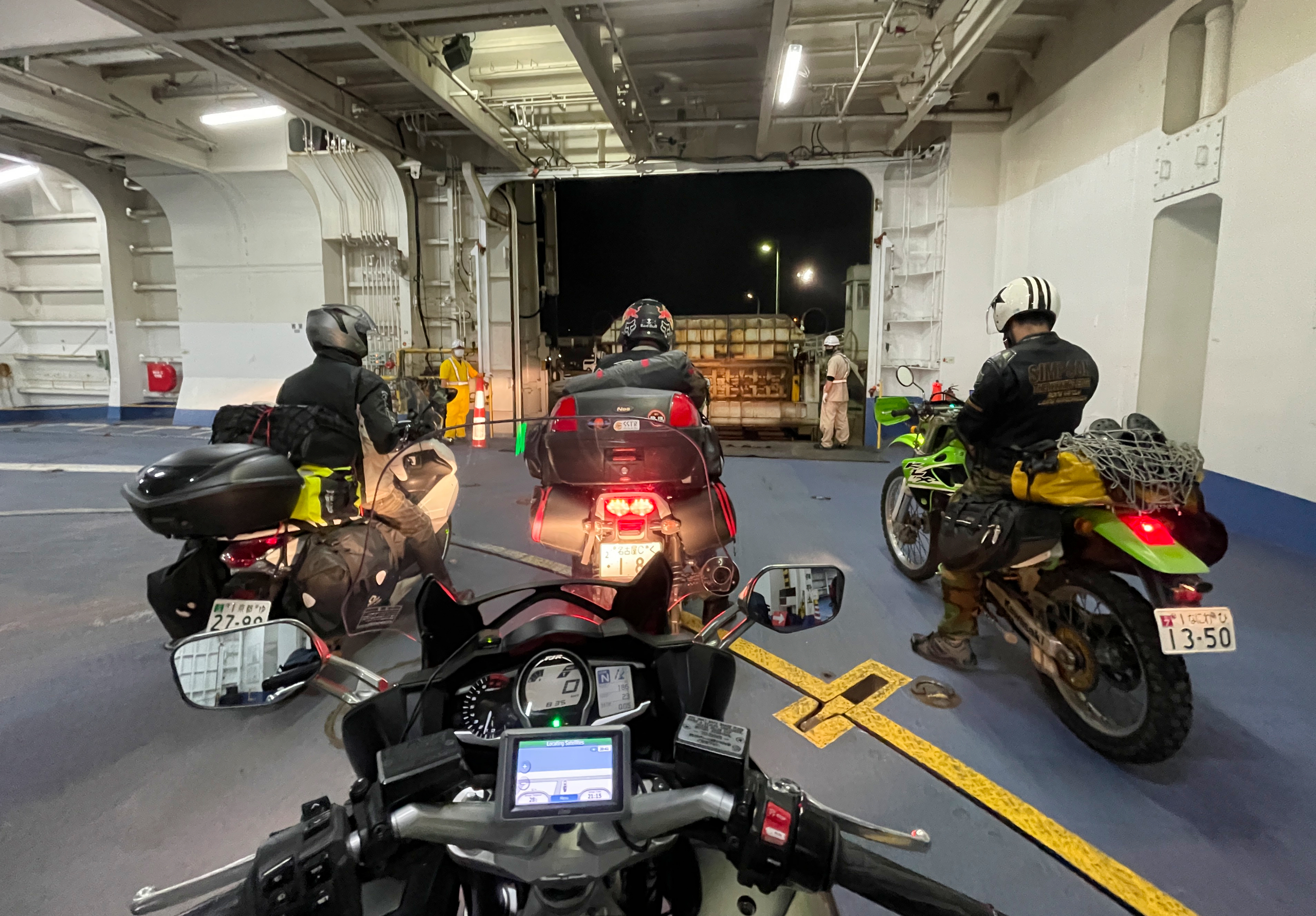 It was 35 degrees a week ago in Hokkaido but docking on the evening of day two that warm weather has faded and I disembark into light rain and 18 degrees.
Fortunately I brought my Macna 3 season gear as well as summer gear just in case. This far north weather is highly unsettled.
Hokkaido
It's day three and I set off in some promising hazy sun. After a couple hours riding I somehow know there is a vending machine ahead at a farm, and bingo. I stopped here on my first Hokkaido ride 8 years ago.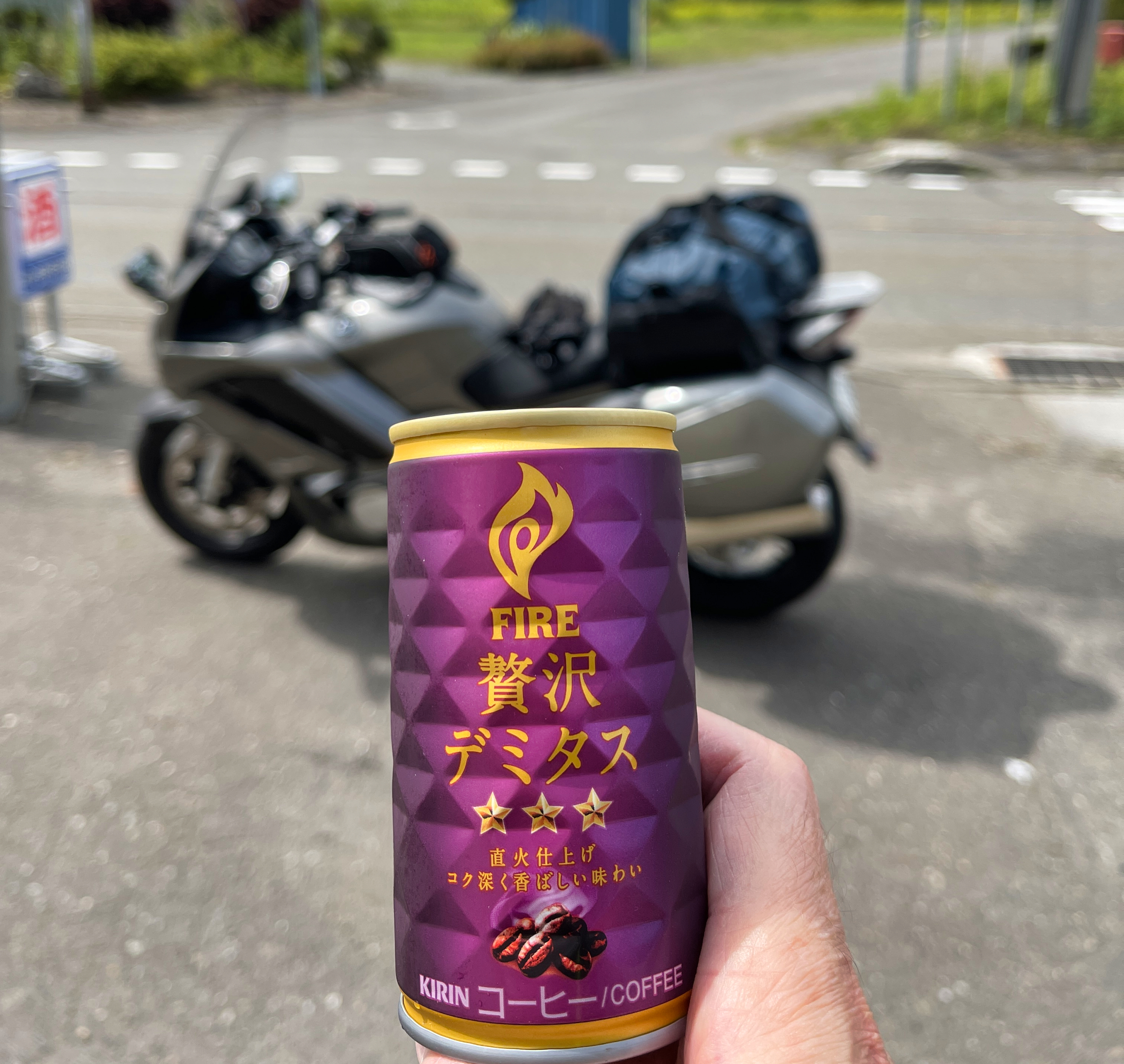 Why can I remember every vending machine I have visited but not more than two dozen Japanese words ??
Alas that sun gets smothered by cloud so I arrive this fantastic spot for lunch with a stone grey outlook.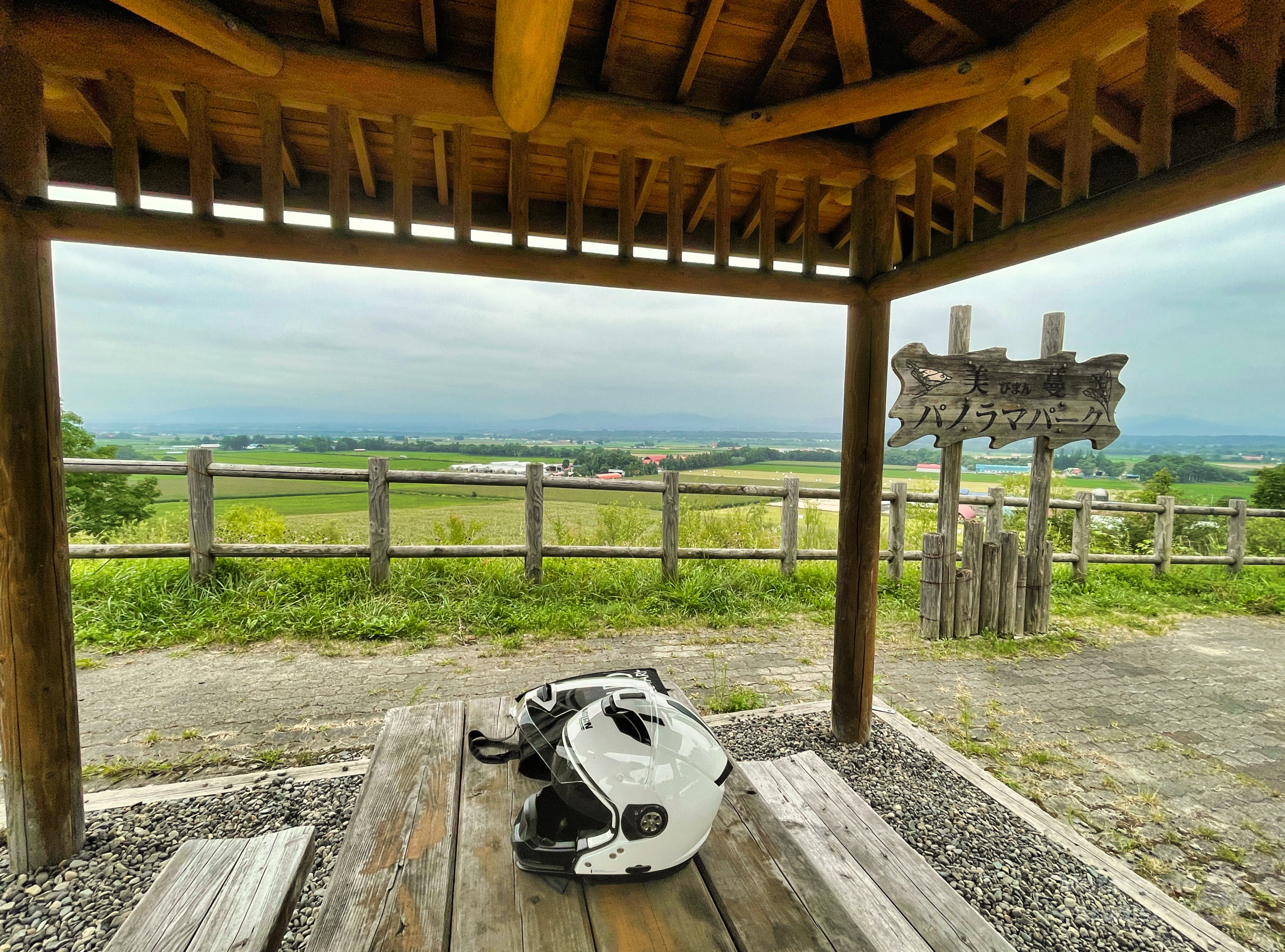 Since it's not actually raining I continue on my route and hope for a break.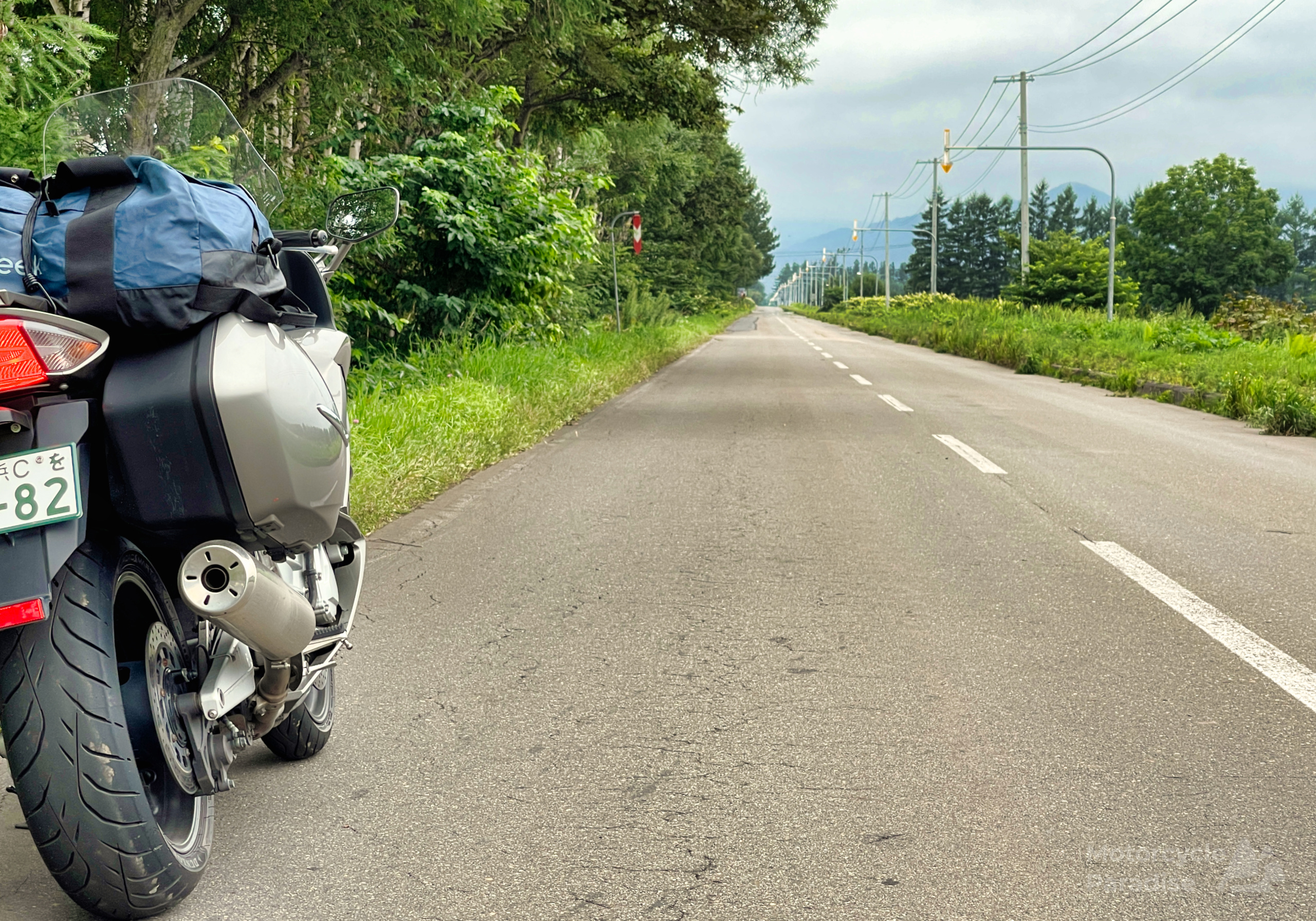 I'm enjoying the open farm land and easy riding. My next view point is obscured in low cloud. Here is what it might look like another day thanks to Google maps. You can rotate and zoom this image.
Still too early for my hotel so I decide to try another and the weather is a better here.
But further into the hills light rain commences.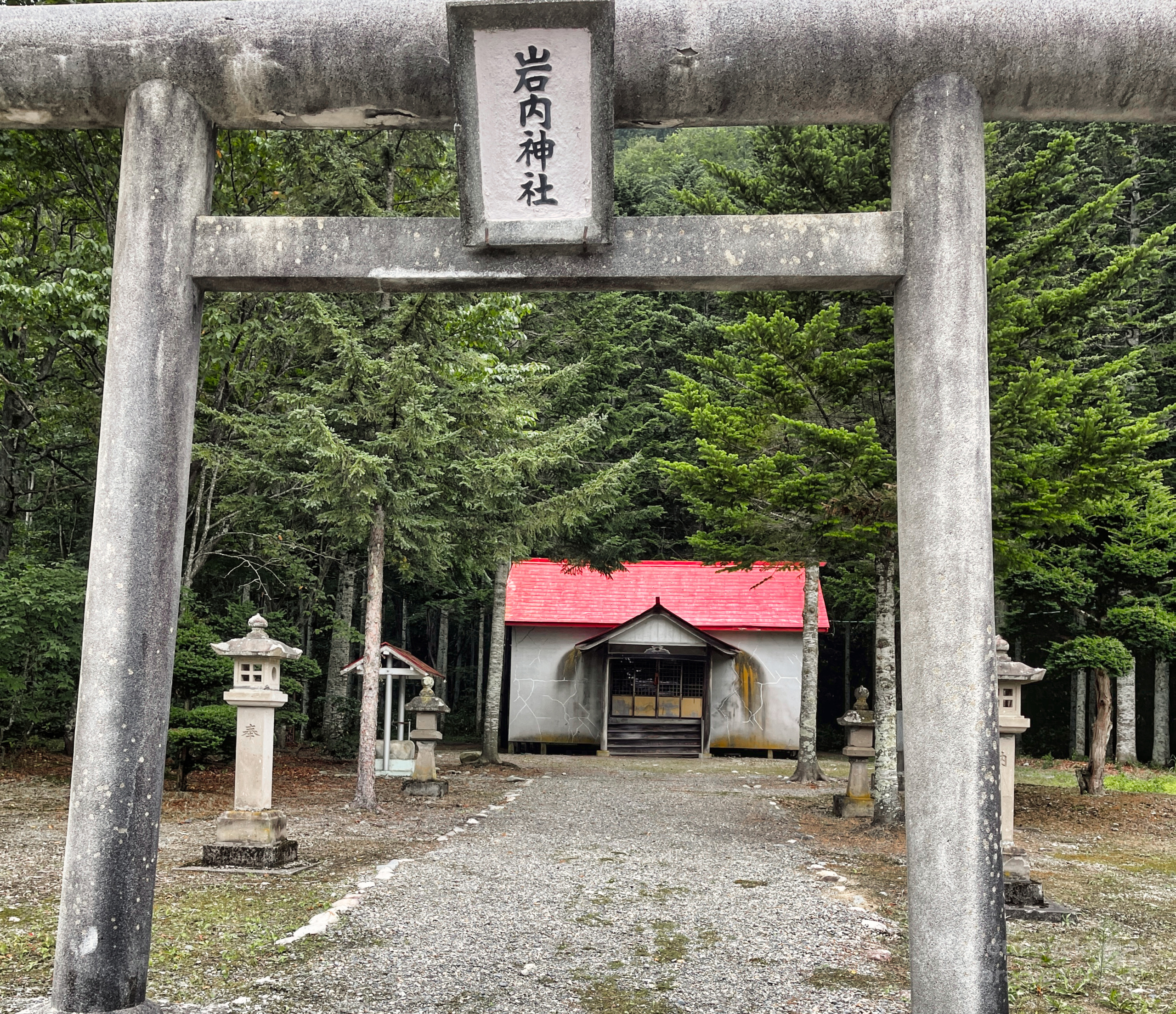 I visit a interesting small shrine before calling it a day.
I'm choosing different hotels to my usual Route Inn group. Tonight it is the Alpha One chain and nice room with undercover bike parking.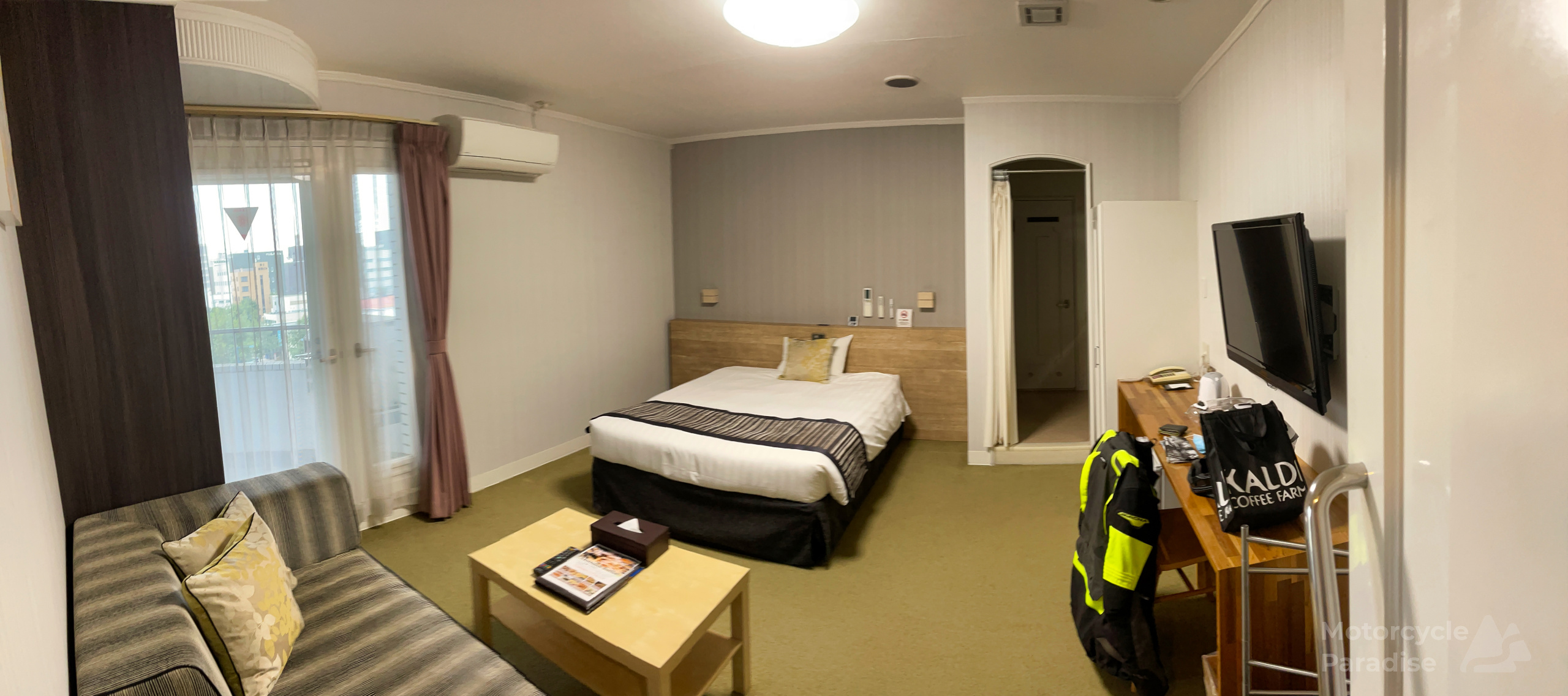 I check the weather and almost fall off the chair! Tomorrow looks horrible. I scramble to change bookings so I stay an extra night.
Day four. Keep Calm and Eat Cup Noodles.
Sitting around I ponder that about now I should be in Sydney finishing up 2 weeks quarantine except that flight was cancelled. It was my third attempt and I don't think I will try again. Australia's nanny state mentality has it stuck deep in Covid crisis with the states vying to become hermit kingdoms.
Day five and there is a distant glimmer of blue sky.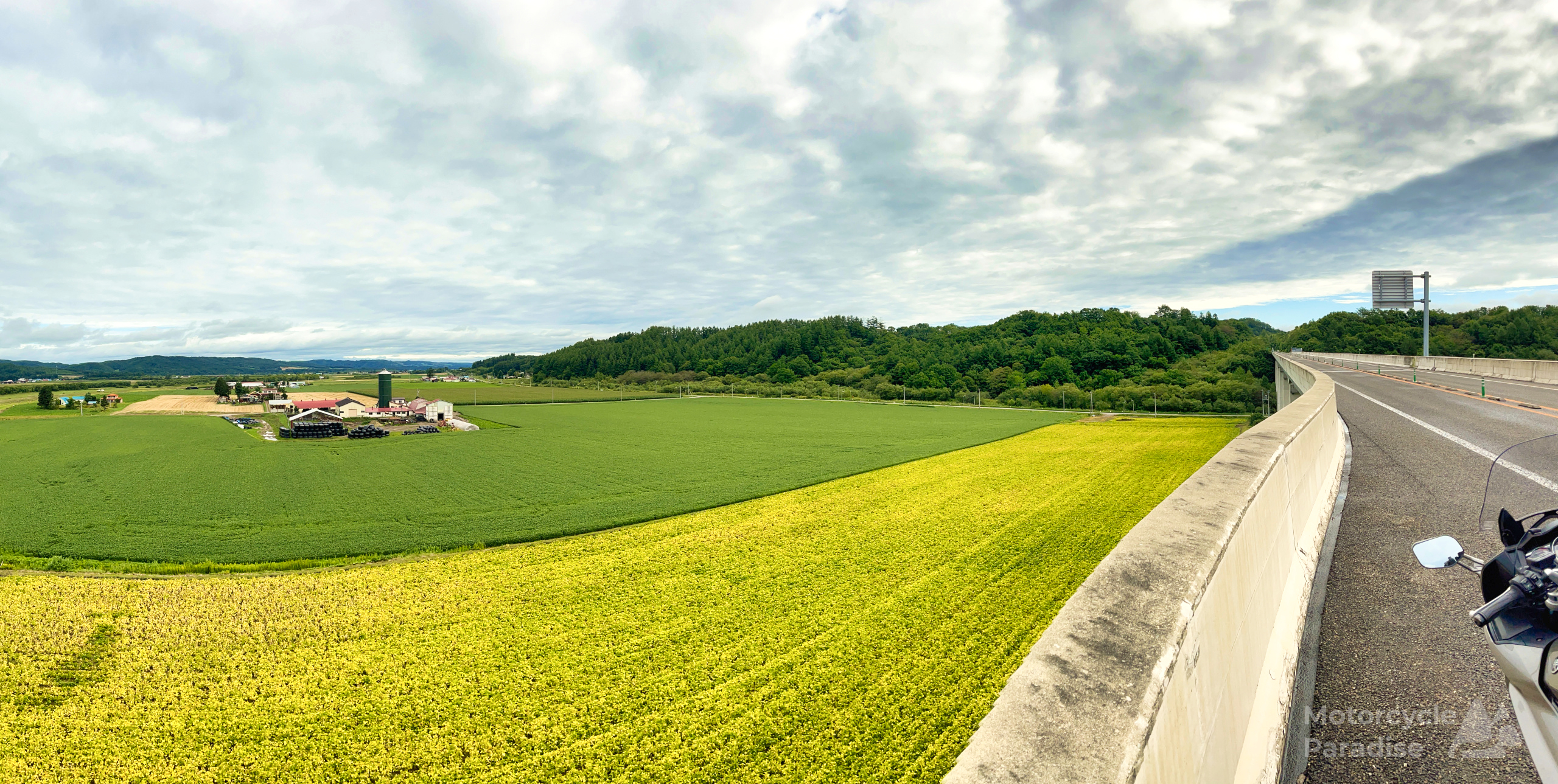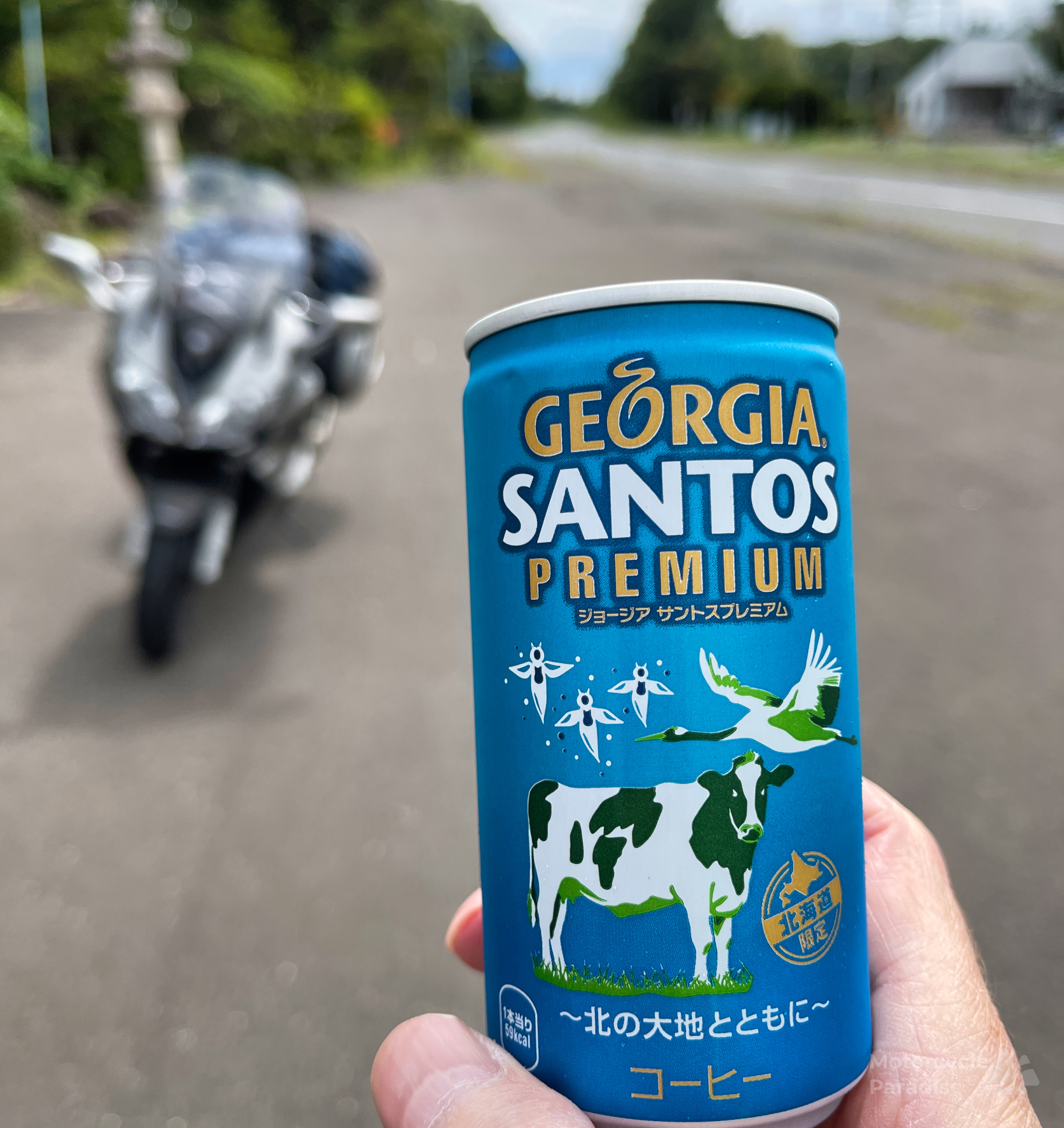 A vending machine coffee interlude while waiting on the arrival of Mr Sun.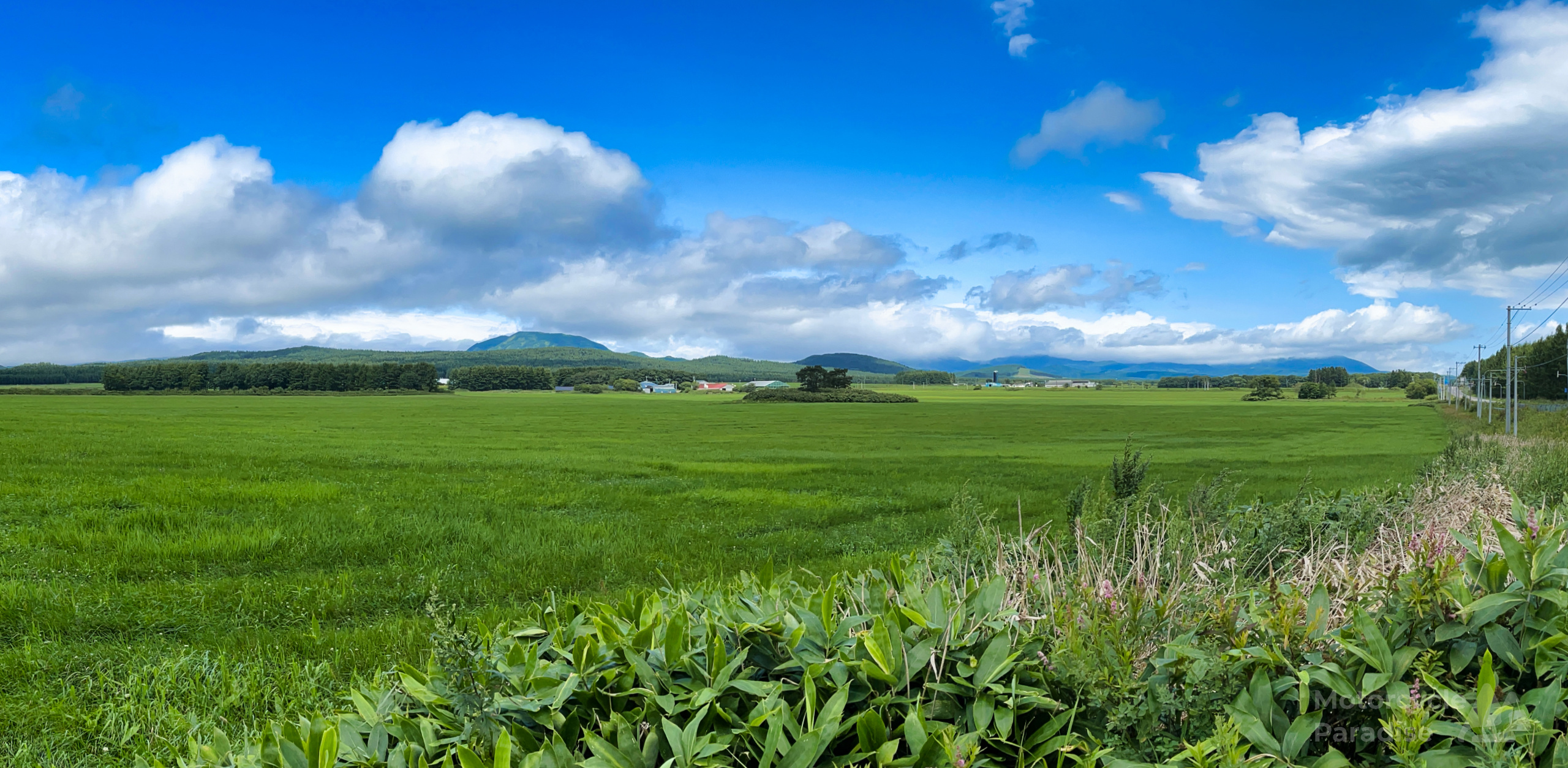 Here comes the sun ? as George wrote and with it the previously dull landscape bursts to life.
Making my way to the first of today's view points I find a large group of riders. I am asked to pose for photo, sign a large sheet and am presented with a flag. It's a promotion for riders to visit Hokkaido. Nice to feel welcome.
Great spot to hold it with sweeping views.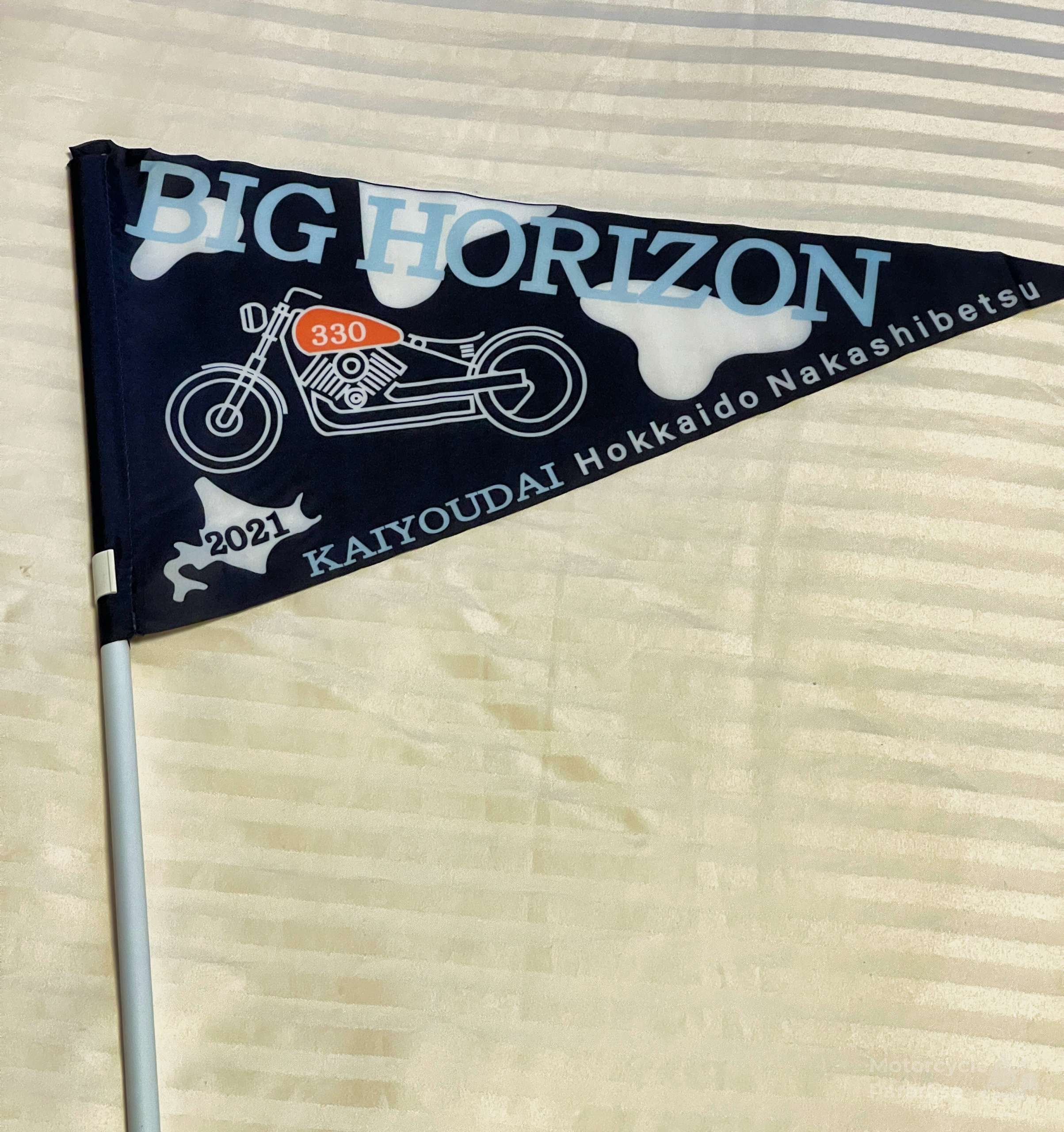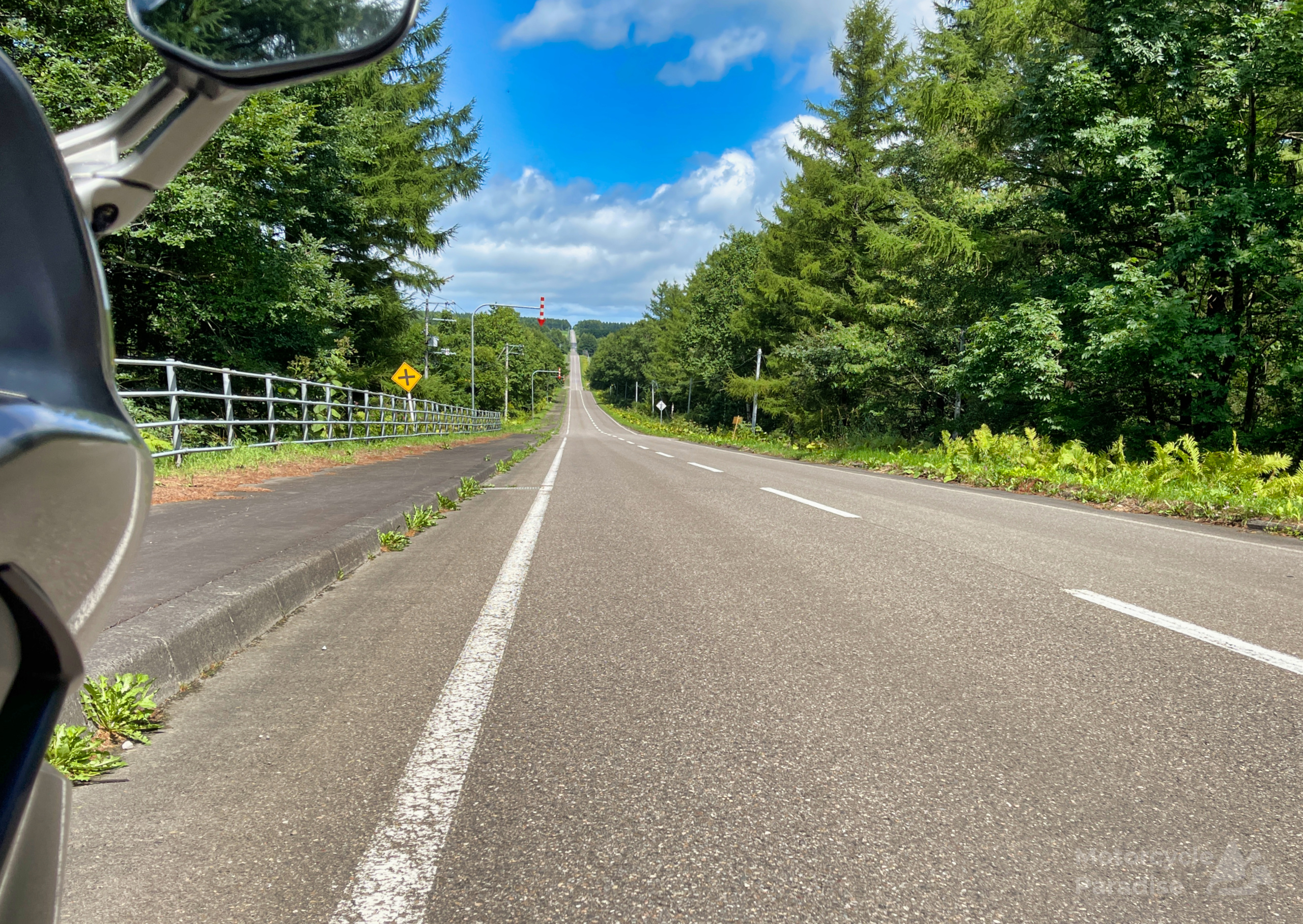 You only see straight roads like this in Japan up north in Hokkaido. (no joke)
The remote north east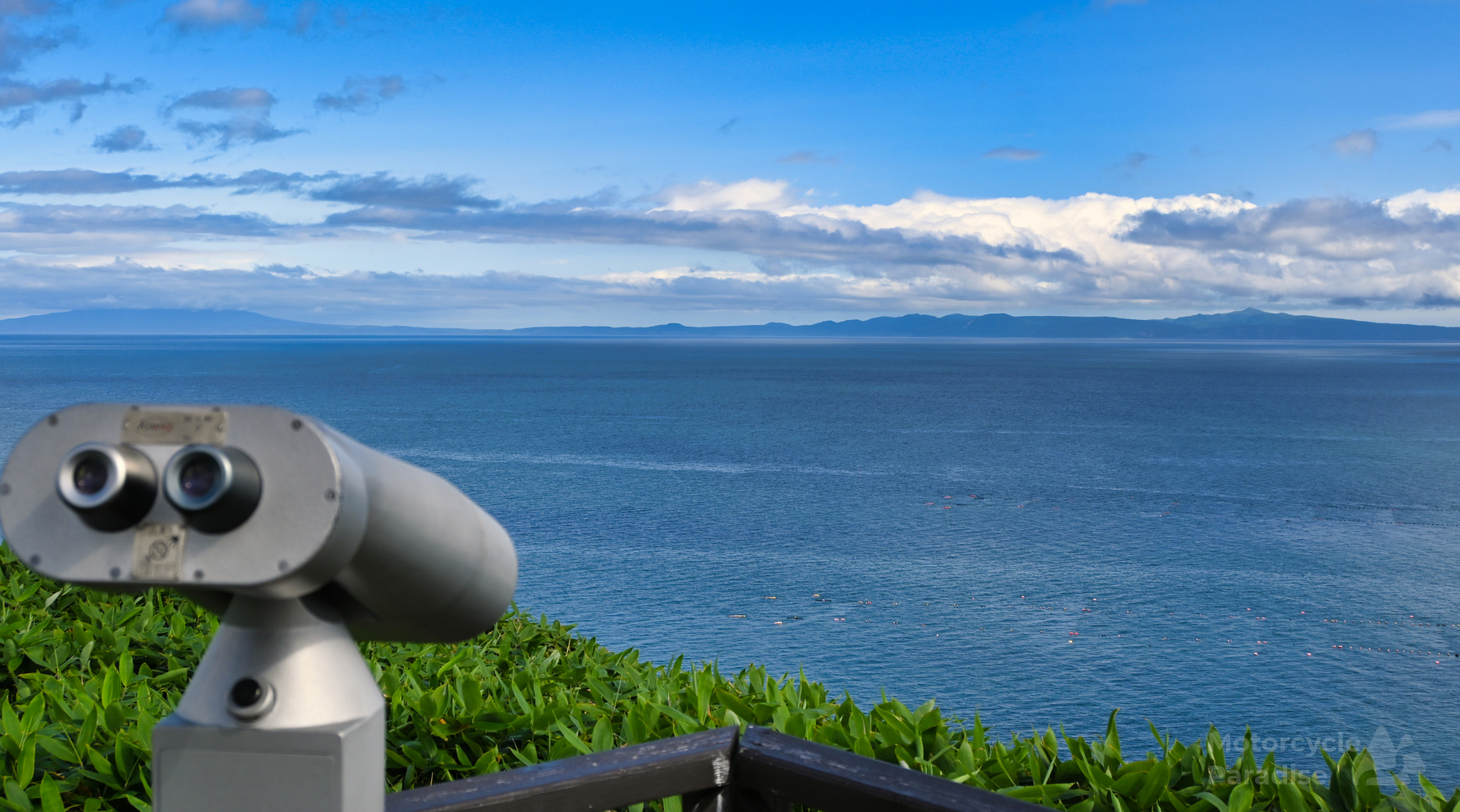 I reach the Shiretoko cape this afternoon with clear air providing a easy view out to Russia.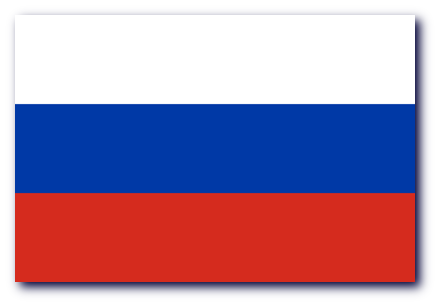 The weather is unstable here and there are ominous looking clouds moving at speed.
Mount Rausu has never been clear when I visit and today it threatens to blow me off the road with wild winds but a heavy bike like the FJR can go through a typhoon.
One day I shall actually see this but not today. Image via Google maps. You can zoom or rotate the image.
Another big shaft drive tourer at tonight's hotel. What a shame these bikes are discontinued.
Tonight my luxury dining is provided by the local convenience store where an instrumental of Barry Manilow's Copacabana is playing on endless loop. Actually the pasta was better than any of the attempts at pepperoncino I've eaten in SE Asia.
Day six, a steamy morning, I enjoy some cool air inside the snow sheds.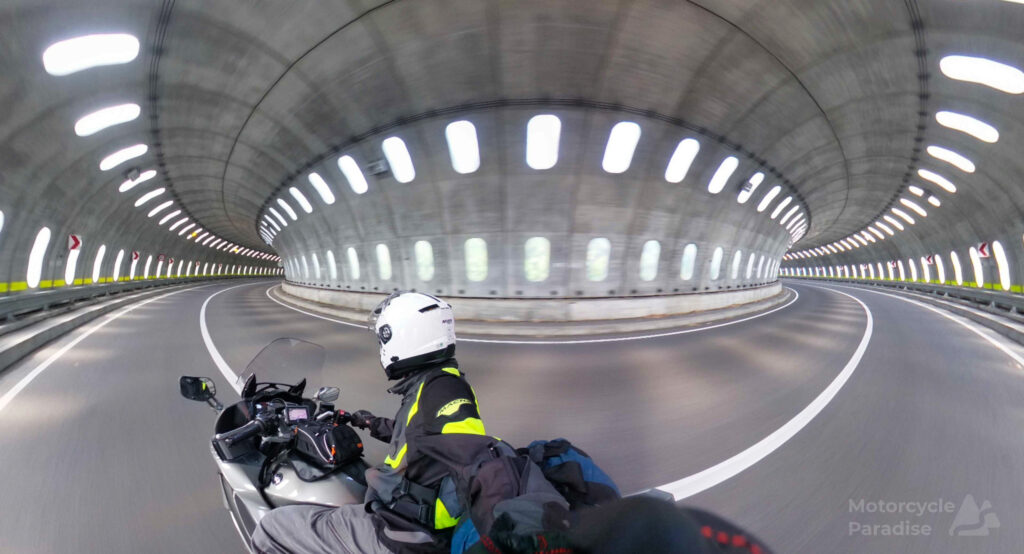 Hokkaido is only area of Japan I've encountered few unsealed roads, but no need for a ADV bike if the surface is reasonably compacted.
Fortunately my knee is better so I can tackle a small hike to a wonderful view deck.
Sorry about the image quality – like an idiot I had my theta 360 cam in wrong mode, and don't even mention the seam lines ?.

Have you ever wondered what you would do if not into motorcycles? I think I could be a train buff for a while. A very short while ?.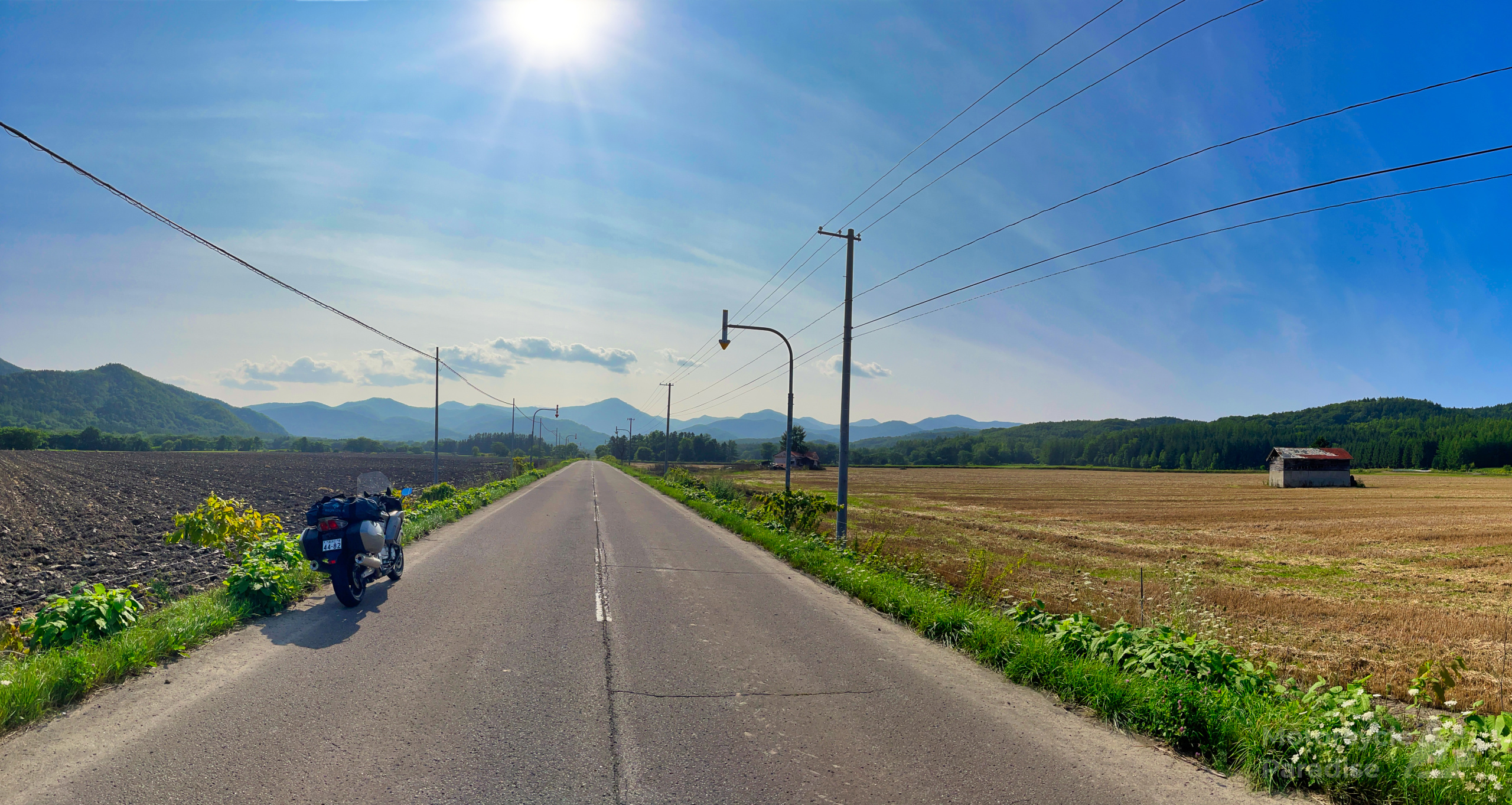 Down in the plains the FJR's big lazy four punches out the miles effortlessly like that locomotive once did.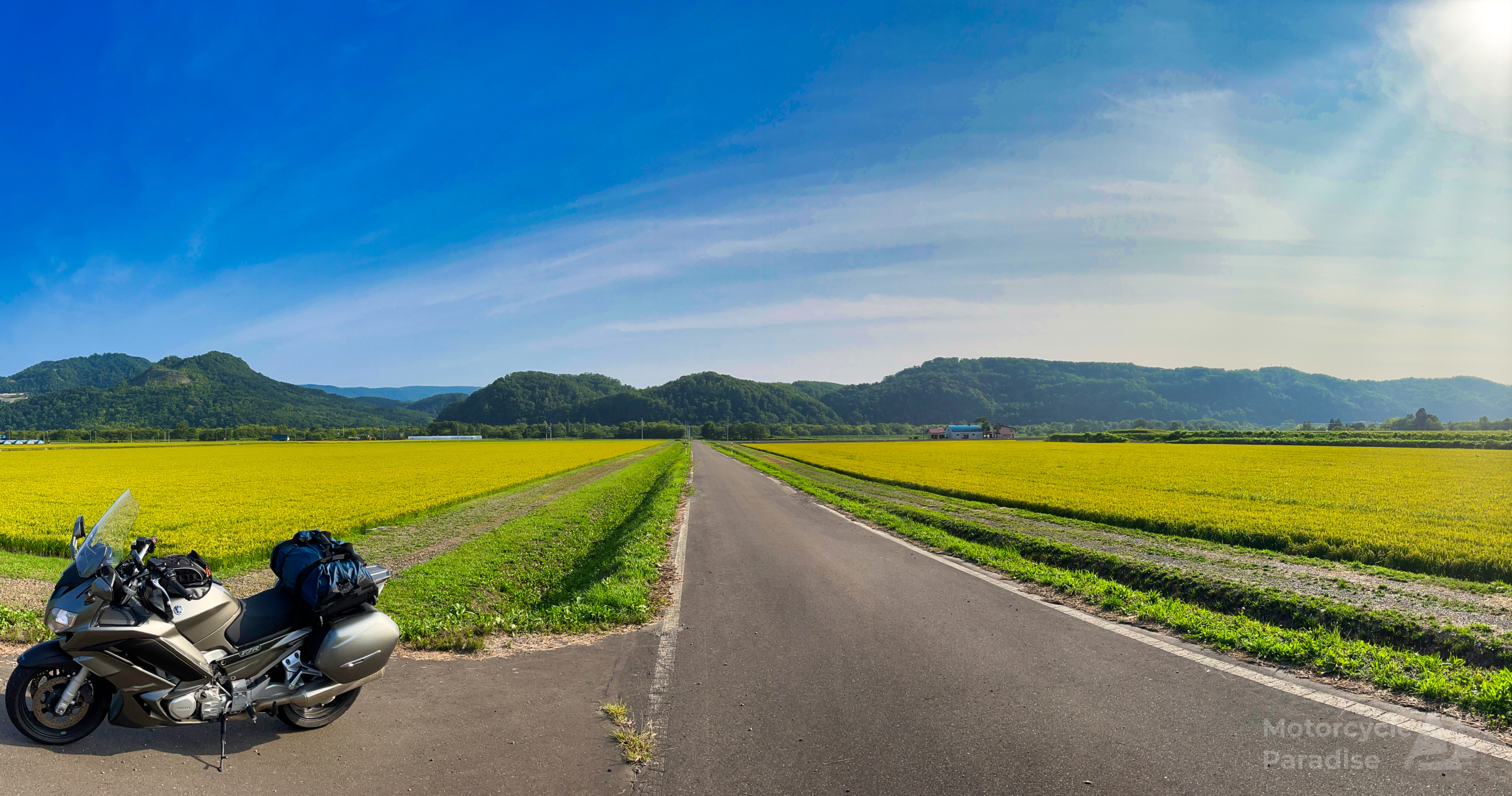 I could just do this and live in hotel rooms rest of my life.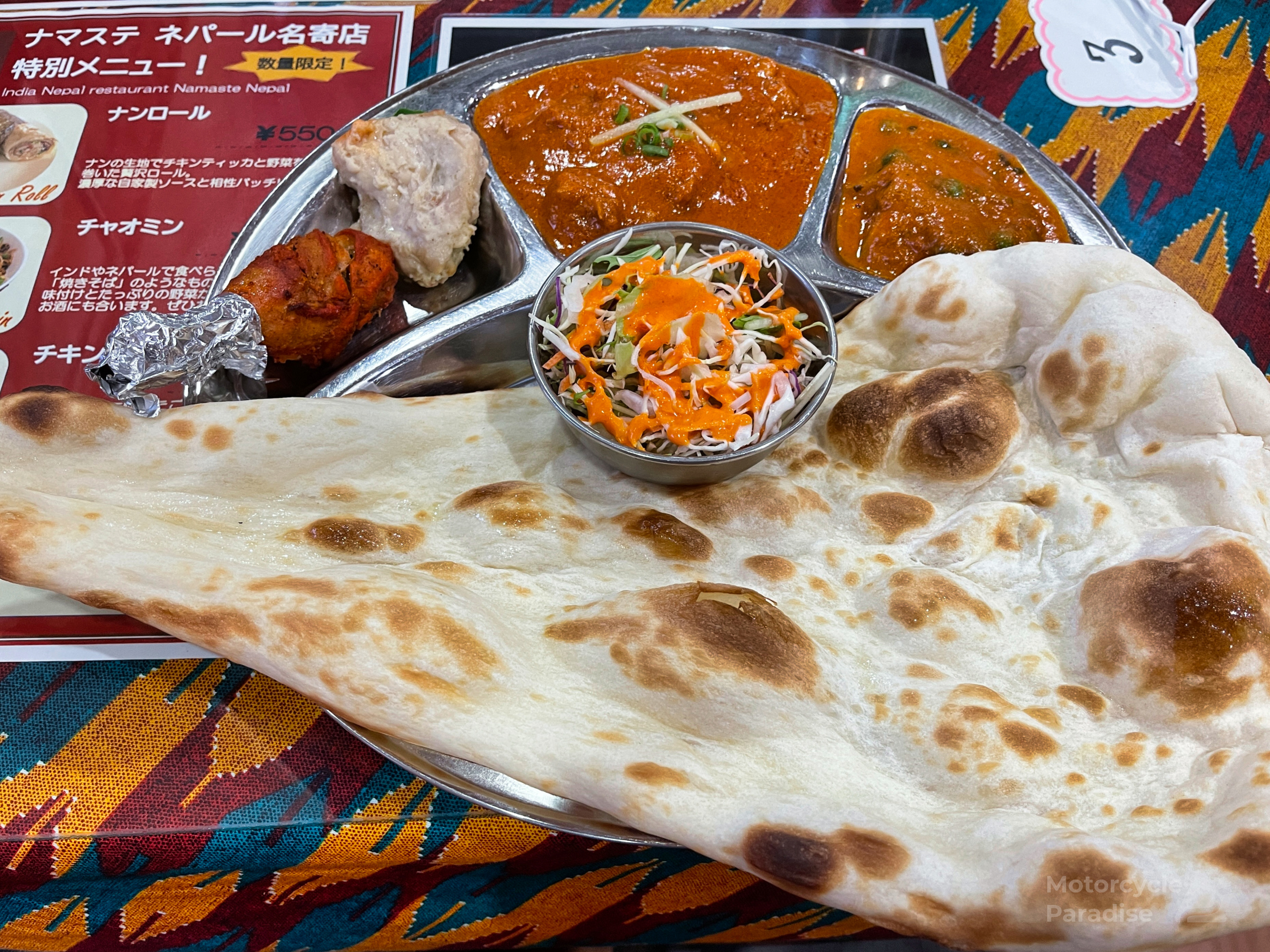 Every large town in Japan seems to have a Indian/Nepal restaurant like how Australia used to have a token Chinese takeaway in every town. I'm often tempted and then disappointed.
Turning south
Weather further north is unstable so after a visit to local sculpture park I turn my wheels south on day seven.
Some terrific curves riding to Lake Shumarinai observatory where I need a drone which are all but banned in Japan. Fortunately Google maps has an image prepared. You can rotate this image.
Today is turning out to be the best riding of the tour so far. Beautiful roads above the forest.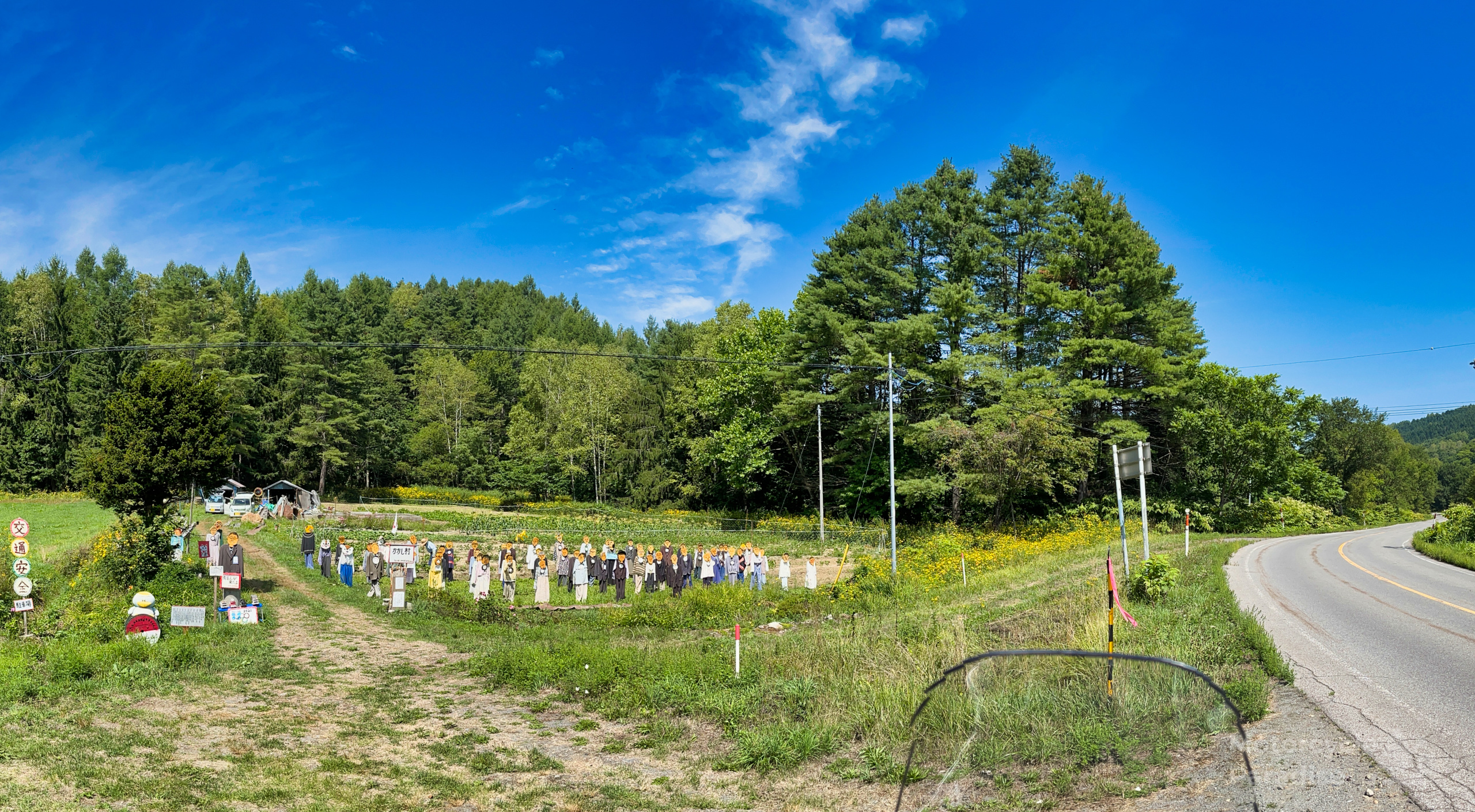 Throw in a weird roadside attraction and it's perfect. Village of the scarecrow.

I can appreciate now why Japanese riders love coming here, it really is different to rest of country.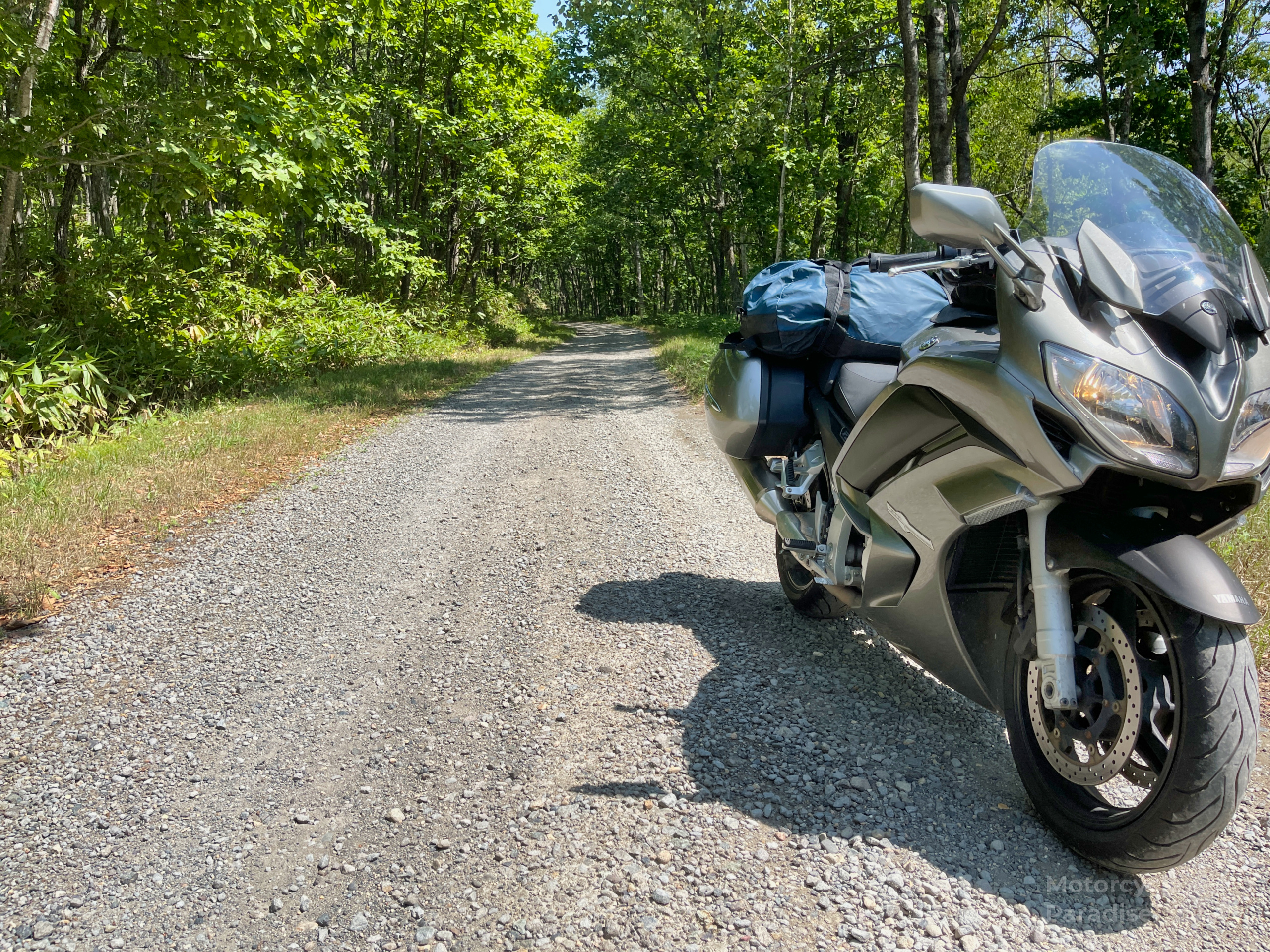 There is a point where 17″ road tyres become difficult off the tarmac, for me that is when the surface changes from hard pack to soft loam as this did around the corner. 'No place for old men' (on 300kg tourers).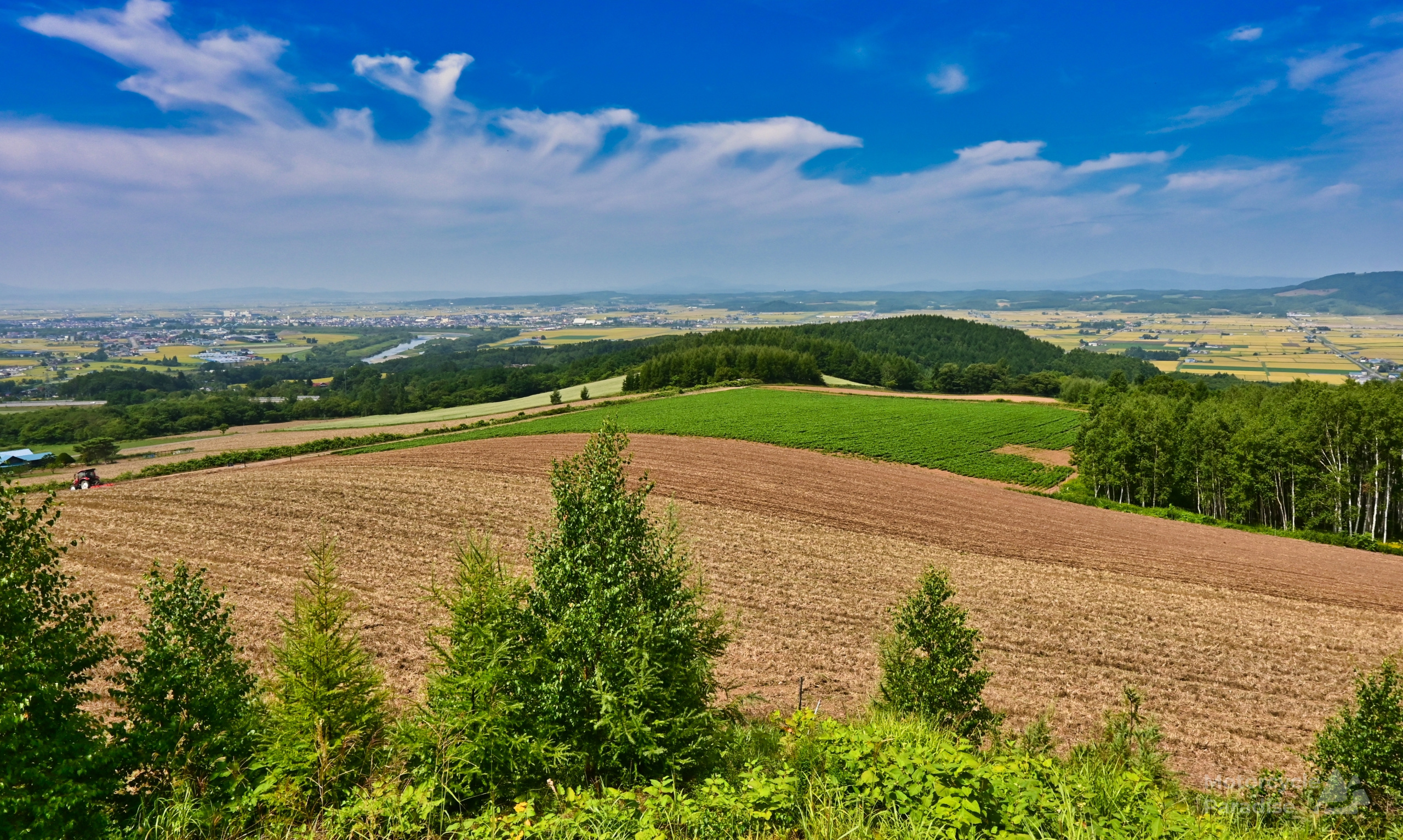 My next view point is a fantastic spot for lunch and this being Japan has spotless toilets and facilities.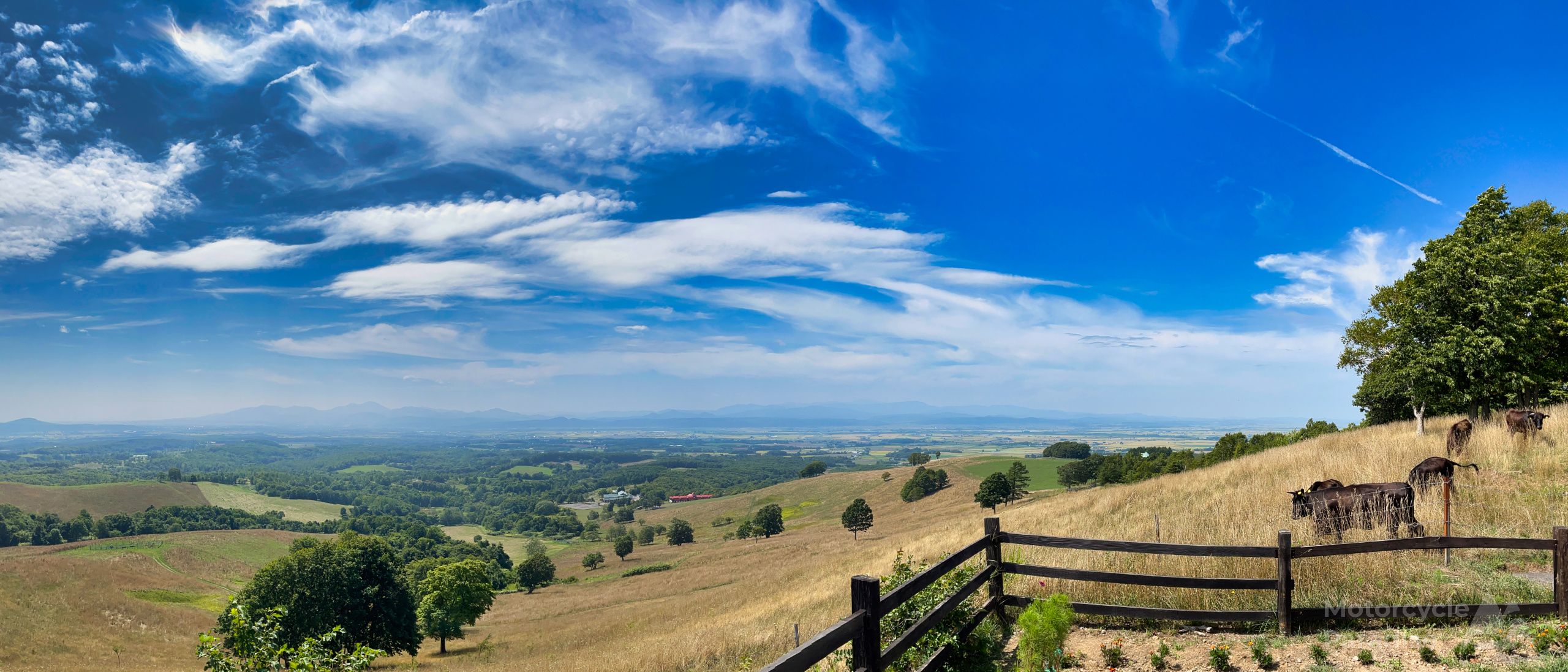 This brown grass and cattle has me thinking of home.
The afternoon is terrific riding on twisty roads north of Sapporo but there is no vantage point for a photo. I detour to a old ski area, no road photo still but a terrific place to relax.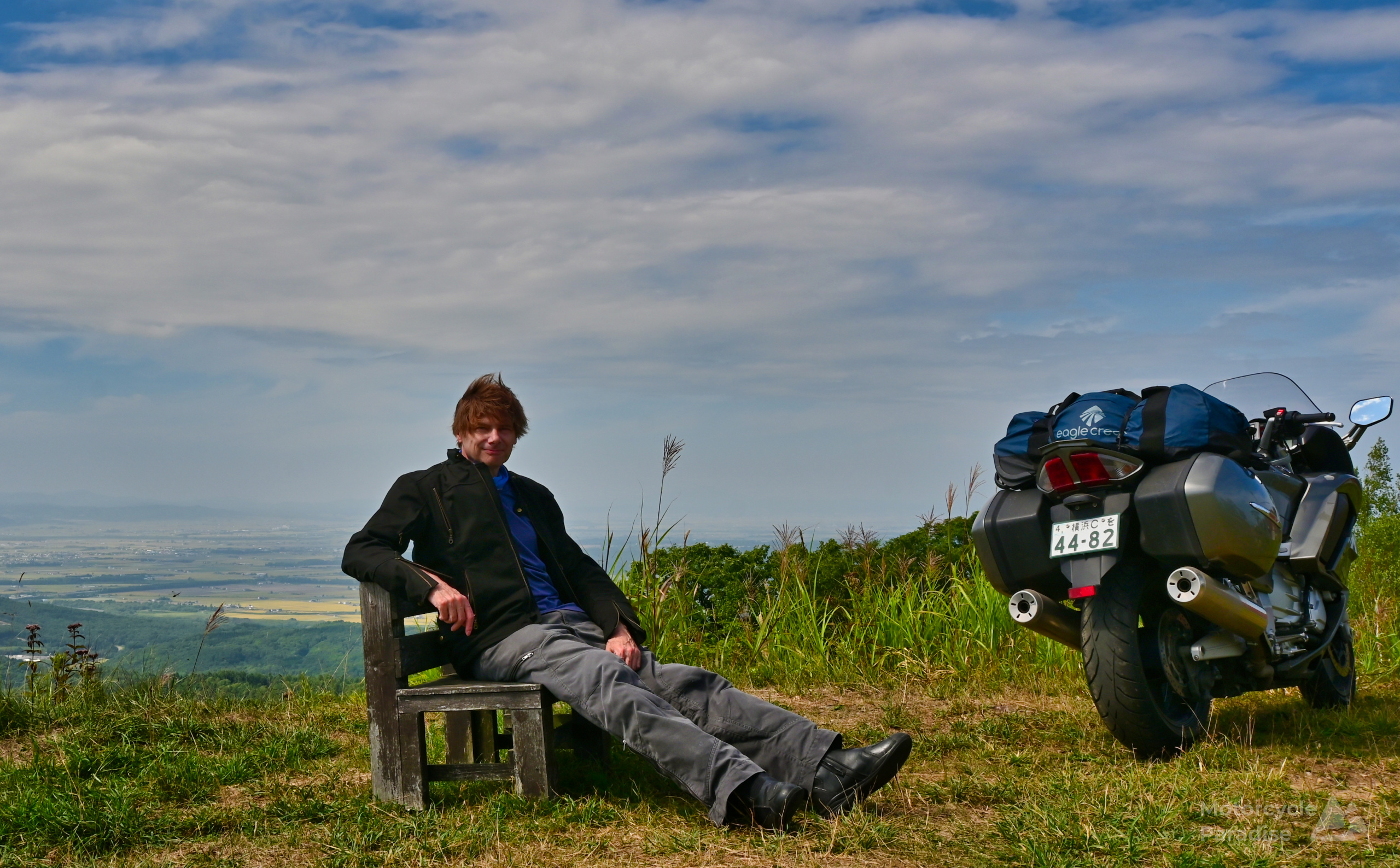 Awesome day of riding in Hokkaido.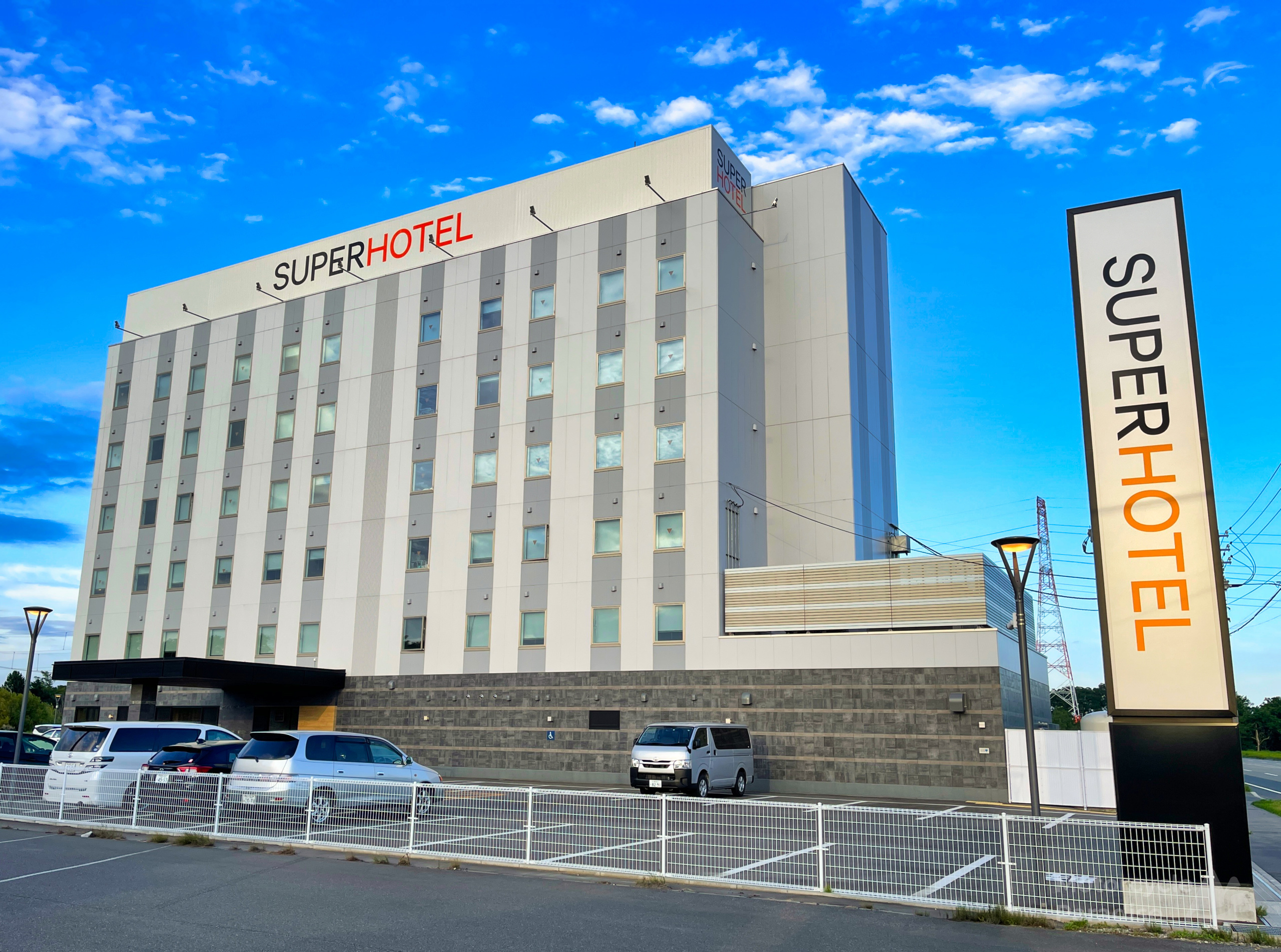 I was not a fan of Super Hotel before but their new buildings have nice rooms and big breakfasts. The manager here at Ishikari is very friendly and staying out of a big city like Sapporo is icing on the cake.
Change of plan day eight. Rain is coming so I ride north to visit the Kamui cape but the rain beats me.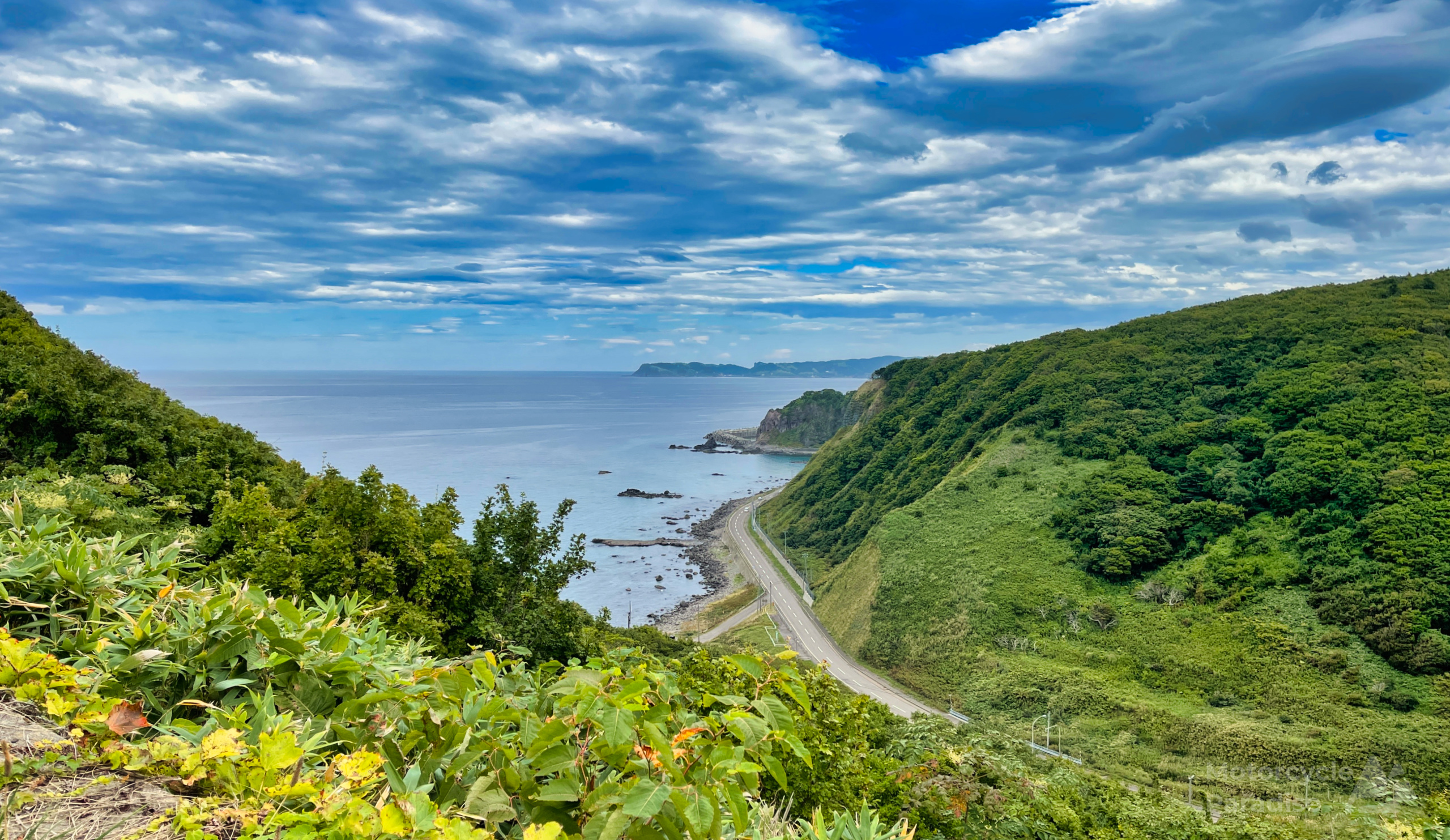 The bad weather is a chance to show a different view thanks to Google maps.
What to do in gloomy conditions – visit more disused railways. I used to work in a station like this when I was young. I longed for the big city job and with study and hard work got there only to discover life in the small train station had been better.

The roads dry for me this afternoon but skies remain dull.
Accuweather app says day nine will be no rain – it's drunk, showers all morning. I stay on route and crossing to the west coast ride into sunlight after lunch.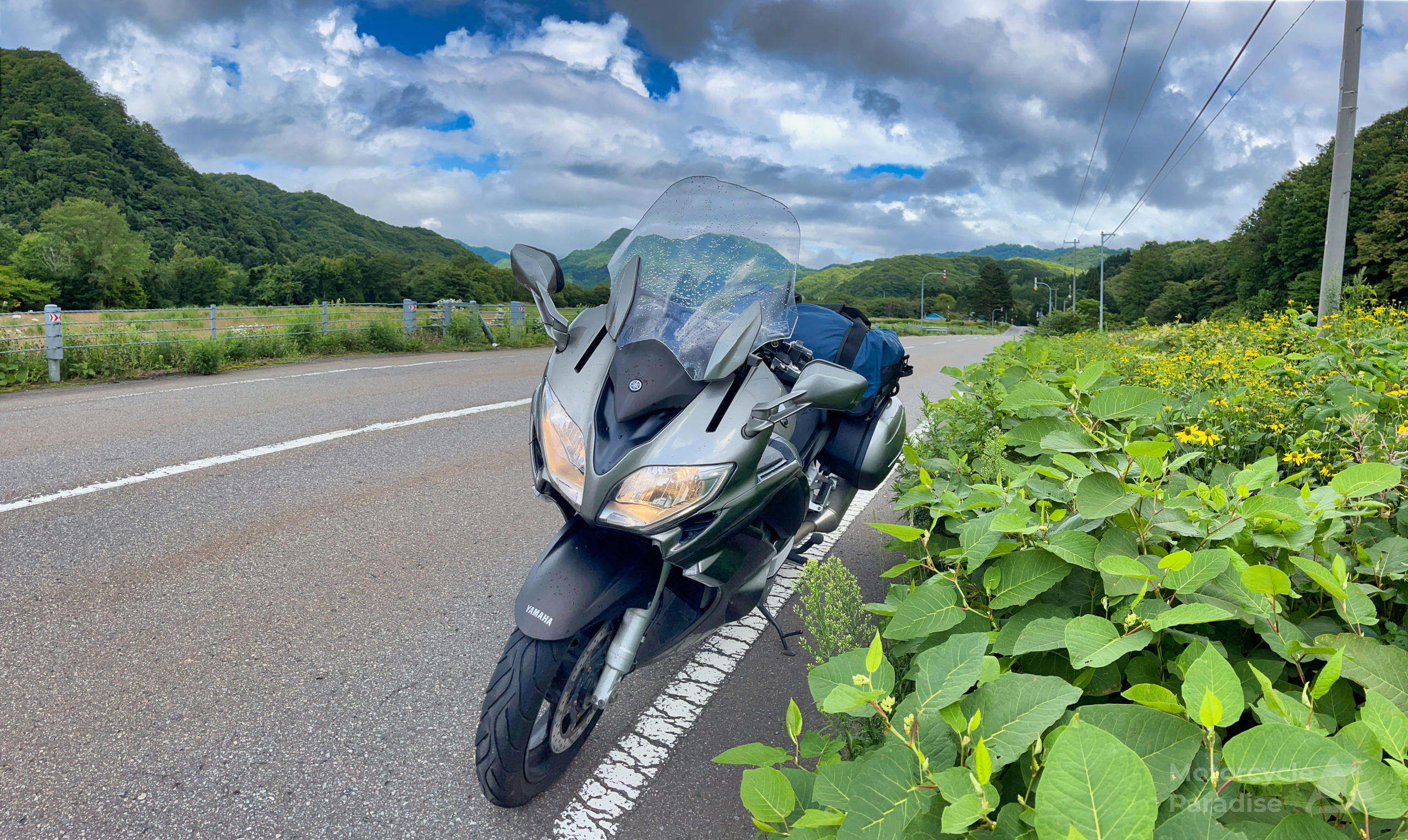 By chance when I stop at a temple to change from rain gear I discover a beautiful view point.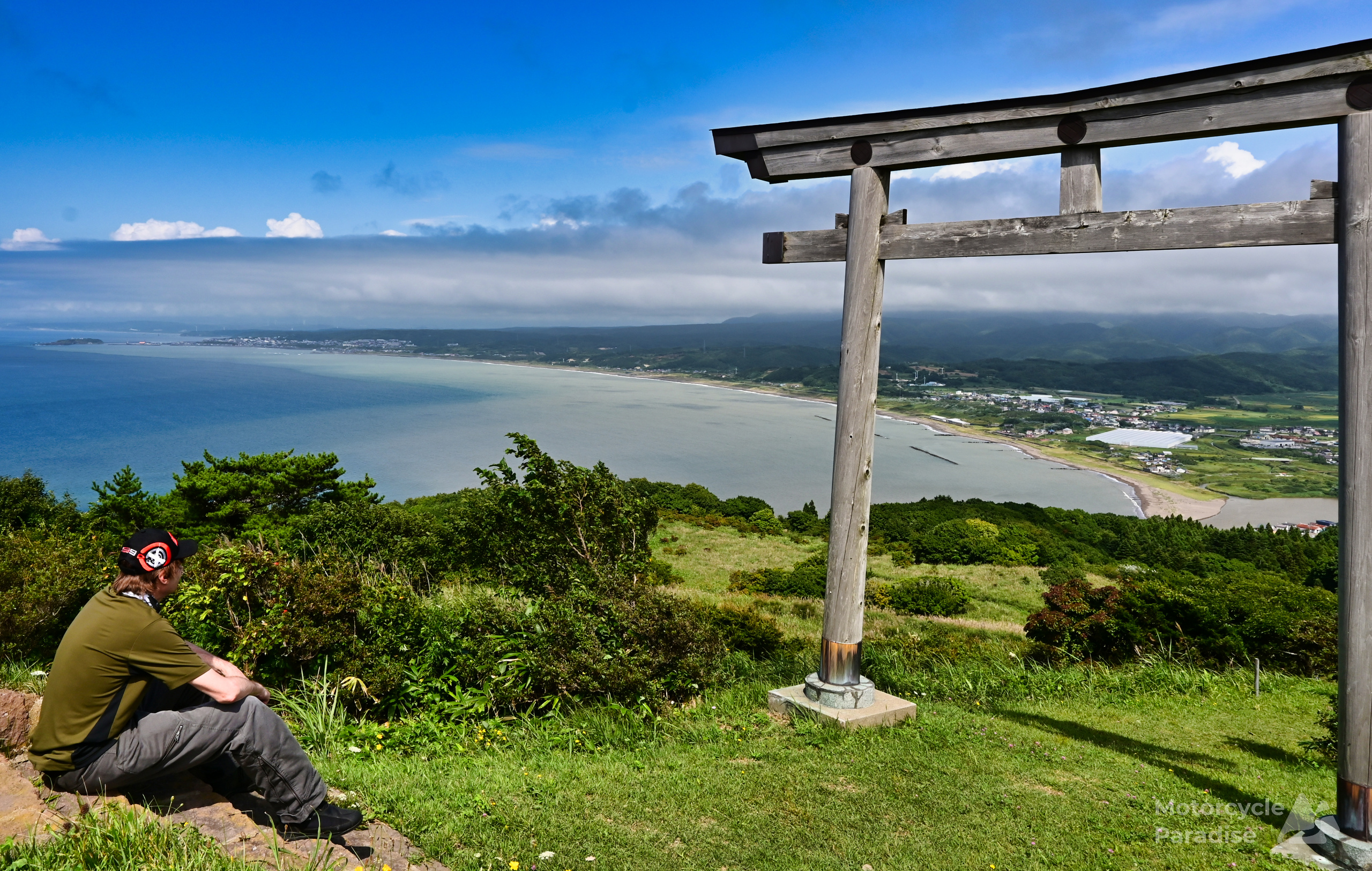 There was a path up the hill and with spare time went for a hike. What a find. Such a peaceful place.
All my gear is sitting on bike unlocked but I have no concerns, nobody will touch anything. That's something I like very much about Japan.
As I cross back to the east I return to dark skies so hurry to my hotel.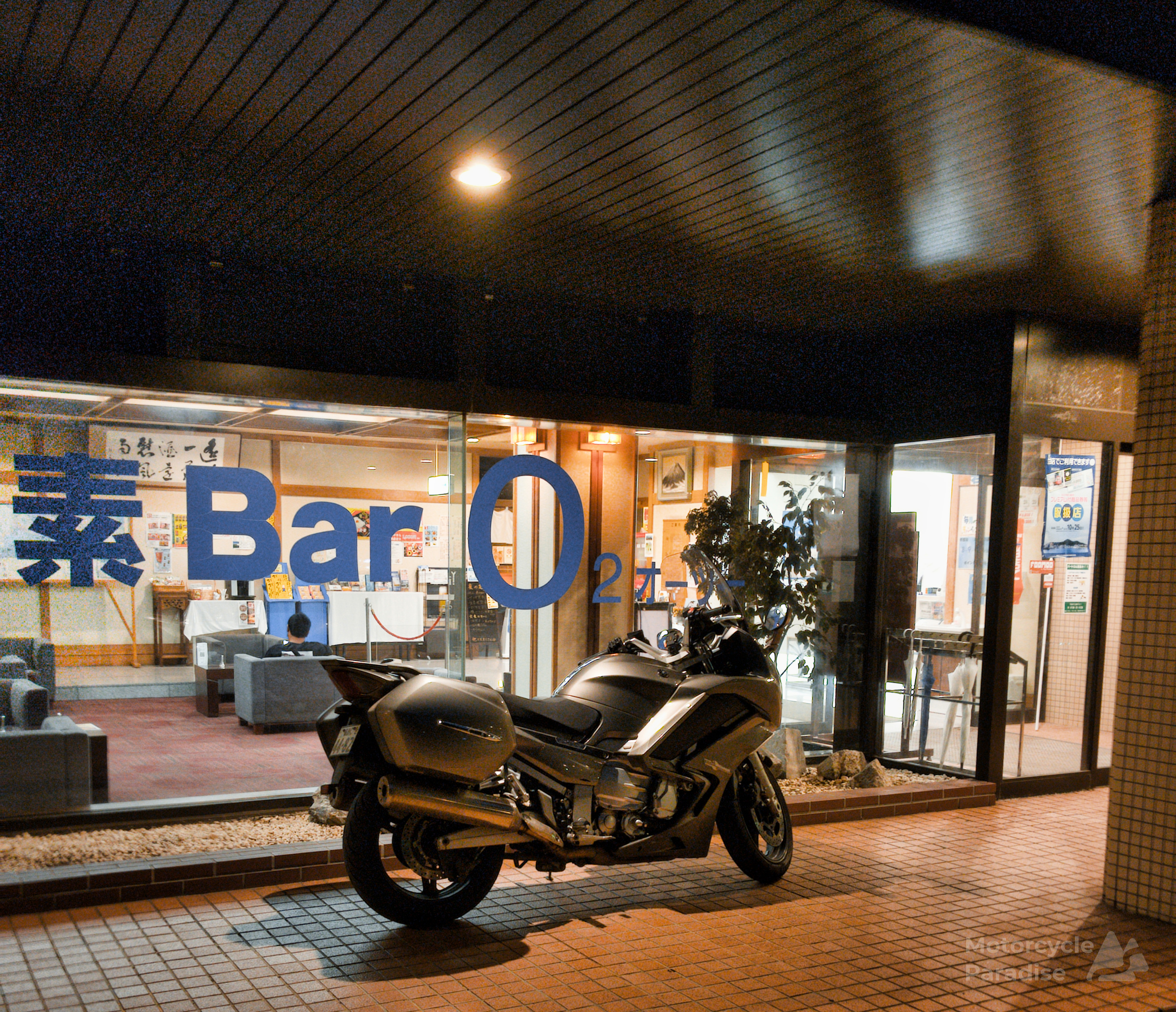 I always stay at the Hakodate Park hotel. It's old but bikes get priority parking and rooms are as low as 3000Y.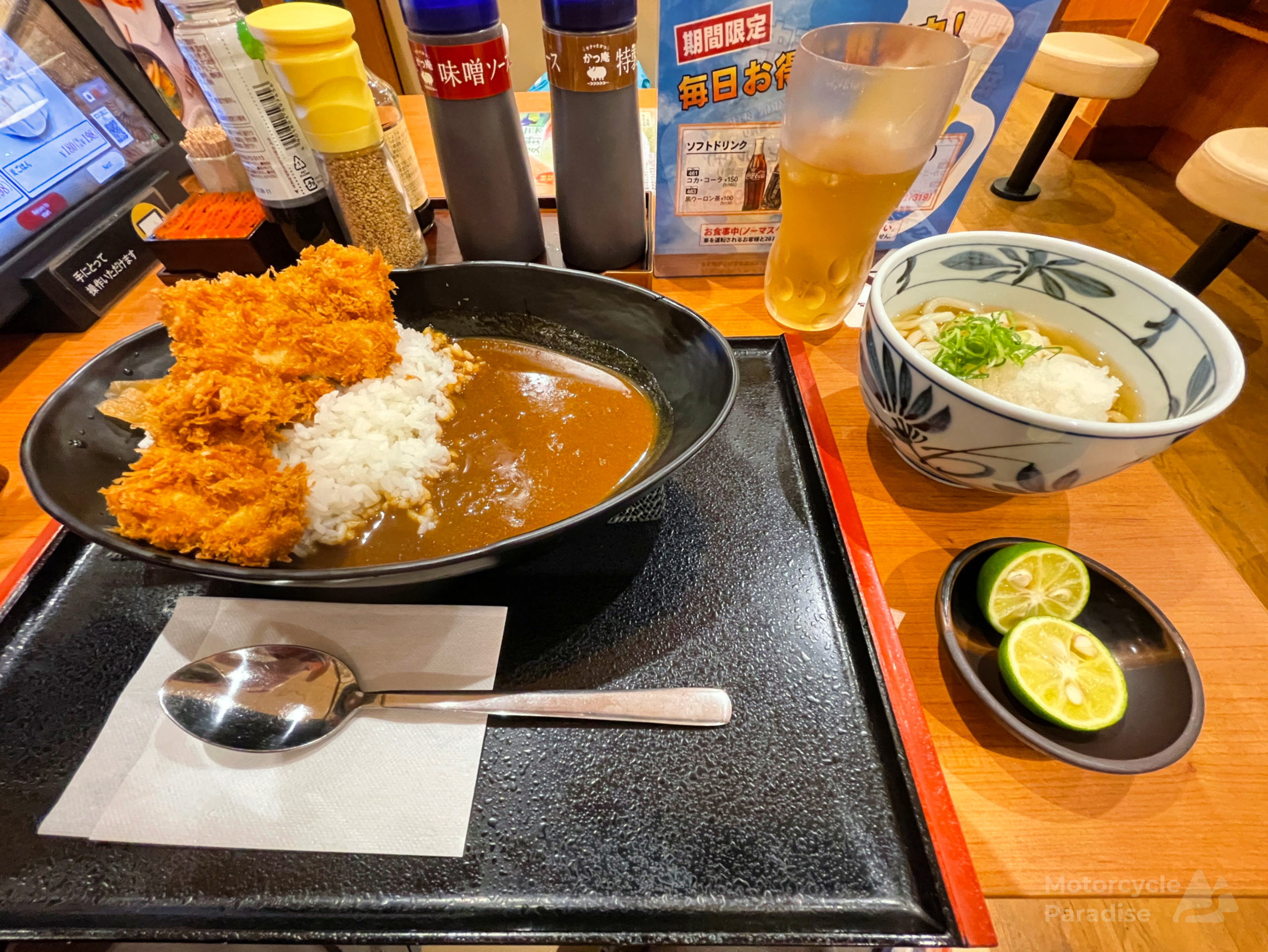 Plenty of meals in Japan can be had around 600Y – my tip to save money is don't order a drink, iced water is always complimentary or in this chain you get free iced tea with unlimited refills.
Leaving Hokkaido
Next day I take the ferry to Aomori.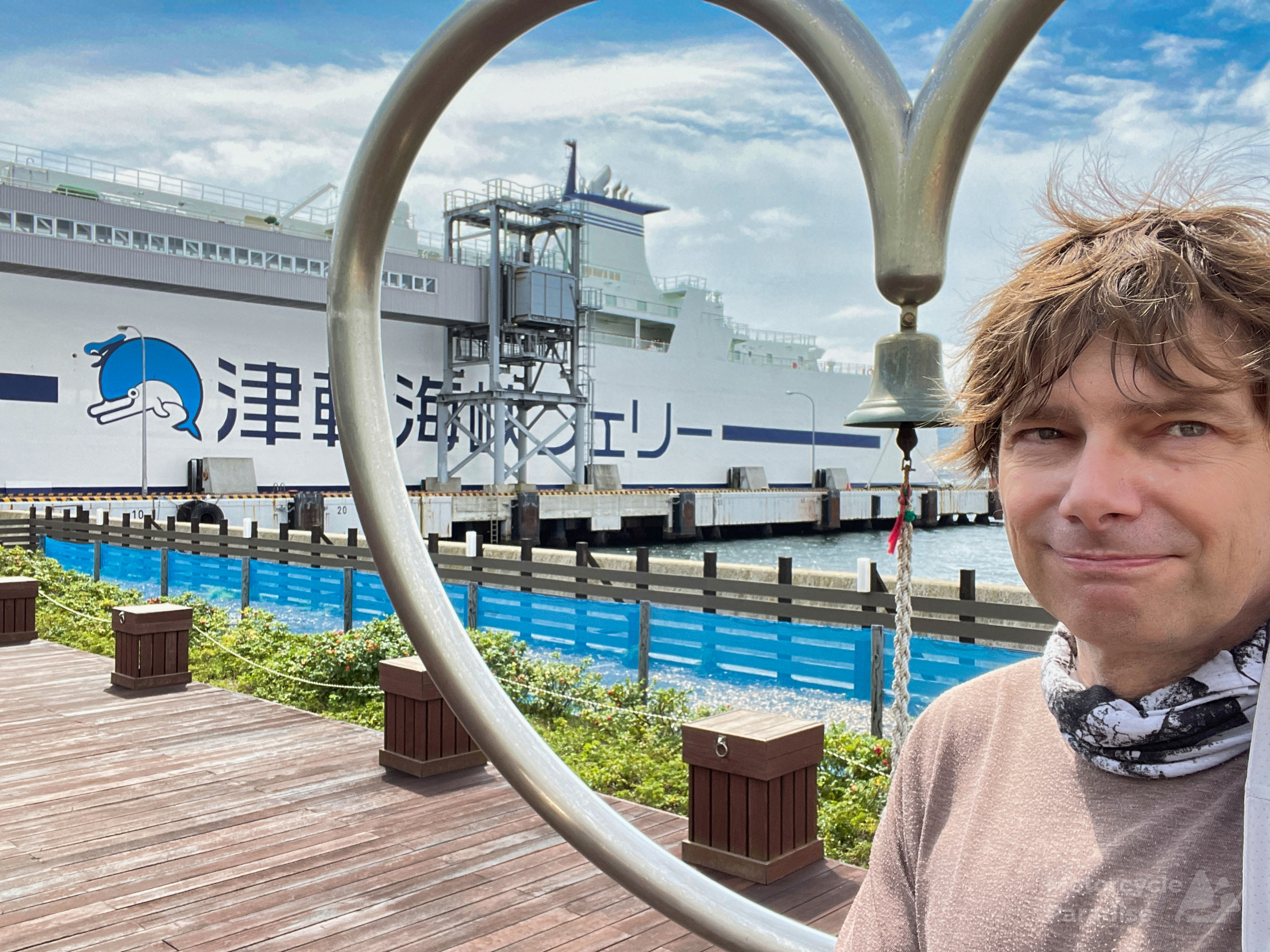 I meet Andrew at the dock. A rider from Philippines now based in Hiroshima. He had a slip in the heavy rain but but is determined to push on despite it looking wet tomorrow. I really enjoy chatting to him.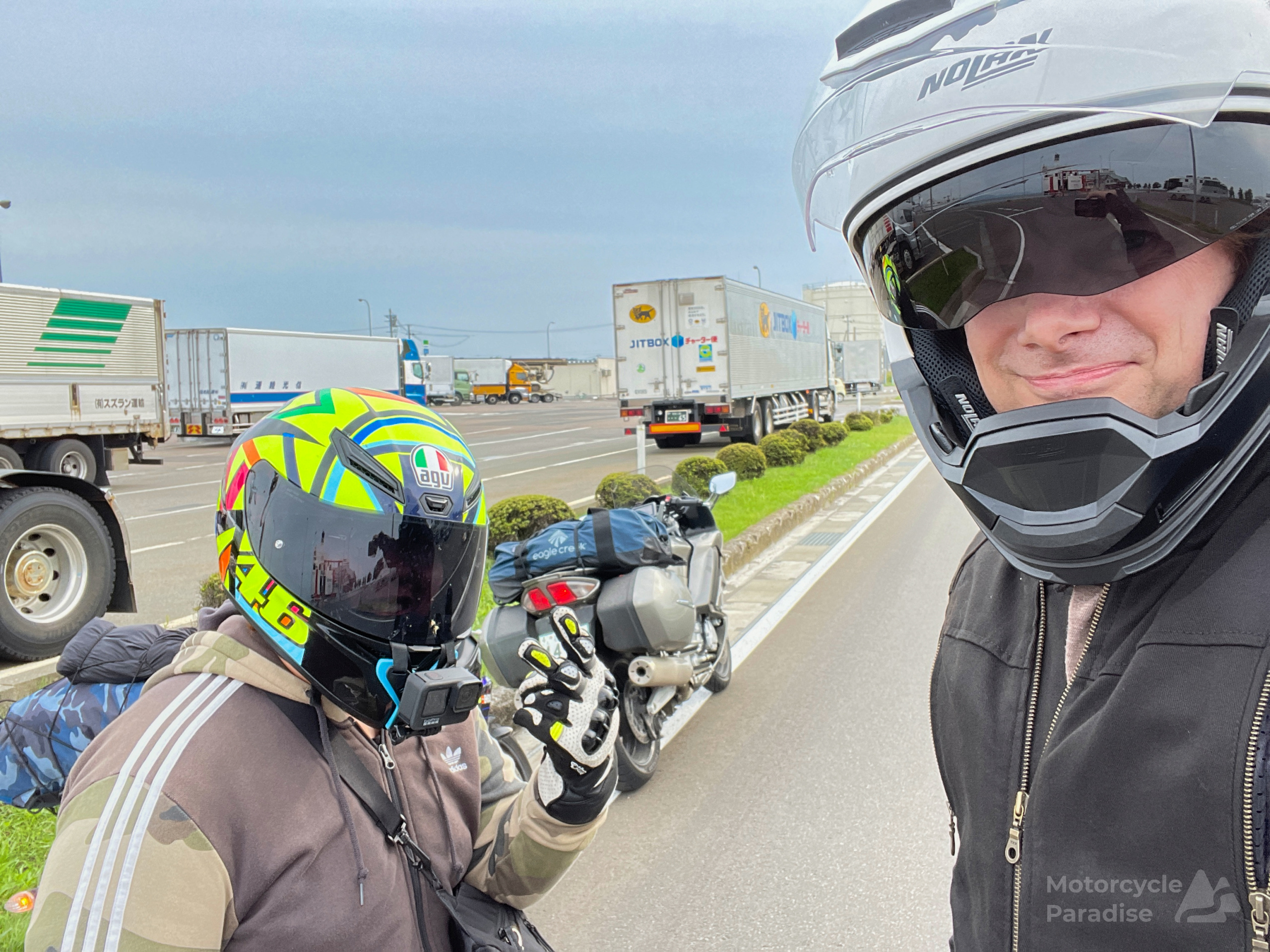 I'm staying at another different hotel chain tonight, the Toyoko Inn group.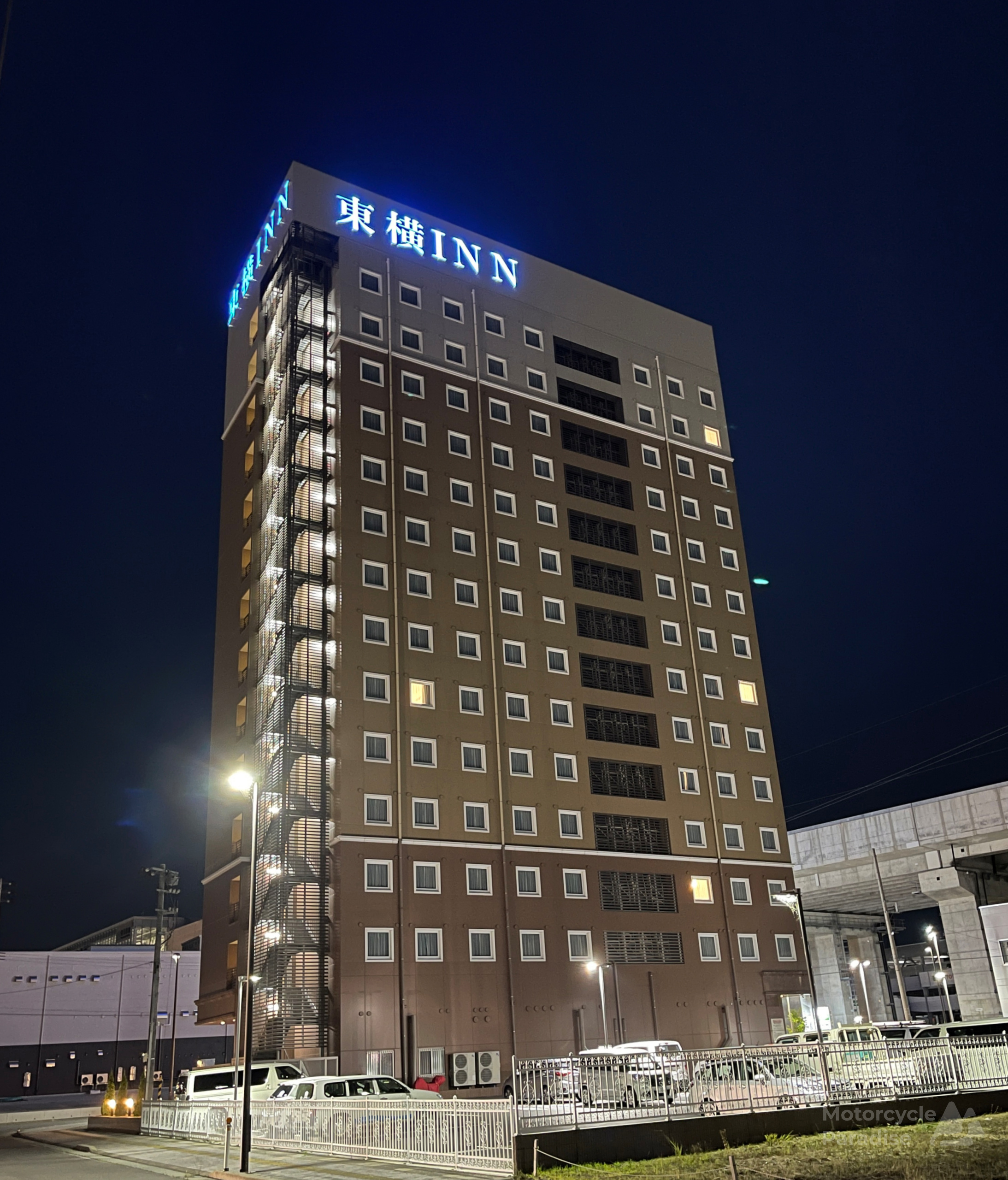 The weather looks lousy for tomorrow. Fortunately I can just stay in hotel so I stock up on few items.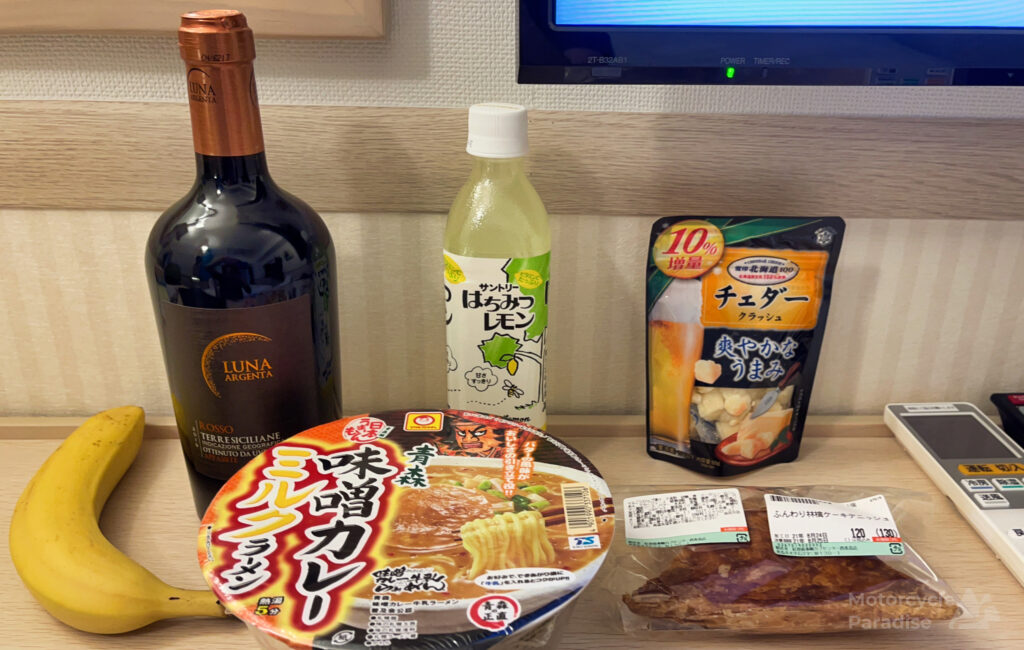 Tonight it's time to open some wine and have a laugh watching 8 of of 10 cats does Countdown. RIP Sean Lock.
Day eleven is very wet, glad I'm off the bike. I love moto touring Japan. The ease; the scenery; the endless curves. Recently however I have drivers pull out into my path more frequently. I often can sense when someone has not seen me but was nearly taken out this tour and my reaction time gets slower every year. What is the answer? Headlights, white helmets or fluro don't do much. Those huge tourer bikes I wrote about have road presence or should I be wearing airbag vest?
Day twelve un-accuweather app says clouds clearing to sun by midday.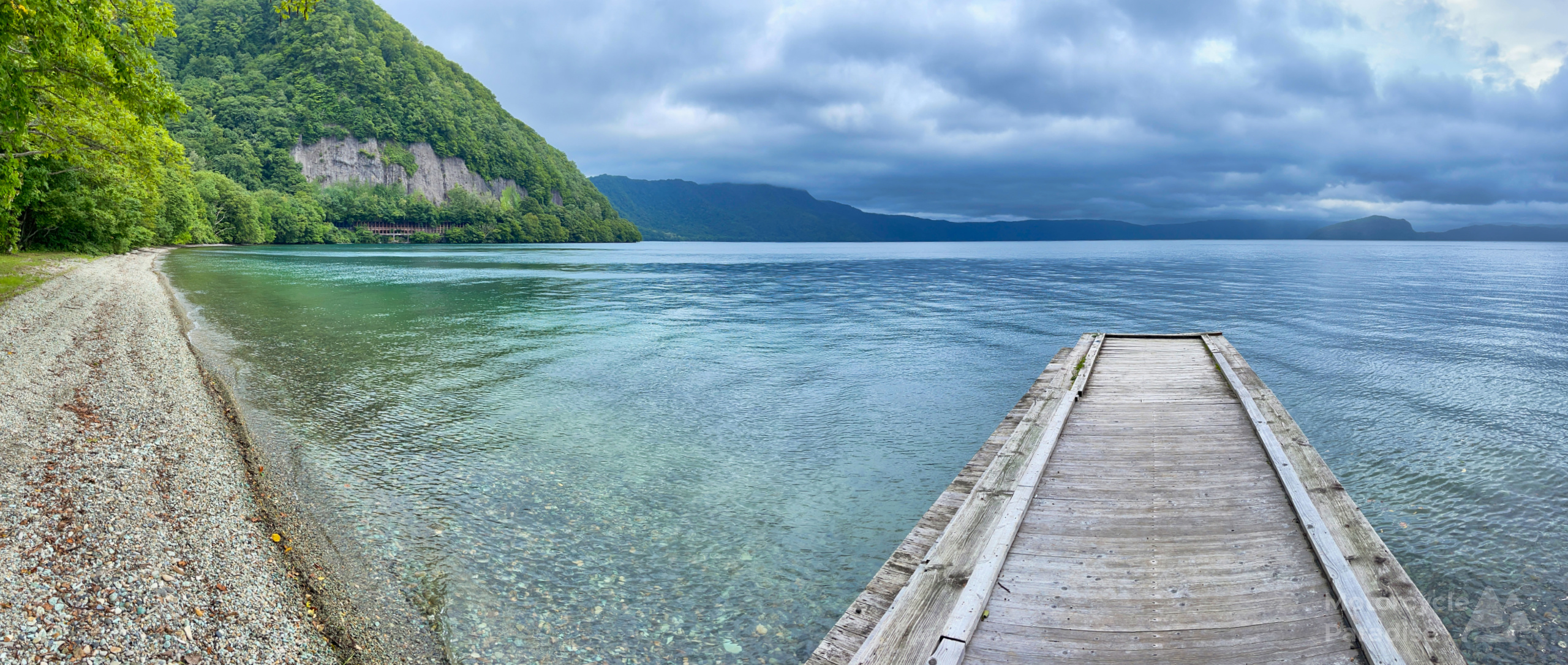 I never knew Lake Towada had blue stones similar to ones I saw near Ende when I toured Flores. Need to slow down my touring heaps more.
You can see above that skies are not becoming sunny, curse you un-accuweather app.
Conditions deteriorate but I'm locked on west side of the ranges unable to detour.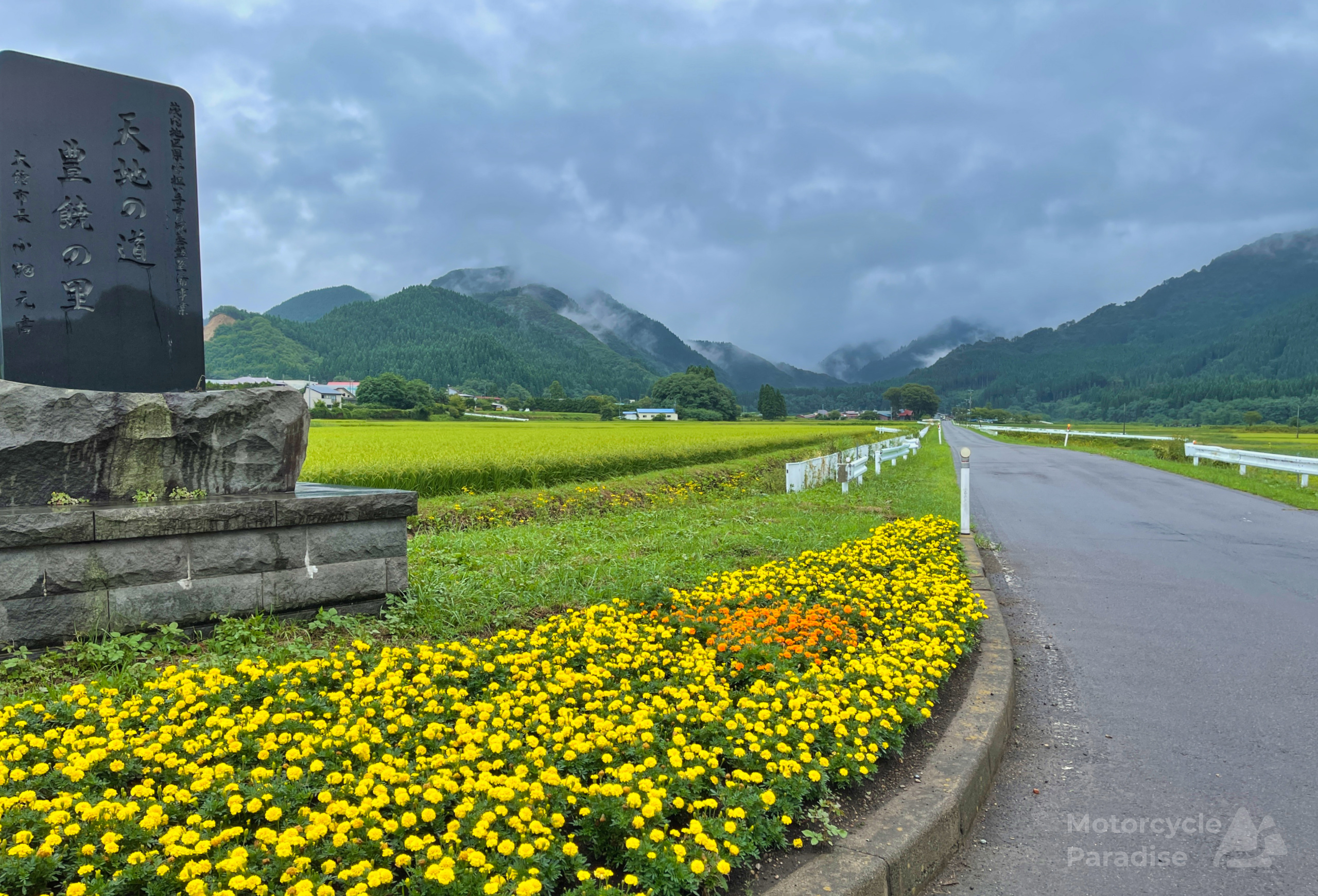 My Dunlop Roadsmart 4 tyres are excellent on wet roads, but heavy rain defeats my jacket. The seam tape on the rain liner is already coming away in places which is disappointing.
With hindsight left at the lake via Iwate was right choice. Every turn in life is easy in hindsight.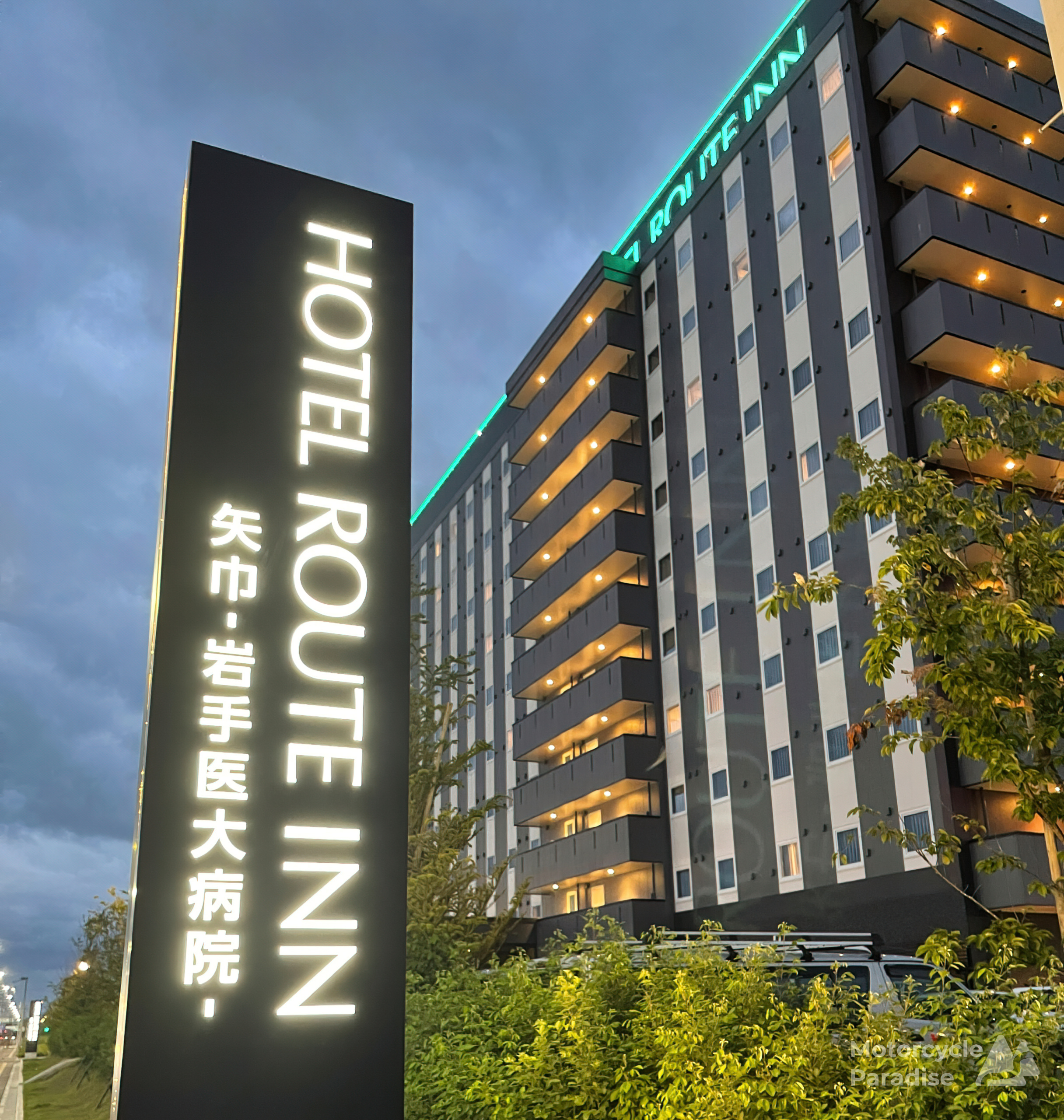 Returning to my old favourite tonight. Still a good experience most times. The theme music from Clint Eastwood's movie Unforgiven playing in the hallway is a familiar welcome.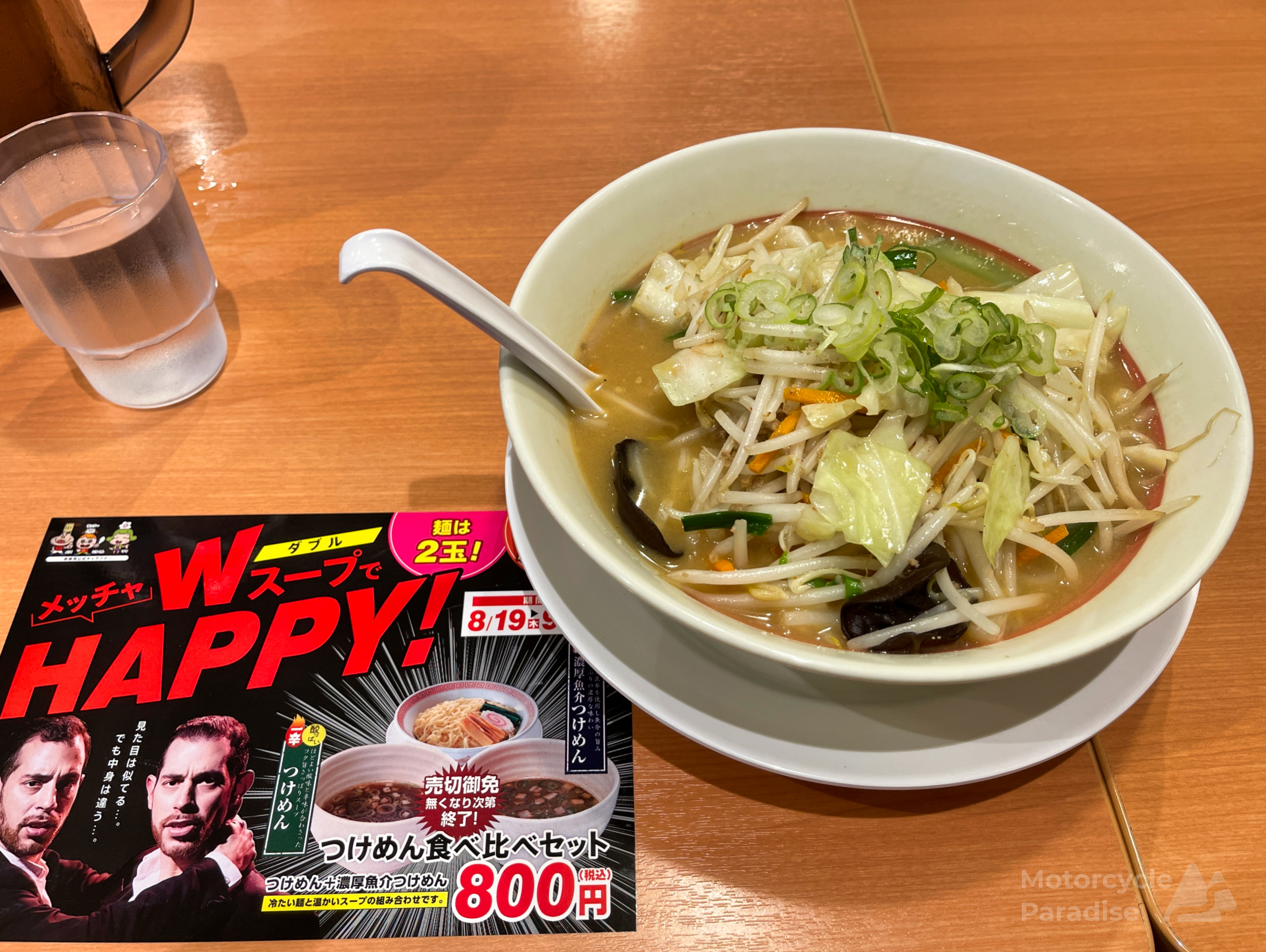 I ordered miso vegetable ramen. There was no ramen. Maybe lost in translation – so much here is for me. But I want the awkward interactions, to be the alien. I prefer living in Japan to remain an adventure.
Thirteen, unlucky for some but a great day of riding for me.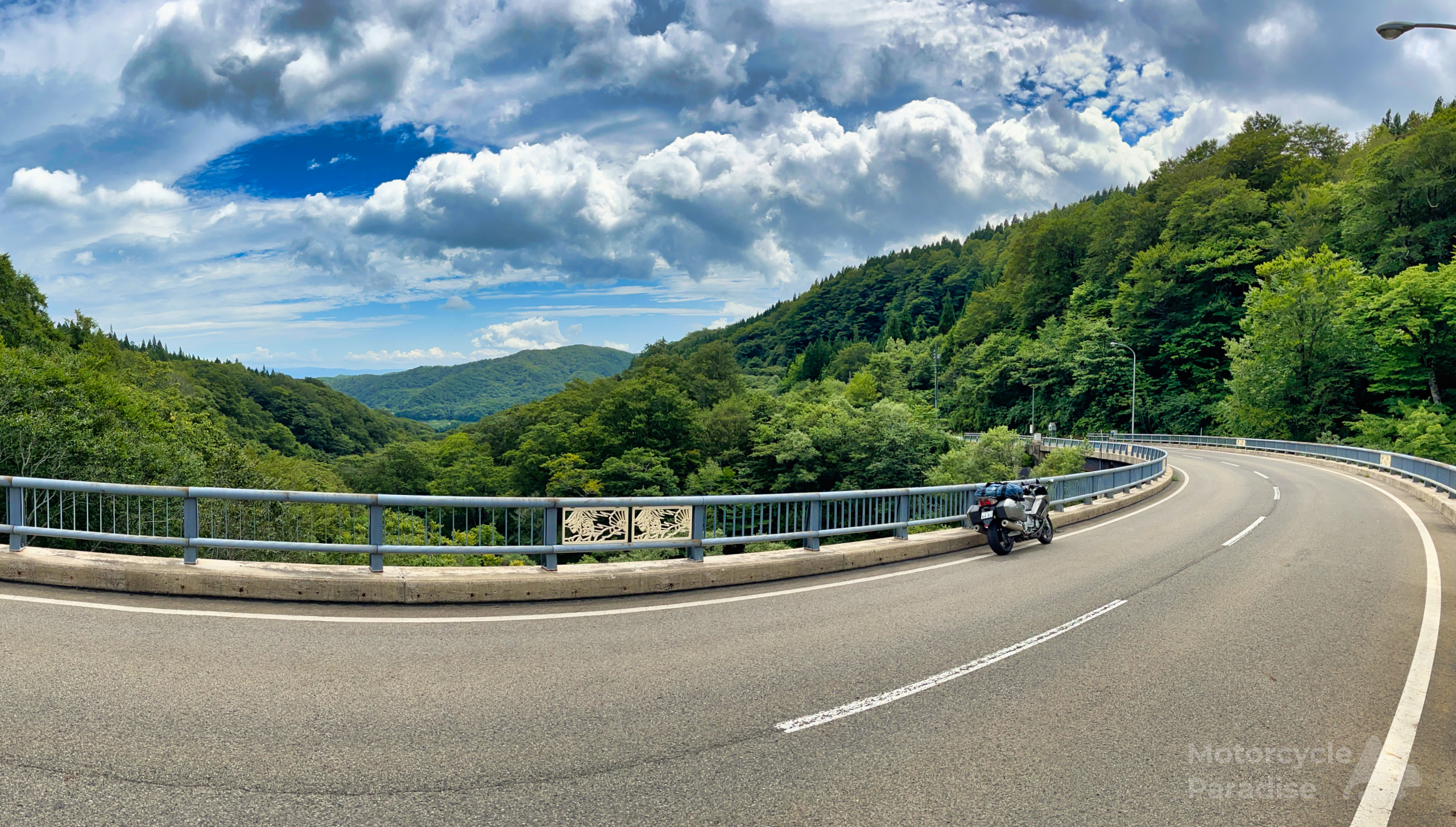 Today is a series of backroads I strung together that deliver hours of rural riding bliss.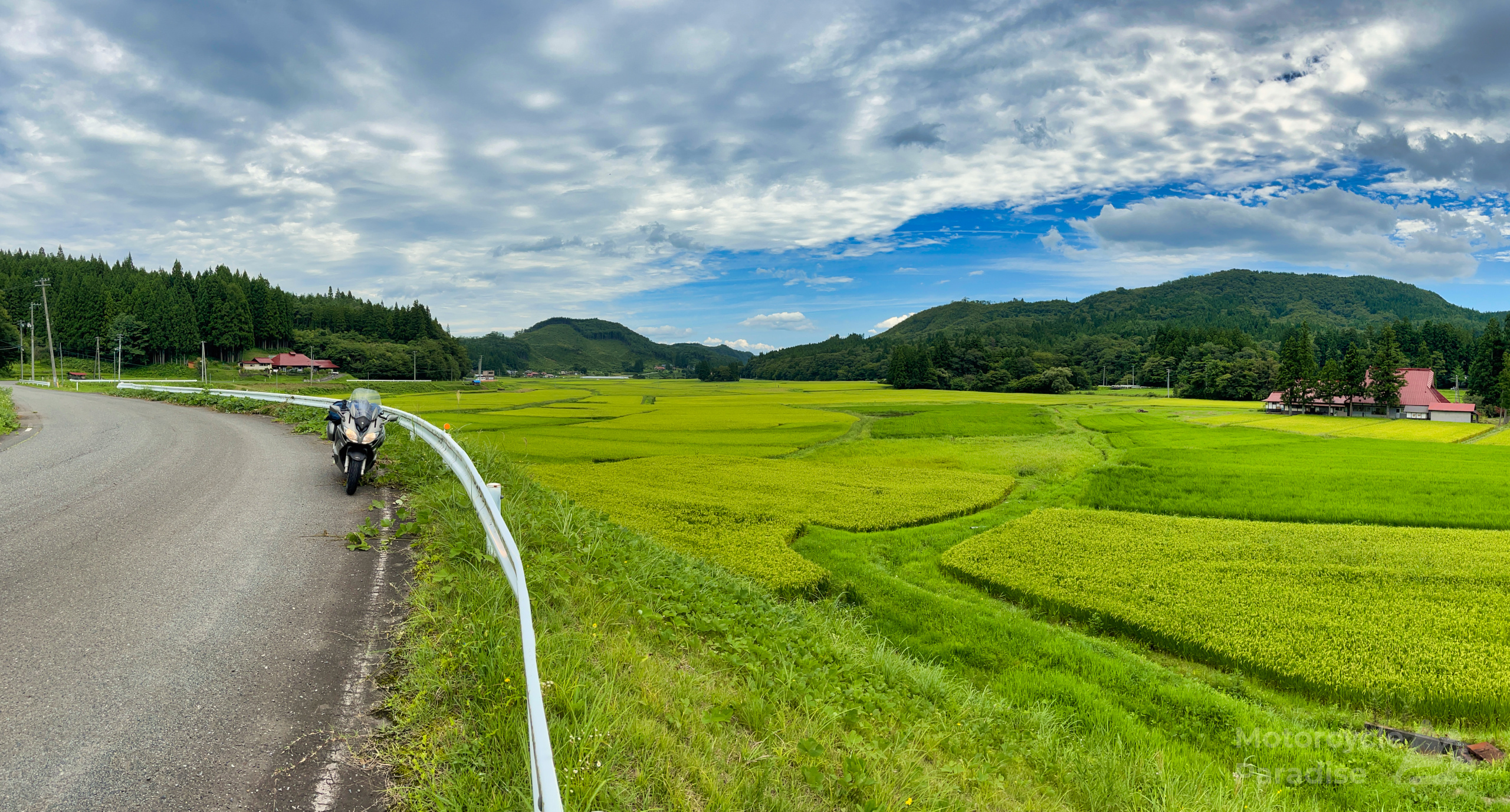 But the best riding roads are never photogenic.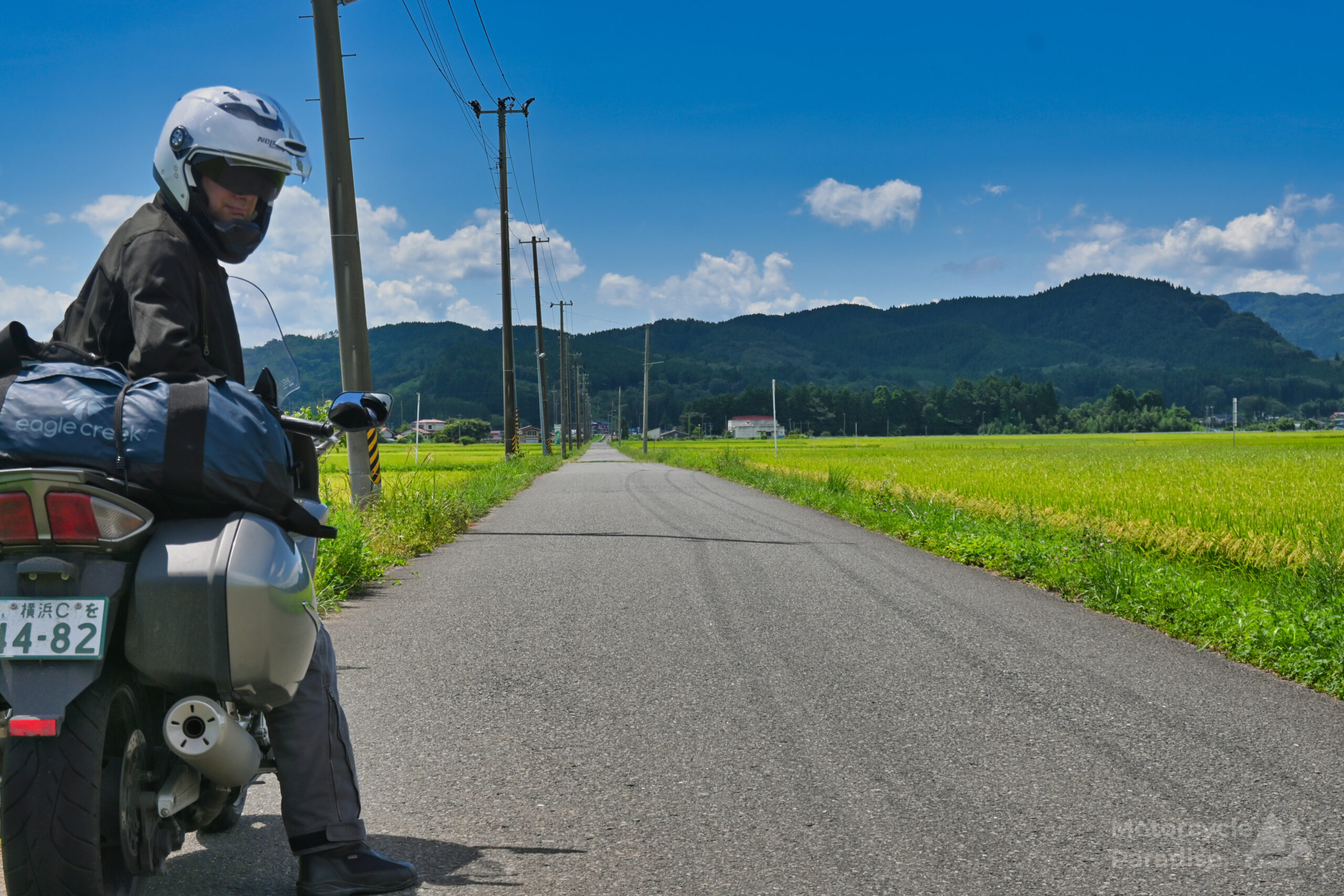 Farewell my past. If only a twist of the throttle could do that.
Final day. All expressway. No problem with cruise control.
I skip the nightmare that is Tokyo highway traffic by riding to Chiba and taking the ferry. Nice end to this tour.