I continue my Shikoku tour riding south from Kochi to revisit the Yokonami Kuroshio line, a scenic road that winds along the headland.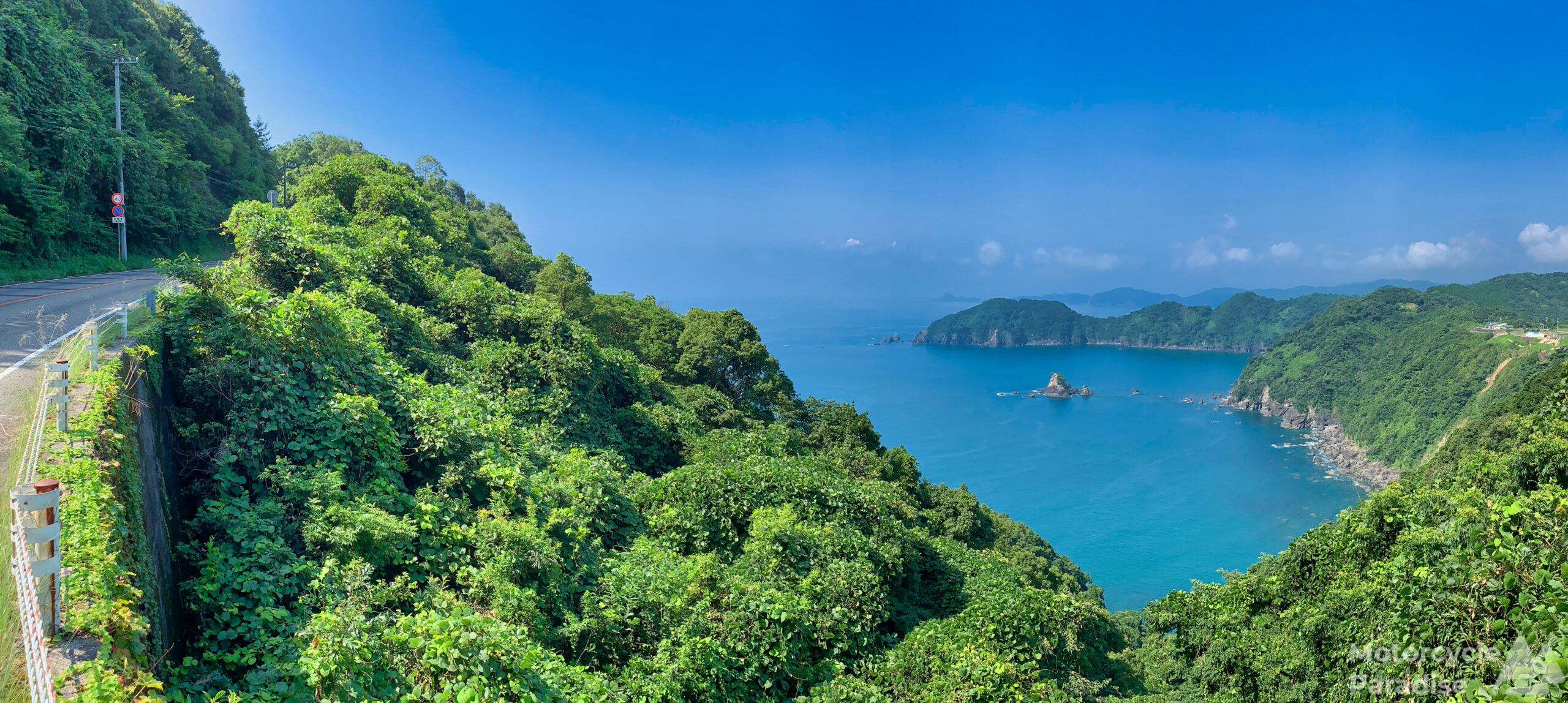 It is quite a spectacular ride.

9.00 am and it is already steamy hot. Off the bike I am perspiring profusely even in the shade. I limit my photography to a few spots and get the wheels rolling to cool down.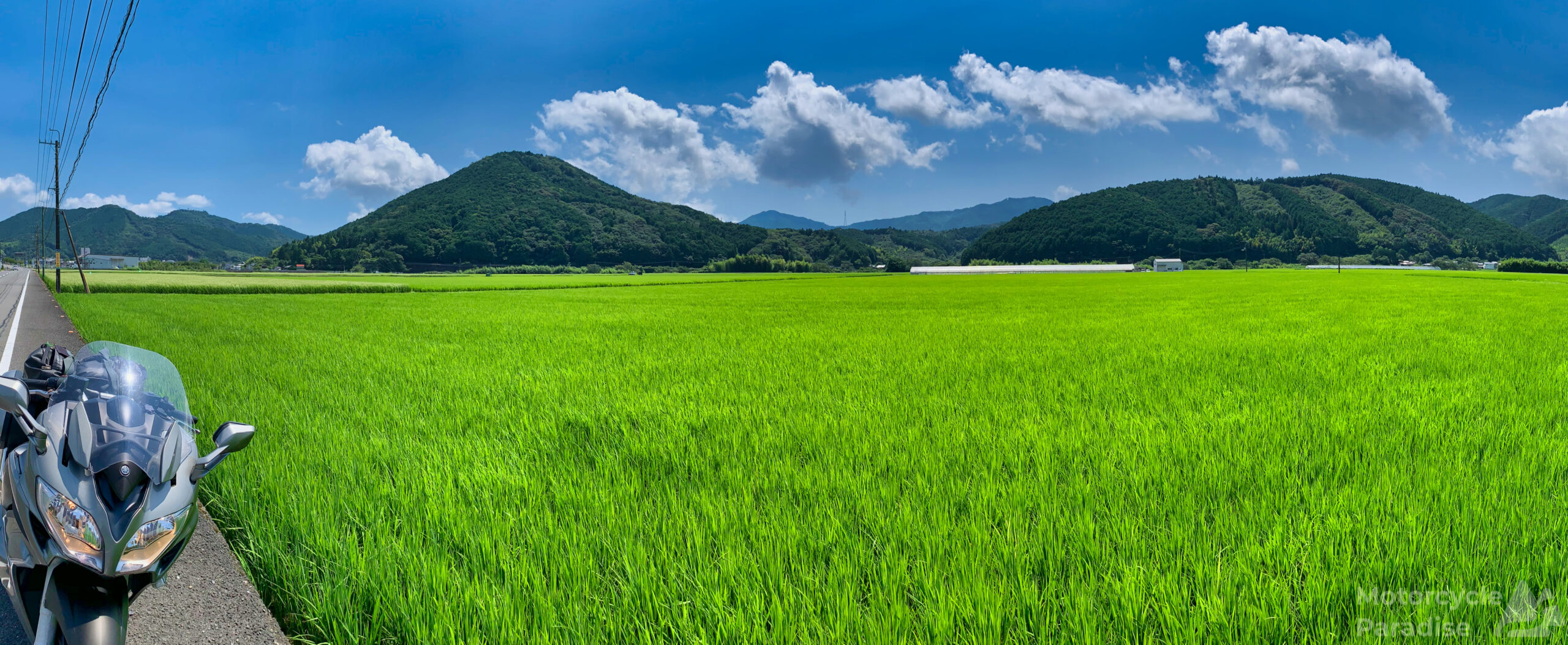 Japan in summer is a green carpet of rice so vivid you cannot imagine. I have actually not boosted the colour in this photo at all.
I was travelling on the opposite side of this river and seeing the small rural train station turned around and came for a look. Mastering the slow ride is hard, but rewarding.
For much of today I am following the Shimanto river. It is said to be the cleanest water in Japan and it's valleys are very scenic.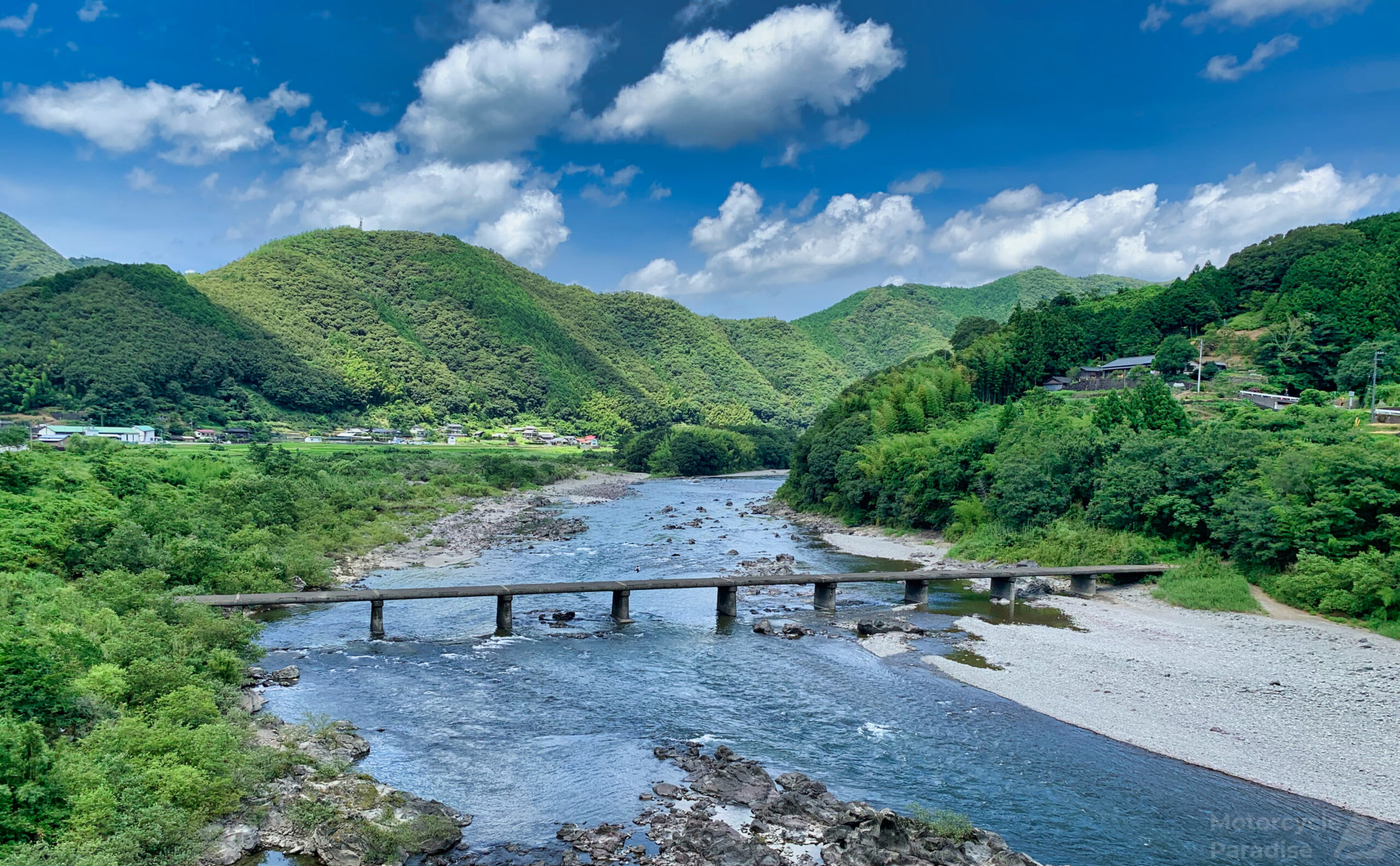 The Shimanto river features many old low bridges that have survived to become tourist attractions.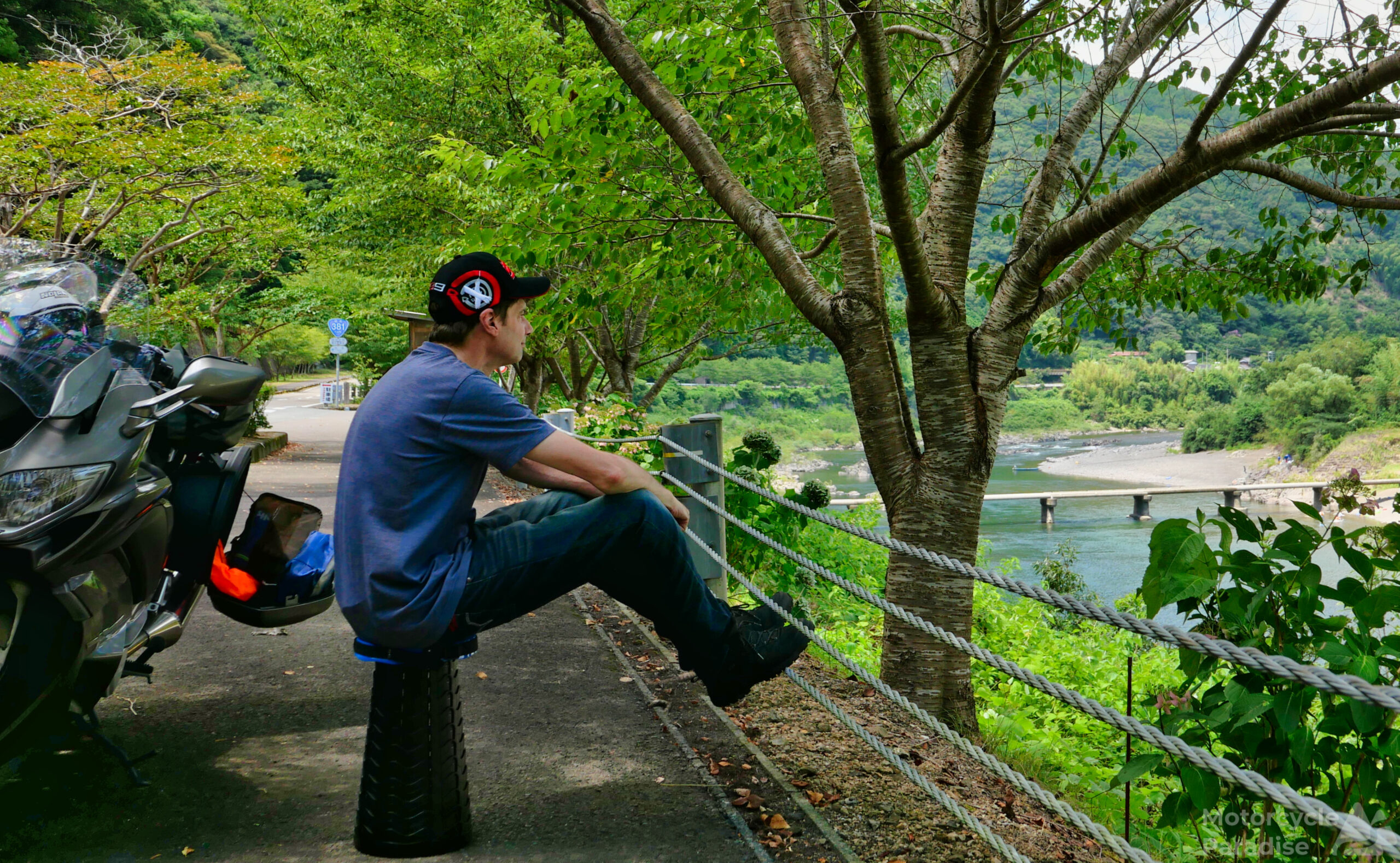 I took my lunch break overlooking the river in a elevated spot with a cooling breeze. I got to use my new travel seat (pictured) which compacts down into a small disc. A peaceful spot.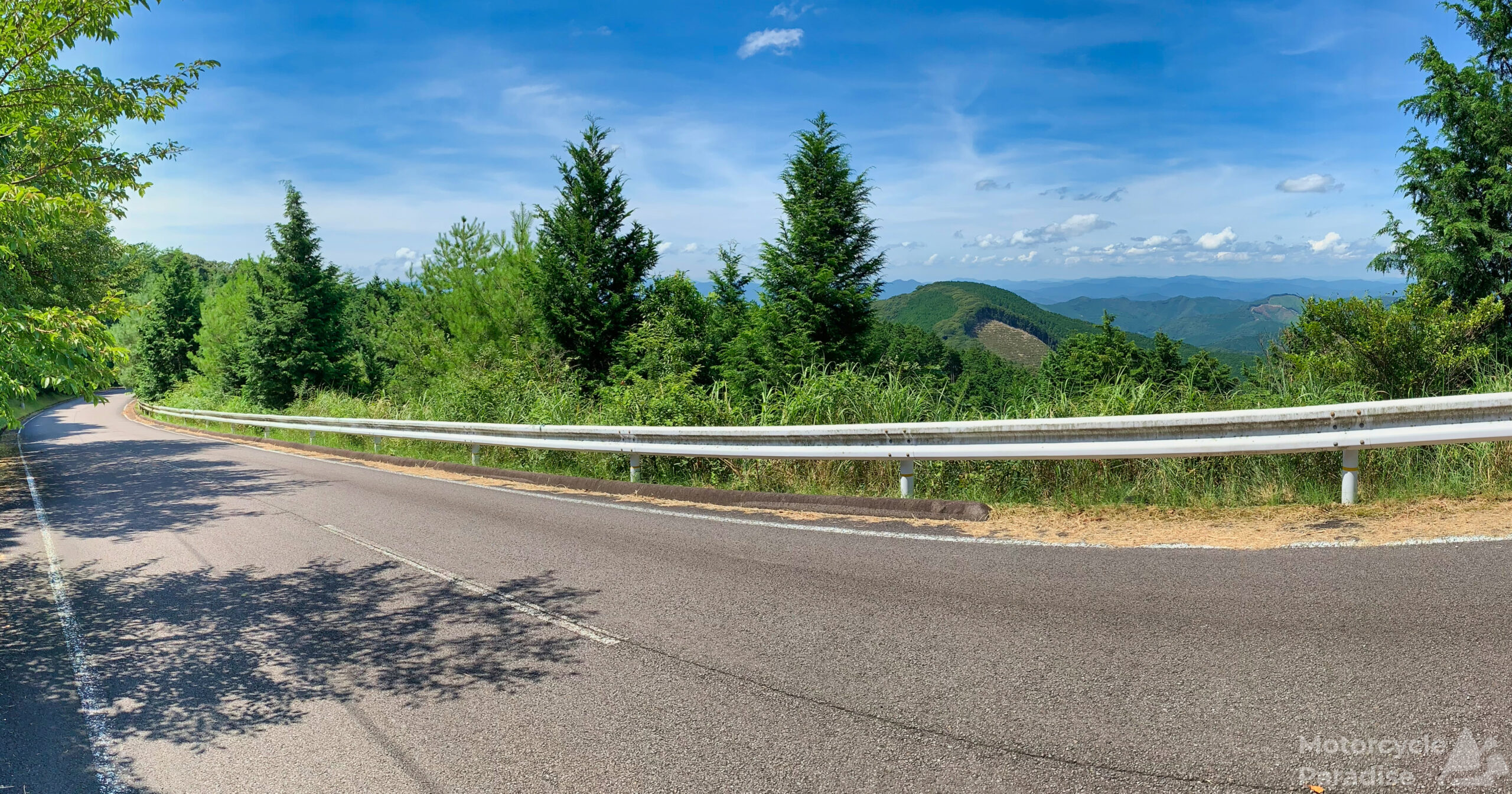 After a leisurely ride along the river I enjoyed 100's of curves on the hidden super forestry road I found last time in Shikoku. Neither Google or Garmin will route this, I presume formerly it ended half way but now is a beautiful bike road with zero cars.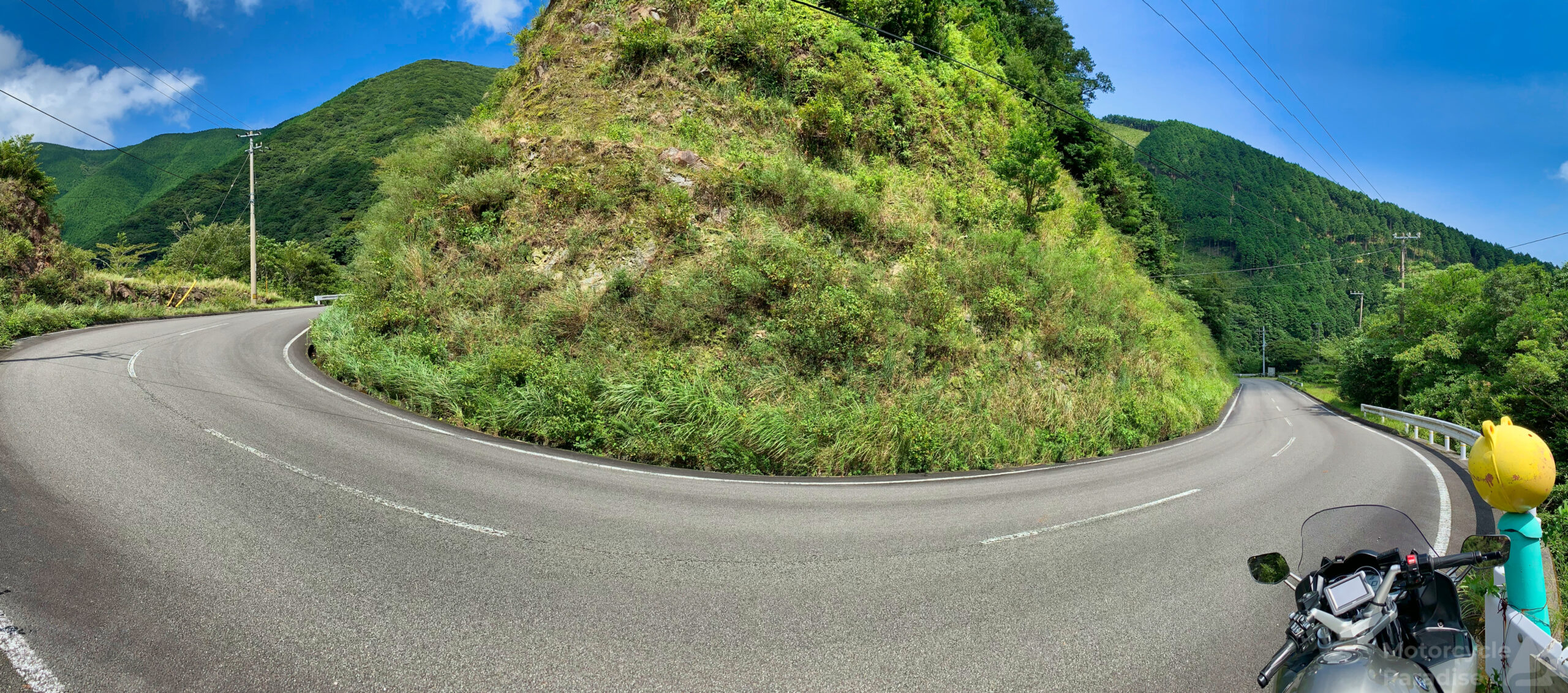 This road delivered me to the south eastern part of Shikoku.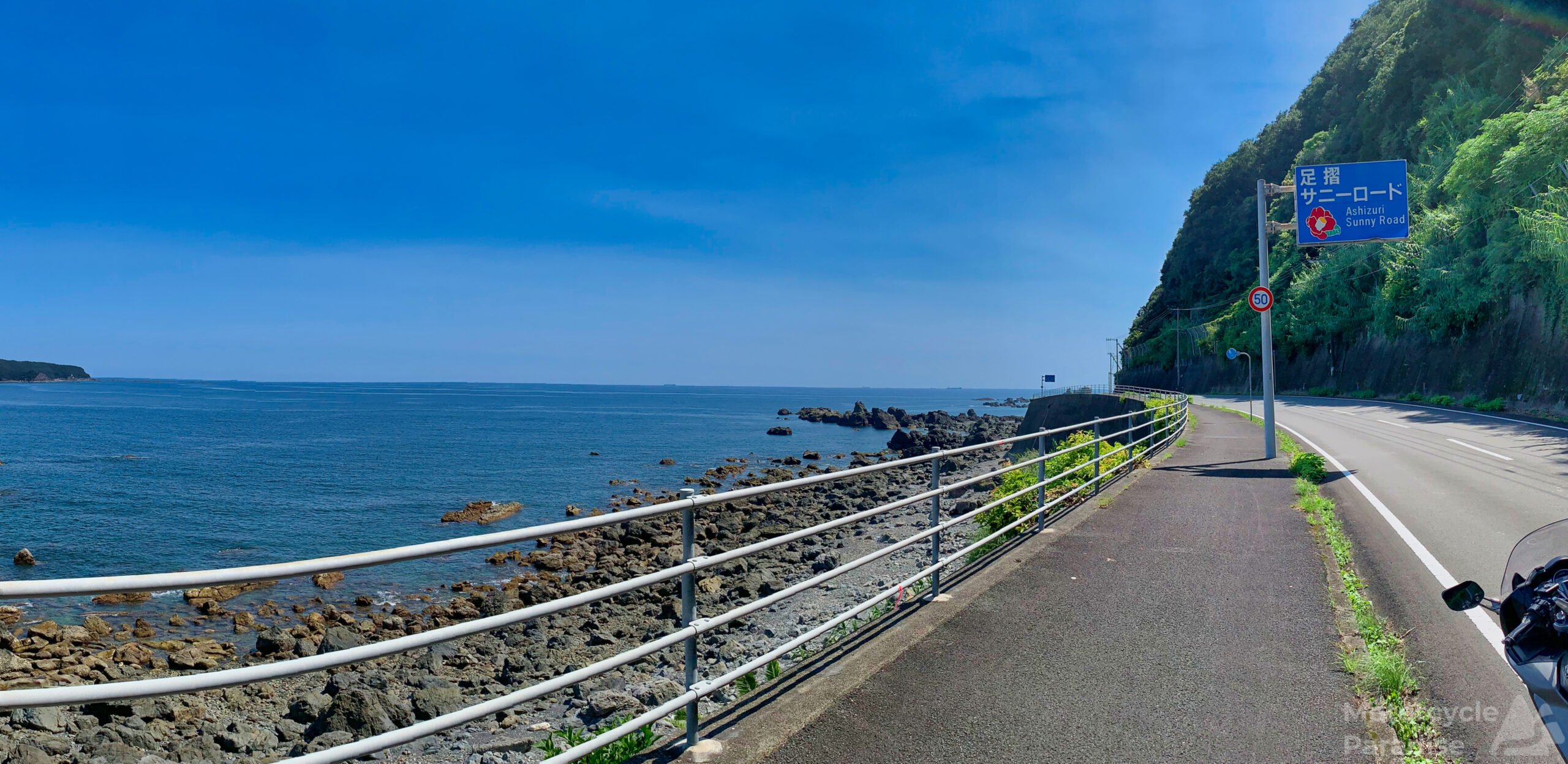 I stopped at the Tatsukushi coast, but could not find a good photographic point so continued along the enjoyable Ashizuri Sunny Road.
I am aiming for the Odo Observatory, a viewing platform I have tried unsuccessfully to reach twice previously.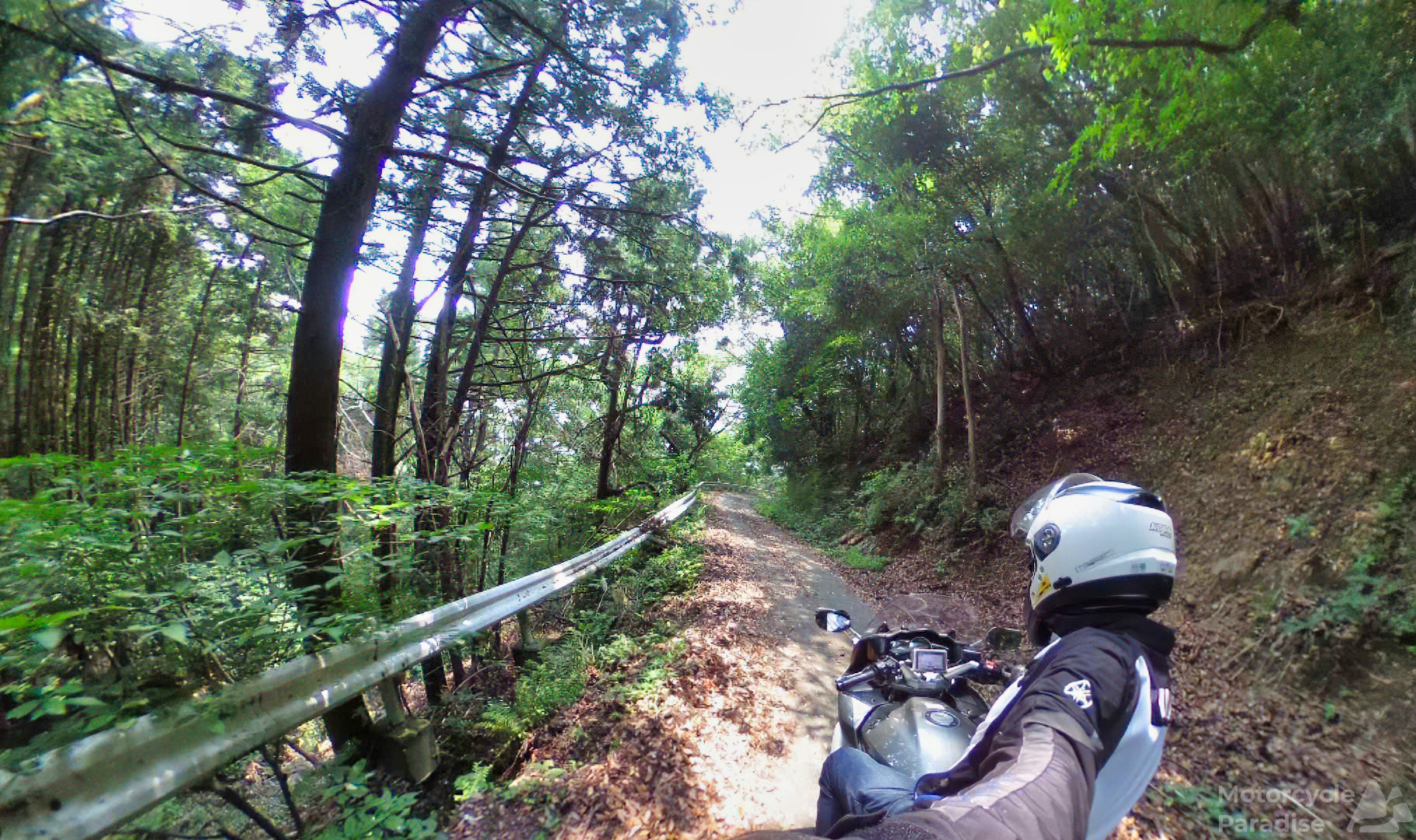 The road up had been closed for long time – but not today.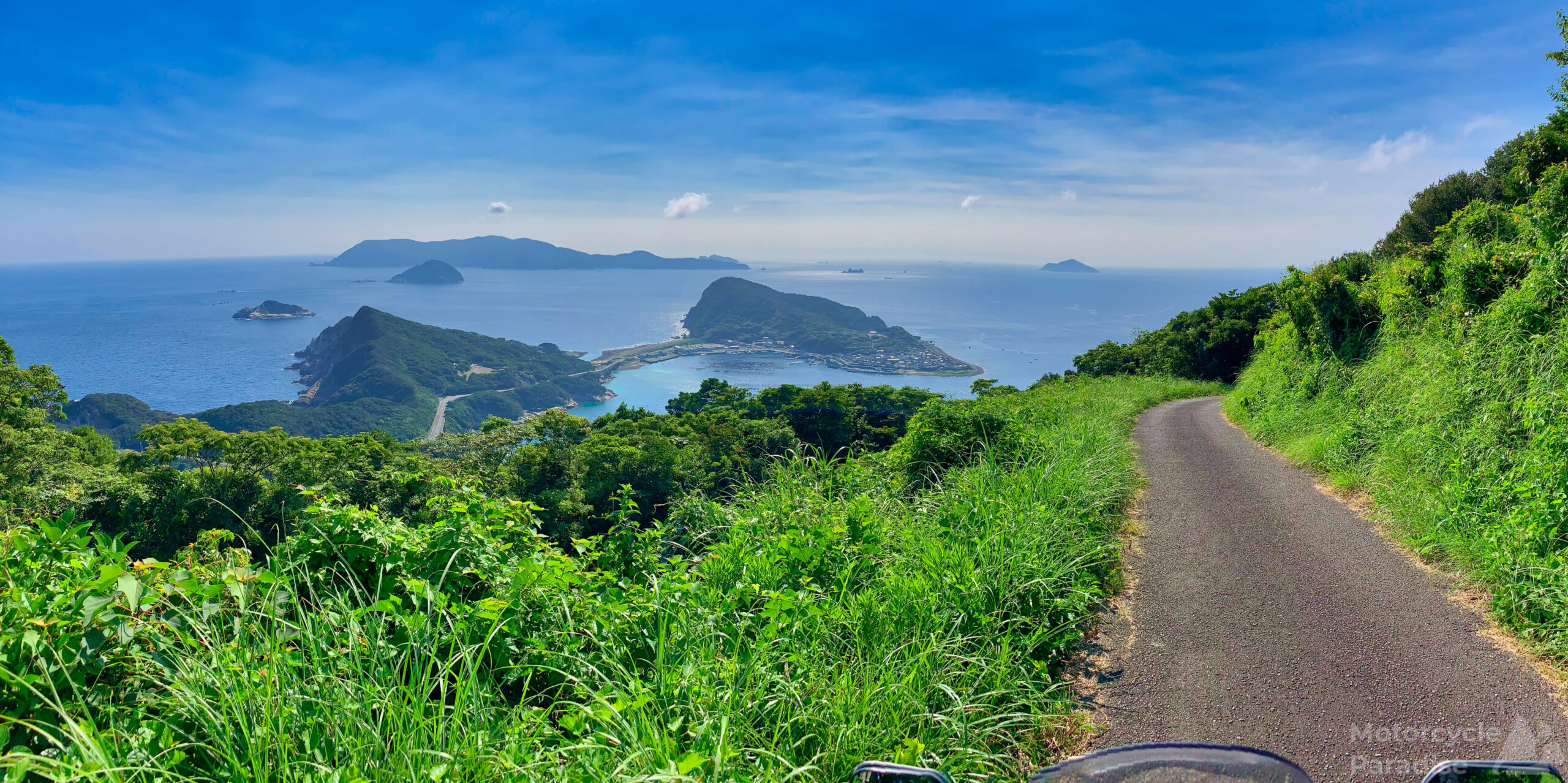 It's quite some view, well worth the trip here.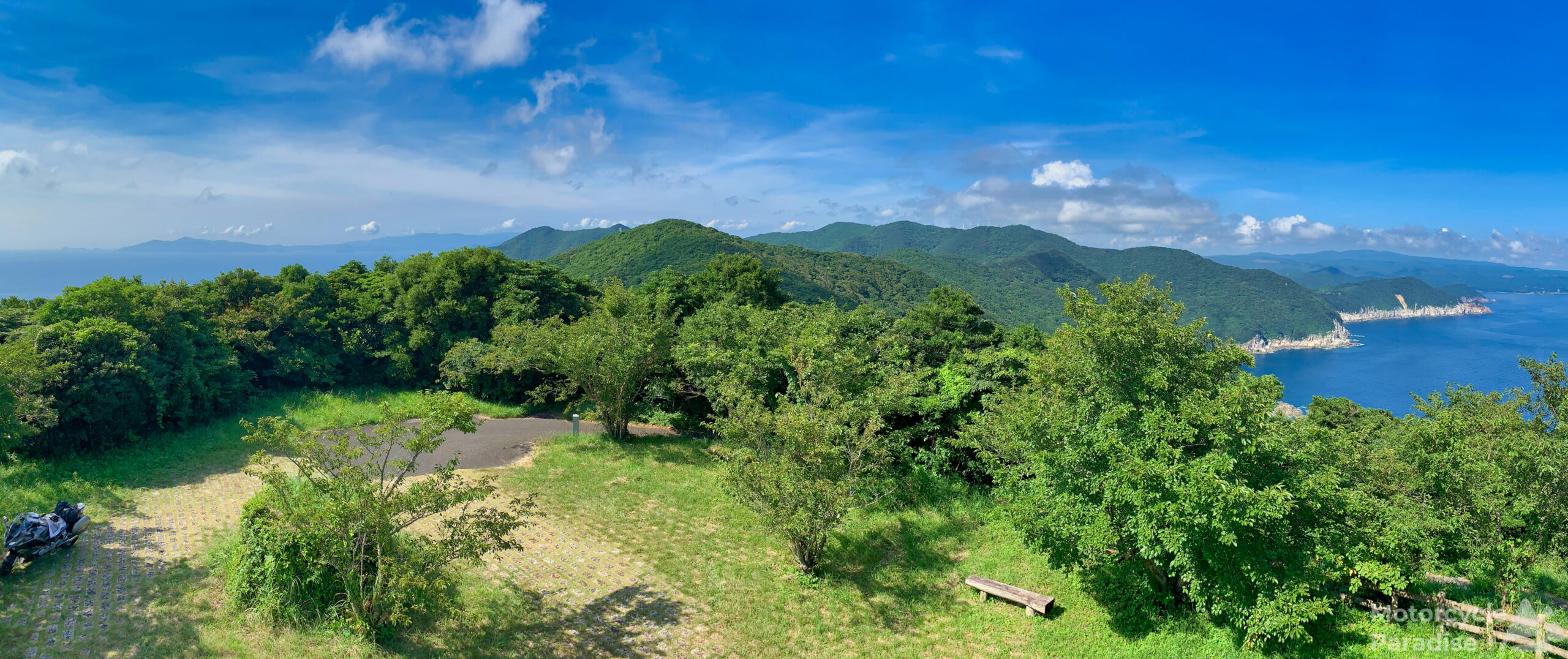 When I arrived I took rest in shade with a bottle of water. An elderly couple were on the platform and seeing a foreigner 'old mate' dashes down the stairs to his car and grabs the keys from the ignition. Half way back up he turns around and grabs personal effects from car then locks the car. There is a lot of xenophobia in world now including Japan and sadly the rub off is I find myself making less effort to try communicate or be polite.
There is a second view deck out further on the cape which I had planned to hike to but was low on water and changed my plans instead to blast the FJR along the coast road to cool down and blow away my thoughts about 'old mate'.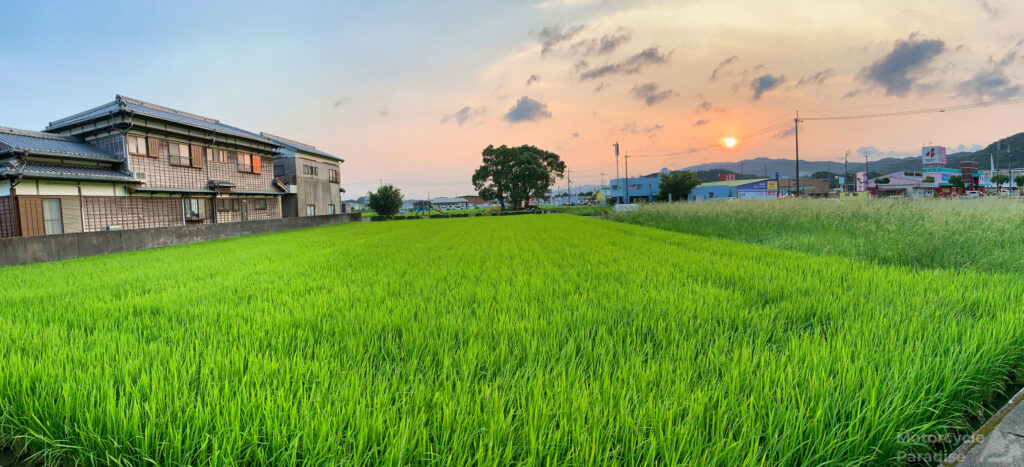 Been a wonderful day of scenery today so I don't mind that I wind up in another hotel with only smoking rooms. It's a thing you will encounter touring here. Smoking in cafes and restaurants was still common until last year. The Olympics was an excuse to start phasing it out. No chance the games will go ahead next year now but many updates were still delivered thanks to it.
I marked some of today's stops on the map. You can select English map with the drop down menu.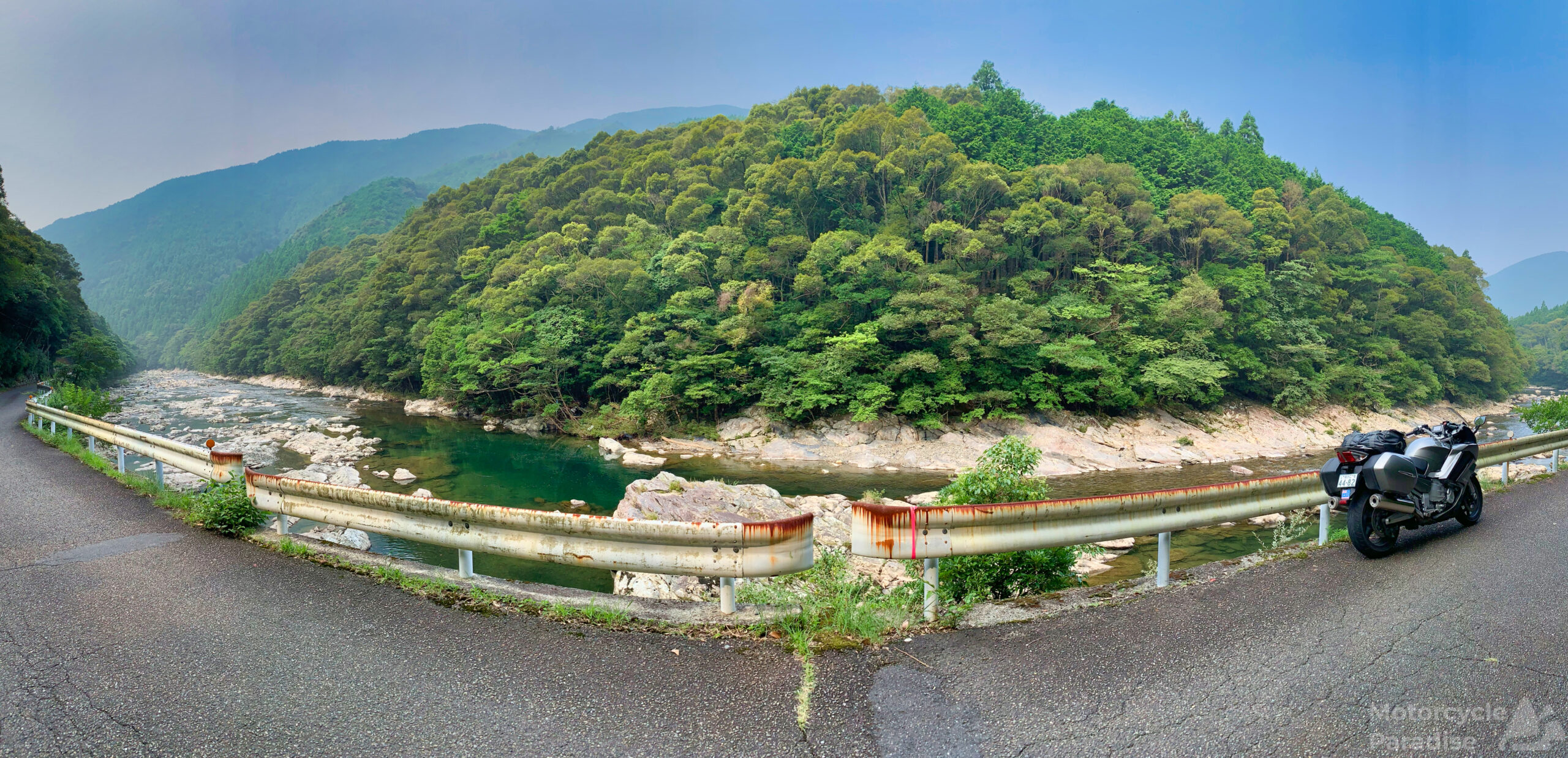 Not cool but less hot the next morning, I am exploring back roads and the sky is quite thick with smoke, I have the 'dehaze' function cranked up very high in today's photos, real visibility was substantially less.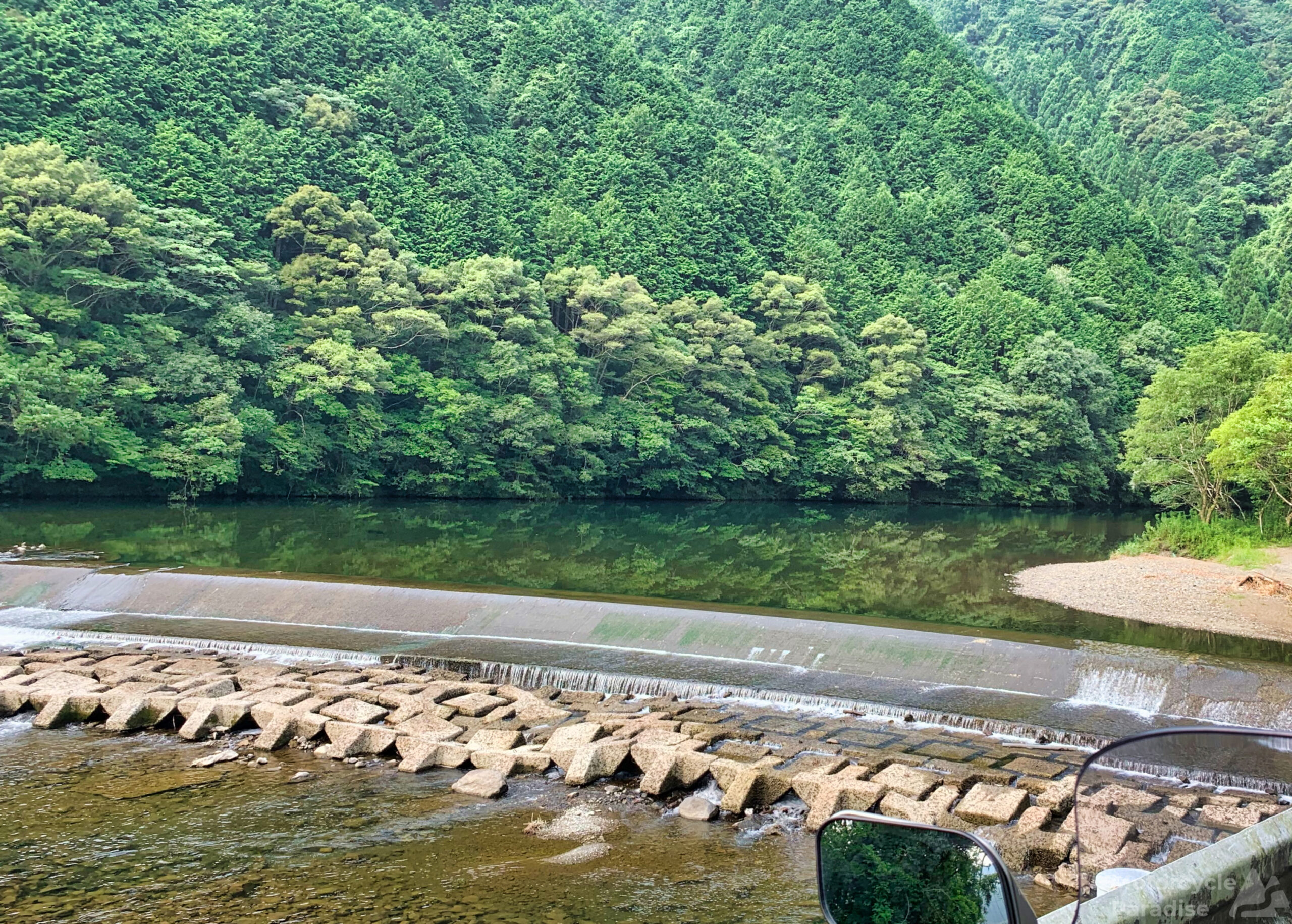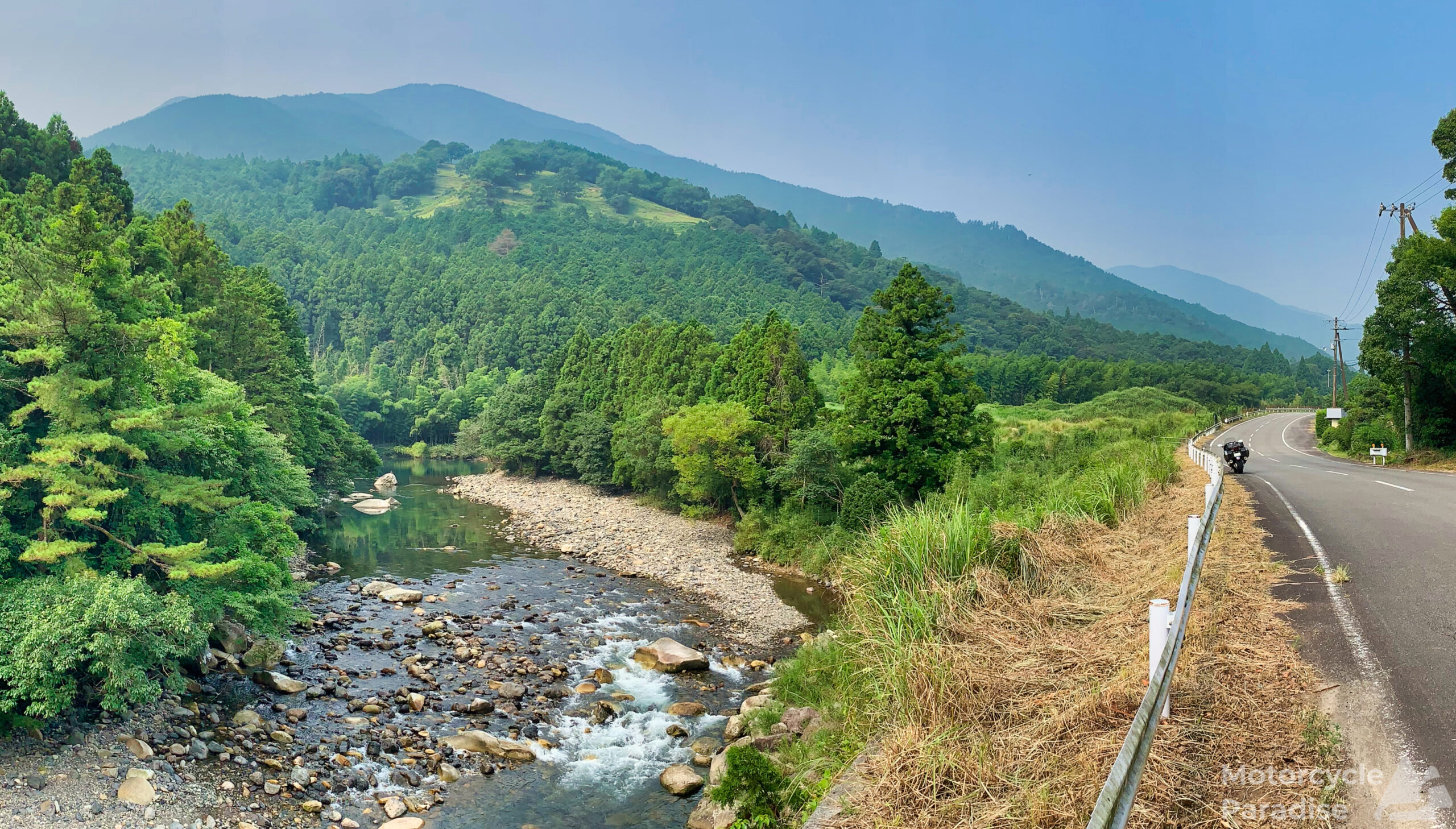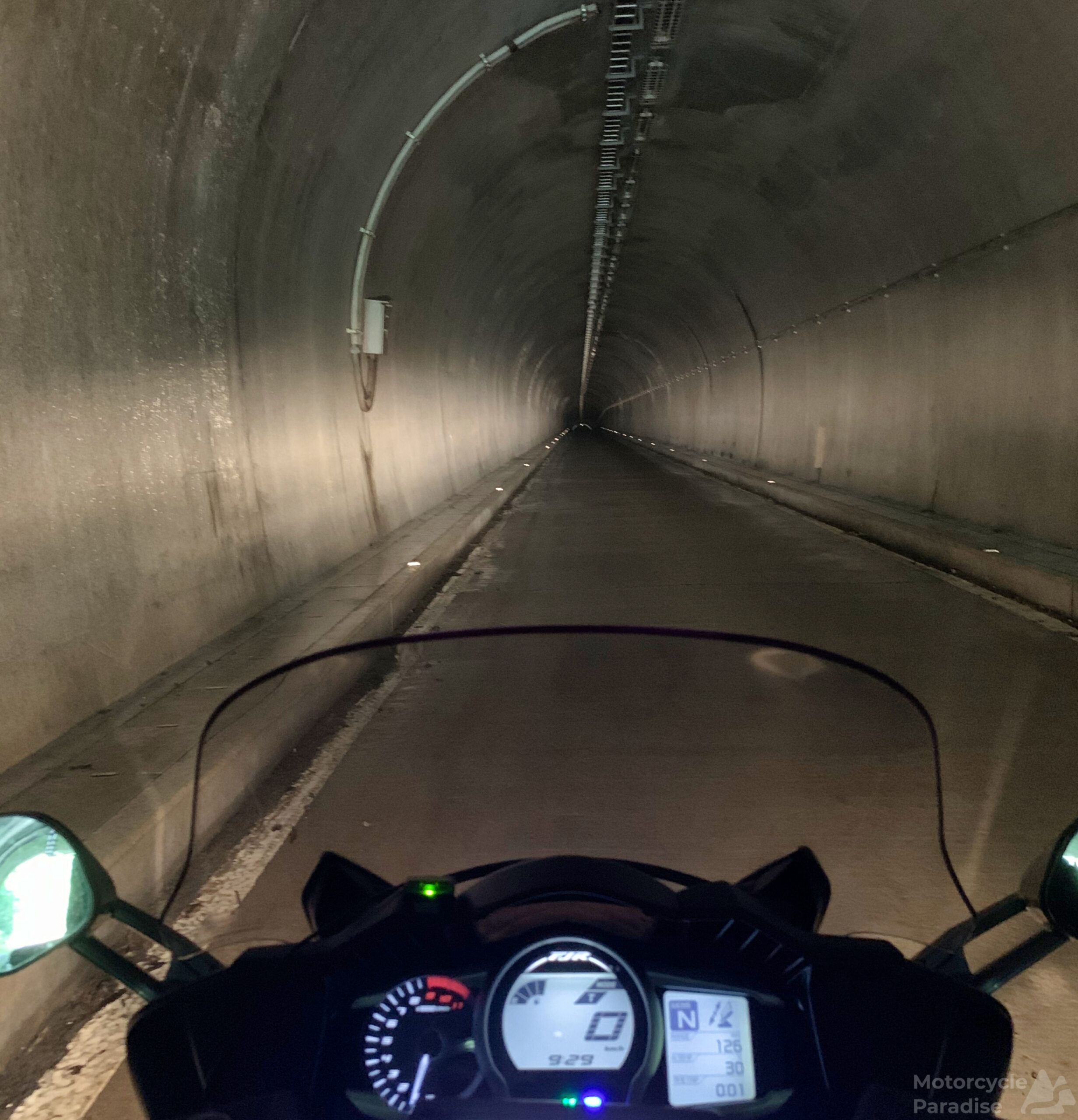 At the top of a mountain pass there is a very long unlit narrow tunnel. I'm used to tunnels, Japan has so many, but this one is a little peculiar. Can't see any light either end.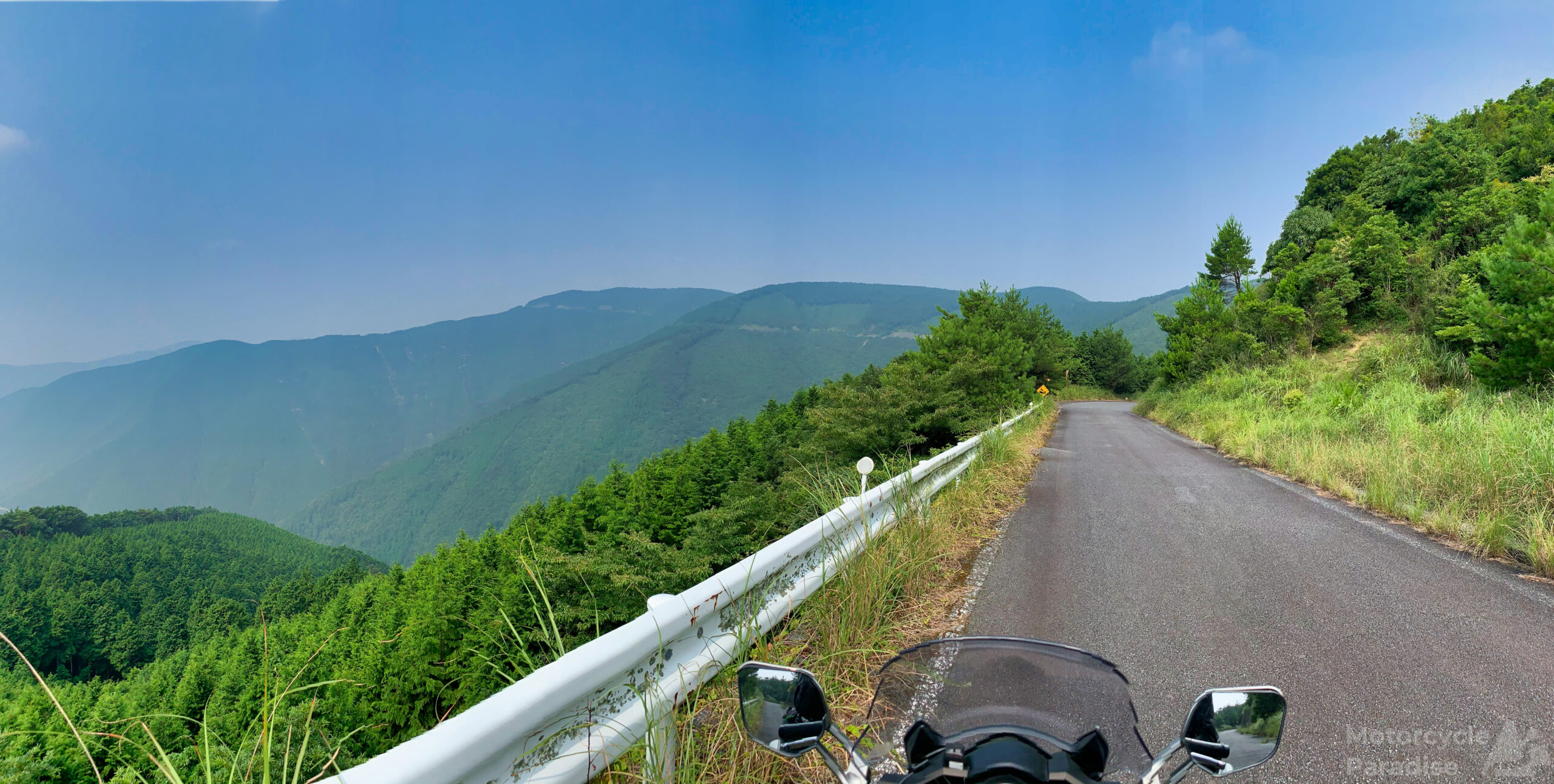 Exiting the tunnel the road runs along the ridge of a series of mountains (you can see ahead in the photo above) The smoke haze unfortunately obscures the views but it is a lovely ride with zero cars in a remote spot. This road like the one yesterday is hidden on Google maps only revealed when using the Street View tool that I have found so many things with. I am always surprised how many 'map experts' don't yet understand that feature.
On the descent there are a couple of observation platforms that would offer fine views out to the ocean normally but today I cannot see it at all with the haze. I will come back and explore more in future.
North from here I am seeking out another view area but I could not find how to access it. I try a couple of side roads then move on. The view will be obscured anyway but still wanted to try. Instead here is the Garmin's view of what is a stunning road that drops down to the ocean like something in Italy.
This eastern coast road is mostly one lane next to the ocean serving small towns that are from an older time. There is very little traffic, main roads long ago bypassed the region. Just the sort of area I love.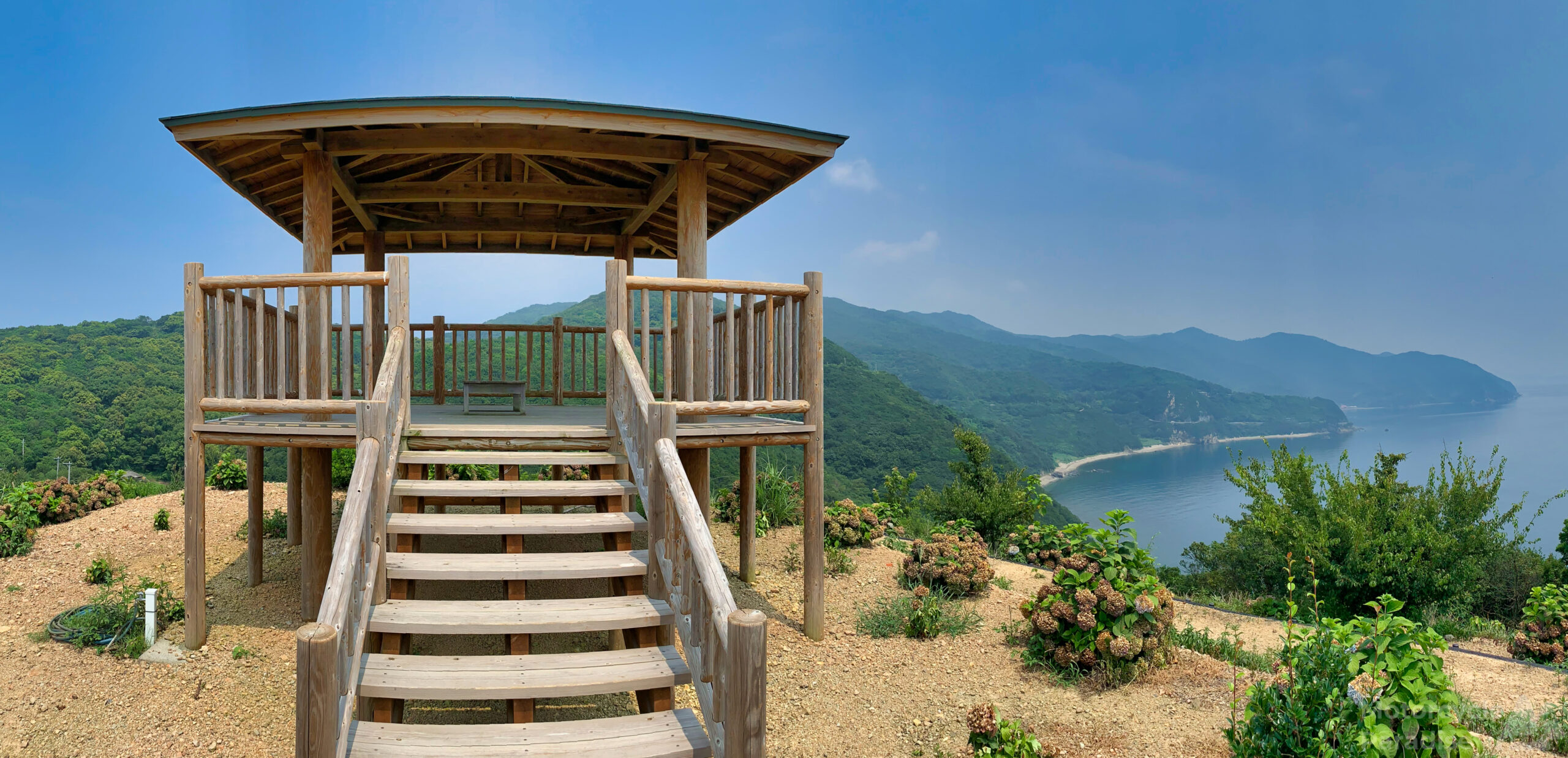 Today's lunch spot is hard to top. Quiet and peaceful. A wonderfully relaxing break.
Leaving here I note my trip computer flicks to low fuel but the FJR has a 5 litre reserve and averages 4.5l to 100km so it's no big deal.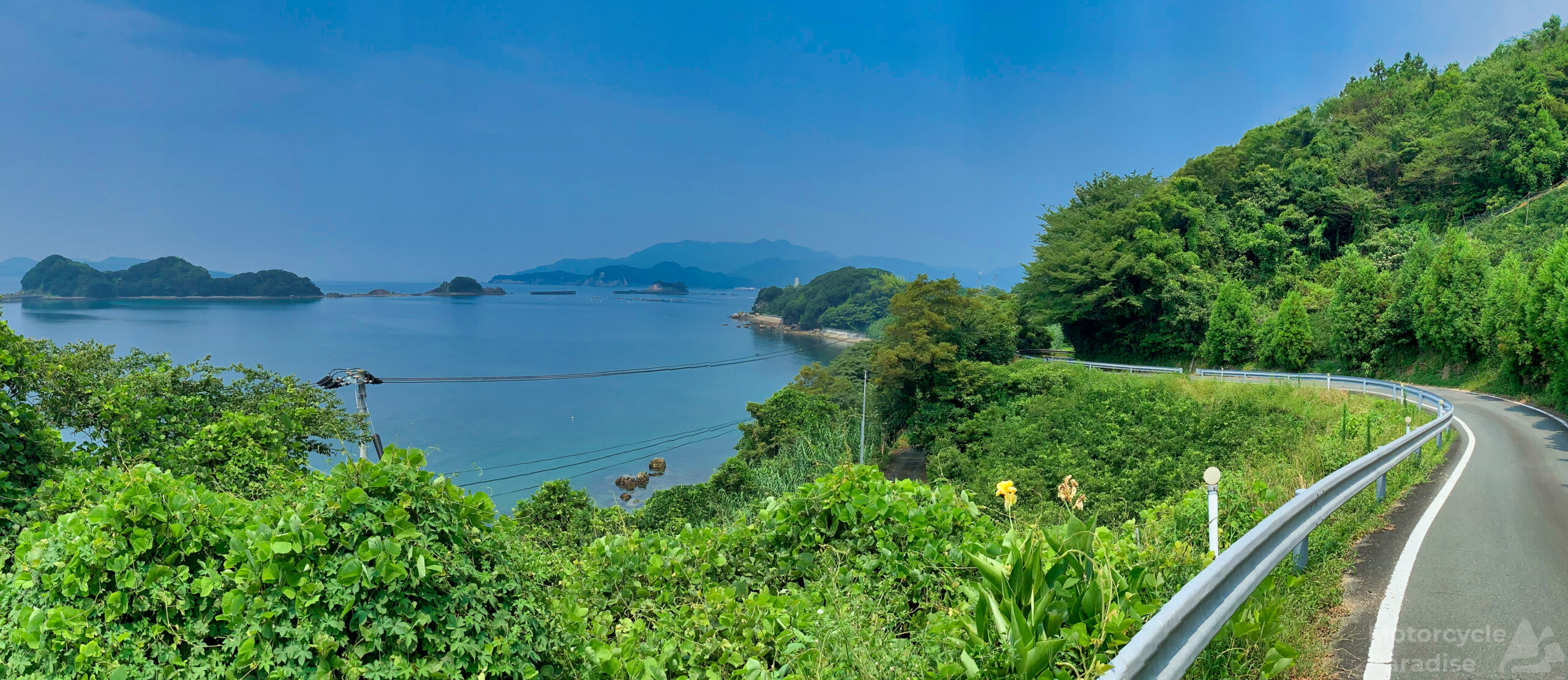 It's lovely exploring this part of Shikoku but wow it is baking hot this afternoon. Despite copious amounts of water I was starting to fade a little, that's dangerous on a bike so I decided I would skip rest of my route and get on the elevated expressway direct to hotel.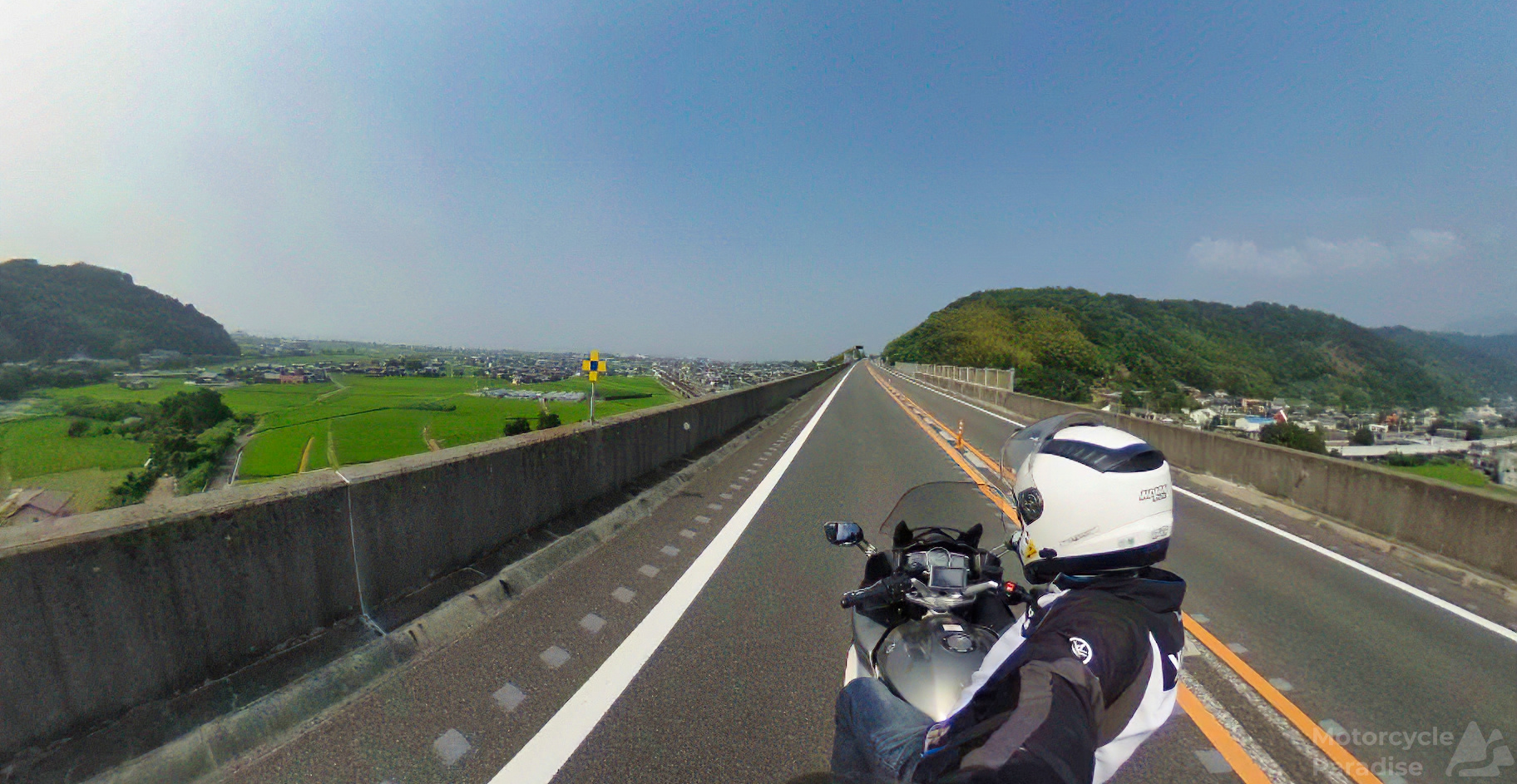 Very cool hotel this evening, the foyer littered with exotic bikes. I had no idea when I booked. From what I can tell an ex racer is owner or partner. Pure eye candy as I went to and from their laundry making use of today's early finish to wash things.
Next day I am riding the islands of the inland sea. Today I hoped to be the highlight of this ride but things don't always go to plan.
I have never seen this much haze in Japan. Not certain the cause but Japan has many of it's nuclear power stations offline and I have witnessed coal fired power stations causing pollution like this in other countries. It is also dead still air, zero breeze. No point in me going to other observation points today.
This is my original plan for today. I will go see how bad the smog is.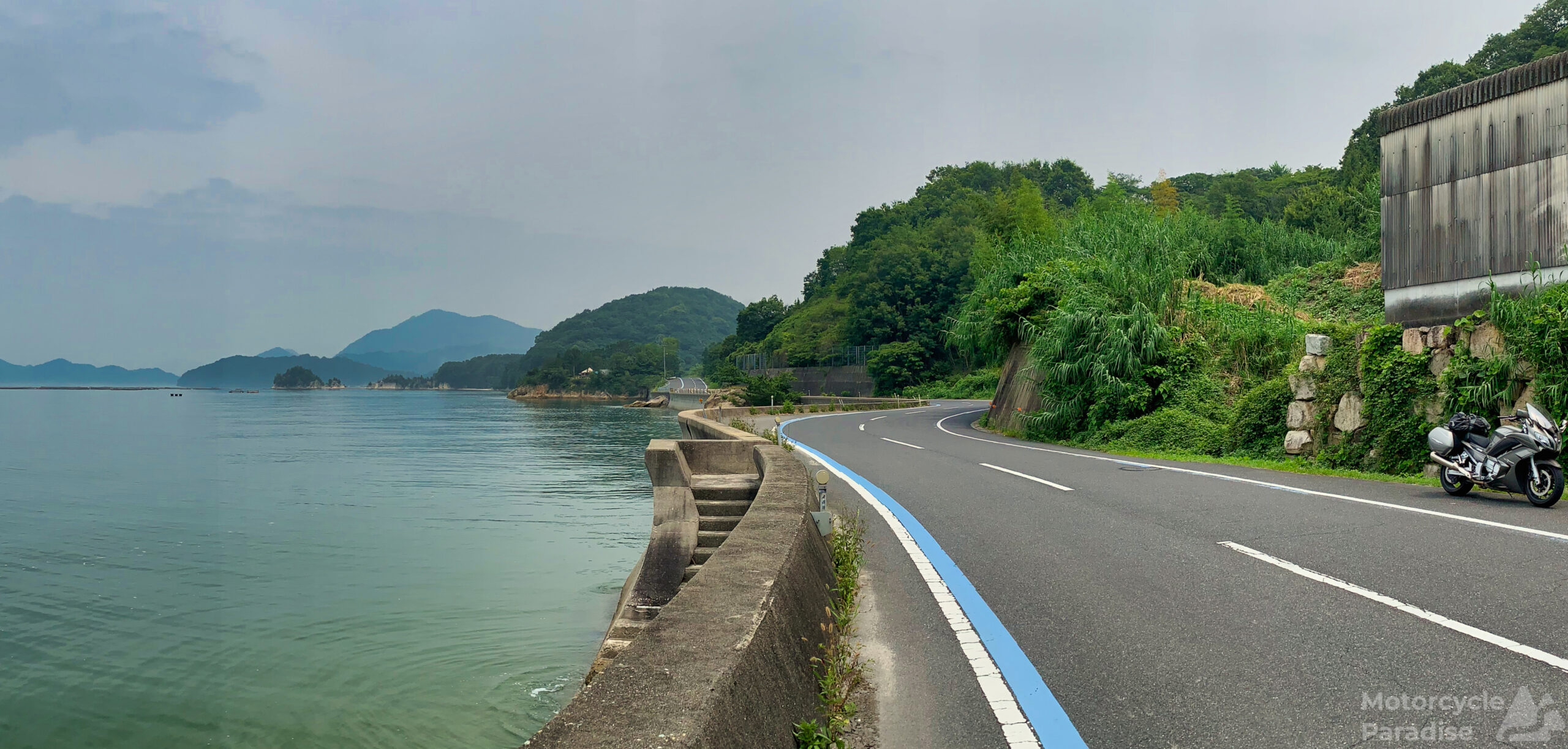 I decide to skip Iwagi island and go explore the island of Omishima. The road around the island is superb.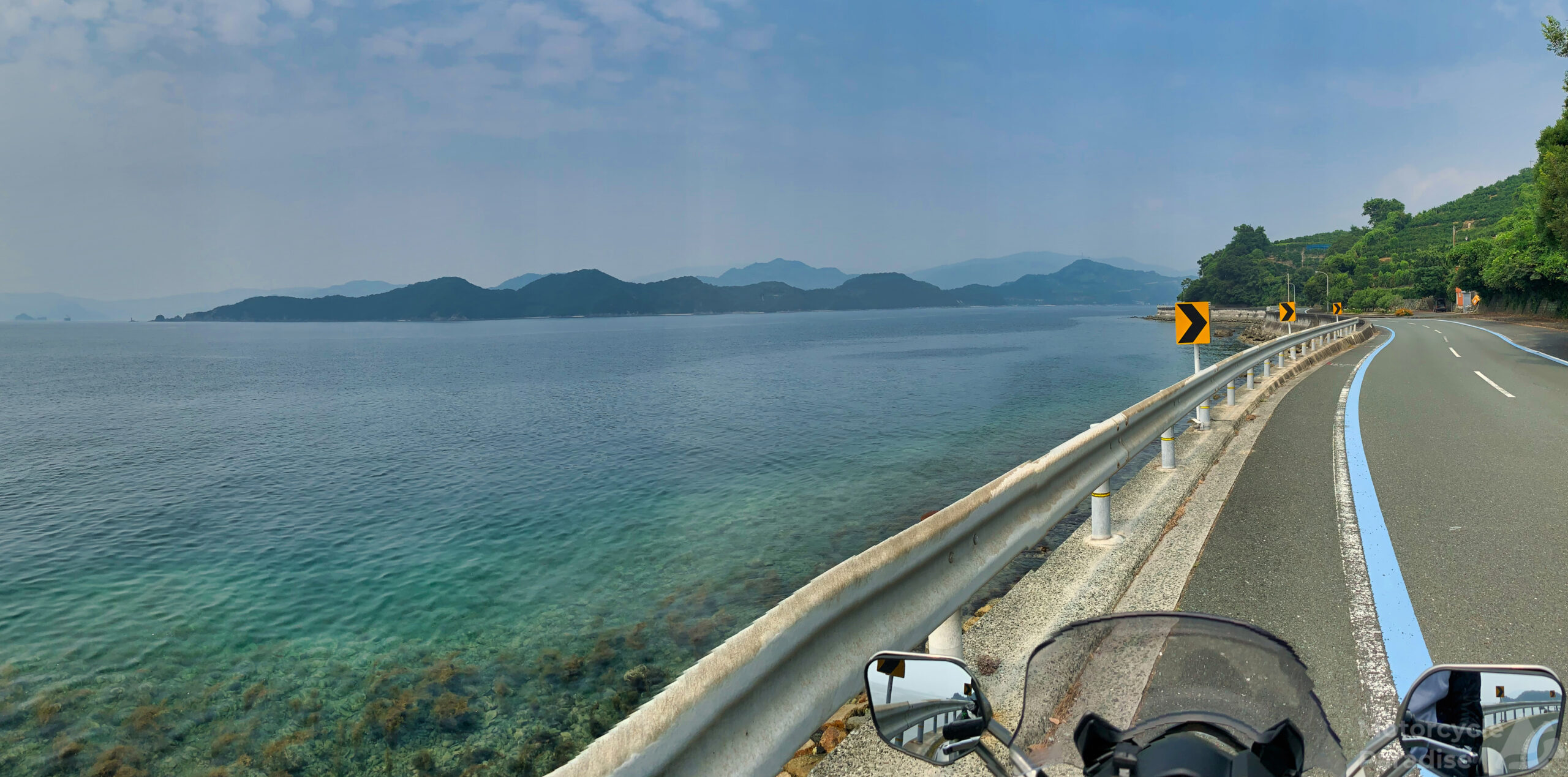 Lunch time the heat is brutal. I decide to take a rest in a shady quiet spot since I now have time to kill.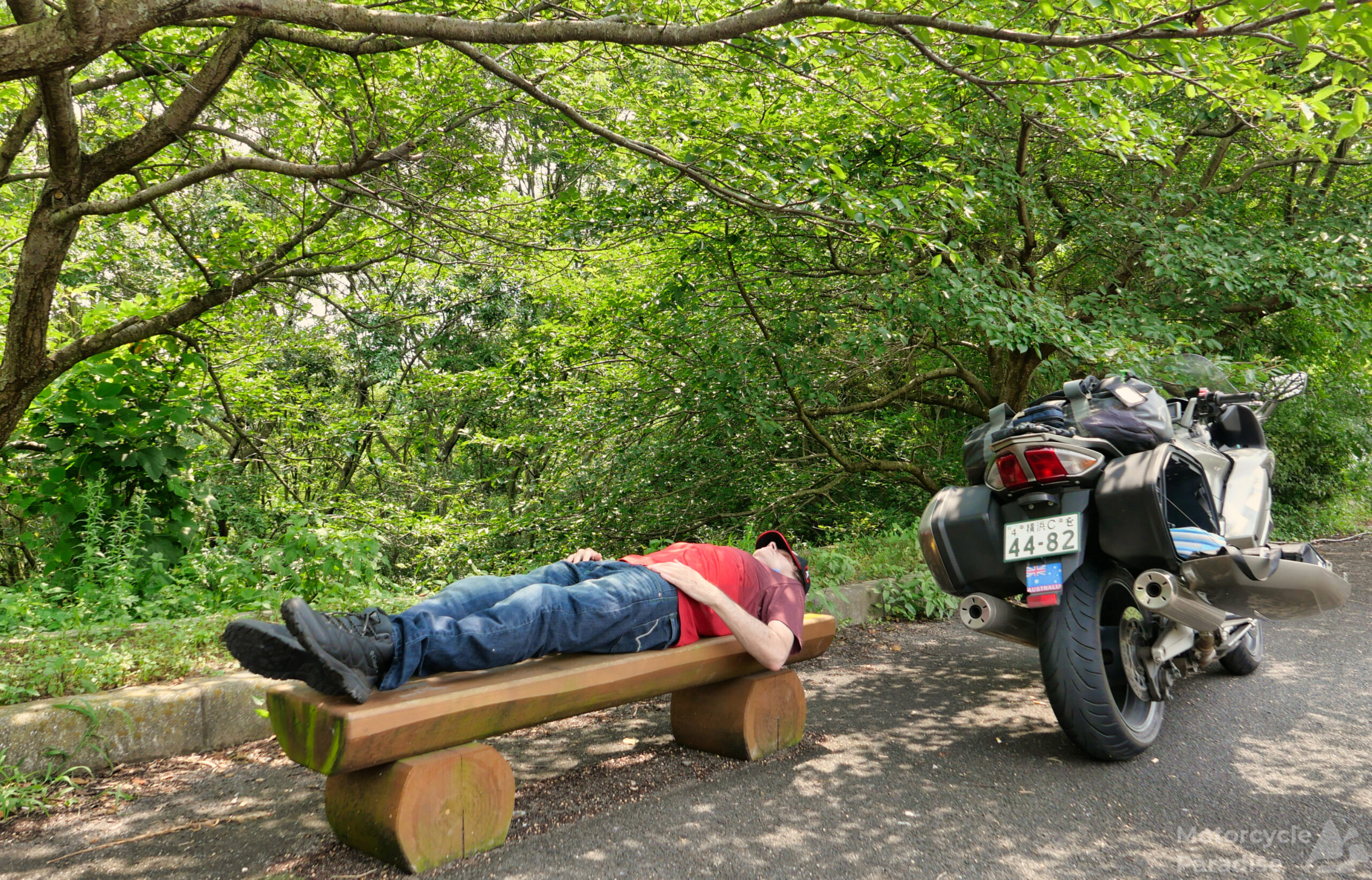 For this ride I am I carrying lots of fluids with a freezer brick in a insulated bag. I also have my lunch in there and often the convenience stores will have frozen bottles of sports drink and I add one of those. Still not enough with this humidity but I can supplement this or refill bottles.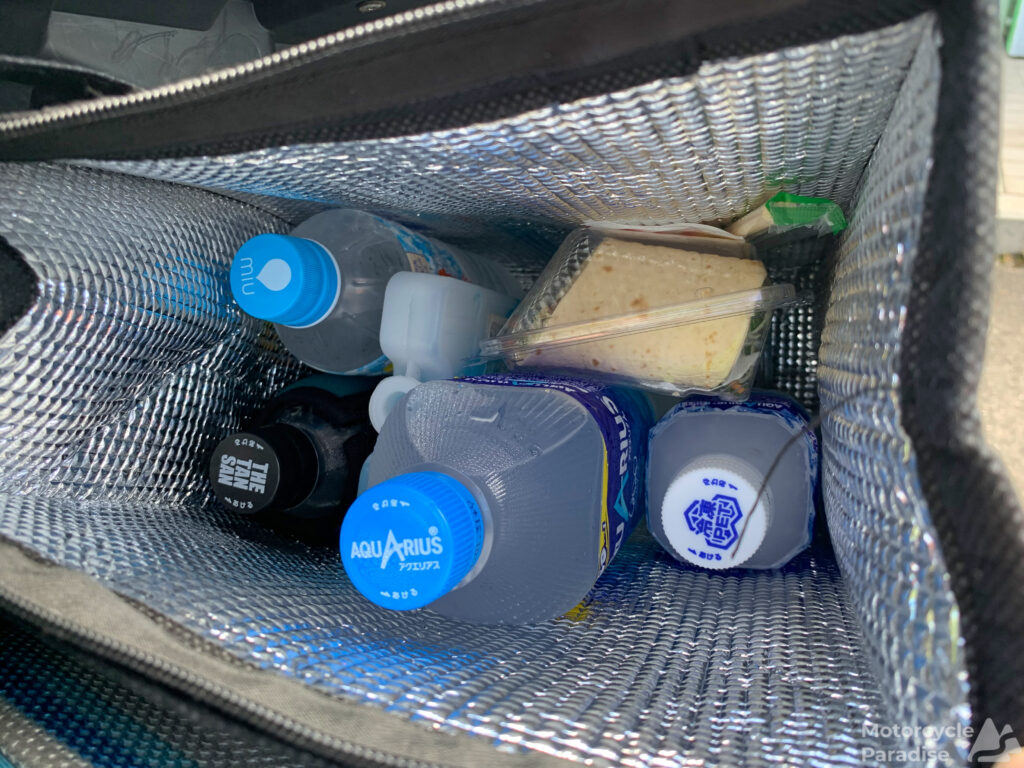 Other gear I am using this ride includes the RS Tachi Crossover jacket, 56 Design Edwin rider jeans, Hyod under jeans knee armor, RS Tachi 410 summer gloves and open weave cooltech shirts from Uniqlo (links are internal to my reviews. I have no affiliation)
I meander around and stop for home made ice cream that contains a herbal salt, delicious. Then call it a day.
I'm back in my usual Route Inn hotel chain tonight and am pleased to hear them still playing the theme music from Clint Eastwood's Unforgiven movie as their afternoon welcome tune. Tomorrow I will be going to Shodoshima.
End of part two.