I am continuing my most recent motorcycle tour in Northern Thailand and offering some info to assist other people thinking to try an overseas ride.
Part one is here with info about when to ride, renting a bike, the best roads and other tips.
2019 tour day five.
From Uttaradit I rode south east, todays feature would be visiting Phu Hin Rong Kla national park or more precisely for me riding twisty route 2231 that goes through the park.
The road is superb but a technical ride closed in by forest not able to be photographed. It was costly. Foreigners pay many times the local fees for national parks and 530 baht was a bit over the top.
However the viewpoint on the southern side is just before the toll gate for reference if planning a ride there and superb on a clear day like this.
I stopped at a iconic coffee shop on route 12 but did not linger too long with such a awesome road outside.
I did couple passes on that section near the cafe but could not find a place to take a photo. Drone drone drone is only way, so I made my way towards Phetchabun and by chance discovered a great ride, route 2258.
It's another road hard to photograph but wow it was a fabulous roller coaster mountain ride.
Pleasant stay in Phetchabun tonight. Nice strip of eateries and bars along the river, never been here before but will surely come again and look about more.
Road rules
Regular road rules in Thailand are kind of flexible. Speed limits are ignored and vehicles are often travelling very fast. Solid yellow or double centre lines are ignored as are the no passing signs.
Unwritten rules include motorcycles are expected to move to the far left and where there is a wide verge/side strip then move out of the lane entirely and use that.
If you are on a sporty twisty bit of road then likely bikes will be going faster but on open straight roads you may find Thais who love huge pick up trucks and racing each other are travelling much faster than your tour pace even if that is brisk.
It's best to move over and let them pass because drivers may act agro or pull out on blind curve, crest of hill then pull across cutting you off. This isn't anti motorcycle it's just part of the road games here where bigger cars bully smaller vehicles to get out of their way flashing lights and tailgating a couple metres off the bumper at high speed. I see it all the time in SE Asia but here much more aggressive than say Philippines where road rage risks having a gun pulled on you so people act differently ha-ha.
Anyway as a rider you don't want to be around this anywhere. So don't sit in the lane, move over and let them by and then continue riding in your 'happy place'. Don't try to out run them unless you are prepared to really go fast because driving is a competitive thing here and when the brakes overheat on the D-Max sitting your rear tyre guess who looses.
The passing thing applies to oncoming cars also. They will pull out regardless of you being in the lane so move over.
On the positive is where that side lane exists you will never be stuck in traffic or behind a slow vehicle. Also positive is drivers are much more aware of bikes. Many people rode a scooter to school or before they got a car so you are not as invisible to drivers – but of course you should still always think you are.
You can pass a car when another bike is oncoming splitting the lane like Indonesia – but be sure the oncoming rider is aware. Also you can turn turn left with care at red lights.
There are many military check points on country roads near borders. Slow down but do not stop if not specifically motioned to. Don't do anything like lane filtering at them unless waved forward to pass a stopped car. No photos. No waving or talking to guards, just ride slowly past then accelerate back to road speed.
2019 tour day six:
Another fine morning greeted me. I was going to go straight up then have coffee at that shop from yesterday but the 2258 was still on my mind so I decided to go ride that again.
I have been visiting a temple every day this tour chosen at random from the many along the way. I've not been posting the pictures but lots of stuff like this and all free to enter.
Then its more of the 12. Not all is good but some of it is epic if you love fast sweepers, which I sure do.
I detoured to visit the historic old ruins of Sukhothai. You can pay bucket loads with the other tourists and have tuk tuk guide or just ride around for free because the public roads run all through the old city.
Riding here the PTT road houses are everywhere and such a good thing for the rider.
First of all it's great you do not have to be doing maths on fuel range left, there is petrol everywhere. Then these places have toilets so another thing not to worry about.
They also have 7/11's. Not like ones in Australia that are grossly underutilised but closer to the Japanese parent shops that have many things to eat or drink
However there is usually some cafe's as well or at the minimum a eatery area like this.
Wander over, don't be shy, there will be a few dishes usually served with rice, point at one or at photo on wall. This is pumpkin curry and I added extra fresh chilli that was in container to one side. Cost – 40 baht. Taste – amazing.
But wait there is more. The coffee chain Amazon is usually also found at these roadhouses and will have a tropical garden setting to relax in (or some have a Starbucks style to them)
Summary – Thailand is such a easy place to visit.
Tour gear
You can rent a helmet and jacket from Pops. They are not junk like some shops in Chiang Mai offer but still better to bring your own. I have used my mesh jacket here previously and put a windbreaker underneath until midday as it starts cool but this time went other way and found my old Alpinestars jacket minus the liner is a better match for this early in year. (by the way I have not become a hi-vis supporter, its that colour because yellow was cheapest) If you remove the back support and pack it separate you will find jackets can be rolled up quite compact then, fit the elbow and shoulder armor together snug and hold it rolled up with a strap. I put heaps of stuff inside my helmet and pack it in my check bag and then pad around it with clothes. Ask for a fragile luggage sticker, if nothing it should have your bag on top thus on the belt sooner when you arrive. Technically you can carry helmets on planes, the airlines do not ban them, however you have the airport security to get past and I have been stopped enough times to not bother trying anymore.
I then have a number of changes of clothes in my carry on bag instead of my checked bag. Why? well that stuff is lighter then a helmet to carry and makes all the walking in airports easier. Once at my hotel my ride gear comes out of the bag and the clothes from the carry on bag transferred the the vacant space and I'm ready to ride just strap to rear seat. So much easier than messing about with panniers. I talk more about packing for fly/ride touring here.
I carry a can of that tyre repair stuff. I now have a small motorcycle specific size can. This is small enough that it is not picked up at airport x-ray checks as looks same size as deodorant ie like Lynx etc. I also have tyre plug if needed. I don't carry tools beyond multi tool type Swiss Army type device. Modern Japanese bikes generally are reliable if they stop I'm unlikely to be able to fix the issue. Always inspect the machine before leaving shop, check chain is tight (actually that's a daily check for you chain owners not something I worry about with shaft) and everything is working and tyres are in good order. Have a Thai sim card in your phone so you can phone Pops and get them to arrange assistance for you in the unlikely event you have a breakdown. I used simple riding jeans on this trip with under jean knee pads. Previously my BMW City pants were are better match for here. Wet gear was compact bicycle rain pants and bicycle neoprene shoe rain covers. Both were bought years ago as temporary items yet live on and are superb. Have a look at bicycle rain gear its better than some of the motorcycle gear.
This trip I had no winter or rain gloves with me so donned a pair of dishwasher gloves as an emergency rain glove. Managed to stop the rain going up jacket sleeves with arms sitting horizontal to the bars and took the chill off the cold rain as well.
I don't find I need a lot of gear to tour SE Asia but I have posted about the gear I use touring in general here.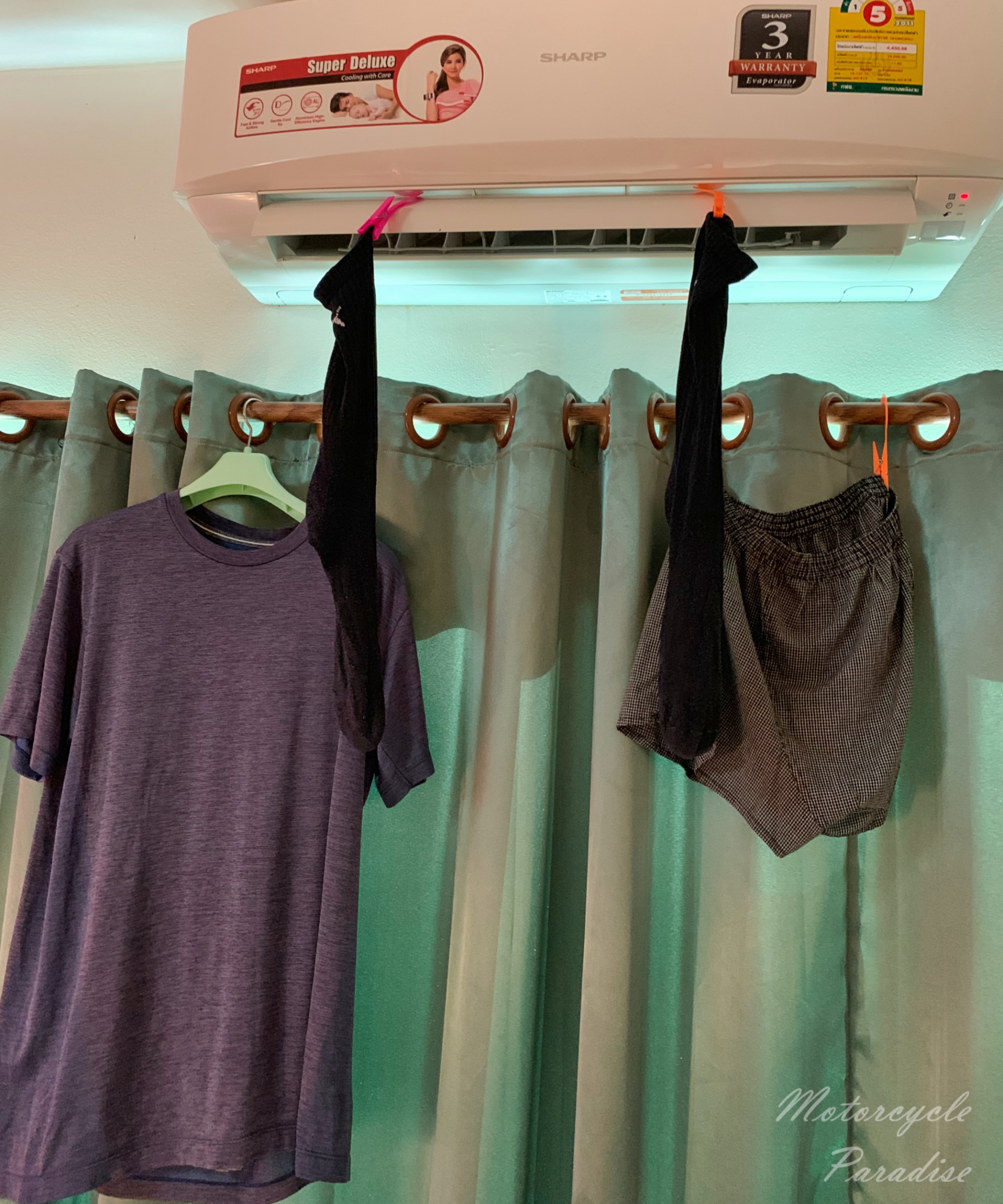 I always have two quick dry shirts, two pair light cotton boxer shorts and two pair easy dry socks for SE Asia and hand wash the ones I wore that day upon arrival and they usually dry that afternoon or I place them in front of fan or air conditioner using oversized pegs with hooks you can find on Aliexpress. May not be pretty but it works.
I use my venerable Garmin Nuvi 760 for navigation. Now 11 years old still going strong. I put this in a Soeasyrider case that attaches via velcro straps no tools needed and powered by a power bank. I use Open Street Maps free Thailand map for the Garmin. I talk much more in detail about navigation for motorcycle touring here and it's a huge subject so I shall not repeat now.
Naturally you need sunscreen, lip balm and a buff. You can buy all three very cheaply in Thailand, nice Buffs $4.00 in 7/11 stores.
2019 tour day seven.
Last night I stayed in Tak, regional town and just went to the mall for a walk then had KFC because I like their green chilli chicken on rice with Spanish onion which is a Thailand unique menu item. Then I got some things from the supermarket for breakfast. If the hotel doesn't serve a breakfast then you will always find something nearby but I sometimes prefer simple fruits or bread in my room and hit the road because I am not a 'big breakfast' person. Then I have ample time to linger over a coffee when I fill up instead.
Today I continue west on route 12. And wow what a ride even if I could not capture it. I ended up going back and forth over a ten km section to turn it into 30k of incredible riding.
A portion of the 12 is being upgraded now, this part runs along the top of the ridges to the mountain summit, when finished it will be one of the must ride roads in the world. Put it on your list for 2020.
Mentioned this on one of my previous rides here but I shall say again – Thailand is the home of the chicken, like every chicken around the world can trace their ancestry from here originally.
Some worship chickens. I worship tarmac. The temple of the perfect fast sweeper, route 12.
The cafe at todays road house stop looked like western food but I had an excellent spicy Thai dish here.
Today was special, after lunch I started on the lower section of the 105 towards the MHS loop.
Previously a lot of road works, now perfect road, endless corners, pure riding joy all the way north.
The MHS loop is deservedly a world famous ride but this 105 south from Mae Sarieng to Mae Sot has almost zero cars, I might even say it is better – but that's a hard a call to make.
Lots of road photos can be viewed here on my Thai best roads map page. I did try but vantage points eluded me this ride. The idea of a drone just to go up take a photo and come down appeals to me but they are not at the stage where I would buy one yet and it seems everyday more places ban them so I may never get to have one.
2019 tour day eight.
I stayed at Mae Sarieng last night and today am wandering over to the east of Chiang Mai before returning the bike to look at a couple of tourist things I became aware of reading blogger MotoGirlThailand. One is a old railway bridge and the other a old railway station and regular readers know I have a thing for rail stuff.
The 108 east is totally chopped up being resealed, going to be awesome for anyone riding here 2020.
I missed my turn and got stuck on the 108 as it gets busy in the outer Chiang Mai suburbs but eventually got off this and over to my first target an historic railway bridge painted white and called aptly The White Bridge.
It had taken me quite a while to get there with the road works, traffic and missed turns. I took some time out for a extended coffee break and decided you know what I am just going to wrap it up here.
Gotta go with what feels right and being at peace while relaxing next to the river was it.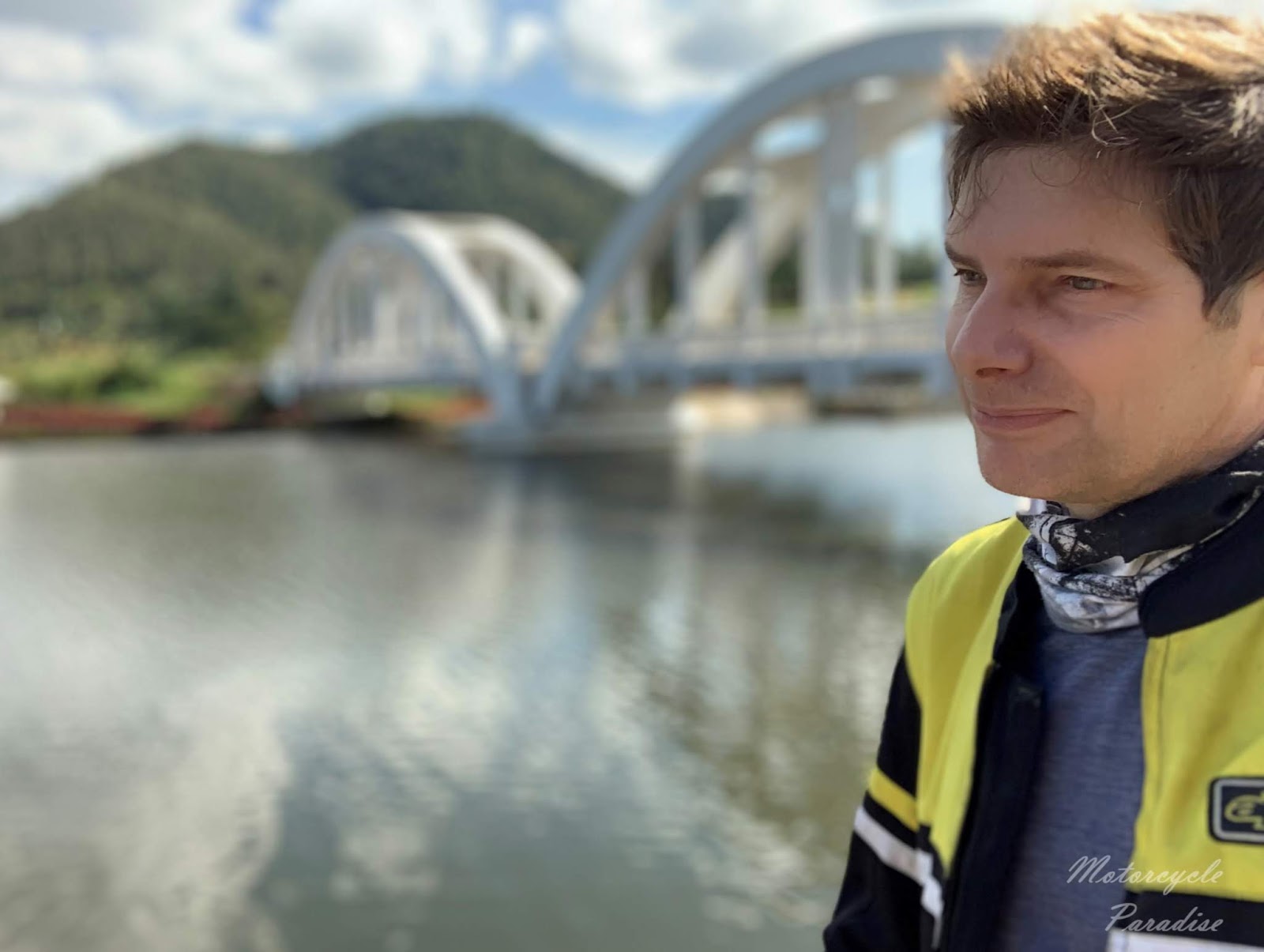 It's been yet again another great ride in Thailand. I skipped most of the well know roads this time to try new roads and still found plenty to enjoy.
Hope the info in these two posts has been of some help, if you have any questions about riding here then post a comment and I shall try my best.
Part one is here.
Post ride.
Found I had lost two shirts somehow, ha-ha every tour I lose some item of clothing. Oh well they were old.
Went to mall and found Uniqlo the budget Japan clothing chain plain t-shirts were selling for $40. That's classic example of marketing. Someone decided to make the brand upmarket in Thailand and people know no better. Same items sell for just a few dollars in Japan stores. I'll wait to Philippines where I am heading next.
But I will splash out on some wine here despite Thailand having huge tax on it having found a great selection at the Rimping supermarket (near where Loi Kroh rd crosses Ping river) and enjoy some superb Chicken Khao Soi again. Try Bamboo restaurant for this dish just down the road from the Hard Rock Chiang Mai, they do the curries authentic not weakened down for tourists as you find in popular places like Aroon Rai next to Pops.
No problem getting a Grab car at 4.30am, arrived quicker than daytime to take me to airport.
Pretty good flights out, Thai Smile which is low cost arm of Thai airlines and Cebu Pacific who cop a bit of criticism but whom I have not had any bad experiences with unlike the Indonesian carriers which are really dodgy.
I wrote this up along the way and in the Philippines but the internet there is woeful. Two 4G sim cards and neither could manage even 3G.
I hung out in Cafe Benne becoming a regular with the staff, about the only place I could get working wi-fi but still speed was snail pace.
All photos this ride are from a iPhone XR. My carrier in Japan replaced my old phone stolen in South Africa. I still have the Motorola I bought in Port Elizabeth, using it side by side this tour but I like the XR far more despite it being the lower spec of the iPhone models. Takes a decent photo to my eyes, long battery life and apps don't crash like Android. I'm sure some hater will now tell me it's crap like they tell me about my Canon camera (another brand people love to hate) doesn't make any sense to me bashing things you have not actually used but then I often overestimate the intelligence of human beings. But I digress.
Turns out not having internet isn't as amusing without my mate here making me laugh. So I just brought my flight forward and departed. He's back in Australia fighting cancer. Hope I get to to ride with him here again another time.
Thanks for reading, regards, Warren.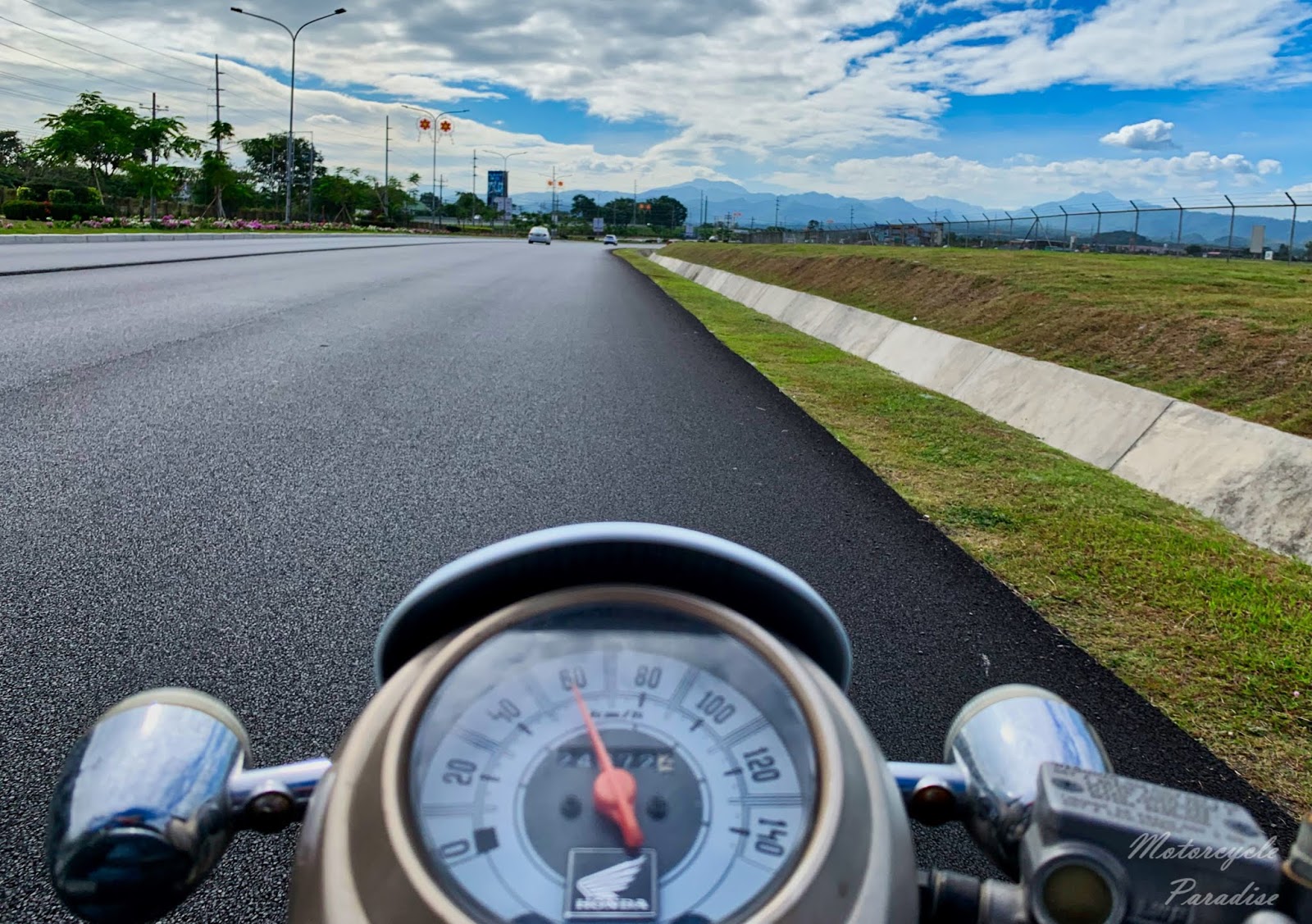 PART ONE