This is my 5th motorcycle tour of Thailand, and about my 15th visit to the country. I feel completely at ease riding or just hanging out here. I think it is an ideal place for a rider to visit and so this post is about how you might ride here with a little about my current tour mixed in.
So why would you want to ride Thailand. Well to start with it is so easy and safe. People pay huge sums to join organized rides but here you can ride solo or with a friend very affordably. Thai people are friendly and helpful even if you speak not a word of their language, a friendly smile and you will find most everyone tries to help you, it is safe and so simple to ride here anyone can do it even with little to no travelling experience.
Another reason is because the north is a road riders paradise. The roads are superb everywhere. Beautifully surveyed hotmix, endless curves. Speed limits are not enforced, you can ride to suit the conditions never looking at your speedometer. If you are an Australian arriving from the nanny/police state this will feel so intoxicating you may never want to leave. And then there is great food as well as everything is affordable, hotels, beer, and motorcycle rentals.
I will talk in more detail between posting this years ride photos.First a intro for my current ride.
Motorcycle Touring Northern Thailand – A Guide was first published on Motorcycle Paradise
2019 tour.
I arrived via Okinawa with my worst airline experience of the year on a new LCC, Peach Aviation. LCC's can be very good, I can recommend many around the world but Peach have tried to make things as shitty as possible, I think the Japanese don't really get the concept. Anyway rant over I had a nice stay in Chiang Mai prior to the ride. Weather was warm and sunny, the nights mild..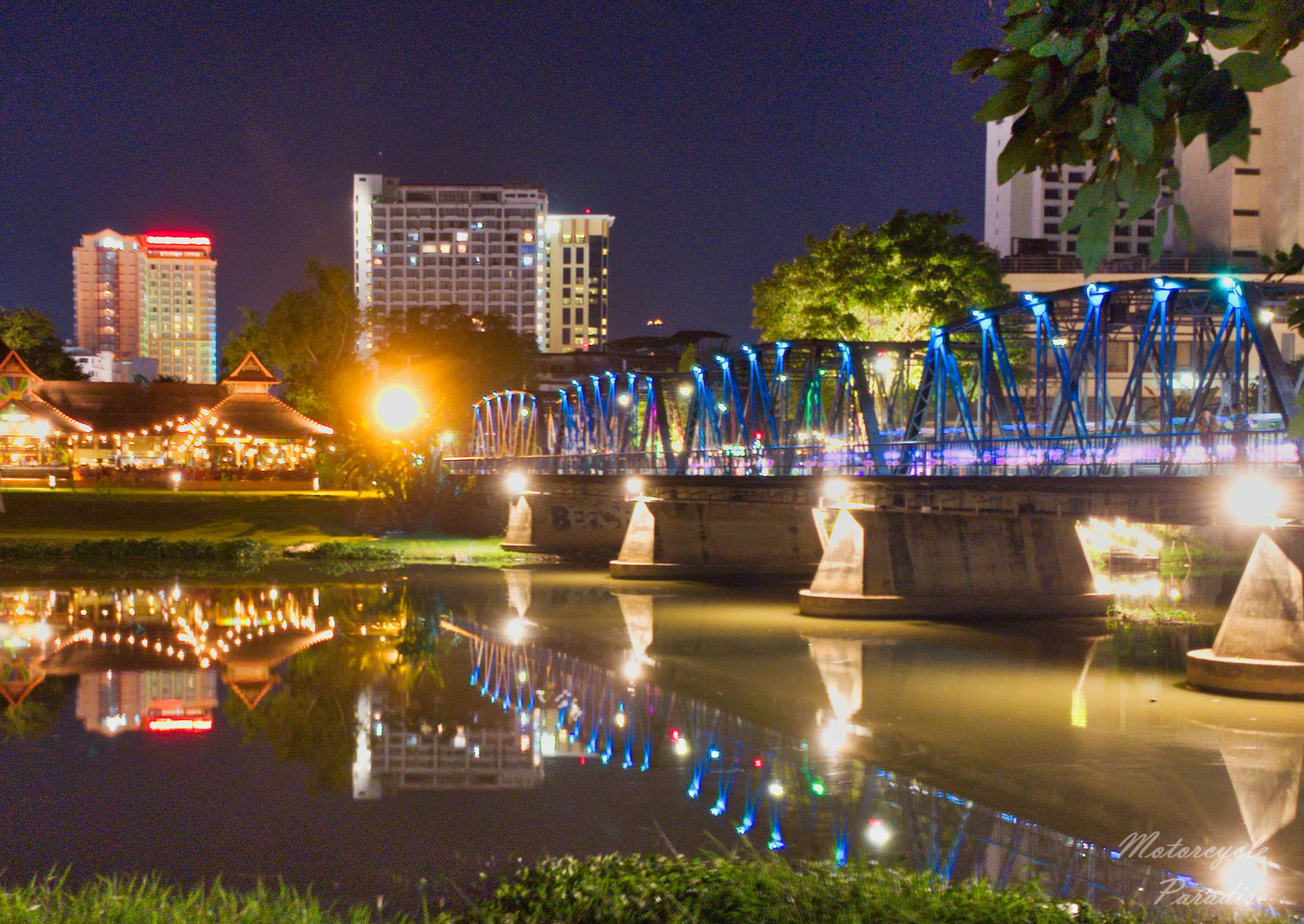 Where to start when planning a ride in Thailand:
Chiang Mai is the hub for riding here. Thailand is well serviced by numerous airlines. You can fly via Bangkok or other cities in Asia. If you fly via Bangkok note there are two airports positioned far from each other. Not a problem if staying over night downtown but if transferring only then make sure your next flight is from same airport. I use Kayak for my flight searches. If you are tall then consider paying extra for exit row seating if flying on a LCC. They fit the seats so close I cannot fit in some or fold the tray down which becomes very uncomfortable. Additionally look at the final price Vs a full service carrier because the initial fare shown can double by the time you add, luggage, seats, meal and all the LCC hidden fees. A bad flight can really sour the mood of your trip so unless there is a significant saving consider paying more for a quality airline.
If transferring at Suvarnabhumi airport and it is the peak holiday season then be aware immigration can have long queues so factor in extra time. Chiang Mai airport is small and easy. Get a sim card at the booths upon arrival so you have internet straight away. Or get one at Bangkok airport if stopping over there. The AIS phone booth in BKK seems to have huge queues so I used True sim card this trip and it was good coverage and speed everywhere at cheaper price, but AIS maybe has slight edge in coverage from what I can see.You can use Grab or arrange a taxi to your hotel from Chiang Mai airport using the taxi booths then exit towards the left ignoring the instructions on coupon to use other exit which is not where the taxis are. If you use a taxi the driver will have no idea where to go, seriously, have the hotel pinned in Mapsme app or bring it up on google maps. Taxis in Thailand never have change. Ignore the booth or driver saying otherwise, at your destination it will be no change. Ask driver to stop at 7/11 and use large note to buy drink if you have no opportunity to get small notes. Or use Grab app on your phone and get a car from the arrivals drop off area. They will have smartphone navigation to your hotel and change can be provided but still useful to have small notes. I prefer Grab in SE Asia than taxis which are always a hassle and Tuk-Tuks of course are just a tourist trap.
There is a bus from the airport to downtown also at a very low price, if you were renting your ride gear and travelling light this is a great option then simply walk to your hotel. I stay in the area off Loi Kroh road, easy walk to Pop bike rental or the night market. I've tried about 8, maybe 9 different hotels in Chiang Mai so far and the clear stand out is the Hotel Montha on Loi Kroh road lane 3. It's price is marginally higher than others nearby but you get much more. Nice new rooms, excellent bedding and modern quality bathroom. Free coffee and cookies and filtered water. There is a German buffet breakfast optional for 100 baht that is a mountain of food, fantastic value. There are lots of guides to Chiang Mai so I shall not bother to say more but don't follow the herd to the same eatery everyone else on Trip Advisor is going to. Google map reviews imo are more valid than Trip Advisor which I find total waste of time. Anything rated highly on it turns out to be stupidly overcrowded with tourists lined up down the street and the quality lost long ago. Same thing used to happen with Lonely Planet guide books.
If you want a big mall (with same shops you find anywhere else these days) then take grab car out to Central Festival for something to do or better still rent a scooter and explore.
2019 tour day one.
Late departure awaiting morning grey skies to clear. That never happened but roads dried out from overnight showers. Thailand has a great coffee culture so you can get a good coffee at most anywhere even petrol stations. You don't pump your own gas here but not clear if Thai's tip the attendants or not. I have not seen it done, up to you I guess.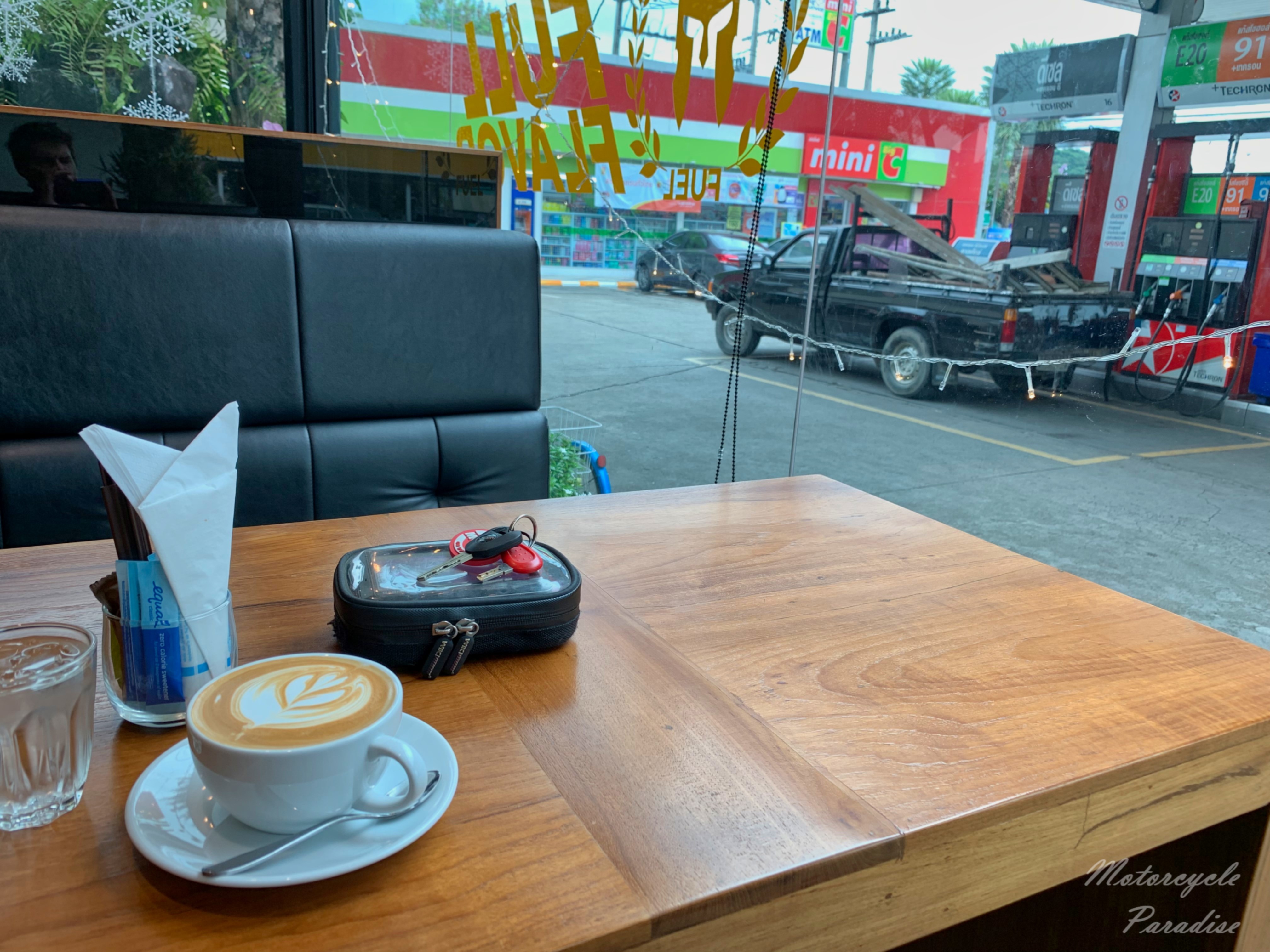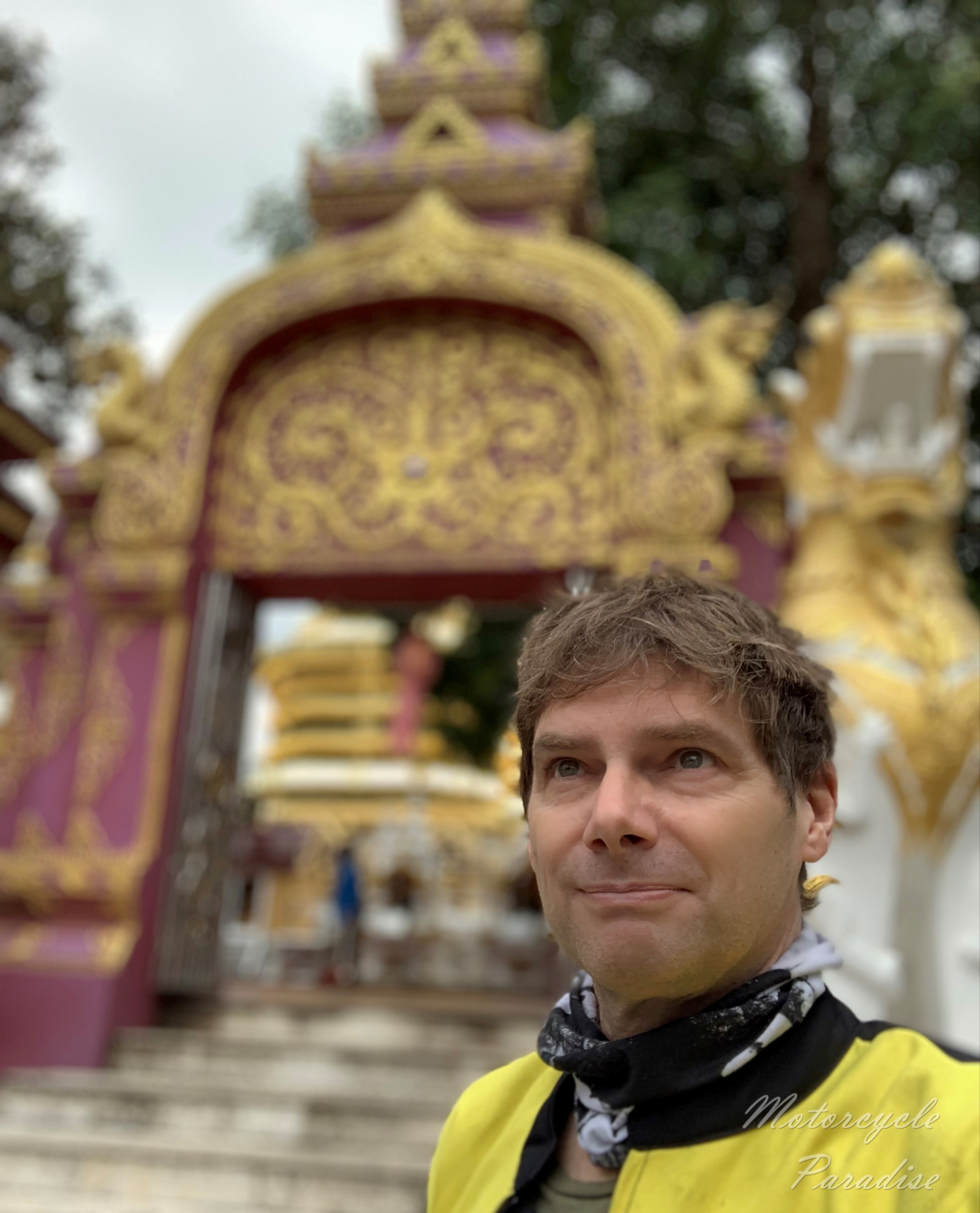 My daily mileage is very modest this ride. Not into temples but took a look at the 700 year old Doiwiang Chaimongjol pagoda this morning as just want to detour off my route as much as possible this ride to try find less visited things.
Interesting Thai road sign.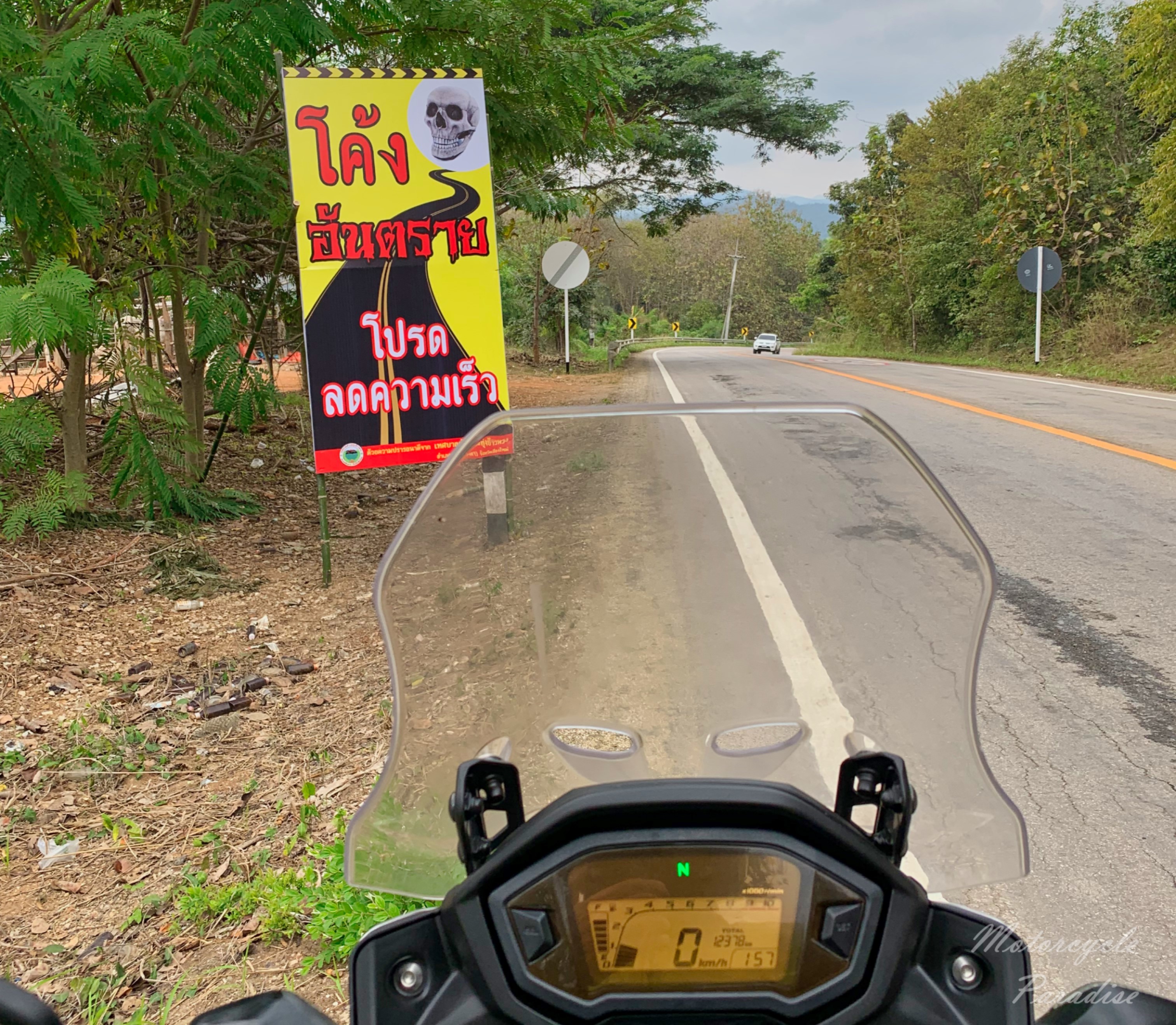 Later in the day I ride along the western border and ended up in low clouds but can look across the small gap to Myanmar at a couple of viewpoints.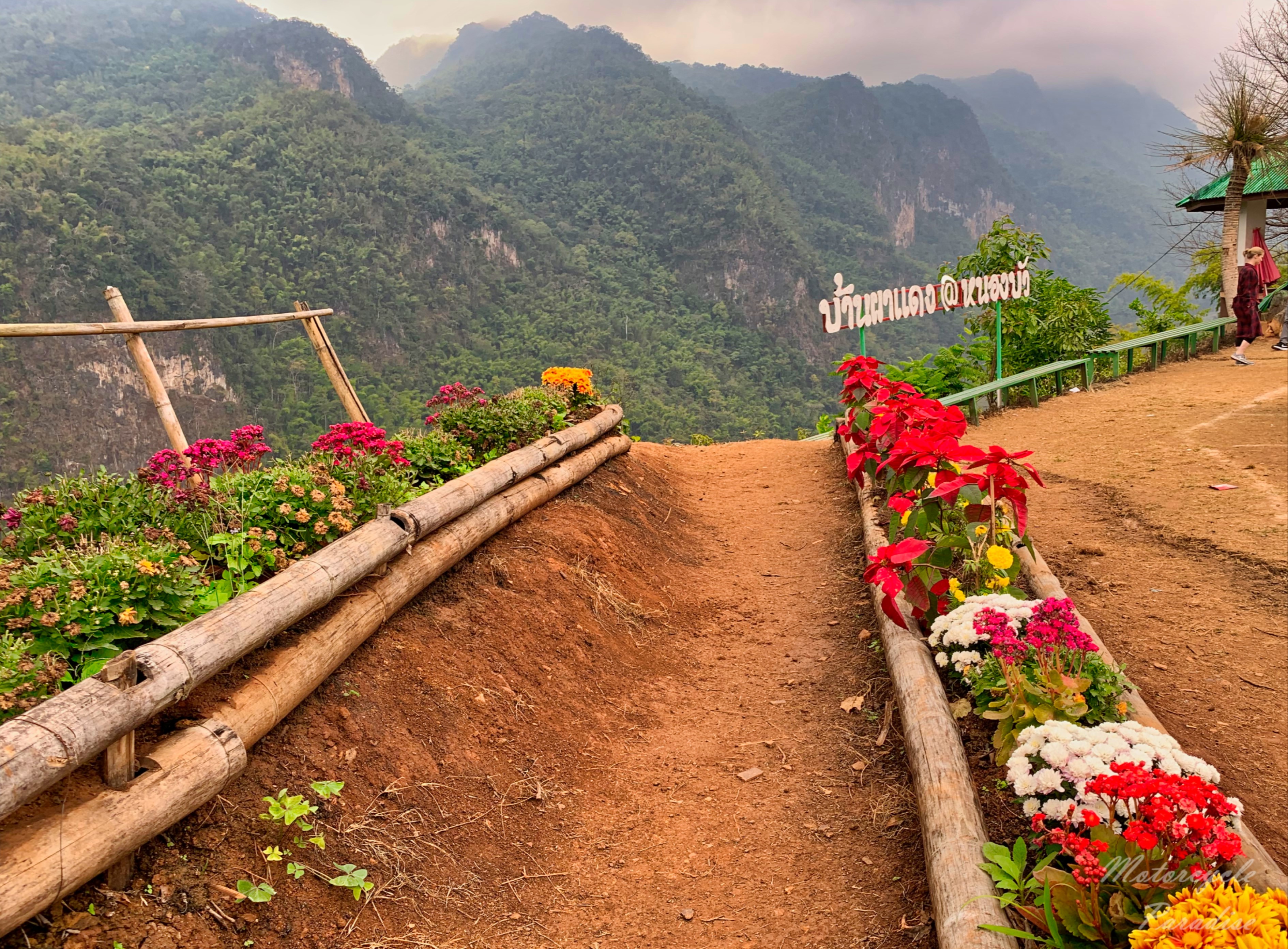 I was dawdling with so much spare time then of course fate played a hand and the road I needed was closed with land slip. I was facing a huge detour that would take hours but using Mapsme and hand gestures asked a local rider could I get to my destination another way as the road appears to cross into Myanmar. Yes I could but I need to hurry as this road is only open limited hours as it straddles the border and you go through a military check point. Road is a loose term, it was merely a rough dirt track and very steep. Too busy trying to stay upright to take photos, nothing as difficult as my descent down the Sani pass in South Africa, just slow and steady does it then ride to my hotel in Fang very happy to have avoided a 2-3 hour detour.
Bike rentals:
There is a huge selection of bikes available. I recently have been riding the Honda CB500X here because I think it is enough and at 1200 baht a day it is value. But you can choose from Ninja 650, Vstrom 650, CB650, MT07, MT09 Tracer, Africa Twin, Z800, Z1000, CB1000R and some BMW's amongst others. Unless you are curious about a particular model, there is no need for anything bigger than the mid size twins. You're in a foreign land, new roads, unknown conditions ahead, new bike, different tyres. No need for big power. Unless you really want to test the Thai rural emergency services out.I would suggest you choose something with compliant suspension. Stiff sports bike suspension or Italian motorcycles are not a good match for riding a multi day tour here where some roads are always going to be choppy after the rainy season.
There is also a huge fleet of dual purpose bikes like the Honda CRL250 for people who want to ride trails. I cannot offer info on that as I no longer wish to ride offroad.I rent from Pop's. I have tried a couple of the others with mixed results. Pops has 100+ fleet and I have found their bikes always in good order and fitted with brand name tyres. Their bikes are often near new as they turn them over frequently. You can pay with credit card at Pops albeit with the usual surcharge but I think this is convenient as credit card payment is not common as of writing in Thailand.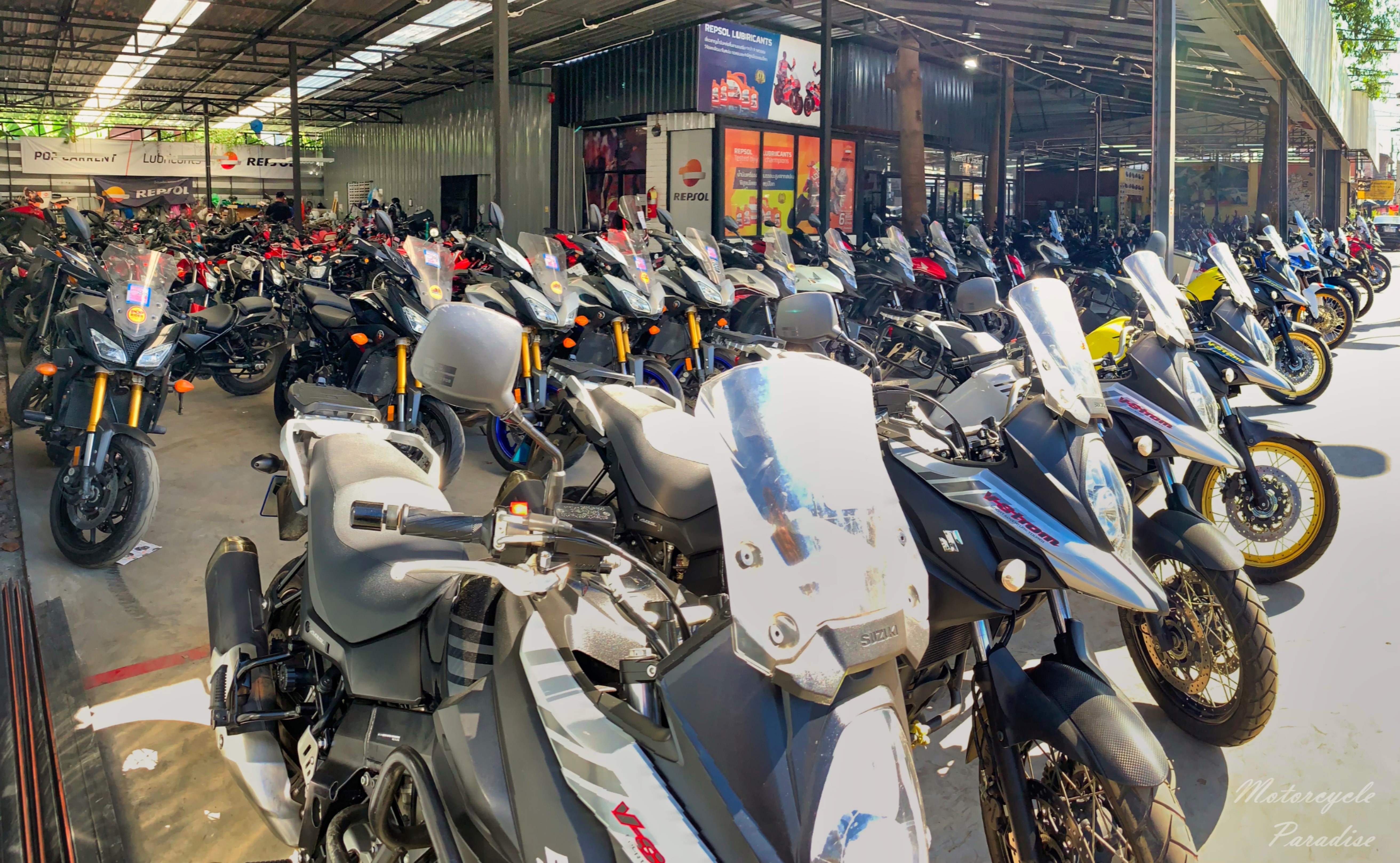 Even peak season they have so many bikes (above) you can literally walk in but obviously for a special model contact them in advance.To rent you can either leave a deposit or your passport.
Insurance:
Be sure you have travel insurance that does not exclude motorcycle riding, check the fine print, the cheap online policies often exclude anything they may deem remotely dangerous. If it is not perfectly clear then get written confirmation or pay more and get a policy that will actually pay out if something was to happen.
Also note that travel insurance will be null and void if not licenced for the class of bike you are renting. The bikes rented here generally have some third party but no comprehensive insurance. So if you drop it you pay for repairs. Even if you rent a bike with full insurance elsewhere in the world there is often a $2000 or more excess so for a minor incident you will be out of pocket, at least here the repair costs are low and if you rent a bike made locally like the CB500X or ER650 or Ninja 650 the cost of parts is a fraction of a imported bike. There is additional insurance available via online company called Siam Solution. I cannot vouch for them as not required their services but have not read negative reports either.
Be careful where you park the bike, if it has rained and the ground become soft then make sure it is on firm footing. Never park with the bike facing downhill without either chocking the front wheel or applying front brake with a clamp device. It will roll out of gear at some point and fall hard to the ground.Theft is not an issue as far as I am aware. If worried you could bring a disk lock with you from home for peace of mind, don't forget the hi-vis strap or you may ride off with it installed and damage the disc rotor.
2019 tour day two.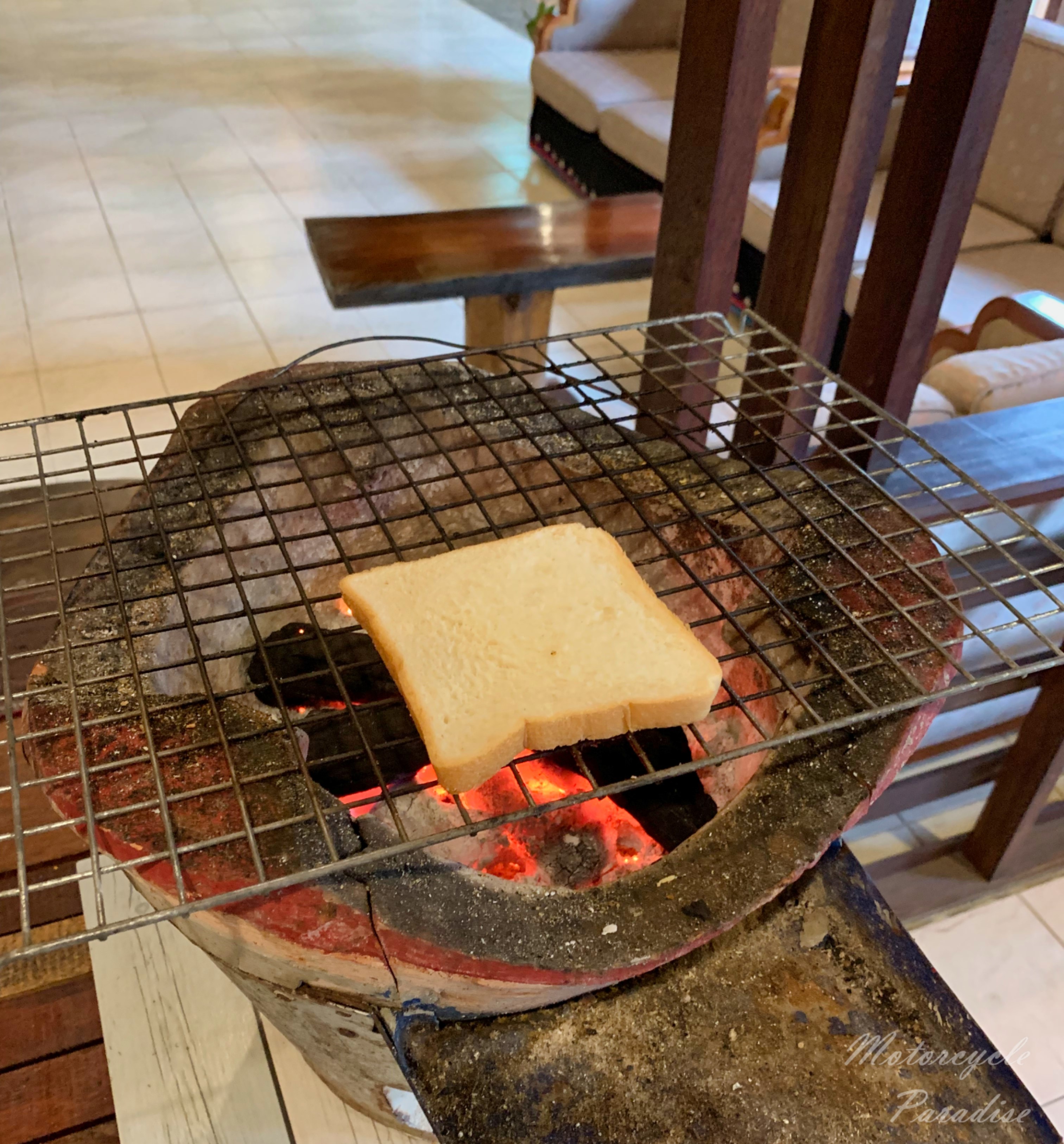 Breakfast was country style!
Ha-ha actually this was for cooking sticky rice I think but beats an electric toaster.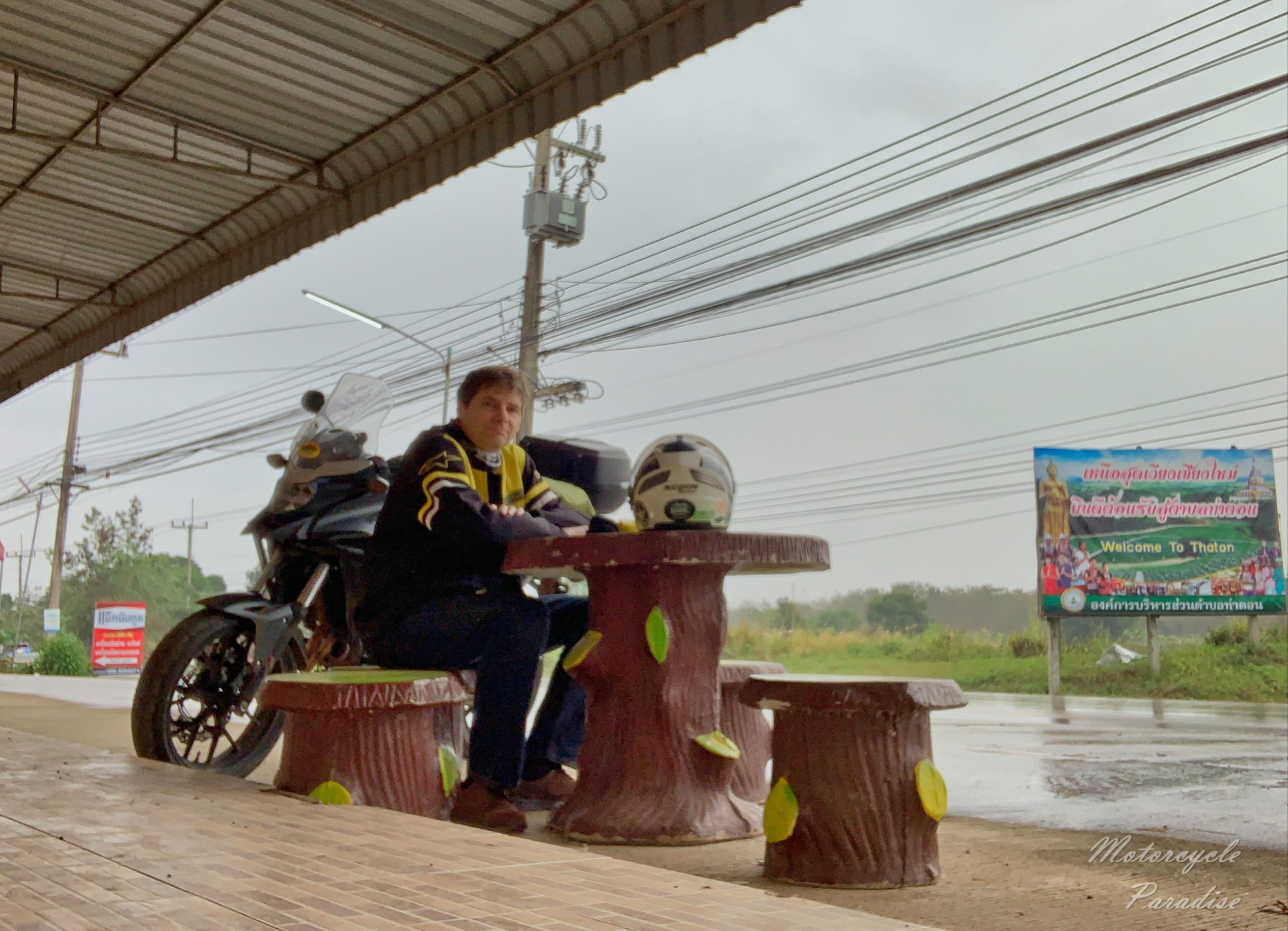 Another day with low grey skies. Late December can be unsettled weather in the north, I encountered rain shortly into my route. I found a dry spot in front of a closed pottery shop to rest up. I wasn't unhappy as this photo suggests, I had 4G sim card and caught up with a bit of stuff, would have stayed longer if I had a bite to eat and drink.
My route yesterday and today, although both just a guide as I am wandering this tour.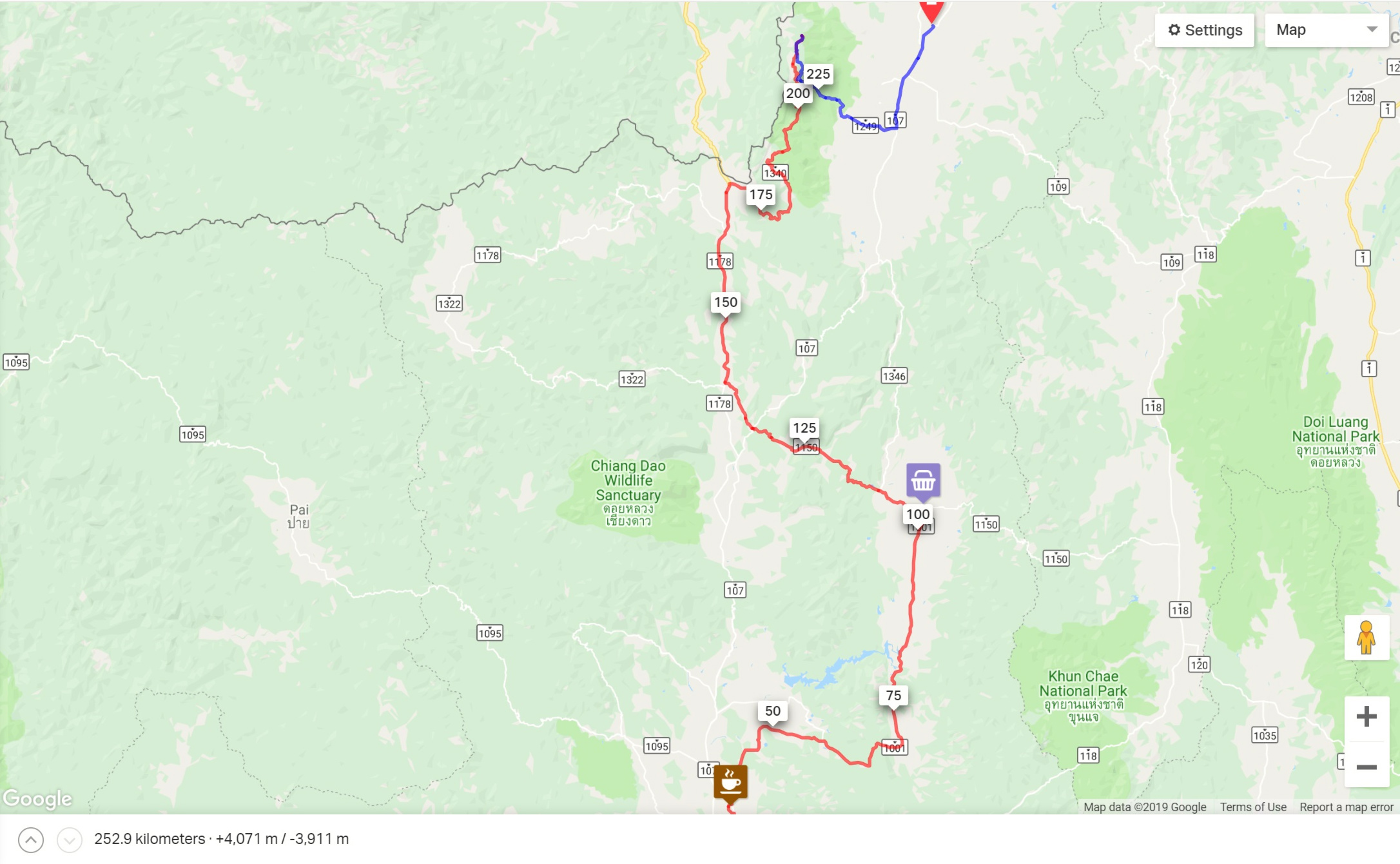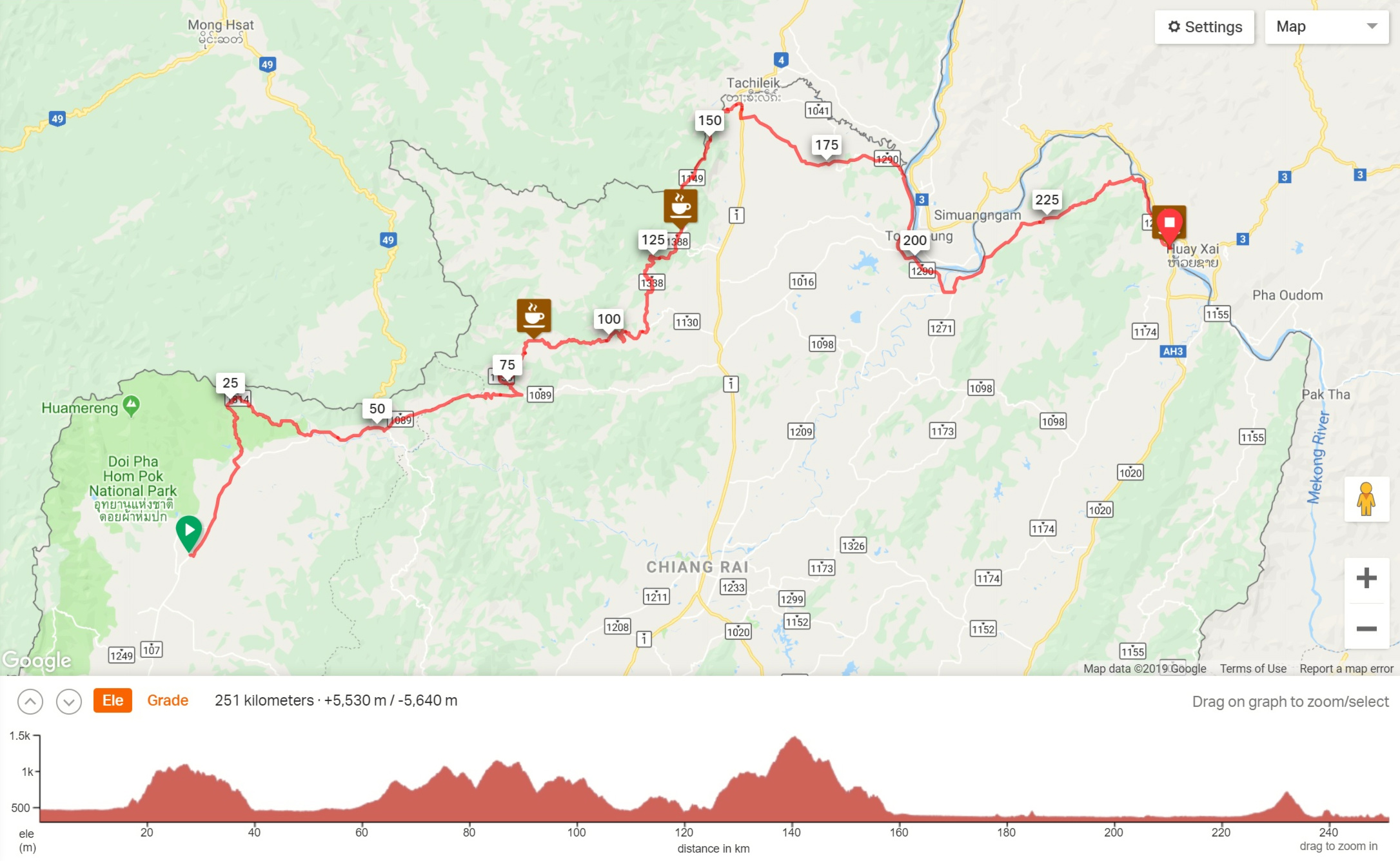 In five tours here this is first real rain I have encountered. So I waited hopeful of it stopping but the nearby border ranges were acting like a cloud magnet. In the next town I stopped and got a disposable poncho with hood and draw strings to wear under my jacket since I find the collar and the front zipper will often leak with all my jackets. I am yet to find a rain radar app that works in Thailand so with no way to ride around it I just set the GPS to birds eye view of map and starting riding direct towards my hotel abandoning my route.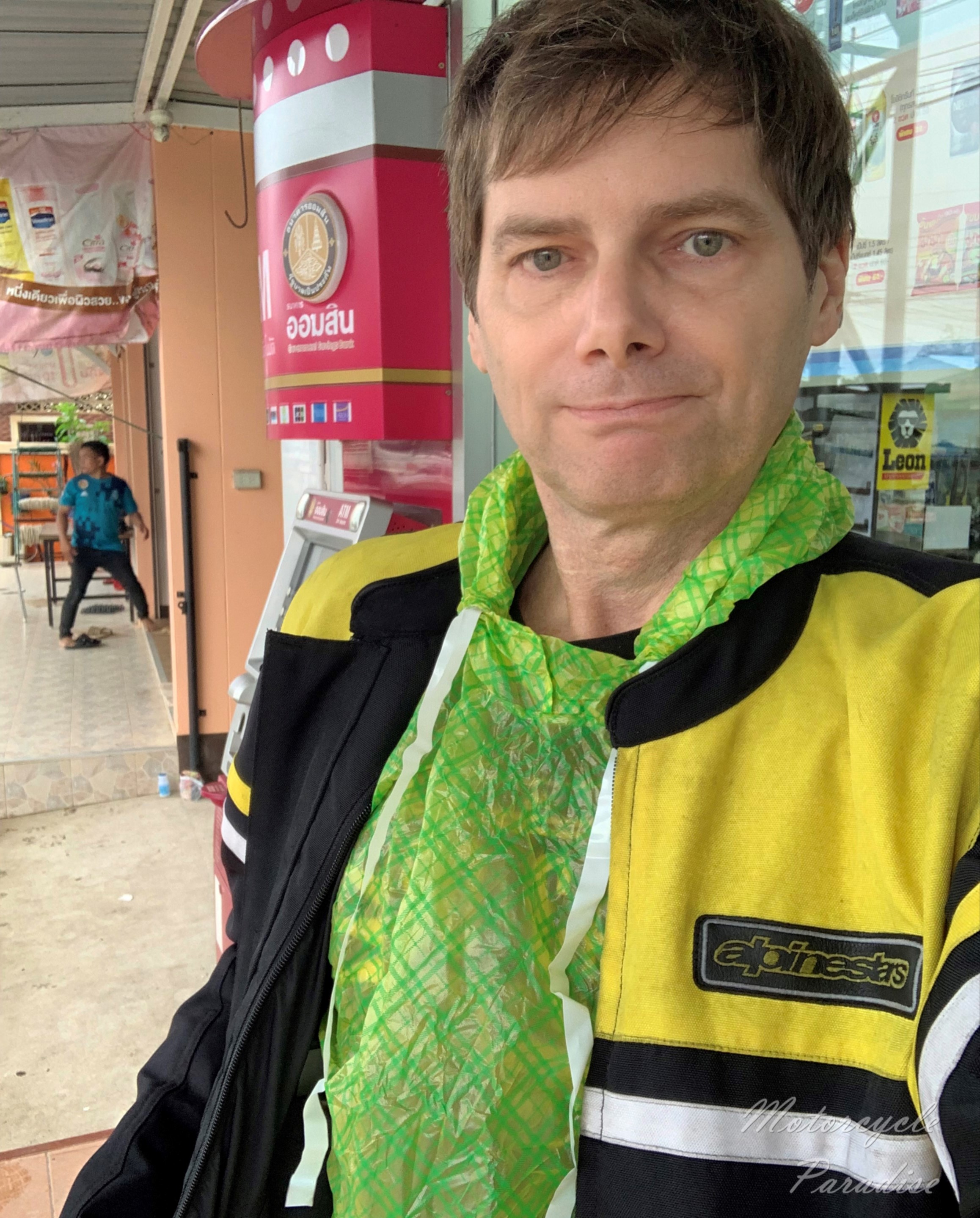 I had not brought much rain gear but was carrying my compact bicycle rain over pants and over shoe covers and managed to stay dry the next 2 hours of rain until clear.
Tonight I stay at Chiang Khong looking across the river to Laos.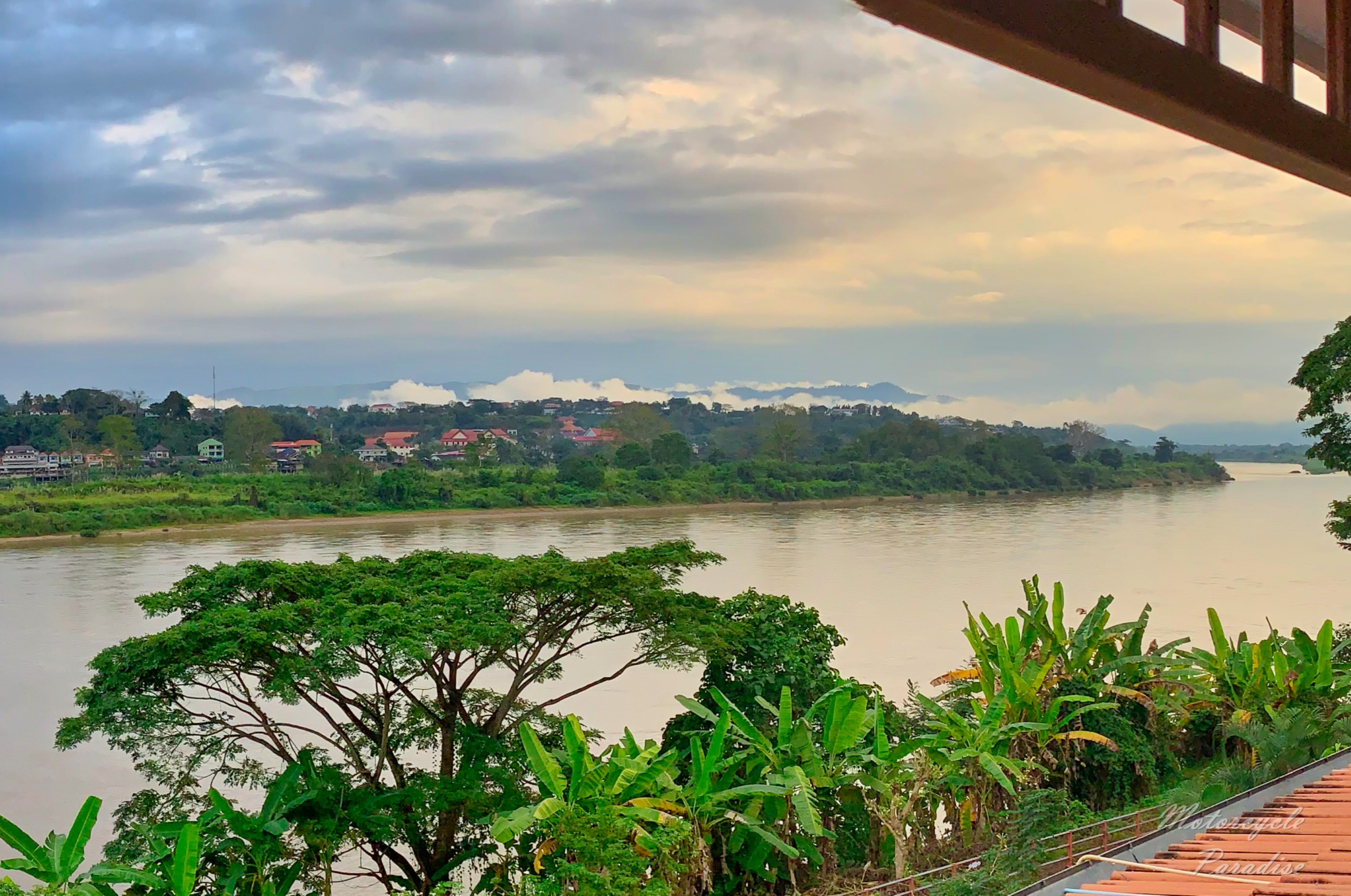 When to go:
Northern Thailand dry season is December to March into early April. It is cooler and chance of rain in December early January. February is virtually zero rain and March also dry. However the air is clearest in December and gets more hazy in February. Many fires from February on create smoke haze that peaks about March when the visibility is very poor and some roads can get slippery from an invisible layer of ash that will scare the hell out of you when encountered. Probably late January first week of February is a reasonable compromise but if you want clear air then go earlier but be prepared there is chance of rain as I encountered today.
Accommodations:
Hotels in Thailand are quite reasonable. Sure you can choose the Hilton but mine mostly are between 500-700 baht a night and at that price all have been quite acceptable some have been superb. I use booking.com but Agoda seems to have more listings despite being same company. If you are riding out of the peak you could easy find a room as you go and not have to book ahead if you want to wander. Not many will have credit card facilities so always have cash on you.
2019 tour day three.
A damp morning but forecast is clearing. I visit Rider Coffee a bit of a must in the area and talk to the owner. He arranges rides into China each year and is planning to ride Bangkok to Amsterdam in 2020.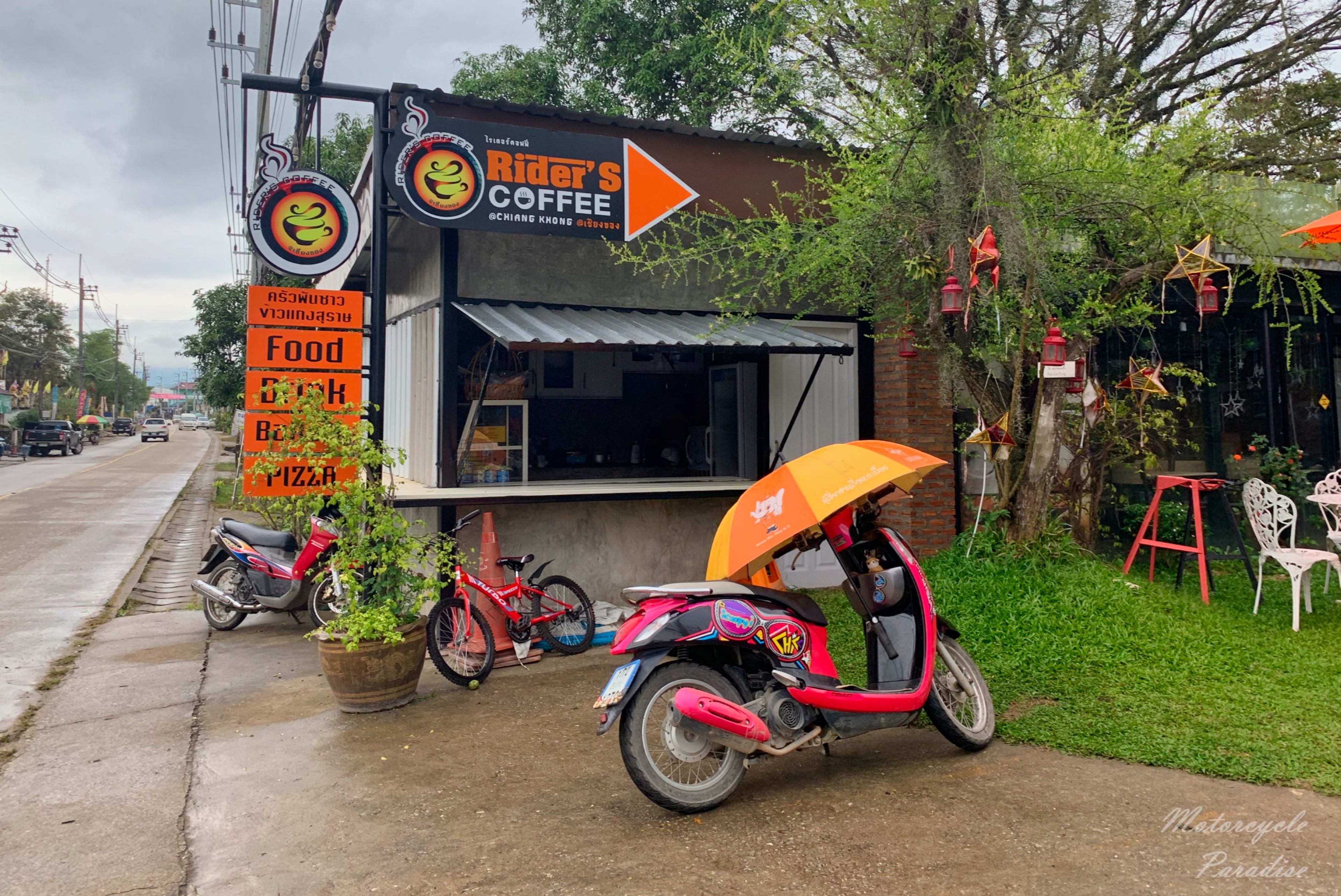 My route today is south along the Laos border that lies to the east but over coffee the suggestion is retracing my route from the day before might be better. That road was miserable yesterday in the rain and so I ignored this advice and went towards Pu Chi Fa as planned on drying roads but within 40 minutes could make out the mountains were going to be in the clouds. What was I was told at Rider Coffee? ha-ha as usual I need to pay more attention to local advice.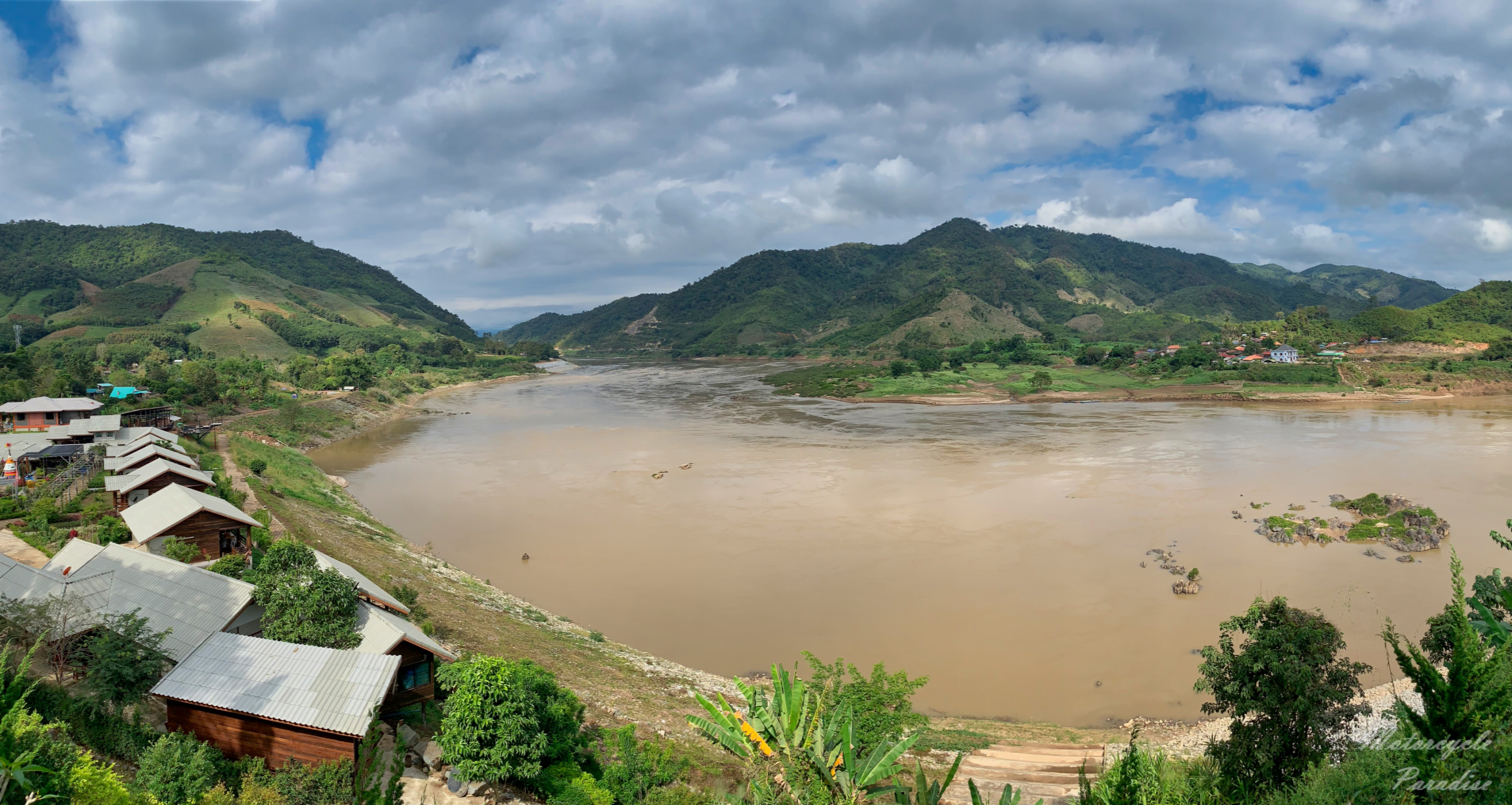 Another view of the Mekong and Laos on my way back to Chiang Khong and with the clouds starting to break up.The road that had been wet yesterday, route 1290, was indeed as good as suggested today. Like Burrinbah range in northern NSW Australia but much longer sweeping along beside the river then big changes of elevation. I could not find an vantage point to get a good photo and again thought a drone would be great for this sort of thing.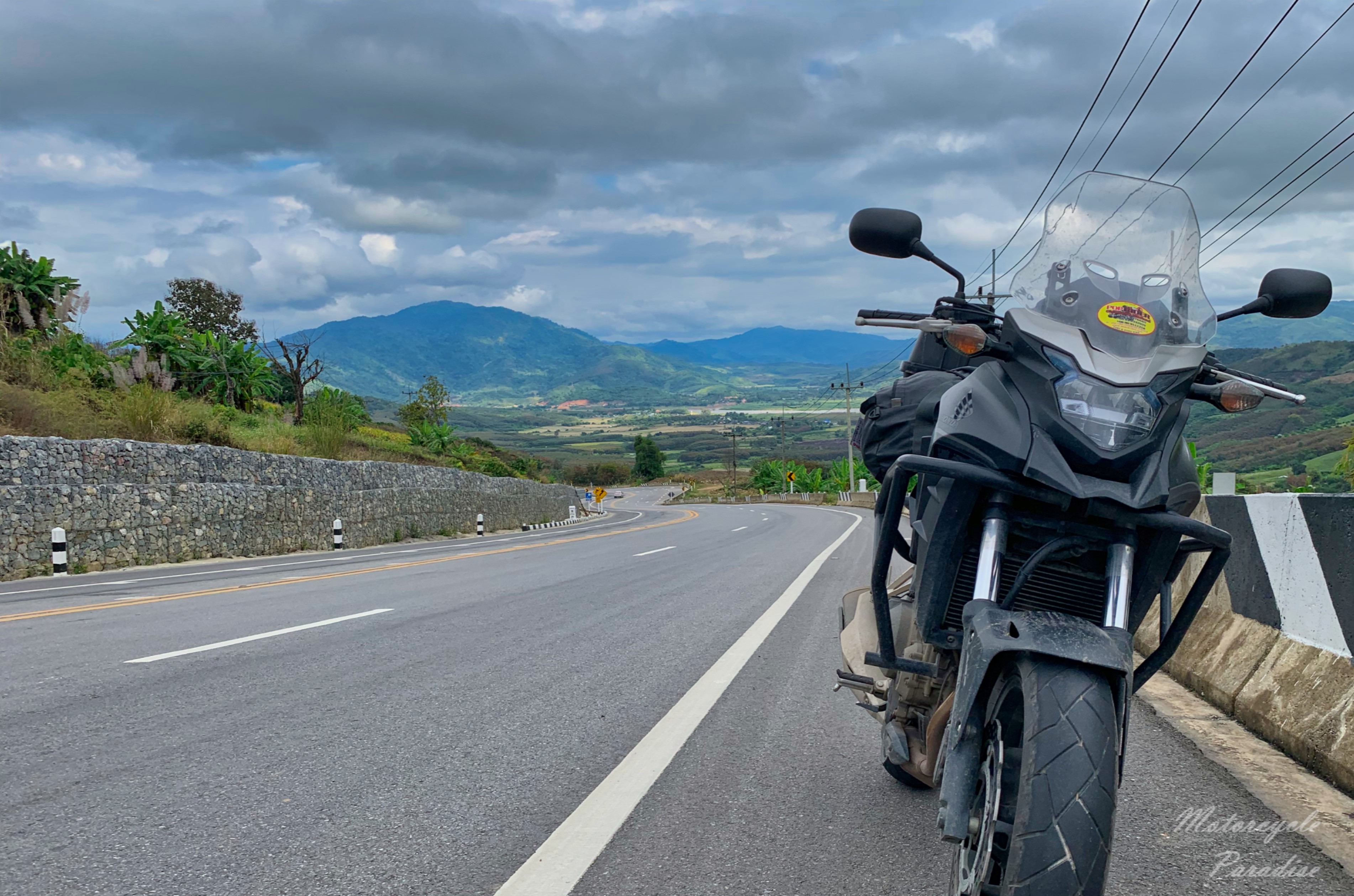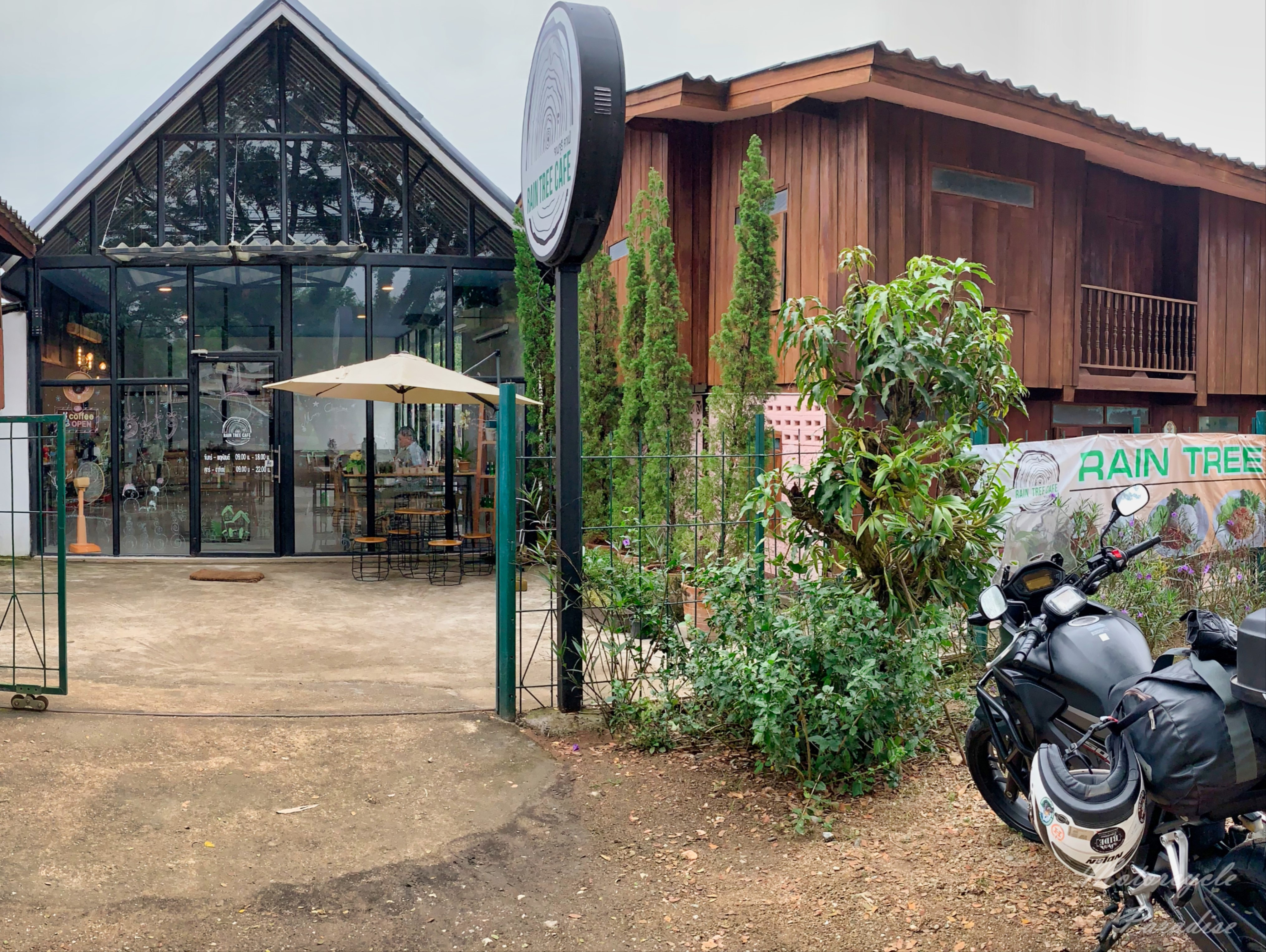 Food:
You are spoiled for choice with food. Daytime there is coffee shops everywhere that often serve light meals or street food in every small town or if not keen on that there is a 7/11 in every small town often at the gas station where you can get fast food. There are of course local restaurants in larger towns. These may not have English menu but you can use Google Translate on your phone with it's camera to translate menus. I presume you are already familiar with some of the food, everyone knows Thai green curry and Tom Yum soup but there is a diverse range to be sampled. I highly recommend Khao Soi a northern yellow curry noodle dish.
If you ride to the local supermarket/mall it will have a food court where you can get excellent food cooked home style from 50 baht a dish. Every larger town with a mall seems to have a KFC too if you want western food. I recommend the local variations of KFC spicy chicken on rice. Be warned this is not like Zinger spicy, rather it is Thai level spicy with green chilli and fantastic at just 70 baht.
I am going to Chiang Rai tonight for new years eve and with todays route also abandoned had time to burn so wandered no plan along rural roads and came upon a coffee shop suggesting exactly what I needed to do for awhile.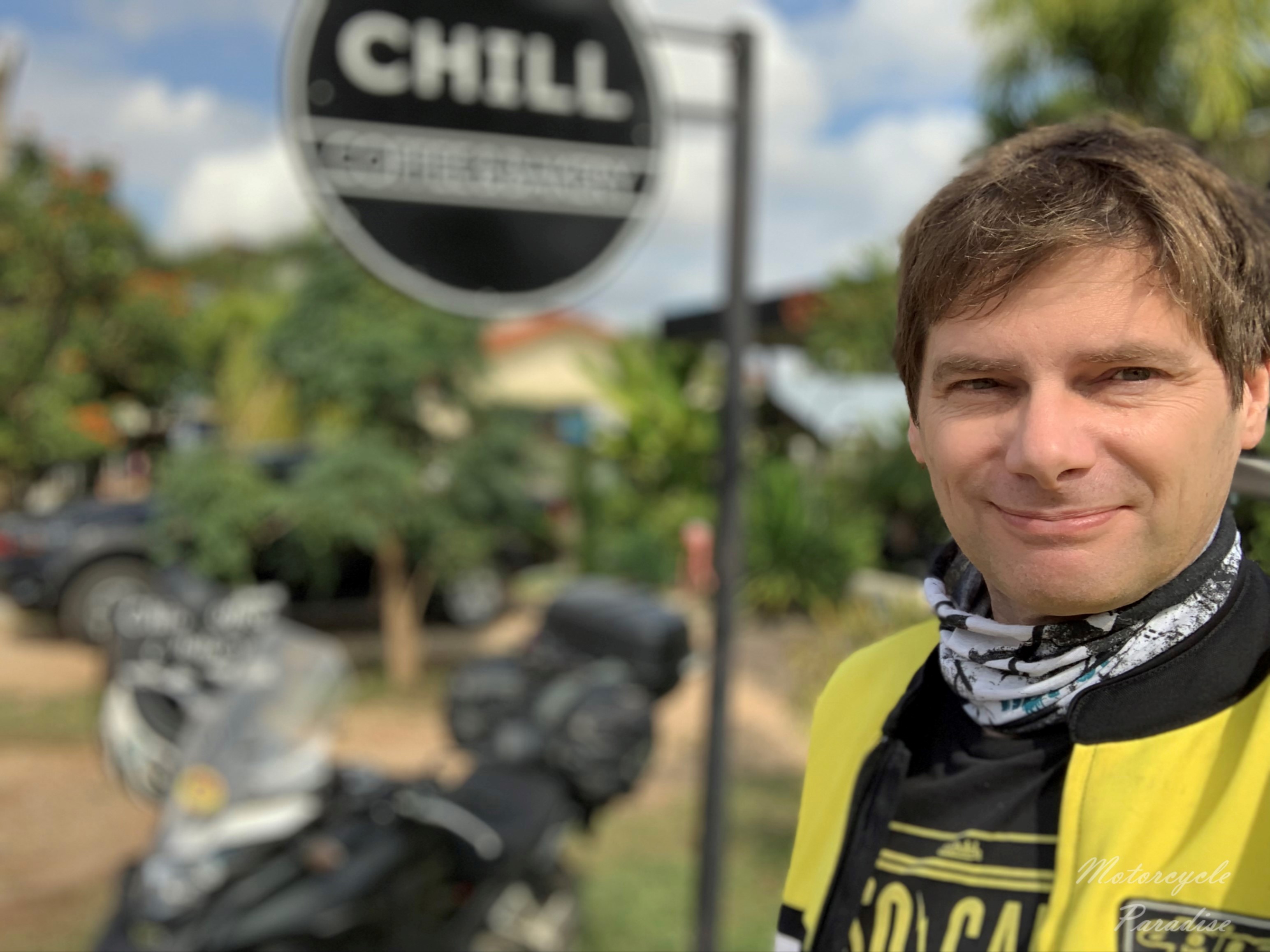 Very peaceful interlude with homemade crepe filled with cream for afternoon tea just 25 baht. No English spoken and I am probably only foreigner to pass by but it was no problems just smile and the world smiles back at you. Sunny and hot arriving Chiang Rai, I could get some clothes hand washed and dry then walked into the festival. Loads of street vendors and beautiful girls serving Chang beer the sponsor of the party.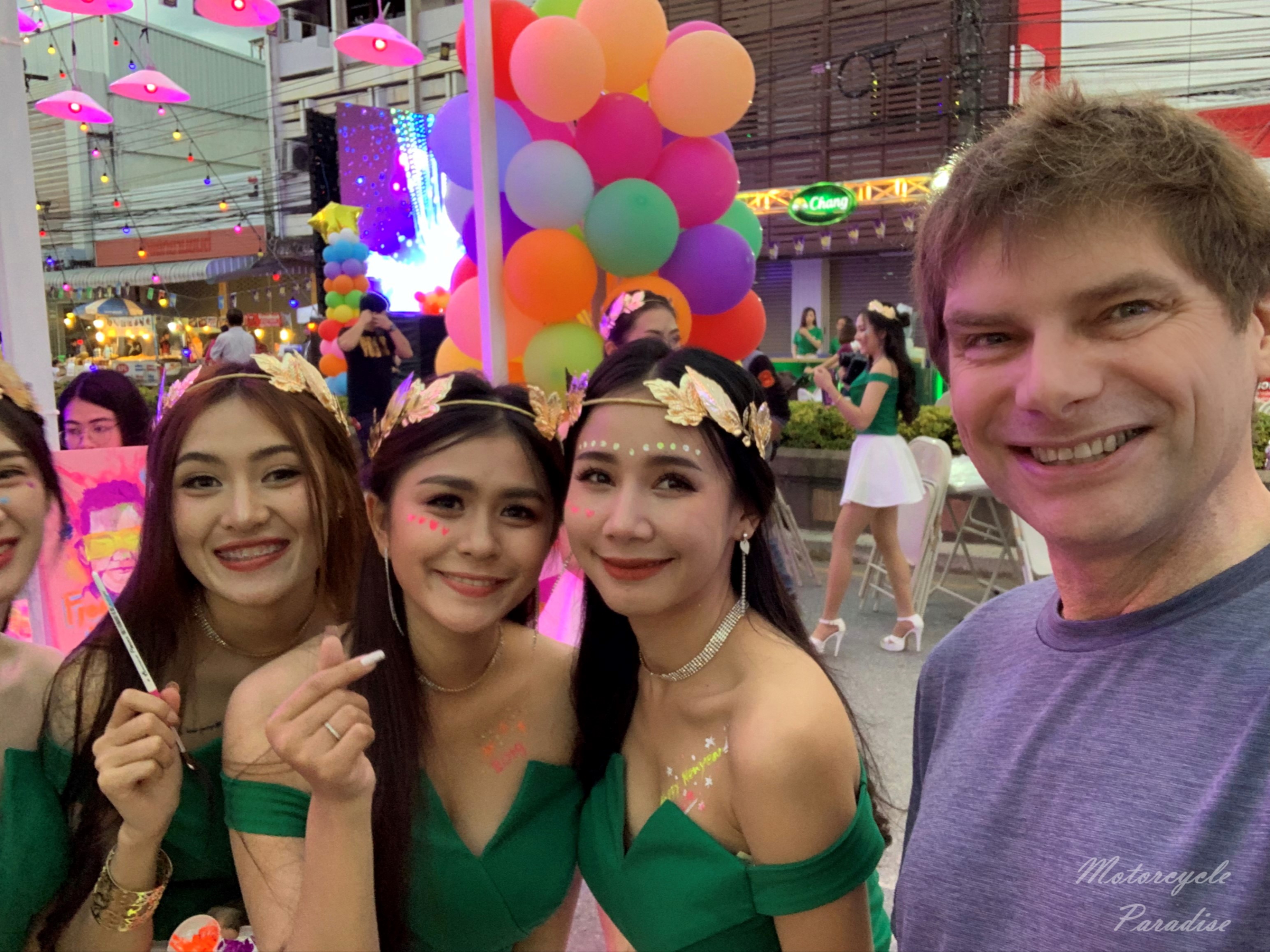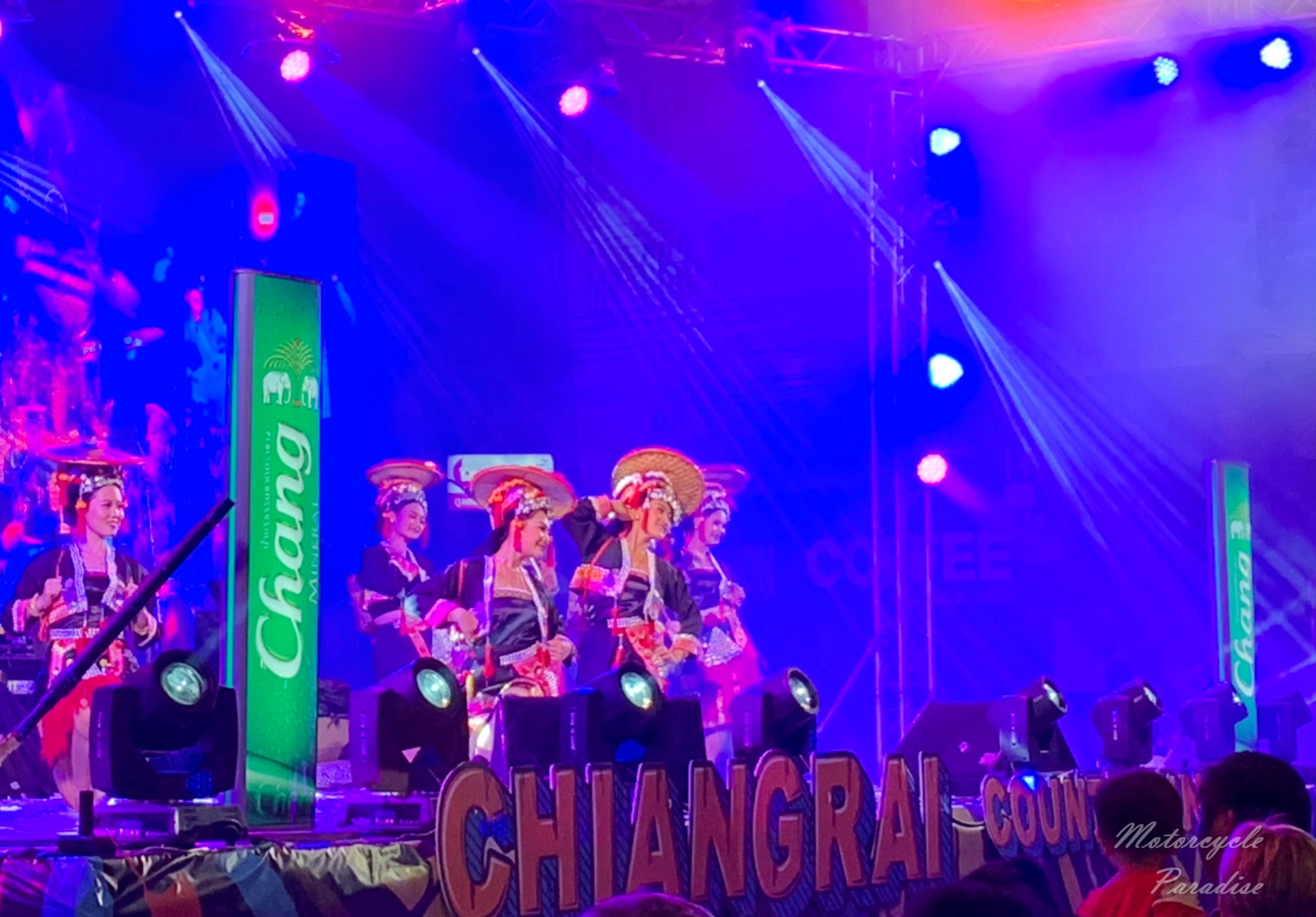 It was going well until a huge storm poured rain down and washed out things prior to midnight. Real shame as the fireworks and many other things were ruined.
Where to ride:
There are fantastic roads everywhere. I made a map with all the best roads I have ridden. Open it in a new window to see more info.
This is by no means every good road but it lists the most well known ones. You can easy string together 4-5 days of non stop great riding in three different combos from this map or put together a longer 7-10 day tour loop. Do consider factoring in a day off if doing a longer tour, you will appreciate it so much and be able to get some proper washing done and recharge.
All my riding routes and GPS files are available to view and download at ridewithgps user name Warren, just add me as a friend when you join. My previous tours are all listed here on the blog with loads of images and route info.
2019 tour day four.
Today's weather was at last back to fine and warm. Visited a moto themed coffee shop to start the day.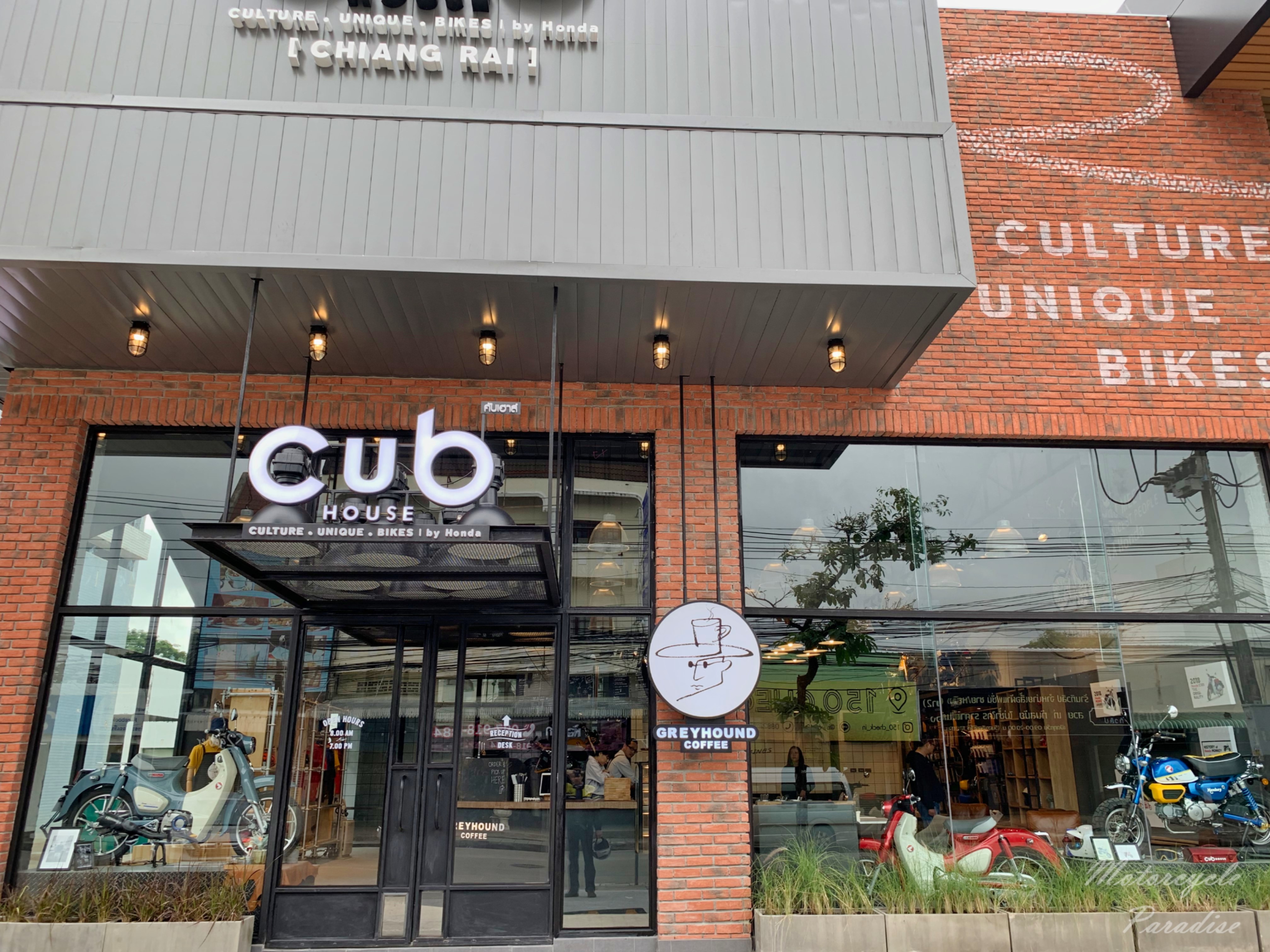 The focus this day was to relocate south from the northern border region. In hindsight it would have been better to ride this tour in opposite direction, south first then I would have avoided both rain and todays traffic of the people that had gone home returning to Bangkok after new years eve. But always easy after the fact to say what to do.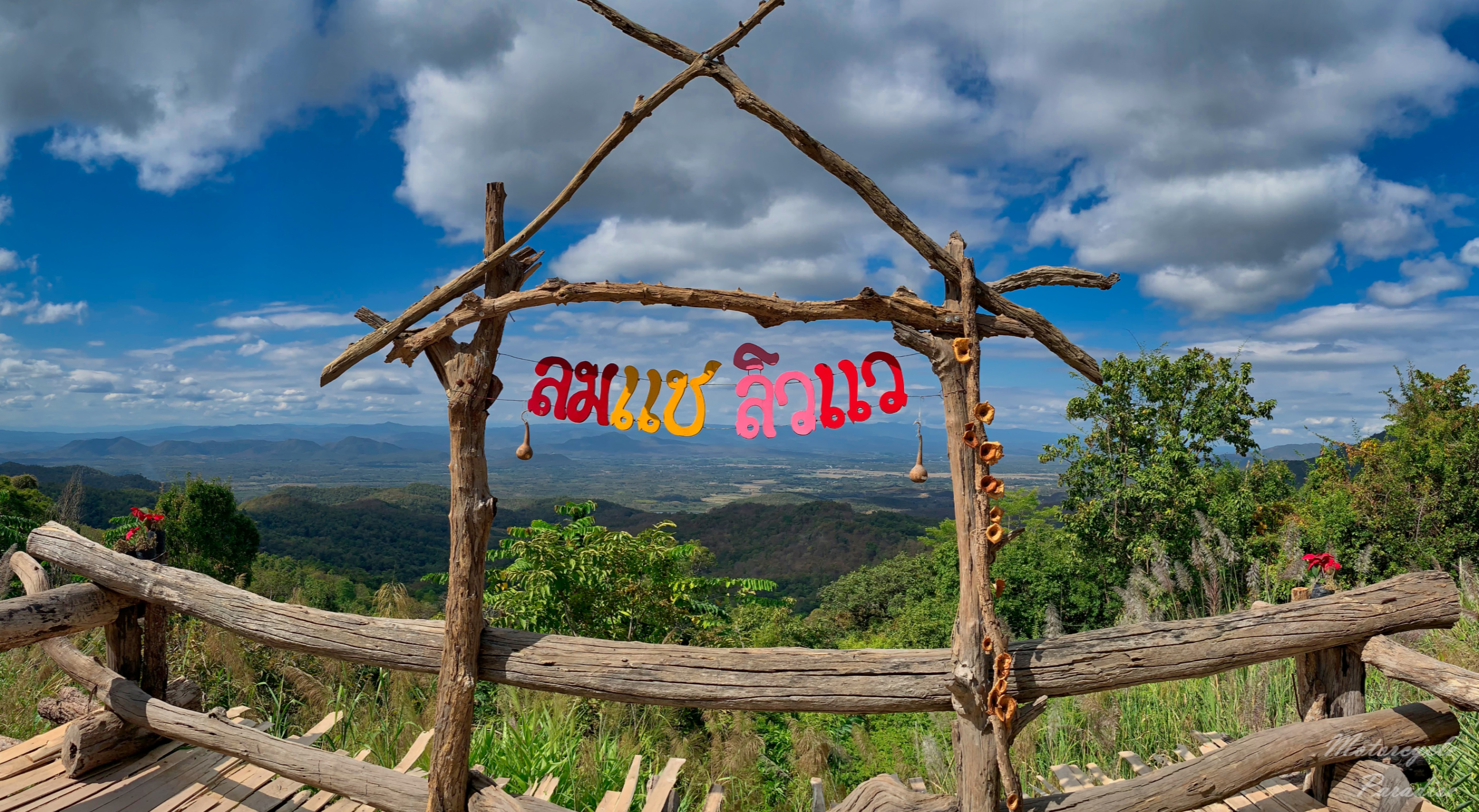 Nice clear air and visibility like this is not something I have seen on previous rides and looking forward to some good views in coming days.
My routes last two days. I never followed that on day three at all but on day four mostly was on course. 250km a day here is too low for me, even with coffee shop breaks and detours it is at most 5 hours. I think close to 300km a day is better and if out of the mountain roads then 350-375km. This is still not going to be long day but you will feel like on a motorcycle tour. I have ridden 450km per day here previously, that is too much making it necessary to be pushing on all the time.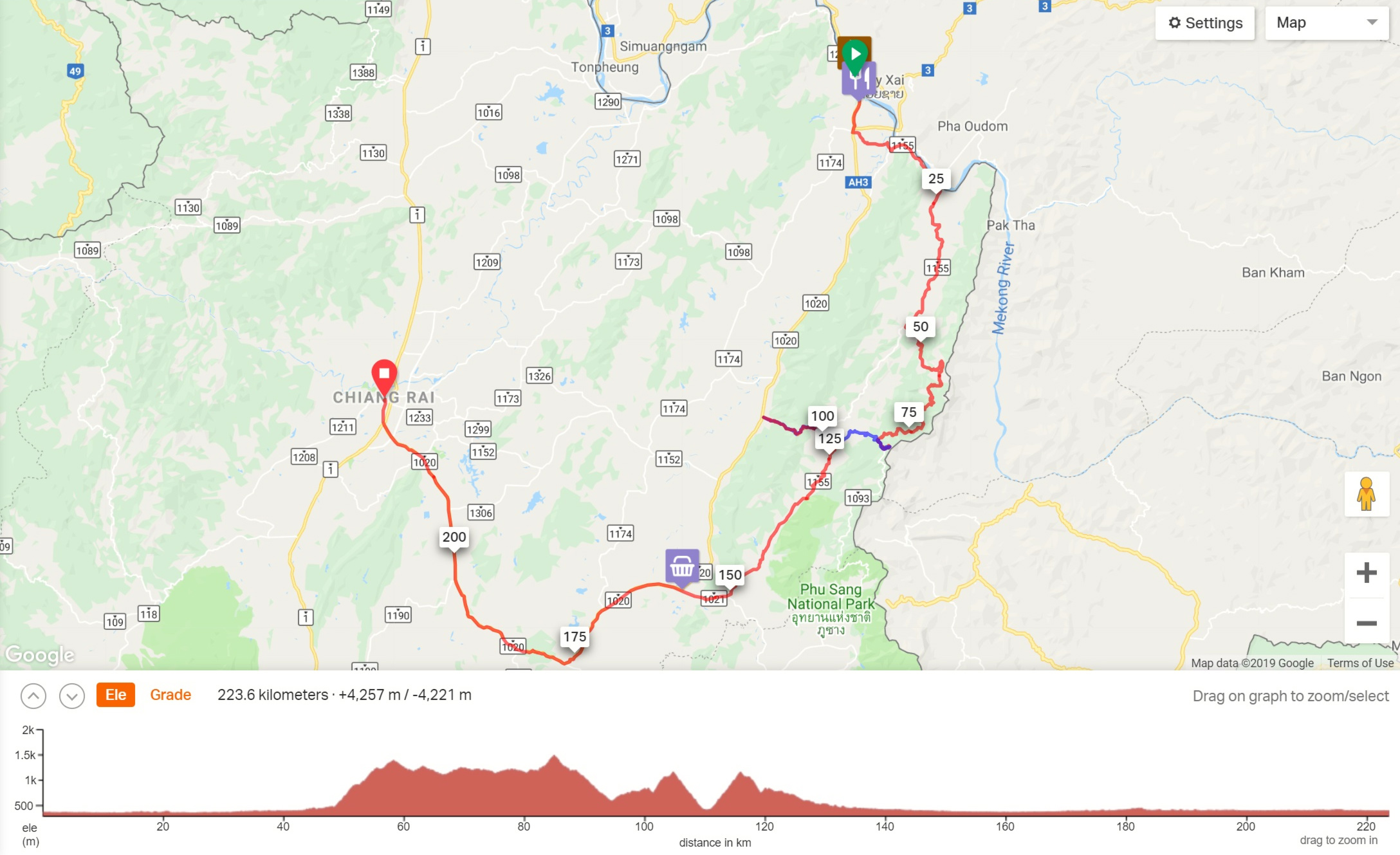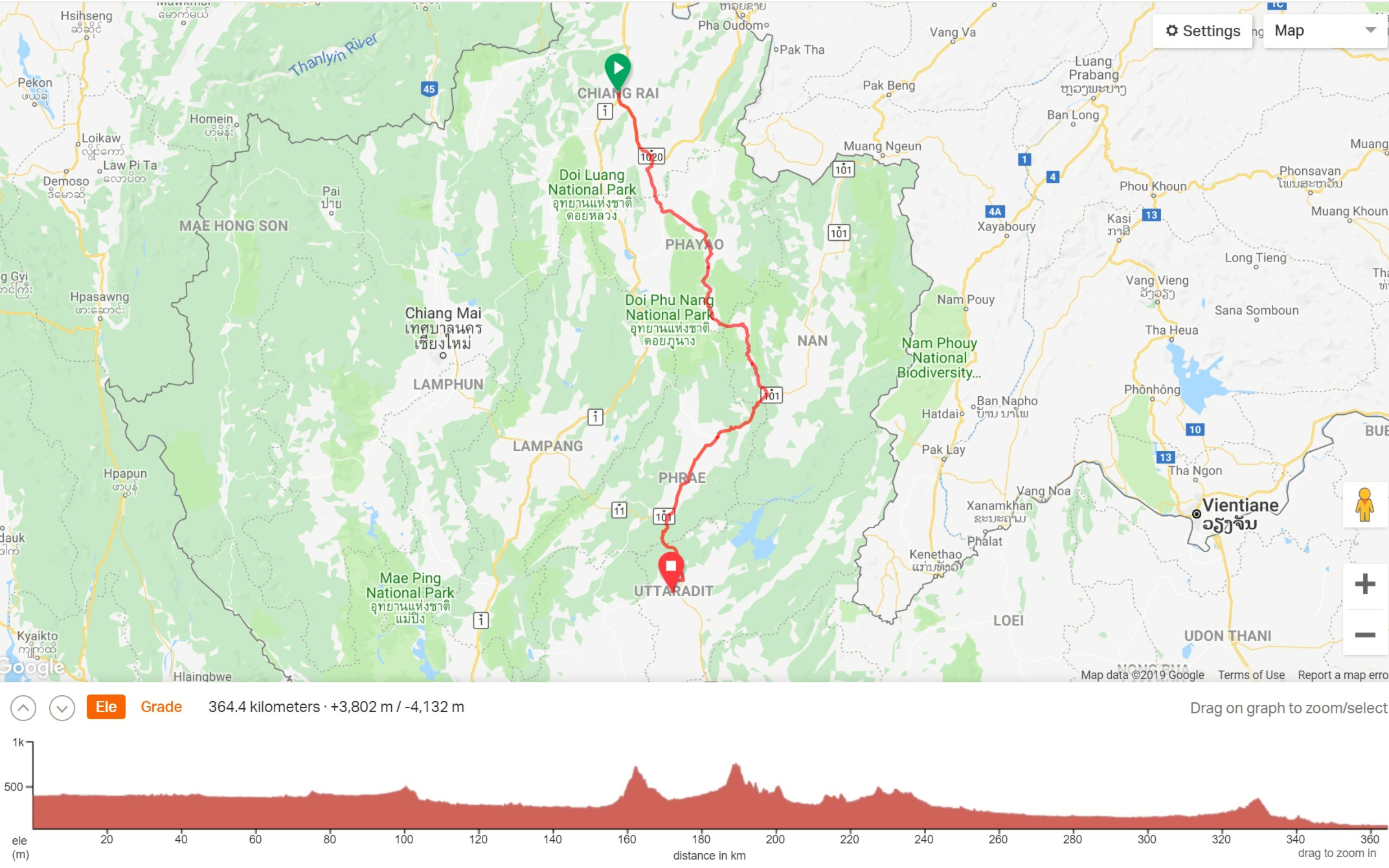 End of part one. More soon about how to ride Northern Thailand when I conclude my tour here on some fantastic riding roads.
PART TWO
Addendum, lots of issues trying to bring you this post. The photos here are temporarily hosted on Imgur until a fix with Open Live Writer can be found.