I did something today I have not dared try for many years. Ride over Mt Nebo/Mt Glorious on a Sunday morning.
It really is such a nice ride. As I have mentioned before I live close by however I have skipped it for some time to avoid the Sunday morning Knee Sliders and Police Blitzes'.
Quiet as a mouse there today. A few motorcycles at the cafe, many more push bikes than ones with engines on the road. Had a really pleasing and relaxed ride just enjoying the flow of the corners and the sunlight filtering through from behind to illuminate everything softly in the early light. Passed one car and saw no other vehicles until bottom of Northbrook Parkway.
I have not been doing much riding the last few months and it shows. My focus slipped more than once this morning so I pulled over to take a look at some heritage farm buildings and old graves just off the road and rest a little while.
A lot of water in the 2 dams and a lot of motorcycles at Somerset cafe. Actually was like a parade (of motorcycles) all the way to Kilcoy and back towards Woodfood, many riders must have been doing a loop over Mt Mee and back via Mt Glorious. Glad I was riding opposite direction.
Rode over the Maleny Stanley River Road and via Dulong to Mooloolah Valley for early lunch. Then some back roads south not really bothered to visit Peachester for the few hundred metres of good road there that everyone over rates.
The old Gympie Rd (above and below) is a nice flowing thing in a number of spots and has not a bad view either. The last bit south was just simple highway riding more or less but not a bad. If anything it was just as good as riding south from Peachester and avoids the crawl through Woodford.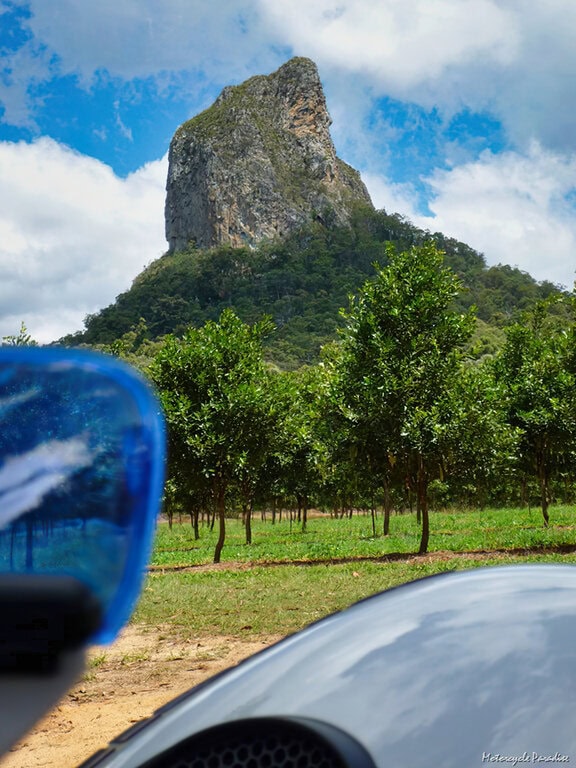 I would have skipped Mt Mee if I could have done so without taking the highway. Much of the road is bumpy and that 60k limit on all the southern range is mean spirited on such a flowing road. Add the high enforcement and well it's not a road I particularly enjoy. I went up via Wamuran and up Campbells Pocket road. This is a low traffic back road with a nice set of tight corners, I liked it a lot.
After clearing Dayboro I rode back via Clear Mt and Bunya Rd. As I was riding home I was struck with the thought that of the many roads ridden today the last, Clear Mountain and the first, Mount Glorious were by far the best riding for me, offering plenty of flowing curves enjoyable at a modest pace.
So many corners so close to home.