With Covid holding many of us back from travel the temptation seems buy a new motorcycle. I'd love to but they are mighty expensive so instead I changed cameras.
My current and previous cameras
Early this year I traded my Lumix LX100M2 via Map Camera Tokyo on a pre owned Nikon Z50 for a couple hundred dollars.
I enjoyed using the Lumix, especially the controls but it was sharpest at f4 and soft at f11 when I wanted to shoot scenery.
Prior to the Lumix I got the Canon G1XM3 back in 2018 and I liked the Canon's image quality but it had a pinhole EVF I could never see clearly nor the rear screen in daylight.
Thus when looking for a different camera I wanted something sharp at f11 and with with a decent EVF – but not too big to take motorcycle touring.
Diffraction
I assume that was affecting the Lumix. With a pixel size of 2.92um diffraction starts at f5.6. Some claim the lens in the mark II is not as sharp as the original LX100. I owned the mark 1 and yes it was much sharper however back then it had far fewer pixels to resolve.
The Z50 has a 4.38um pixel size and diffraction doesn't start until f9. The Z50 also has built in diffraction compensation and a sharp kit lens. It's excellent at f11.
EVF
The Z50 EVF is 2.36M dots OLED at 0.68 magnification which doesn't sound great however EVFs are more than just number of dots.
The viewport is almost twice the size of the Canon and Nikon has given it quality optics. It also can be switched to high refresh mode which delivers clarity I found similar to the larger EVF in the Z5.
It seemed I had solved the issues I had with previous cameras however the Z50 frustrates me.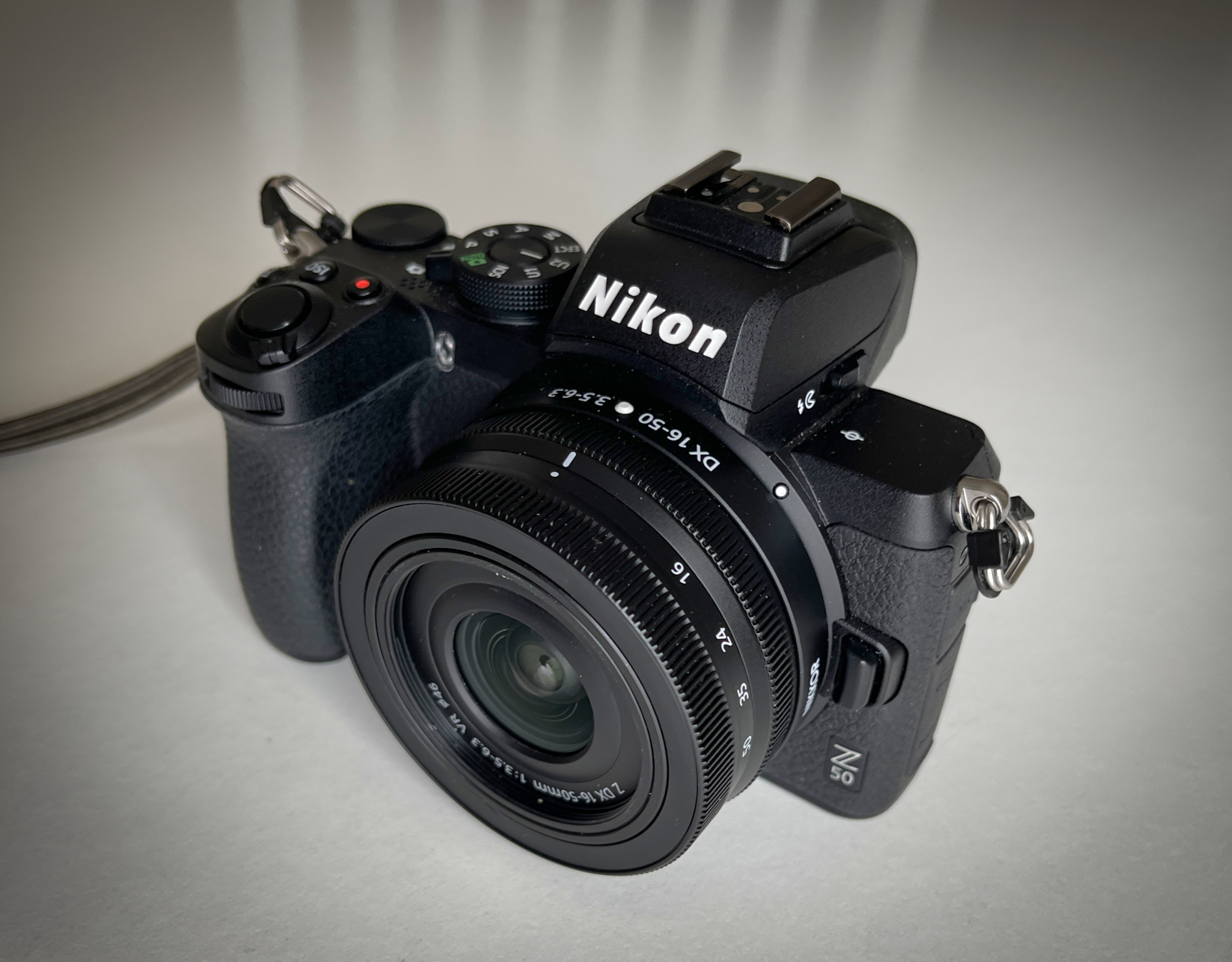 I know it's not a camera's fault it's the user, however for a device Nikon said was aimed at smartphone shooters I expected more.
Outmoded
The Lumix and Canon both had good hand held night modes but the Z50 doesn't. It's like stepping back in time. Without lugging a tripod my iPhone 12 is far better at night.
The Nikon also struggles in fairly modest contrast without ND filters. And it's HDR mode takes just two frames and is weak. My iPhone 12 again out performs it.
While riding I don't want to be swapping on and off ND and graduated filters but the Z50 blows bright skies so badly and dialing the exposure way down the landscape shadows lose details in post recovery.
I would auto bracket and stack images on my PC except on the Z50 this requires manually dialing the number of frames and firing each off then dialing back the frames to zero before you can exit. It actually has no one button 'auto' bracketing to easy fire off 5 or 7 frames like the other cameras.
I wish reviewers had explored the Z50 more instead of stupid pixel count and full frame comparisons. But I should know by now The Silliness of Most Camera Reviews.
The enjoyable part
The EVF is good as is the tactile experience. The Z50 has best grip of the three cameras.
It also has the best focus. The Canon would focus on anything except me using self timer and missed heaps of other shots. The Lumix was better but the Z50 almost perfect.
I like how when I flip the screen down it goes into selfie mode with two second shutter delay countdown and I missed having a flash on the Lumix more than I expected and a tilting screen.
I like the scene mode is on main dial and there is no spring loaded lock button I have to hold down – I despised that on the Canon and how it's functions were buried deep in menus.
However the Z50 disappoints in my amateur hands.
As far as photography goes I enjoy getting an image in my mind for a scene then the composition and lastly seeing I got it fairly right in camera. I'm happiest shooting jpeg and doing minor fixes. I appreciate people create amazing images in modern raw development software but I find post processing laborious and not interested in graphic art imagery.
The Lumix had no trouble producing photos equal to and sometimes better than the iPhone 12, just not sharp enough. The only photos I have used from the Z50 on the blog are where I had no alternative images on phone which always takes a better photo.
Les jeux sont faits
Canon G1XM3 – Lumix LX100M2 – Nikon Z50. There is a good amateur's camera there if I could cherry pick items from each. I'd like the Lumix controls and processing with the Canon's colour and dynamic range and the Nikons EVF and focus.
Manufacturers could build that camera if they chose to. They could have had computational photography in cameras. They claim it's not possible same as saying they cannot connect a camera direct to net, something even a fridge does.
The biggest electronics chain in Japan has stopped selling cameras in all it's stores. The end of an era. I'd love to see a compelling new amateurs camera but I think game is up and the market will continue to shrink to just professional models sold in specialty stores.
I sold the Z50. It helped pass some time during the 2nd year of Covid and with a great residual I got most of my money back. A good learning with a positive ending.