I arrived yesterday to Shikoku in poor weather but today am able to enjoy another fine day.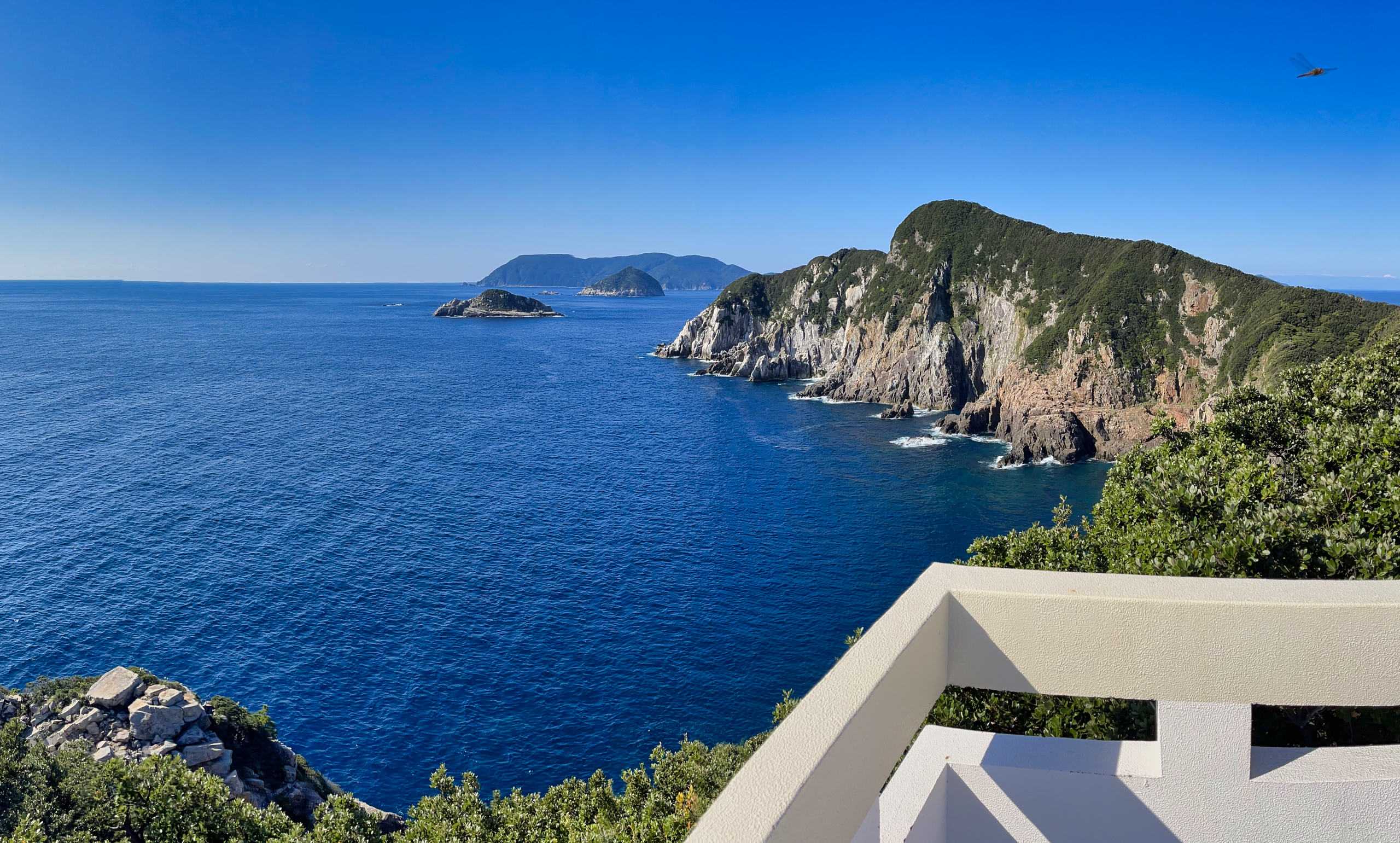 I'm exploring the cape south of Sukumo which I sailed past on the ferry to Kyushu. The ship rounded the cape at Okinoshima island that lies out there.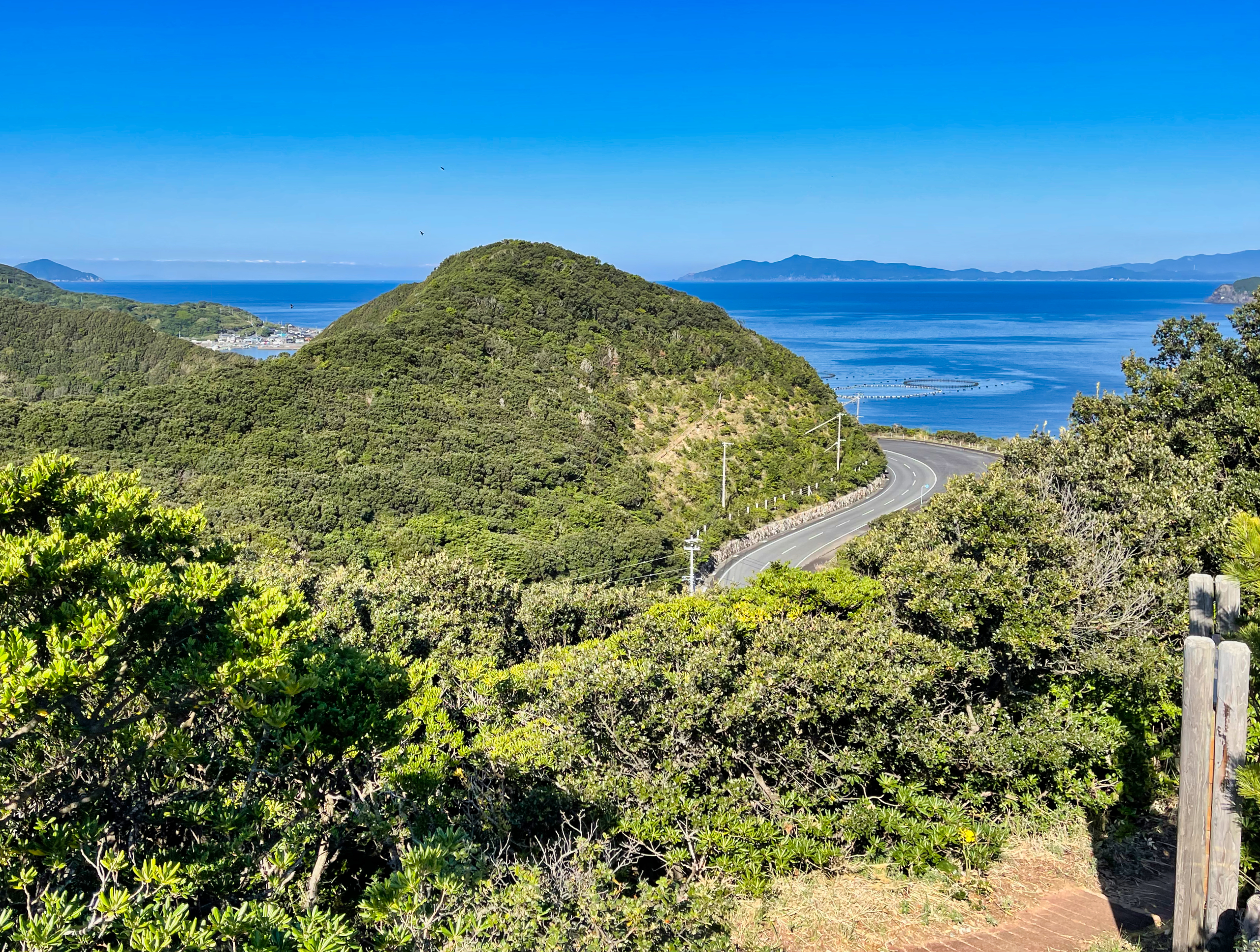 The roads here are dreamy. I move East to the Ashizuri cape but it is touristy and busy this Sunday. I like places without people best.
I revisit a hidden road I found last year. A fabulous mountain ride on a forestry access road that serves no towns thus has no traffic.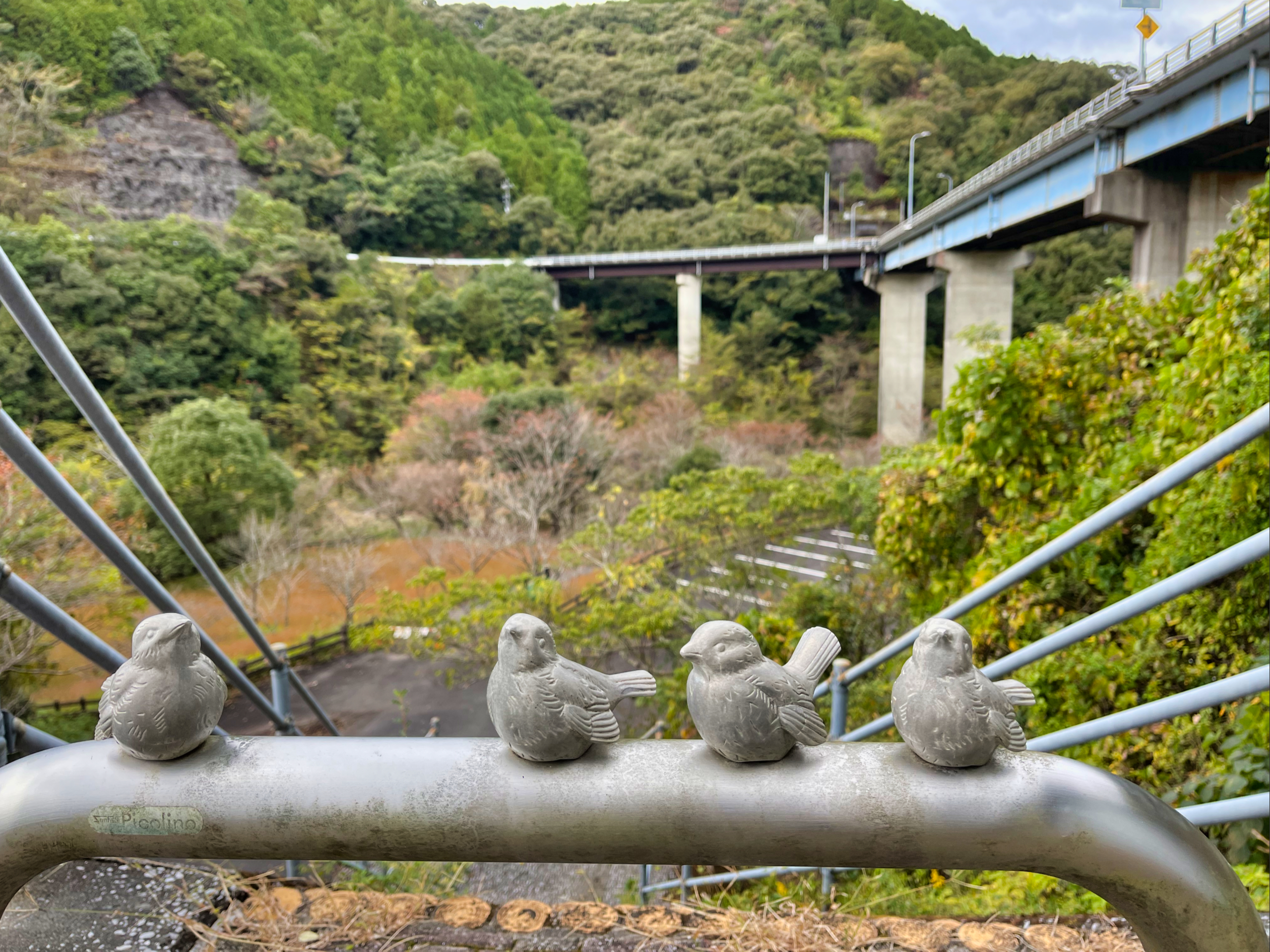 Rain is coming but it has been a great day. Stopping to use a toilet in a remote park I was delighted as always to find it spotless and the sensor taps at hand basins had switched from cold to warm water to fit the season. In Australia it would all be vandalized.
Next day the rain has set in. I abandon my route and slosh north on the highway. When it gets heavy I seek shelter at a parking area with a farmers market. I hang around for most of the Beatles Revolver album playing on the PA while sitting with these guys who didn't like the rain either.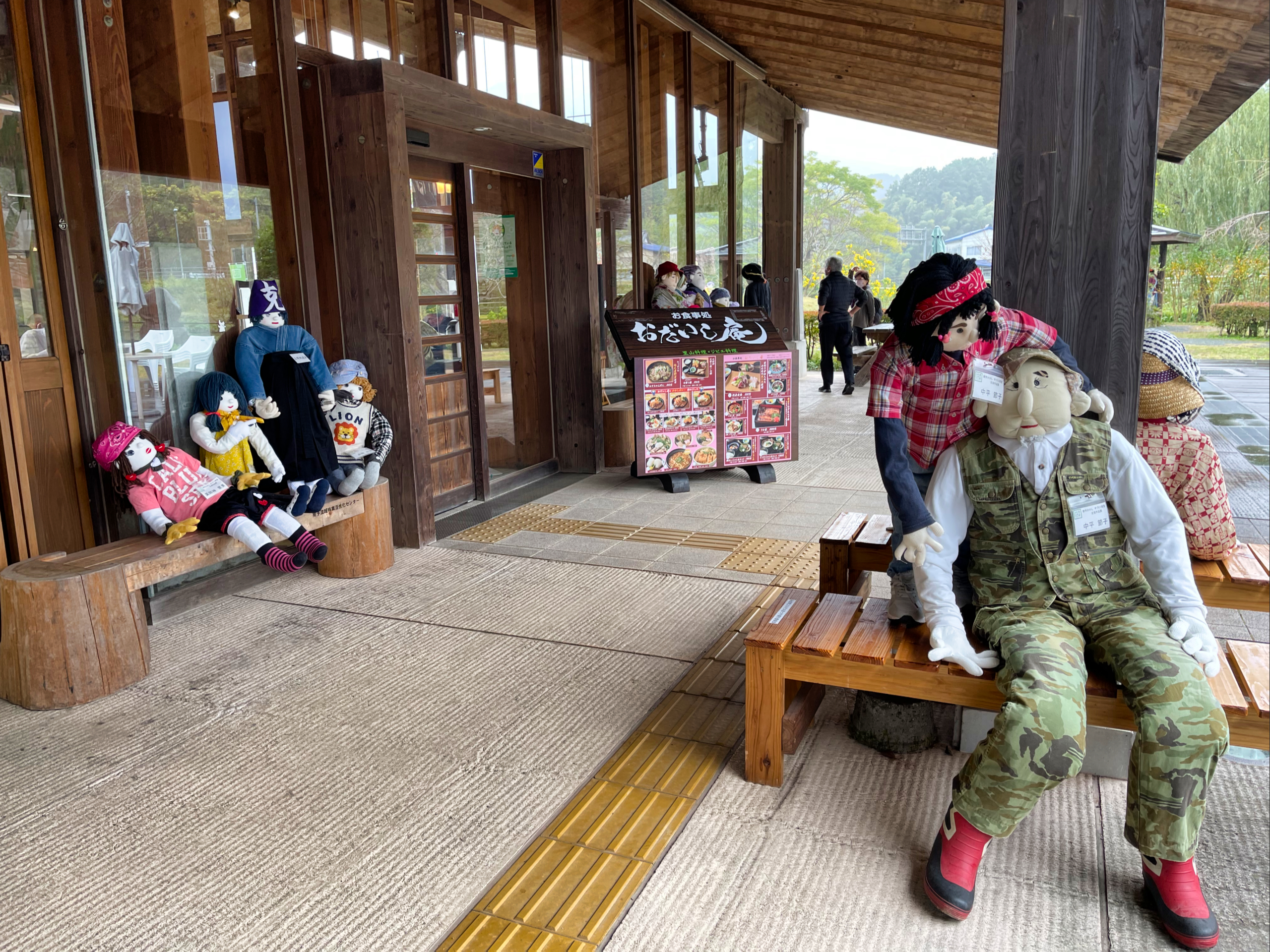 Once it eases push on a bit more until skies get very dark.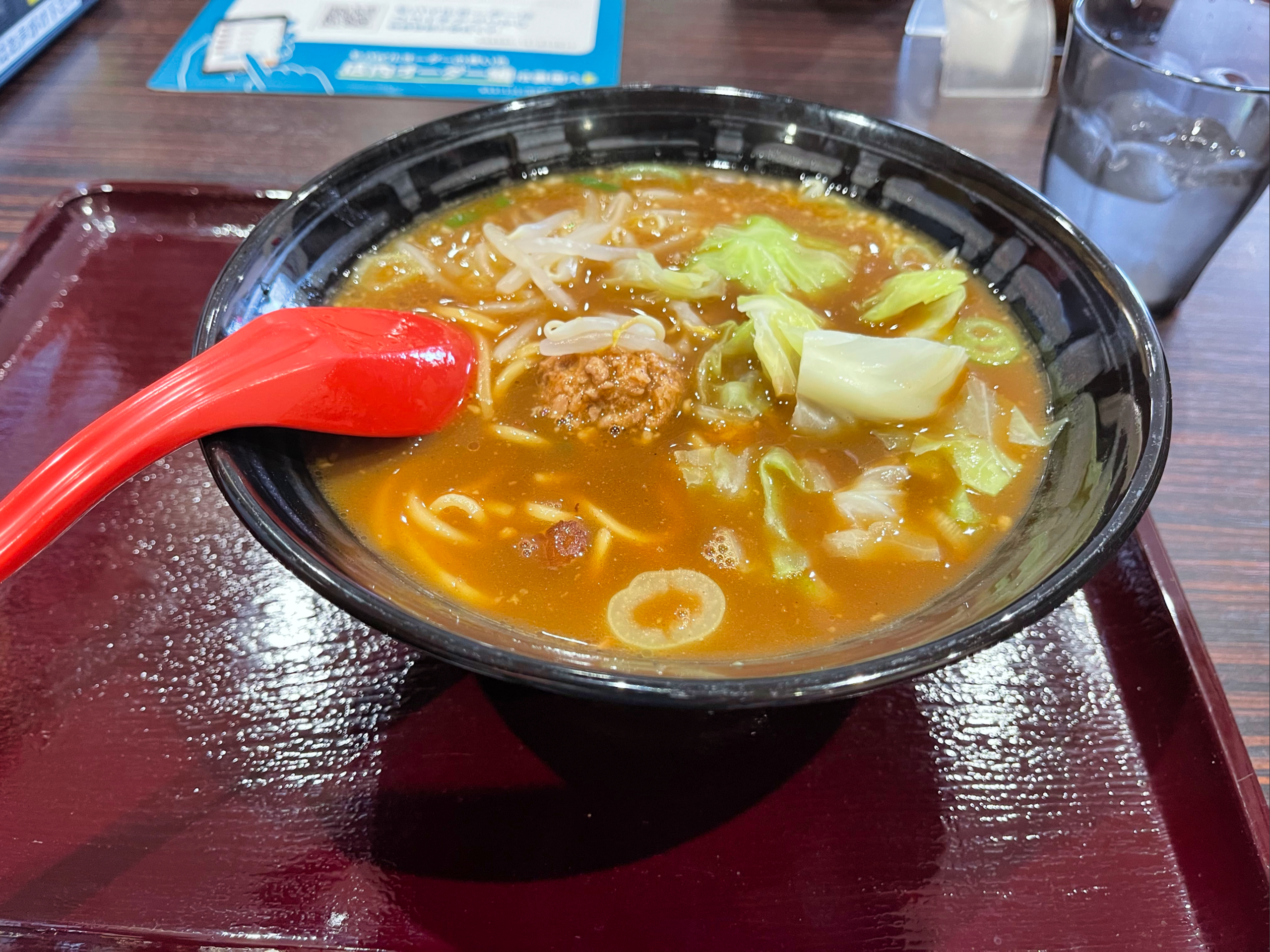 Another rain break, lunch of Japanese style curry ramen.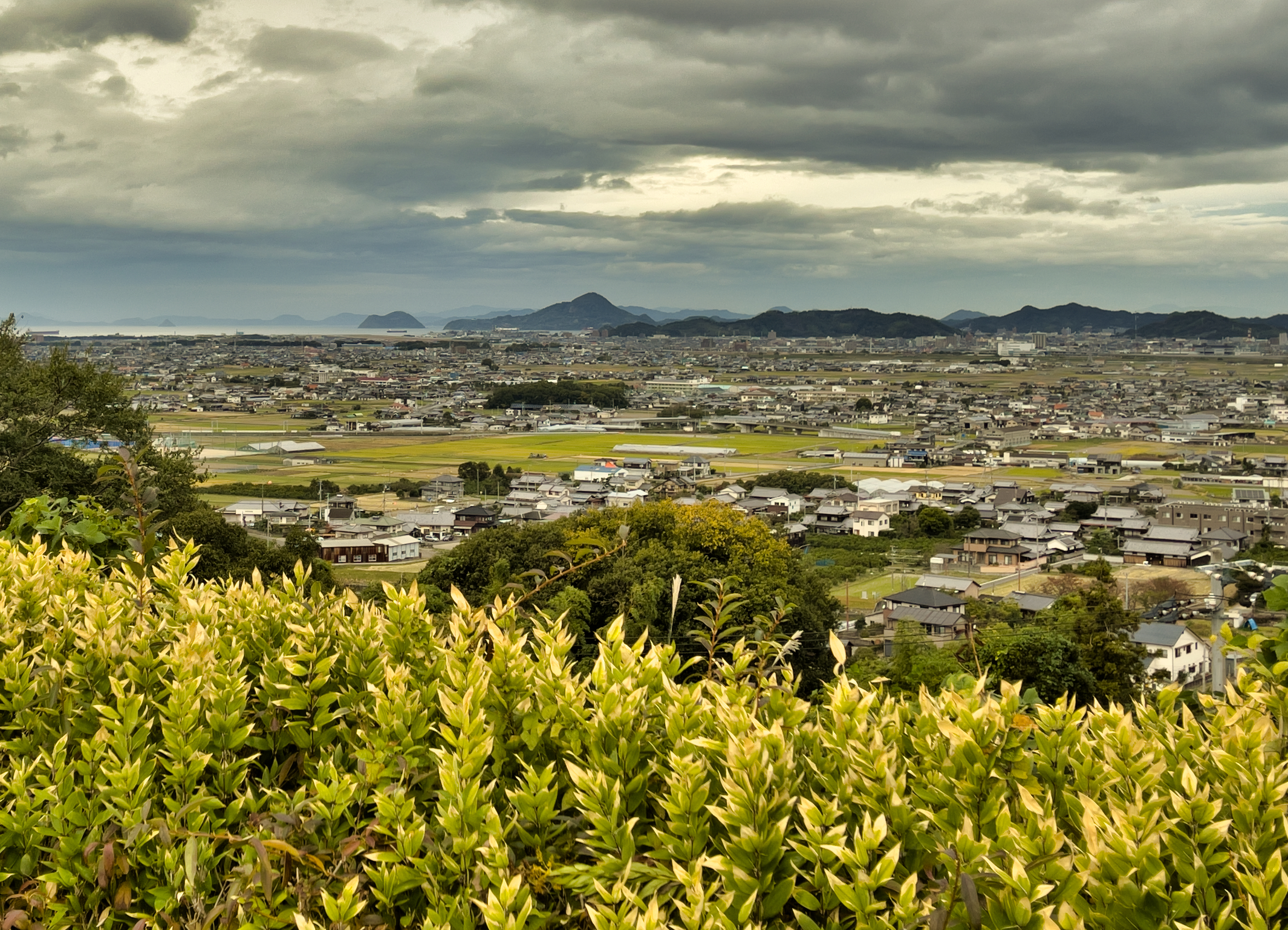 Before long I am overlooking Matsuyama and then checking in to my hotel before more rain.
I have posted previously of the amazing sea bridges across the Seto Inland Sea, it is a favourite part of Japan for me. This morning I am taking a ferry across for a change.
It is a beautiful boat with many nice areas to enjoy the sailing including unique deck pods. Alas the weather today is not good with mostly grey skies but it is a very scenic way to cross, something I will try again.
Arriving Kure it is dark and gloomy but I have couple of hours before I can check in so sit in a 'Joyful' chain family restaurant an hour with long lunch.
There is a break in the clouds so I quickly make my way to the closest viewpoint in my GPS and the sun breaks through just as I arrive.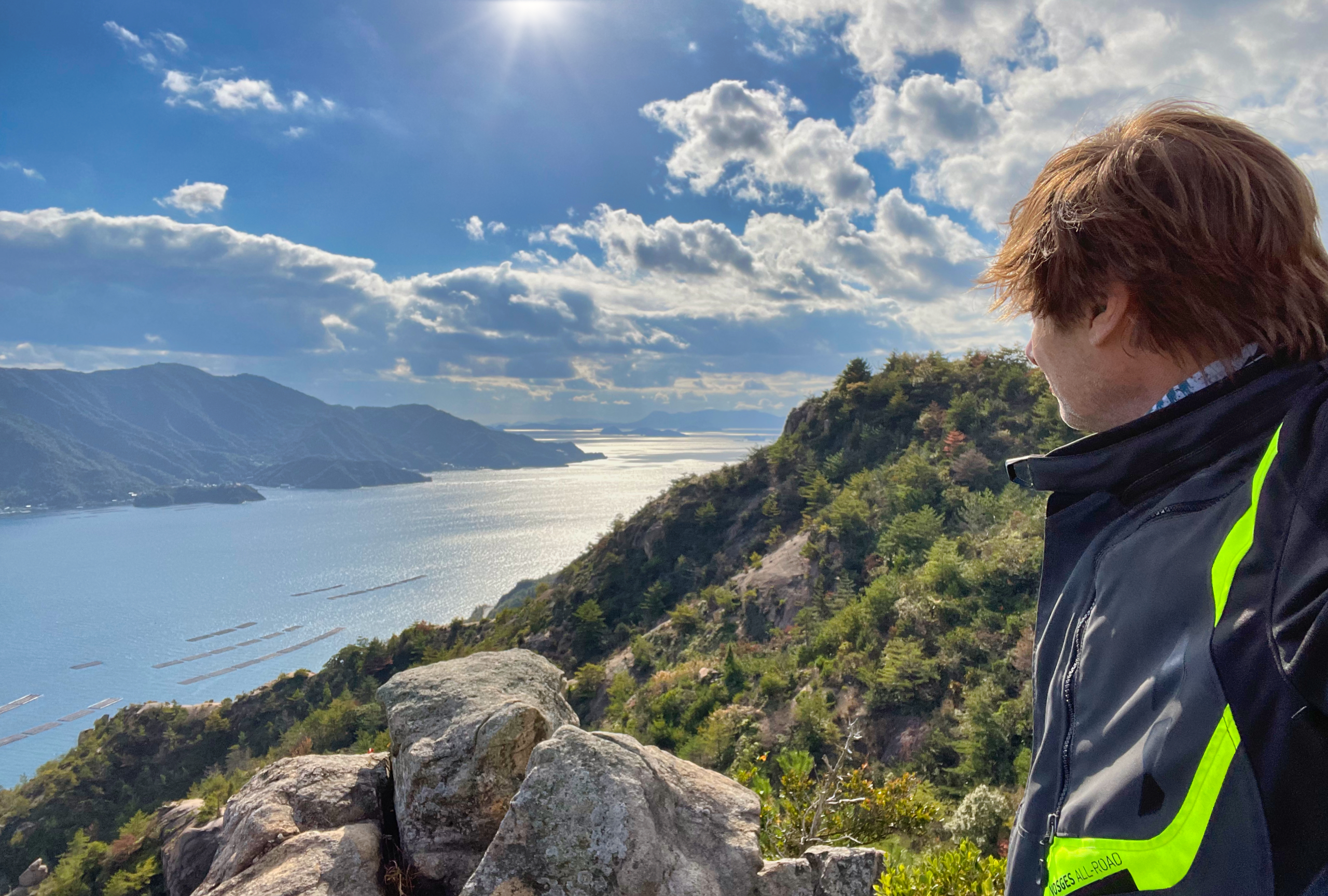 By the time I am down crossing that white bridge the sun has gone the clouds darkened and it starts to rain. I was gifted a small window to view this, how very lucky.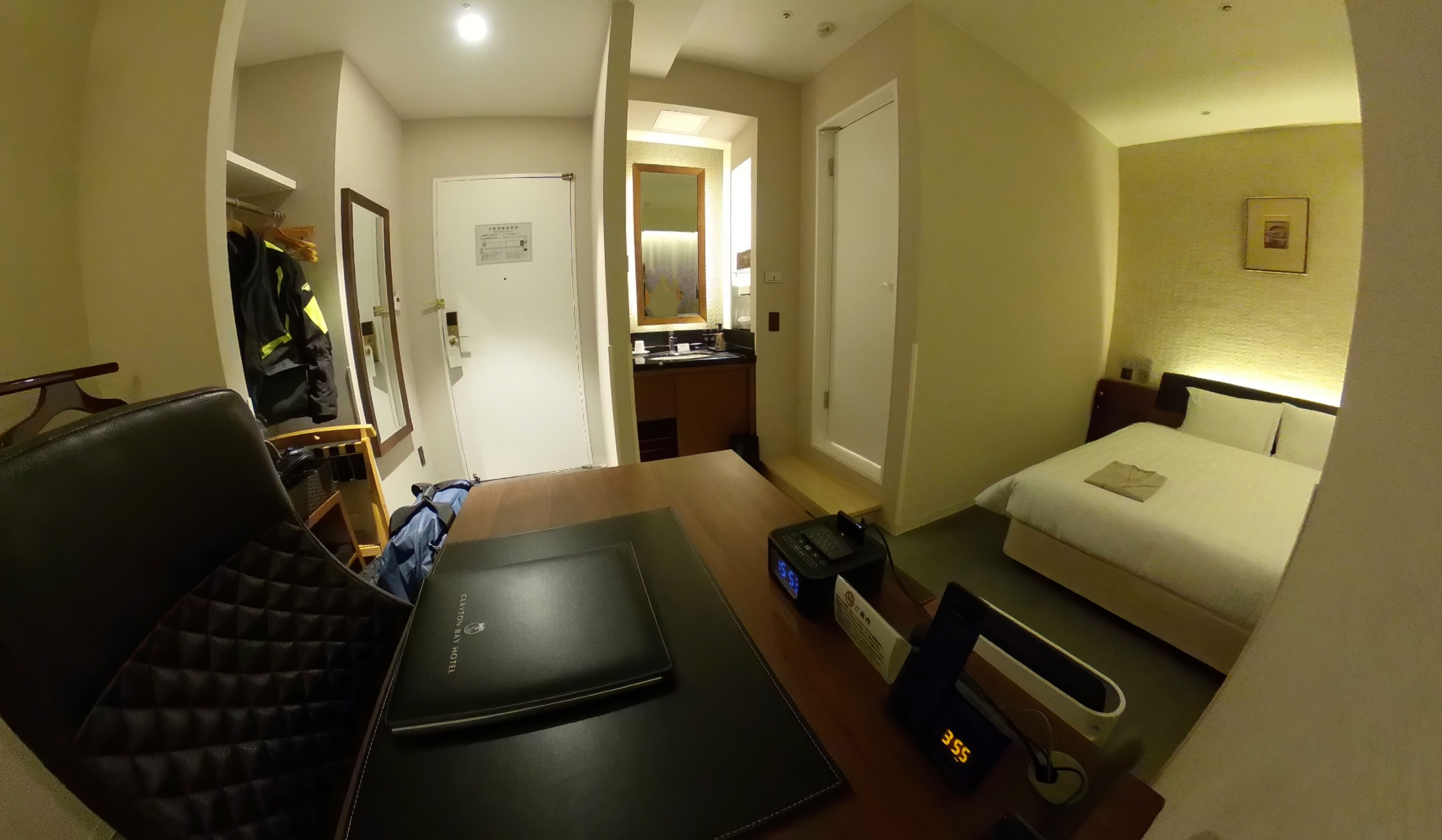 I have much nicer room than normal for two nights. Tomorrow I plan to do some island hopping.
Alas the next day is 7 degrees and passing showers. It is a shame being so close to many special places but I spend the day warm and dry. Actually I was exhausted, this moto touring gets harder as I get older.
Next morning I make my way up the mountain behind Kure and enjoy a fine view of the city and inland sea. However I can see rain lies ahead.
The lovely morning rapidly turns to clouds then rain but I persist. I am riding through Shimane prefecture at it's peak colour but alas now in steady rain and 8 degrees.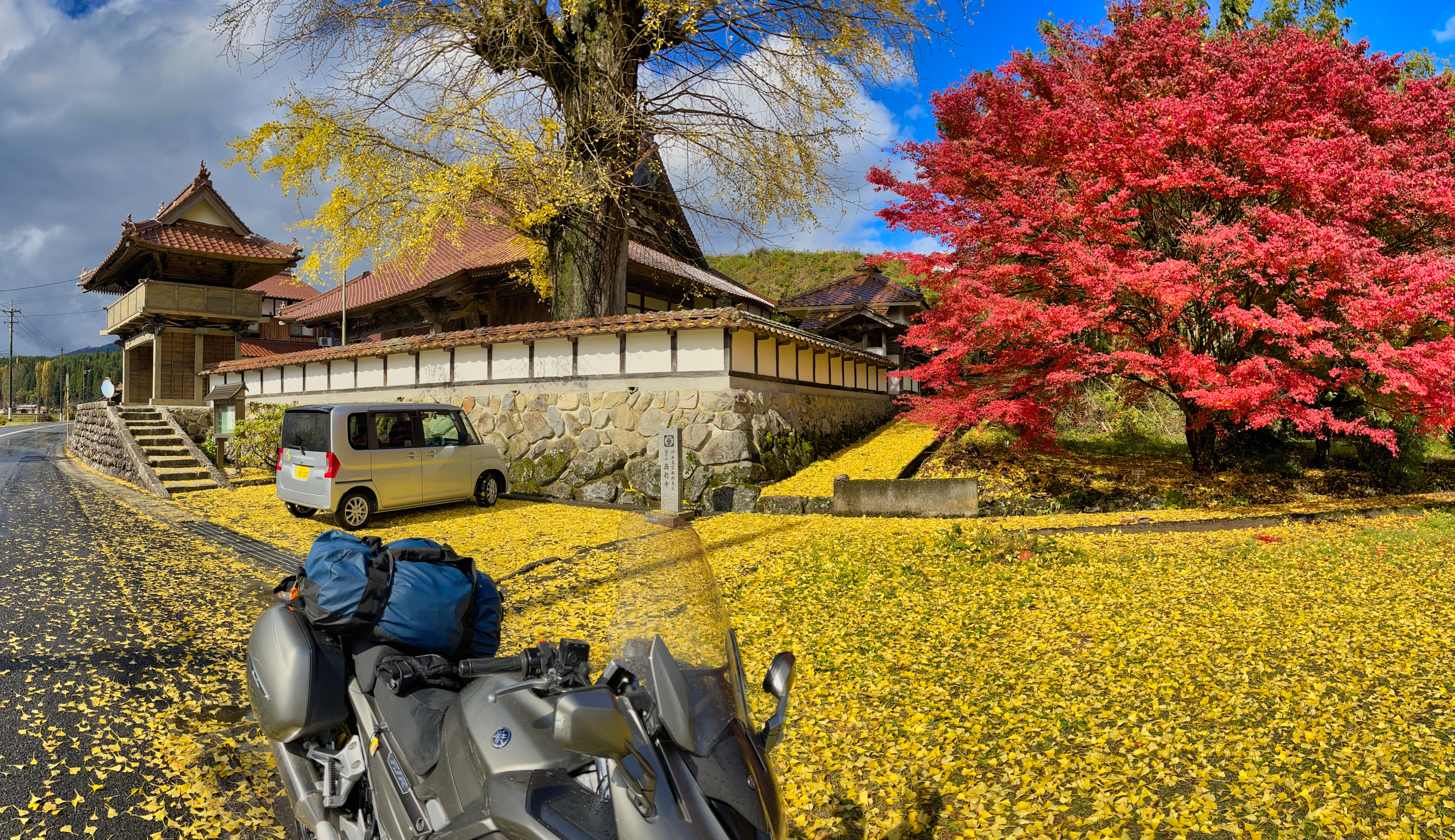 I get a break in weather around noon as I pass this temple and arrive in a small town with a 7/11.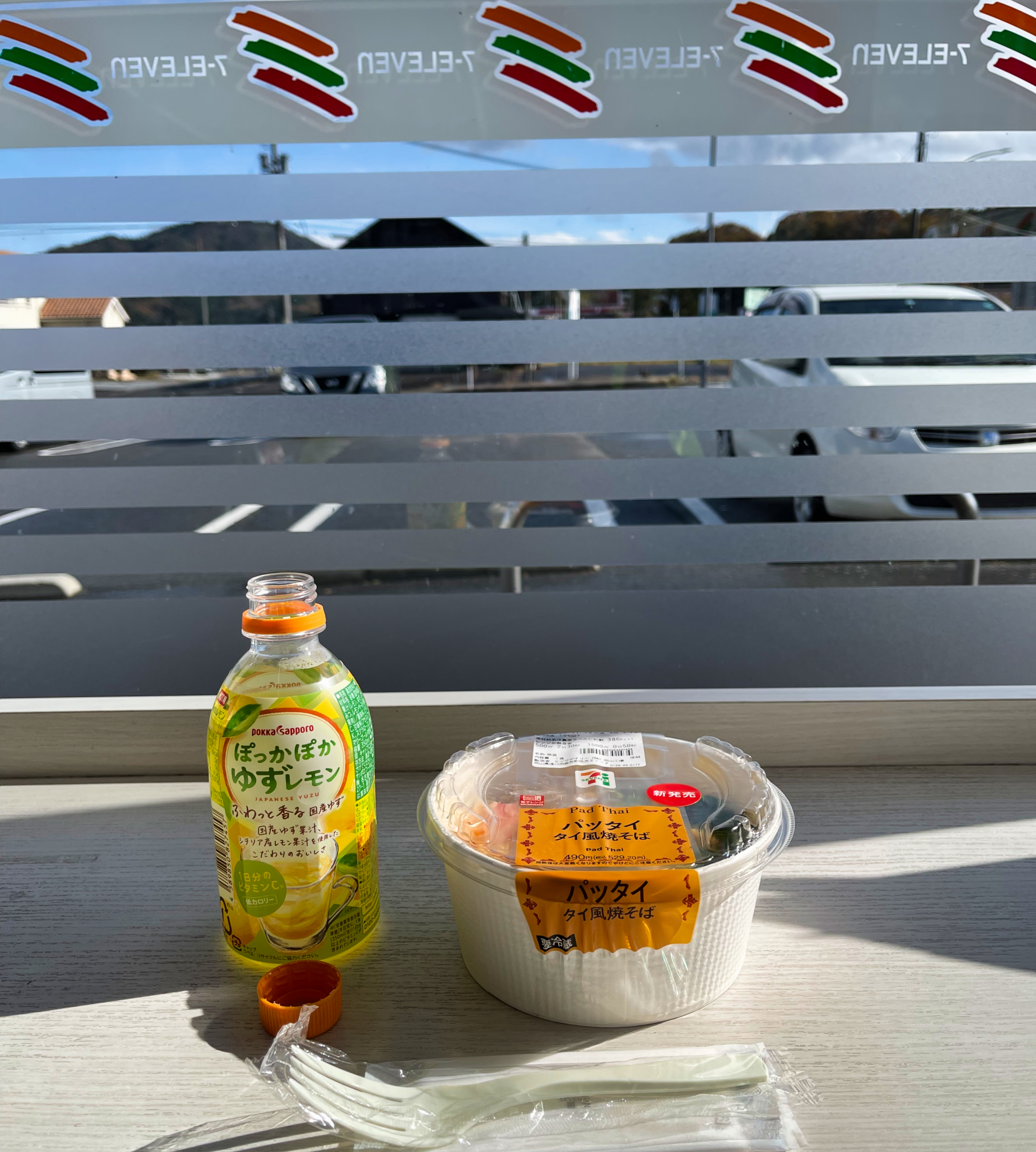 Hot lemon and warm Pad Thai in the 7/11 eating area is welcome break.
I am determined to ride my route after lunch but run smack into really heavy rain, the sort that will defeat almost any rider gear which is not an option at these temperatures. I turn and point my front wheel towards better skies and retreat south to the expressway.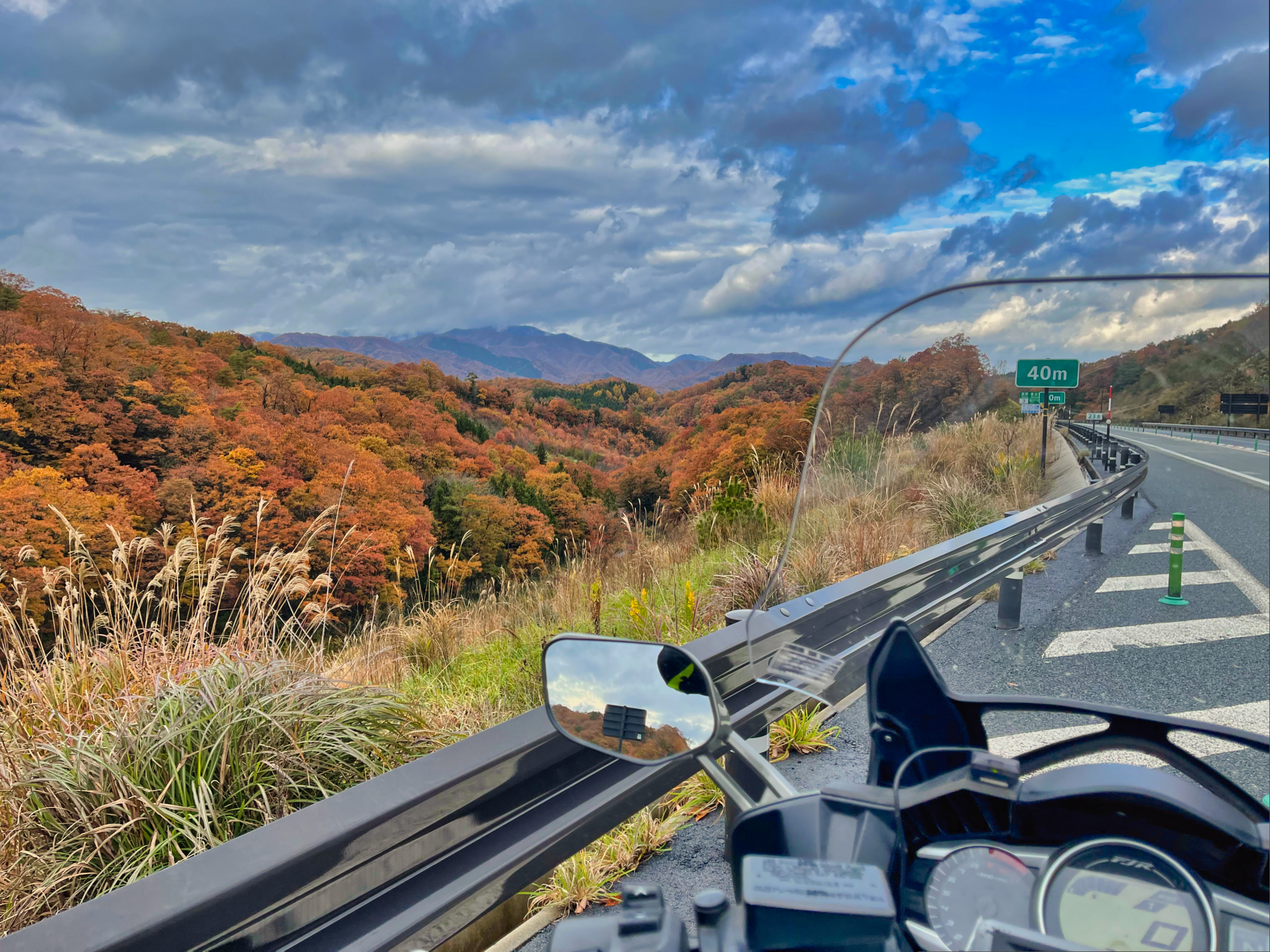 Cutting back across north the entire mountains are orange however gray gloomy skies and being on a expressway with no place to stop make it hard to capture. Temperature has fallen to 4 degrees here yet the FJR protects me from a cold wind blast. Another reason I don't ride a ADV bike in Japan.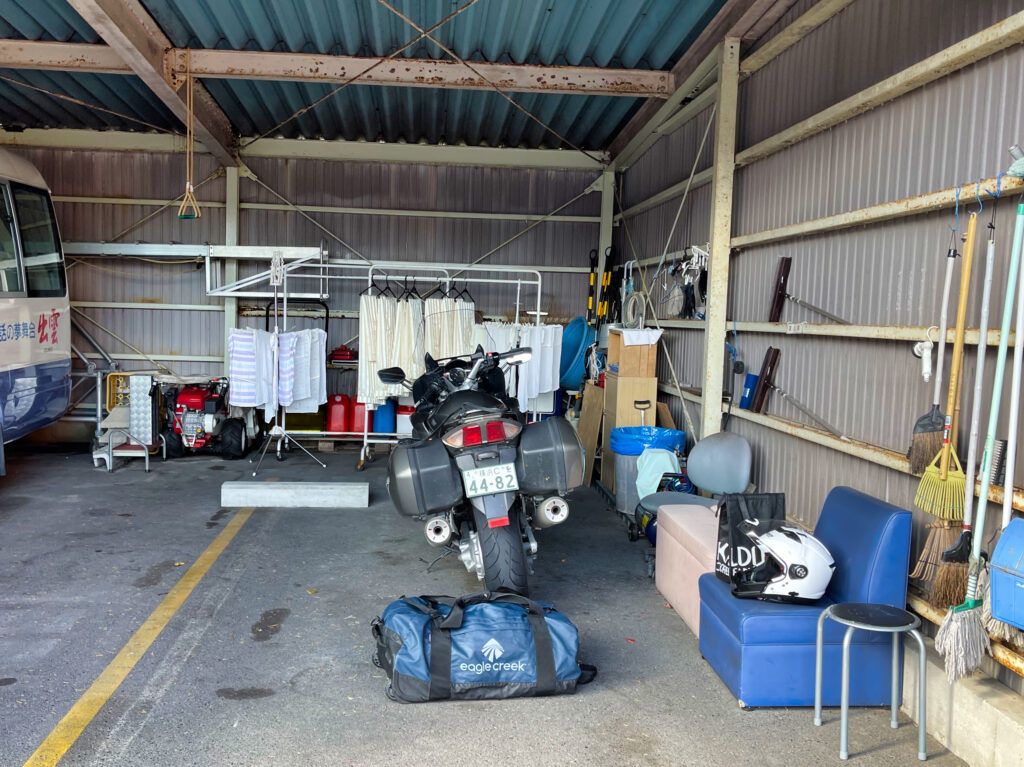 Please park your bike in our private garage. Royal Hotel Izumo, I will be staying here again when in this area.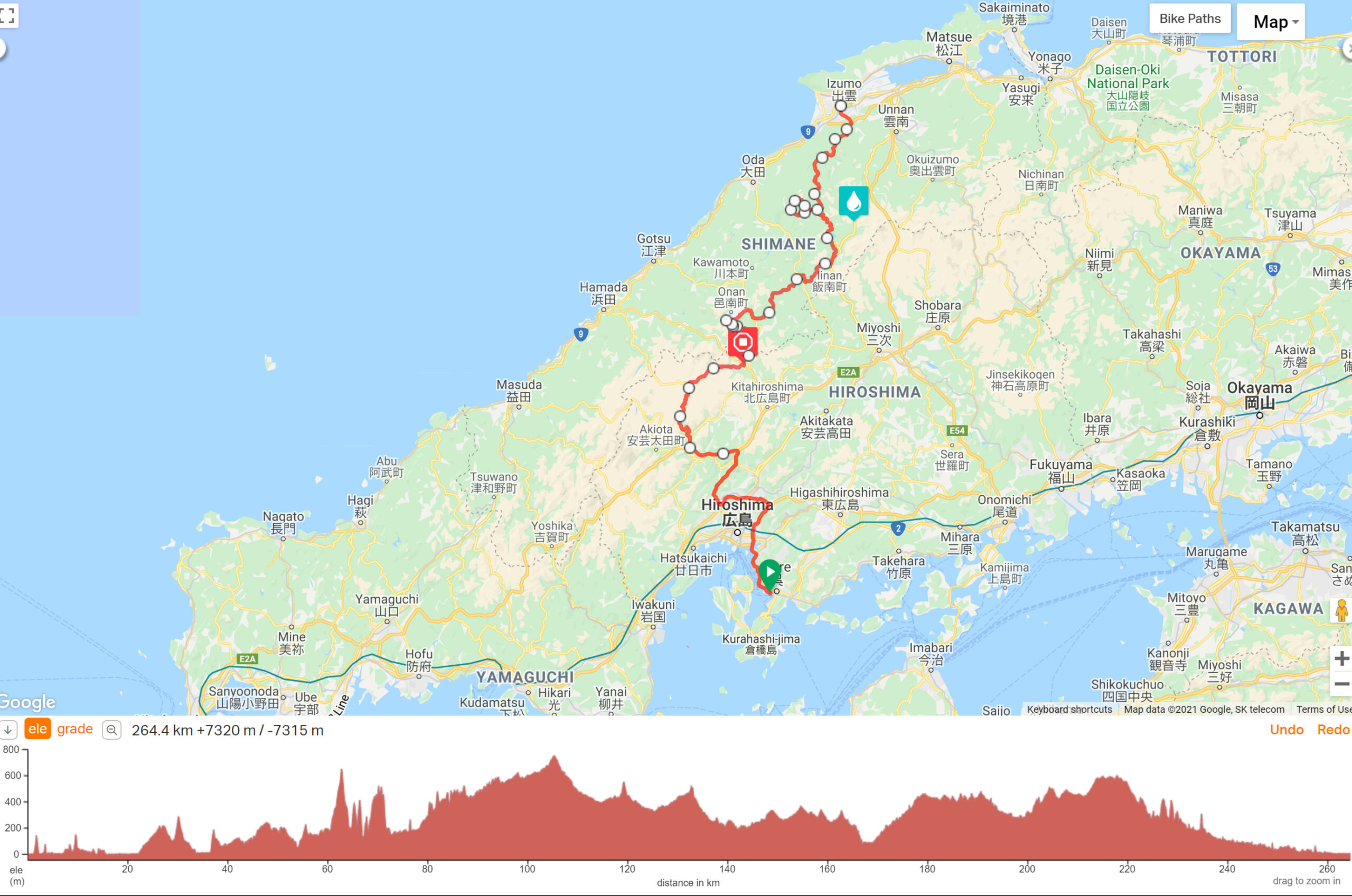 In the morning it is 2 degrees and radar shows snow falling in high mountains. Ok, no point setting off early.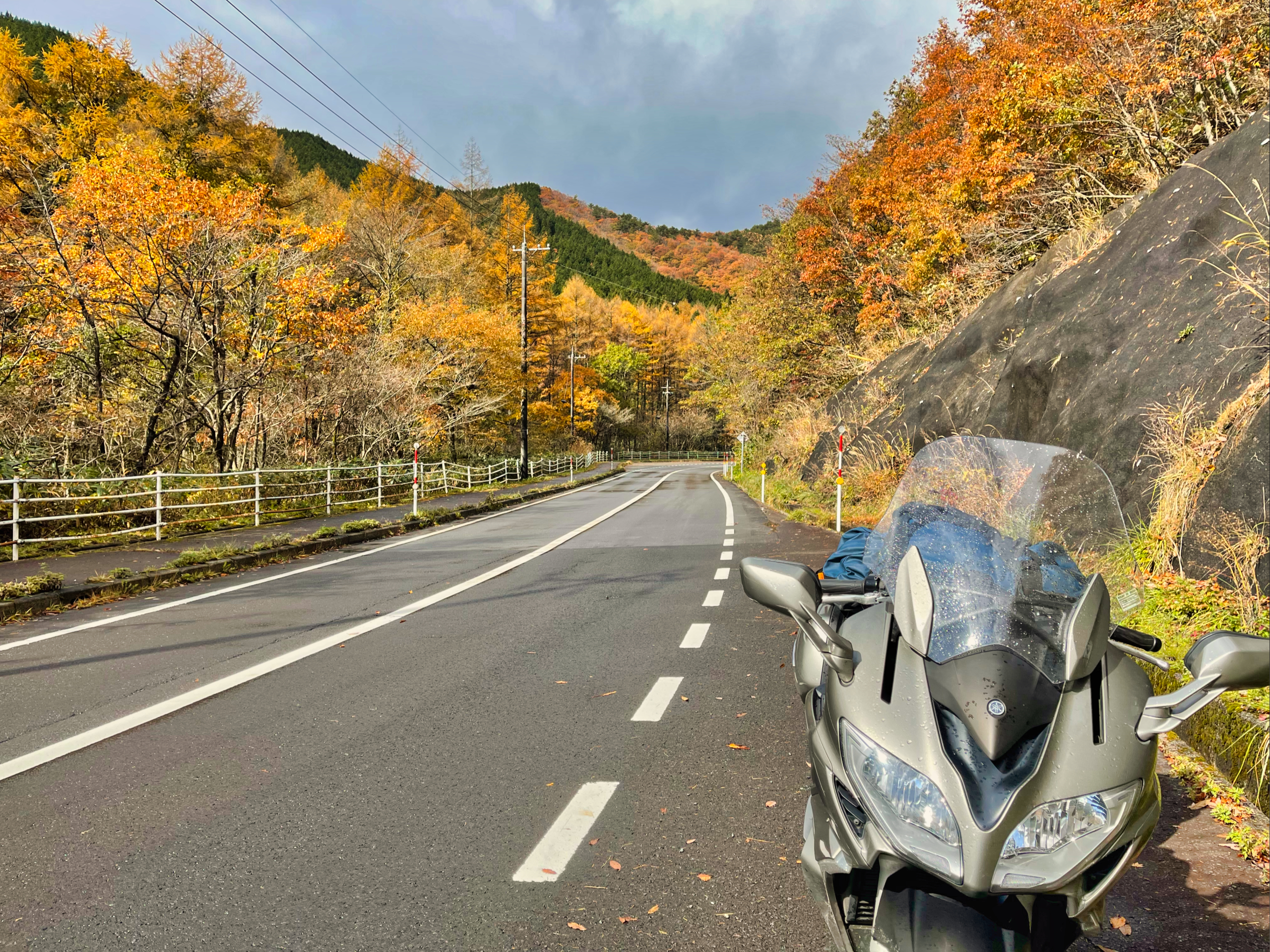 The rain is not heavy, passing showers. The sun tries to break through but the grey light washes out the colour of my photos yet I hope you get an idea of how amazing natures show is here.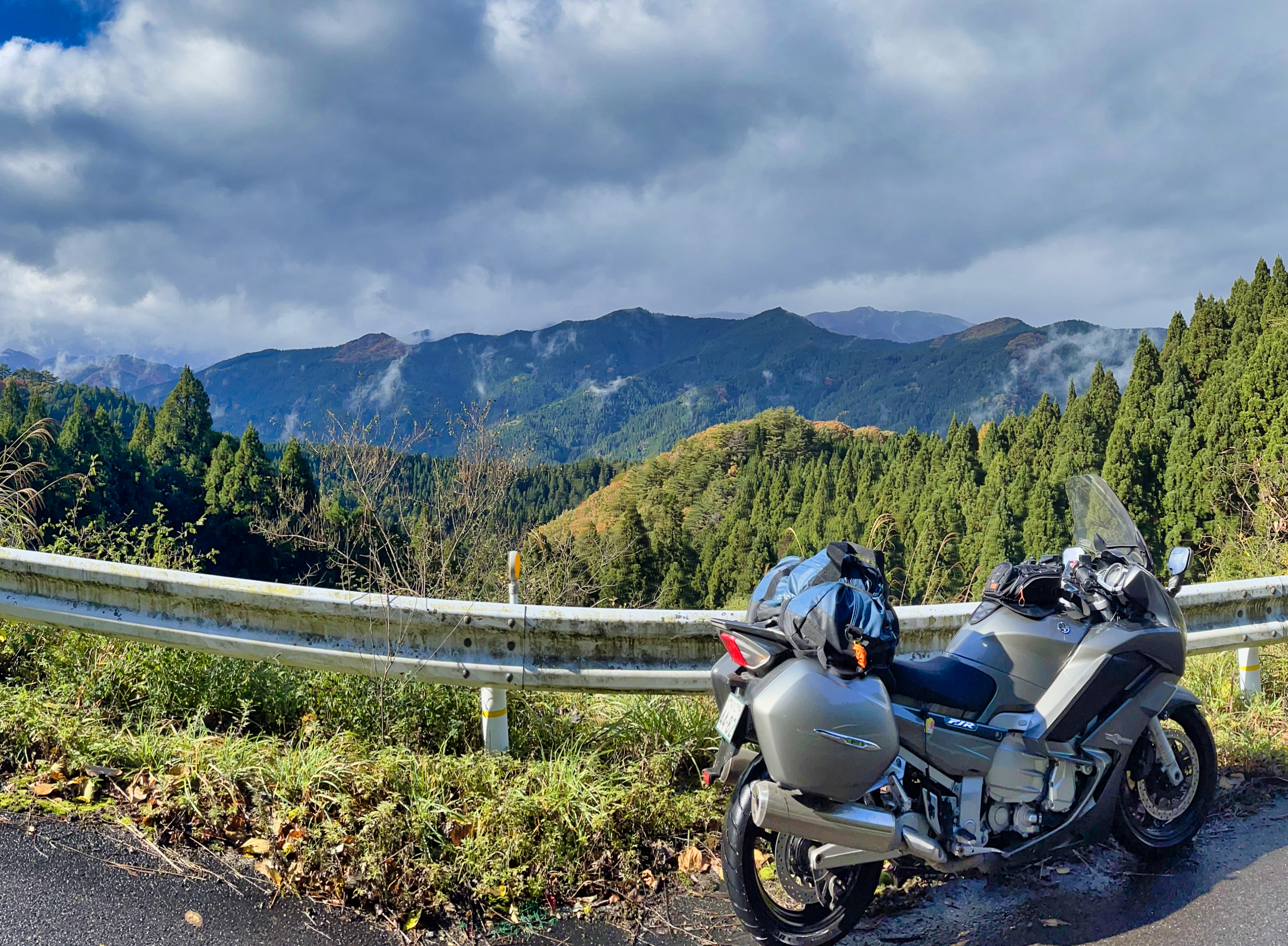 I abandon my route which was carrying me into bad weather and ride an arc just out of the rain on some nice sweeping roads then give up entirely and take the expressway to my hotel. I must say the Dunlop Roadsmart 4 are fantastic in rain.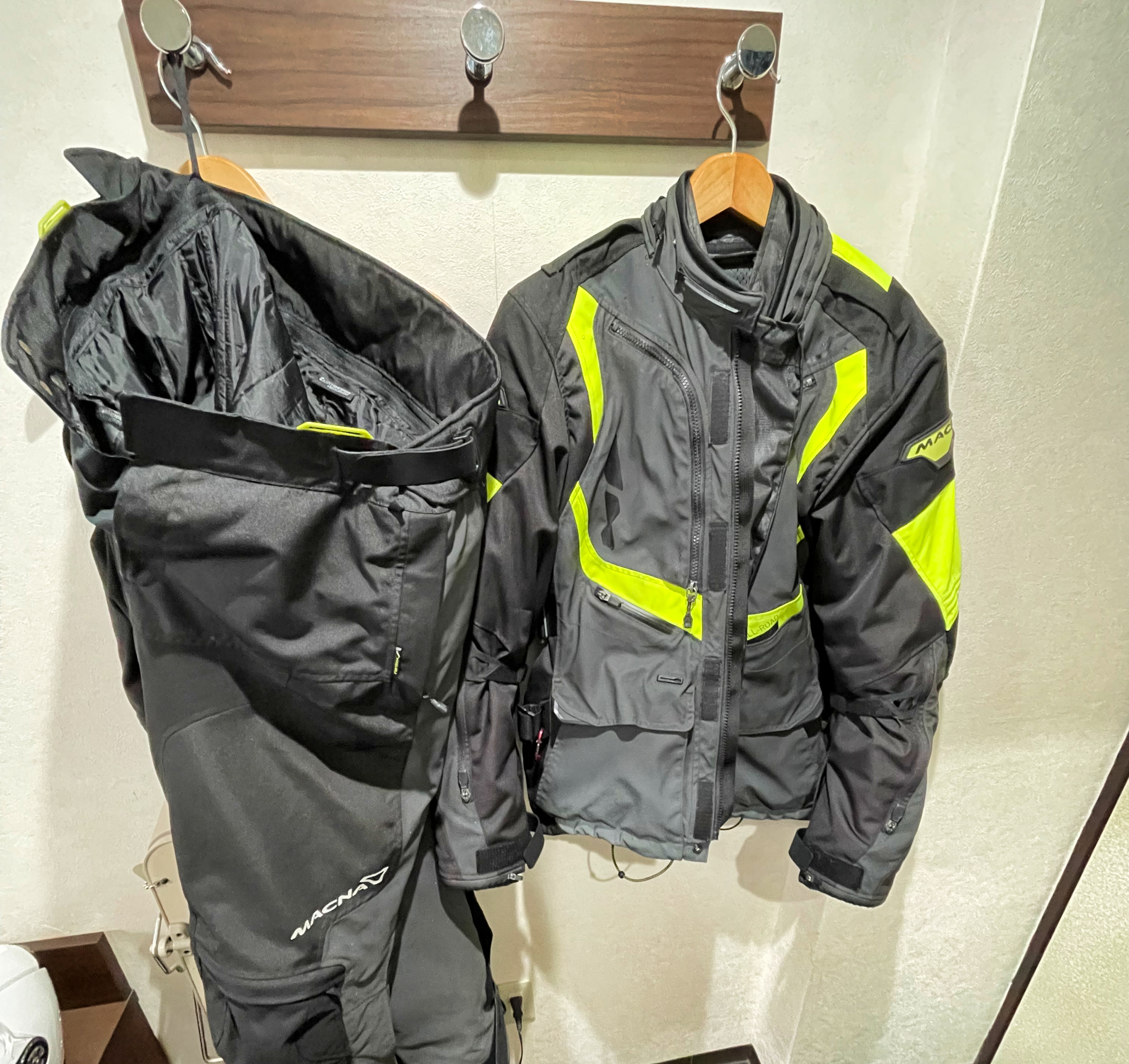 My gear performed well. I recently had to apply seam glue to the jacket rain liner when its seam tape lifted but no leaks since. I took extra time to get good seal at neck and cuffs and make more rest stops to keep checking and adjusting and giving the gear a break to dry a little. I remain warm and dry each day.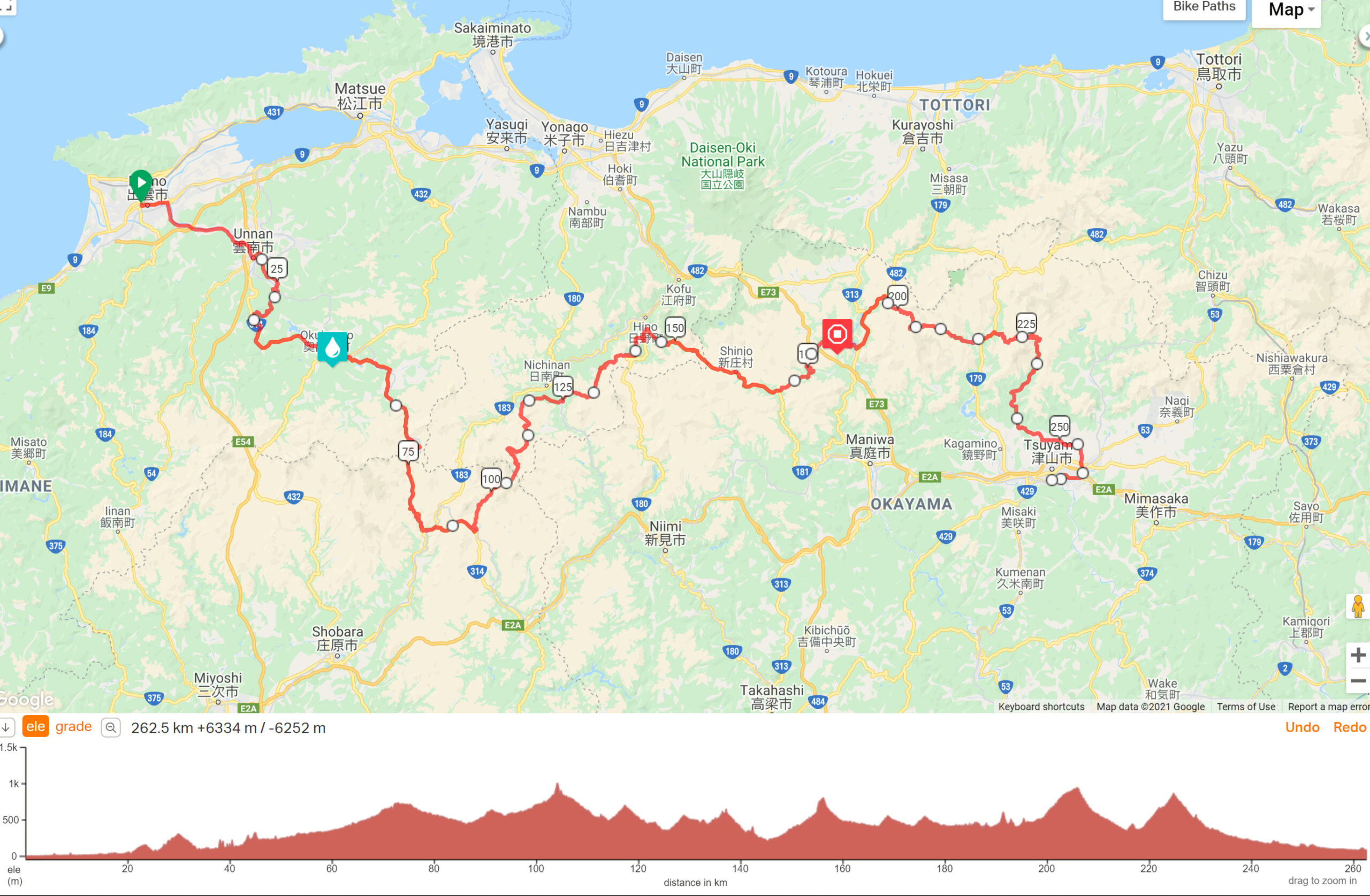 Hotel breakfasts are one reason I put on weight when touring. I usually have small plate when it is a buffet but today is set course.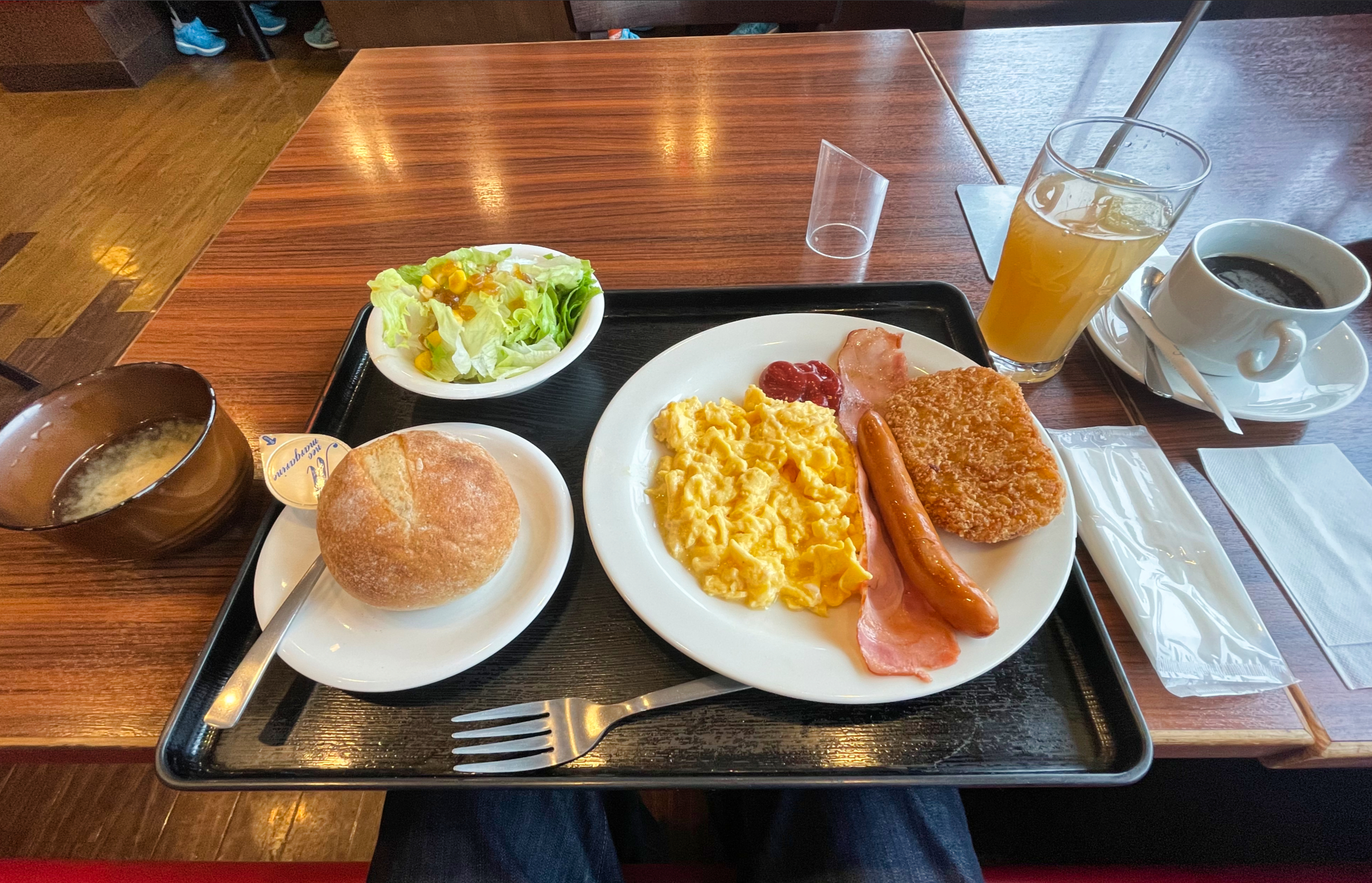 The weather improves but unfortunately I have to leave the western prefectures and make some miles today all the way to Kyoto prefecture.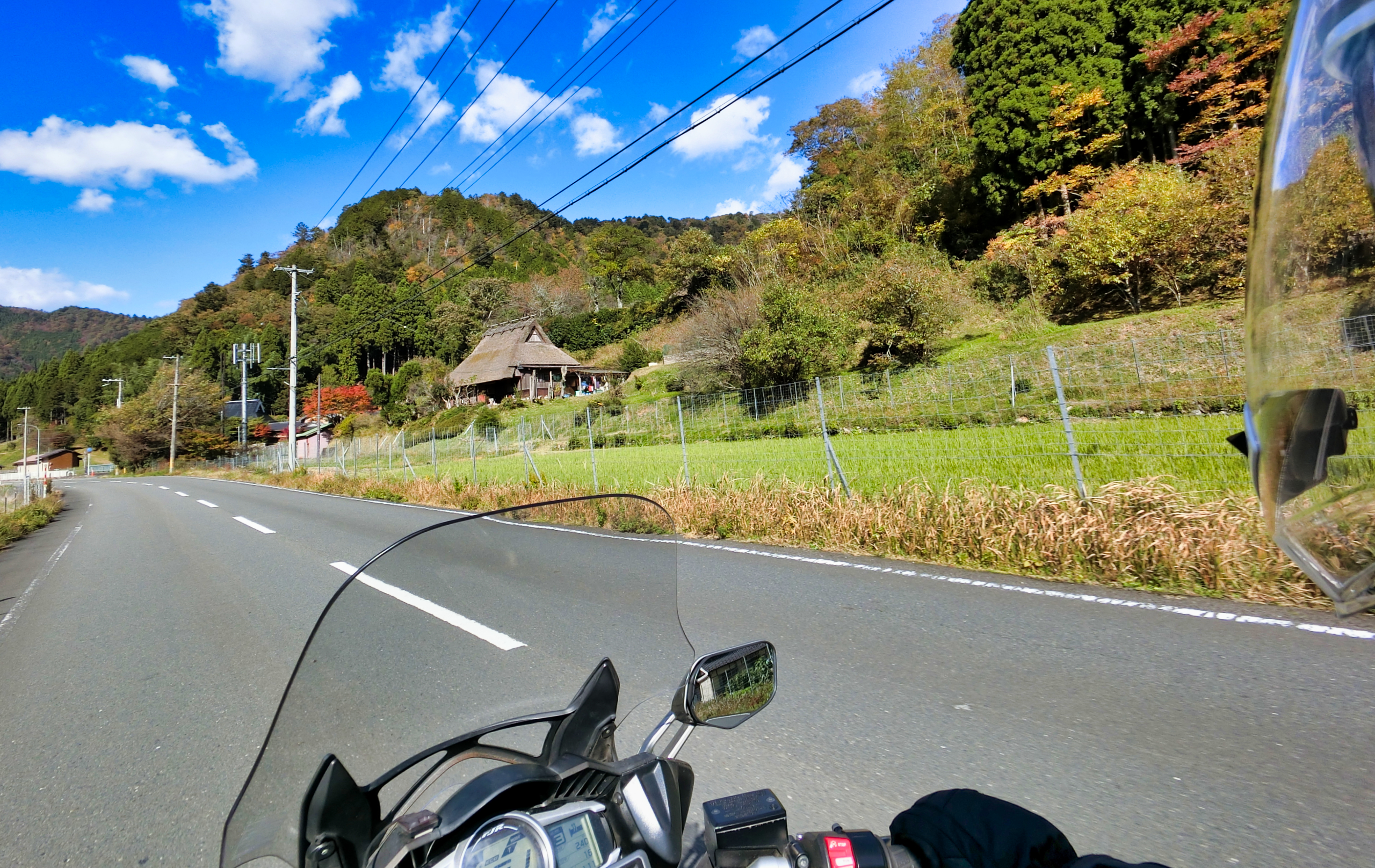 Route 162 is a popular bikers road and many riders out today. There are still traditional grass roof buildings in use in Japan, you can see many here.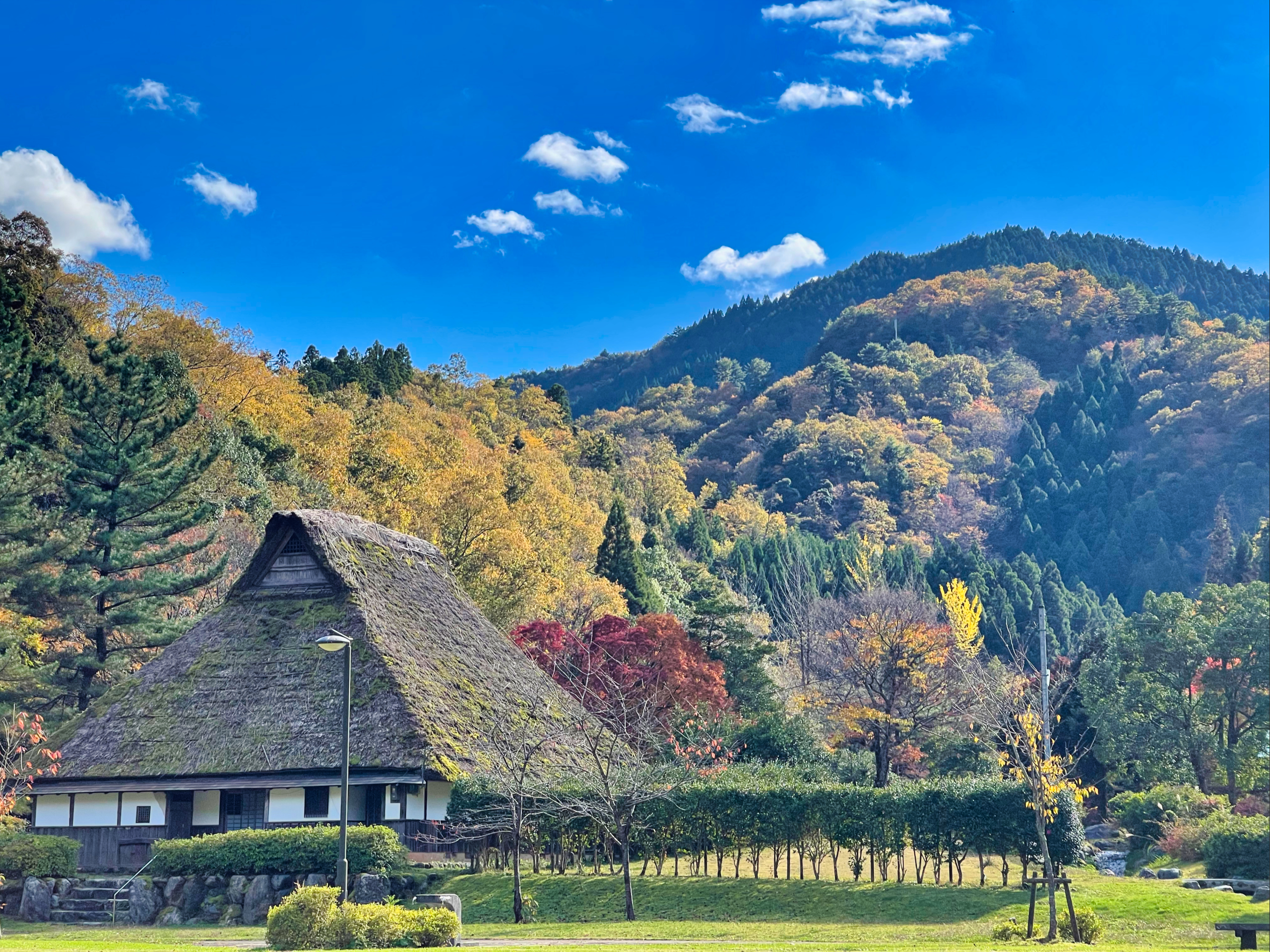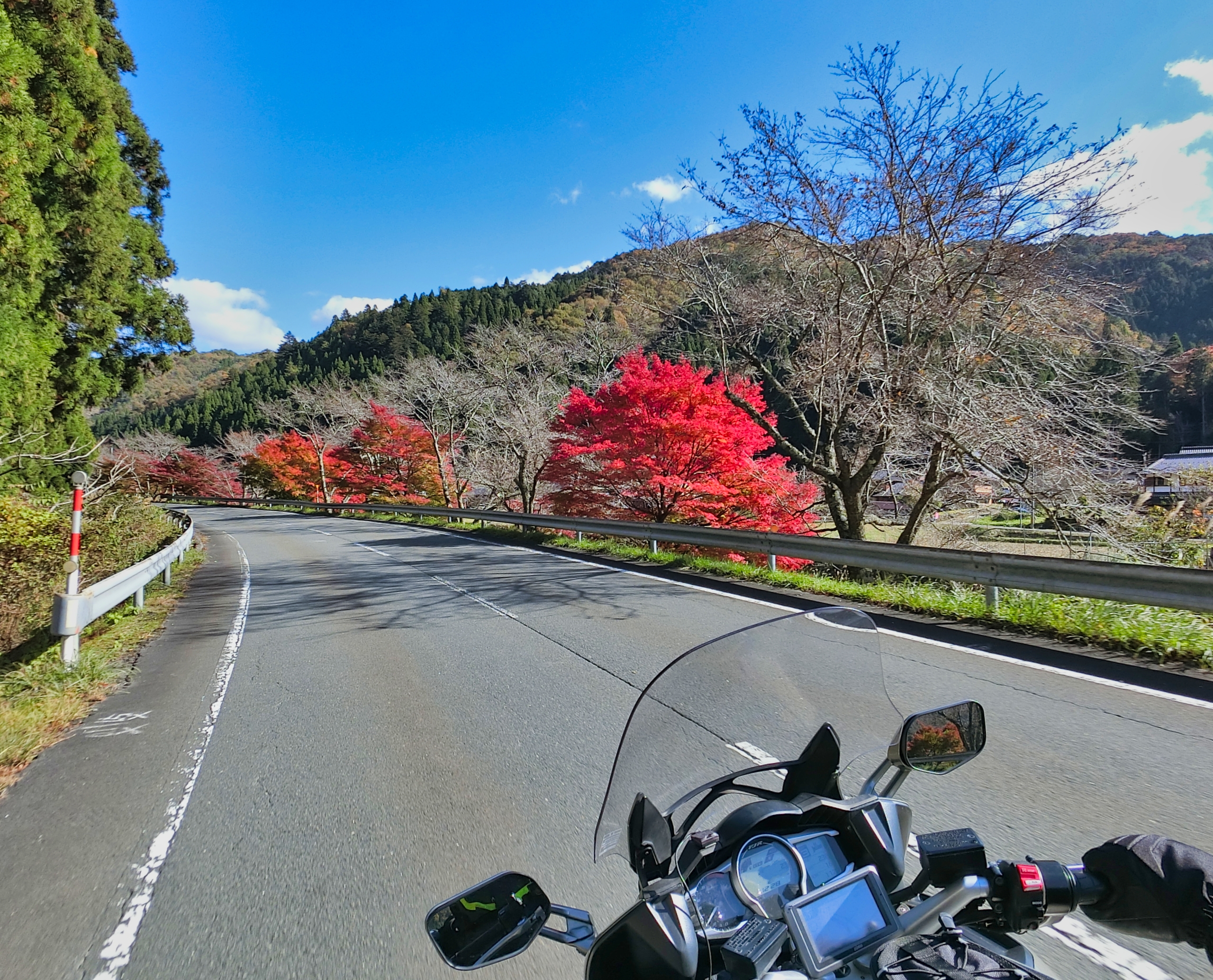 It's a beautiful open sweeping road with rural views. I really enjoy this with the turbine smooth big engine and comfy armchair bike gliding me along. This FJR1300 is a fine motorcycle.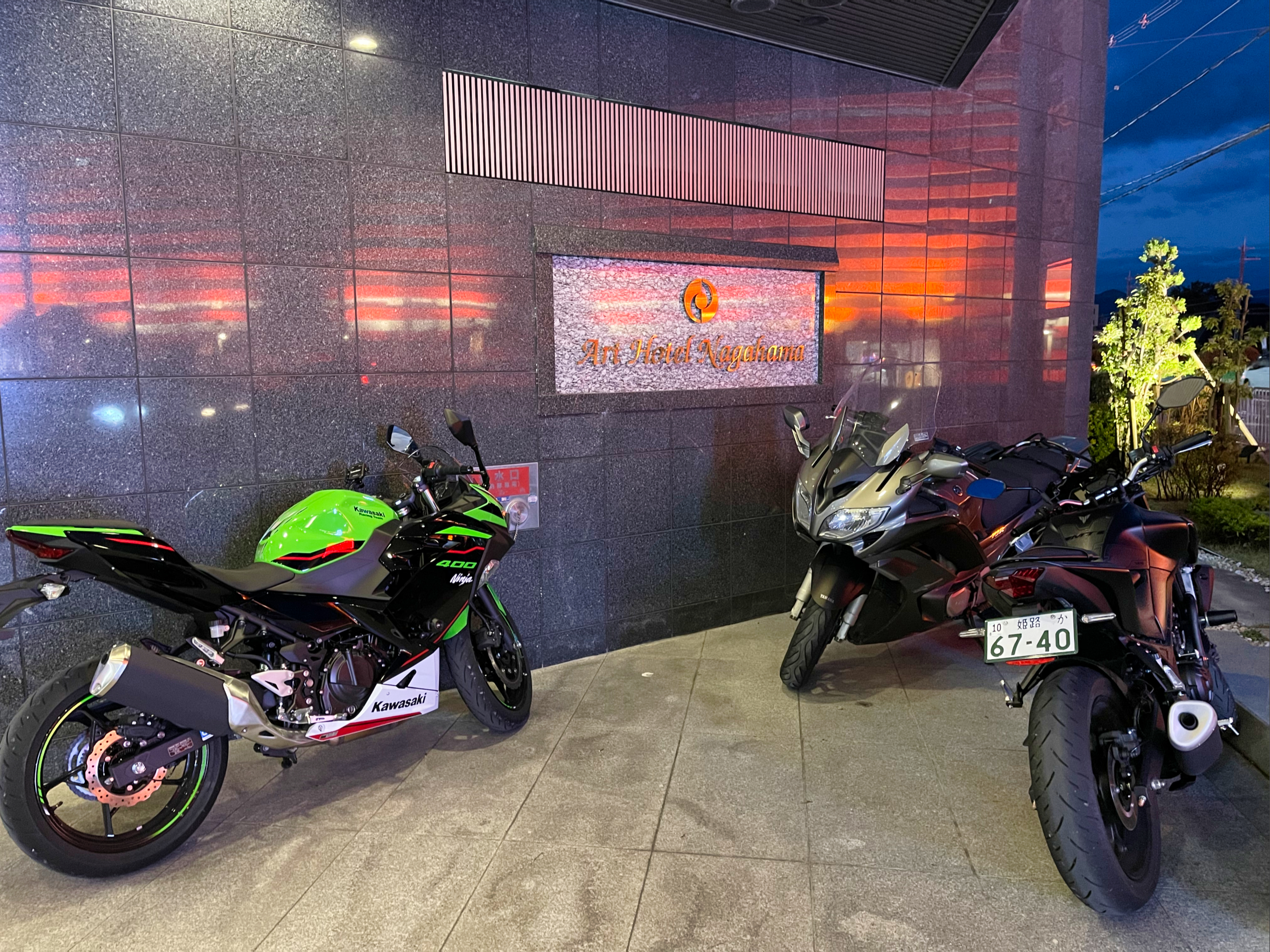 Bikes get VIP parking again at tonight's hotel.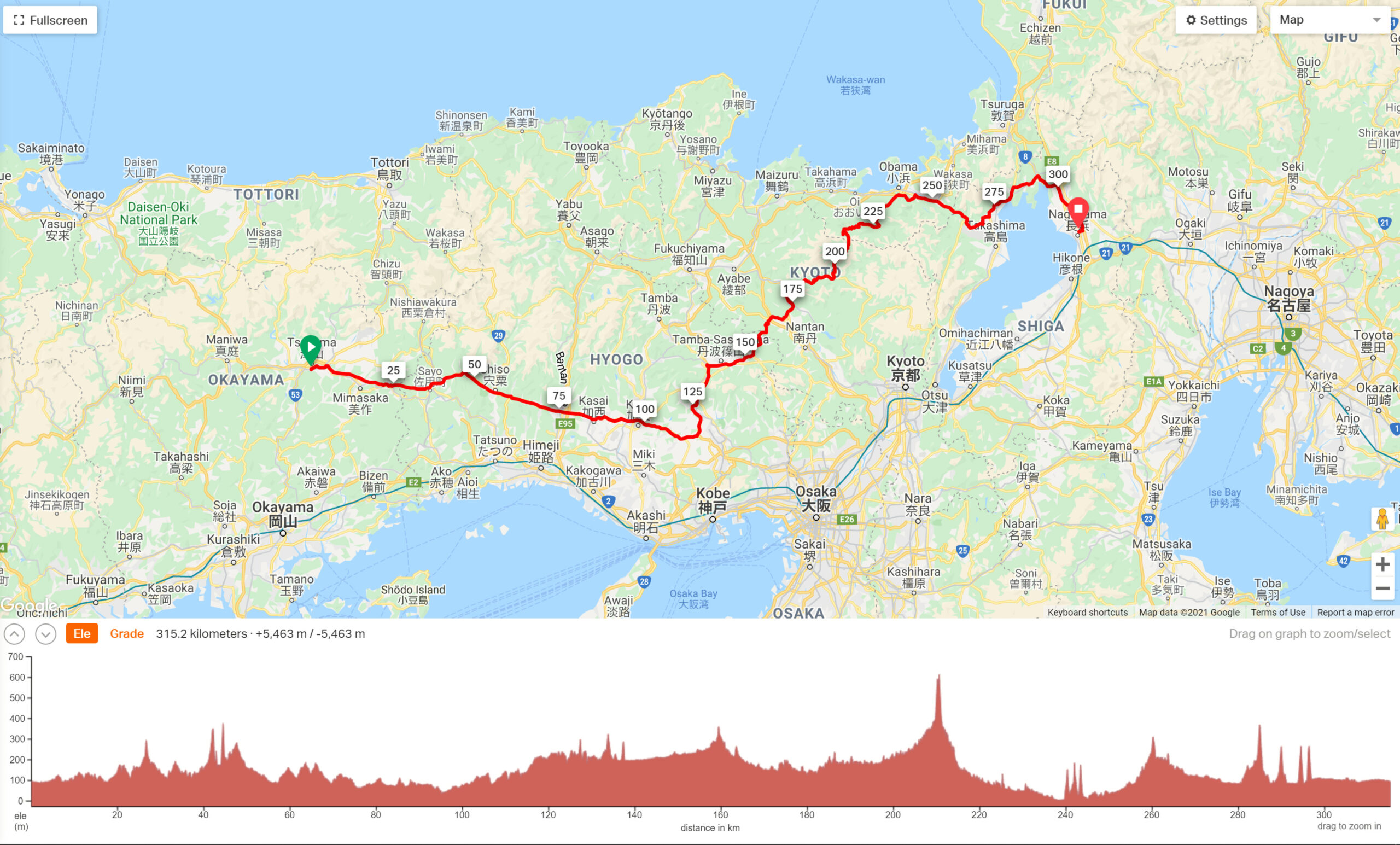 Sunday and superb weather. There are 100's of bikers out today.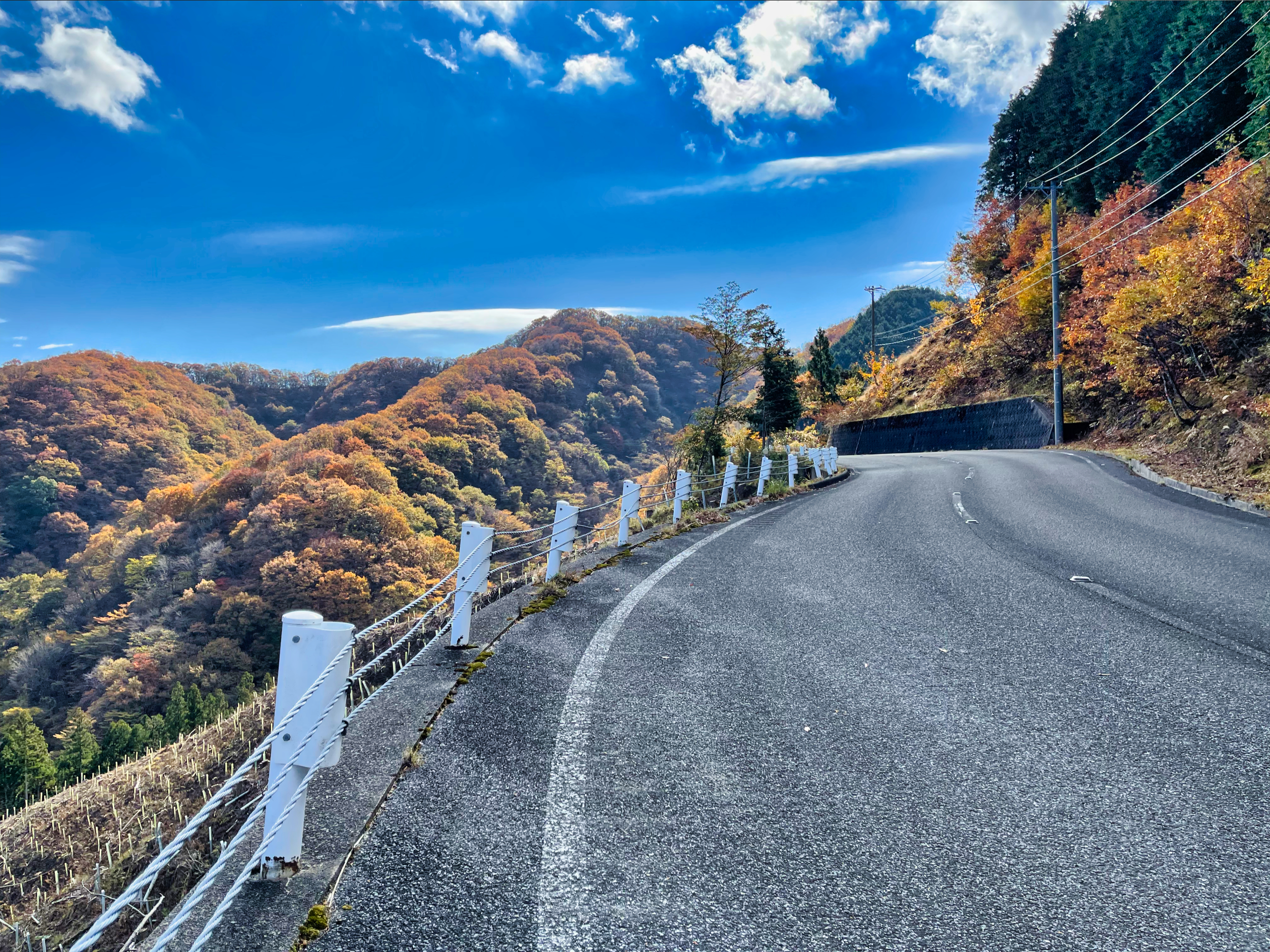 I am still finding new fantastic riding roads in Japan. Today another gem, rural route 274 which barely shows on maps yet is a mountain pass like above and below.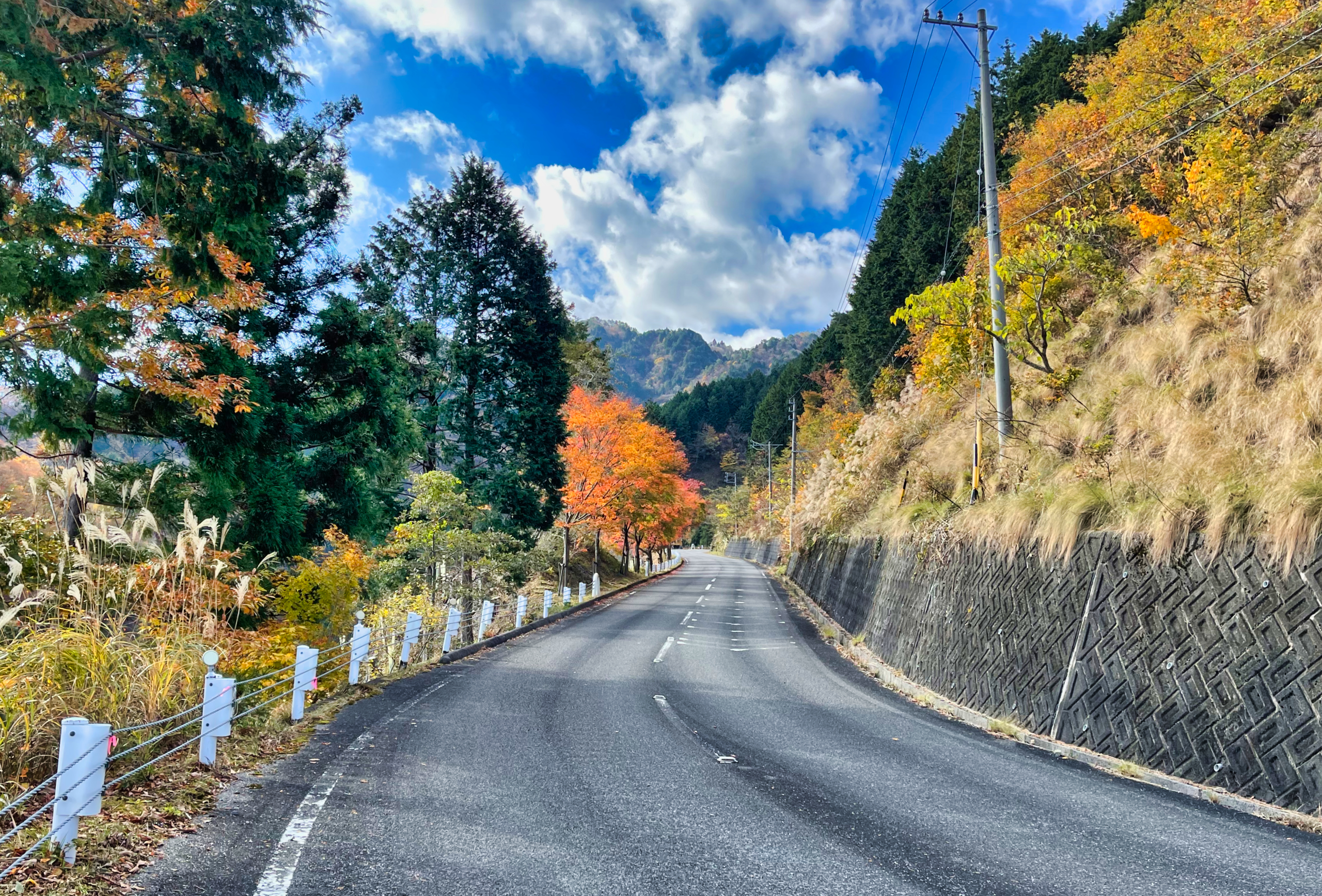 Returning to the valleys I spot a view deck on other side of river and find a way to visit it to enjoy this vista. What a spot for lunch.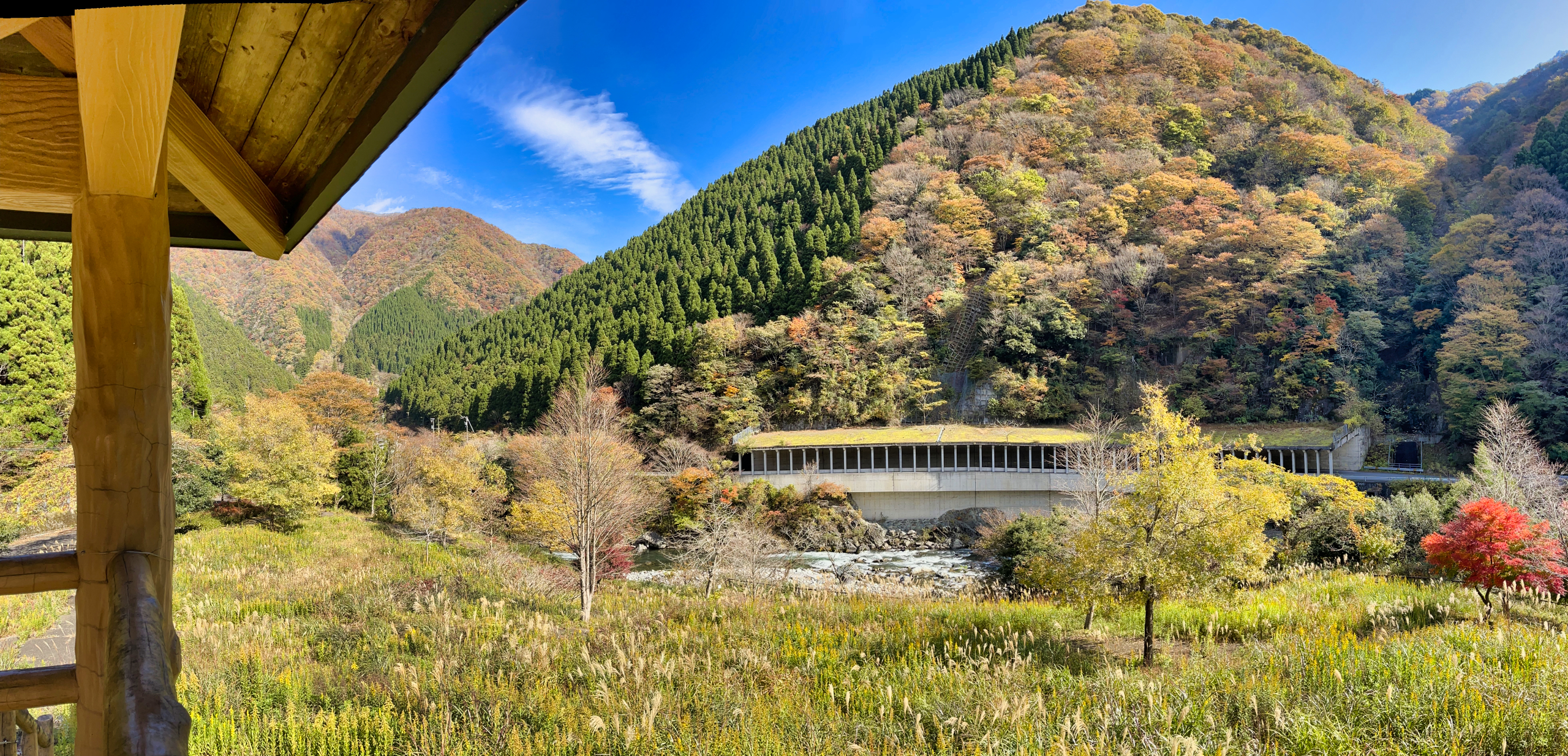 Next I reach Tokuyama Lake where it is far more beautiful than my humble photos can convey.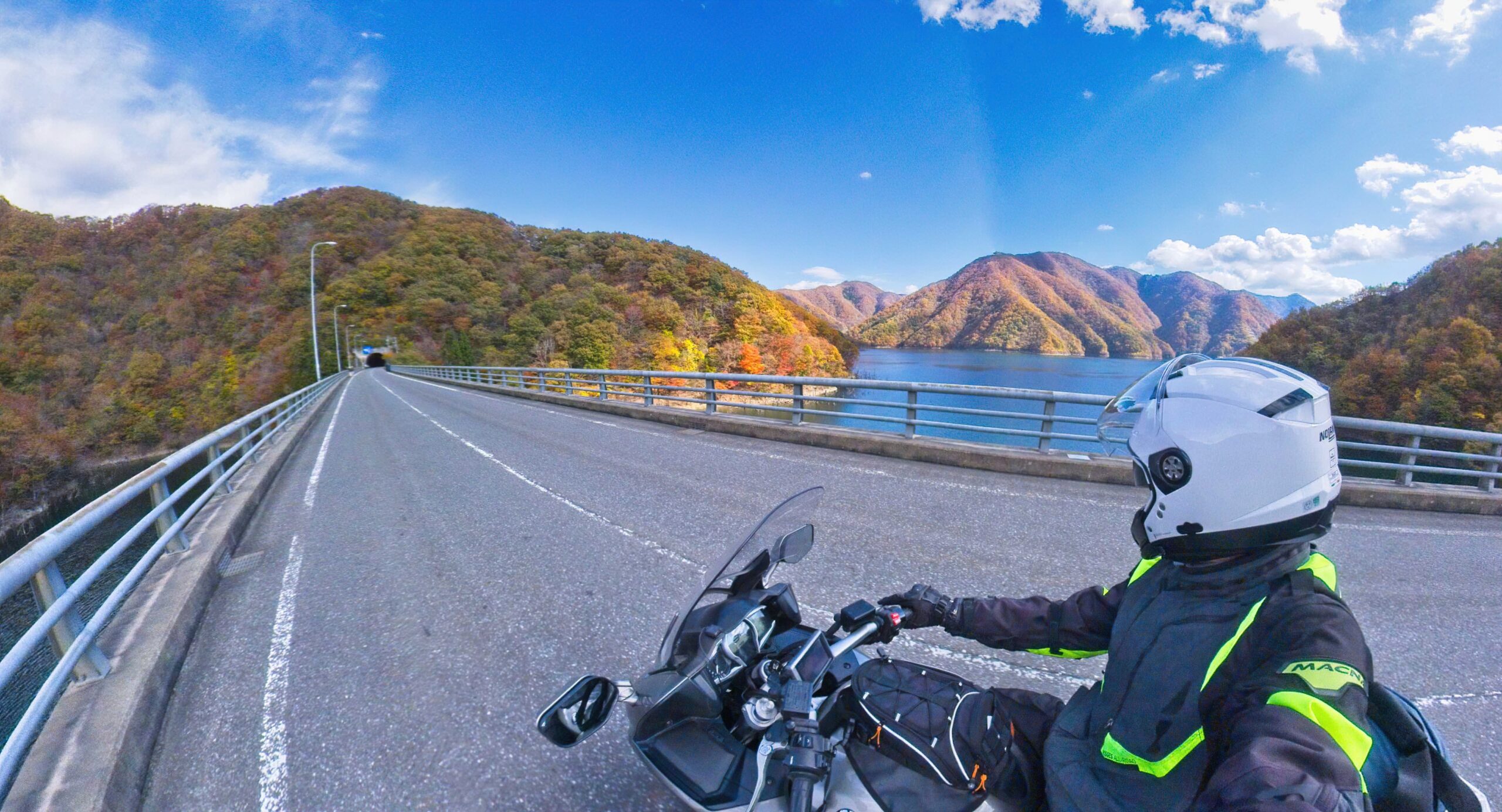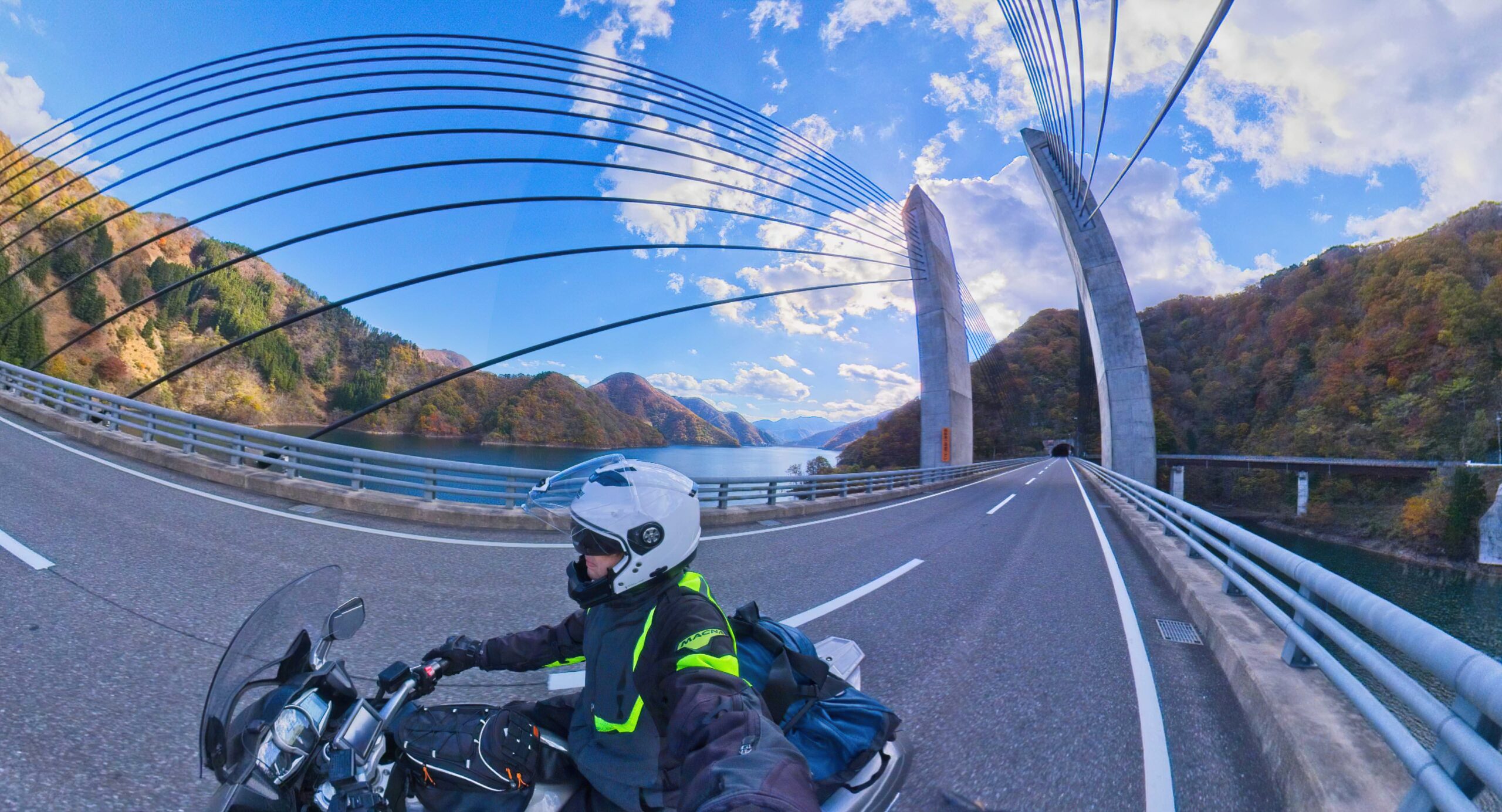 I did a little comparison of my Theta 360 cam Vs my Casio cam here. Will post that in future.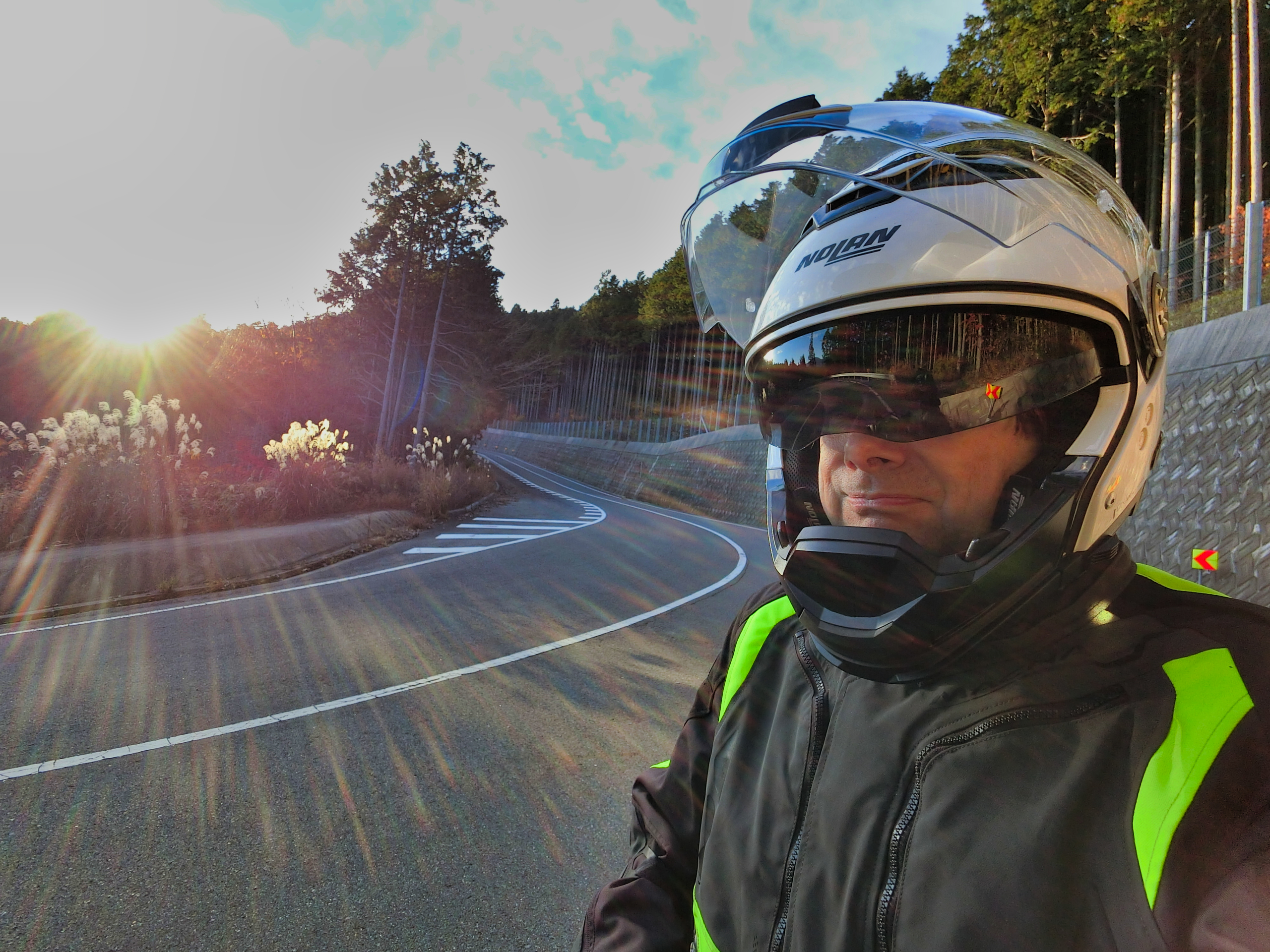 The sun disappeared as I moved from Gifu into Aichi prefectures. Without it's rays the temperature dropped like a roller coaster but it made a encore appearance for my final mountain road. Thank you Mr Sun.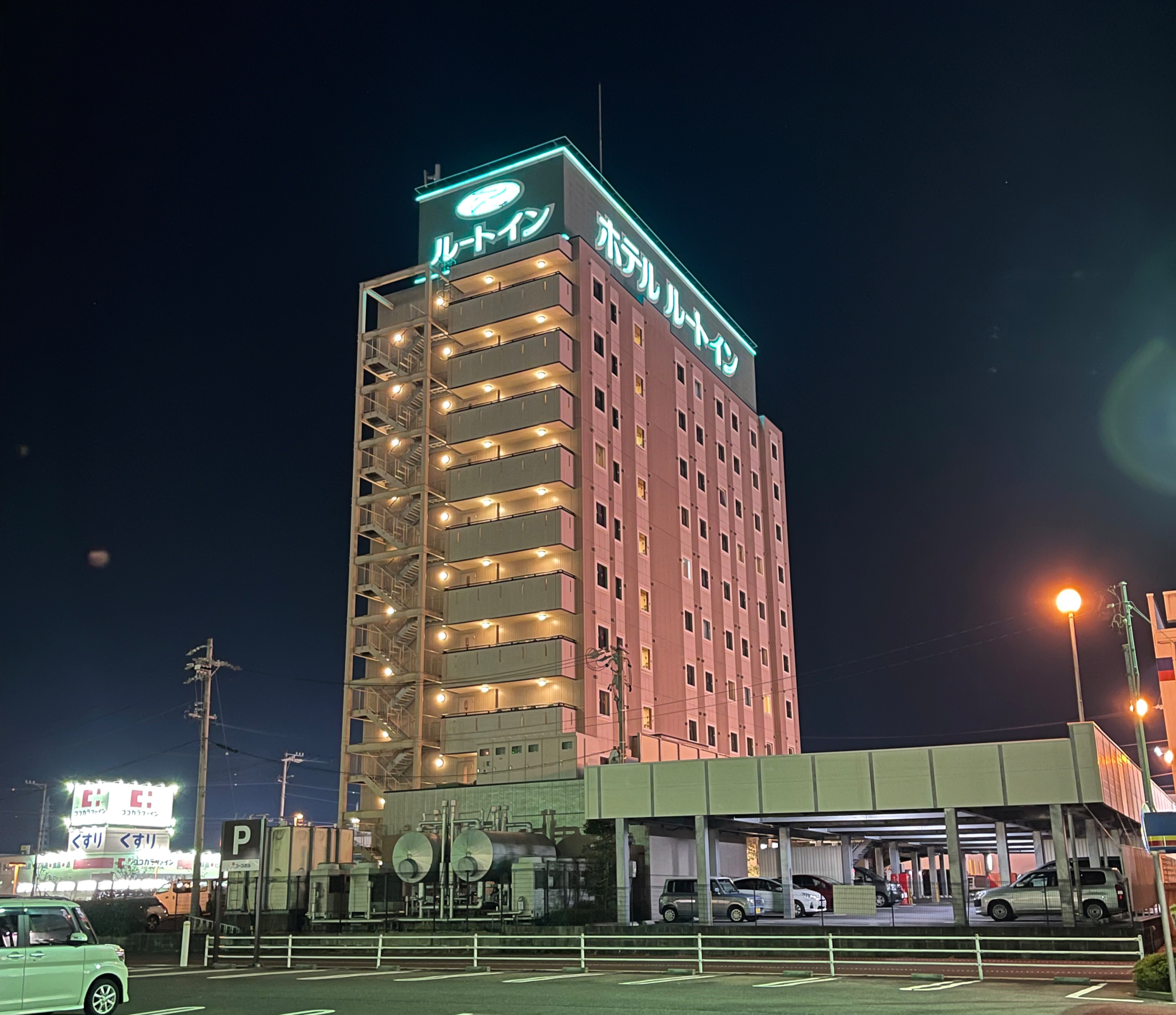 First time this tour to use a previous favourite hotel chain. Others seem more welcoming to riders but that could be just lost in translation. A foreigner arriving at a Japanese hotel continues to cause surprise and confusion outside of Tokyo. I kind of hope Japan stays like that.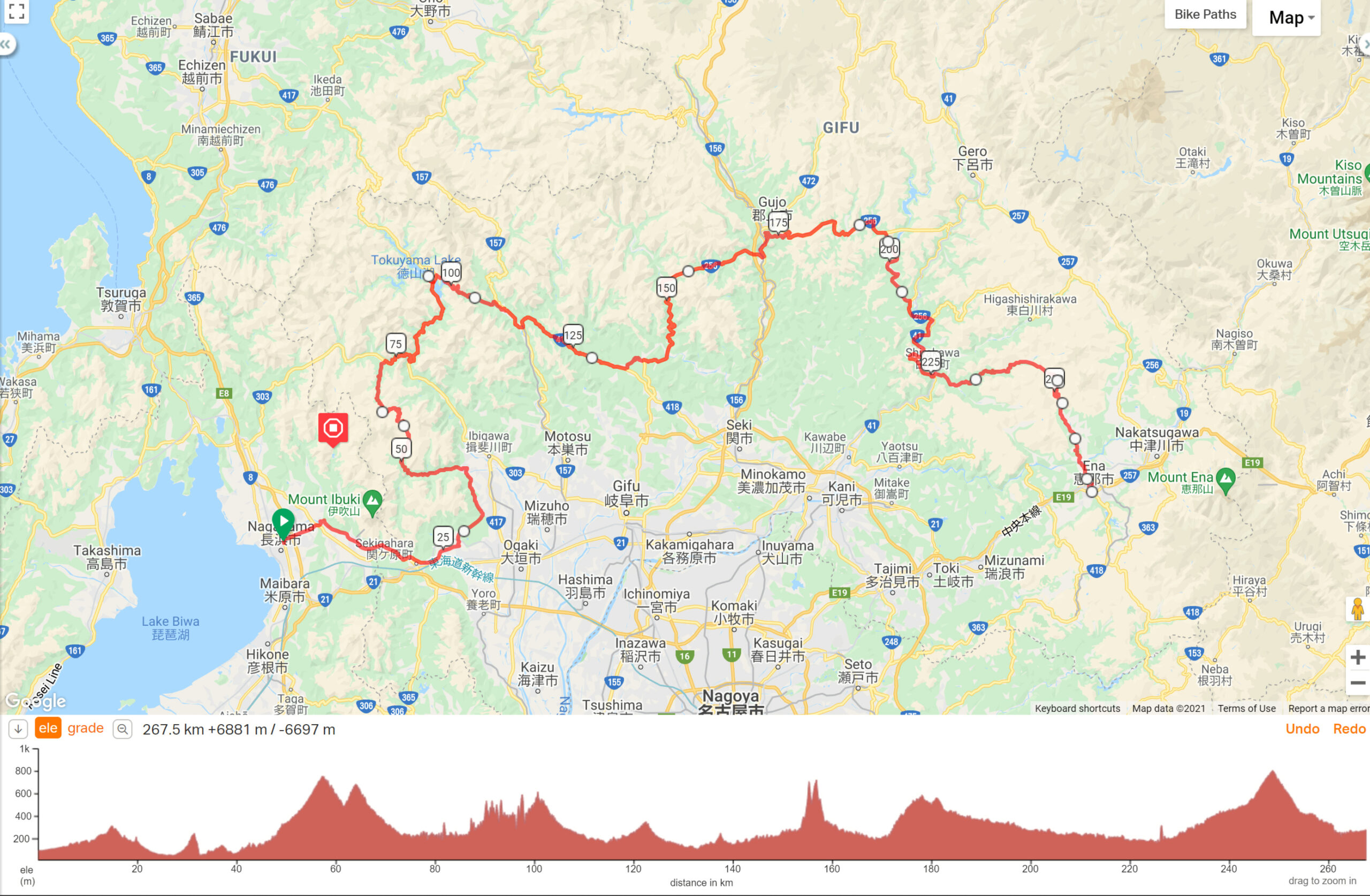 My last day is couple of familiar roads south then a long highway ride back on the Tomei where the traffic density requires intense concentration as you get closer to Tokyo.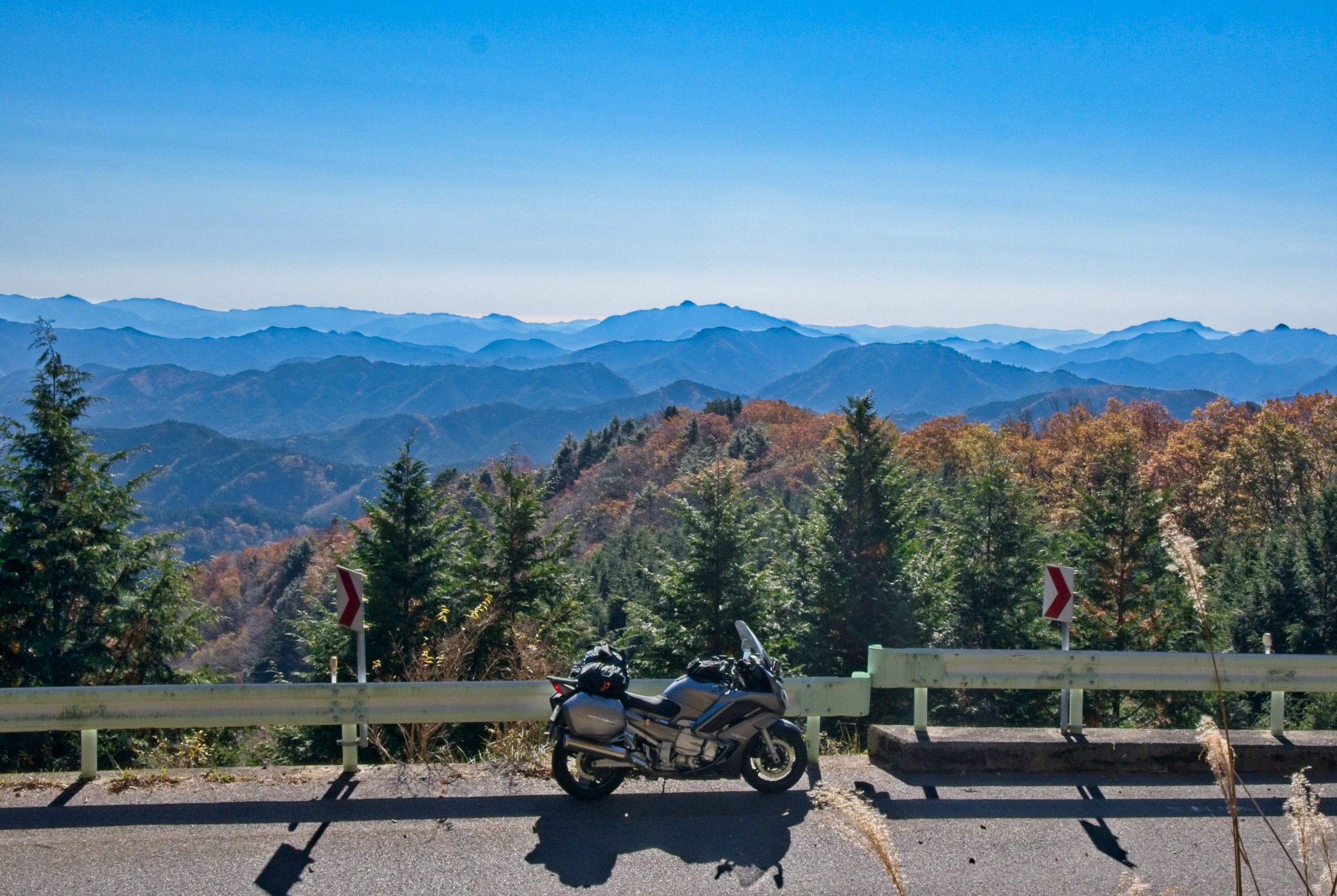 A gap in trees reveals painted hills with light too harsh for my camera. Over there lies endless roads to explore in the Japan few visitors see.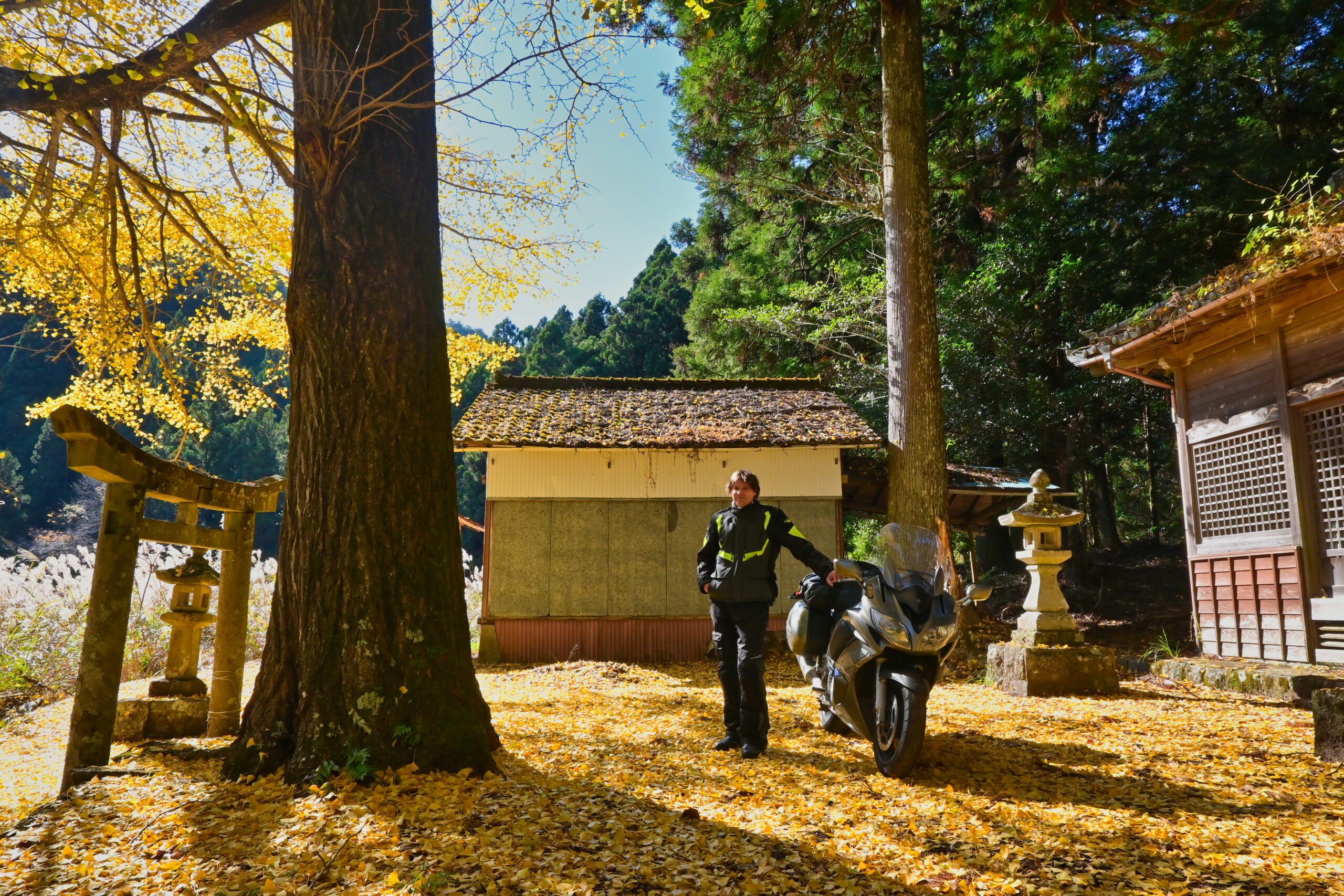 My final photo before the highway is a hidden temple I posted last year, today the ginko leaves have nearly all fallen despite autumn barely started elsewhere. That's the way nature rolls however I had an immensely enjoyable time on this tour.
I was going sign off saying this would be my last ride in Japan for awhile. I had booked overseas travel with the world reopening but 72hrs later the omicron variant is announced and everything is closing. At this rate I will end up with more airline vouchers than I will ever use. But at least I have so much here to enjoy.