I have been riding around Kyushu, southern Japan and enjoying some superb fine days. Today I continue on the roads less travelled in Miyazaki prefecture.
The mountainous interior of Miyazaki prefecture has just a few rural villages and feels very remote.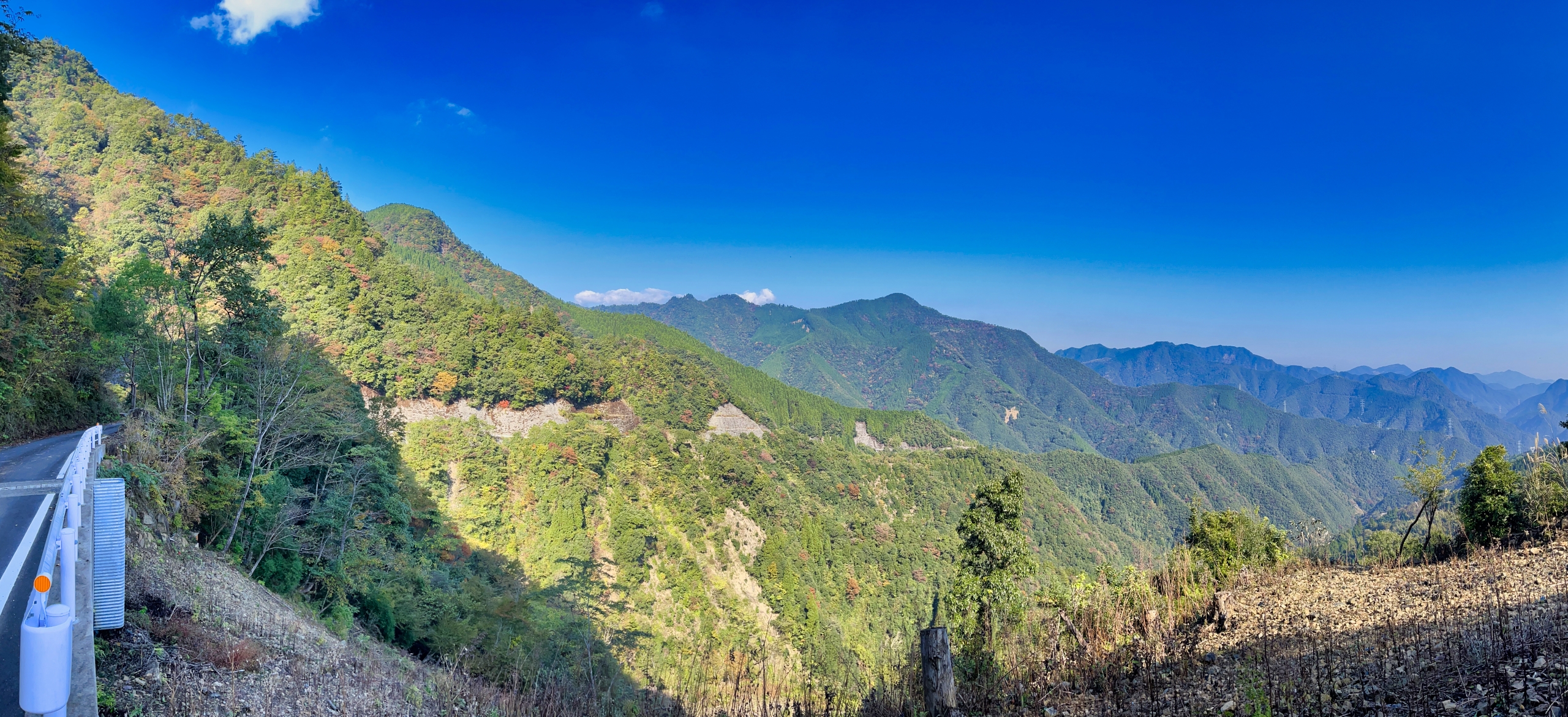 Even though I checked online I could not confirm what roads were open. I soon arrived at first road closure of the day but the detour above to the valley gave me some magnificent views.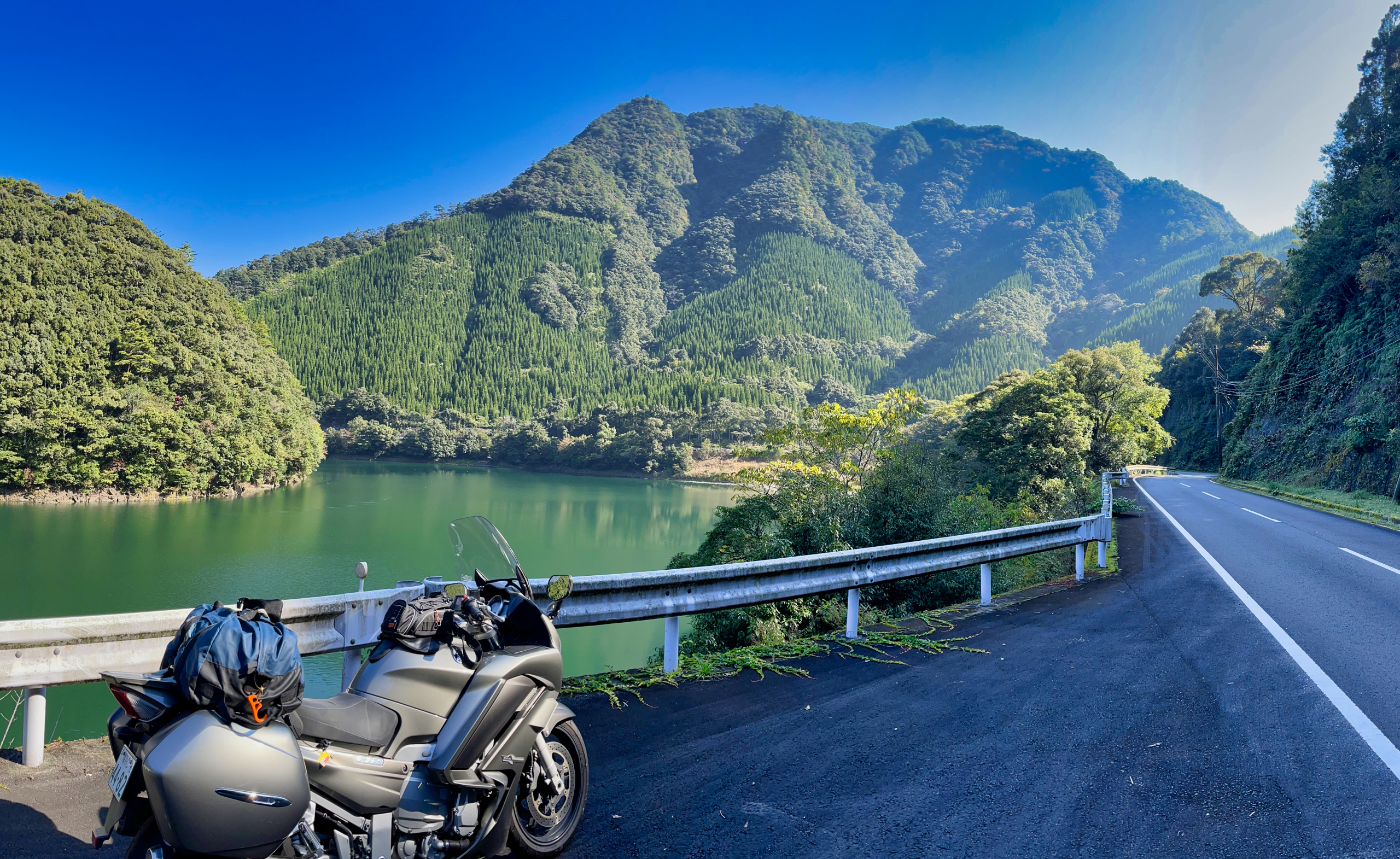 Once back down in the valley the riding was superb.
Rejoining my route I come to another closure. Heavy rains a couple weeks prior hit the area hard. However my detour let me discover a nice newly upgraded road which was a fun ride.
I rejoin my route for third time and come to yet another road closure. This time there is no controls and I ride around the barricade since it's a massive detour if I cannot proceed. A land slip across some of the road but already enough has been cleared for bikes to get through.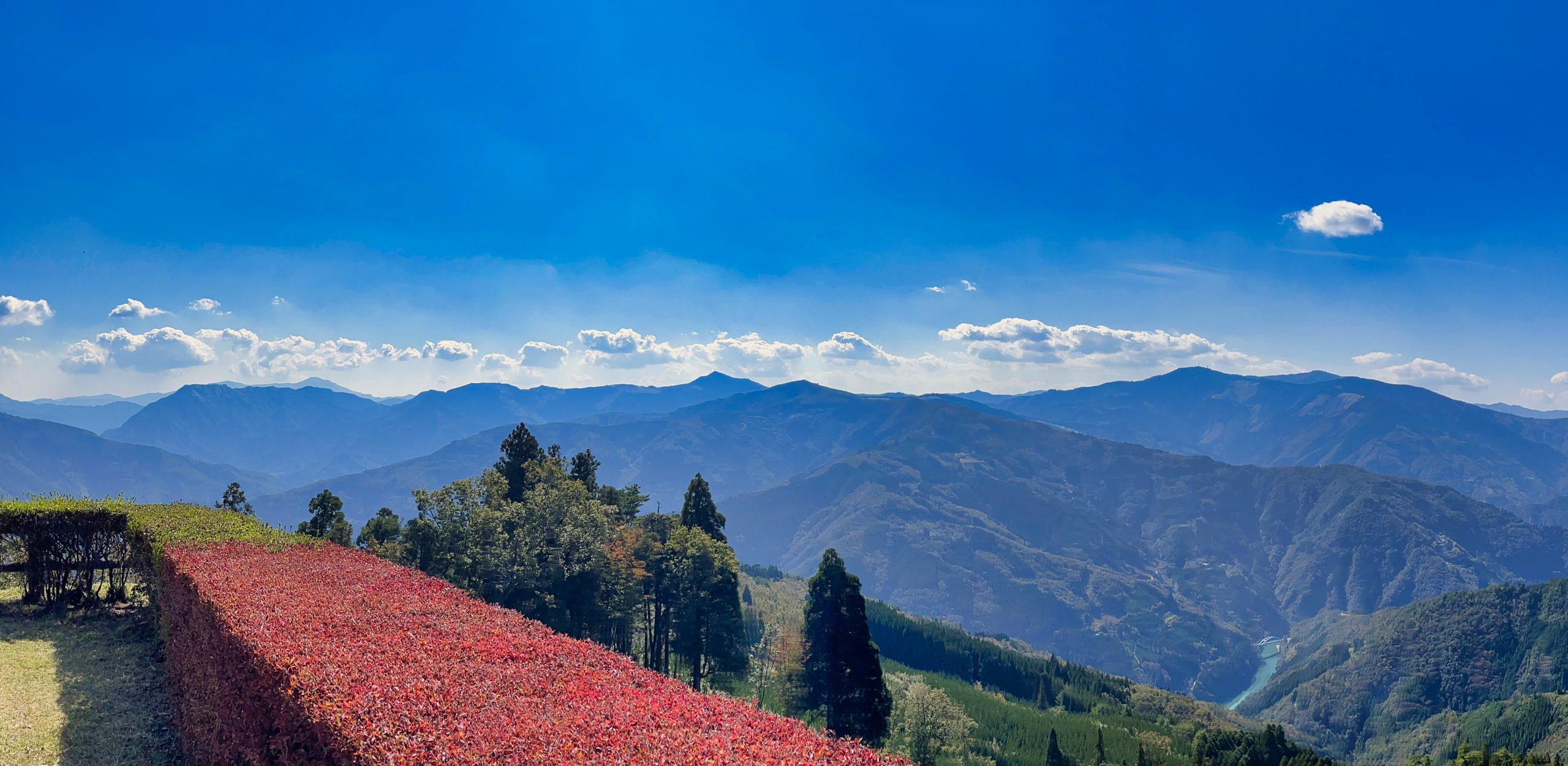 It is wonderful mountain climb. You can see the beautiful valley I rode up from.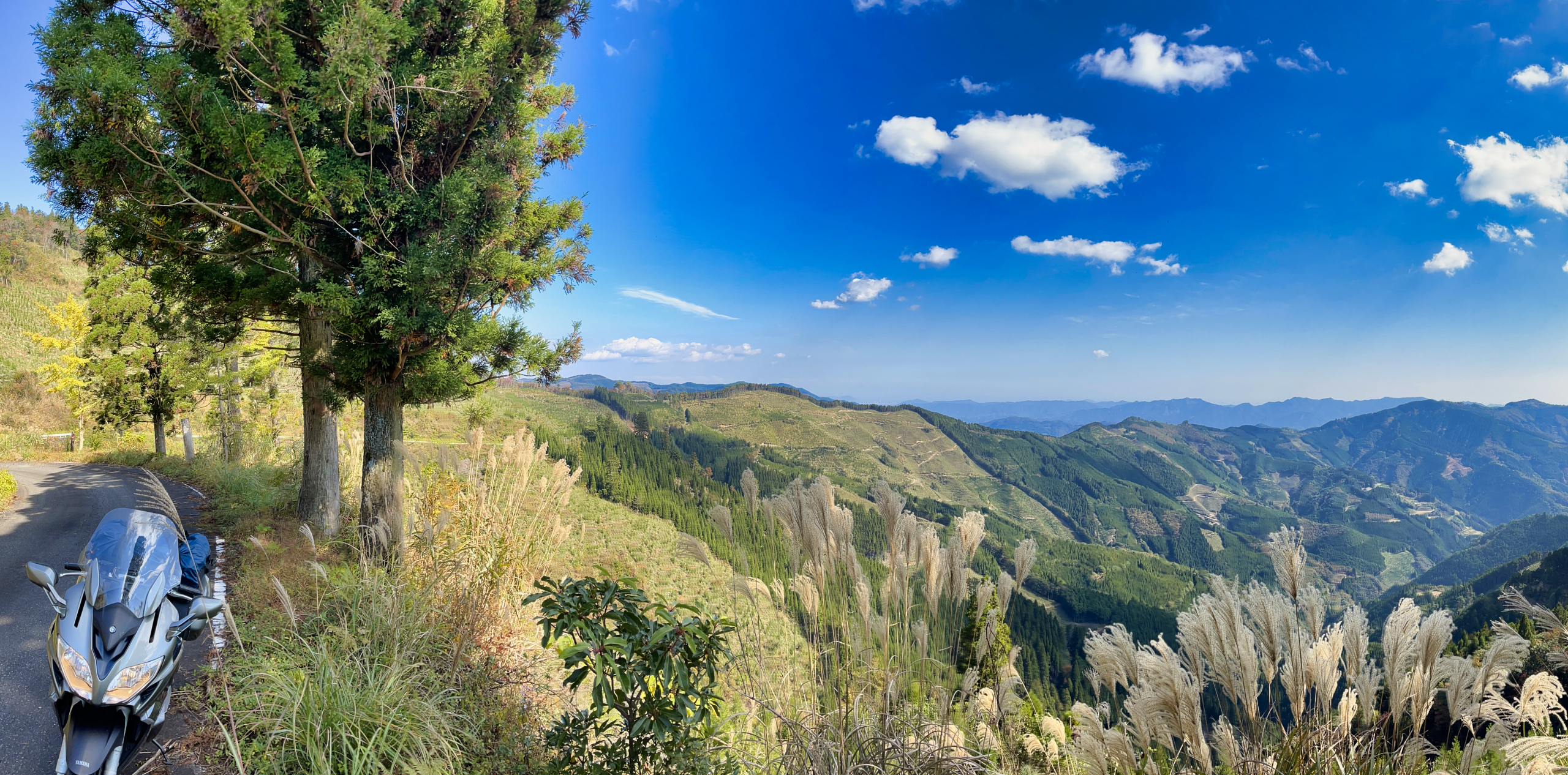 Whilst the mountain road is superb riding I detour off on some lesser quality roads but with grand views.
I am not surprised one of these back roads also has damage but fortunately there is an alternate route to easy detour around.
Exiting the mountain I am in part of the Takachiho gorge and looking for a almost unknown view point. I have no roads showing in my GPS and riding via pure guess work.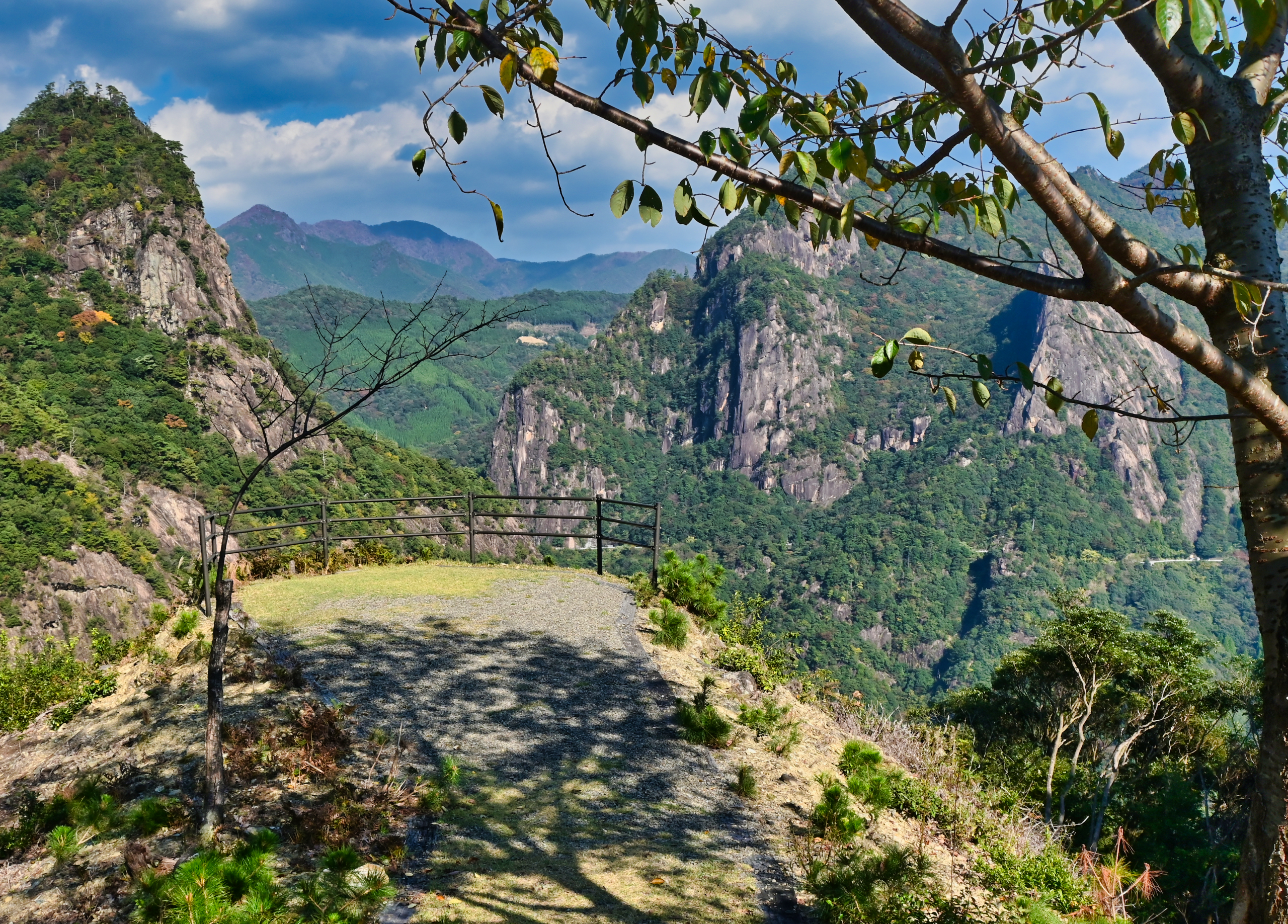 I have to do a few u turns on very narrow roads before I find the right path. The FJR feels big in that situation but still I can arrive at my goal.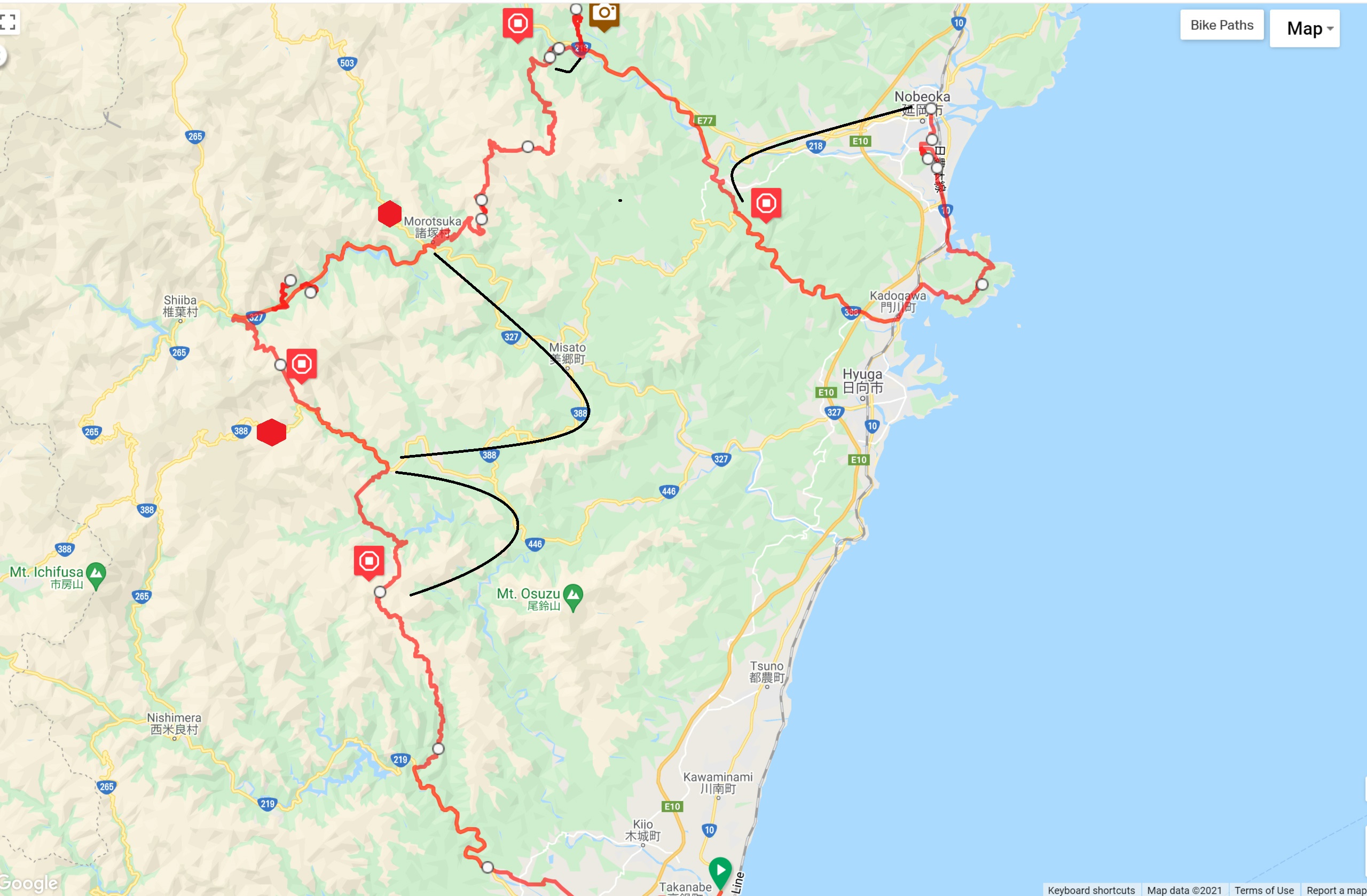 What was originally a short route has by now blown out so when I reach yet another road closure it's time to call it a day and go to my hotel, the things missed will feature in another tour.
I am staying two nights in Nobeoka and have the option to visit a small island or explore some more of Takachiho Gorge. It's a nice day and I choose the later.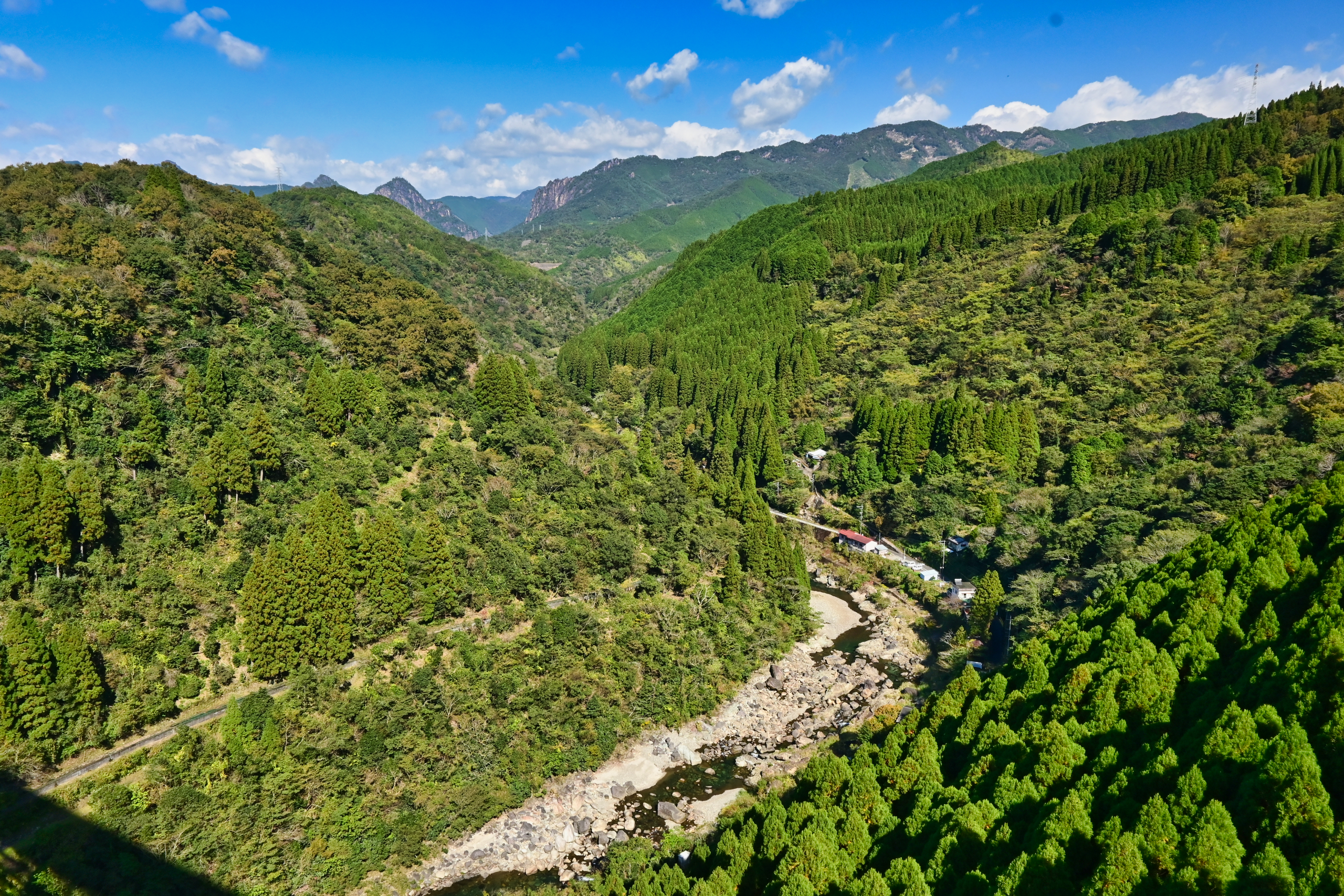 View from a bridge on route 218 which takes you along the gorge that from here grows ever deeper but traffic makes it dangerous to stop and take photos like this.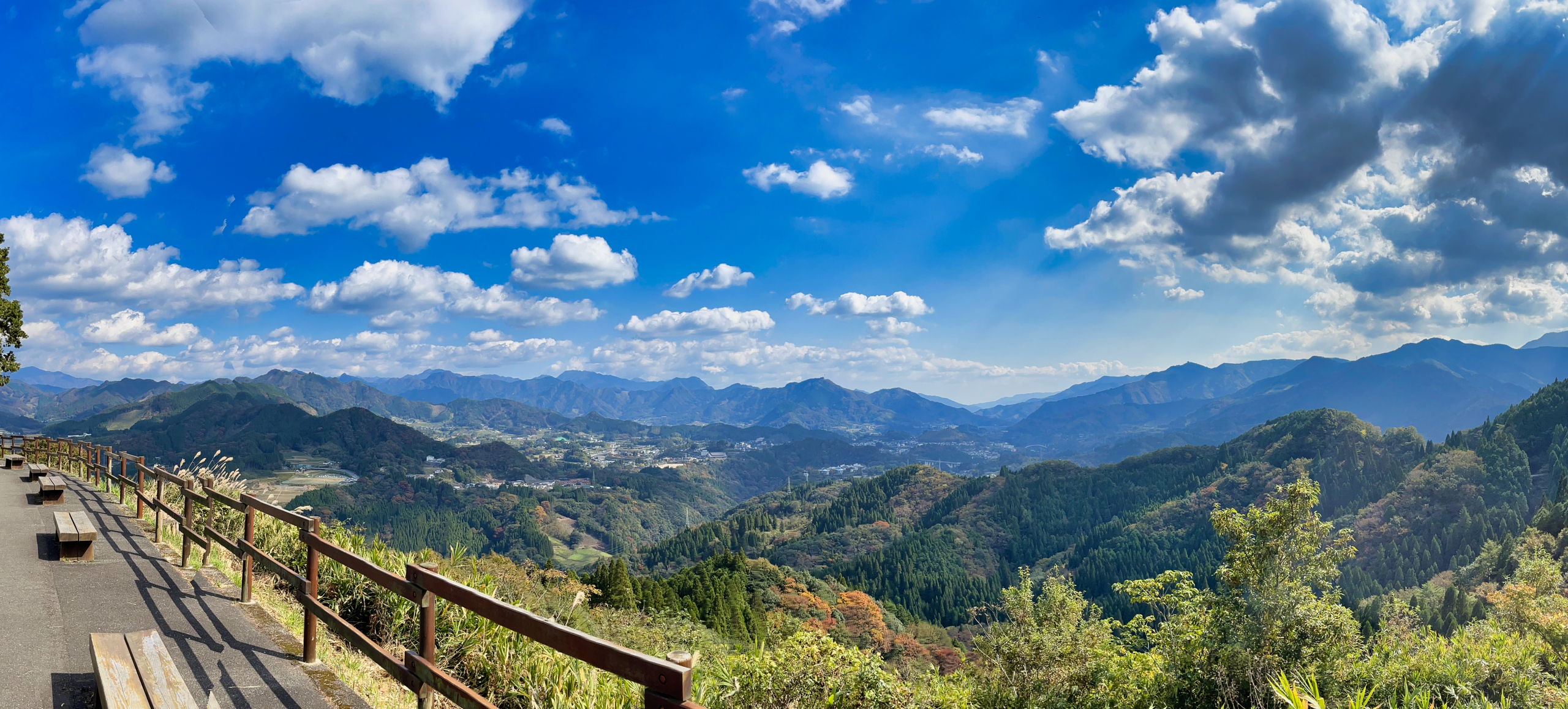 At the western end of the gorge area is the Kunimigaoka view platform. Peaceful place with few visitors.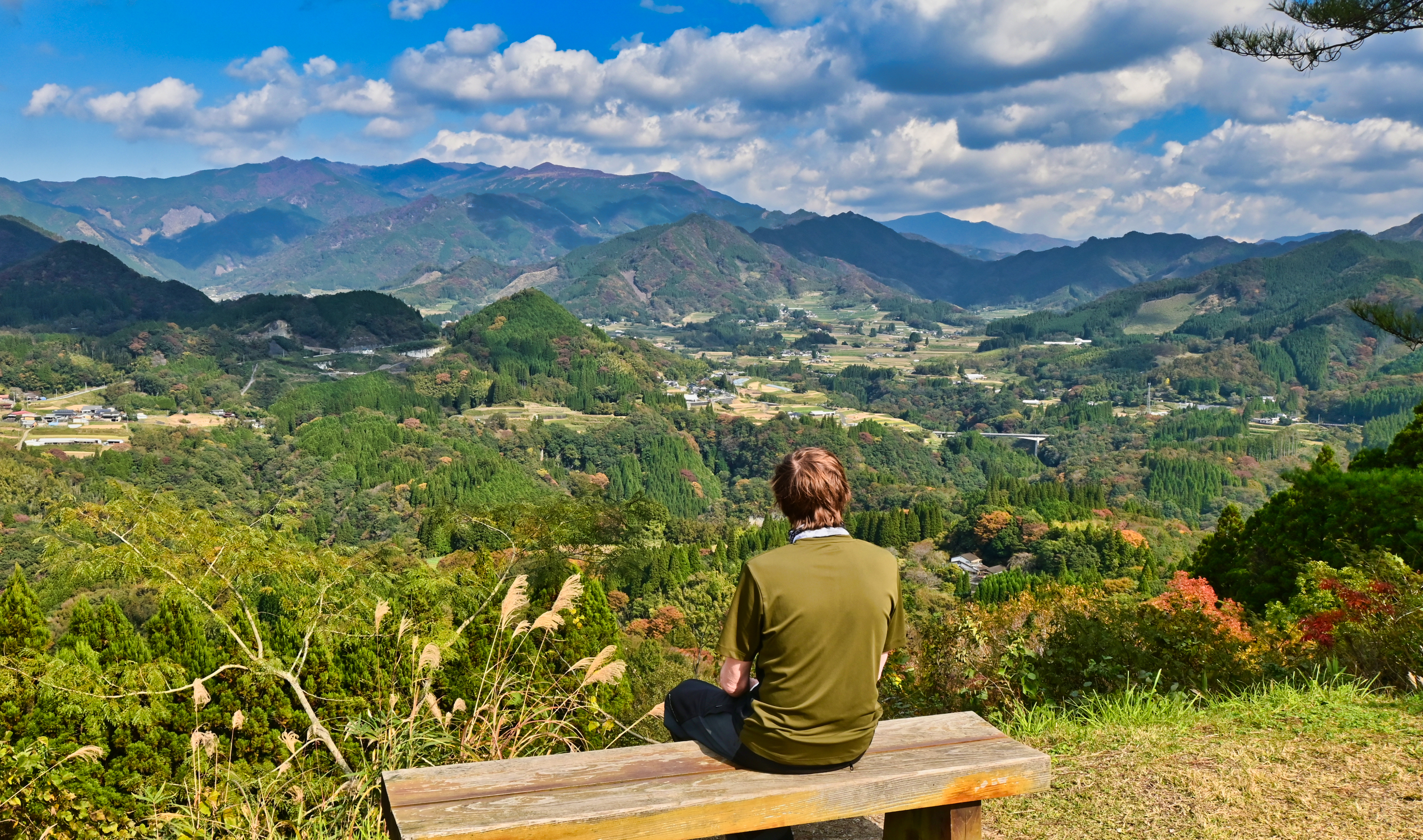 Today's lunch spot. There is a staggering amount of places to see with great riding in Japan. I sure have been lucky the last two years, all this to ride with no lockdowns.
From the gorge area I retrace my route back to Nobeoka and ride north to find a viewpoint on a forest road. I had no idea it would be so grand, it's not even mentioned in tourist info.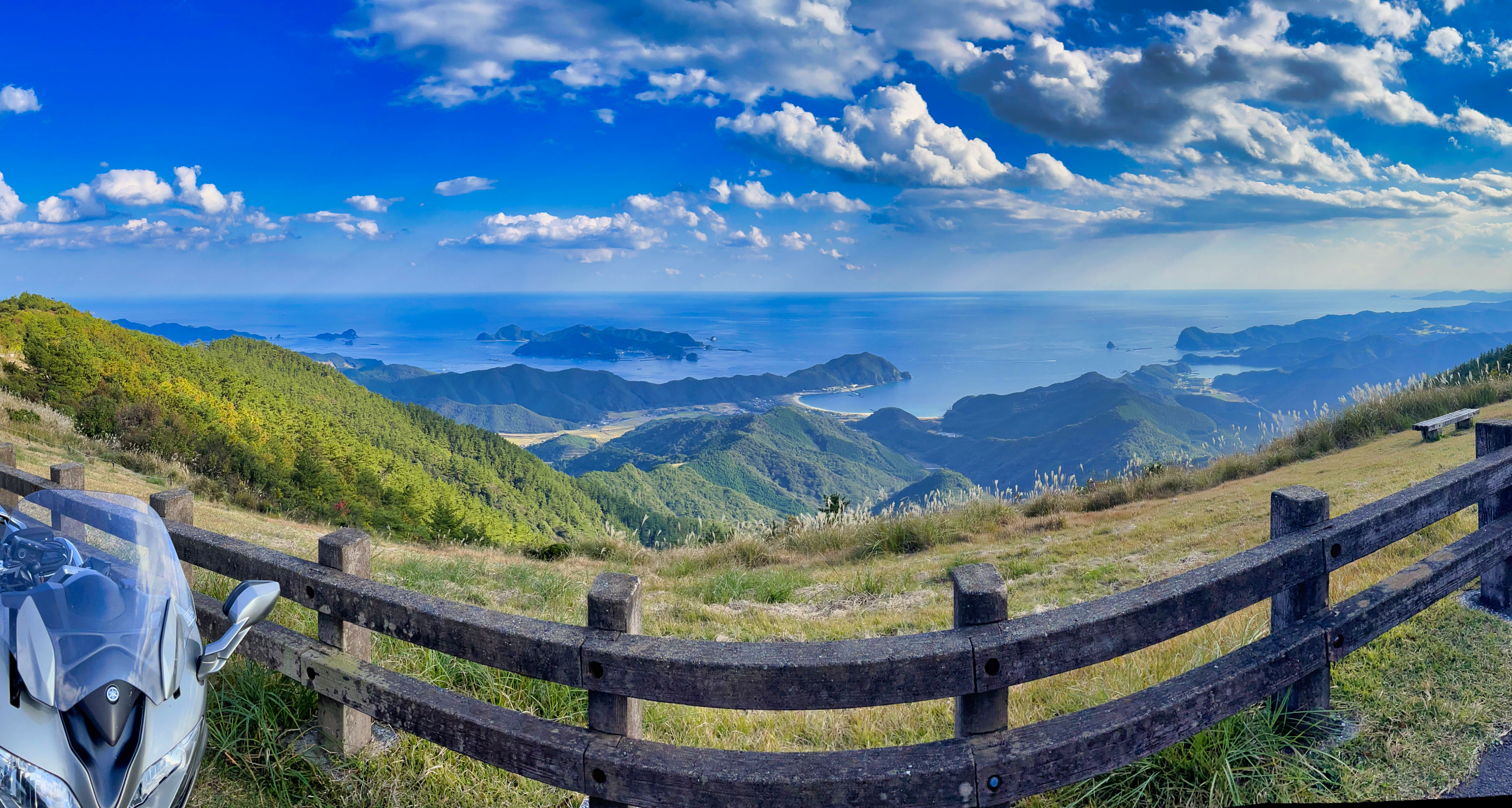 Out there is the island I was going to visit, glad I chose mountains instead.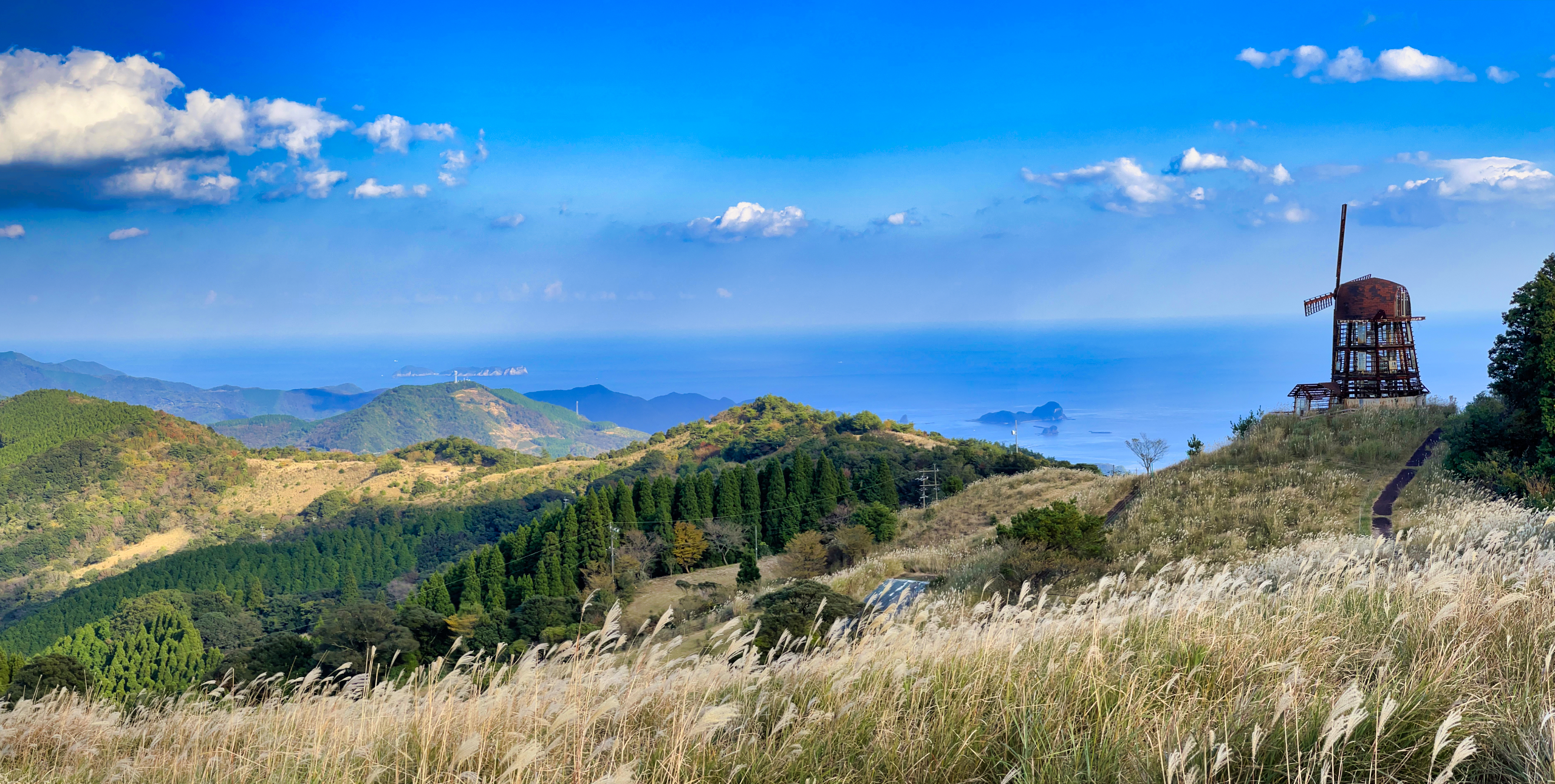 That ghost windmill was calling me to do some photography but so was Mr Sun and the mountains (below).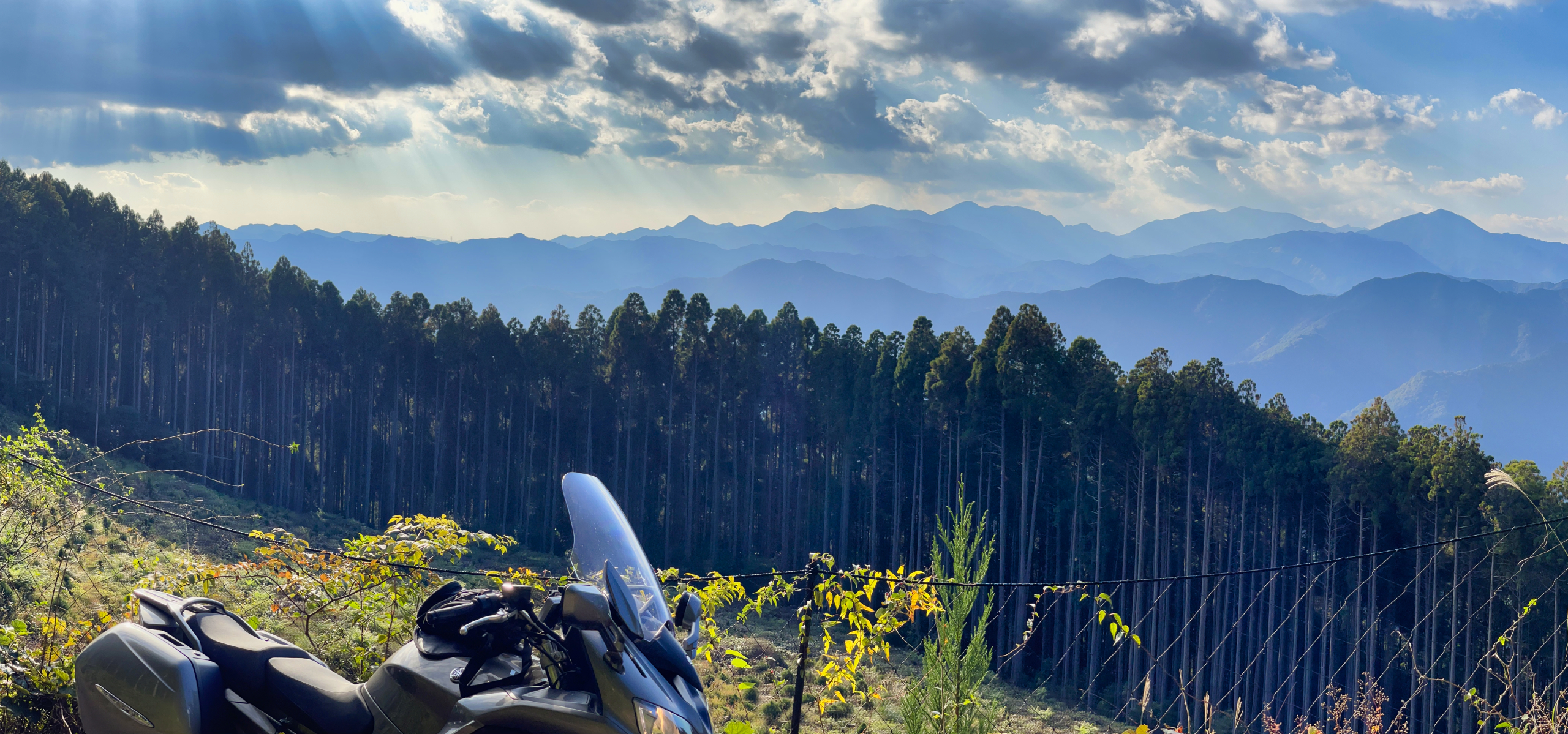 I like these spare days on tour with no set route best.
Next day I again have to remind myself this is November – where is autumn? Well frankly my dear I don't give a damn if I miss the coloured leaves with days like this.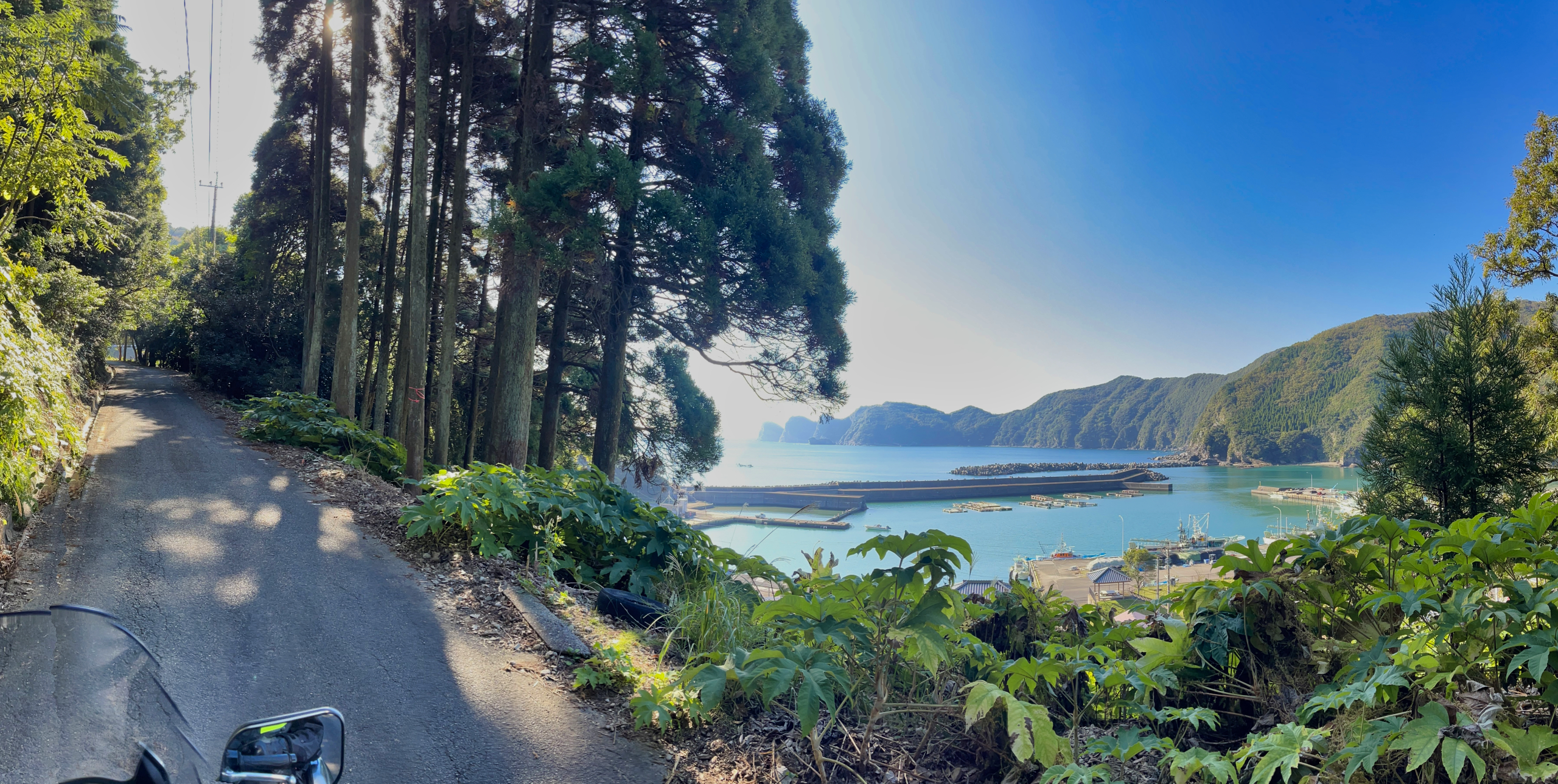 Today I am hugging the coast line north. Mostly two lane beautiful road, above is to a small view area.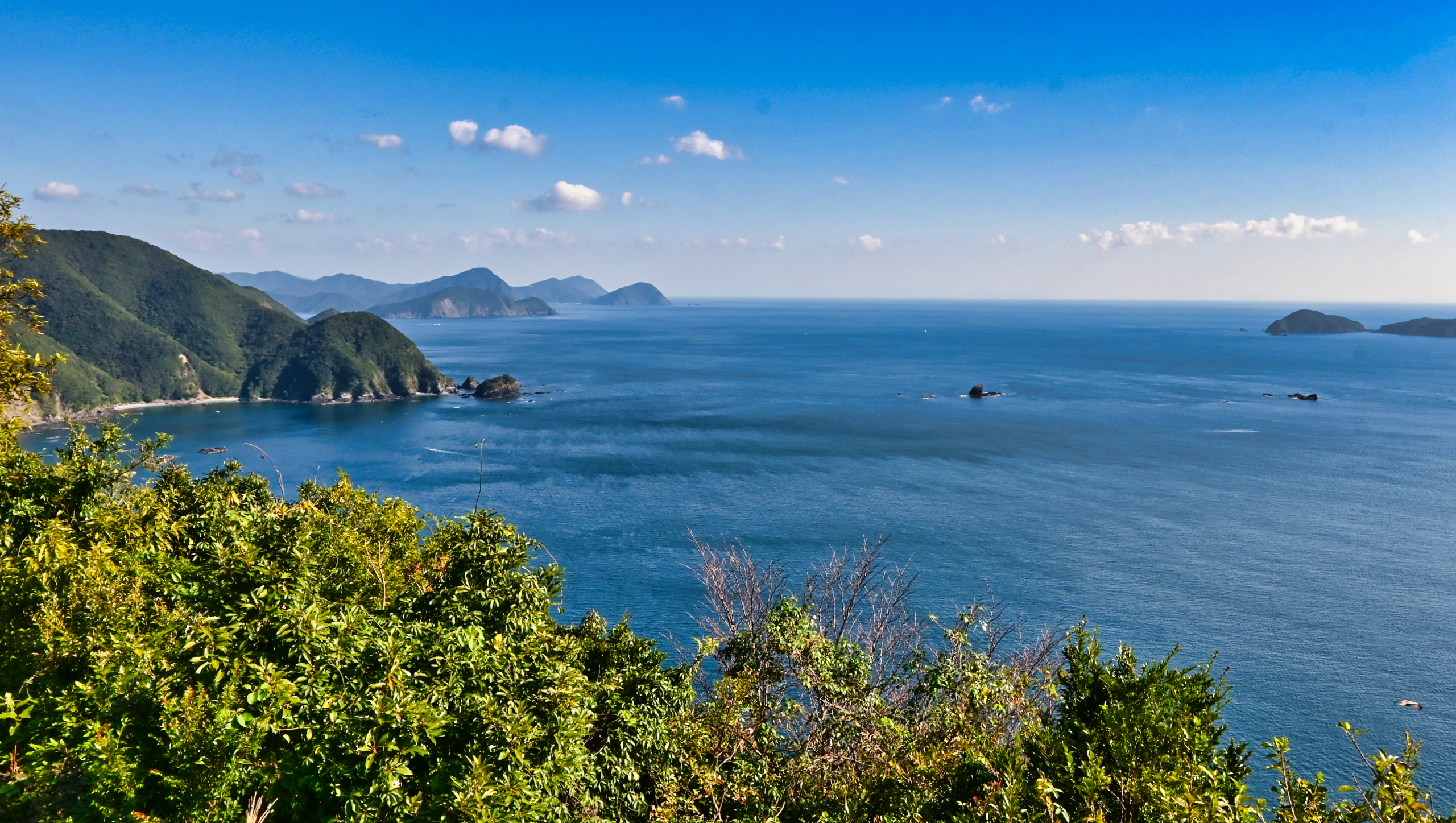 Rare for Japan to find a viewpoint or park overgrown but that was the case – above I have my camera in timer mode mounted on a mono pole and am standing on fence with arm stretched high. Wish Japan was not anti drone but it does make you seek out more places and view things with your own eyes.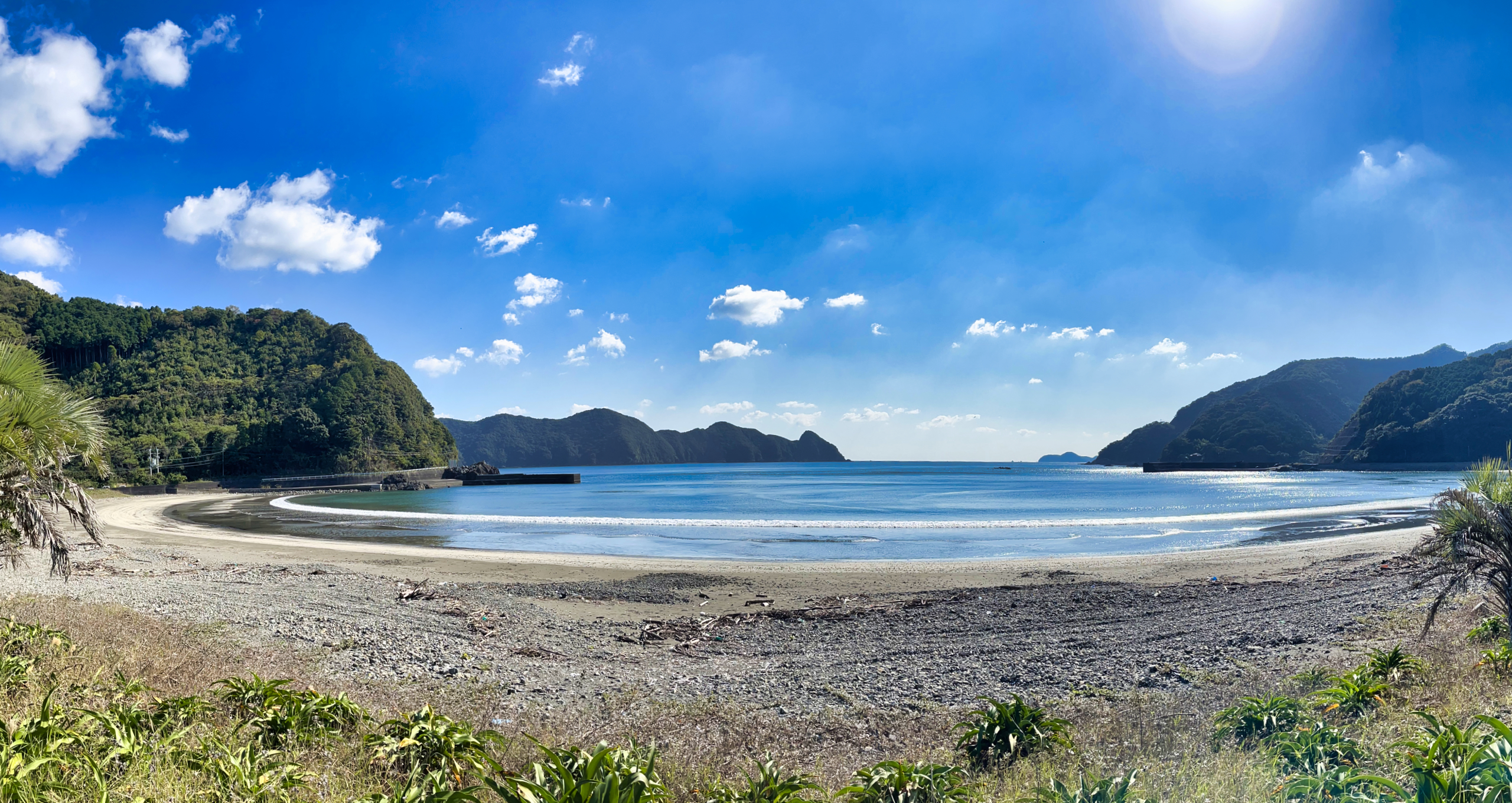 There are these beautiful coves with perfectly shaped curved waves gently rolling in (above).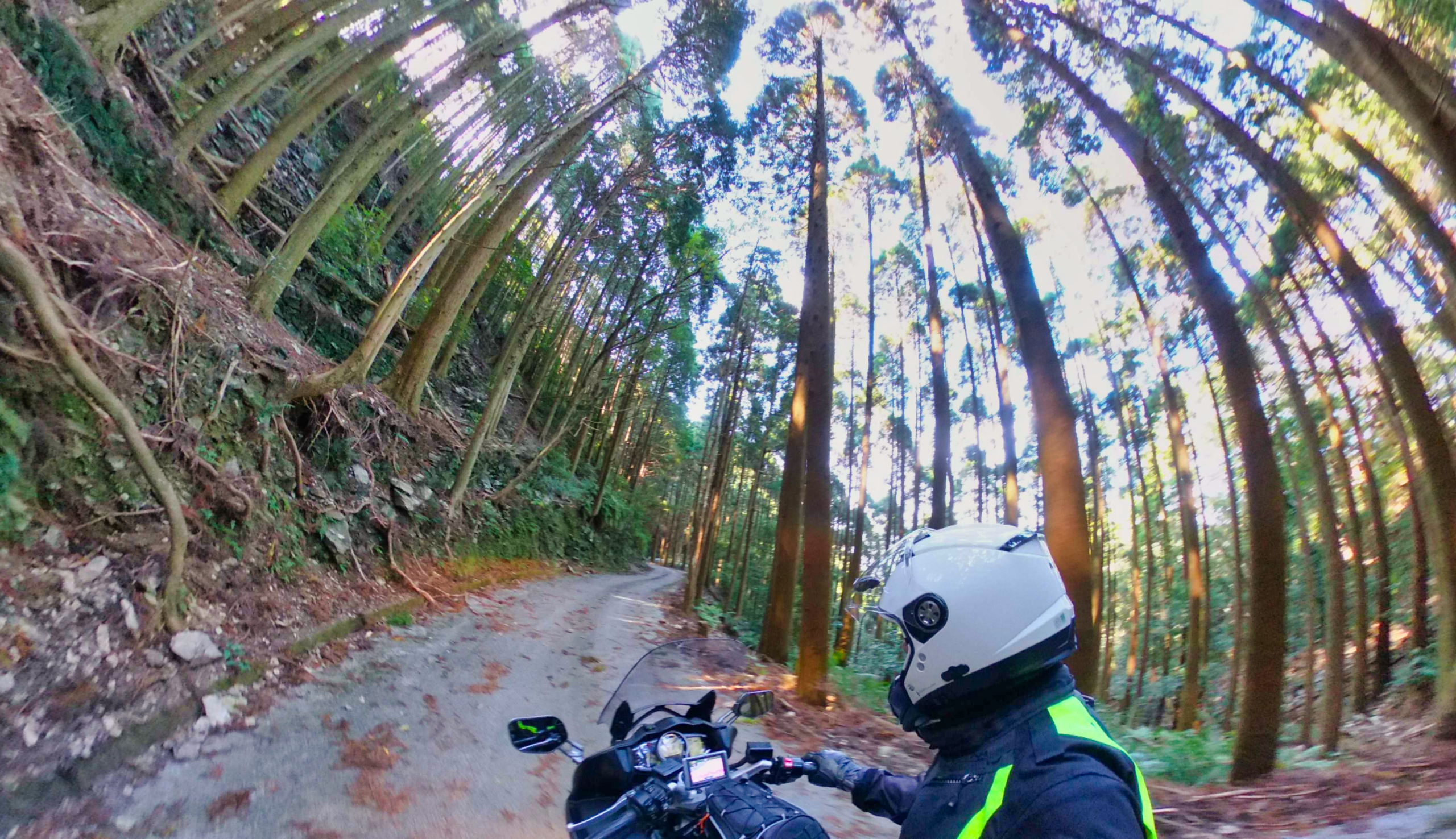 I am making my way up a mountain path to what I hope will be the highlight of todays route. Started good like above then got worse but I still think you don't need a ADV bike in Japan. I could ride a Goldwing on this.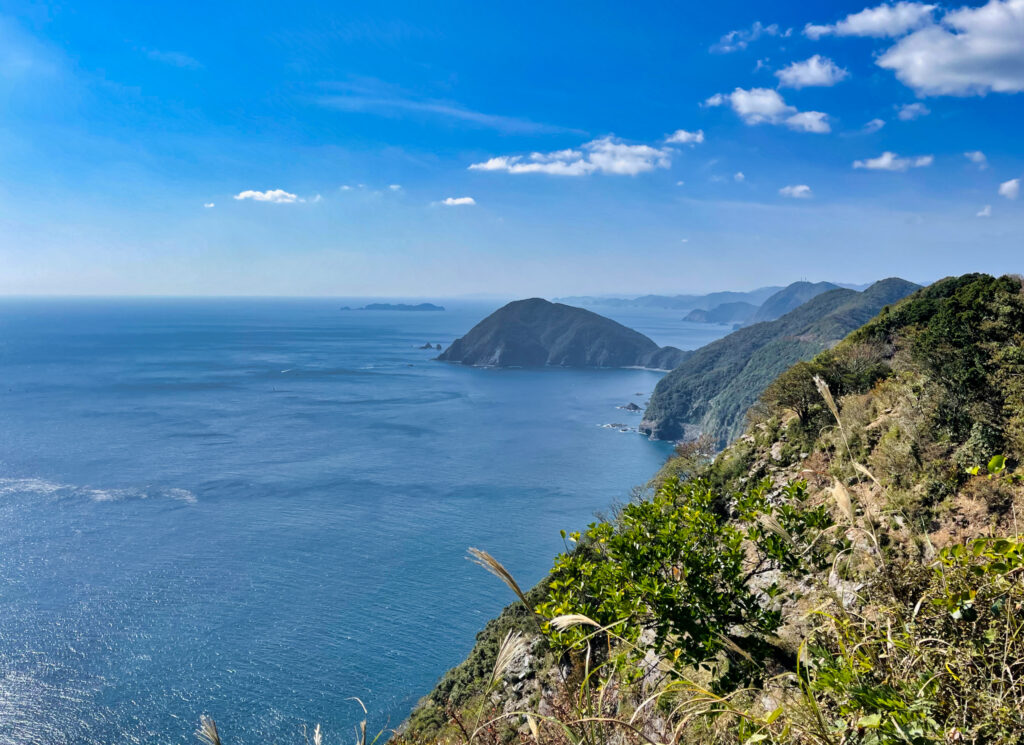 From a small yet well maintain park is a short hike. "Best keep to the path Warren – it's a long drop".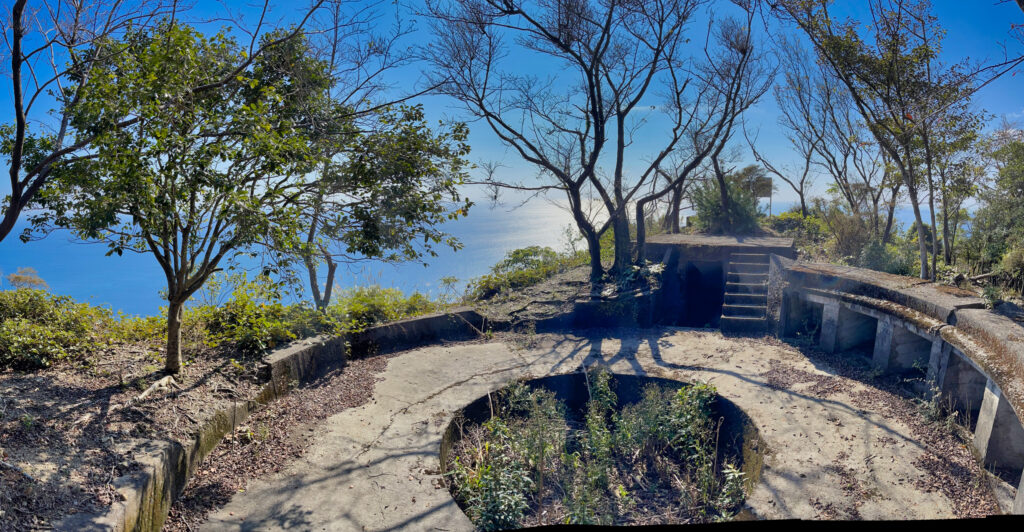 I arrive at the remains of a WW2 defenses. There were three cannons up here that never saw service. Bunkers sit below but now sealed off. Shame the guns were removed but still interesting.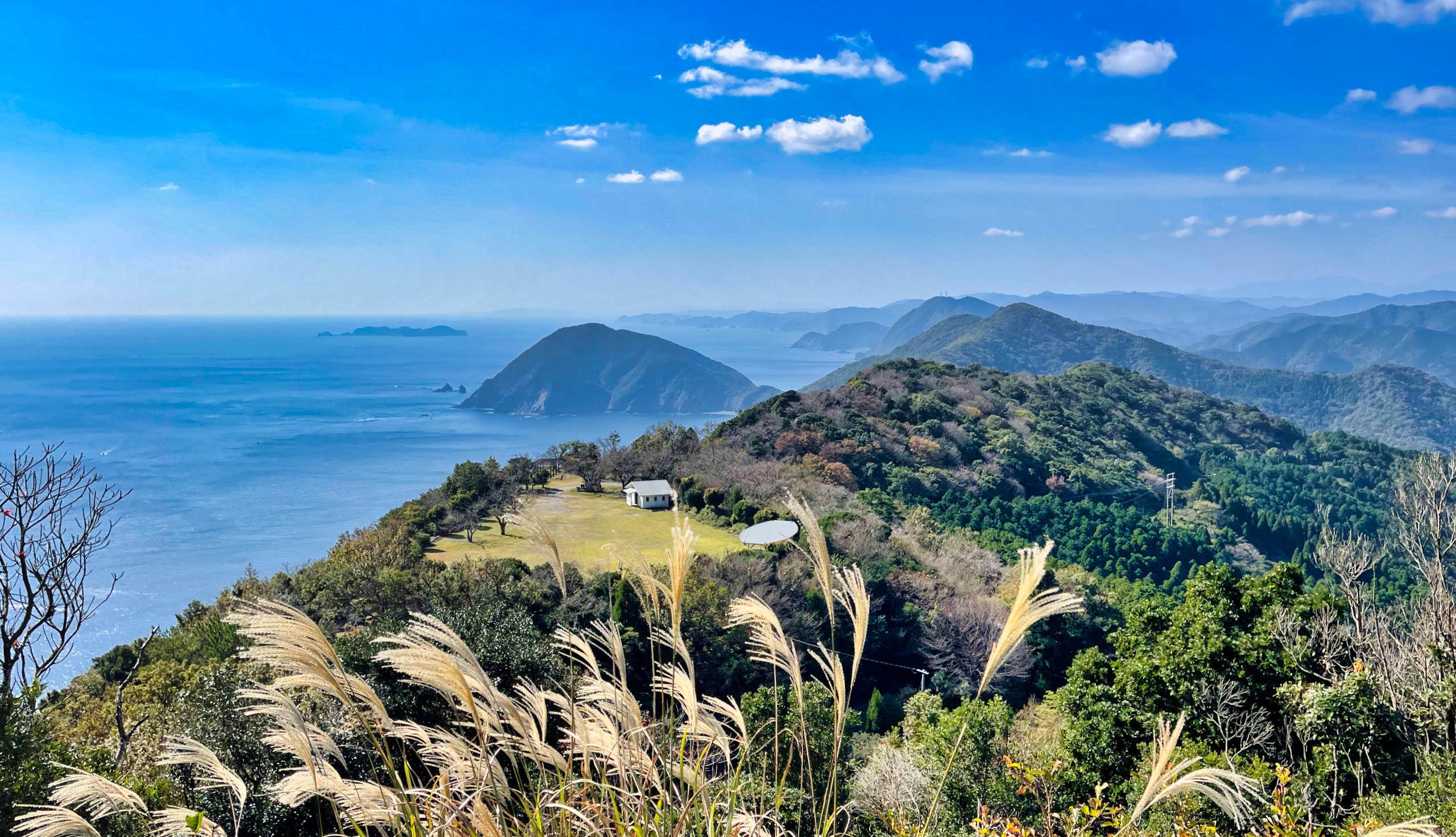 It's really quite some spot. Back down at the park I decide to have lunch. It's a little early but I feel very relaxed here.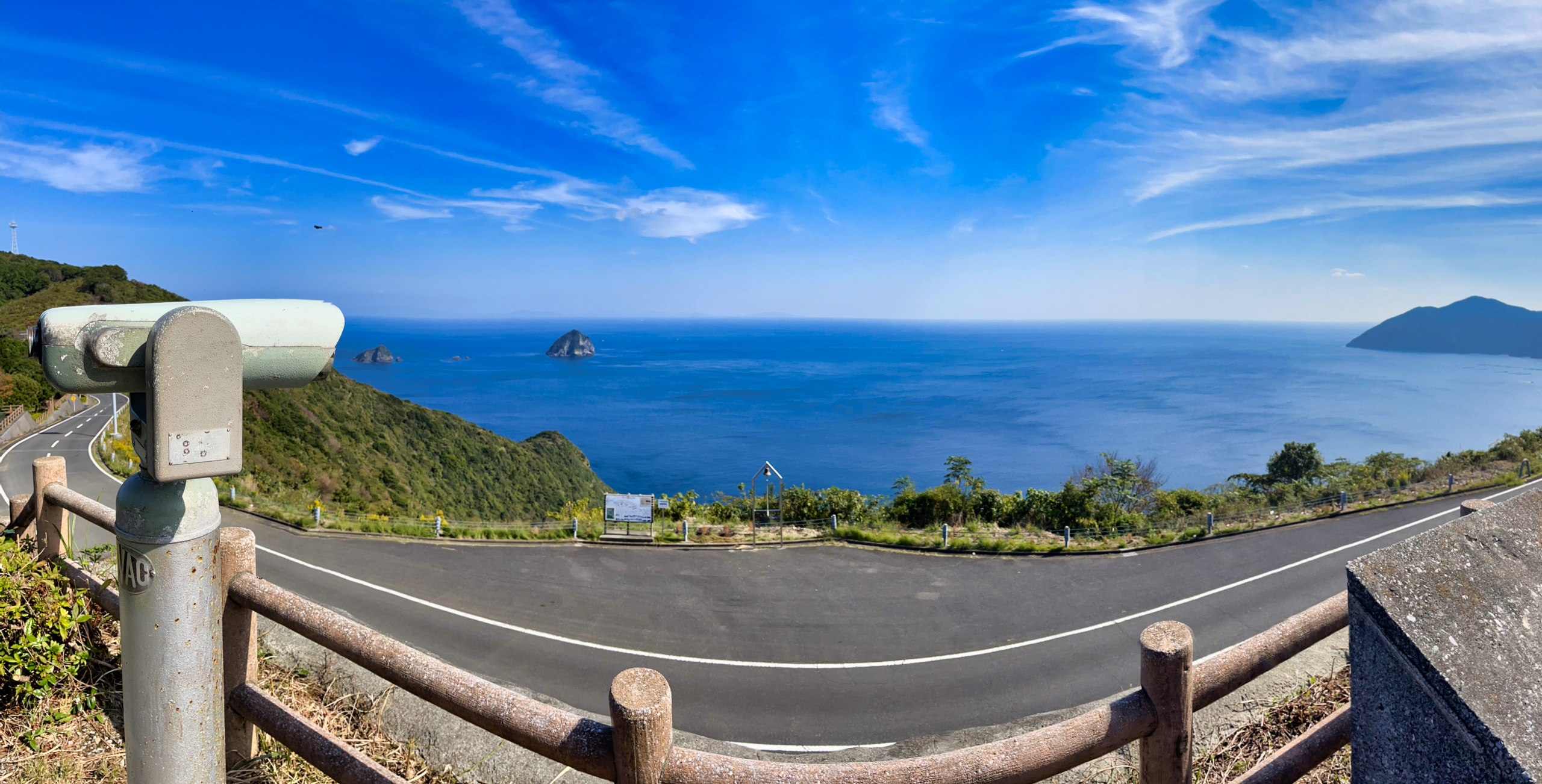 Back to the main coast road north where the the scenery and riding continues to be magic.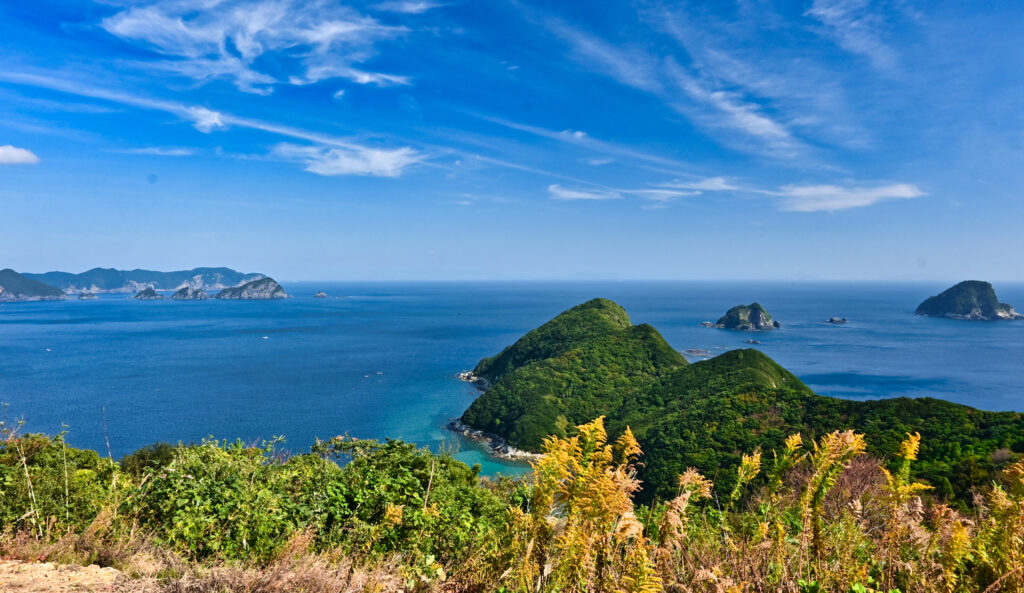 I ride to the end of that cape above (in distance) and the roads and scenery are beautiful all afternoon.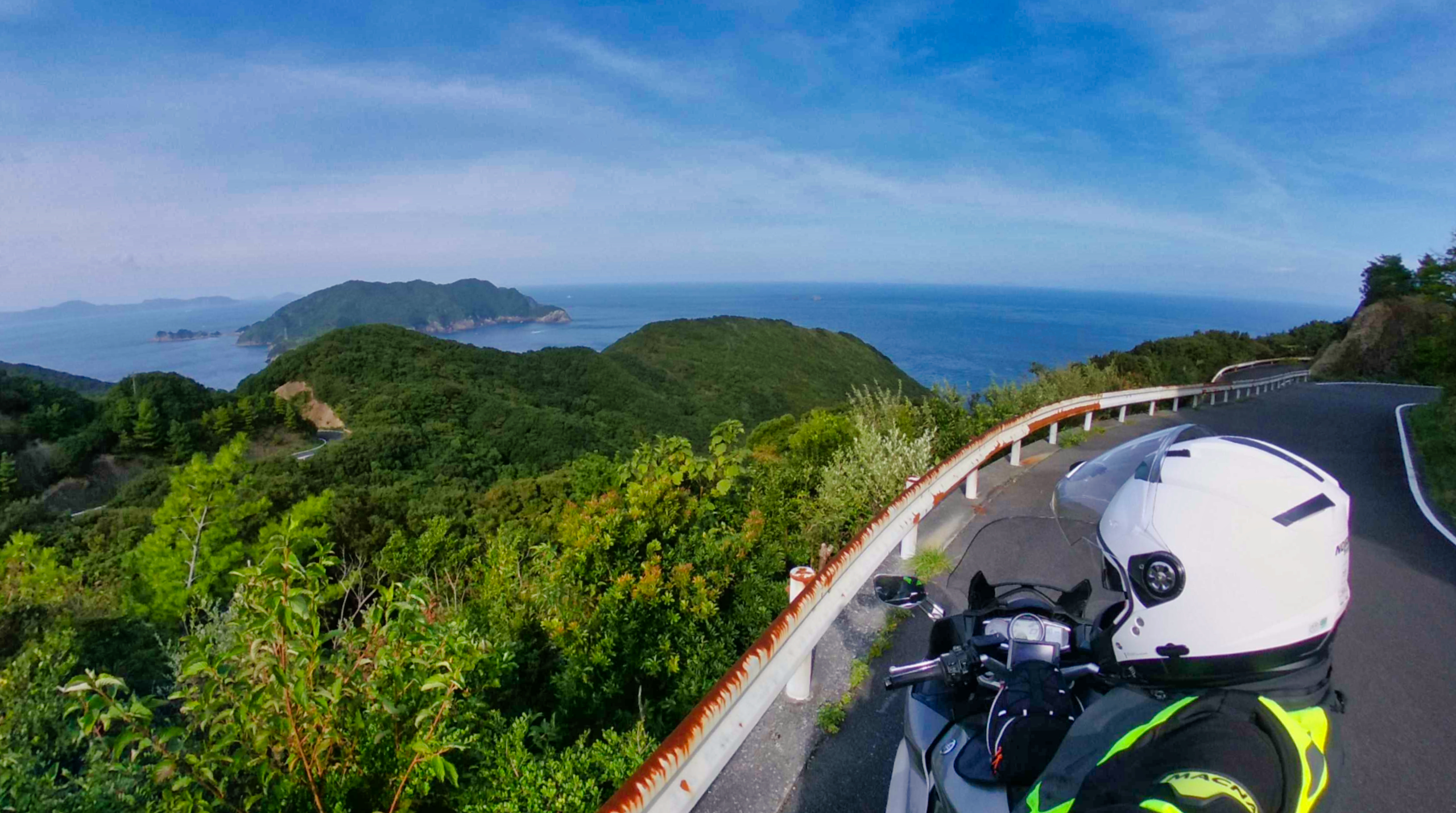 The sun is setting by 4.30pm and today I ran out of time to explore the rest of my route. 200km here needs 3 days to even begin to explore.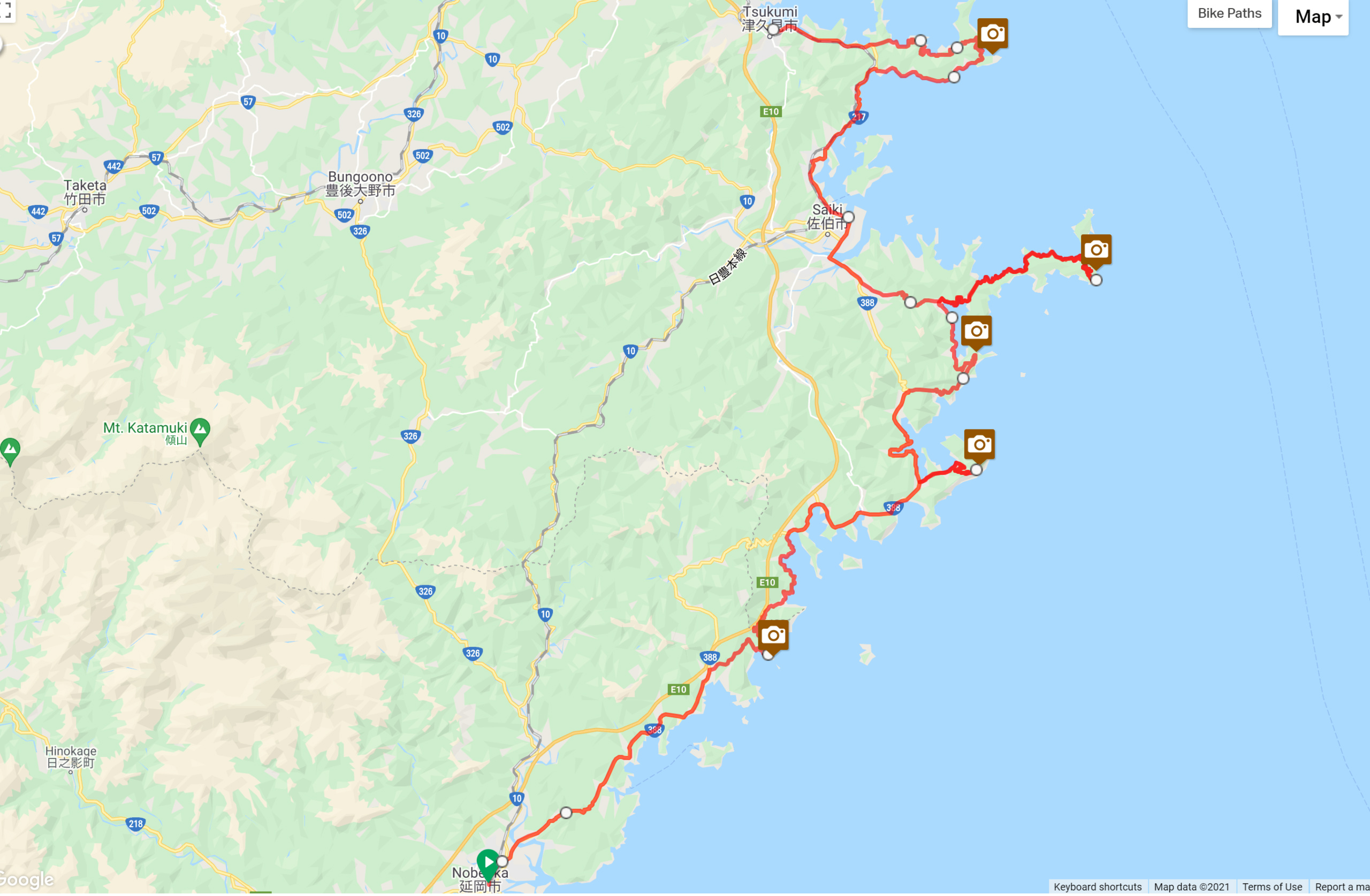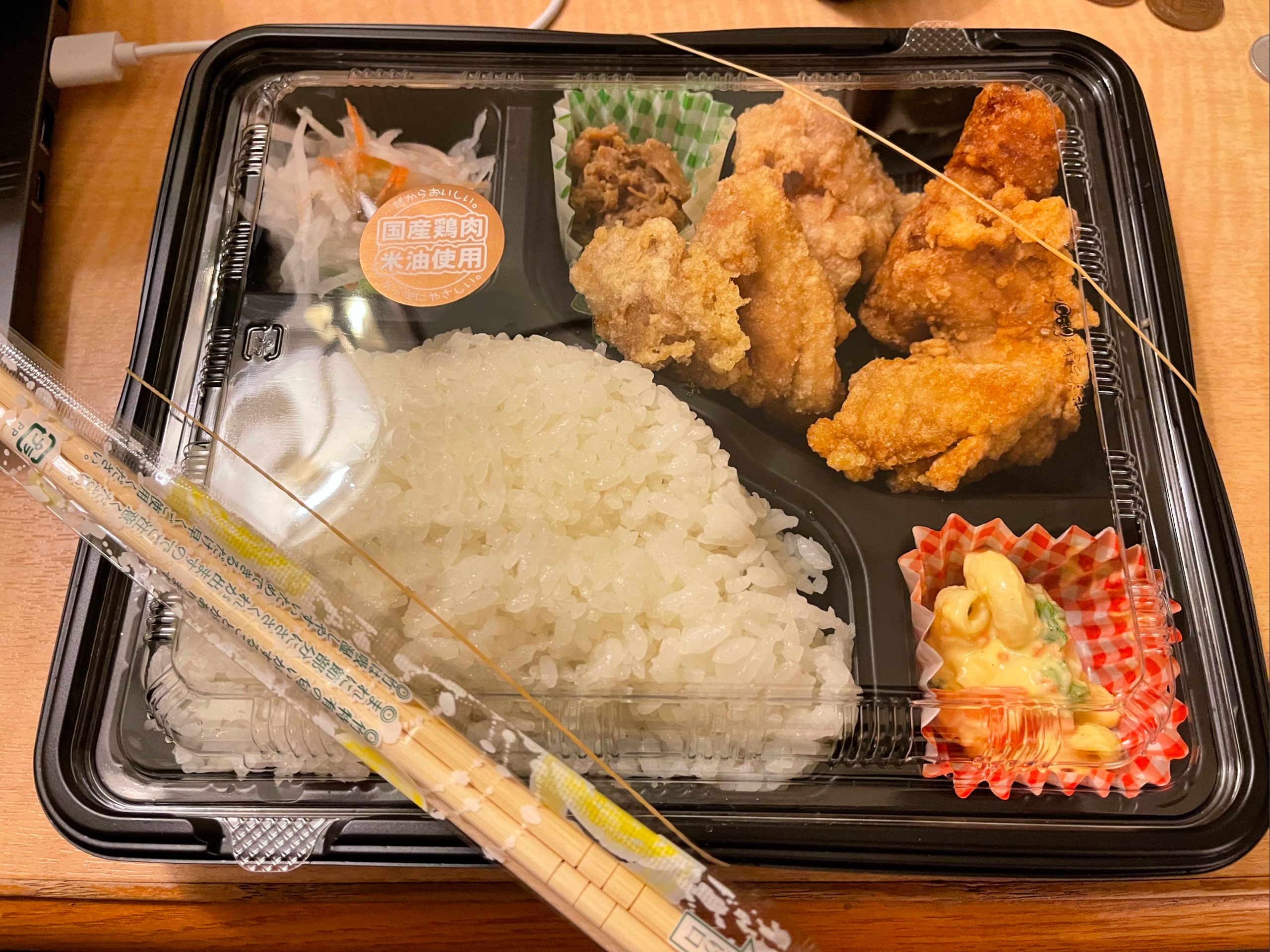 Tonight I got a karaage chicken obento for dinner from a Kyushu chain called Uncle Poppo. Very tasty $6 AUD.
My hotel rooms so far have been $60 AUD a night with the Hotel AZ chain which includes a buffet breakfast. Looking at hotels for visiting Australia next year they seem to start at double that and include nothing.
All hotels here have a coin laundry room which has been invaluable this tour as I brought mostly thermal gear thus I have been washing my few warm weather items frequently but the next day I leave Kyushu and leave the warm weather.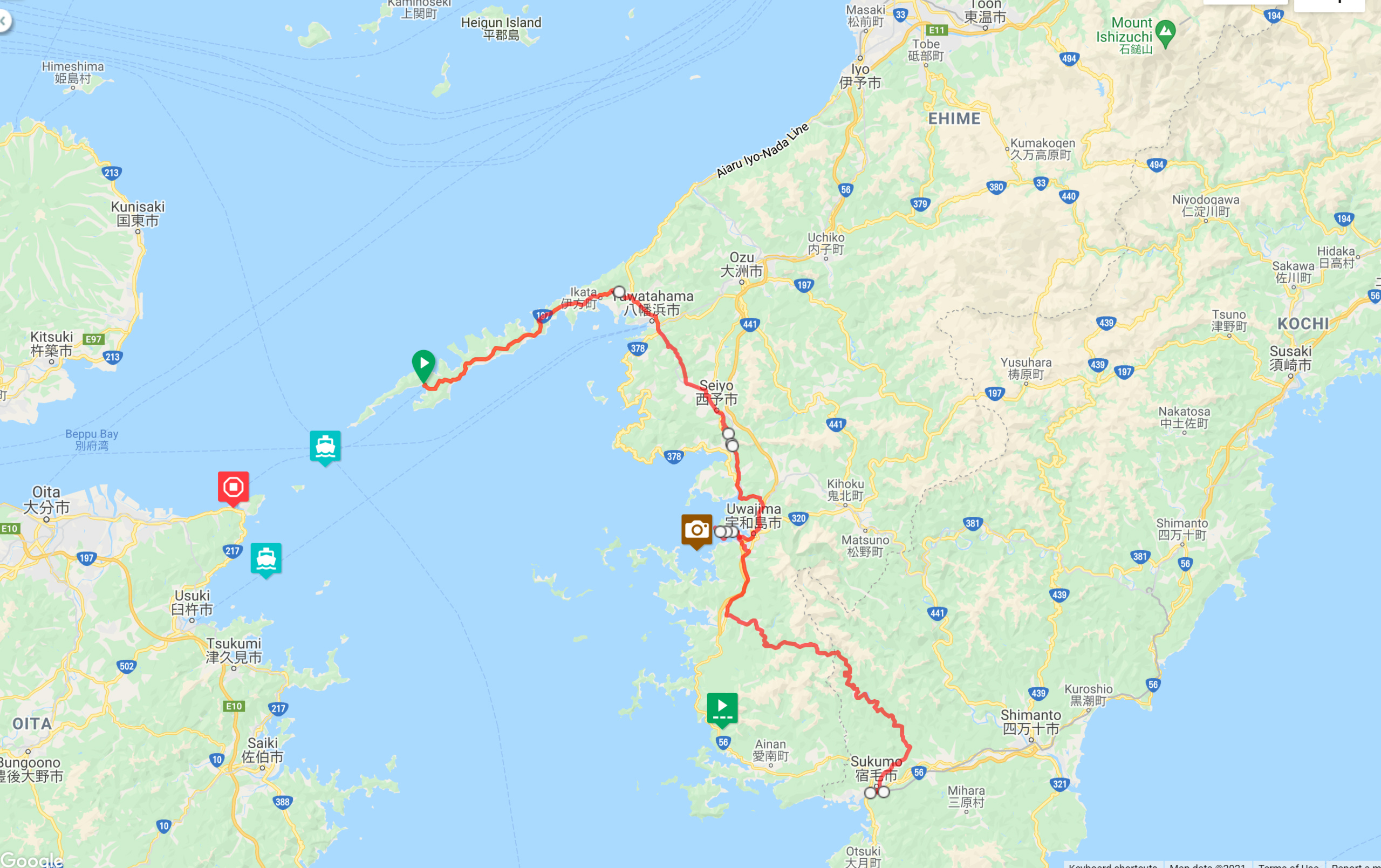 Arriving at the shortest ferry crossing to Shikoku I am surprised it is booked out. It's a cold and gloomy Saturday who but me is touring. A riders club, Ok then back south to Usuki where I am delighted to discover the Orange ferry line that I had no idea operated this route.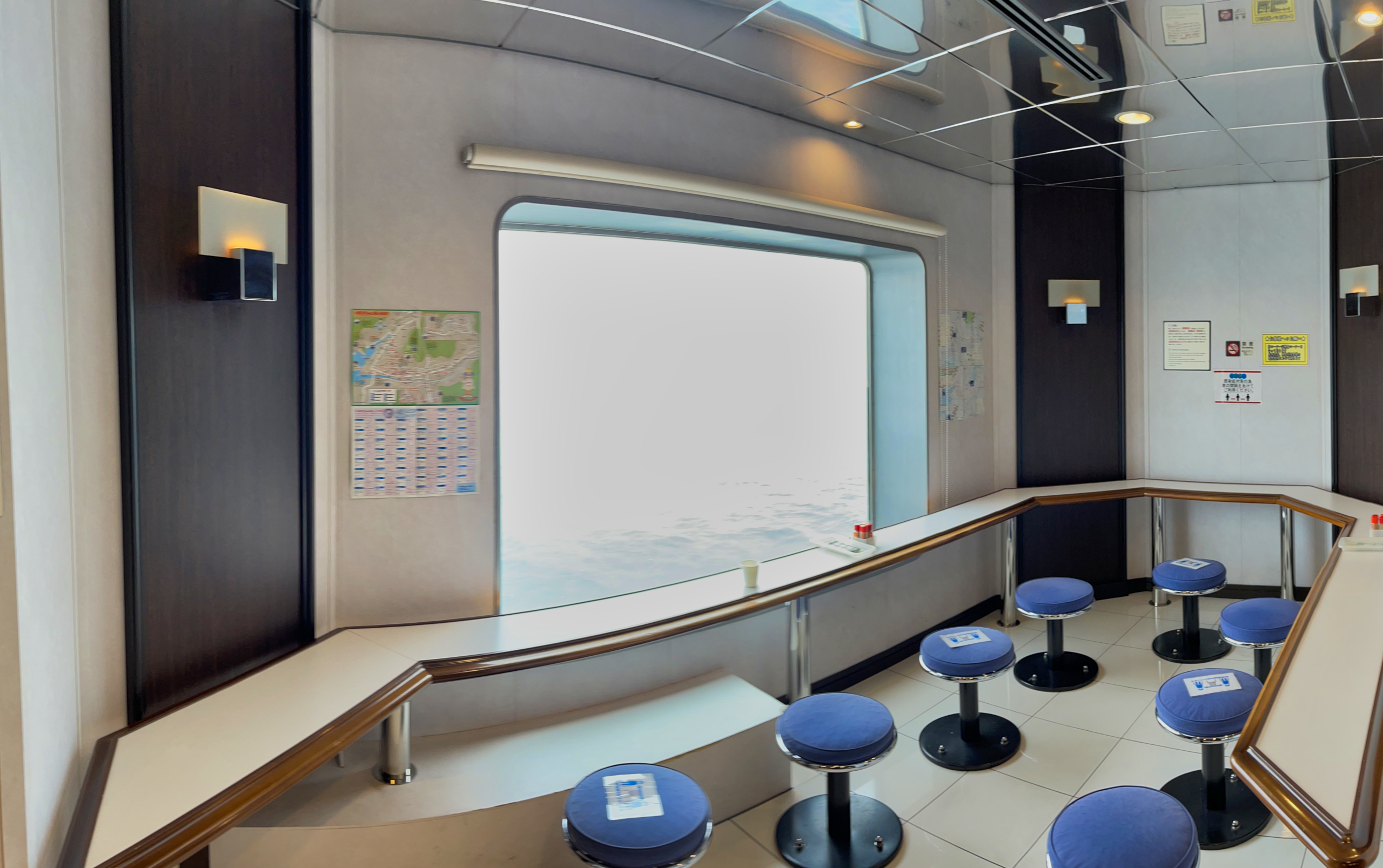 It is a beautiful ship with many nice features. I especially like this area with panorama window to have a light meal from the cafe. I enjoyed some hot udon noodles, perfect for a cold day, then took a small nap in one of the breakout areas. Having to change ferries worked out great.
Disembarking the temperature has plunged and its light rain. No point following my route so I take highway south to my hotel. All my gear works well, I arrive warm and dry and will continue this ride report soon.