I continue my 2021 Autumn tour in Kyushu, southern Japan.
Morning skies in Nagasaki prefecture turn grey and I need to put my jacket liner in. It's Saturday and a few bikes are out.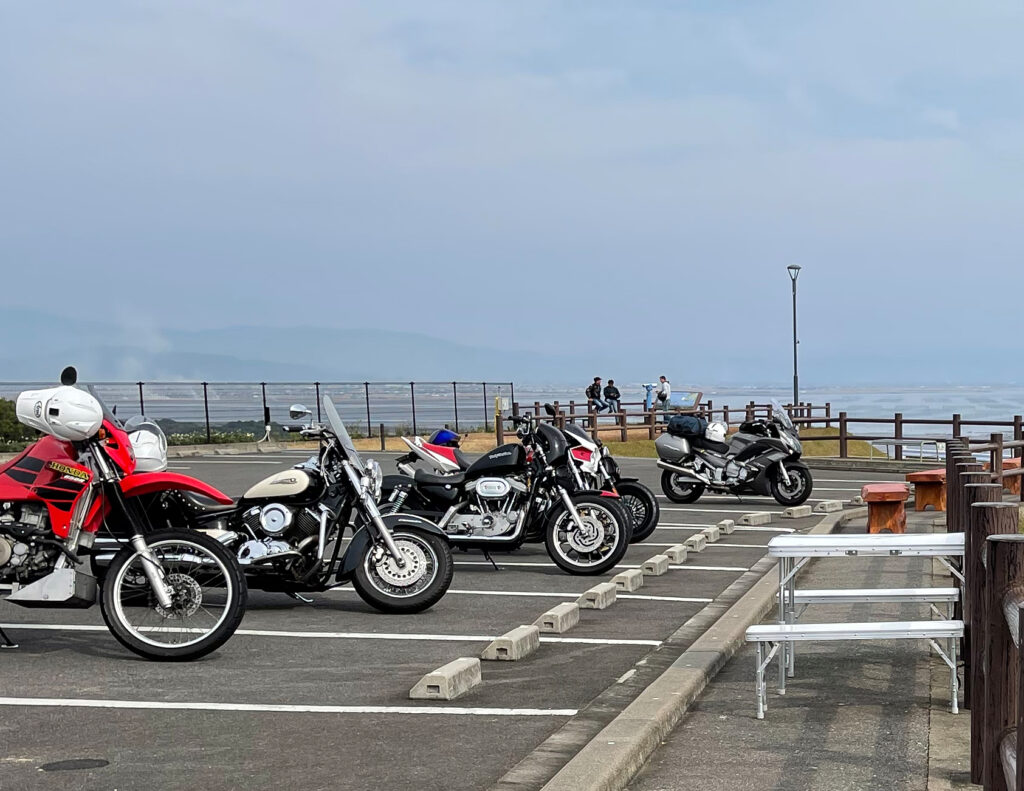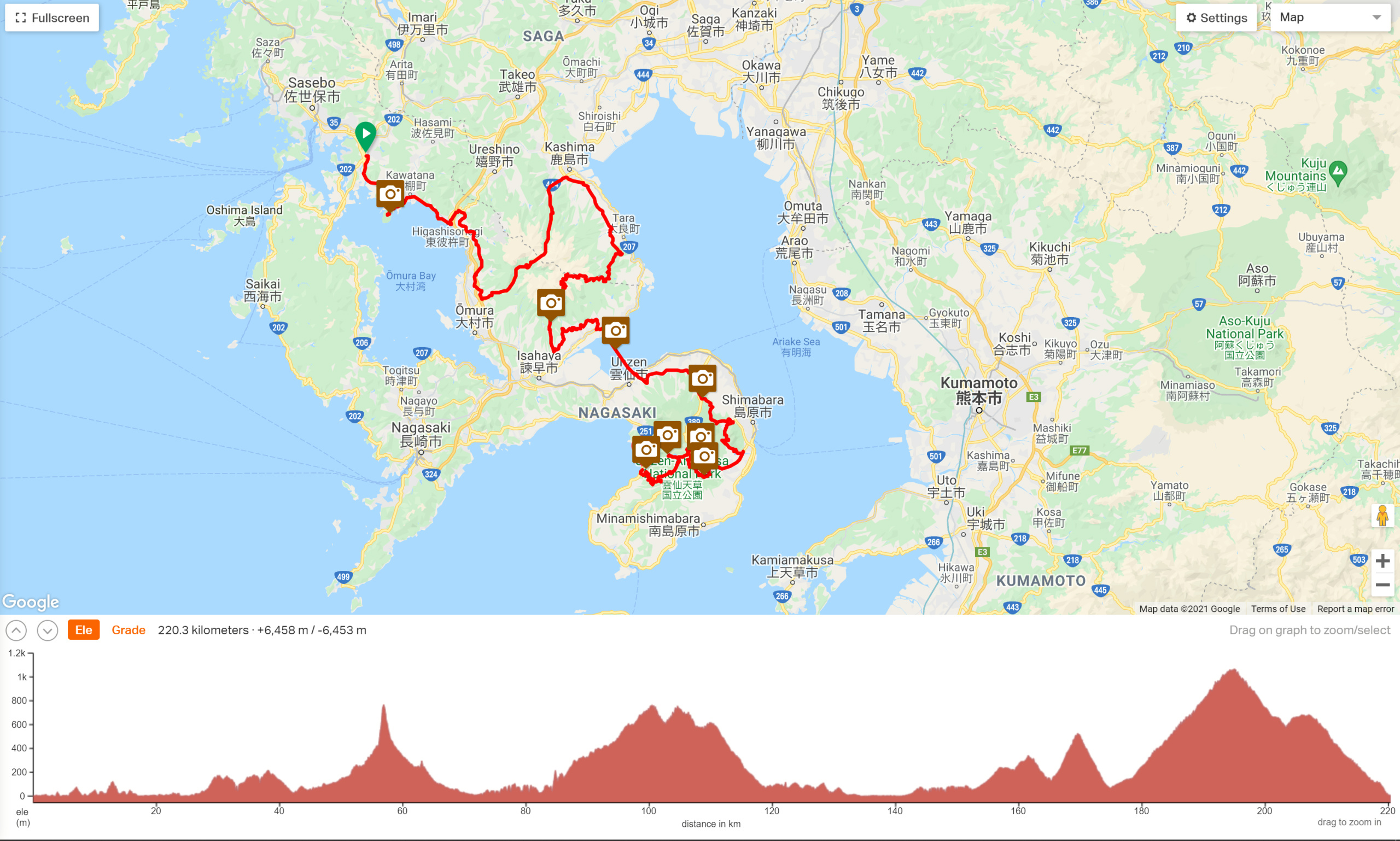 I'm going to Unzen which is a huge volcano with many motorcycling roads however today it's cold and starting to spit rain so I make for my hotel.
I am staying in Obama, an onsen town where steam from hot springs pours out of the gutters but tonight it's rain. Perfect weather for this nice primitivo I found with some tasty food.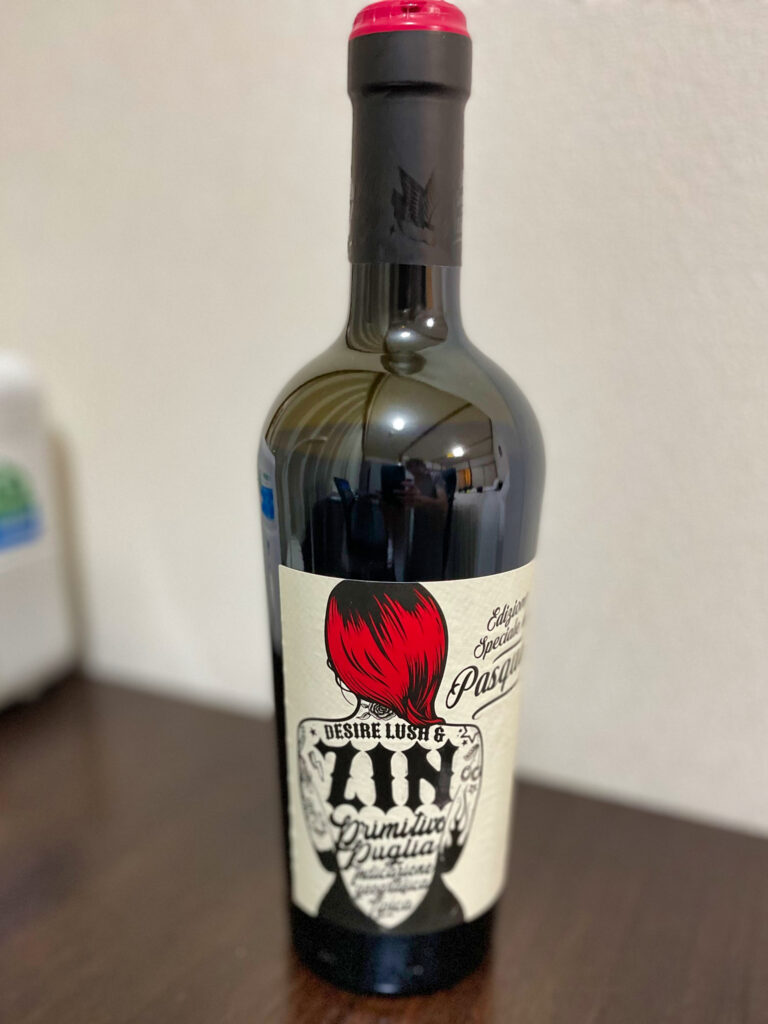 Next morning I back track to a hidden temple I discovered yesterday. Come for a walk inside…
A peaceful spot to sit and watch the stream rise from below.
Riding south on sweeping roads the terraced farms on this volcano remind me a little of Mt Etna in Sicily.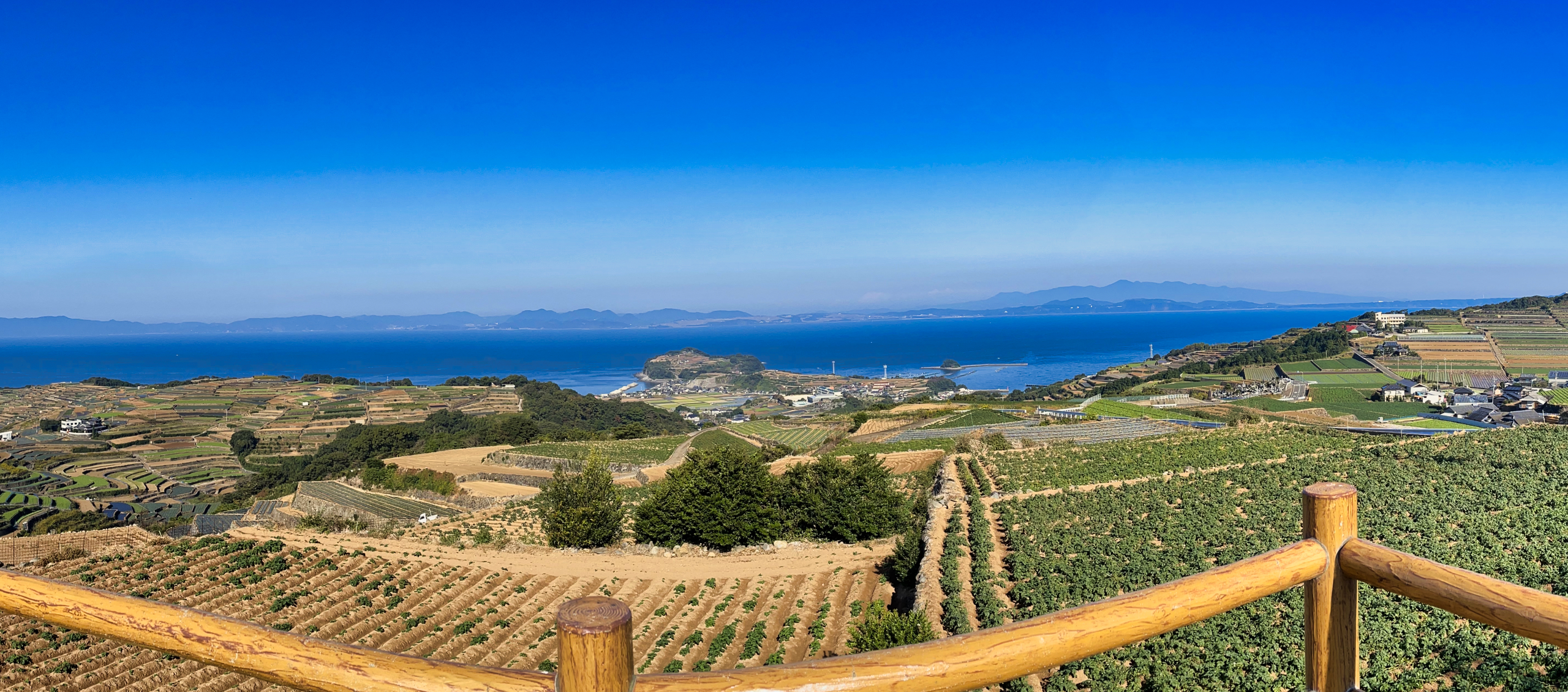 I arrive early for the ferry to Amakusa but today it is not busy despite the fine weather.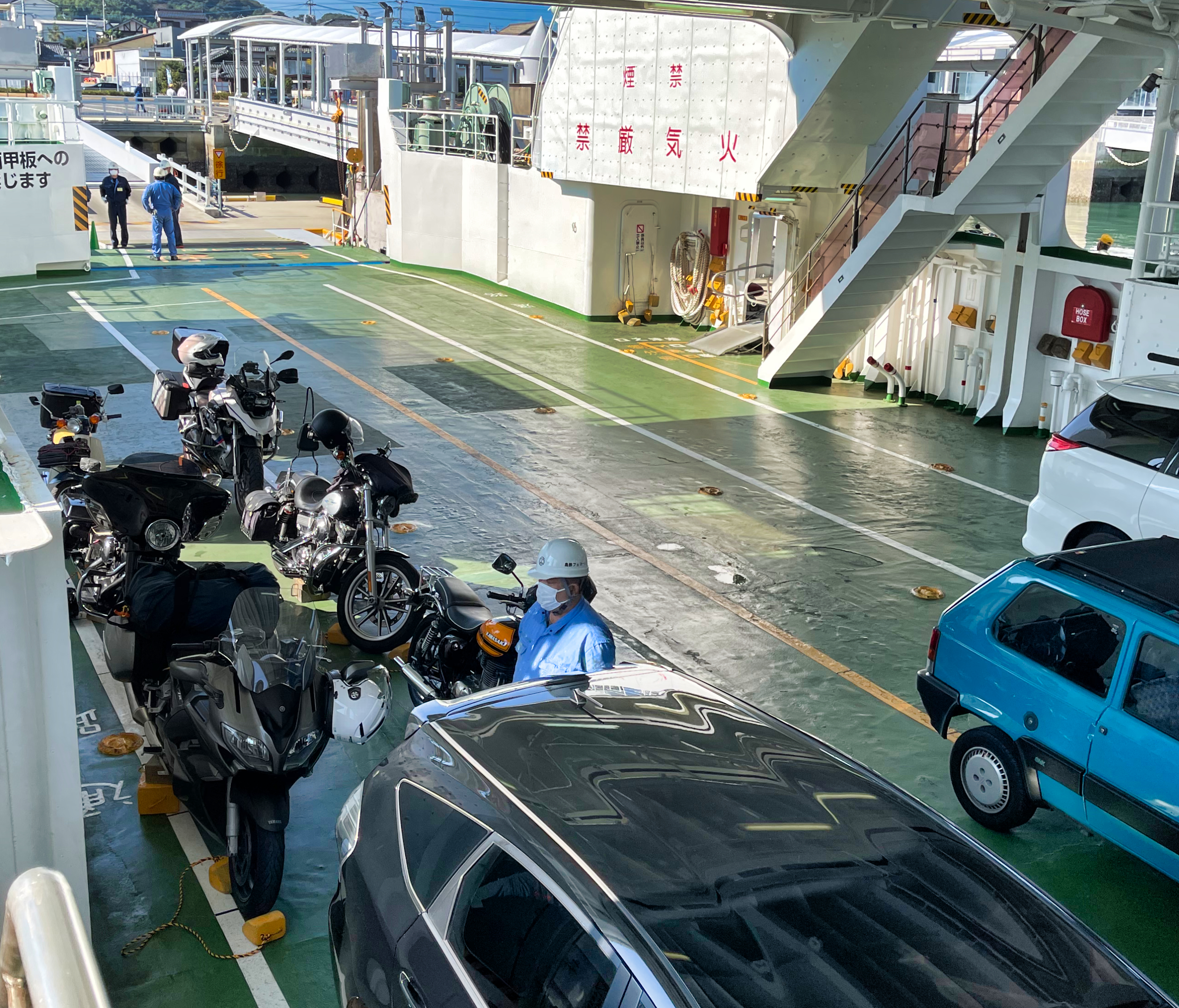 Amakusa is my favourite part of Japan. I'm exploring the "old road" down the west coast which sees little traffic now.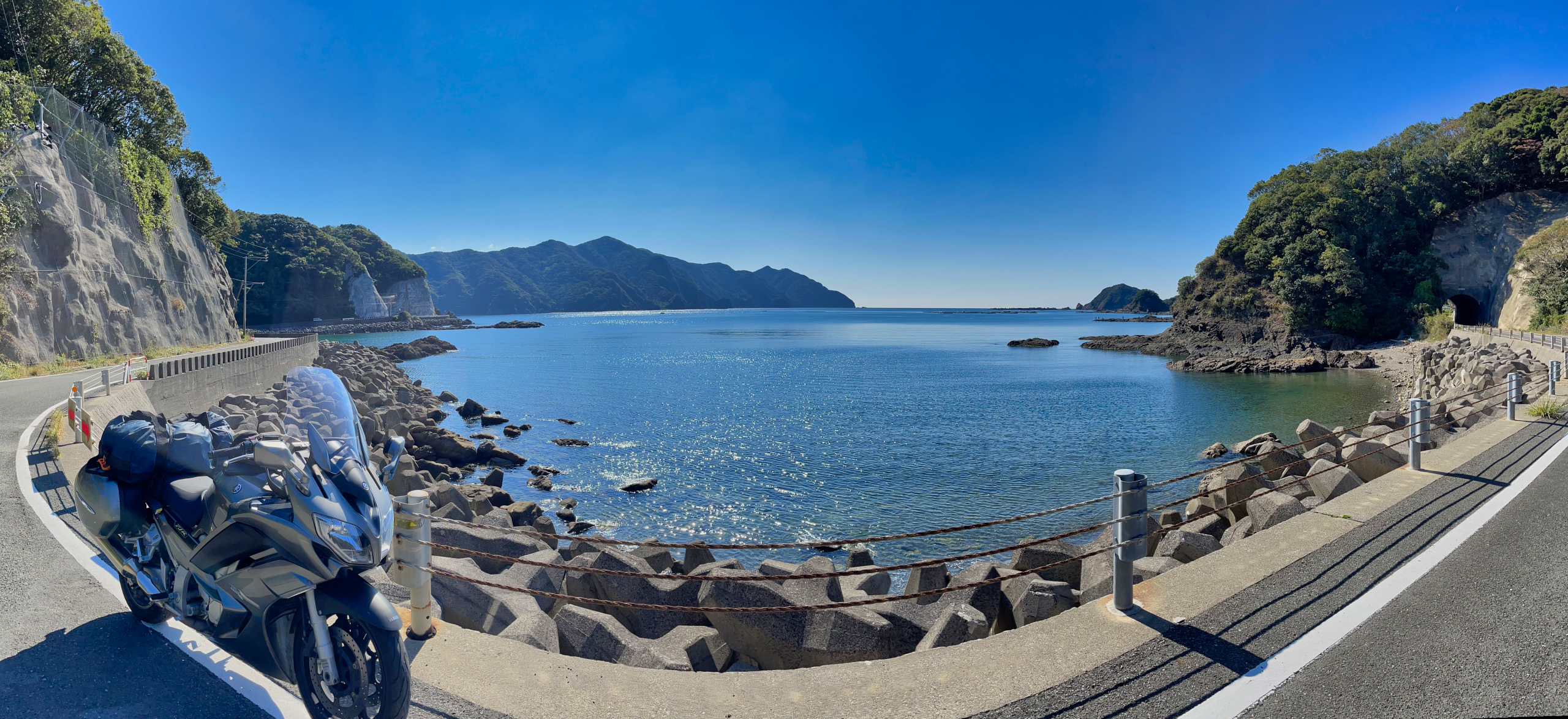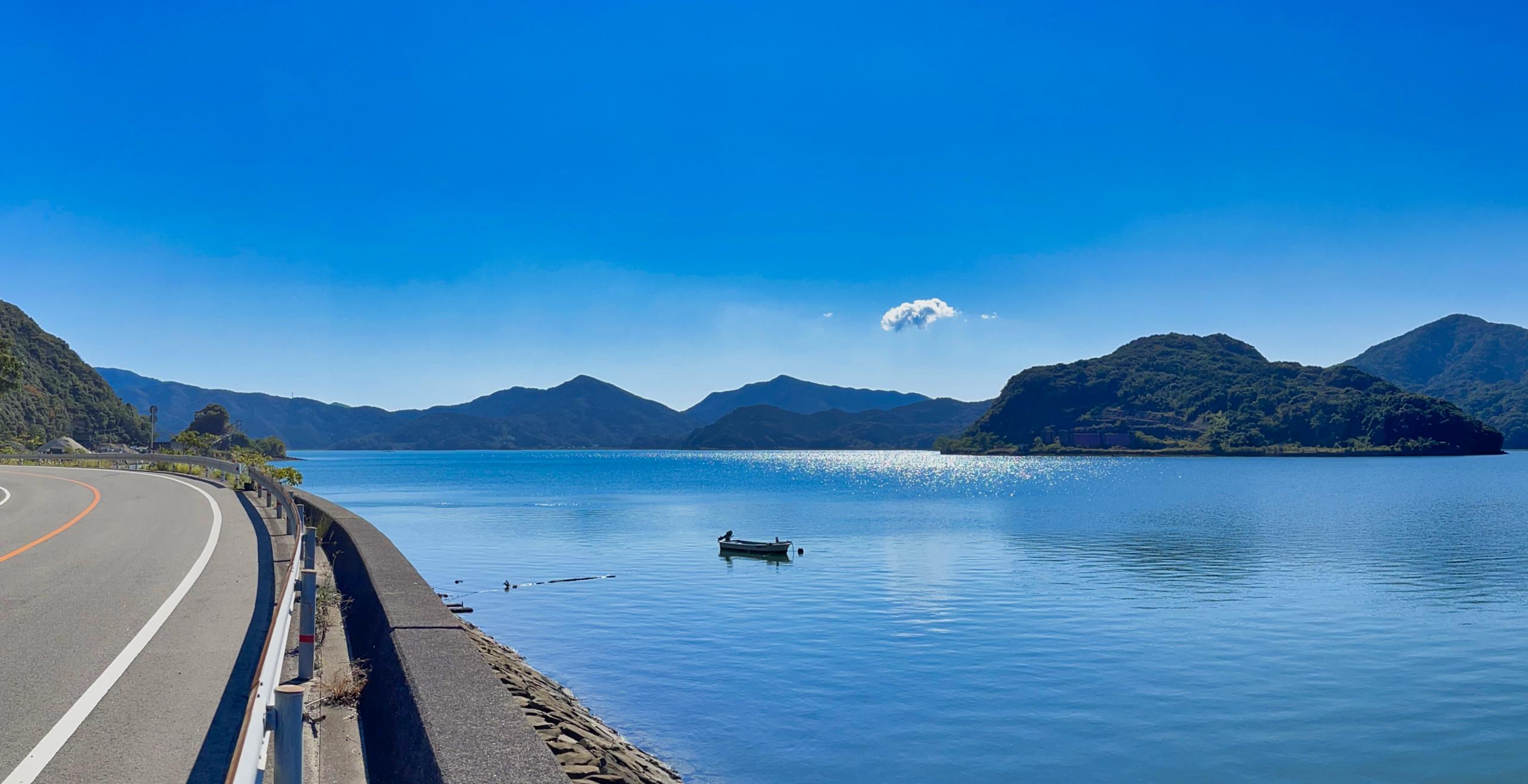 The scenery and riding is so good here my mind has no choice but to relent from revisiting every dumb thing in my past and let me just be in the now, at ease.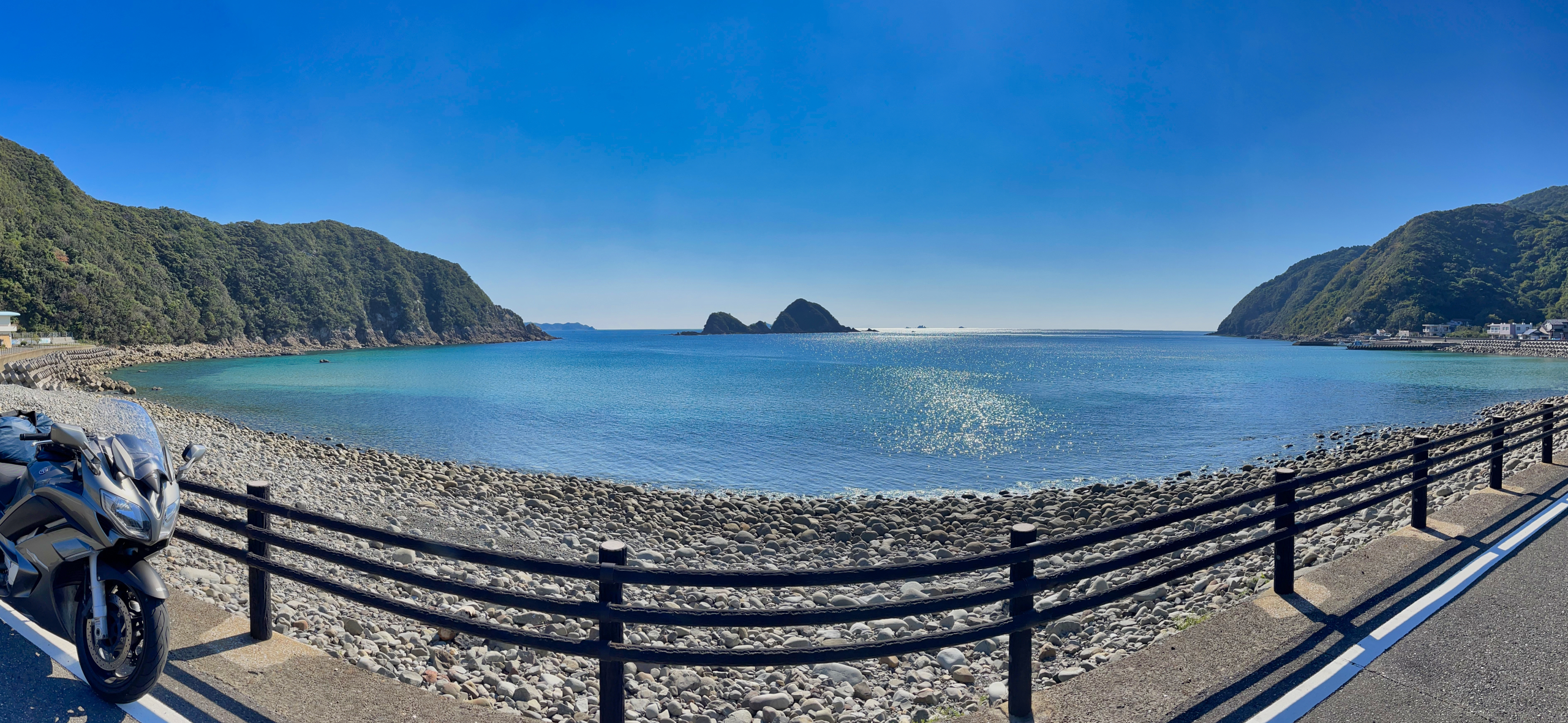 There is a view point on top of that hill (above right) but the road up is under repair at present. Still this has been very nice.
Photography interlude: I switched from using Jpeg to HEIC file format in my iPhone this ride since 16 bit colour should be superior but I note sweep panoramas, the format of 90% of the photos I take using a phone often have processing errors using this format.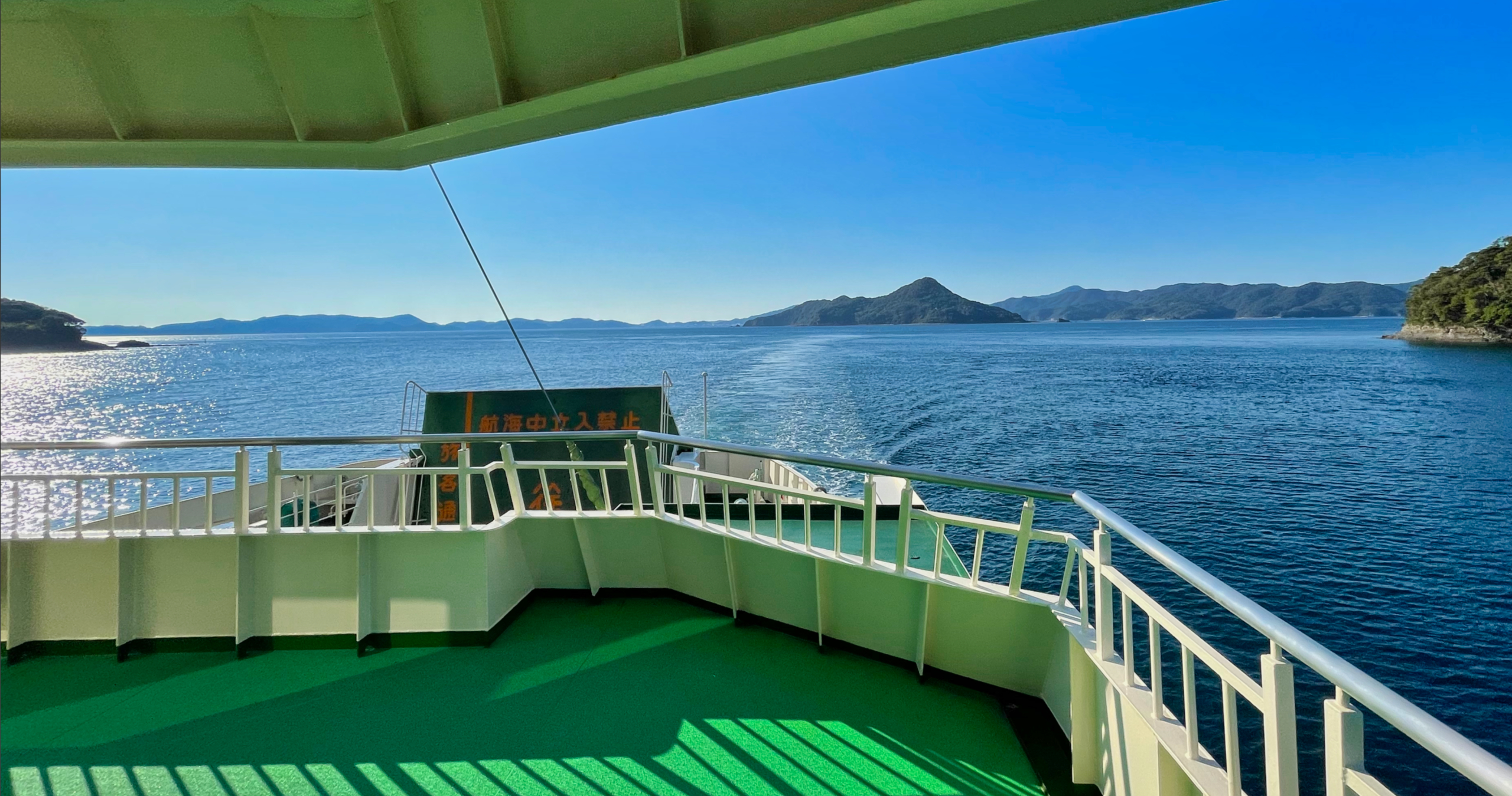 I have two more viewpoints in my GPS but don't want to rush anything so I leave them for when I next visit giving me time to relax and then take another ferry south.
Upon disembarking at Nagashima I go looking for a hidden viewpoint. I know it exists but there are no roads in GPS.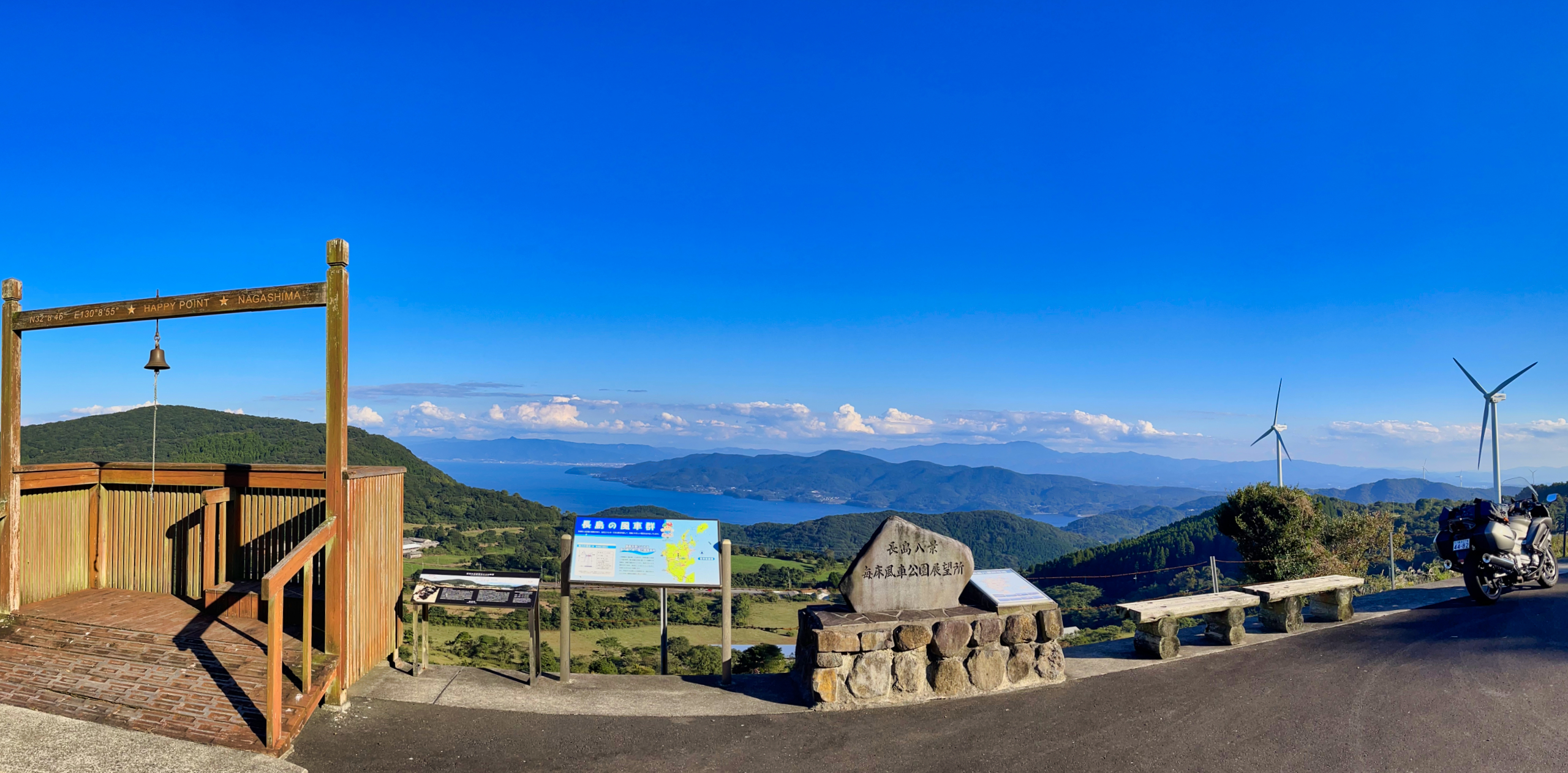 A little exploring farm laneways and I arrive at Happy Point.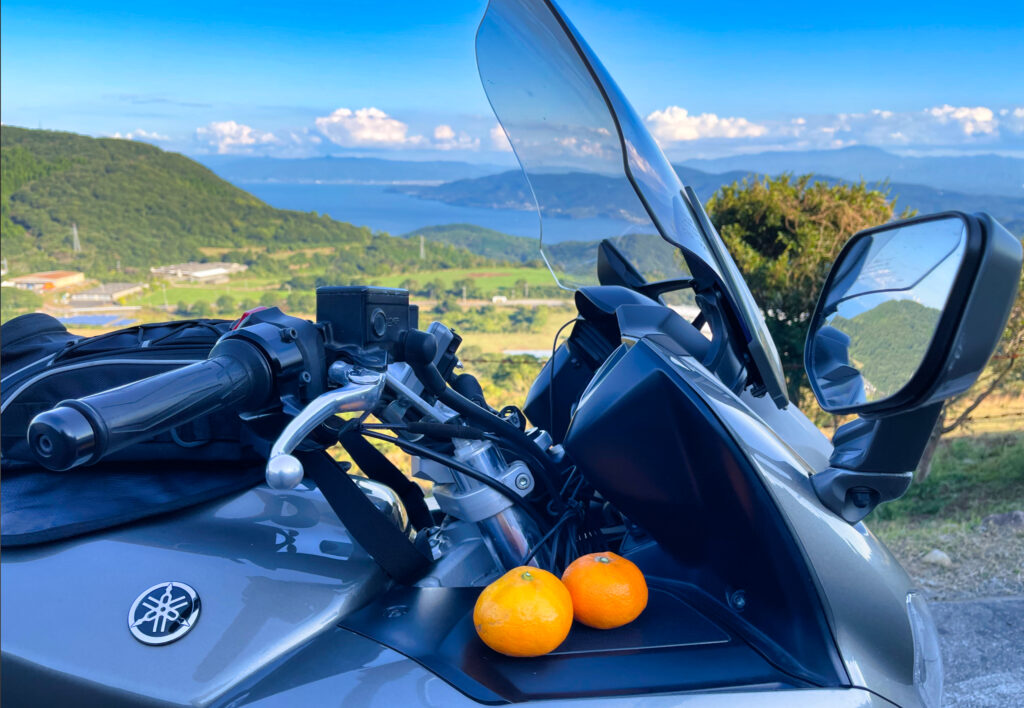 A car arrives and a woman gives me two locally grown mandarins and wishes me a safe ride. If you only visit Tokyo or Kyoto you have not experienced Japan.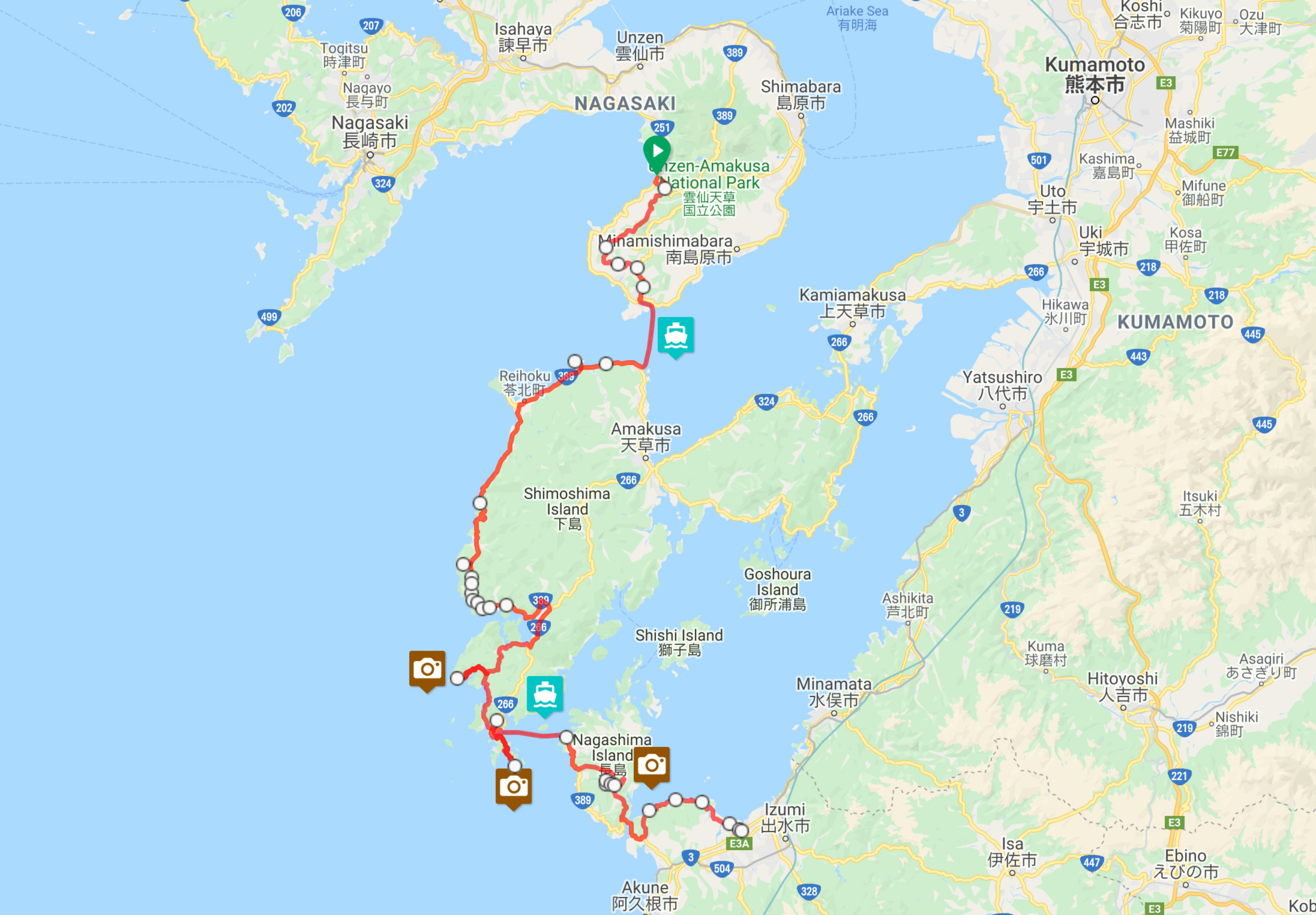 Leaving Nagashima island a rider crashes a few moments ahead. He and two companions took off at a rapid pace. Next corner had some loose stones scattered, not enough to make a bike slide, I think he panicked and hit brake thus ran wide.
One positive of the Covid years has been riding exclusively in Japan for 20 months allowed me to truly master the slow ride and I used a Covid cash incentive to update all my gear. This was big crash with no gear, rider remained motionless, hope he was alright.
I am staying two nights near Nagashima to explore the area a little more.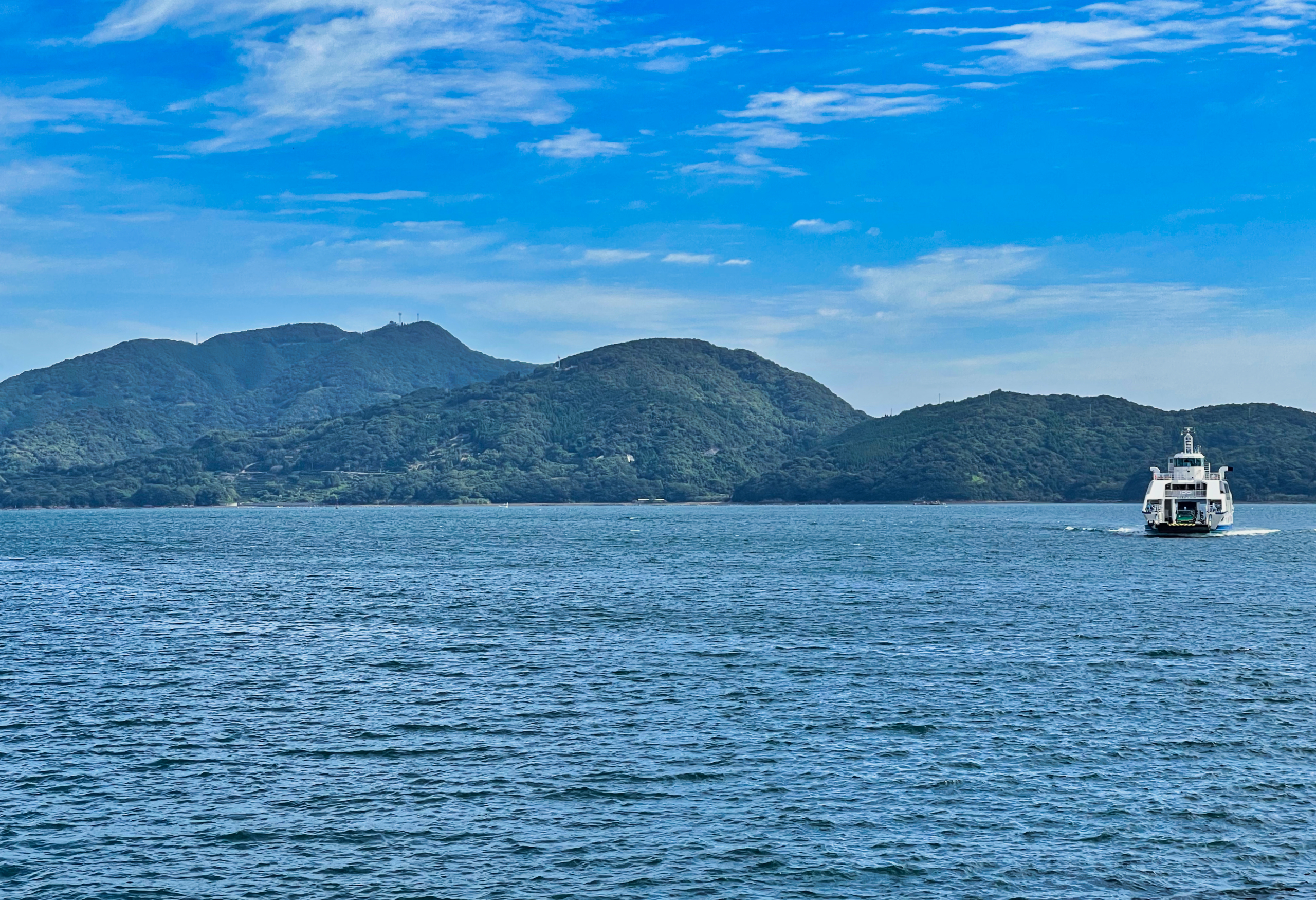 I am blessed with another fine day and after some superbly surveyed roads on Nagashima I reach a small ferry port. Ahead lies Shishi island, my idea is reach the top to see the vista that might offer.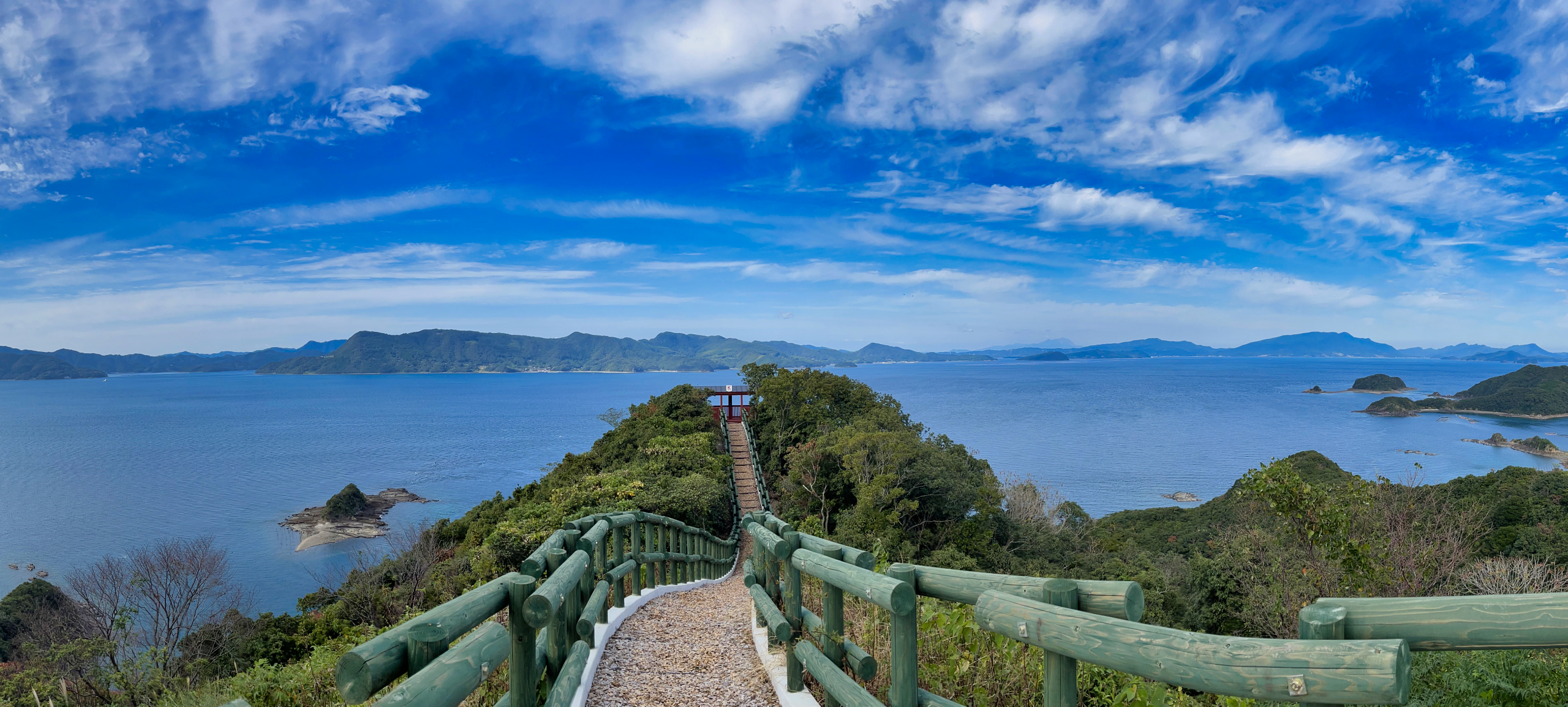 Presently it would appear only locals visit Shishi island, the cafe and visitor info is closed but they have built this lovely new view deck.

Now it's time to find a way up the mountain. Very narrow, steep two wheel track with mulch but underneath is sealed. I find sitting low on the FJR helpful to have feet on ground in places where I need to crawl over/past something. Not sure I'd try this on a GS sitting way up high.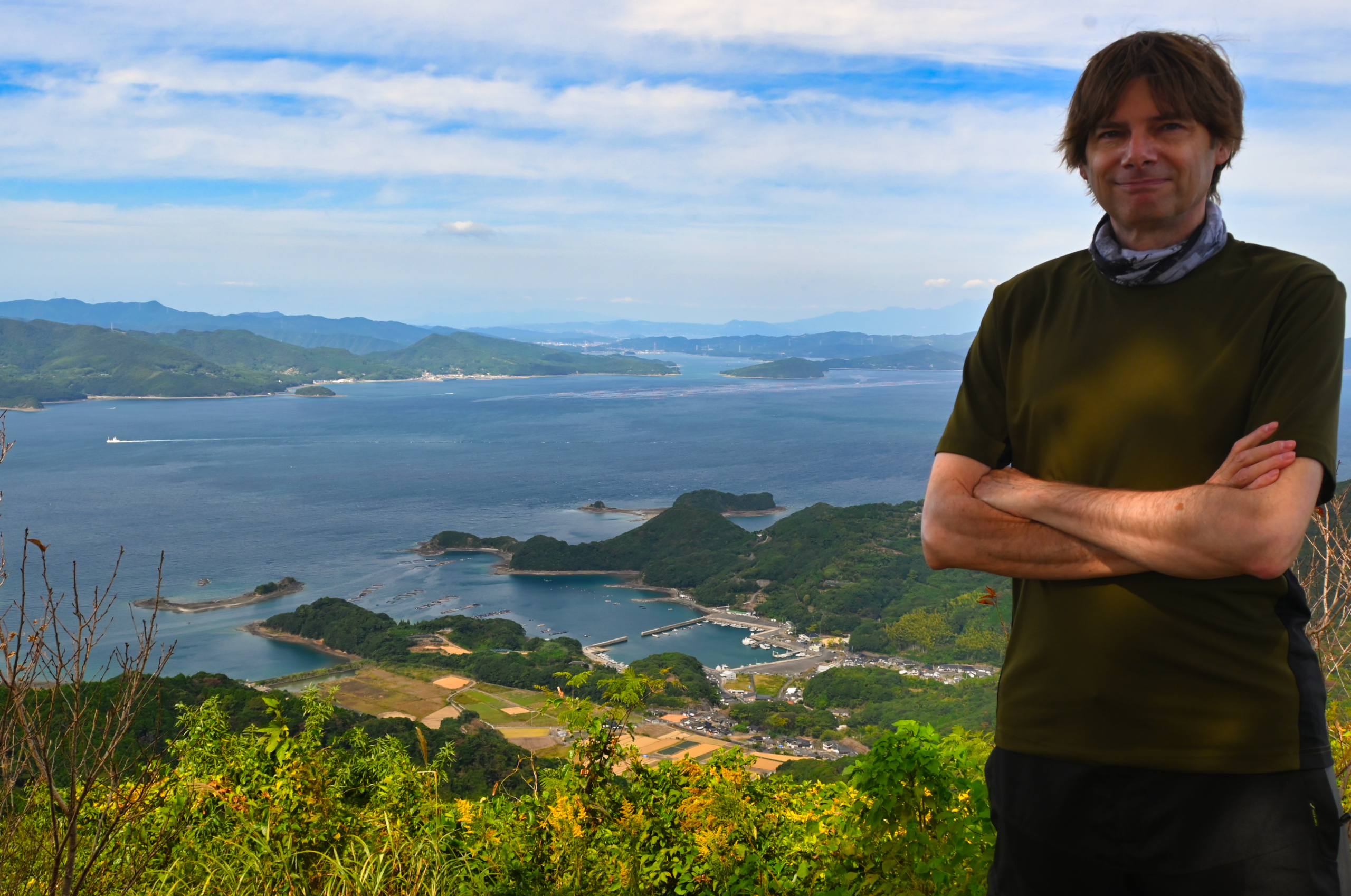 Who Dares Wins.
On top is a small shrine and a spotlessly clean toilet and couple of benches under a shady tree with a view across to Amakusa. I enjoy lunch then decide I'm going to sit up here and enjoy this for rest of day. Maybe get a few things clear in my head or just enjoy the silence.
It's so peaceful up here. I decide this small shrine will be my final resting place one day.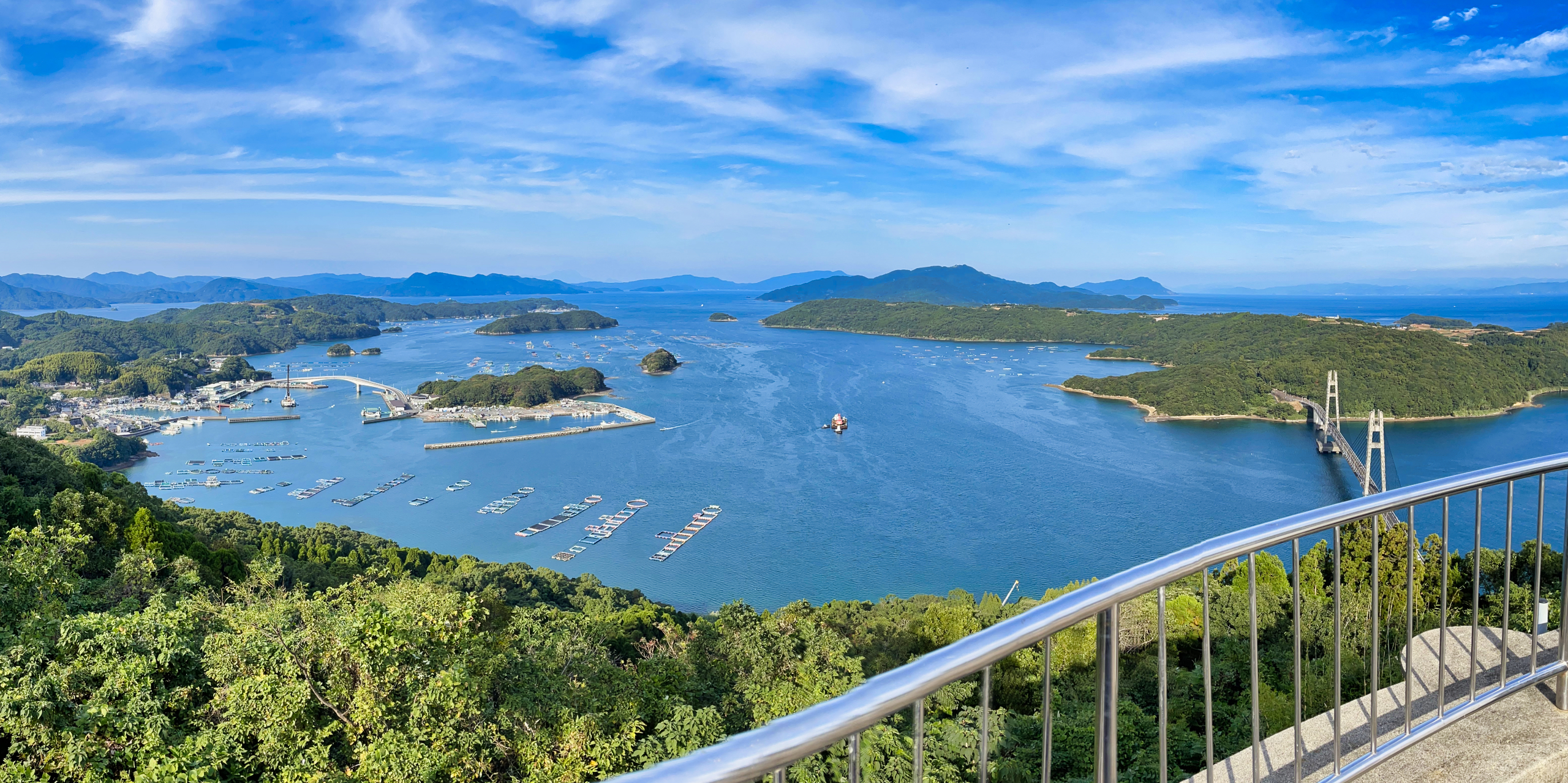 I'm going east today, I feel a little sad to be leaving the islands of Nagasaki prefecture however it's a nice day for riding and I am soon on delightful sweeping roads which I have added to my map of best motorcycle rides in Japan.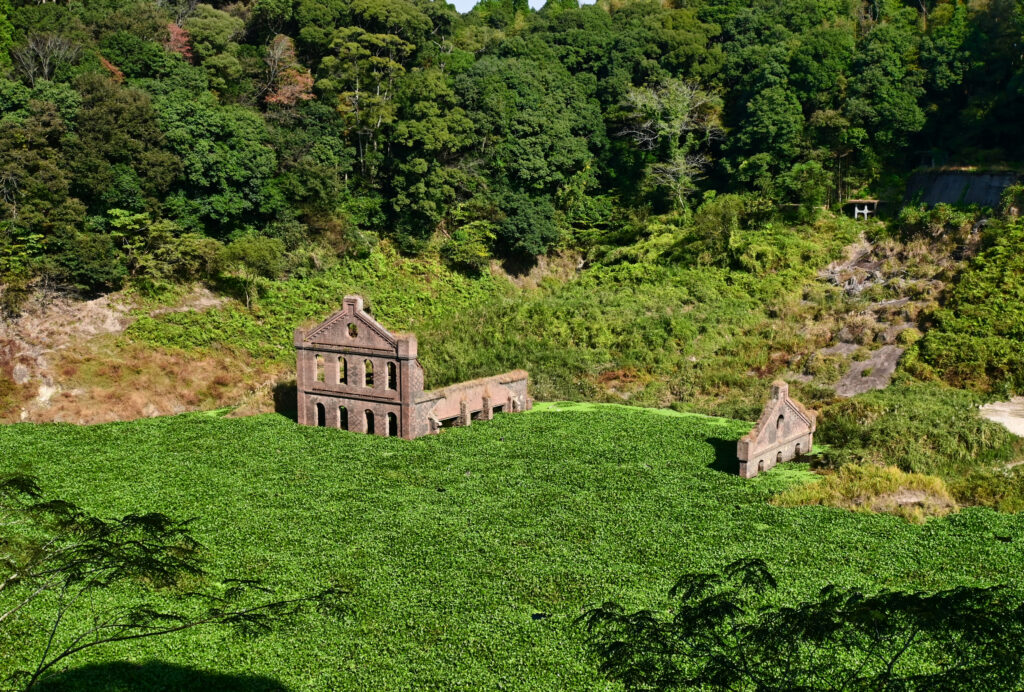 This is a old power station that was submerged in later flood control engineering. At present the water is covered in water lily or similar creating this scene.
From here I ride through Kirishima national park that skirts Mt Takachiho, an active volcano. I expected autumn leaves however everything is still green.
Exceptionally good roads but impossible to photo. This via Google maps is best I can provide.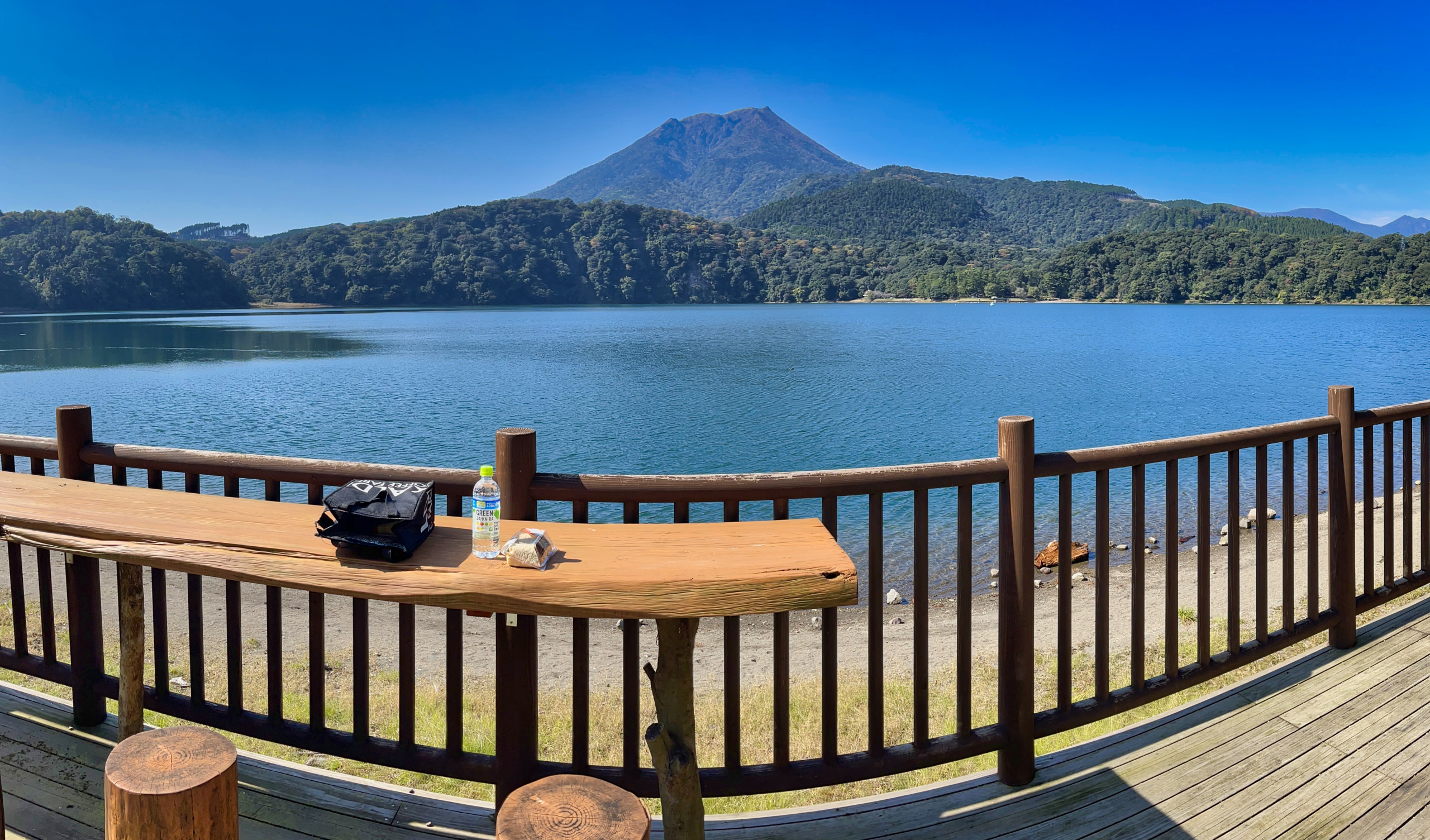 No autumn leaves means no cars or crowds, and that is always enjoyable.
North East from here I enjoy a series of mountain roads but at some point note I am only vehicle and see signs that nobody has passed here for awhile. I know what is coming up next.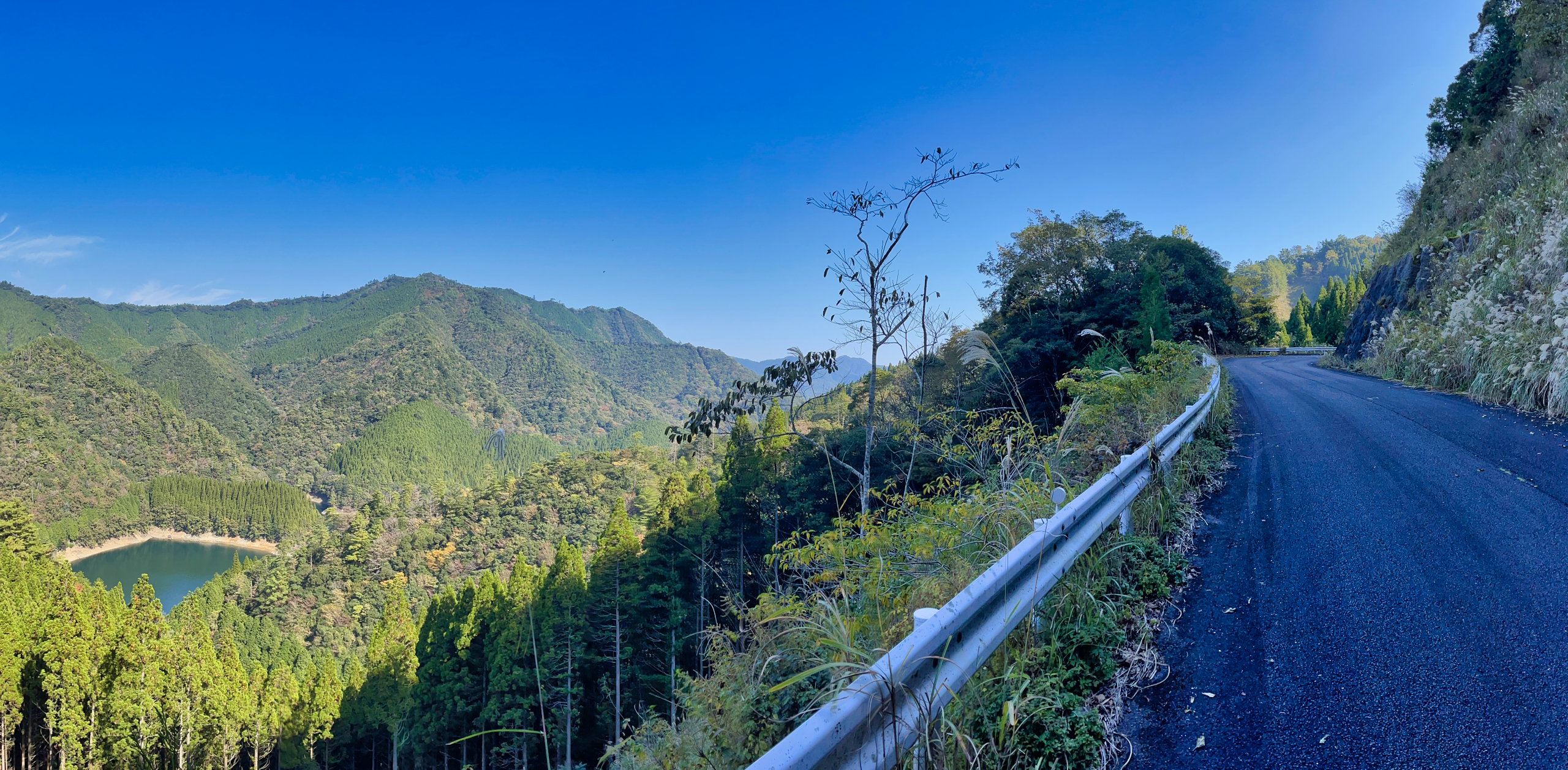 All the routes here are closed due to land slips. Guess who did not check the map last night…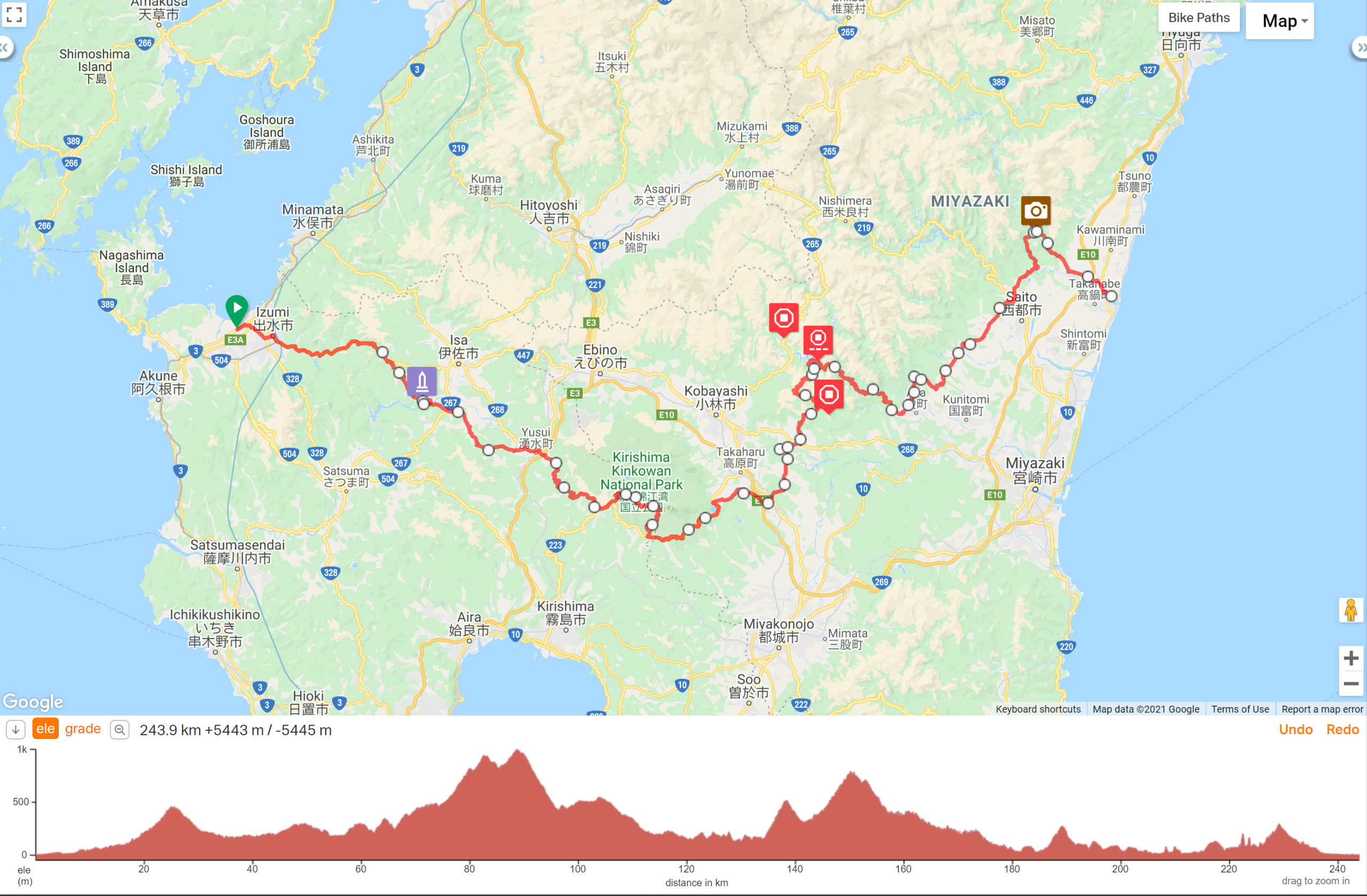 I detour south and around. This is where I'd like a second navigation display while riding as Garmin's are poor at detour calculation.
However the roads remain very enjoyable and I arrive to my final view spot a little later than planned but with wonderful light.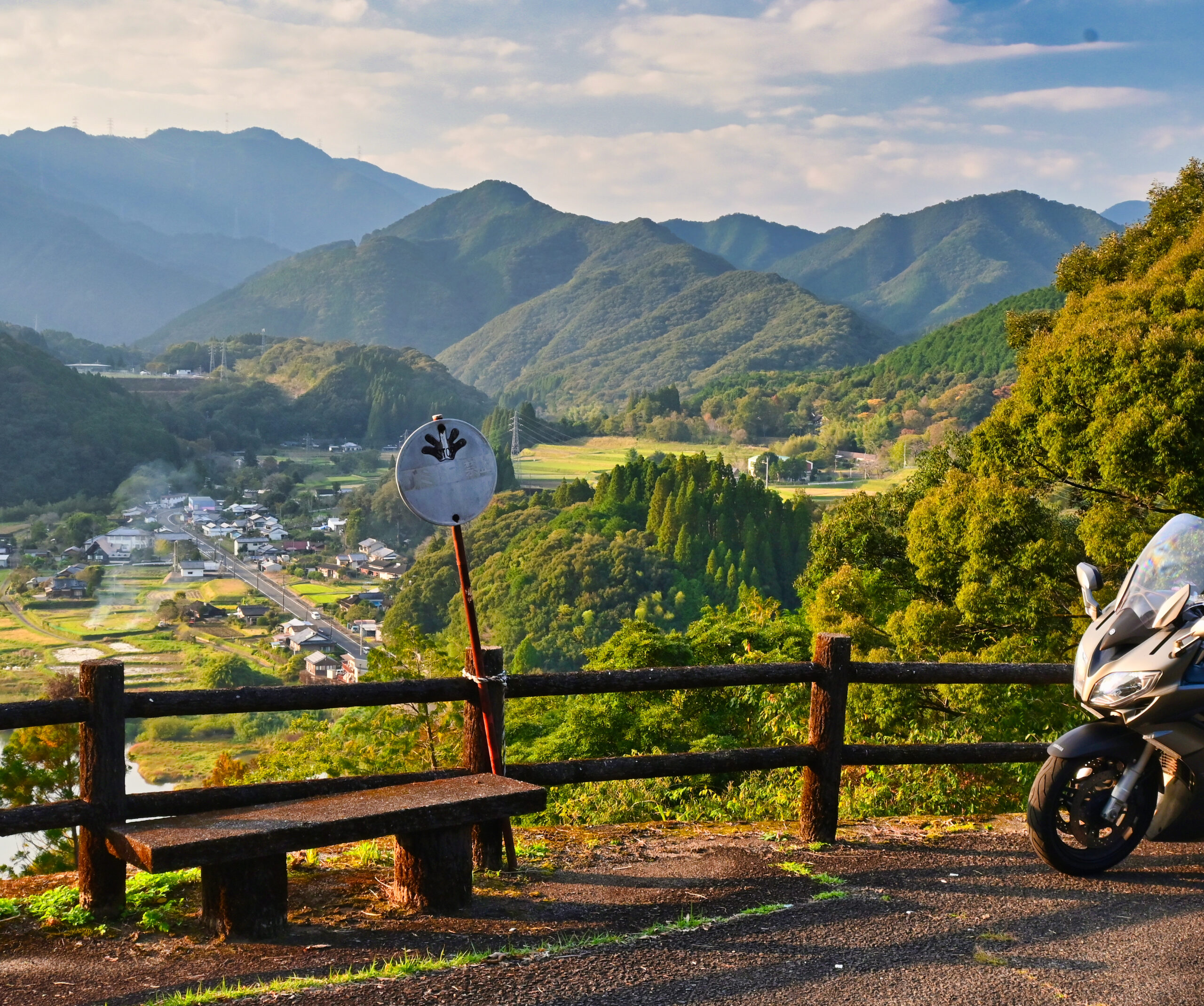 Hope you are enjoying to see Kyushu in such nice weather as much as I am. I will continue this ride report shortly.