A milestone reached. I've clocked 100,000km touring Japan on my 2014 Yamaha FJR1300. A few notes on the experience so far and my evolving views on what I might ride next.
Long Term Ownership Experience
The FJR1300 has been a very reliable motorcycle.
Problems have been minor but one item is persistent. The engine had an issue stalling when arriving to stop at traffic lights and a few things were tried while I put up with it for long time. Last year the fuel injection was torn down and after that it came good but now has returned. (Update I may have found a fuel additive that keeps engine idle ok)
Otherwise the bike runs fine. Both the panniers needed their locks replaced after seizing and the clutch switch failed this year.
Service costs have been low. I change the oil and filter every year myself and every 2nd year it goes to the dealer to be checked. At the shop items such as airfilter are replaced as are spark plugs, brake fluid and brake pads as needed. Parts are not expensive and labour costs have been minimum. Valves have only needed doing once and was combined with the injection tear down to save money. Battery was changed at 5 years.
Fit and finish is still good despite having been ridden on roads with salt in winter and being stored under a tarp in a country where it rains all the time and everything rusts. The paint is still very good even though I have never applied any sort of protection. Plastics all still good as is switchgear and frankly the bike looks ready to do another 100,000km without any drama.
Things I like most is the comfort. I ride mostly with my main visor up and just internal tinted visor down because I am in a bubble of calm air, not still air, I enjoy the feeling of gentle wind but am protected from bugs or stones and have no strong wind buffeting my helmet causing neck strain. Once you get accustomed to this there is no going back to a bike with half fairing or small screen.
Also I like the turbine smooth engine which in Japan I can ride around most of the day in one gear and the 450-500km range per tank.
Things that could be better is the suspension can be little harsh, particularly the front fork compression damping. The brakes do the job but lack bite due to not all the front calibers engaging unless you also are using the rear brake due to Yamaha's odd approach to linked braking.
And then there are few dated aspects like the heavy clutch pull on my 5 speed and heavy throttle return spring and some other outdated design aspects could be updated.
In summary it's been a very reliable bike, old school with build quality that lasts. Yamaha could easy update the bike with suspension and wheels from their Tracer 9, brake master cylinder and calipers from R1 and swap the dash to color. I'd buy another then but instead it seems destined to be dropped.
Looking forward
The FJR works well for me but if the stalling cannot be solved it will make me change – I'm on a ferry bound for Hokkaido and it's a 20 hour voyage so I've poured a glass of red and will pour out some thoughts.
For a couple of years I thought about getting an ADV bike. I would in Australia, however in Japan every road is sealed thus it would be an exercise in style.
I've tried bikes other people suggest for touring such as the Tracer 9, Versys, V-Strom etc but I find the wind buffeting annoying – and best riding here is in cold months. I want protection from the elements.
The demise of the tourer
The tourer category is dead. Triumph Trophy; Kawasaki 1400GTR; Honda ST; Motus MST; BMW F800GT and Yamaha FJR1300 all discontinued.
Dual purpose bikes were never in vogue until Long Way Round but now everyone wants to look like they are crossing continents and manufacturers have exited the tourer category.
As of writing that leaves me the BMW R1250RT and redesigned Honda Goldwing to consider. (I exclude the K1600 due to its ludicrous $2000 valve checks)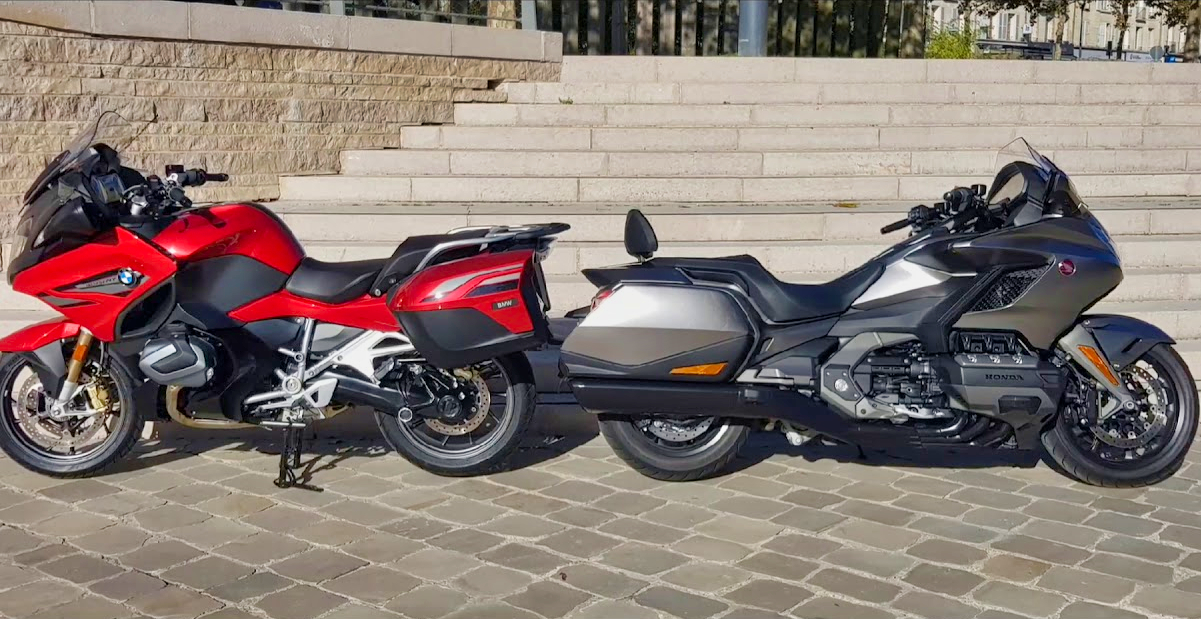 BMW R1250RT (2021 update)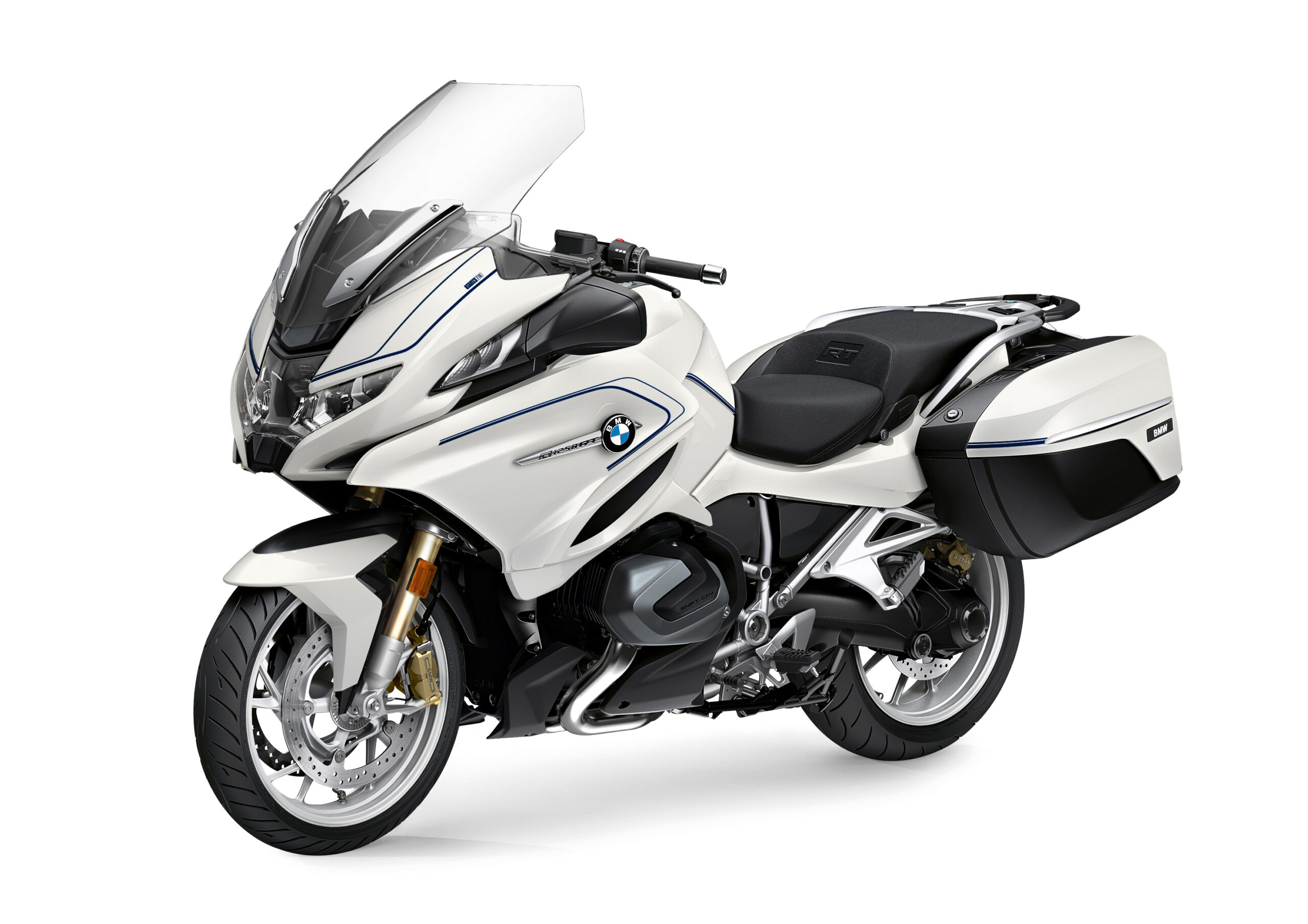 The RT might seem the obvious choice. I toured USA and Canada on a R1200RT. The new one gets a facelift but at the shop it seems familiar to the one I rode.
Brakes and dynamic suspension are big upgrade over my FJR. Many electronic rider aids and new adaptive cruise control too. Quick shifter, hill hold and keyless access. The FJR is looking a bit dated.
The RT now has a 10″ colour screen which resolves the issue I had previously of never being able to read the tiny figures BMW use on their instruments. It links to your phone to display various info and play music.
The new screen should feature in dash navigation – except it doesn't in Japan and there is no provision to fit the Motorrad Navigator GPS unit either.
You know the rest about this bike already since underneath it's the 1250 GS. Reliability is widely said to be good but servicing is expensive. I am hesitant to buy a BMW, I had one of their cars and it kept breaking.
I've ridden 3 boxer twins, I'm not really a fan of the engine, or twin cylinders in general. The R1250RT is $40,000 AUD here.
Honda Goldwing (2018 redesign)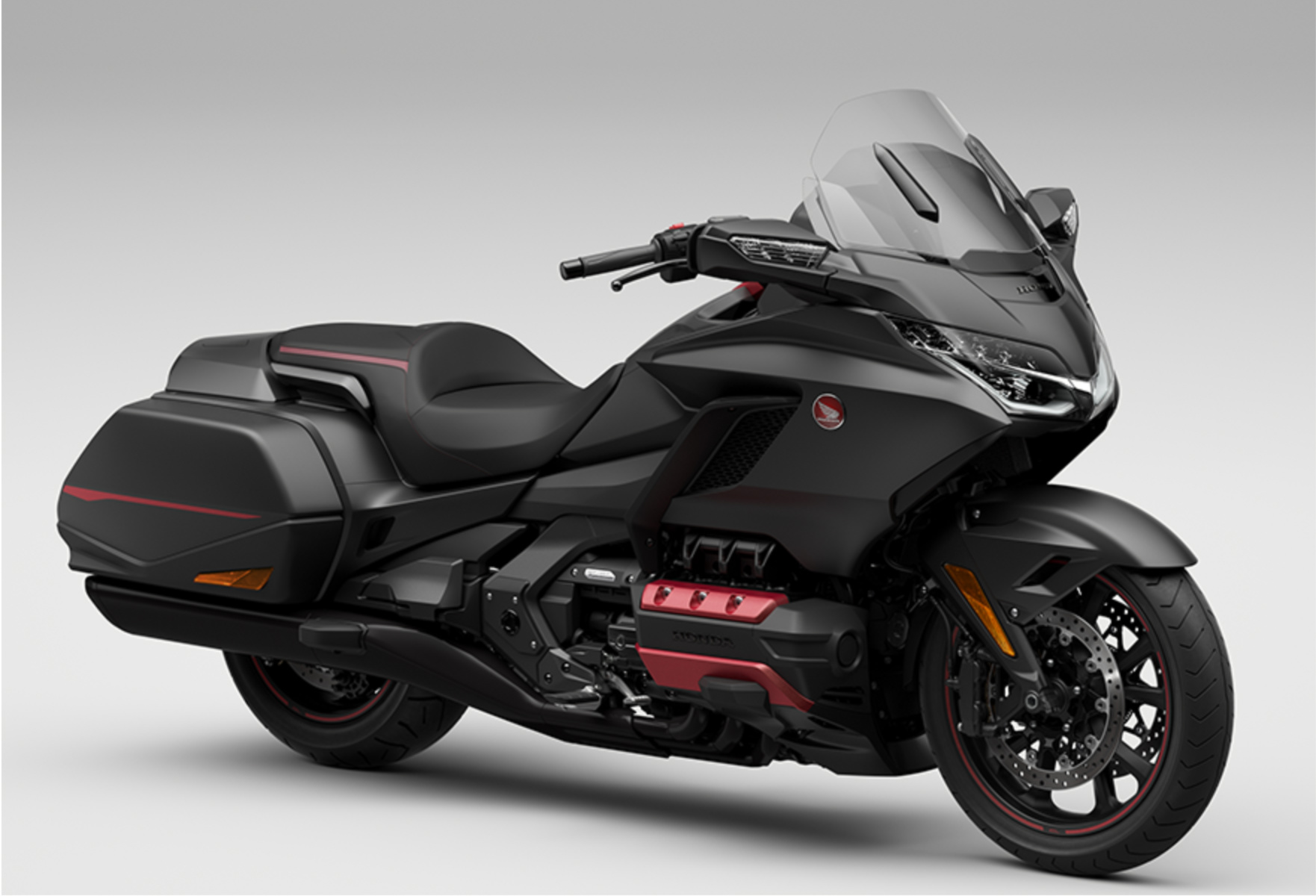 The new Goldwing has been to Jenny Craig but remains 'big boned'. It would be easy for me to dismiss but I have formed ideas without trying things in past then later discovered I was an idiot and I'm tired of doing that in life.
Riders who swapped from FJR's tell me with its very low COG and double wishbone front end it steers lighter and handles fantastic. So call me curious. I could not sit on it as already sold, and no demo.
The engine appeals to me. 24 valve flat six same as a Porsche, turbine smooth with crazy torque. It features a dual clutch transmission which I've experienced in a AMG Benz but unsure about for a bike.
Other car tech on this bike is true self cancelling indicators and idle run stop which I'd love in summer instead of getting bathed in engine heat. Like the BMW it is keyless with central locking on panniers and has a hill hold function. Cruise control is regular not radar.
I like the look but then the designers made a mess putting buttons everywhere on the faux tank that leaves no place for a tank bag or GPS. The large screen cannot be used much once riding as functions are locked, the implementation of Apple Carplay or Android Auto is apparently very poor.
The bagger with it's mid controls would ease the pain I now get with rearward foot pegs. But it is a huge bike. The Goldwing DCT is $35,000 AUD here.
---
The weight of these big bikes doesn't concern me, I already ride a heavy bike, but their girth does. I occasionally want to filter, ride past stopped traffic on inside – literally in the gutter as there is no side strip, every road is curbed here.
On my way to the ferry the highway was cut creating a crazy 40km traffic jam detour. The FJR could just squeeze by cars but the RT would have been stuck and the Goldwing is never going to filter any Japanese roads.
I can imagine myself riding a big luxury bike here one day. I'd like to be one of those riders who are in no hurry to get anywhere in particular and doing more photography. But these are very big bikes. Rumours of Honda reviving their ST are interesting – but for now no new bike announcement from me.