Earlier in the year I went looking for a replacement for my winter jacket as well as something suitable for 3 season touring for future ride plans and read numerous reviews then tried on many jackets before quite by chance I came across the Andes jacket from Alpinestars.
Being in Japan I initially thought first I should try the local Japanese brand rider apparel. I looked at Kushitani who here sell a limited range of textile items as well as their famous race suits. RS Taichi, Rough and Road and Komini are leading Japan brands however sizing on stock here the arms are too short for me.
I had the Rev-it Sand jacket in mind but upon inspection I was not keen on the 3 layer system. Ok you can zip in a jacket rain liner but what about the pants which I intend to update also, do you stand on road side in underwear to put the rain liner in? I moved on and looked at the jackets from some big names such as Klim. Made from similar materials, in China, yet priced at $1400 which seemed excessive. Then I noticed Rukka jackets at a silly $2000. I can justify spending extra to get better quality or style but knowing the base price would be about $20 for all these jackets made in China or Vietnam I would feel gullible to pay $1980 markup.
Anyway finally I came across the Andes jacket at $240. I would have preferred a non brand name because to some even Alpinestars is seen as a status brand and I dislike the whole elitist thing but actually their prices seem always not far beyond regular brands despite being much more famous. This is a 3 season waterproof jacket with a quilted removable winter liner and waterproofing provided by Alpinestars version of Gore-Tex built into the shell called Drystar. People on the net say genuine Gore-Tex is superior but I am not convinced. It's like saying genuine Velcro is superior to regular hook and loop fastener. So what you have is a waterproof jacket with breathability thanks to the type of waterproof liner but with a downside of limited venting.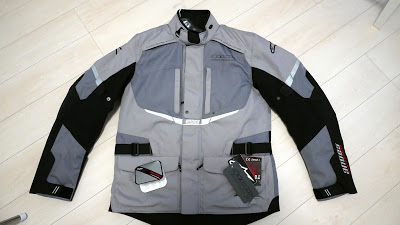 Alpinestars have done a few things to try address this. They have installed two upper chest intake vents and one rear exhaust vent that draw in and vent out air at a much reduced volume than if there was no liner. In my ride tests the affect of these seemed to be small but Update – these vents actually flow more air than I realised. When riding a naked bike in the cold I had to close them because I could feel the cold air entering from them so they do work but not total free flowing. It is a pity then that there is not one of these vents on each arm which would go a long way to getting some air into the area that in my experience is the first to heat up when moving slow. Next the main zipper external storm flap is two piece and the upper 1/2 can be clipped back to allow air to flow easier into the upper chest area with the zip lowered, which then assists the rear to vent. The collar can be clipped back also to provide air flow to your neck and the wrists are fitted with hook and look/Velcro rather than snap on clips so it is easy to control air flow up your arms when wearing the jacket over your gloves.
On my recent Japan tour I went from a cool and windy morning to a warmish day at the ocean on into the central mountains of Japan and high up to snow then back down again in the course of a day and I had no trouble to regulate the inner temperature. It will no doubt hit a point where it gets too hot for the jacket but I was surprised how well it did in the middle of the day as long as I was moving. I could probably with the liner out use this jacket up to the point where I reach for my full summer riding outfit if I needed to. I have used similar before that way and it is ok as long as not going to be in traffic too much which is where you bake on warm days.
Now as for cold weather performance that is ok except the collar does not seal so well, some of the problem is the weak velcro on the collar wrap around portion which fails to keep in in place, the other issue is the inner flap ends below the collar flap leaving this area with a gap that air can enter. This can be fixed by using a buff/scarf to a certain degree or a neck gaiter. The rear of the collar can be clipped down for summer of raised which stops the back of your neck from being exposed to as much sun and getting burnt (but I would still apply some sunscreen there). The collar is plush and not scratchy like some jackets. The length is extended and you can attach to Alpinestar pants with a zipper provided to seal in the warmth. There is a quilted liner and good sized inner and external storm flaps. I was snug as a bug riding in the alps here using good base layer and I am sure with tech mid layer you could ride in very cold temperature.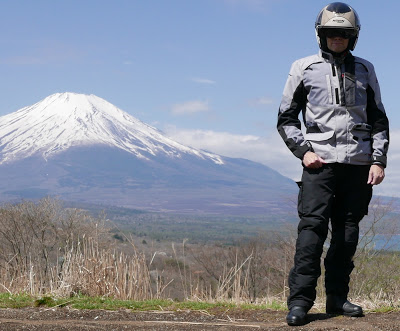 Above jacket is fitted to my old drystar pants.
I normally have never worried about pockets on jackets too much but recently I started to want a better system than the usual one pocket either side layout. The Andes has two chest vertical zip pockets which for me are ideal for putting tollway tickets and a credit card in for easy gloved access at toll booths. Then there is the two oversized lower front pockets that have storm flaps and waterproof zips. I can easy fit my not so compact Lumix LX100 camera in one of these pockets when it was much too big to fit any other jacket side pockets. (update these are 100% waterproof as tested in Ireland) You have a rear over sized pocket to hold the jacket liner if your motorbike has no storage and the usual inner phone size pockets as well. But the new front pockets are the ones I find most useful, items in there do not make the jacket tighter like they would side pockets.
As it warms up then jacket over gloves with the Andes allows you to control the temperature with a little air up the arms and the velcro cuffs on the Andes work well for that extending the usage. Over my initial four days touring with the Andes jacket I encountered a real mix of temperatures and weather. Spring warm sun but cool air situation is hard to manage on a bike. You can heat up very quickly if you are not moving and in traffic you want to not be idle too long in sun or the jacket will turn into a sauna but in those conditions it is very hard to get the perfect jacket because once moving and back into shadows of trees in valley then you will want a sealed jacket. The jacket coped with the mixed conditions well. As far as materials and construction as far as I can tell it comes with the same sort of features and high strength textile materials as its rivals. I had a excellent first tour in Japan using this jacket. Update – well I found a small issue with the Alpinestars Andes jacket. When riding in rain it can leak (maybe) just below the collar area, at the front where I have drawn the red arrow because the inner storm flap ends a little low to the collar area. Also the flap that the collar has does not seal well. The collar flap is separate to the inner storm flap so it can be pulled back to allow air flow when it gets warmer which works well but in doing so it maybe has lead to this problem. The velco on the flap that attaches to the collar is rather weak and the flap often detaches itself while riding. The arrow is where the inner storm flaps end.
Revised thoughts about the jacket. Minus points for the above issue but it may yet end up being ok if I get a good workaround. I have now ordered a neck gaiter item (will post up when I have it) and if that is all that is needed to have with me when it rains heavy then despite the flaw it probably still represents reasonable value. I can't say I like the colour much. Grey is a poor colour choice as seems to look used when still new. I thought about the hi-vis version but I no longer think hi-vis makes any difference and no other choice here in Japan. The rival brands have done a much better job at the adventure styling than Alpinestars. The Revit Sand jacket and the BMW adventure jacket look better but ultimately if I can make it work then I'll gladly have the money saved over looks. Below I am wearing the matching pants which I review elsewhere in the blog. (update now comes in better shade)
Further update. I have my neck gator, it is an waterproof item from the Swedish company Halvarssons which I have read people found successful for this sort of problem (or general neck area water leaks) on other jackets so I will see how it goes.
Update – Not sure why I thought this would help as if the water is inside then it will run down to my shirt eventually haha but ,nyway the gator itself is excellent and forms a key part of my winter riding gear going forward being able to totally seal the neck area and can be pulled up over lower face and nose. It does create a better neck seal too, that is the issue with water leaks but not solved things entirely. In New Zealand I was chatting to the bike rental shop and he said it is often about how the jacket fits. At this stage the only thing I think I can do is improve the velco tab which is very weak but you can see the inner storm flaps ended below this so water hitting the lower neck area will enter here. Perhaps I can add a small flap to sit below that neck one to sit above.
Above the offending tiny bit of velcro that struggles to hold the collar closed. The photo is deceptive and looks like the inner storm flap goes higher on the right then it really does but this actually stops below the collar. Below the inner pocket is not waterproof with the goretex being behind this which is a shame.
I have completed another two tours in this jacket. One in cold weather where it worked well but I used my rain suit on a heavy rain day and one in variable conditions where temperatures ranged from a low of 10 degrees in the alps to 30 degrees on the sunny days and while not designed for temperatures that high it was acceptable long as moving but where it really works well is handling the changes in temperature below this. From 25 degrees down you can control things nice and from about 15 degrees down put the liner in and be good to single digits where a thermal base layer will let you go down to about 5 degrees at which stage you may need additional mid layer. So it is very versatile and very comfortable too. I find I am reaching for it every ride. I sewed a 10c bit of extra velco on to the neck strap and now this stays in place better. (yes it is same hook and loop just the photo makes it look different) I am not much at sewing but combined with the adhesive back it is staying in place so that is all that matters.
This has helped and I now see the problem is not so much that storm flap but the neck opening  trying to get the jacket to seal snug to my neck. I think that is what the bike shop in NZ might have been getting at and is the only weak point in an otherwise great jacket.