The Gambler
I depart Nagasaki day twelve into steady rain. I had experienced nice weather in other key areas so did not feel too disappointed. But it did ruin the plan this morning to visit Iki island north of Nagasaki, a old coal mine full of abandoned buildings.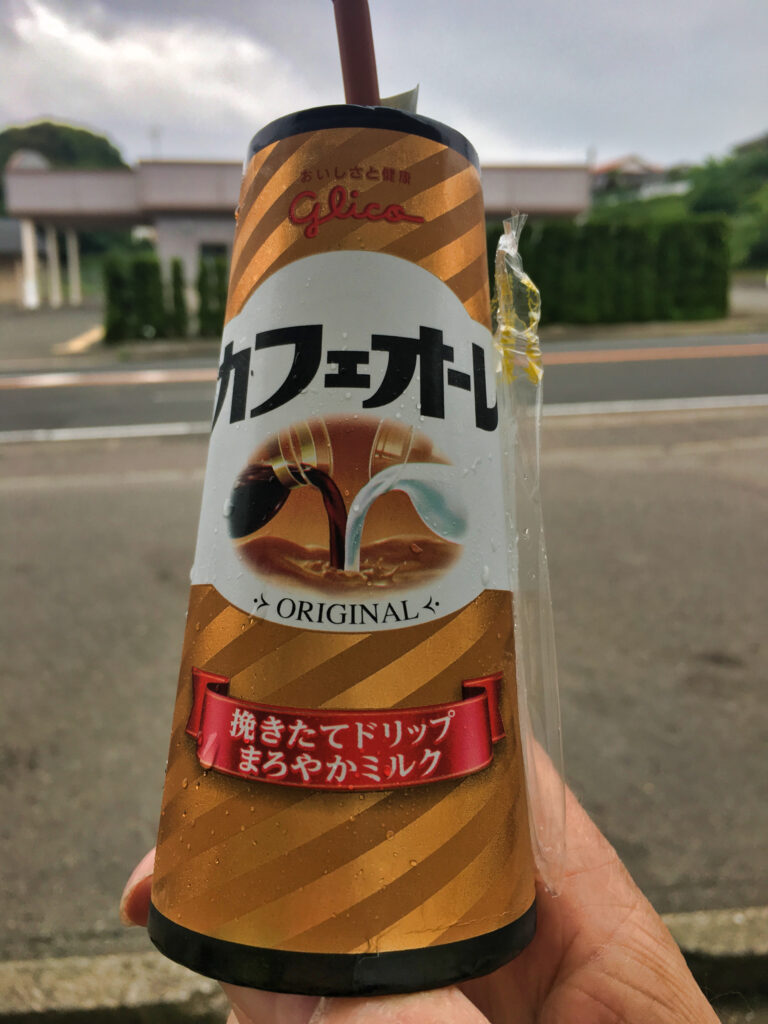 Regular readers may recall I was sampling every type of iced coffee sold in Japan. There are at least 50 different varieties in shops and the millions of vending machines but this is the clear winner.
Rode past a sign mentioning the western most point of mainland Japan so had to turn around.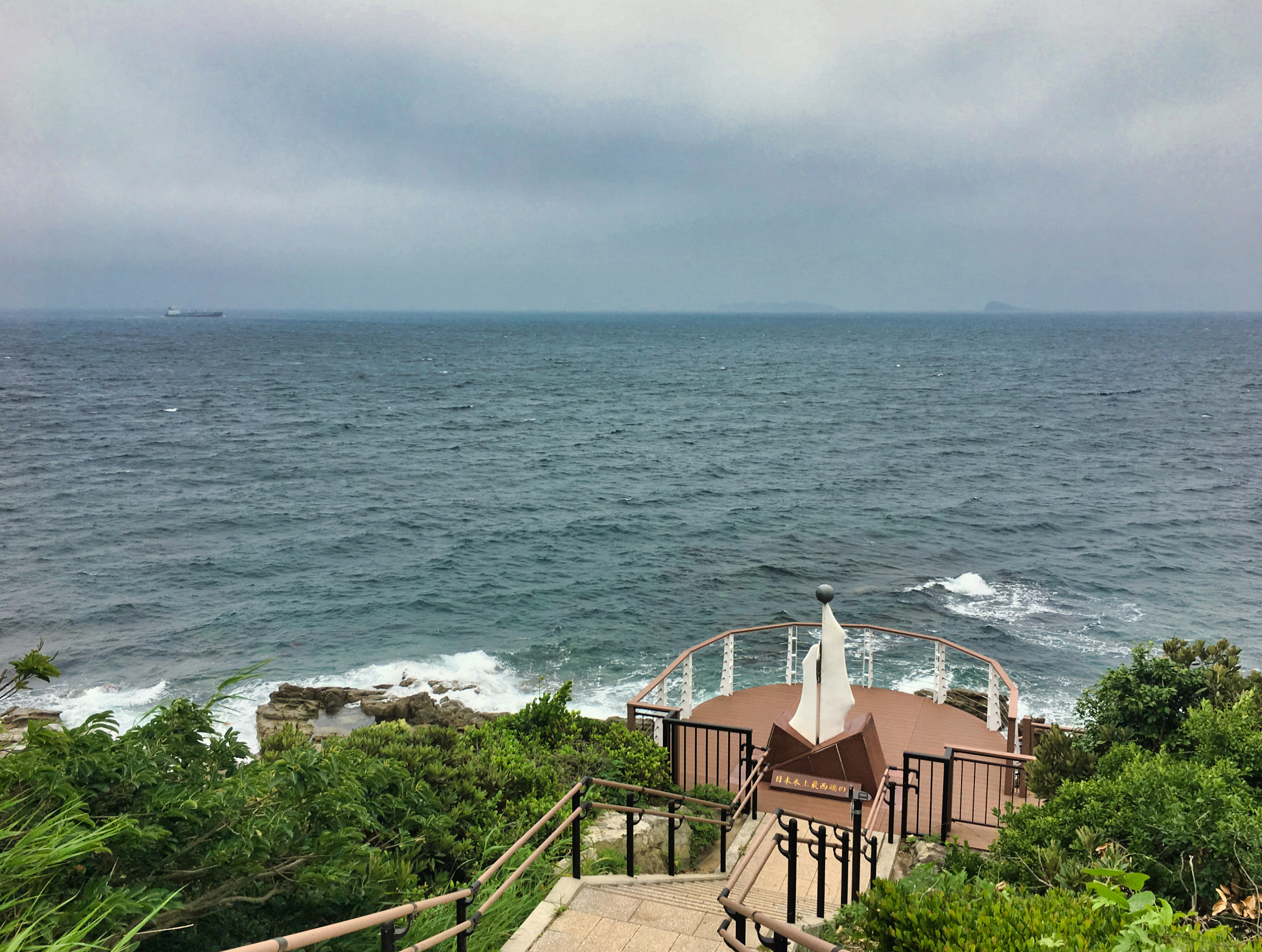 Not the best view today. While there the rain returned in earnest so I sat it out over early lunch.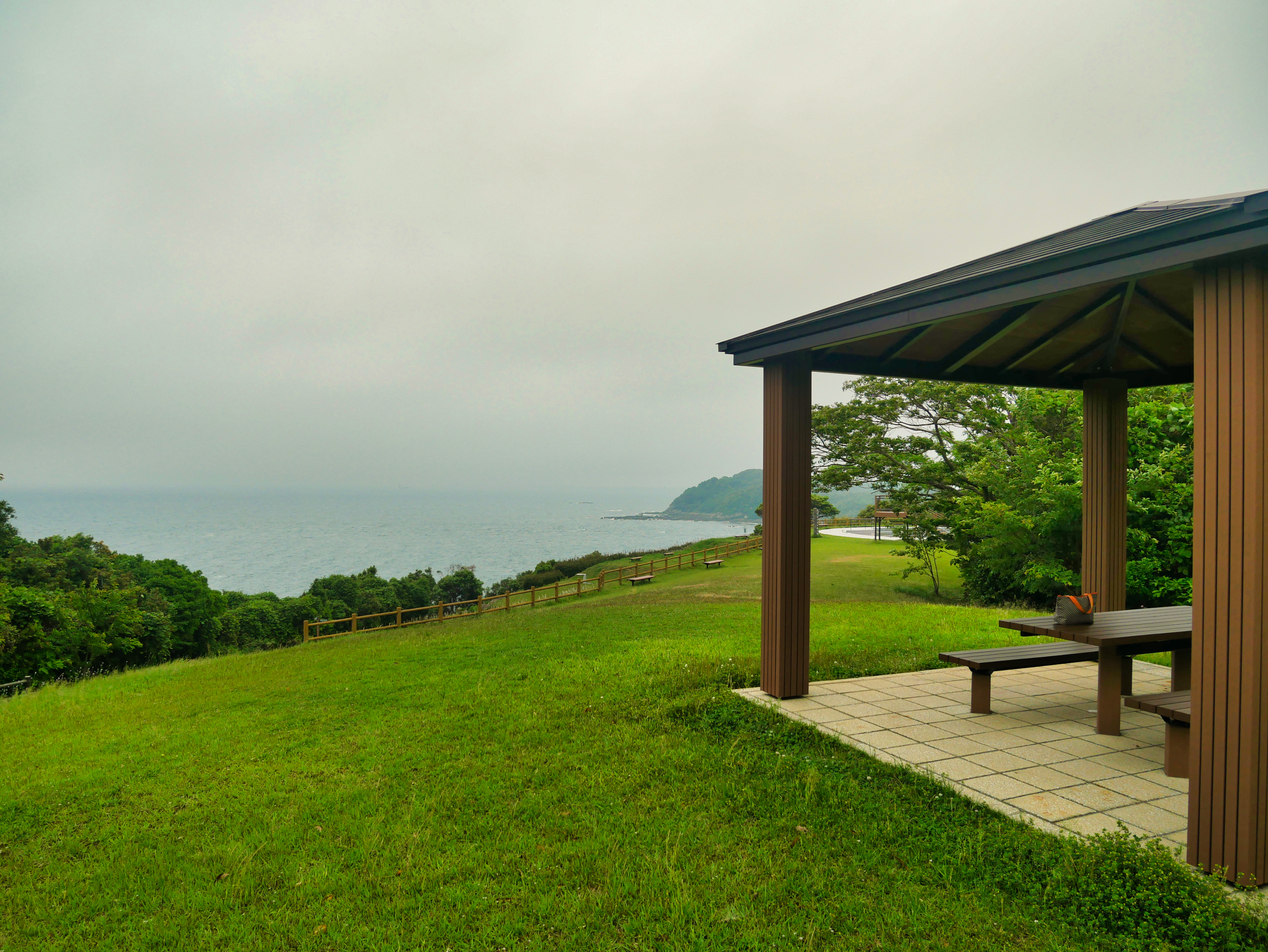 I felt surprisingly at peace just listening to the rain on the roof and dripping from the trees. Took me back to my childhood sitting on a front porch under tin roof.

Trying to ride north west the conditions were poor. I decide to abandon todays route.
You have to know when to hold them, know when to fold them know when to watch the rain radar and take evasive action.

Took shelter in a 7/11 awhile before making dash to hotel.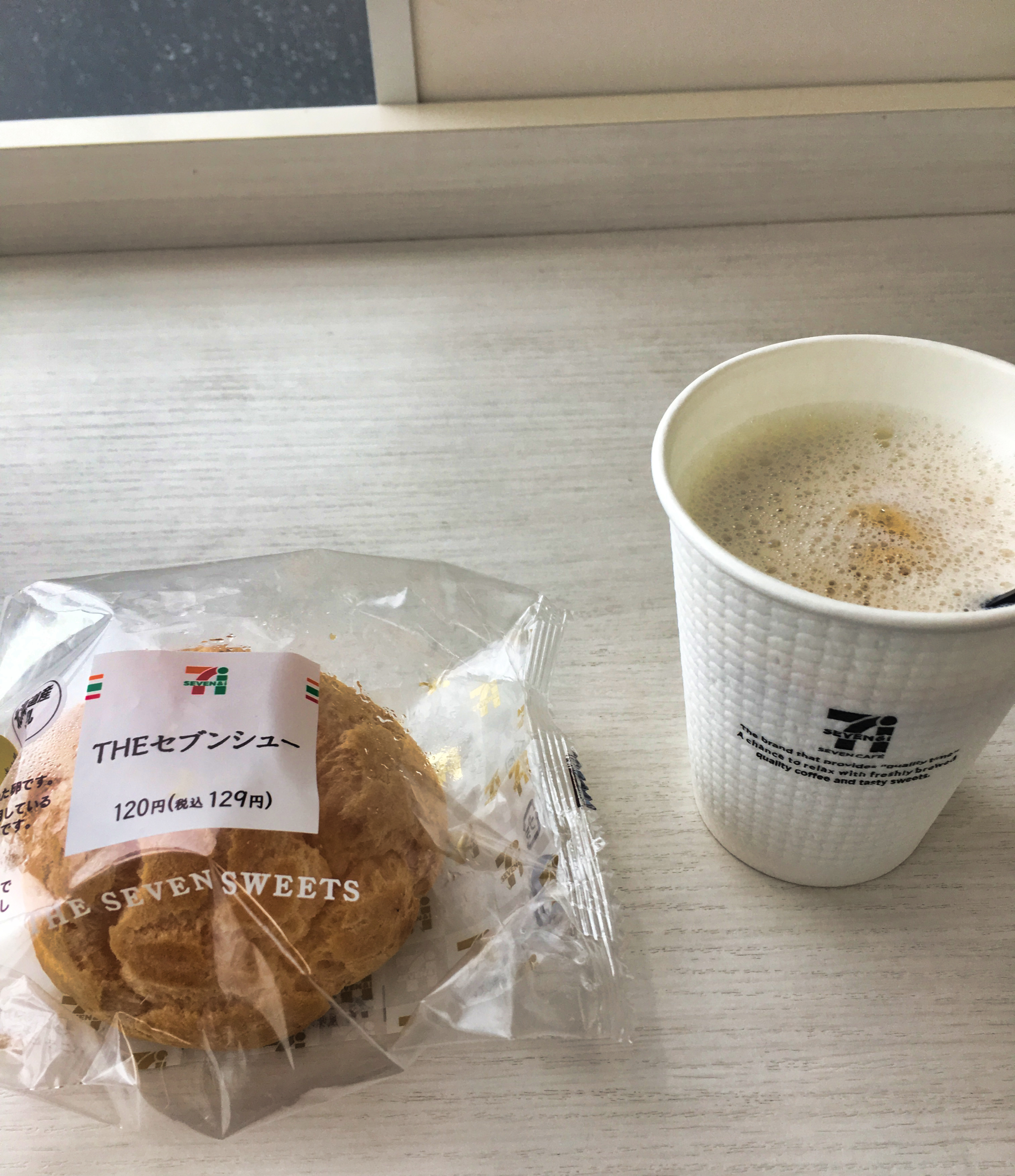 If this photo had sound you would hear the rain lashing the window in front of me and a orchestral version of the Monkee's Daydream Believer being played on loop inside the shop.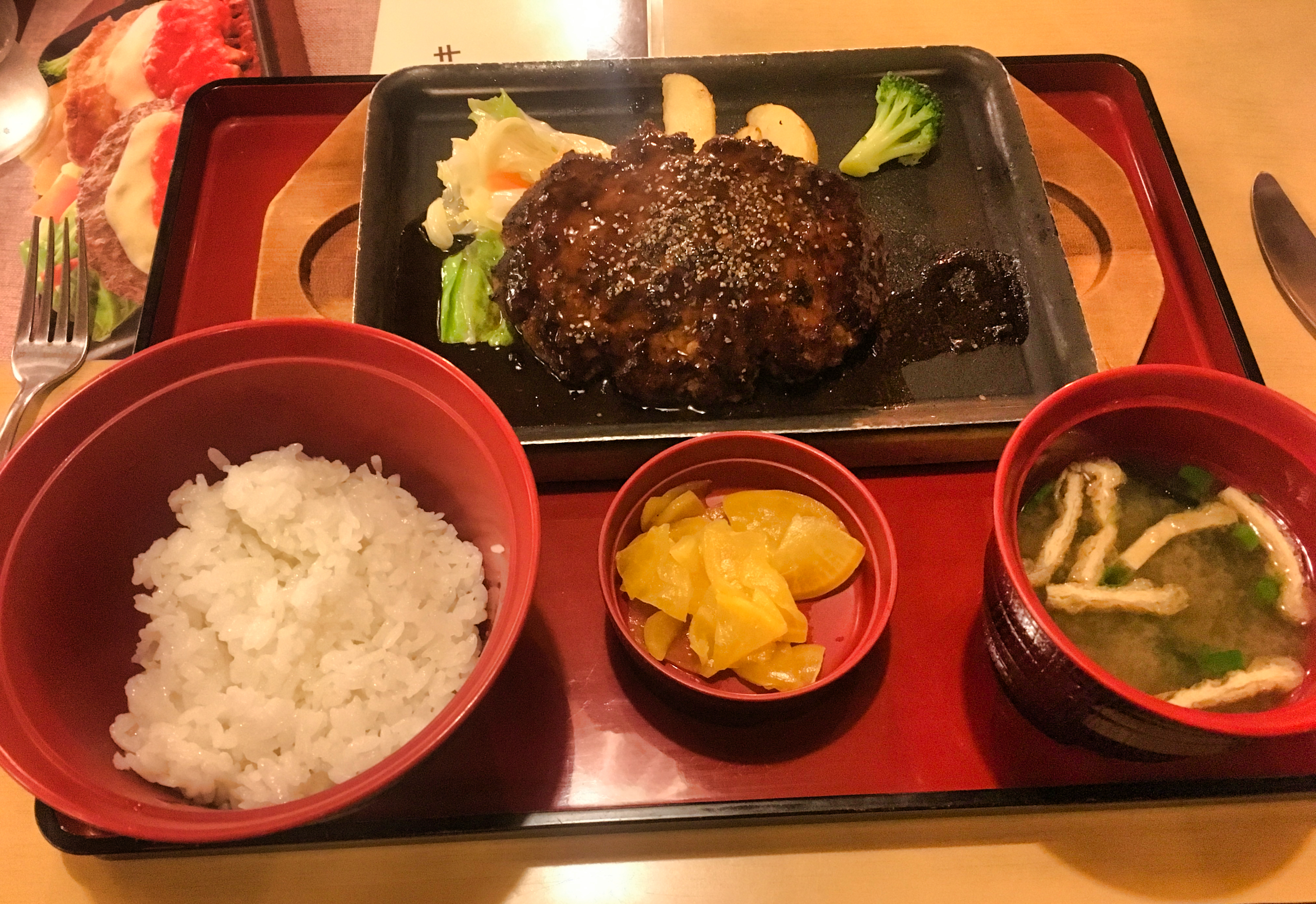 Tonight I ventured out in the rain to a 'Joyful' restaurant for a Japanese take on western food known as Hamburg steak. About $6 and I asked for only 1/2 rice as putting on weight already this trip.
Day thirteen the rain has stopped and forecast is clearing with gusty winds. I thought take a chance to try see the Kawachi Pass viewpoint I missed yesterday. The gamble didn't entirely pay off.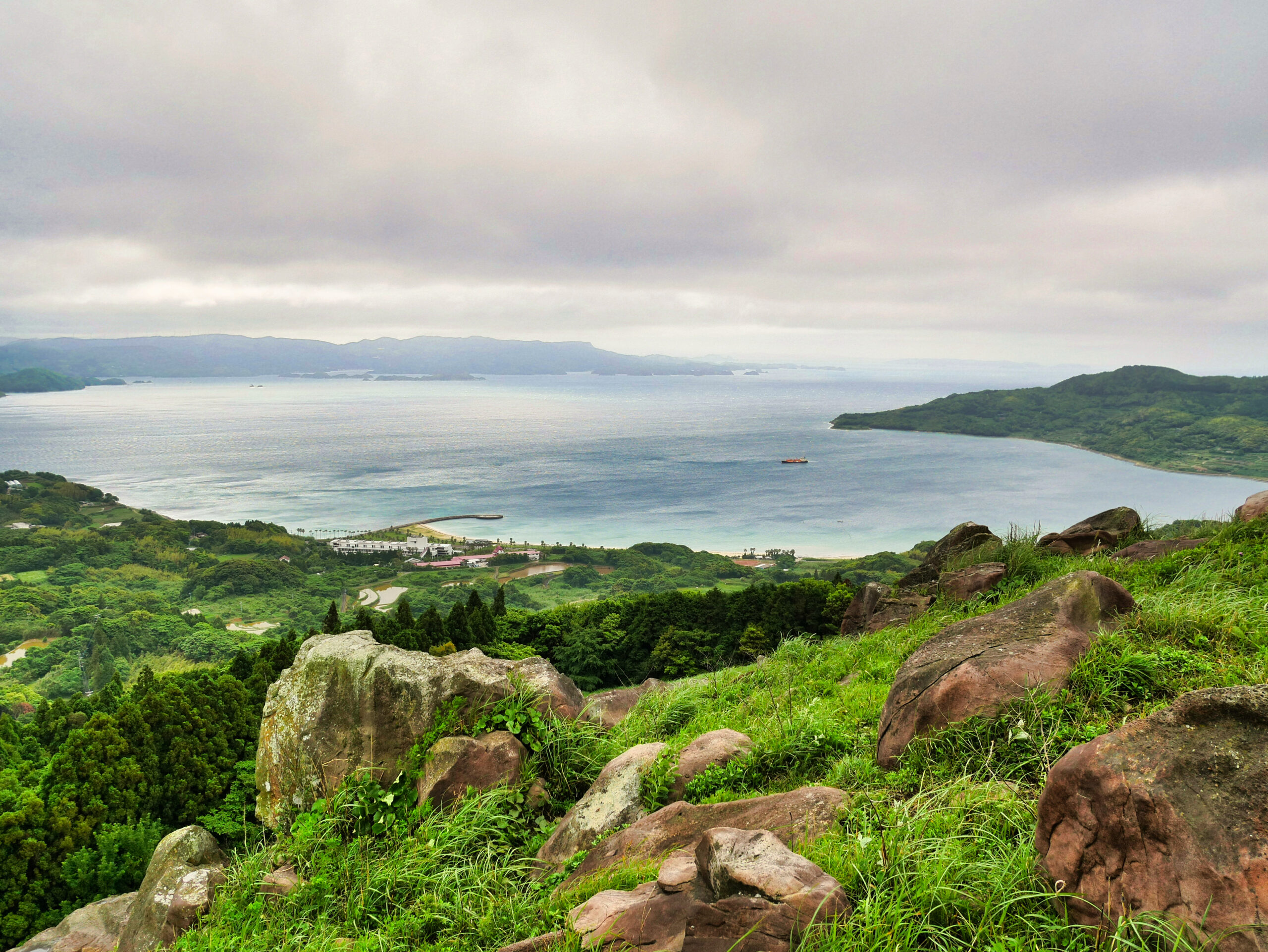 But it gave me an indication of how nice this will be on a fine day.
The look of the place in these conditions reminded me of Ireland. I decided to ride out to the Ikisuki island bridge missed from yesterdays ride to try a little artistic photo in the conditions.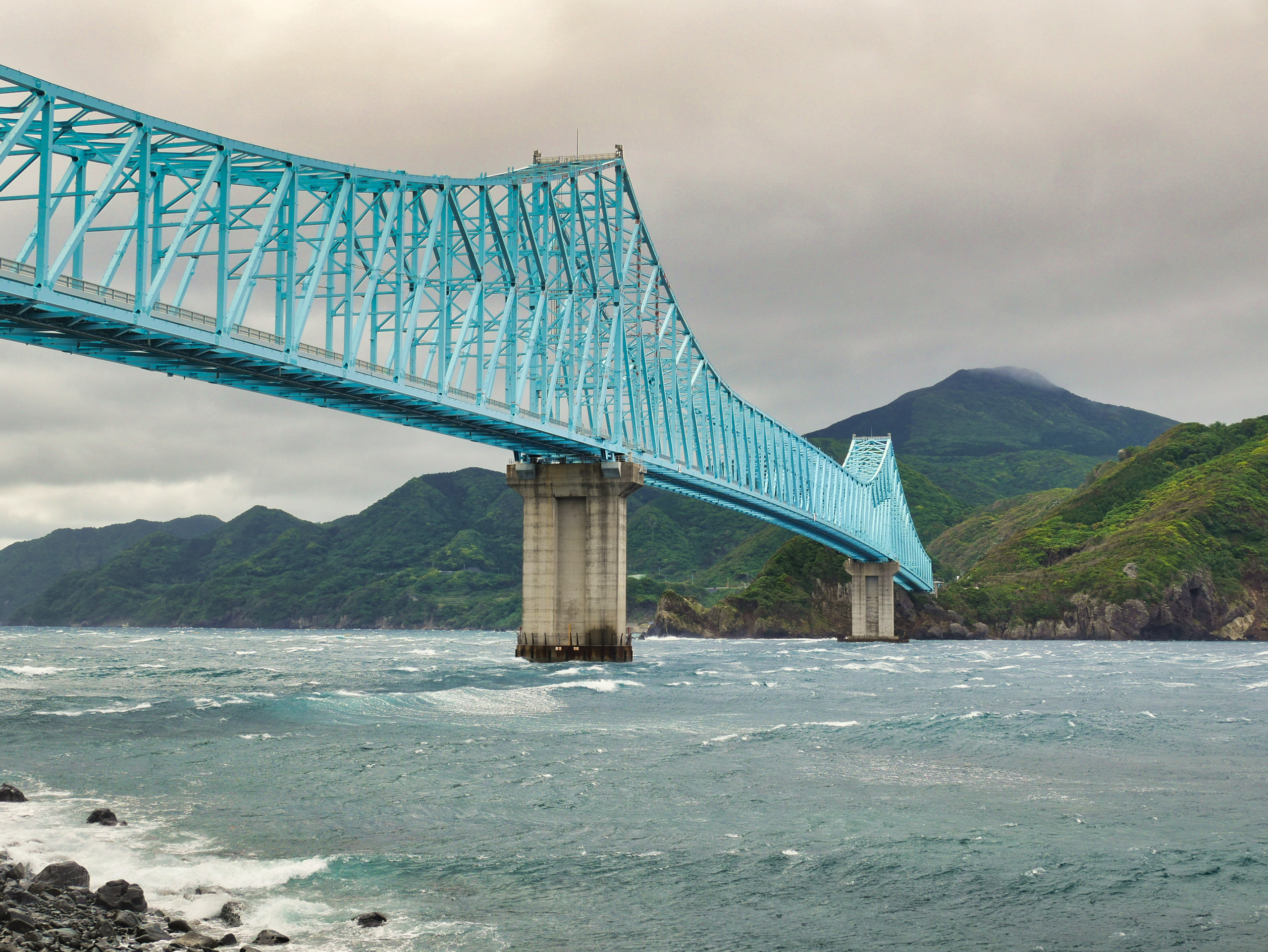 Turning around they were stopping motorcycles from crossing the bridge due to high wind. Ah guys the FJR weighs more than a small planet, the bridge will fall down before I am blown off. After some stubbornness they agreed and let me go. It was actually bit touch and go the wind was cyclonic strength.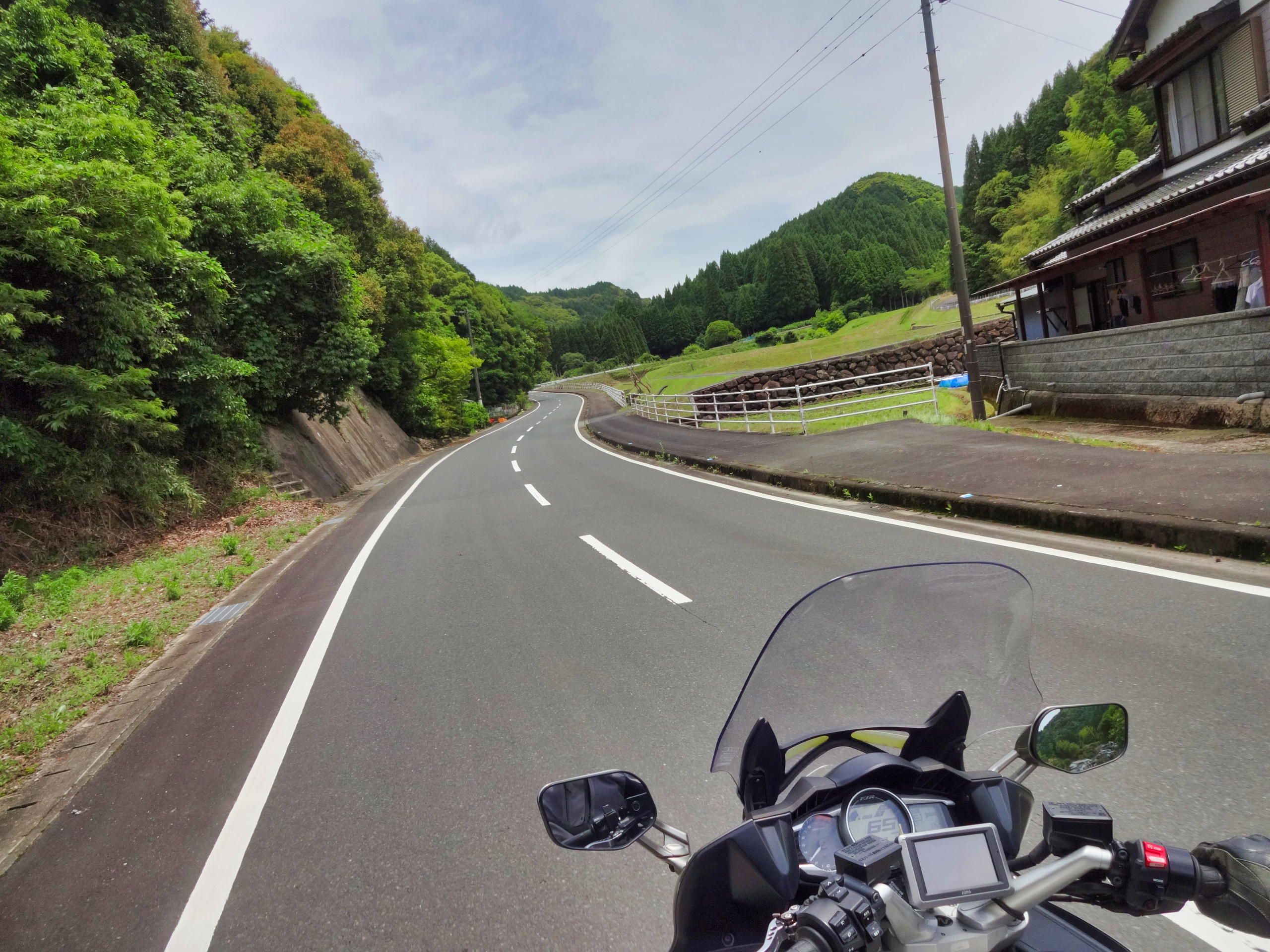 I enjoyed some superb roads next riding down into the Saga prefecture. Never seen this area mentioned anywhere for good riding but just delightful.
Climbed up Mt Hachiman knowing the view would be limited. It was a nice ride anyway. I cut my route through rest of Saga concerned my side trips this morning would push the day out and jumped on the expressway.

Quite effortless to knock over a couple hundred km of expressway on a bike like the FJR. Big screen, comfy seat, cruise control. I vaguely remembered a nice ramen shop on the highway but it turned out to be 1km past my exit ramp, ah what the hell.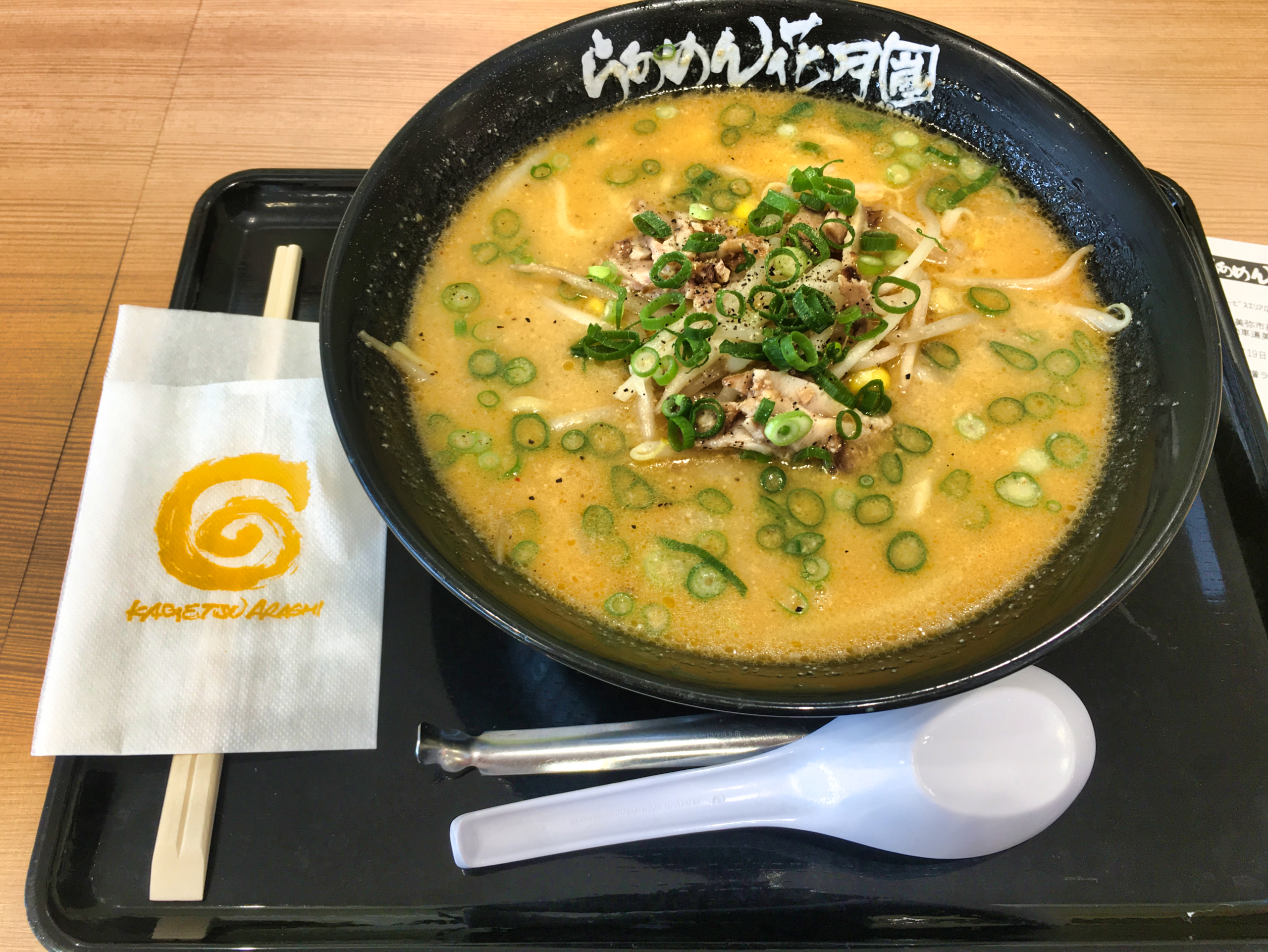 It was worth it on this cold day. 10 km now to the next exit, that's a blink of the eye on the FJR wound up. Not many places you can ride like that without worry. Feel sorry for guys in Australia and France.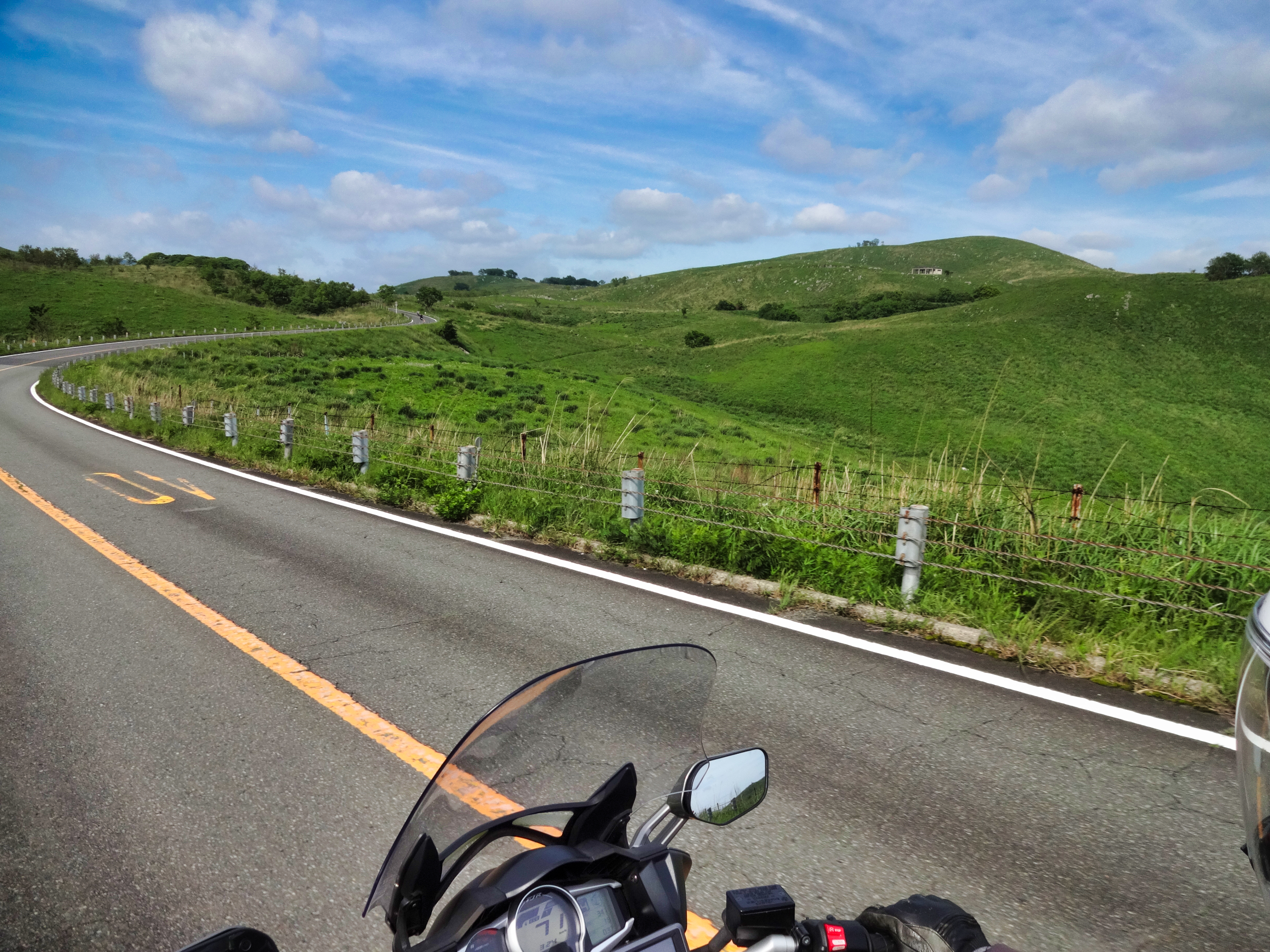 The road through Akiyoshidai appears to be grass meadows but closer inspection is all volcanic rock where only grass has been able to take hold.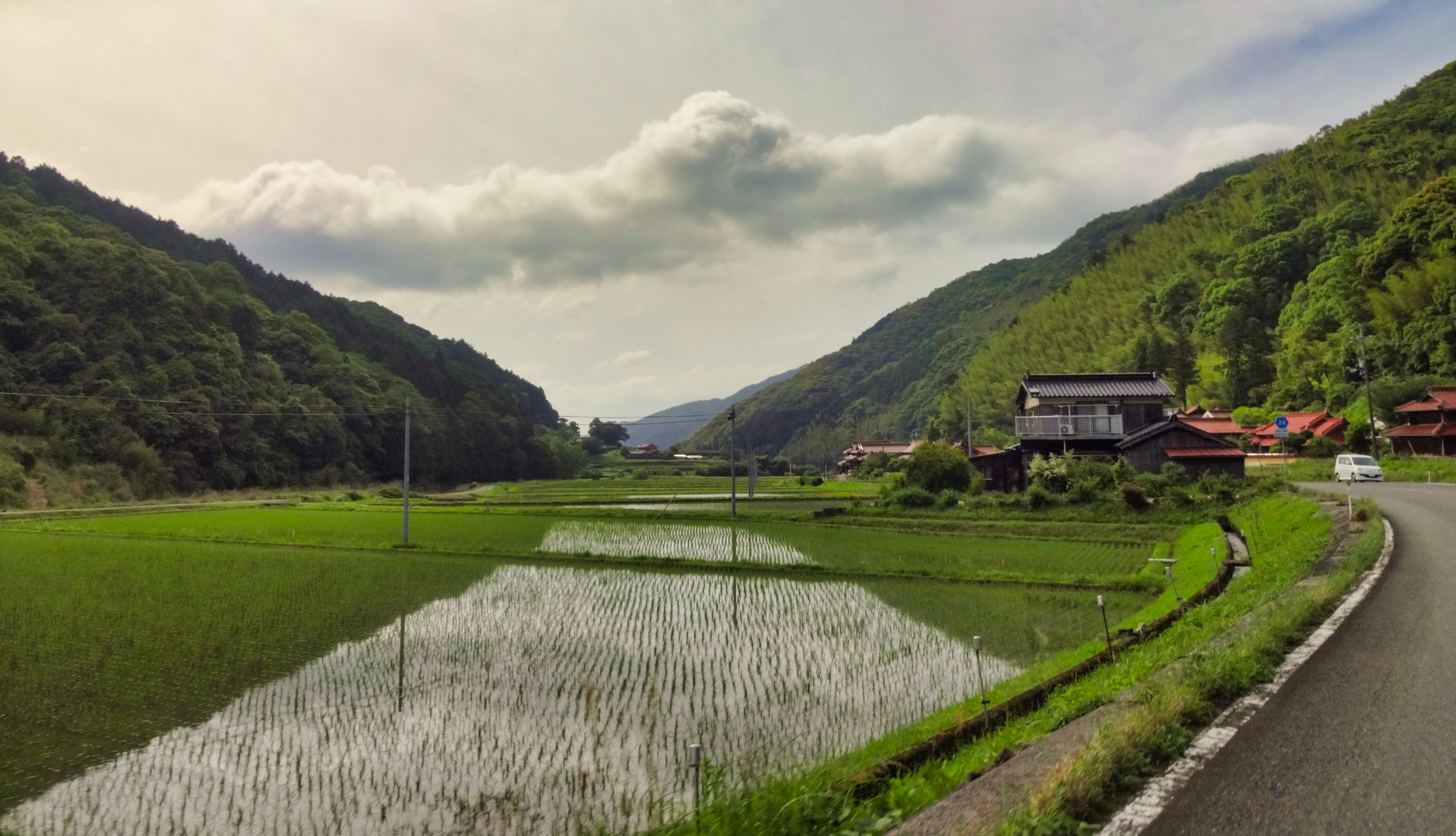 Meandering through rural Japan this afternoon. The sun plays in the patterns of the newly planted rice in the flooded paddies as I ride by.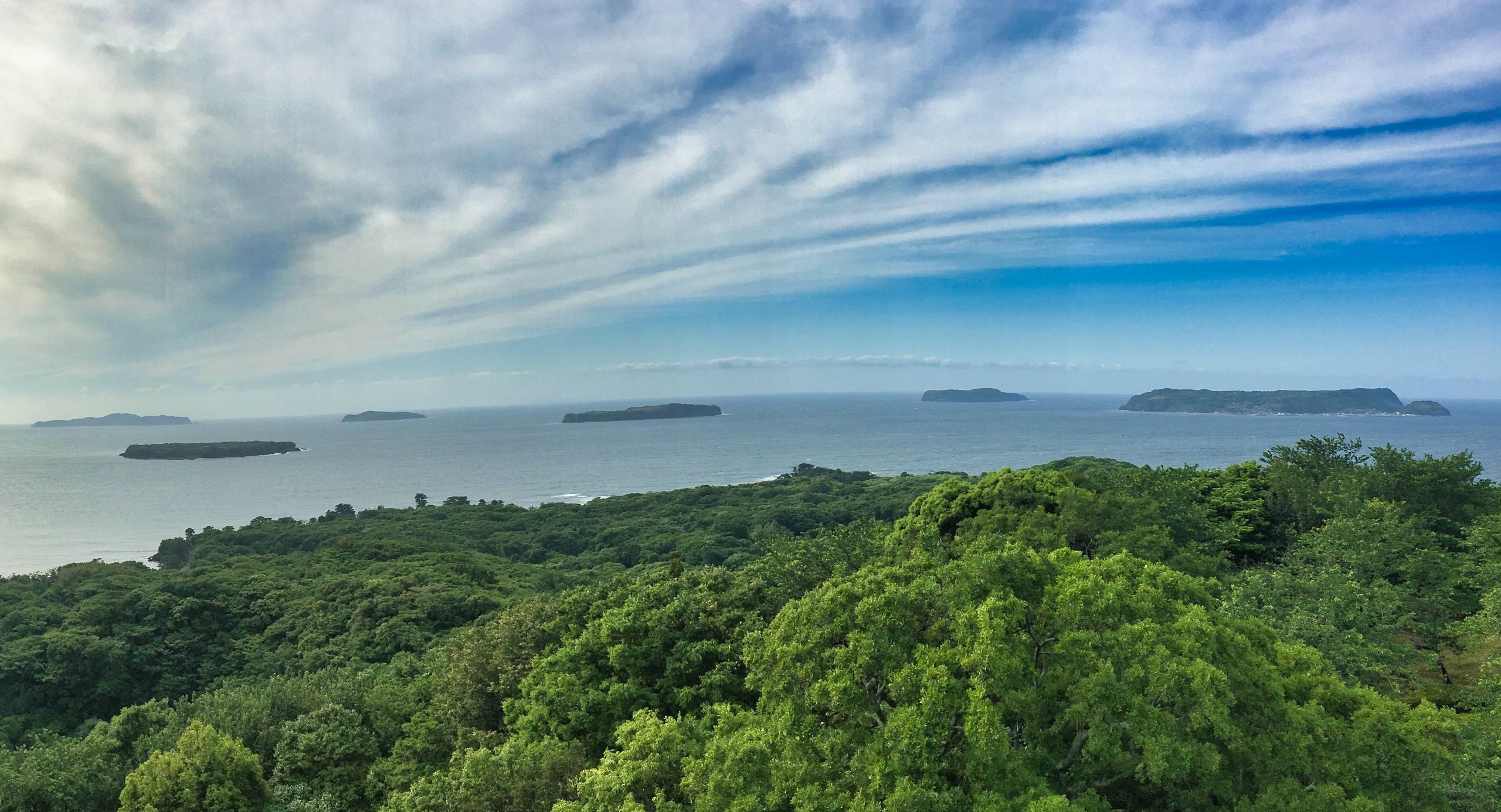 Arriving at Hagi my zoom lens breaks. I have not taken to the Lumix GX85 which continues to have issues.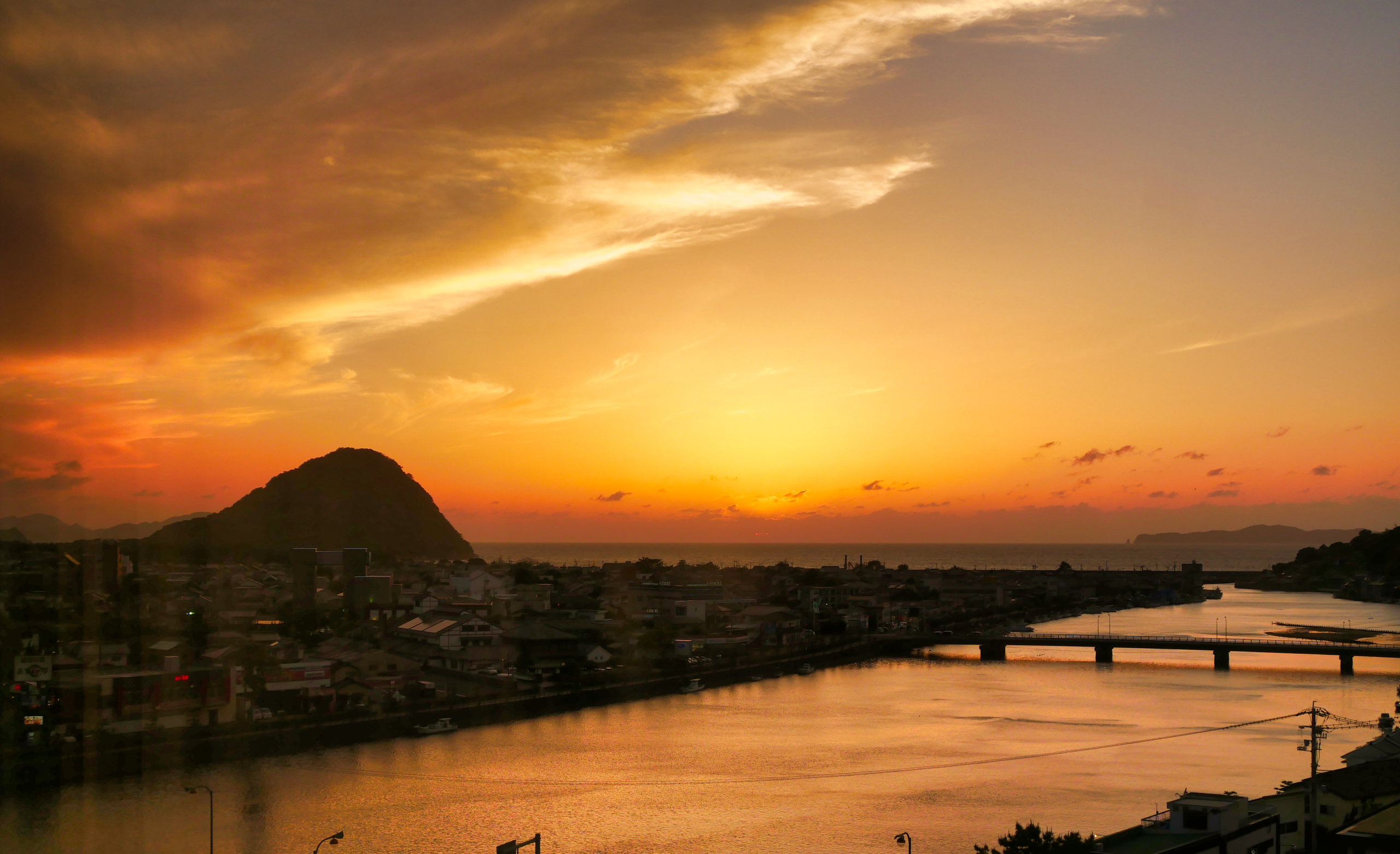 Cold afternoon in Hagi. Have to don my motorcycle jacket to go outside. I did my washing in the hotel coin laundry and watched the sun set.
To borrow from a famous movie "Do you want to see the most beautiful thing I have filmed"
Amazing weather next morning. I am riding an arc across Yamaguchi and Hiroshima on day fourteen.
Really looking forward to today which is exploring lesser known roads.

Riding through the valleys small towns usually look like this, very tidy with a park and roadside tourist info centre that has fresh local produce on sale.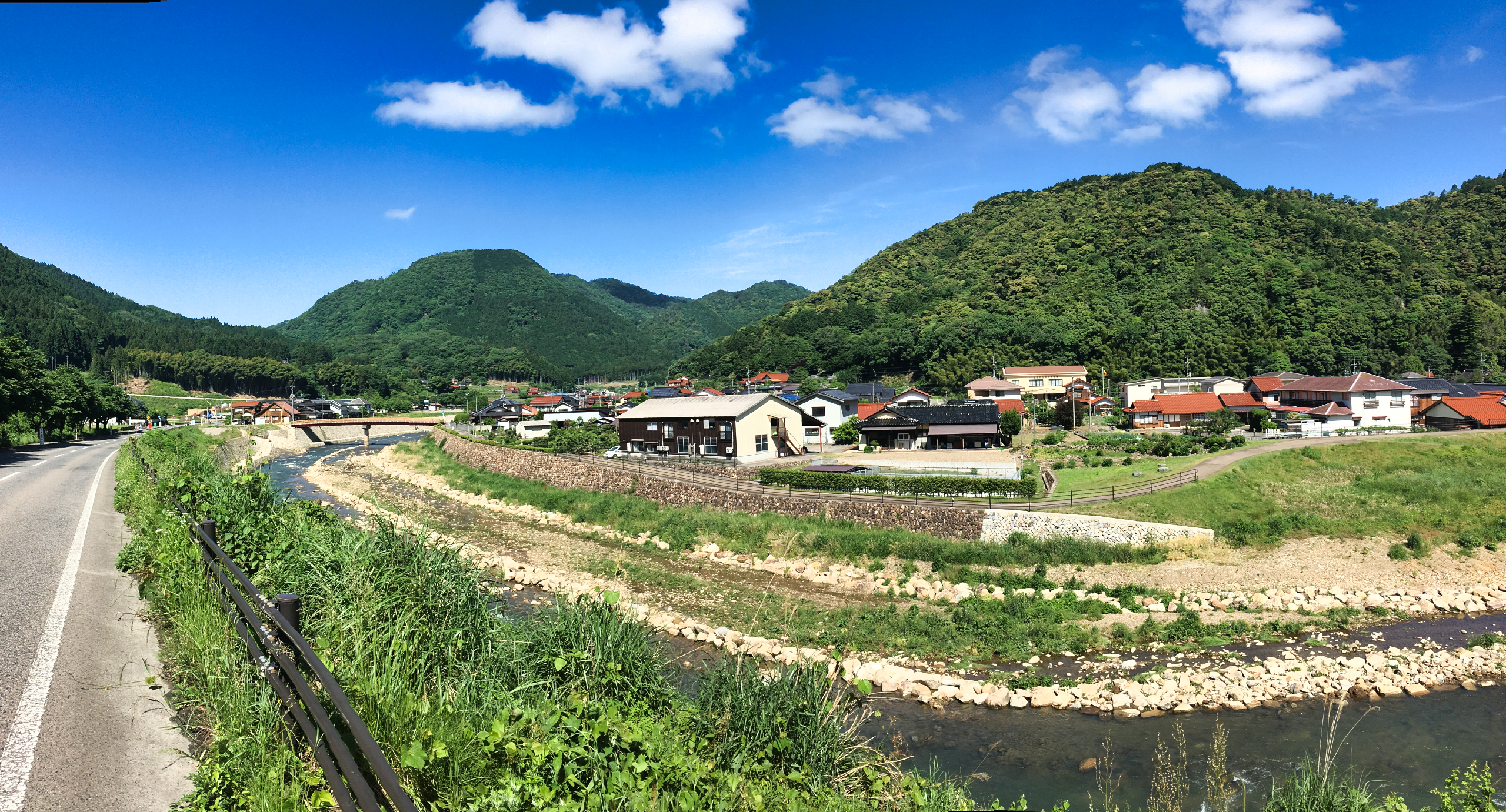 It is a world away from the big cities that people think Japan is.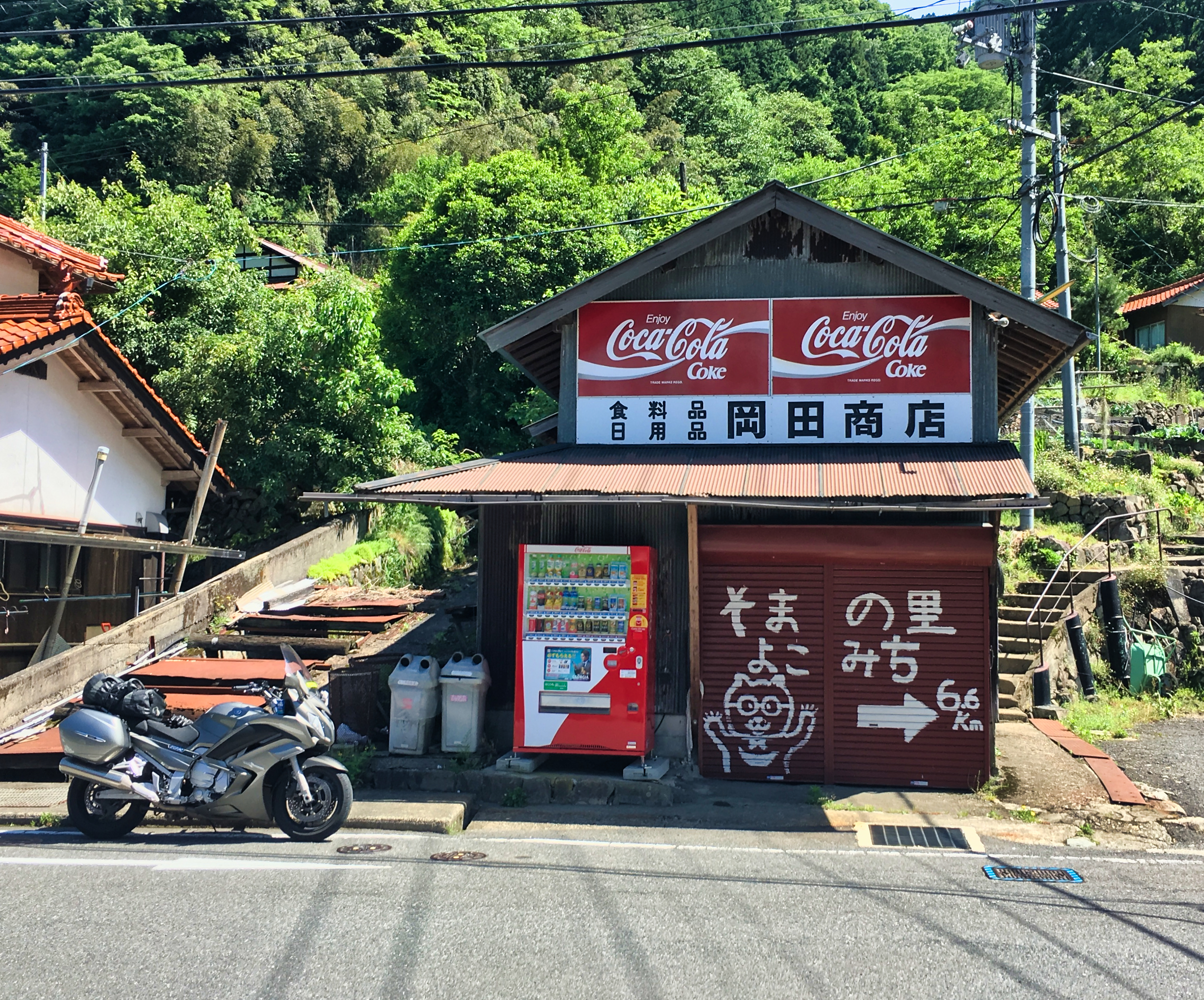 Morning coffee stop.
Remote roads are still sealed, sometimes broken up but you need no ADV bike here.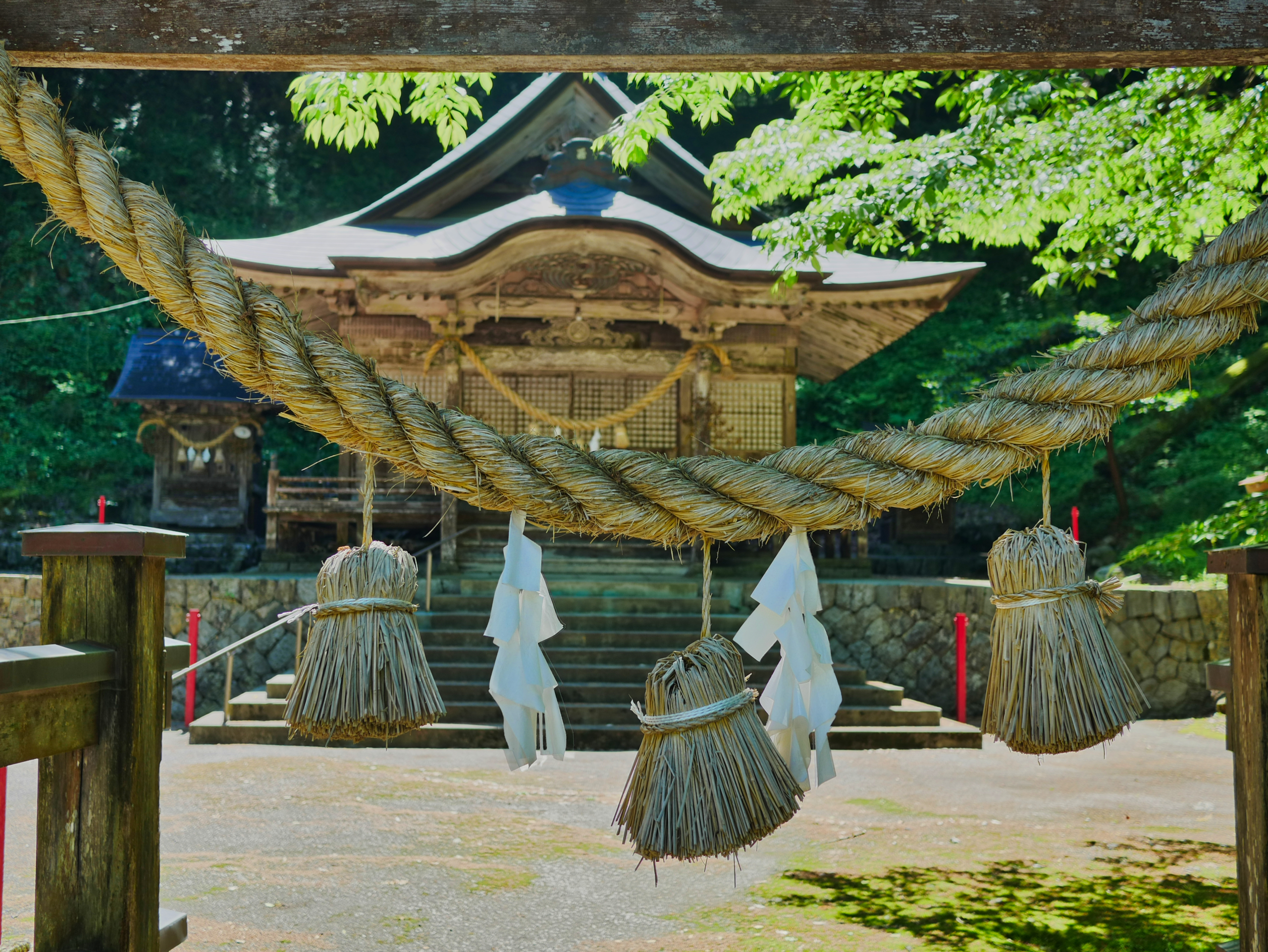 Small temple in mountain.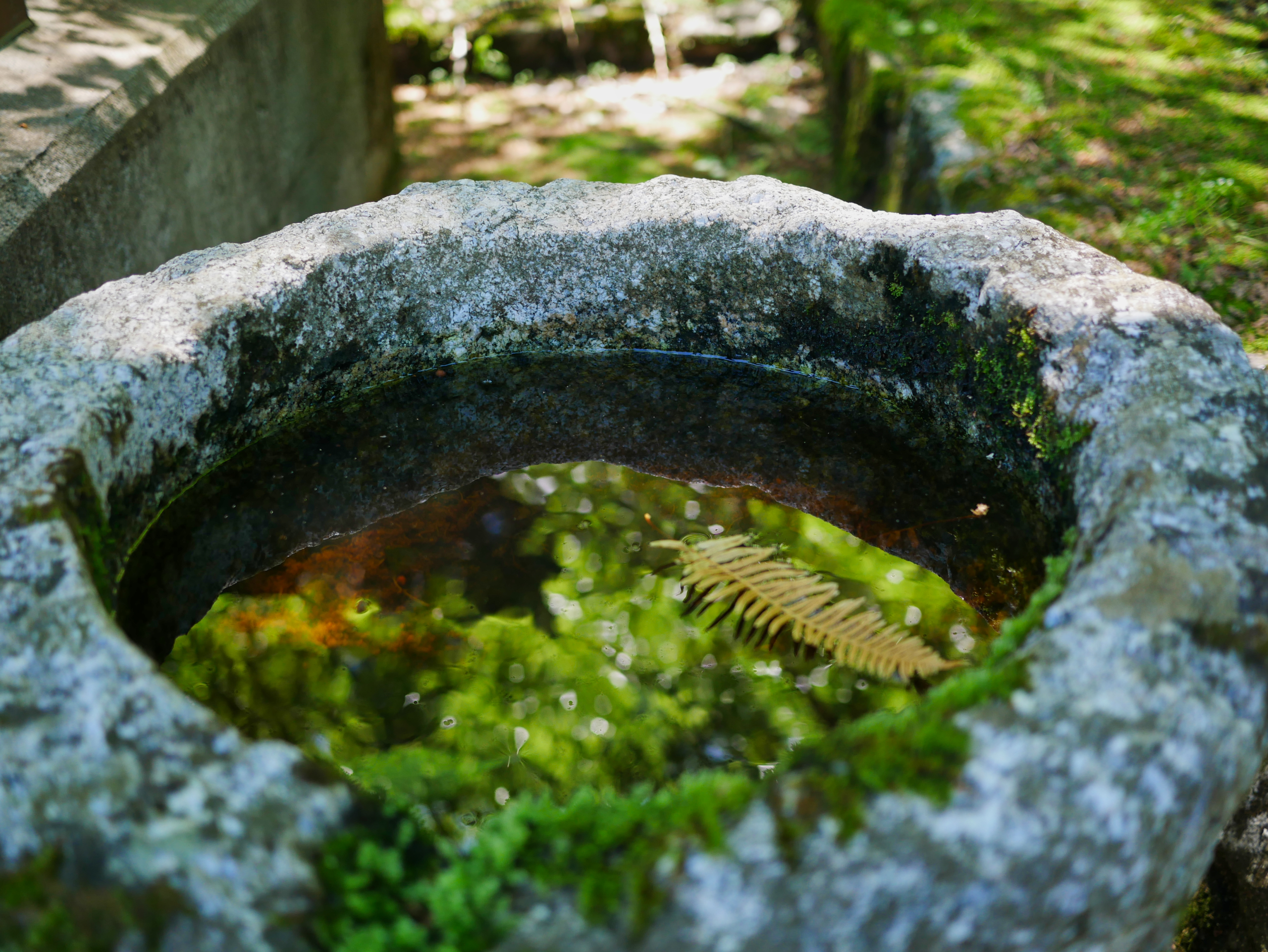 Just love exploring this kind of area in Japan. Eventually I made my way to the Suzanami Skyline near Kure.
This is a phenomenal riding road. Up there with the likes of some of the best skylines in Japan. Impossible to photograph.
I offer you the view from half way down the southern side.
See the bridge, it leads to the area I island hopped on my inland sea tour.
There is a much higher viewpoint at the top but I ended up just relaxing and taking all this in at leisure while watching the many bikes out on this Sunday afternoon.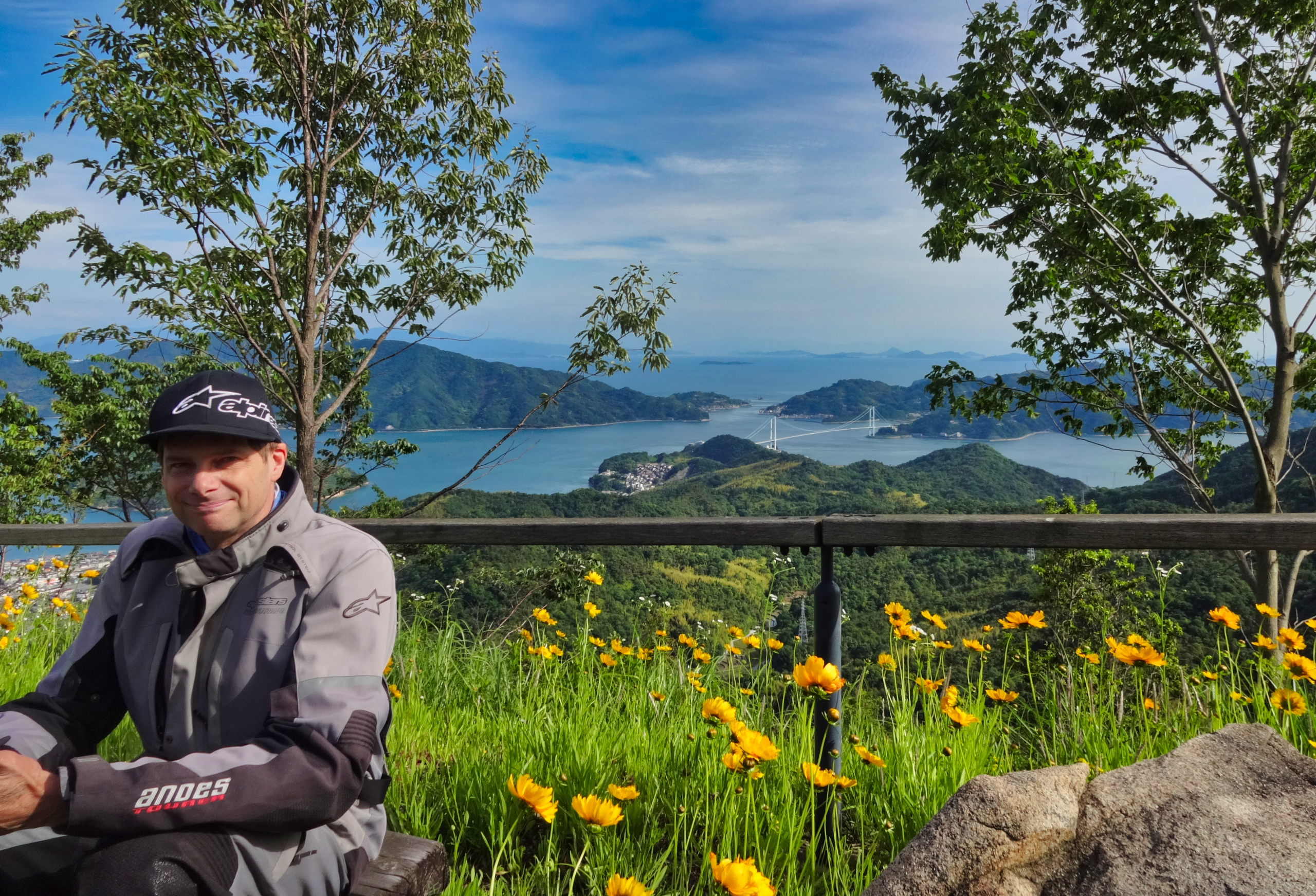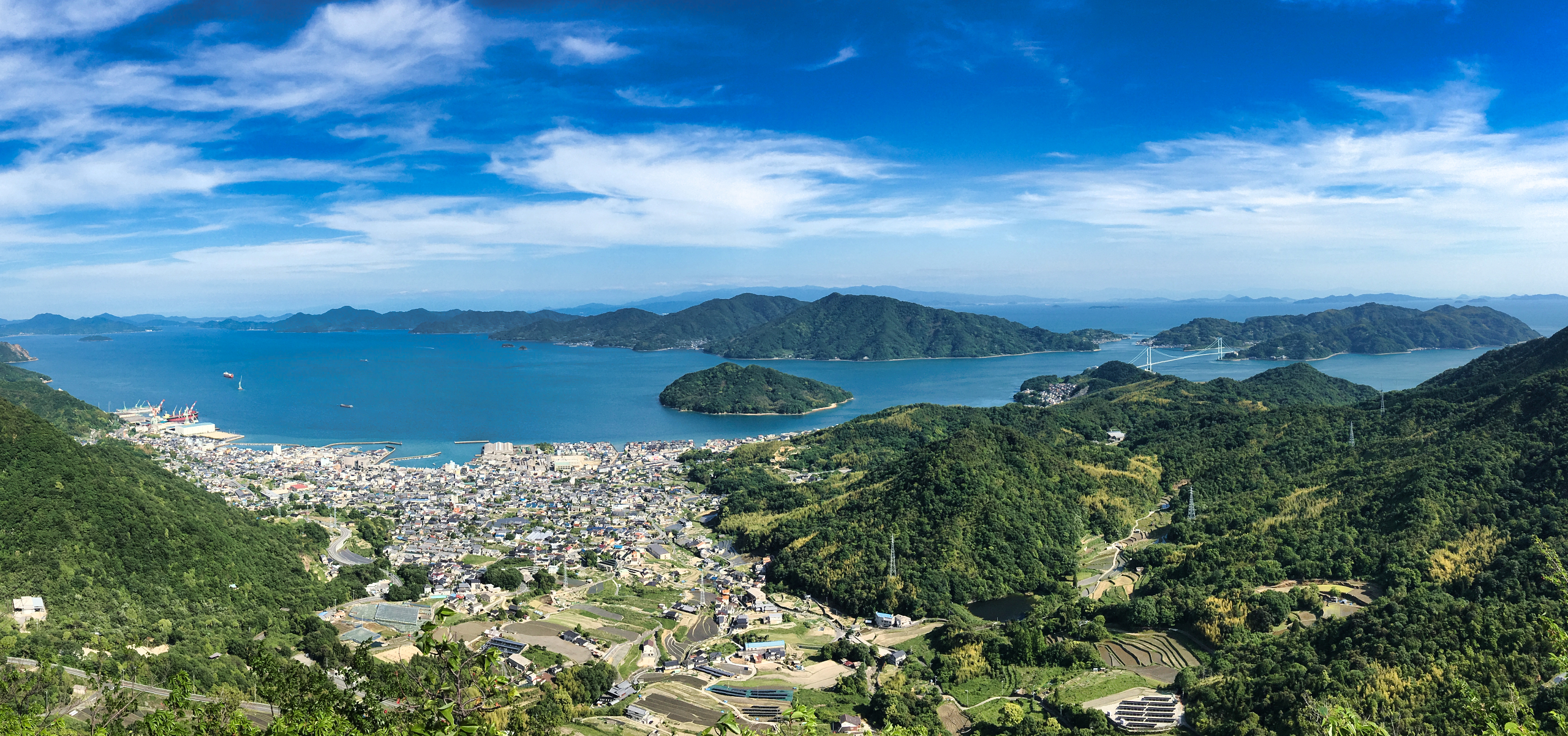 Many classic bikes from the 80's and quite a few two strokes. No matter how many 1000 horsepower your latest hyper bike has it doesn't have an a ounce of that street cred.
Made it into Takehara with time to walk around it's historic district.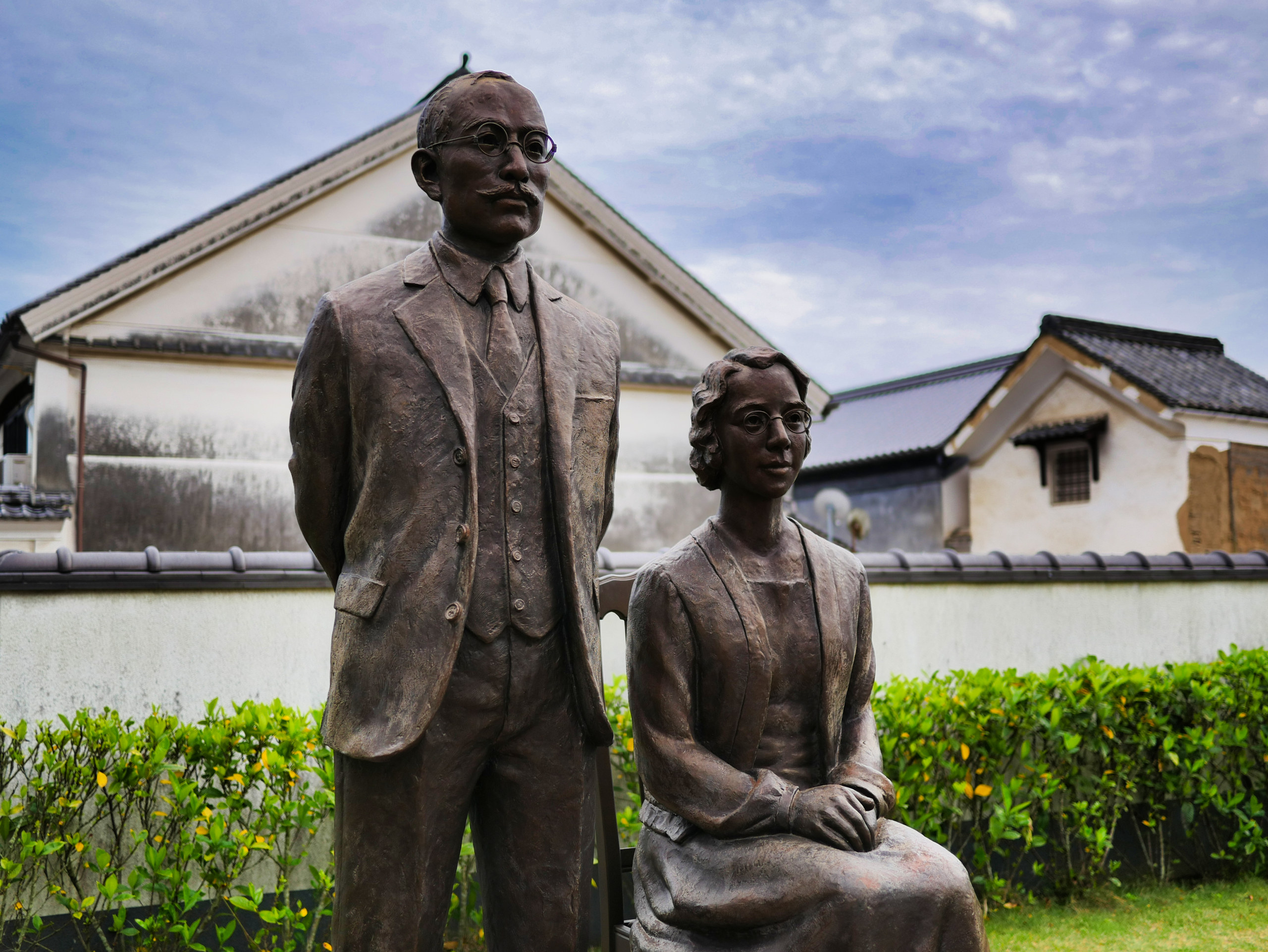 The guy who brought whiskey to Japan started from here. Masataka Taketsuru was ridiculed by people who said we have sake what do we need that for. But determined he went to Scotland to learn whisky making taking up chemistry at Glasgow university in 1918.
He romanced and married a Scottish lass Jessie Roberta Cowan, from Kirkintilloch who returned with him to Japan where he worked to establish Japan's first whisky at Yamazaki. In 2013 a single malt from Yamazaki won the worlds best whisky title.
In an effort to showcase more local culture I decided to dine at one of the fine local establishments.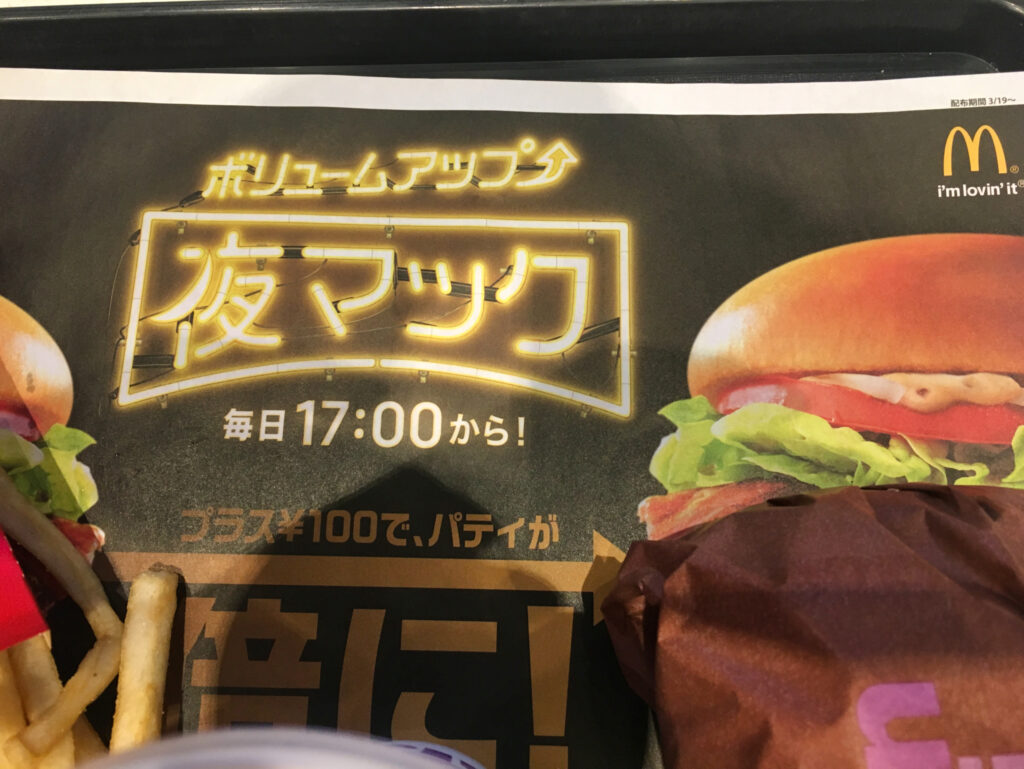 Not sure on the pronunciation.
Thanks for visiting. (part six now posted here)