Despite some discomfort from my previous broken collar bone I am heading out to ride north.
Day one Kanagawa to Fukushima
A typhoon has just pass through so I am not sure how bad the roads will be but I decide to take the express way for most of today to get away from flooded places.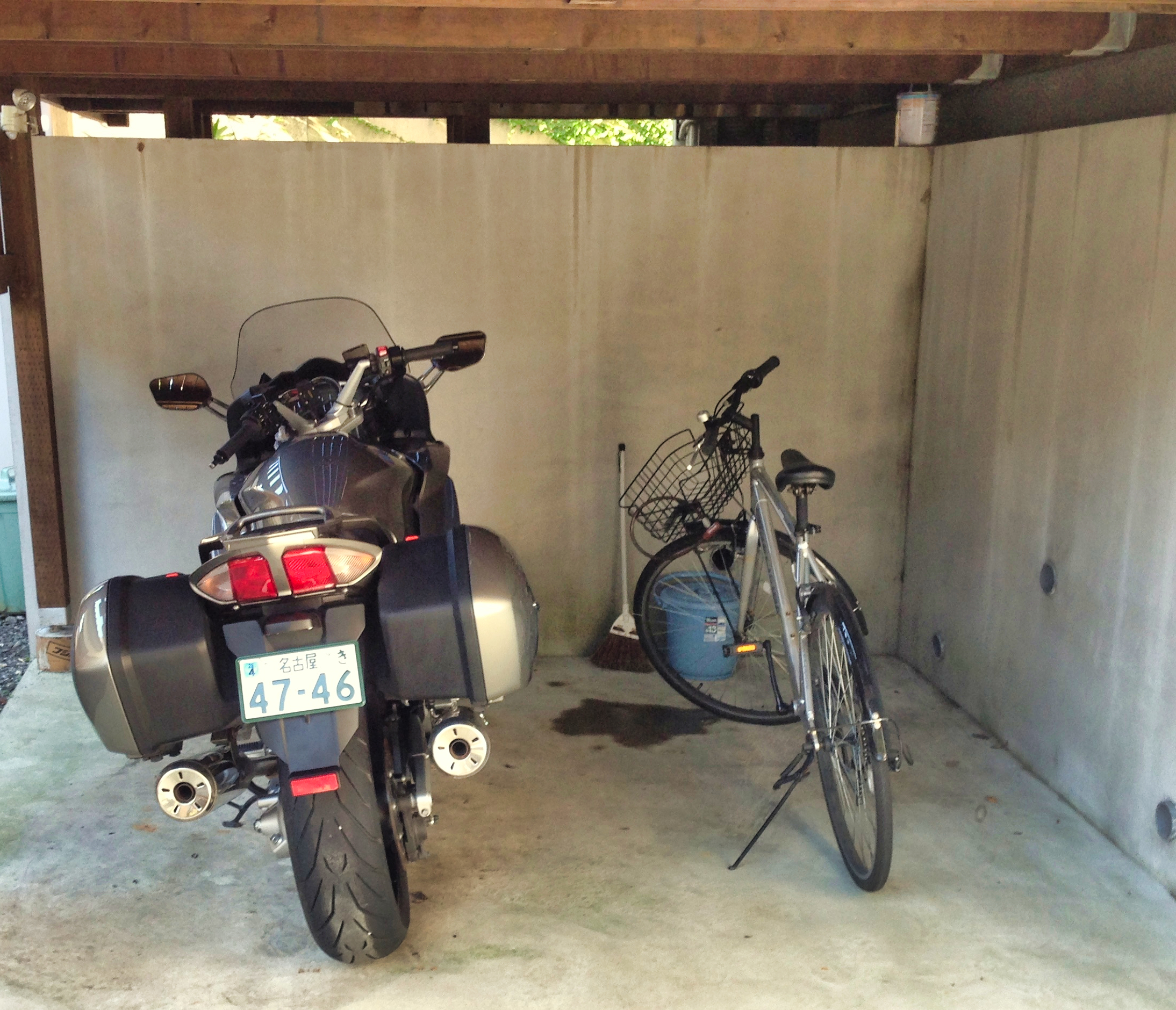 Getting set to depart. My garage. Two wheels only.
Once off the highway I soon come across some flood damage.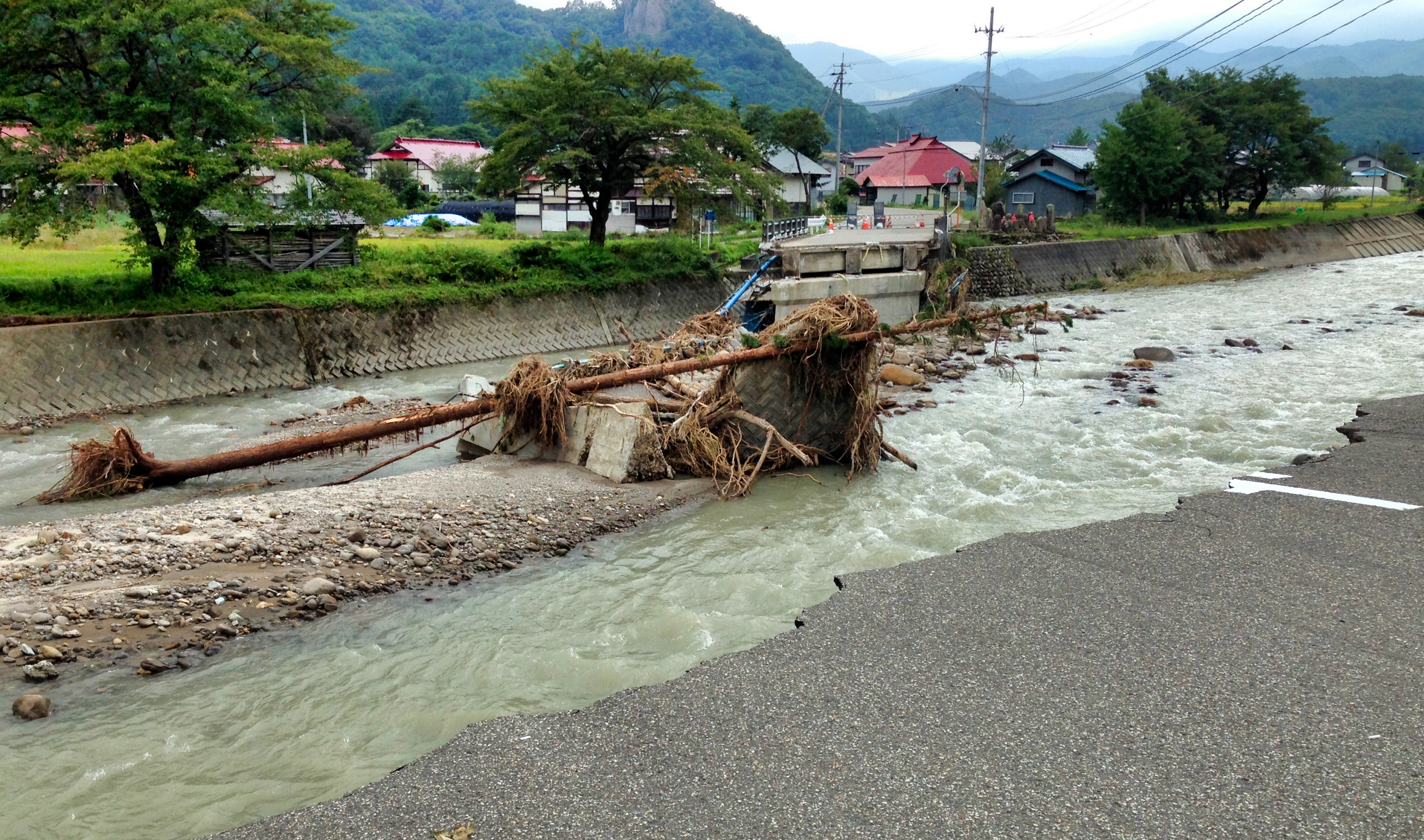 I hit the detour butting on the Garmin which achieved nothing, it suggested I go back a little way then do a U turn and come back and jump the river ala Evel Knievel and ride on my original route – what kind of detour is that? Ha-ha you have to just laugh. Garmin really are the most rudimentary navigation at times.
I decided to just go roughly 'as the crow flies' north and this sent me off on a road I had not planned to ride but it turned out to be a lovely valley of forgotten communities and sweeping roads – just the thing I like the most.
Rain was threatening but I took some time to stop and enjoy the rural views. I took some time out to look around a small rural train station (I spent most of my former life in that industry) and decided to get a bit arty with the camera.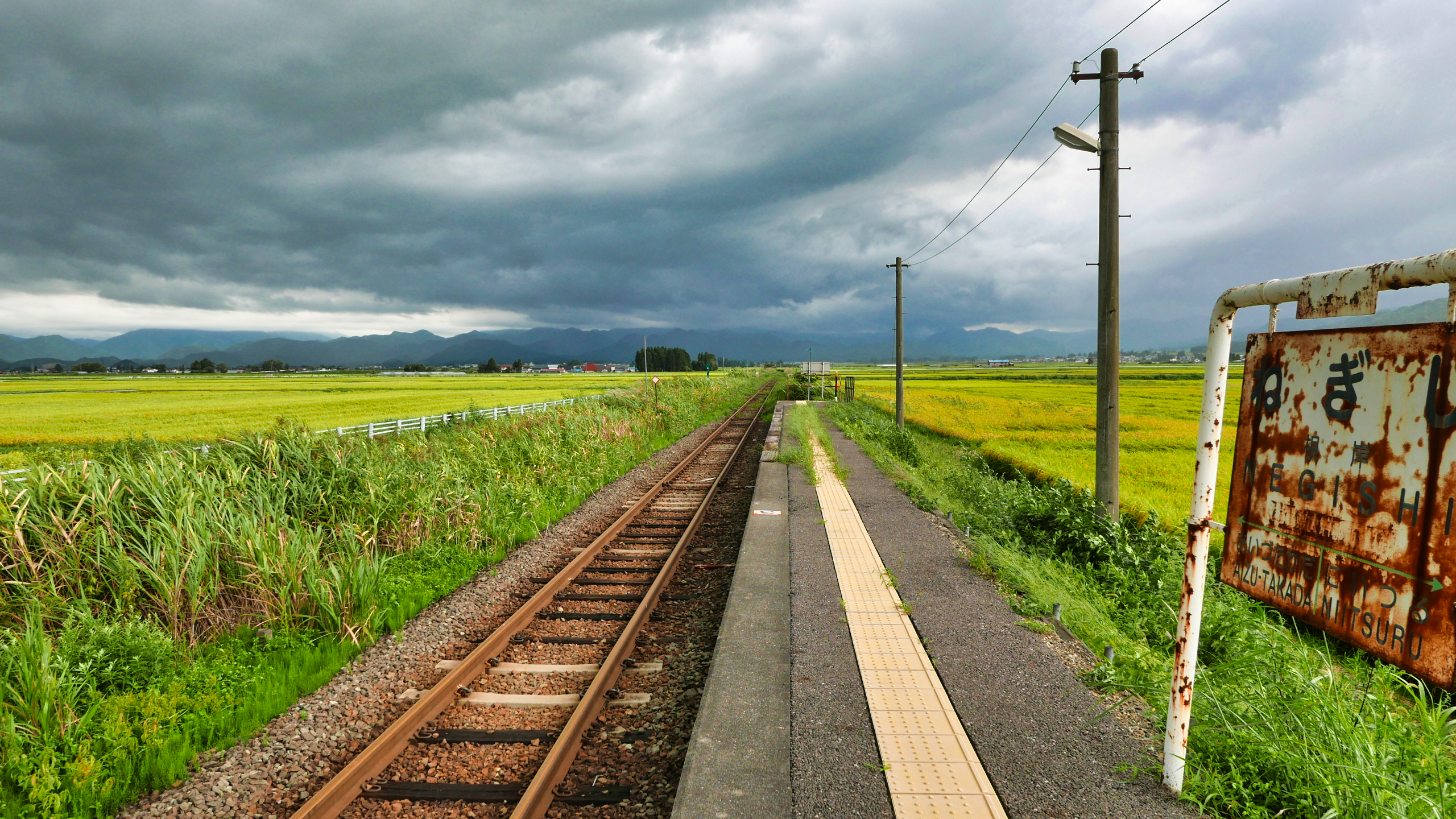 I ended up just getting rained on lightly the last 10 minutes which was no challenge. Day 1 gps route here. 
I found the ride with GPS app does a neat route map so I will include these as a screen shot for quick reference in future.
Day 2 Fukushima to Yamagata
Next day did not start out promising weather wise but it was not raining so that was all that mattered. I stopped at Inawashiro lake despite the gloomy conditions to try some arty photo.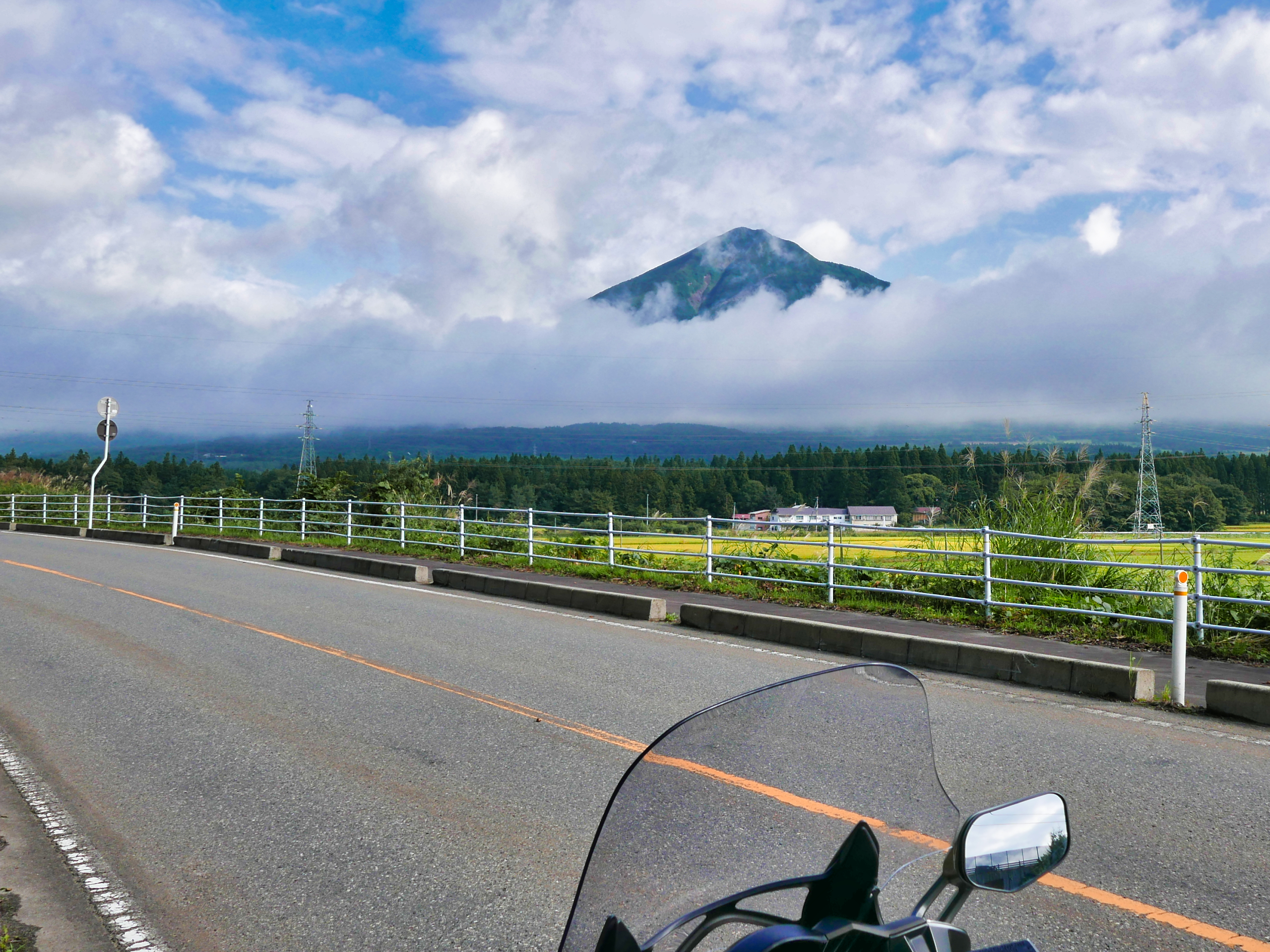 Then up Mount Bandai to look down to the lake from the excellent riding Bandai Gold line road.
Next riding the Bandai lake line which I was delighted to find is a sweeping road that suits the FJR much more than the tight closed in roads which are really hard work.
From there the western descent of Bandai mountain on route 459 is excellent and I was exploring some small towns bypassed by the main roads and stopped to change gloves as the day was warming up and by chance arrived at a halt next to this pole and overlooking this lovely rural scene.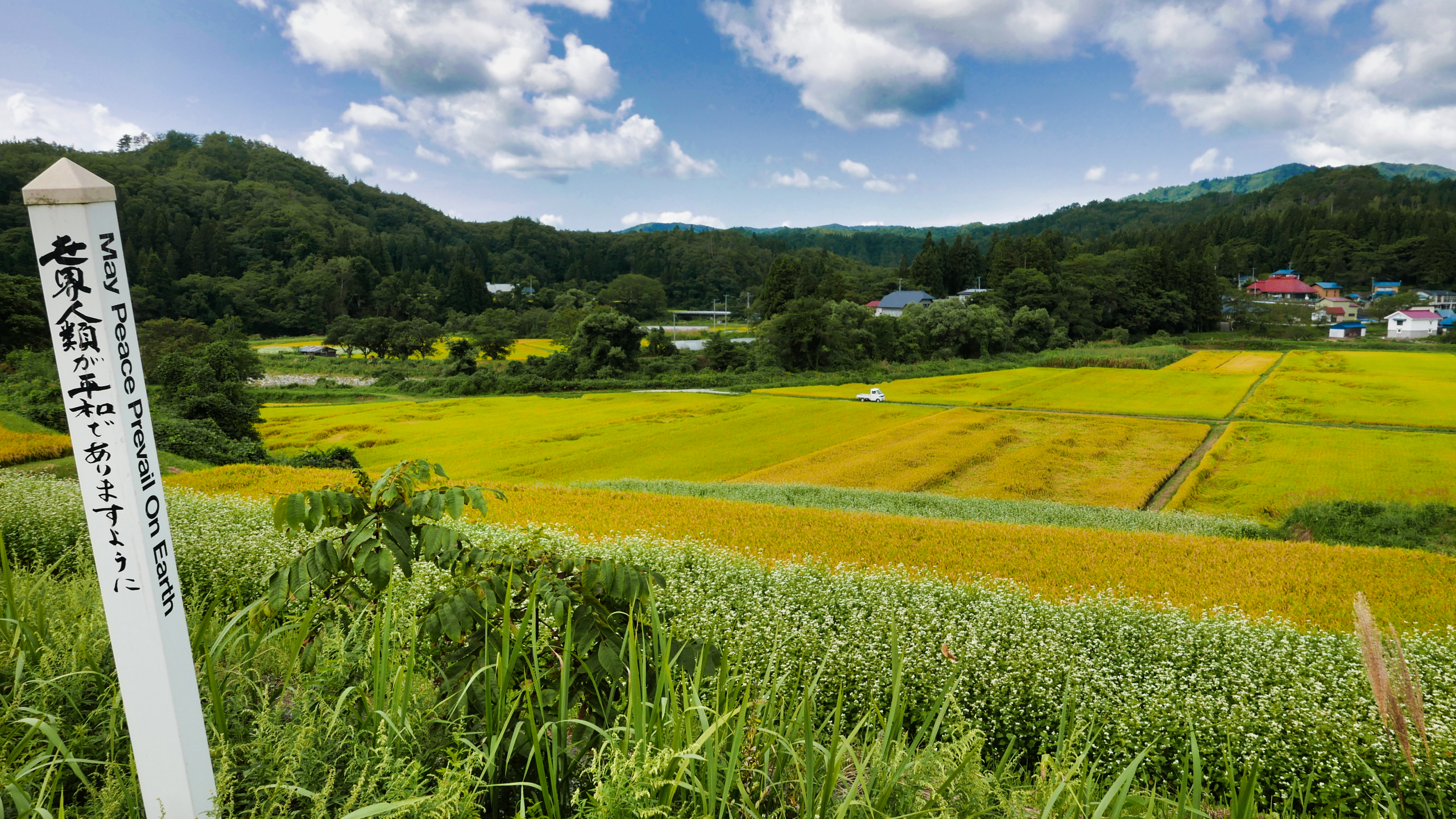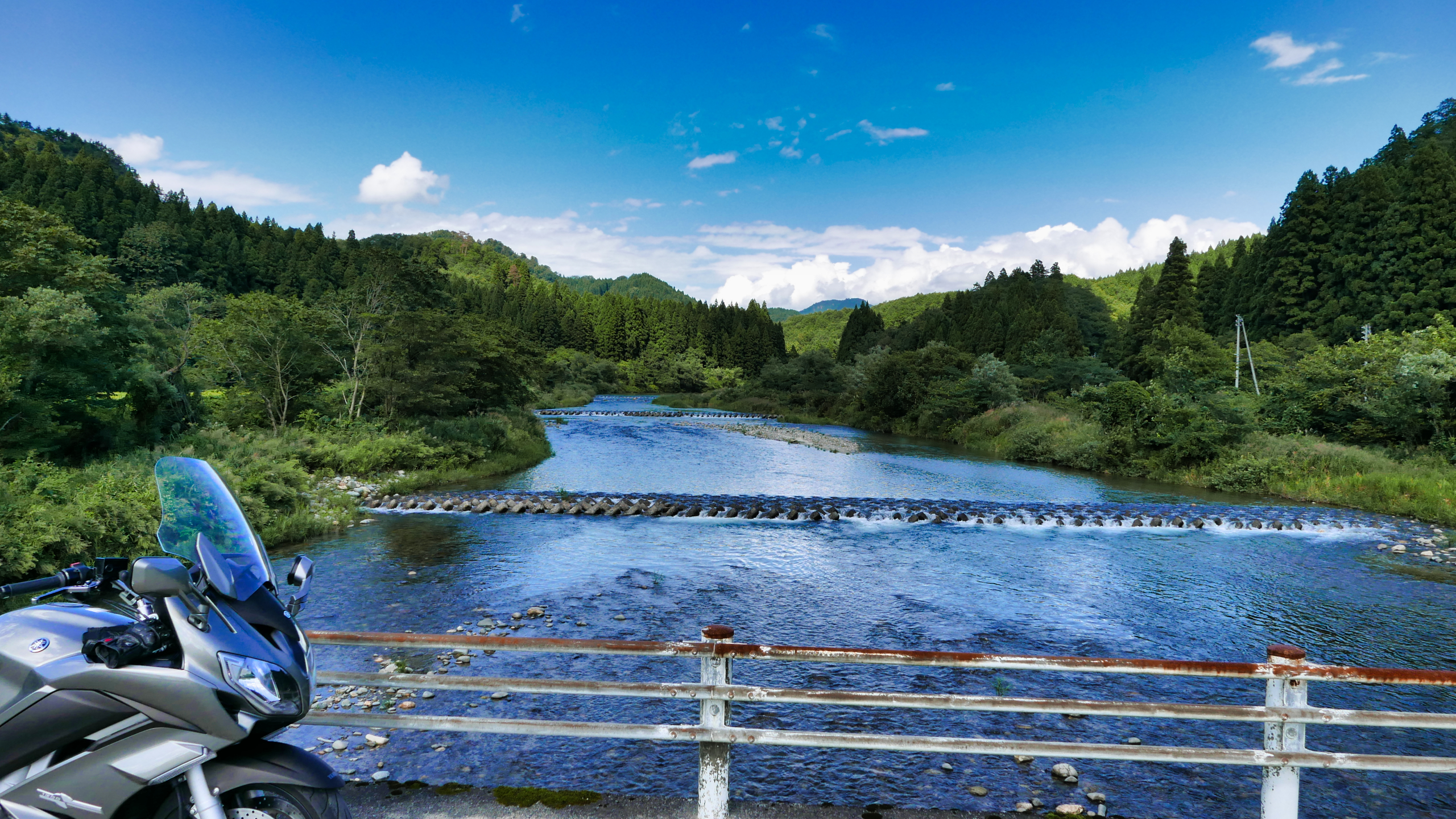 Later I ended up at another road closure and two nights of very little sleep I was rather tired and had a brain fade moment and over went the FJR while reversing.
This is the second time I have had it fall and so both sides are now scratched but not otherwise damaged which shows it is built pretty tough. The issue is the bike is so heavy that I struggle to push it backwards especially if there is loose surface.
I was annoyed but then realised the bike was just scratched and I was able to continue the ride so really I should be relieved. Soon after riding north from Niigata I arrived at the spectacular west coast with scene from the saddle per below.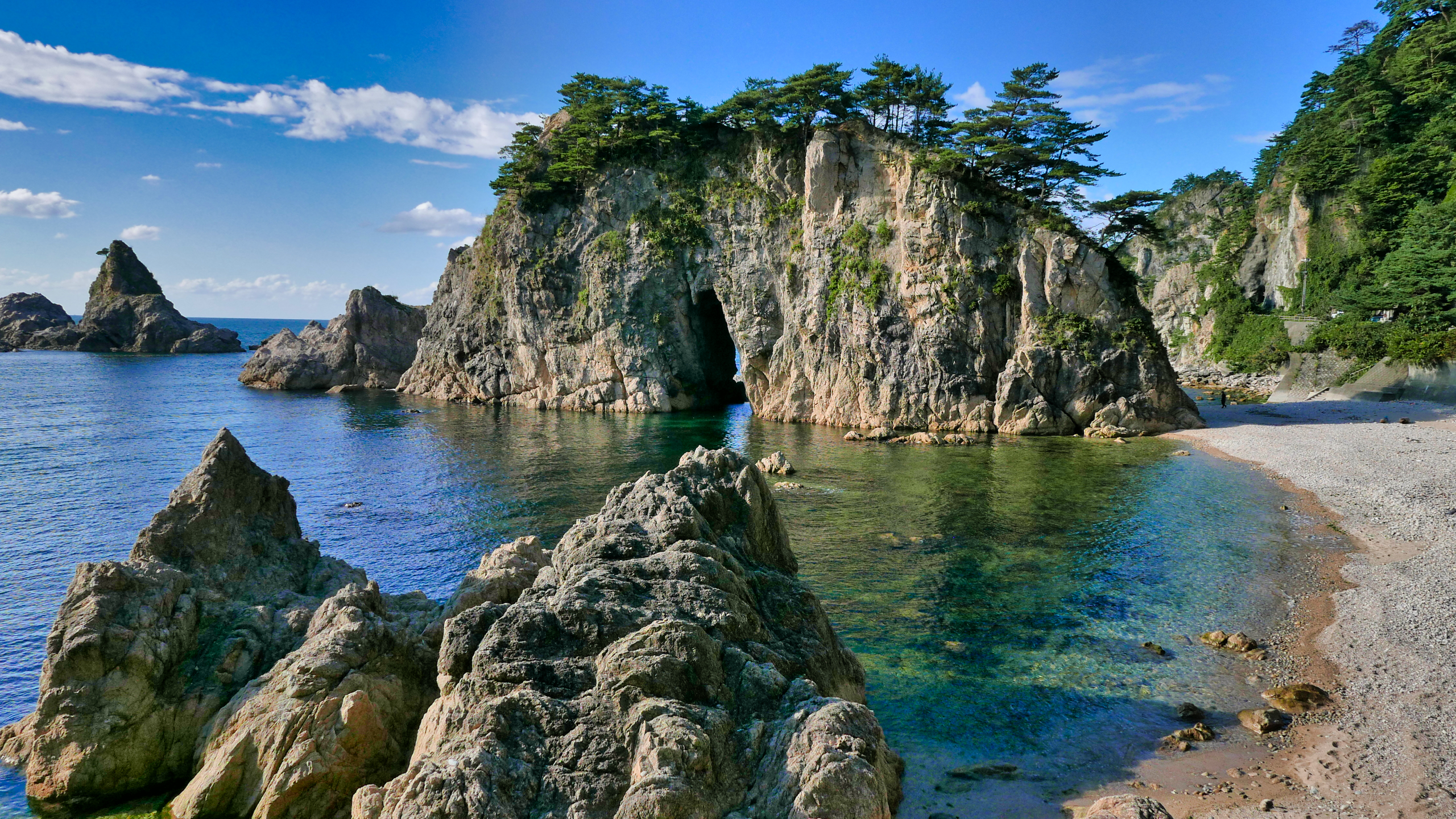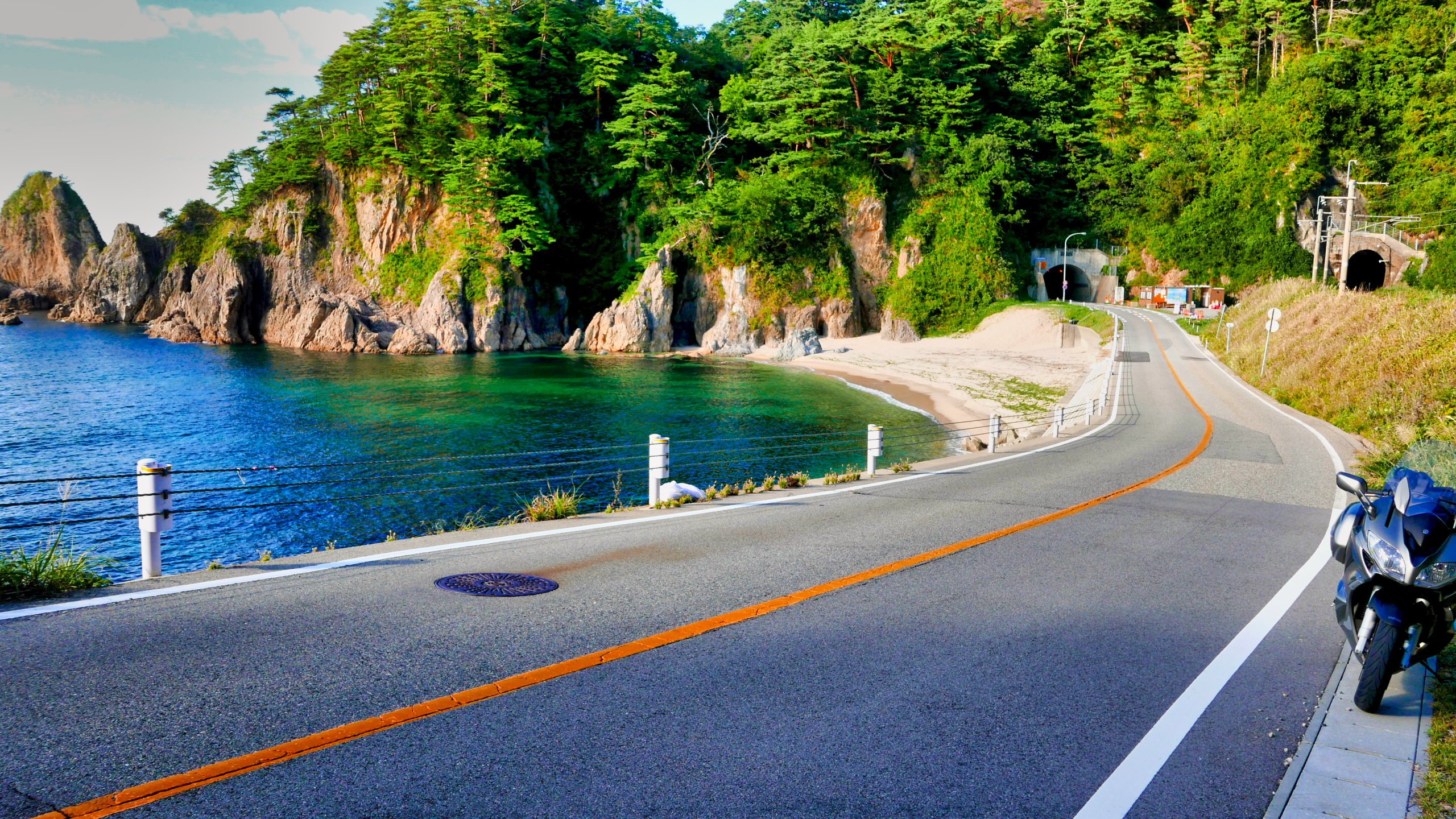 So much beautiful scenery in just one day. Route info here.
Day three Yamagata to Akita

I really got lucky with the weather the next day. Leaving Tsuruoka I took the expressway for a bit and as often is the case with the toll roads in Japan this one sat raised up high above the country side giving me a magnificent view. Next stop was Mount Chokai and wow what an amazing ride.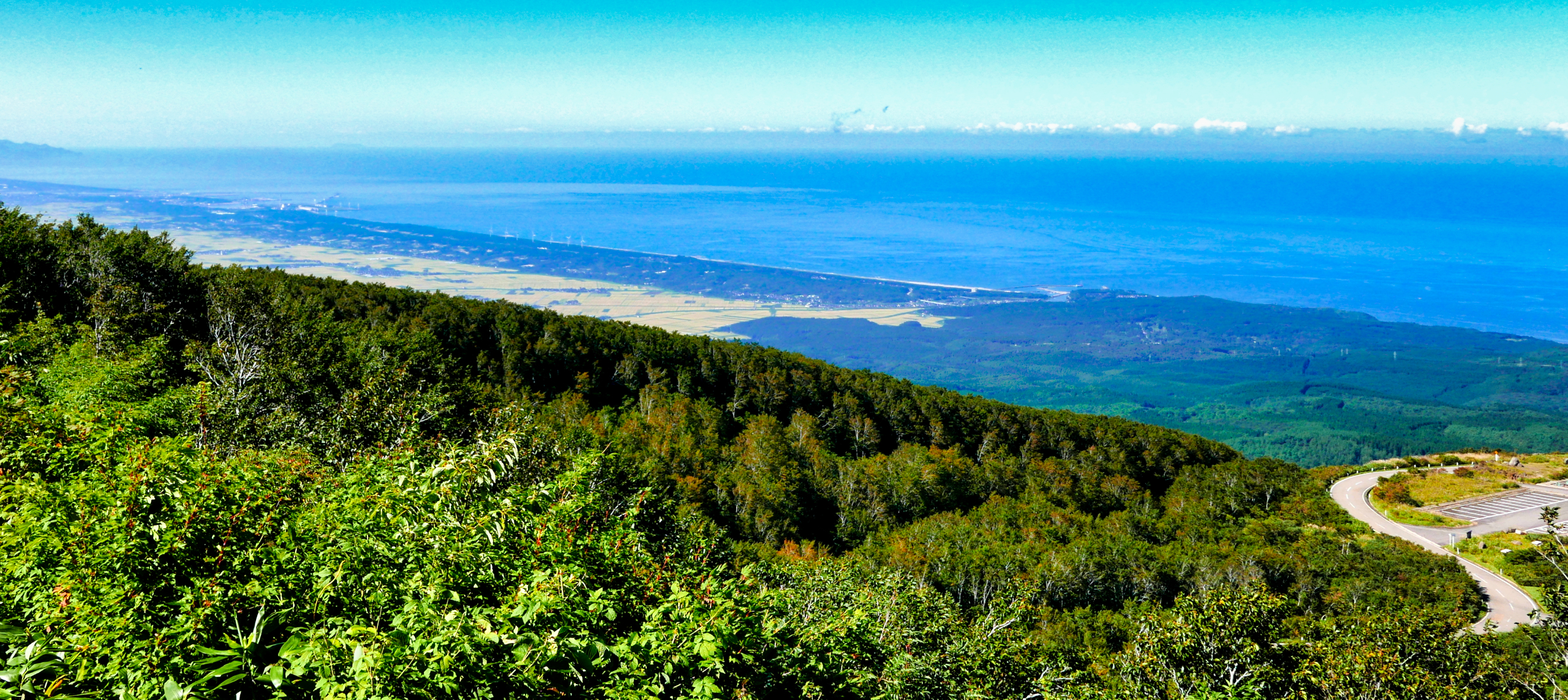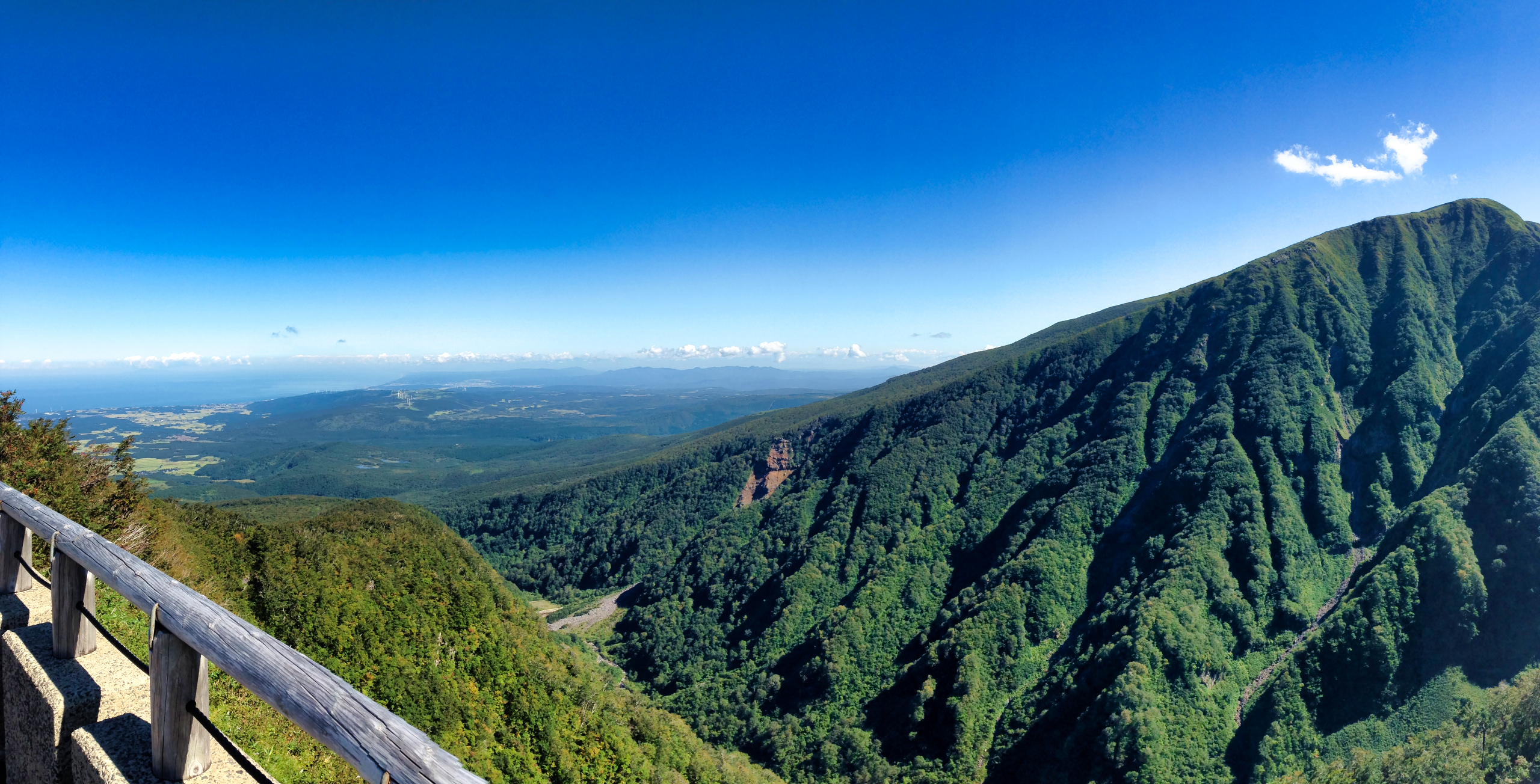 Next some nice rural riding and pretty towns which in Japan often have flowers growing. Seeing this in each small town always brings a smile to my face, to be in a place where people take the time to do this and that others do not seek to ruin it. In Australia they would be trampled or stolen by idiots.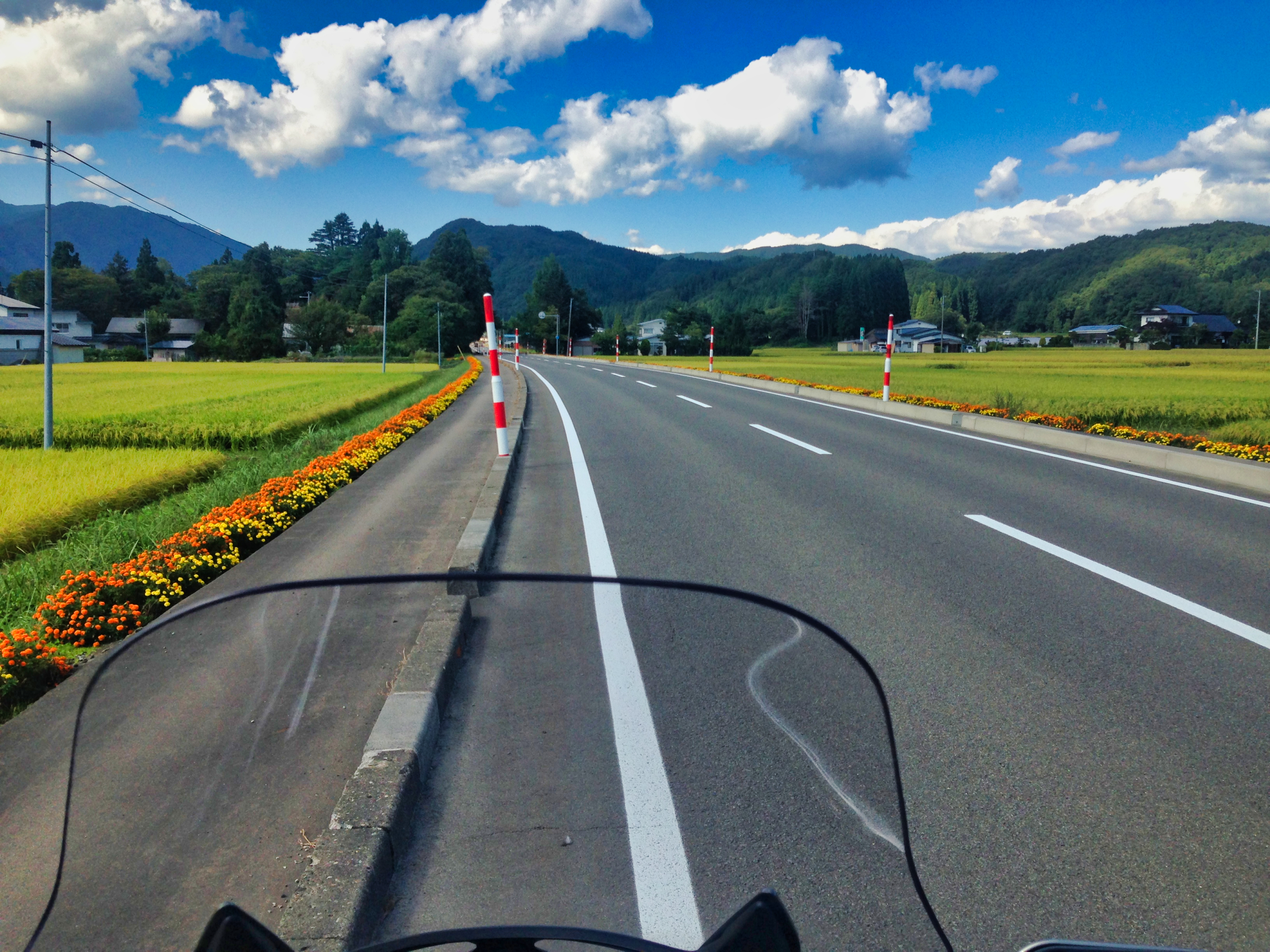 Next I went to Lake Tazawa. The ride around the lake is excellent, the water is so very clear and I stopped to see the girl of the lake on what was a warm afternoon and wanted to sit and enjoy the view with a soft serve ice cream.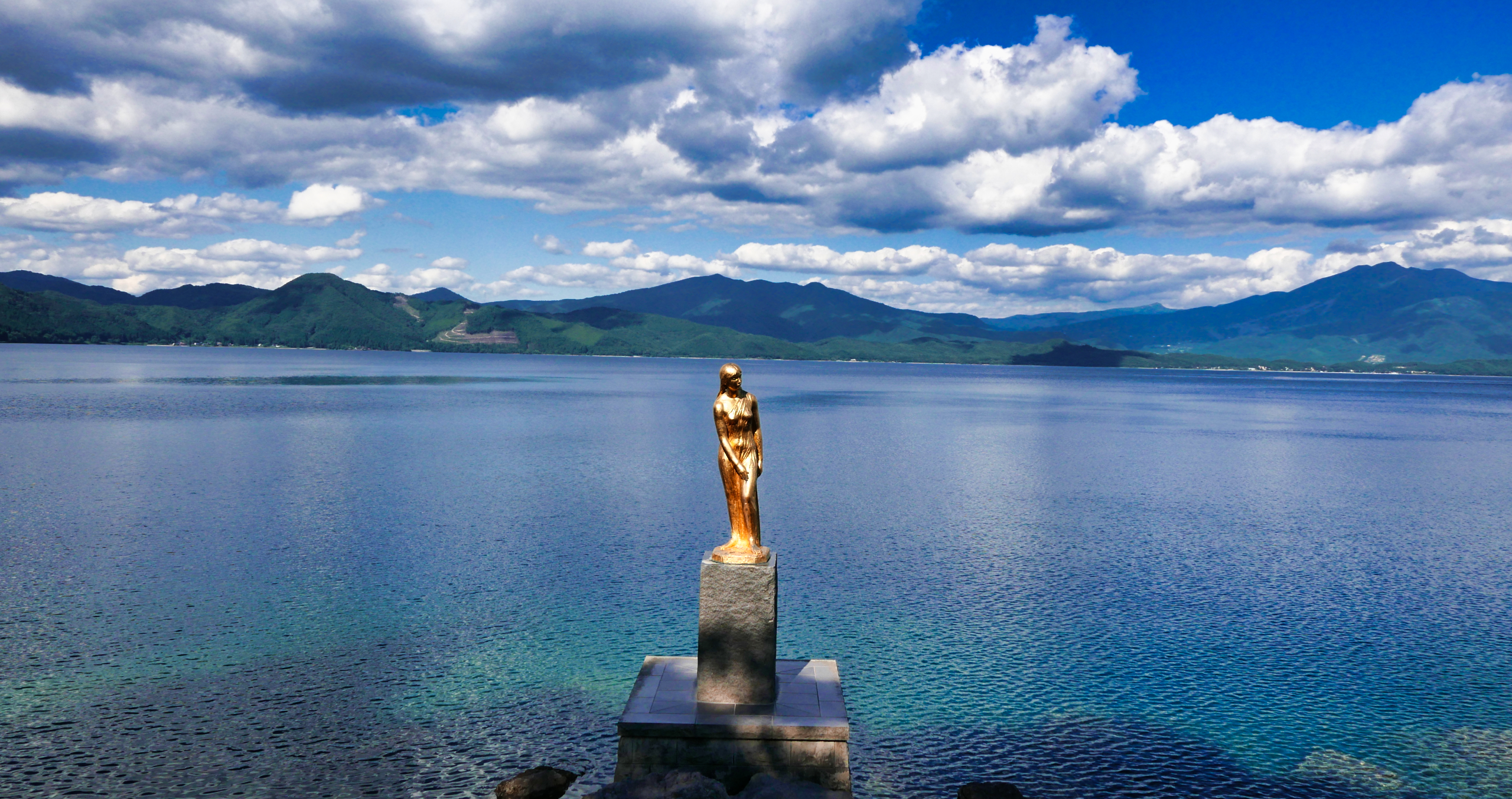 Terrific ride then on to Odate with excellent mountain and rural views from the bike. Day three route.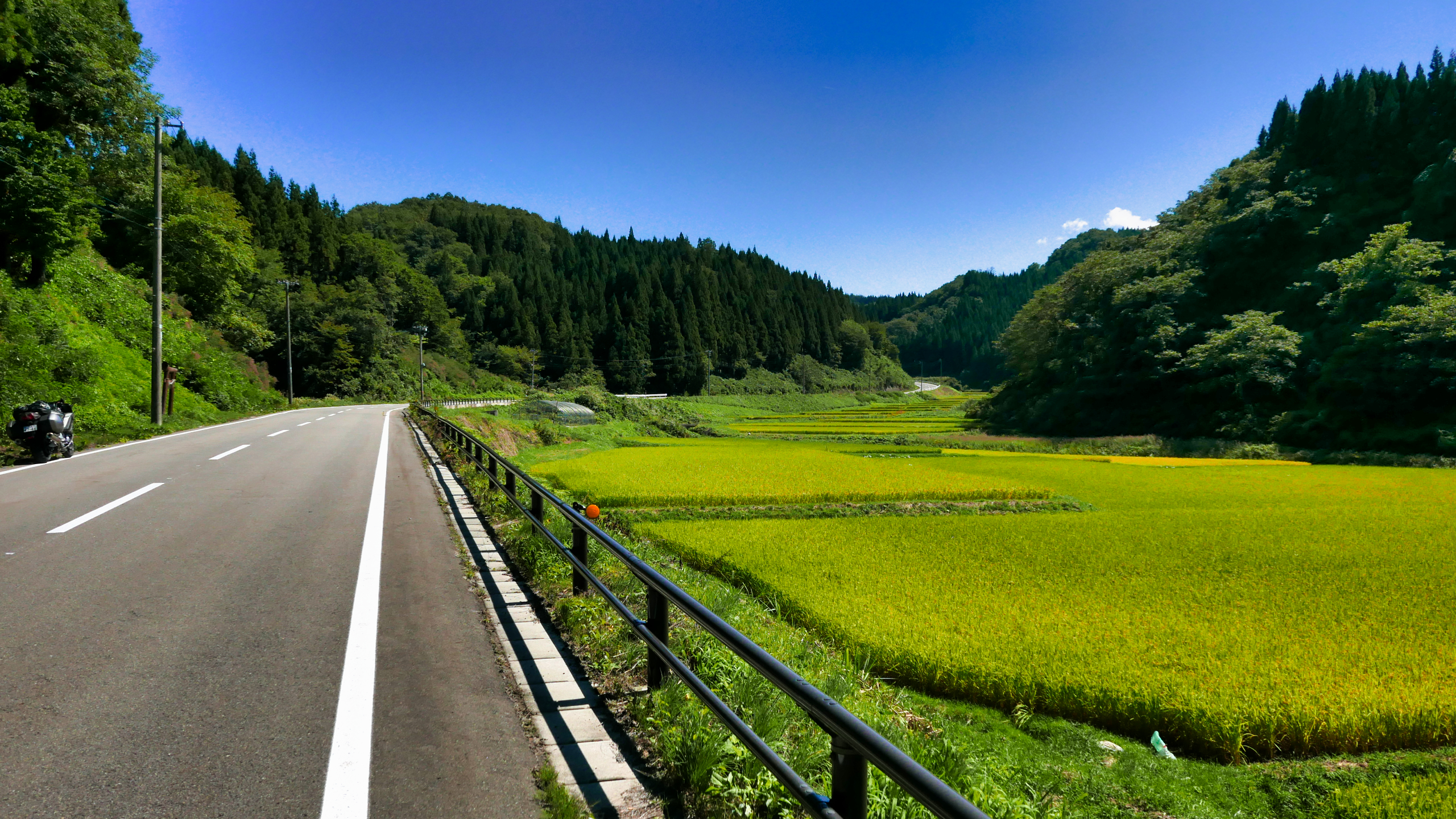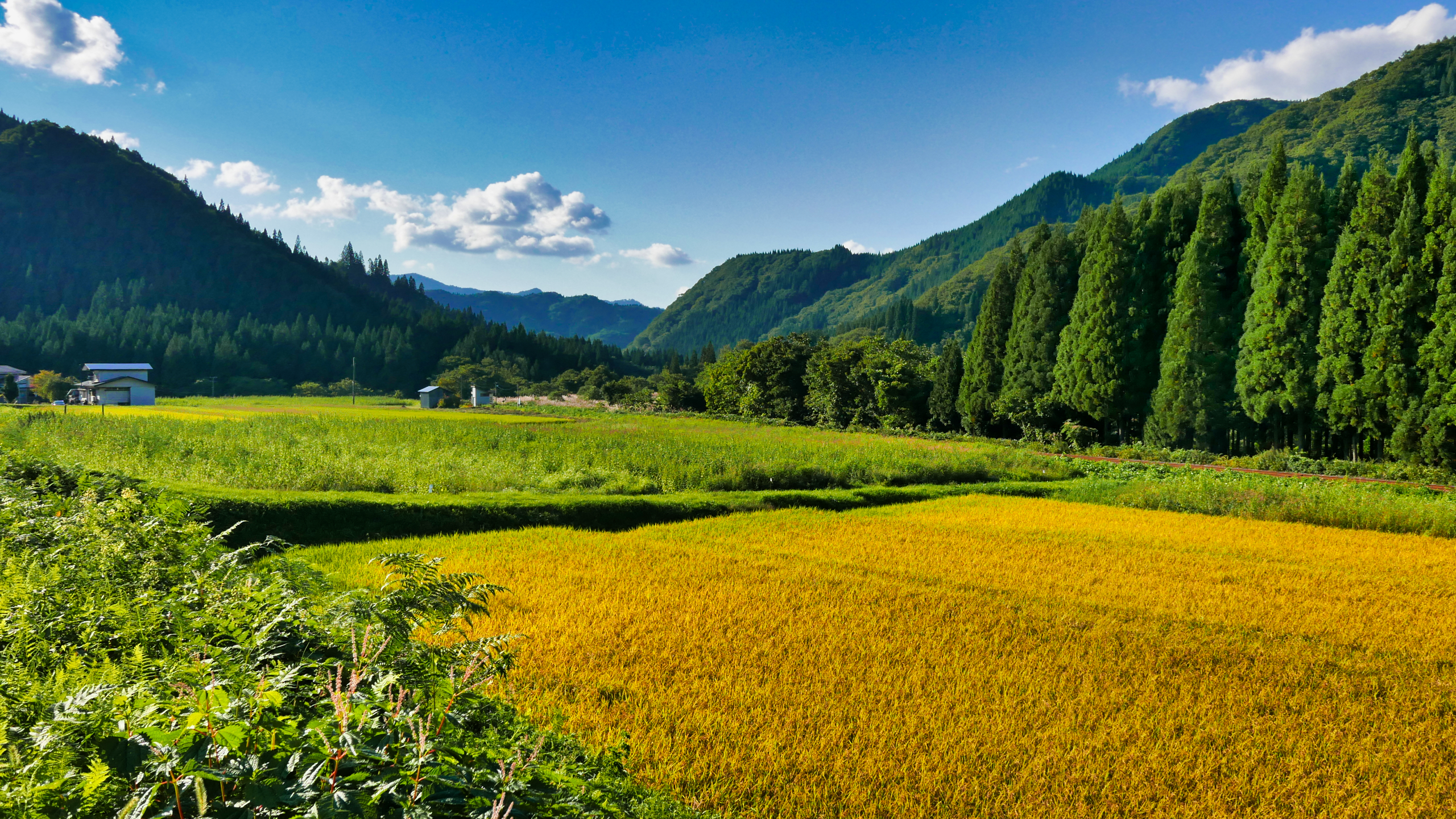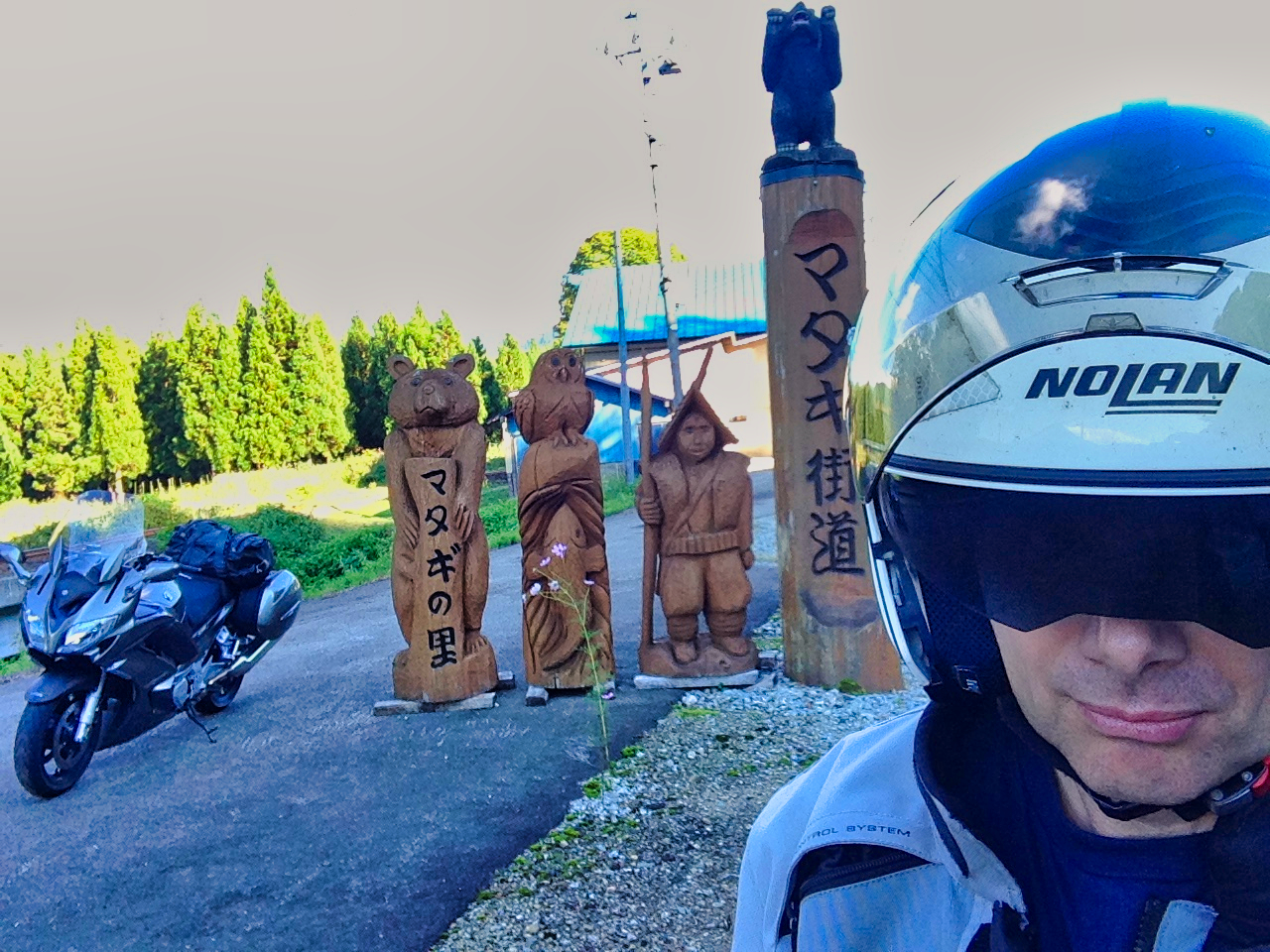 Day four Akita to Iwate
Can there be anything better than being on a ride and waking up looking out the hotel window to see this. Blue skies and mountains ahead. This is living.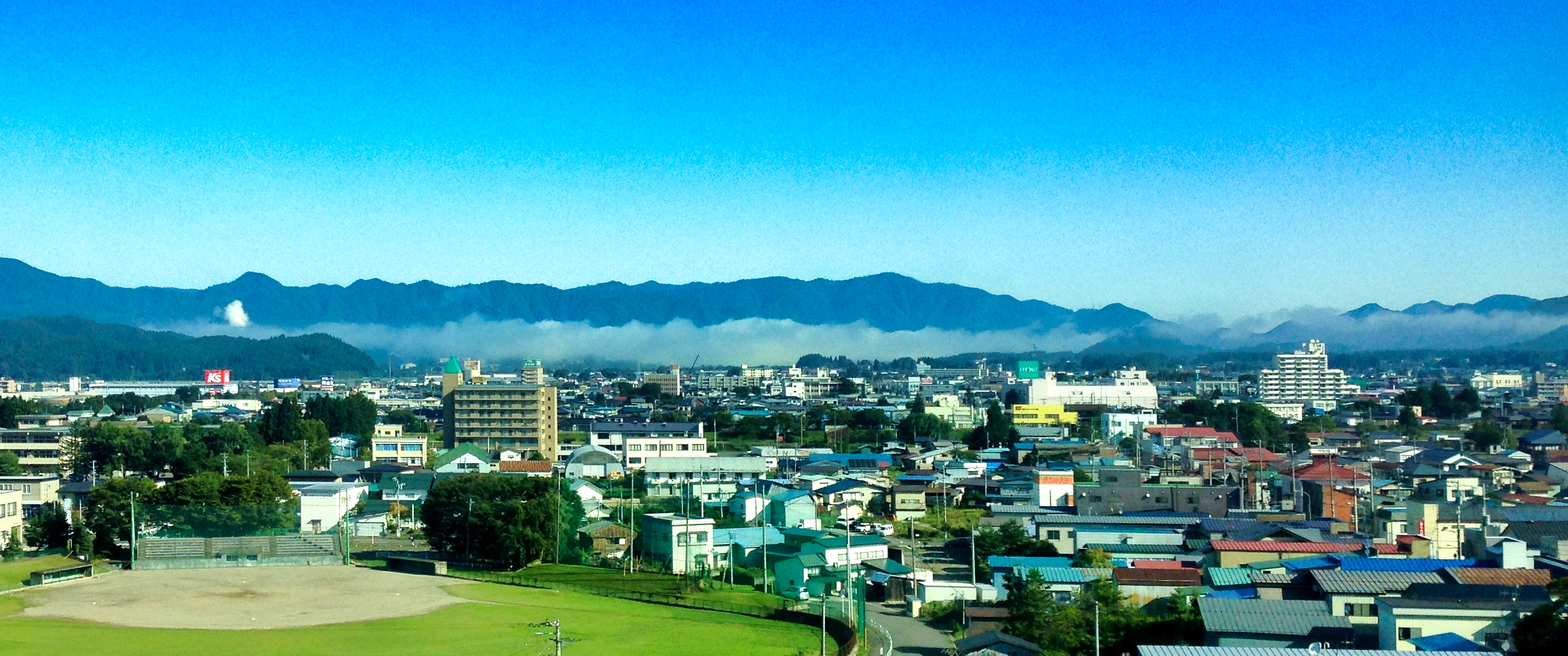 Actually I had not slept well since leaving home. Just my shoulder from the injury, no fault really of the hotel, I often stay at Route Inn when riding and they are an excellent Japanese hotel chain. Not the cheapest, about $50/60 a night but that is I think affordable compared to other countries and includes a massive buffet breakfast that means I can have a light picnic lunch.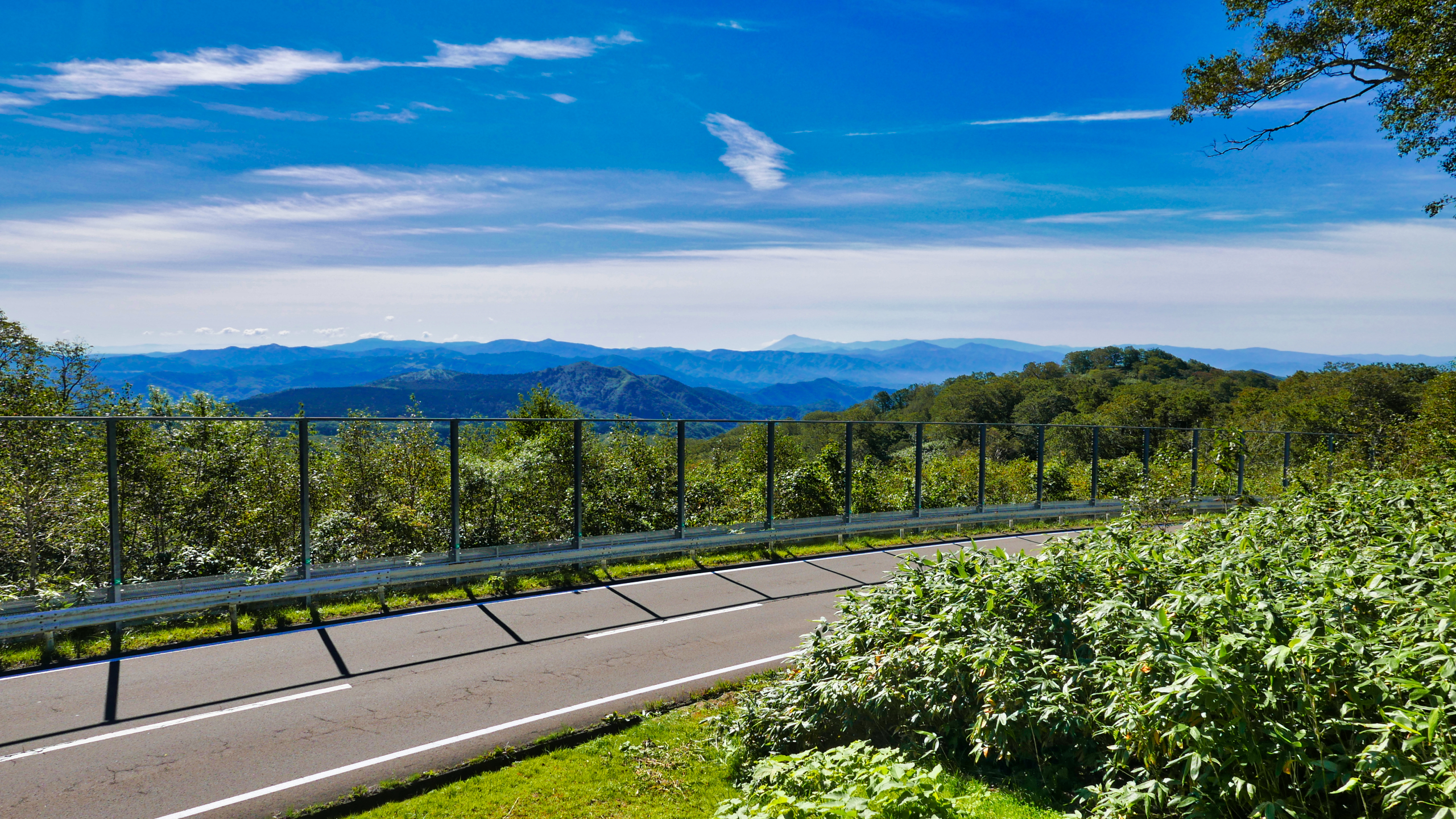 The road north to Lake Towada is the Jukai line and there were a few motorcycles out so I knew it was going to be good and indeed it turned out to be a sweet ride of sweeping corners and views.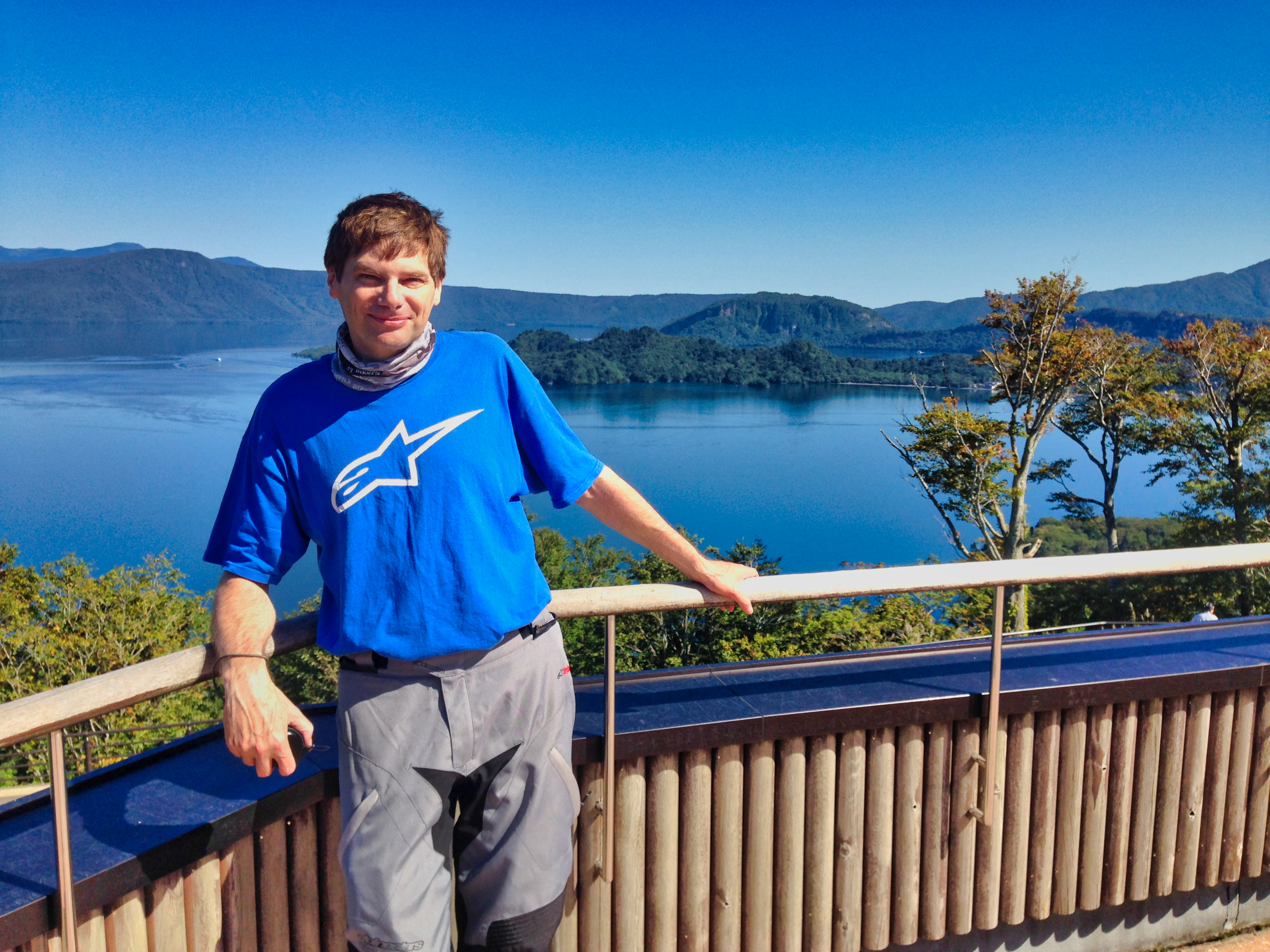 Lake Towada was beautiful and hard to capture in a photo but the water was so clear you could look down from the shore to watch fish swimming around and jumping out of the water, which I sat and enjoyed for awhile feeling quite at ease.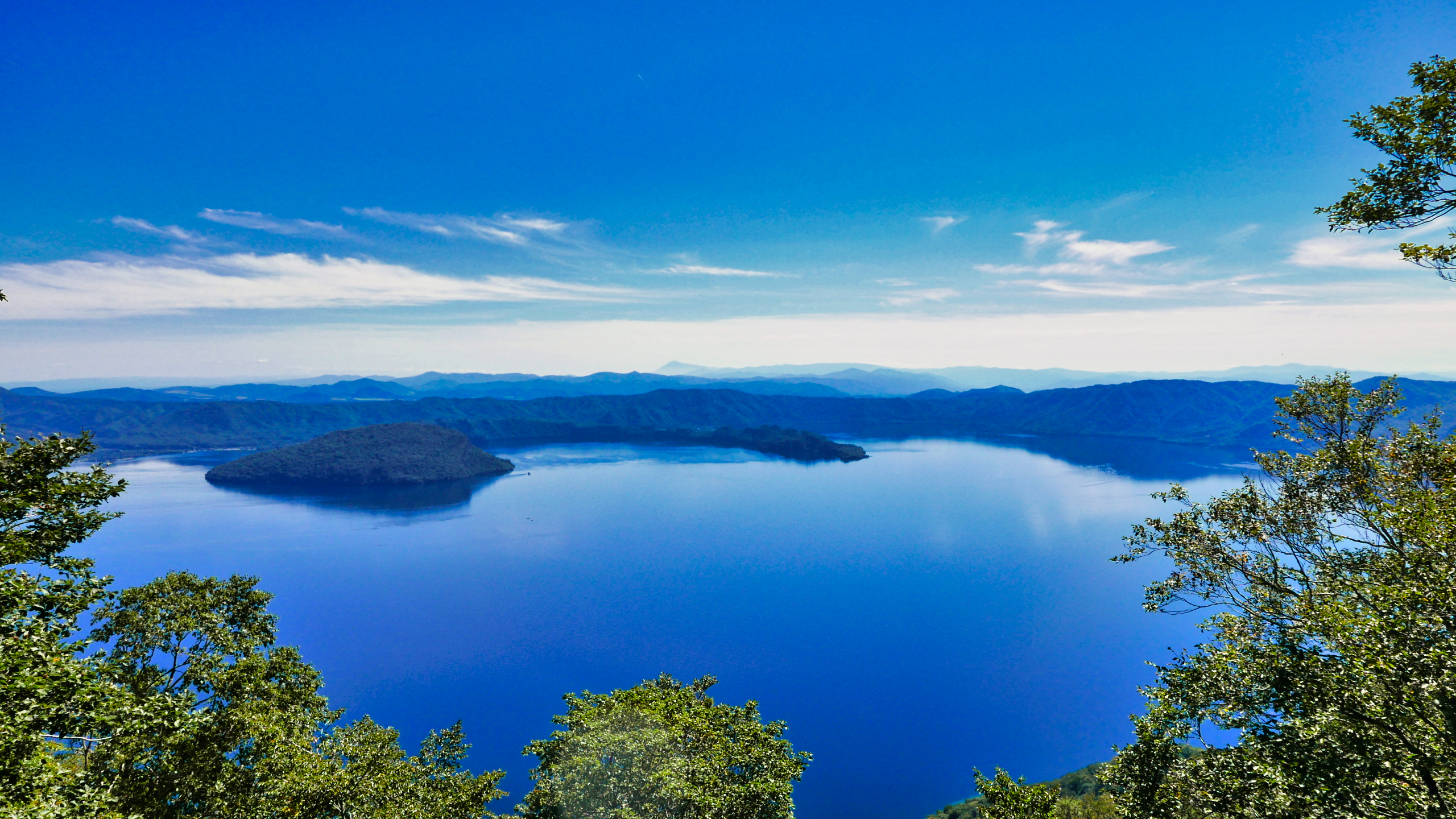 The impossibly blue Lake Towada is the turn around point of this ride.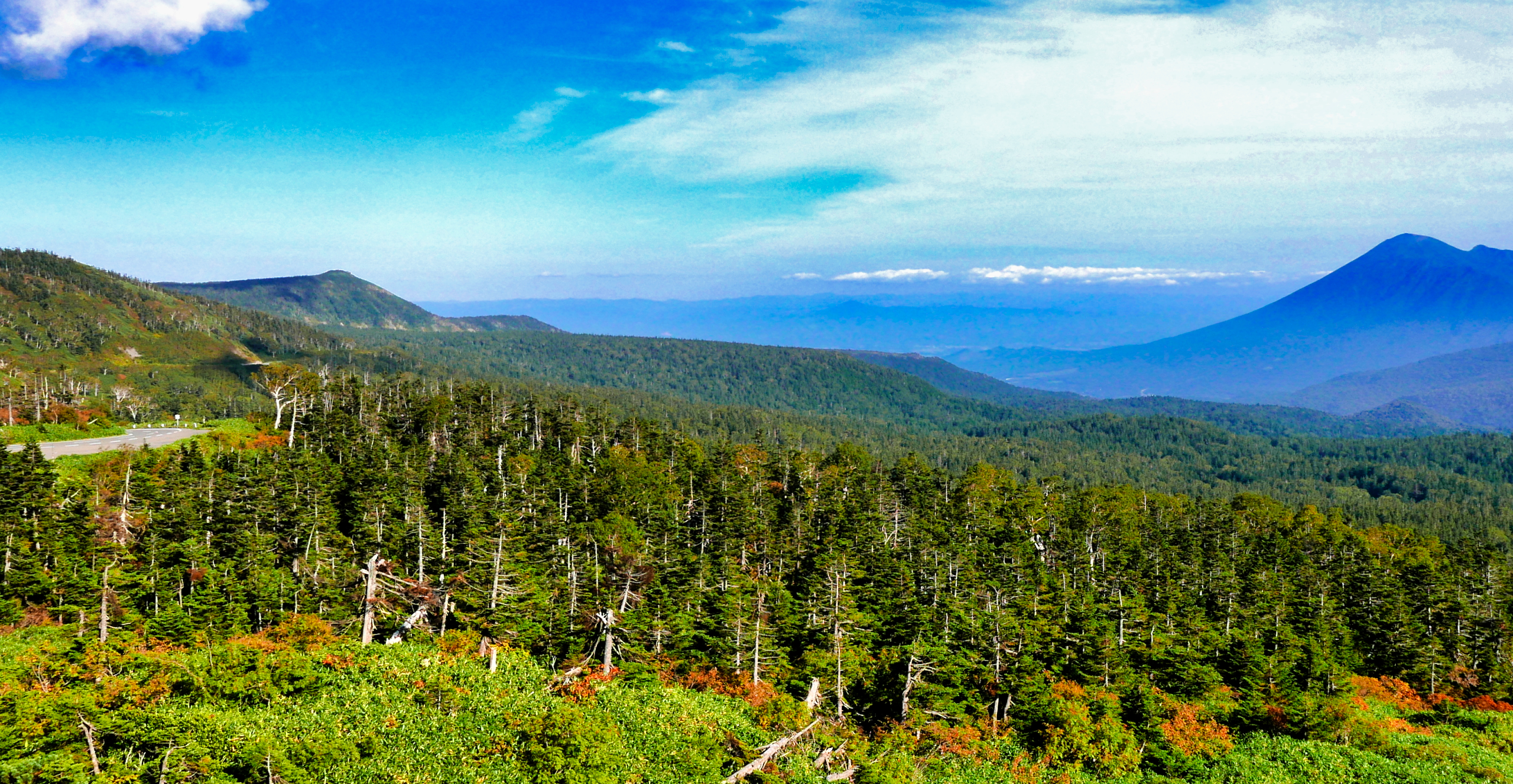 Leaving the lake I rode back south to my next highlight for the day Mount Hachimantai which was far more spectacular than my feeble photos above suggest.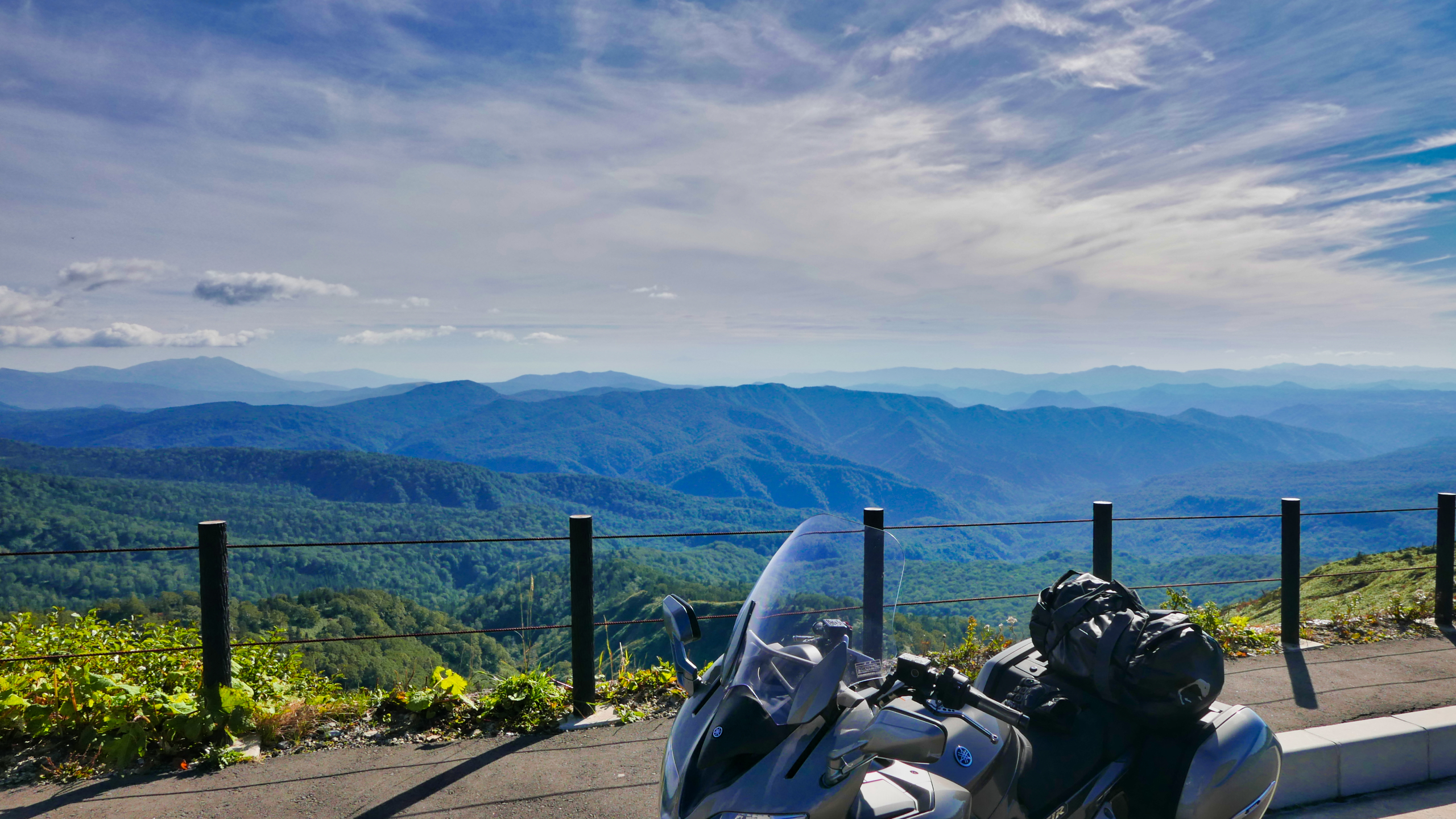 The last mountain pass for today would have been a magnificent view back to Mount Hachimantai if not for the sky being filled with smoke. Many farmers were burning rice fields – I thought this would be banned in Japan, the air was like what I might encounter in Thailand or Philippines. Maybe the farmers ignore? Day 4 route.

Day five Iwate to Yamagata
Day five I had chosen a route mostly from the Touring Mapple with no particular  mountain pass or lakes to visit and was not sure what to expect but it turned out to be the best ride day of the tour. I like sweeping flowing roads these days.
An odd thing riding Japan there are no corner speed advisory signs. Occasionally an arrow but mostly no warning other than the road suddenly has a corner. That was until I came across a Japanese corner ahead advisory sign! I thought what could possible warrant such a rare item?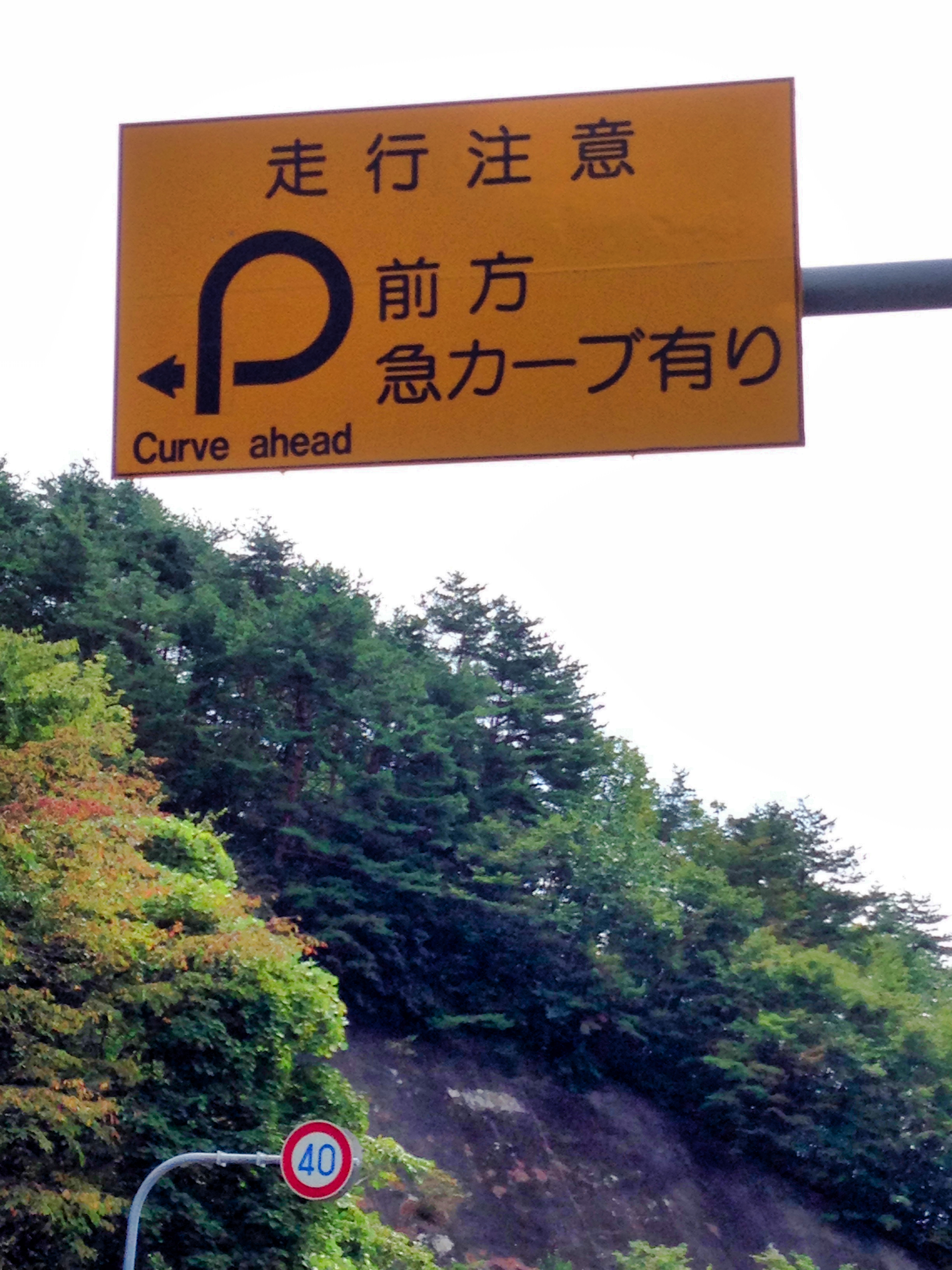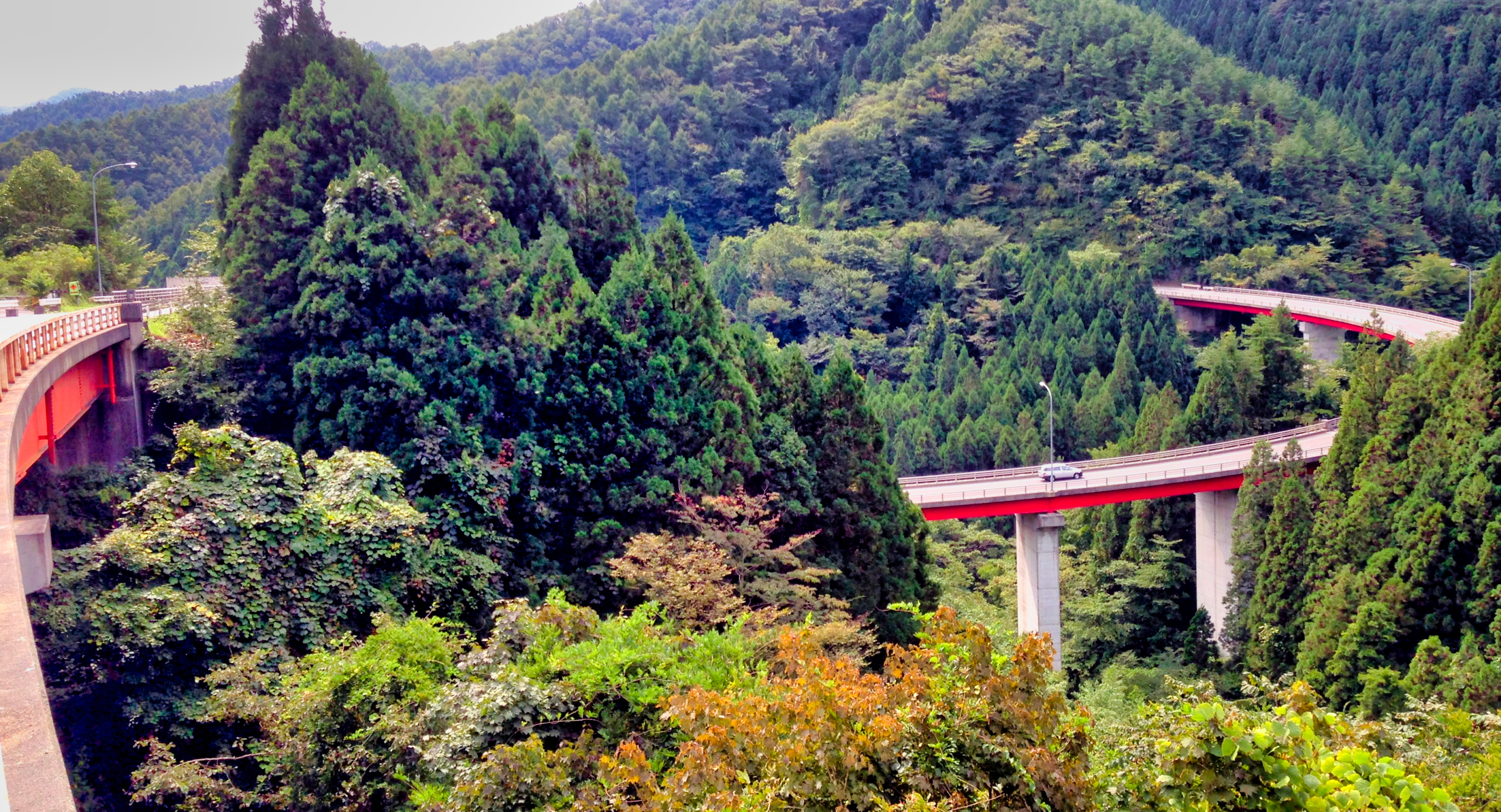 Of all the curves I have ridden here this is not one you need much warning for but anyway riding this was icing on an already great road.
Later I had lunch at a nice spot of the Geibi river gorge. Checking the local tourist guide signboard for the Iwate prefecture I was riding through it looks to hold many interesting sites so I will be sure to return.
Next up I had a remote mountain pass up next as I went to the Miyagi prefecture via Mount Kurikoma.
The second half of this road is easy some of the best riding road I have found yet in Japan. Well surfaced with zero traffic and a mix of curves to suit any rider that went on for considerable distance. Sorry no photos I really had a day off the camera but here is some boiling water coming out of the ground as a consolation.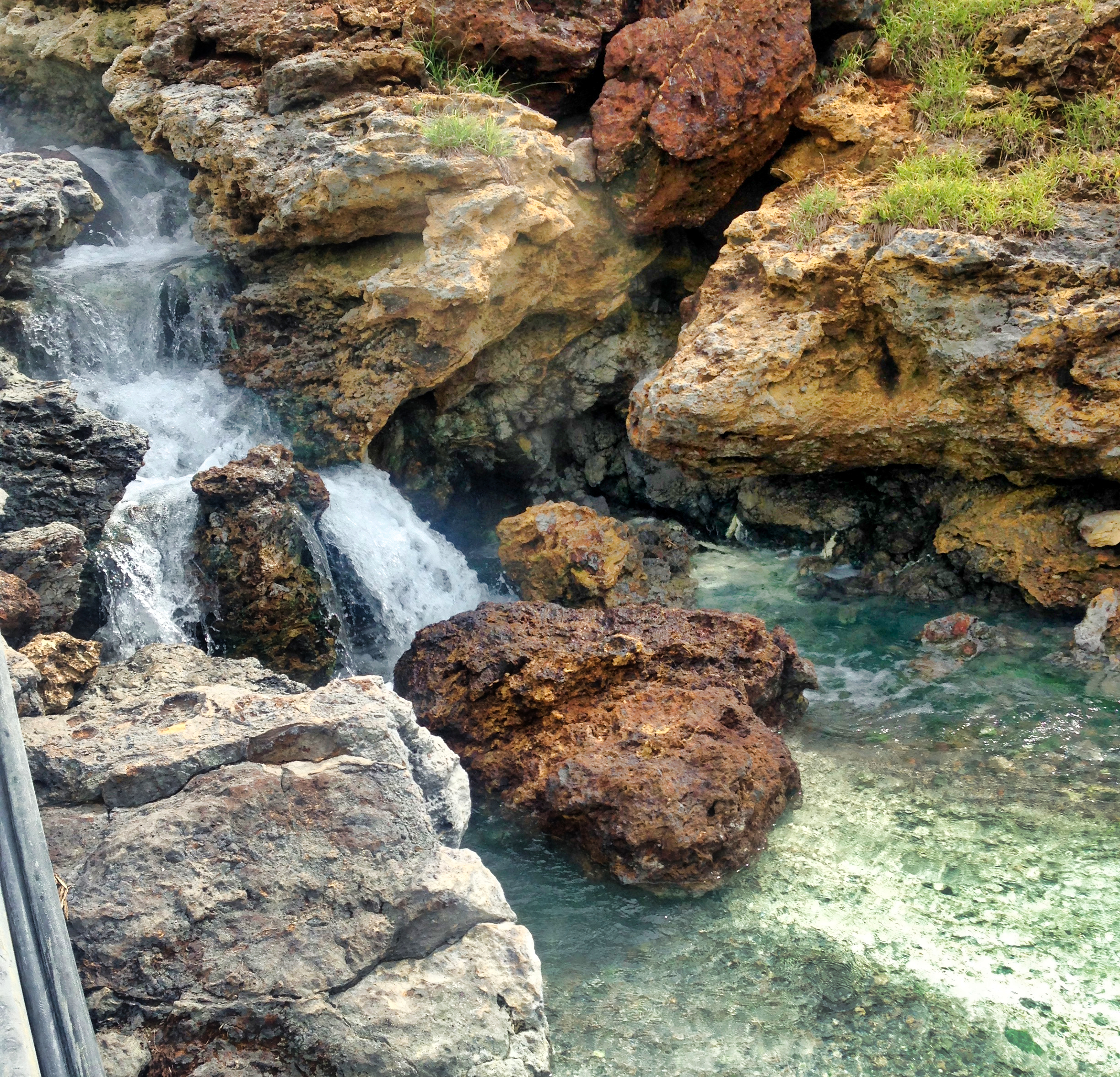 Day six Yamagata to Kanagawa
Last day forecast was rain. I immediately cancelled my ride in the mountains to the west but I toyed with the idea of riding over Mount Zao if that area was not raining.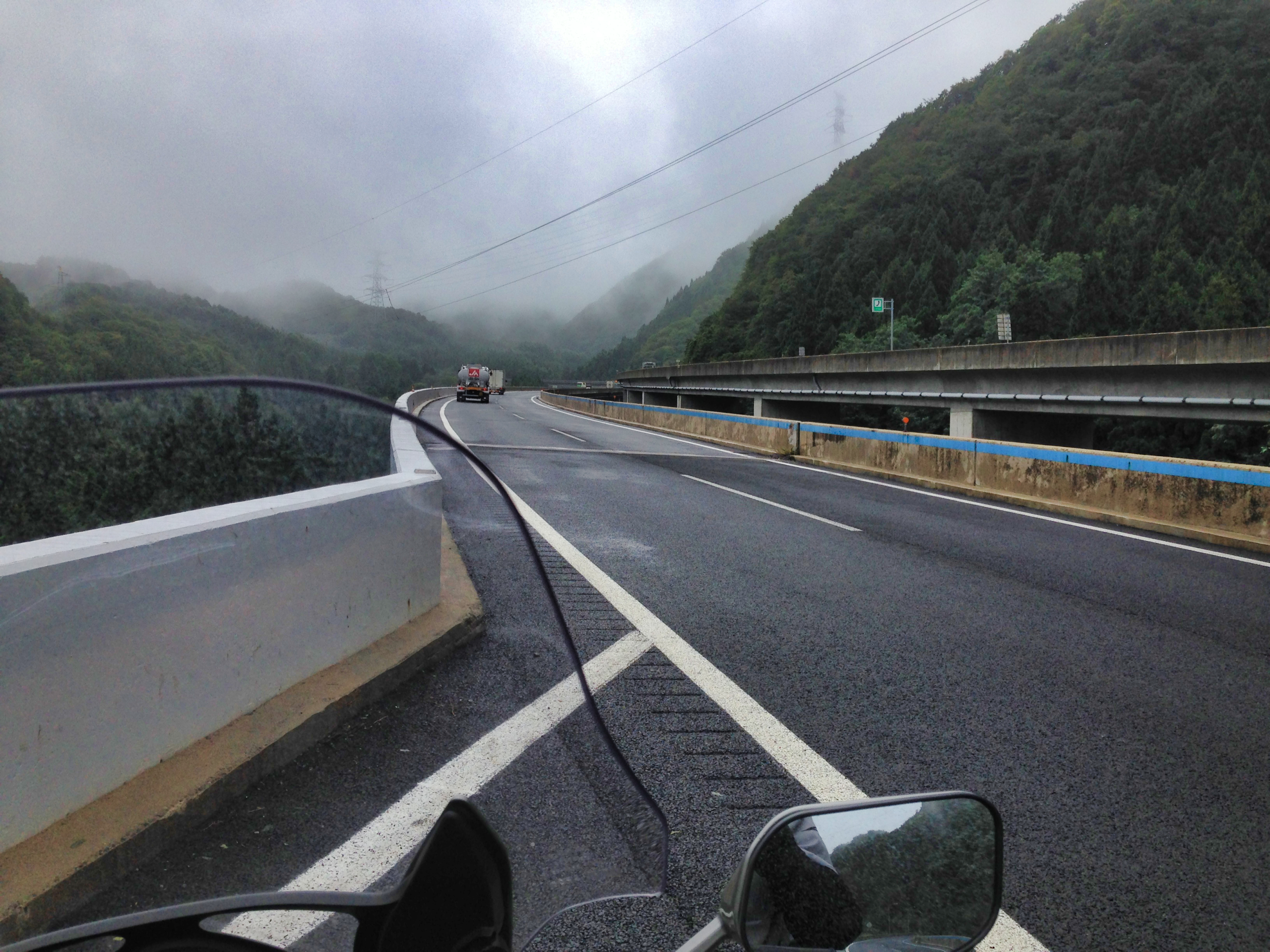 Out of the tunnels on the other side of a huge mountain range the weather was clear and then riding south out came the sun, this can happen in Japan due to the many high ranges.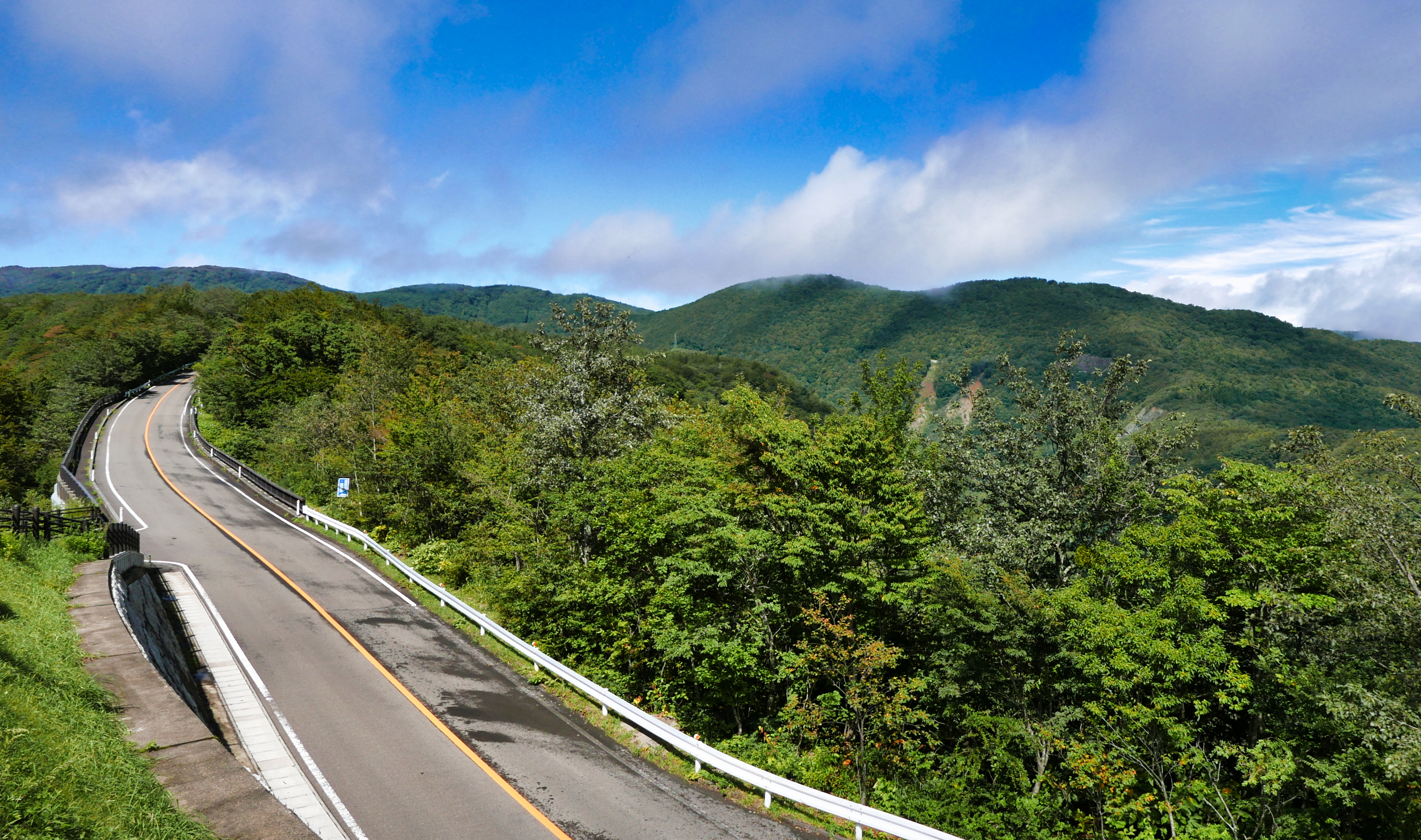 Getting off the expressway first visit the beautiful Sankai falls (below) on the eastern lower side of the Mt Zao echoline (above). It really is a great view of multiple falls coming down the mountain and the scale is hard to see in this photo but try viewing it enlarged.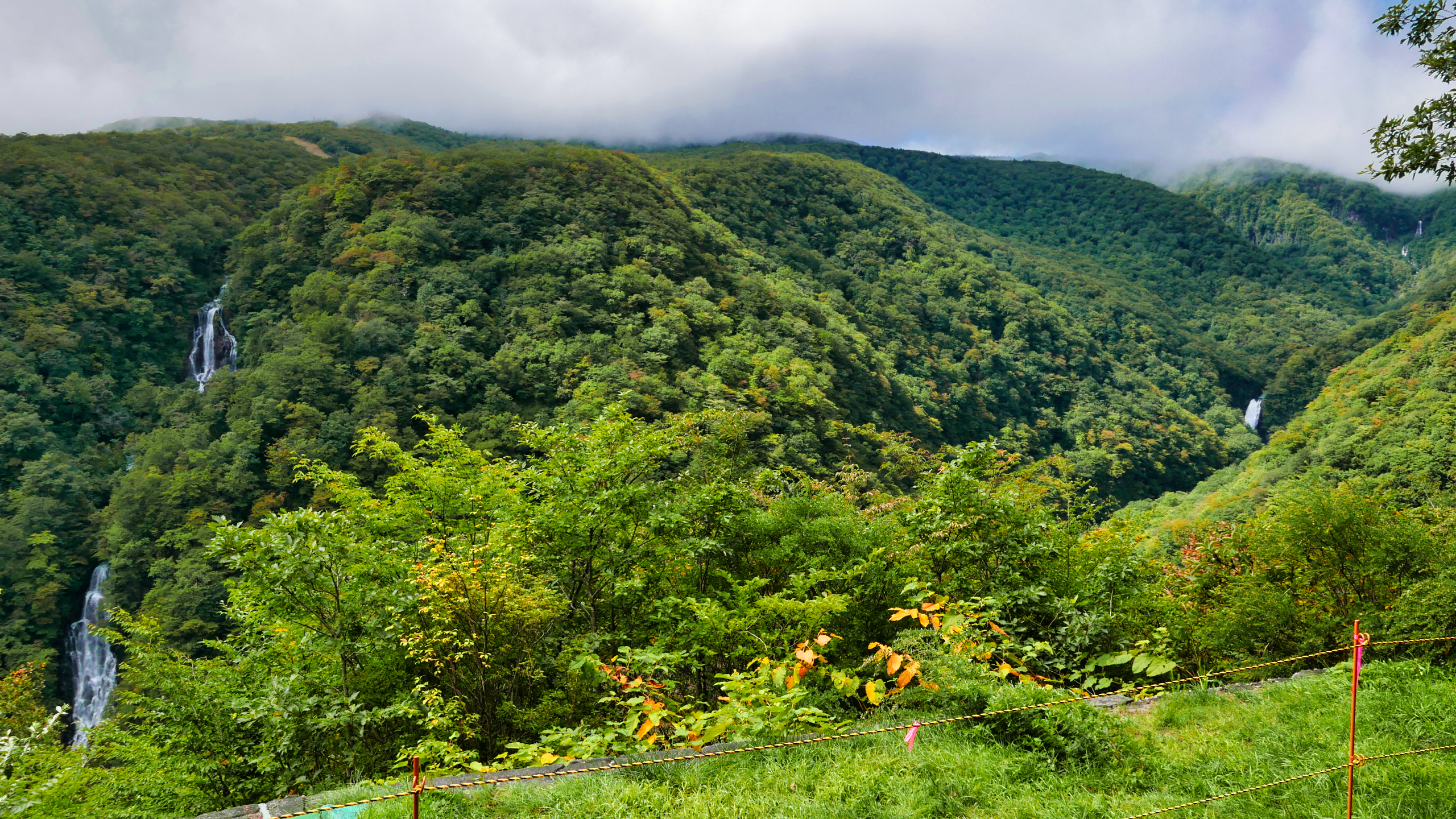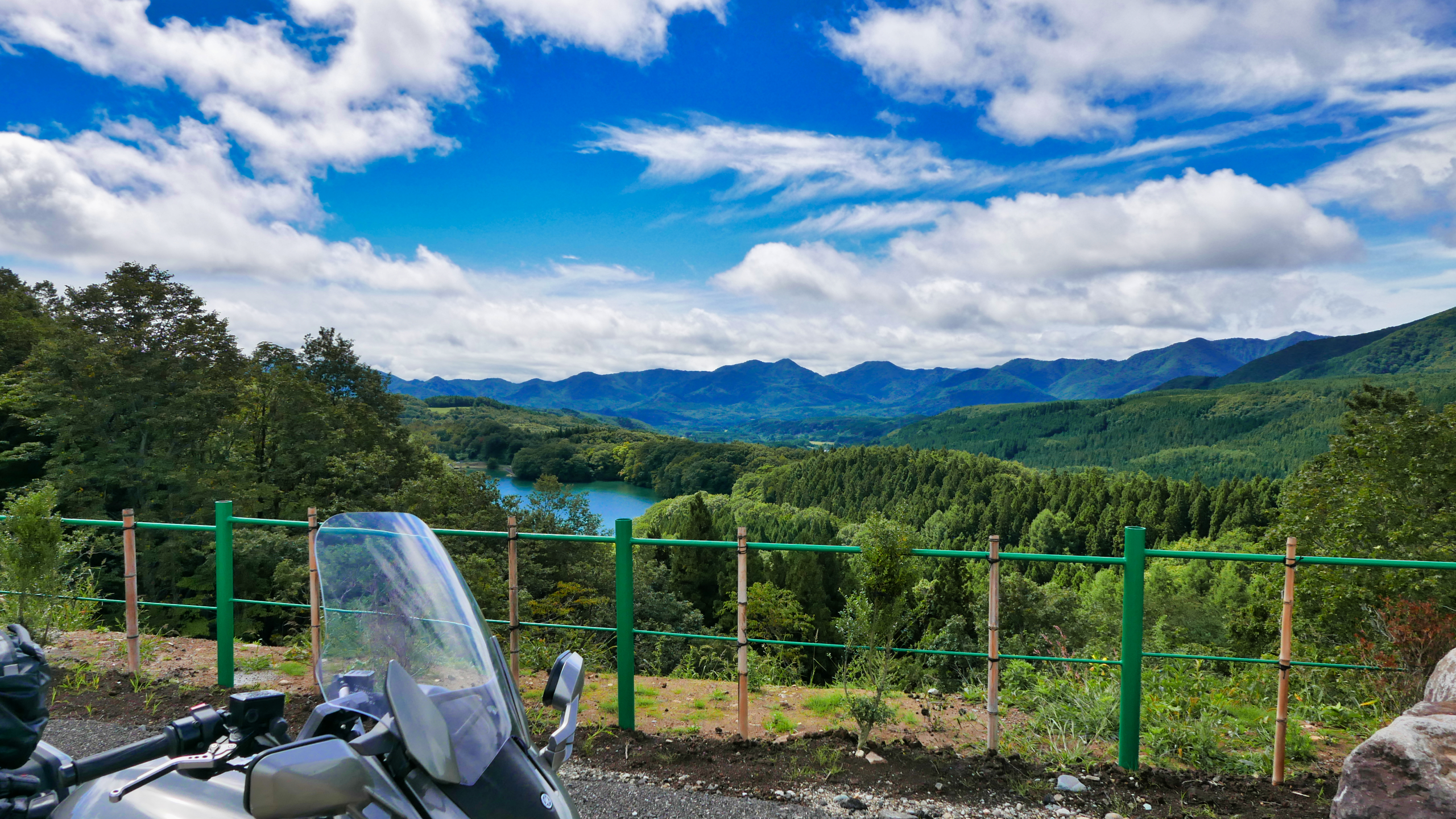 Next I was riding along the base of the range and came across this newly built memorial to the crews of three B29 planes that crashed into the mountain behind in fog during WW2.

I also saw a sign for a suspension bridge in the middle of nowhere that goes to nothing on the other side.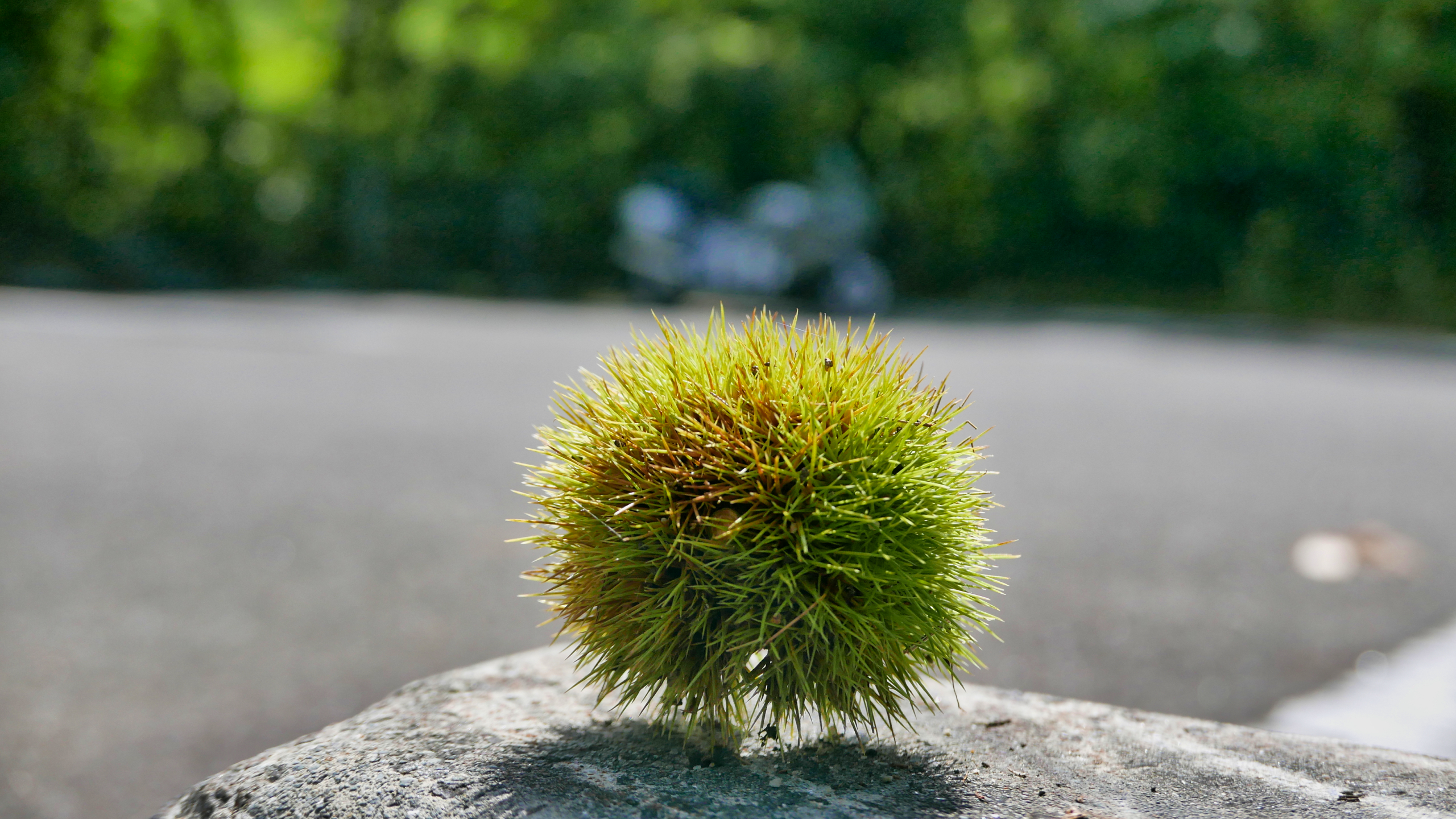 Lots of these seed pods on roads, bit slippery.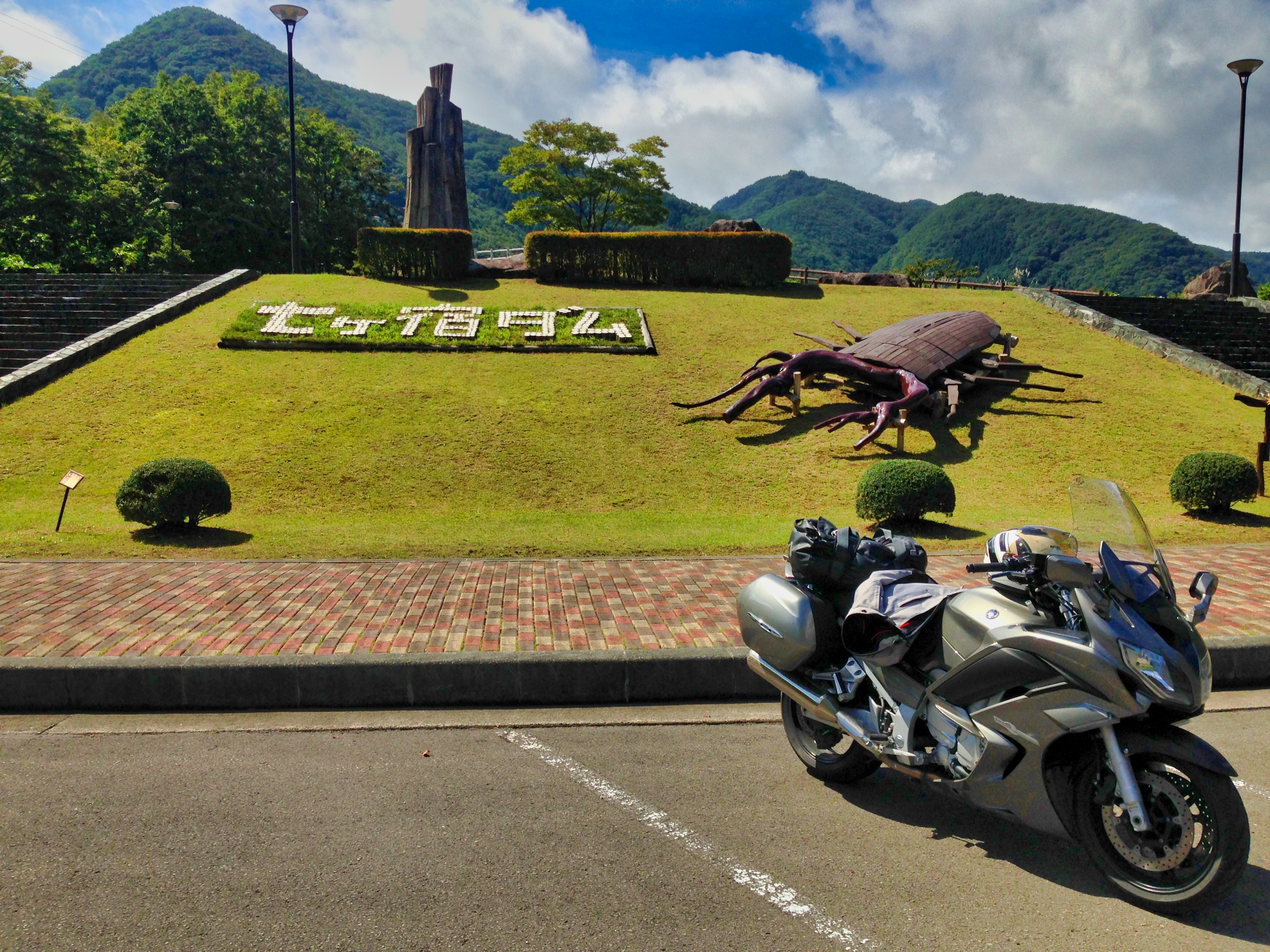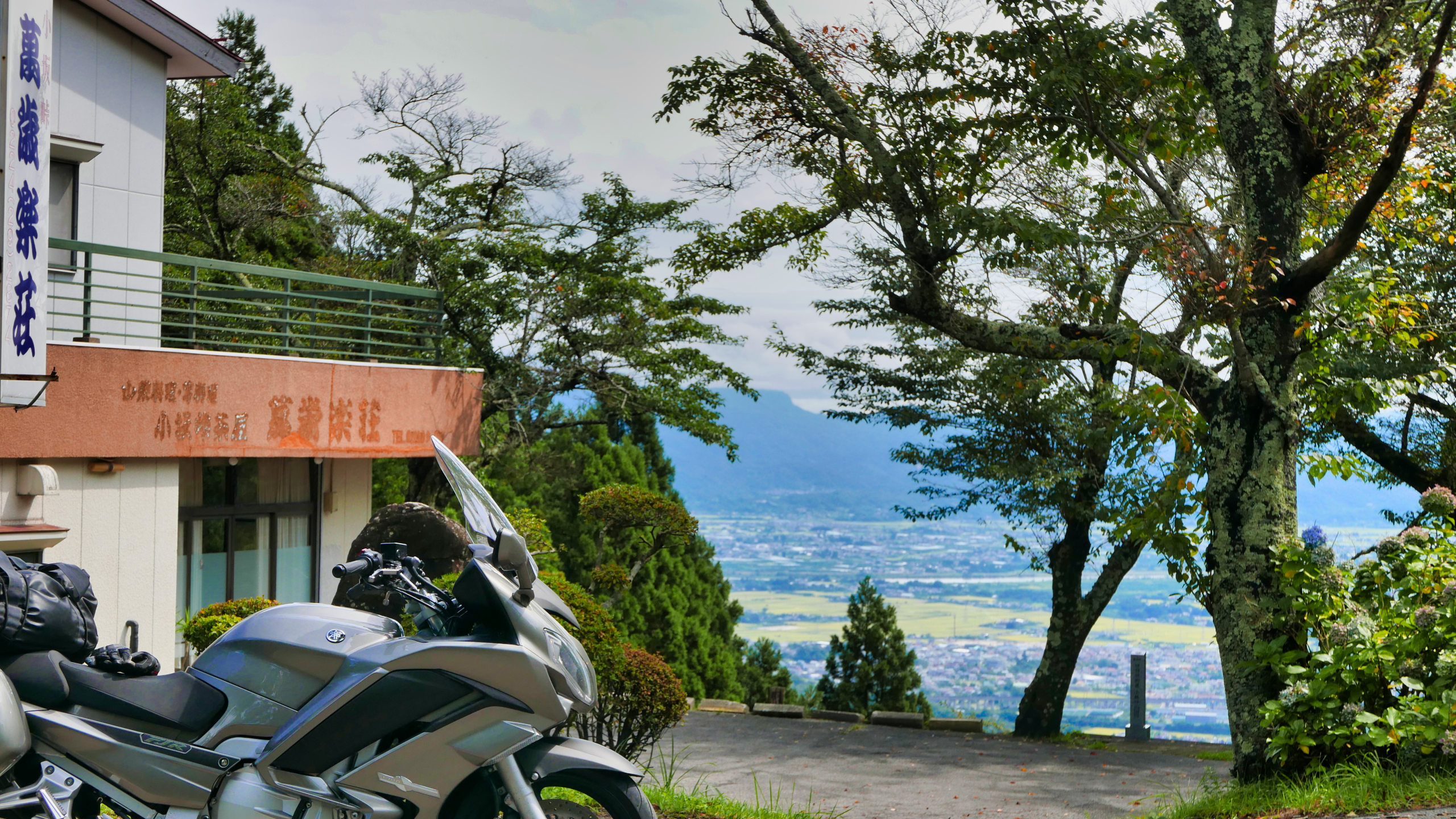 By the time I reached Shichigashuku dam it was already lunch so I decided to take a break there in the excellent visitor park with giant beetle (above) and then head for home.
I still had to get back to the expressway and by chance the shortest route took me over a road I had ridden the year before and past a abandoned cafe with a great view.
I took some time out to dream about being based there with that peaceful view to enjoy every day then I hit the cruise control for the 400km back to the madness of Tokyo. (Last day route but I only completed small part of it).