When I started riding I had a small bike and riding it anywhere was a joy. Every ride was a wonderful experience without any need for speed. I used to always ride then with other guys and thus at some point things became competitive and my focus shifted to riding faster. At that stage I started riding for different reasons,it was a big challenge, I purchased the fastest race replica bike available and whilst developing my riding skills I also took incredibly risks riding at excessive speed with reckless abandon.
I perhaps only survived because my licence didn't and that forced me to take a break from road riding during which time I discovered dirt bikes. Riding dirt I continued to challenge myself – as young men feel the need to do. However I did so off road where crashing hurt but never caused me any serious injuries. By the time I returned to road riding I had perhaps moved past the peak danger zone and whilst still doing occasional dumb things was riding more sensibly.
Todays ride was over roads very familiar to me as for the first time in ages I rode over Mt Mee and Mt Glorious on a Sunday morning. Riding on the Northbrook parkway I am not sure if it was the very cold air in the long shadows or looking at the wreaths and plaques for fallen riders along the road that brought a chill to my bones when recalling the speed I used to ride this road 20 years ago.
Anyway no point in dwelling on the foolish things we have done, I always laugh when I hear the song by Paul Kelly "I've done all the dumb things" as that really is me. Everything happens for a reason and after I returned to road riding I ditched the impractical sports bikes for naked bikes and with suitable comfort for a longer riding started to venture out by myself and rediscovered that original joy I thought lost.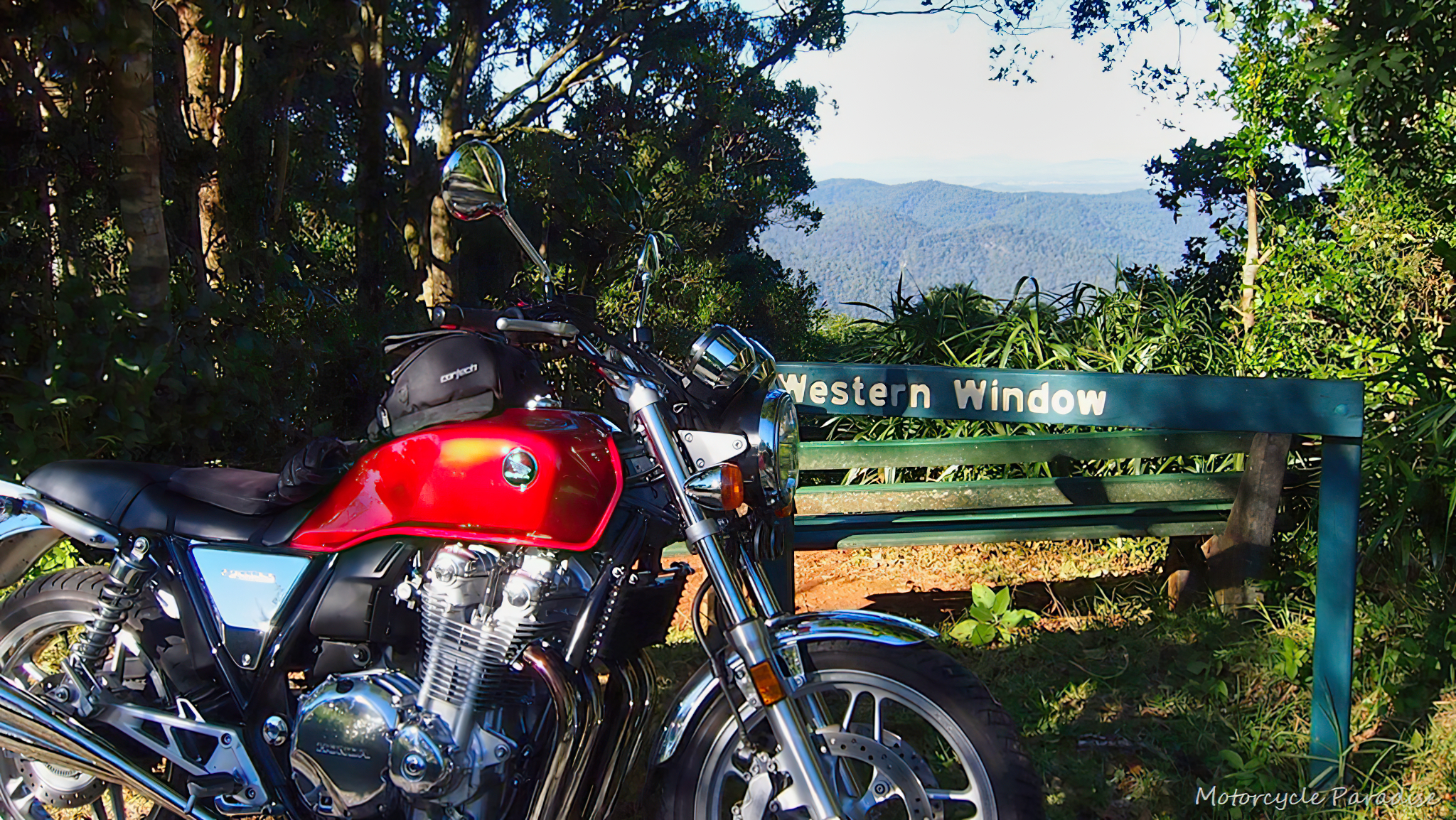 I stopped at the Western Window lookout just west of the cafe to put my glove liners on. Great view on a early winter morning give it a try next time you are up there.
Not too many bikes up there on my ride west, of course would not be a Sunday morning ride over Mt G if there was not an accident and sure enough a small off before the western descent, exact same corner my mate put his Kawasaki ZXR750 down in '94. I did not stop as appeared a minor matter with many other bikes there already.
Accidents aside, I tend not to stop these days when other riders are by the road as usually they are like me just taking a photo or having a stretch. Bikes don't break down much these days and accurate motorcycle fuel gauges mean people are more aware of their remaining range and rarely end up on reserve too far from a petrol supply. I also don't wave or nod much to other riders now days. To be honest I tend to ride away from crowd so just got out of the habit. In Europe or USA you can wave with your left hand since you are on right of centre line, here we are on left side and right hand is needed on throttle so it just doesn't work. So to all whom I have not waved or nodded to – no offence.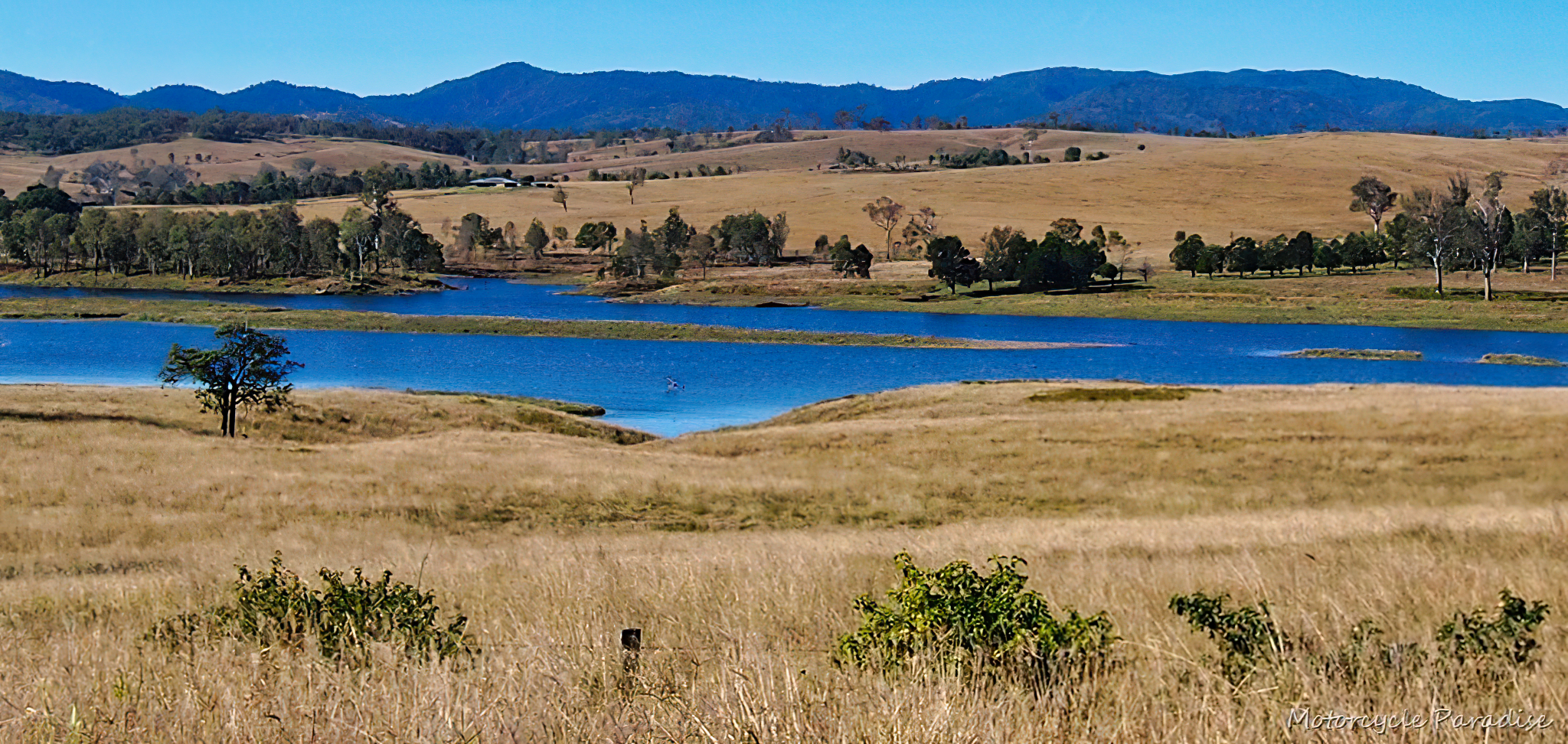 There is a stark beauty to western landscapes in winter.
Met a guy at Ravensbourne lookout (on the road from Esk to Crows Nest) who hails from the west. In conversation it made me realise how lucky we are to have all the hills that surround us with paved roads. Slim pickings when you live out Dalby way, the roads we have in the hinterland and border ranges are challenge to visit in one day from there.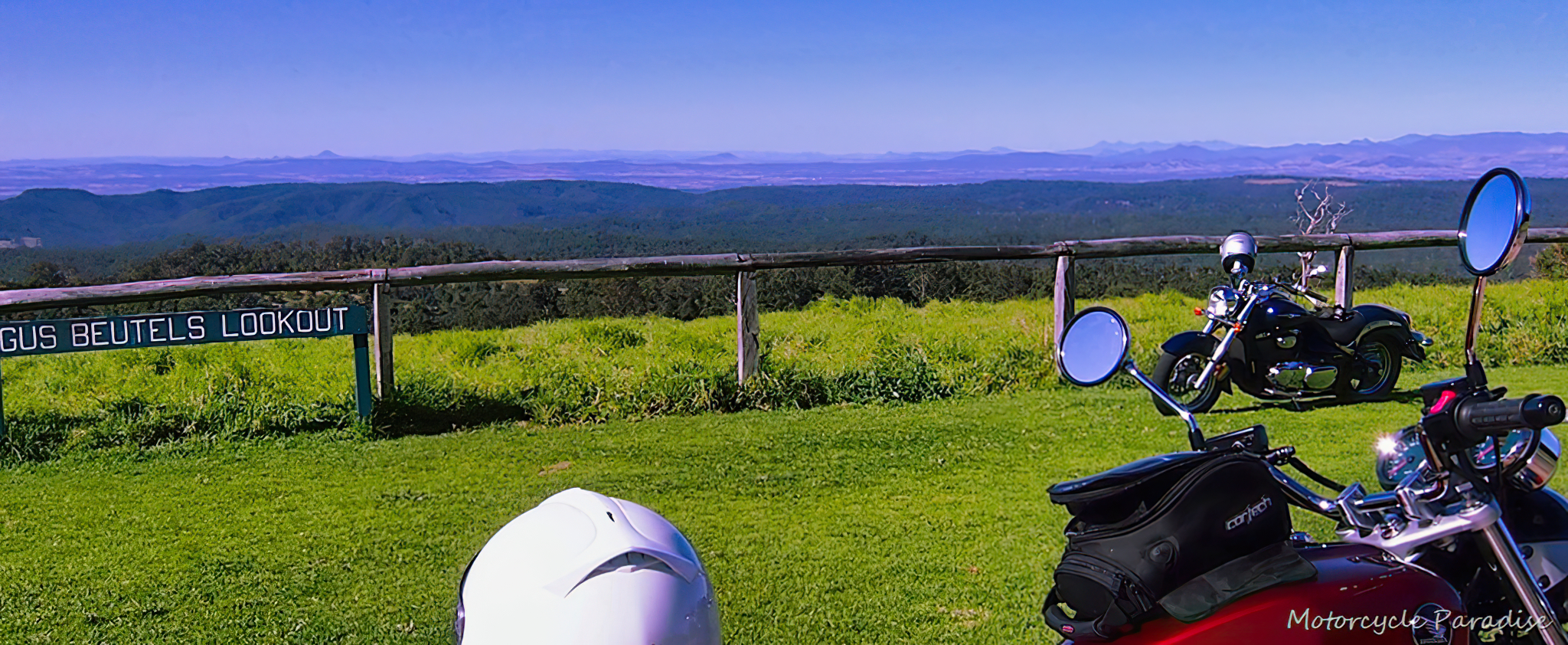 You can see a very long way from Gus Beutels lookout.
I ended up just retracing my steps more or less with a detour via Toogoolawah where the pub was doing a roaring trade for lunch with at least 40 motorcycles in main street. I tried to use a new portrait lens I have there with bikes and the old buildings but I've still not taken a single decent photo with it. I then rode via Mt Beppo back to Esk-Kilcoy road thence Wivenhoe-Somerset road and back over Mt Glorious and Mt Mee to home.