My last two rides have been opposite temperatures. A couple of weeks ago it was hot and humid inside my helmet on a Sunday that was the last hurrah of warm weather. Today I reluctantly allowed a chilly dry air to demist the visor and closed all other vents as I tried to keep the warmth inside.
In reverse order then, today I visited Queen Mary Falls and the south west. I wanted to ride the area before frosts arrive and turn the grass yellow and lifeless.
For a change I bypassed the usual path to Beaudesert riding via the Centenary highway to Springfield Lakes then to Greenbank then followed the interstate rail line on back roads to Tamrookum where I refuelled. The map is here but note there is two small unsealed sections, I have marked them in purple.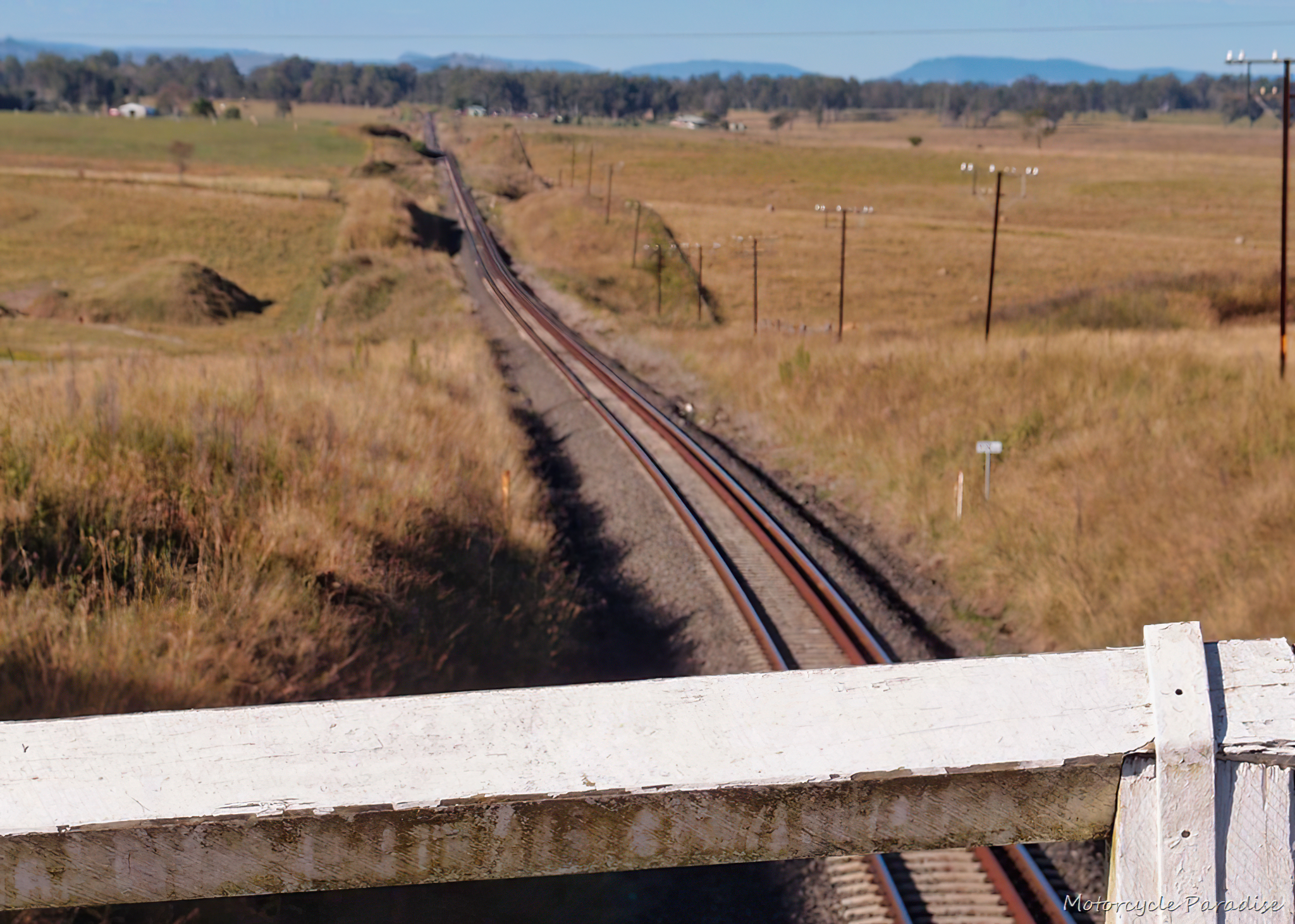 Kagaru
Once I cleared the city, which amazingly at 7.30am on a Sunday still took 20 minutes to go a few kms, I had a good fairly low traffic ride all the way to the border. A few large groups of bicycles on the Mt Lindsey highway. Having witnessed the amazing speed the pros ride in Europe I often wonder what the riders here are thinking. On open highways, just barely crawling along in their spandex, weaving all over the road as they stand up at the slightest incline, I guess it is just the dream no matter how far removed. I was road riding (bicycles) considerable distance for many years when younger – as a means of transport and also for enjoyment but minus the spandex and carbon fibre bike. Too many close calls with cars so I gave it away and now just ride a stationary bike for fitness.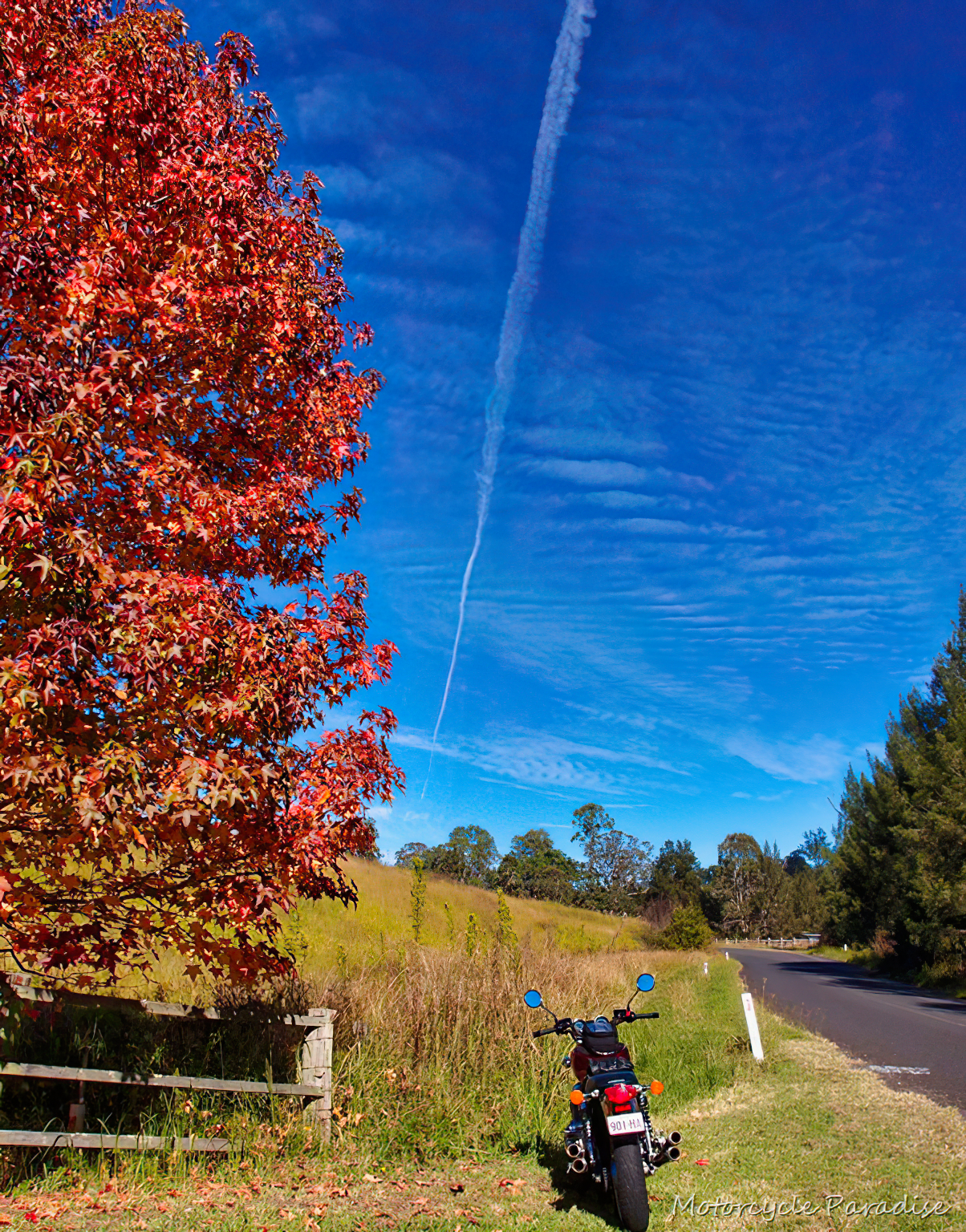 Coloured leaves and winter sky – Urbenville
From Tamrookum I rode straight over Mt Lindsey to Urbenville. If someone knows of a cafe or shop with good coffee open in Woodenbong then let me know as I have bypassed the town for years as nothing much there but it would be the ideal place to stop for a coffee after the ride from Beaudesert or thereabouts.
Quiet country road, near Tooloom
I took it easy over the section of road that connects Urbenville and Legume. It has deteriorated a bit from last time but is still better than trying to ride the Mt Lindsey from Woodenbong to Legume which is possibly the worst rode I have ever been on. I have marked this road in blue on the map above, riders of sports bikes with track orientated suspension and ergonomics should think twice about proceeding past Urbenville Woodenbong. Riders of cruisers with short travel rear suspension probably will know if they want to tackle a bumpy road or not but if in doubt then be warned it is bumpy but doable if you take your time and use all the road where possible.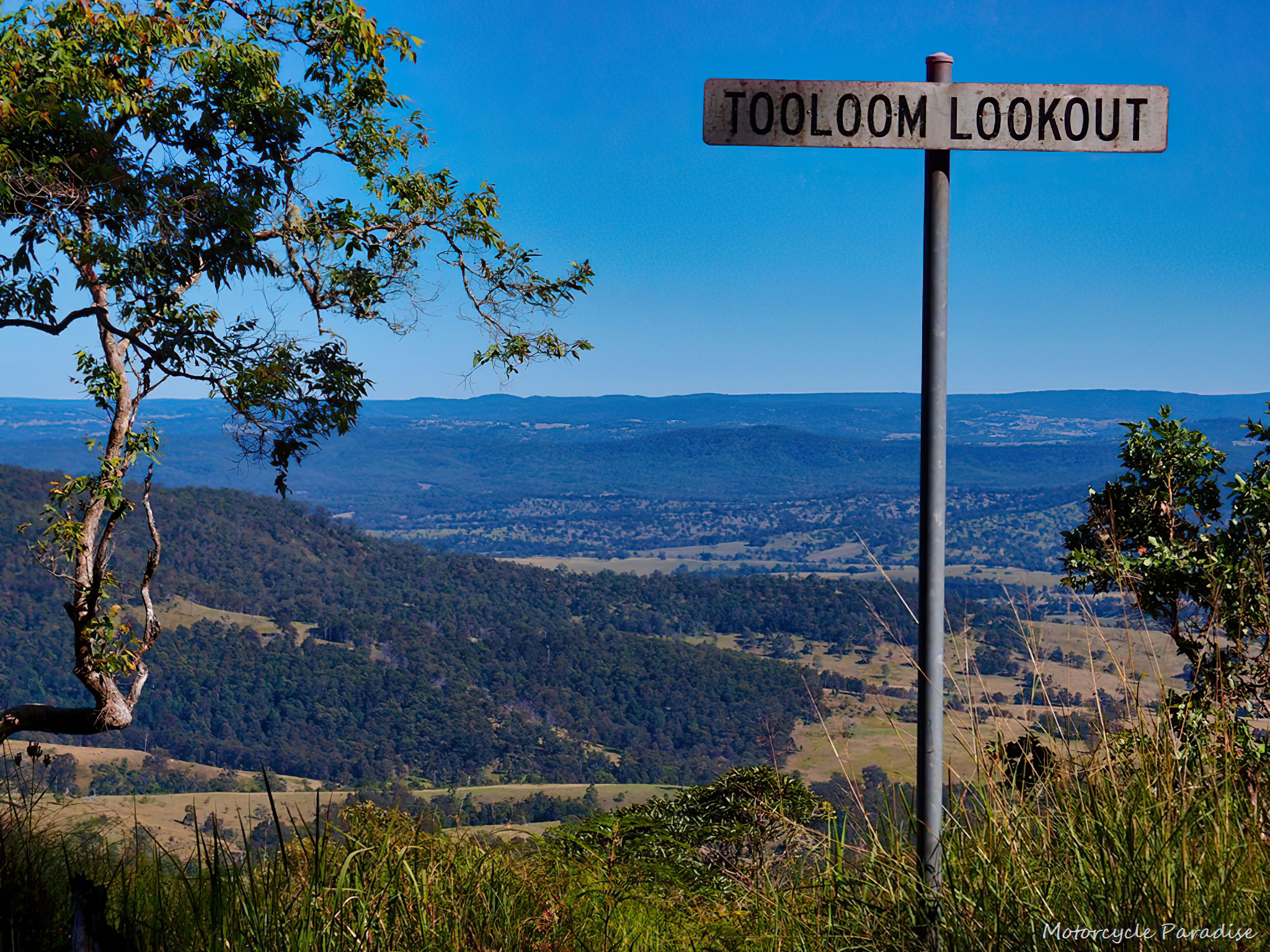 Despite the bumpy road only being a short distance I usually take a rest half way at the Tooloom lookout as temptation is always to go a bit faster and then you cop a bump or dip. Anyway why not, it is a great view west to the start of the New England Tablelands. There is a seating area and information in the forest above the road lookout, access 50 metres south.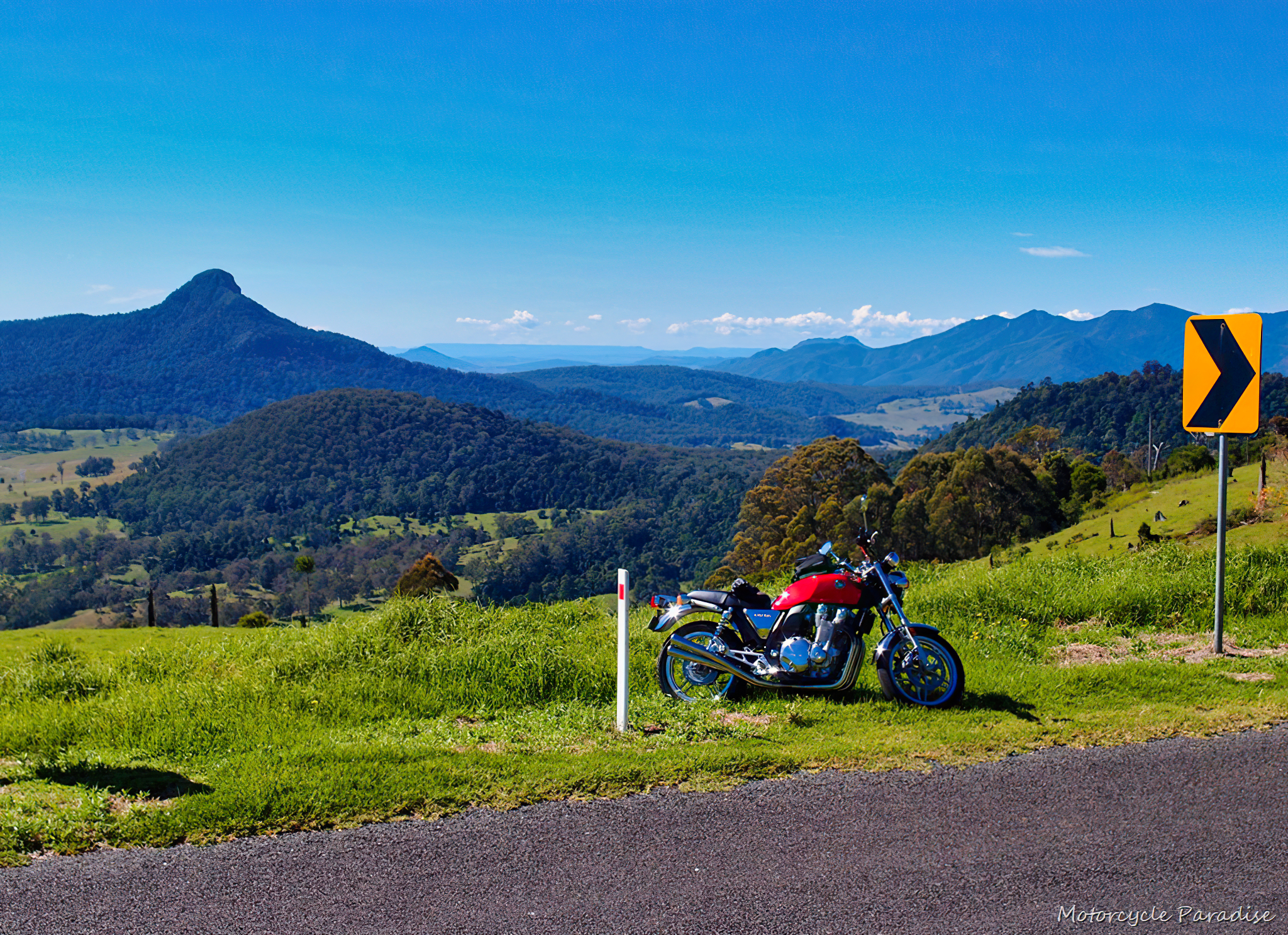 I stopped for lunch at the Queen Mary Falls Caravan Park Cafe or just the Falls Cafe for short. Food and coffee here is usually aok, and inside you will find a few motorcycle magazines to read while waiting. Be warned this place (like many) gets very busy on weekends so try make it before the midday car day trippers or be prepared for a wait. I arrived 11.15 so was leaving just as it started ramping up.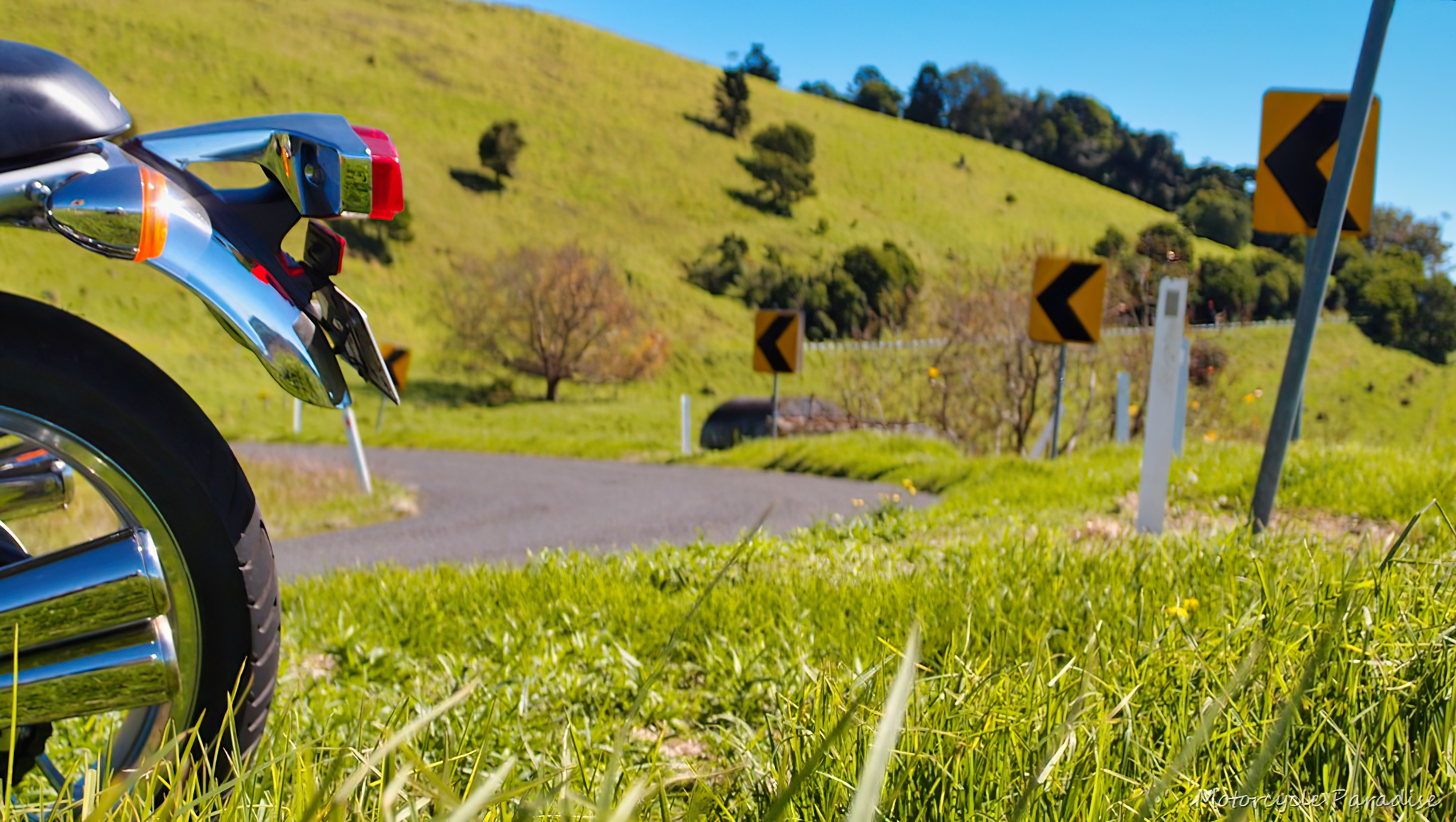 High meadows, Spring creek road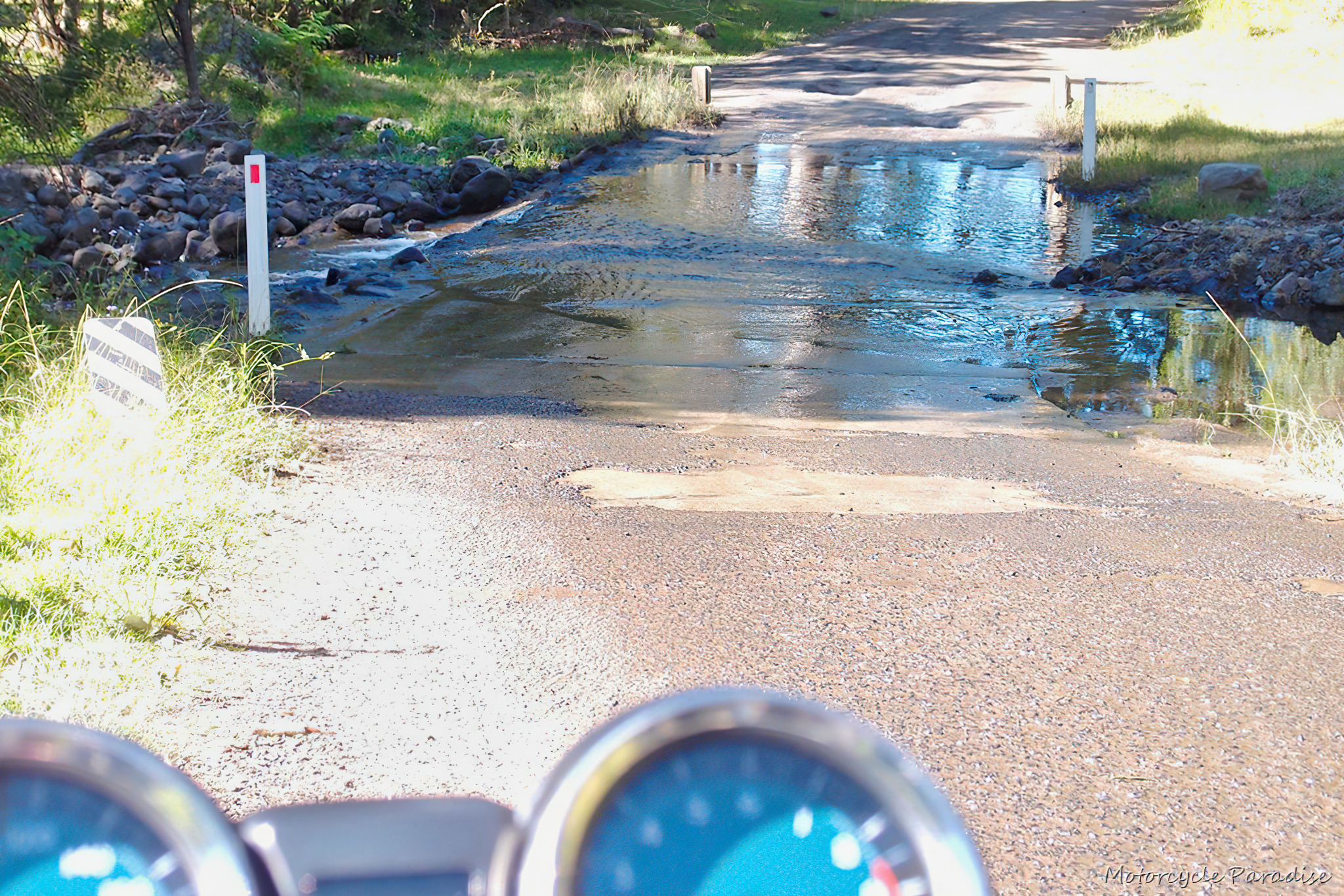 Creek crossing kicking it old school, 3 of these at base of northern ascent to Queen Mary Falls
I wish they would make that Vehicle Lane Departure technology standard on all 4 wheel drives – seriously what is it with the captains of these 4 tonne Tarmac Titanics that they cannot steer them better?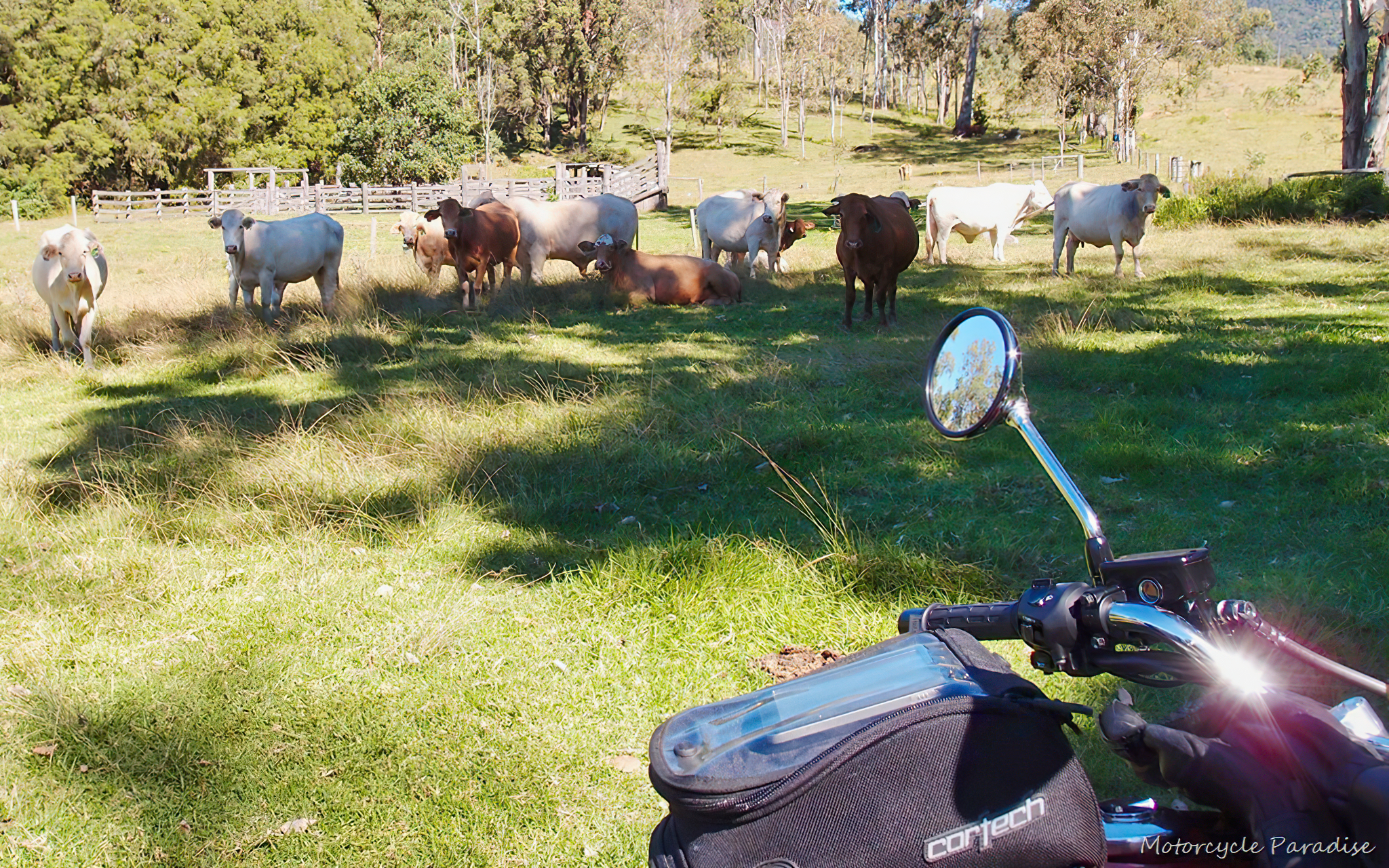 I'd wager these guys are WAY more intelligent than the average four wheel driver on any given Sunday. Lots of unfenced roads at Queen Mary Falls, take it easy.

I rode over Mt Alford to refuel at Aratula, basically I was riding the reverse of my usual western route to then go home via Kalbar and the Western freeway. Yea! great day of riding, just the right distance and glad to have a change from the M1 (even though I love the northern NSW border ranges)
Local Knowledge
This ride was two weeks and one whole season ago.
I was meeting up with my mate from down south and we had a bit to catch up on so I put together this ride while in route from refuel stop at Robina. My idea was a shorter but no less entertaining ride with more time left for a chat. If you have a look at the map then it is all good riding once you leave the M1 at West Burleigh until you return to thereabouts for the ride home.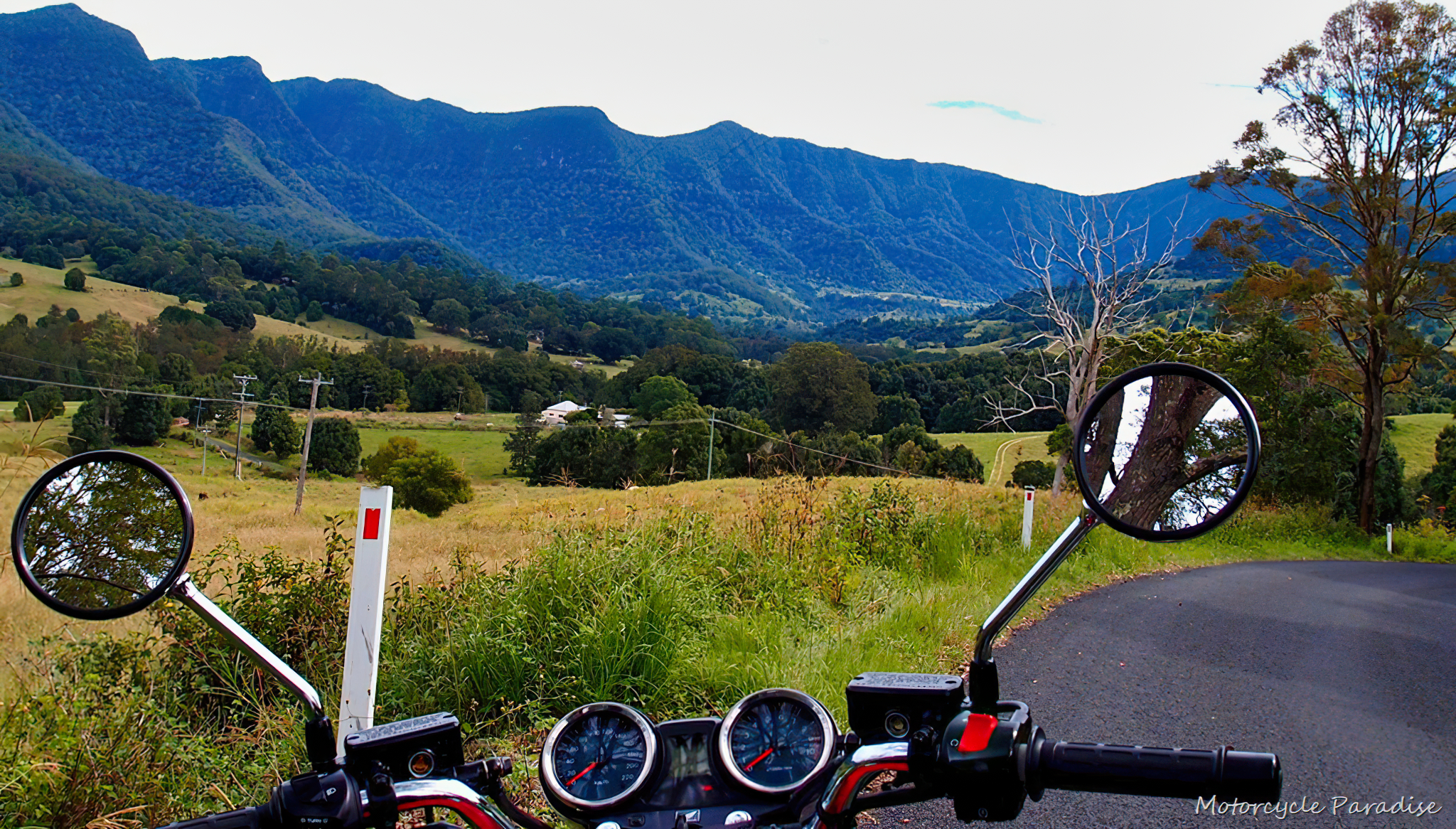 Tyalgum
The key to this ride is the portion from Mooball to Tumbulgum. A bit of local knowledge on how to join up these various roads after the new highway was built was essential when first riding this some years ago. Narrow in parts, not always clean road surface this is not for everyone but if you love back roads then give it a go.
I finally tried the lunch at the Tumbulgum pub. I just ordered my usual lunch on a Sunday ride which is a home style burger and theirs came with chips. Both were good, the beef pâté was huge if that is your thing, I actually prefer not too big but it is a lot for the money (by Australia's current bubble economy food prices) so I can see why the place is popular. It was so popular however that my mate took a good 15 minutes to get to front of a huge queue to place our orders, I was able to secure the table and our ride gear in meantime but if by myself I would not return.
I don't mind having to go to a counter to order and pay which seems to have become the norm here in Australia rather than table service as is the expectation in most other counties. I do however want to be served promptly if I am coming to the server rather than them to me and after this I want to sit down and remove my jacket, relax and have my food and coffee delivered to my table. Having to also collect food and take it to a table is just McDonald's at a much higher price point.
Well anyway turned out to be a beautiful warm day and perfect for riding the Tweed valley.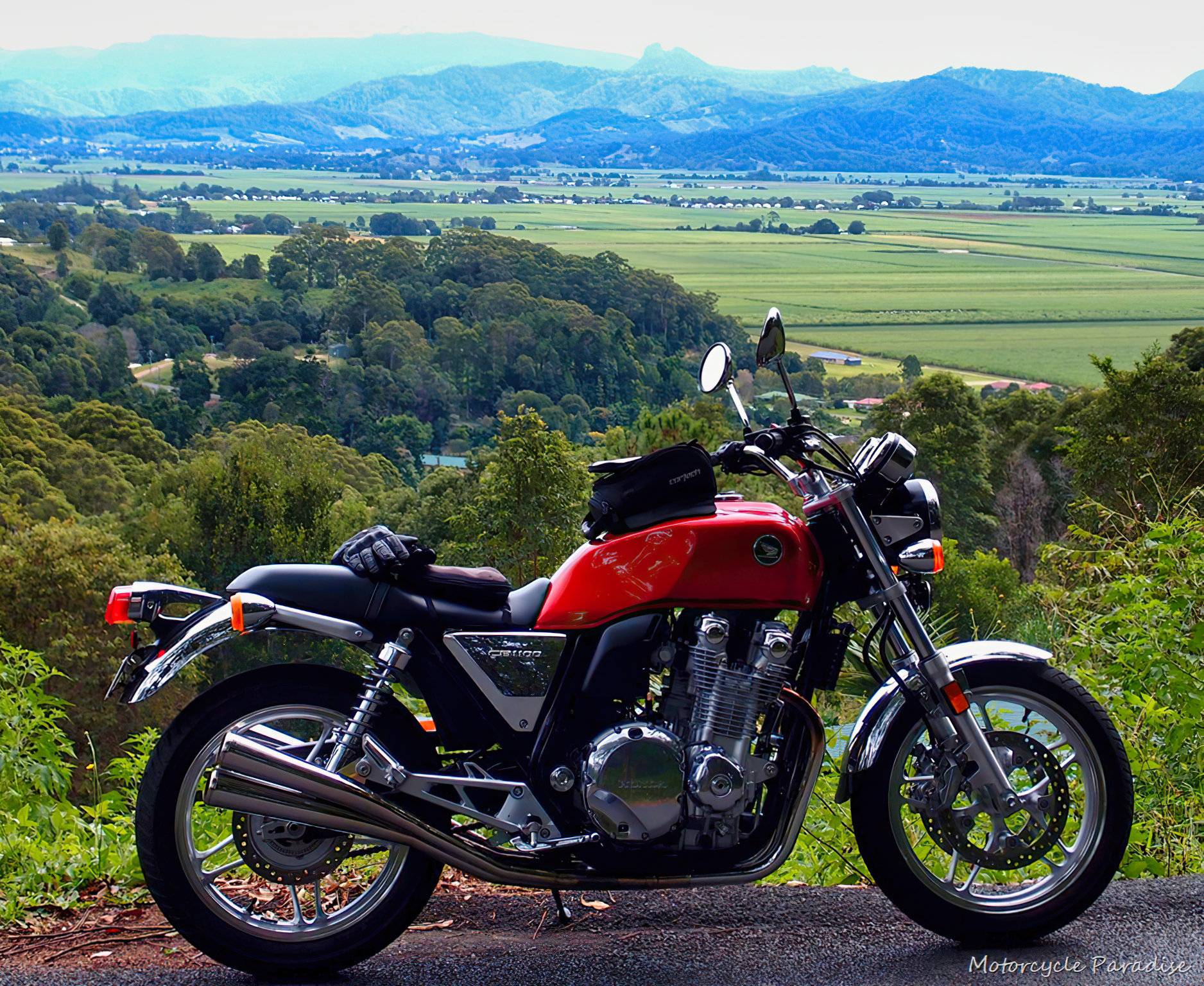 Clothiers Creek