I recently picked up a new tank bag to see if this is an answer for carrying my camera gear.
I've been on a merry-go-round with cameras since I returning to still photography from video. I progress from small pocketable models to bigger models and twice now ended up with cameras too big for motorcycle jackets.
Last time it was the Pentax Kr, a camera which remains by far the best for image quality I have ever owned helped by the superb lens I had on it, the like of which I have not owned since.
It required I used a tank bag and was too big for me to take overseas thus my tours back then have low resolution phone photos and I decided to sell it. Now I have the Nikon Z50 which is also a little large for jacket or even my seat bag which is usually near full.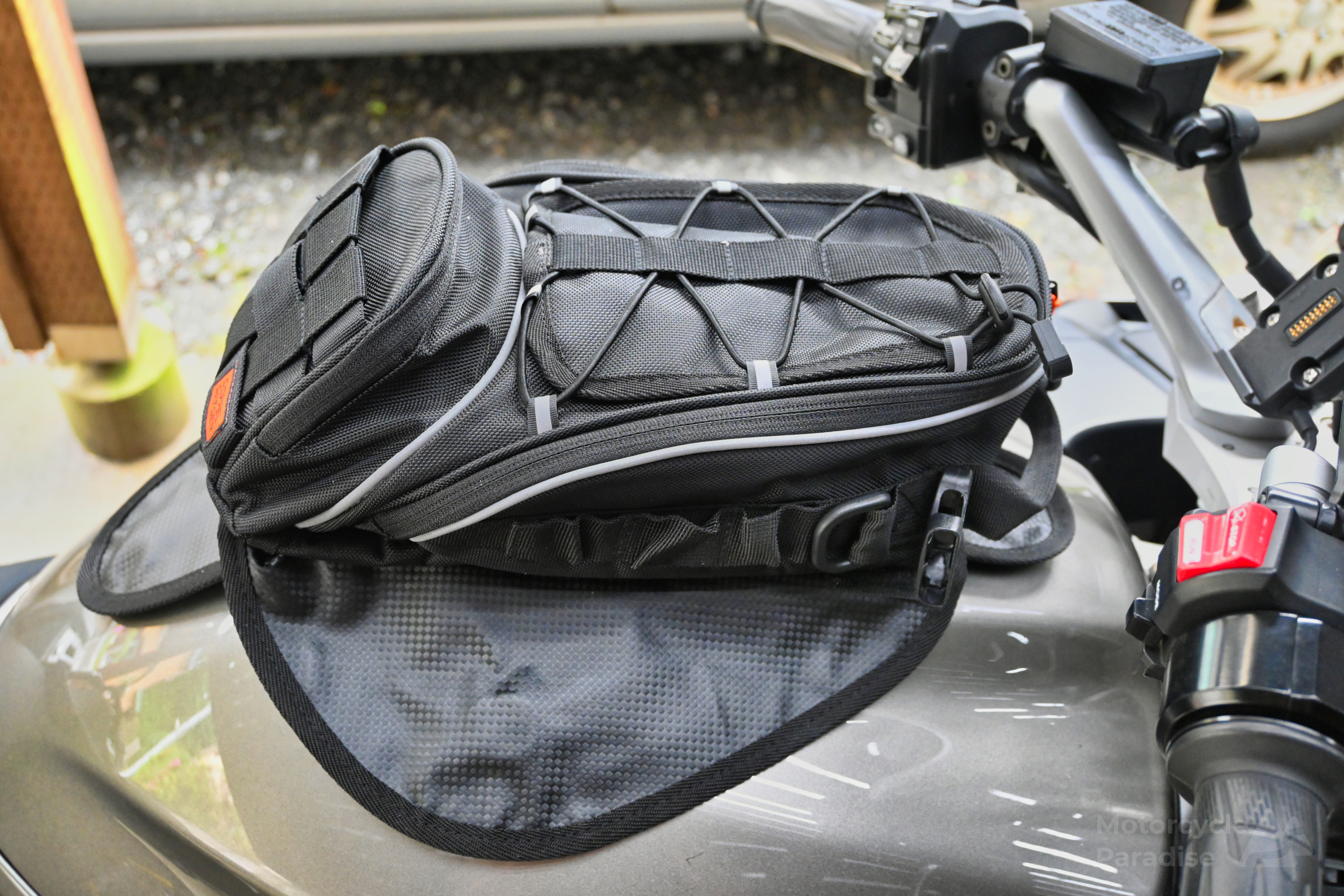 Doppleganger is a motorcycle accessories brand sold in Asia and perhaps also in your country via online. This is their mid size tank bag which easy holds my Nikon Z50 and my Ricoh Theta camera and compact tripod, selfie stick and some filters in the rear pouch. Appearance wise it resembles so many other tank bags sold online except for a unique feature.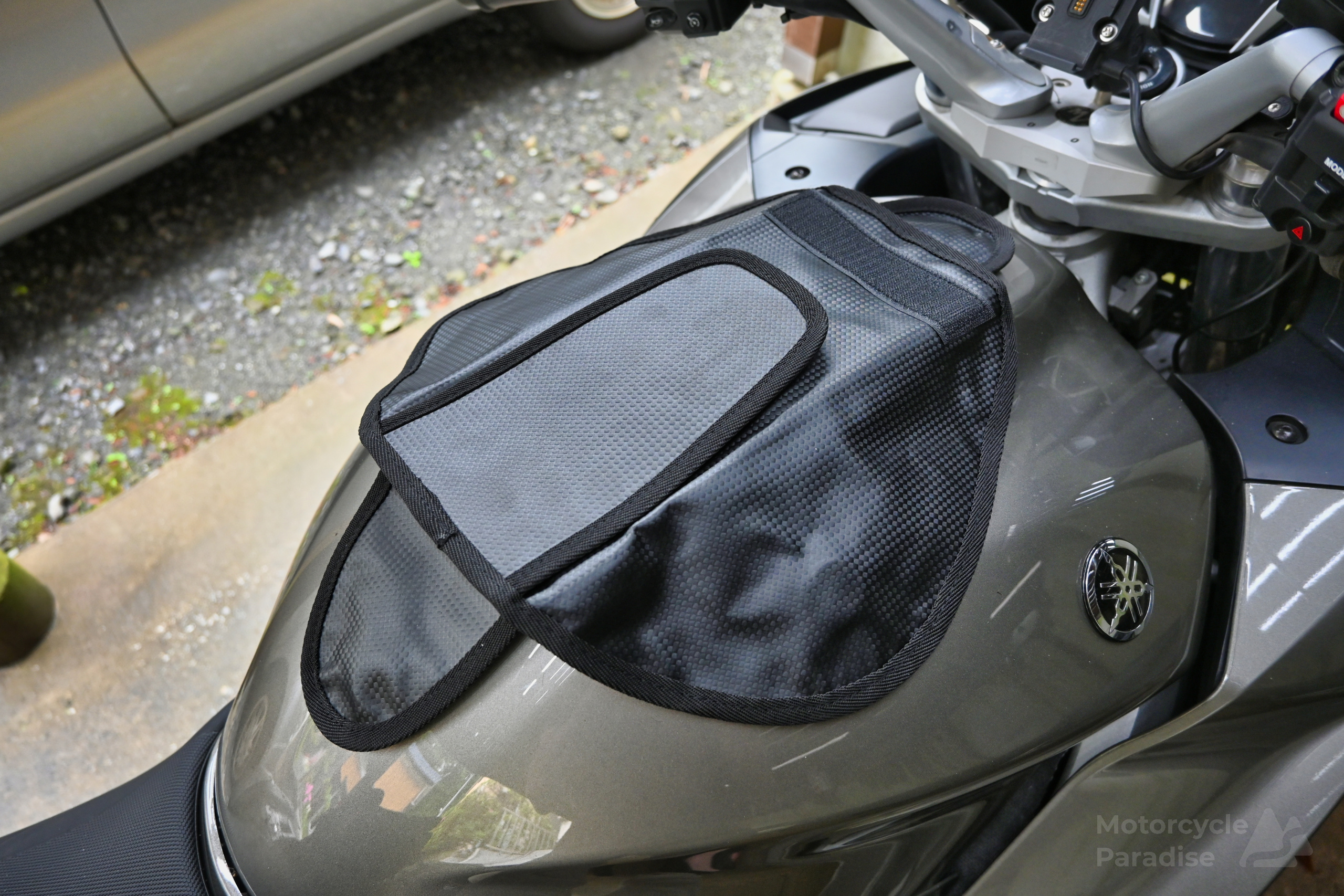 The bag detaches from the base via velcro at one end and a long insert you slide out. It's secure but quick to remove and then can be used as walk around bag with small shoulder strap. This suits me well as I can easy carry all my gear with me on the walk from carpark to viewpoint.
Also suiting the task the bags inner base is well padded and the included rain cover really works because it can wrap around and slightly under bag due to the way it is detachable from the base. The base itself has 4 flaps with high power magnet in each and is very secure.
My FJR1300 has fuel range of 400-450km depending on conditions so I only fill up once in morning. However even if I was having to access the fuel tank twice a day it is not a difficult task to remove the bag and base while attached together and sit it aside while filling.
It performed well on my recent 7 day tour in the Tohoku region of Japan. Having the camera right there means I can access and use it more than if it was sitting in the panniers as happened on my previous ride as they require bike turned of and key to access. I also enjoyed not having any weight of camera gear in my jacket.
This setup will be good for when I ride Japan's summer in my RS Tachi summer jacket which has no cargo pockets to hold anything but not sure it will be a solution for when I ride overseas. Like the Pentax, the Nikon Z50 could be left behind to save space and weight – but examine that when travel is a thing again.
It does adds another item to unload and lug in to hotel room so I found it easier to just place it into a pannier and fetch my camera later and a couple of nights I left everything in the panniers since Japan is safe and the camera did not need charging.
Faults I can find are the top stretch webbing is not very useful as the middle strap is stitched in four places so the webbing/stretch cord cannot be expanded to hold anything much. Everything else seems to be well thought out and I still prefer the webbing top than a plastic map window since I stopped using paper maps 15 years ago.
I will add to this review after my next summer tour but for now I give it a thumbs up. Versatile tank bag that cost under $50.
(no affiliation)
Update. After a couple of tours I am finding this type of bag is not really best way to carry camera gear as too many bumps are getting transferred to the camera and this has caused some minor damage. My Nikon does not have IBIS in the camera just the lens otherwise I think I might have broken it completely using this. Need more padding around the camera but frankly it is still going to be bounced 1000 times on a tour and having one that fit into my jacket safe from this was much better.