Between Spring and Summer is Japan's rainy season so it seemed a joke when the tv news announced it will be fine next week. However after checking the modelling on Windy this seemed true.
Quickly assembling some routes sitting on the shelf from a previous washed out tour I packed and set off – straight into rain…
However in this land of high mountains the weather can be totally different on other side of a range and once past the Minami Alps by late morning it was sunshine.
Some lovely views all around and I'm feeling fine ? (p.s. lot's of photos in this post – you may need to wait a little for some to load)
Early lunch at a vantage point that would offer a fine view back to Mt Fuji on a clear day.
The Venus Line in Nagano is the first place I rode in Japan about 15 years ago. On a R1150R Rockster with no GPS or Google maps, just a few A4 print outs. That was quite an adventure.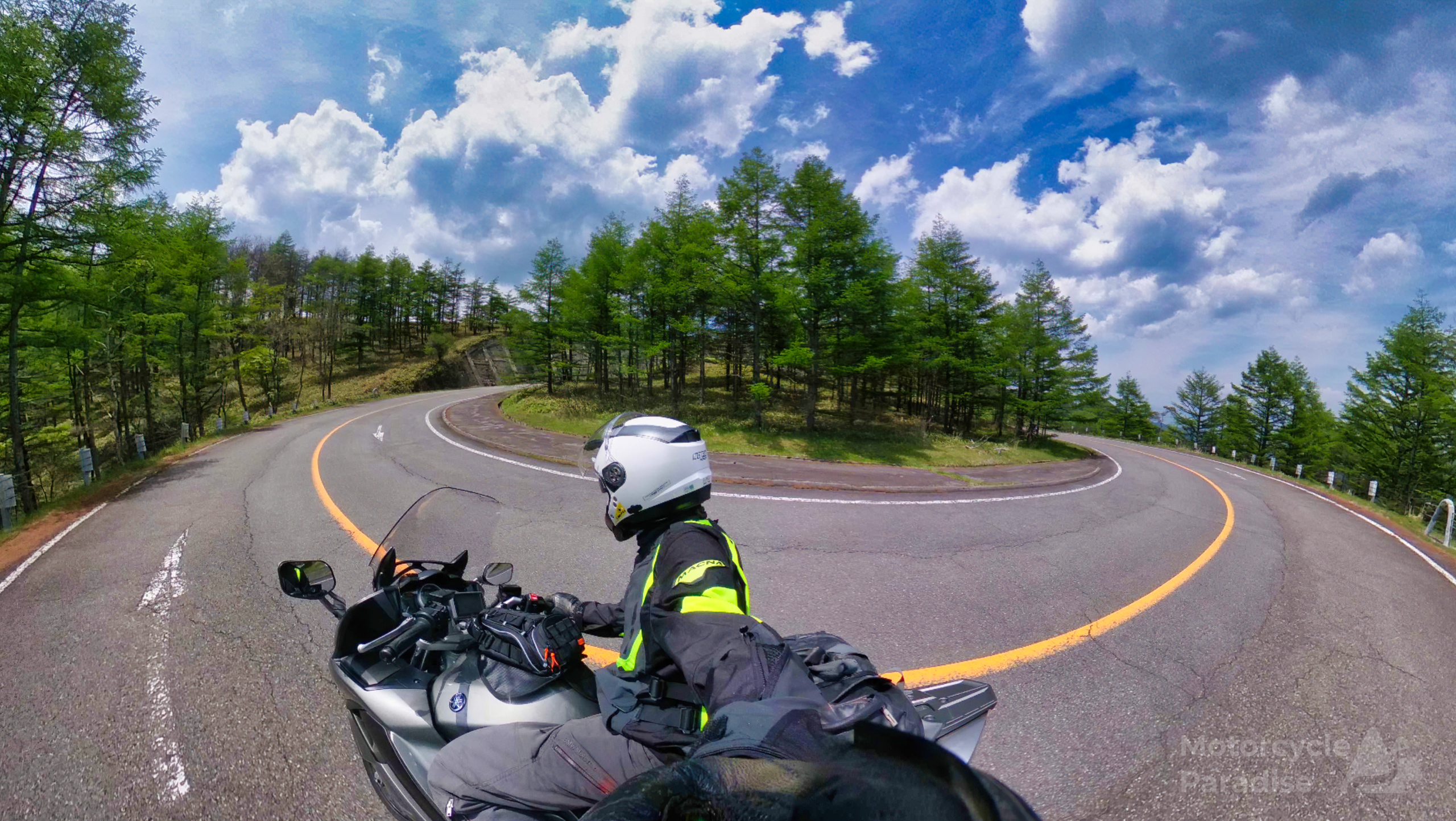 There are three sections, all good but the middle is beautifully surveyed.
Flicking the FJR to sport mode and focusing on each radius shutoff my minds MTV channel of greatest hit dumb things I did in the 80's playing on high rotation. Two wheel therapy from Doctor motorcycle. ?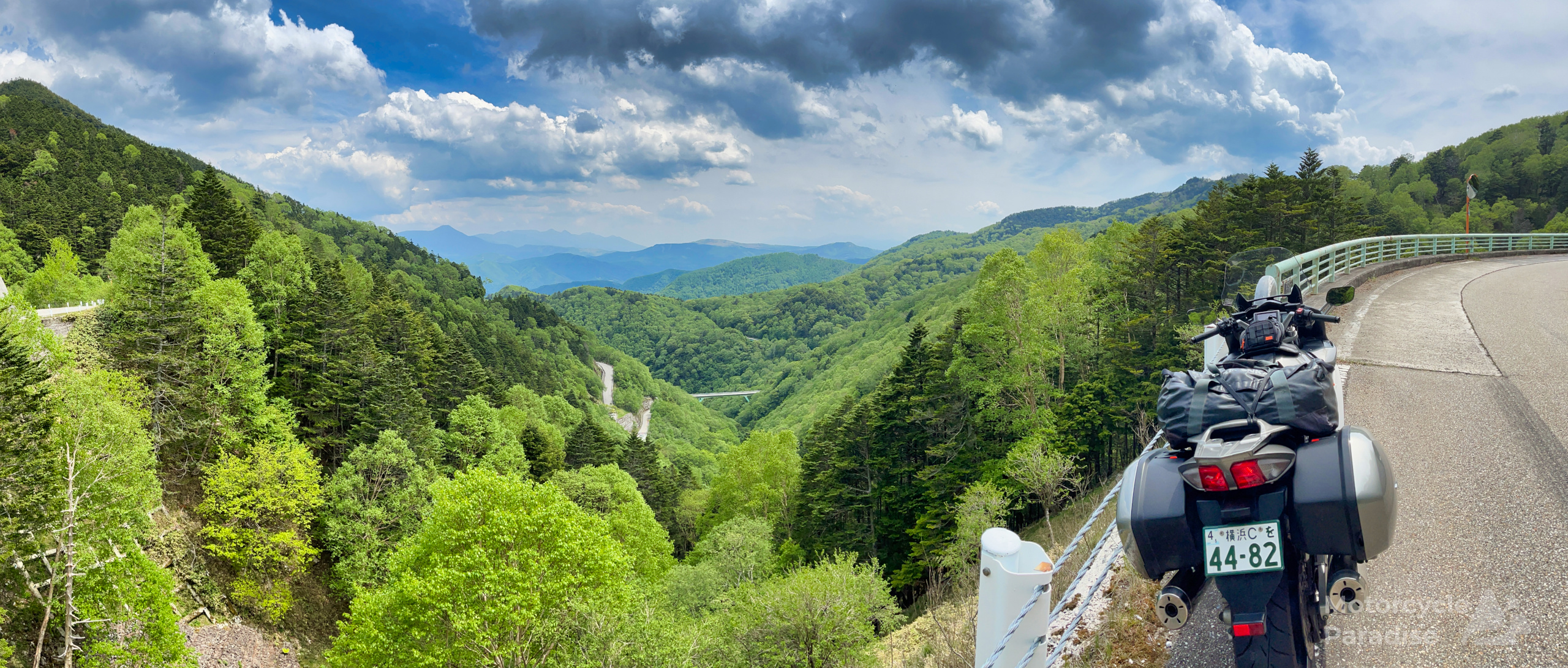 The ascent is scenic with some great road building.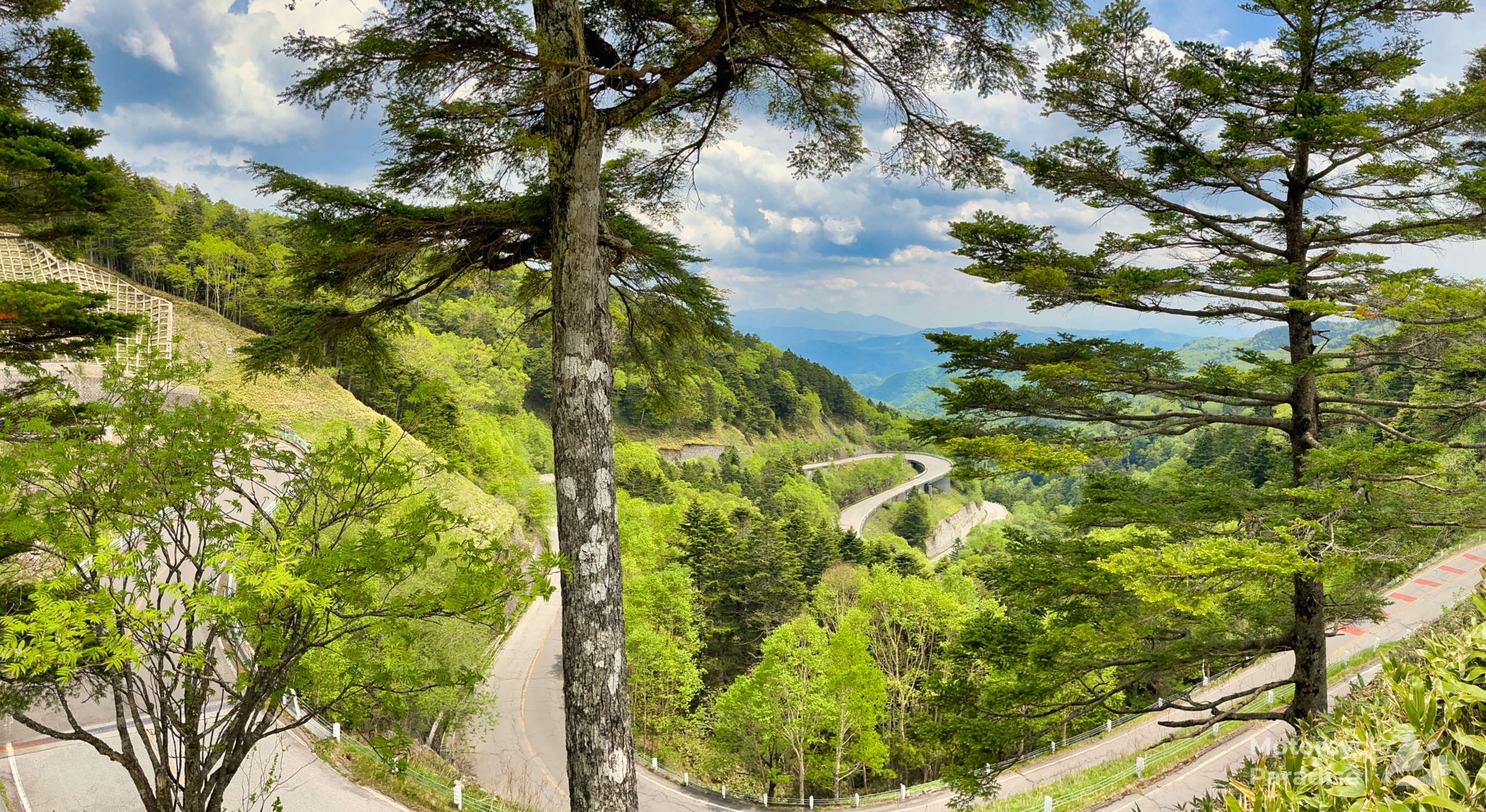 A view that featured on the old blog for years – but it will never look as incredible as that first time in the mist.
Just updated my old Ricoh Theta SC camera and still getting used to how the new one functions but it is an improvement in image quality.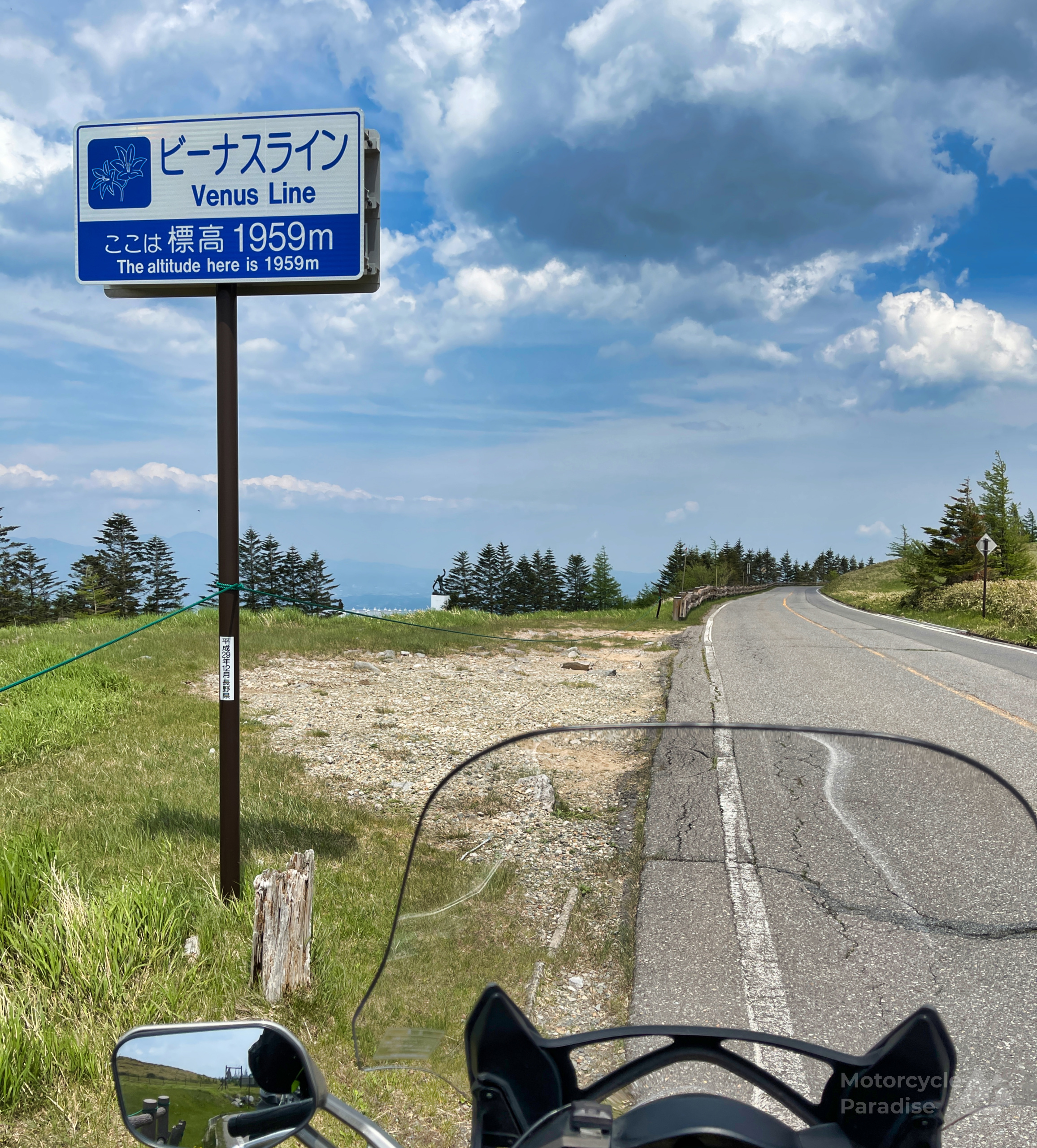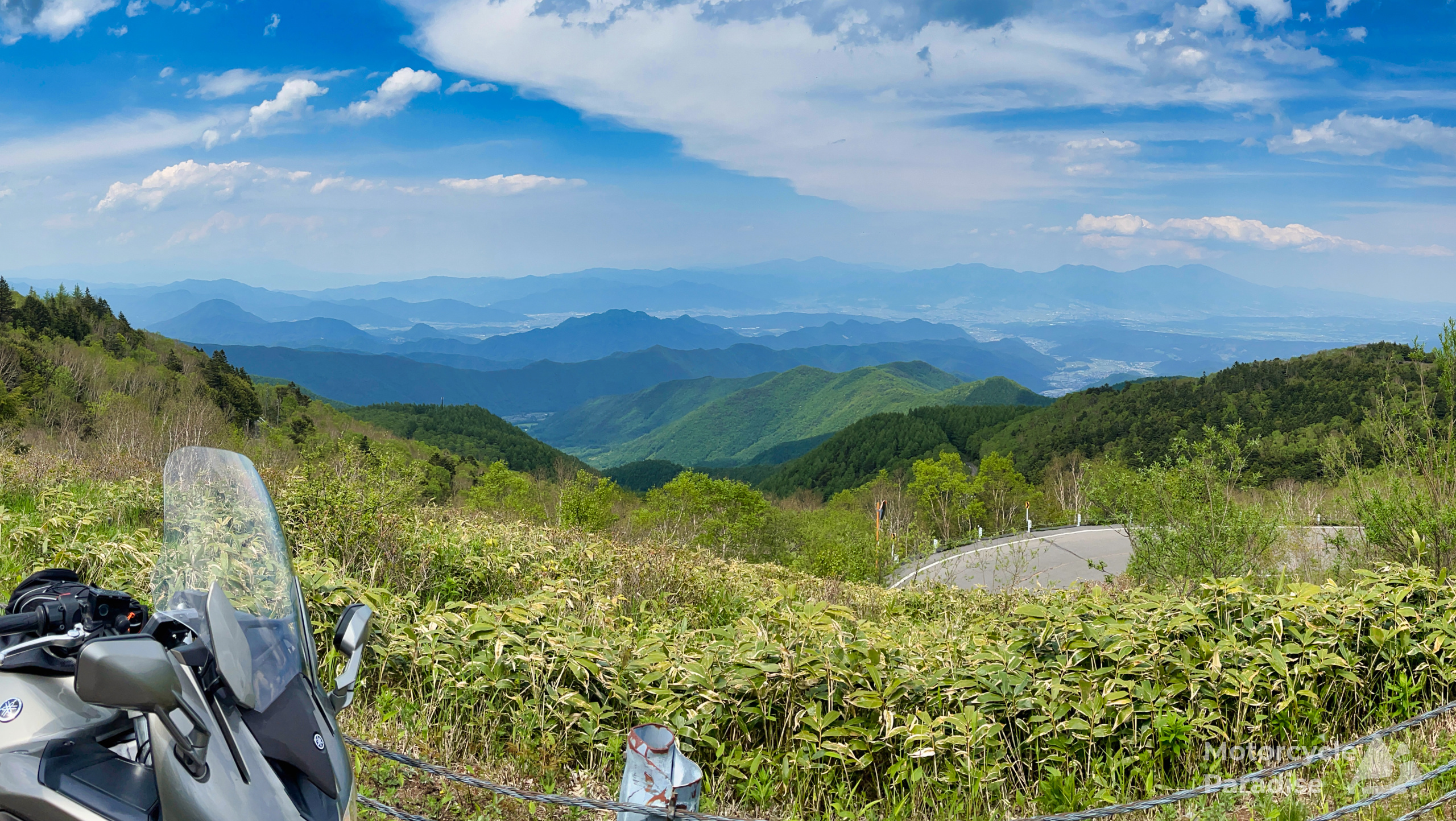 It's cool up top then the northern descent which in many other places would be marked as a good motorcycle road but here doesn't even rate. That's how amazing the riding is in Japan.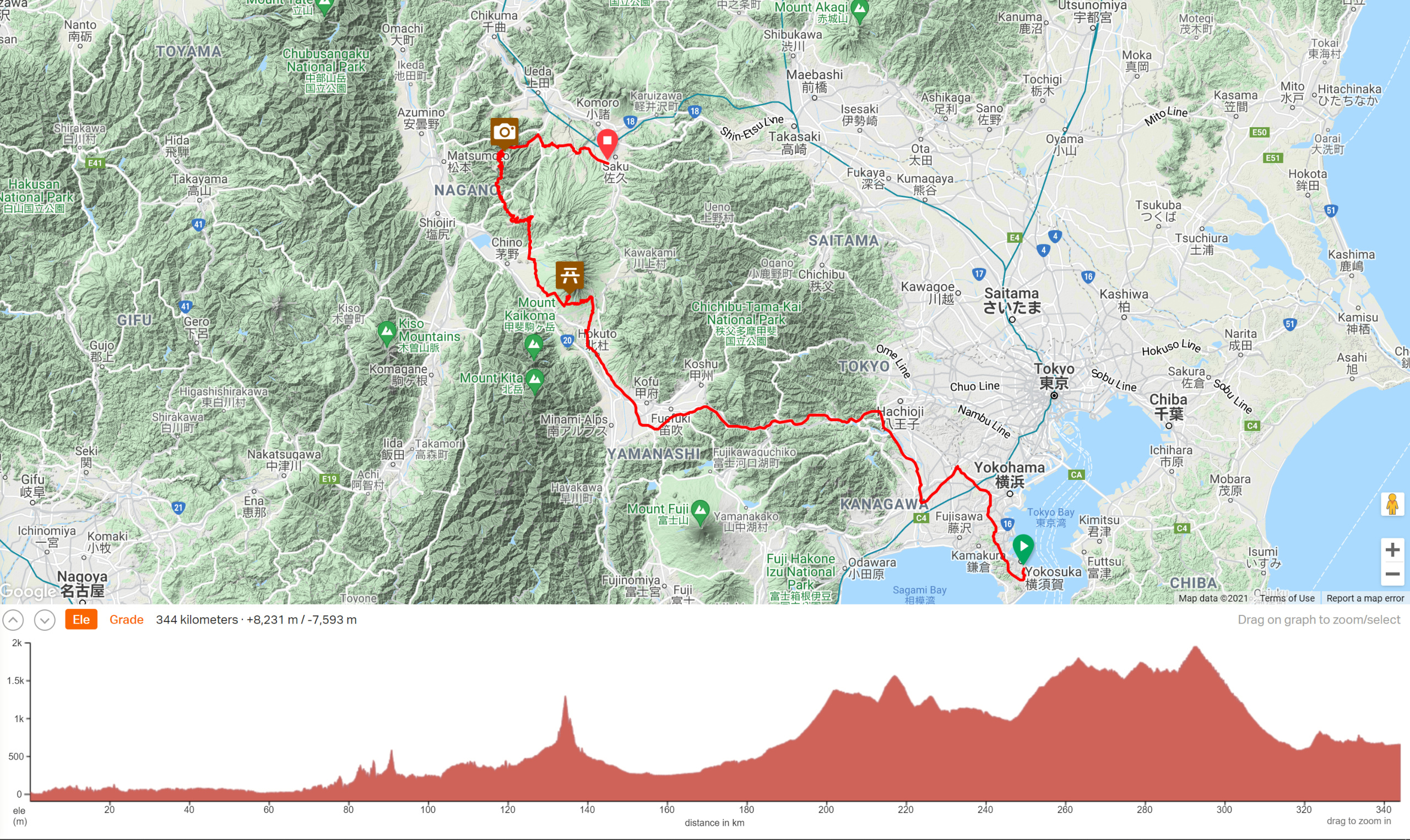 Day two the weather is unsettled but holding. Exploring some roads around Mount Asama where a lava flow is being reclaimed by nature and stopping to smell the Roses Lupines. Nice to be in no rush.
Another favourite road this morning, Tsumagoi Panorama line.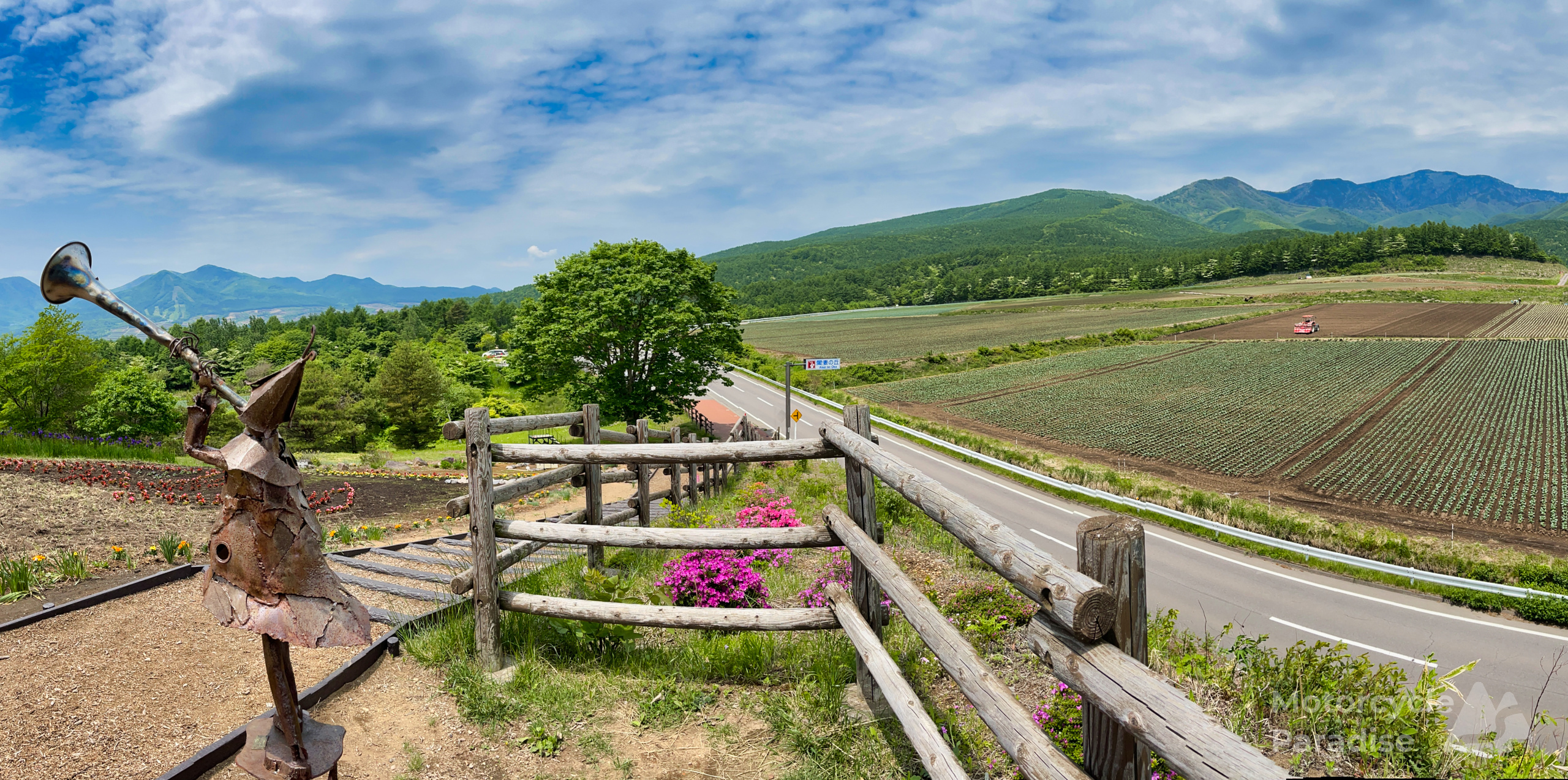 This is a sweeping farm road affording grand views. Worth stopping awhile to take it all in.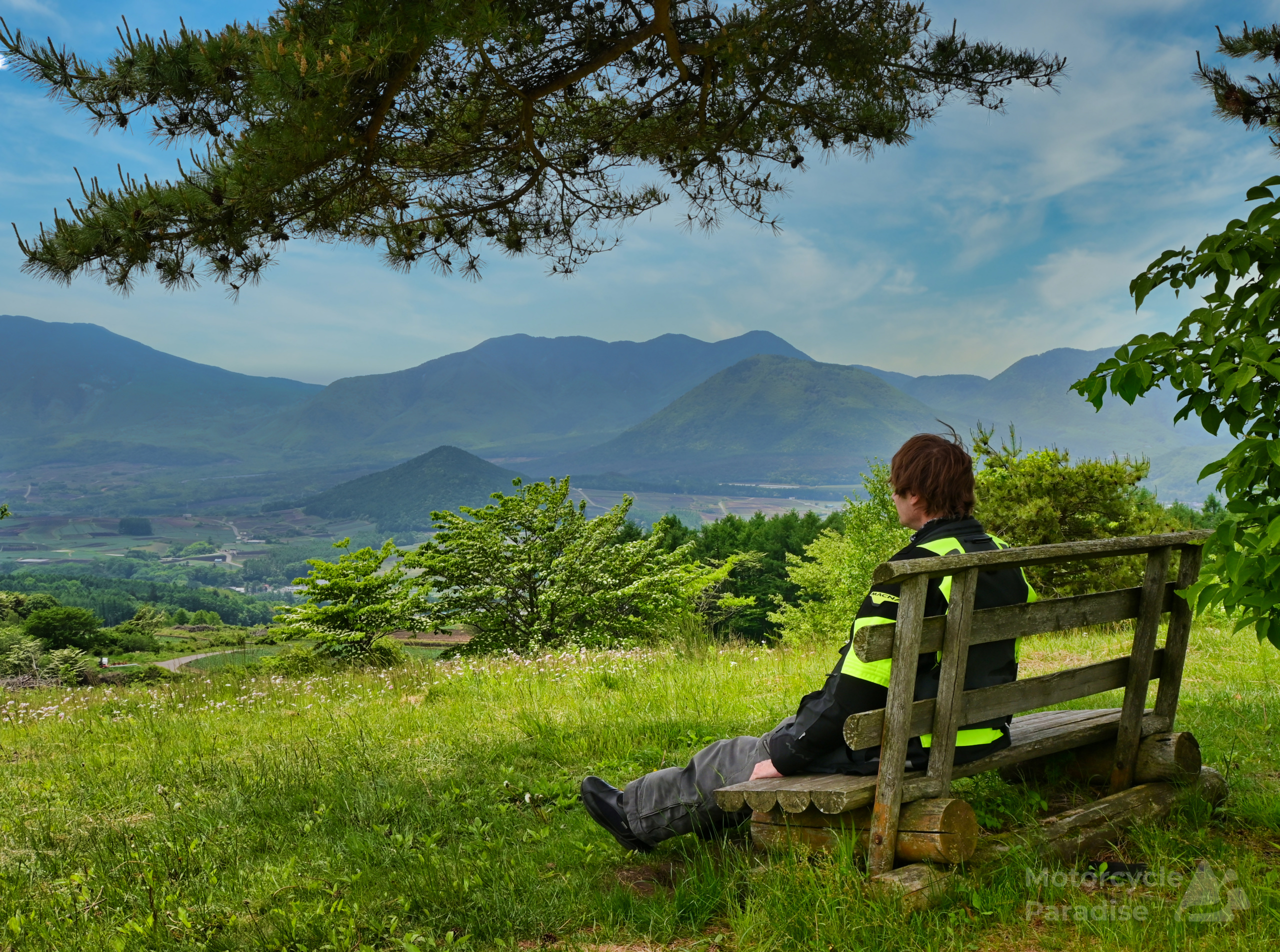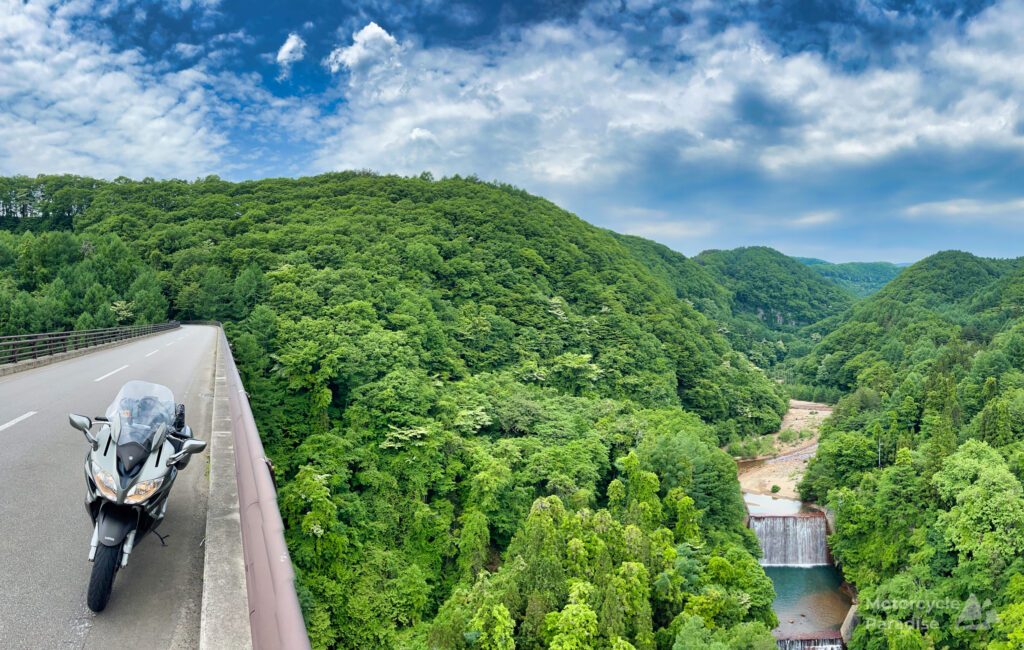 Leaving the Gunma prefecture on route 55 and riding north to Mount Nabea ski resort area next where another excellent route 17 is revealed. Alas no spot on either of these to get a decent photo.
Approaching 100,00km on the FJR touring Japan but still so much to discover here.
The weather starts to deteriorate upon reaching a third new route this afternoon, the Uonuma Skyline. Wow this is a place with spectacular views.

The weather is lousy but impressive location. You will have to wait for next time to see how it looks on a fine day.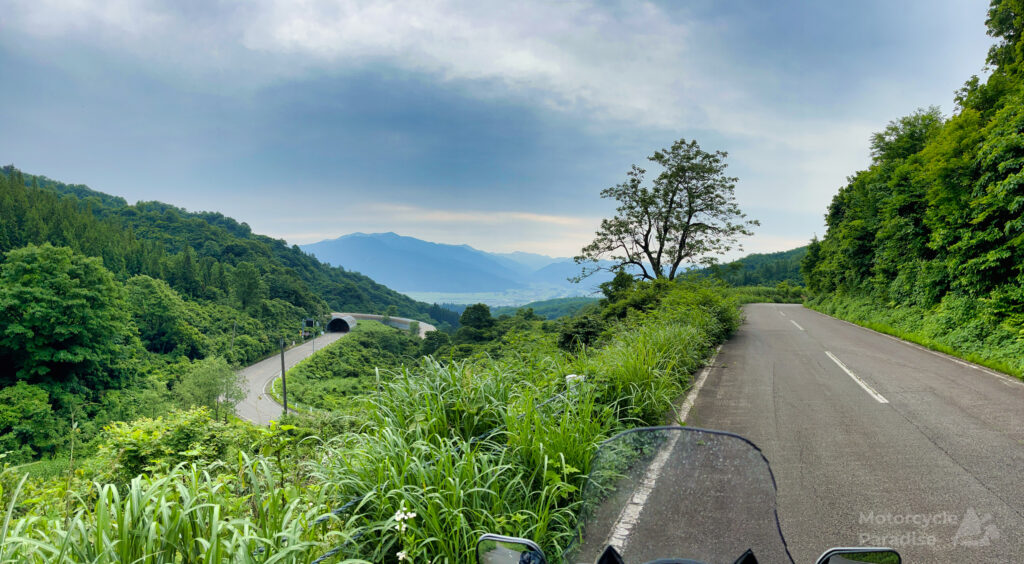 Light rain blows in so best to get wheels turning. Looking forward to exploring this part of Niigata more in future.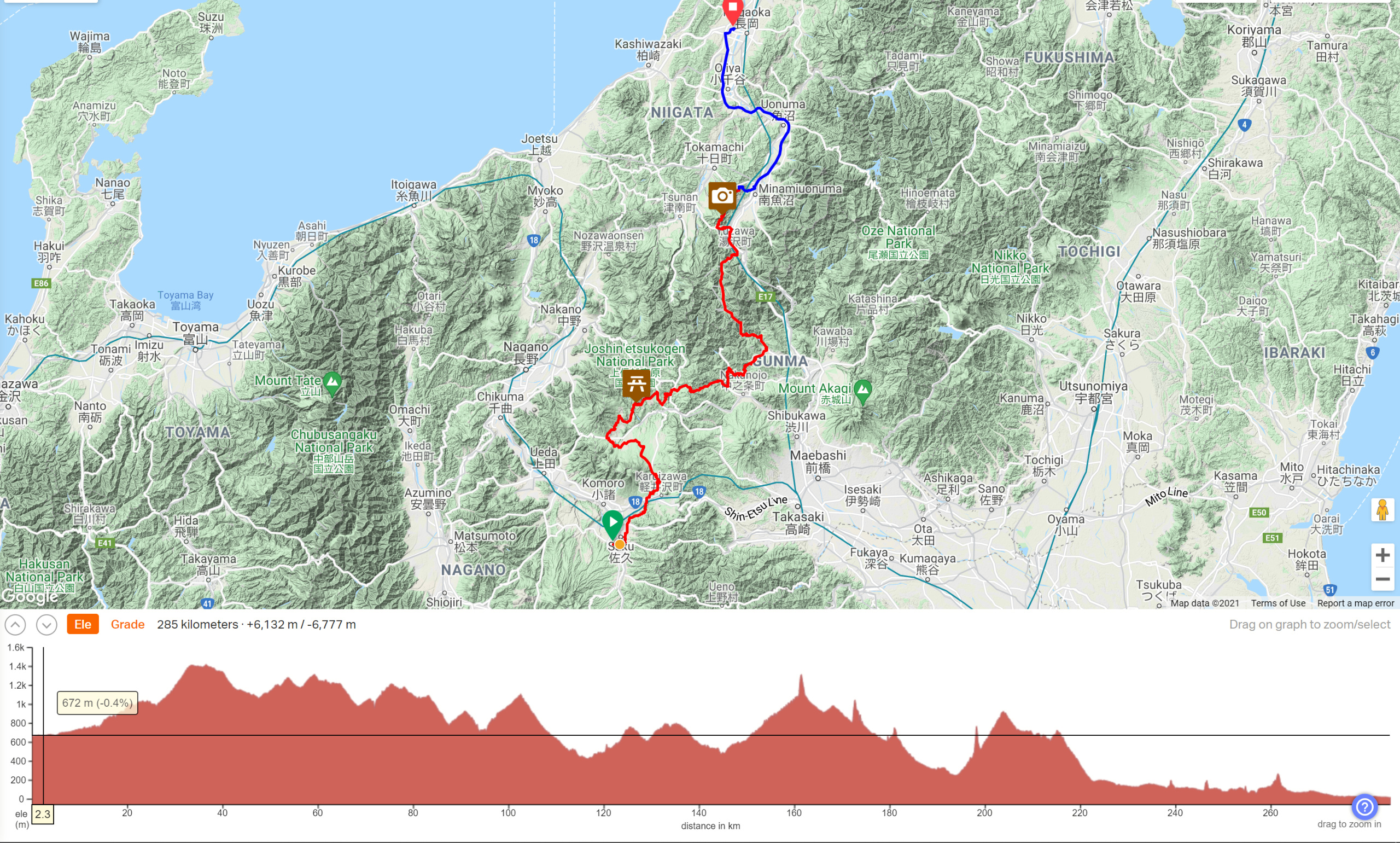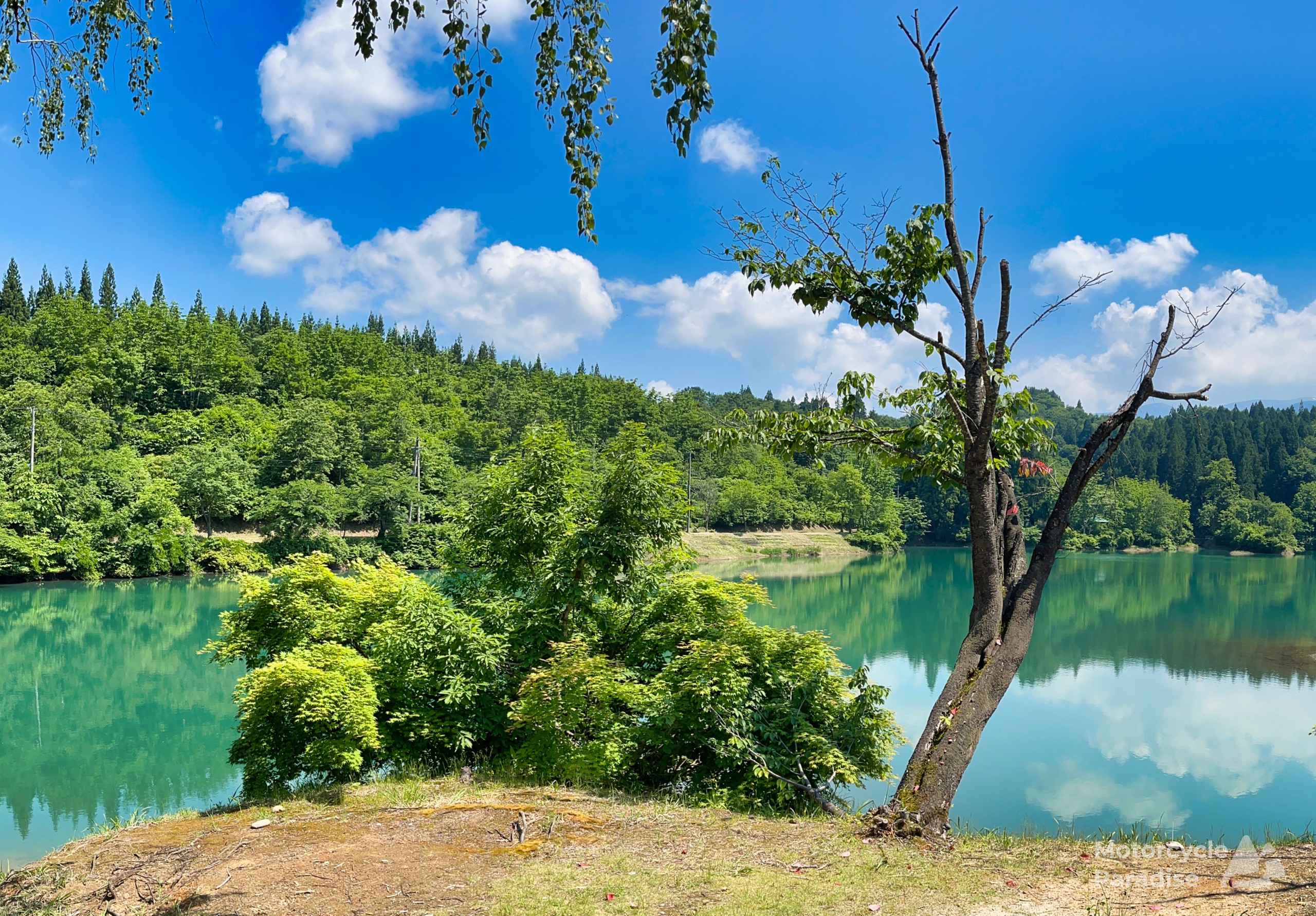 The sun is confident on day 3, feels like summer yet today's target road is still closed with snow. After a coffee shot route 252, a popular riders road is chosen in lieu.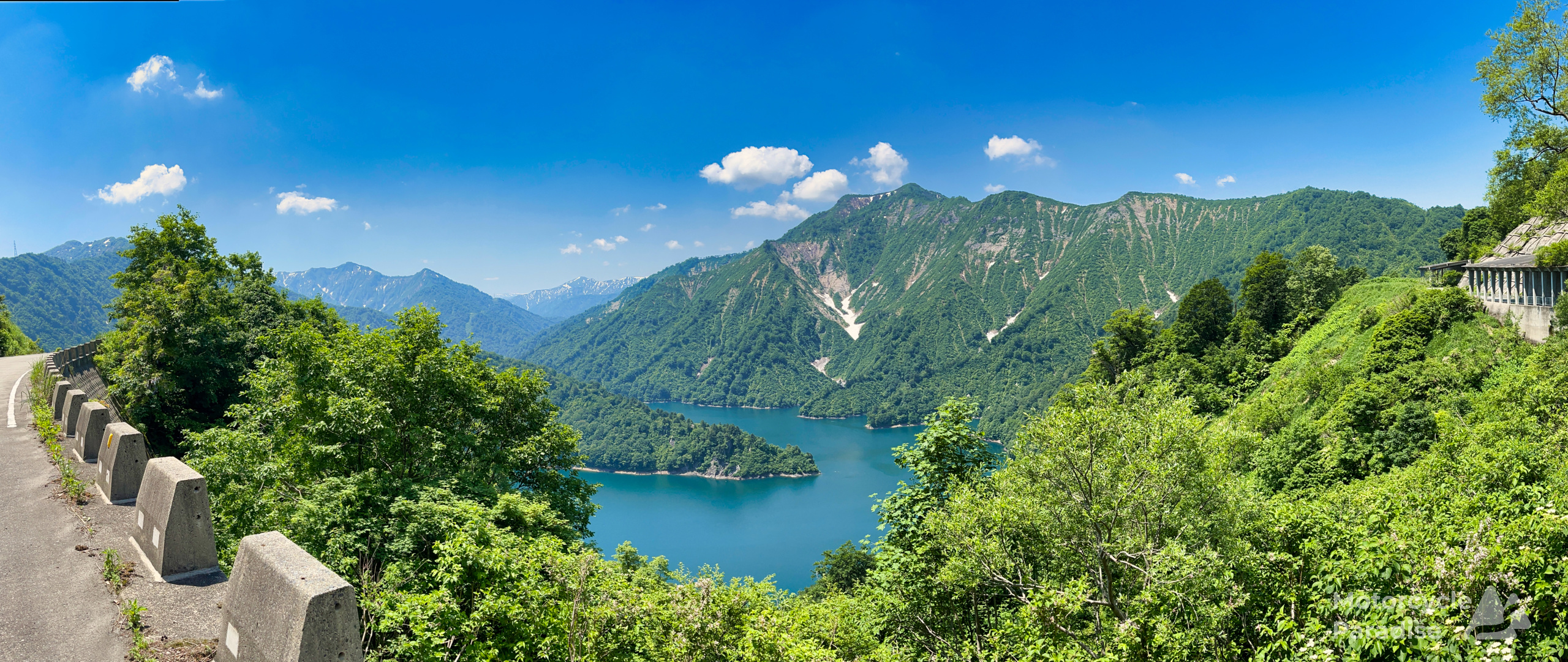 Really grand views riding route 252 today and the scenery continues superb down in the valley (below).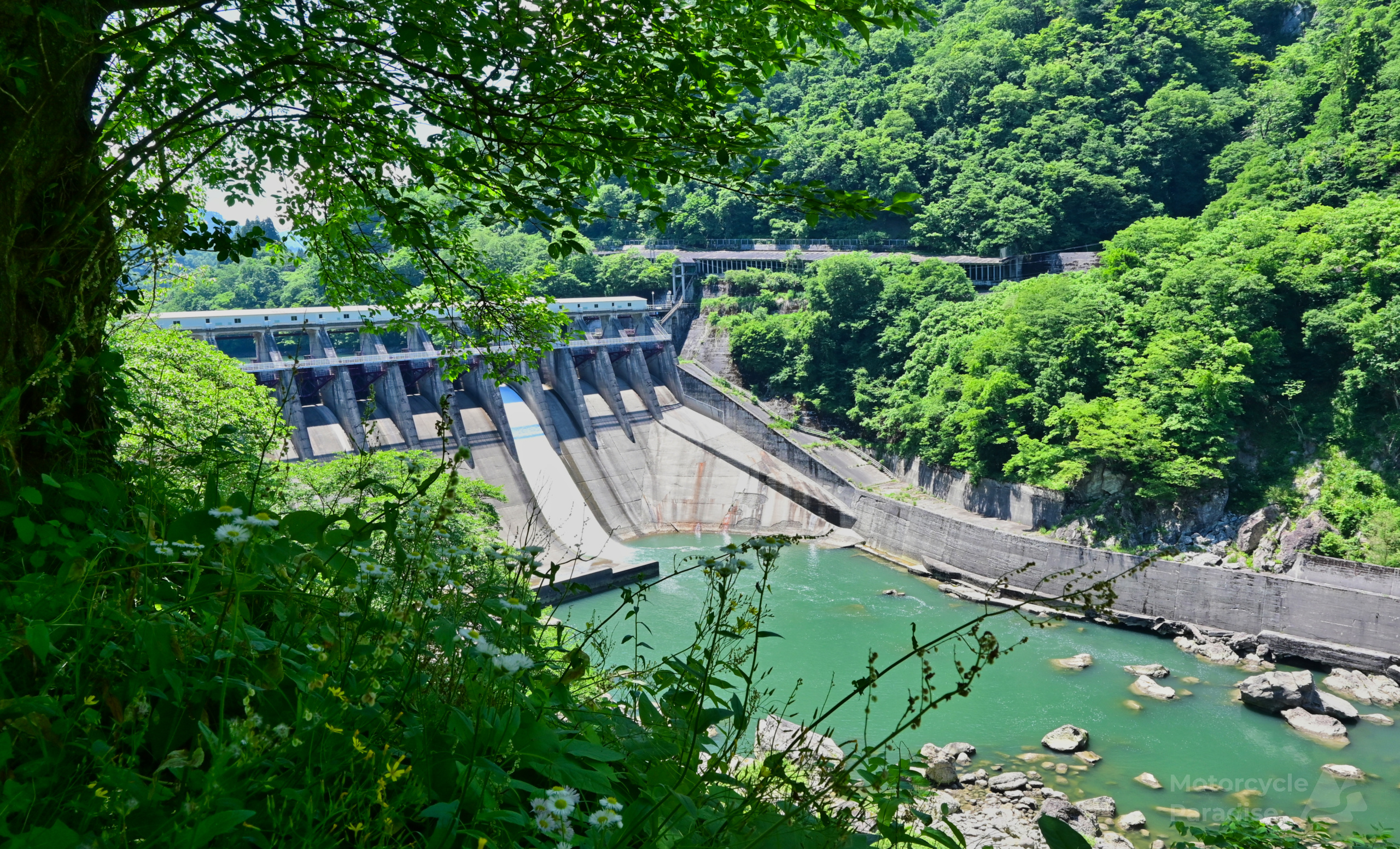 A nice spot for lunch in shade with pleasing view of water streaming down the dam wall. Ah, this is the life ?
Later at a view point of a rail bridge popular with train photographers, a couple of whom I follow on Instagram.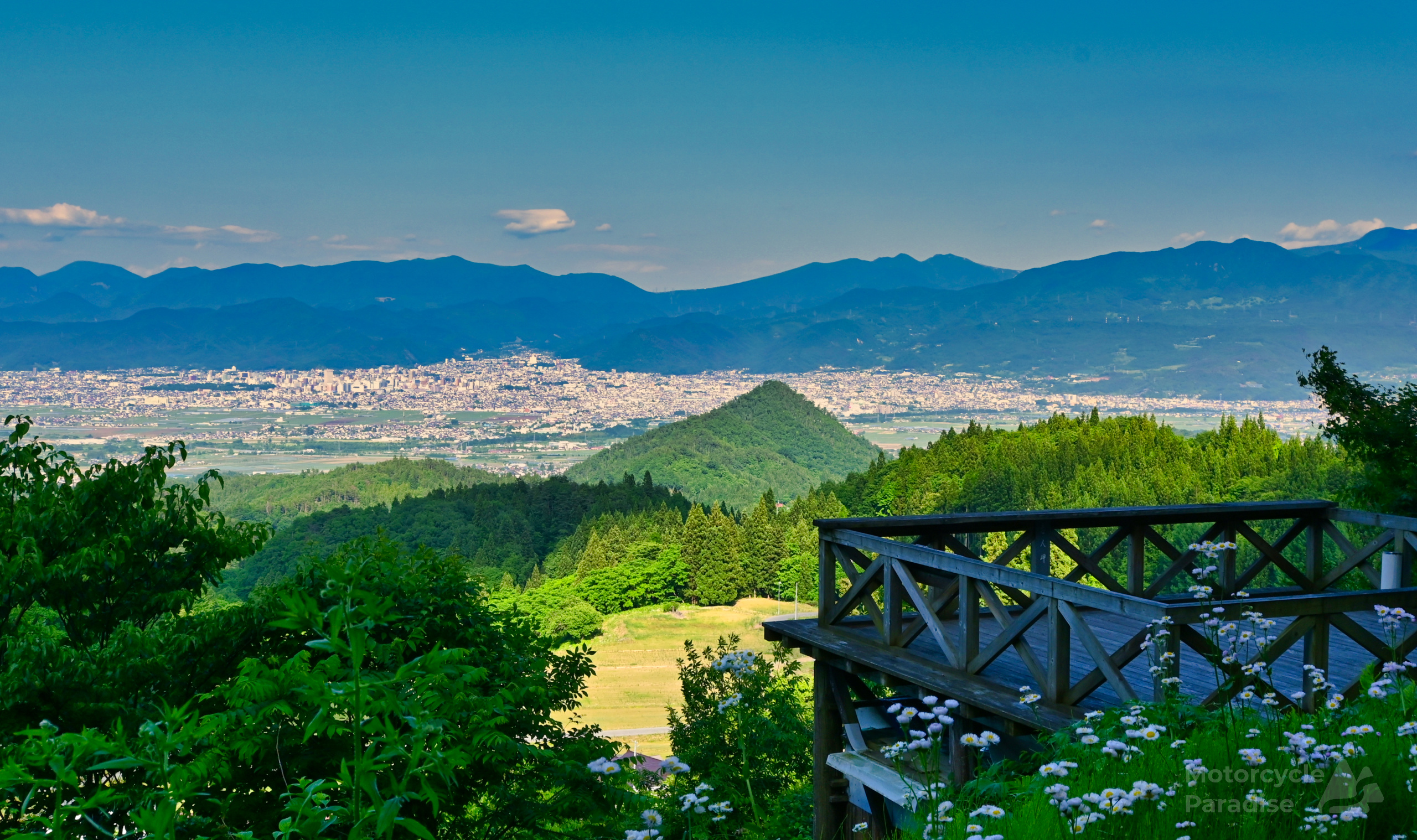 Some random back roads this afternoon which prove to be excellent. Even an unexpected shady view deck overlooking Yamagata where my route ends tonight.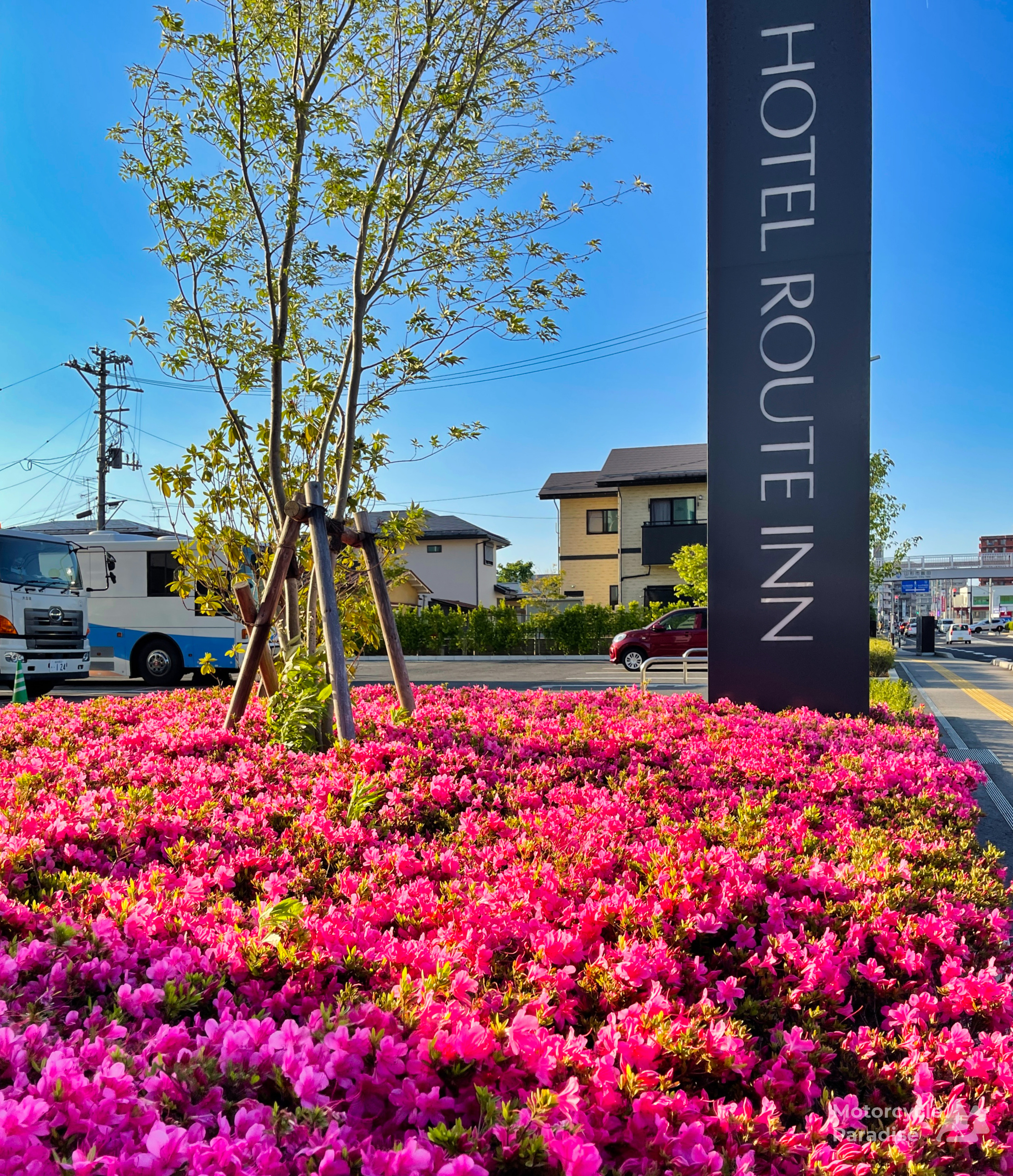 Route Inn is a hotel chain I often use in the North of Japan but it's fallen a little out of favour with me due to some racist behavior at a couple of branches. Perhaps unwittingly – Japan is such a monoculture.
On the flip side being a inward looking country where people stare at you like from Mars makes touring here continue to be interesting. I've certainly had to grow tougher skin living here but need to further remind myself not to let little things spoil the big picture.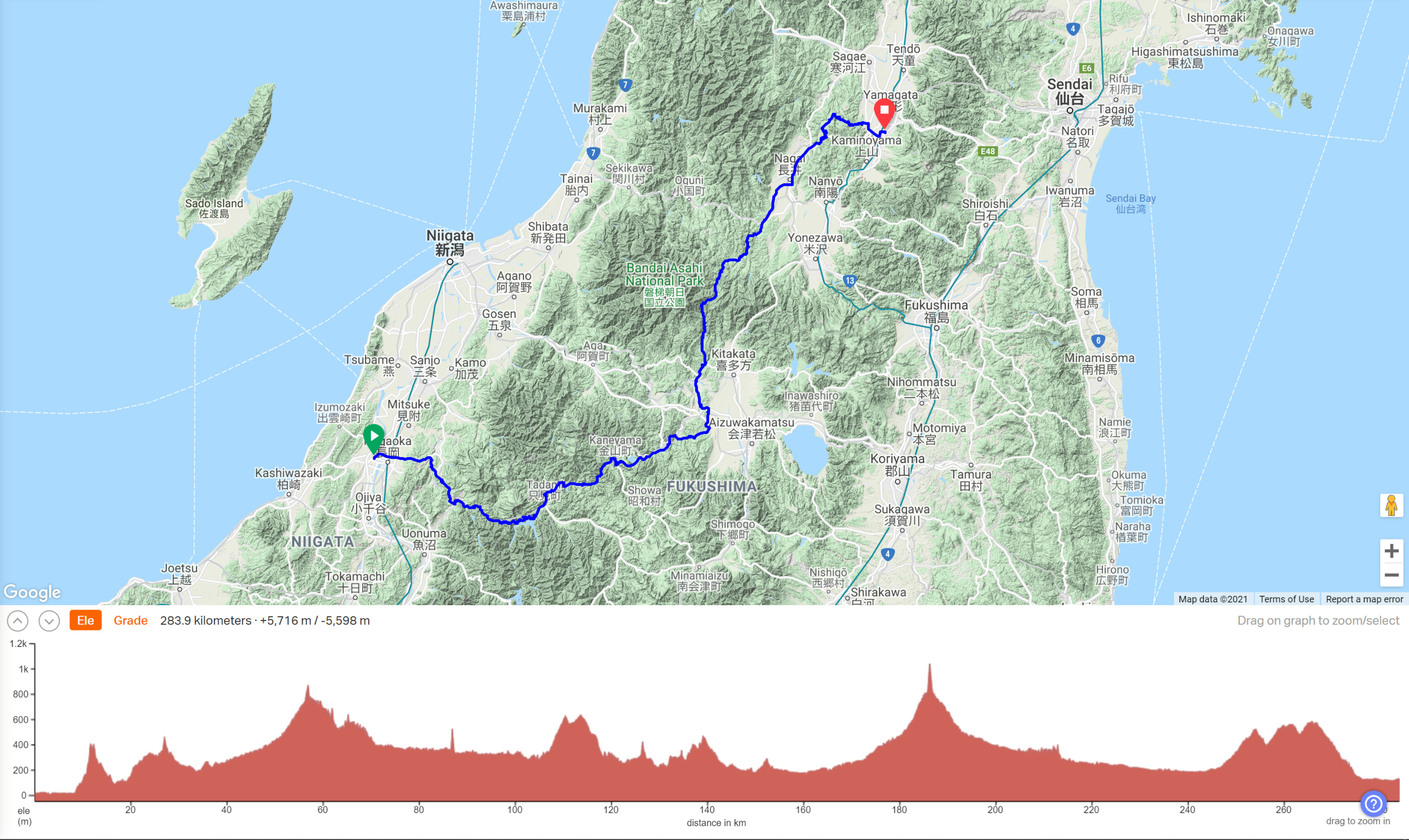 Day 4 and it's "sun, sun, sun" as Steve Martin said. Woohoo!
The GPS has a simple backroads route for today but over a long buffet breakfast my ever wandering brain says this weather is too good ?, maybe you better ride further today just in case it turns to rain like in LA Story.
I'm going to ride part of original route then push into Akita an extra 100km. Trouble with a long route is you are bound to be watching the clock instead of stopping and taking photos, which is pretty much how the morning goes but good riding all the same.
Route 310 (below) is both a high mountain pass and thermal geo region. The road has previously never been open for me so the long route today has had one win.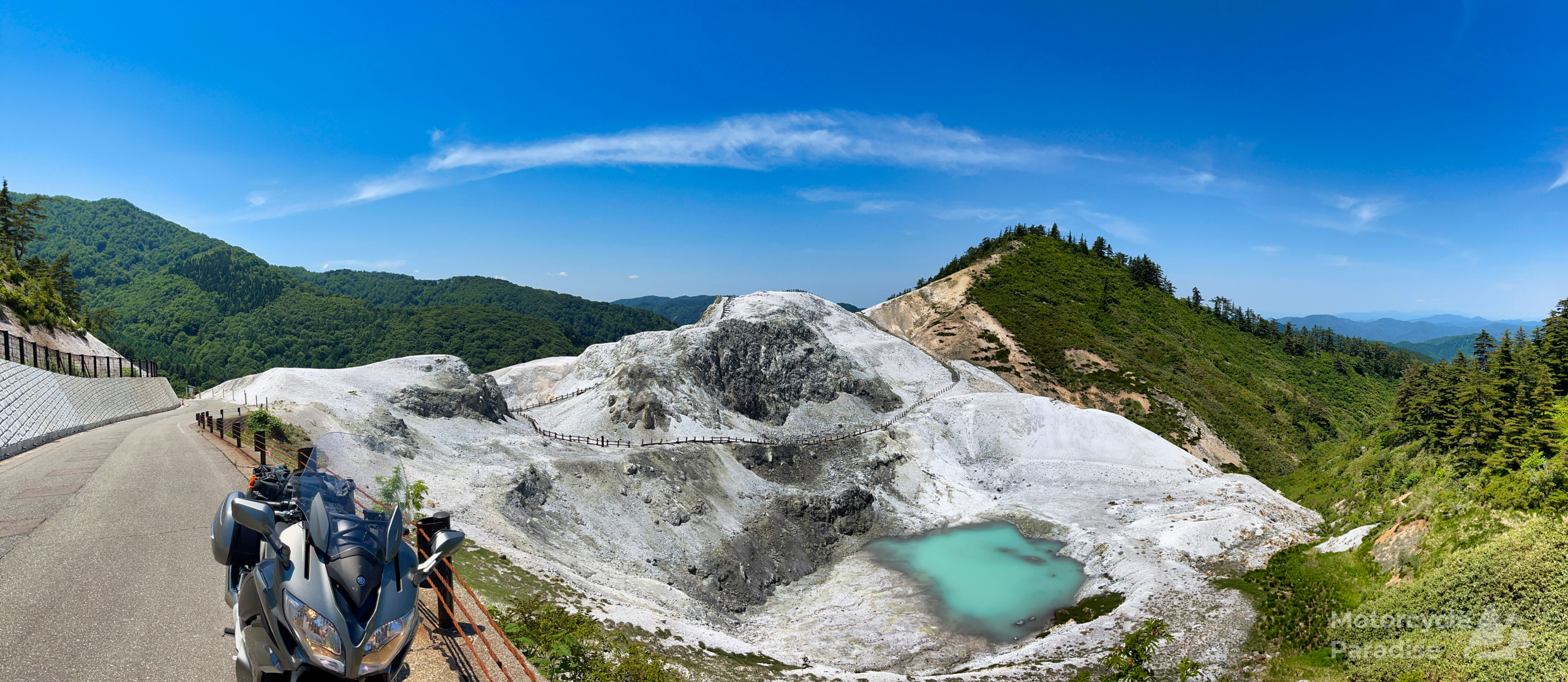 This barren expanse is called the Kawaragejigoku. It has hot geysers and strong sulfur smell. There is considerable heat radiating from the ground.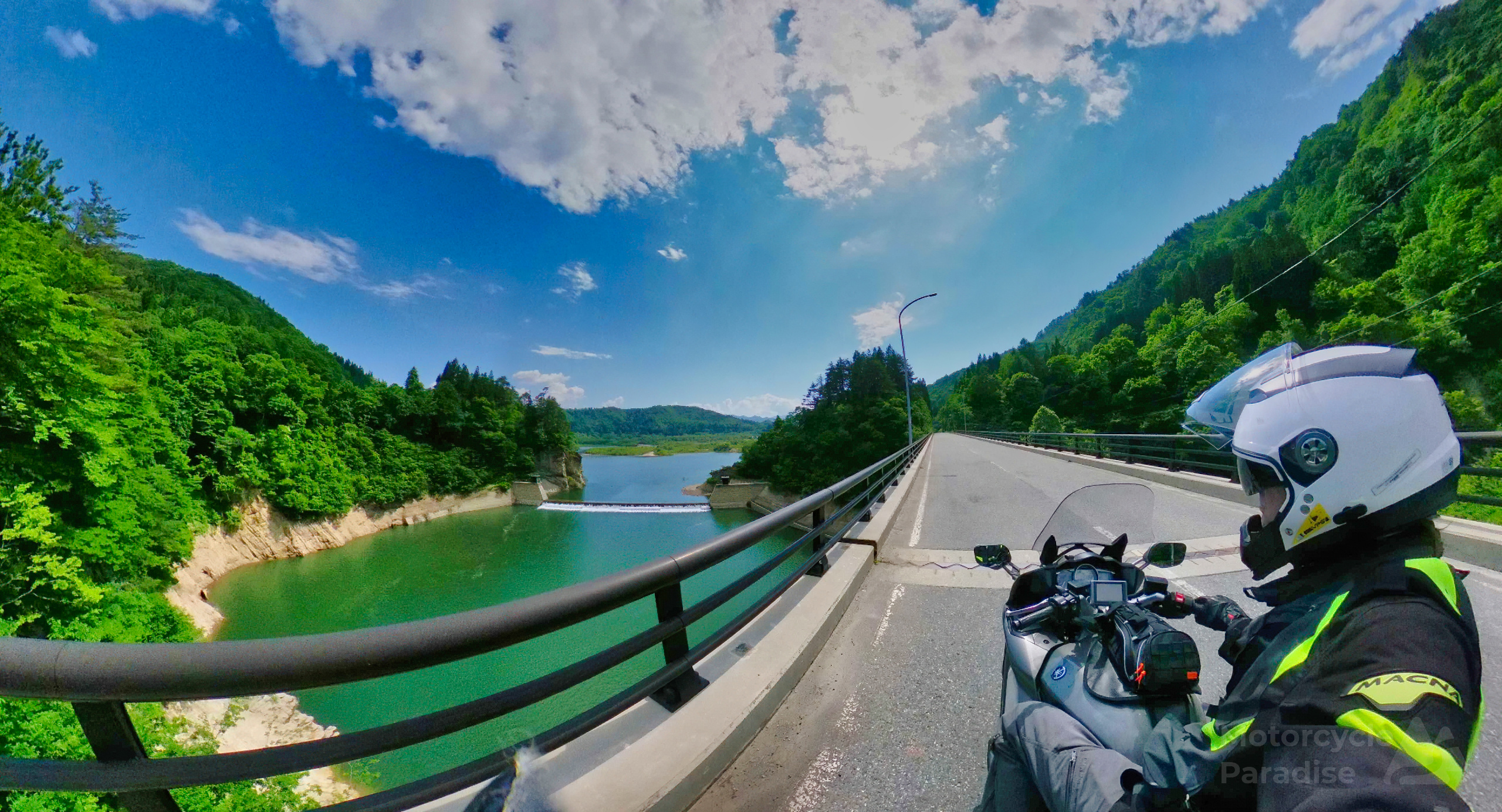 Due to quickly altering this route it lacks waypoints and the Garmin is constantly routing off the nice low traffic roads onto busy routes. With all the advances in tech, navigation seems to have lagged.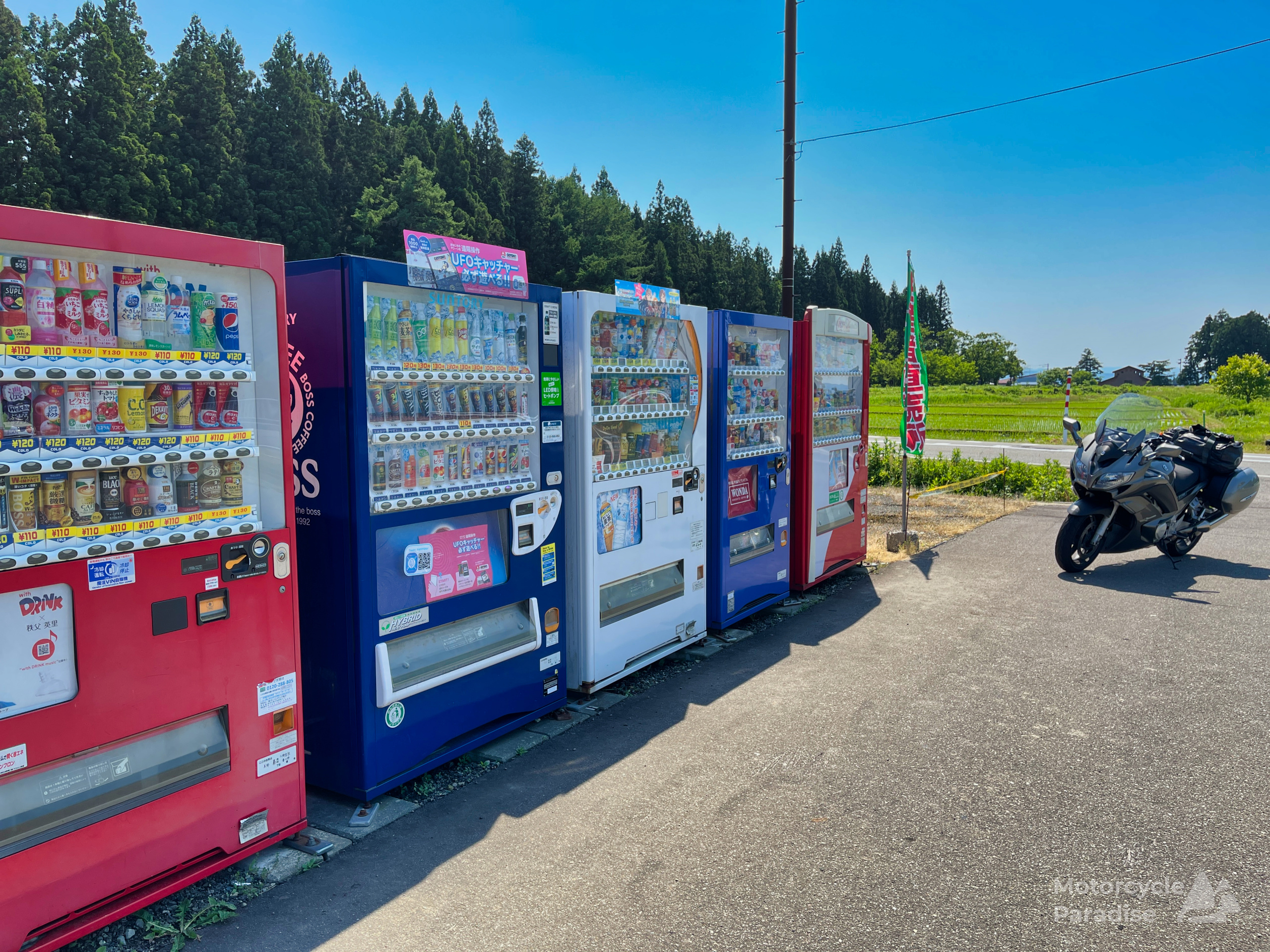 Time to stretch the legs and rehydrate. Been playing some Road Games about updating the motorcycle today. Something for another post.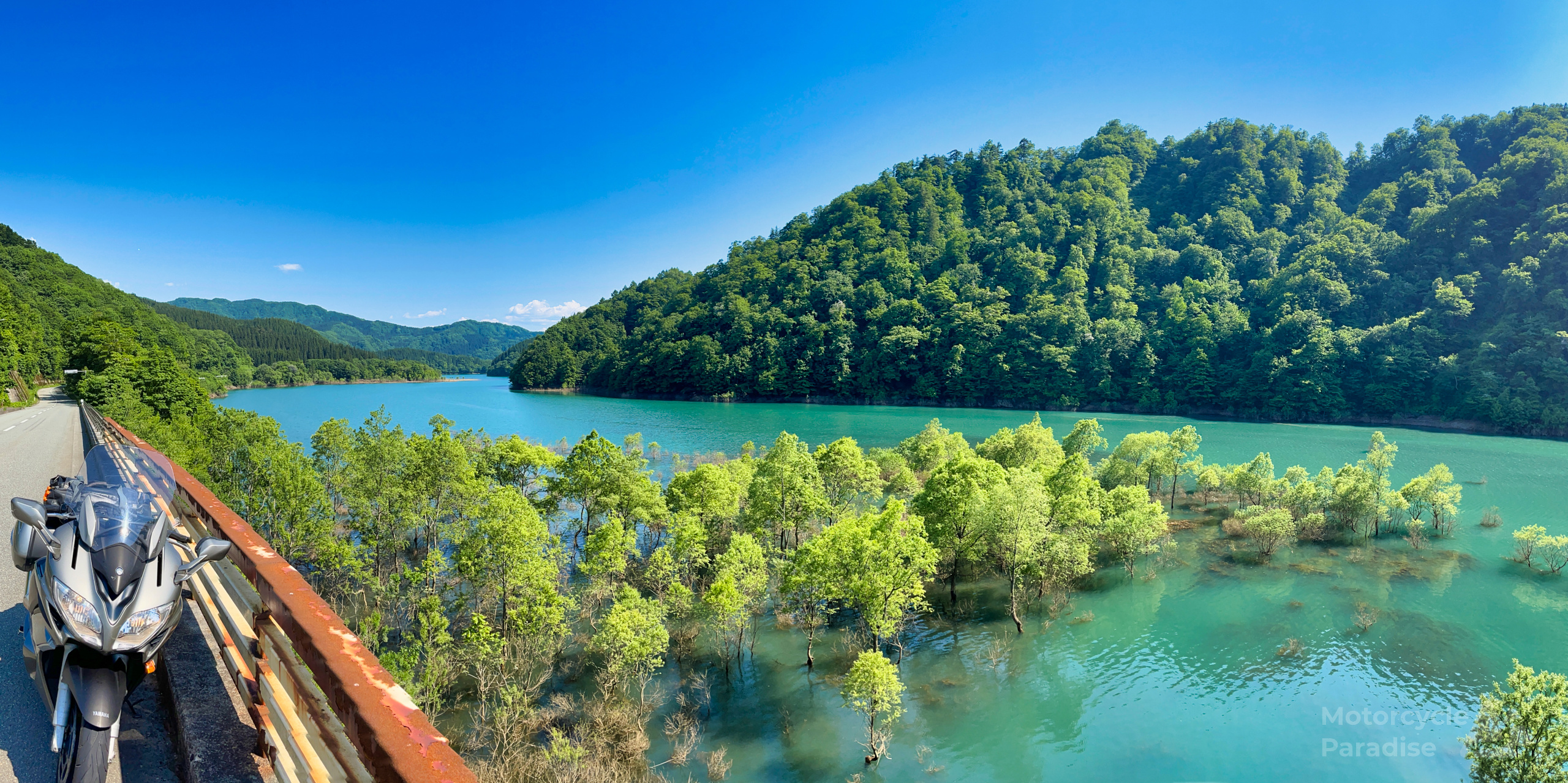 Lovely riding along Shusen lake this afternoon on route 341 which after this becomes a superb twisty road at Mount Haichimantai.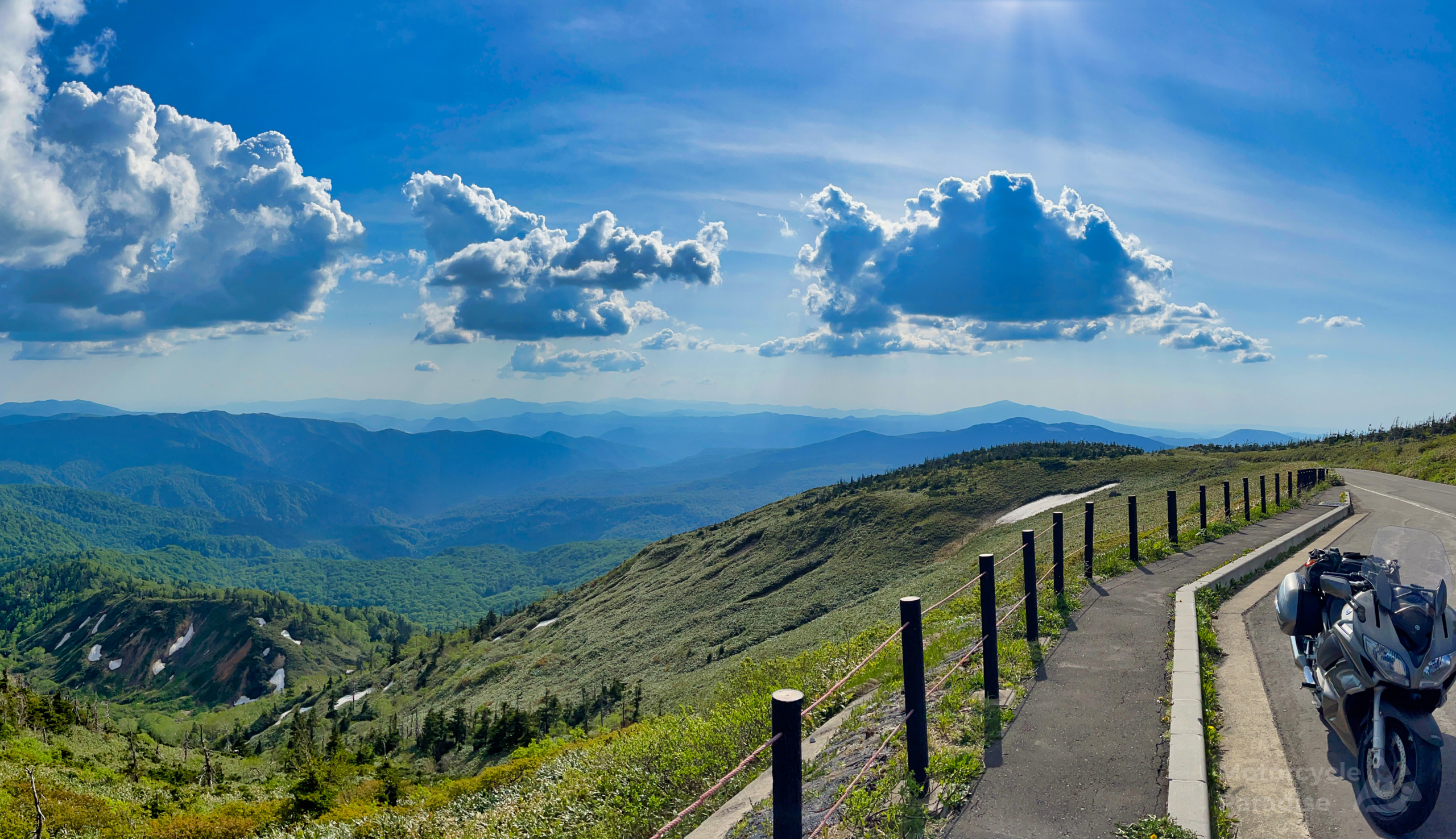 Western side of Mount Haichimantai in afternoon sun.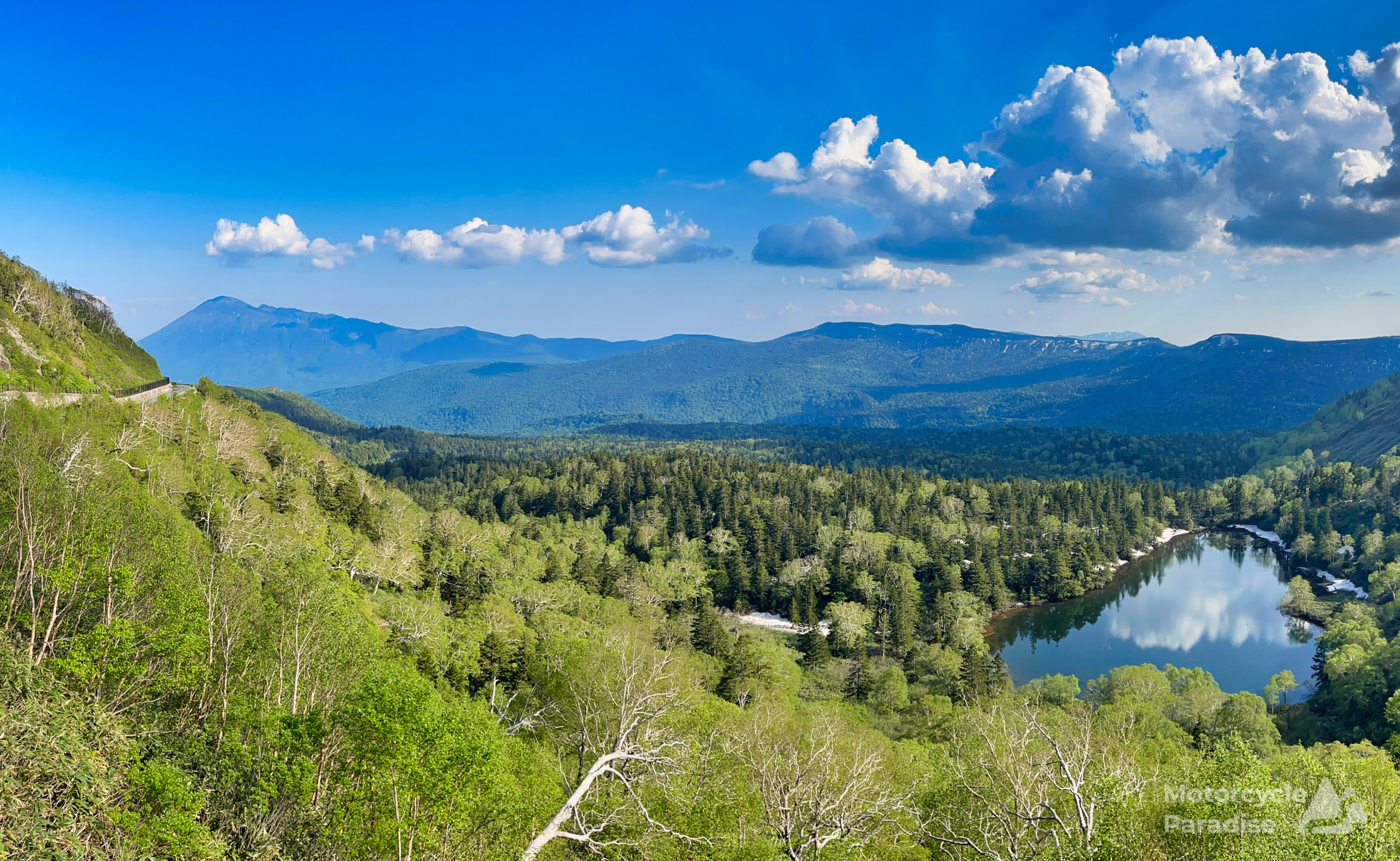 Quite a lot of snow on top but further down is more photogenic.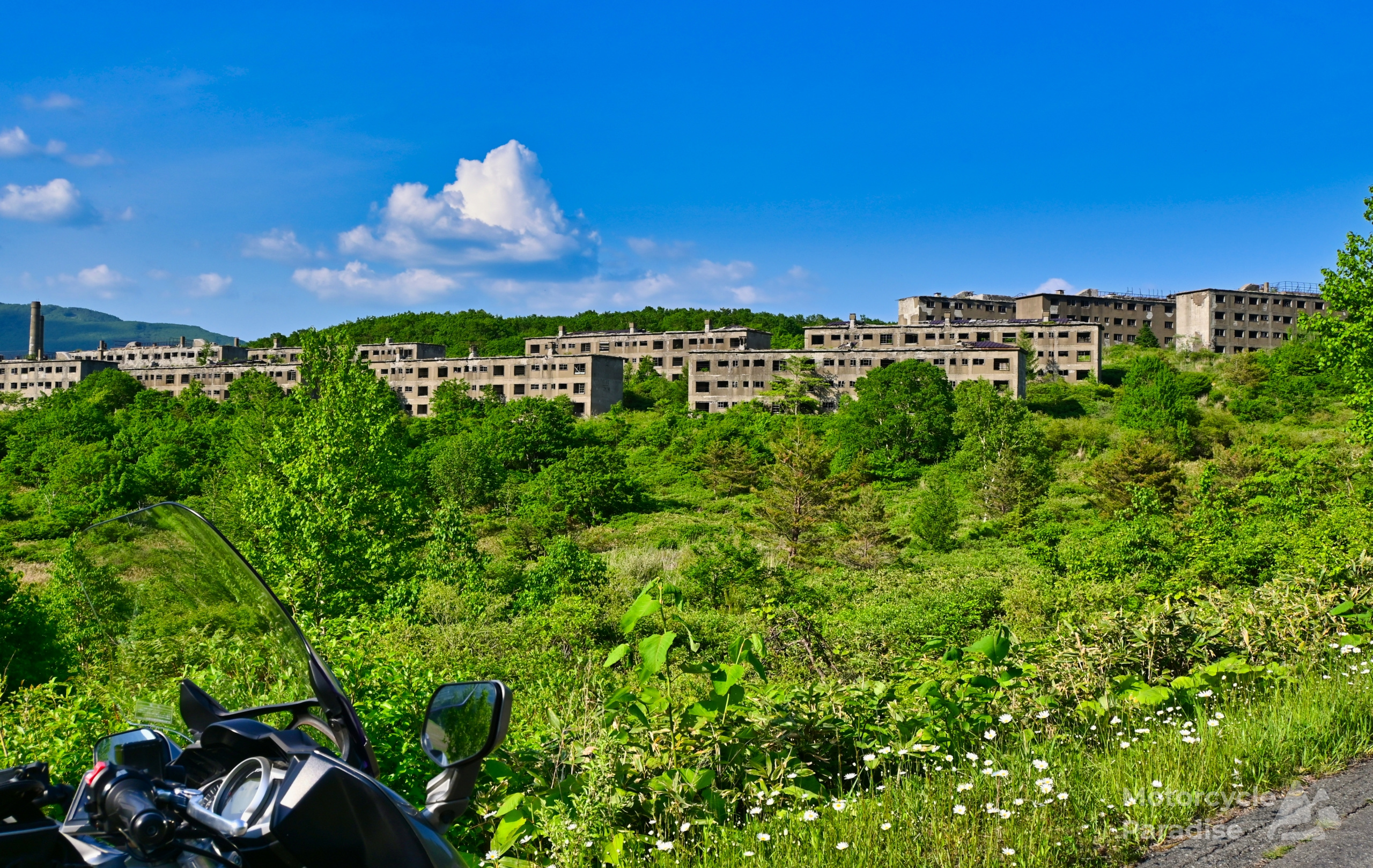 Abandoned apartment blocks further down that long ago housed mine workers now slowly crumble.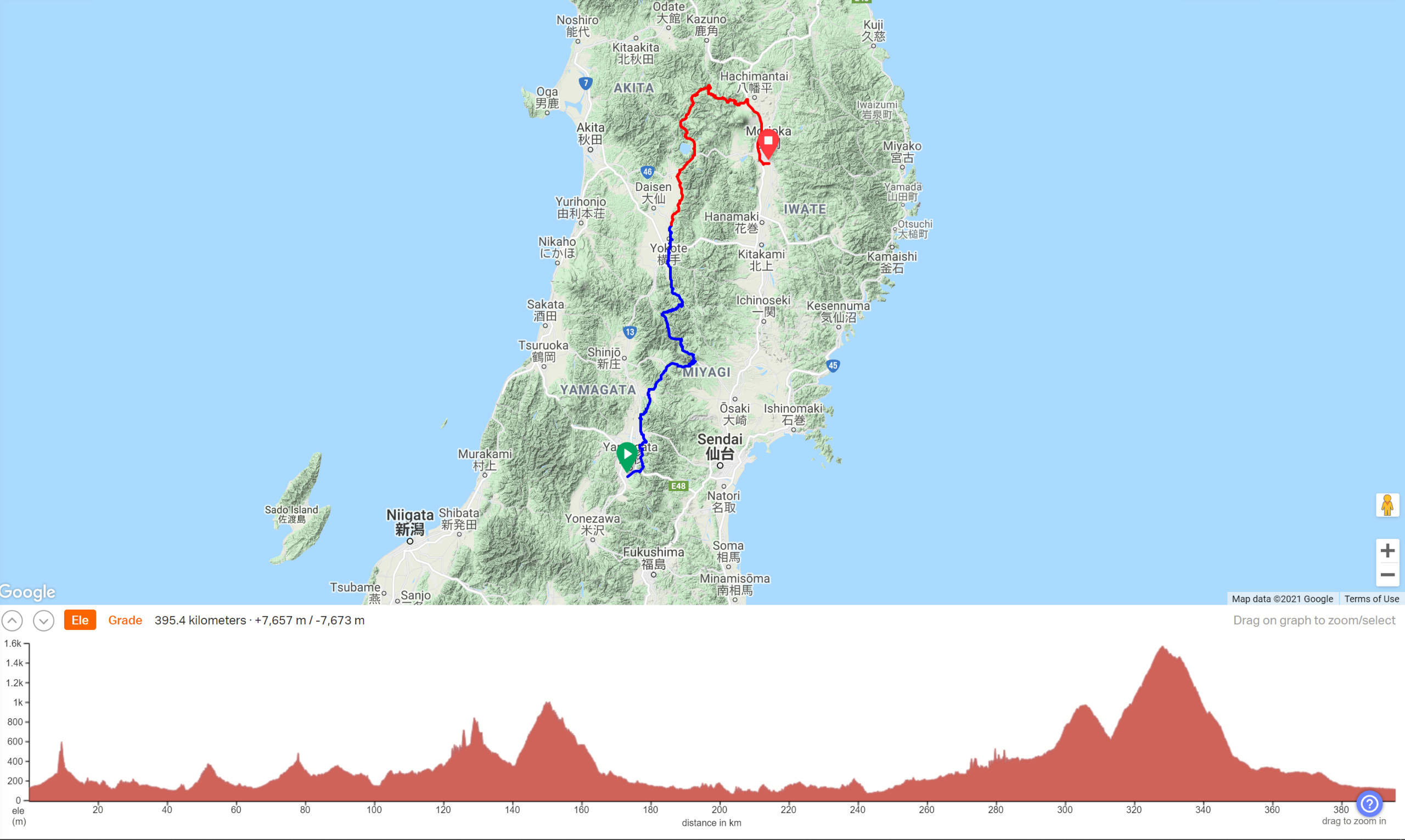 It was too long in saddle today but making hay while the sun shines has some merit.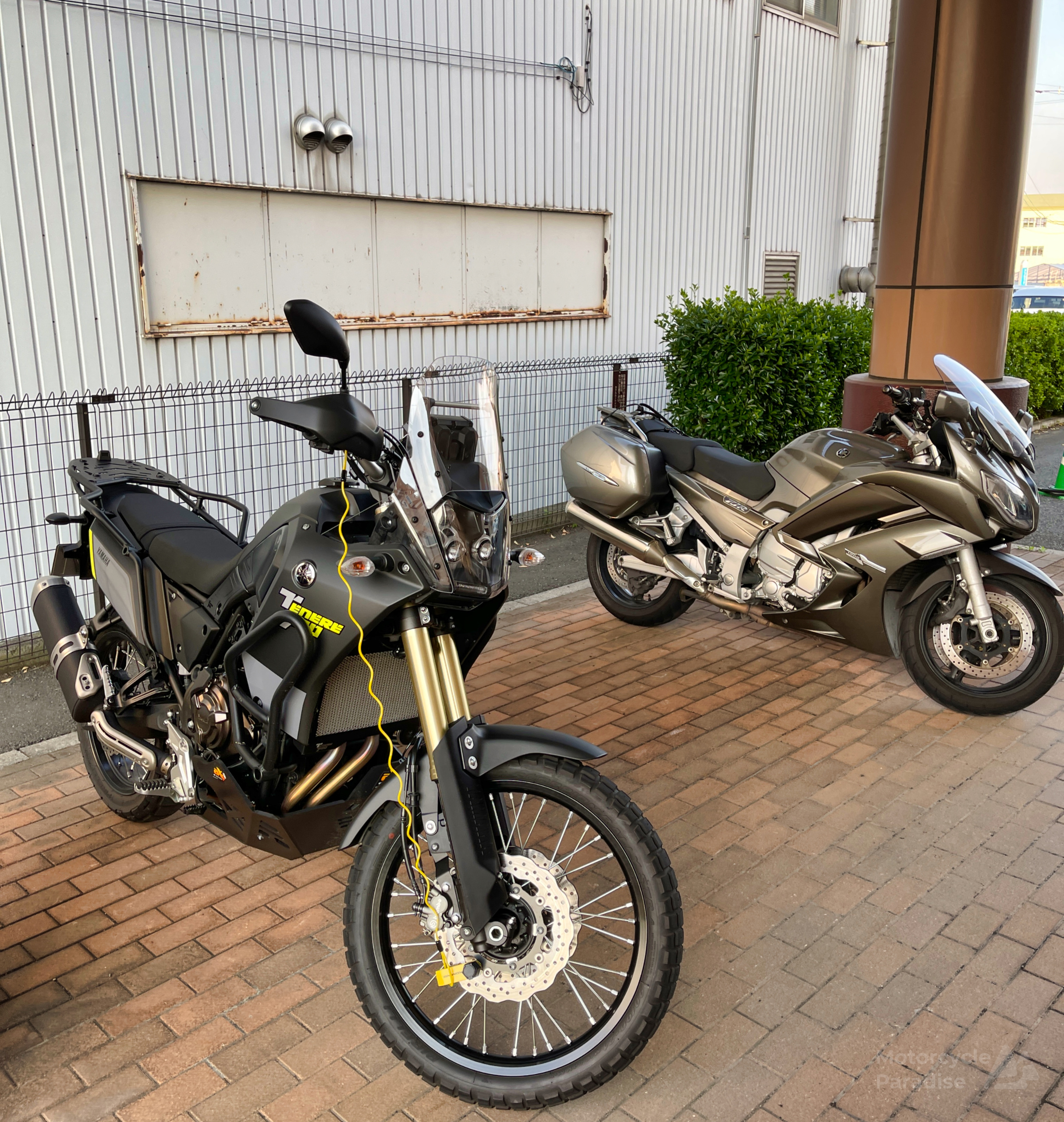 New bikes are so big, even the T700 dwarfs the FJR.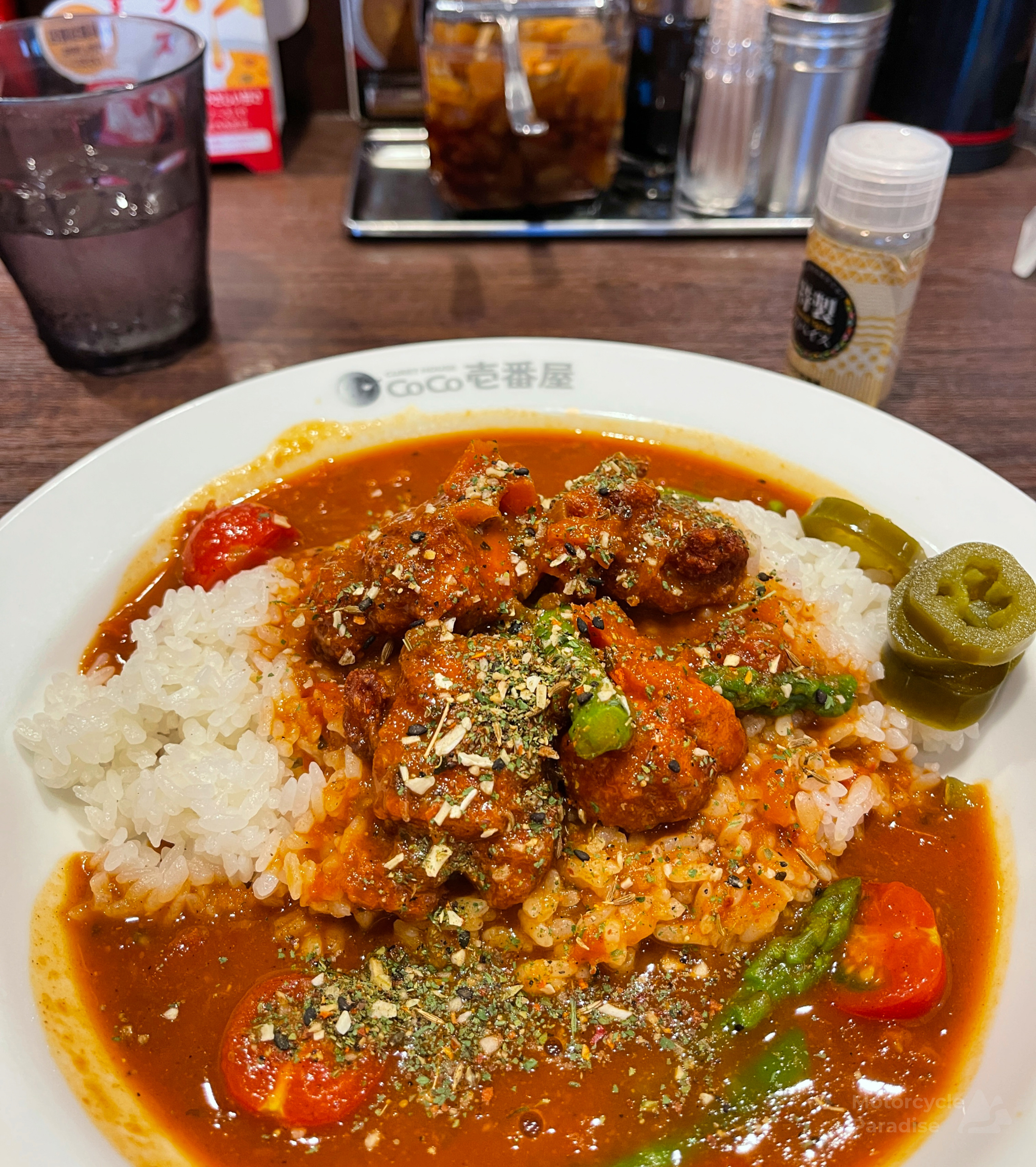 At a favourite curry house tonight trying their Mexican fusion – the Jalapenos are only thing Mexican but very tasty. Staff get a shock when presented with a credit card. This requires a team meeting, much frowning and examining of the card, eventually they swipe it and hold their breath then relief and smiles after the receipt spits out. ? #cashsociety
No need to worry about the weather, day 5 is glorious. Riding north first on the fast sweeping route 455 then exiting to explore the grasslands natural park of Hayasakakogen.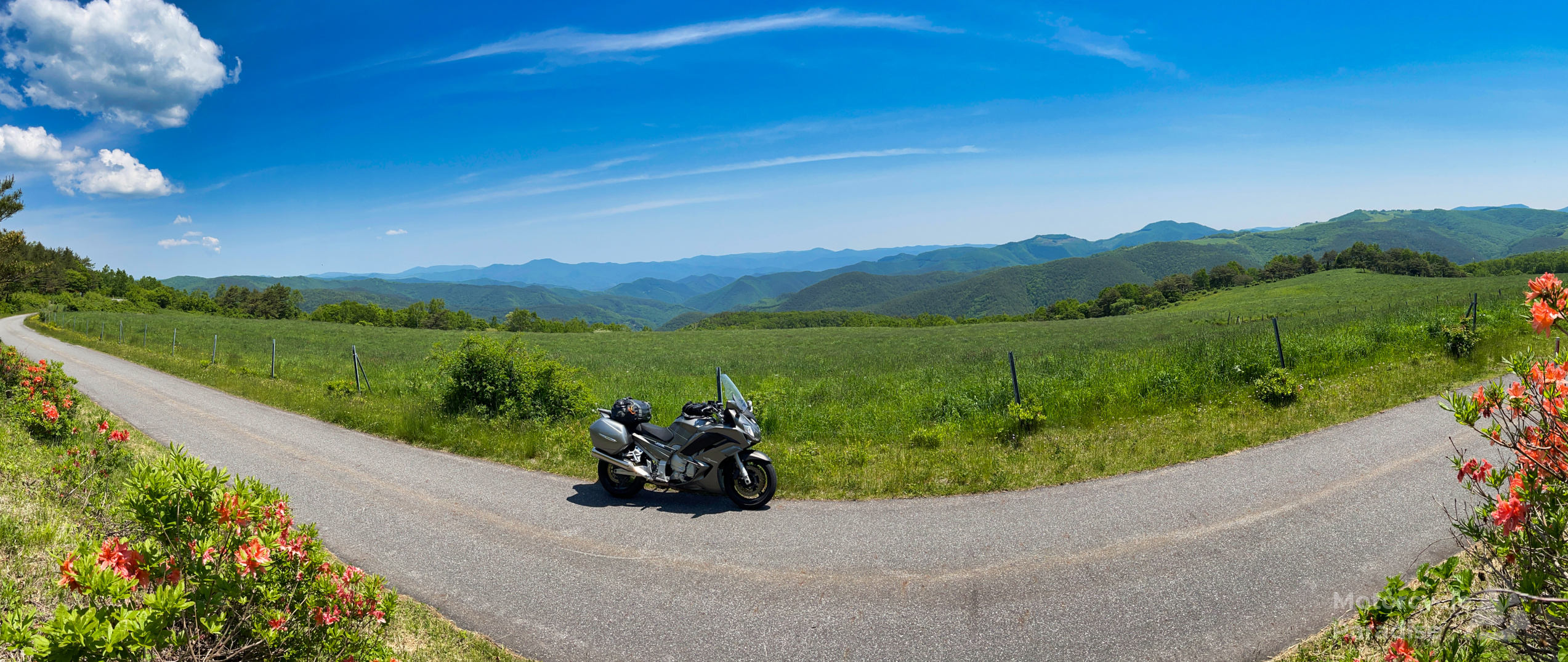 This is the beginning of a route that has no name or number but runs south through forests for about 100km over three ranges.
The next section (below) seems to be called Big Forest road and is one of the best rides in Japan. Servicing no towns this is a beautifully surveyed empty riding road.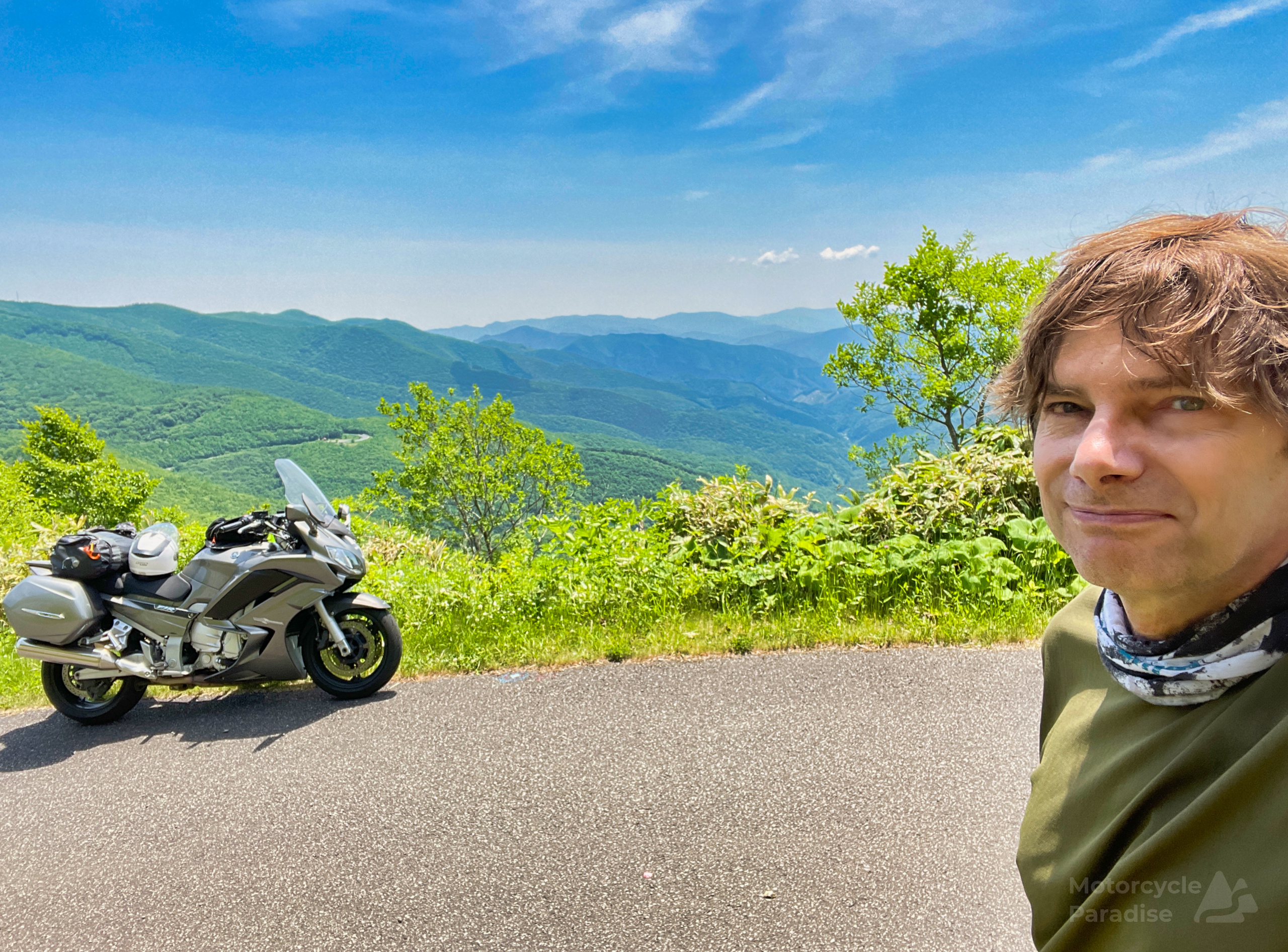 First time to be at this spot on a fine day but capturing the scale still defeated me. Oh well – here is a selfie instead ?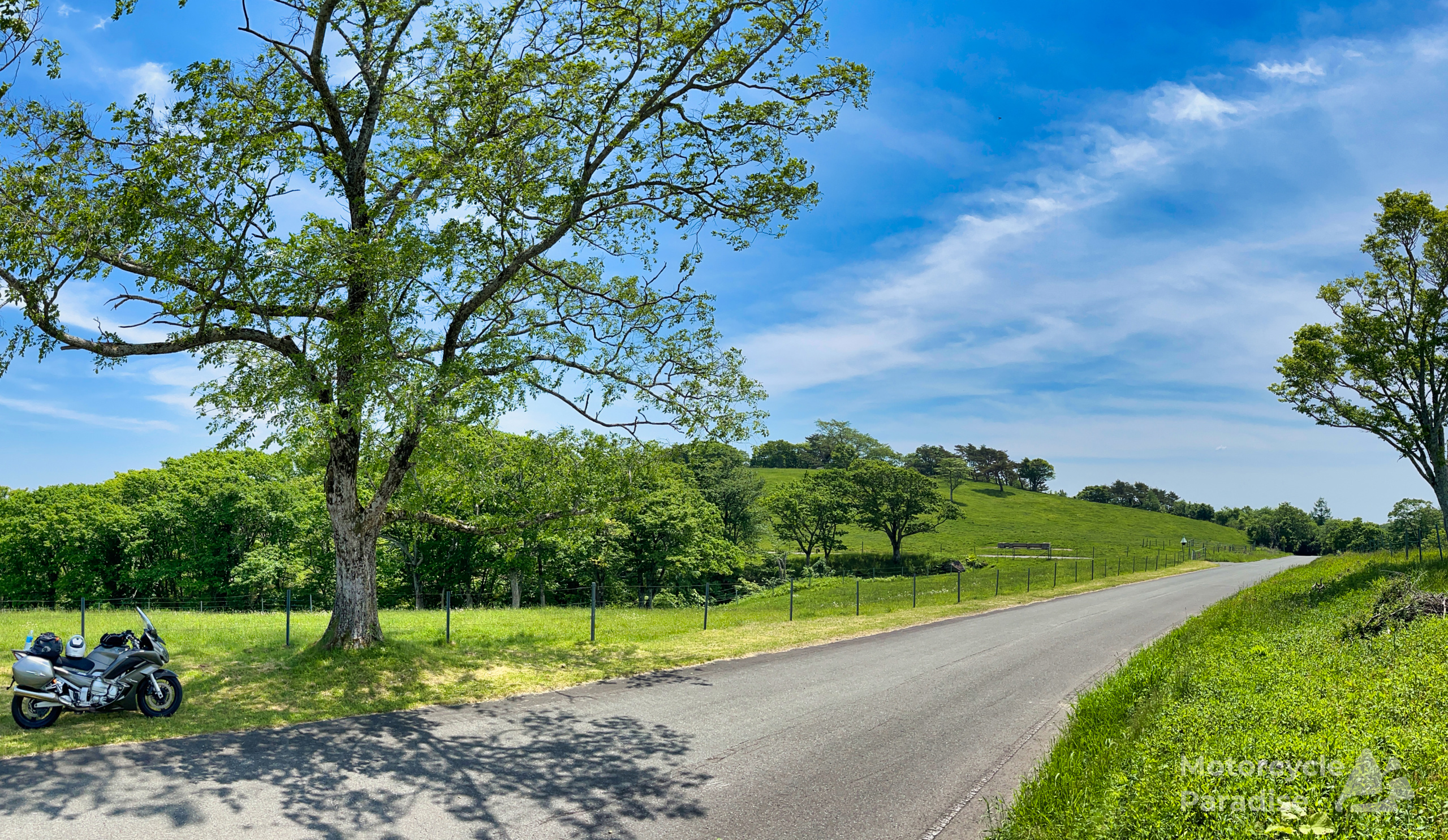 Seeing just one car in two hours this tree beckoned me to stop for a picnic lunch today where my camp chair was broken out to enjoy a peaceful interlude.
This spot reminded me a little of my teenage farm home and I reflected on being naïve and ignorant for so long, but those were also the best years in some ways.
Riding south from these high grasslands and passing a sign for a viewpoint my first thought is got to get moving but why not turn around, it might not be nice weather next time.
The road up was mostly two wheel tracks. Wonder how a Niken rider would be on this sort of road? You cannot fit both front wheels in a single wheel track then you also need drive wheel on clean path?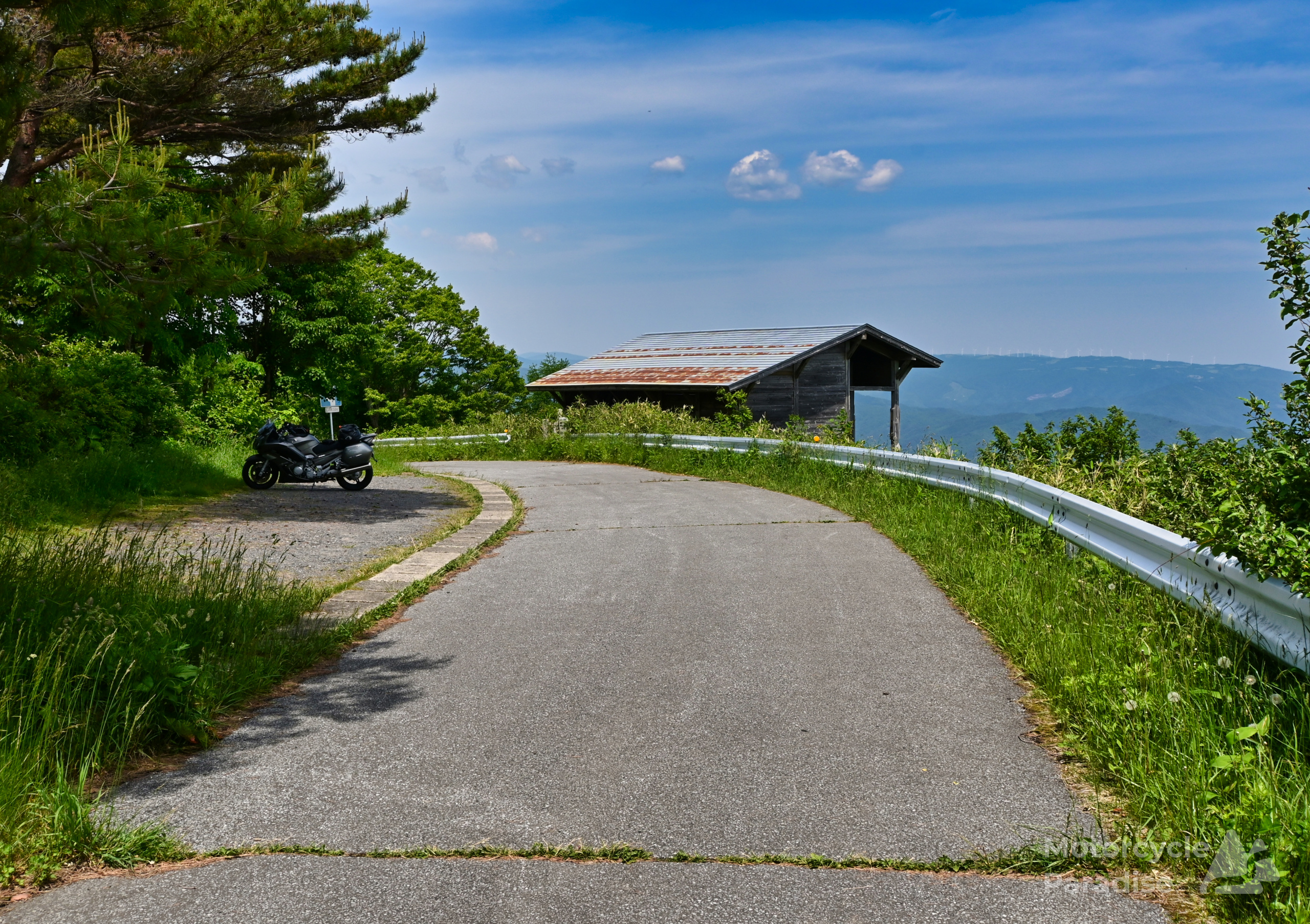 Takashimizu Observatory with picnic shelter. Nice spot. Turn off every chance on tour, the journey is the destination.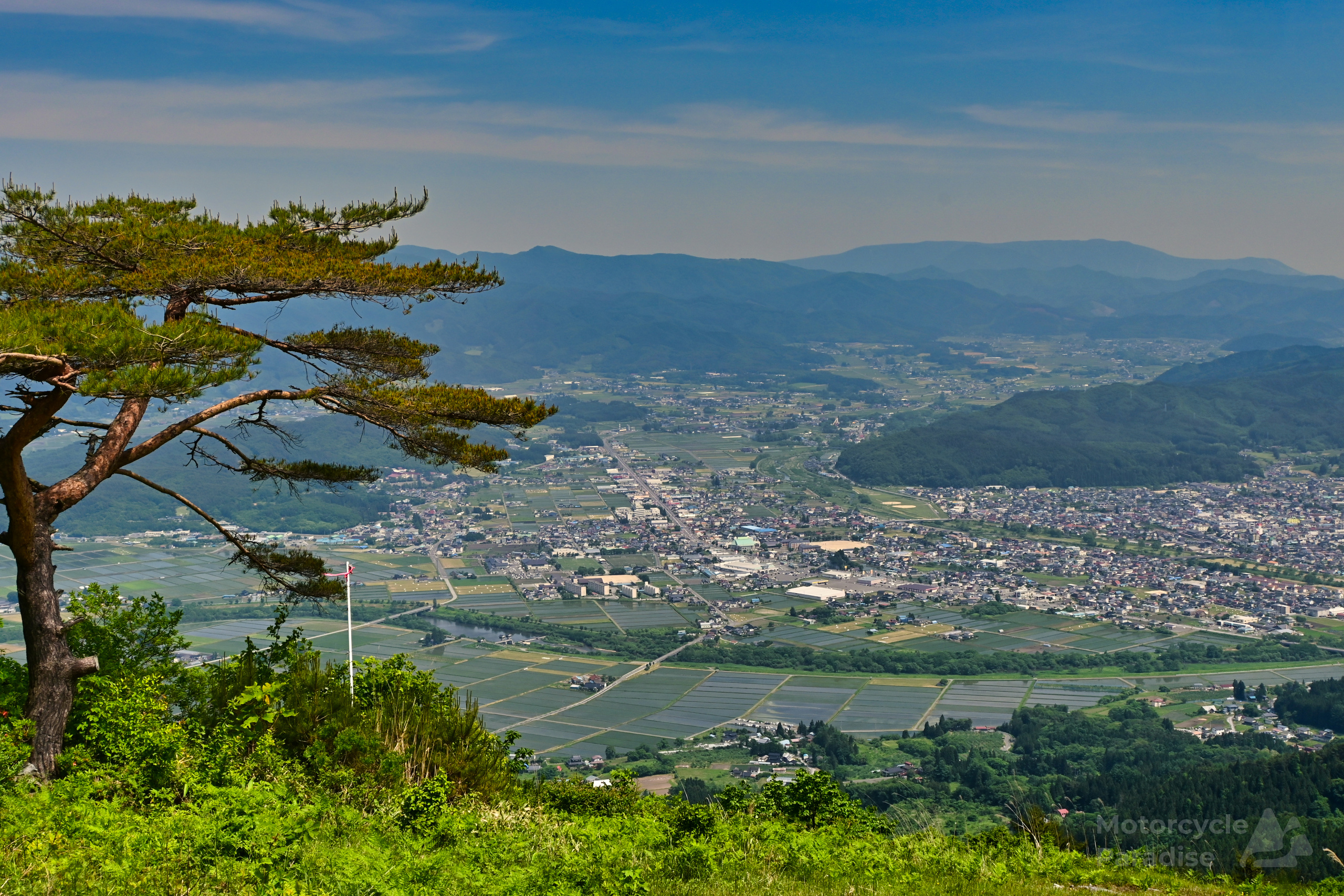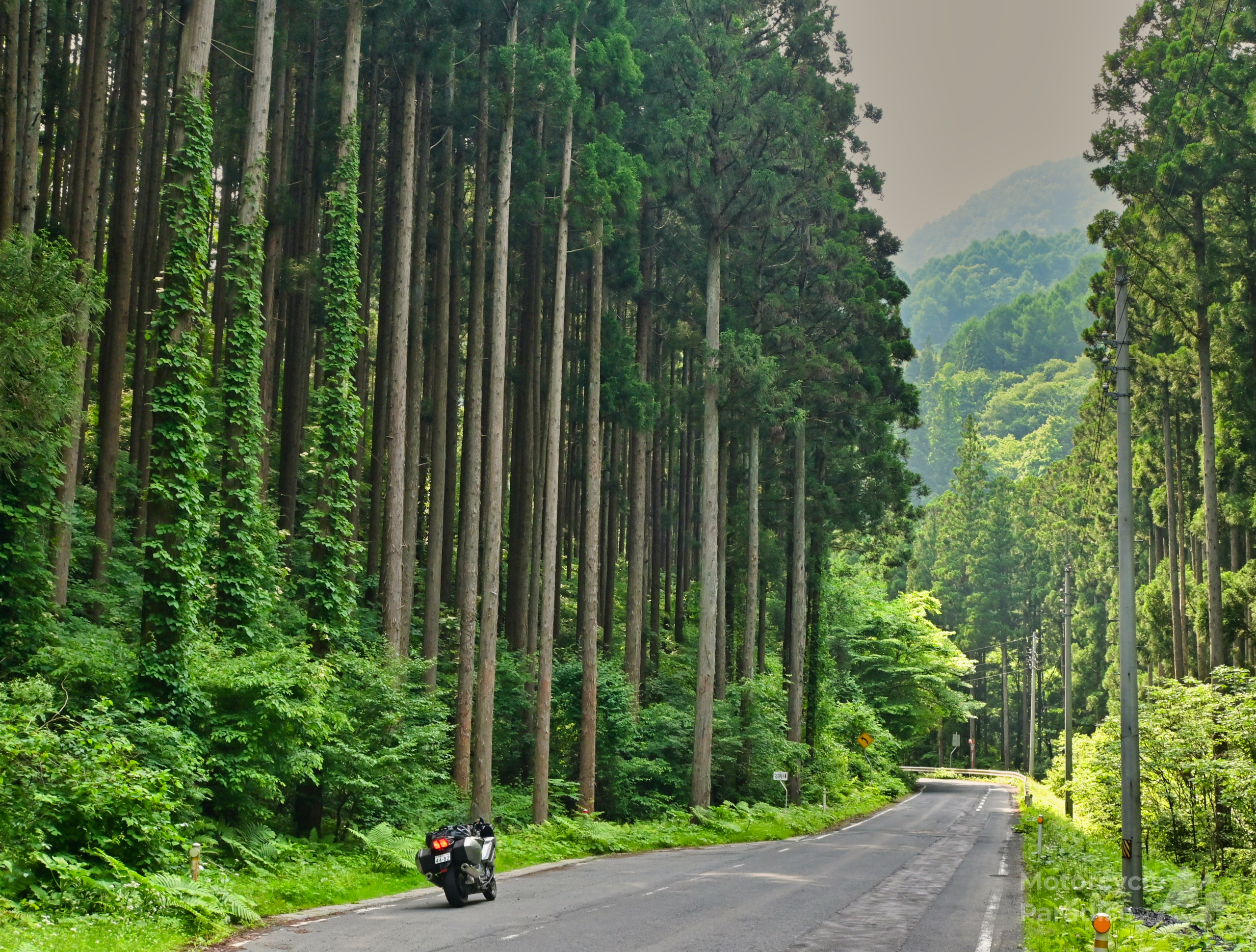 Sometimes the Japanese cedar trees create wooded canyons for you to ride through.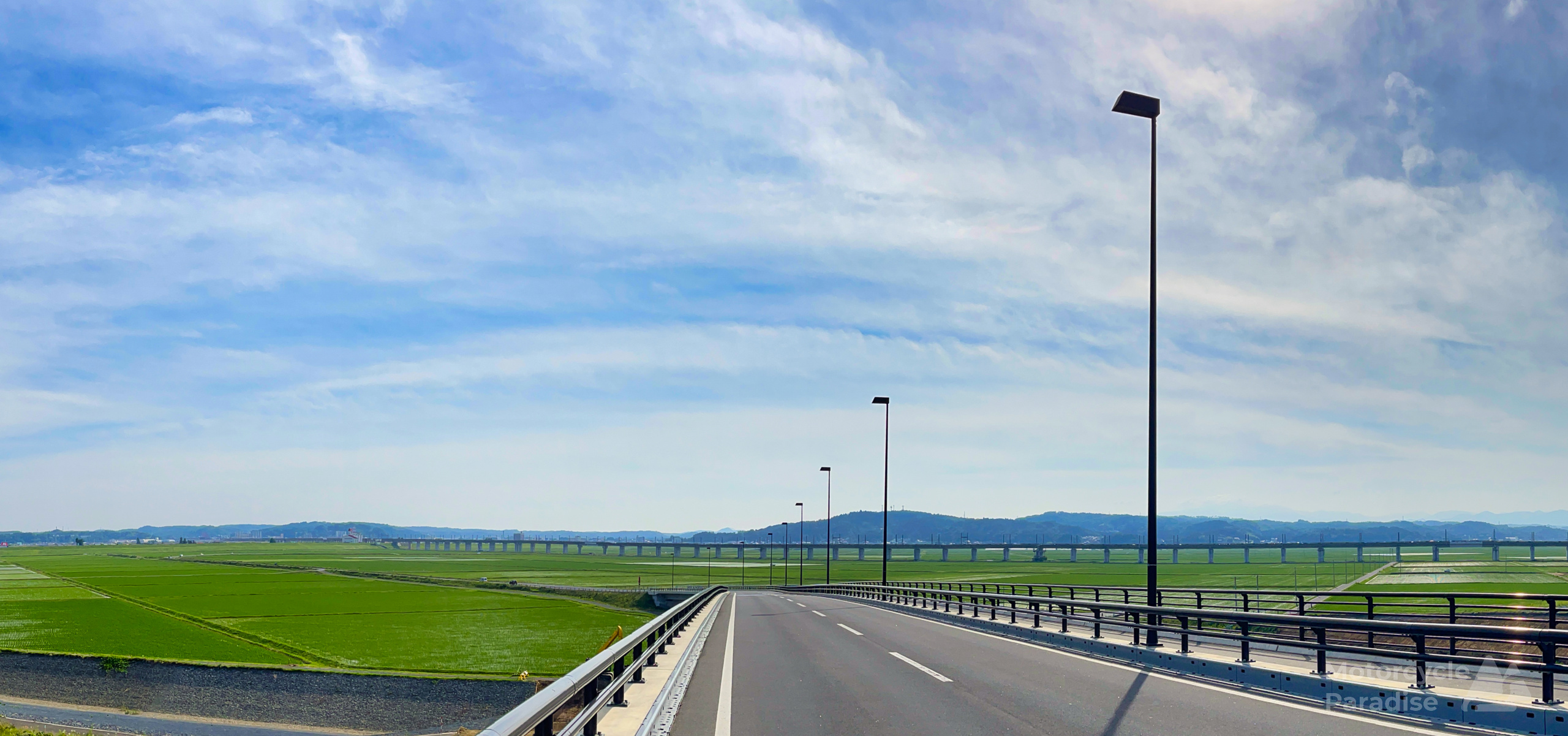 Turned out to be another long day, but one of superb riding.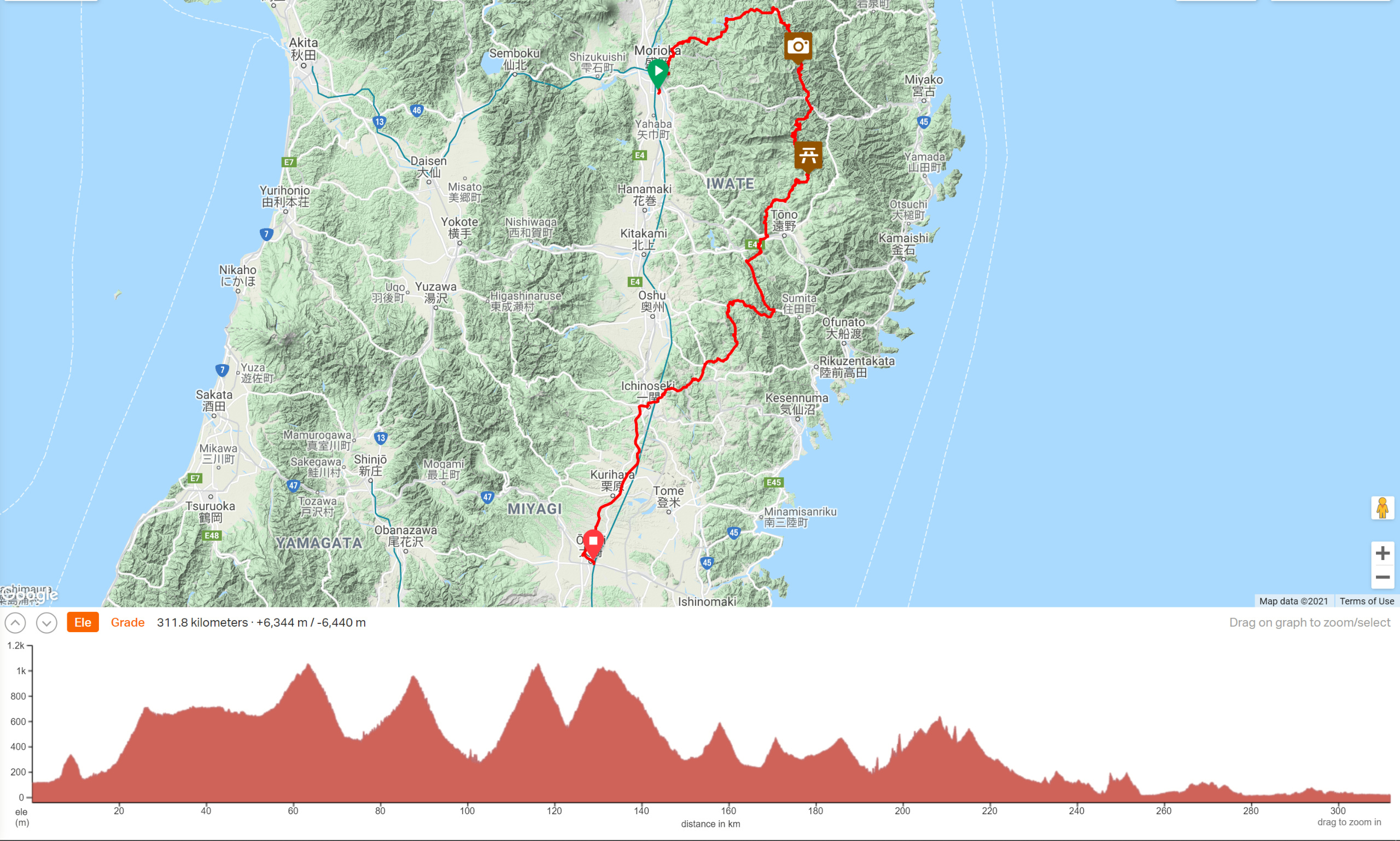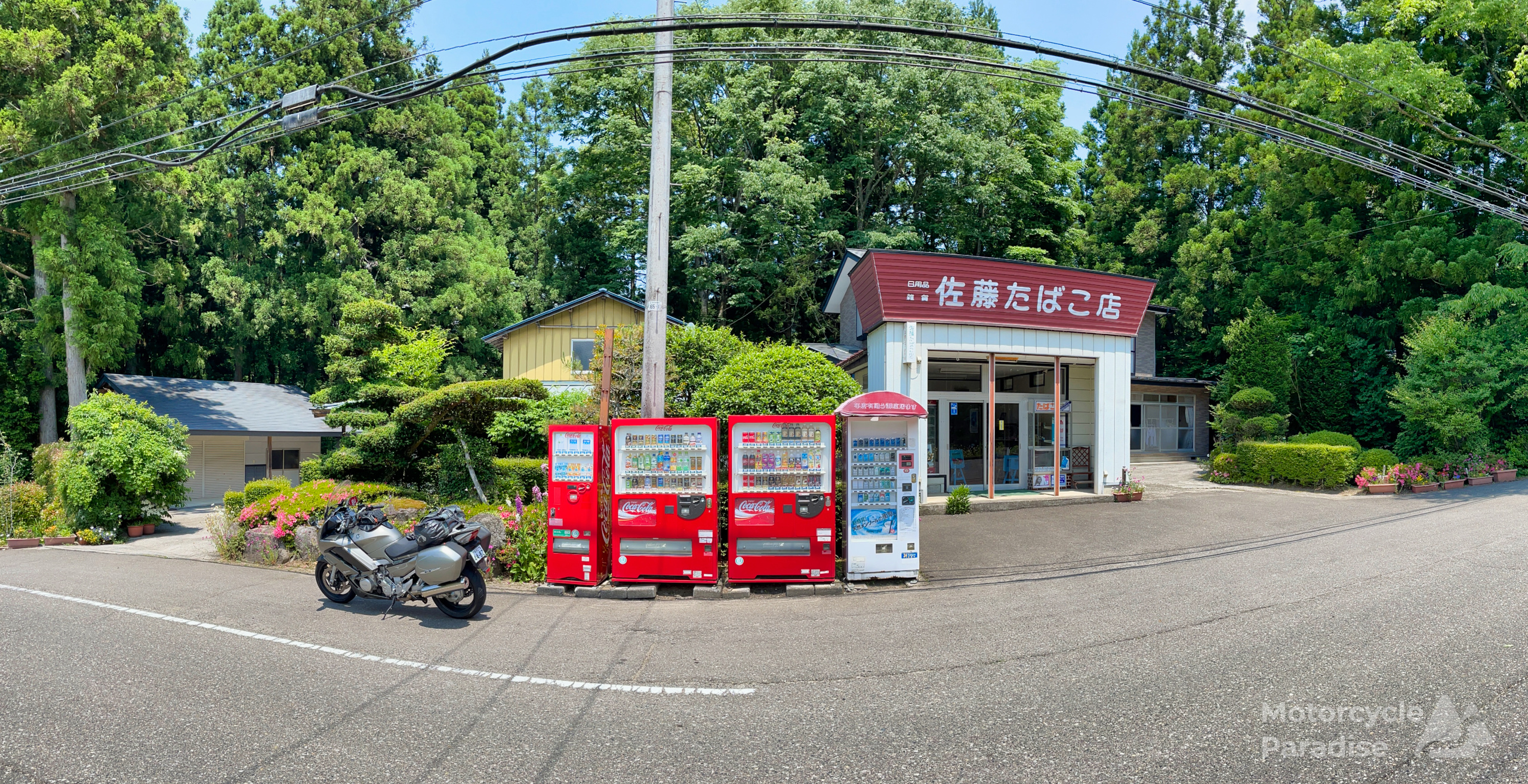 On back roads this morning day 6 skirting around Sendai. Like much of Asia putting power lines underground has yet to catch on which seems odd when the spending on other infrastructure is at a scale impossible to comprehend.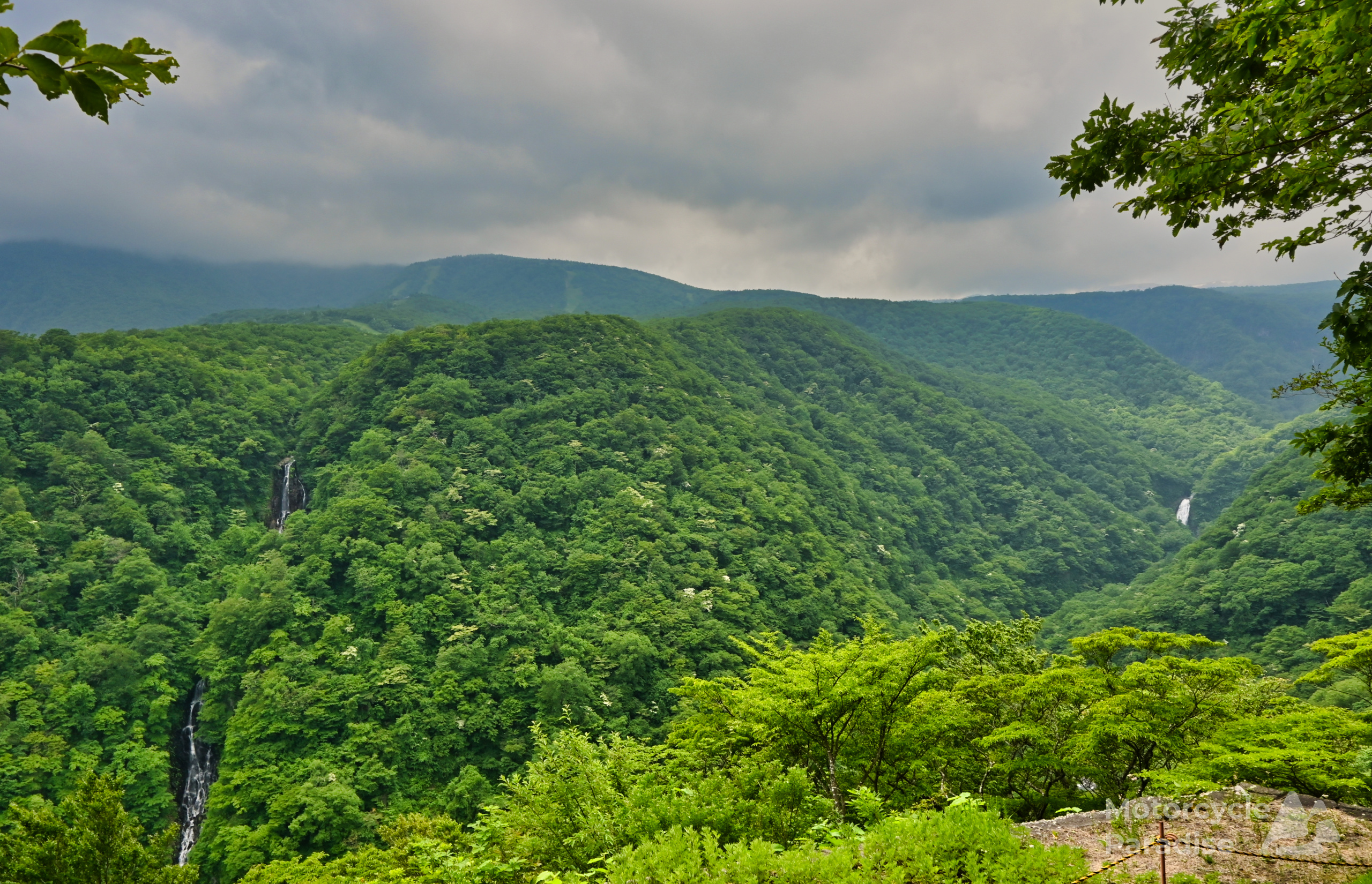 Then riding up Mount Zao immediately running into bad weather. Every time here it is same, even when all around has been fine. This view of twin falls is still impressive in the mist although my photo fails to express the scale.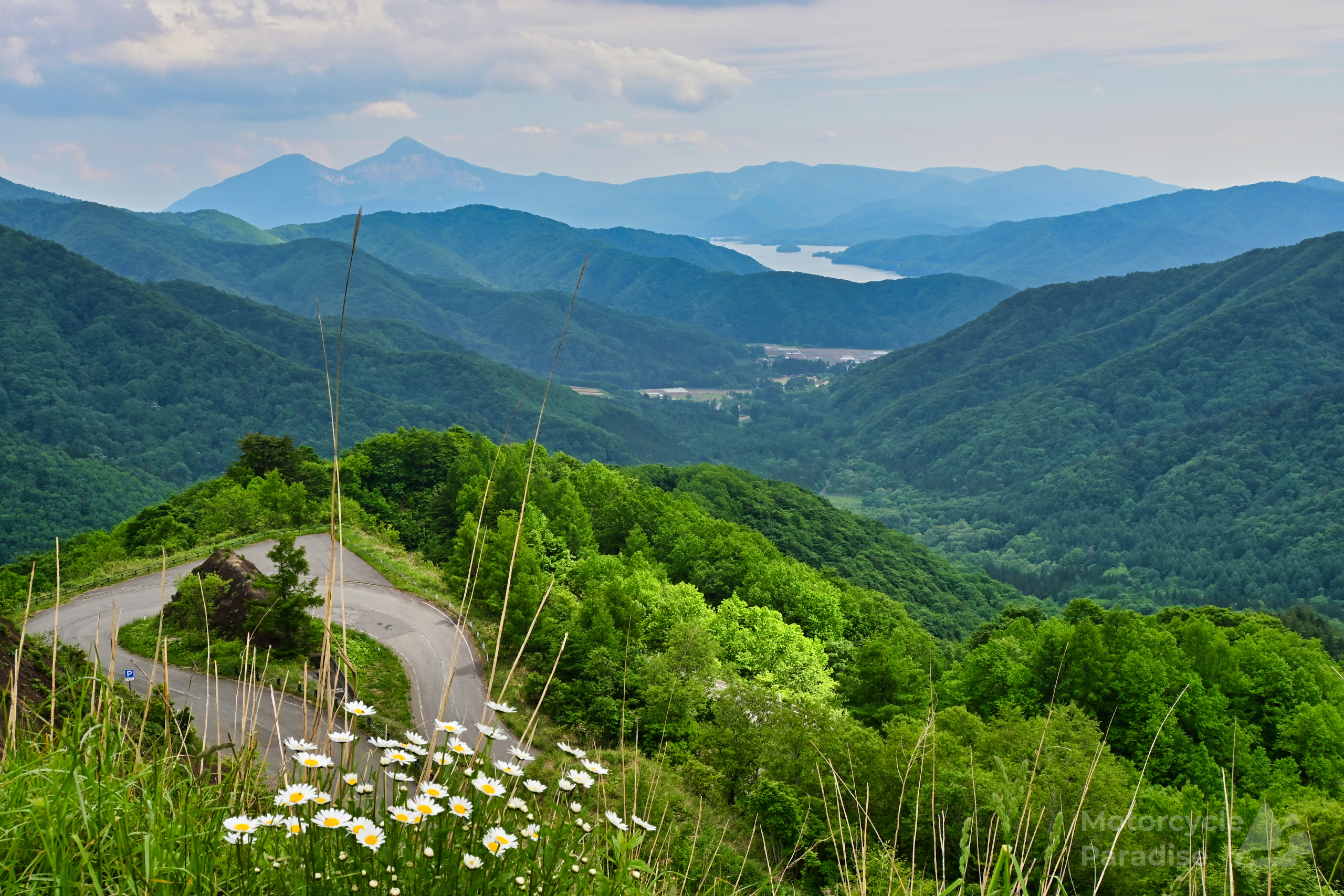 Lake Hibara and Bandai mountain, like Zao, are also areas difficult to strike fine but the riding is great!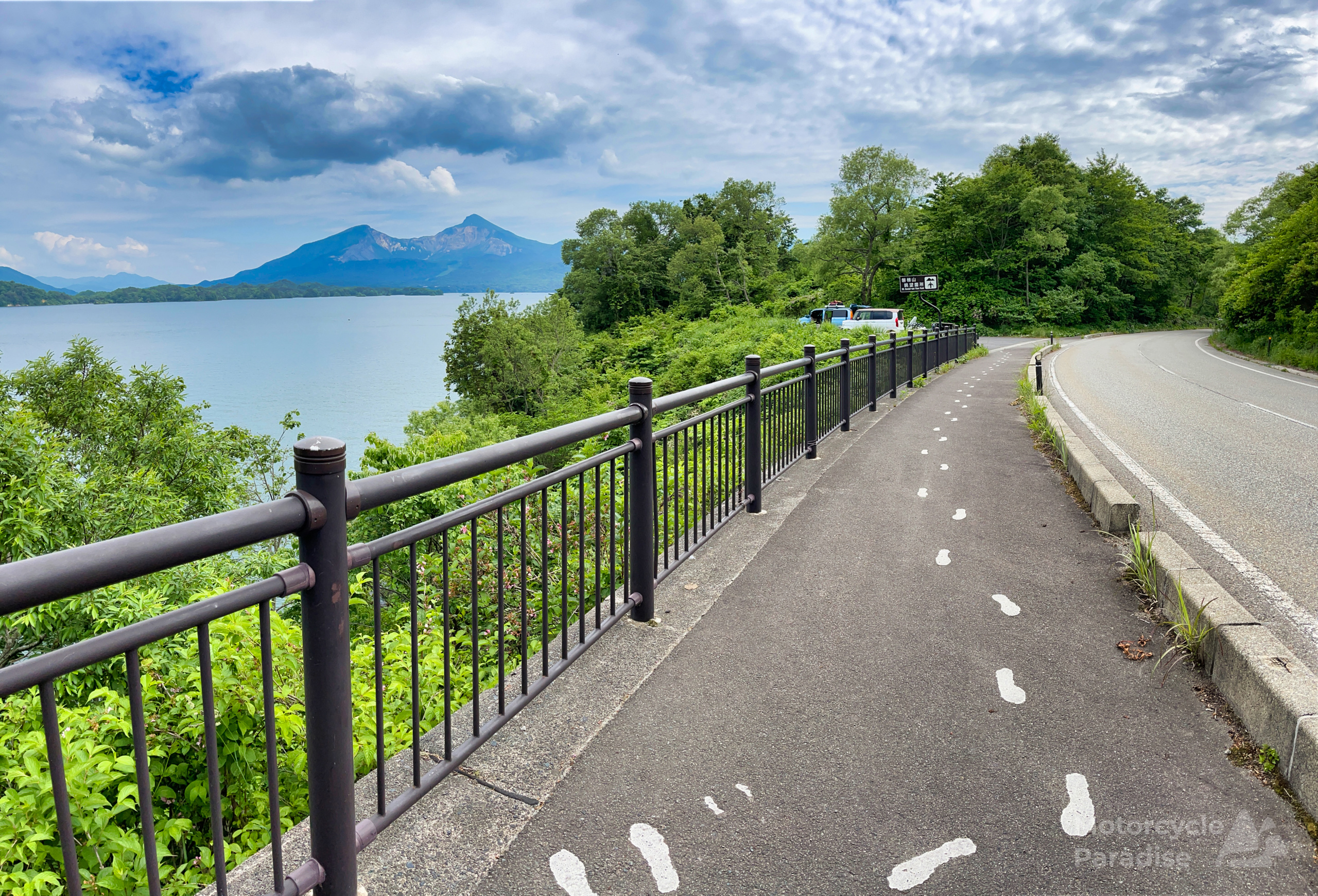 Fun idea, follow footsteps to nice photo spot, the weather just doesn't want to play.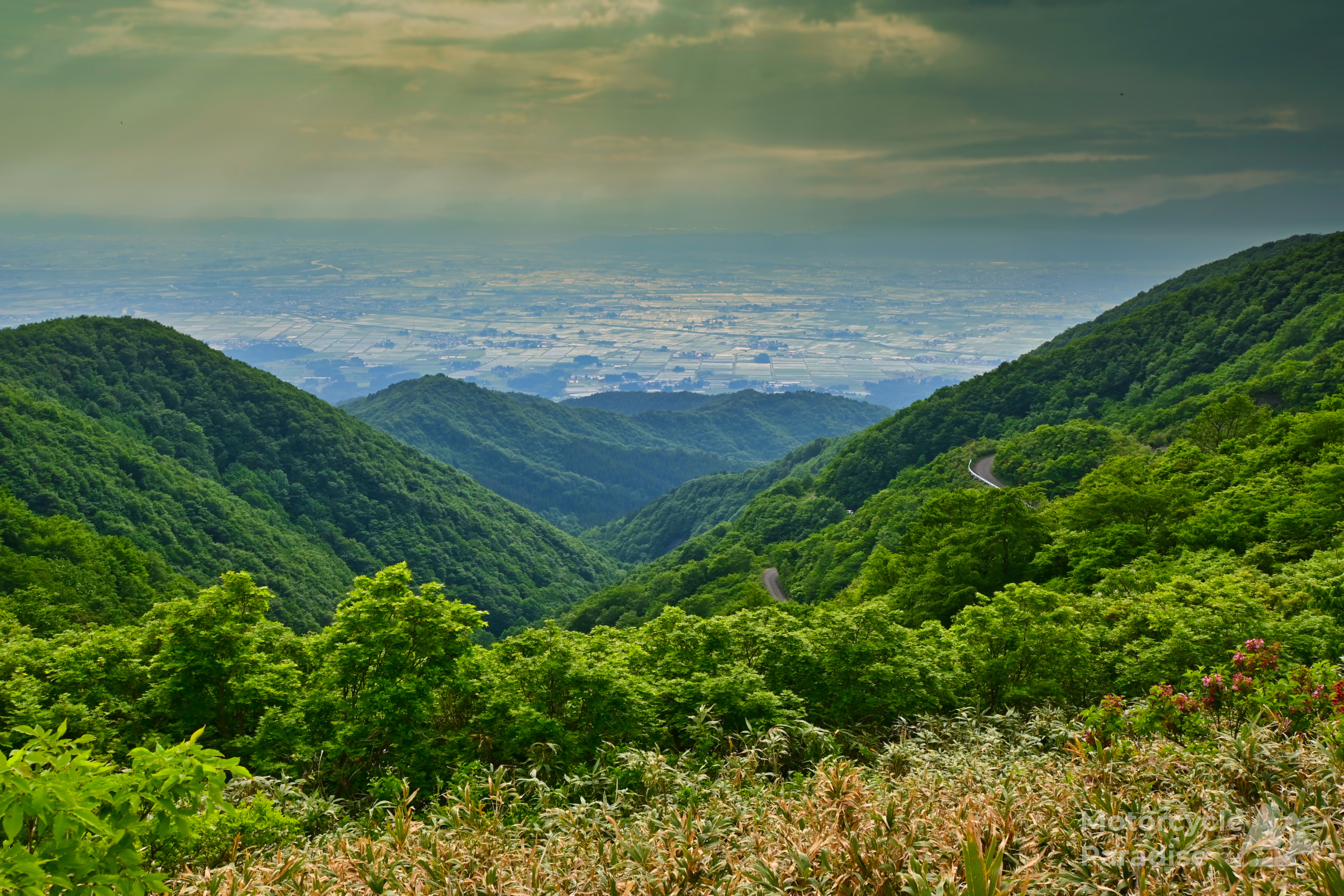 Late this afternoon I visit a place called the Oguninuma Marshlands, previously the narrow mountain road there has been closed so it was nice to reach the top today even if not ideal conditions.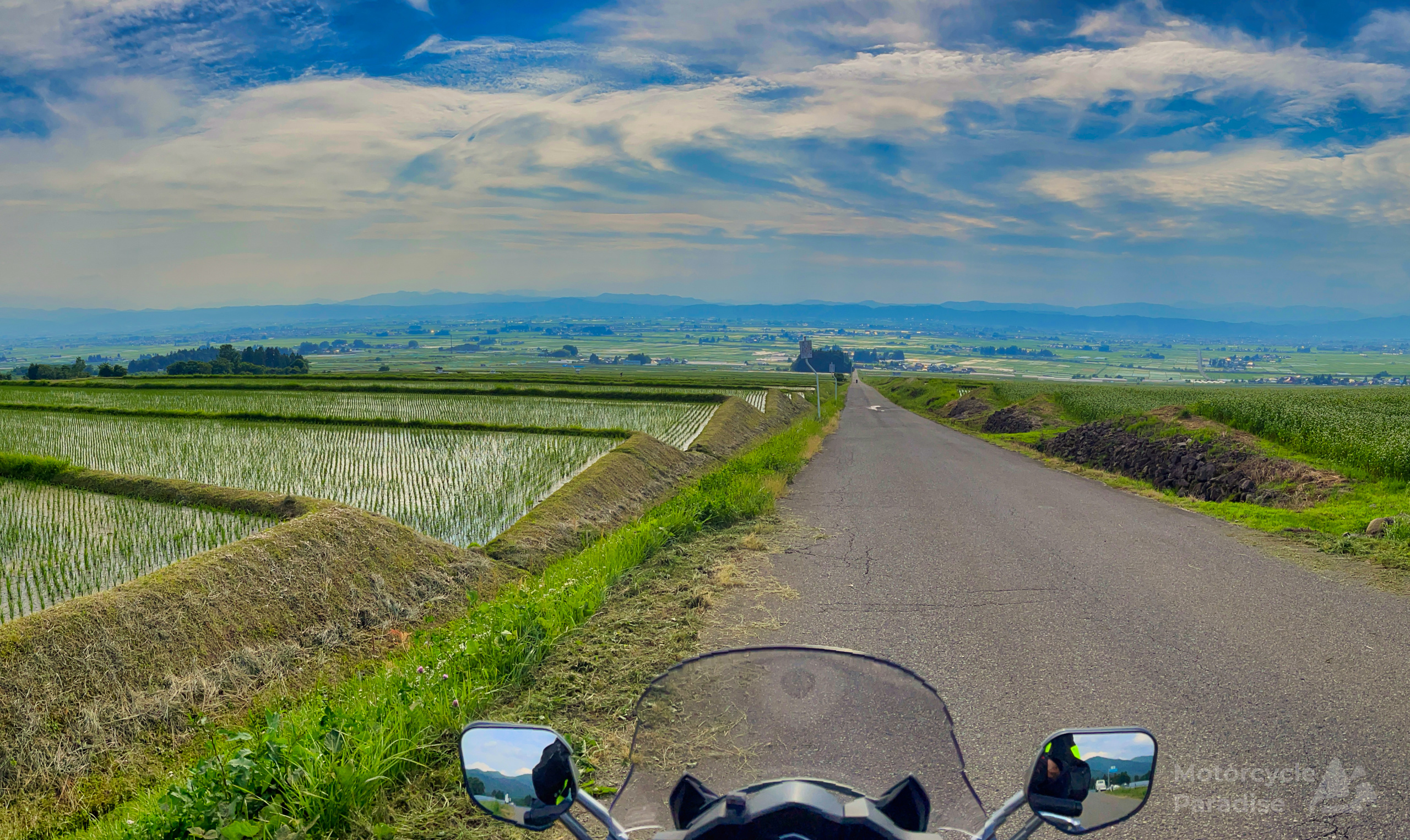 Steamy hot finish as the sun reappears. Could have done with mesh summer gear today.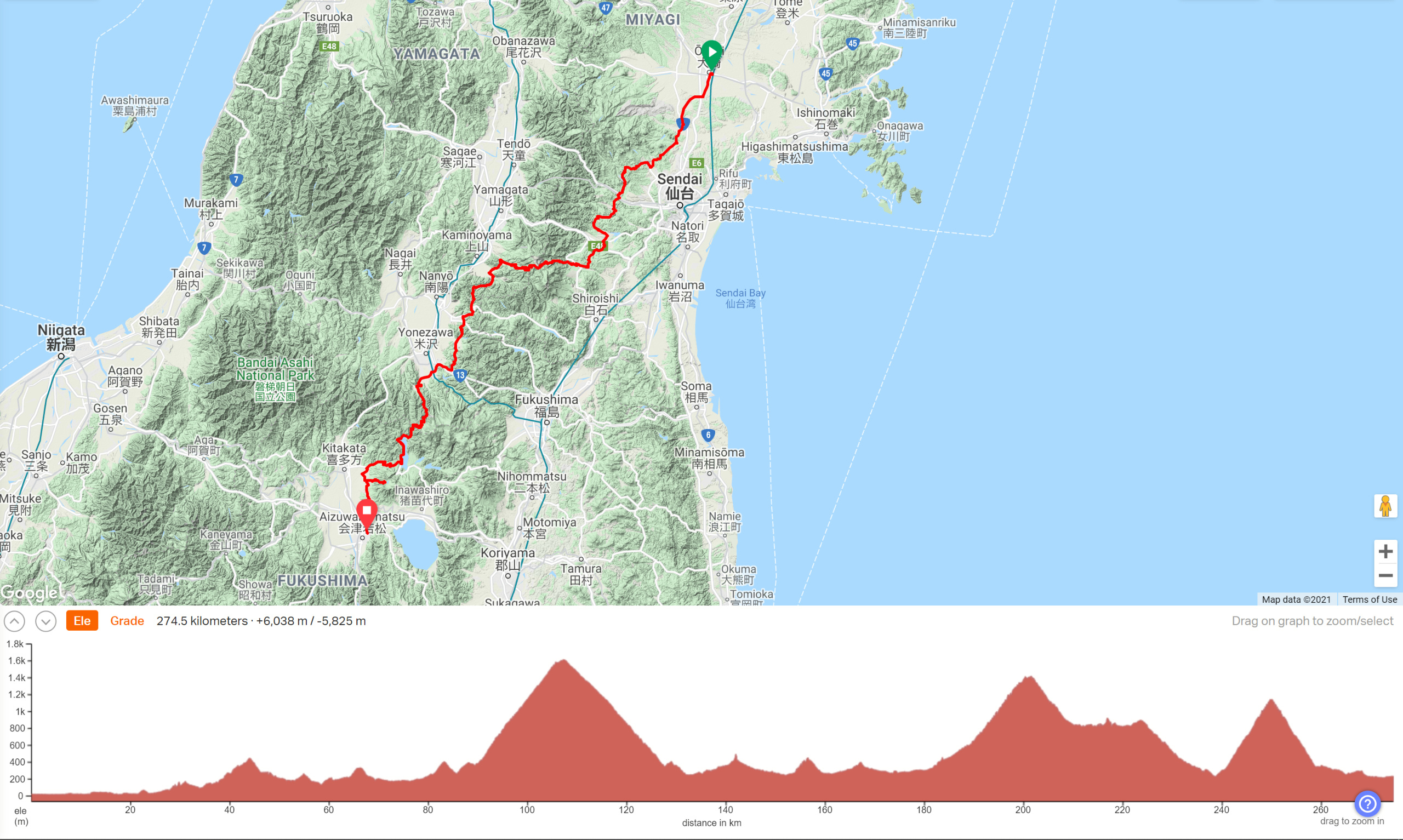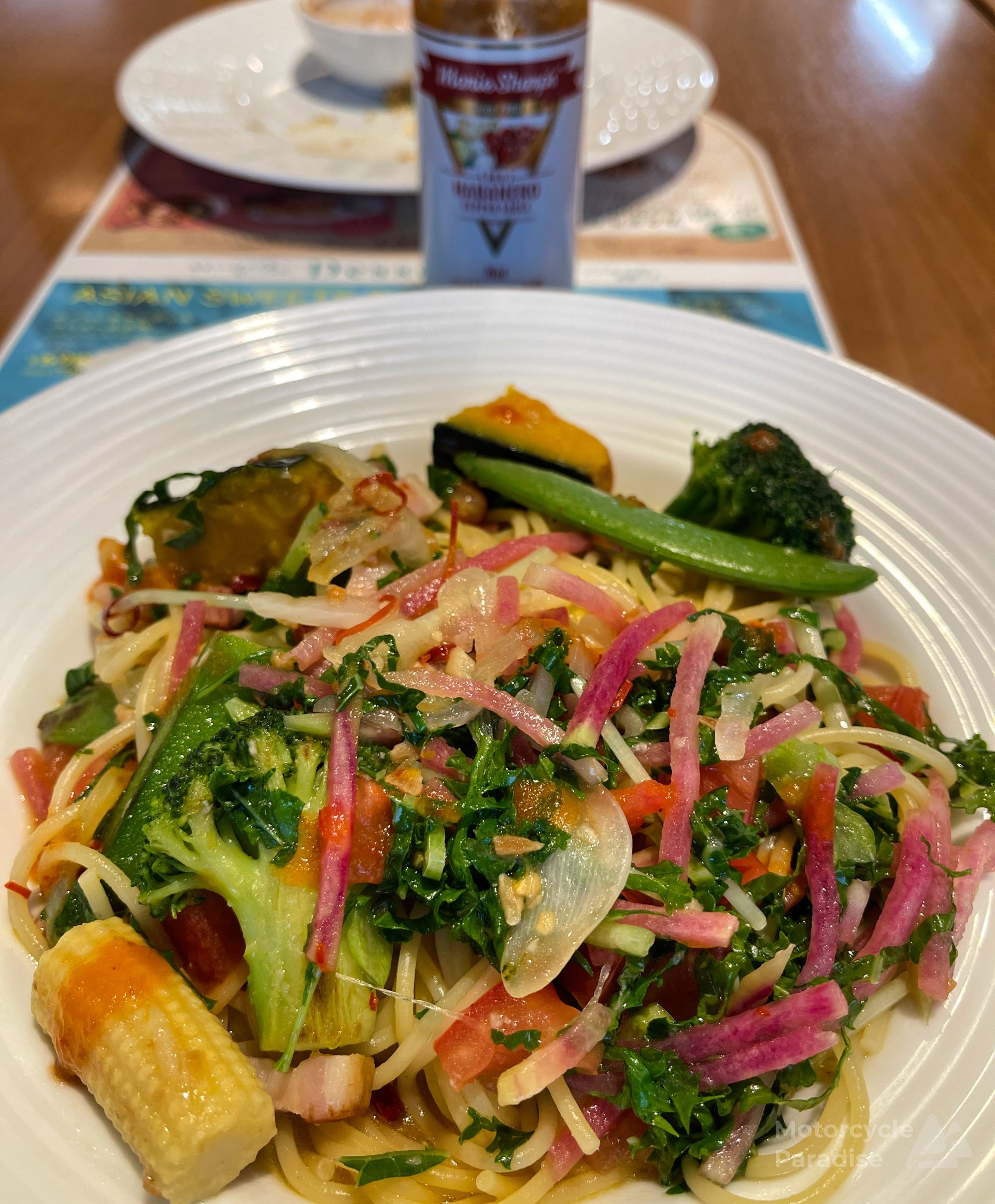 Ever since going to Sicily I am a fan of pepperoncino pasta and will generally order if on menu. Tonight's version was 'different', especially the pink radish.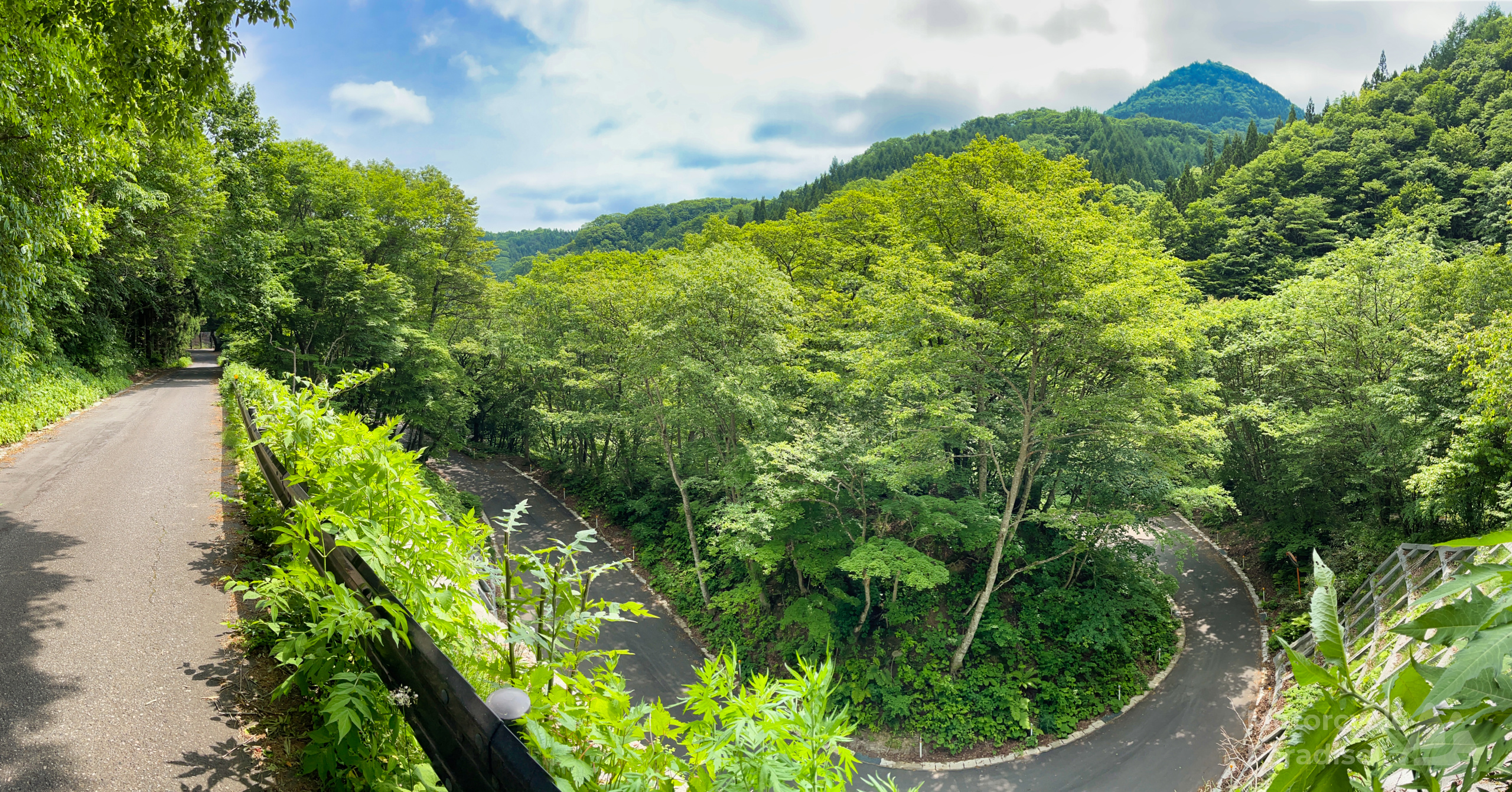 Leaving Aizuwakamatsu dry roads over nearby Mount Ishi were great riding. Then exploring this interesting backroad (above) emerging to join the many Sunday riders on popular roads of Shirakawa – but never captured any of it well.
From Shirikawa south the weather was starting to turn and around Nasu was light mist so at this point time to start home.
The sort of lunch you might find in one of the expressway parking areas and a strange fusion of cola and tea which was delicious despite not being a fan of tea.
Over lunch watching how passengers in Japan often ride in rear of cars leaving the front passenger seat empty still amused me.
Rain liners in for last hour as both the fine weather and tour concluded.
I rode a little further each day this tour to include Iwate within the timeframe however in the heat a little shorter route and getting off the bike earlier each day would have been better. #stilllearning
But it all came together and lucky to be in such a great place to ride while international borders are closed.