I am very pleased with my Macna Vosges jacket but had reservations about using a similar 3 layer system in riding pants however when I saw the Macna Fulcrum pants at 55% off it seemed too good to pass up.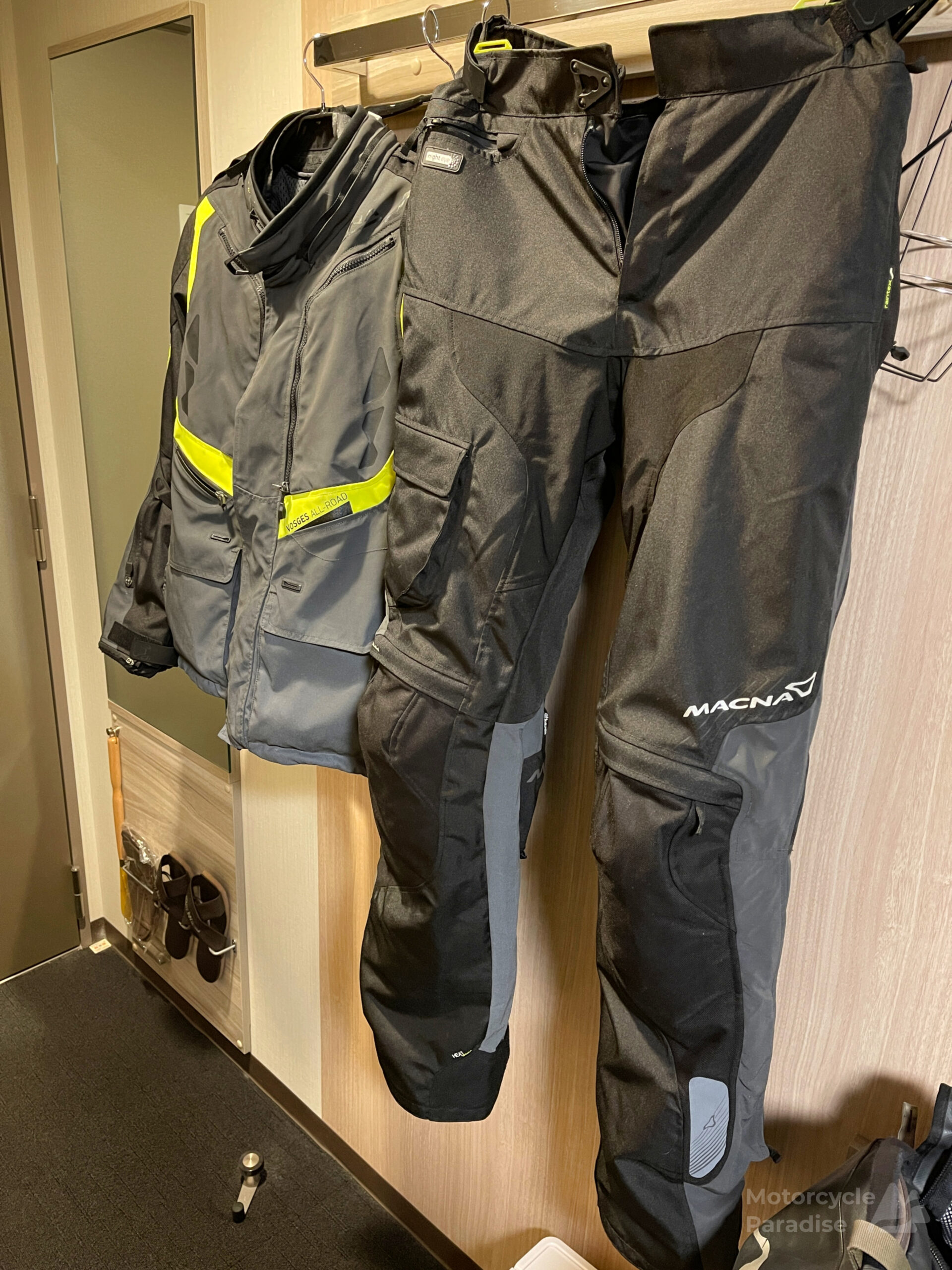 Seems like Macna are leaving the Japan market as all their gear was listed in clearance sale by Naps who are sole retailer. I was too slow and most lines had sold out but the main thing I needed was new pants and here I was in luck.
Design
These pants use a three layer system same as my Macna jacket. The outer shell is made of different textiles with reinforced areas, non burn protection as well armor in knees and padding at hips. Inside this is Macna's breathable rain liner and inside that is the thermal liner.
I was concerned the three layers would be too bulky, the jacket is quite substantial, but Macna have put considerable thought into the design of how the liners are stacked inside the pants. The pants are no thicker than my two layer Alpinestar ST-5 Drystar pants were and do not feel heavy – just solid. Size is accurate to Macna's chart, these are an XL which I needed to tighten the waist in a lot but length is correct.
The liners use zippers top and bottom and removing or installing the liners is considerably more time consuming than the clip in type, but the zipper system is part of how everything sits in right spot to stop the pants from feeling bulky.
My other concern about a three layer system is if you were wearing them no liners and encountered rain you need to remove the pants to install the rain liner thus need to find a place to do that or be in underwear on side of road. But I came to conclusion that's an unlikely scenario as I will not be wearing them in Summer as textiles are too hot and other three seasons the breathable rain liner can stay in – just like the rain liner in Gore-tex gear is always fitted.
I will use them without the thermal liners in Spring, that decision will be made night before based in forecast in hotel room where liners can be removed easy or if it got truly hot on the day I would simply change to my BMW City 2 pants, as I already do with my Alpinestar ST5 Drystar pants. Both liners removed is still an option but not one I will ever use as I always carry summer pants with me in Spring when warmer days arrive.
These pants like my jacket Macna label as 'night eye' colour scheme. What that means is they are dark grey/black two tone and the grey sections are highly reflective when headlights are on them. I like the dark colour it does not show road grime unlike the pale grey Alpinestar Andes pants I had did but I am also going to be easy to see in all the highway tunnels here with this gear.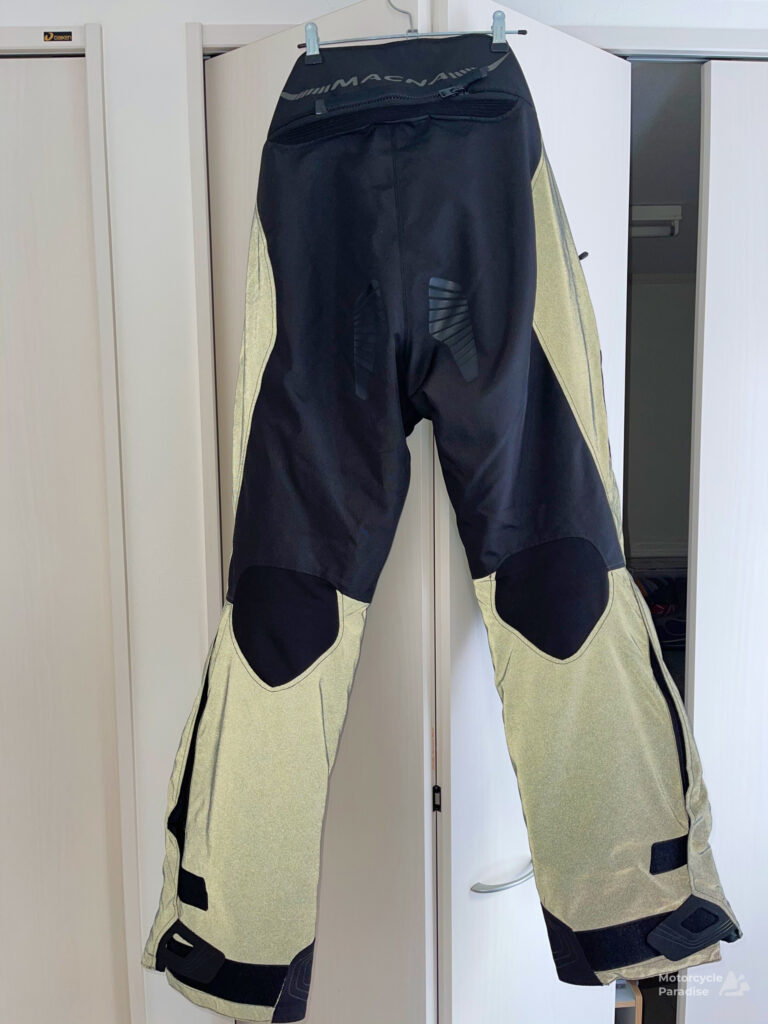 There is a coin pocket which is something I have wanted for ages in cash society Japan. Two zippered side pockets which I think are waterproof – Macna don't say much about their gear specs which seems the way of a lot of brands now – and a leg pocket which is clearly waterproof.
There are two air vents just above the knees which is good location to scoop air into upper leg area and make the pants breath better even with the rain liner in (as does the arm vents on the jacket). Something I will use to regulate temperatures on those days where it has warmed somewhat in the city but mountains are still cool.
Function and comfort
The materials used and build quality is very high quality. And so it should be if paying full retail as these are not cheap pants, but I got them half price so was taken back a little at just how superb they look and feel on compared to my Alpinestar pants.
I was also delighted to find the form of the pants is correctly designed for curved legs of a motorcycle rider. So many pants are just straight cut and then ride way up your legs once on your motorcycle. The lower legs of these pants naturally moves up but it's a modest amount and the length of leg is generous. The lower legs open with long zippers for easy access and have two velcro closure options.
The knee armor placement is adjustable but I found it right straight from factory and it stays put when legs are bent as well and being comfortable. The rear upper of pants extends high and no wind is going up there on a cold day. There are adjustments for waist that use the new less coarse velcro, a easy clip in type of buckle for main waist closure and place to attach suspenders if needed but those are not included.
Riding in very cold 2 degrees and light drizzle I was totally warm and dry in these pants but the rain was not heavy enough for me to declare these as totally proven in wet conditions. However I can say this; they use the same Raintex liner as my Macna jacket which has successfully kept me dry in extended rain. The liner in my inspection fits in such a way to cover upper to lower with no gaps or obvious places where rain could defeat it.
I feel confident about these pants – but is there any hidden problem? I cannot say so far as not tested in heavy extended rain yet nor a year long test where weaknesses might appear. For now, cold and light rain ok, expectations for steady rain same but I will update this when I eventually have had them repeatedly in rain which might be late in year.
So all things considered very impressed so far, especially at half price. Full price is a lot however I just moved my 2015 Ireland ride from old blogger to wordpress and was thinking if I had gear of this quality on that ride I would have had no problems dealing with the cold and rain and besides having a better time possibly I would have pushed on and completed UK and then who knows where that might had lead me. Buying good gear even at full price is better value than having a ride ruined by using cheap gear. It's a lesson I have a hard time learning as I am hardwired to be frugal from a modest upbringing but I'm slowly obtaining better gear.
No affiliation.
Update: At last I am back on the road touring and I can confirm these pants work as well as my Macna jacket in the rain after two solid wet days.
It is important to pay attention to how your jacket is positioned so to be sure it has not bunched up to let water more easily be forced up inside to the top of your pants as then it will find way to your underwear. Also important to make sure you keep your pants pulled up not sitting down low like some rap singer for same reason. But with due care these are all day dry pants.
The only issue I would say with this 3 layer system pants is if you are riding somewhere that turns unexpectedly hot then removing the rain liner is a bit of work and requires a place to do it as you will be otherwise standing in your underwear. I'd suggest bringing your summer pants but I know that space is limited. I am on tour now with no room for summer pants and have just made do with the liners in. Being textile pants they are never going to be as cool as proper summer pants but then once it hits 30 it's hot if you are not moving regardless and becomes mind over matter – not what you are wearing.