Japan has had low number of Corona virus cases and life is relatively normal but sensing a change is coming I decided to do a small ride to see some snow capped mountains and blossoms.
I normally don't ride in Japan this time of year because the landscape is grey from winter however it is when the national flower of Japan, the cherry blossoms or sakura briefly burst to life.
This is a good time to see Mt Fuji which looks it's best when snow capped. It's much higher than my photo suggests and a cloud magnet but I was lucky they parted for me.
Very cold around the base under those clouds about 5 degrees but sunny and 12 degrees elsewhere as I stop once more to see an iconic view.
The tress may still be faded but the roads are as nice regardless.
Picnic lunch under the cherry blossoms on a mild spring day. I feel a huge weight has briefly lifted after a month of worry and grim news.
Only some sakura are strong pink.
On my backroads tour last summer I found a very high point that I wrote would offer a grand view of the alps when they are still snow capped. I made my way there this afternoon but alas near the top the road was closed. At almost 2000m high I'm a little too early in year.
Instead I settled for a more distant view from the pretty town of Takato where all the school children wave and say hello. A world away from Tokyo despite the short distance.
I eat in my hotel room. I wear a face mask whenever off the bike, use pay at the pump gas stations and apply hand sanitizer religiously everywhere. Tonight its 3 degrees and I felt like Taiwan style spicy noodles with a glass of Chilean wine to follow. That may seem odd mix but that's how I roll.
I'm growing re accustomed to the weight of the FJR next morning. I appreciate the wind protection and heated grips in the 9 degrees and have it turning the tight roads fine as I ride north west.
What a joy it is to be riding a motorcycle again in Japan.
Mostly good surface and sights on route 361 even if the scale of things escapes my photography.
Japan does have some highly unsettled weather. From blue skies mid morning to gray and cold two hours later. This is my first ride with an electronic toll device for the expressway. It is a substantial cost saving as well the convenience encourages use so seeing the next mountain range enshrouded in mist I pay a couple of dollars to ride under it.
Even with brown trees the world heritage grass roof village of Shirakawa-go is a sight.
And just like that we are back to blue. The riding continues superbly.
I use the expressway to skip the urban sprawl of Toyama city then come across a lovely park in a small farming community. An old guy there talks to me at length. I understand about 10% but enjoy all the same.
I revisit route 29 that twists and rises and falls like a rollercoaster then stop at some small towns stuck in another time.
What a great day.
Breakfast is served, plus selection of breads, juices, coffee and teas. This is why I always put on weight doing rides here.
There is much to see around Noto island but in the morning low haze defeats my sightseeing and eventually I just ride on north to try clear it.
I waited some time for brief light to filter through but I'm a glass half full person, and still happy at seeing Mitsukejima.
An early lunch but I always go with what feels right.
I ride around the top of the Suzu cape which has terrific roads. Coming back down the north west side I arrive at another park full of sakura.
The light was grey and few drops of rain. I could try fake some photo here using software but that's not me.
Alas the weather deteriorated on what is the more scenic part of the cape road.
The rain started so I 'put the hammer down' so to speak, to out run it. Once clear I tried to visit a viewpoint on the 'Noto Sunset road'. But it turned into a goat track long forgotten and the view deck surrounded by forest.
Taking a break with an iced coffee I had in cold bag in panniers I again wondered despite always saying I want a smaller lighter bike maybe this one is not bad match here. I spend 1/3 time on sweeping easy riding roads for which it's ok. 1/3 time on expressways for which it is king and 1/3 time on tight back roads where it is too big but I manage. I can't think of a bike that does all three perfectly.
I will make my way home today but no clock to watch and plenty to see. First I visit another regional town park in bloom.
The route I want to take south is showing as closed due to snow. It's too big a detour to attempt and find out its gated so my options are limited but I take a little ride up high for a look.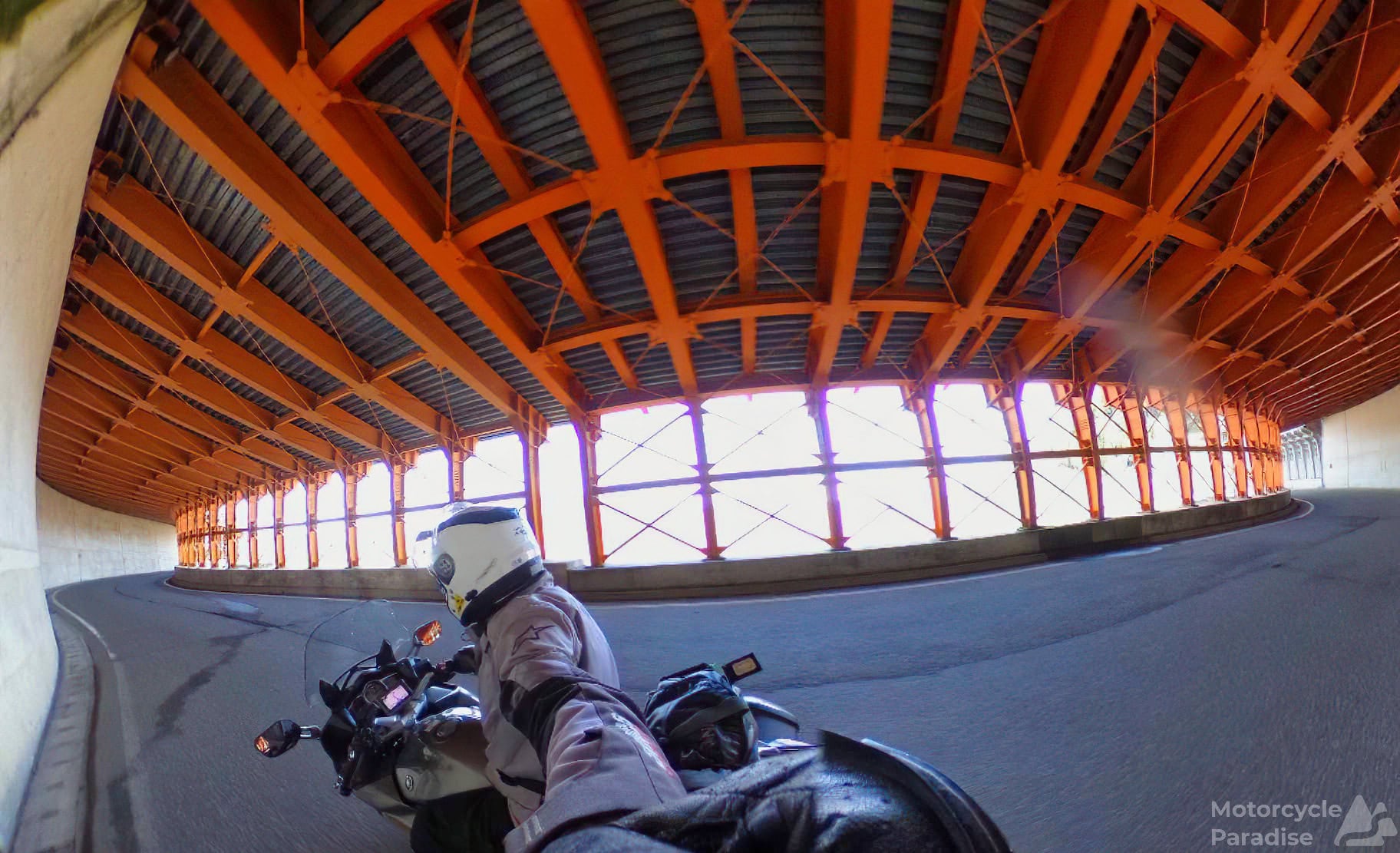 Some ice on side of road in shadows and damp patches everywhere from rain last night makes me a bit nervous. I hit black ice on a ride here back in 2009 so am very wary now.
I meander along some back roads then take the boring route 41 south. Apologies for the excessive number of 'motorbike in photo' images. I usually try limit that but with a largely grey landscape many images were lacking in my opinion so I have fallen back on this cliche.
My ride lunches were social distancing before that became a familiar term. I love nothing better than stopping at a nice spot and listening to the sound of the water cascading down a stream. I value a moment of inner peace higher than most anything now.
Looking at that snow I was correct to not attempt the other route and looking at the bike I see a blown headlight, that's a very difficult thing to access on a FJR. The reason my lights are often on in photos is the engine still won't idle so as I am pulling up it stalls and I have stopped turning the ignition off. They cannot find the problem so I am stuck with idle run stop glitch.
Well no problems once moving and this bike does that well on the expressway from Nagano 250km of highway is no joy but not difficult either. The FJR loves to sit on about 125-130 where it is turbine smooth and the rider is in a cocoon free of turbulence except for the occasional cross wind or odd buffeting from certain vehicle shapes which are soon passed. I do the entire leg with just one rest stop such is the comfort of this touring bike. Now if Yamaha could just make it a bit lighter.
Photos from my Canon G1XM3 this trip were processed with Silkypix Pro Studio 10. I see an improvement in sharpness and more naturally looking images. The onboard images from my Ricoh Theta were processed with Topaz Sharpen AI which gives a remarkable boost to what is essentially very low res photos.
Not sure when I will be riding again, hope it is sooner rather than later for me and for you.