Mini adventure
It's peak summer in Japan, mid 30's and 60% humidity which makes the 'real feel' about 40. Reminds me of my home state in February. I used to ride at home that time of year so with new tyres and fine weather thought I'd give it a go here.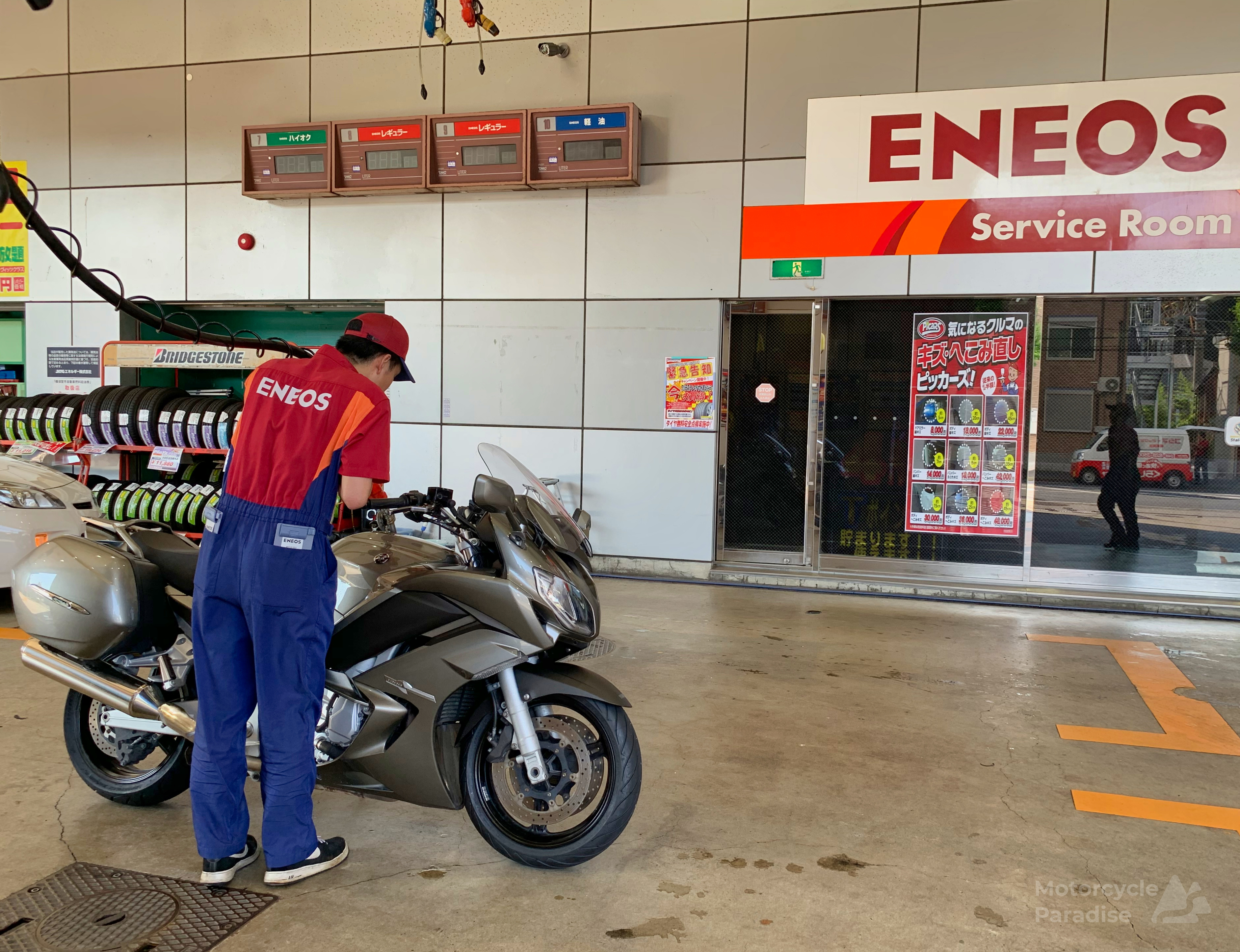 One thing I never had to contend with in my town was traffic like Japan has. 7.00am and already I am soaked in perspiration. It takes two hours to cover 50km which is why I don't do one day rides despite having so much nearby.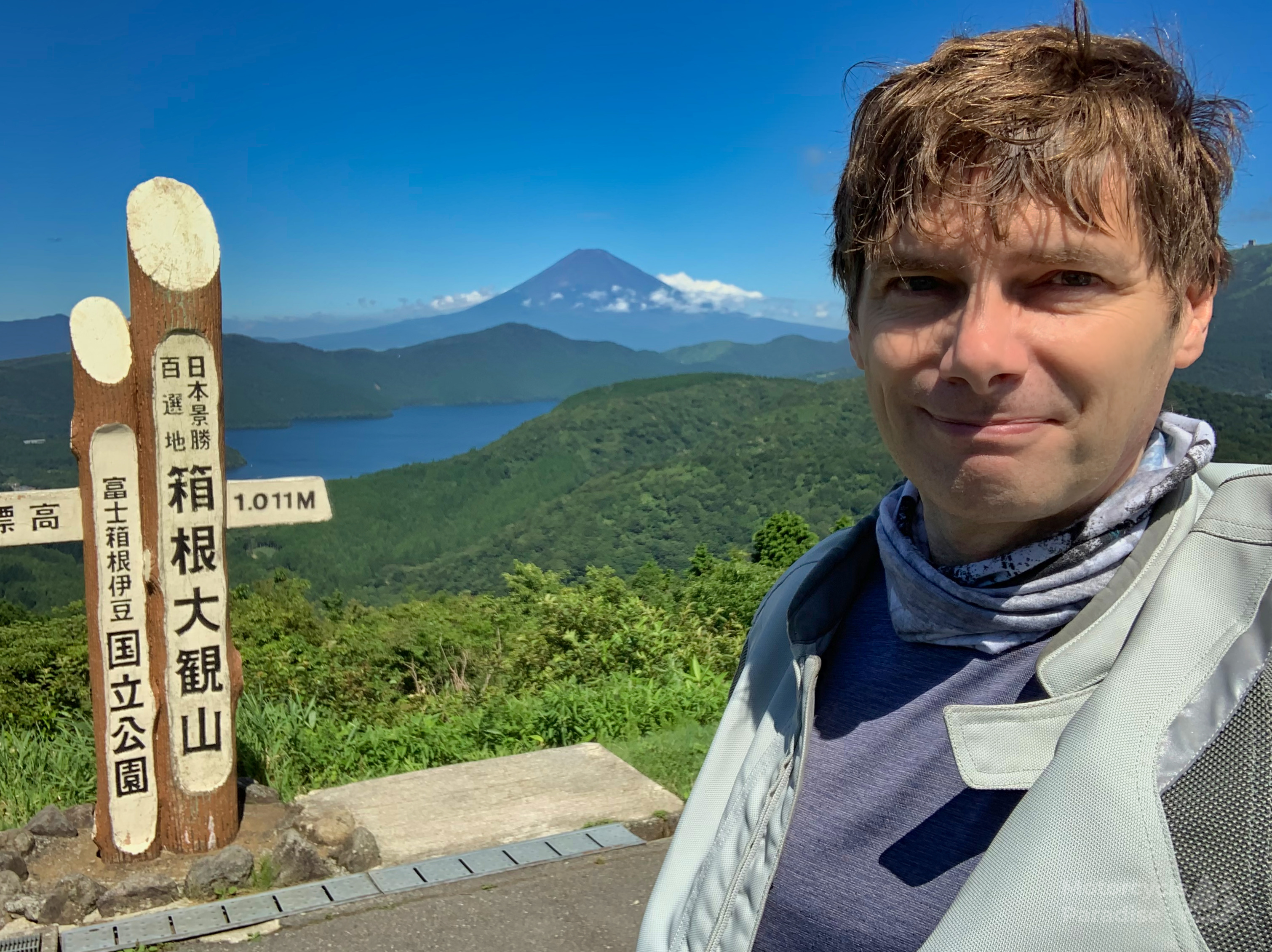 I've been considering selling the FJR and moving to a lighter bike to explore back roads. I designed this ride to test a few things. Today Izu peninsular home to some of the most popular riding roads in the country then tomorrow off the beaten track.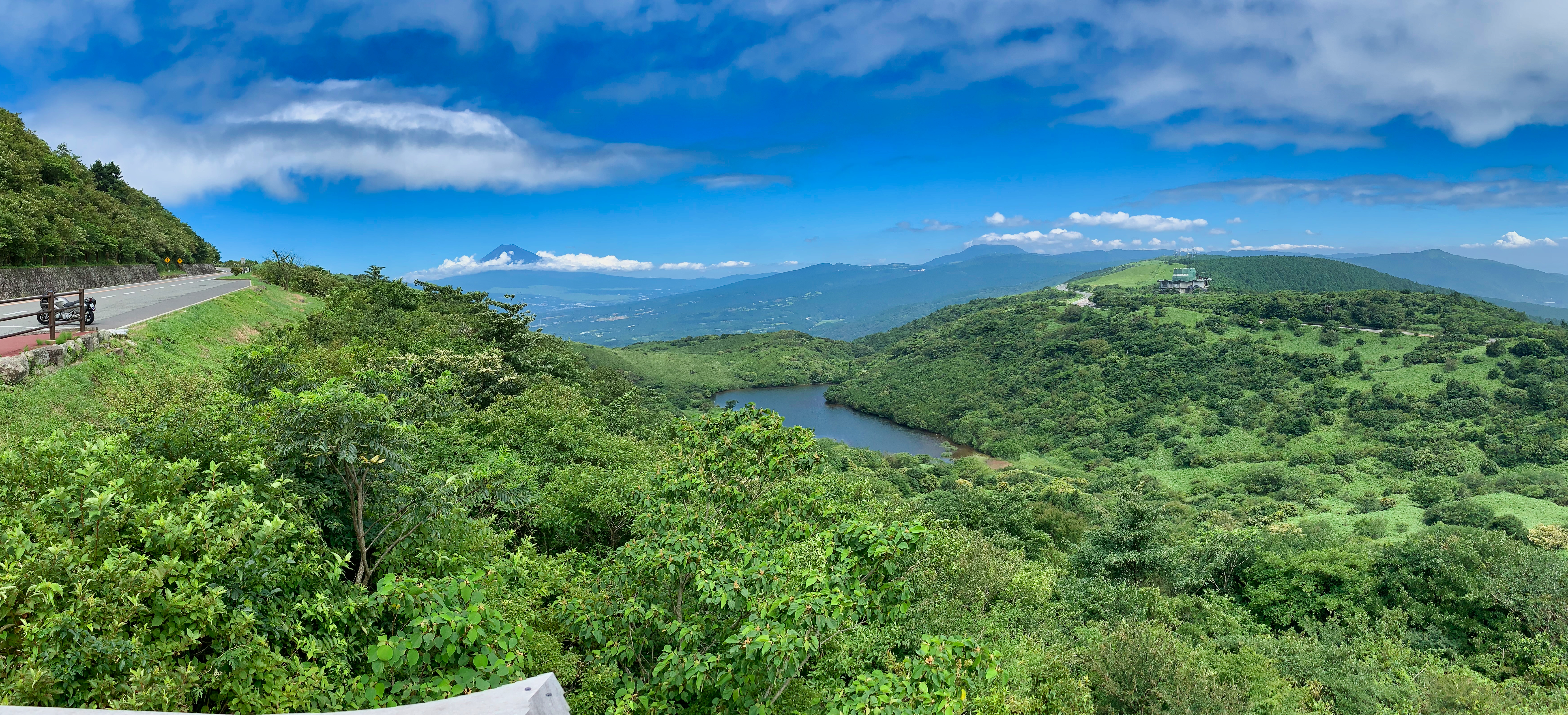 There was a thunderstorm in the mountains so I skirted east. Actually enjoyed some light rain on me as the mercury soared.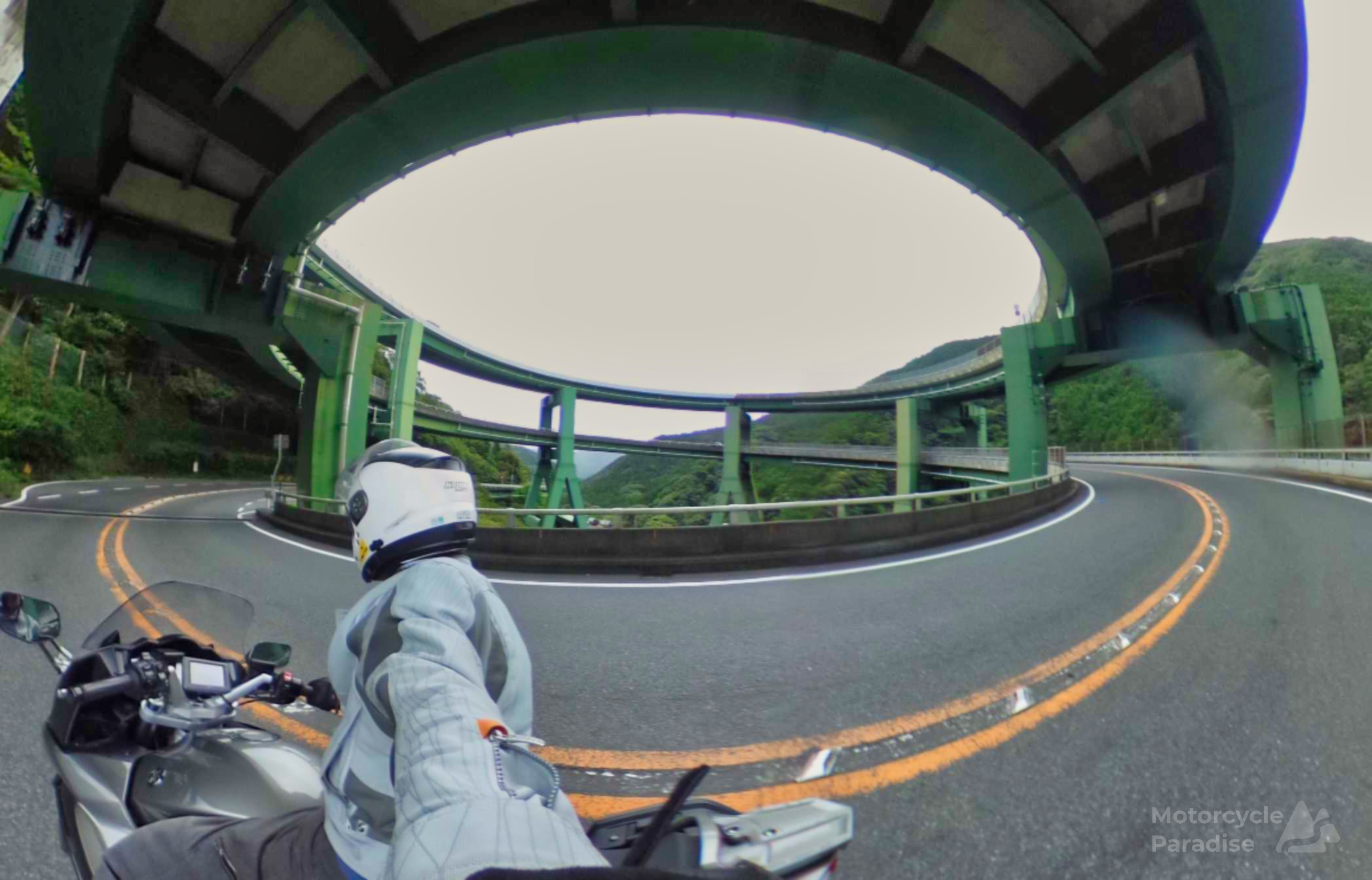 Kept bumping into guy on same route as me today riding a Honda CRF250LM, the motard model which I have considered. I noted he could not get past cars quick like myself but I soon waved him past on tight roads. However my new Dunlop Roadsmart tyres are a revelation on the FJR – and I am not a Dunlop guy.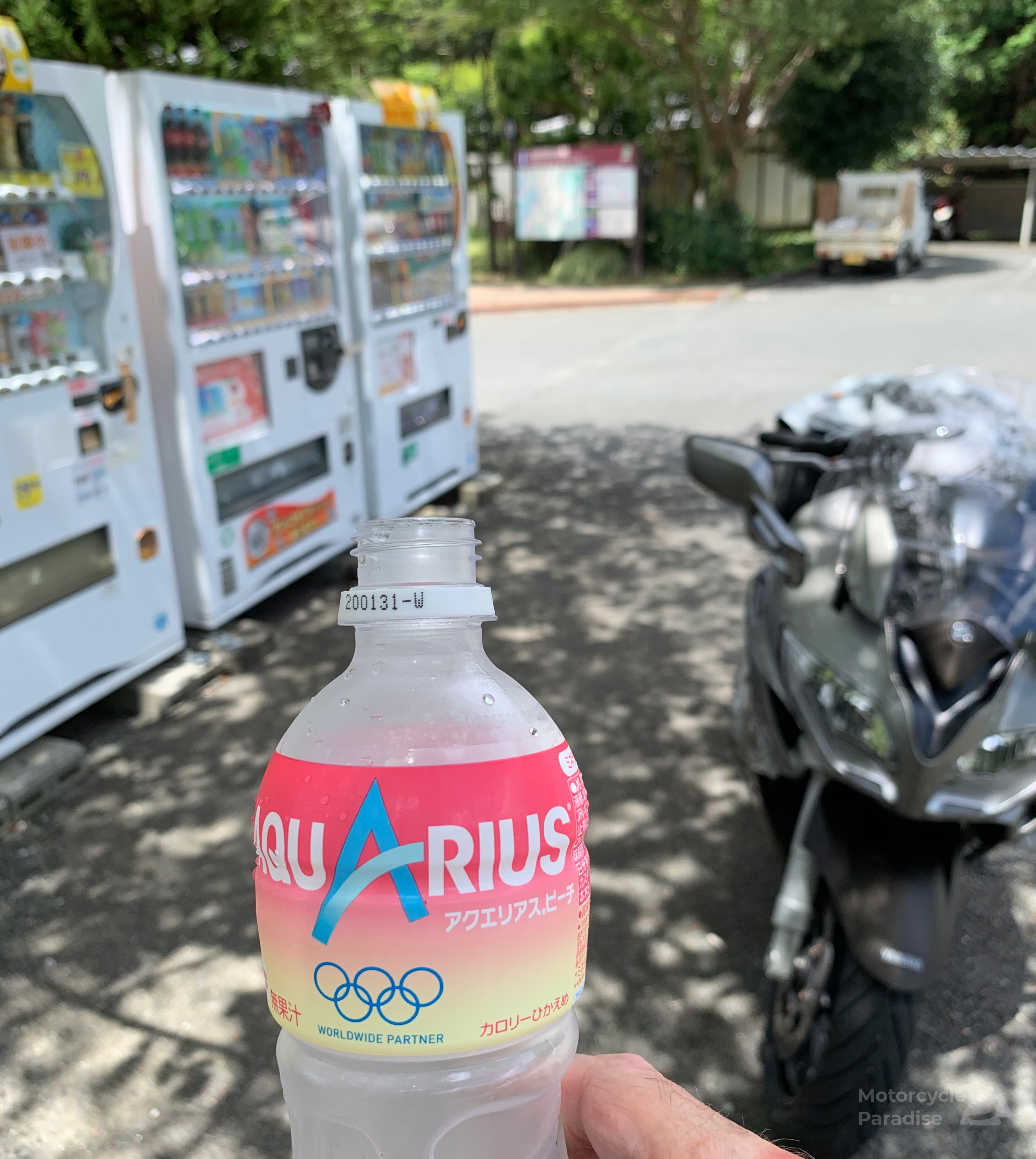 Full fairing is lousy in summer. Been resorting to turning engine off at traffic lights to stop being bathed in hot air fan blast.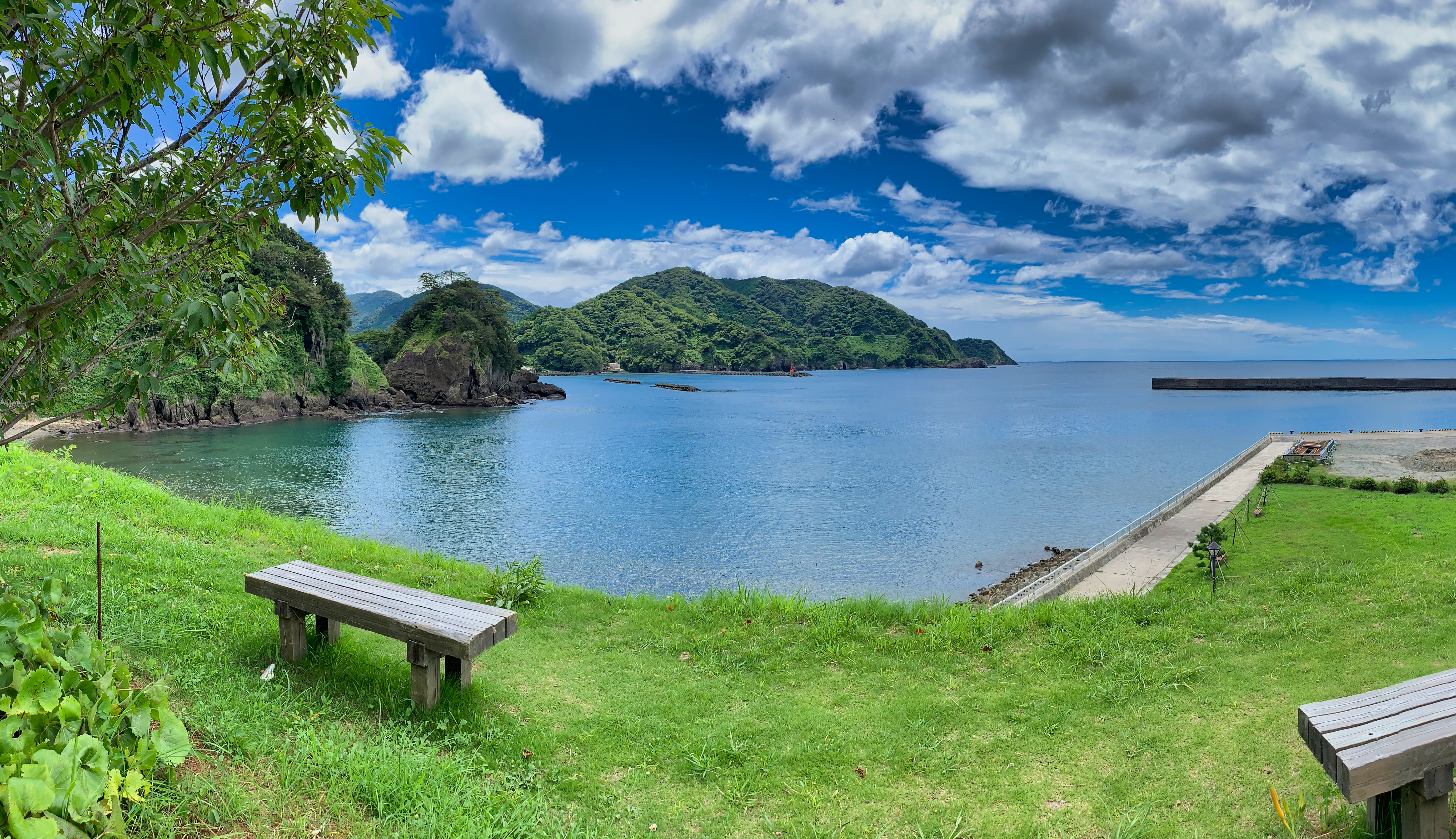 The lower part of the peninsular looks nice place but dead still air today so I turned to the mountains.

Up here when moving it was quite pleasant. Reminded me of riding in Beechmont mountain back home. Views are a little better though.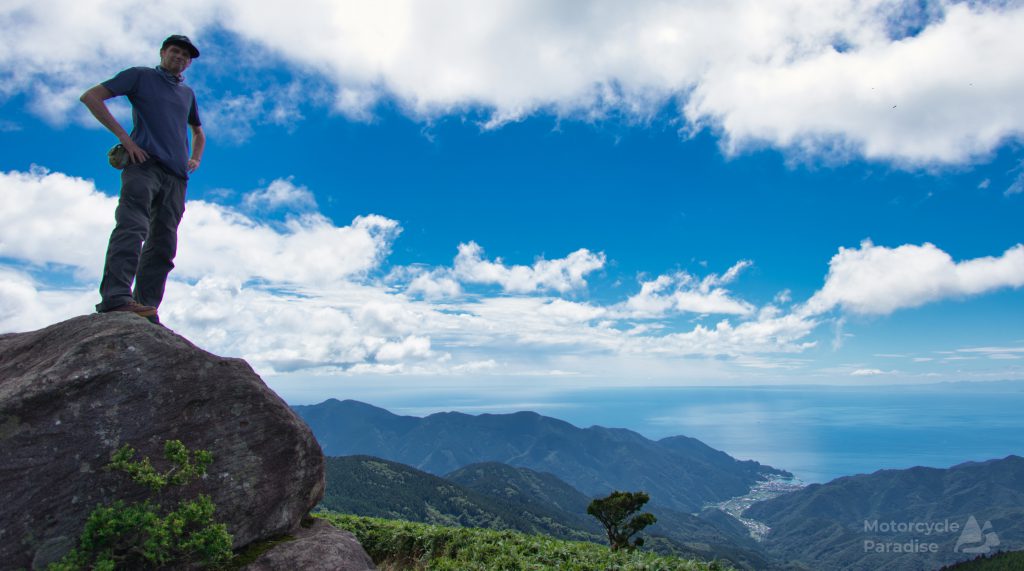 After this excellent outing I took the expressway west and again met the CRF250 rider. Needless to say it's not a good bike for highway work. Fry an egg on the roads this afternoon, glad to get under cold shower at hotel.
Next day an easy start. On a minor road that serves just a few villages yet is superb condition. The rest area view deck had a xylophone. Little things like this here always make me smile.
From here I turned off onto a steep goat track, sealed but littered with debris. This lead me onto a scenic one lane skyline road with no name on Google maps.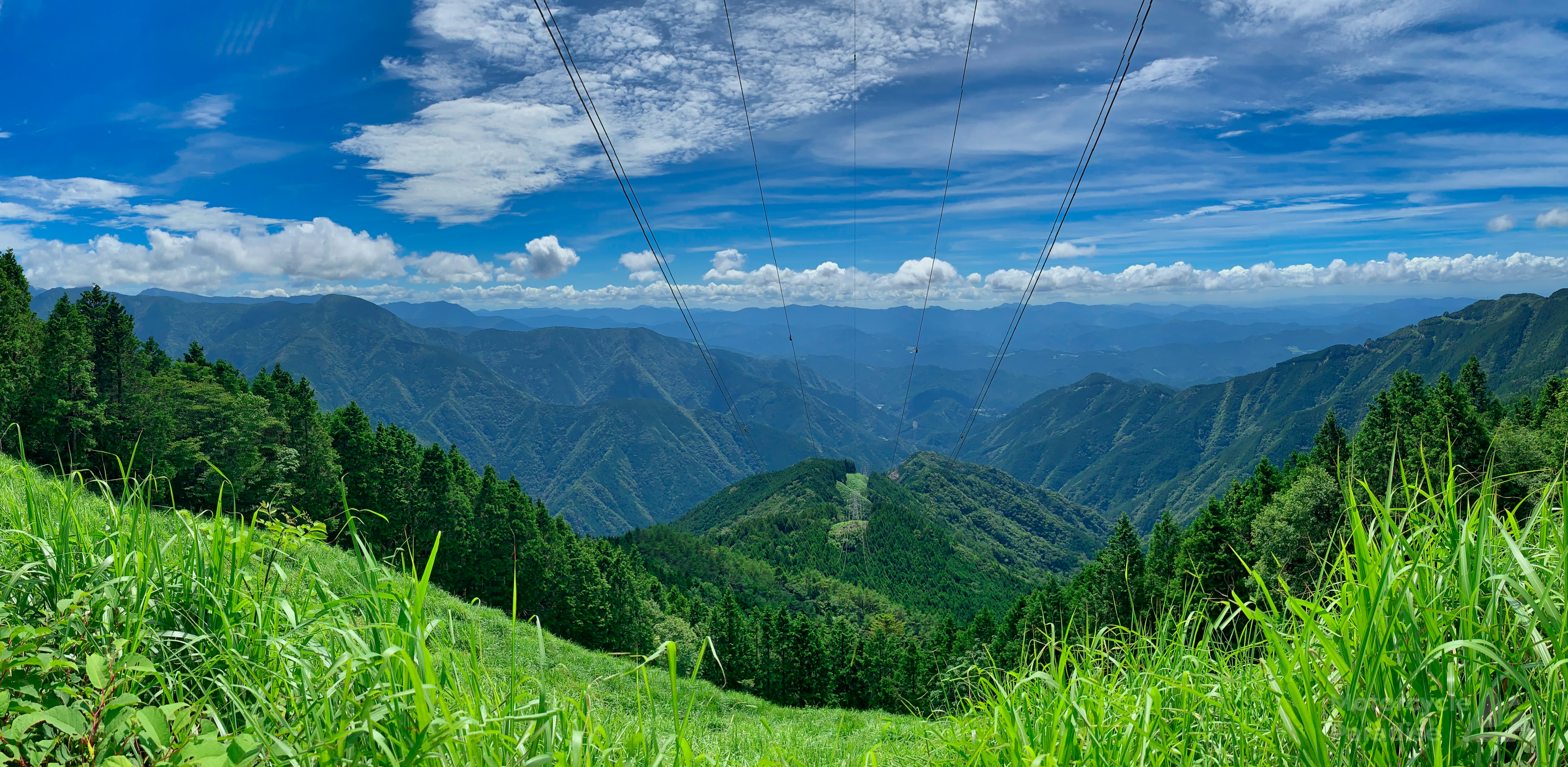 Old faded signs suggest it was constructed in 1984 and is either route 43 or called the Forest line. There are still working facilities, even a cabin you could camp in free but the road seems to be neglected in parts.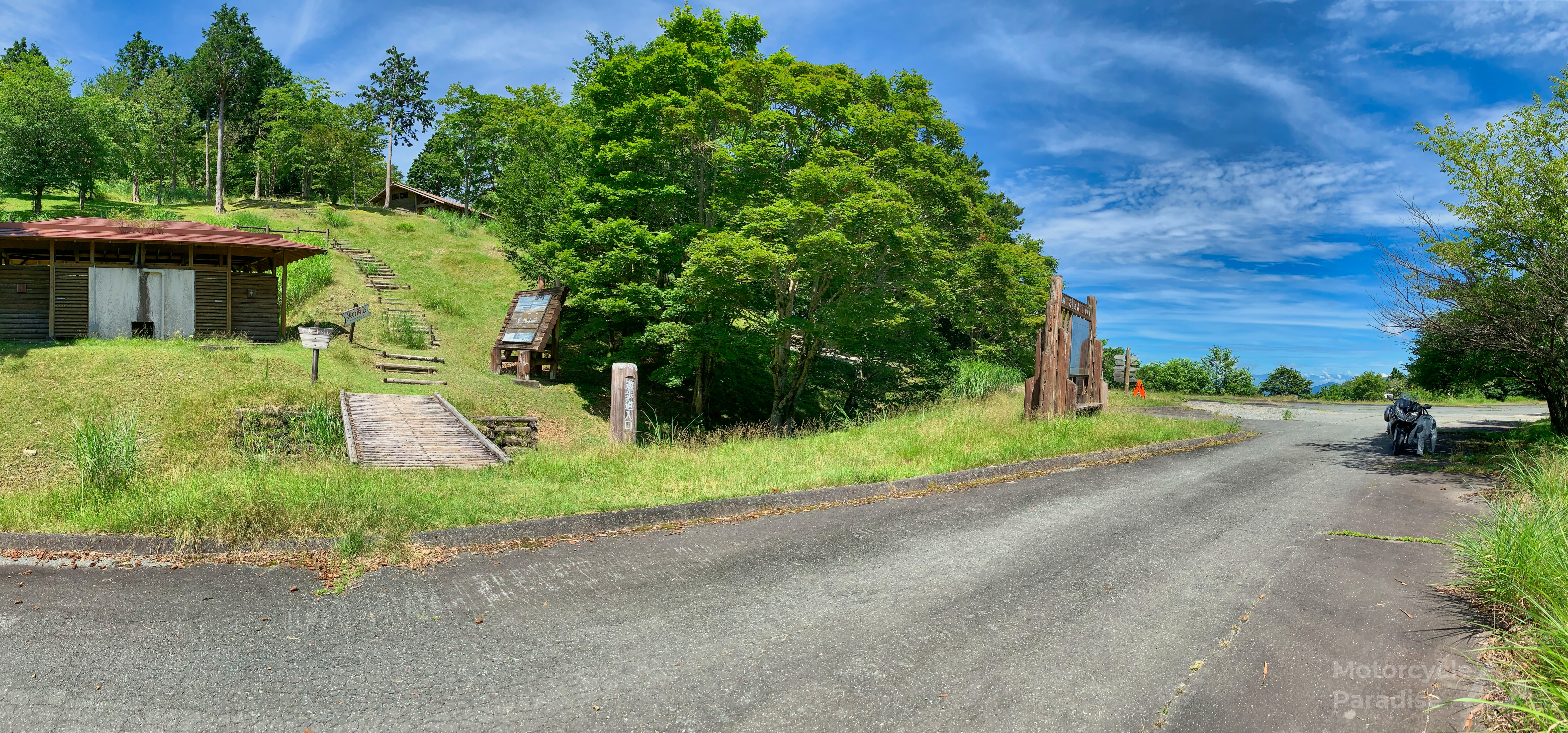 Living in Japan has taught me a bit about racial discrimination. But if I act dumb then I can use the Japanese belief in their being the superior race* to my advantage. I get away with all sorts of things by playing stupid foreigner. (*as thinks every country to some degree)
And that's why next I rode straight through a gate and a odd look from a guy until I came to this.
What a shame I only was able to ride 1/2 of this scenic skyline. Faced with a big detour I stopped for early picnic lunch at this beautiful view deck that was now abandoned and falling apart.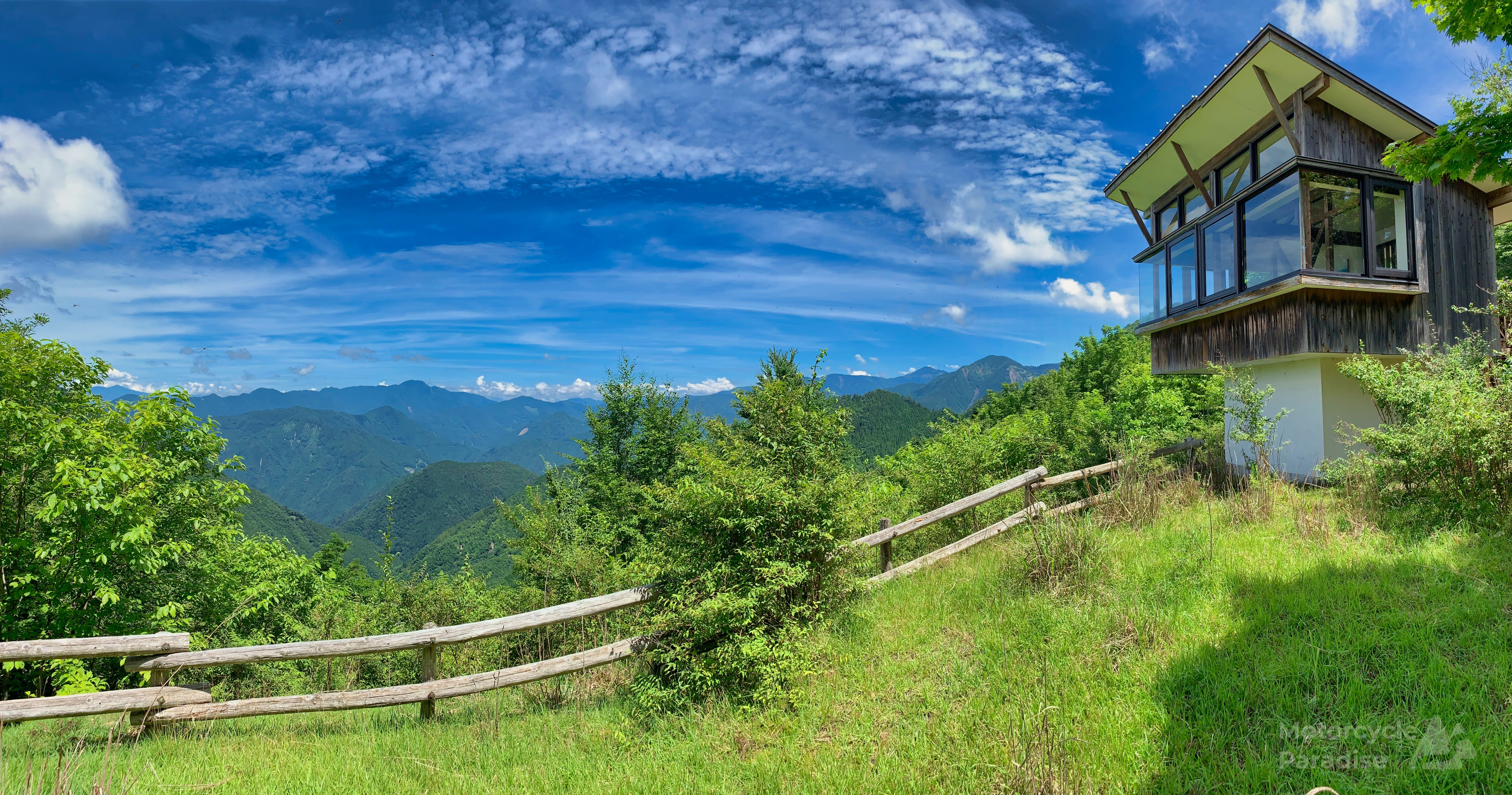 At some point relaxing I thought oh hang on, what if that gate was being closed due to the landslip. I ride back and sure enough it is. I'm a wee bit concerned because there is absolutely no way out and I am a very long way from help.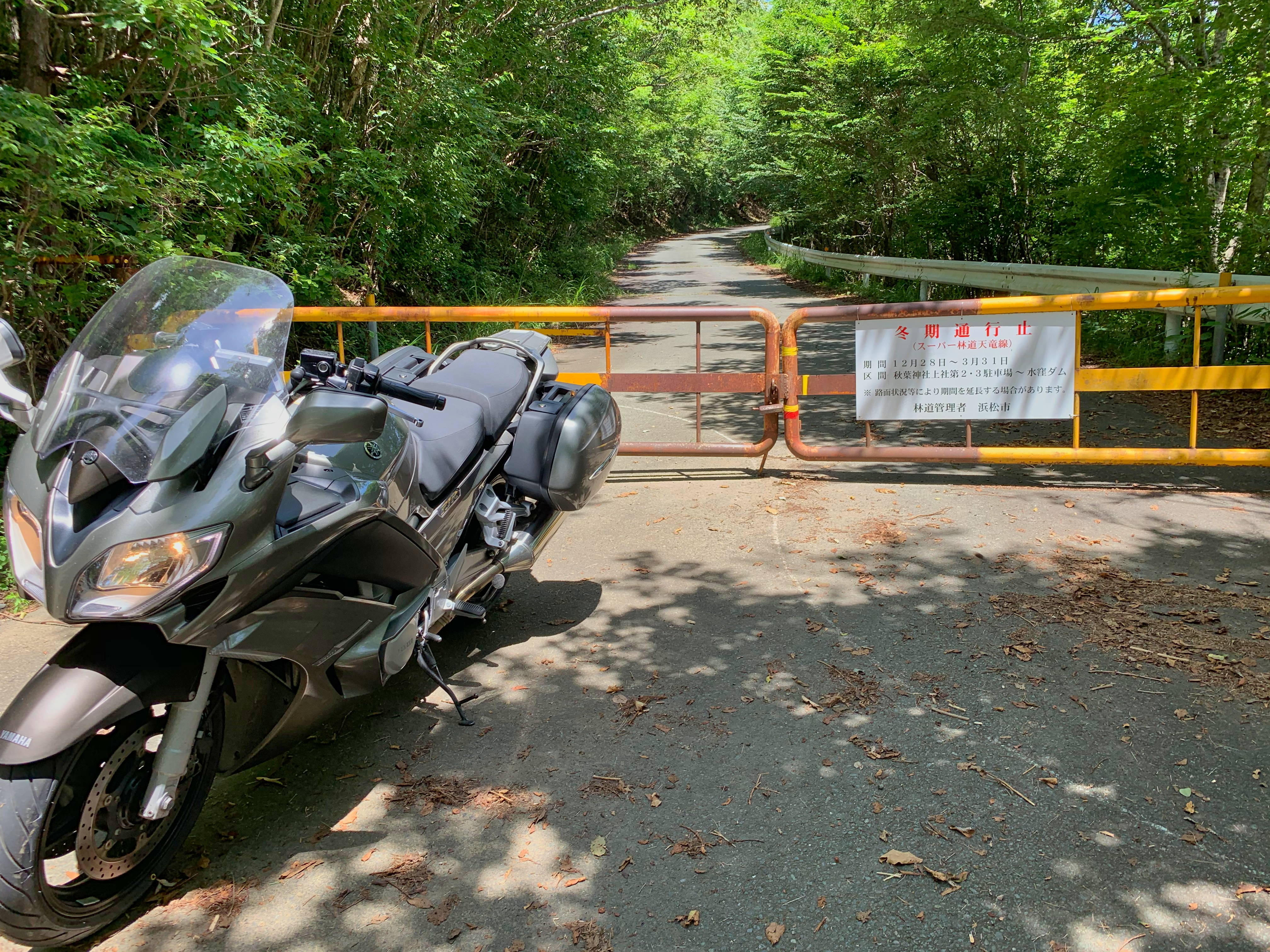 Remarkably for me I stay calm and after checking there is no way to get a heavy bike around the gate I inspect the lock closely and see it was left unlocked. Phew. I really am stupid, no act.
My next target is an alpine village that sits on a similar road further north. I reach the village but alas the road beyond is also closed for repairs. Here is a image from Google until I can return and shoot some photos myself.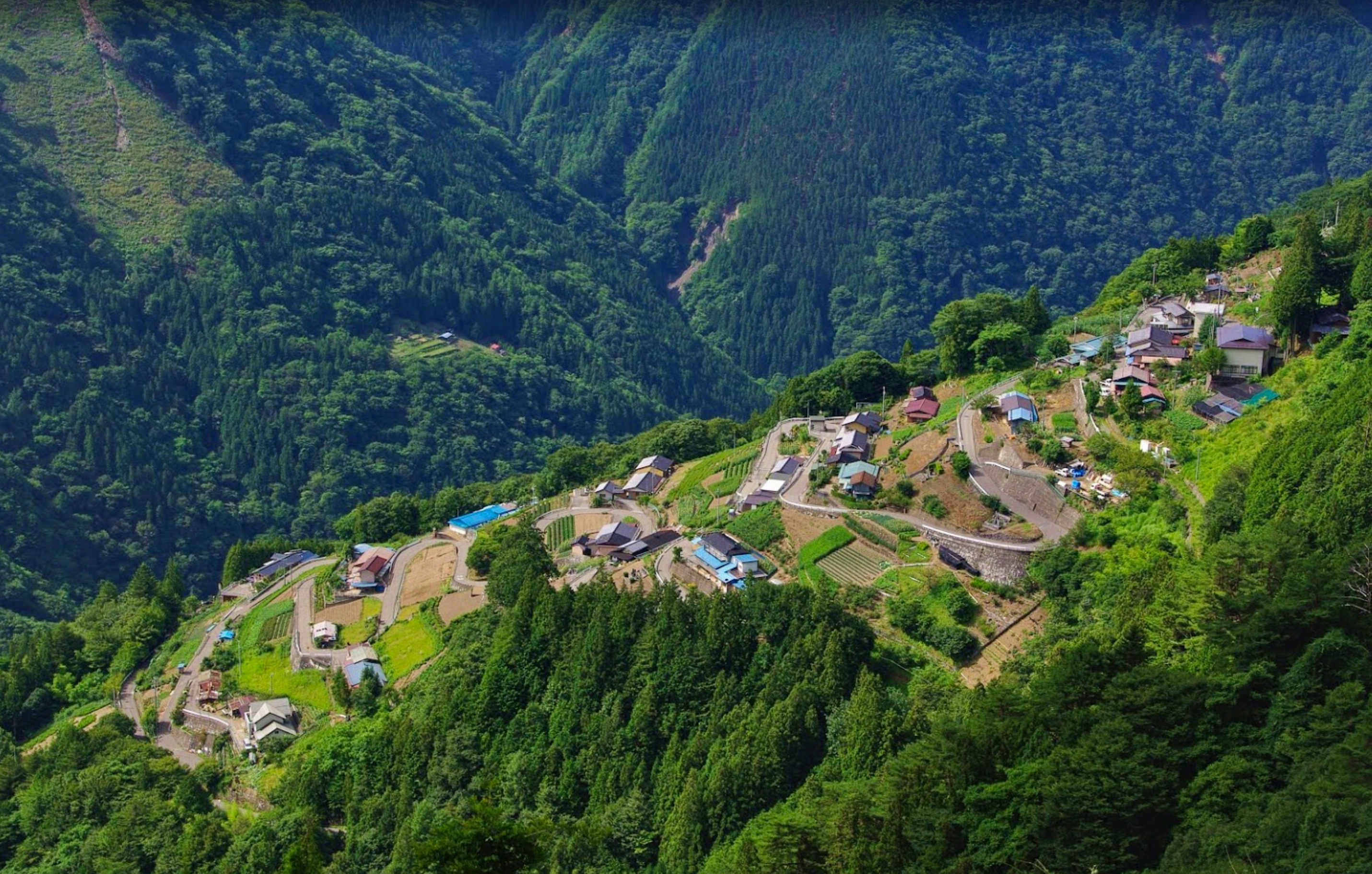 I backtrack but the other road north is also closed. This is getting to be a joke. No choice but lengthy detour. Down from the hills the heat soars to 41. I have to rest. The foot spa at this rest area was calling. My worn out shorty summer boots were killing my feet.
I should have abandoned things and made for my hotel but being stubborn I go on. The detour nicely steered me around a thunderstorm which cooled things down. Alas it is all for nought, the route is closed yet again and I am on a side track.
Every good trip has an unplanned destination and this is mine. The big stone on Niiyamatougue that the bush track led me to. It looked bigger in real life, honest.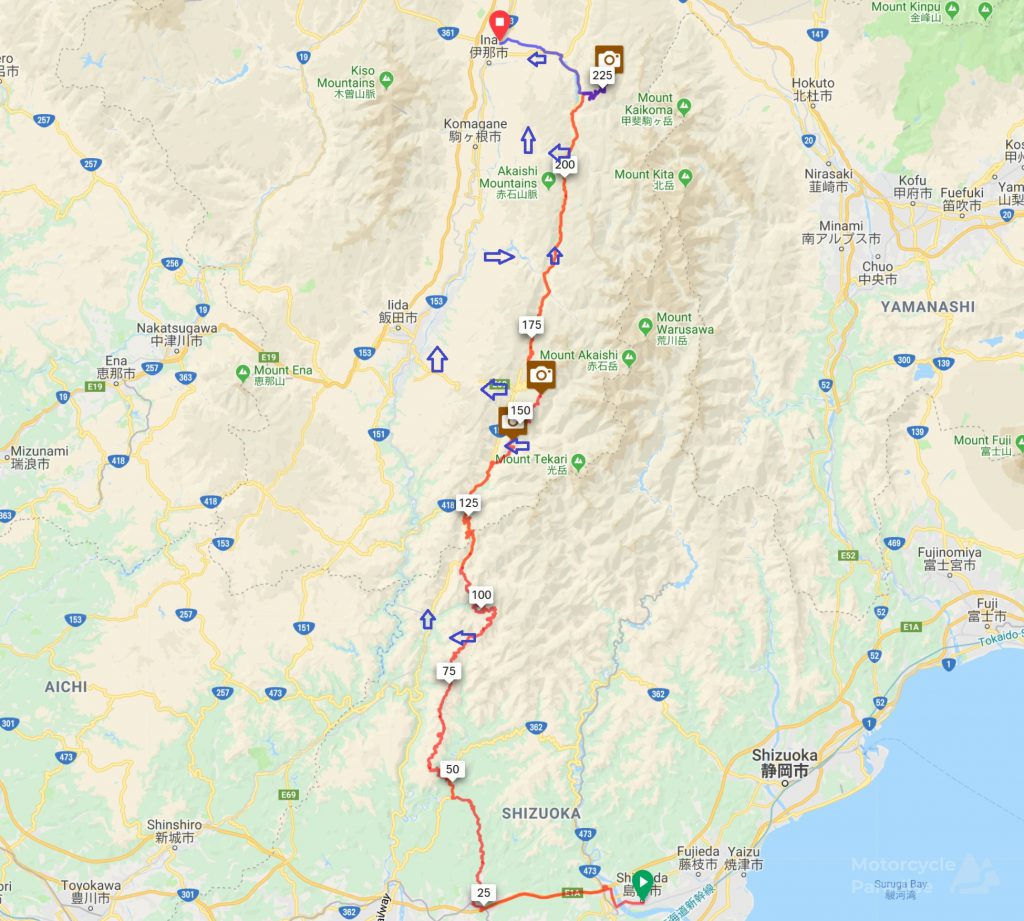 I had another series of back roads for day three but first I tried try reach the third view point on yesterdays route

By now I was expecting the road to be closed around any corner but I made it to the highlands and with small hike found the view platform.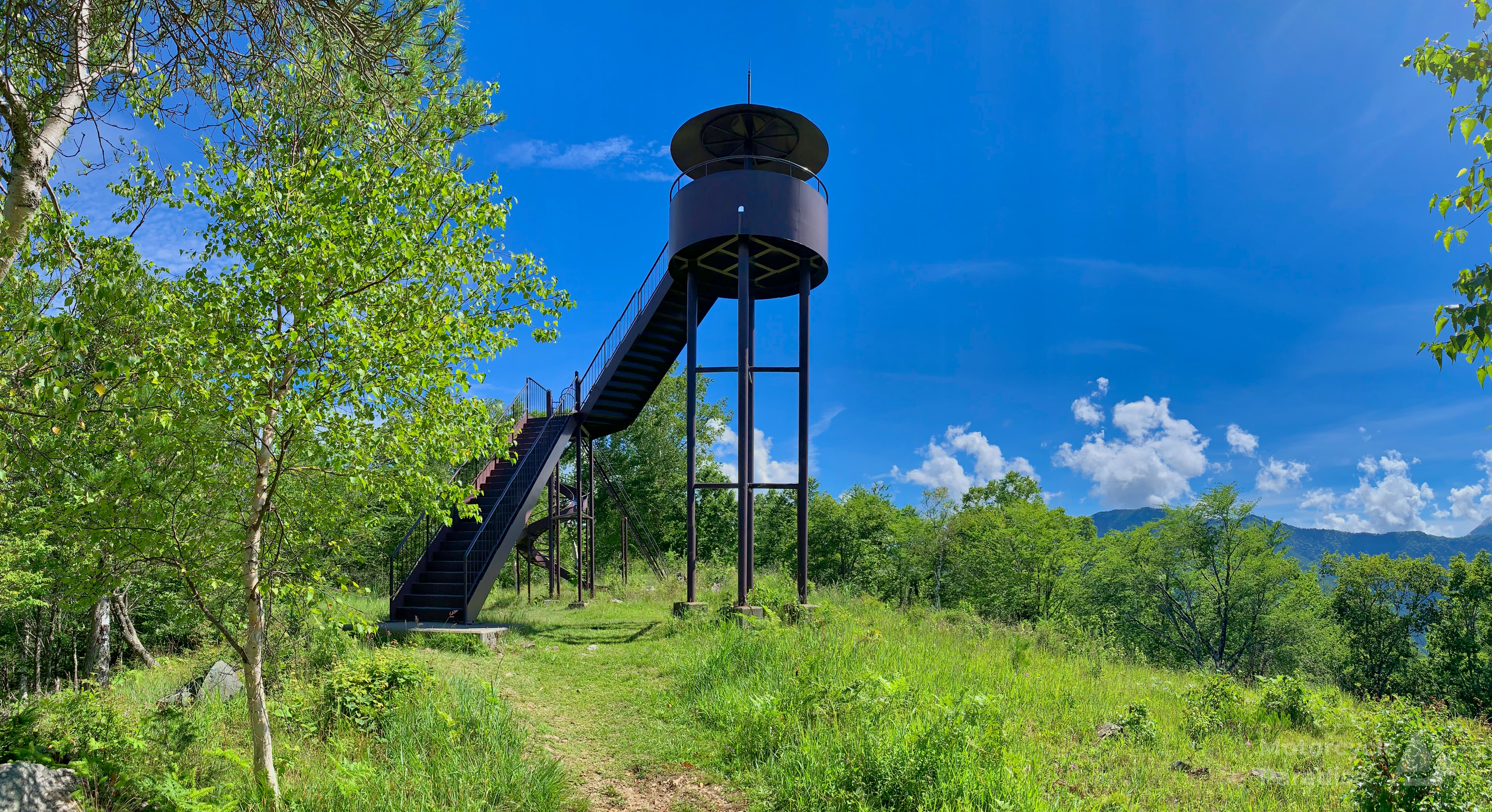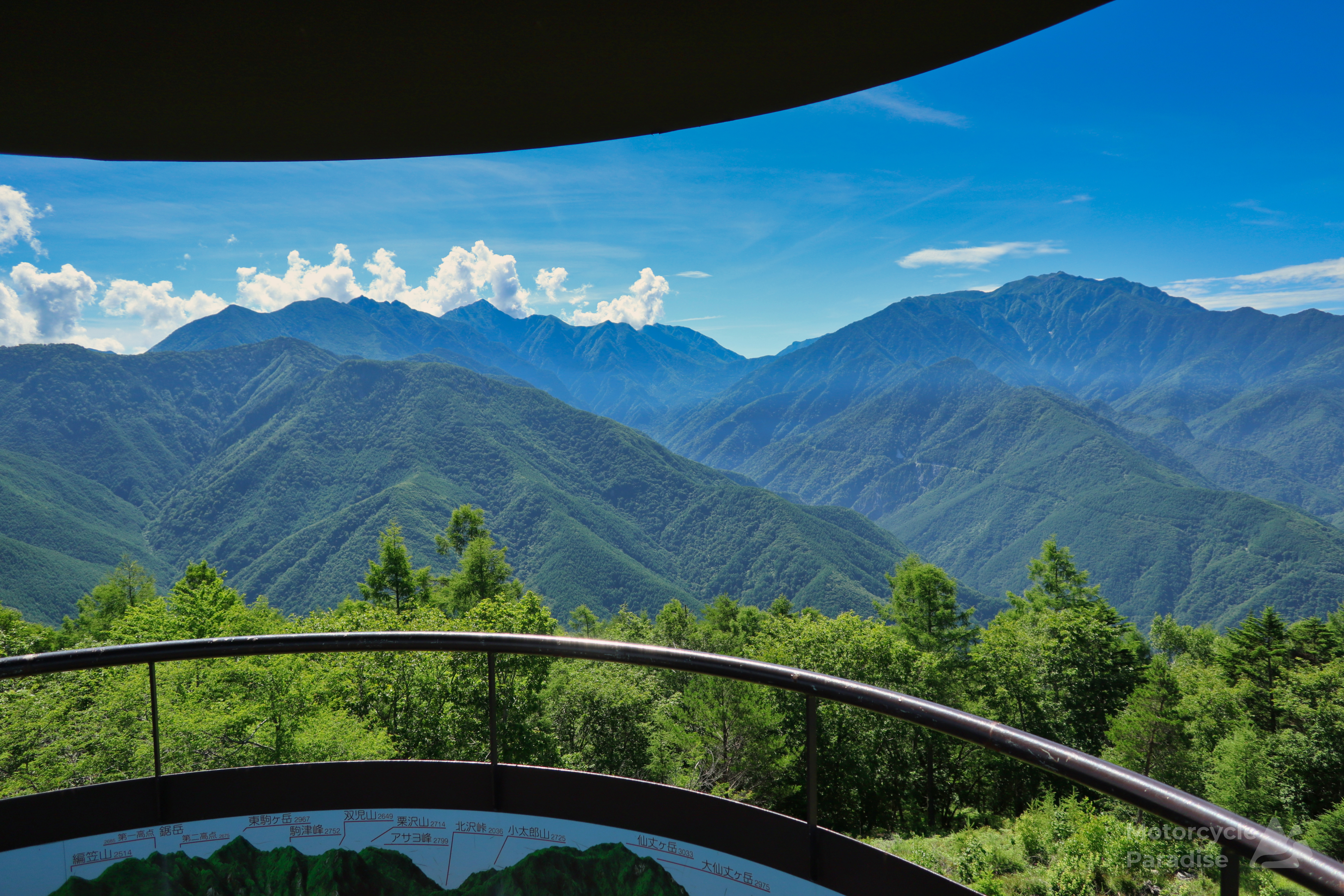 Sorry about the image glitch above – that is where the pole supporting the roof was, the software tried to mask that.
I rode north and around this range to another highlands region but every road was closed at some point and rough. The FJR managed no problems but back on regular roads I was having more fun. All this gave me much to consider as I turned onto the expressway and engaged the cruise control for home. Three days is enough in this heat.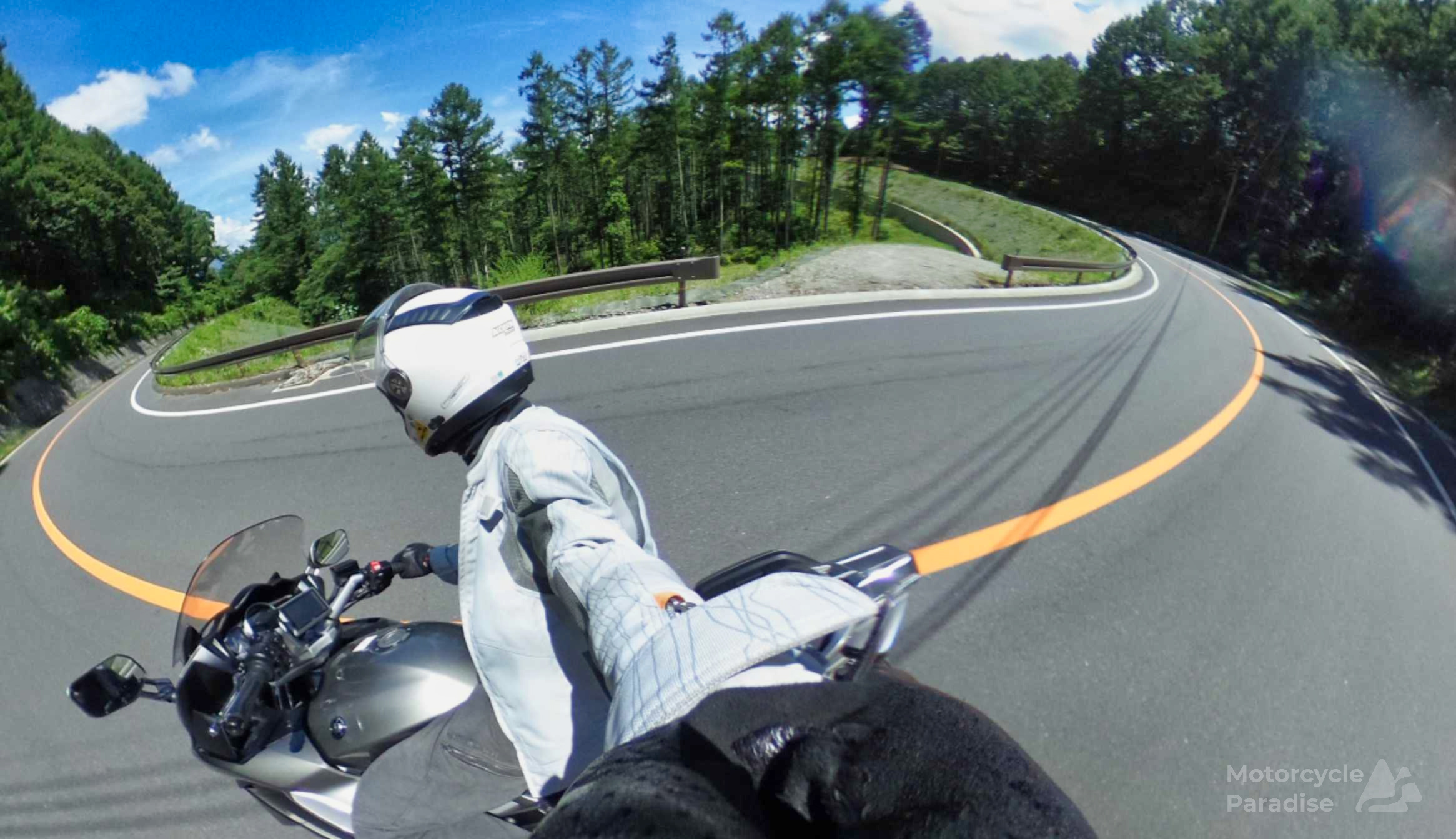 Despite that heat the ride was a big success. I got a mini adventure of sorts exploring without a ADV bike. A few points I summarized on the ride home.
Even smallest roads in Japan are sealed, nothing much except logging tracks are dirt. Without gravel you don't need a 21″ front or even a 19″ front wheel bike. Nor dual sport tyres.
So many back roads are closed. Maybe shrinking population, authorities just close old roads that no longer serve anyone. Dead ends and back tracking gets old pretty fast, not sure I would want to make that a focus going forward.
And lastly I still enjoyed the regular sweeping roads best of all. Seems I am just back to square one – but that's fine.
Gear on this trip was the BMW Airflow jacket and BMW City 2 pants which did fair job in the conditions. Photos with exception of me standing on rock are from iPhone Xr which oddly rivals my Canon G1X3 most of the time. Onboard is the Ricoh Theta S which is quite low resolution but a fantastic FOV.