The Inland Sea
My tour of Japan continues in the Yamaguchi prefecture. I am exploring some of the islands that are in waters known as the Seto Inland Sea. My first destination is Yamashima. When you visit the small islands of Japan you step back in time. Not many foreigners visit these areas with mostly seaside fishing towns but being Japan you can still find great lookout spots.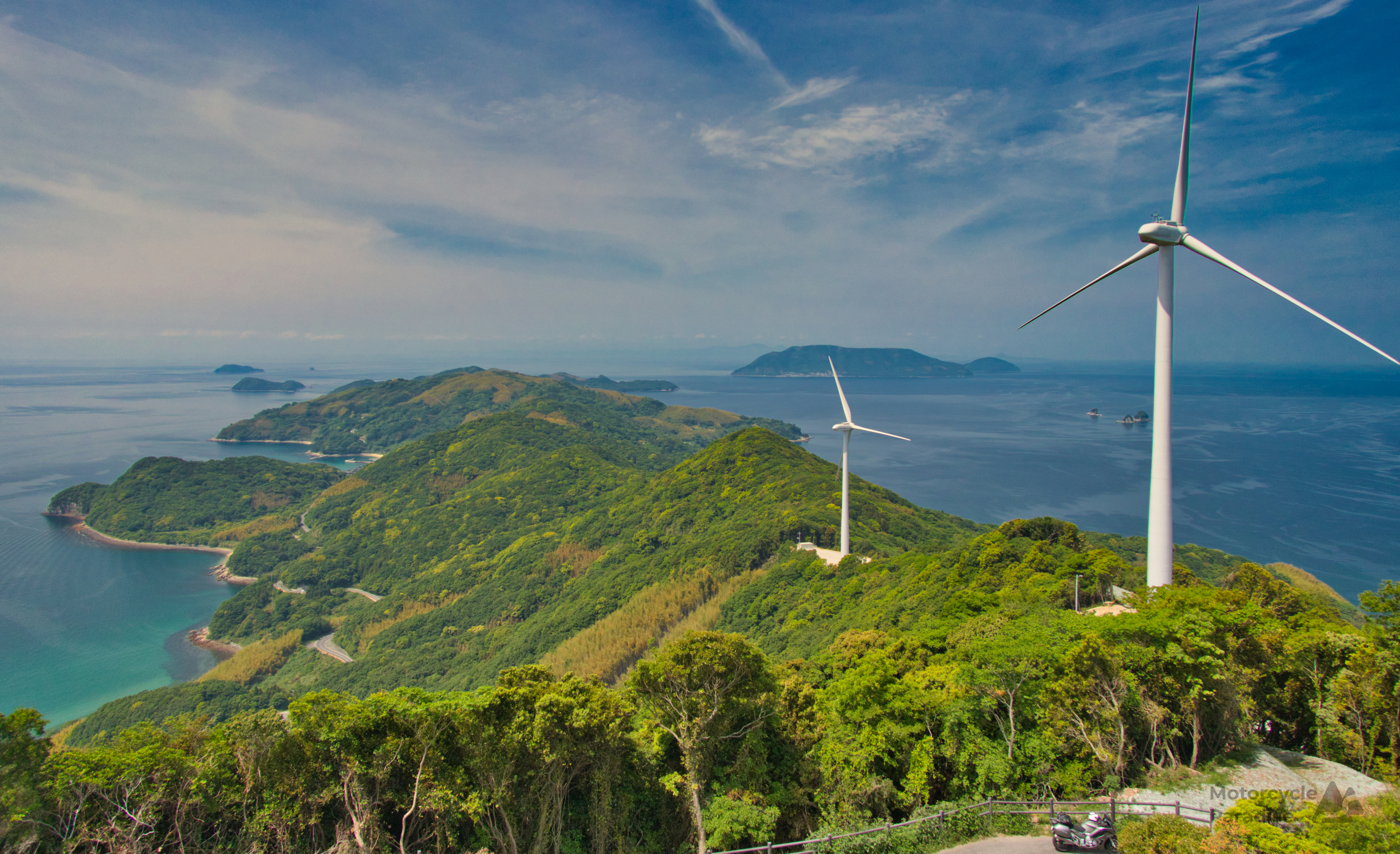 There was a new road to those windmills but then disused track to the tower. Probably stupid to attempt it on a 290kg tourer, but I do all the dumb things in life.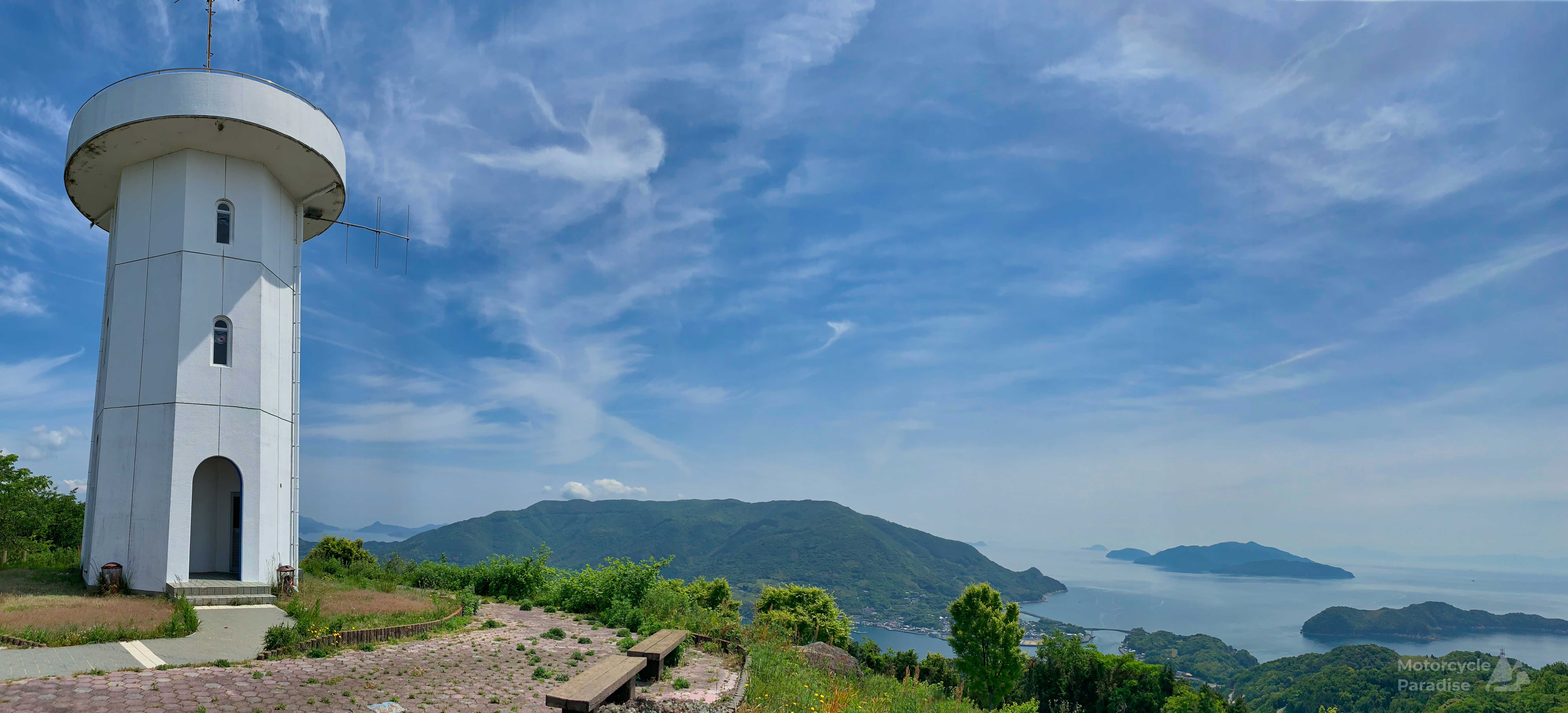 Now I had to get back down ha-ha, well I find getting down these tracks easier then going up. Its the 180 degree U turns with 20% gradient on the corner going up that is hard with such a heavy bike. I probably should be on a so called ADV bike, I actually go places beyond Starbucks, but their basically a naked with a small screen and offer little protection from elements.
Next I went to Yashiro island. Here is a scenic winding road called Oshima Orange Road with occasional views out over the ocean. It is magnificent riding.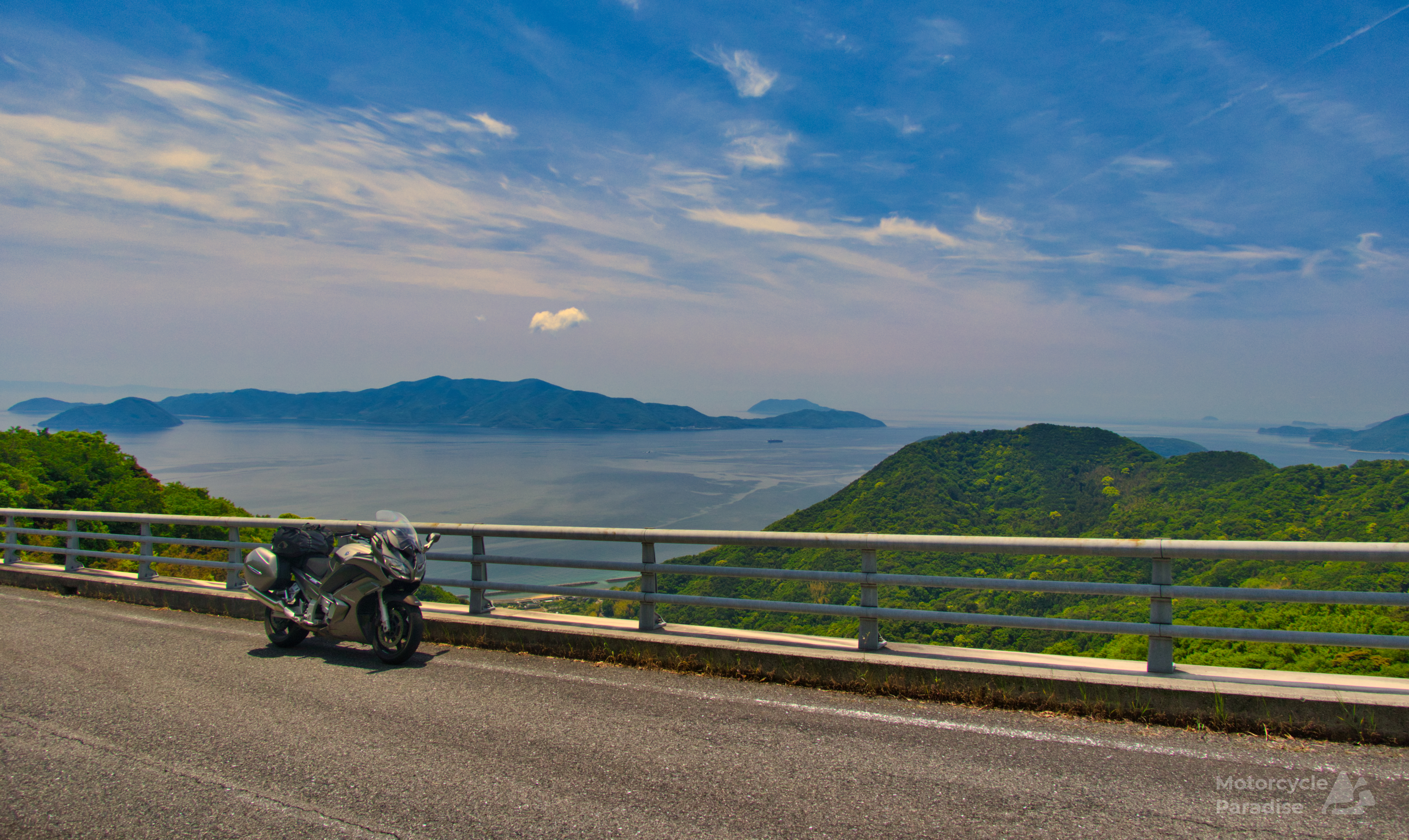 A steep narrow road next for the FJR to ascend to Suo Oshima observatory.
This is an incredible spot. Besides the para-glider launch pad there are two other view platforms offering equally stunning and different vistas. I was joined by two girls on a day trip for some selfies.
After a picnic lunch beautiful as it was I had to leave. I made back down and along the coastal route off the island.
Hiroshima is a big and congested city so I am bypassing via the expressway to stay two nights at Higashishiroshima.
I am presented with another sunny day next morning! This is the best weather I have had in Japan. First up I revisit Sazanami Skyline but come to a sign saying road closed ahead. I continue around the barricades.
The road is buckled and has some landslip across in places, probably caused by a earthquake but I see others have been using it so continue thus saving myself a long detour to get to this mornings view point.

You see the islands stretching out to the left above? – that is where I am going.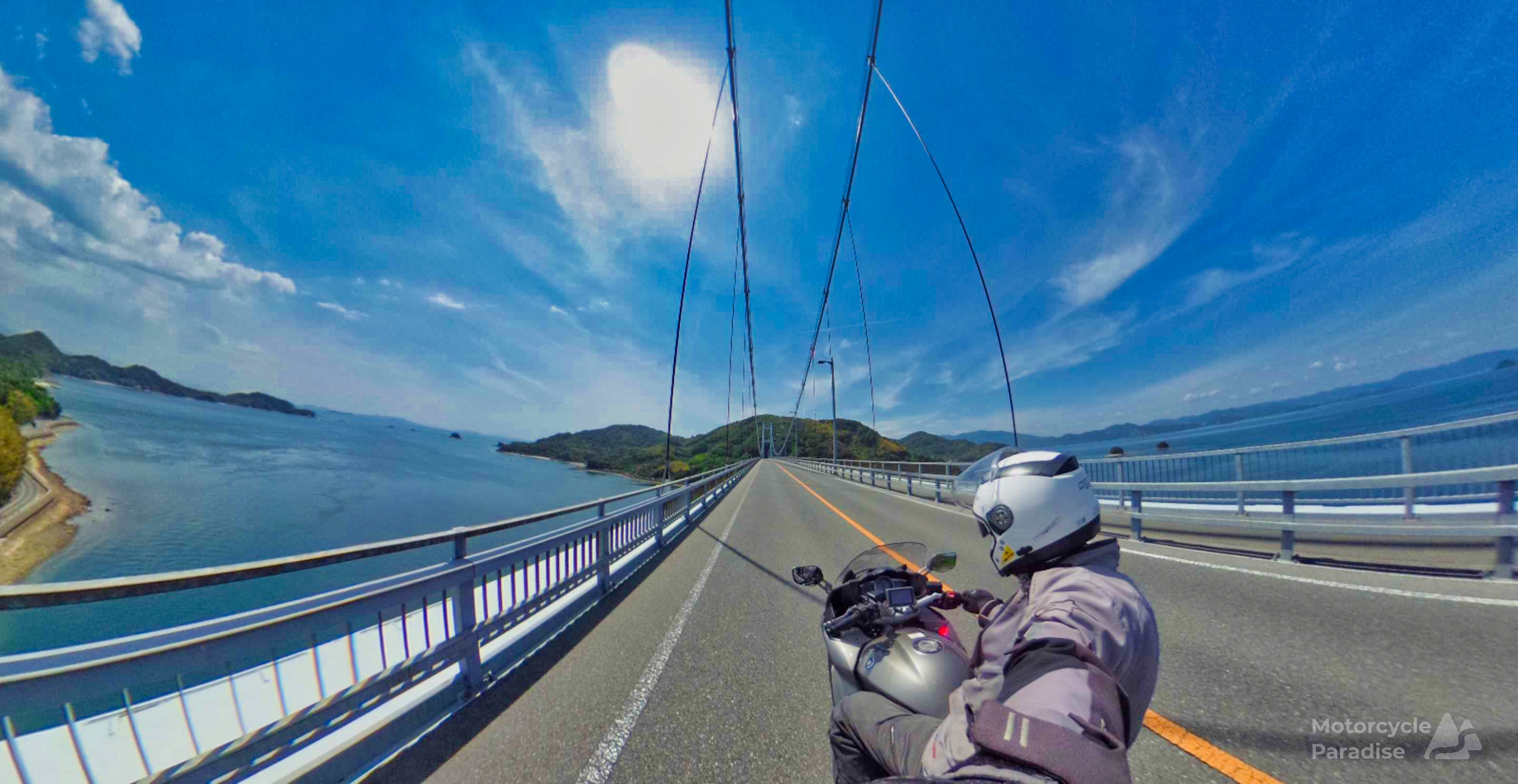 I have a couple of views to check out but today is more about just poking about these islands.
I stopped at a historic village that is very well preserved with houses open to freely look inside. If this was near Tokyo it would be overrun with tourists but here I am only person.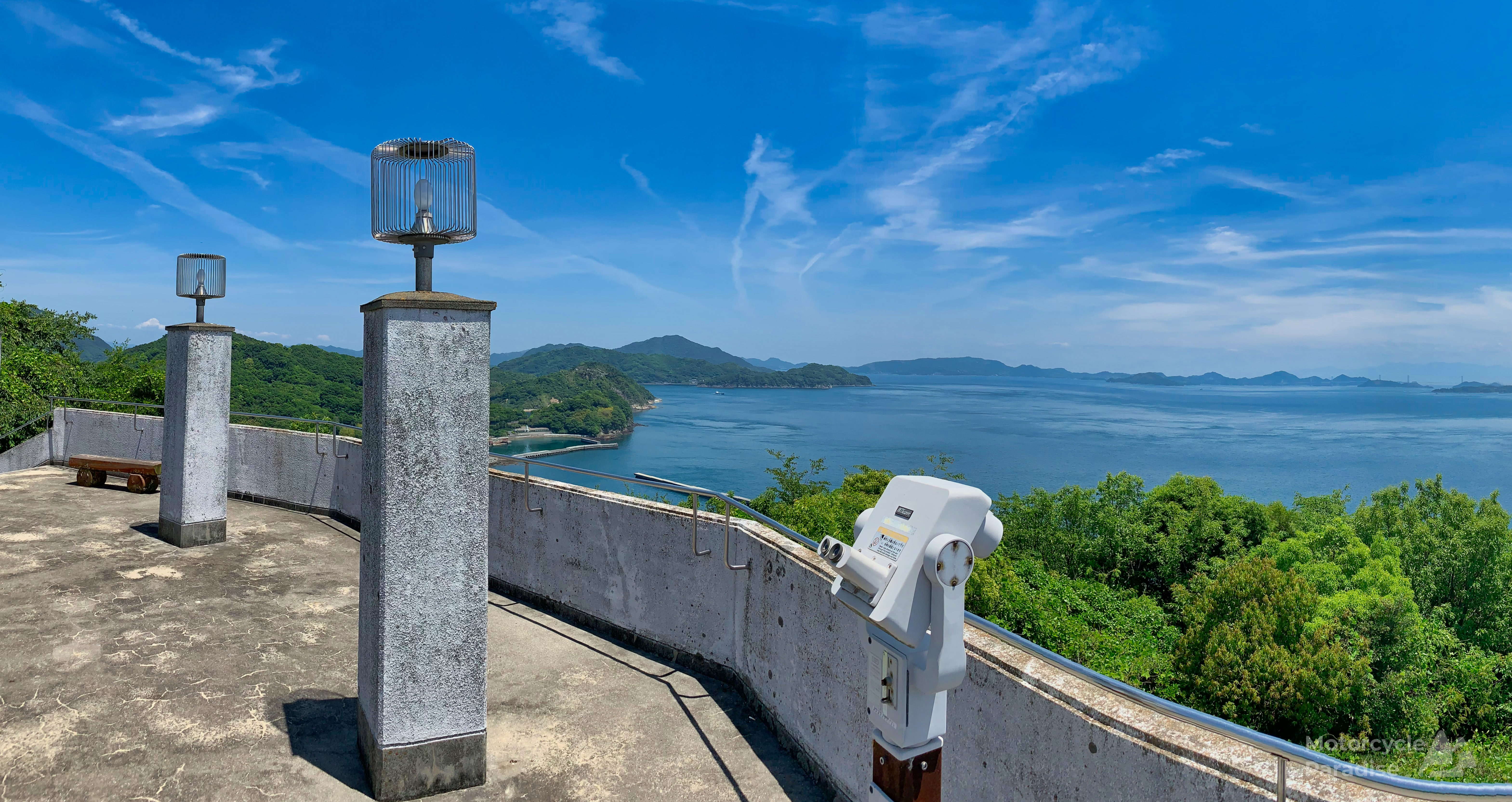 I had lunch at another old view deck at the end of Okamura island. Beyond here you need to take a ferry.
I found another abandoned view platform then feeling whimsical drew a smiley in the sand but my camera was too far away ha-ha. I should have explored here more but spur of the moment decided to ride south to Kurahashi island.
This foolishly took me via Kure the industrial part of Hiroshima which had me stuck in traffic frequently then when I got to road that went up the islands mountain it was closed. Again I rode around the barricade but in vain.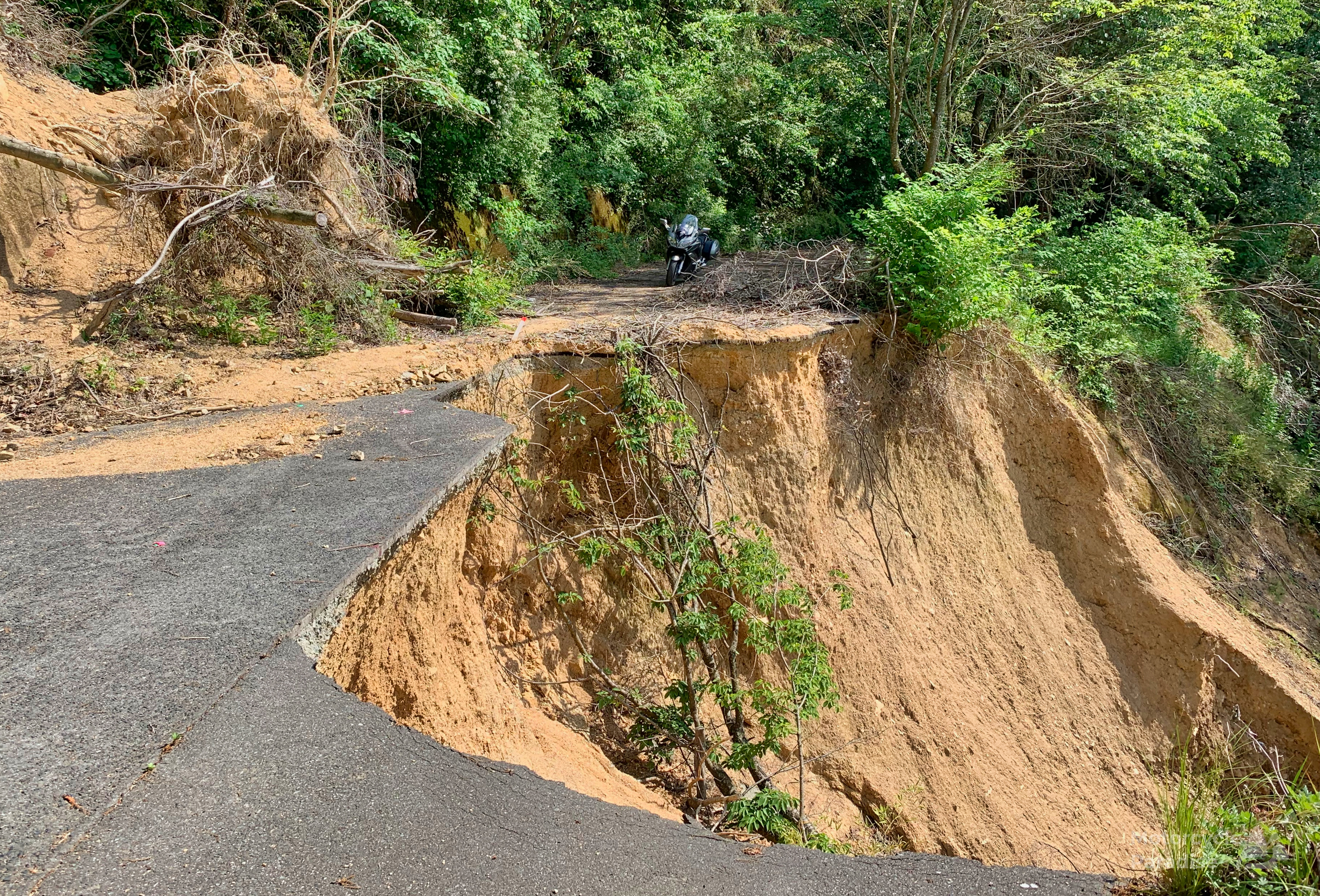 I thought maybe I can squeeze through but it is narrower than it looks. I'd need to be right on the edge of the loose gravel for my panniers to clear the tree trunks. If I had a lighter bike sure. .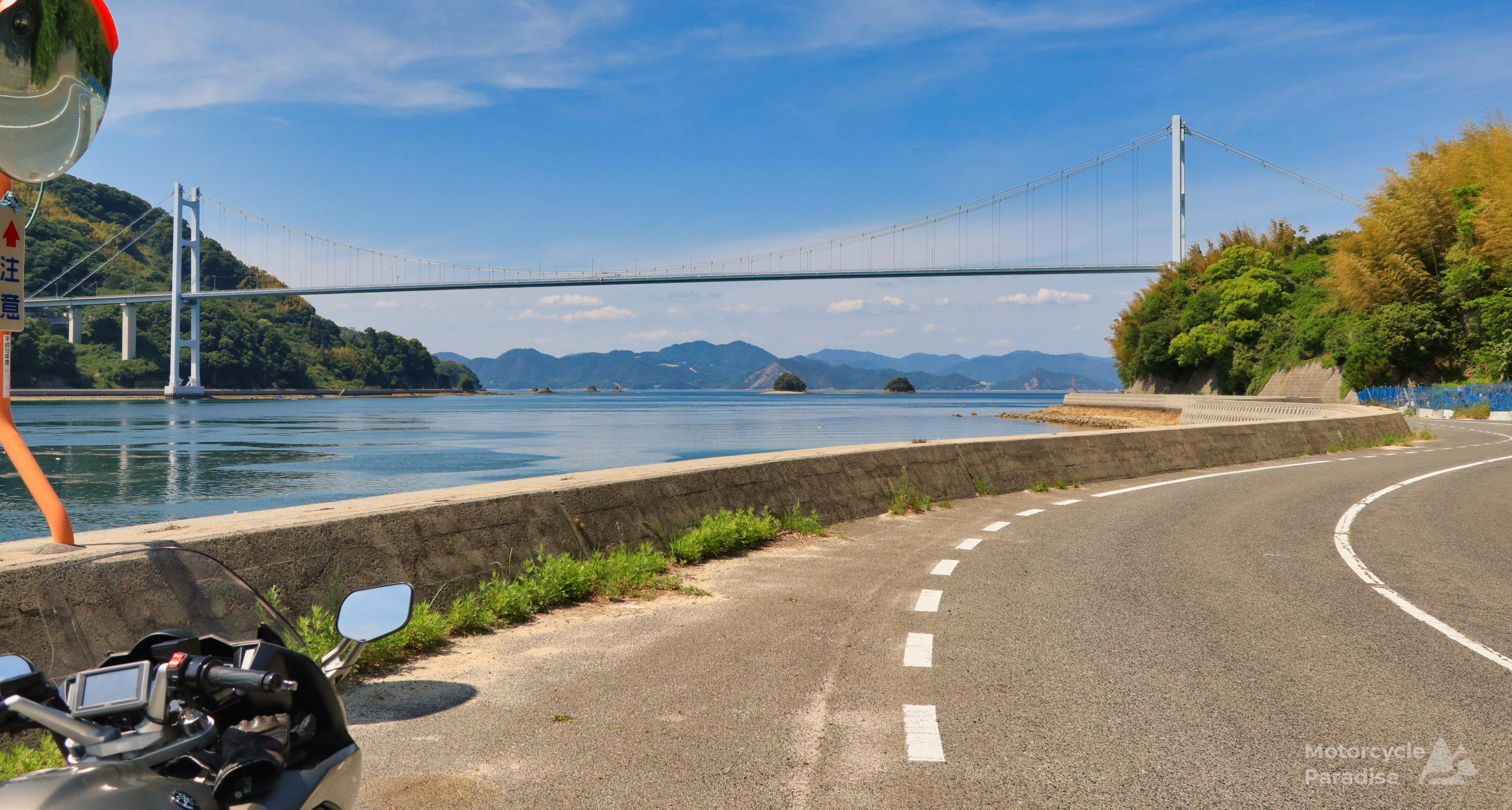 Well it has been great exploring the islands of the inland sea. I shall return here and take the ferries to the other islands in future. Feel like shouting myself a nice bottle of red tonight to celebrate the incredible success of this trip so far.
Day twelve I could sleep in as I need not arrive anywhere until into the evening. Tonight I board a ferry not hotel. The sun took a sickie and it dropped 10 degrees. I am meandering on back roads under gray skies until late afternoon but it is not raining and the FJR has stopped stalling so all good.
Today is no sightseeing and it offers me a chance to just focus on the ride. I plot a route of new roads and enjoyed many of them. I will update my best motorcycle roads Japan map with this info soon.
I have a little excitement, the GPS tries to route me onto a forest track and a mountain road that has collapsed with seemingly no detour but I am in no rush and find a solution for both.
I join the expressway late afternoon with the GPS saying 355km to go. I effortlessly knock this over to arrive Tsuruga 8.00pm. This again confirms a touring style bike is right for me but I wish I had a lower weight or lower COG than this Yamaha .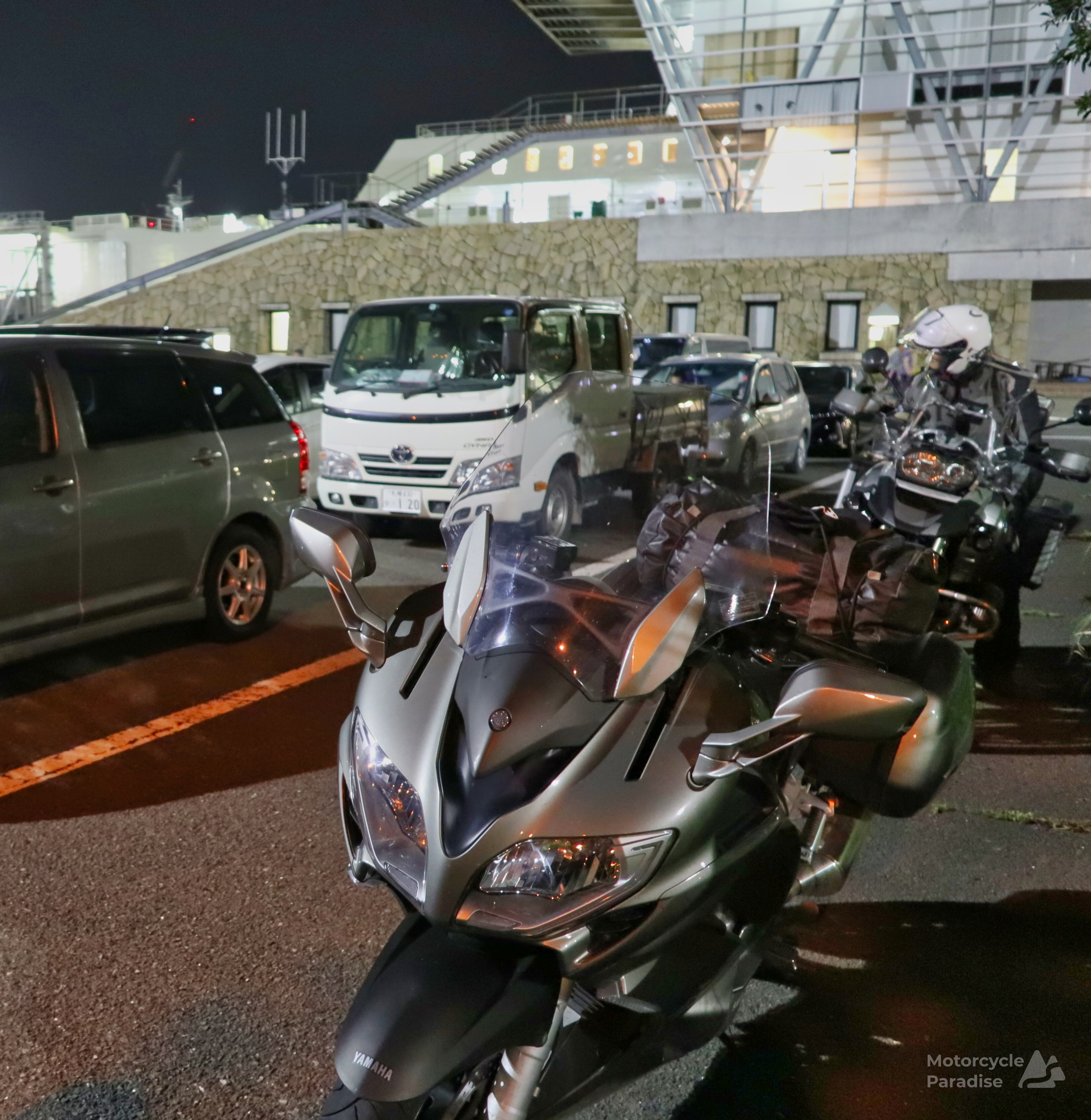 I'm waiting to board the biggest ship I have been on which over the next 20 hours will take me north to Hokkaido. Not sure what to expect, I have stocked up on few supplies in case the ferry doesn't have much and I shall continue this ride report from there.
PART 4
Part 2