Hokkaido
I am on my way to Hokkaido. The ferry takes 20 hours from Tsuruga to Tomamokai. I have been on dozens of ferries in Japan and none of them had much in the way of food except cup noodle vending machines so I packed a few things but need not as this was something else.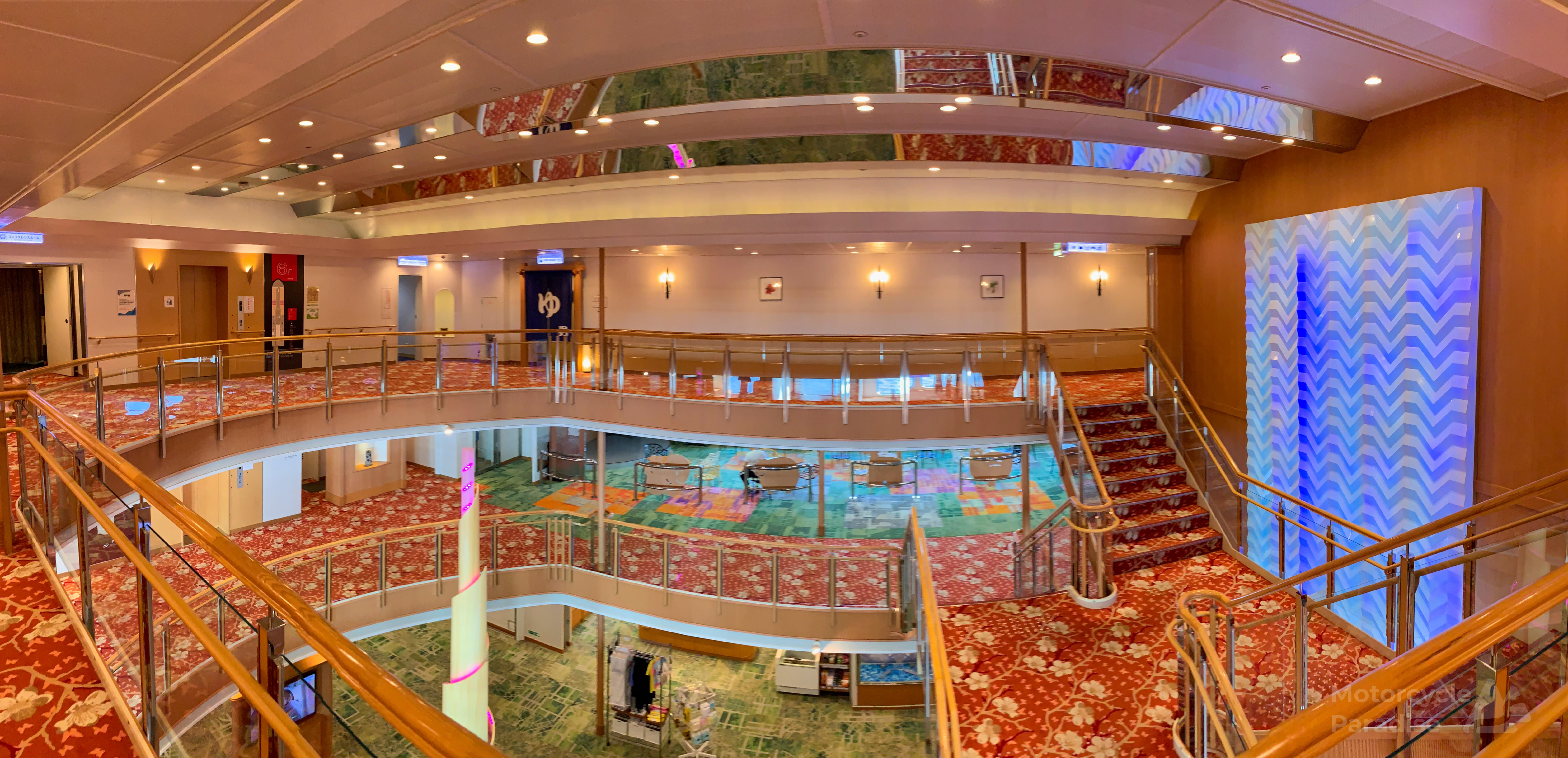 With two restaurants, a coffee shop and mini convenience shop there was ample food along with the usual vending machines. Also a cinema and of course being Japan an onsen. I had a small but private cabin which was only bit more than shared accommodation and more comfortable. The public space was mostly empty, I think people fly and rent instead now which is a shame as I enjoyed the rest and flying is miserable these days.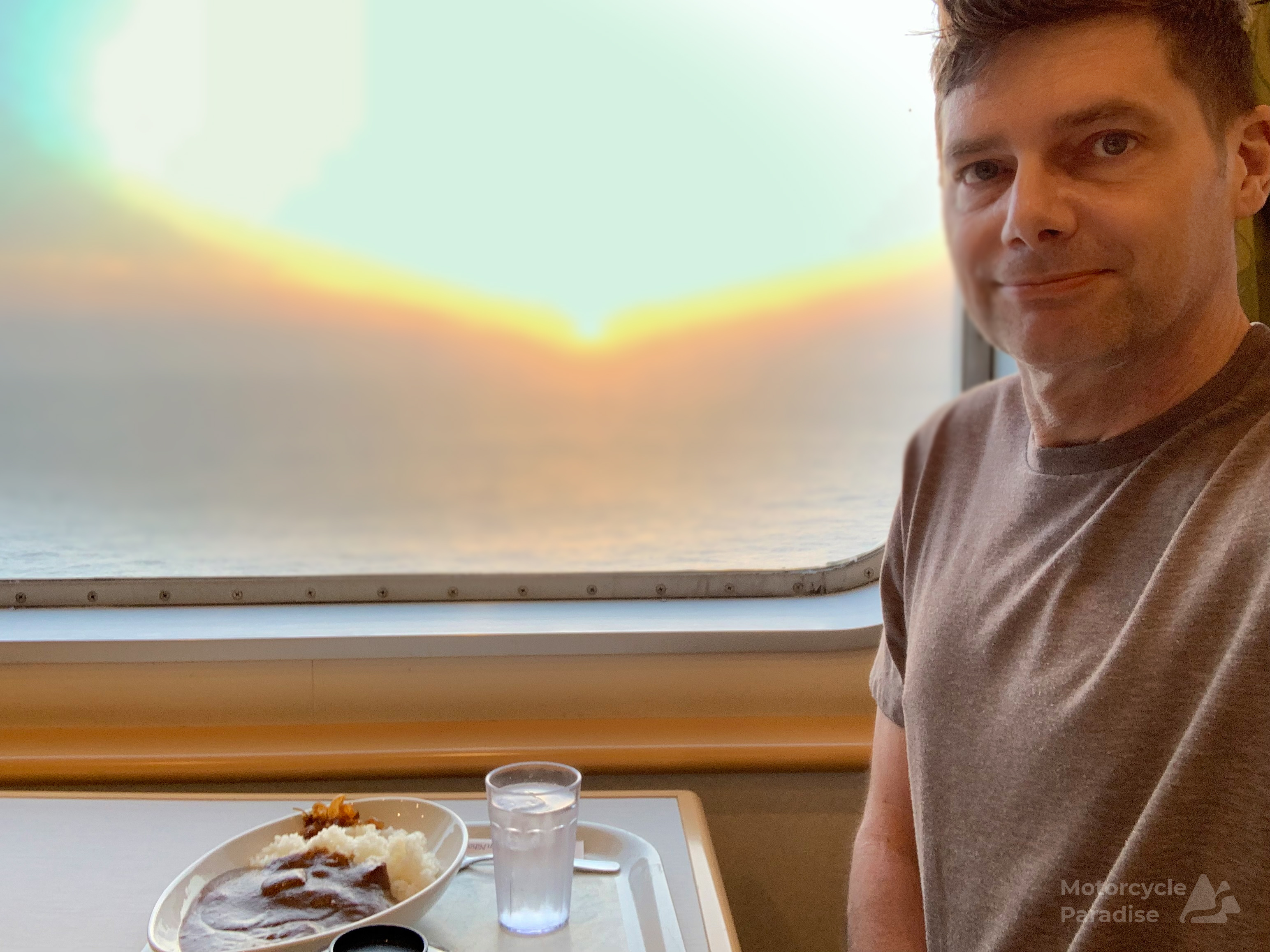 Much of Hokkaido is farmland. My first day was easy riding east on gentle flat roads. Not boring but I found nothing much to photograph. The temperature was about 16 degrees with wind gusts making it feel less. A hot coffee was mighty welcome.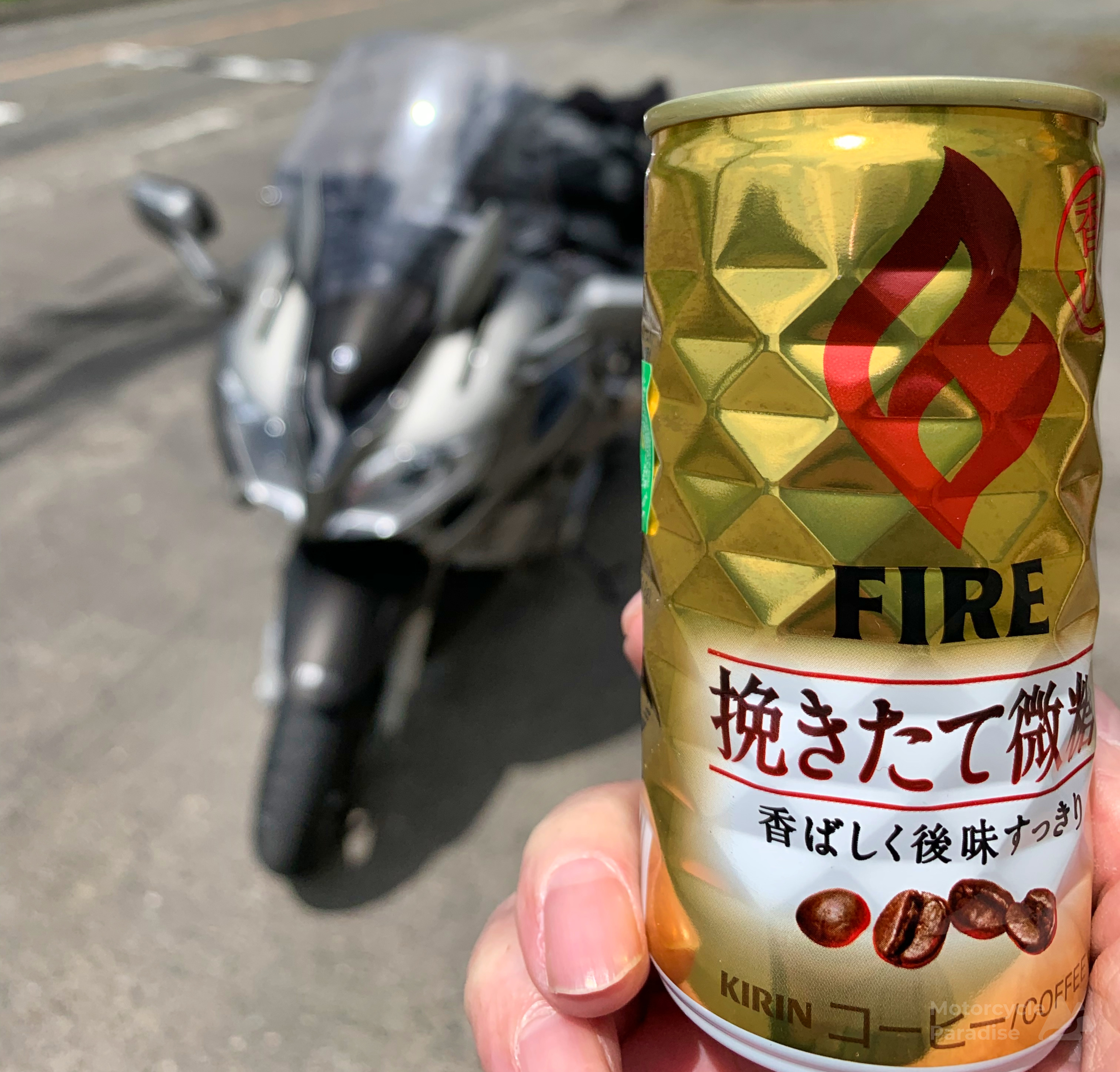 No trouble up here to extend the mileage 100 km above my usual 300 in Japan as traffic is low and the roads wide and open.
The next day there is gale force storm coming – but can out run it. I ride directly north to the town of Shari. Cross winds so strong my neck aches fighting them but I remain dry. Too early to check in I take cover in a laundromat and do washing and social media. Outside is a gale and I fear the bike will blow over but who am I kidding, the FJR is so heavy it would be still standing when the houses have gone… Nothing to eat in the local convenience shop tonight and I don't feel like getting soaked looking further so its super spicy Nagoya style instant ramen with a salad and some Spanish red, warm and happy while outside the rain lashes my window.
Next day and what storm? This is common in Japan. I feel happy, today is looking great!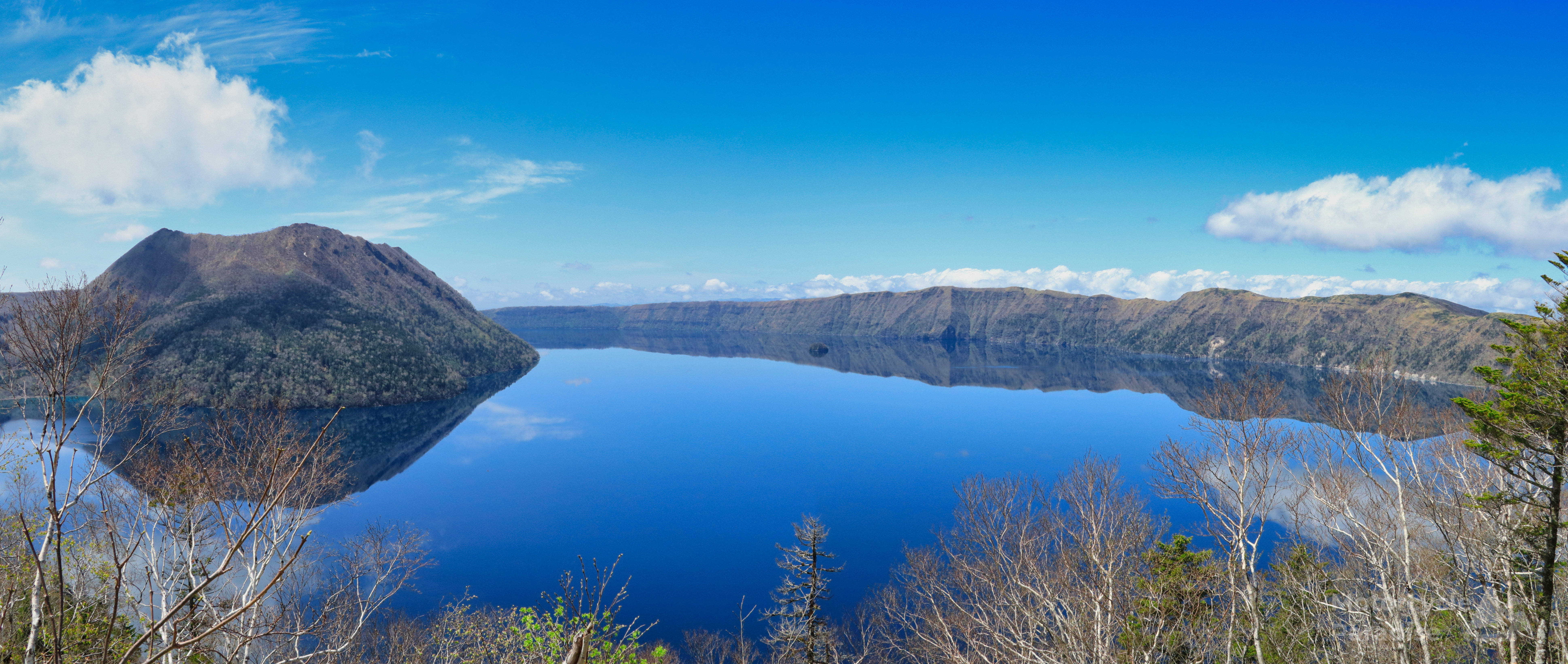 In lieu of missing the east coast yesterday I am rewarded this morning. Lake Mashu with a rare mirror surface. So incredible I could see the clouds reflected in the water with clarity the like I have never seen before.
Some really nice open country next. Starting to feel like I am in the north now.
I ride a terrific back road this afternoon in a fertile green valley to arrive at the town of Nayoro which has some interesting artworks in surrounding parks.
I post my vending machine coffees for fun but the food is great in Japan, I like what they call family restaurants because they are easy and affordable. Often they offer unlimited soup, salad and rice bar with a mains for around $10.
Next is another great looking day. I have my morning shot and bite to eat. I am skipping the hotel buffet breakfasts this trip (when optional) to save money and my waistline.
I return east away from the flat farmlands to interesting scenery.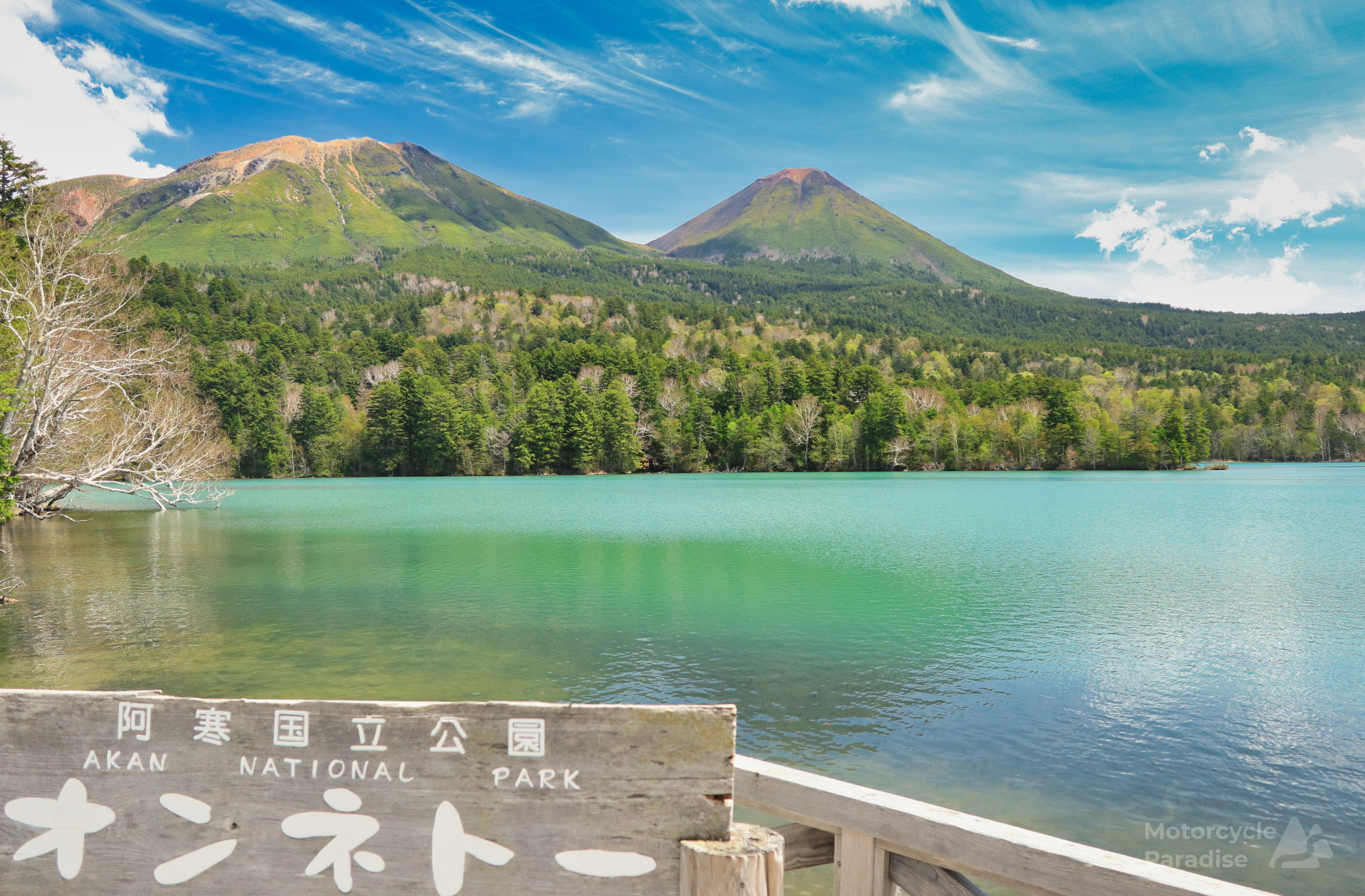 Before I know it I reach my destination. 17 days ago I turned left instead of right leaving Yokohama but find myself this afternoon at Cape Soya, the most northern point of Japan.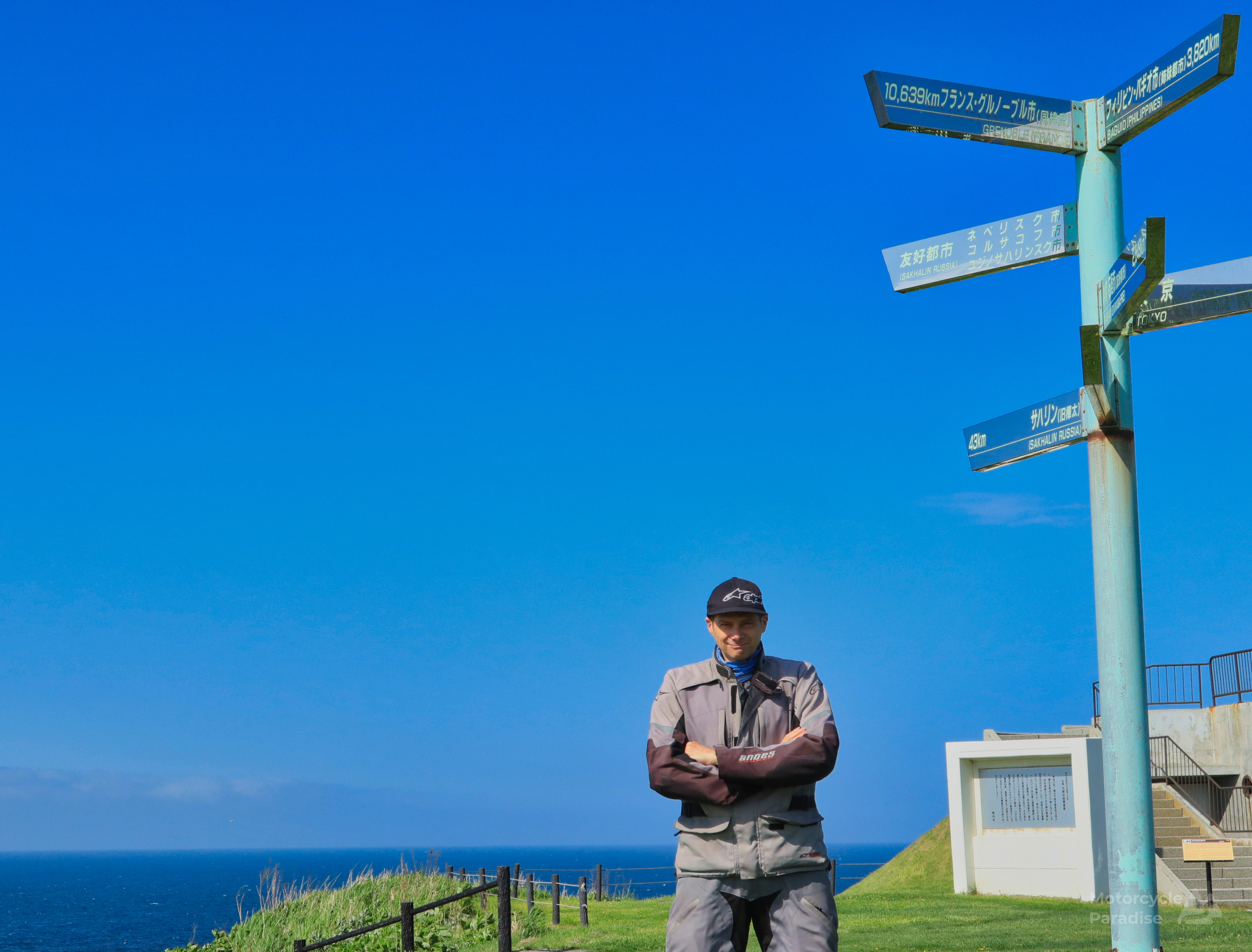 Russia that way, 43km. The cape is littered with memorials, some trivial but one not is the monolith below. In 1983 Korean Air flight New York to Seoul strayed off course into Russian restricted airspace and was shot down just north of here. Today everyone is still sabre rattling. I don't think my ringing the peace bell will help much. If more people went motorcycle riding perhaps there would be less hostility.
One more stop today, the view tower at Wakkanai. On a good day you can see Russia but this afternoon it was obscured.
Rishiri island to the west was visible. I really want to go there tomorrow but the ferry price is not reasonable. Nearly as much for the short round trip as my ferry up to Hokkaido was. I'll think about it tonight.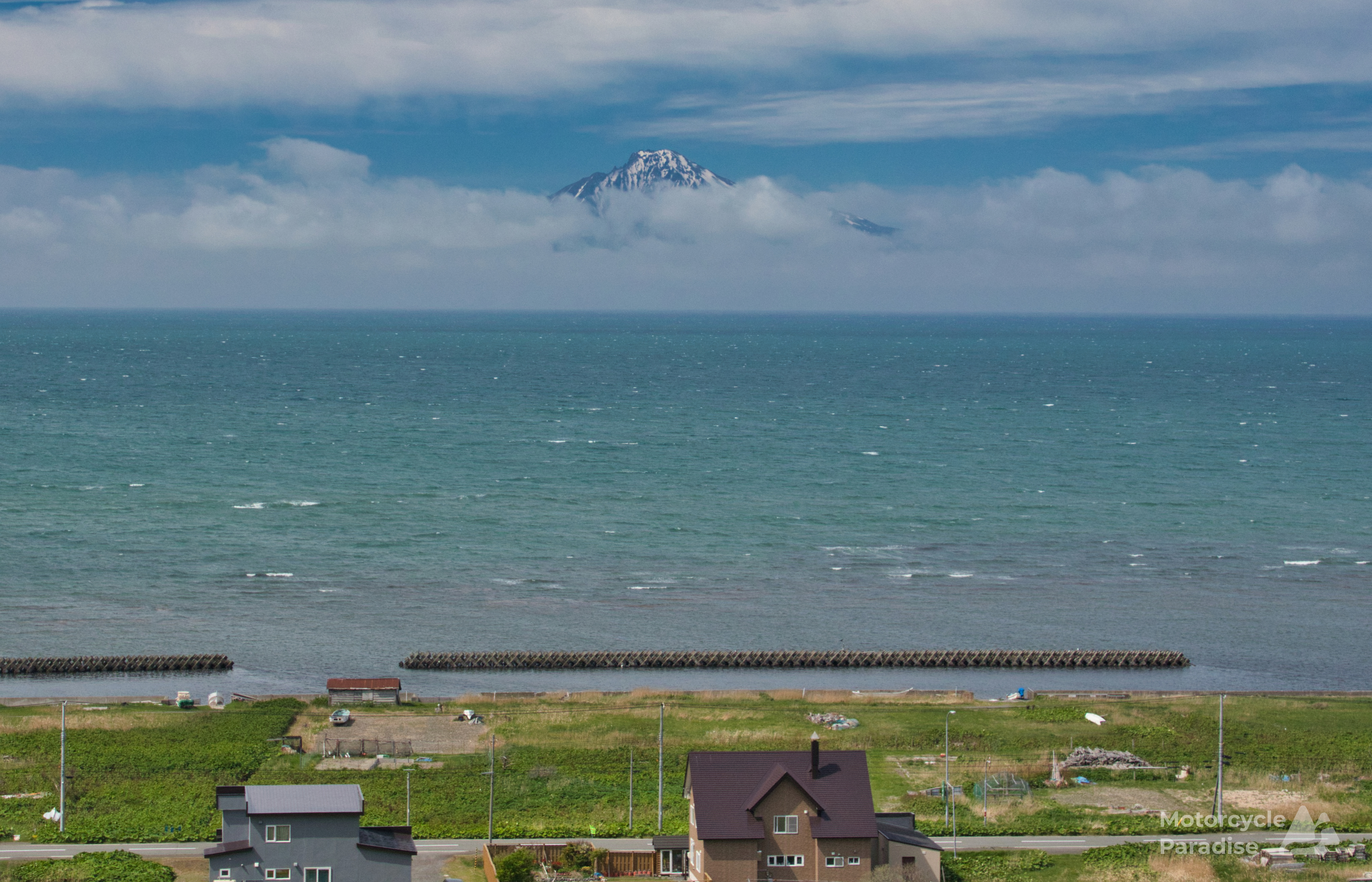 The weather made my choice for me. Strong winds and high seas later today. Can't chance being stuck out there. I got another glimpse of this mysterious looking place then it disappeared into clouds that touch the ocean.
I was getting blown around coming down the west coast today, the cross winds were ferocious. I stopped for bowl of udon and met a rider from Seoul. Cho rode is GS here via the ferry from Busan and had also ridden from Seoul to Europe via Russia. I hope I have same riding spirit in my future years.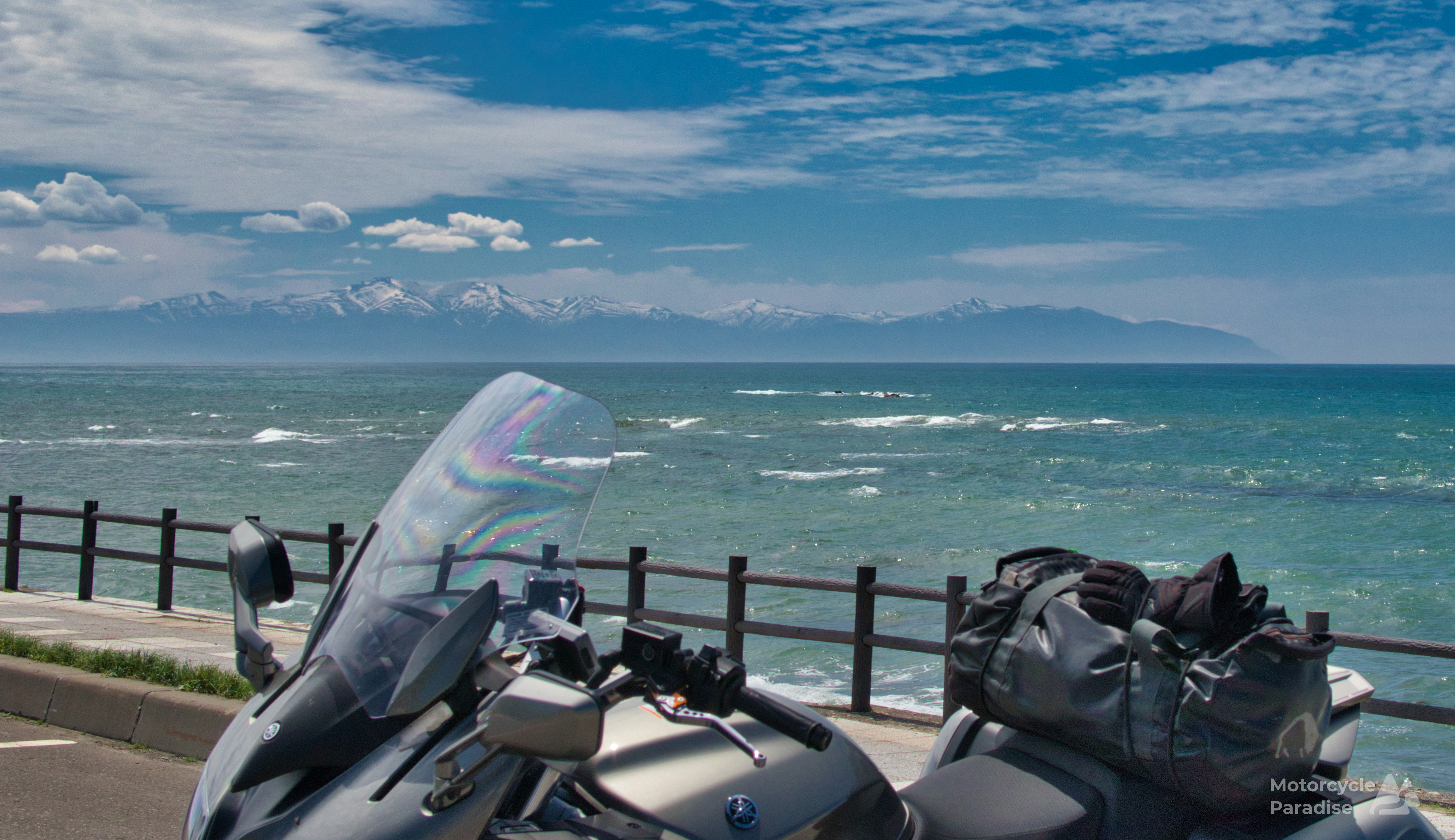 Very pretty coastal ride despite the wind. I bypass Sapporo and with a milder warm afternoon I decide spur of moment to visit Kamui cape even though it is late. So happy with this choice.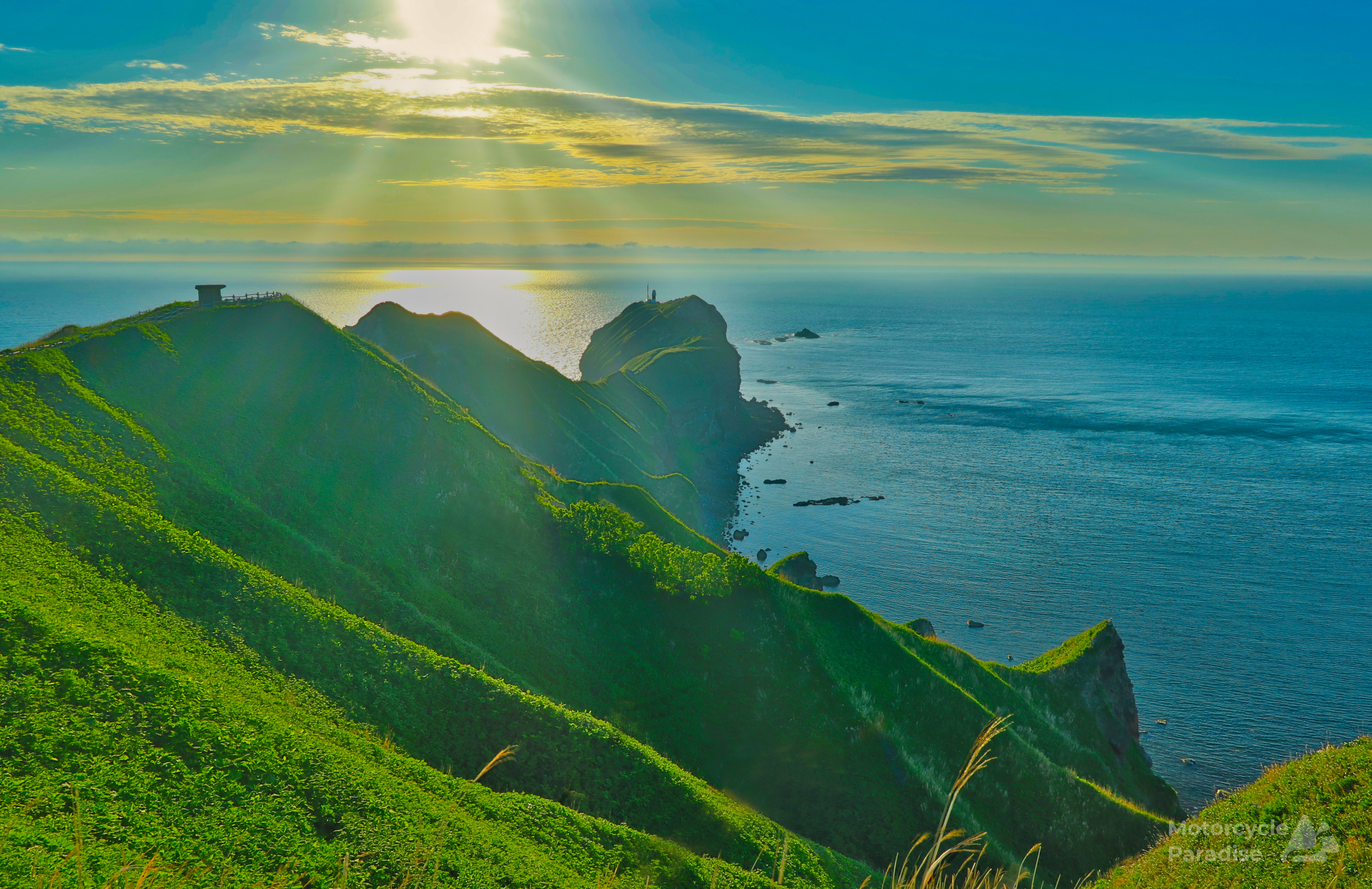 It is a most beautiful place. The emerald green low shrubbery and dramatic form of the cape made me think of Ireland. I have tried to capture it, this in HDR mode came out not too bad.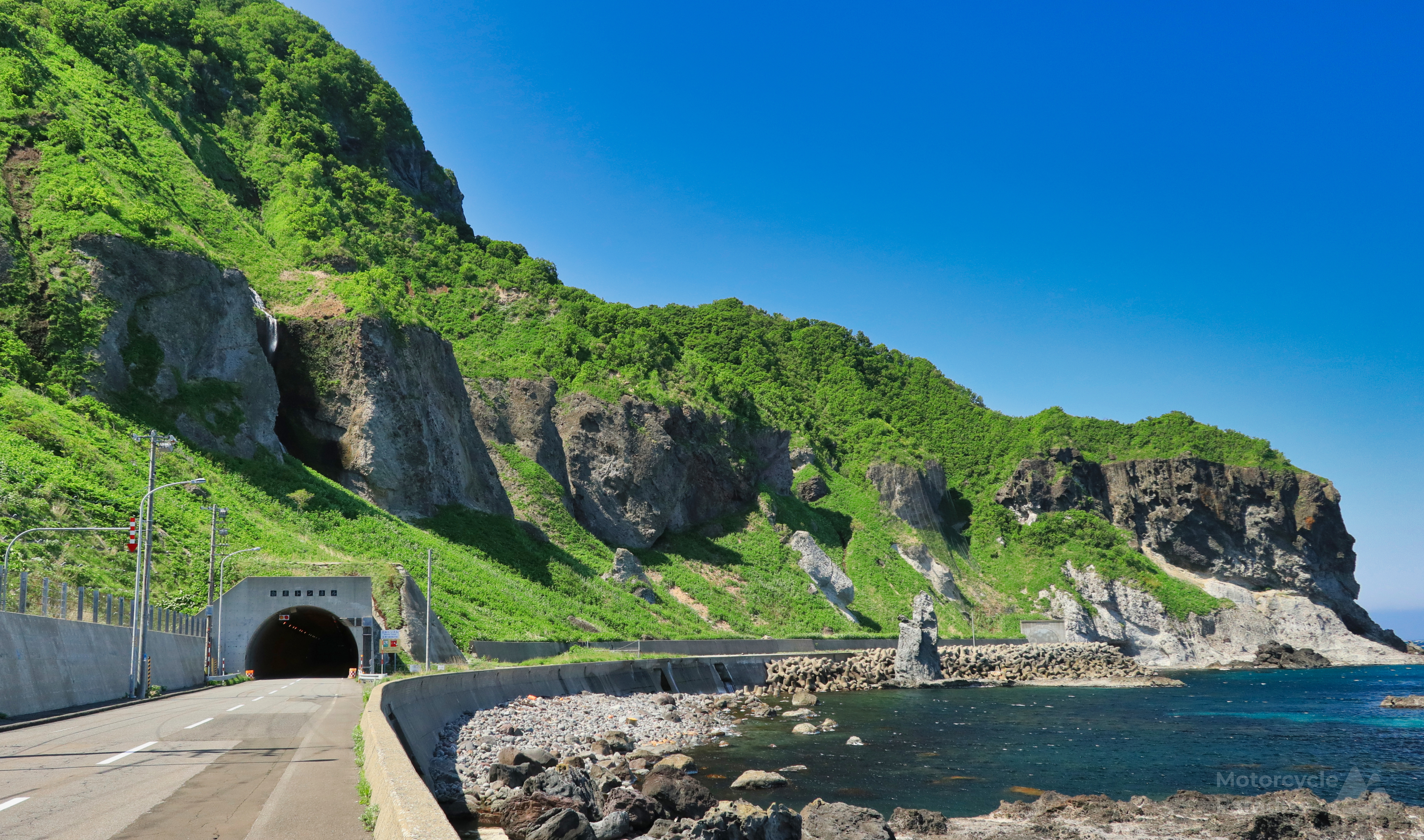 I am continuing next day south along the west coast. The weather up here is variable to say the least. I start fine then a blanket of fog rolls in and the temperature plummets. I cross a central mountain in light rain to the east coast and emerge into blazing sun and eat lunch in the high 20's.
Hokkaido in Spring has an insane amount of bugs. I was wiping the screen with wet cloths at gas stations in a futile attempt then switched to jet wash to clear the 100's of insects adorning the front. Glad to be shielded from them myself, I gave it another jet wash this afternoon. The bike has not been able to idle since arriving Hokkaido forcing me to always hold the throttle open. Annoying but long as it keeps going. Easy coastal ride into Hakodate this afternoon.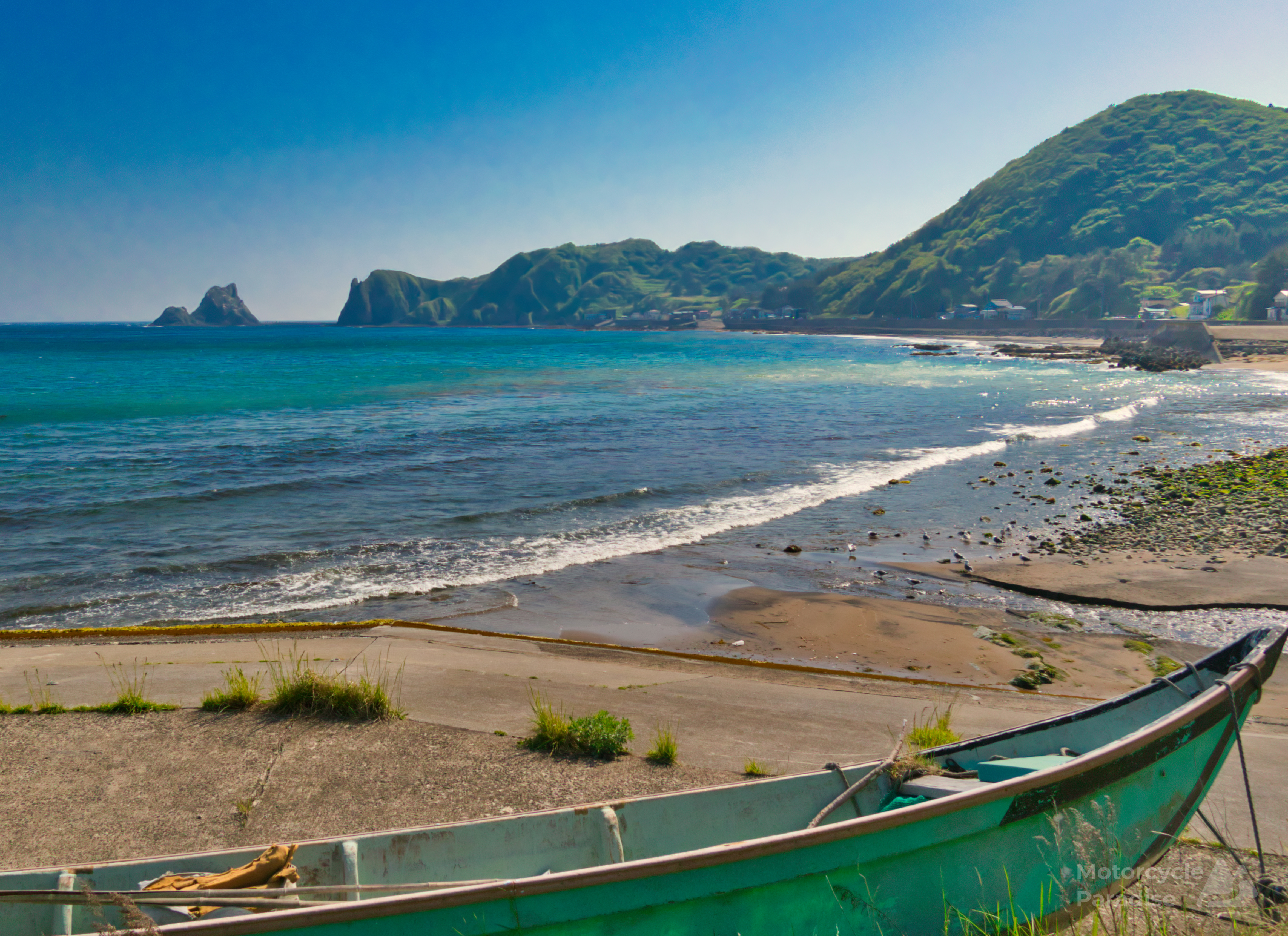 I took a day off in Hakodate. Just needed a rest. Downtown lacked the usual variety of restaurants or shops one expects in a regional town of this size and there was surprisingly very little for a tourist which worked to my advantage as I went back to hotel did some washing and and really rested up.
Next morning I am at the port early. Today I am leaving Hokkaido. Not on the high speed catamaran (made in Tasmania) the other small ferry for a short sailing to Oma.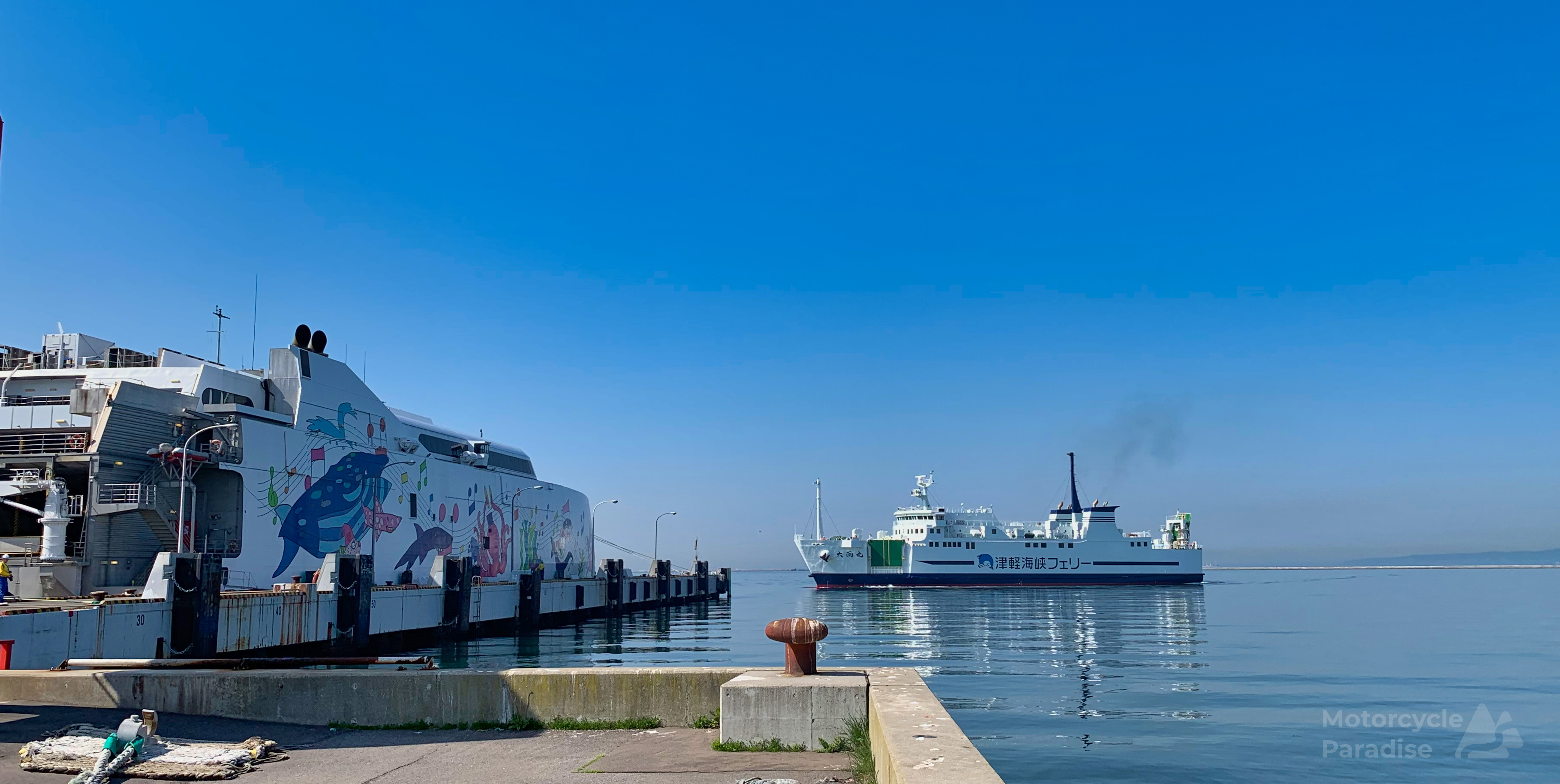 The western side of this peninsular is very scenic but I wanted to see a new to me area so took the east coast and then inland to a mountain range.
Alas the mountain top was closed to visitors. Looked like some sort of military installation. There is ever slowly a buildup of military happening in Japan. I stopped at the hot spring fed lake below, the water was a most beautiful turquoise colour.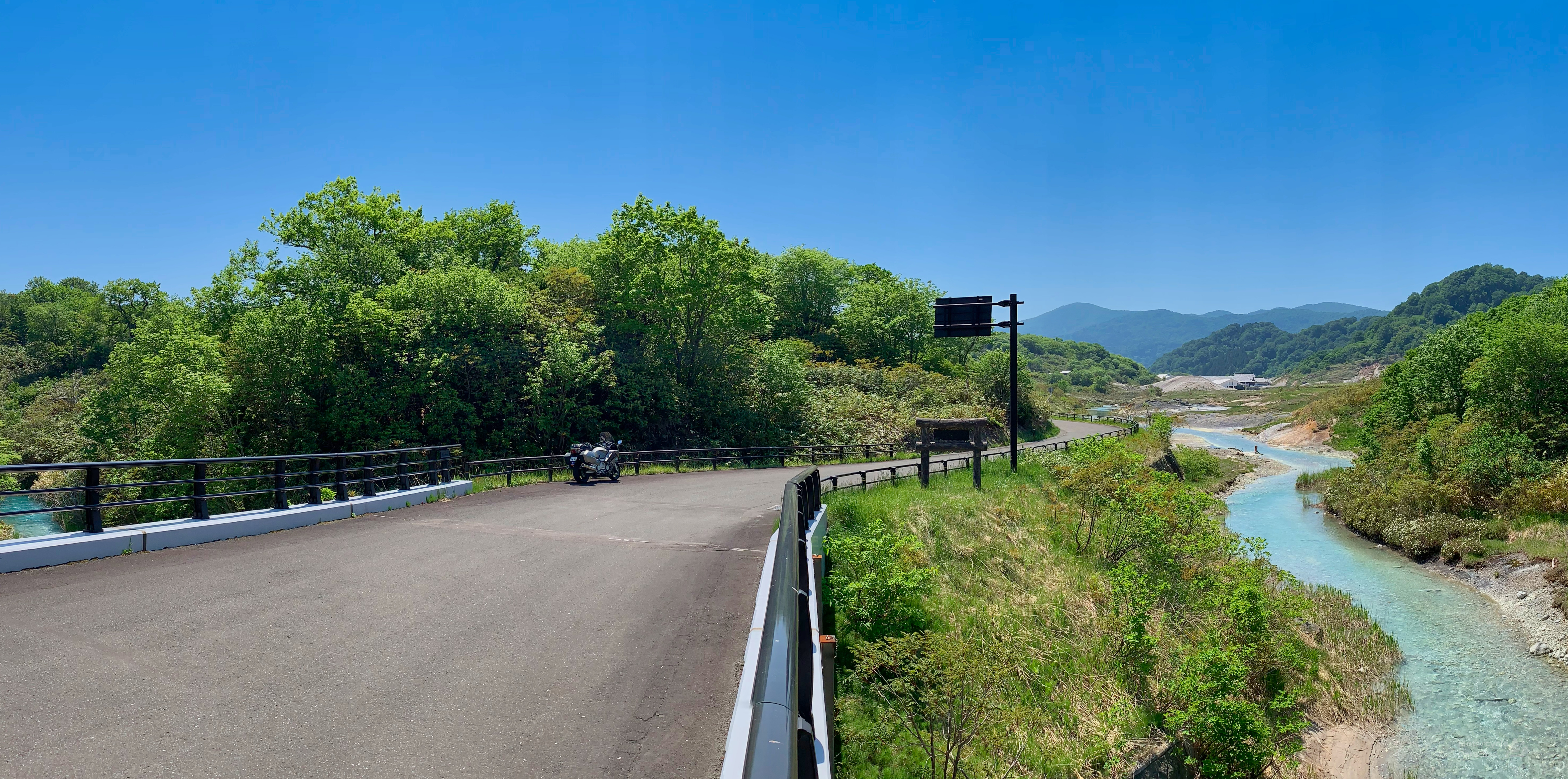 Easy ride this afternoon as I make my way south.
My penultimate ride day takes place in Iwate. The weather is cloudy but the riding mighty fine tracing an old rail line crisscrossing a stream in a pretty valley. I have lunch at the falls and meet a guy 70 who is a YouTube star making videos about Japanese country side. I felt out saying I only blog. But I'm doing what I like. If I was catering to the mainstream then I wouldn't be talking motorcycles much at all unless it was the mandatory Vietnam ride every backpacker does.
Imagine someone builds a perfect road through a huge mountainous forest that serves no towns thus has zero traffic. A magic road in the sky running as far as you can see in this photo. A place most tourists to Japan who never leave the cites could not imagine exists. I hope over the course of this tour I have managed to show there is much more here to see than neon.
I don't really want this tour to end. The weather is looking ok next few days. I am tempted to just keep going. The bike has not been running well though and if I was to be satisfied as is, it would make more sense. Get home with it still going rather than push my luck.
My gear on this trip is as follows: Tatonka bag, Nolan N44 helmet, TCX explorer boots, Alpinestars coolmax socks, Two regular buffs and Halvassons winter gator. Held Rainstar and Alpinestars Transitions gloves. (RS Tachi gloves not used) Alpinestars Andes jacket and pants and out of frame BMW City2 pants used in Kyushu. (No affiliation to any)
Photos are 50/50 from Canon Powershot G1X3 and iPhone XR. Onboard from Ricoh Theta and maybe couple from the Sony QX10. Having a tripod was very handy and the Velbon Cube was perfect.
Post processing by Luminar 3 . I'm really pleased with this software, so much I joined their referral program which is rare thing for me and this blog. I still have Polarr, it's a very good free photo editor if you are starting but what Luminar can do is another level.
600km highway last day – easy when riding the supersonic armchair. Odometer turns 7000km as I arrive, probably 1500km extra on water. My new Bridgestone BT-023 already at their wear tabs. One of the best rides I have ever done.
PART 3