It rained last night and the clouds were still clinging to the mountains in the morning. Eventually I set off to visit the Kelimutu volcano with its three colour crater lakes on the insistence of the lodge owner 'no problem can see, can see'.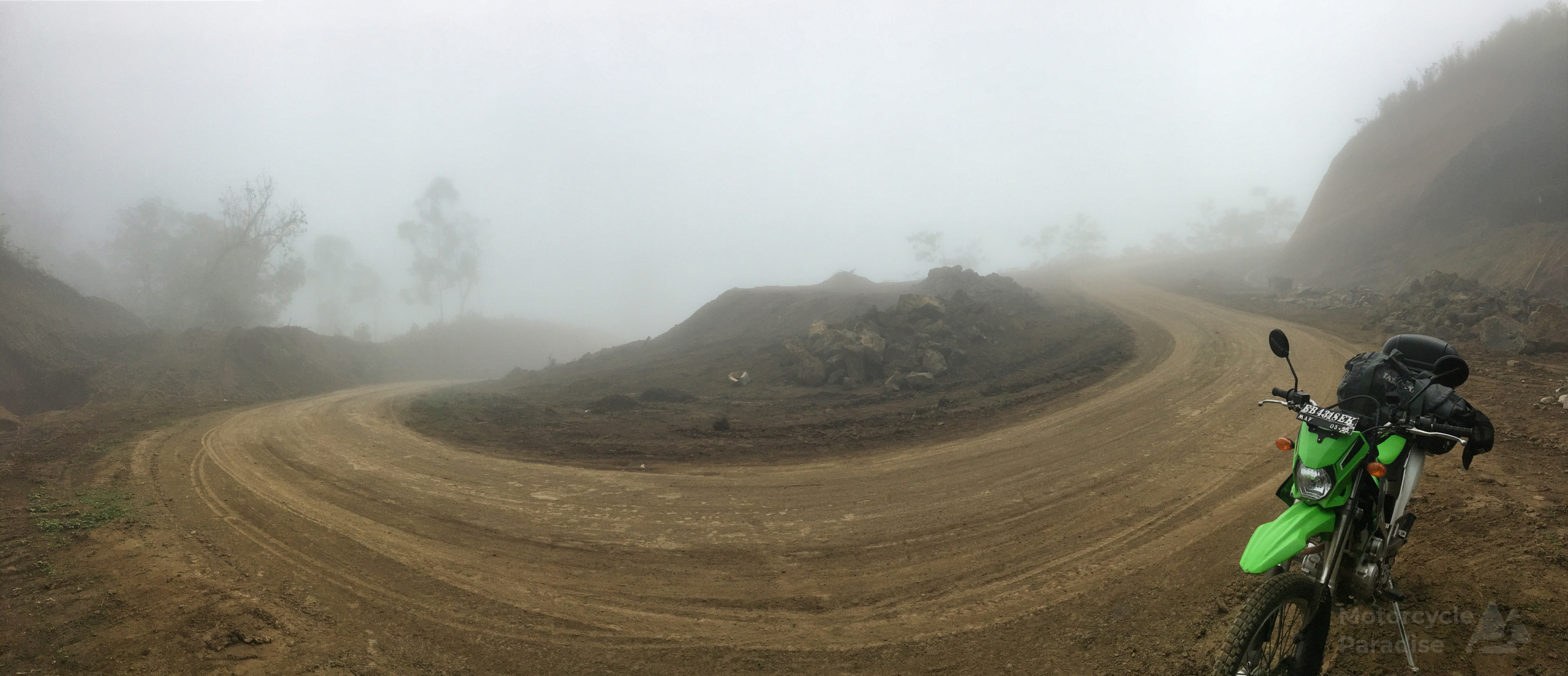 Nope, not going to see anything this morning. Half way up the dusty road I turned around. Couple of consolation photos then are this giant bamboo bike. And a selfie.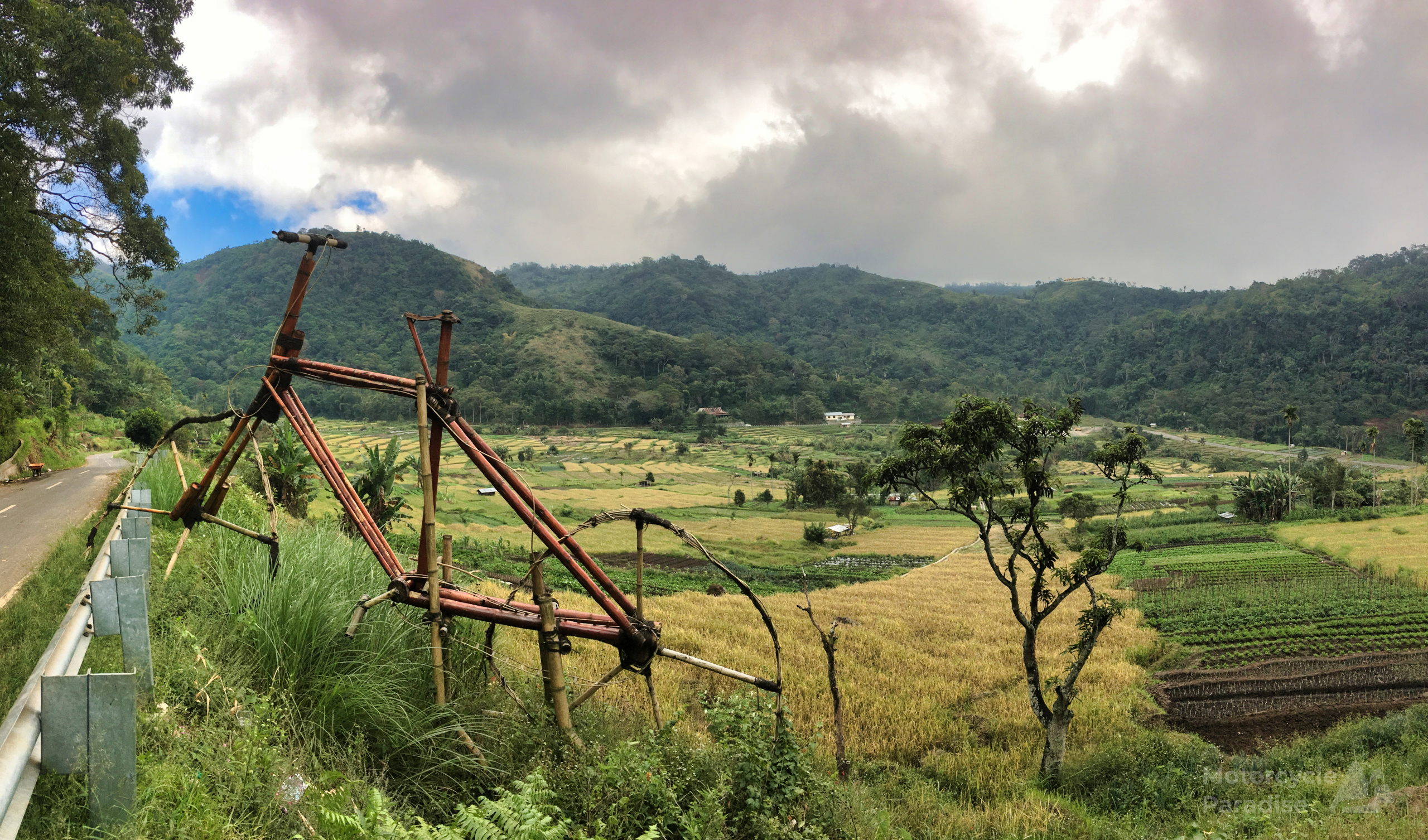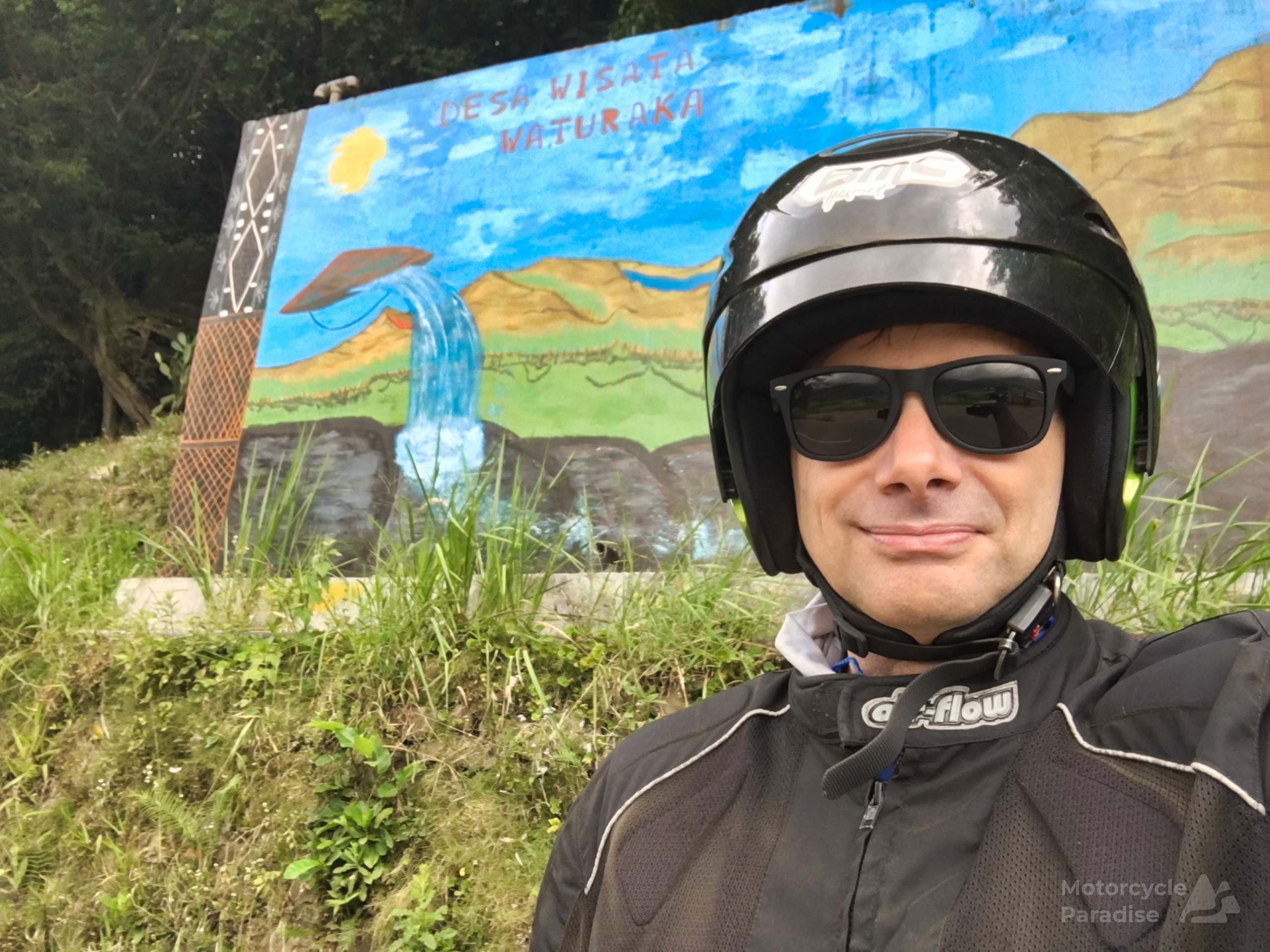 I stopped at a bridge, and the kids playing in the river went wild jumping up and down waving which made me feel a surge of joy. Tourists in mini vans don't see this or hear kids yelling hello mister as they pass by behind their tinted windows.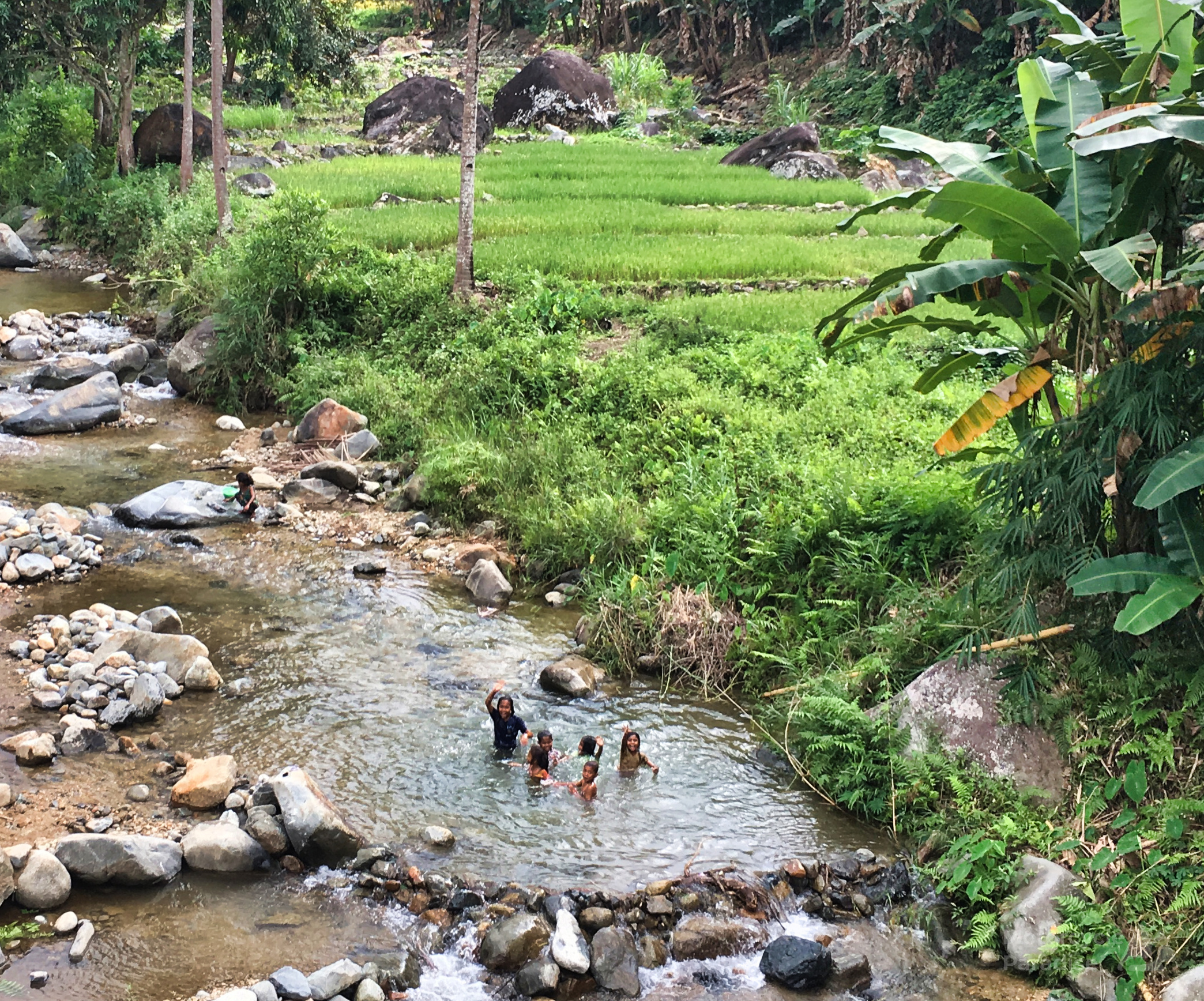 The journey is the destination. If you can embrace that so many other things will seem less important.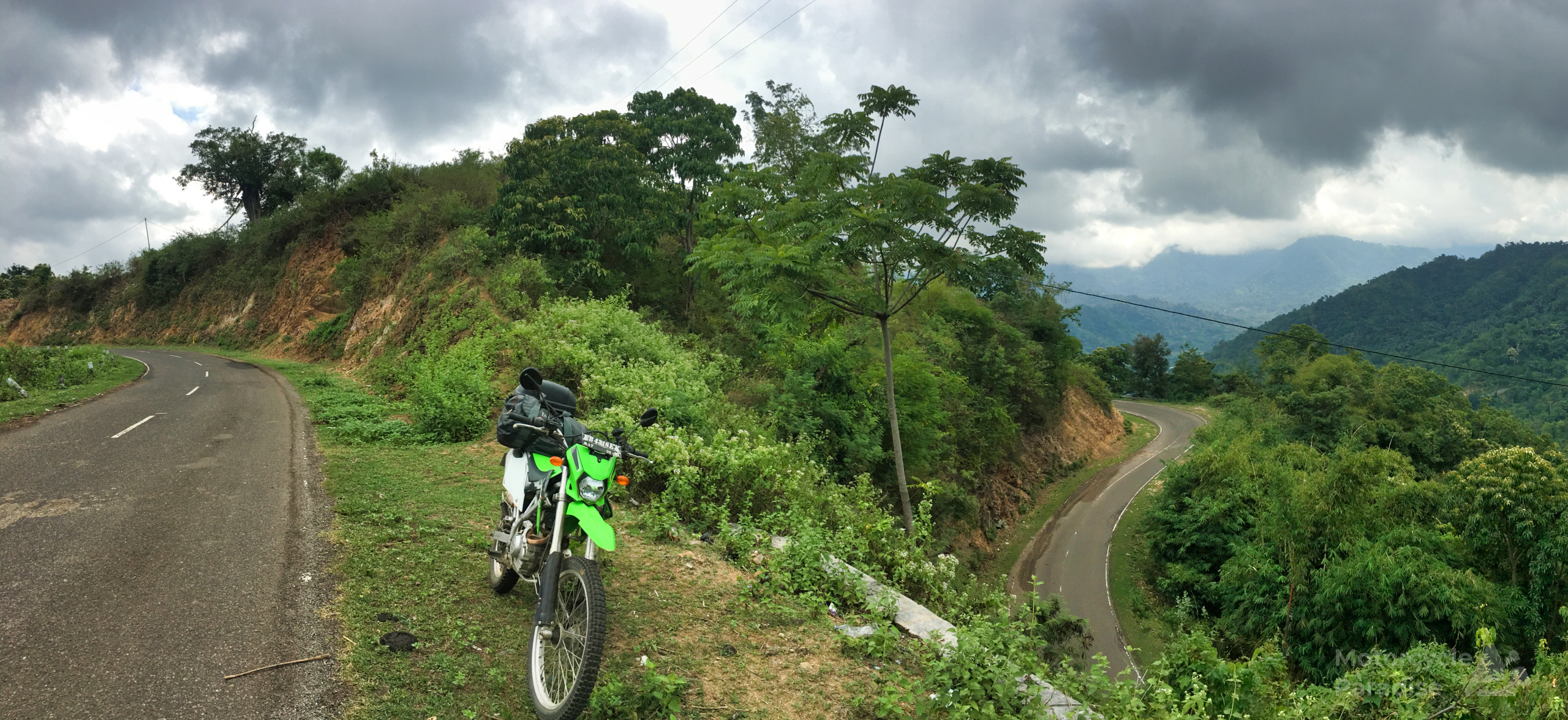 The ride is just fantastic all morning. It is a 50km long descent of non stop corners. Another amazing thing about Flores besides the riding is how Christian and Muslim religions exist side by side with no problems.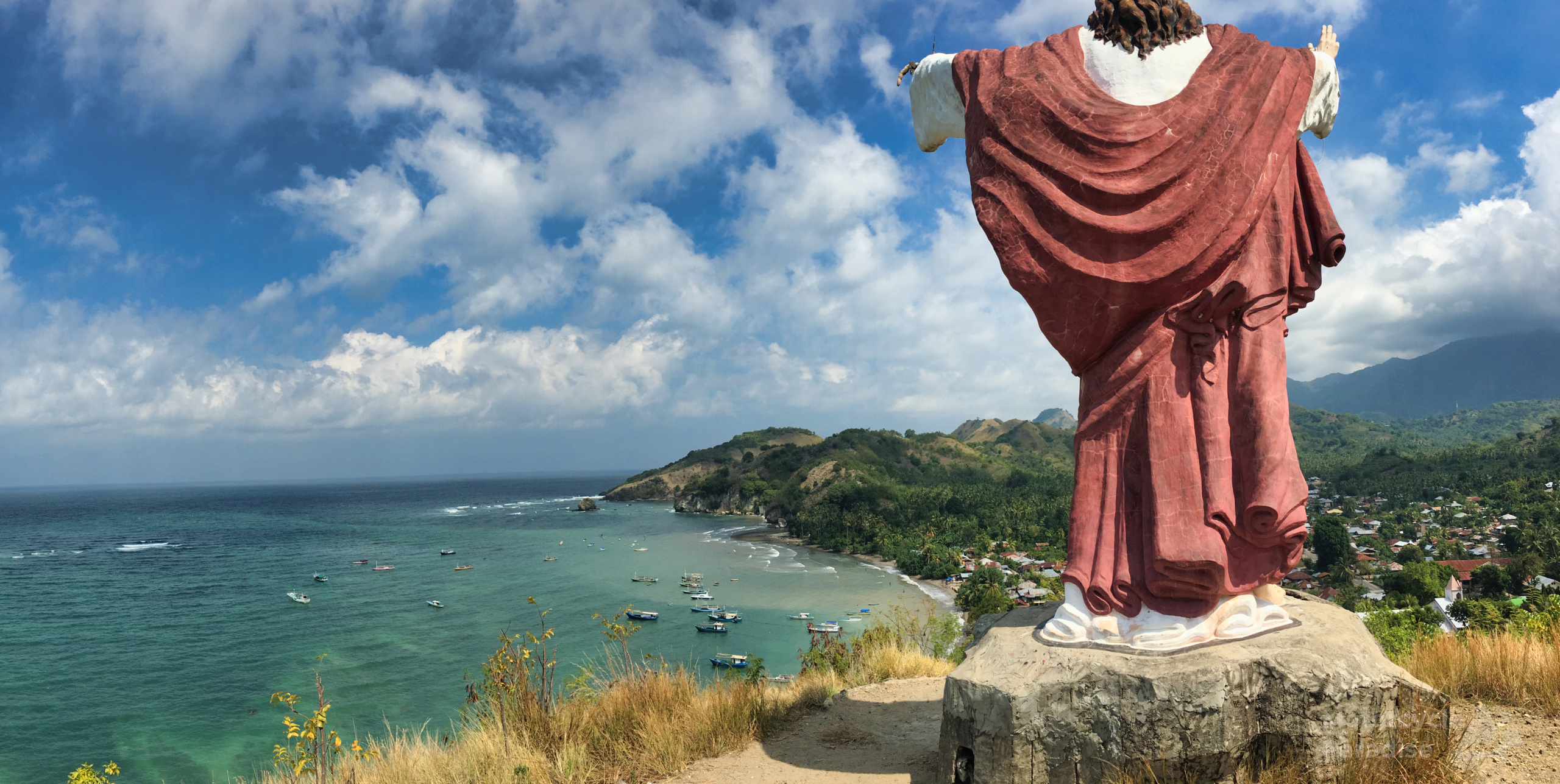 The bike is making some loud drivetrain noises. I think it is just the chain and stop at a hardware type store at Maumere looking for chain lube.
By sheer chance behind the counter is a most beautiful girl Melisa who studied in Ohio and speaks perfect English and who gives me some great advice on the area as well as sourcing me chain lube.
I stop today at a beach area Melisa suggested and wash some clothes and watch a magnificent sunset. The people in photo are sum total guests here.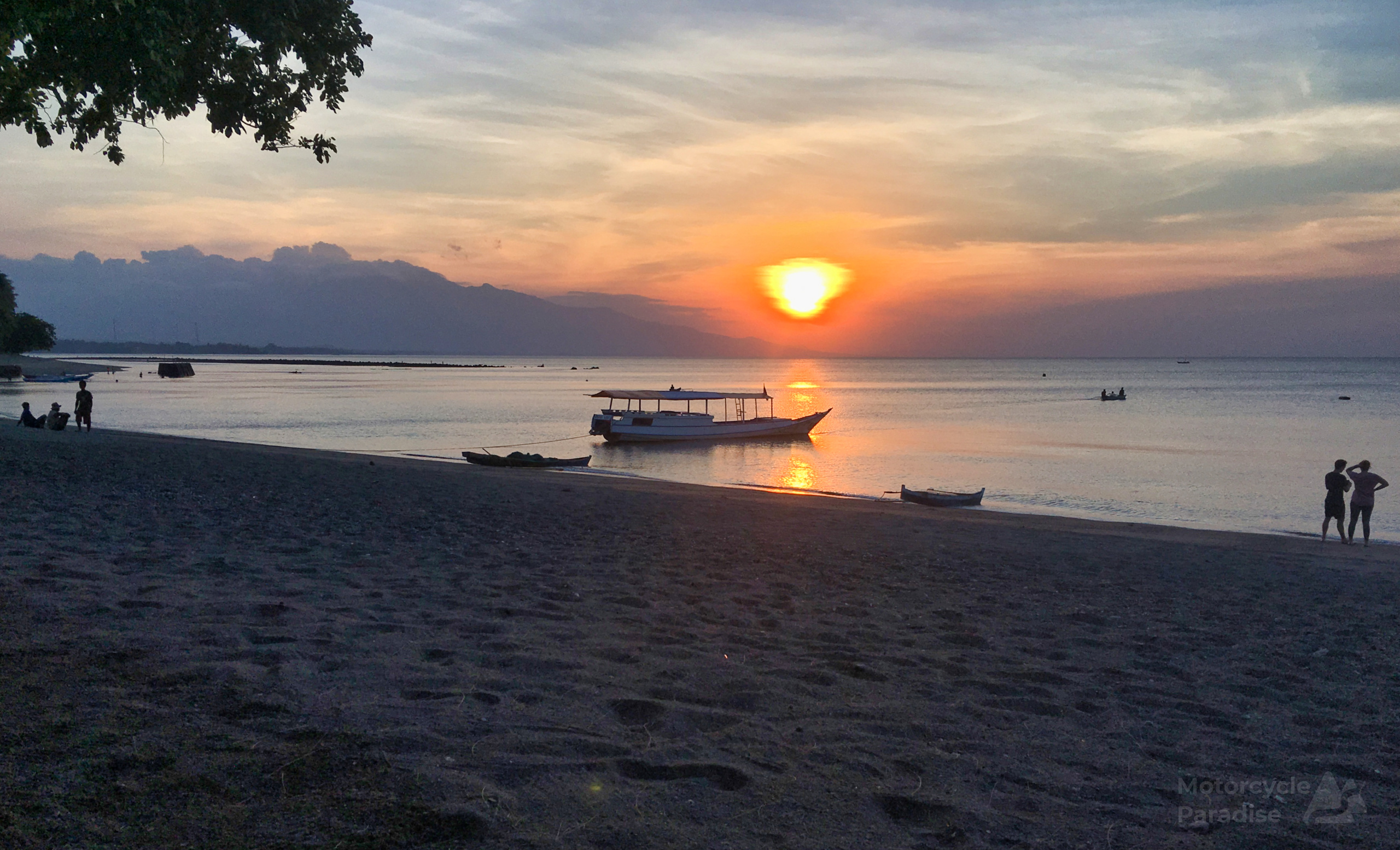 The next day is the ADV part of this ride. Nobody can tell me how bad the route is. The girls at the hotel say very bad allow two days. But I find locals often have never travelled to even their next town.
First up today is visit another place Melisa told me about north west of Maumere, and wow it is jaw dropping! There are no resorts or shops here, never saw a car the whole time either just odd local bike passing. And the riding is amazing with great road the hugs the coast.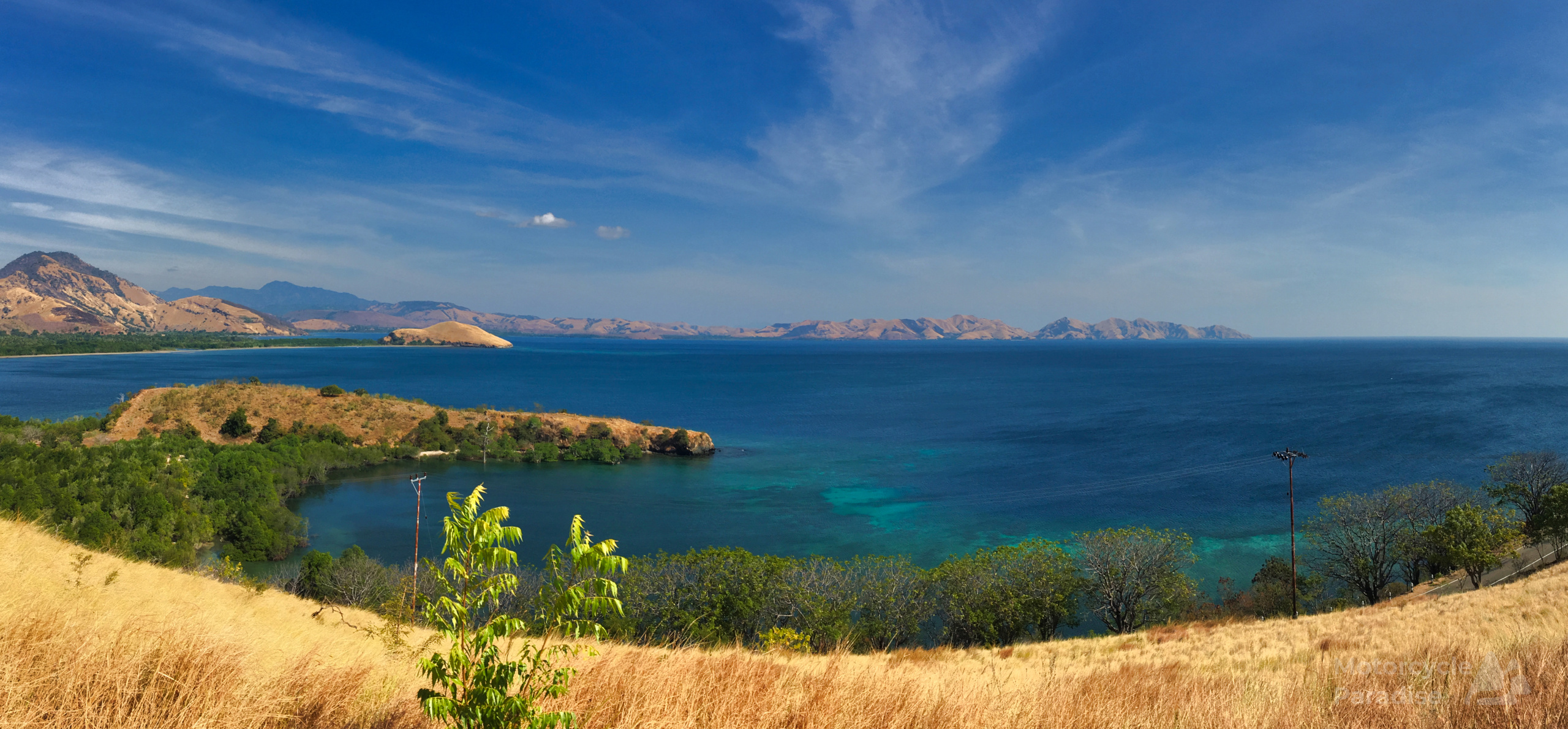 Then the road enters rolling hills but remains well surfaced.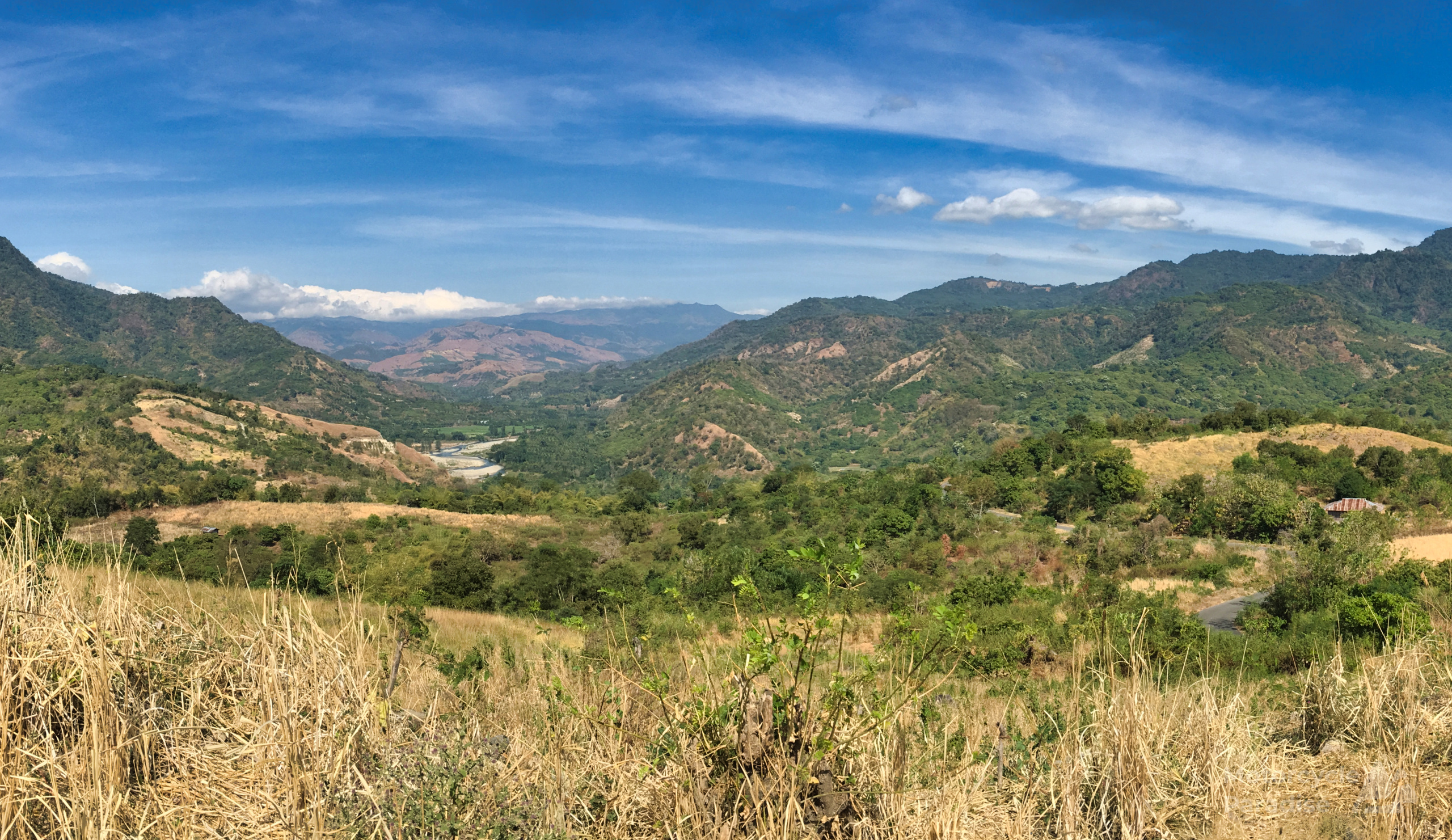 Absolutely nothing here, bamboo huts, women carrying water or fire wood on their heads. Naked children playing in the dirt. Men sitting around smoking under trees. I stop at a tin hut shop and get 2 litres of water as it is baking hot and I am being foolish carrying no supplies.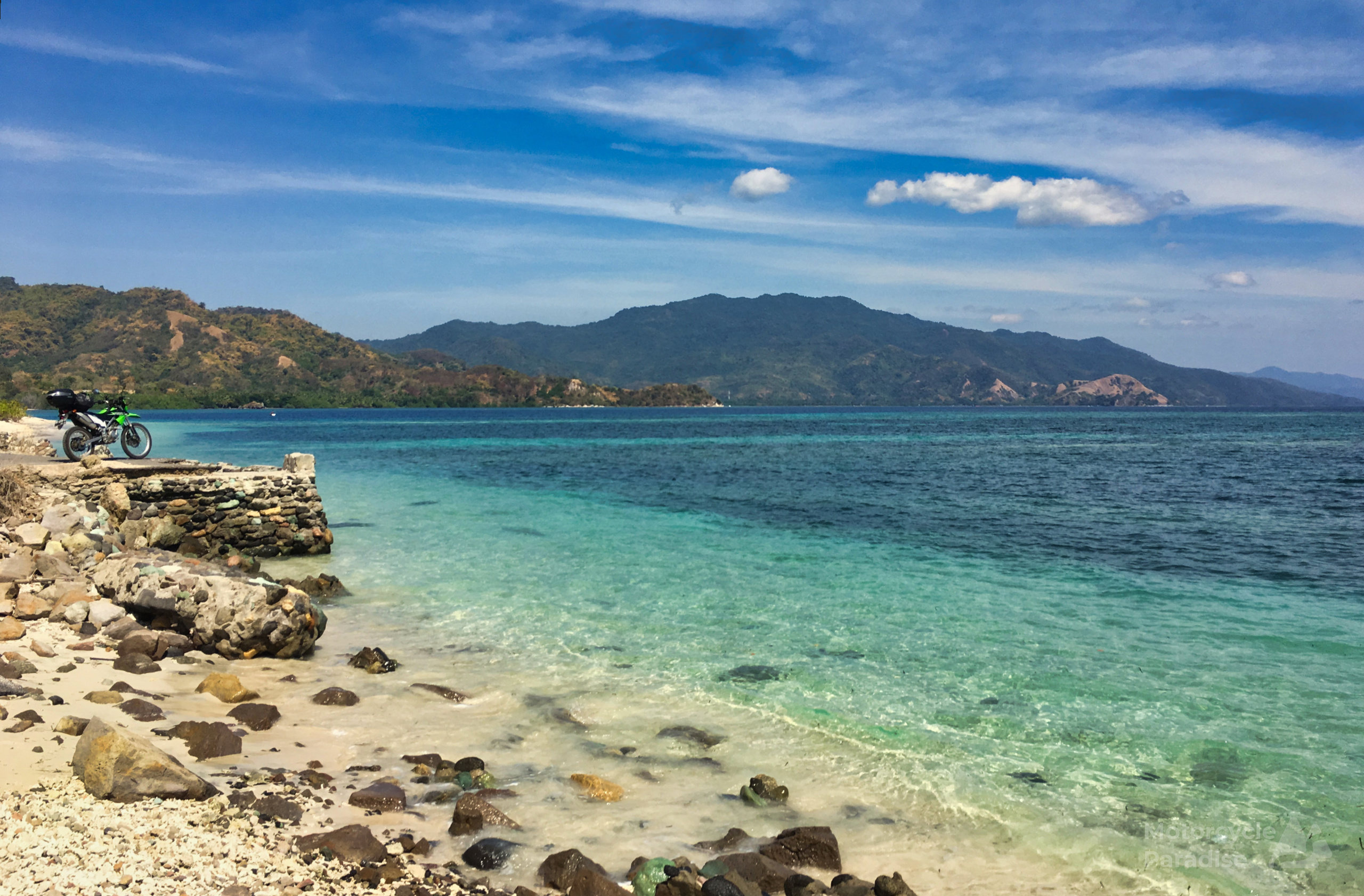 Back down to the coast the road deteriorates to a rocky trail but it is beautiful. The beaches alternate from black volcanic sand to white sand depending on currents.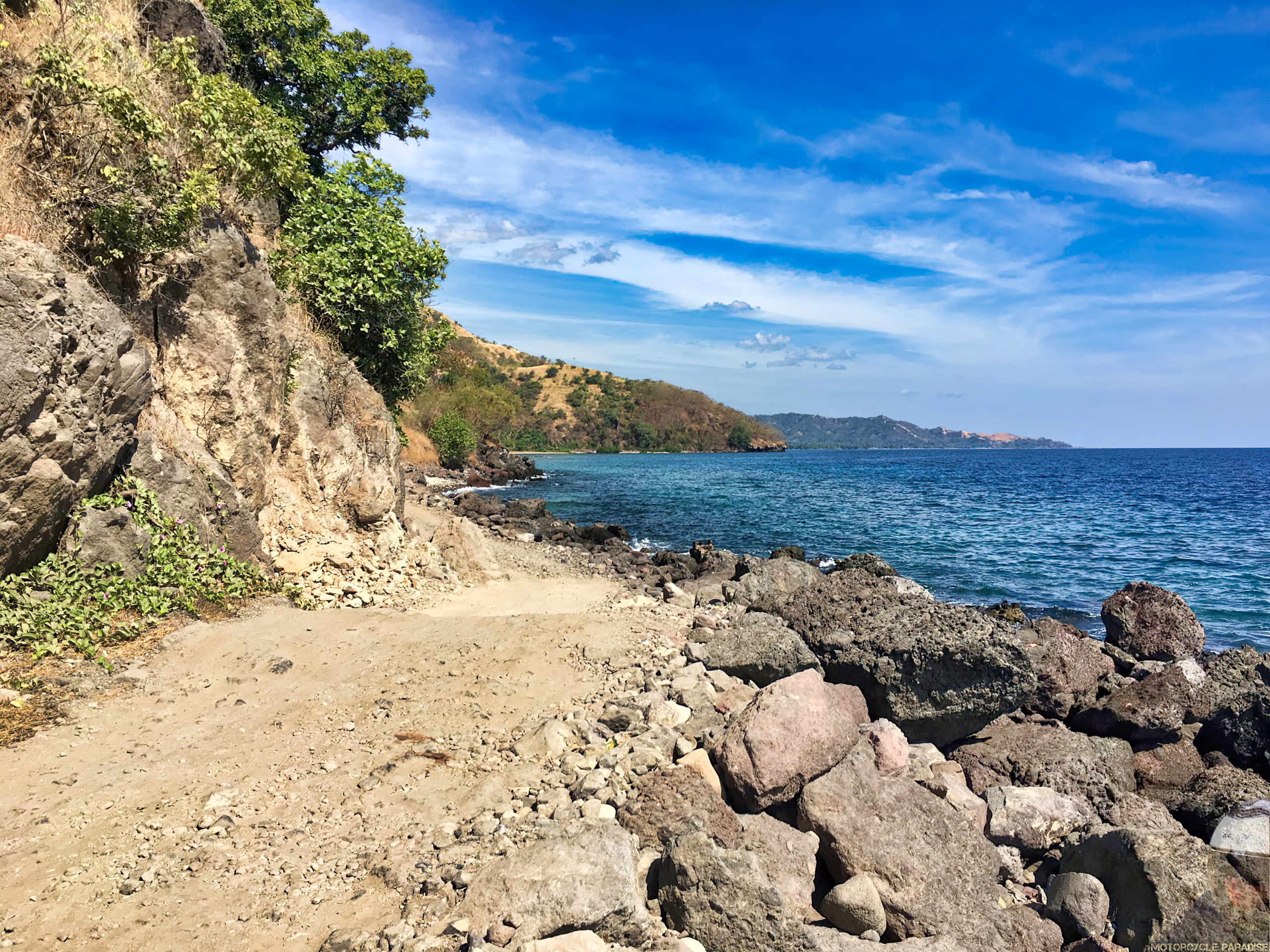 There had been no petrol stations or any place to get food since leaving Maumere but I came upon this fuel stand and topped up.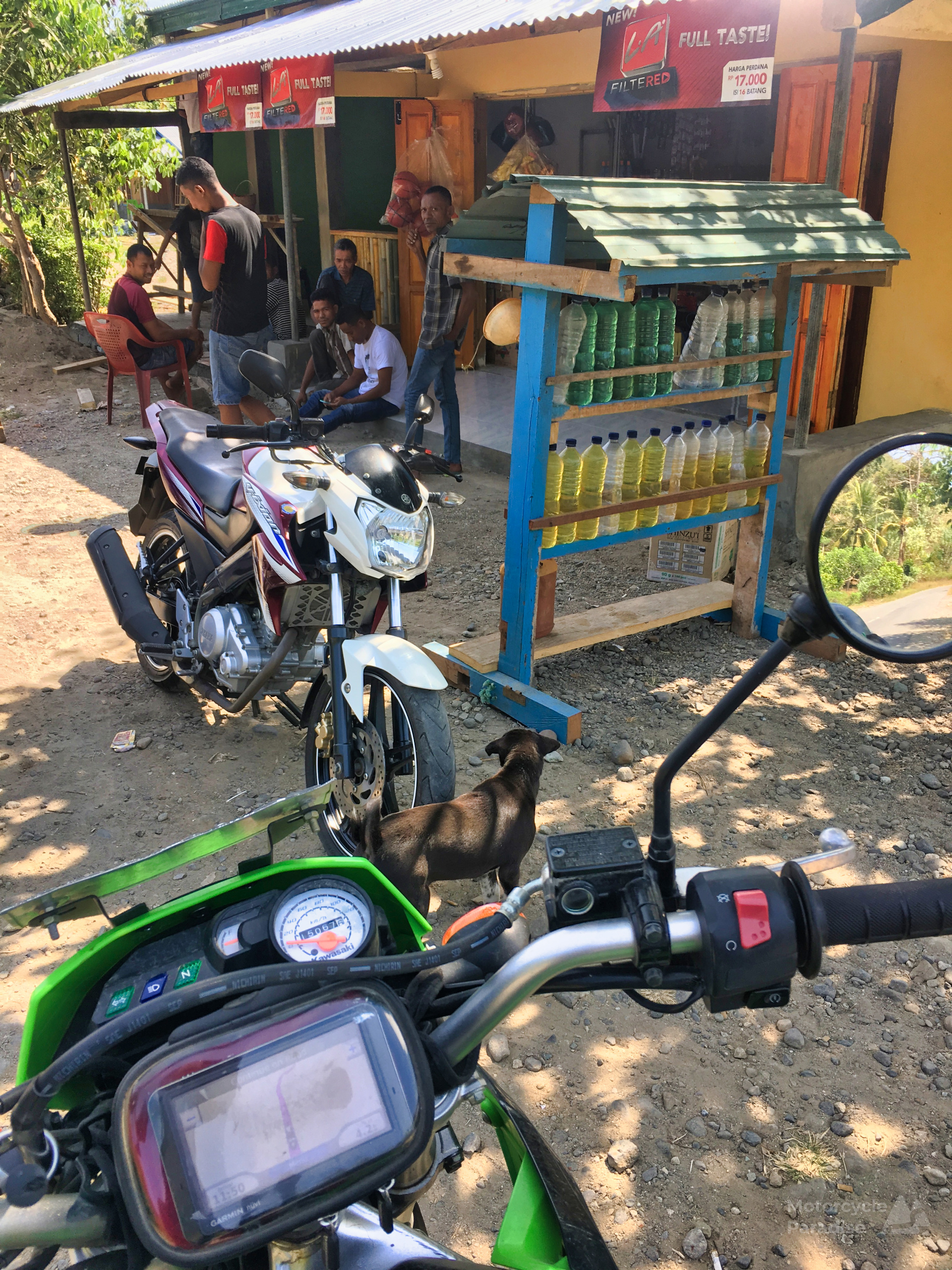 The blue is called premium, the yellow is called solar, but both are low octane. Real premium is actually called Max and has a 92 RON but is only in the largest gas stations. The bike ran much better when I had a full tank of the proper premium.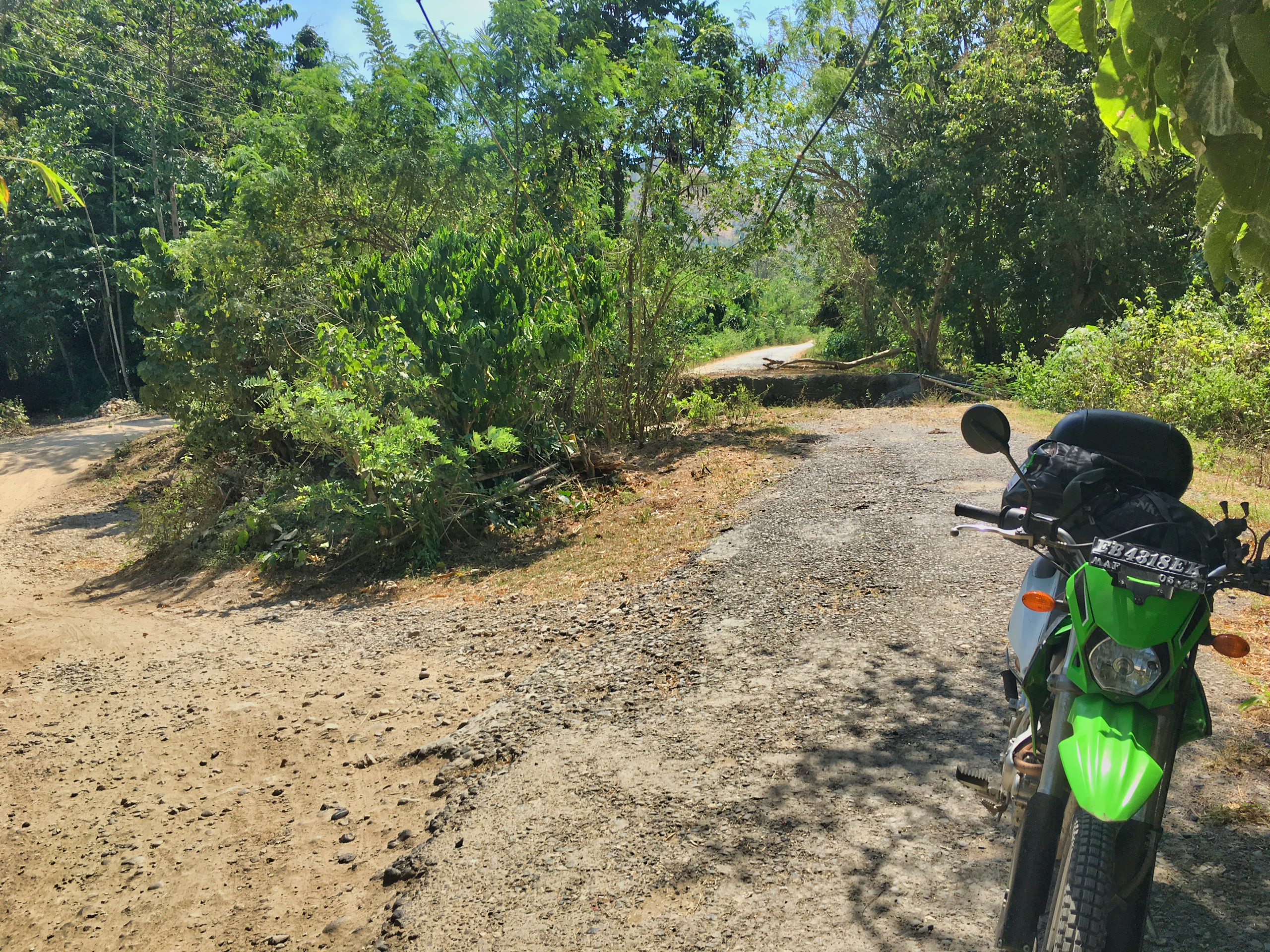 The road turned very bad after this changing to loose stones and slippery loam with some very steep hill climbs and descents which would be impassible on anything other than 4 wheel drive. It is remote and no other bikes were coming along. The thought crossed my mind if I break down here it would not be good and I really should have more water on me. But I kept repeating to myself what Genghis Khan said – 'If you are scared then don't do it but if you are already doing it then no point to worry' and just focused on the ride. Bad sections marked below.
Finally about 2.00pm I come into Mbay, the first town since leaving Maumere and stopped at a road side stall to eat a simple meal of fried rice and a boiled egg with chilli. Here was the first petrol station also so I filled again and got another large bottle of water. Bike was getting superb mileage now with premium.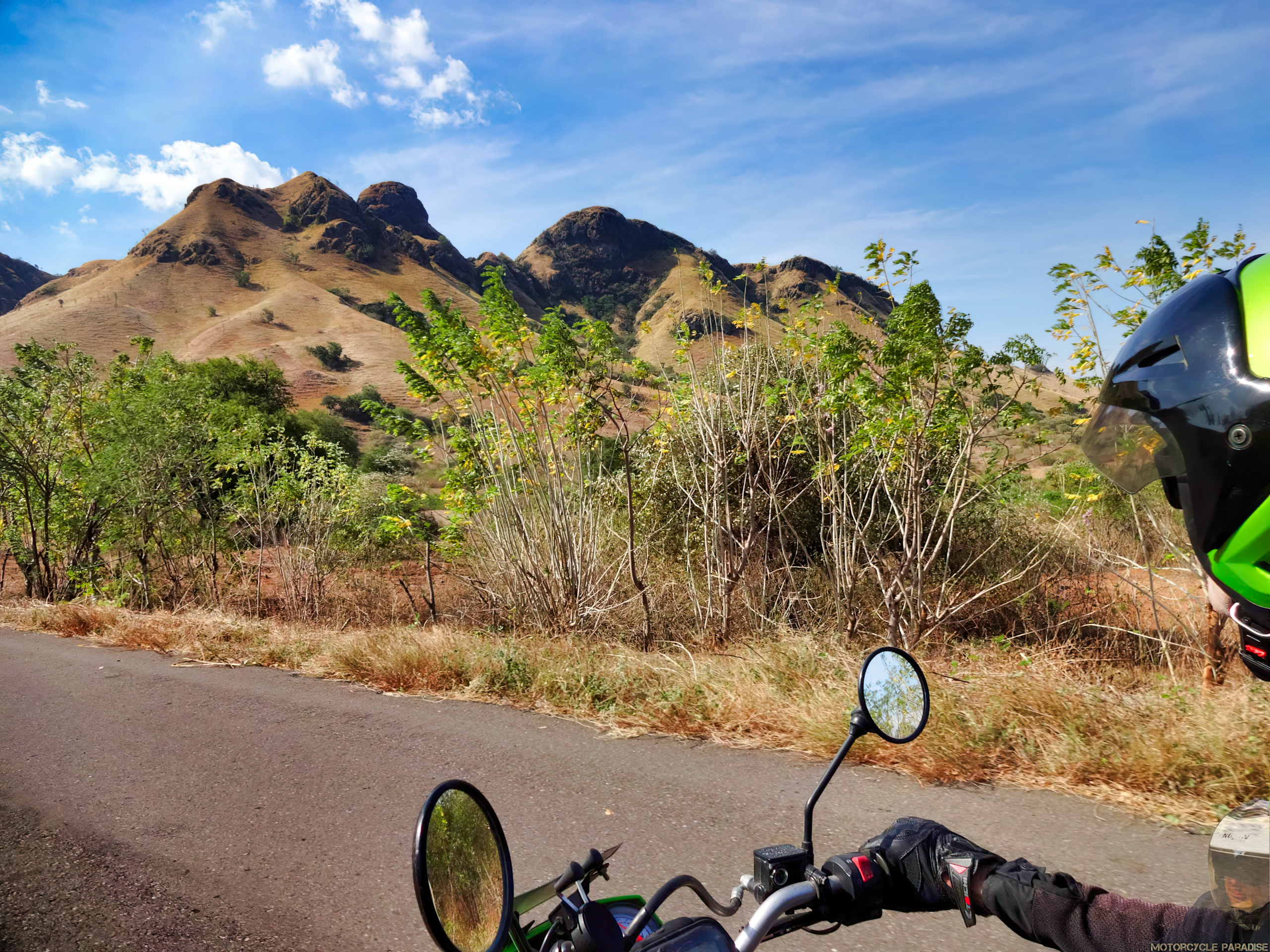 They have started building new road back east from Mbay and the ride into town last 30 minutes had been very good. From Mbay to Riung the road is easy and opens up to reveal bit of the landscape. Arriving in Riung I continue west on the coast road looking for a viewpoint of the 17 islands that the town is known for. The road here is also rough.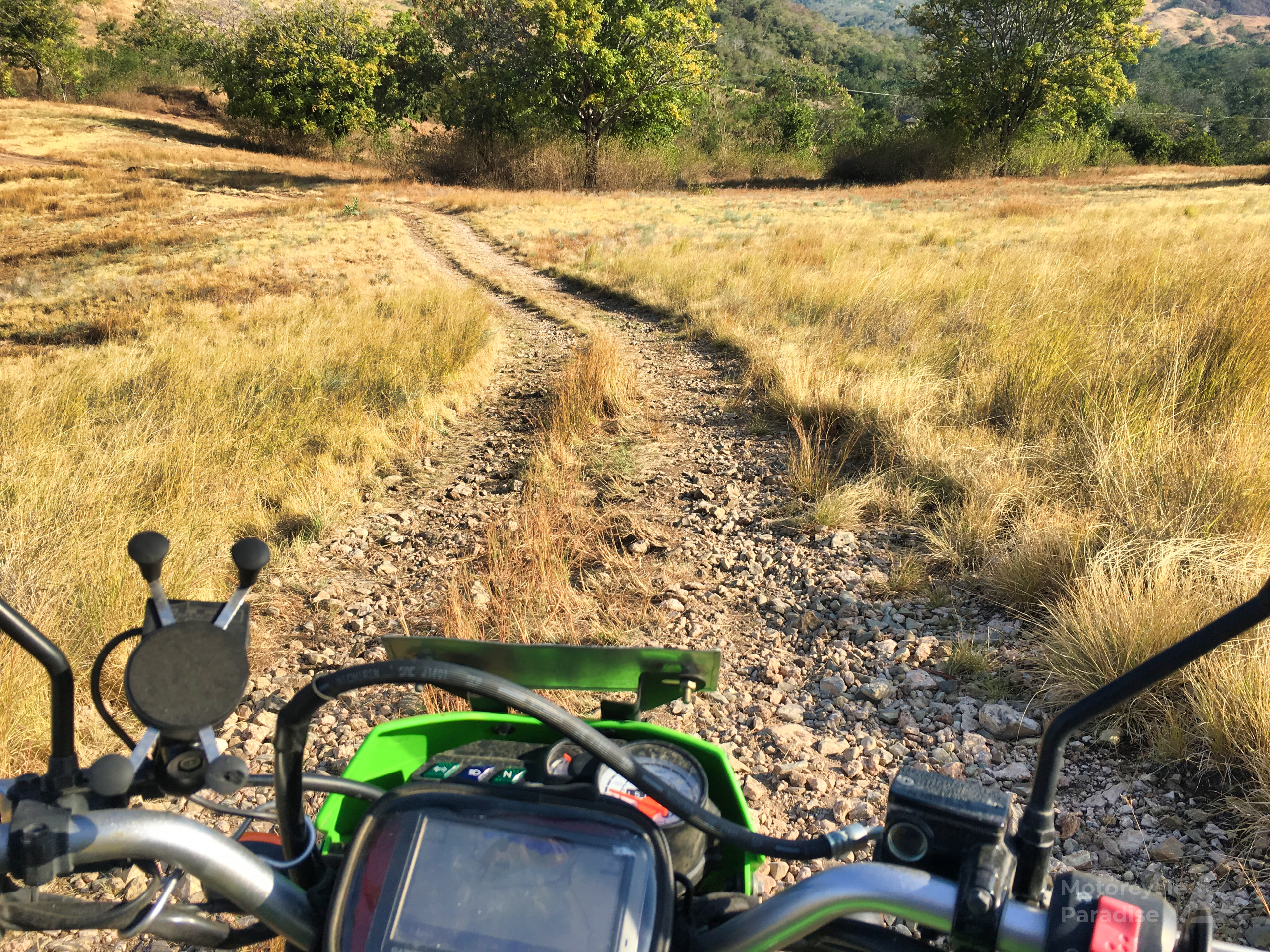 For someone who is not an ADV rider I feel I did well today and it was good practice for an upcoming ride I have planned to South Africa and made me aware I need to carry few more things with me if I am riding places where help is long way off.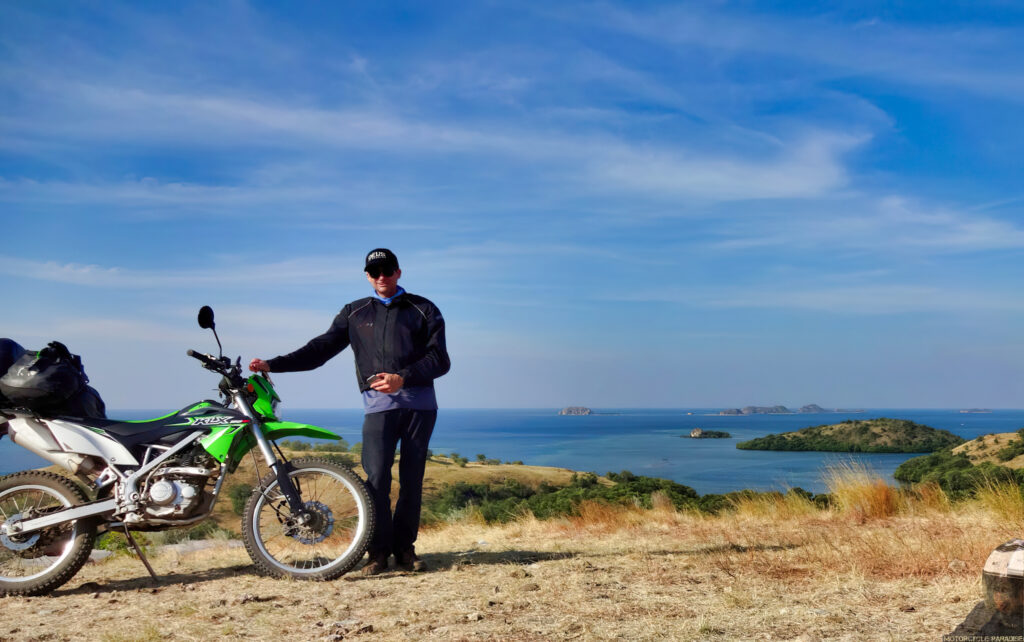 Very humble lodgings tonight, no hot water, and basic meal of fried rice in a town well off the tourist trail with no wifi but sometimes it is nice to be off the grid and not be drawn onto social media.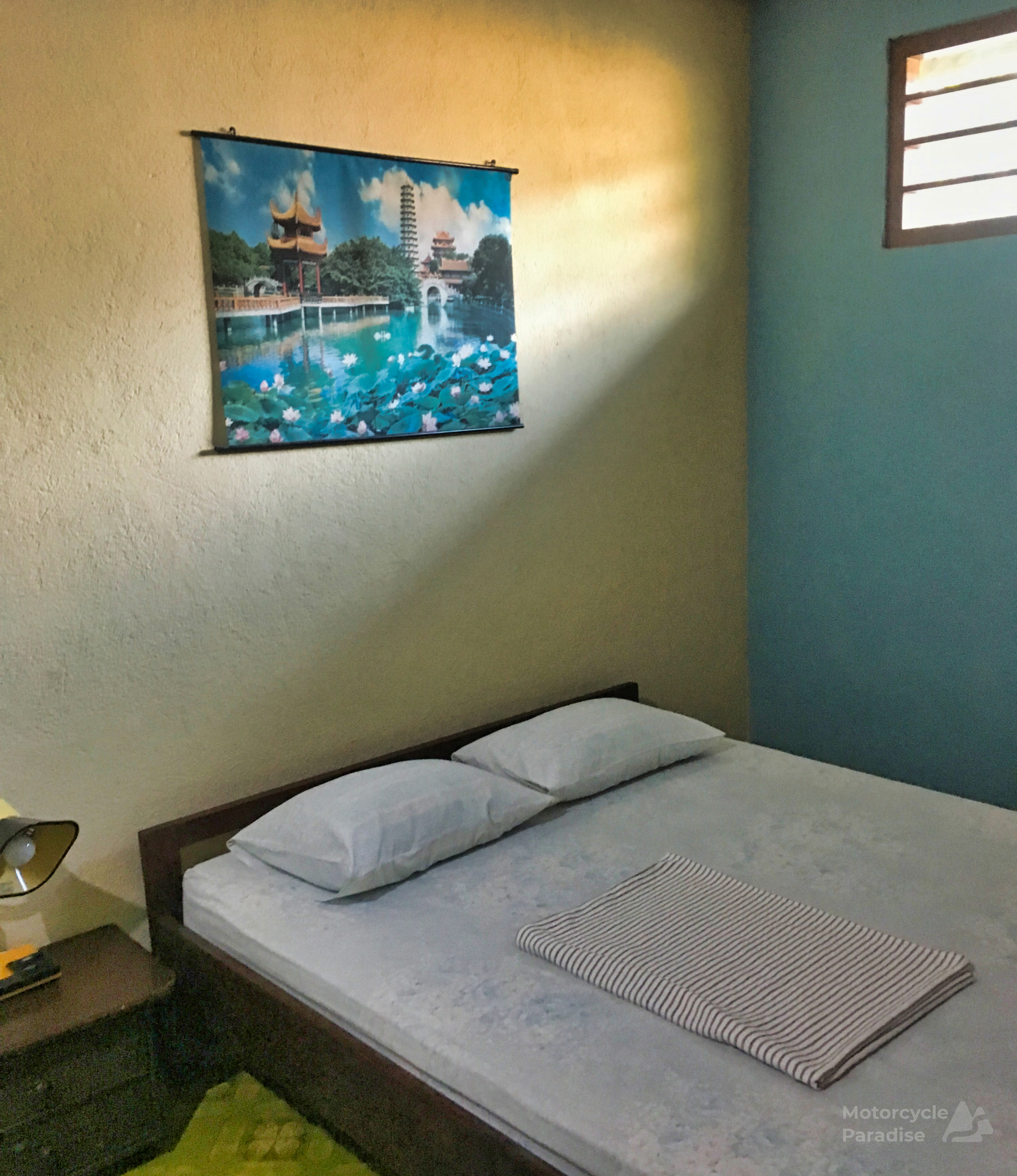 I will continue my ride tomorrow.
PART ONE
PART THREE