A fist full of throttle
Leaving Kochi on day four of my tour the weather is perfect.
First up a unexpected find. I was riding beside a dam merely to avoid the main road with no knowledge of it being anything special but the scenery was amazing.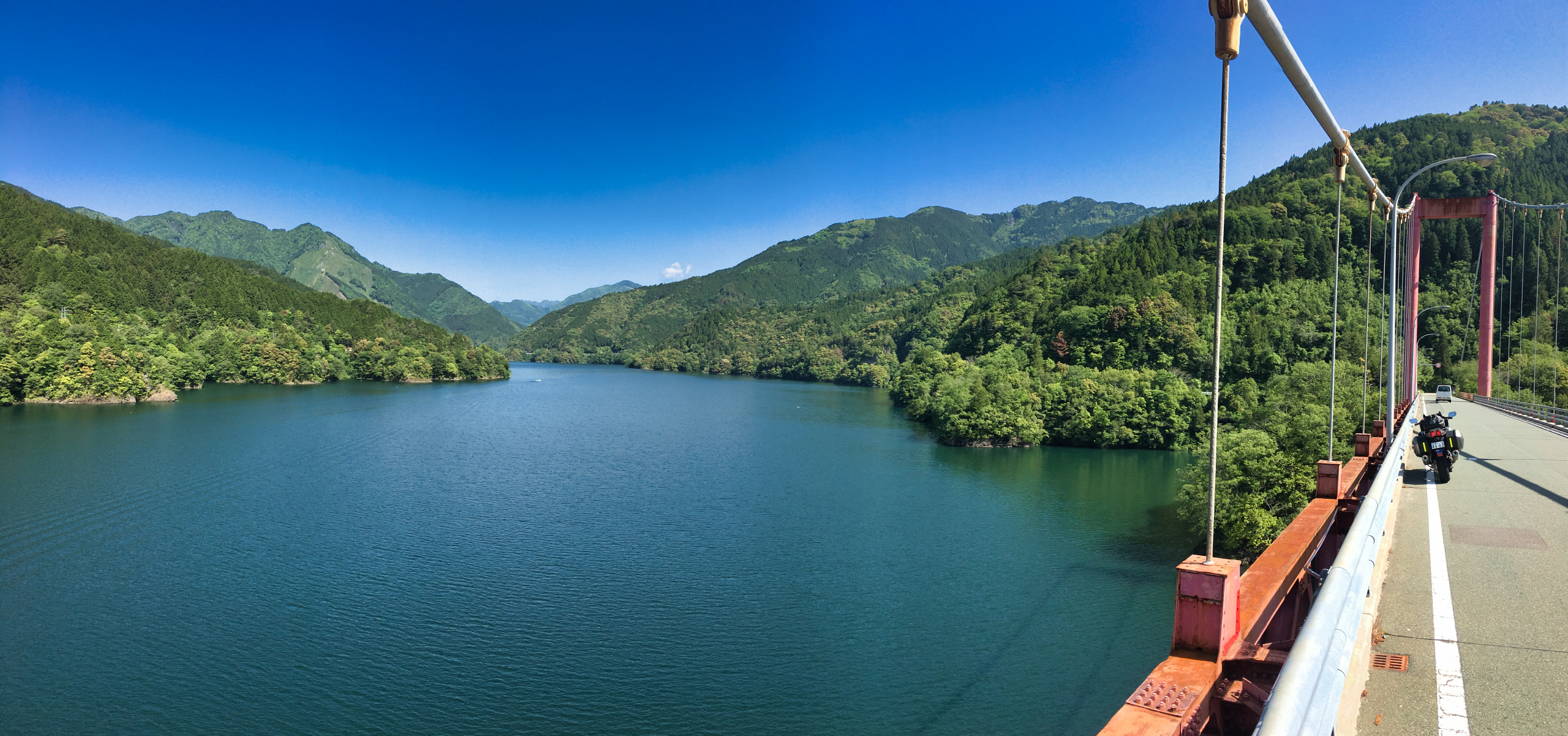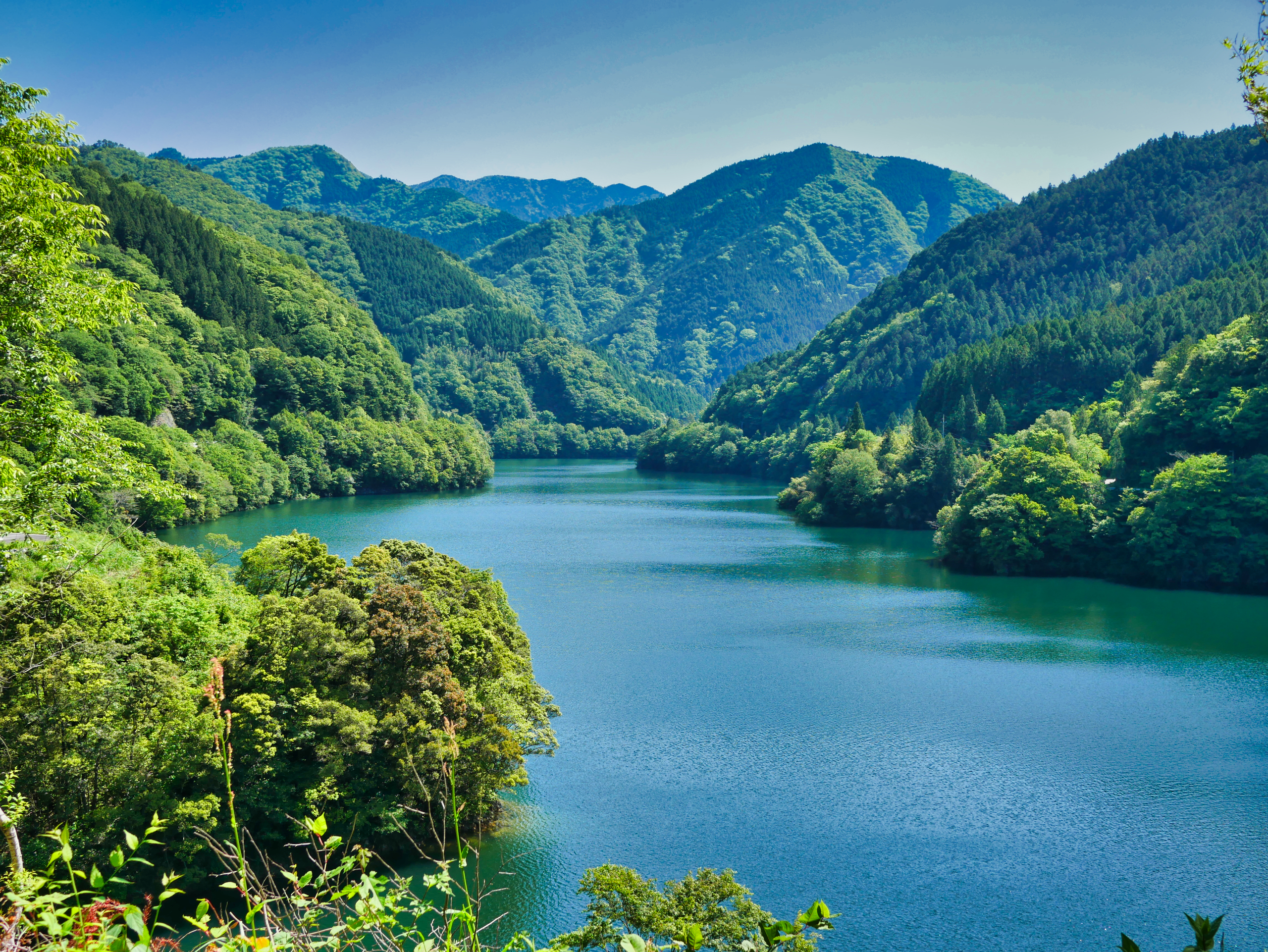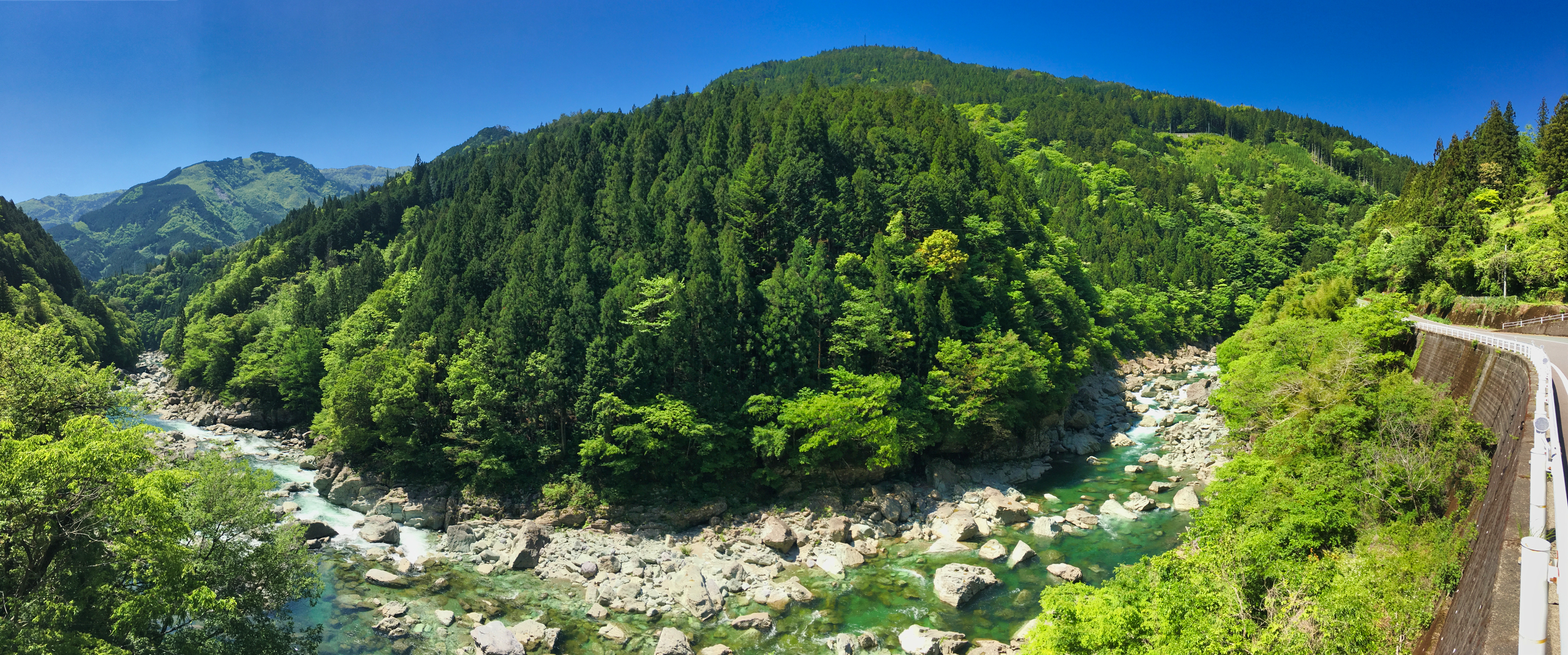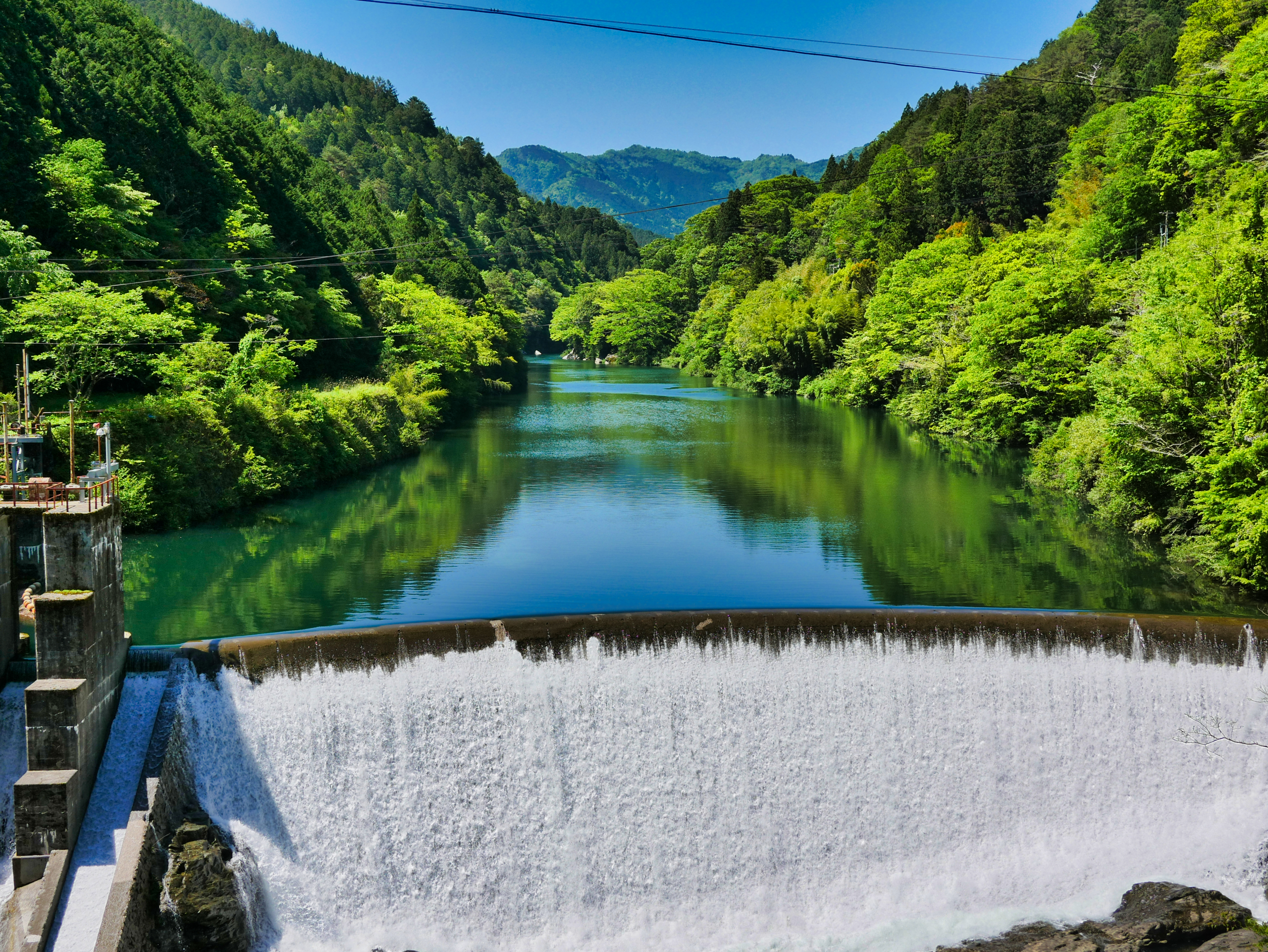 After here I made my way to a mountain road that is known as UFO road. The name is just a bit of local marketing, suggesting you are so high and remote that you might see a UFO – or something like that.
Narrow switchbacks on the way up then a narrow road that hugs the mountain side as you ascend even further. Hard to photograph and there is some film company up here today with about 20 police telling people to move on. I stop anyway until I am directed to leave, who knows when I may pass this way again on a clear day like this.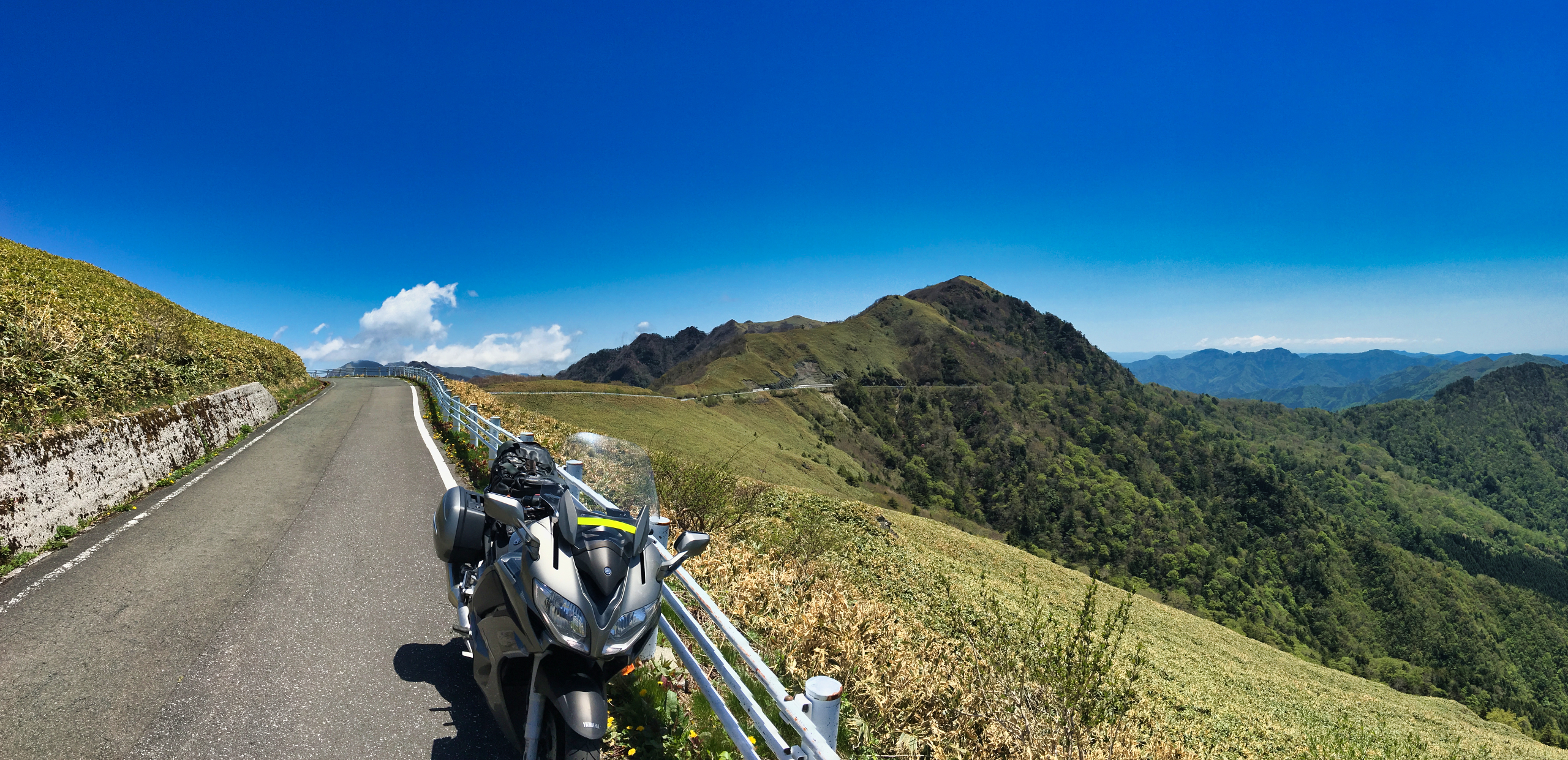 If you look carefully above you might just make out the Japan inland sea in the distance with a couple of islands in the haze. Impressive view from very high, I had to zip up it was quite cold.

What came next was another big surprise. The road down south-western side is up there with the best motorcycle riding roads in Japan. This road is used for push bike events and it is perfectly sealed and generously surveyed amazing bit of tarmac in middle of nowhere. Very hard to photograph however as all closed in with trees.
Stopping at the bottom I decide to have a lunch break and discover one of my panniers has a problem with its lock, the catch has lost a retaining nut. I use a spare elastic strap to make sure it stays closed.
The huge ride continues with another mountain range, the Tengi highlands. At the top I ride the lesser visited road to the south west which is superb. Perfect tarmac along the tops of the ridges with views for miles and nobody else around.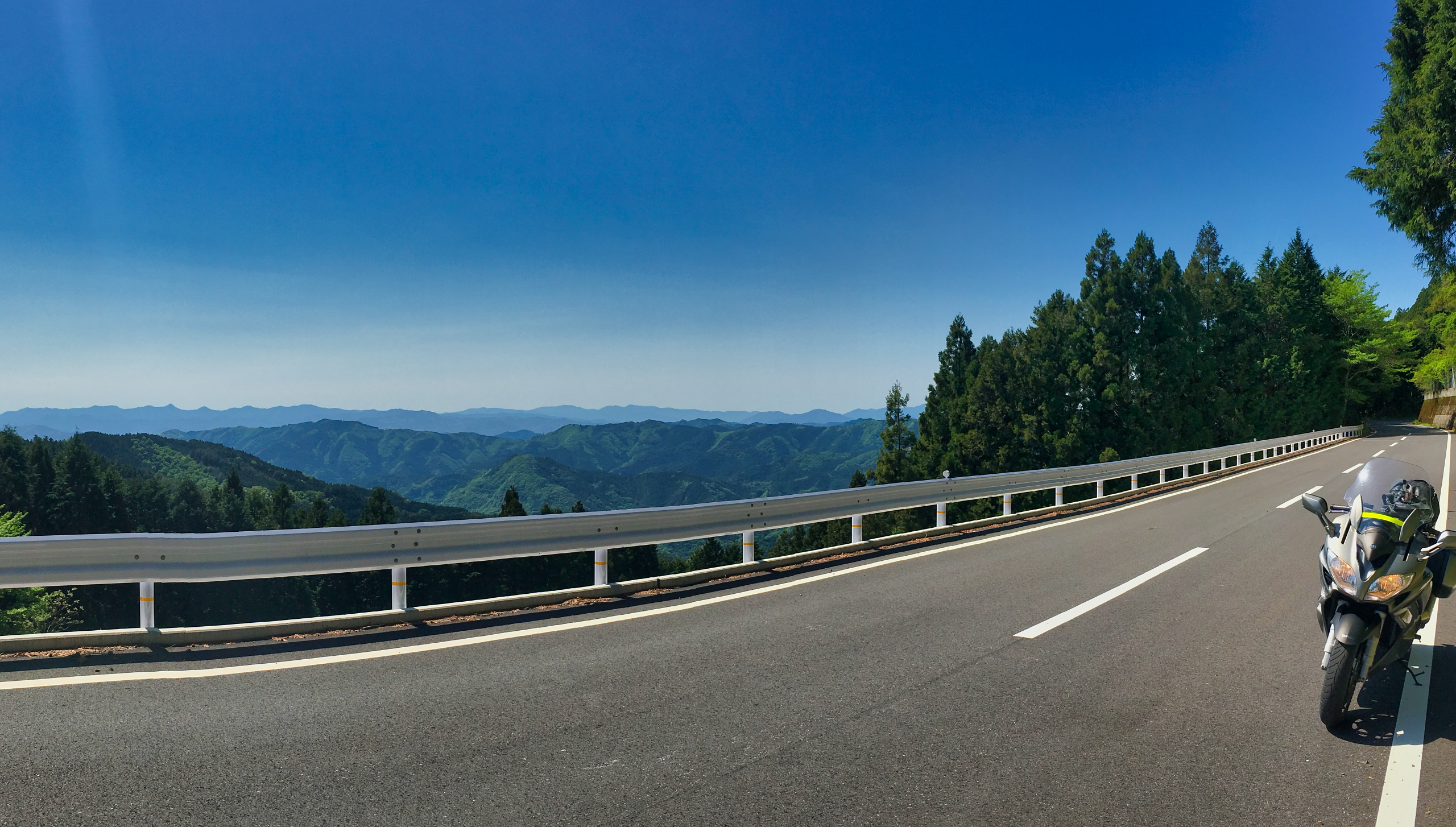 I revisited a small Ryoma park and see it now has a 3D look (2D cutout) of the man. Still has the spotless toilets made from beautiful cedar that would not look out of place in some luxury resort. But this is in the middle of nowhere. Only in Japan.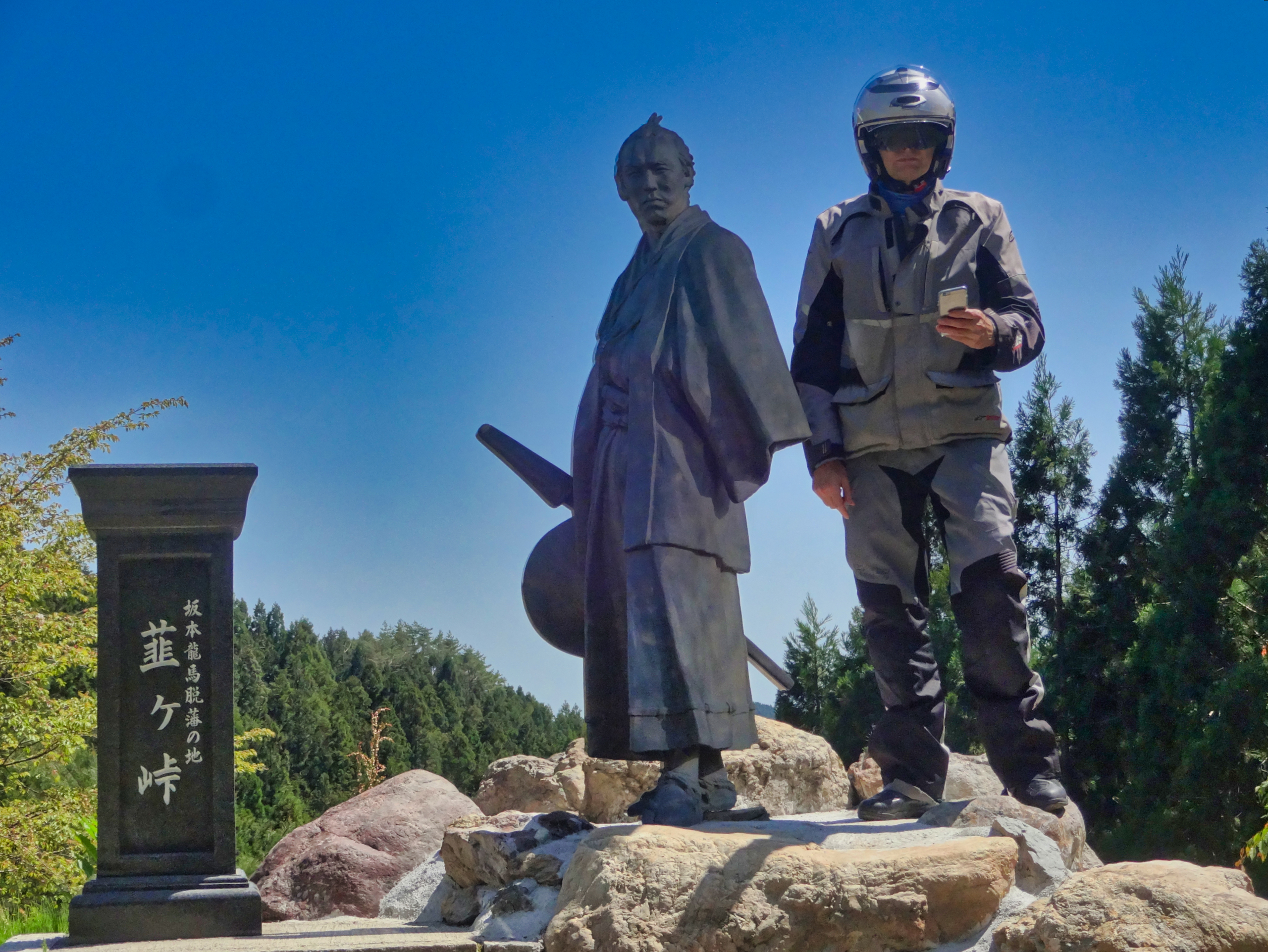 Near Sukumo, my destination tonight, is a observatory tower and I arrived in time to go up in it.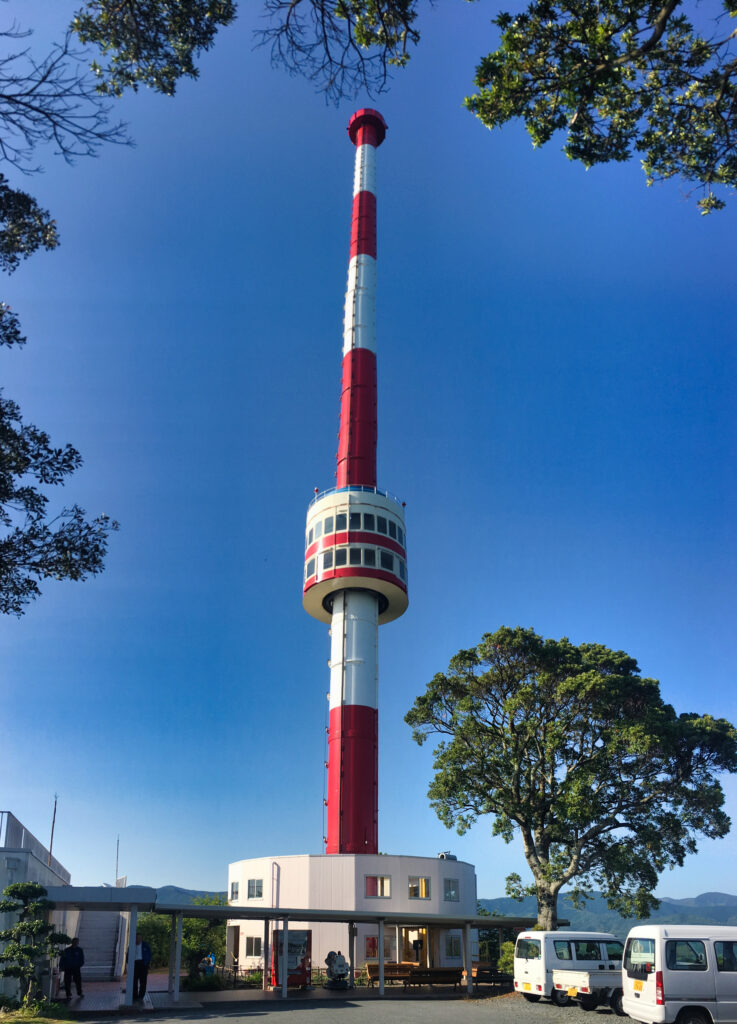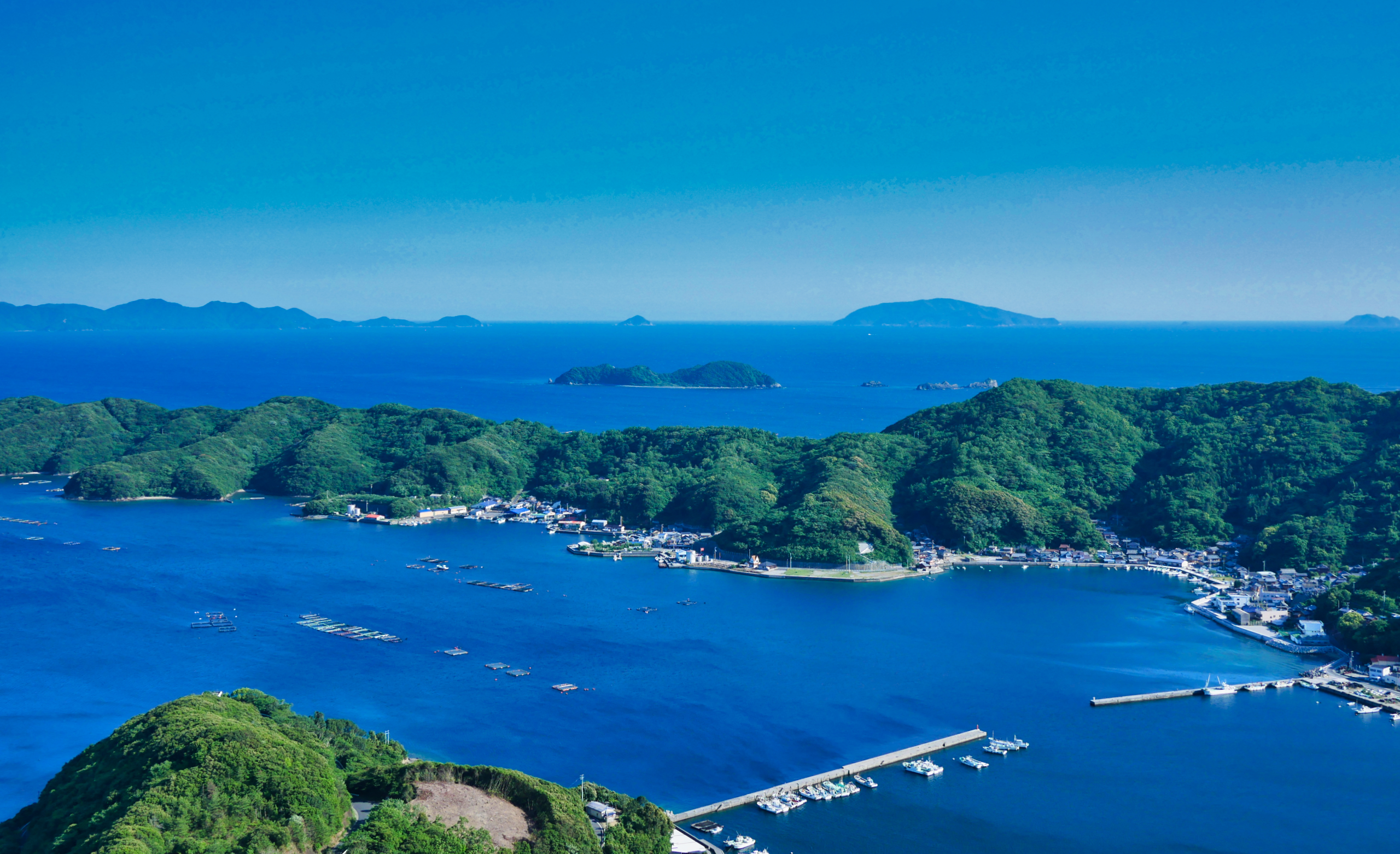 Alas it rotates the whole time up and back so I cannot take a good panorama photo but wow you feel high.
Fabulous day of riding. I am tired but the scenery is so beautiful. I ride along the cape a little more before calling it quits. Shikoku has it all.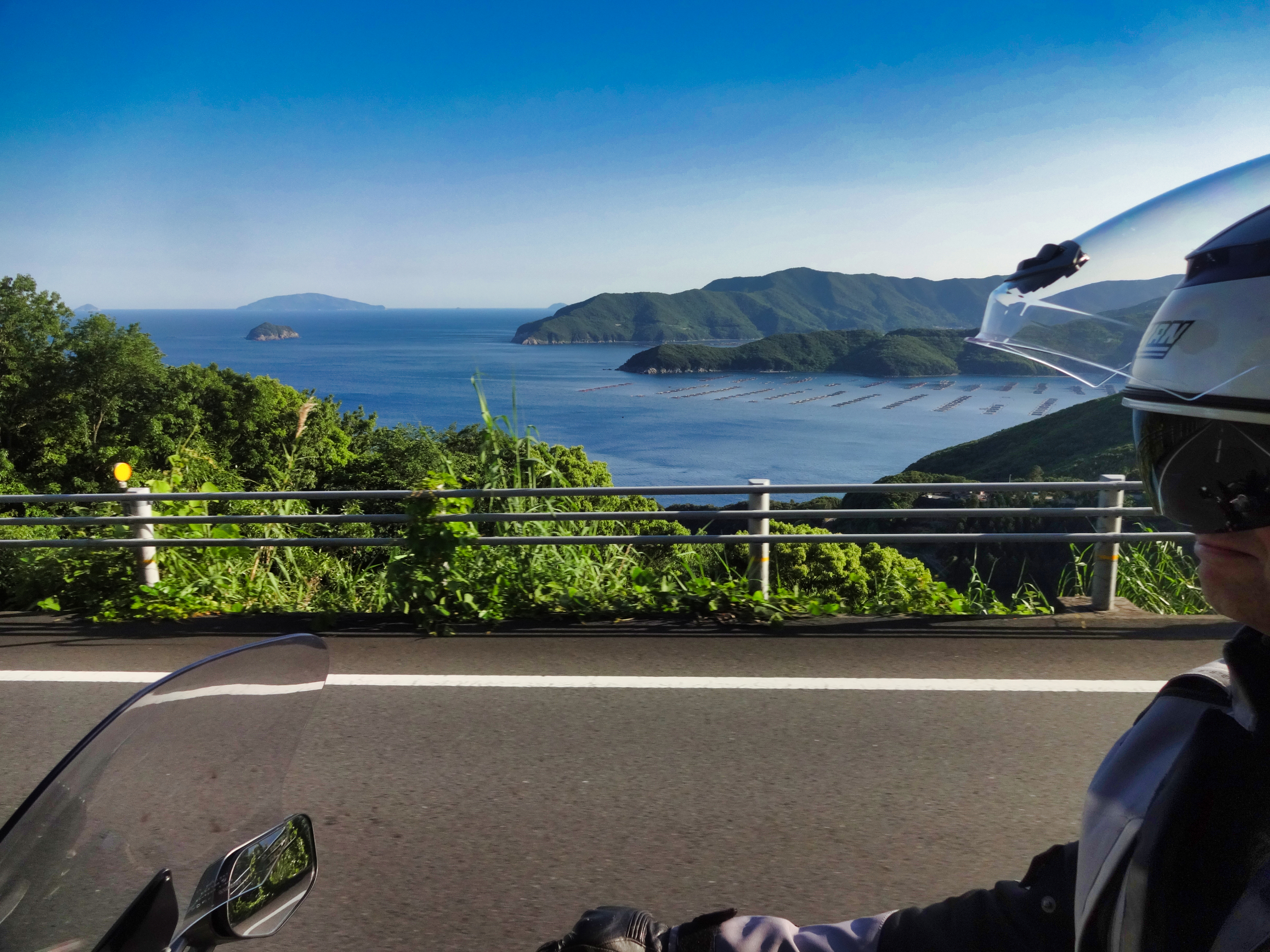 Free cup noodles at tonight's excellent hotel but could not go past this meal for about $11A. You grind the sesame seeds in the mortar with the pestle then spoon in the special sauce then dip the cutlets in.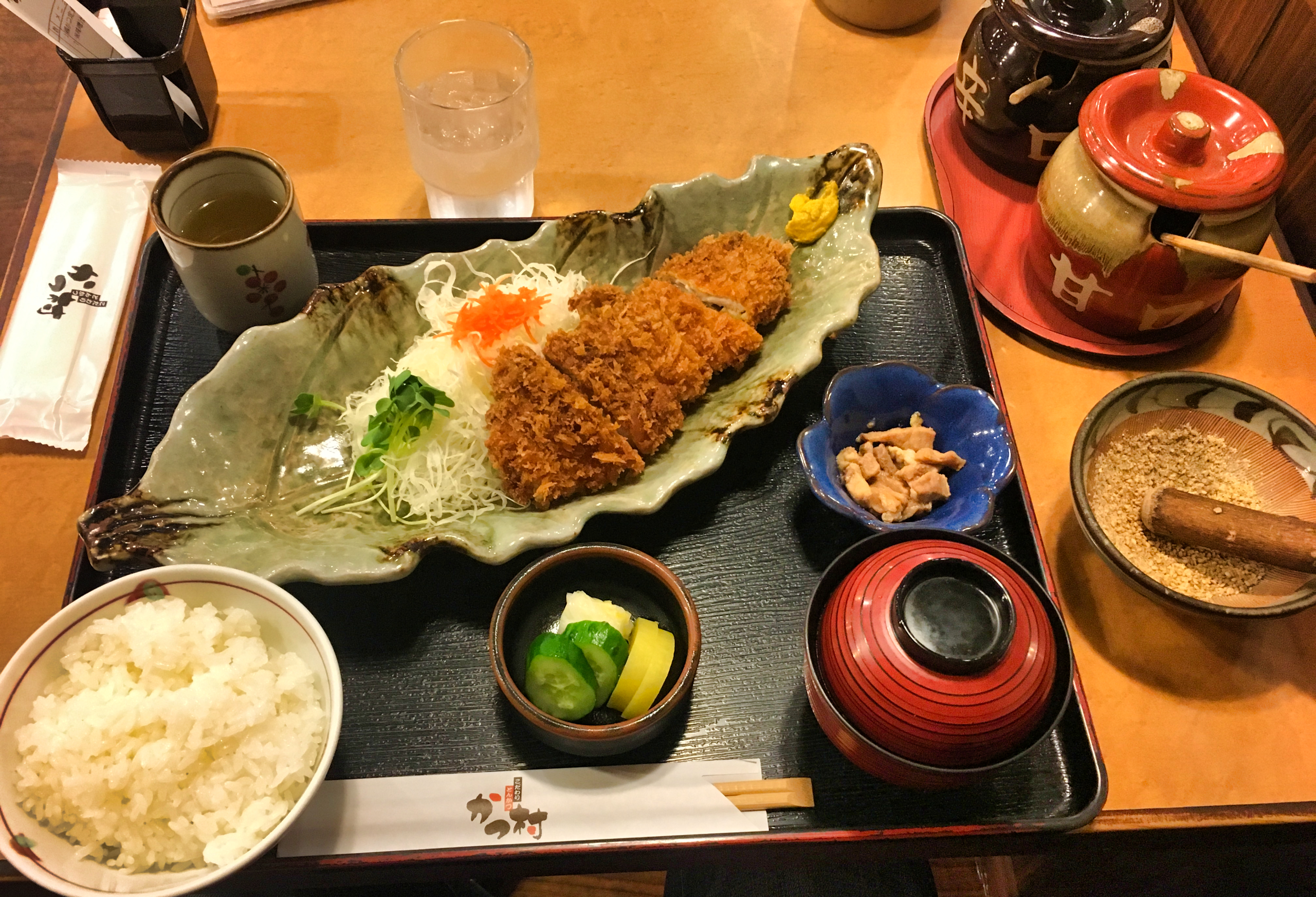 Day five I am up early to get the ferry. It is looking like another nice day. First a small nap as it is 3 hour sailing. Free blankets and carpeted area so much better idea than chairs.
There are other people on board, all up the front, with two children yelling so I got up and moved. If only it was that simple when flying.
The ferry I am on is really old and rusty – but how deep blue is that ocean.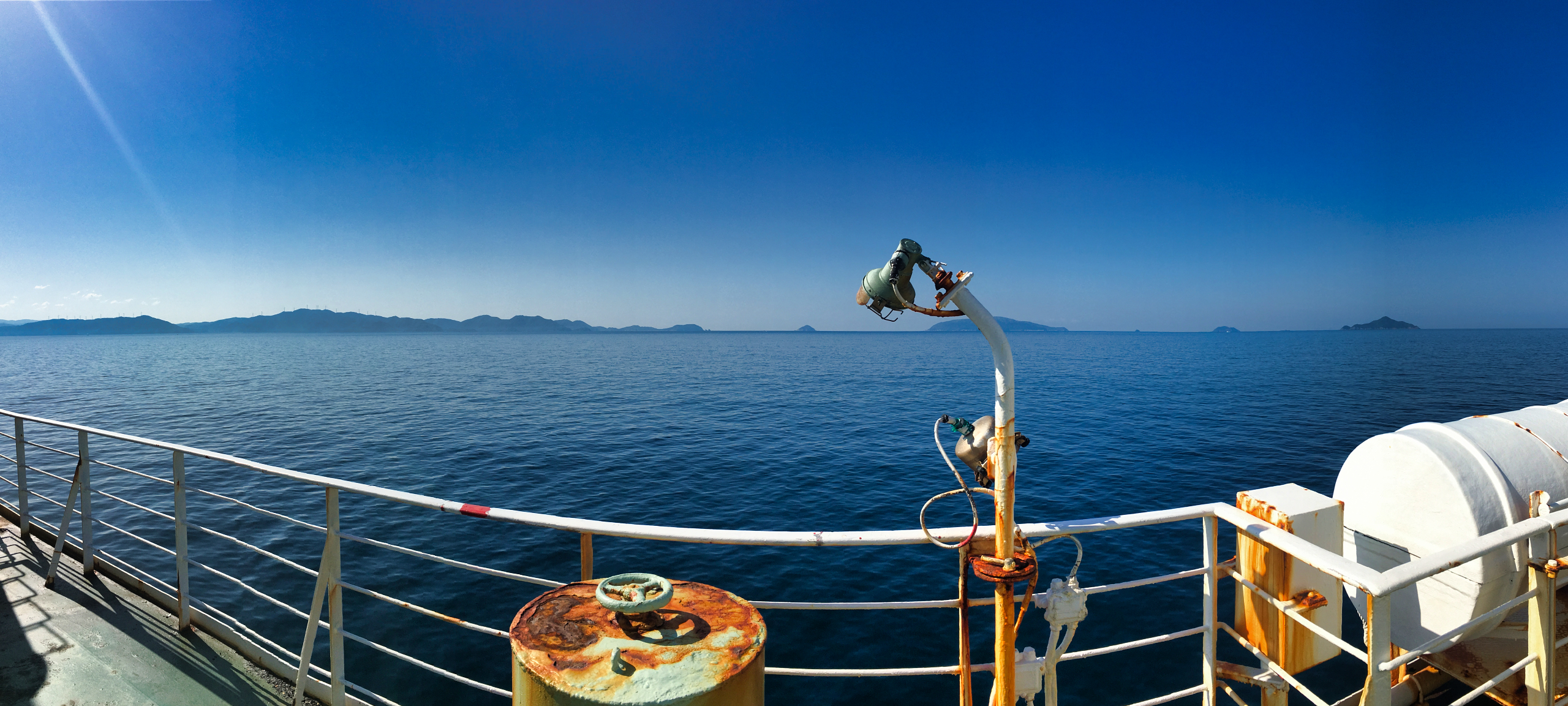 People who only visit the big cities would never realize Japan is made up of thousands of islands and so much of life revolves around the sea.
After docking I stop at a DIY shop to get a big flat strap to hold my pannier latch closed. Next I revisit my collection of secret roads in Oita prefecture. One section was closed but I just rode around the barriers and then straight through the road works. Then I thought, wait I am not in Nepal now. I probably should not do that.
This is a narrow part in-between otherwise lovely wide dual lane road. You encounter this all over Japan where new roads end suddenly never finished when the boom ended.
The view from the bridge below is superb but I have shown you it before so here is a different POV.
You won't believe how good the roads were from here on, well surfaced wide dual lane sweeping mountain route with zero cars. I rode in total bliss for what seemed like ages. Wish I could share that but need a professional film crew I think. Below is what I am riding through.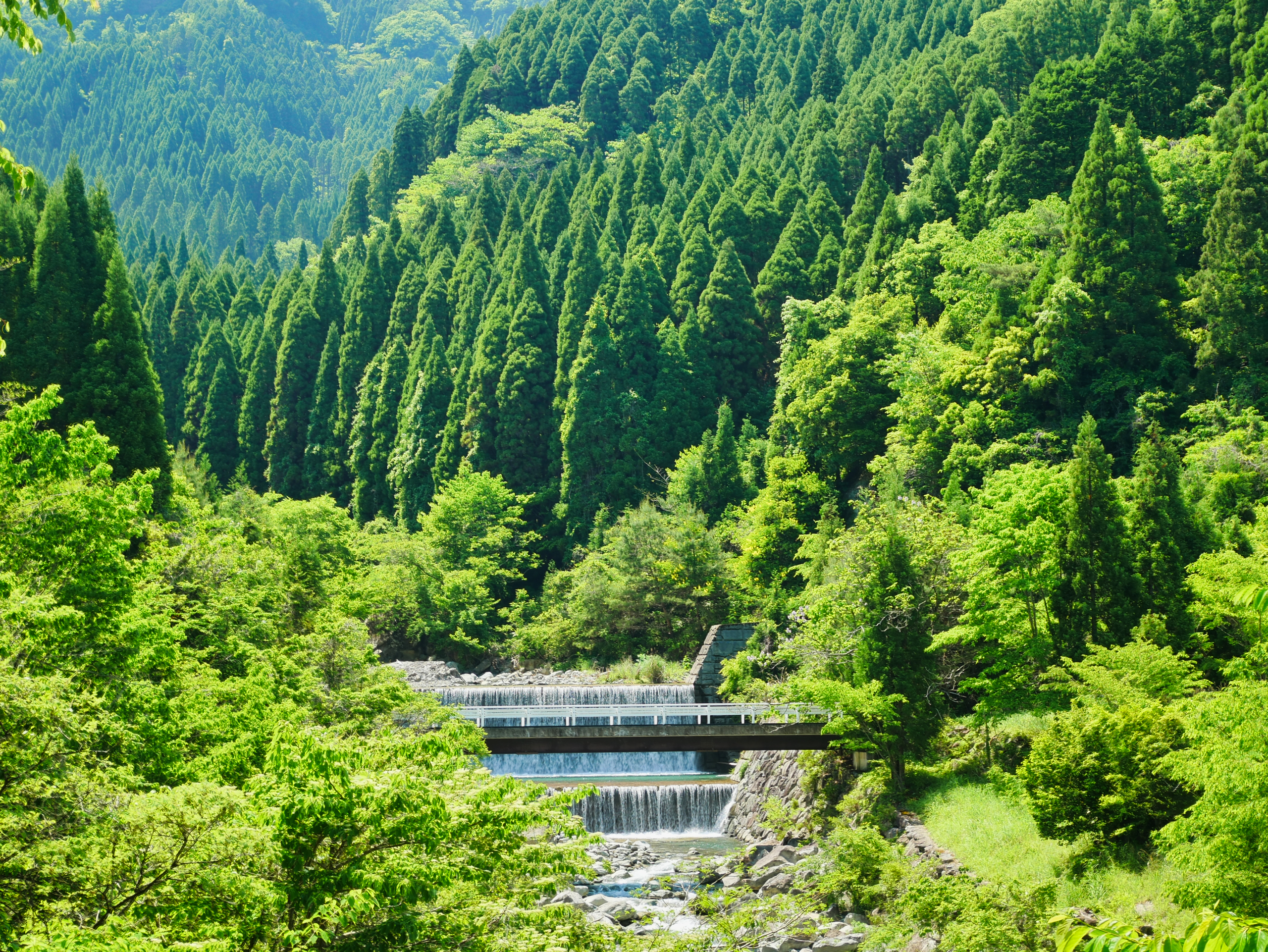 I'm not boosting the colours – this is how vivid things are in the new growth after winter.
I stop at this place each time on this route. A old roadside rest area that once had a view of a waterfall but now you listen to it to your right while gazing off at every shade of green. It's a peaceful spot.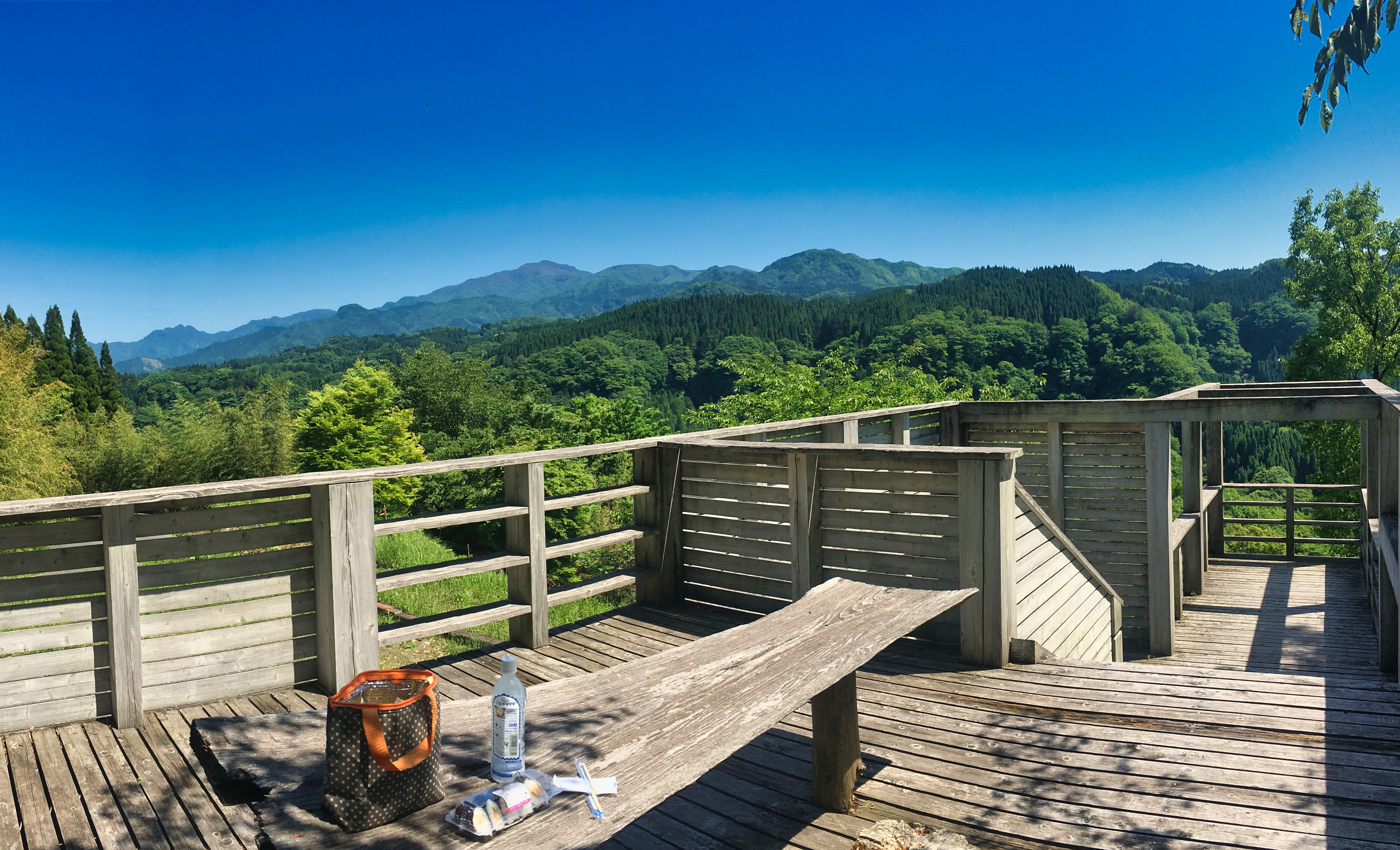 Nice open roads for awhile from here around Aso. It's an area Kenny Roberts used to like riding. They named one of his favorite roads after him.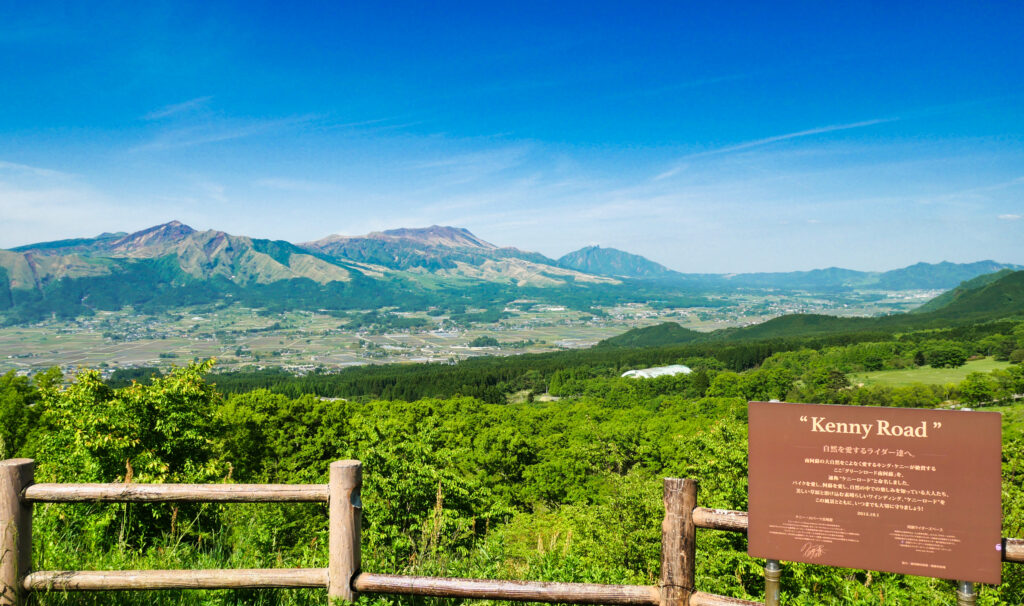 Superb ride it is too with a views galore.


Tonight by chance I am staying across the road from the original Ajisen Ramen store in Kumamoto. You may know their name, they have 700 stores around the world. This is where it began.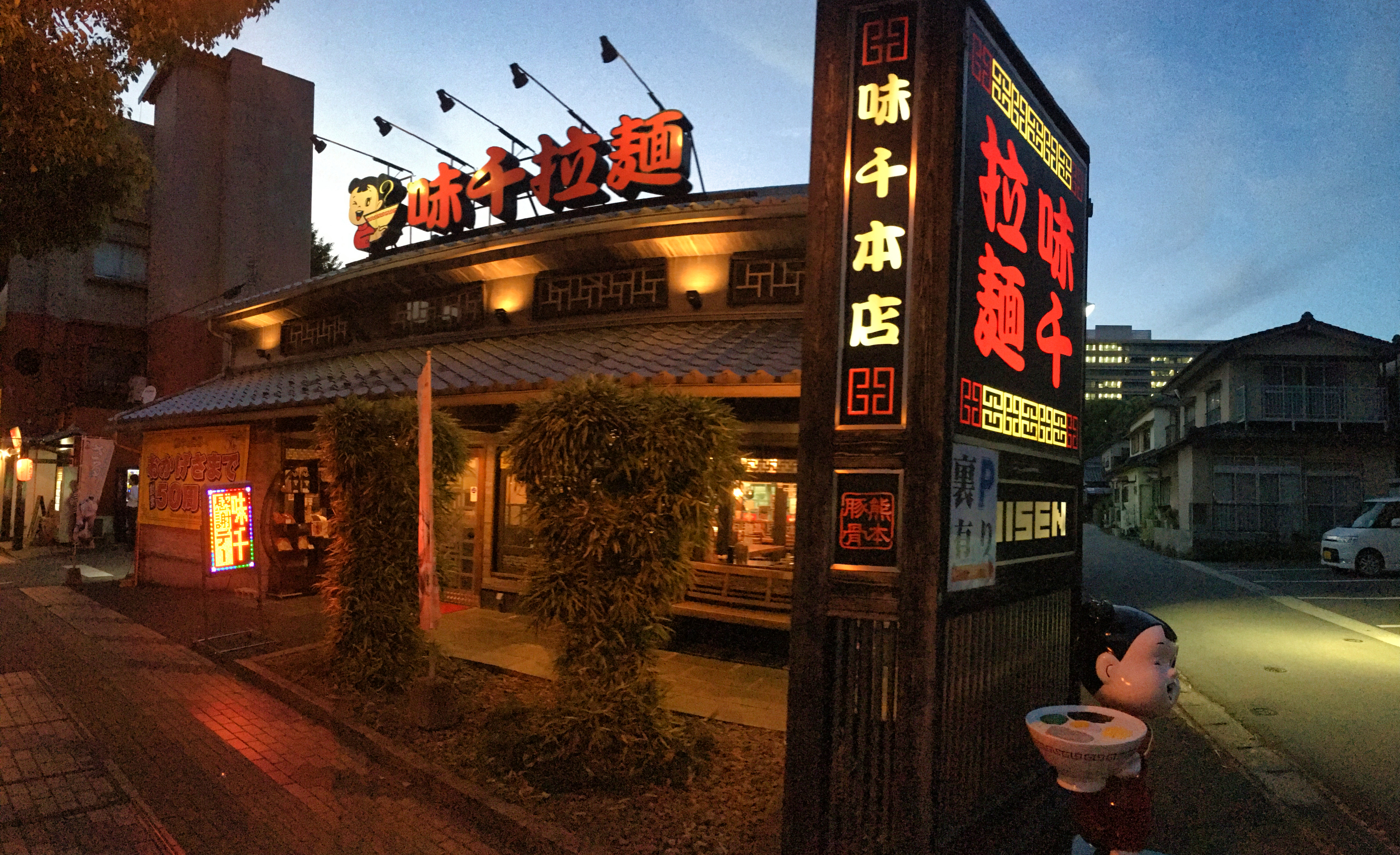 I had spicy miso ramen. Fairly simple rendition of this dish, but filled a spot.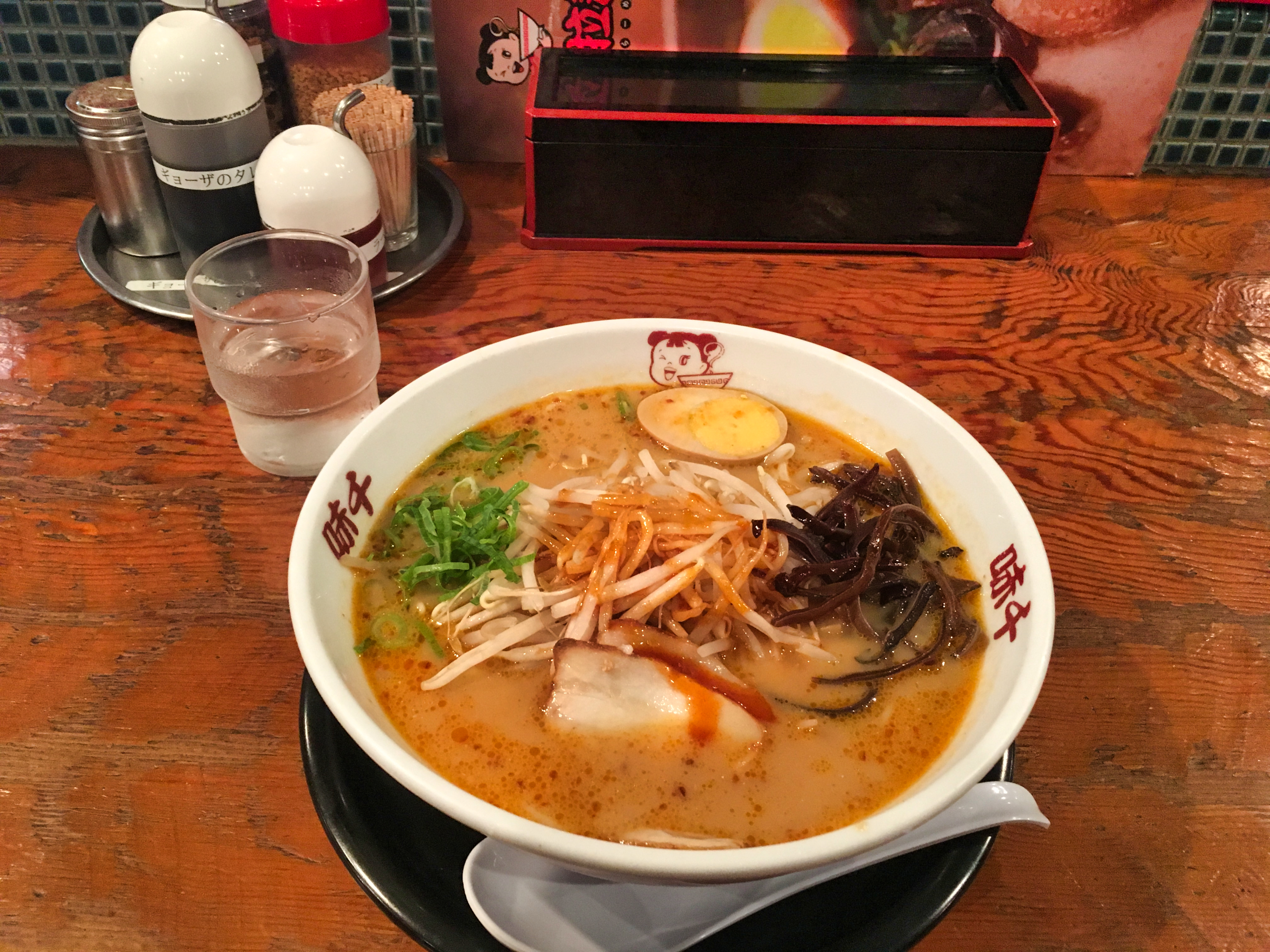 Day six, there is a great route south from Kumamoto with excellent curves and two loop bridges.
What is a loop bridge – just another way to ascend something but outside of railway engineering I have only seen them for roads in Japan.
Hard to photograph , here is a different POV.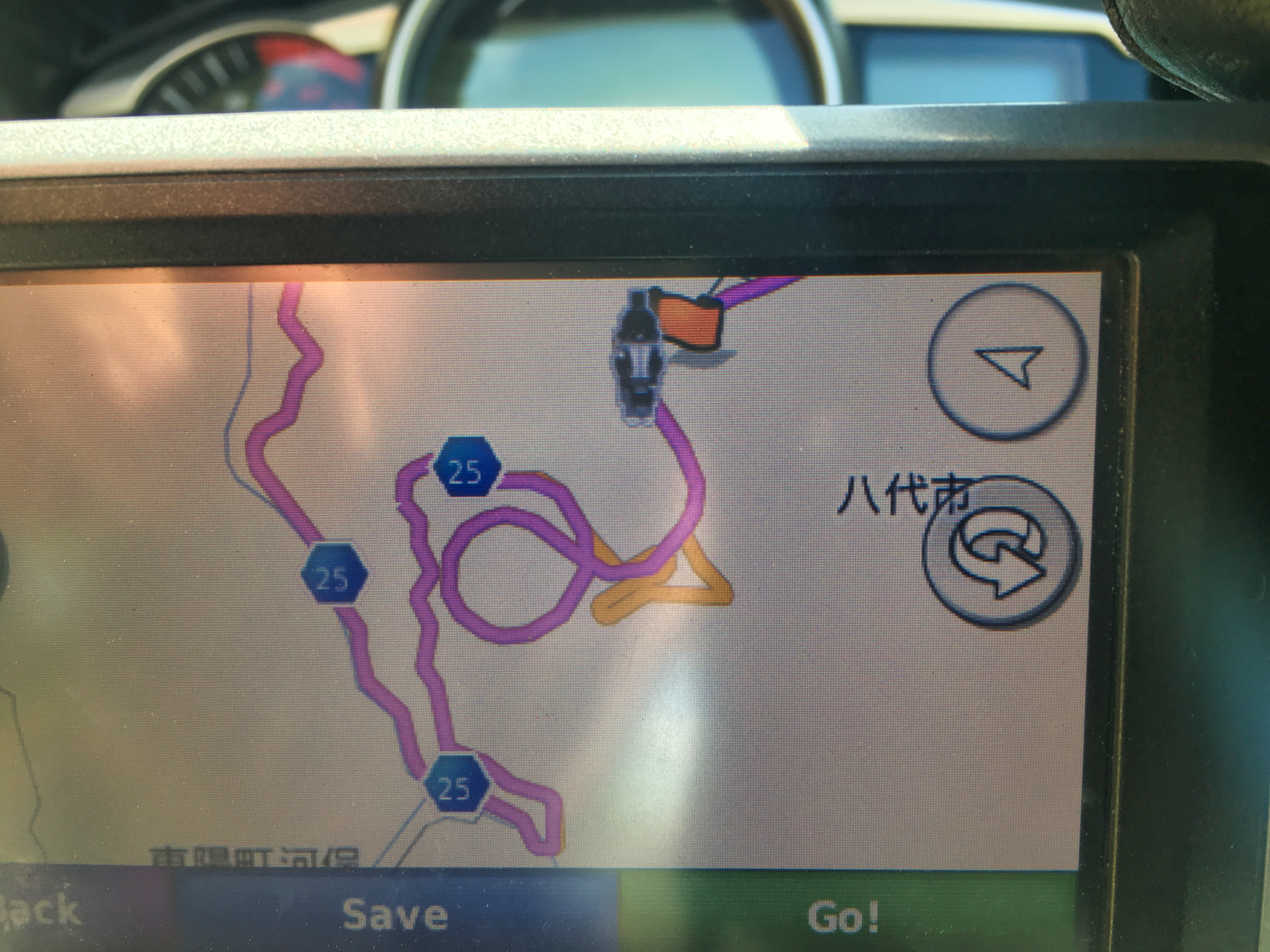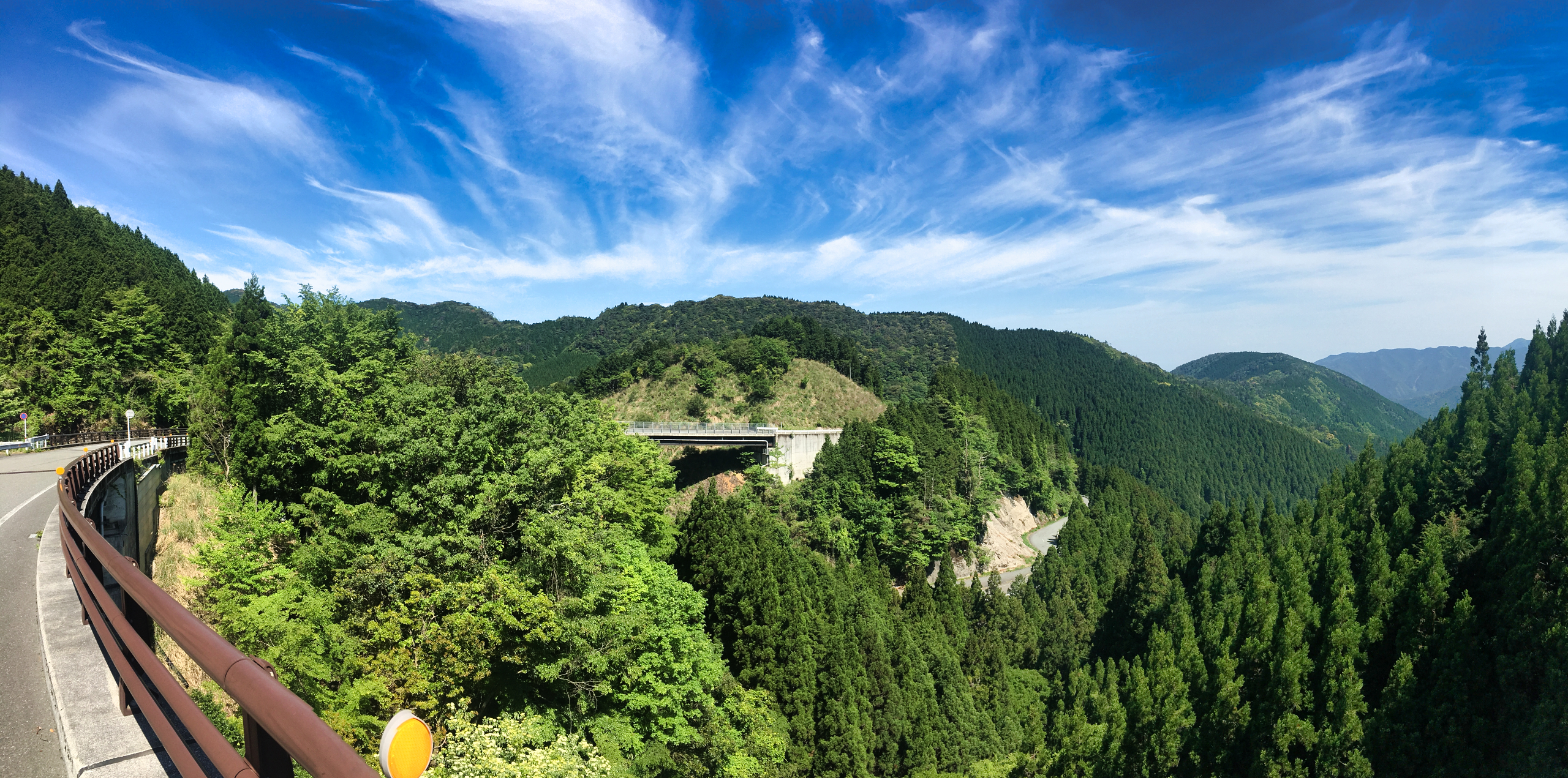 In between the two I am riding along this spectacular road.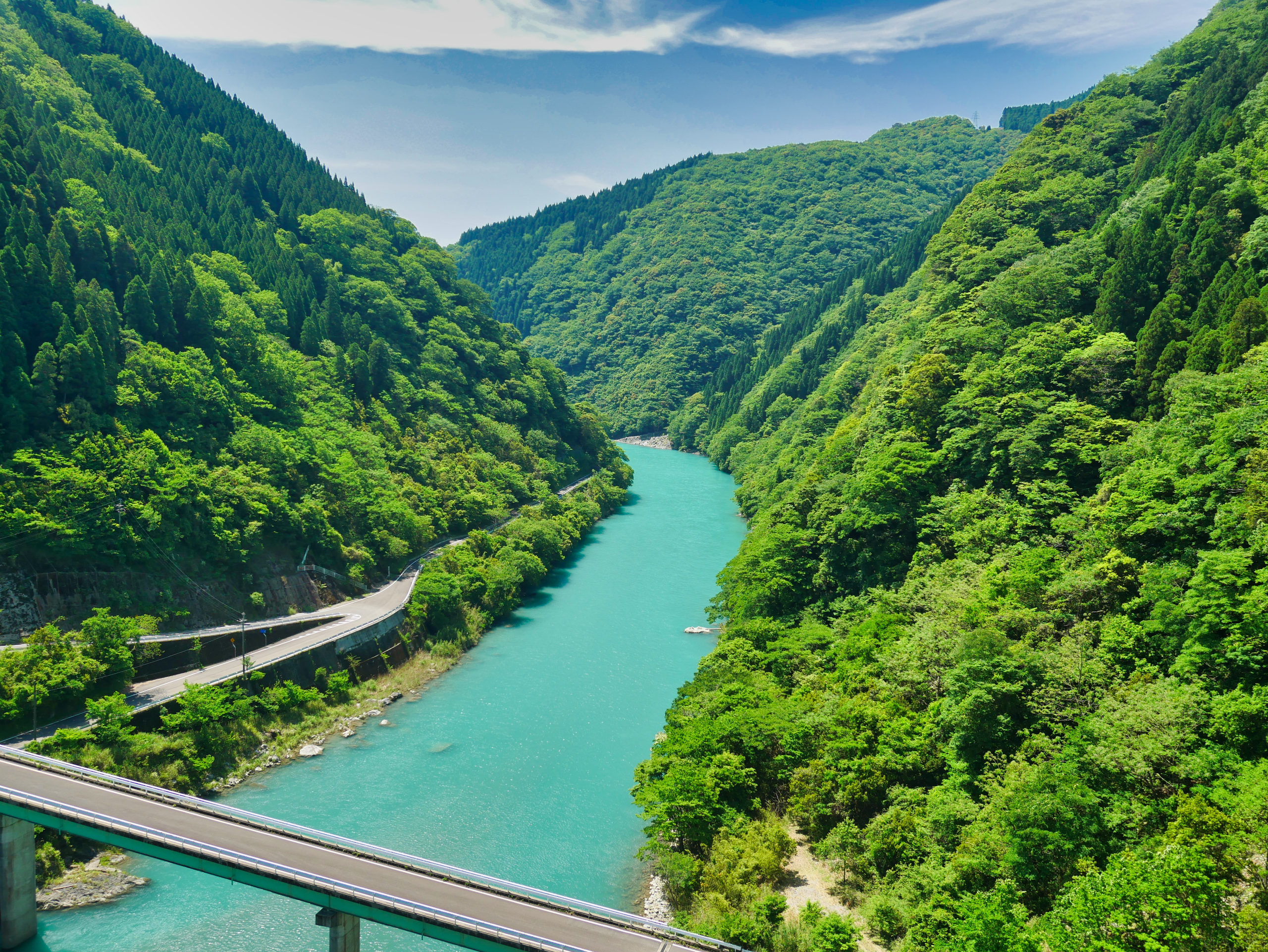 Rest areas in rural Japan always have spotless toilets with plenty of paper and often heated seats and fresh flowers. Having a culture that doesn't think to vandalize or steal everything as exists in other countries is one of the things that I deeply appreciate about Japan and makes travel here such a enjoyable thing.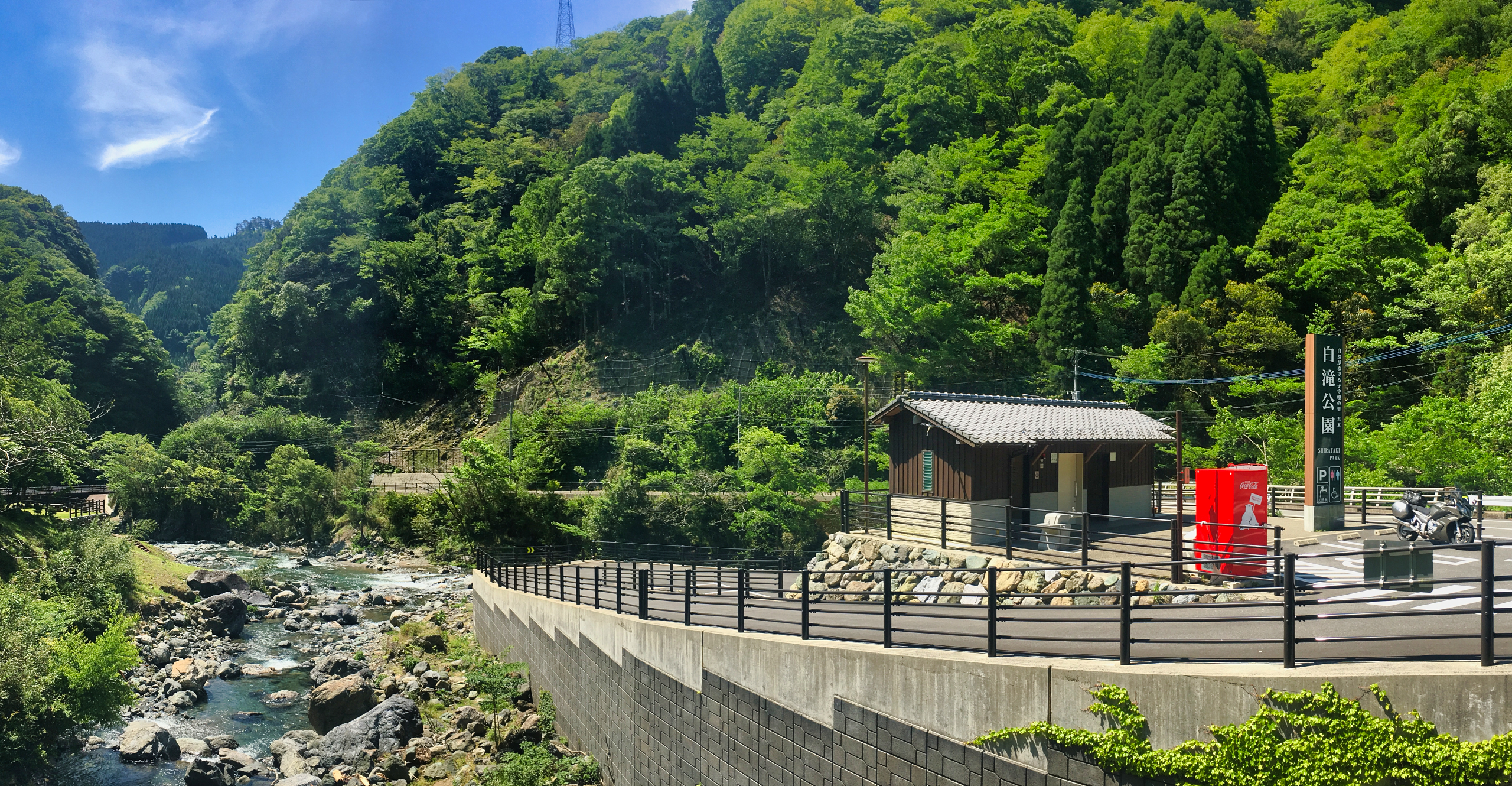 At the next loop bridge I try another angle. Drone would work for these things but I have gone off the idea of getting one myself.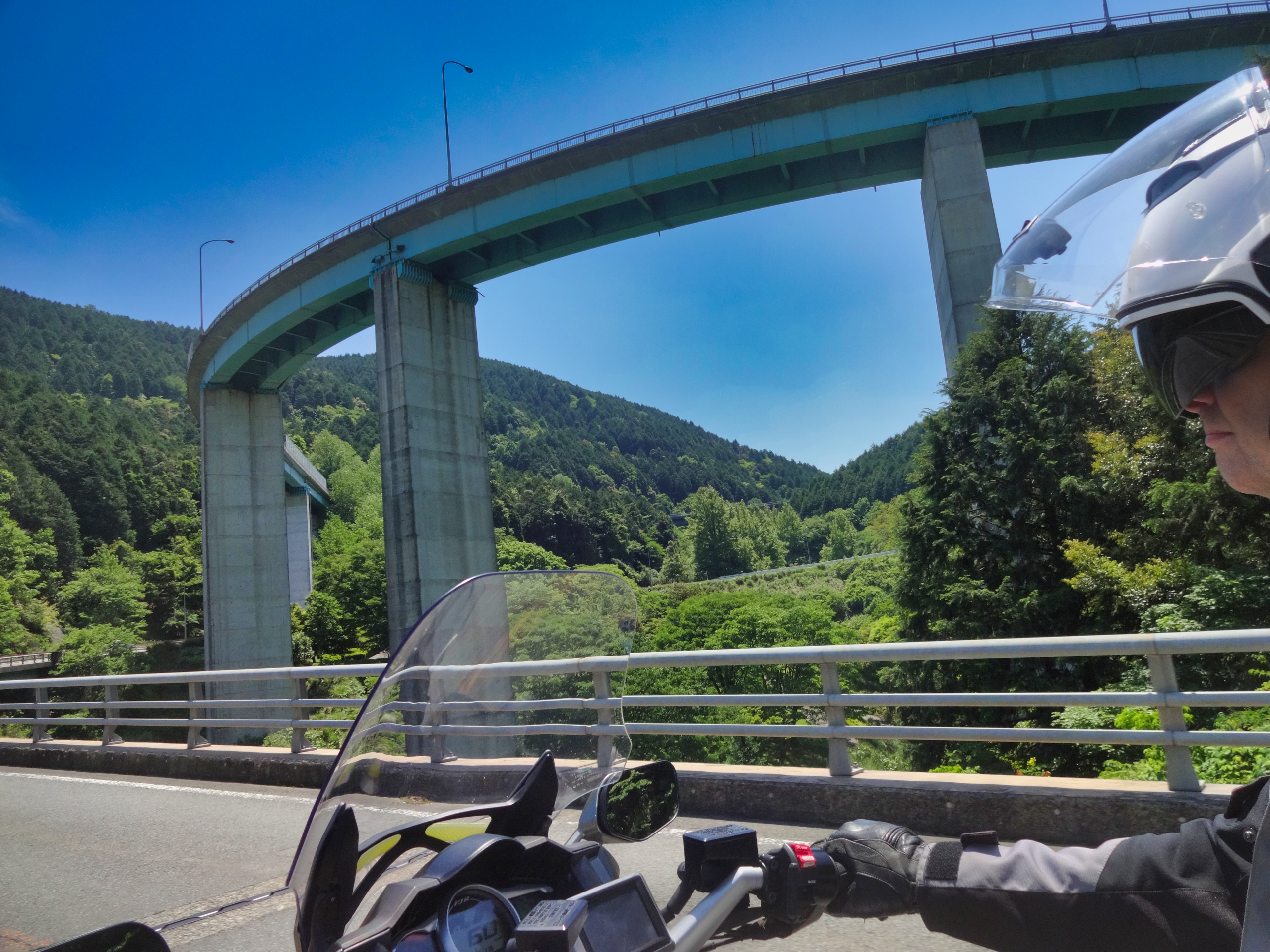 Whilst the infrastructure is impressive there are some things that underwhelm in Japan. One of those is tiny waterfalls, so I was surprised to come upon this fine example today.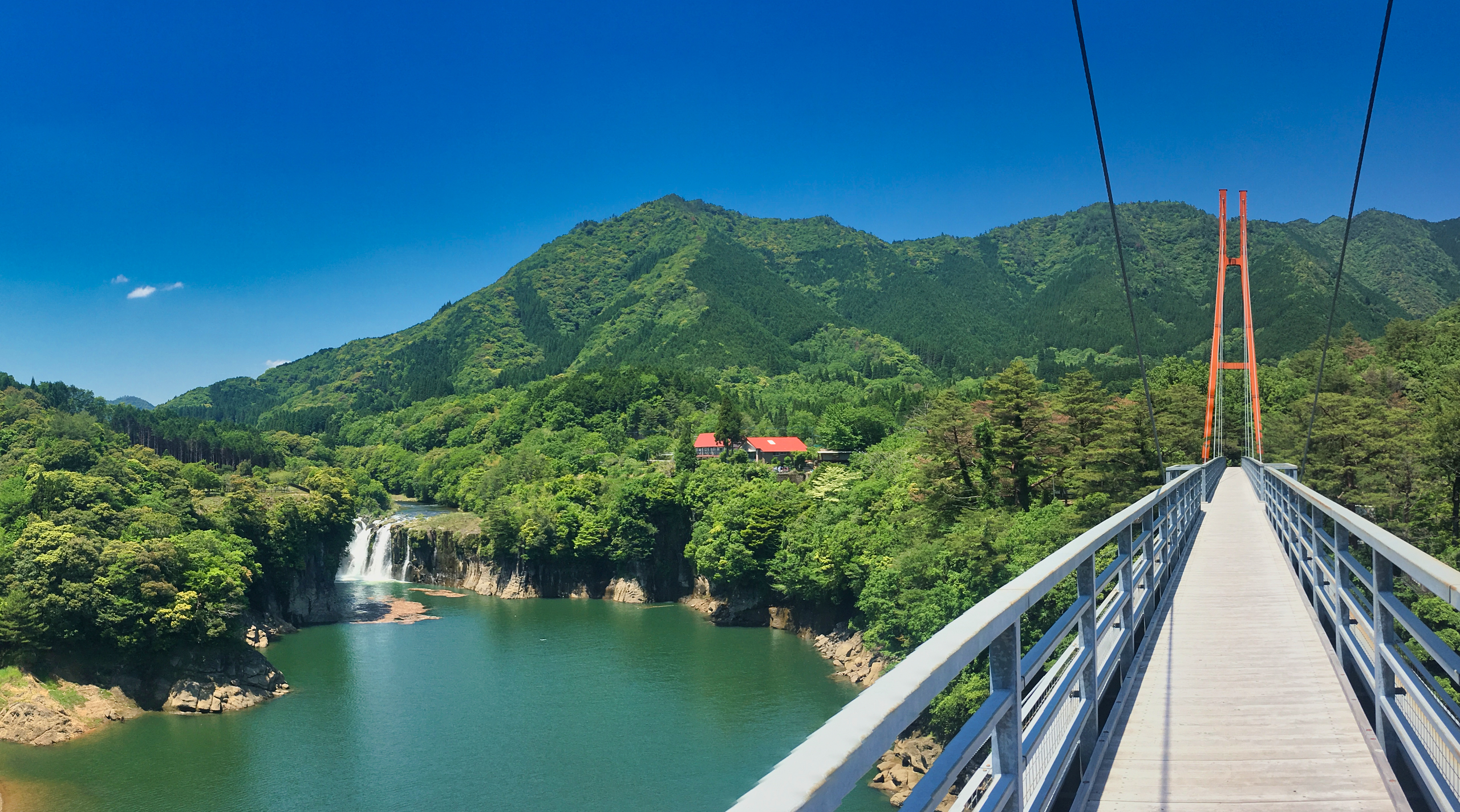 My route next took me over some back roads. I am completely at ease riding the FJR on narrow mossy or overgrown roads now. So would I benefit from changing to a ADV bike?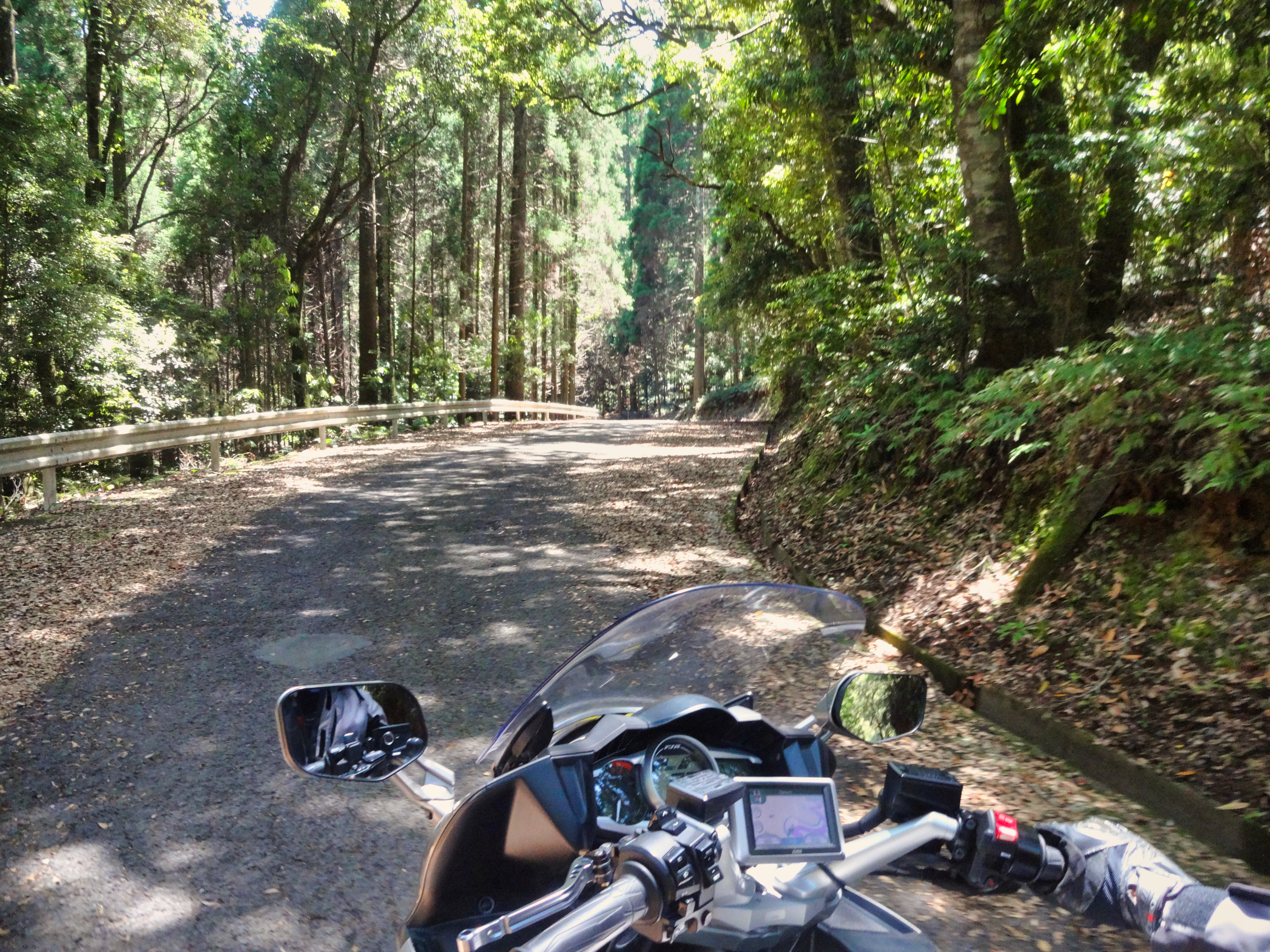 This route 26 brought me the back way to a very high suspension bridge that I had seen on Google images.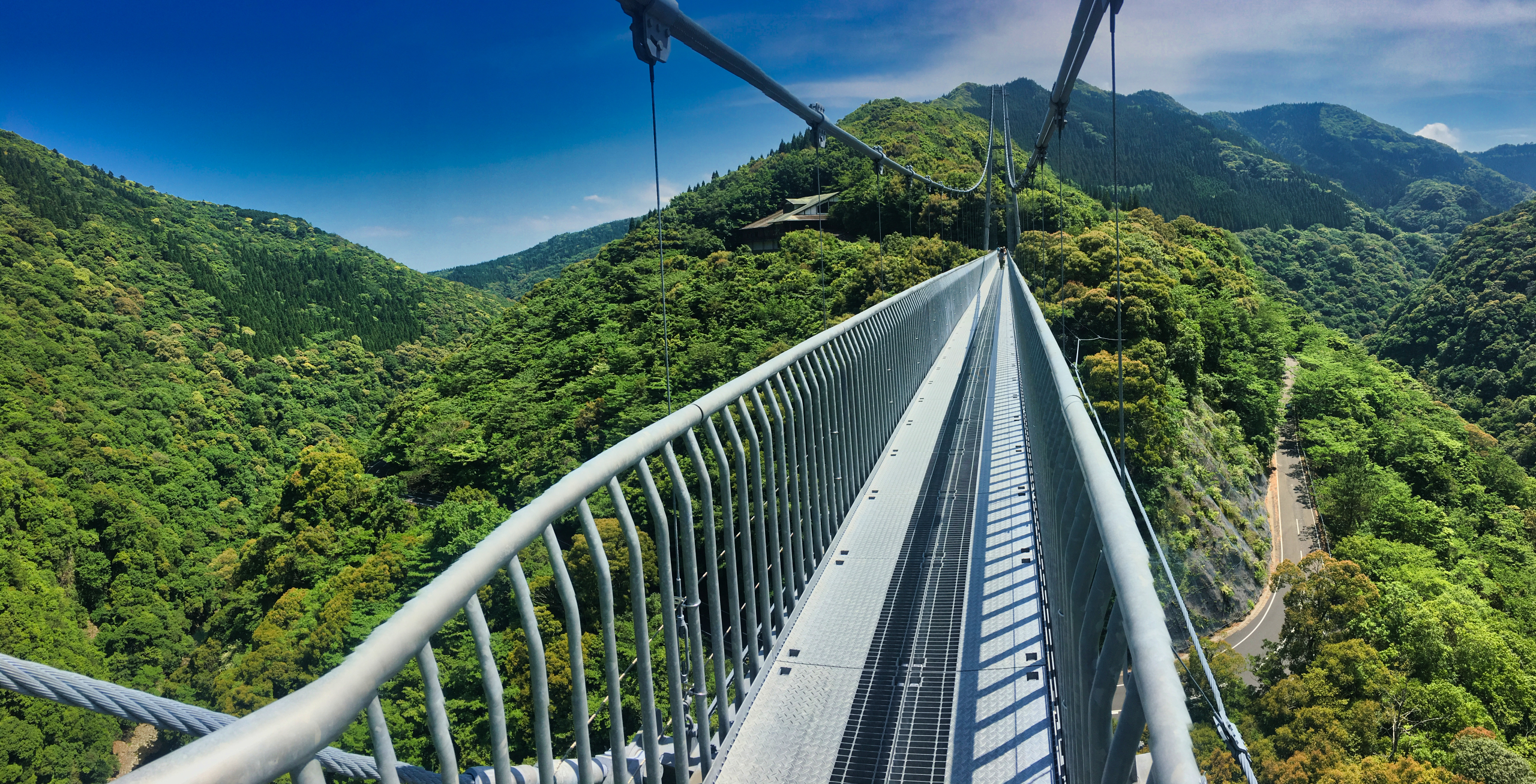 More fantastic riding this afternoon. Open countryside with wide faster roads. A joy to ride.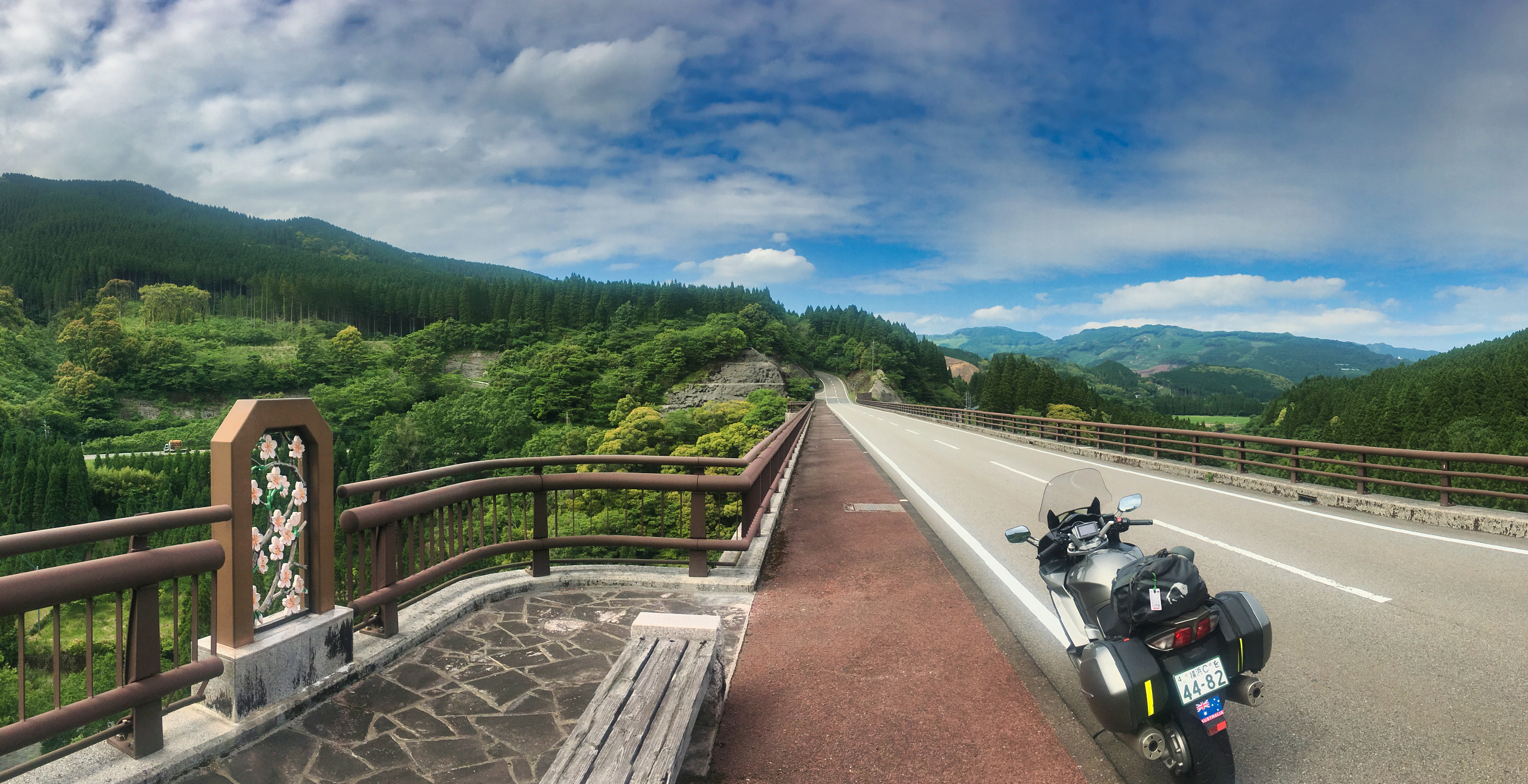 Heading to bottom of Japan. More soon. (Part one is here) (next part here)