Continuing my tour from the northern Hokkaido town of Nayoro. Part one can be read here.
The flaura this far north changes to birch trees. This artwork is to represent snow or ice (sorry I had camera in art mode). Wet roads but as I moved west on route 239 the traffic ahead had started to make a dry line and I could enjoy the sweepers on a small range before dropping down to the ocean.
And then the sun came out properly for the first time in days and the morning warmed as I started south along the ocean road. Can't tell you how great that felt.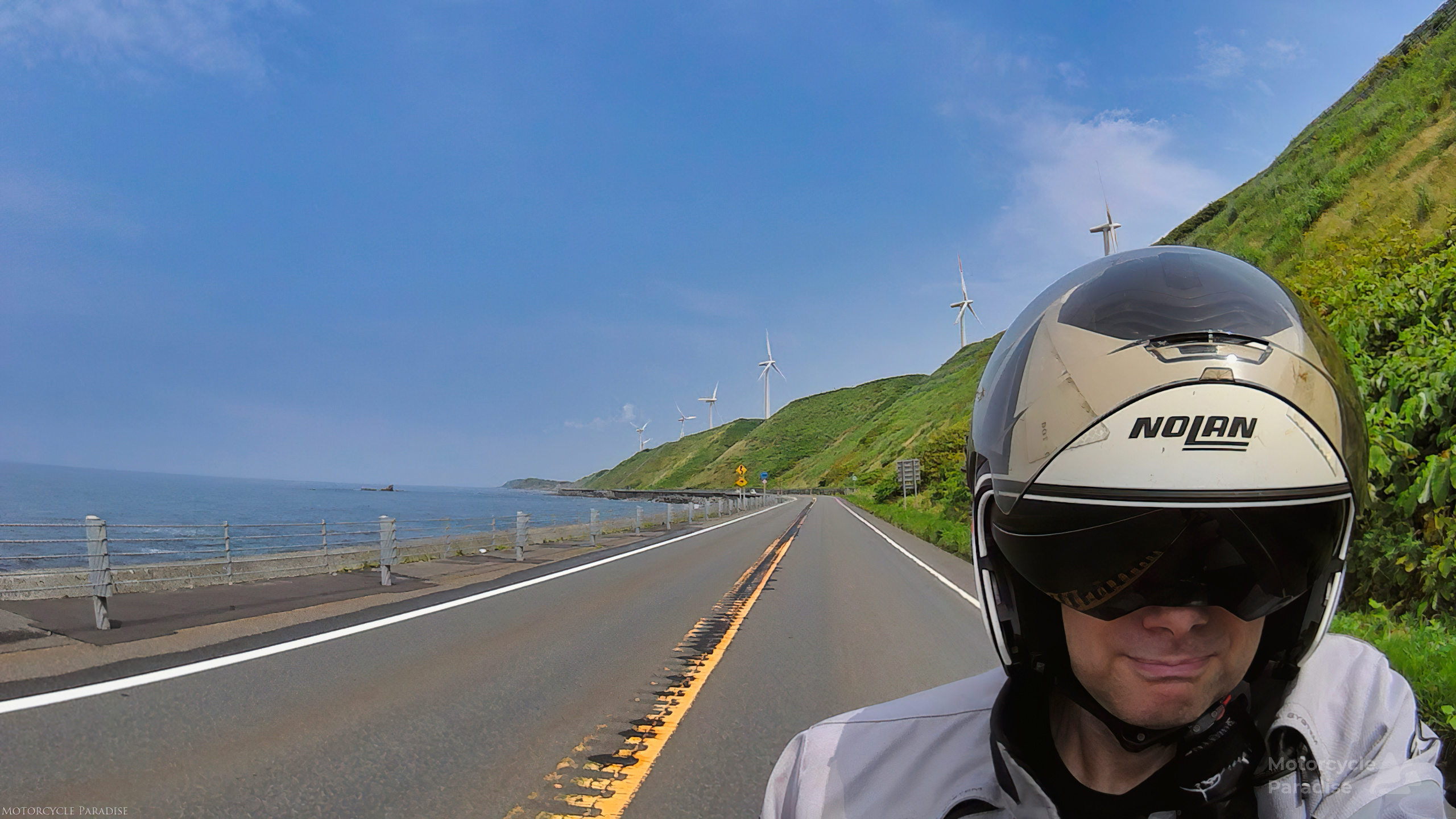 The coastal road is scenic with gentle curves. Temperatures continued to rise settling around 30 degrees and steamy. I had seen a poster on the wall of the hotel reception last night of a interesting looking cape that I was bypassing so I revised my route to go via there which added considerable mileage but I think it will be achievable.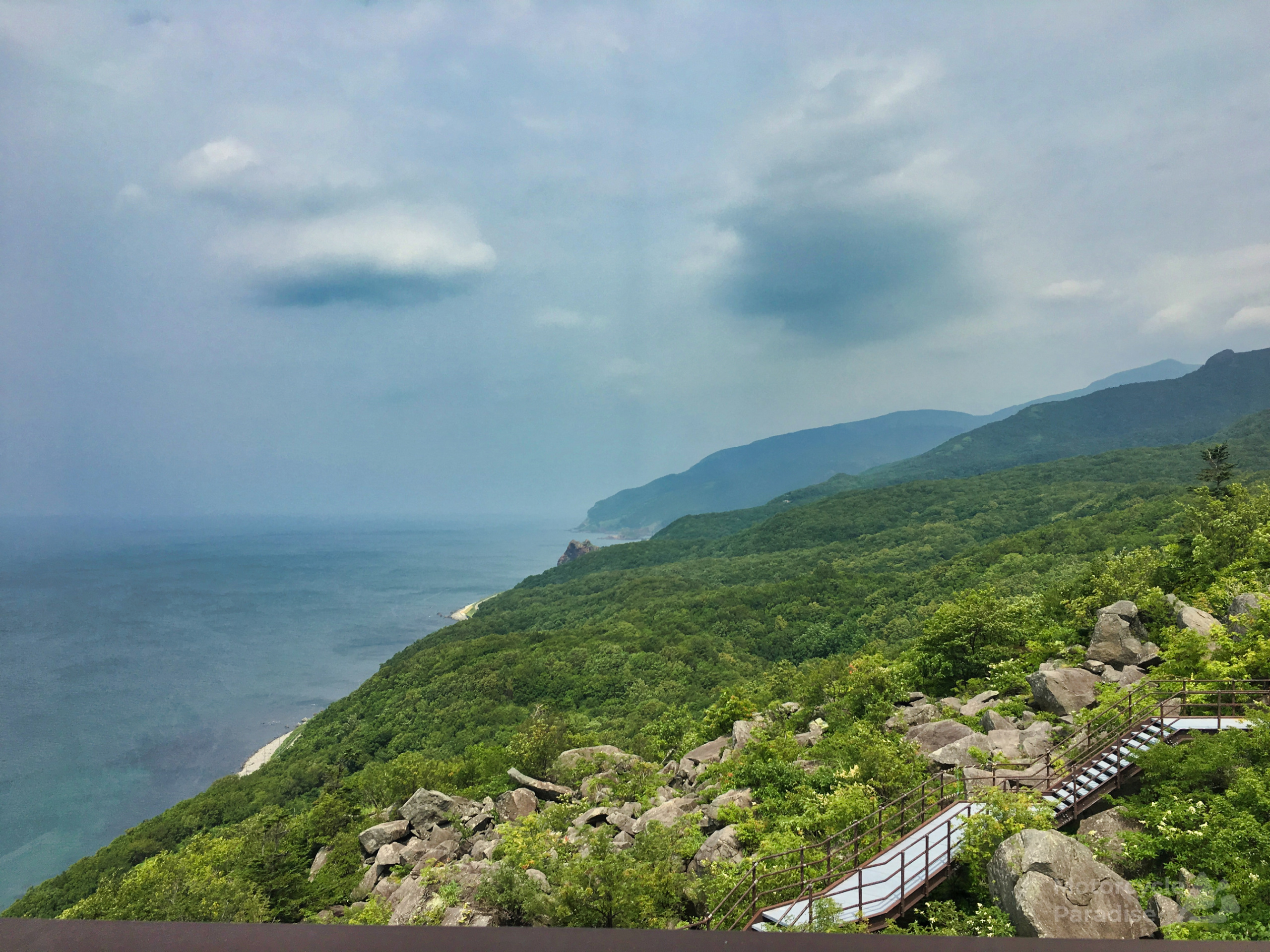 I enjoyed a great view at lunch from a view deck positioned above the road.
Late afternoon I eventually arrived Shakotan and Cape Kamui which I had seen pictured last night. The scenery here is stunning. This is the most dramatic coastline I have seen in Japan.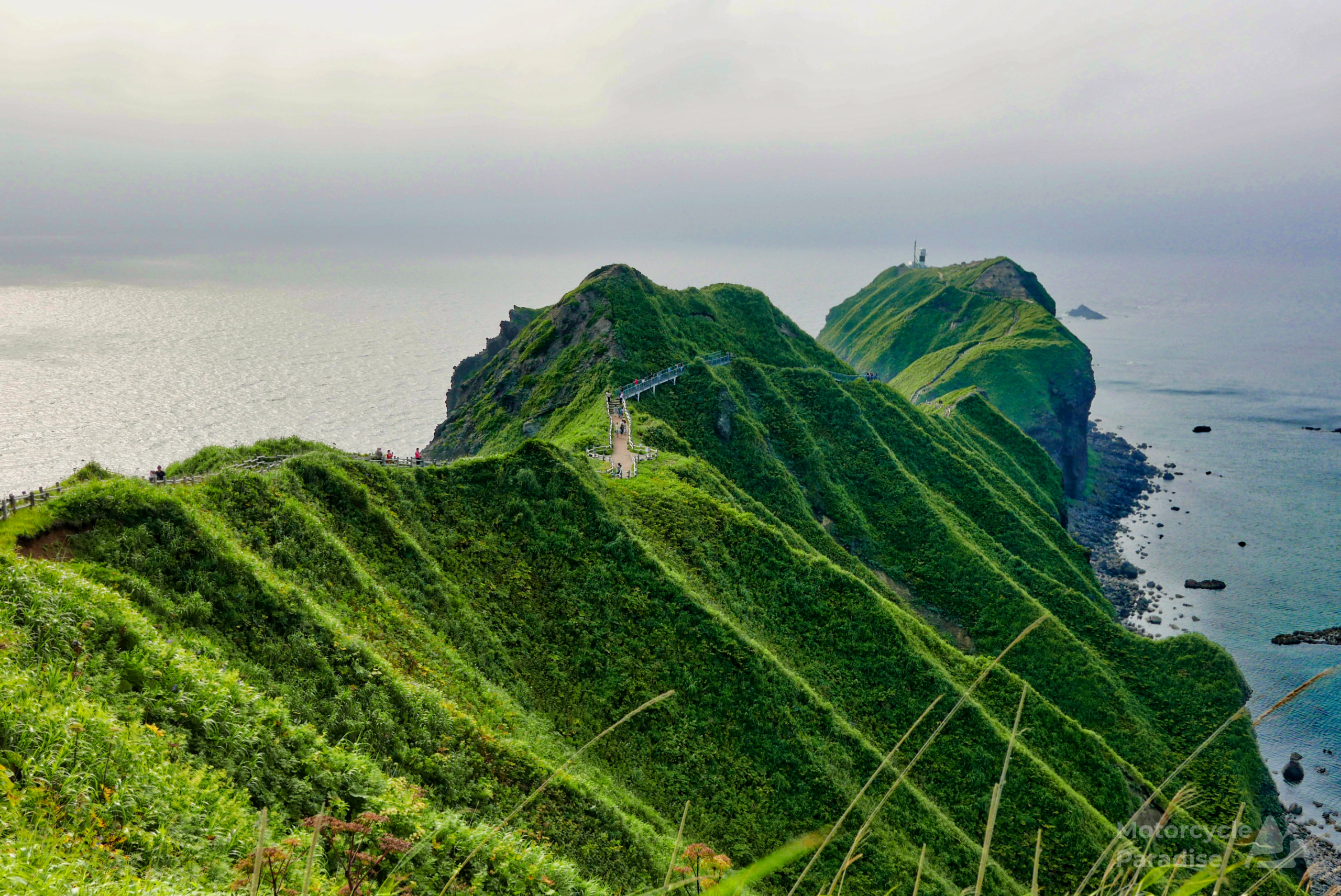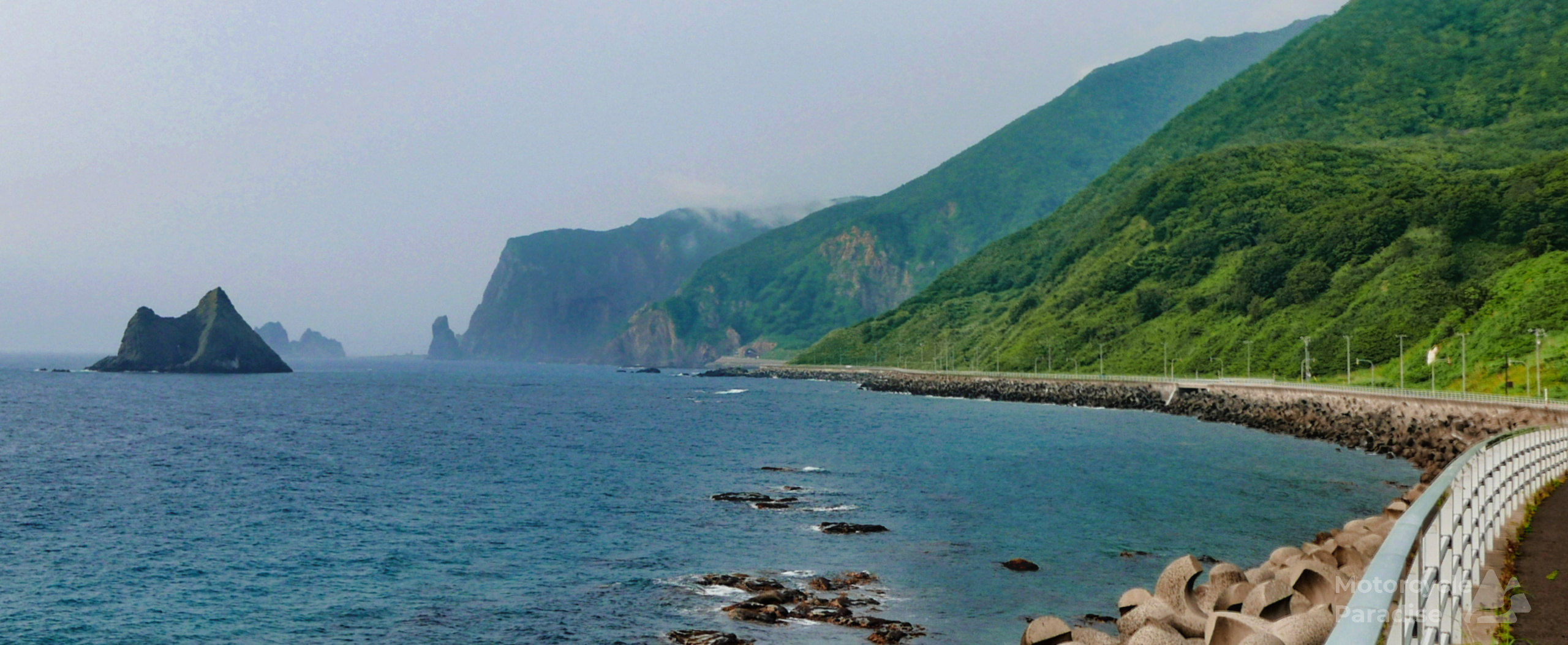 I wish I had more time to see the area better but I still had to ride to Niseko my original destination so reluctantly I left but enjoyed the ride south east along the cape.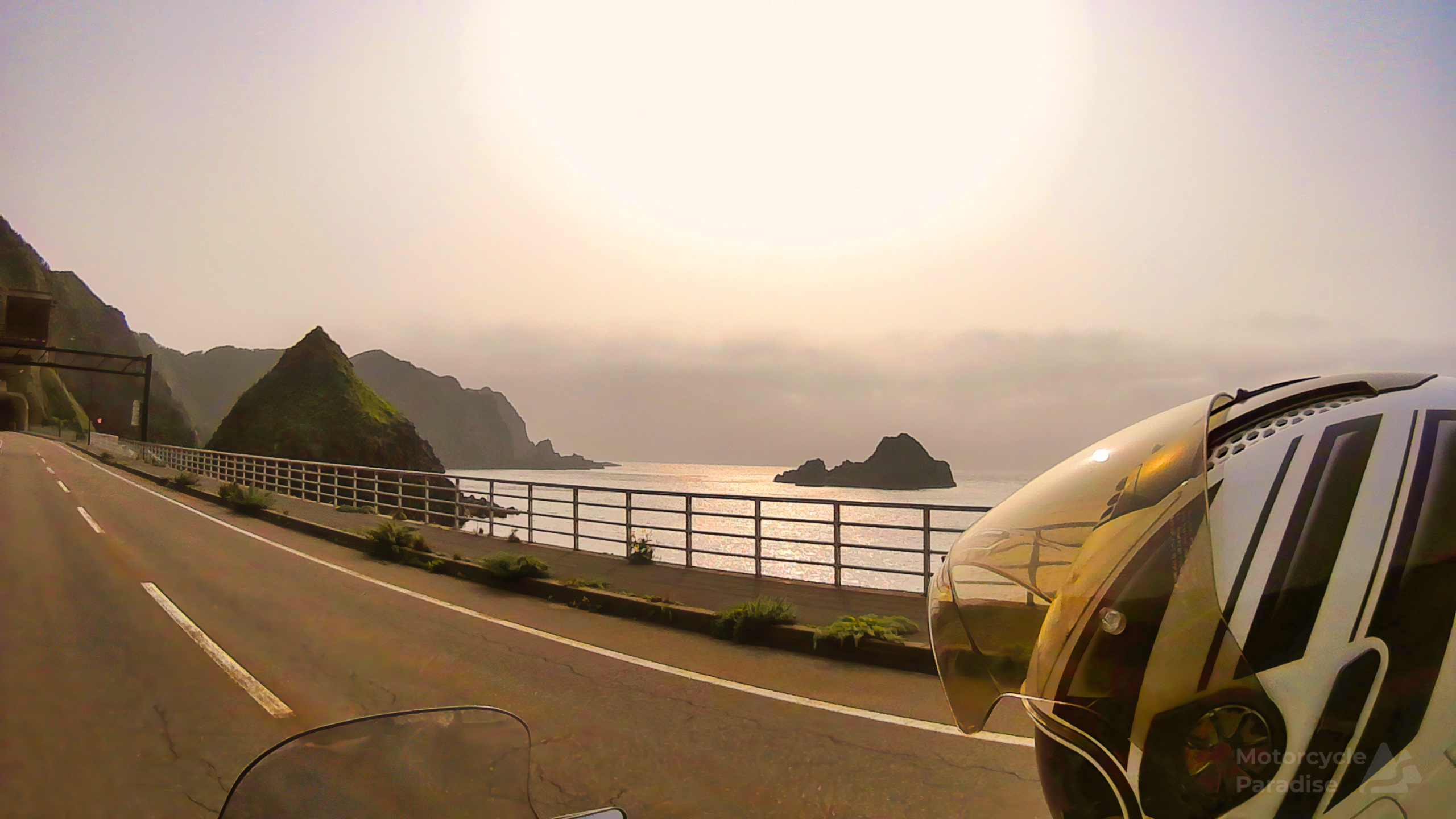 I got a good run to Mt Niseko so decided to ride over it late today. I thought you just never know with the weather I have had so far. Alas no photos as the top was shrouded in clouds but the road itself was dry. This is how it looked to the GPS which is best I can offer.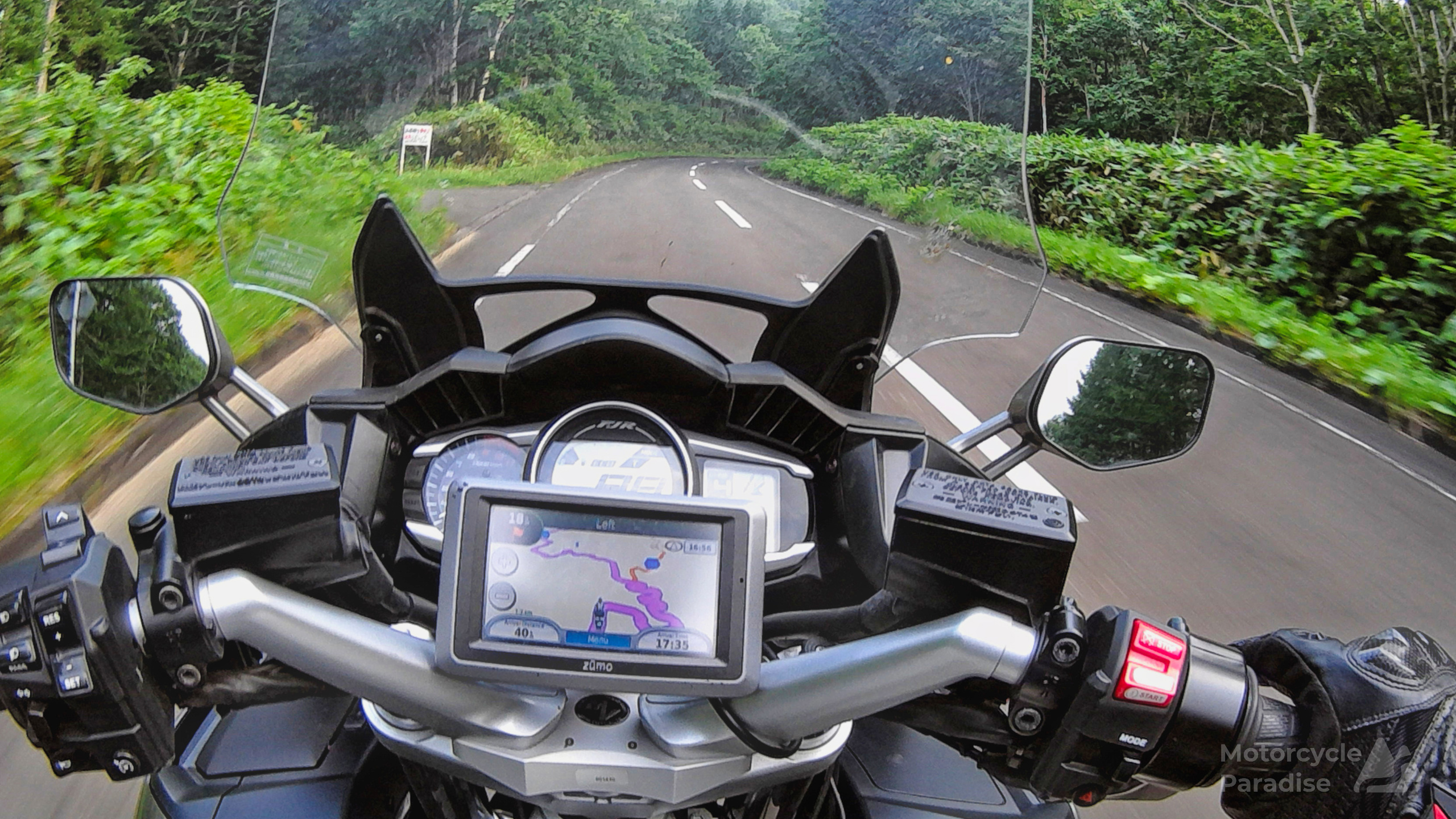 I had not intended (originally) to stay in Niseko but every hotel room remotely close to Sapporo was booked out tonight for a fireworks festival. Niseko is known as Australia village in winter when it is taken over by 1000's of Aussies who come for the skiing.
Scenic ocean ride today with interesting rock pools on my right and waterfalls tumbling down on my left.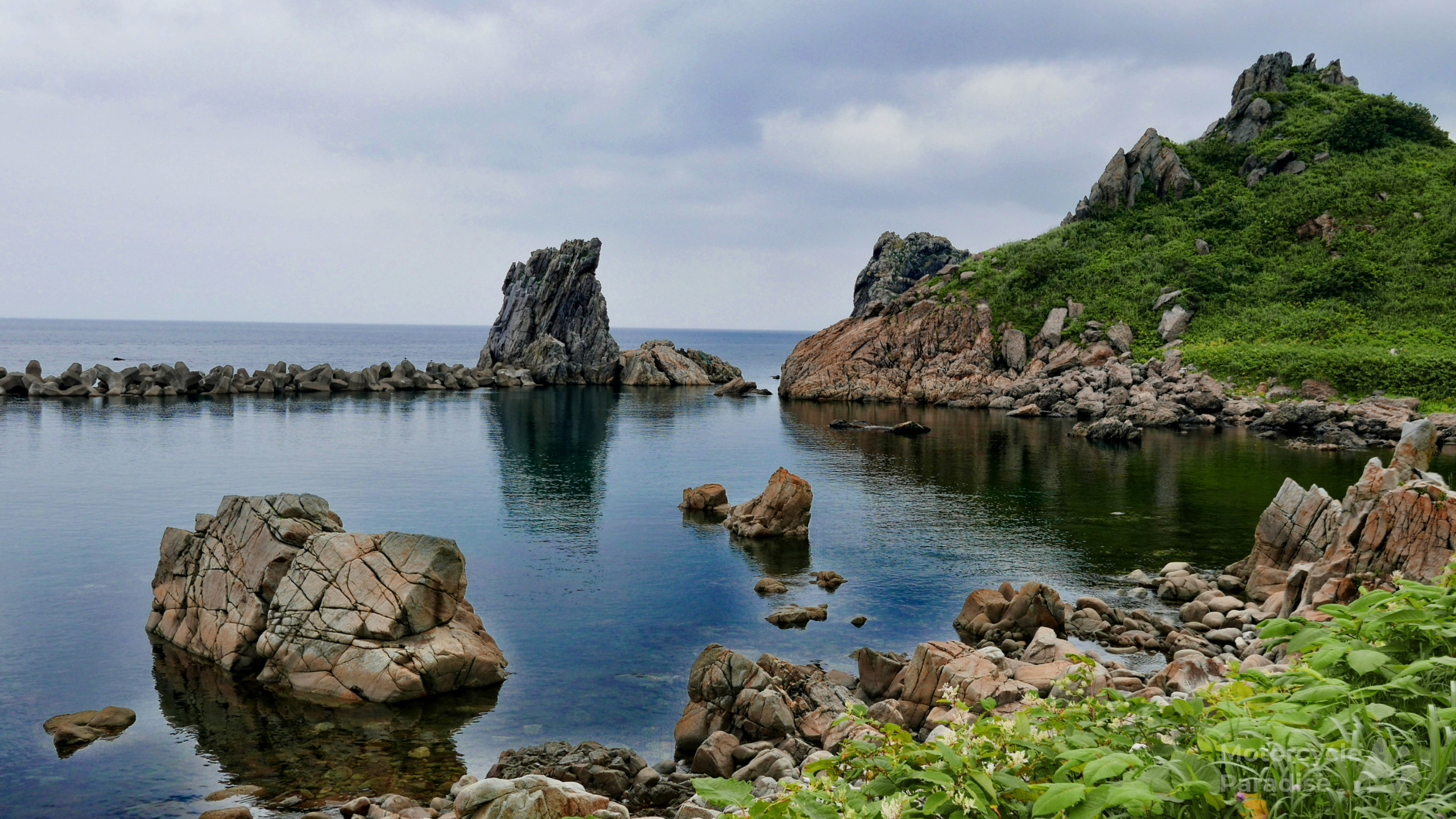 Lovely spot for lunch in a local park. It continues to delight me that public toilets in Japan are spotless. This one has a heater and flowers.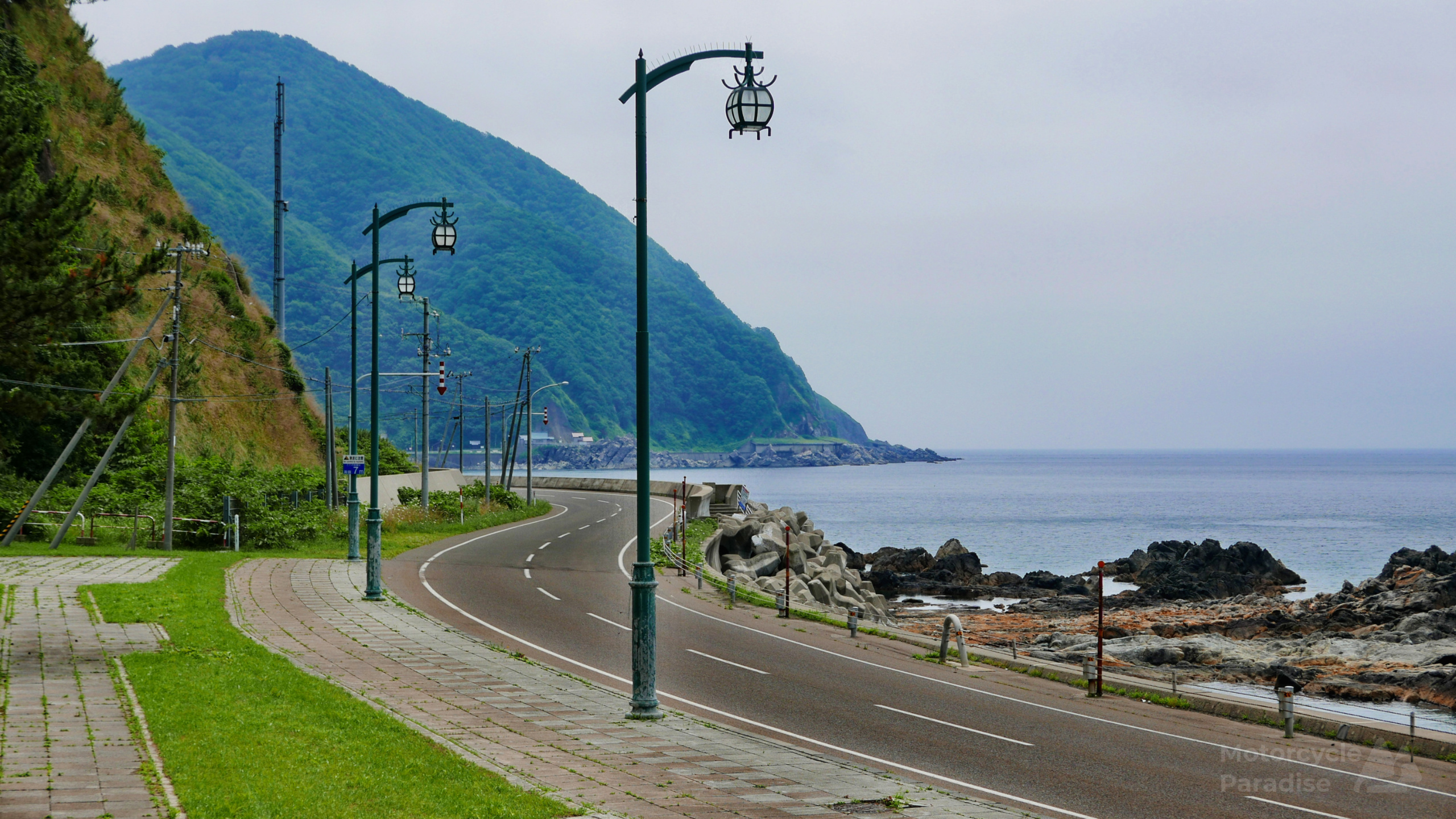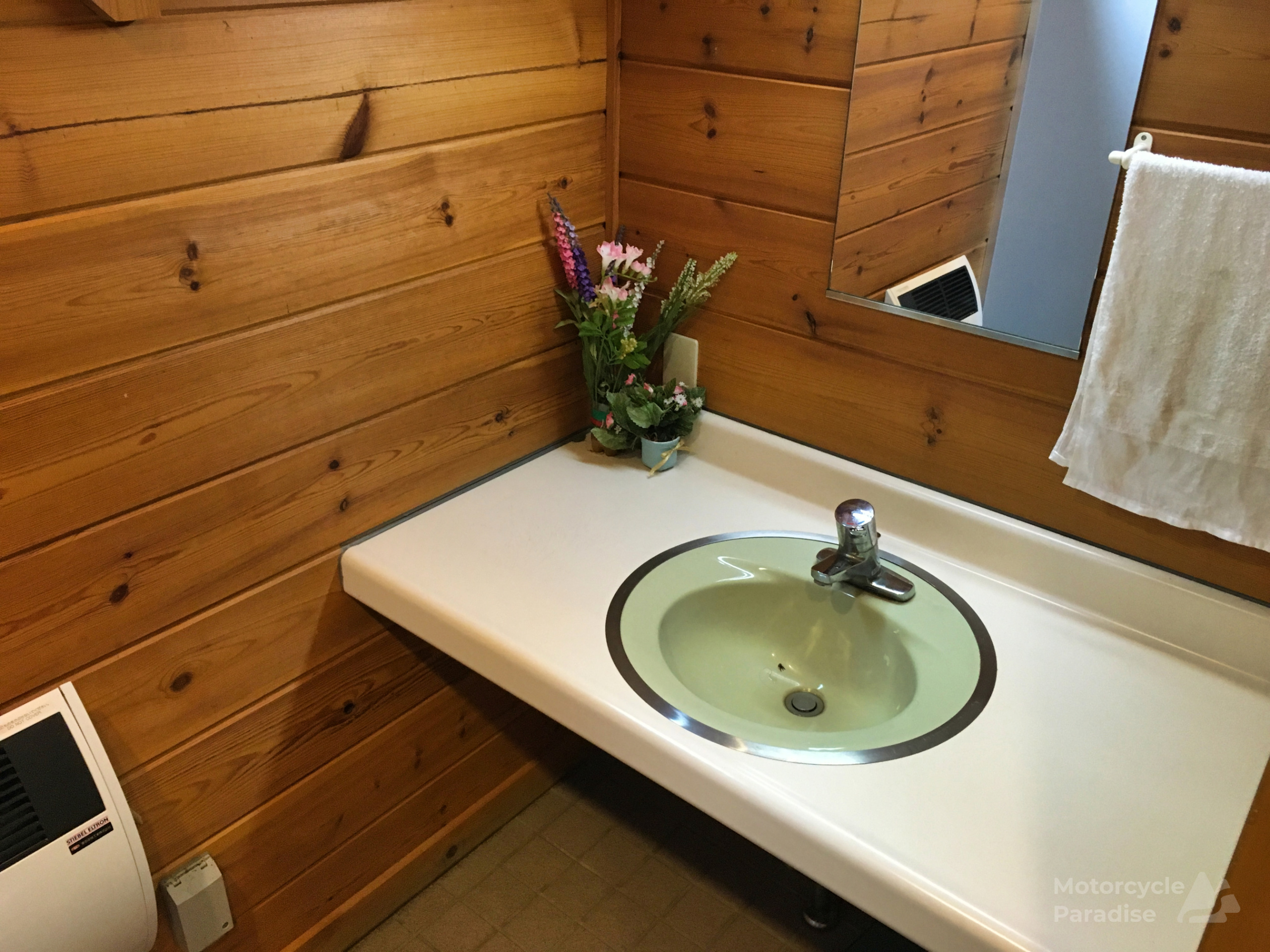 I did zig-zag half way down the coast and over some mountain roads. Clouds once again blocking the views at times but adding mood elsewhere.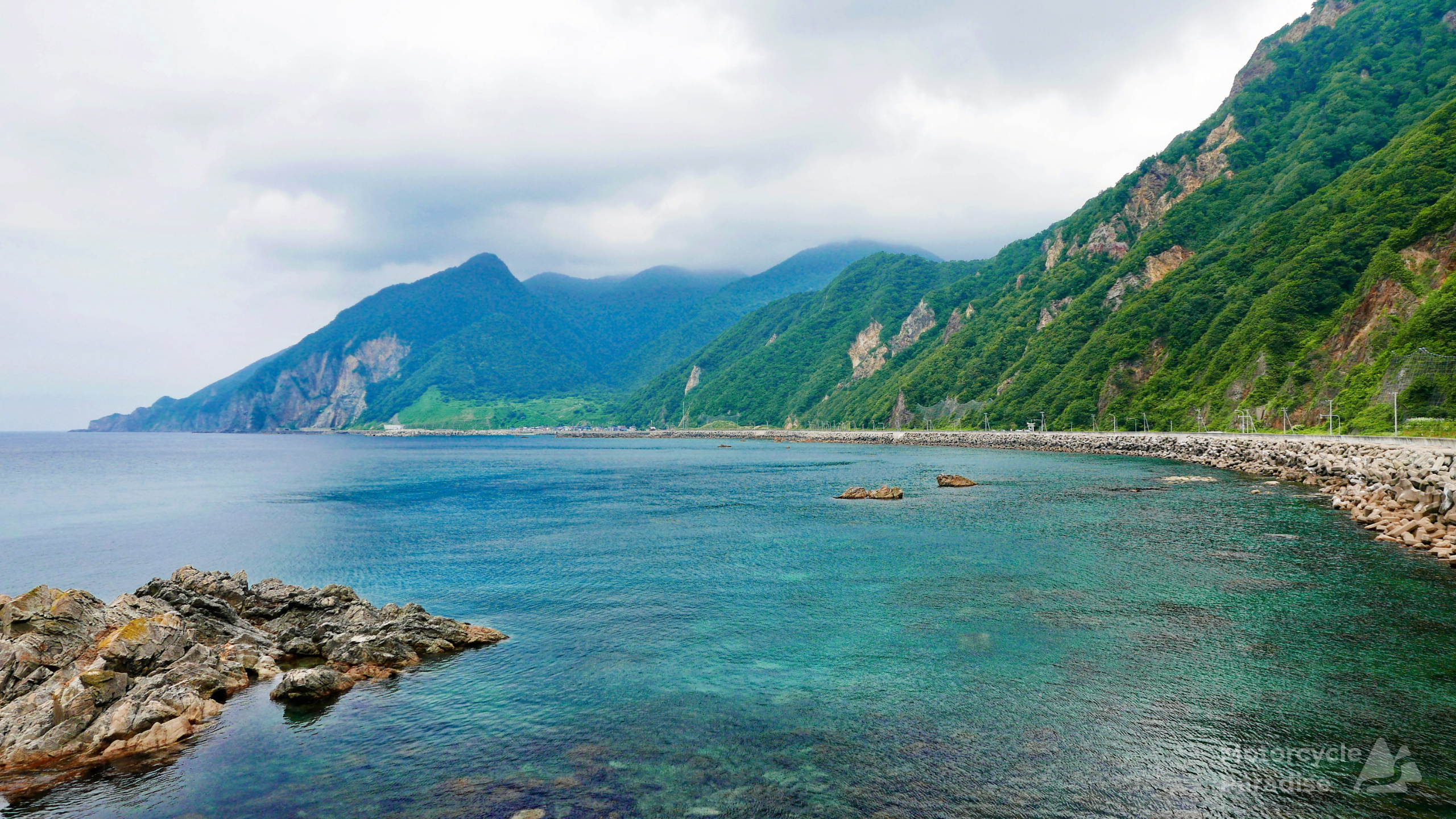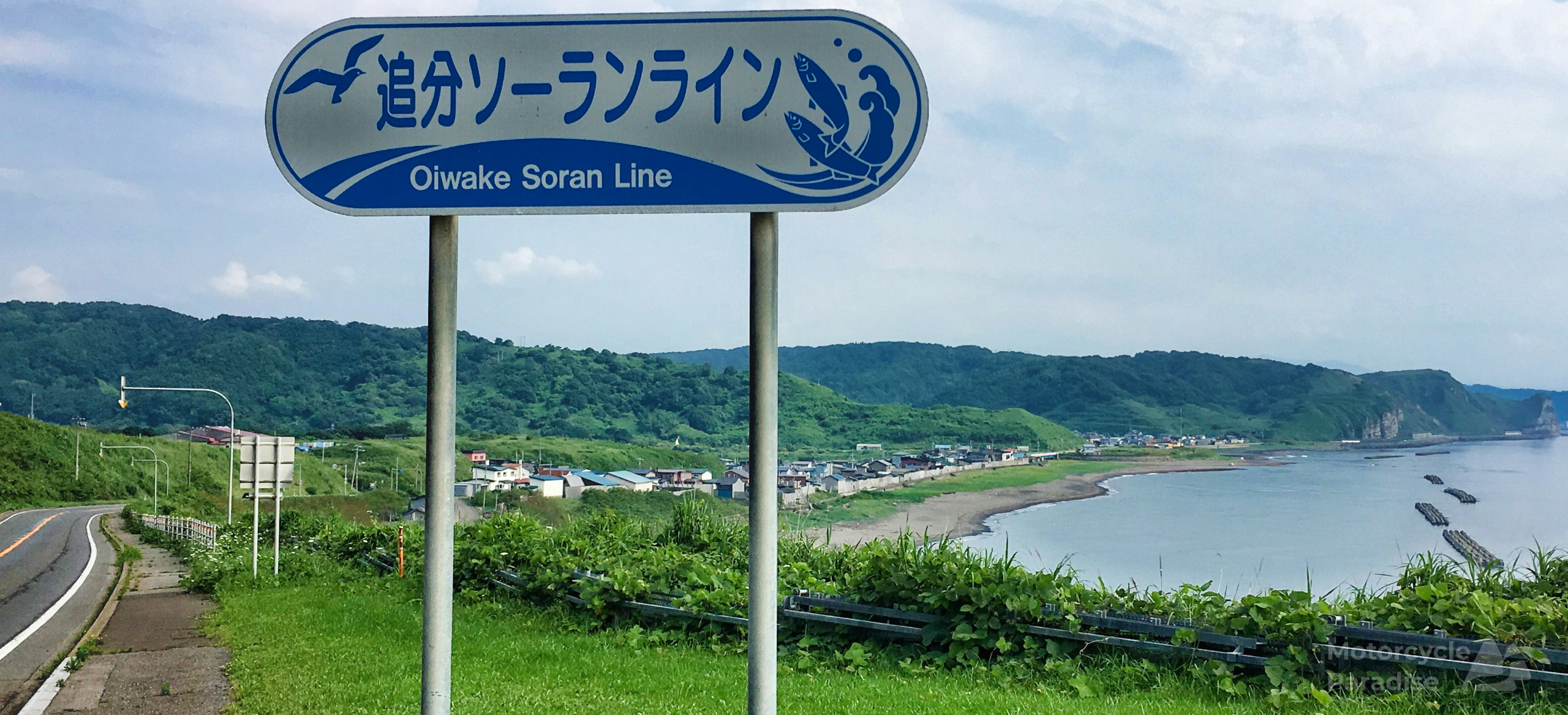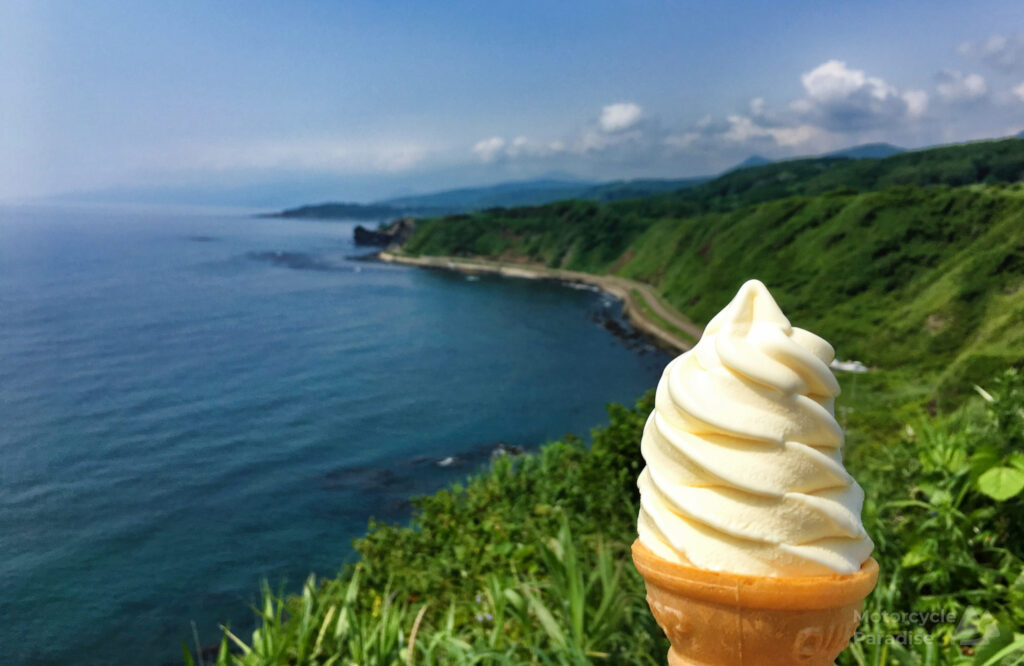 Here's to you Oiwake Soran line. Nice end to my time in Hokkaido.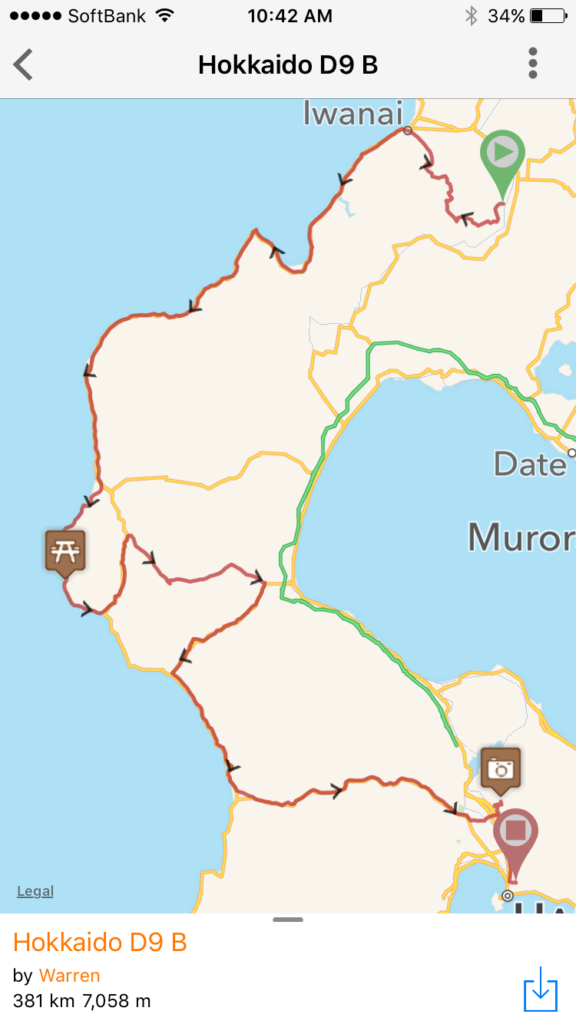 Staying in a old hotel tonight but I celebrate riding Hokkaido with a limited edition Summer brew.
Arriving at the ferry in morning it is again an easy procedure. Just 50 minute sailing to Oma. It worked best for me to do this shorter crossing on the return due to the sailing times.
The sun is shining finally today and the temperature hot by mid morning as I set off south from Oma .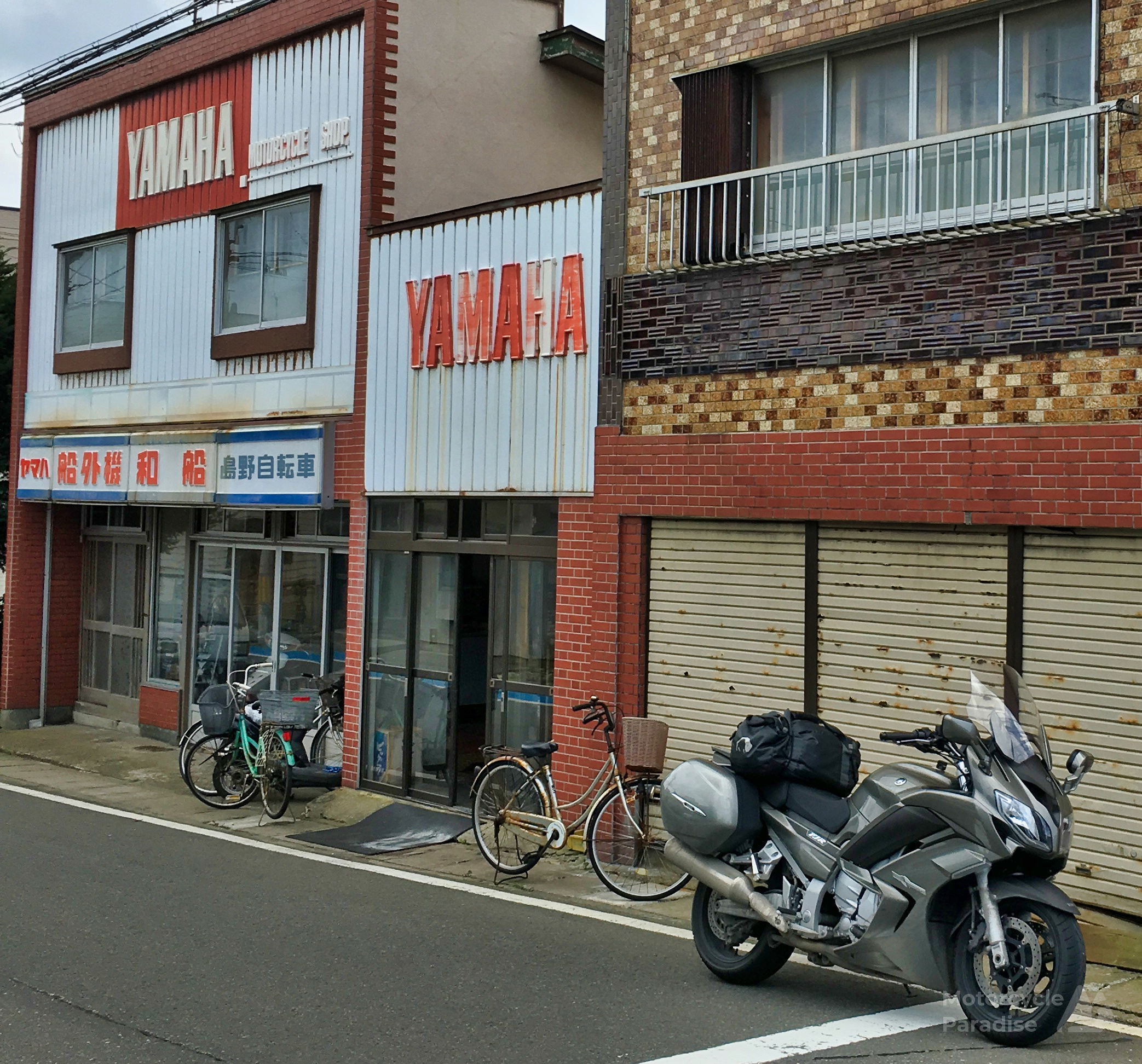 More great lunch spots, choice of a small cove one side or park on the other. Sitting under a shady tree won today.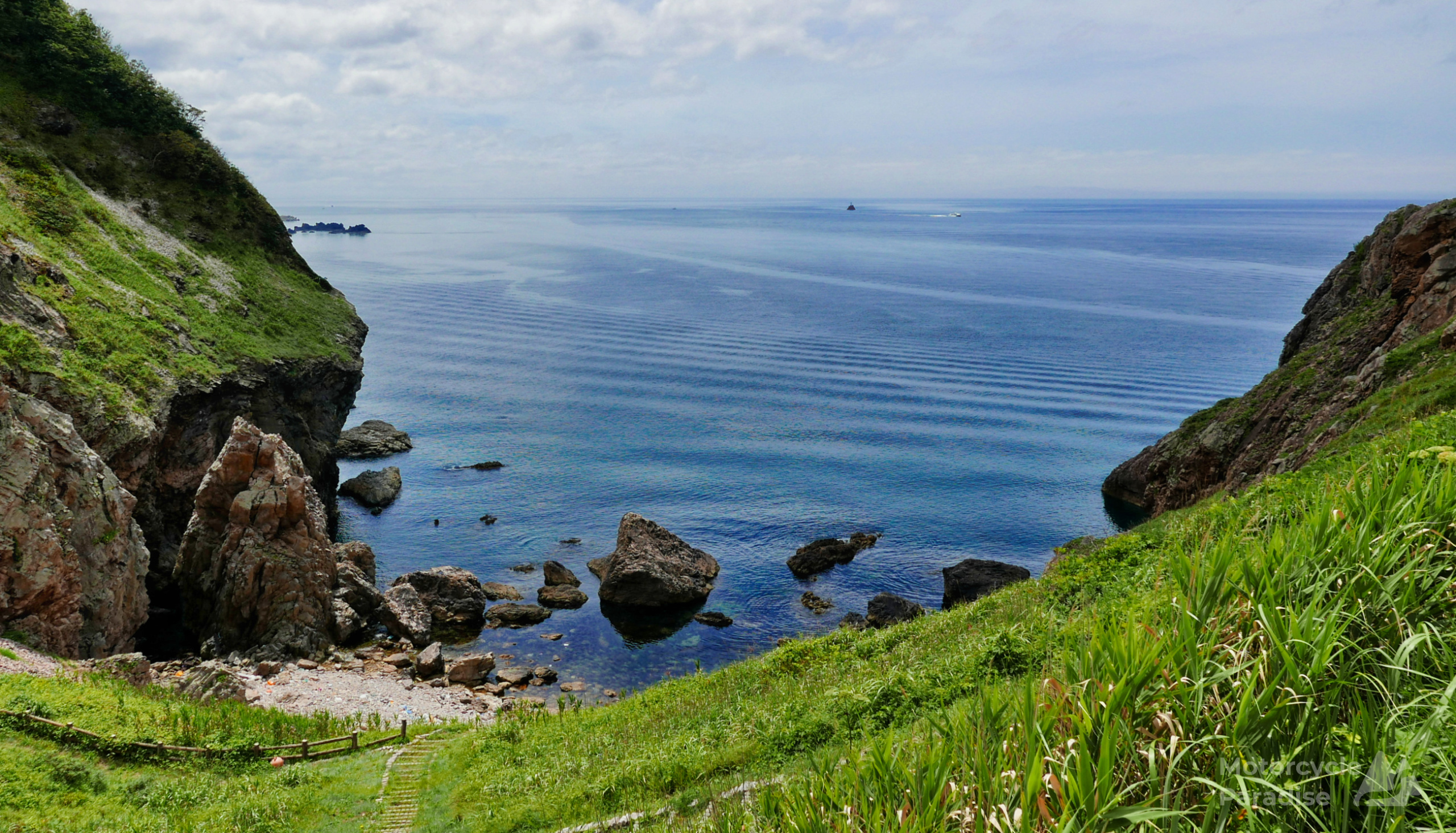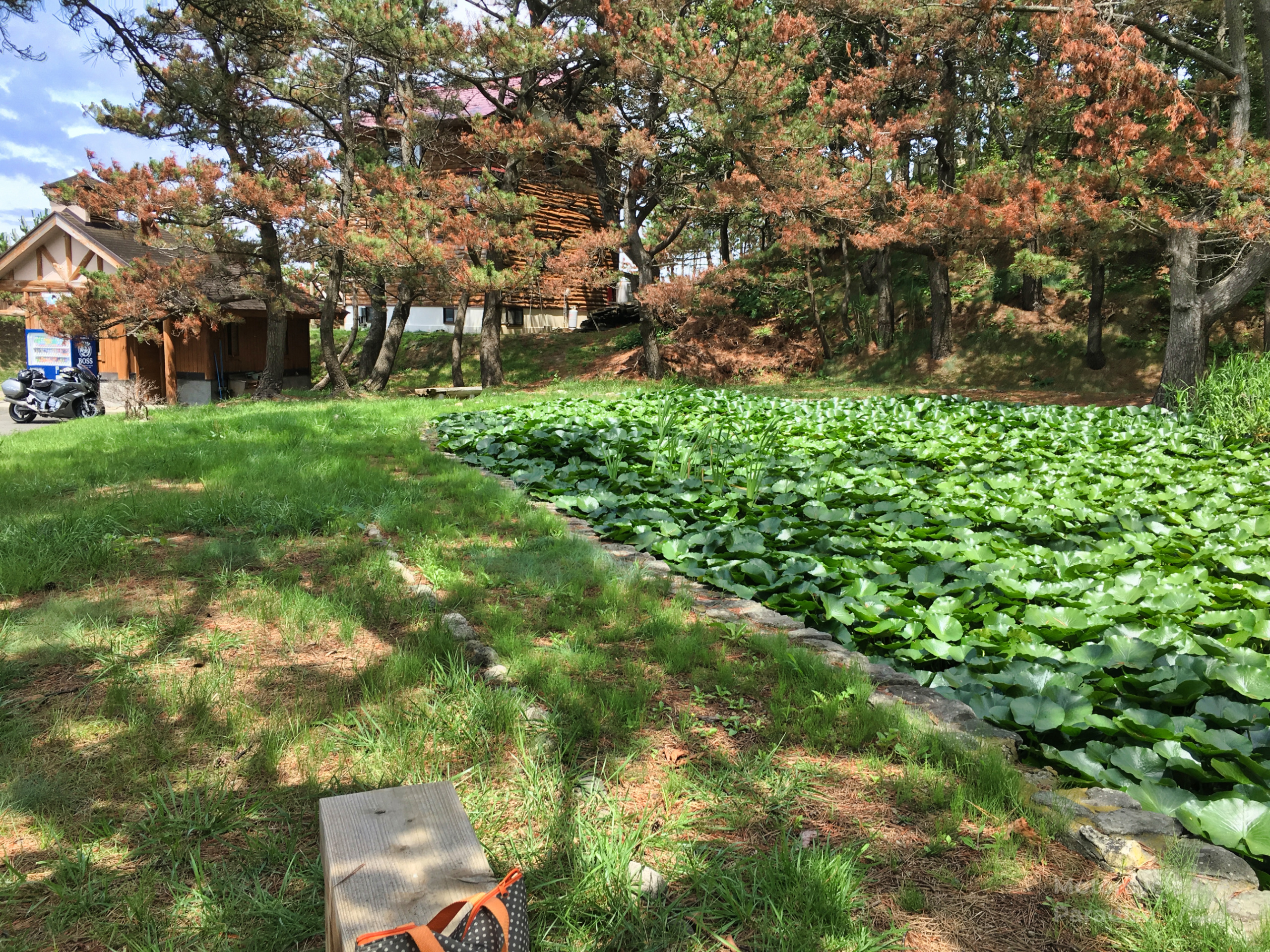 The coast road from here route 338 was incredible. Not only the views which were jaw dropping. But also almost zero cars and good surveying. It has to rank up in my top ten rides in Japan.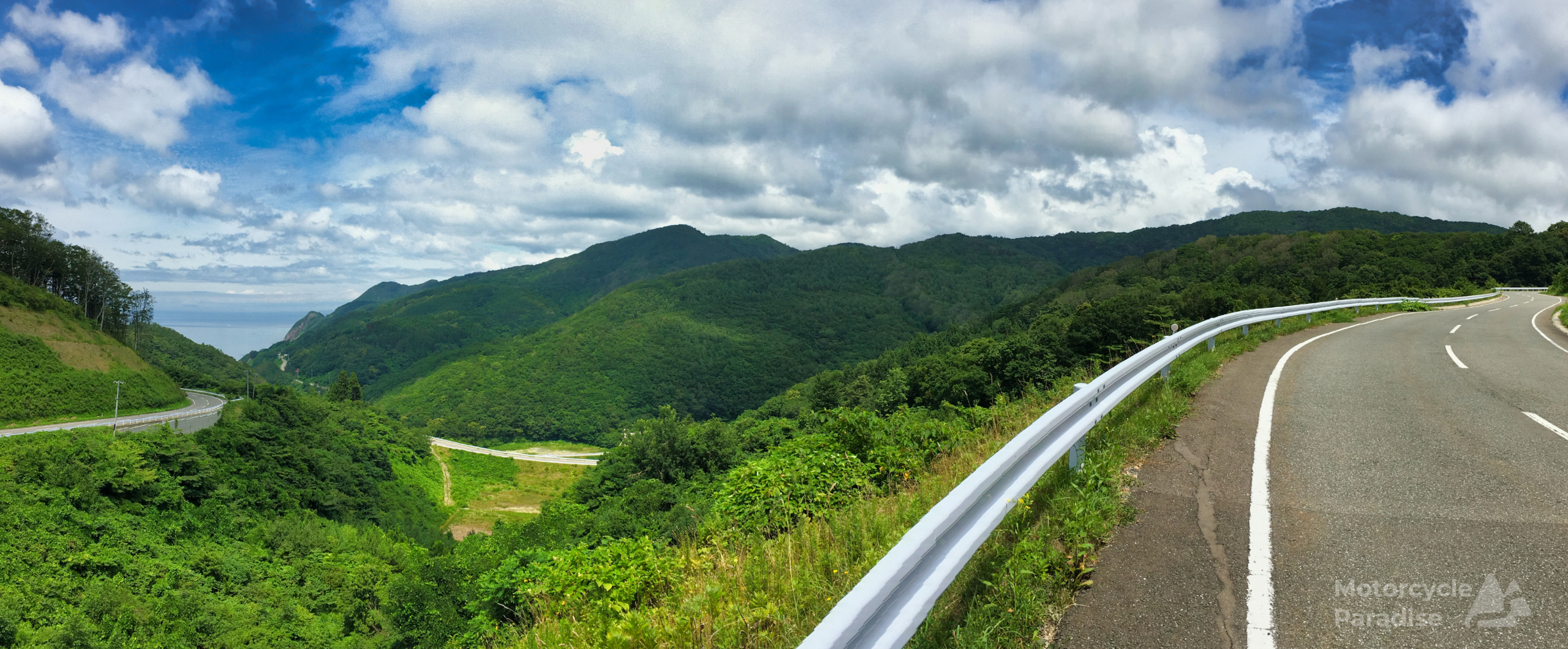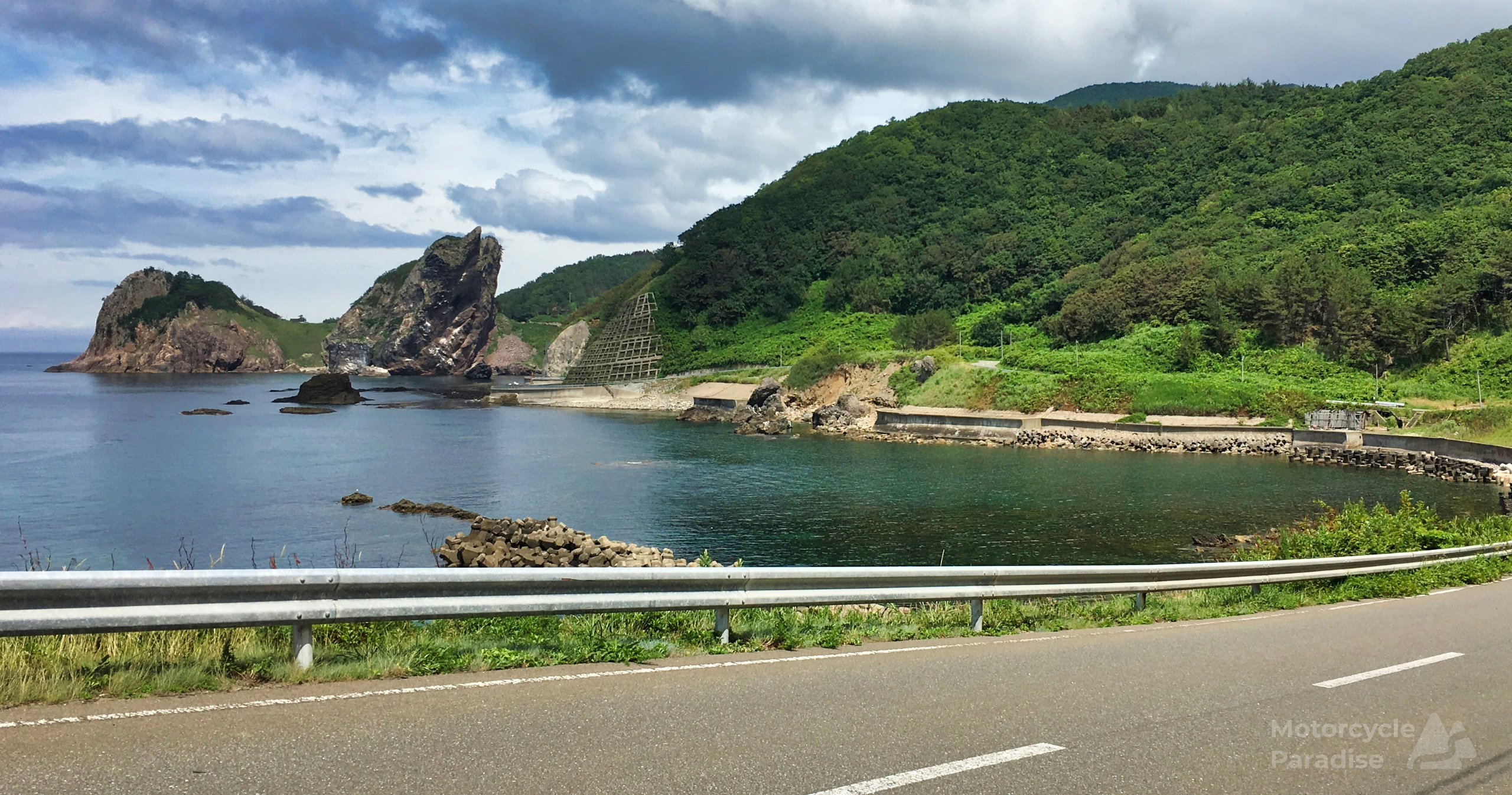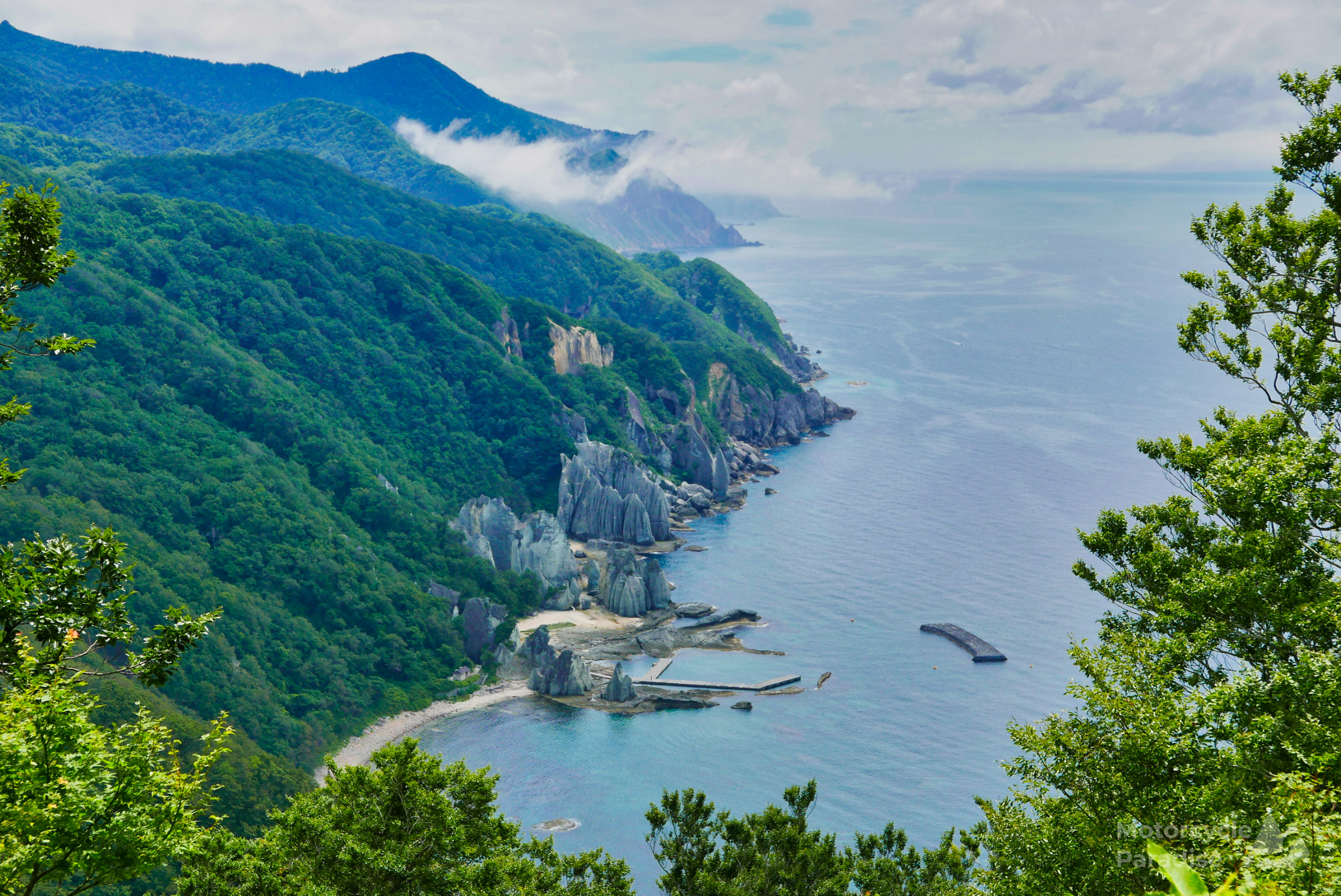 I met a guy touring on a 125cc scooter who recommended I visit the other side to see the wild horses so I made a detour later but just before arriving there heavy fog rolled in reducing visibility. Misawa soon became blanketed in heavy fog also which lingered all night.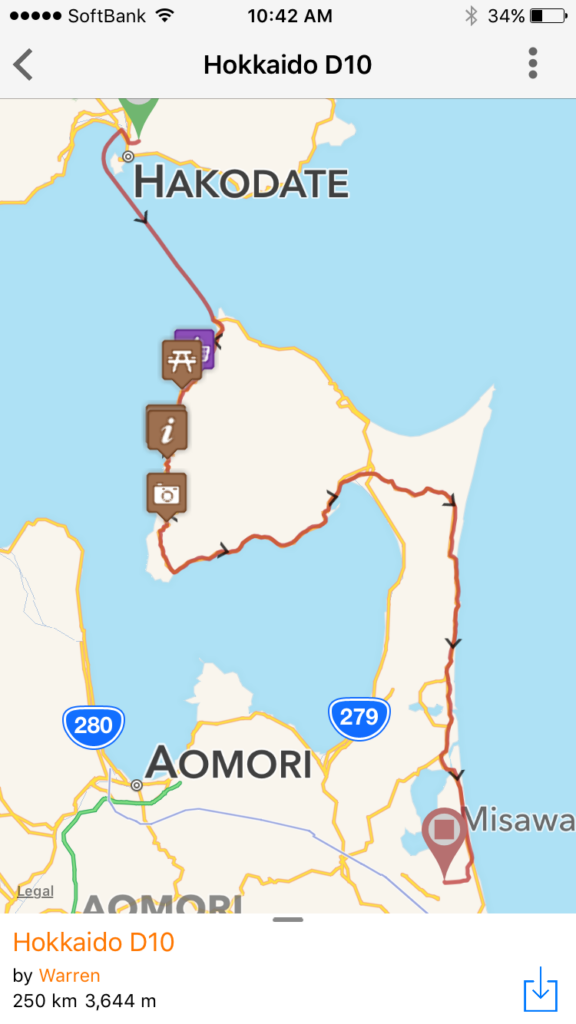 Day eleven was a big program. First of all I was visiting another peninsular area in Aomori but first I had the wonderful Hakkoda mountains to further explore via routes 394/40/103. Excellent roads there but not easy to photograph.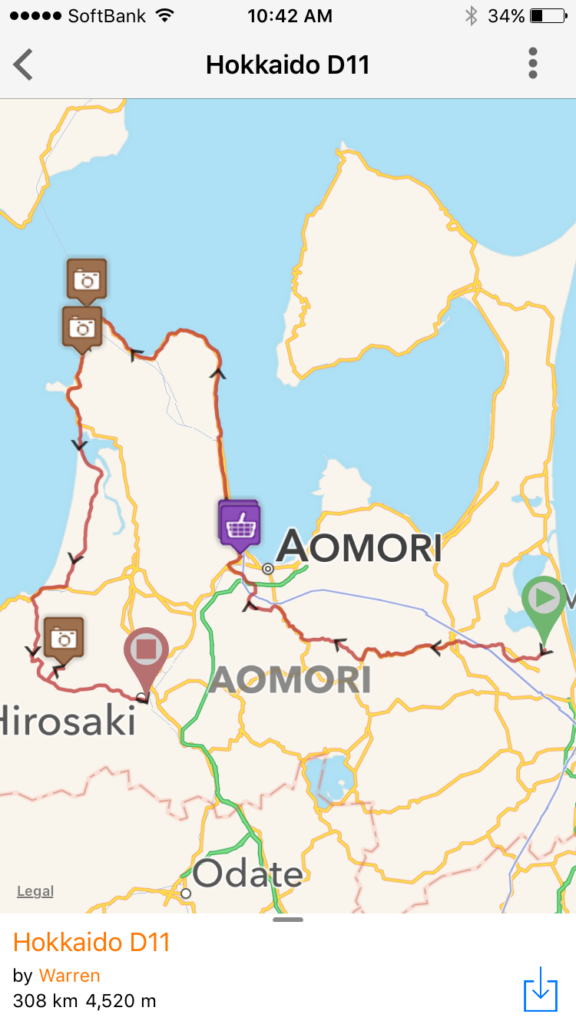 Riding up the coast I came upon a small park off the main road for lunch with this dreamy view across to Oma region where I had been yesterday.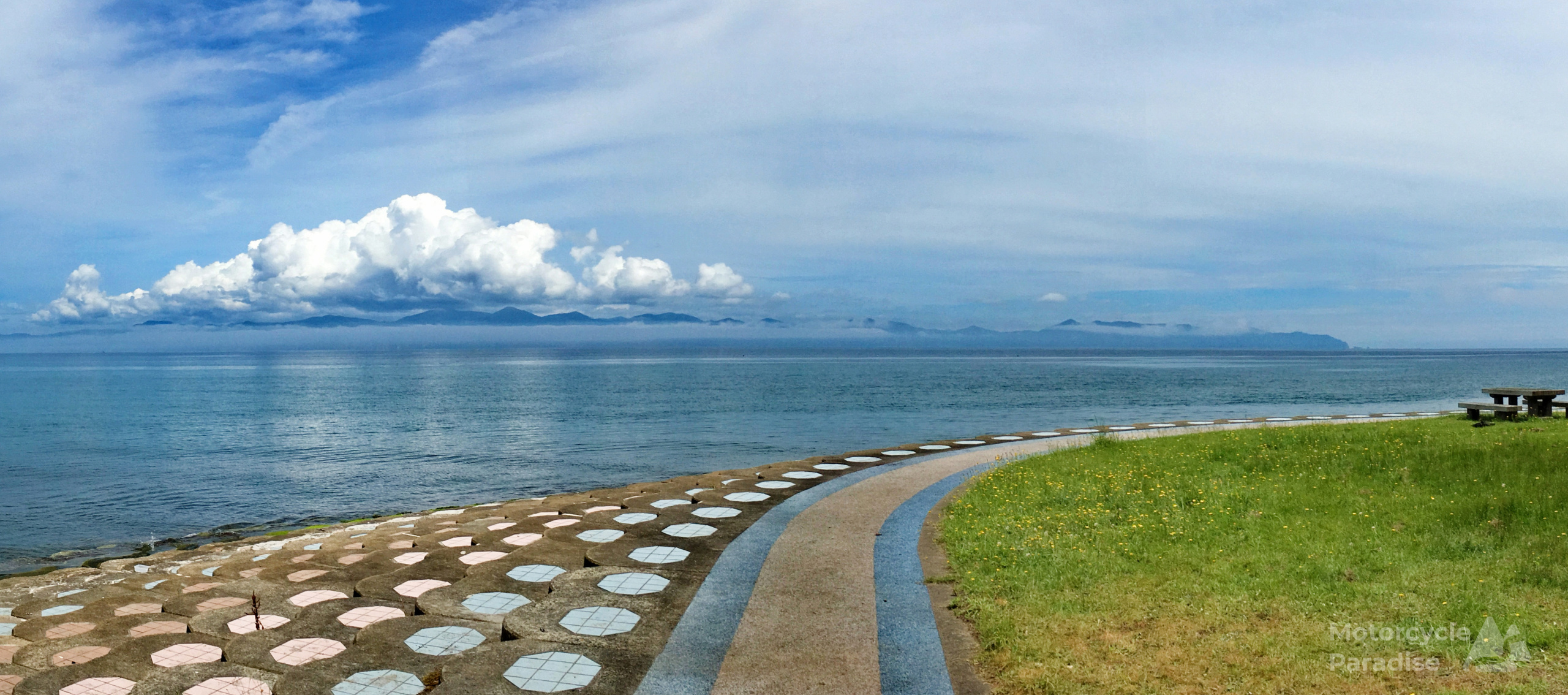 And every view point riding along the coast after this was equally fantastic.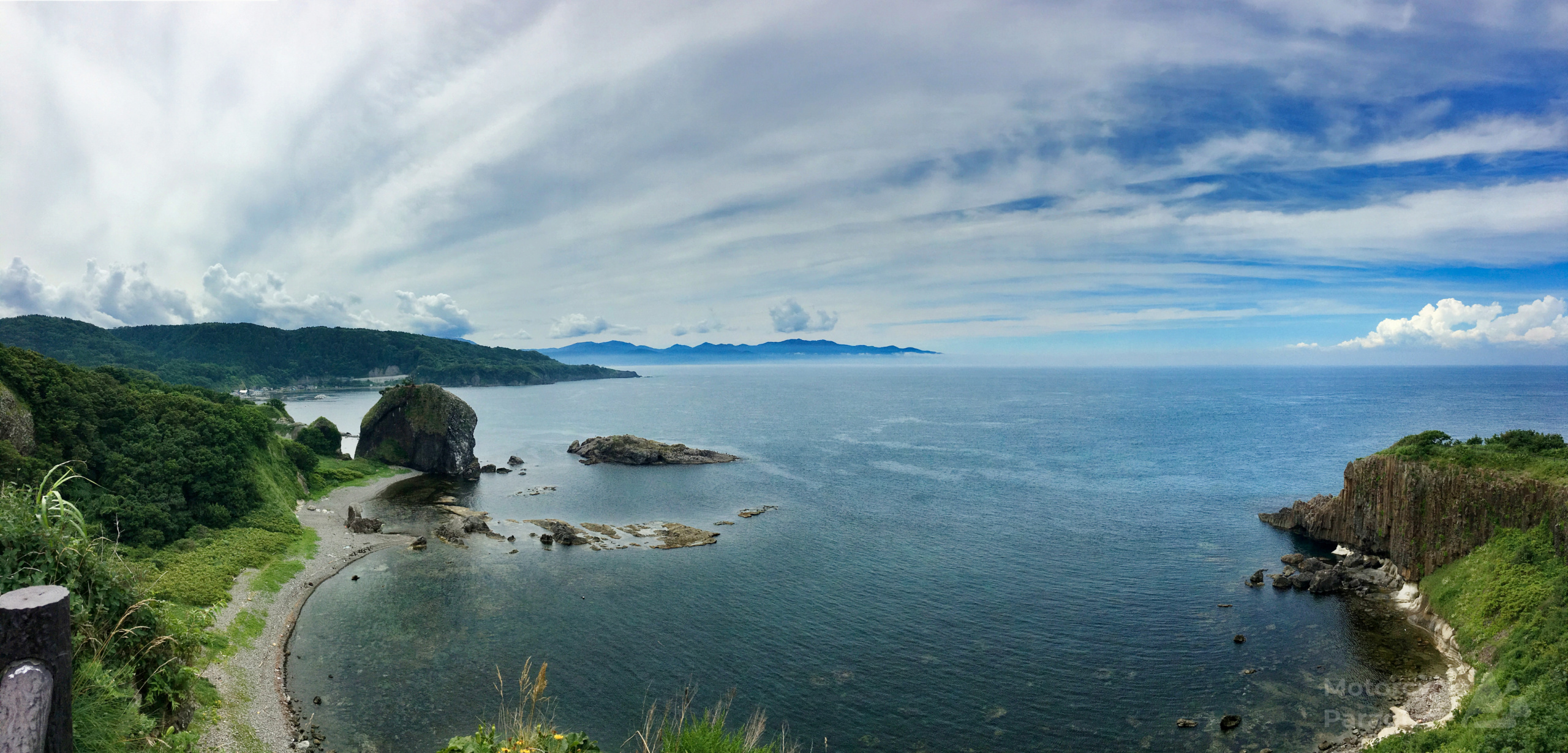 At Minmayatatsuhama you climb steeply and looking back have a view all the way to Hokkaido which no matter how I tried I was unable to capture how impressive this view was.

I left the cape area totally satisfied when around I am presented with this. What an amazing place Japan is for a rider.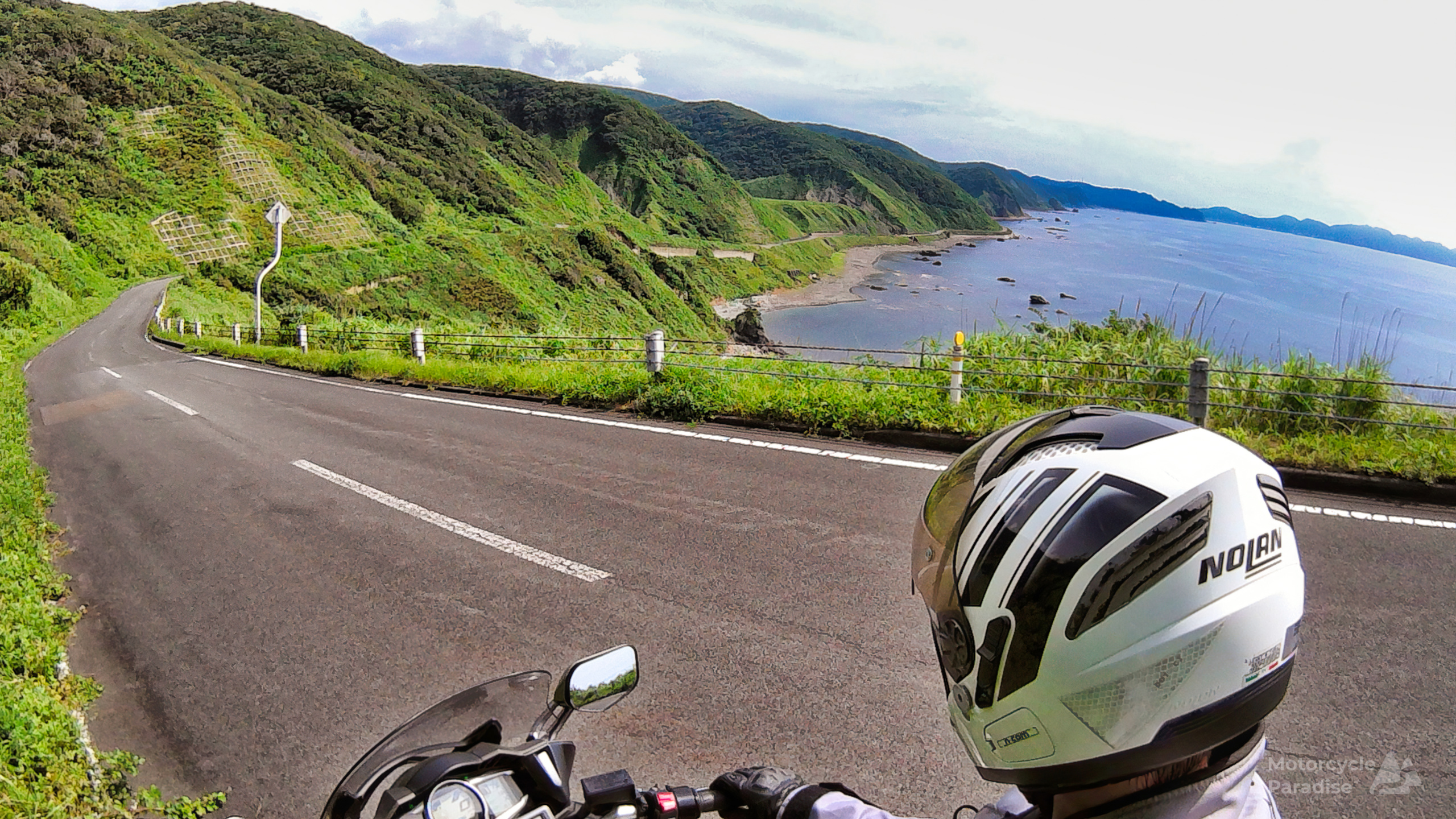 I meander back down south returning to farm lands and some might excellent curves on rural Ajigasawa highway.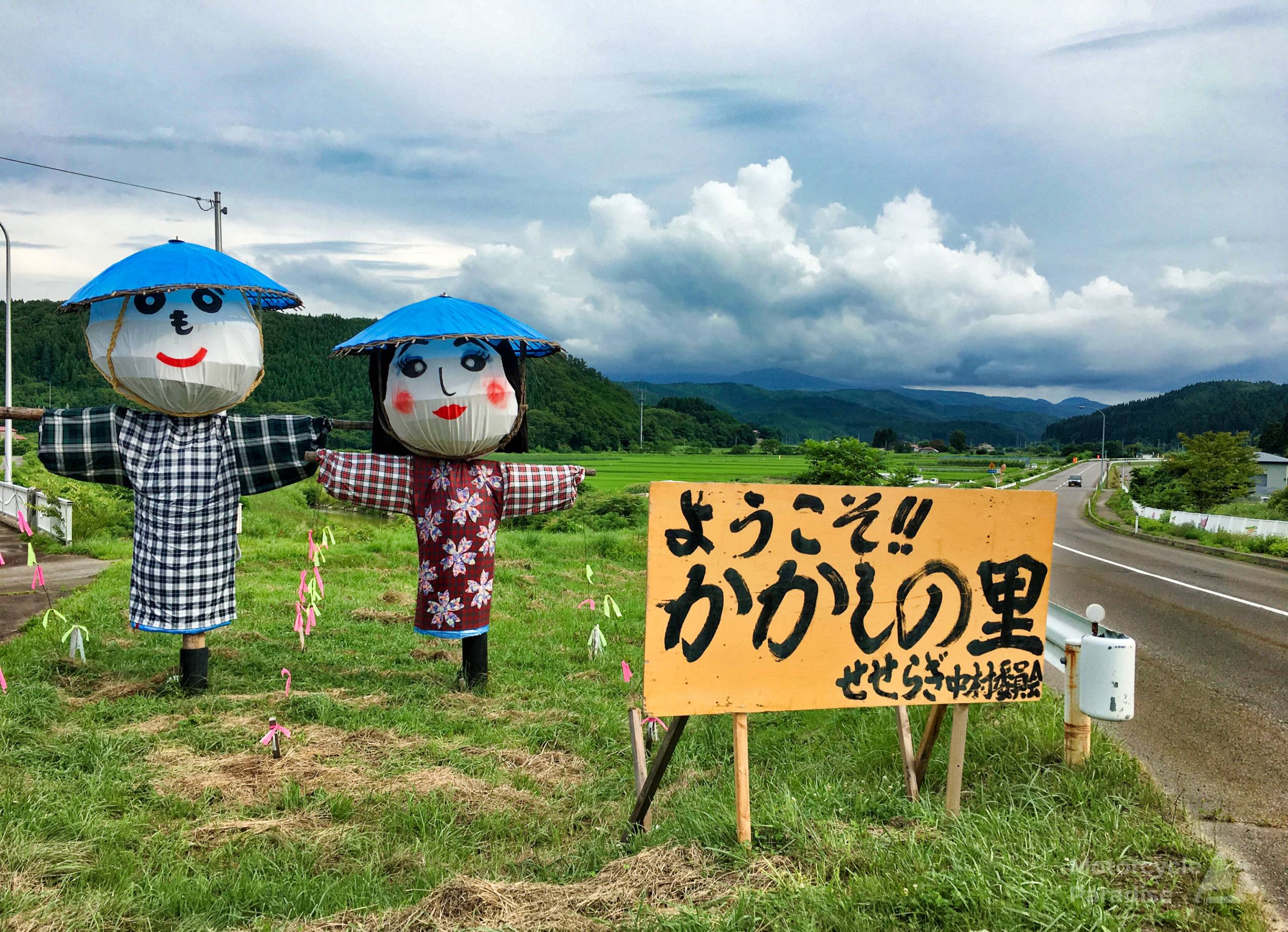 Very lush farm area then as I approach Mt Iwate I see this sign below. What is this?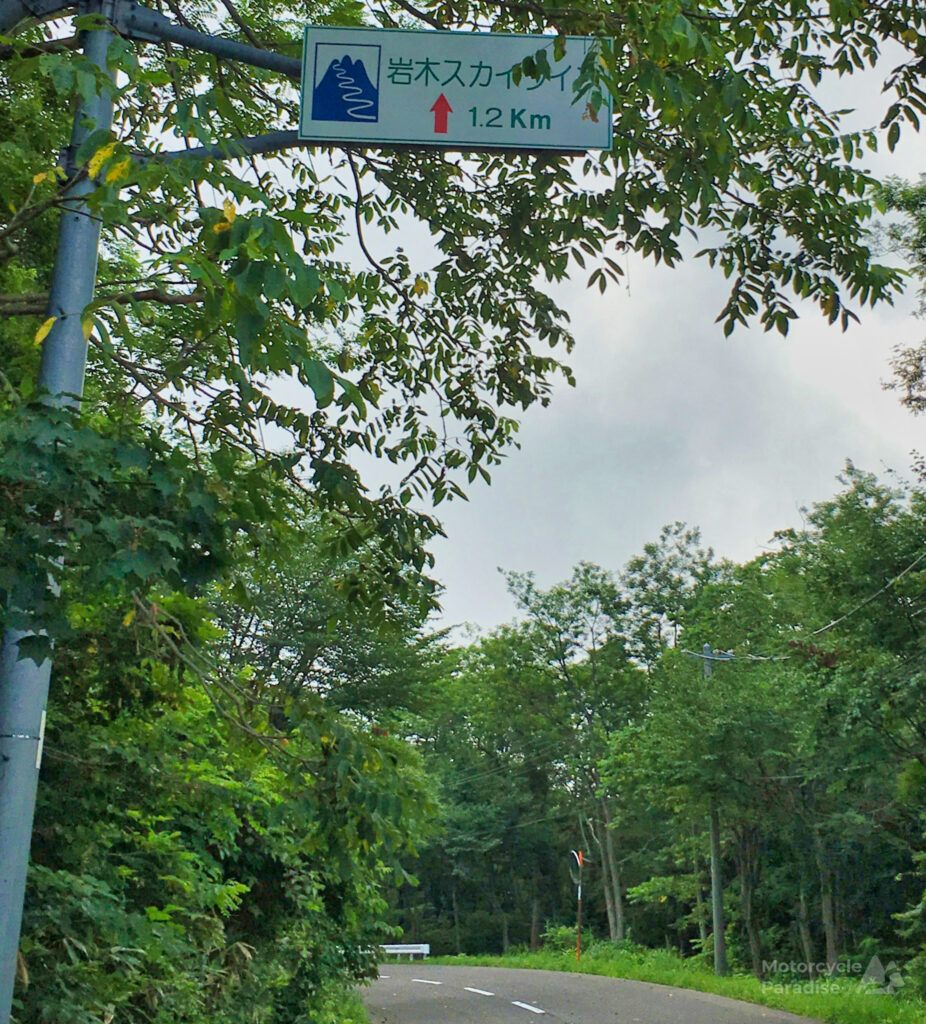 I discover this is the Mt Iwate toll road. Japan's 'Stelvio'. 69 switchback corners take you almost straight up the side of the mountain. It was 4.00pm and the road closes at 5.00pm but I was only going for a quick look so paid the toll of about $10 and set the FJR ride mode to Sport for the first time in ages.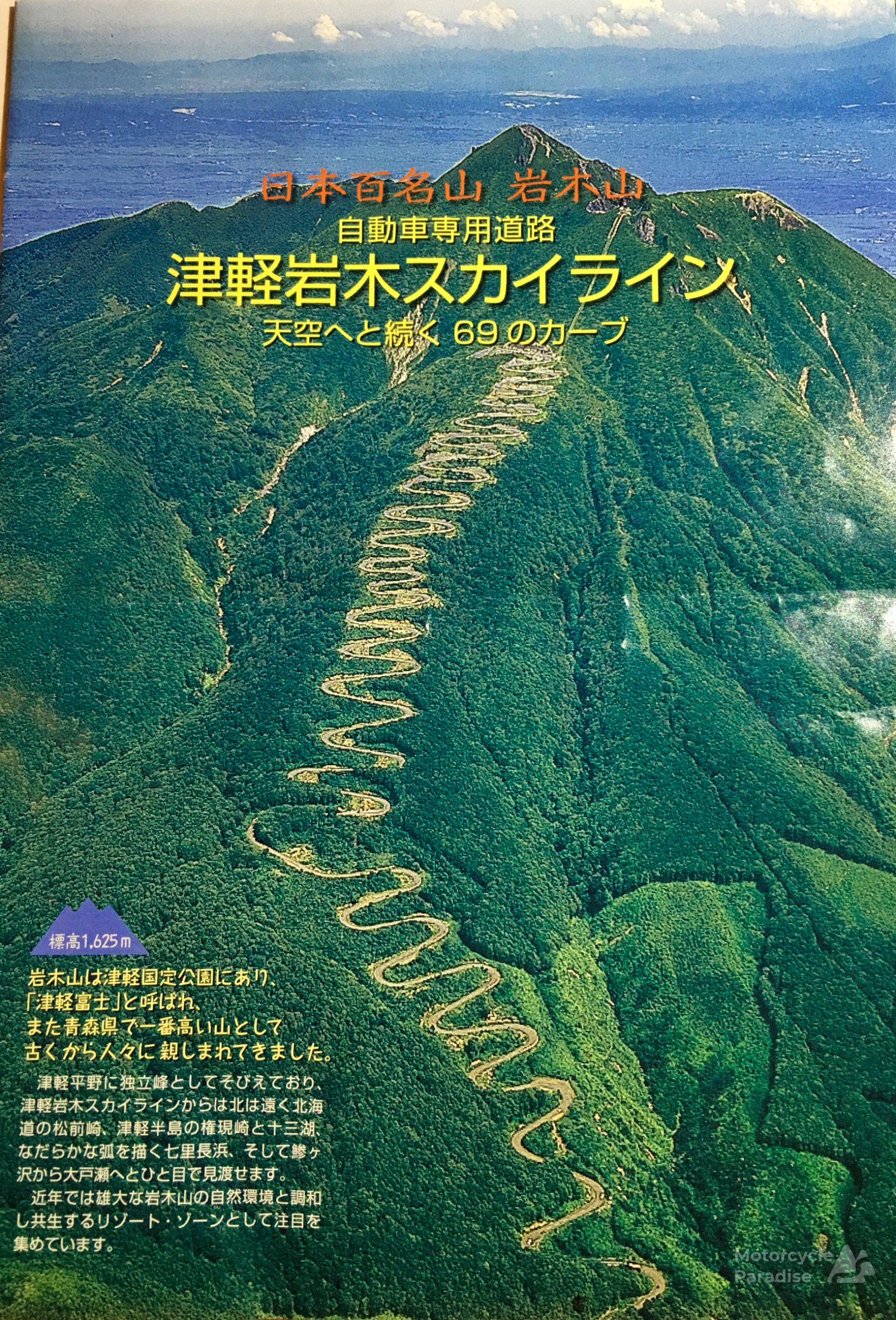 69 switchback corners on a FJR, what was I thinking ha-ha. But actually the corner radius are not too tight (like Stelvio). Not as photogenic but is actually enjoyable to ride. On a lighter machine like the MT-09 Tracer I rode in New Zealand this road would be magic.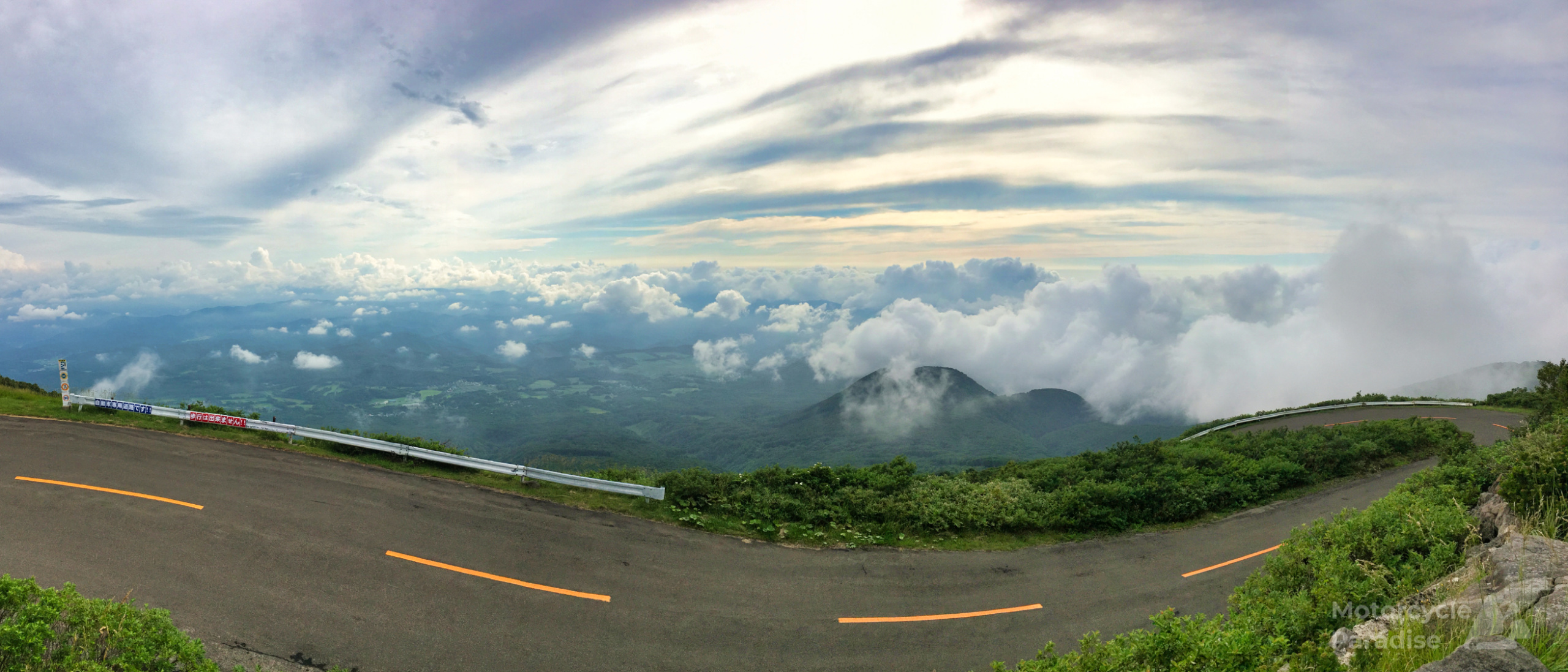 I should take a moment to praise the bike which has been terrific on this tour, the electric screen has deflected the cold and much of the rain then lowered flows plenty of air on hot days. I have bitched about a couple of things in my long term review but this is a good touring machine.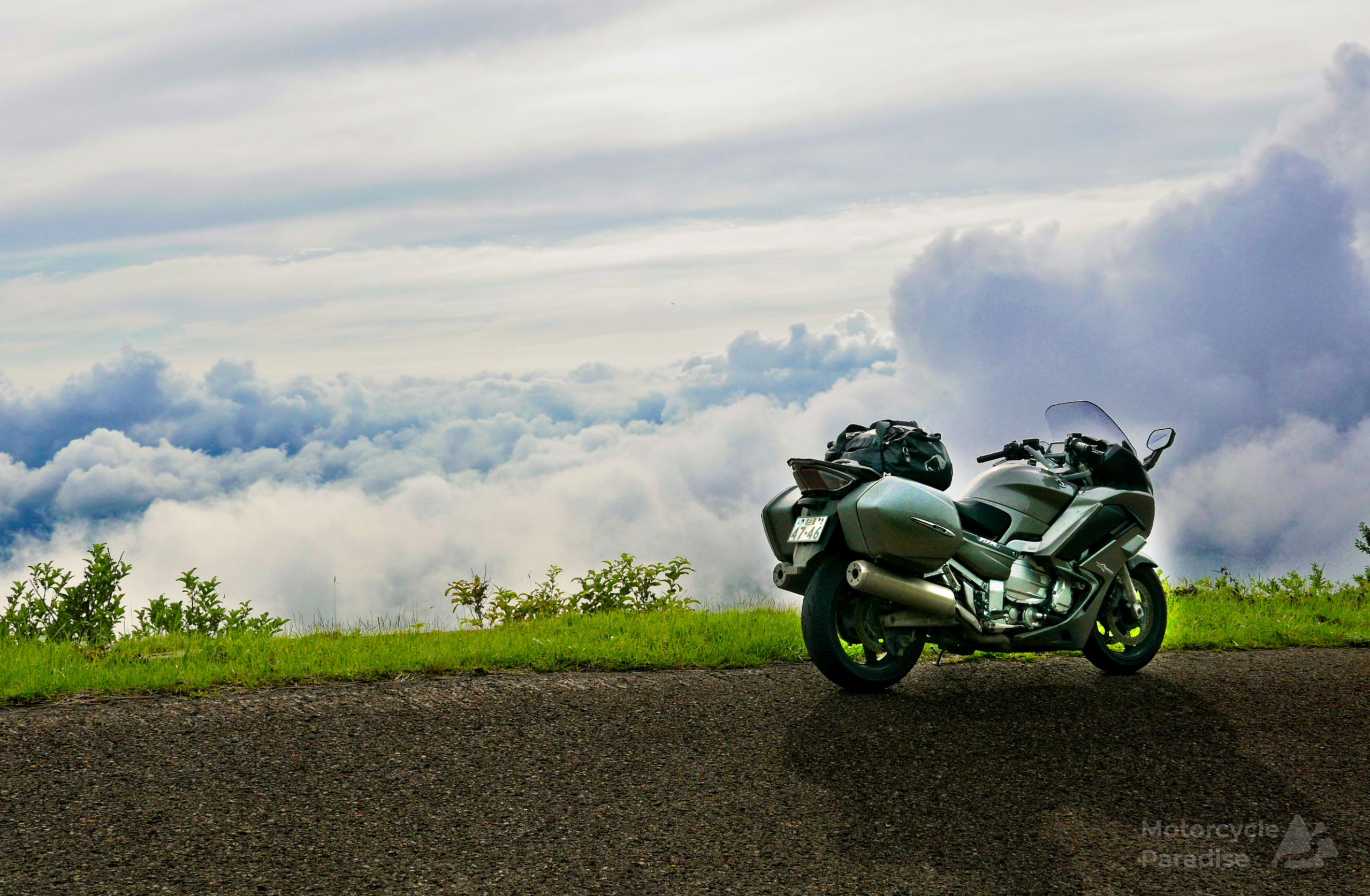 Above the clouds Mt Iwate. Yes the view was again obscured by clouds which has been the pattern this tour but still a fabulous days riding.
I was staying in Hirosaki tonight and one of the four major Japanese summer festivals the Neputa Festival was being held. Similar to the more well know Nebuta Festival in Aomori city it is a visual extravaganza.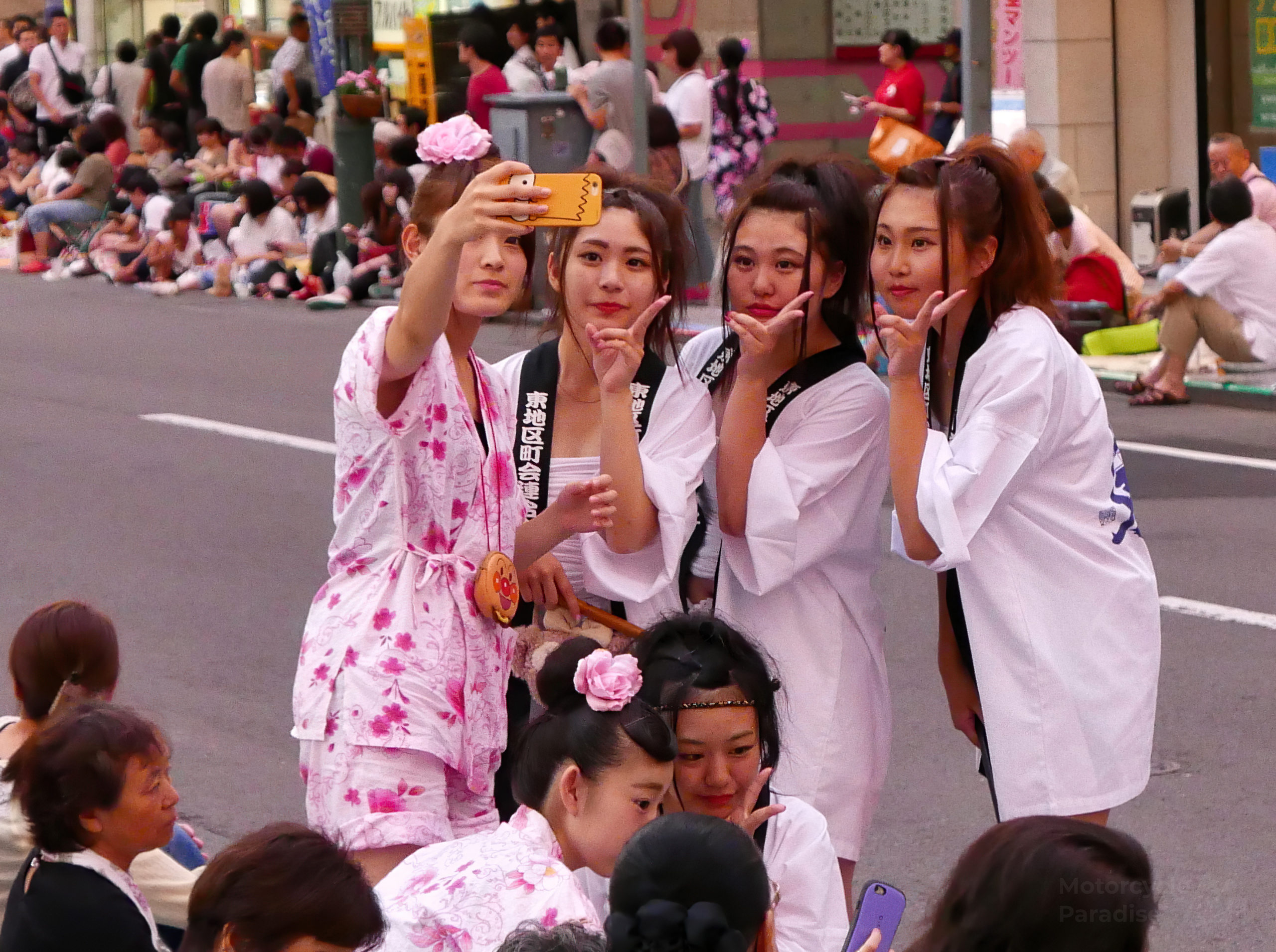 Everyone is dressed up or otherwise enjoying things before the show. And then it begins! Have a look at this short video.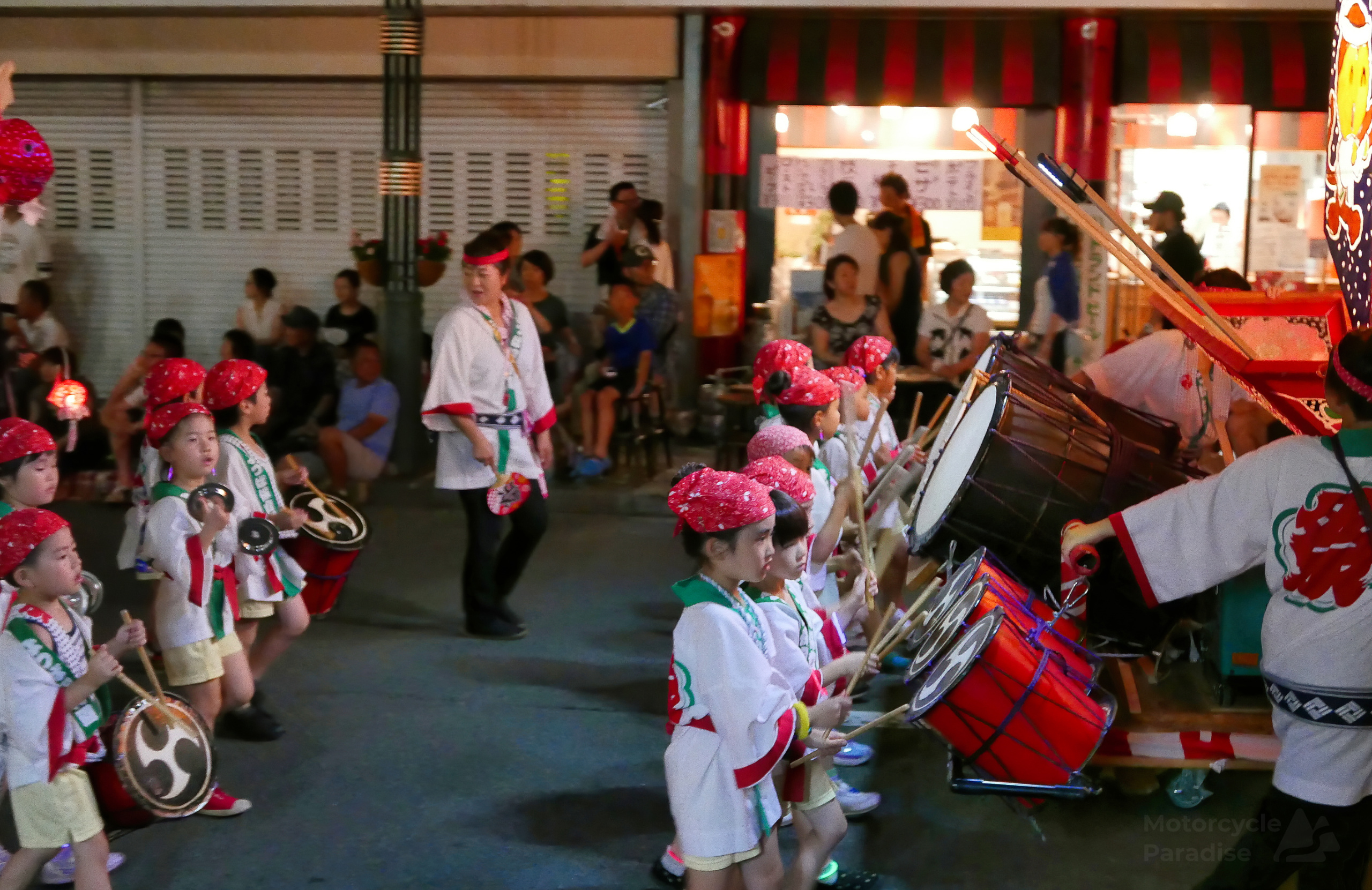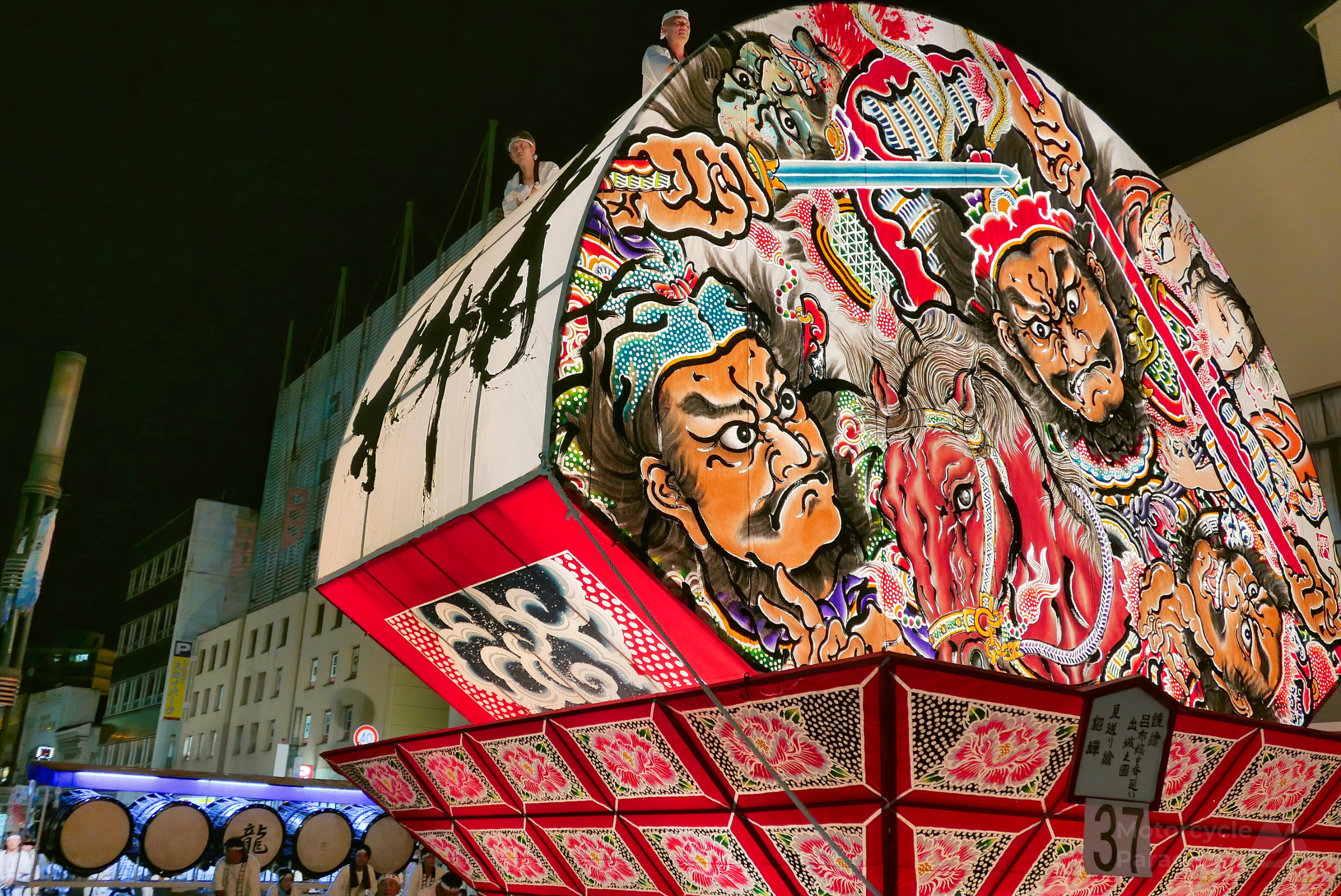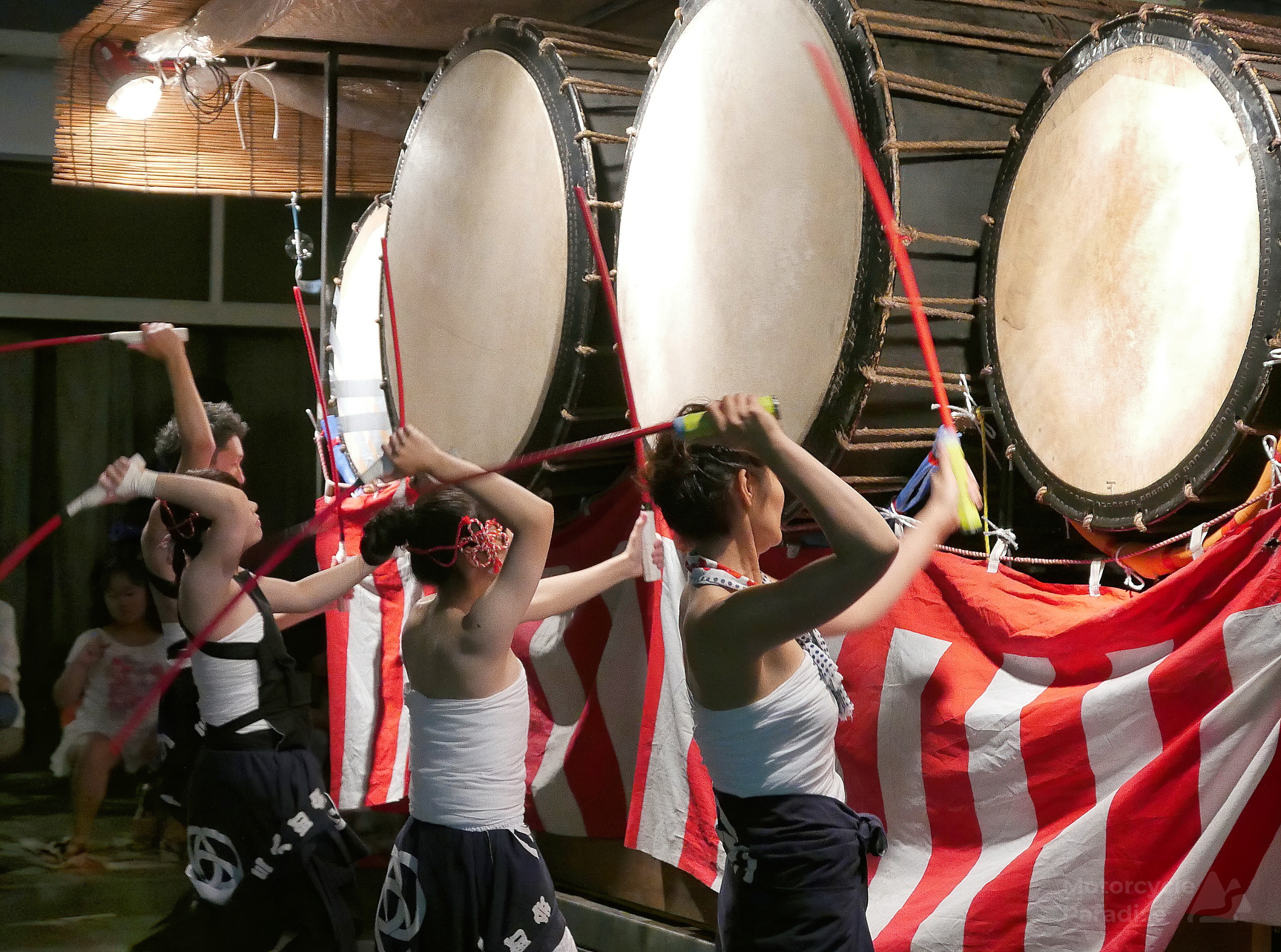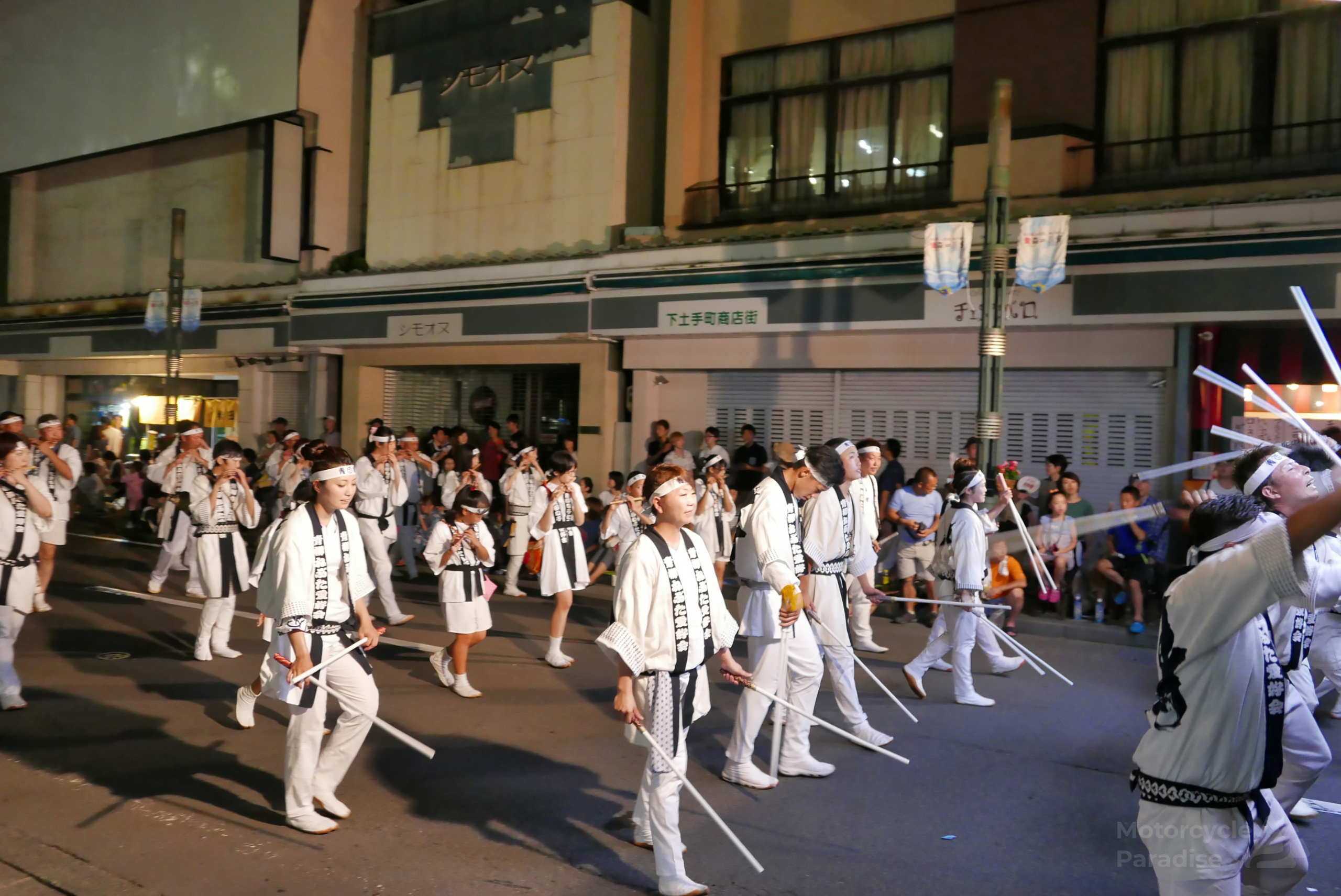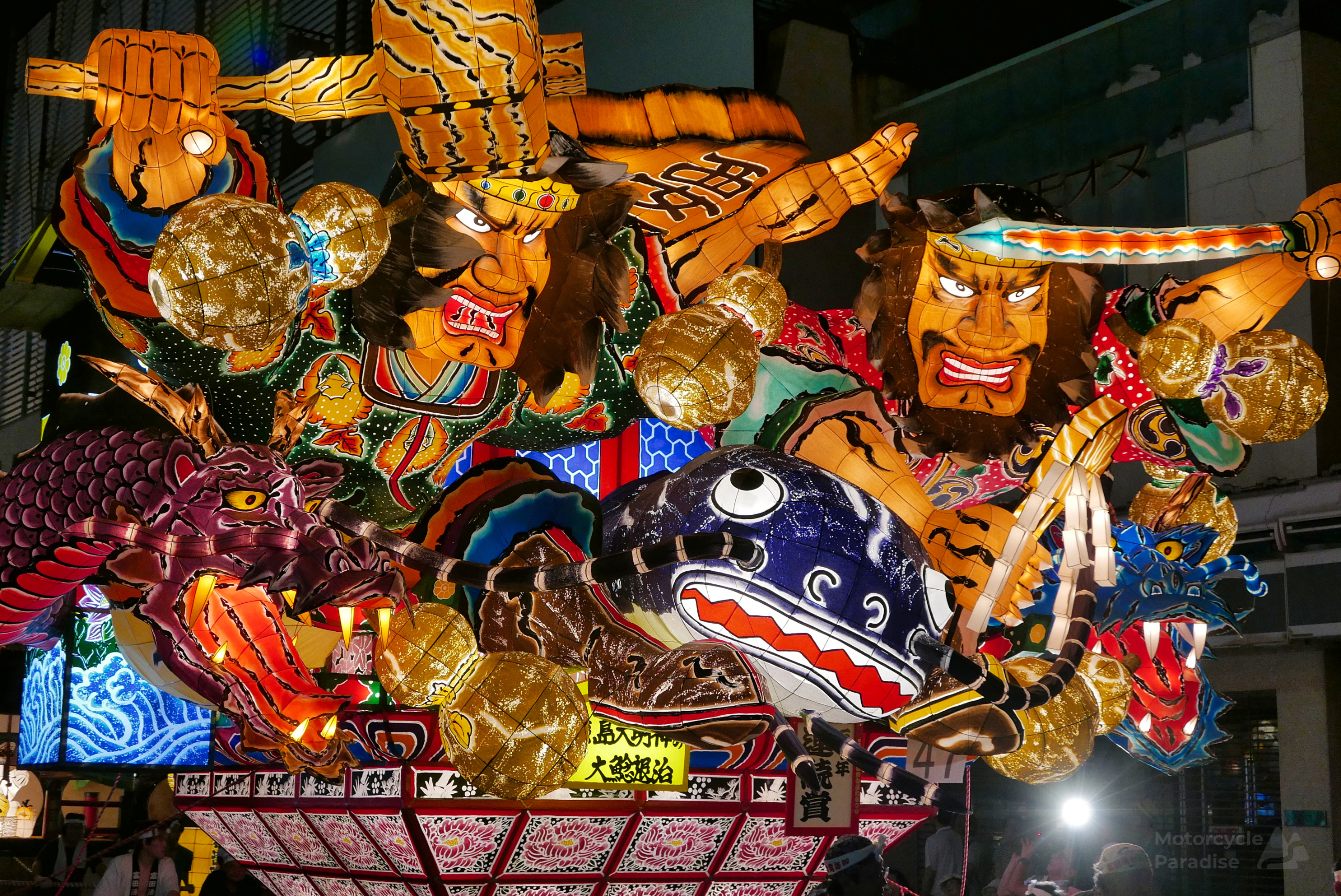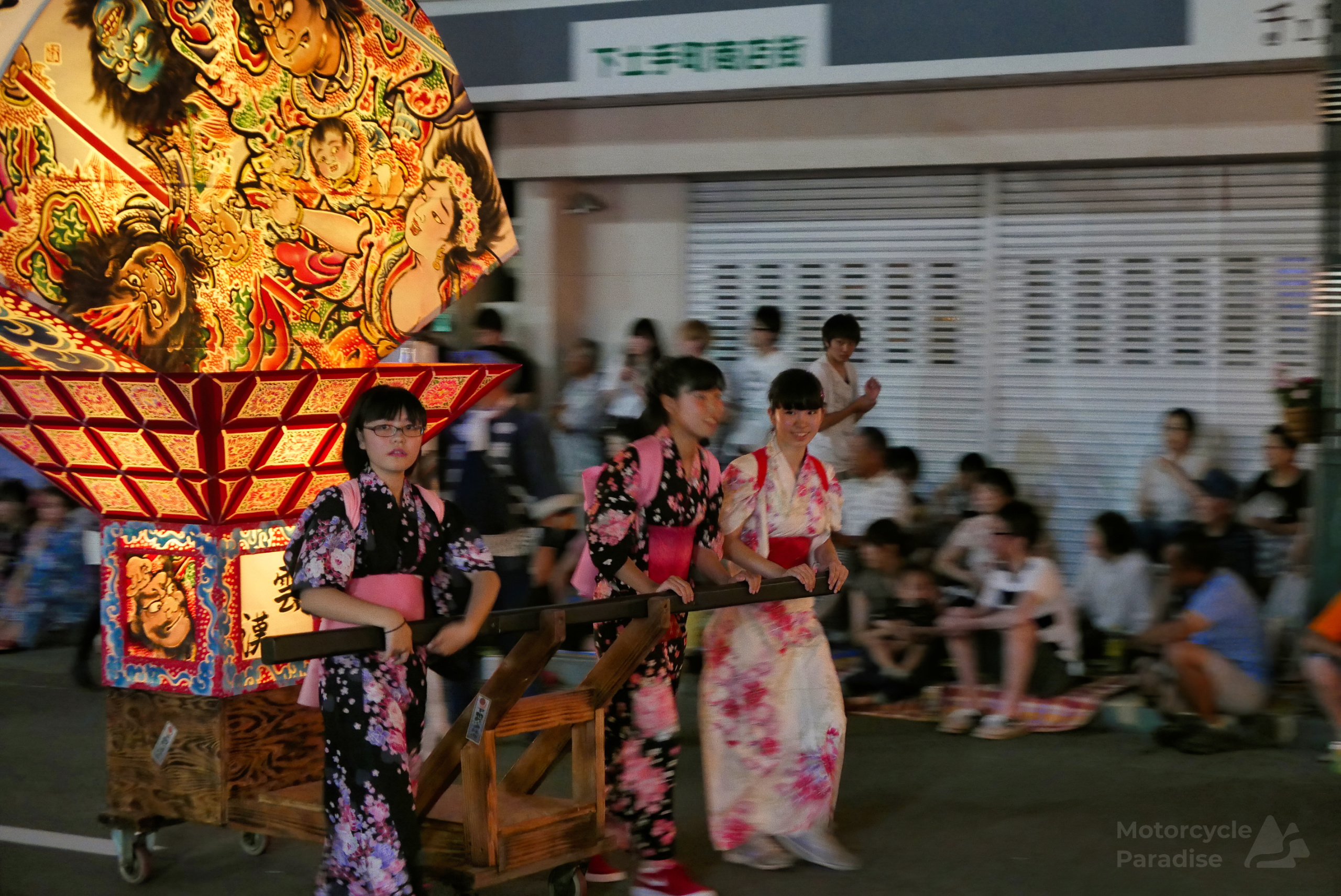 It was an extraordinary event and the parade is over 2 hours. I am already planning to return next year.
Day 12 I will circle north and ride down the coast before turning inland to ride through the heart of the Akita region.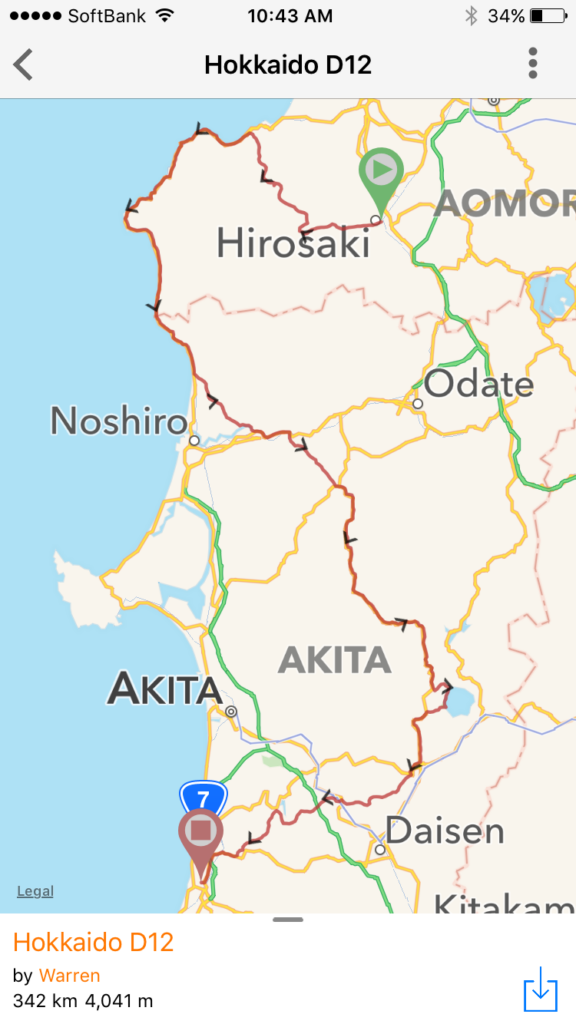 The coast road was ok but after riding the north a little bit of let down in more unsettled weather.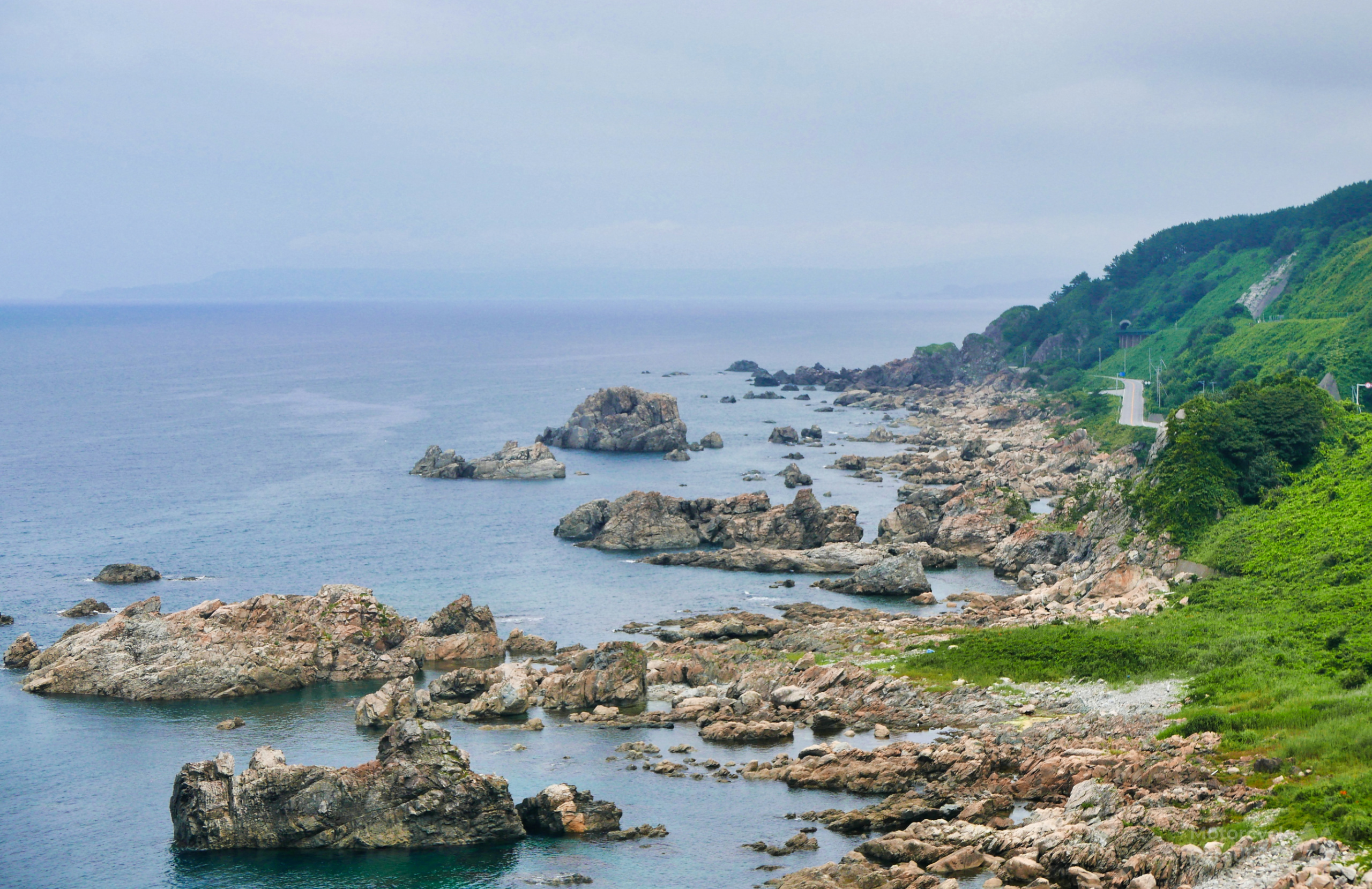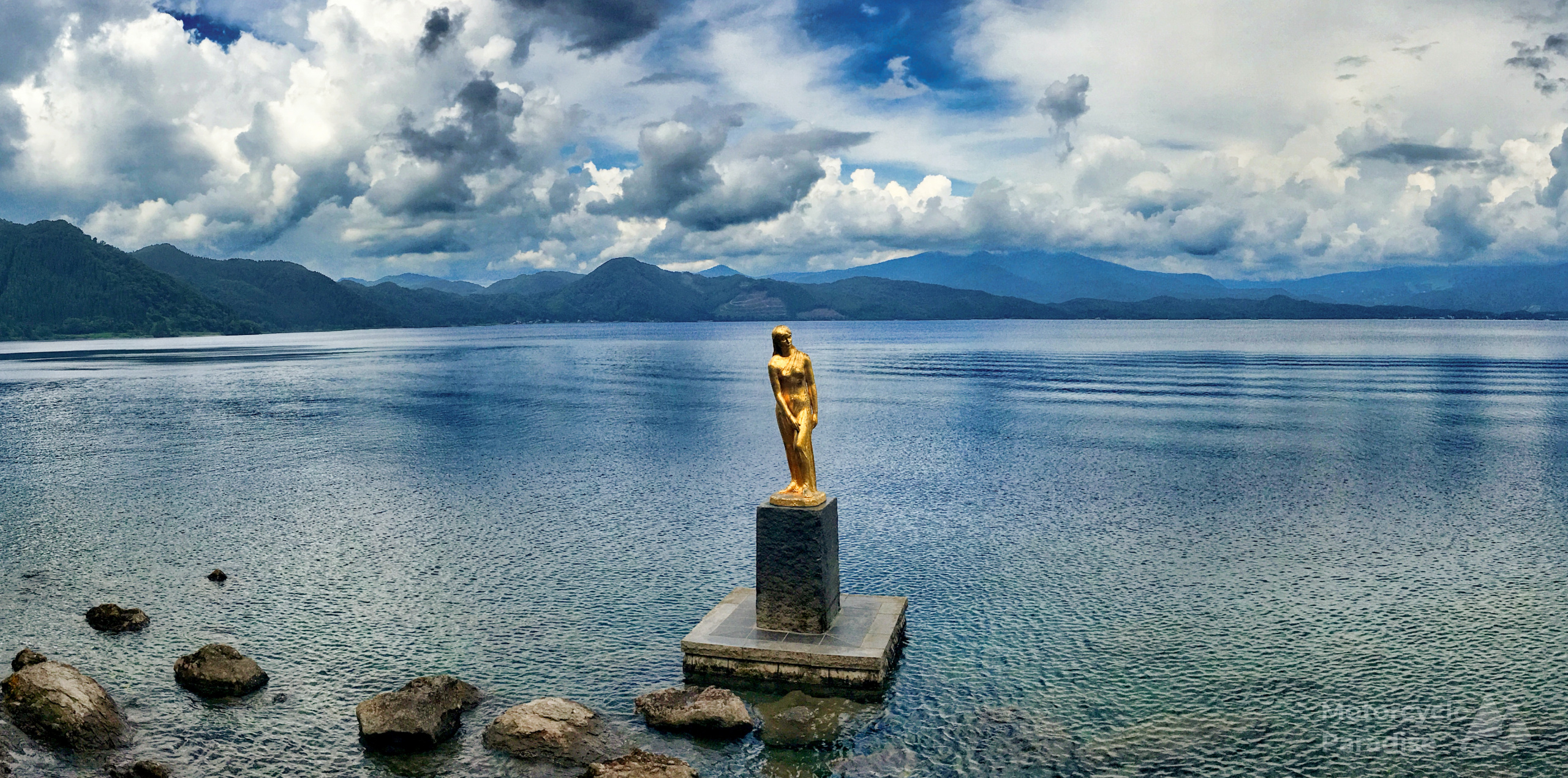 Arriving Akita the weather improved and I enjoyed stopping at things that catch my eye.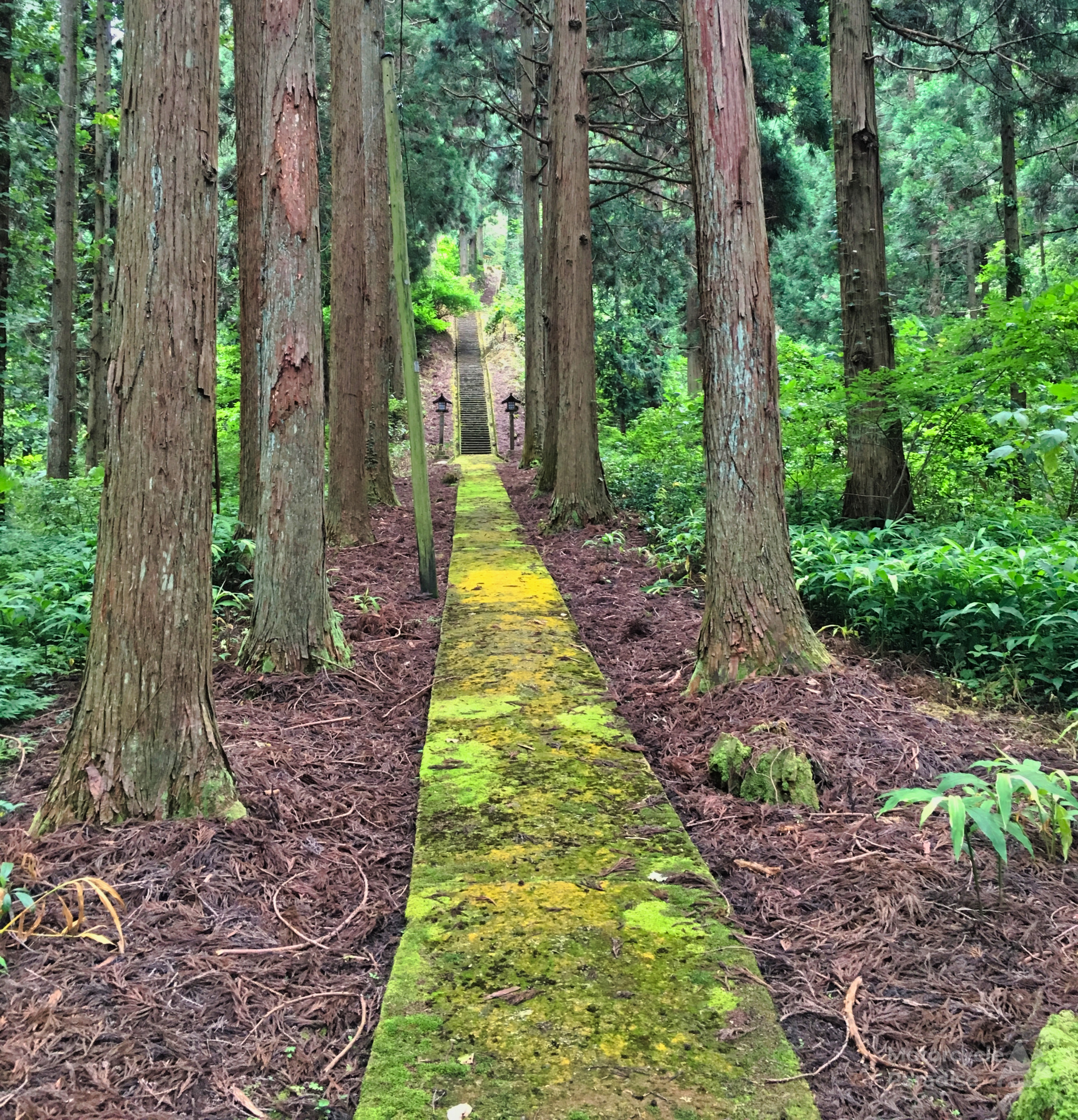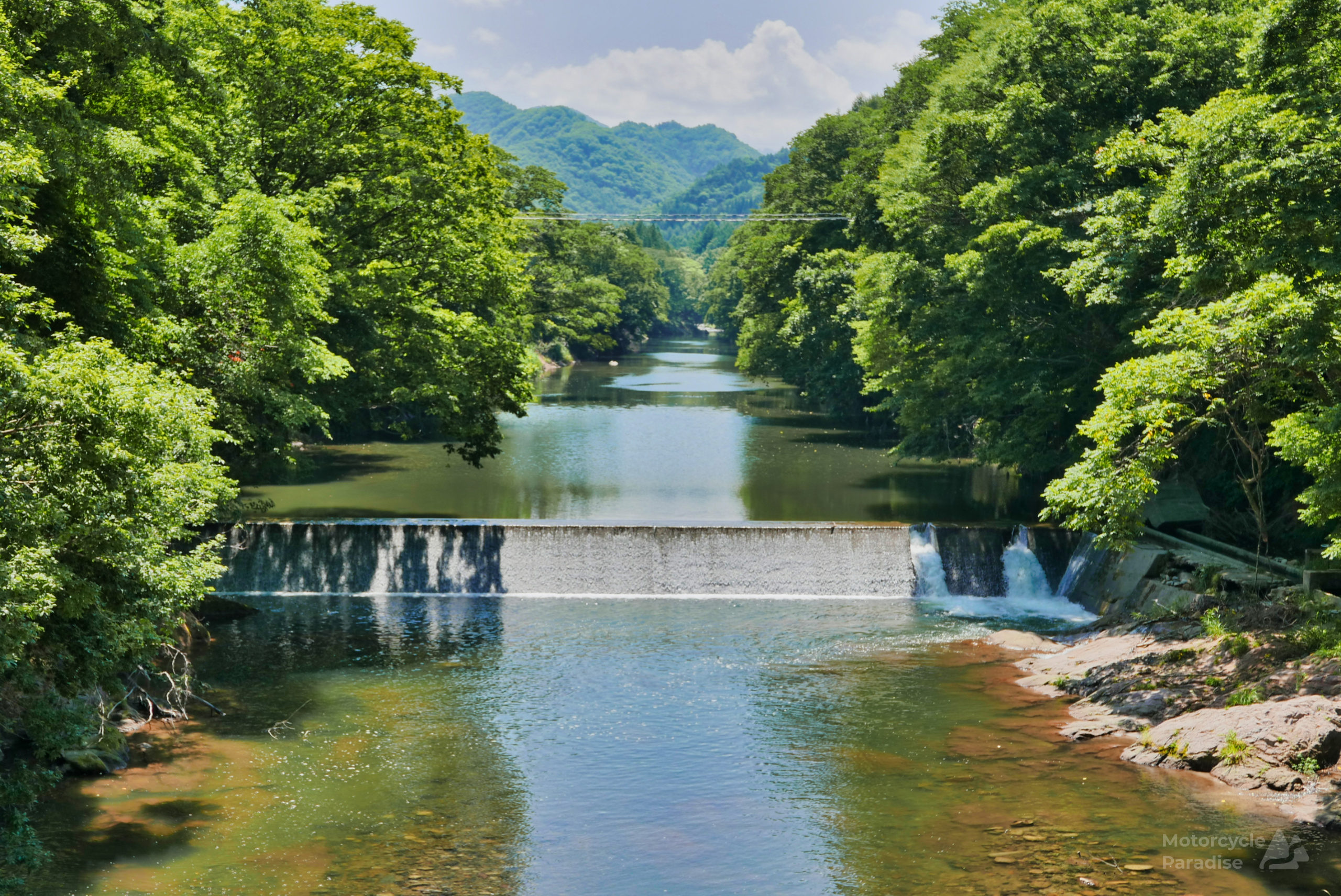 While I did not take many photos today it was all good riding.
I continued my way south on the west coast side on day thirteen in fine and hot weather.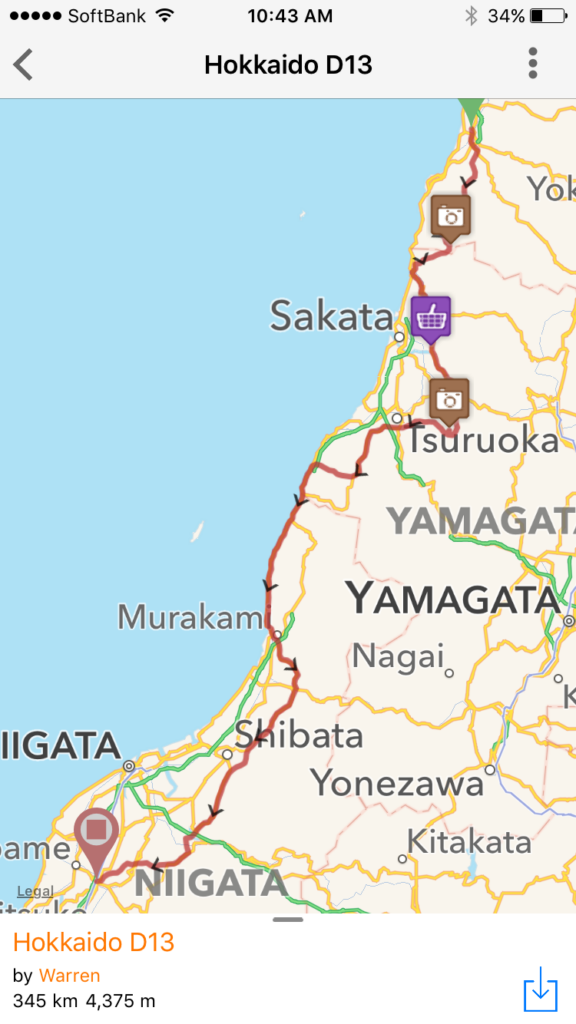 I enjoyed a series of scenic byways around Mt Chokai.
Then I ascended the mountain via the Chokai Blue Line which is a simply brilliant mountain ride. I chatted a little to this guy touring on a 125cc mini bike. See heaps of these sort of bikes in Thailand but they never leave the city let alone tour on them.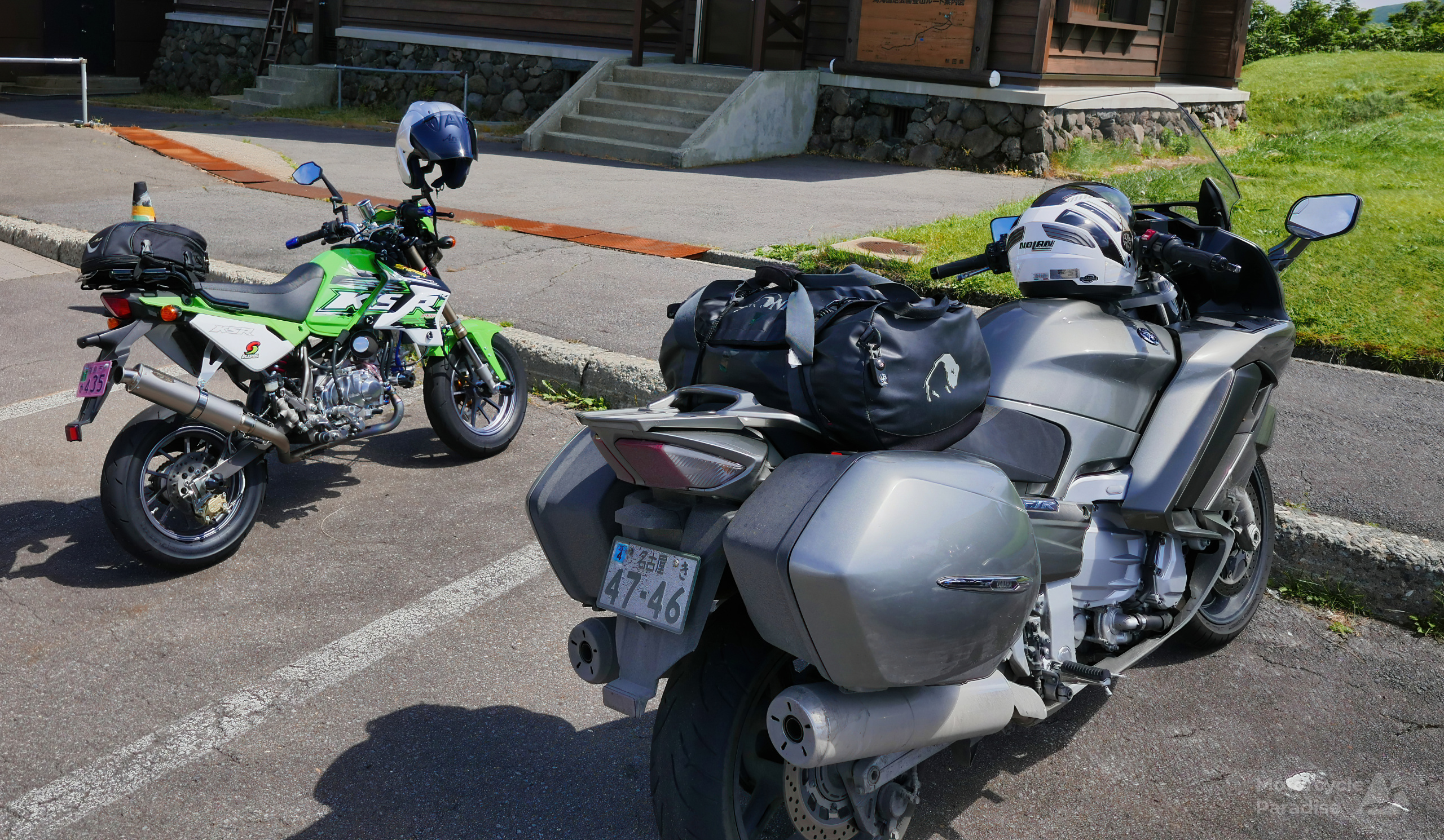 Alas the curse of the clouds attacked here and by the time I had returned to take photos of the view it has been obscured.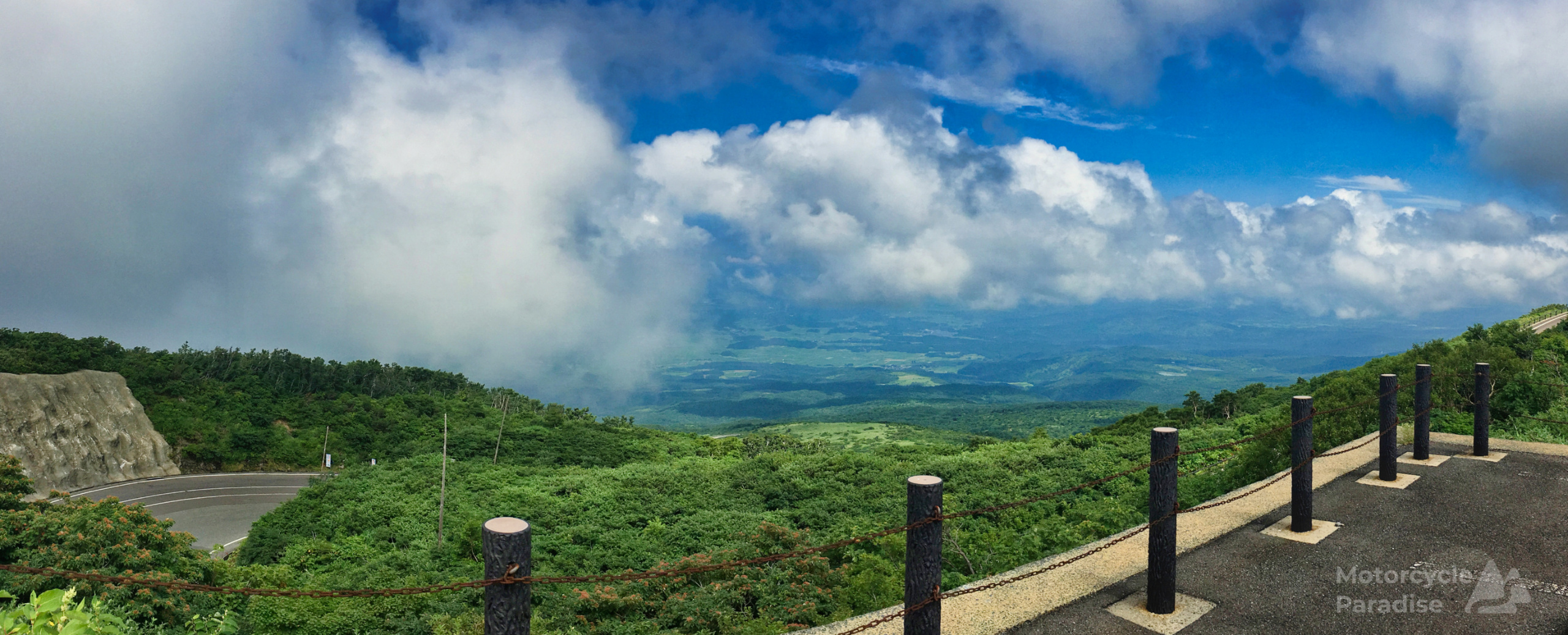 Easy rural riding on the way to the next destination today called 'The Three Mountains of Dewa'. All over Japan you will enjoy flower gardens like this planted in every community.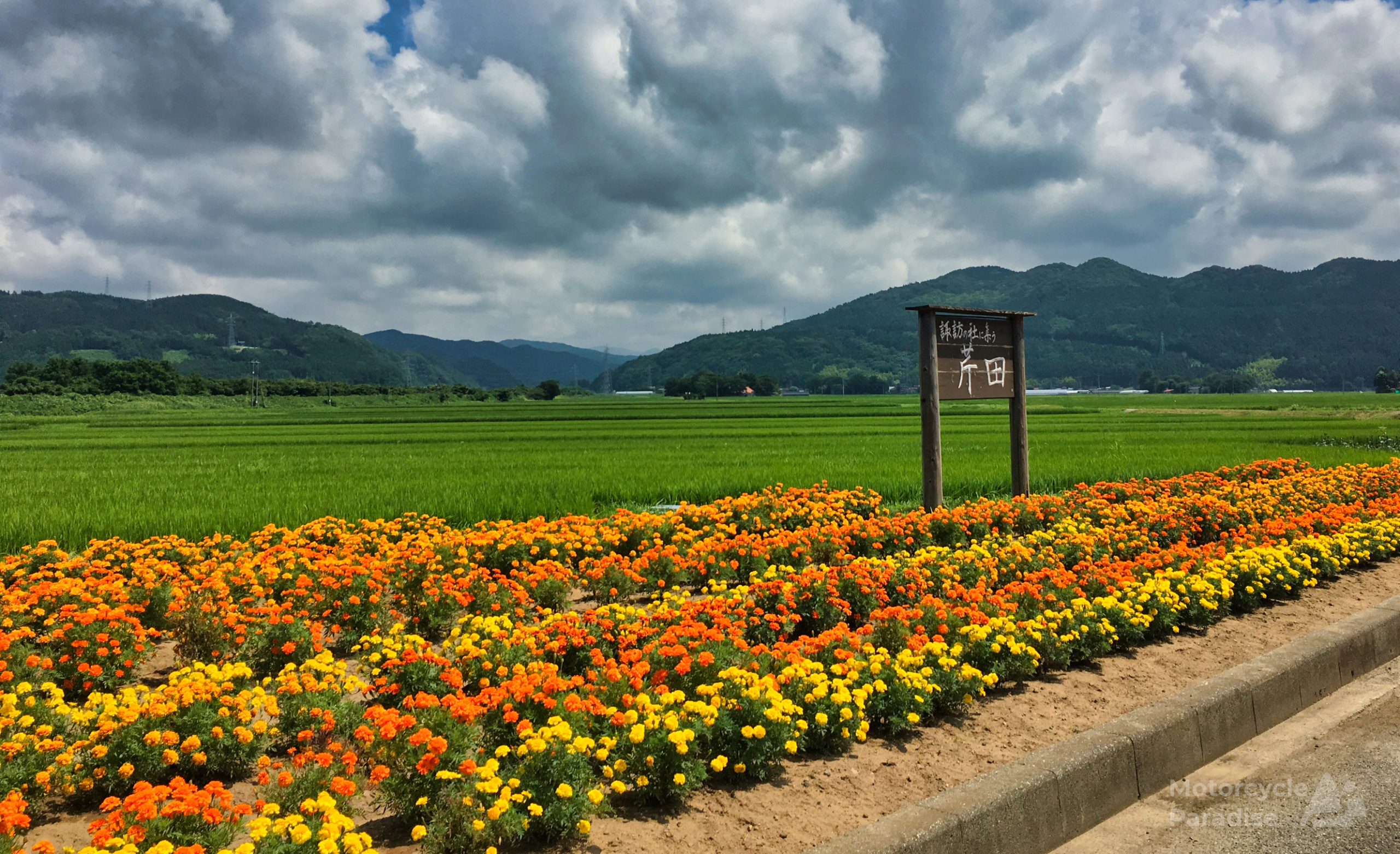 There is a famous five level pagoda and I set off walking but hiking up a mountain on a 31 degrees humid day in riding boots and gore-tex pants with no water was foolhardy so I turned around and had some lunch instead with a nice view.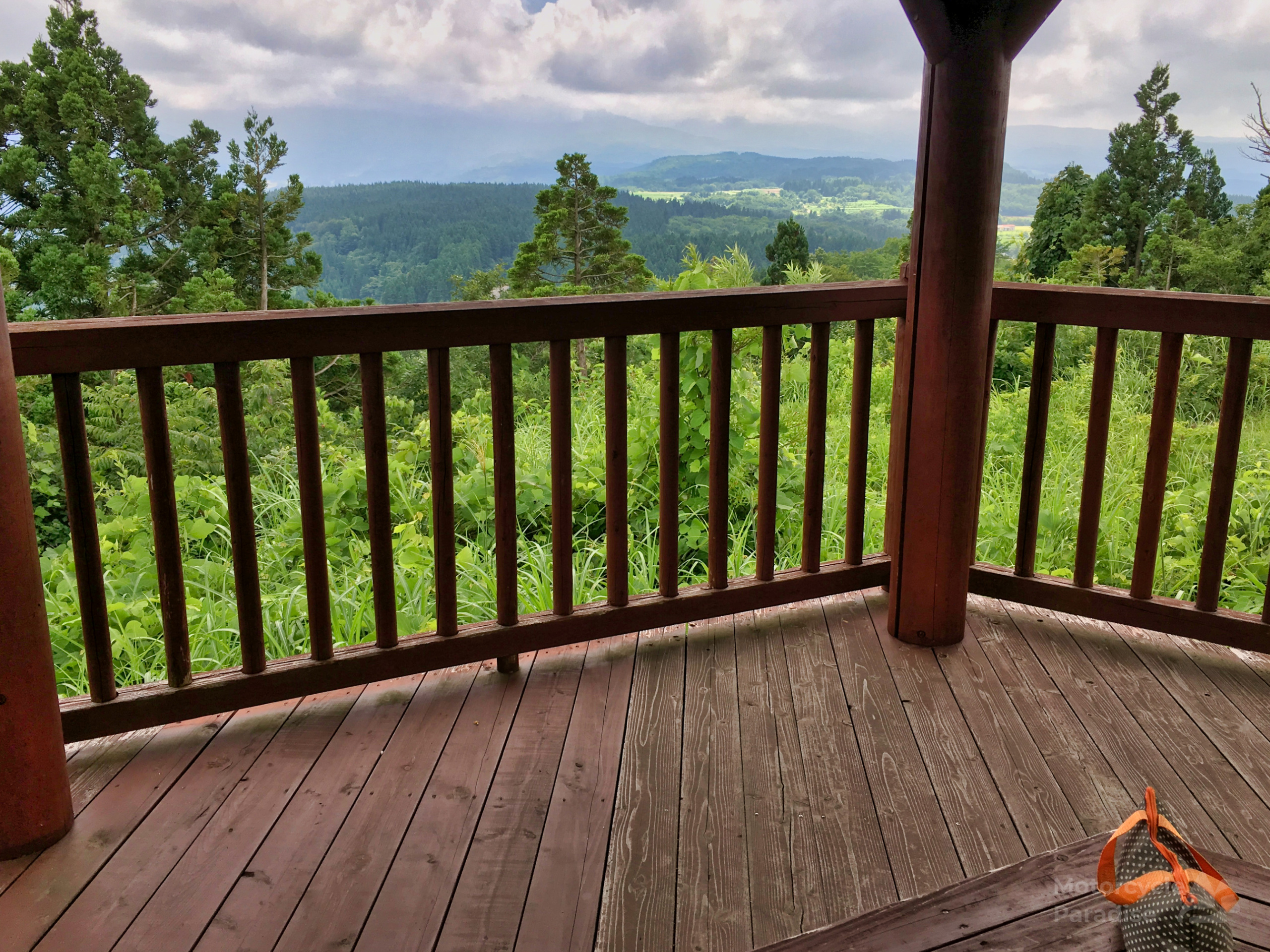 From here scenic but busy coast road. Small beaches and for first time in Japan people actually on them which is rare as Japanese shun tanned skin.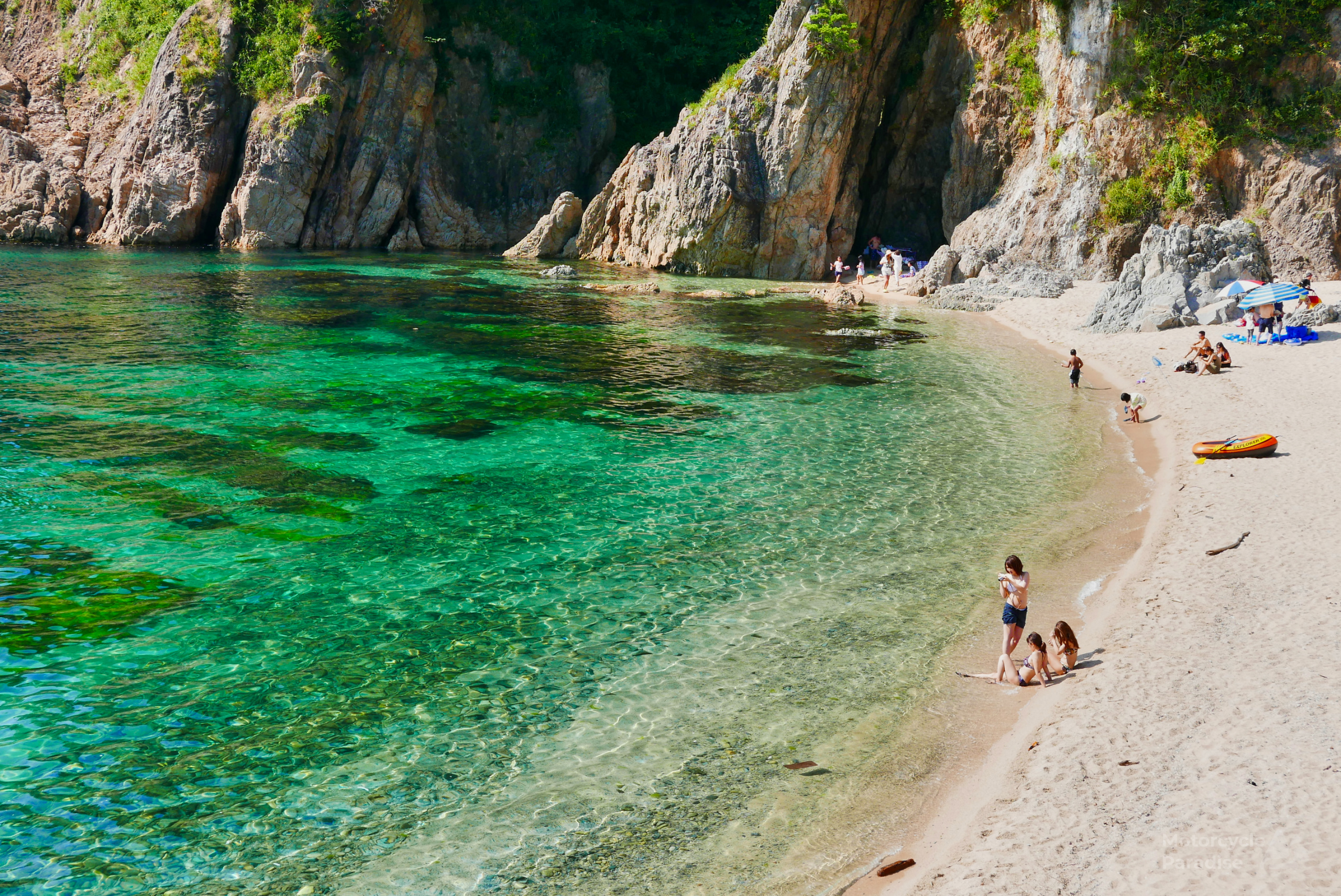 I went back inland along route 290 south, easy and scenic riding through the super green fields of rice.
Tonight was going to be my last hotel and I had a tinge of sadness that the ride was approaching the end.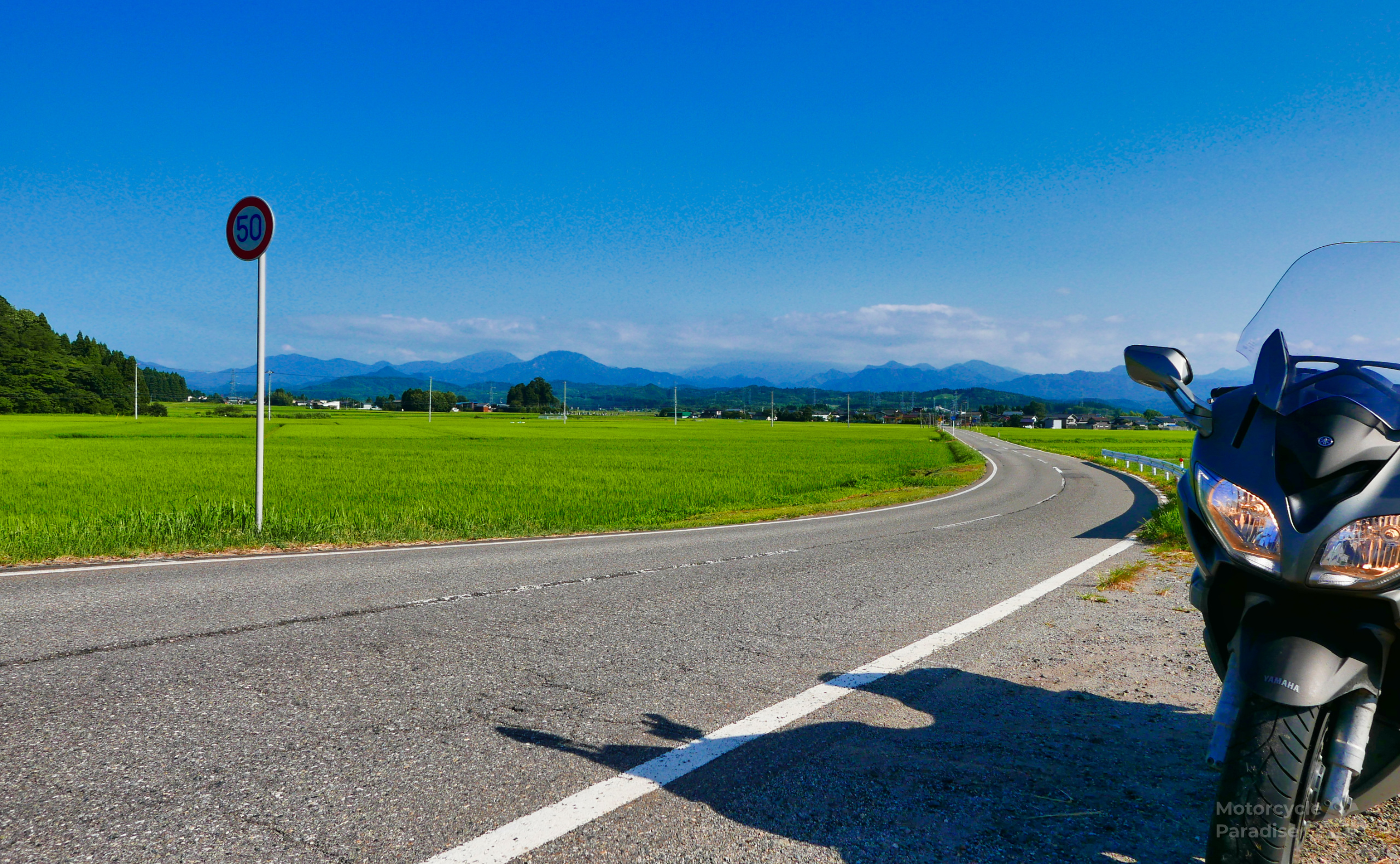 Last day today but I still had some good roads to ride on my journey to the expressway.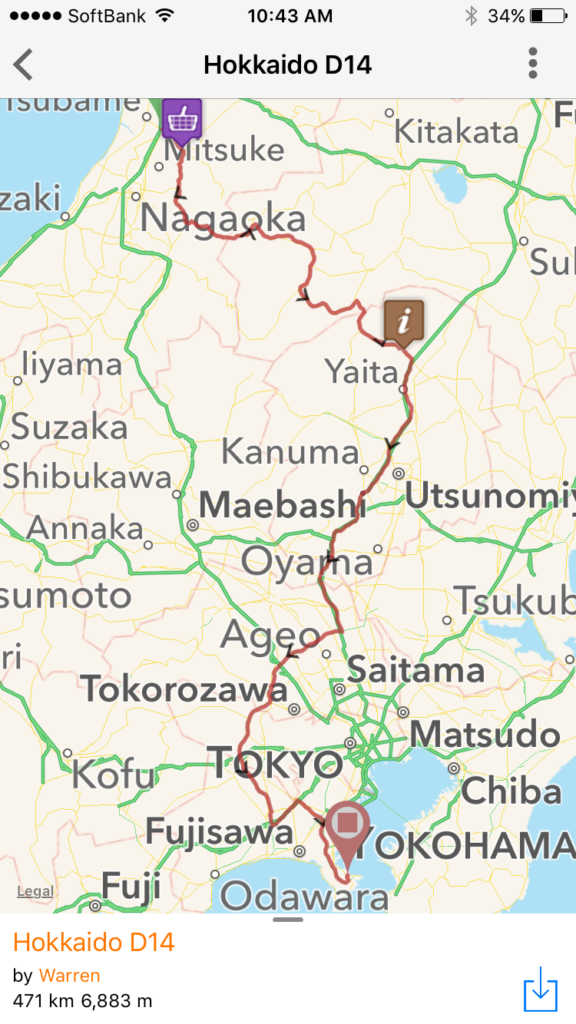 Today I put my jeans on and packed the Andes pants away. Huge difference. Why didn't I do this sooner? Highlight today would be riding route 252 which is quite a technical climb with sheer drops.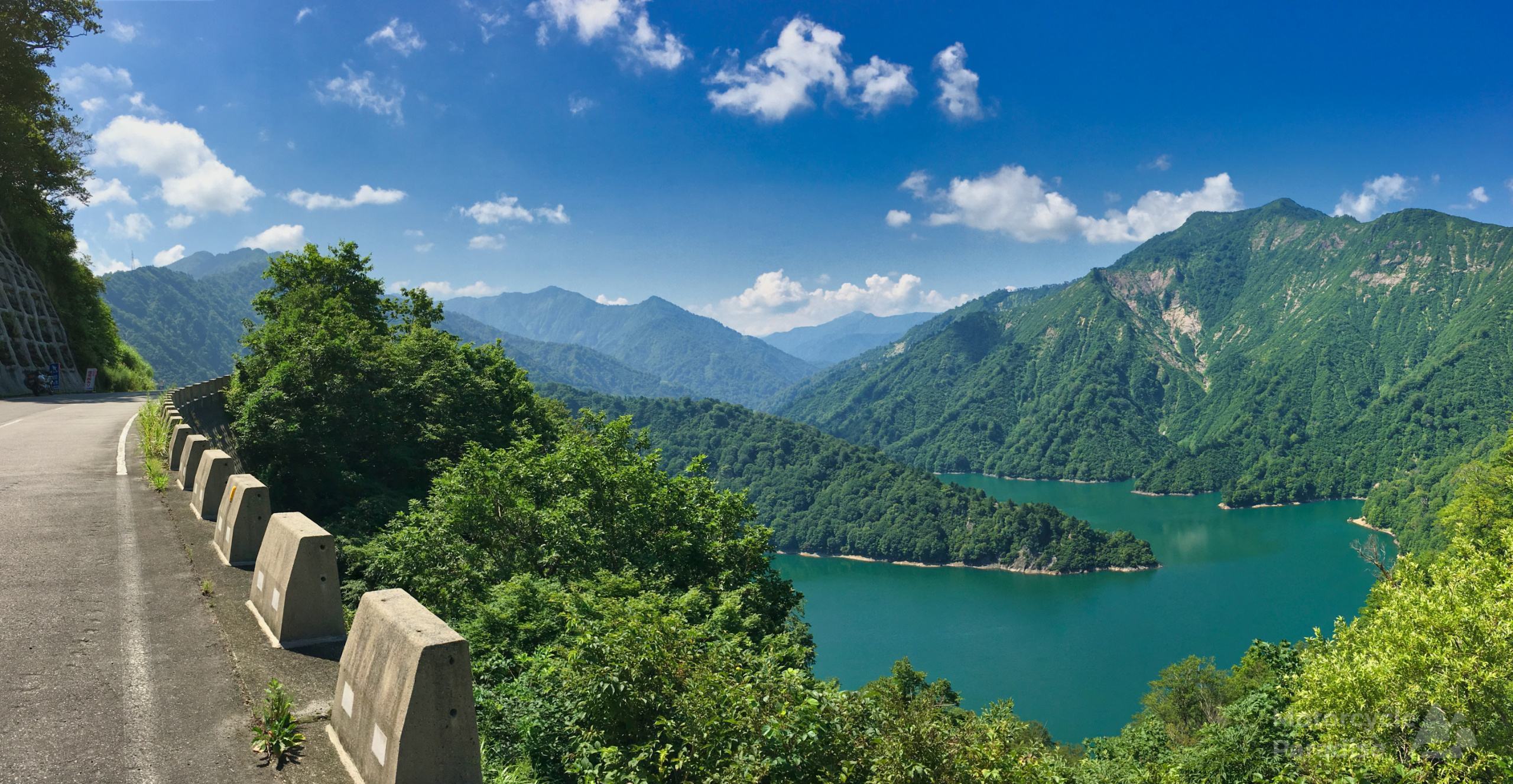 You then make a gradual descent to the other side of the lake after couple of hundred corners. 'I say, it's rather good old chap' someone from an old British war movie might quip!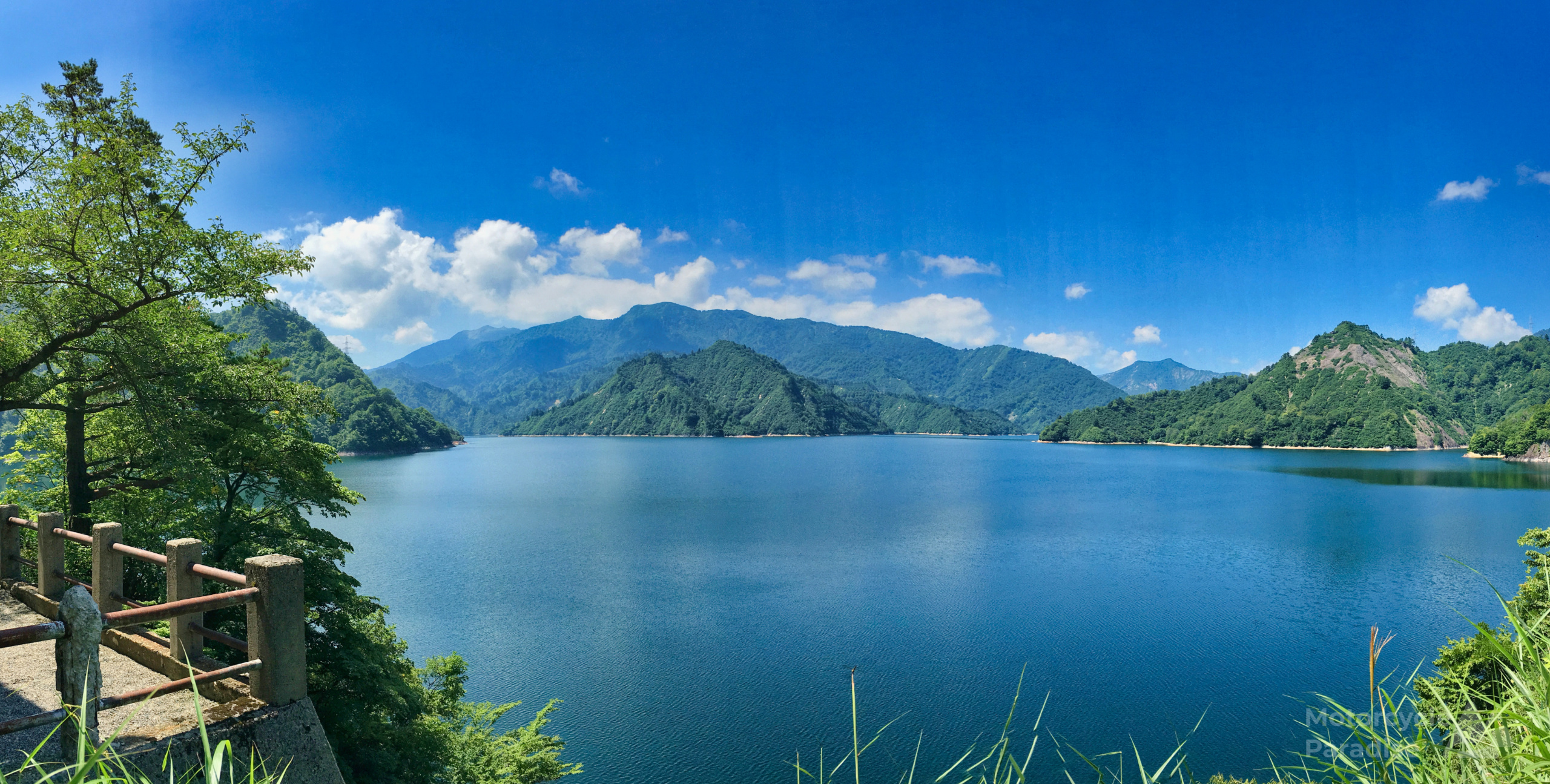 This afternoon the temperature soared hitting an indicated 41 degrees which even if the gauge is slightly out like the Yamaha speedometer is hot.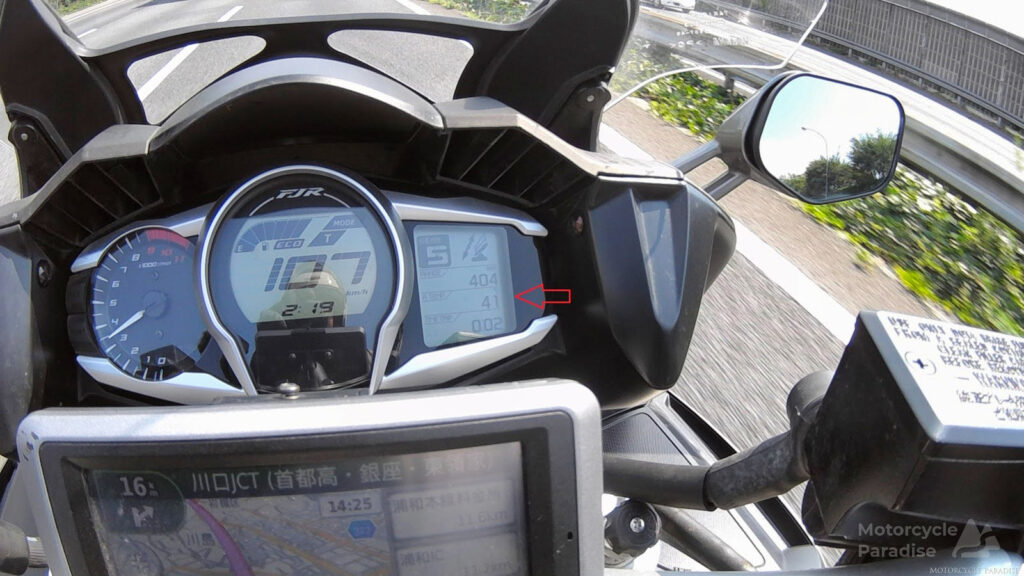 Time for an ice cream (and lots and lots of water)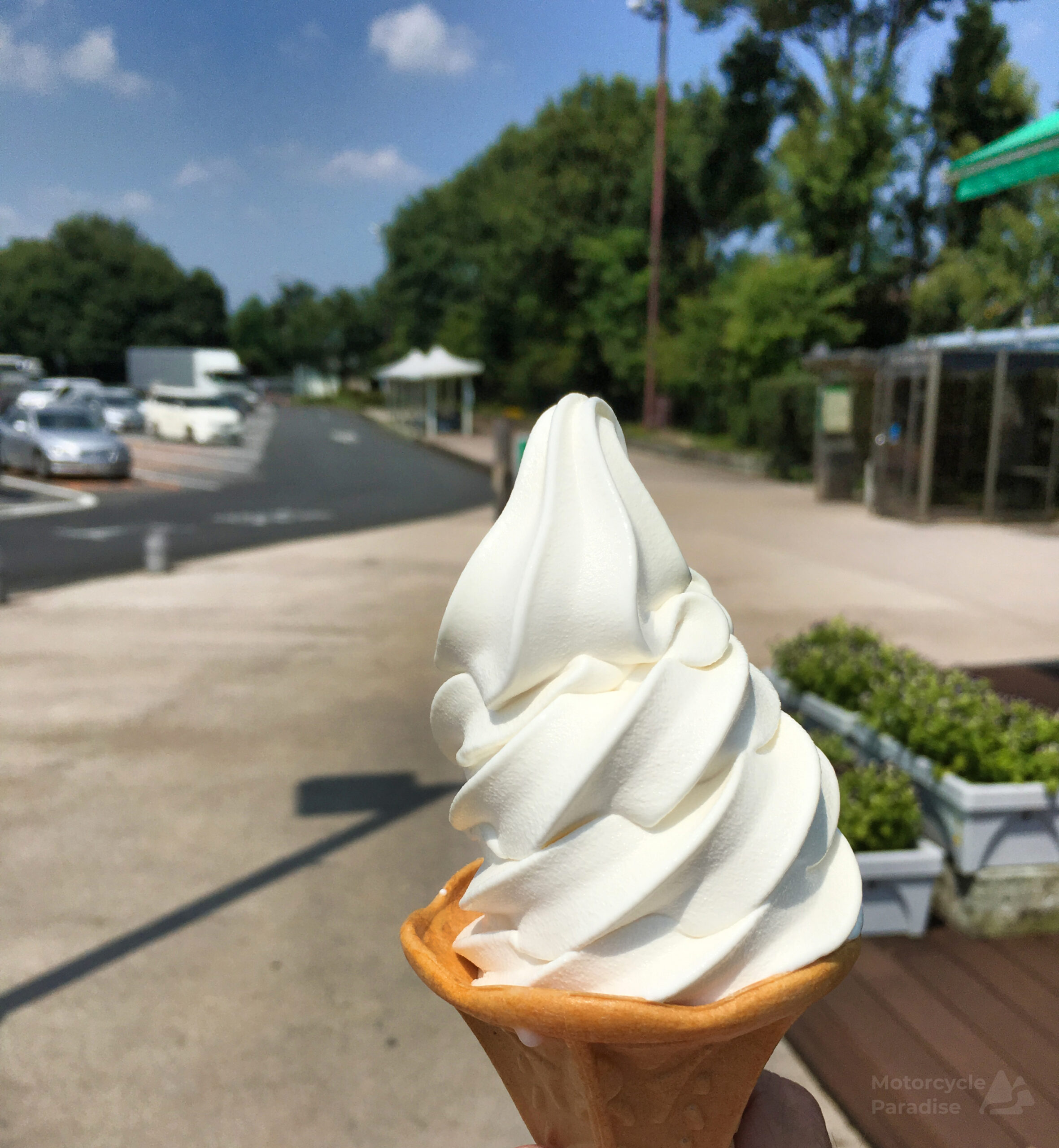 While enjoying this treat in the shade I had the idea to change my route to go straight through Tokyo rather than around it to the west and thus save myself 60 km. Once I got into the Tokyo metro expressway system I remembered there is no such thing as before peak hour here as it can be grid lock at any hour as it was now. Oh boy what a dumb idea this was.
Thus began an hour of lane splitting soaked in perspiration. I cannot think of anything I like about Tokyo. If I had my proper summer ride gear with me I might have just turned around and gone back to the beautiful green Japan I find so enjoyable.
Thanks for visiting.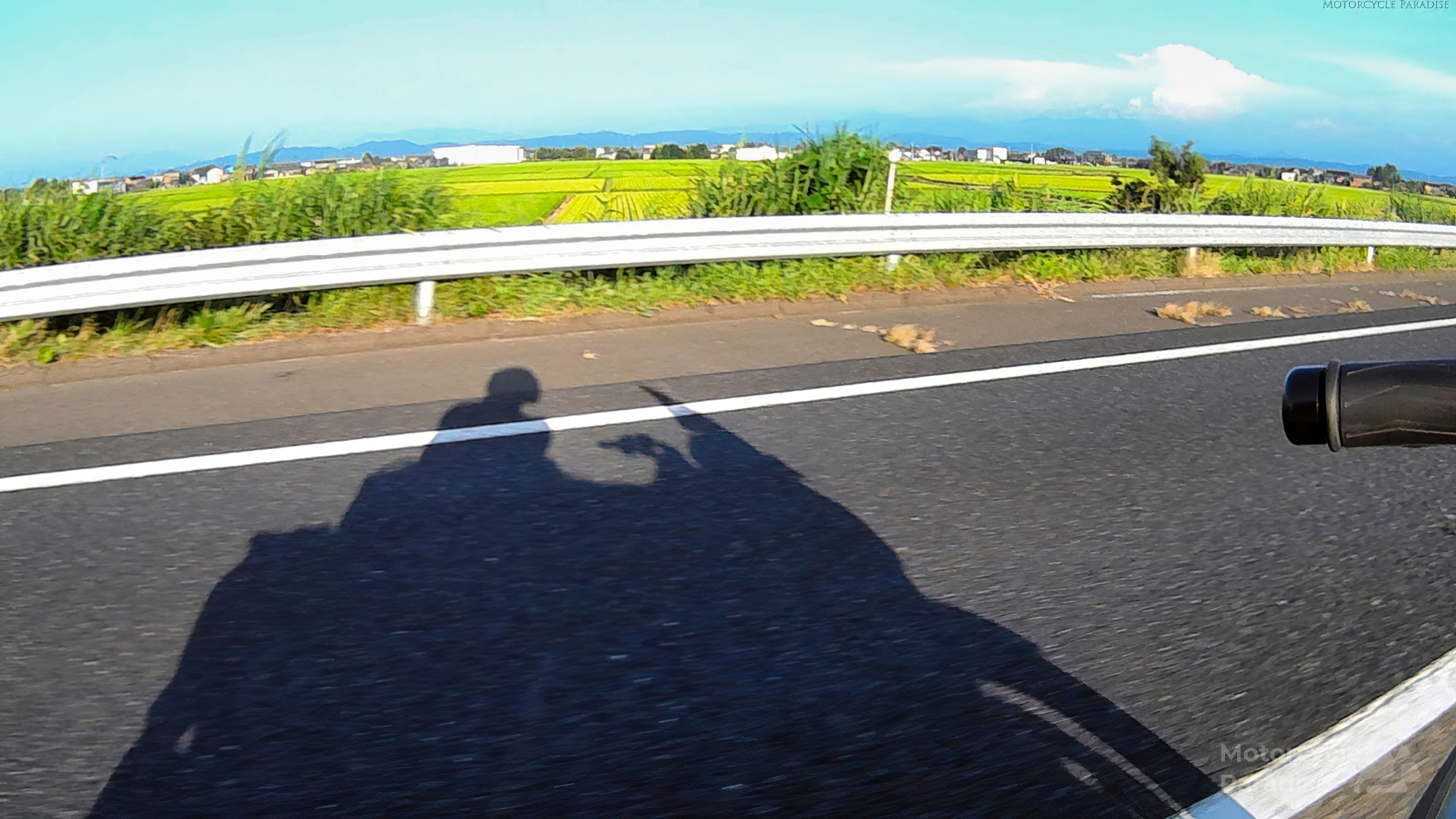 PART ONE