Whilst many people overseas seem ok with the way their Yamaha FJR300 corners, riding on tight narrow roads here and being used to lighter and smaller bikes I wanted to quicken the steering if possible. My motorcycle is 2014 FJR1300A and coming from smaller bikes prior it always felt so slow to turn in and then wanted to understeer in corners.
The fan boys on owner forums insist this big motorcycle steers light as a feather. Simply inflate the tyres a few more PSI is all that is needed. I am sure you will have read the same right?
My bike tyres were inflated to 43 psi at delivery, every tyre fitted since has been inflated to 44 psi by the tyre shops and Bridgestone tyre engineers in Japan say with any heavy bike like this to always inflate tyres to the very maximum psi (and they explain why this is best and safest). So this is not something new, and it doesn't make the 300kg weight or high centre of gravity sitting on a long wheel base magically disappear.

You must be braking into corners or 'insert rider fault here' is the other bullshit being spread on the owners forums. These forums mostly revolve around people telling each other what a great choice they made and flaming anyone who speaks ill of the brand or bike. If it had square wheels they would tell you the bumpy ride is your fault, square wheels are the best.
Changes I have made
The first thing I tried was to set the rear suspension preload to firm. This slightly raises the rear ride height (actually it reduces the sag) thus ever so slightly sharpens the steering angle. This made a small but noticeable difference to turn in speed but at the sacrifice of ride comfort when riding solo. However once accustomed to the difference I was not able to go back so the motorcycle has remained in this setting.
Following this I tried setting the front pre load to soft or increased sag in the ride height which of course opposite to the rear firm preload will slightly lower the front thus further sharpen the steering. Very minor affect, not as noticeable as the rear preload but again so easy to do.
Inspired by this slight improvement from tiny change in ride heights I raised the fork legs in the triple clamps about 25 mm to lower the front and further alter/sharpen up the steering angle. You can do this fairly easy on the FJR by loosening the bolts at the mid and upper fork leg clamps and then sliding the fork leg up gently. This then made a further improvement which is most noticeable when the fuel load dropped from full to 2/3 or less and the motorcycle was operating without such a high COG.
The steering at this point with the combination of things done was a noticeable improvement from standard. No adverse affects. Still ample ground clearance. Not unstable as owners forums were warning, actually it still displays understeer and remains slow to change direction but an improvement over stock for zero $ outlay.
The next thing I looked at was ergonomics. The bars on the FJR1300 are a bit low, slightly too far forward and little narrow when compared to a standard motorcycle or other large touring motorcycles. That's how I find them despite being 6' tall. I installed a bar raising plate (from MV Motoradd in Germany) and this moved the bars up 25mm and back 40mm bringing them to a position that is closer to natural. Raising the bars provided much better leverage which helped a lot. It also made the FJR comfortable – like a touring motorcycle should be.
Along the way I had been trying different tyres. The FJR came with Metzeler Z8 tyres to begin with, these wore unevenly on the front getting scalloped badly. Pirelli Angel GT made the steering lighter but they are soft and the heavy FJR tore the sides away on the front tyre in just one tour then the steering slowed dramatically with the triangle shaped front tread and the rear tyre was bald by just 6000km.
The Michelin Pilot Road 4s were by far the slowest steering, if using these then you should switch. I had the front tyre a premature failure of the carcass about 3000km. This is second time I have had premature failure with these tyres (previously on rental bike) so I just got rid of both tyres. The Bridgestone BT-023 GT steers not a fast as the Angel GT but it wears evenly and lasts 8000-9000km which at least means not needing tyres mid tour which is a huge hassle and it means you don't get a sudden drop off in the steering speed with tyres as happened with the Angle GT tyres.
Lastly I decided I would change the rear suspension links called the dog bones to raise the rear ride height and further sharpen the steering angle. I had left this to last since it seemed the hardest but in fact it can be done in probably 30 minutes. I chose to fit 30mm raise links which is achieved by a very minor change in the links. I sourced them for about $39 from a eBay retailer in Germany with good customer feedback.
The transformation this brought once fitted was the most of anything so far. The FJR felt noticeably lighter to turn. Ok you still are riding a heavy tourer but it honestly felt somewhat easy for the first time to ride on tighter corners not needing me to drag it around every bend. It will hold a chosen line easier now and does not want to understeer. (but please note it is achieved in conjunction with the other things already altered – just doing this alone will not deliver same)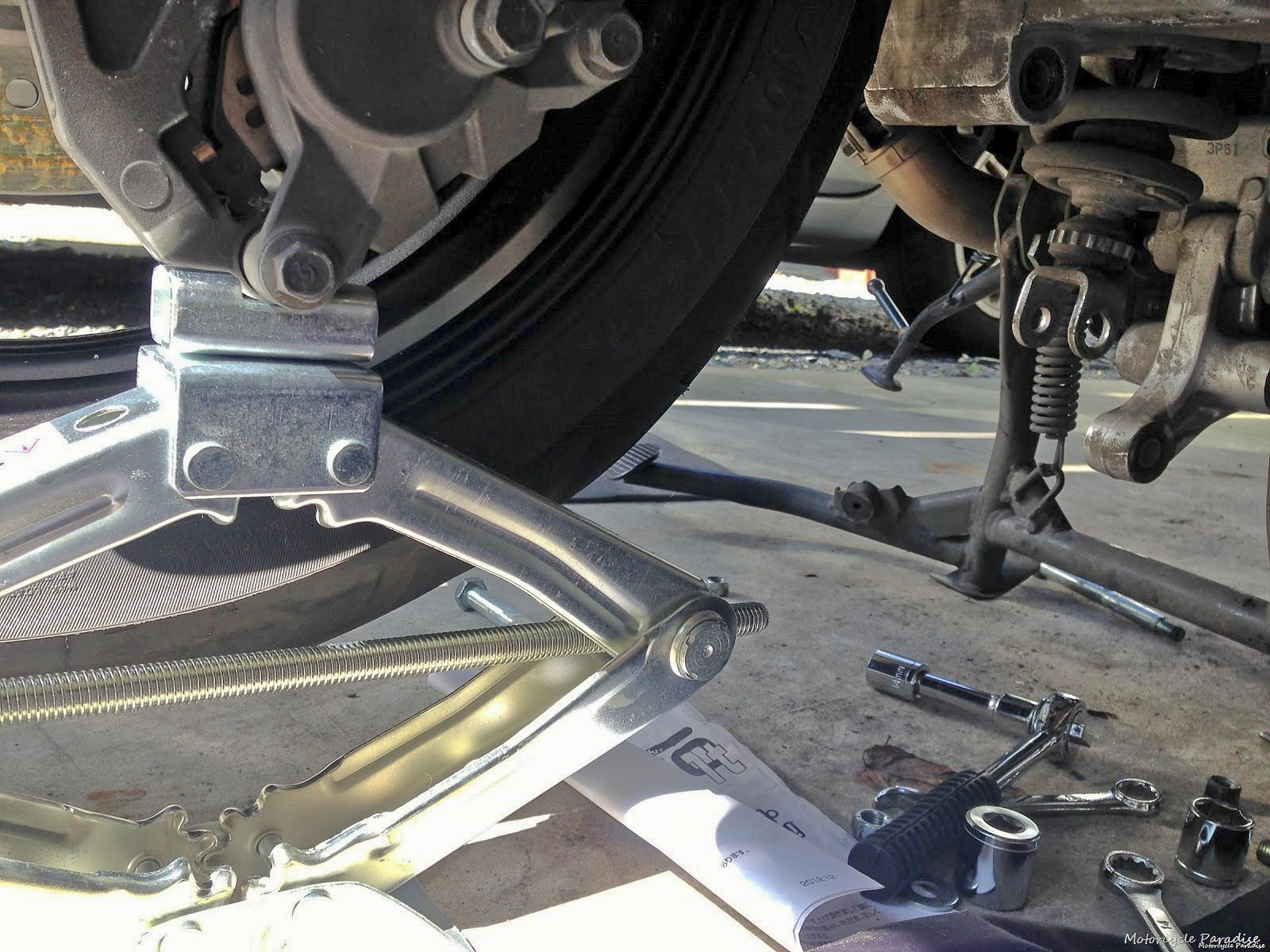 It is still a big heavy bike which you need be aware of but now it steers well even in very tight corners. The best way IMO to install the dog bone links is to put the bike on the centre stand and loosen the dog bone links then use a jack to lighten the rear wheel from the link pins (not supporting the bike which is on stand – just the wheel weight) take the top pin out then remove the shock lower mount pin and rotate the lower link pin forward past stand then remove the dog bone links. For install reverse and use the jack to position the wheel at correct height to get top pin back in with new length links. I took loads of time and it still was all over in 40 minutes.
Update: I finally managed to try a set of Dunlop Roadsmart tyres (series 2 as could not find series 3) Well these are by far the lightest feeling tyre for steering on the FJR and they also feel great mid corner and change of direction as well. Of course you still are riding a very heavy bike so it's not like riding a middle size naked or sports bike – but for steering feel these are a noticeable improvement from any other tyre I have tried. (in conjunction with all the modifications I have made) I will update my total mileage on these in 2020, they are not going to last as long as the BT023GT's but will see.
Afterthought: I also should mention that along with the changes I made to the bike and tyres along the way I have adjusted my riding style on the FJR1300. I stopped doing day rides when I moved from Nagoya to the greater Tokyo region where it would require 3 hours to escape the city. I now only ride this bike on long distance tours. That sort of riding is at a slower pace than a day ride. Additionally I lowered my expectations for the bikes cornering agility and adjusted my riding style. That might sound like a negative but in fact it has been a positive. The FJR1300 has forced me to slow down and enjoy the journey more which I carry over to my riding in other countries on other bikes. But what I want to make clear is all the above changes do not make the bike corner like or as fun as riding a 200kg bike. I would very much like to change it to a MT-09 or similar but for now it suits me to keep it until I could do that at small cost or if I am only riding it a couple weeks here it actually would be better I rent than own a bike.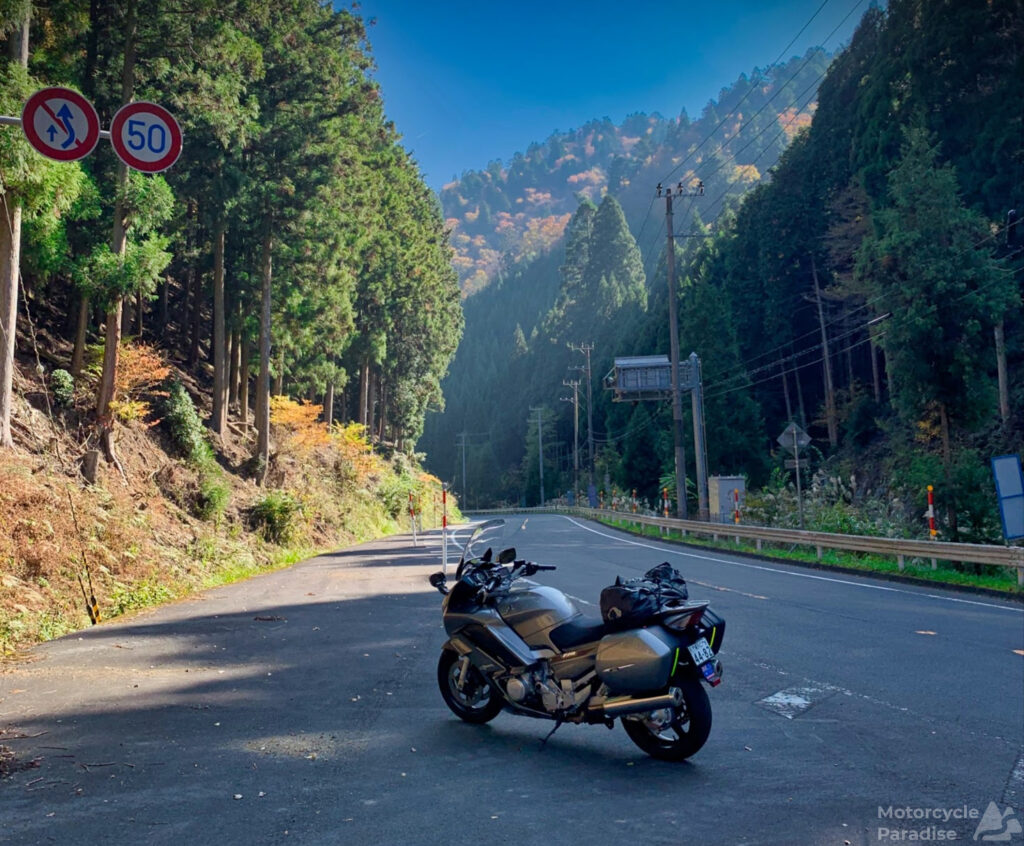 My previous long term Yamaha FJR1300 review is here if you would like further information.