Having reached not quite the bottom of Kyushu but certainly the point on my route from Tokyo south where I needed to turnaround I took some time to enjoy the sunset and reflect on what had been one of the best weeks riding I have had in a long time. And being Japan there is always a vending machine nearby.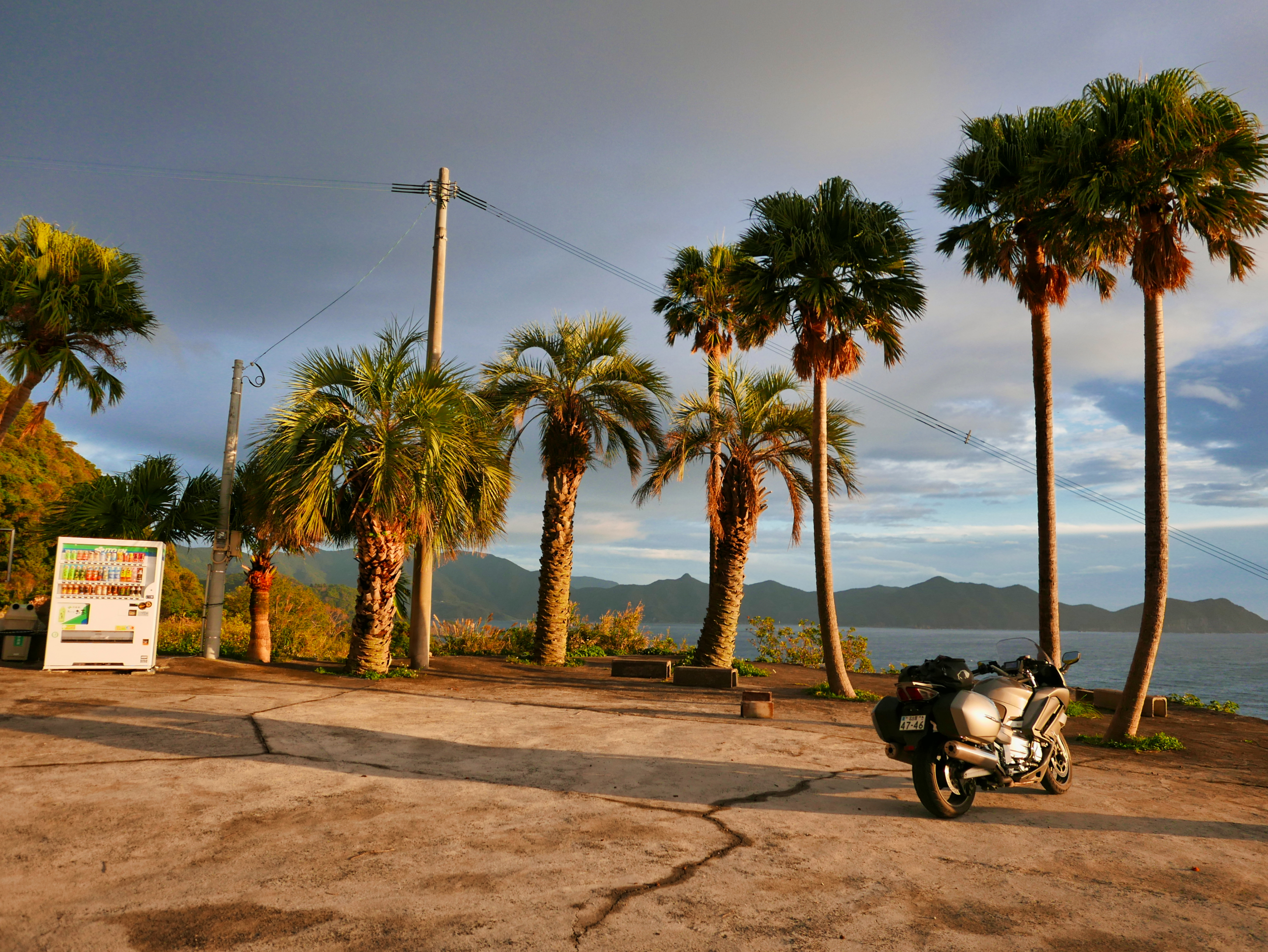 I was pleased with how the FJR1300 had been much easier to ride in the corners on the way down. Raising the rear ride height had really transformed the bike. But I noticed the steering becoming heavy again and decided to check my tyre pressure which I had been spot on leaving. Before I could get to this I see the tyres are actually already well worn with just 6000km on them.
This was a bit of a shock, the Pirelli Angel GT tyres had certainly felt confidence inspiring in both dry and wet conditions but just 6000km from a set of touring tyres is crazy, that's like some of the soft sports tyres I used to ride on years ago.
Time to start the return journey (Don't miss the first half of the tour, read it first here).
Day nine. I stayed in the town of Kaseda last night arriving after dark it seemed to have little in the way of eateries nearby so I grabbed a obento dinner from the convenience store. There is always a convenience store nearby in Japan and they have tasty food of all kinds and will heat up dinners for you or most hotels have a microwave for this purpose as very common practice. Next day as often happens I noticed leaving I simply walked the wrong direction in the dark and the other side was where all the shops were but I actually prefer half the time to just have something in my room. I am adept at solo dining but getting on the road early and riding all day I often just want to relax.
Forecast was rain. Not passing showers, light showers or showers clearing but plain and simple rain. When I woke up it was just that too however by the time I had enjoyed a big traditional Japanese breakfast and packed up the rain stopped and yet again the rain gods seemed to make a break in the conditions for me to ride out. I rode back north to Kagoshima and hit Monday morning peak traffic.
The power of the FJR1300 is wasted with me as I just tootle along rarely exceeding 4000 rpm. Actually l'd be more happy with a imaginary FJR900 using the MT (FZ) 09 as the base with the corresponding weight loss as then I might be able to actually enjoy using the smaller engine occasionally.
Nice ferry system in Kagoshima, you just ride on and then other side there is a toll gate as ride out to pay the fare.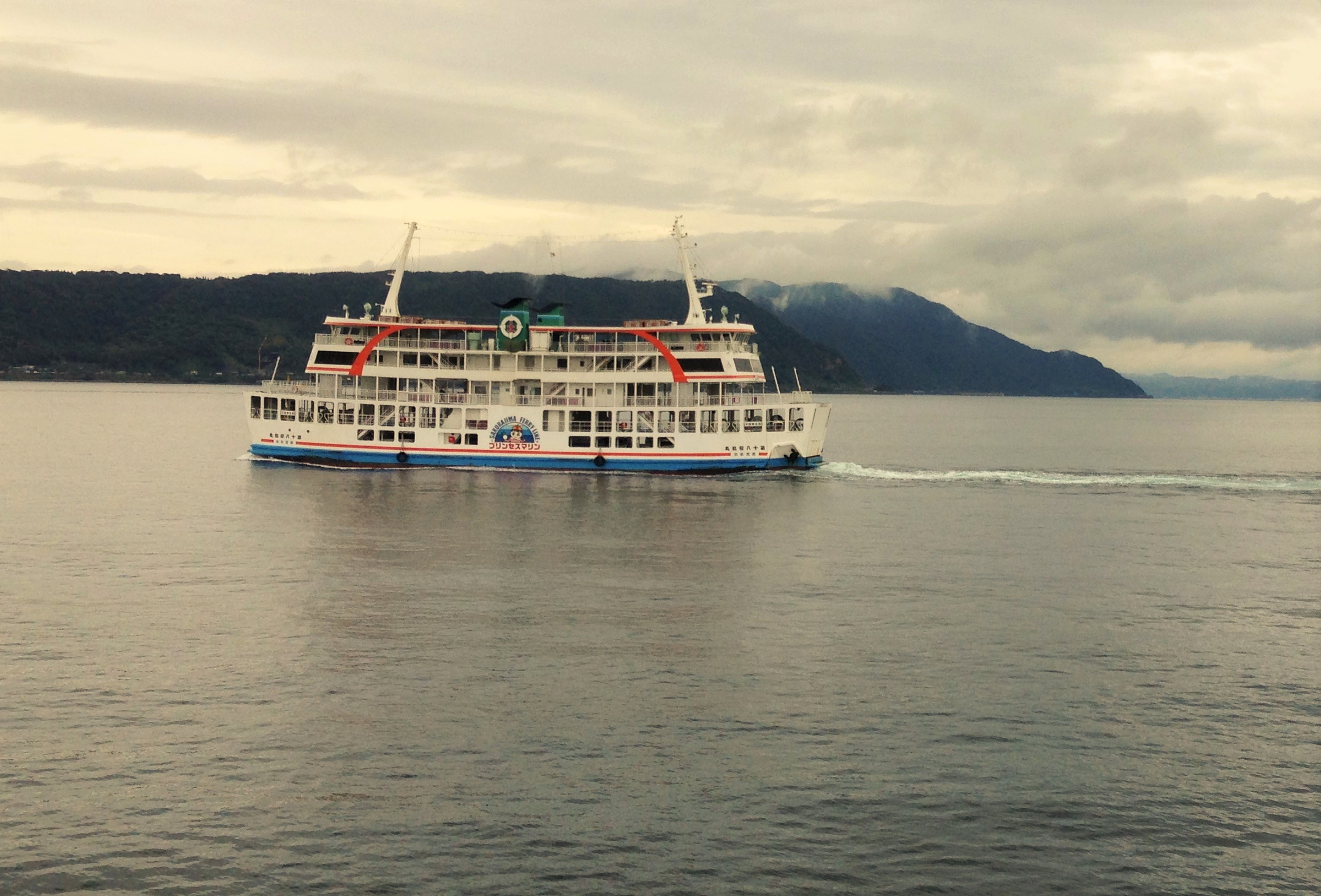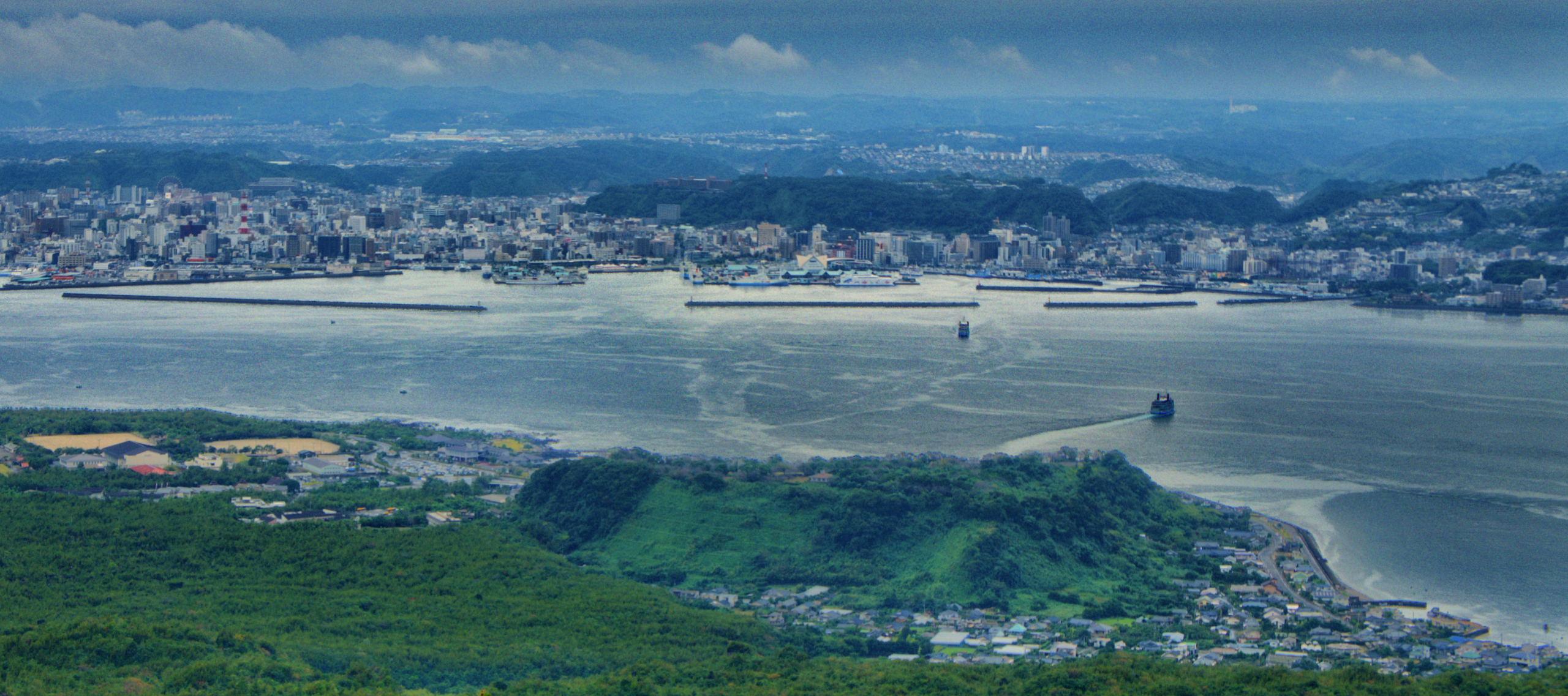 I went up for a closer look at the active volcano Mt Sakurajima that is the dominant feature of the area but it was shrouded in clouds. I debated with myself if I should turn south again and detour from my route over the mountains to get to the east coast since they were looking wet and misty but as I sat around having a coffee the rain caught up to me so that made my decision easier and I just rode up and through the cloud and a bit of drizzle to dry roads down on the other side.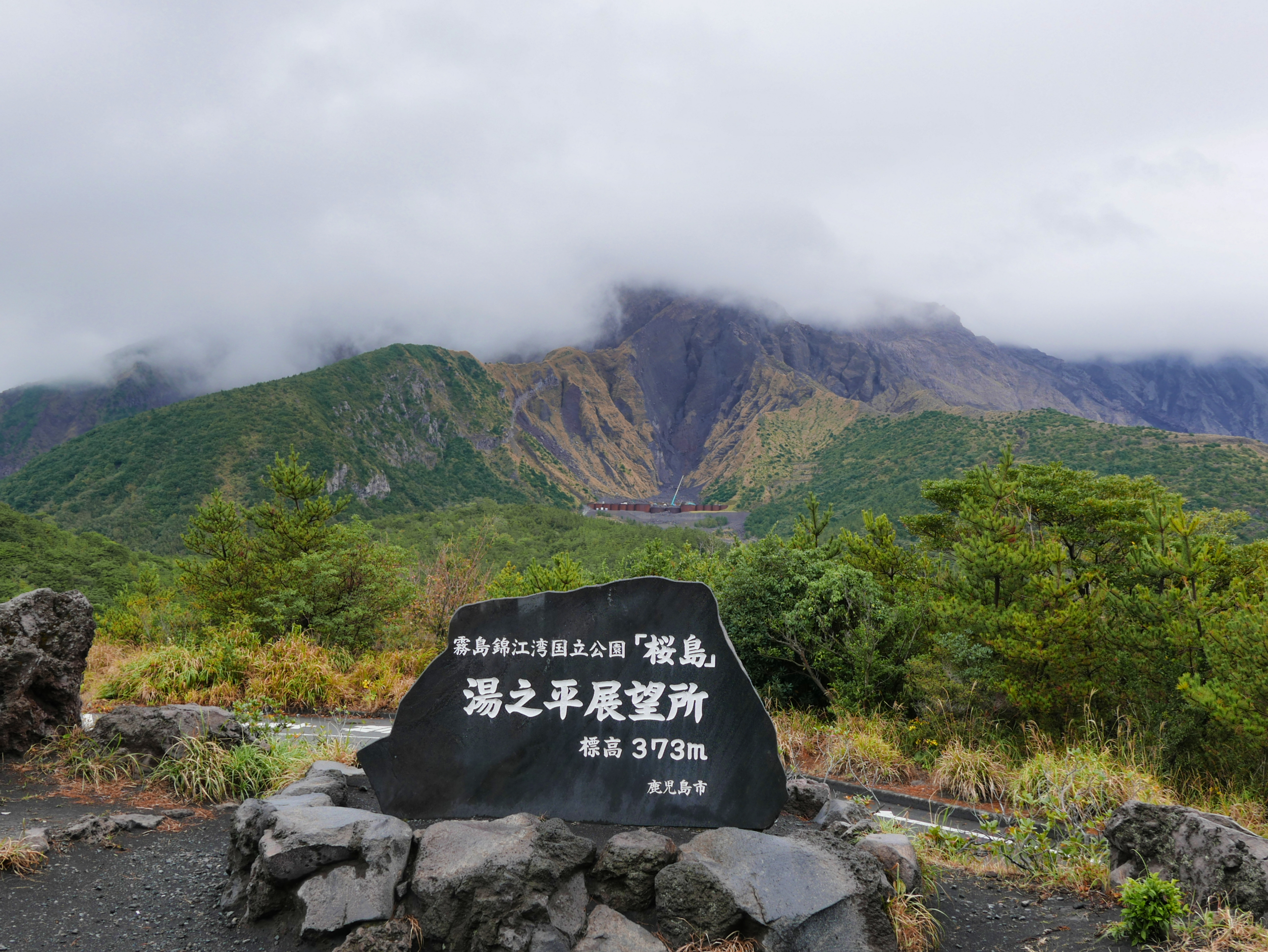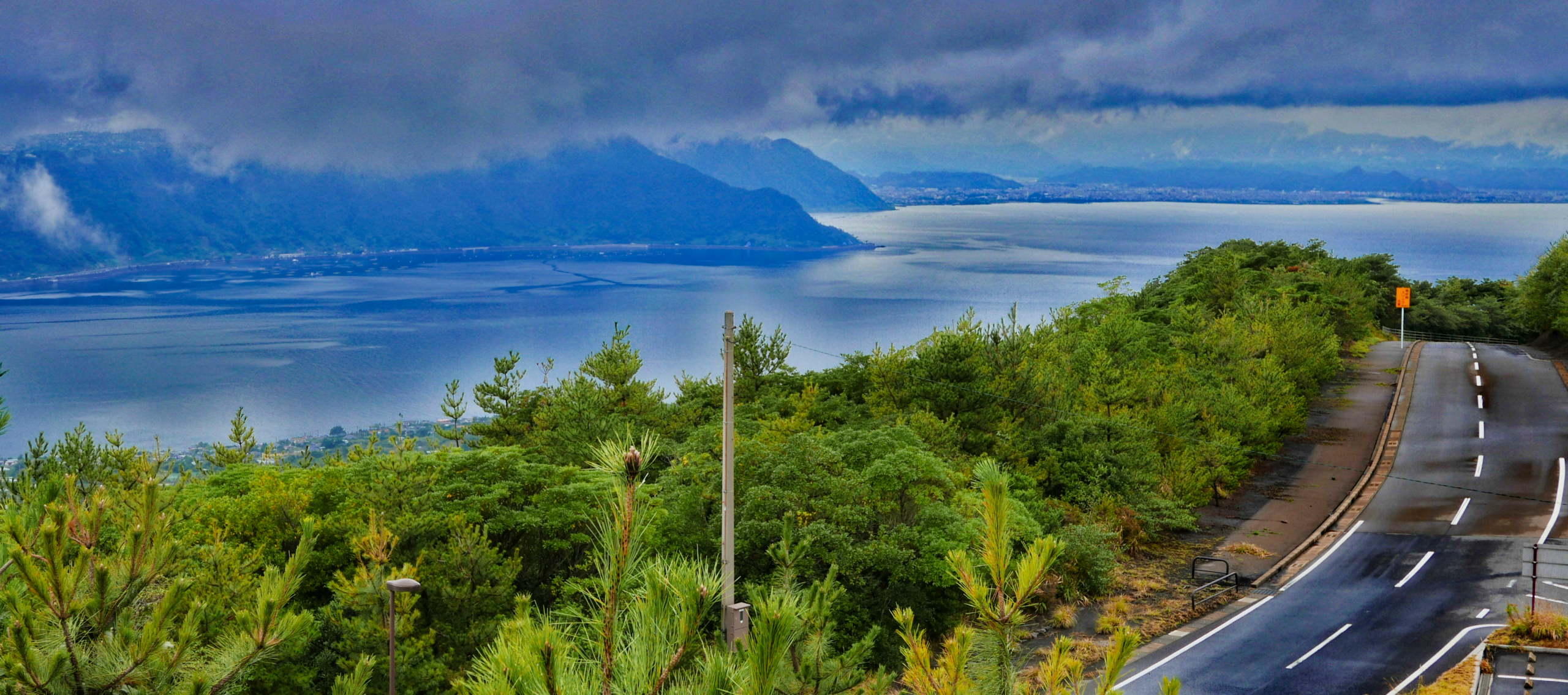 The coastal roads then heading north were very scenic. A shame of course the skies were grey but at least it was dry. I had lunch by the beach and made friends with the local stray cat by sharing some food. Not too many tourists this time of year to the beach except a few surfers keen enough to brave the cold water.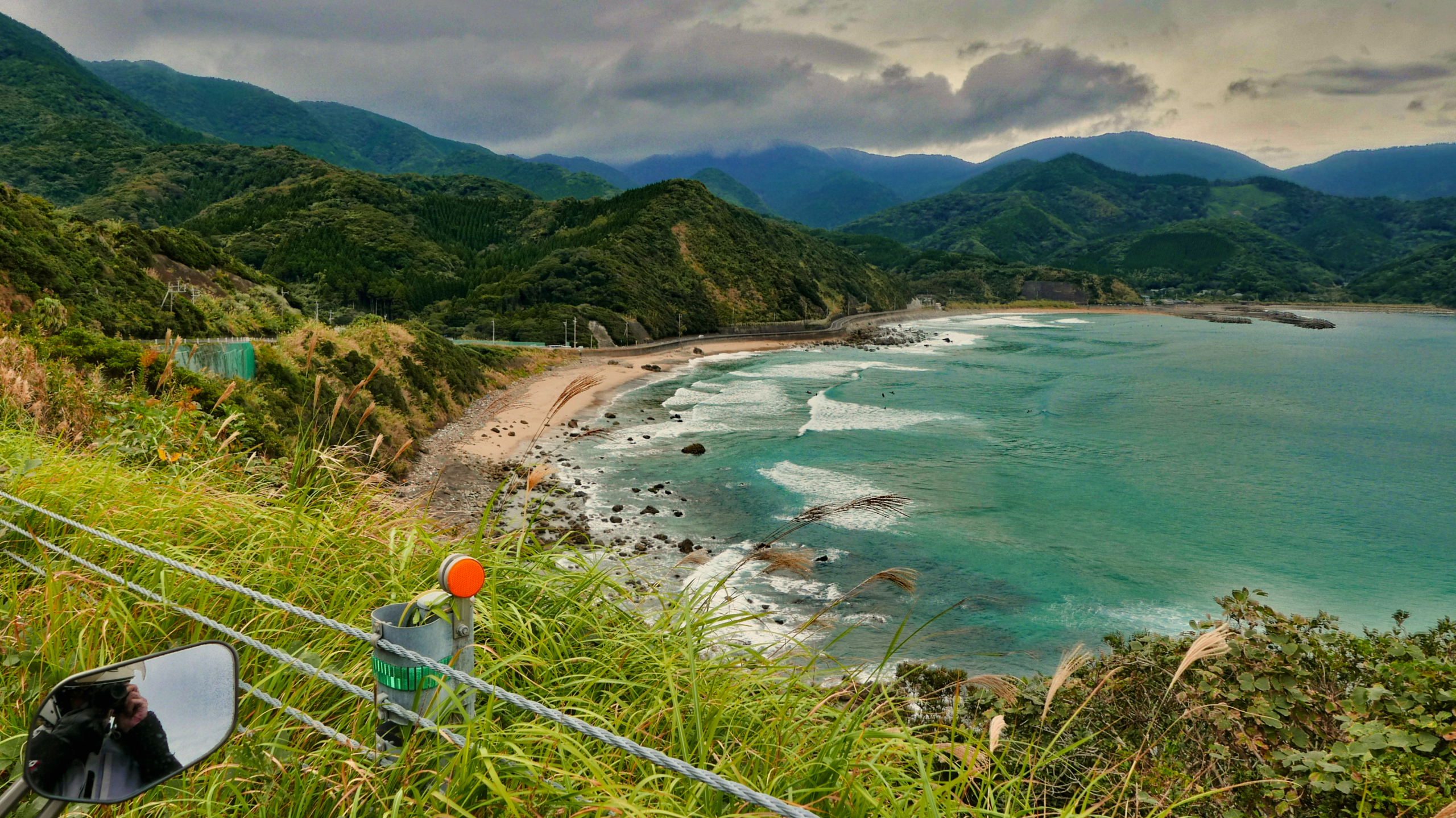 Then I took a small detour to Easter Island to see the Moai statues. Well kind of.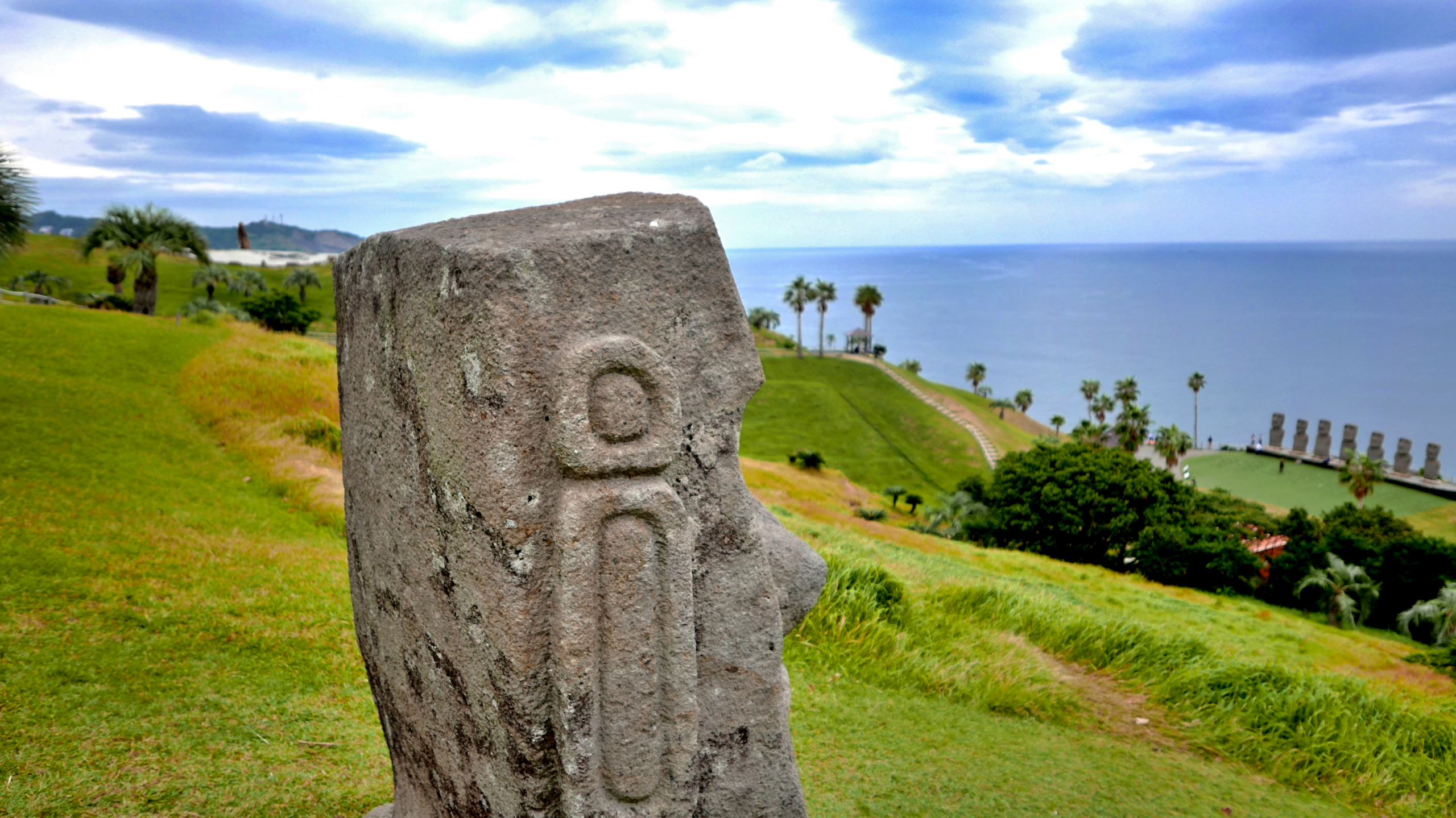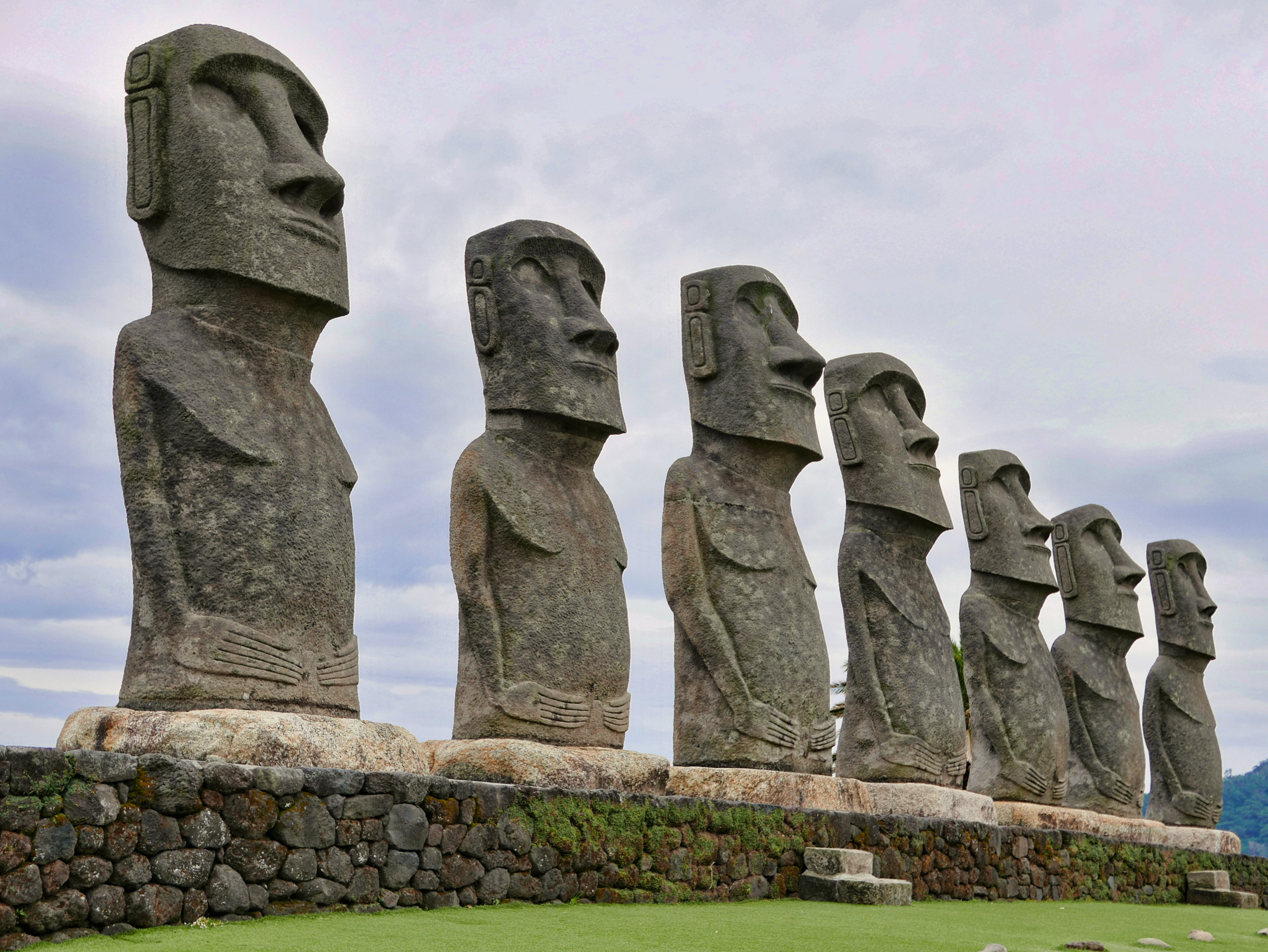 Of course it was a theme park. Not rides or such just a nice grassy park on a hill with replicas of the famous stone statues of Easter Island. Given how hard a journey it is to the real ones I doubt I will ever go so few $ to relax here with a great view over the ocean seemed reasonable.
The Garmin delivered some down right stupid navigation into tonight's destination Miyazaki. The original route could not have been more simple, same road all the way until shortly before then two lefts. Well I got a tour of the town but eventually arrived.
Todays route is brought to you by Doutor tea which I picked up by mistake instead of my usual coffee.
Day ten. Beautiful morning, clear skies. I had a terrific ride up a long valley with little to no traffic. The road then became a goat track partially sealed wheel tracks with loose gravel and deep puddles which is not the ideal sort of place to be riding the three tonne FJR. Actually it was probably more off road then the average GS rider goes. But then things reversed and I returned to a nice two lane road.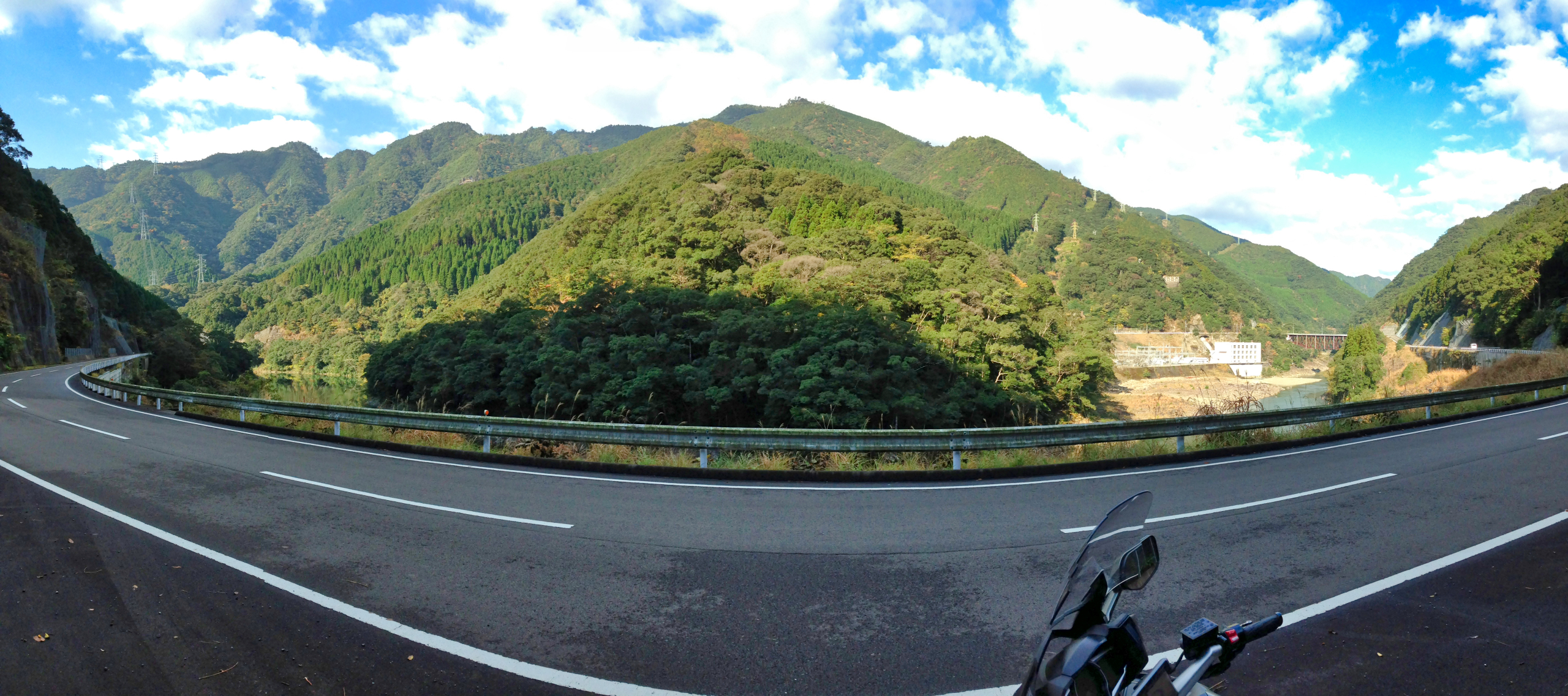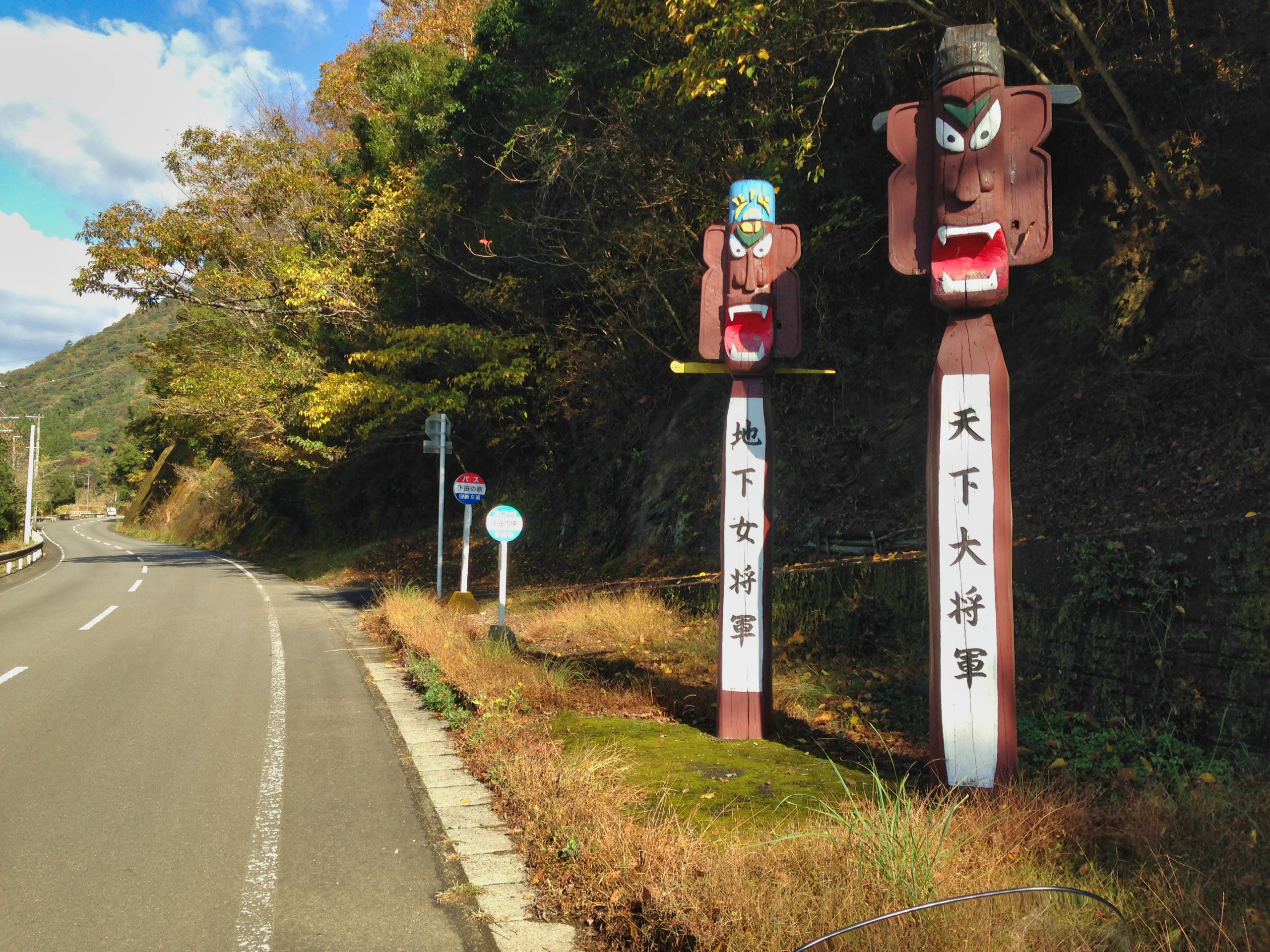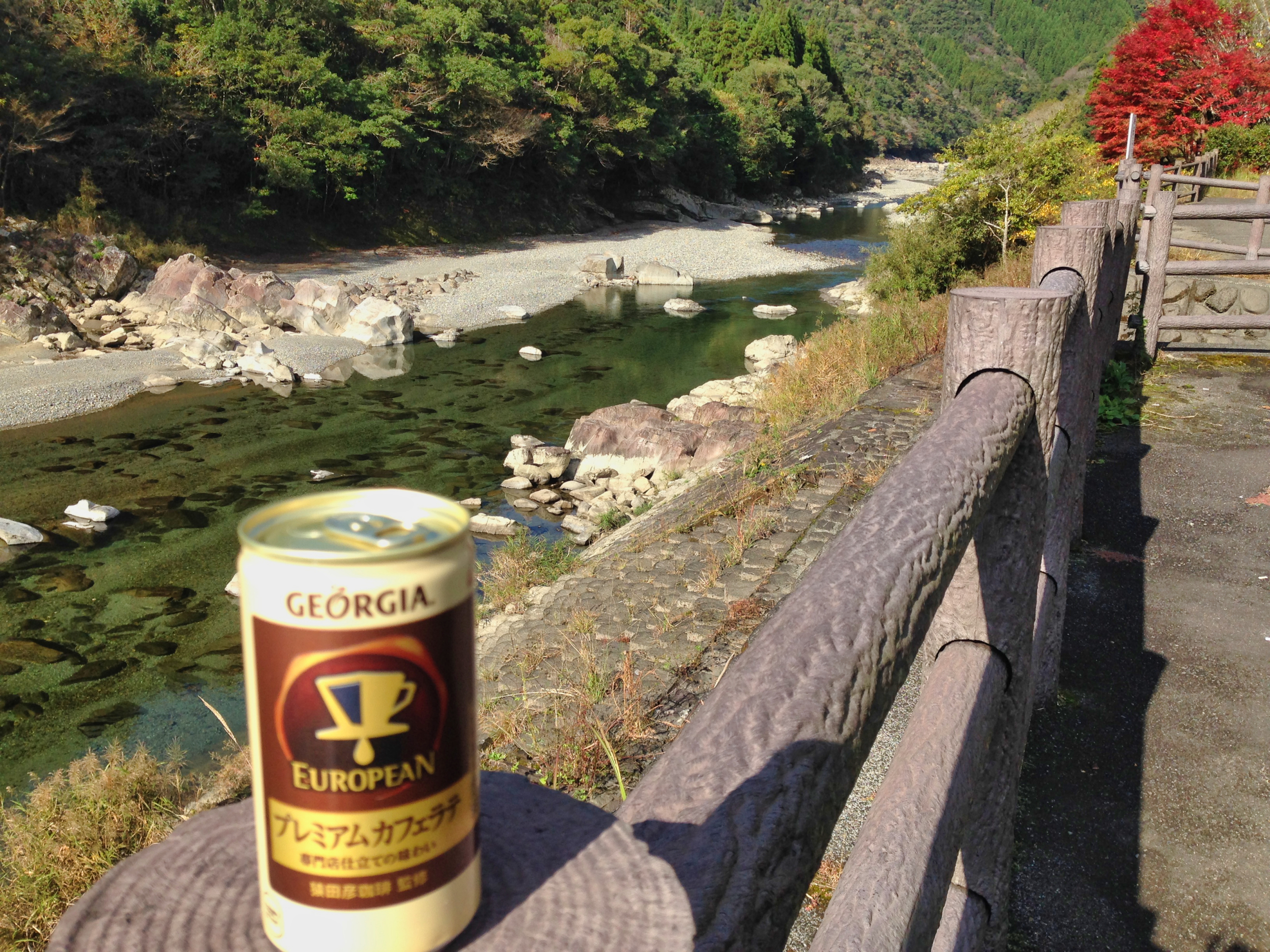 The more I ride Japan the more I like these less used roads so perhaps an adventure bike might yet be in my future. However the models with decent equipment all seem heavy with an unnecessary focus on power just like the current touring bike range. Hmm… Wonderfully clear water in the river ways here.
I doubled down on the coffee this morning feeling a bit sluggish. This can was so hot from the machine I could not hold it my hands. All I needed really was a break off the bike having pushed my seat time out a bit. You can customise the trip computer screens on the FJR so I switched the info around to have the trip timer on the main screen which I then found handy on a long tour like this. From heavily wooded valleys next I was on a route north that runs along the top of the ridges with deep gorges off to your side. Scenic but I think the roads below might have been better than the main road above with too many cars. Some nice bridges.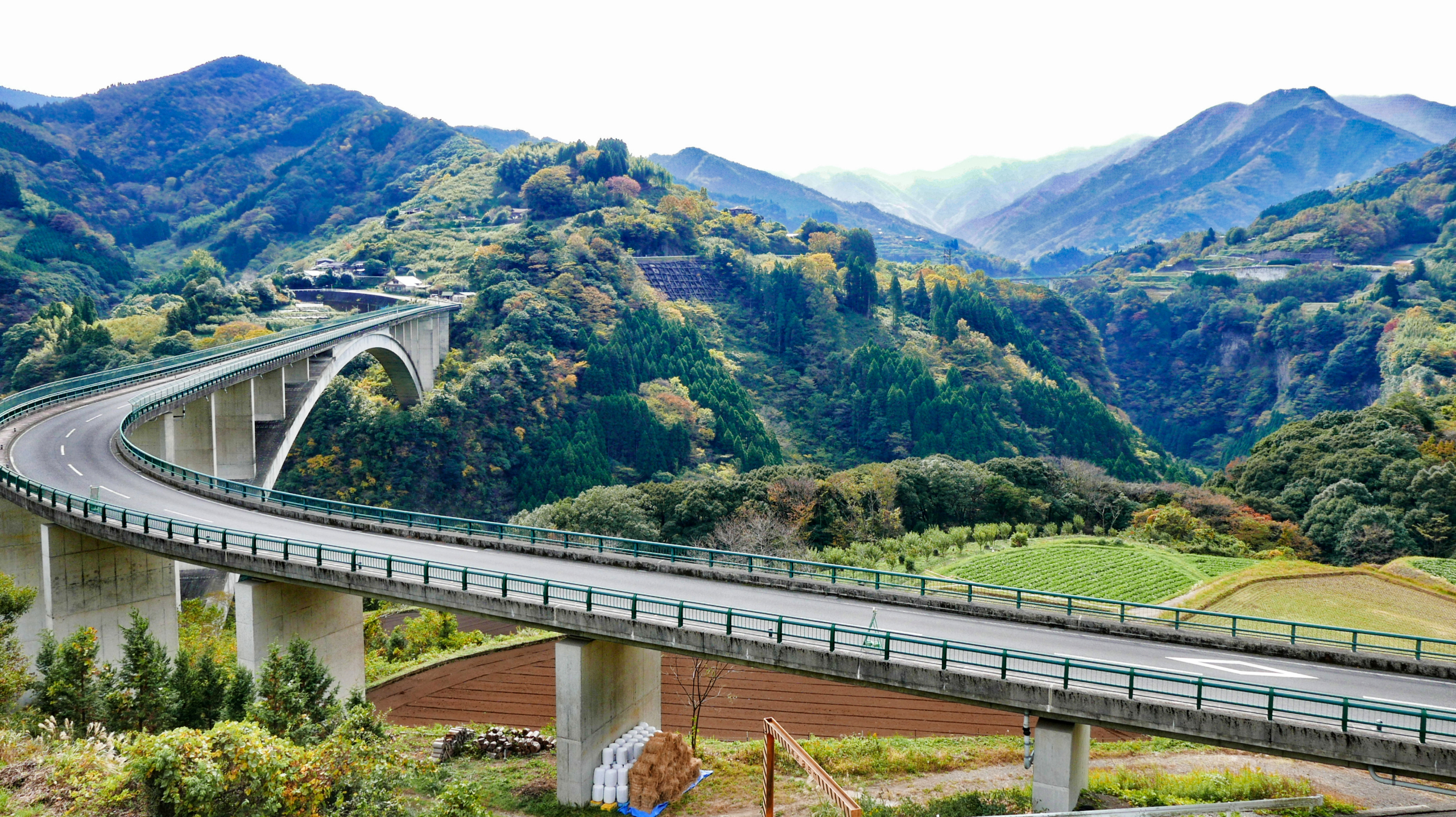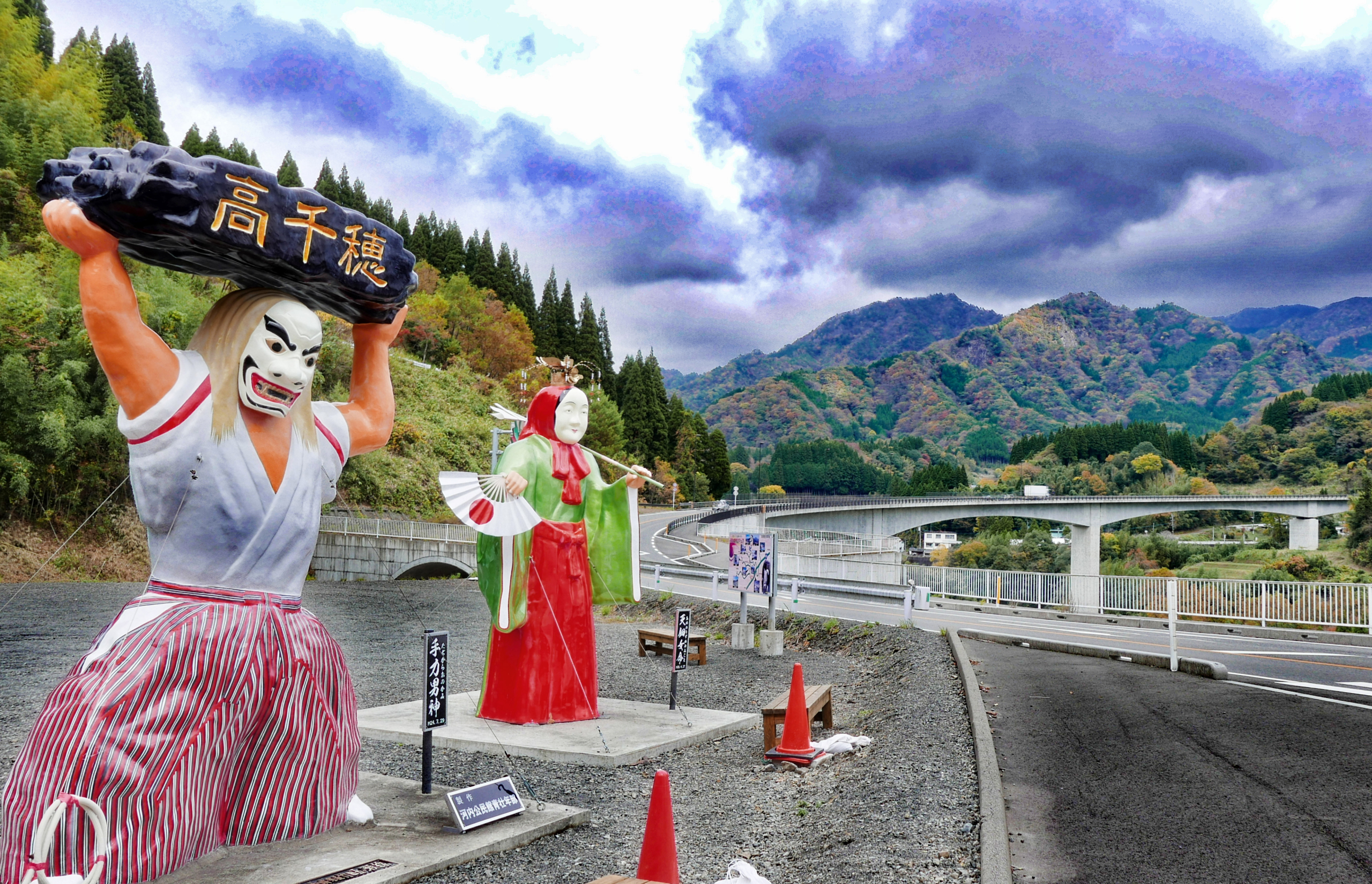 I left the main road and took a series of minor roads north back towards the Aso volcano region and while the riding improved the weather in the mountains ahead looked wet. By now having had the blessing of the rain gods for so long I had become a bit blasé about rain and completely ignored the dark clouds. Stopped at this strange monument in the middle of nowhere.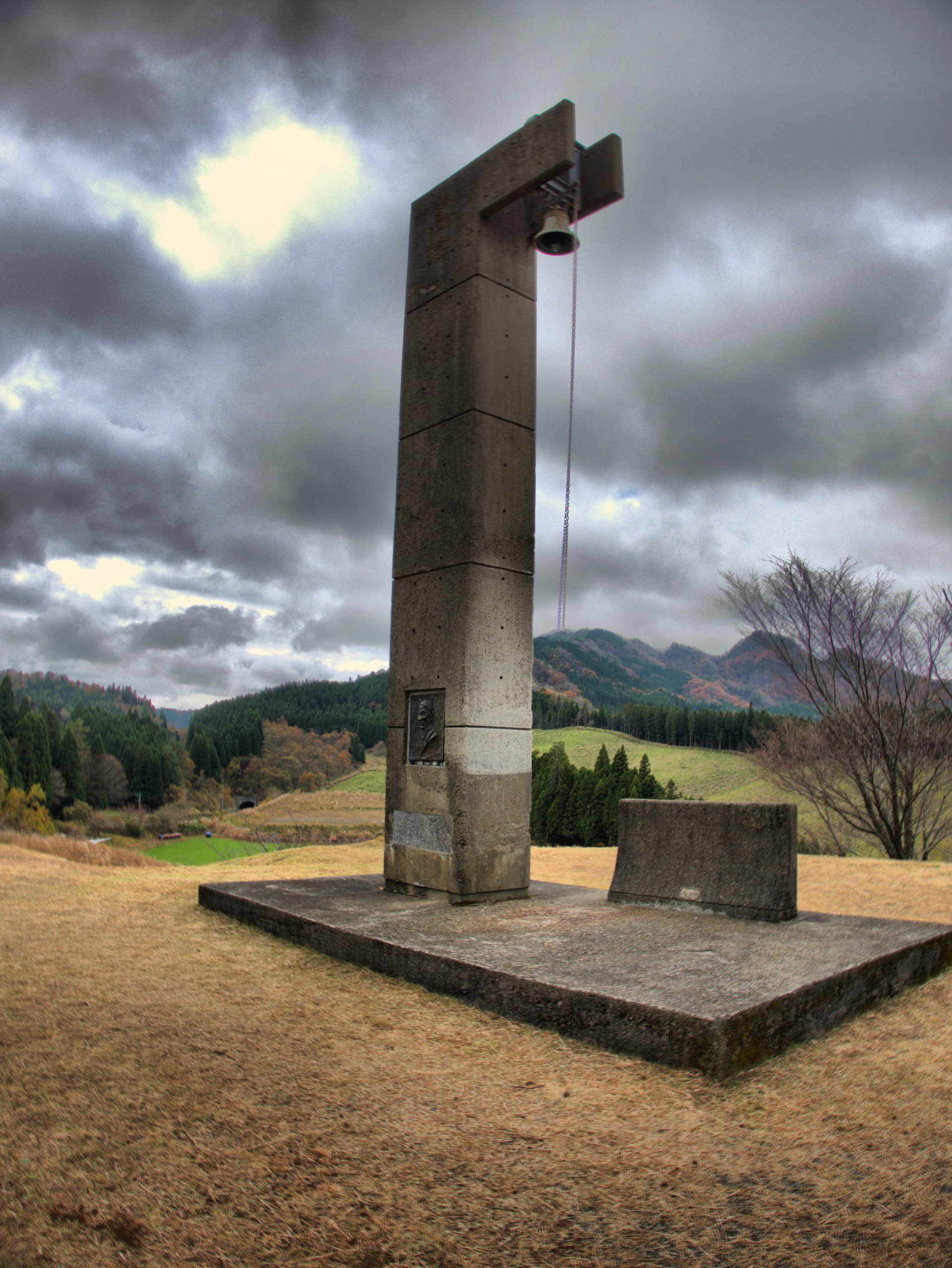 Seems it was built by mountain climbers to honour a English priest (monk?) and mountain climber who seemed to be a climbing pioneer in the region long ago. Nice spot on top of the hill.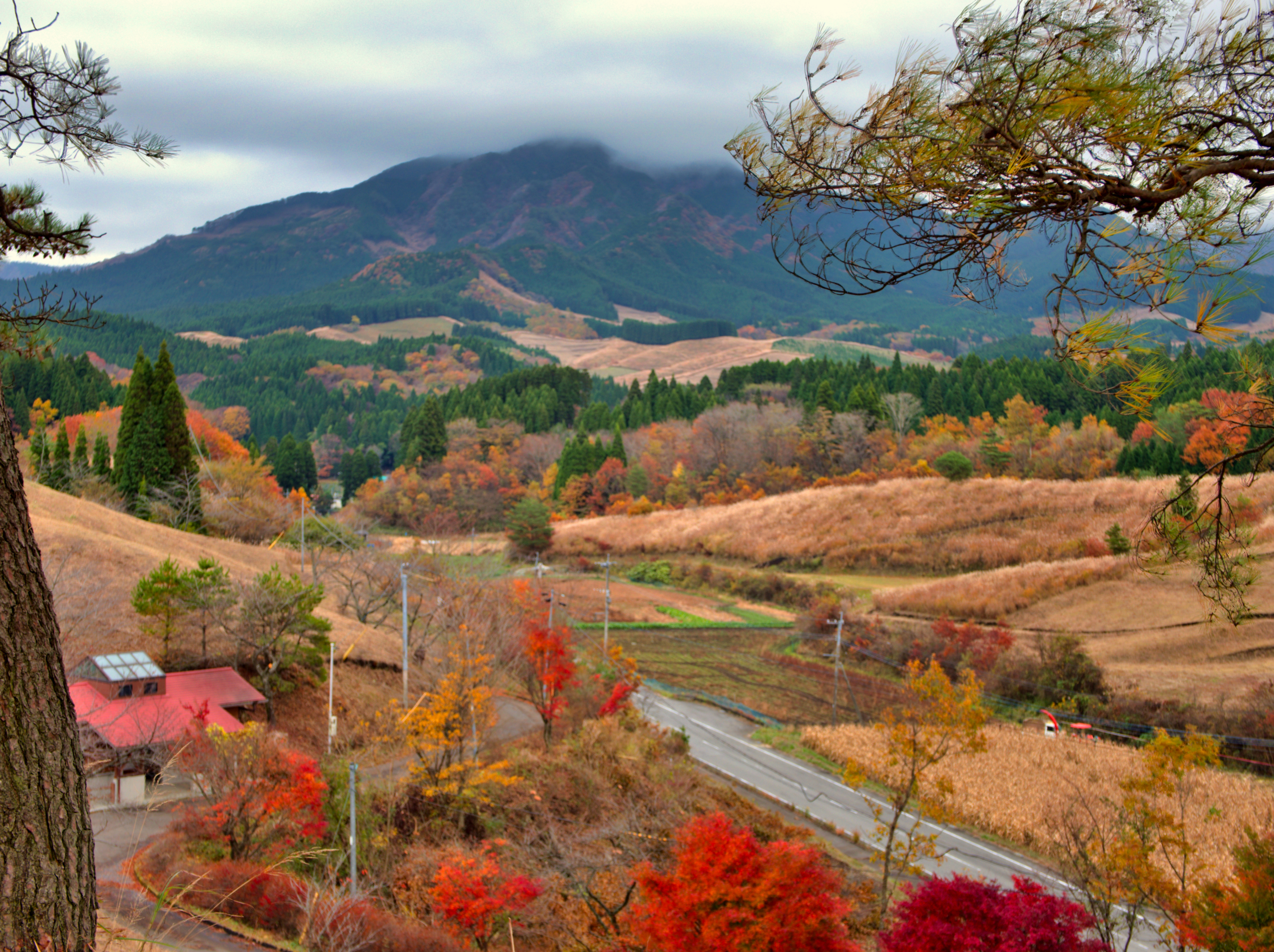 In this very scenic and remote highlands I was very surprised to come across covered bridges. I have never read of Japan having covered bridges.
And then the weird. A abandoned huge tree house?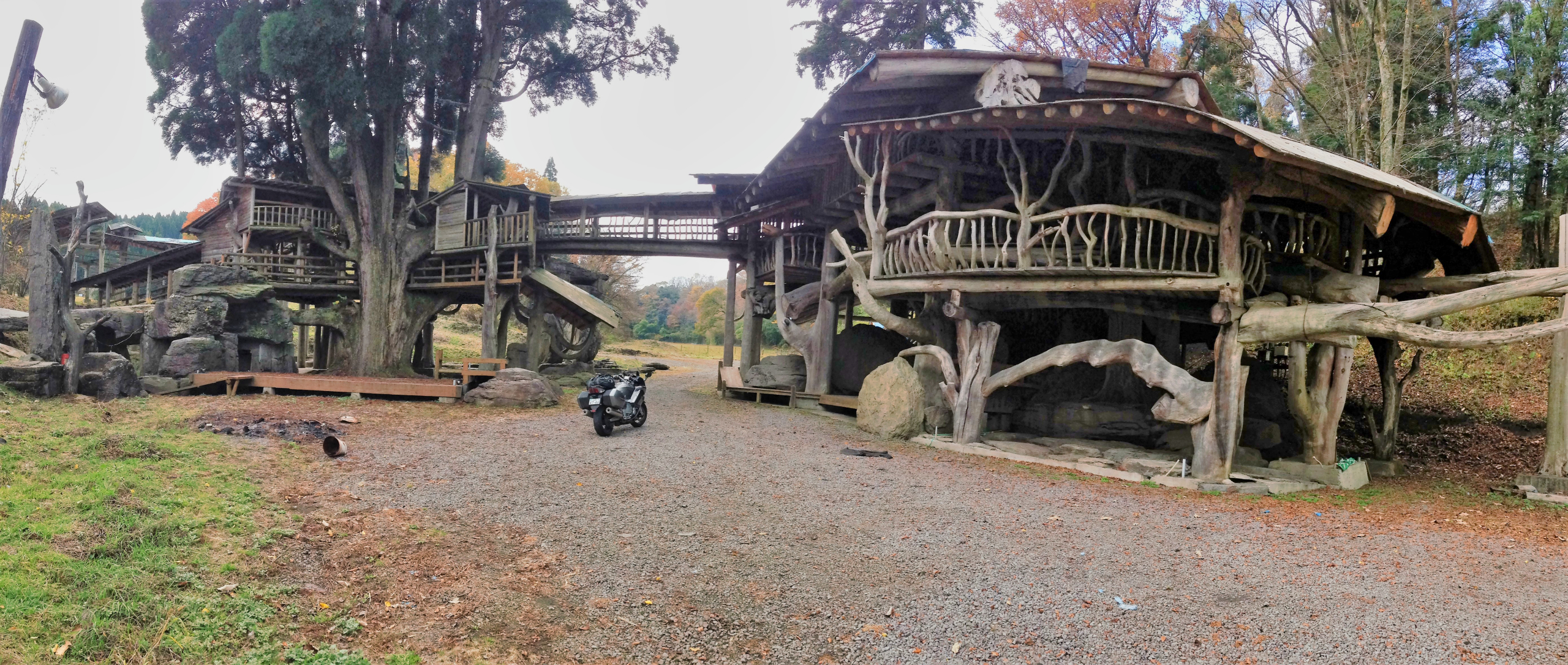 North of Mt Aso is some of the more popular riding roads in Kyushu which weave up and around a series of mountains in the national park offering grand views. The weather had been clear since I left the farming highlands however I ran into rain soon as I started to climb those mountains. At first it was not too bad but then the temperature plunged to 8 degrees. I needed to find a way out of that so cut my intended route to ride directly down the other side to Yuifin where it was dry. I really did not want to miss this section of the ride and so was thinking to go back but decided I had been lucky up to then so just go with the flow. So after warming myself back up I rode out of the area and on to Oita for clear skies.

Todays route brought to you by Mt Rainier Cafe Latte. 'The mountain of Seattle'
Day eleven. Today I skipped breakfast to try make the 8.00am Shikoku ferry from Saganoseki to Misaki. Good thing I did too since I ran straight into very congested roads leaving town. I mentioned using this route on a ride forum last year and someone said it was a unpopular route which I don't understand. It only took 50 minutes to do the crossing and lands you on this incredibly scenic road that traverses along the ridge top of a narrow peninsular of land.
I had a late breakfast on board but was glad to get this crossing done early and quickly so I could then relax on the rest of the days ride. The main lookout on the peninsular is surprisingly very poorly positioned. Further along you sit up high looking at the ocean on both sides. Not sure why it is rather oddly built in Greek classical style either but anyway it seems to have been paid for or dedicated to a guy that pioneered the use of Blue LED.
I was riding route 197 from the ferry which is a brilliant road all the way to my destination tonight in Koichi however the touring mapple for the region showed a interesting looking side road so I hopped off this main regional road and found myself initially on what appeared to be part of the old road before they tunnelled through the mountain. Riding in Japan you go through 100's of long tunnels and each one means another nice mountain pass that has been by passed. You can see the old alignments often branching off before the tunnels but mostly these roads have been closed to traffic.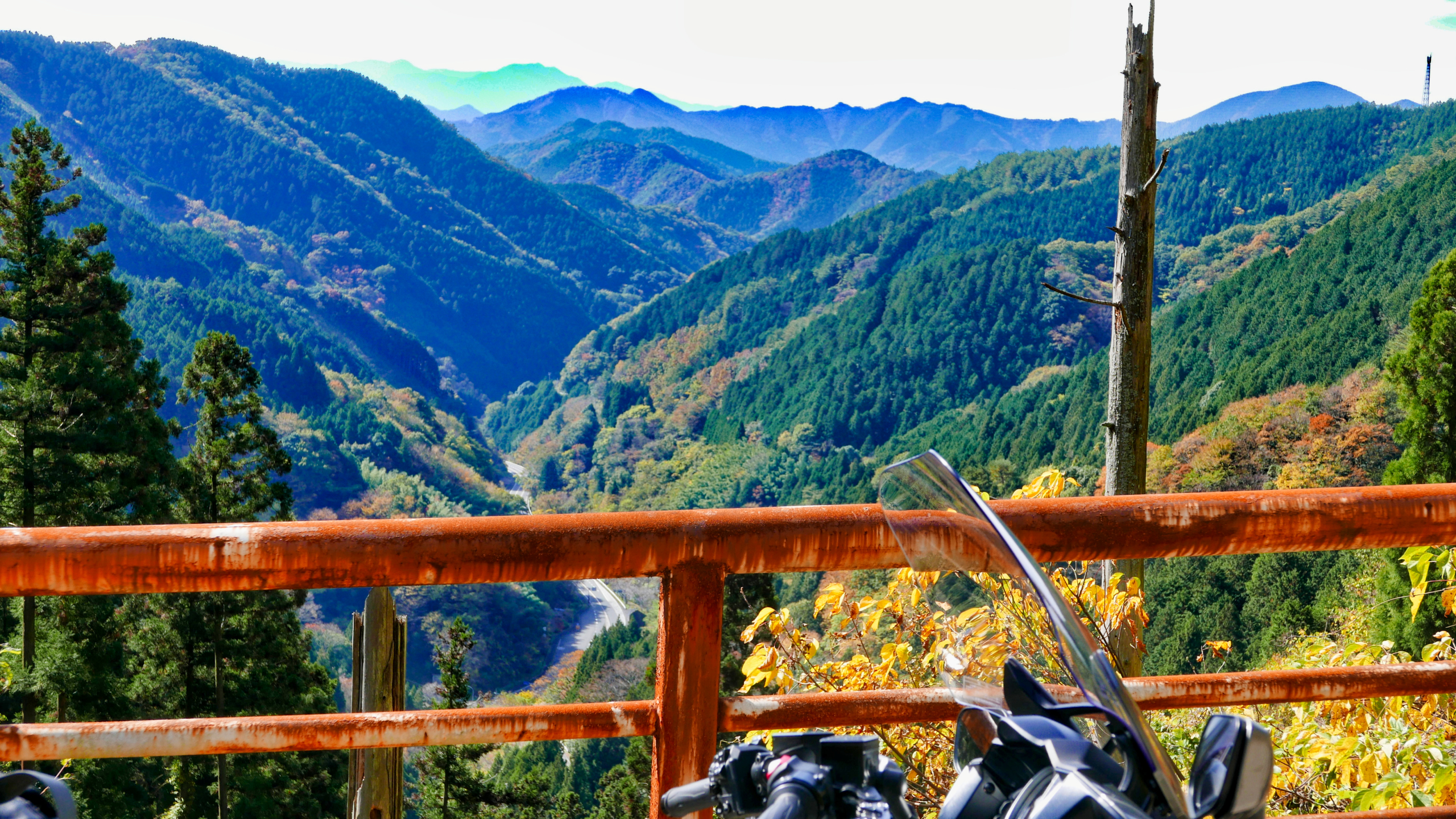 Rusty bridge on an old road, the new down below. The hero of Japan, Ryoma also roamed about this area and I came across a marker to where he had spent some time. It pleases me to no end the way public spaces are respected in Japan. Here in the pine forest was perfectly clean public toilet facilities with plenty of spare tissue and the usual heated seat as is the norm in Japan.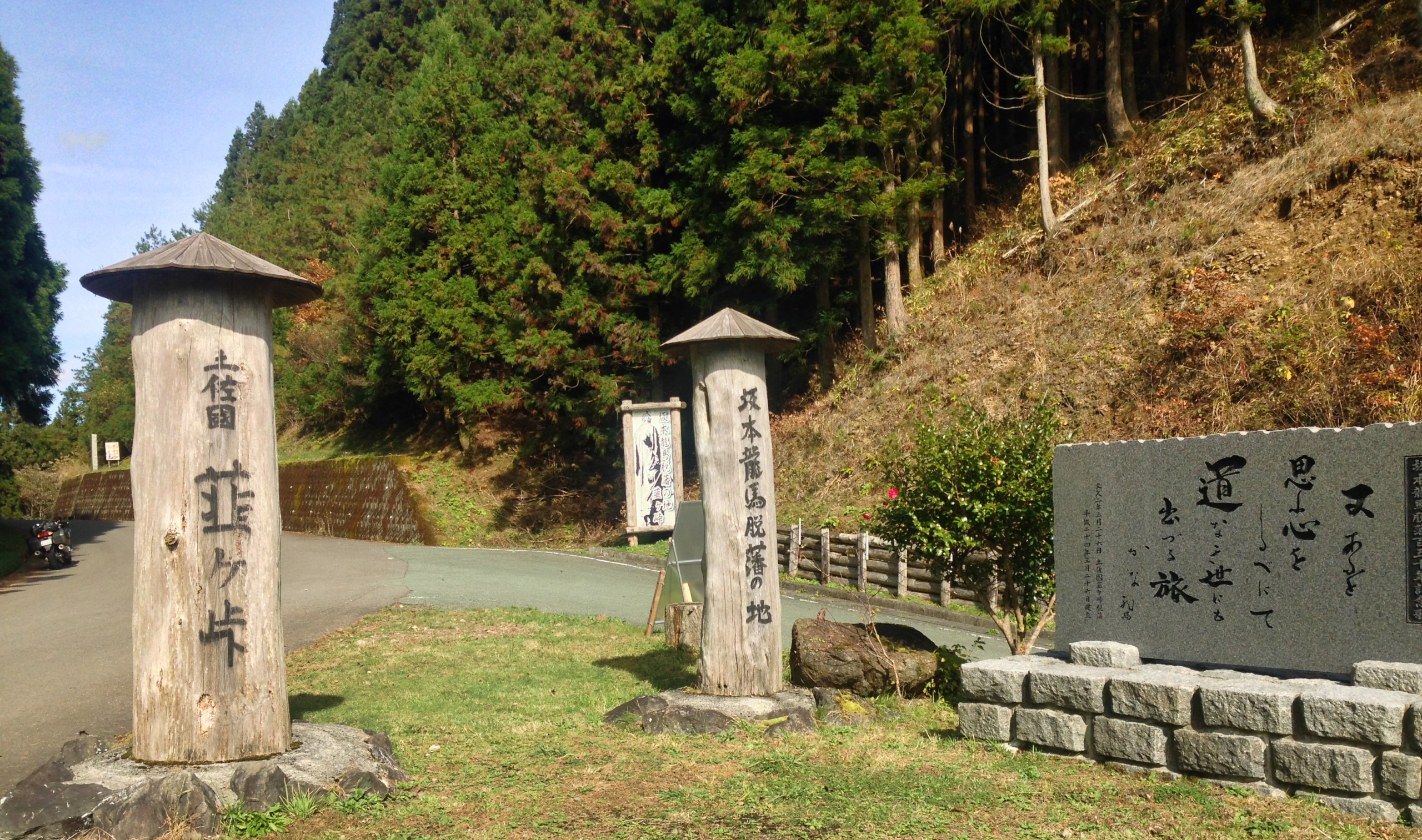 I came upon a abandoned picnic area at just the time I felt I needed a break so despite the slightly longer grass I decided to take some time out and soak up the view then simply had a bite to eat there as it was so peaceful with zero traffic.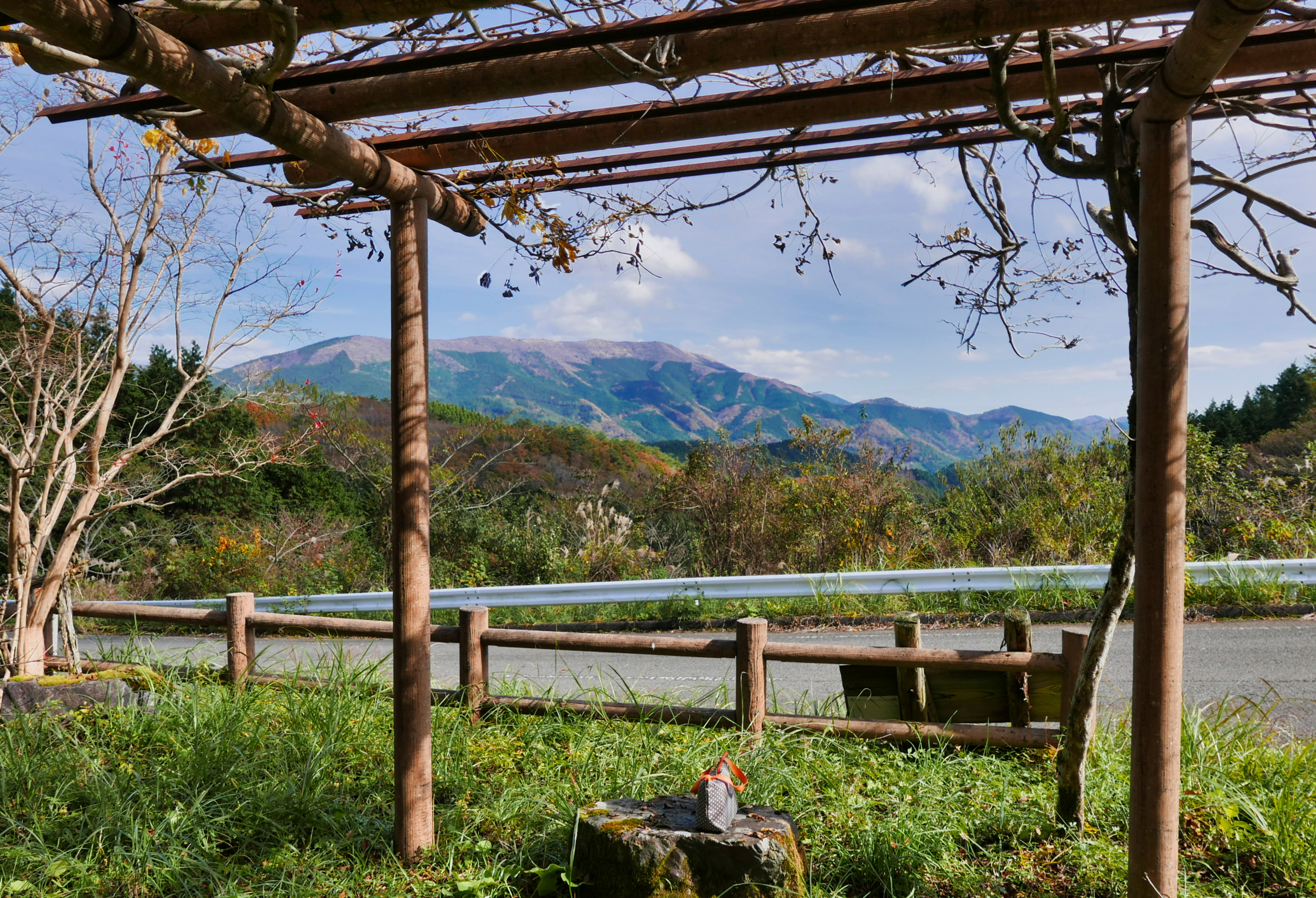 And then onwards and up, the road turned into very narrow one lane for a section before I arrived at the Tenju highlands. This spot rates up with the very best mountain view points I have seen. It was incredible.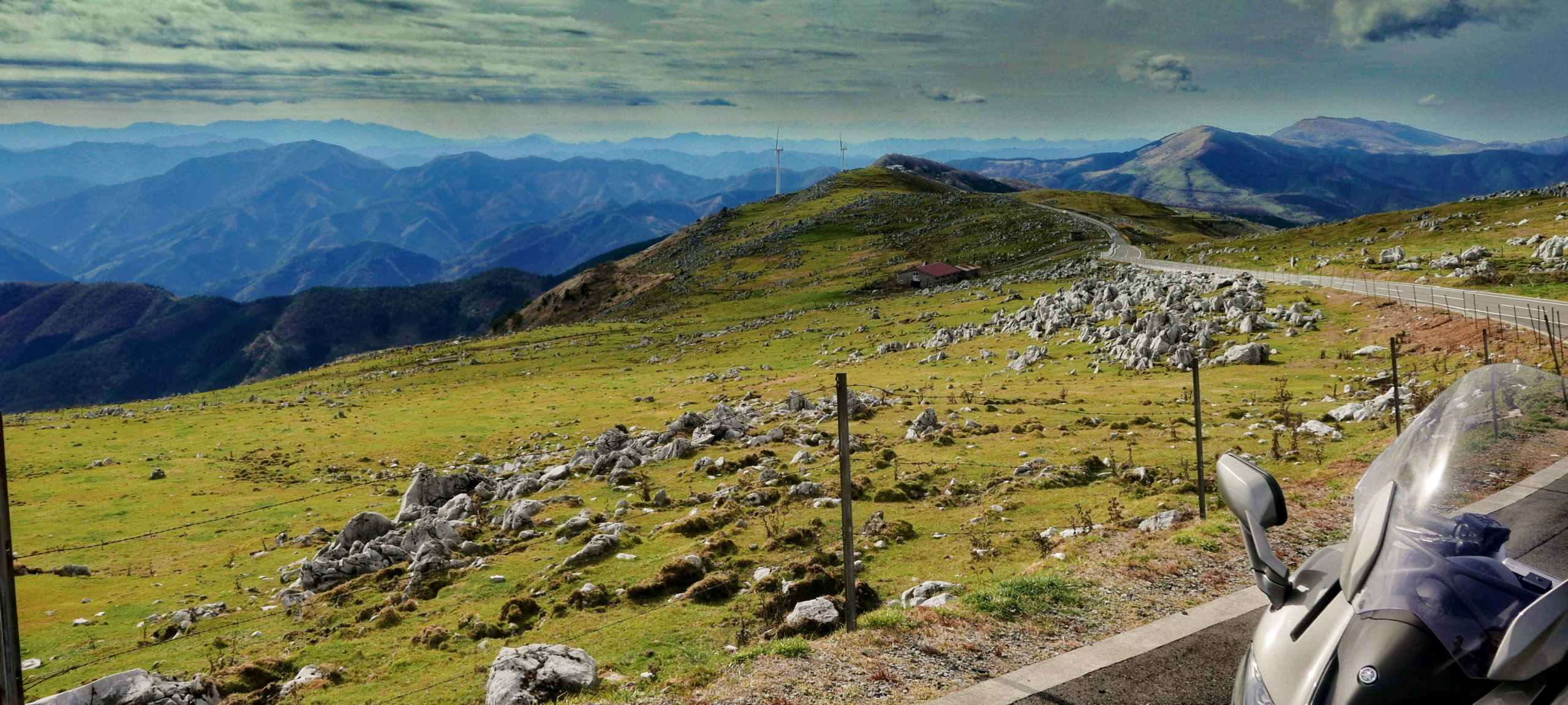 On the northern side the road is near perfect descending then rising over another ridge and a few sports cars and motorcycles were out enjoying what might be the best bit of road I have yet come upon in Japan.
I re-joined route 197 about 20 km on from where I had left it but what an amazing detour it had been. Getting the early ferry really paid off as I had time today to soak up the views at leisure in the Tenju highlands then this afternoon time to detour and revisit the Susaki coast line, an area I had ridden the previous year in the morning and this time arrived as the sun was low making a beautiful scene. (albeit hard to photo)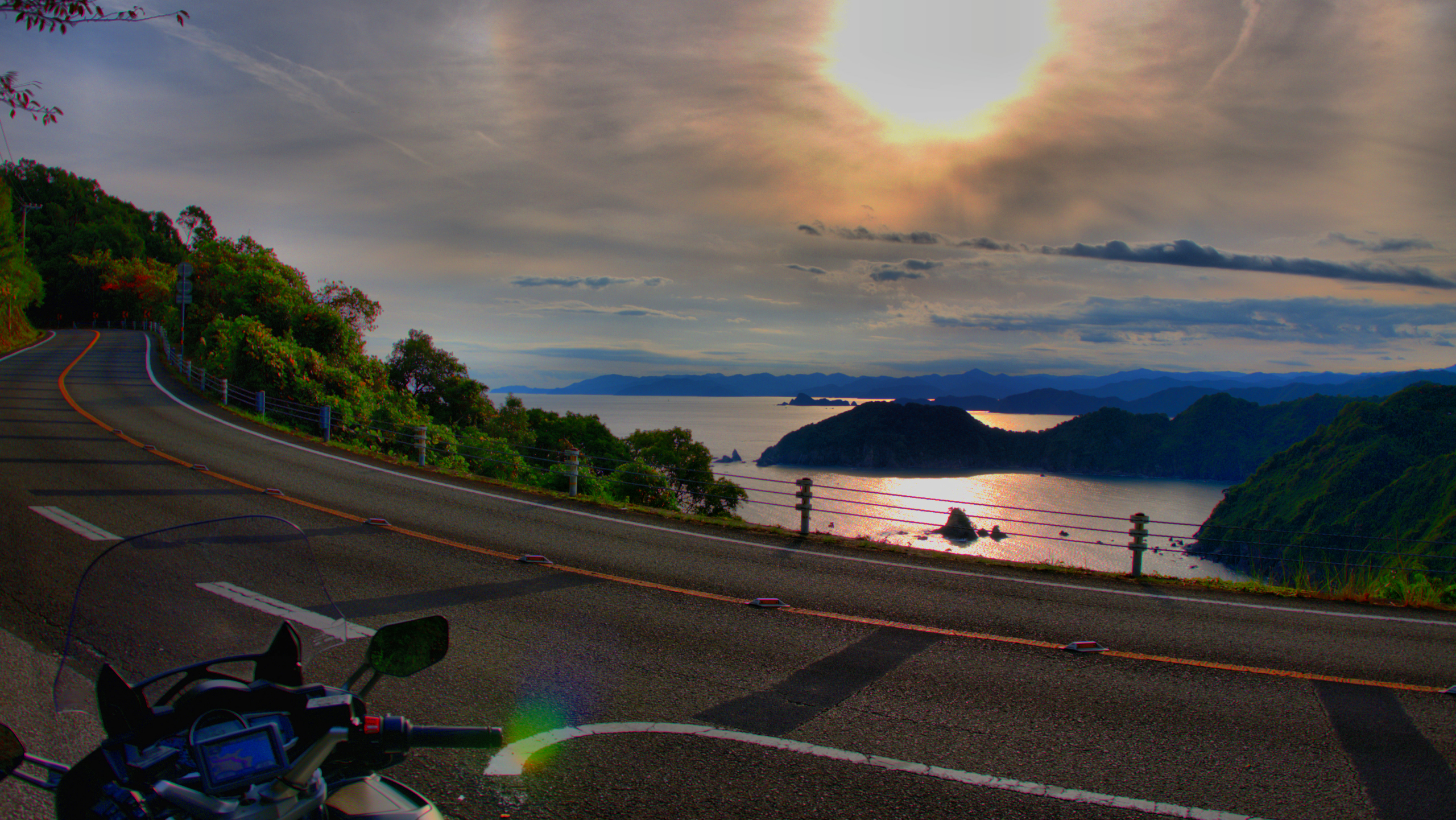 A superlative day of riding. Todays route brought to you by Doutor coffee which turned out to me my pick of the milk ice coffees sampled this tour.
Day twelve. More fine weather greeted me today. It was to be a short day of riding as the afternoon would be on the water leaving Shikoku by ferry. I rode the excellent 195 route from Kochi to Tokushima. The road hugs a series of rivers and while tunnels have by passed what must have been a much more twisty road in the past the mostly sweeping type corners suited the FJR well enough.
A lot of old suspension bridges on the rivers to I presume to serve houses previously on the other side of the bank with a garage this side. Now all abandoned along with shops in small villages which is a common sight on rural roads. Some interesting little places I took a look around since I had allowed ample time before the ferry.
Some nice reflections on the river as it slowed into a lake where nature decided to show off.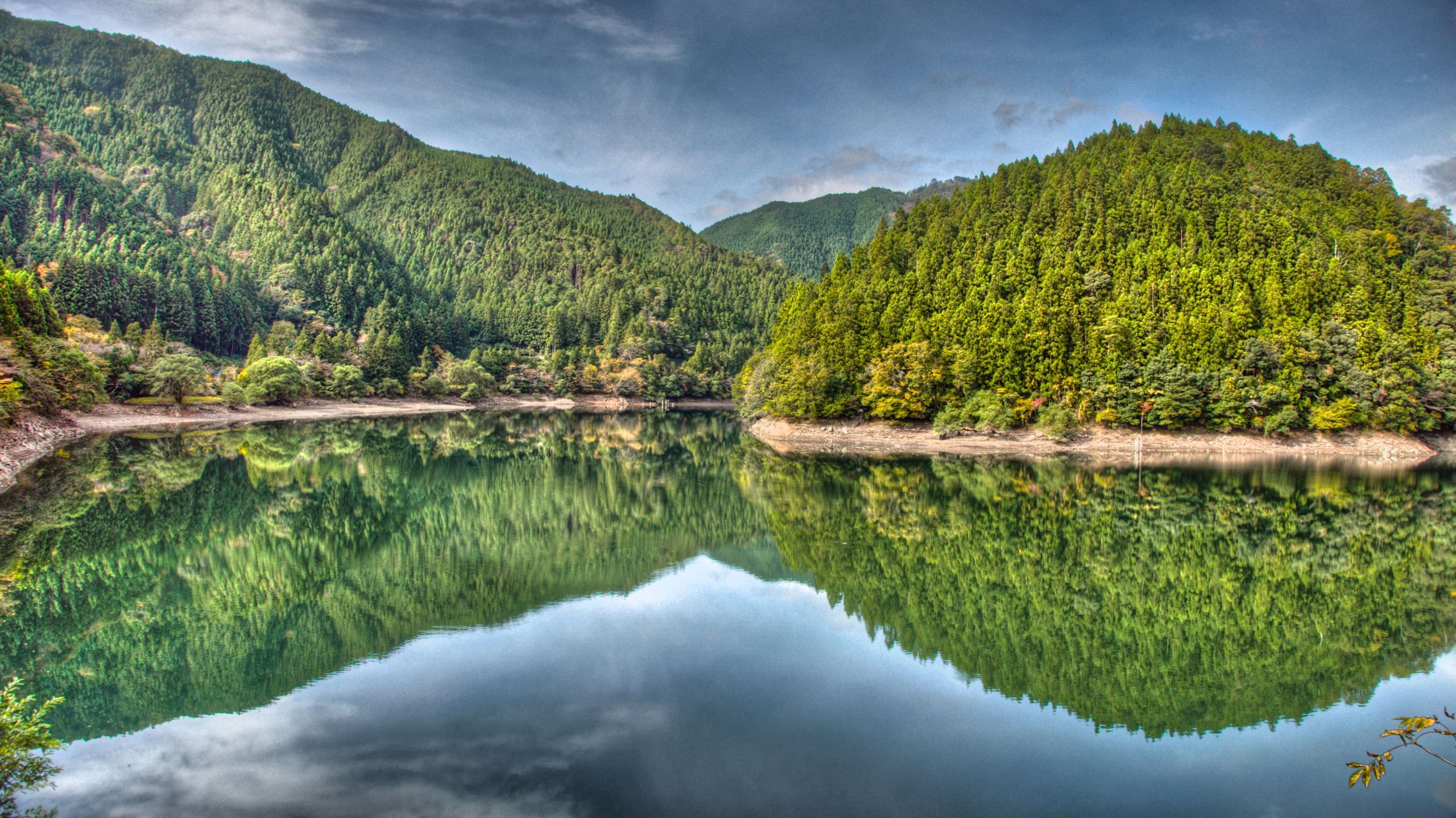 Shikoku really has some majestic countryside. All this in just a mornings ride.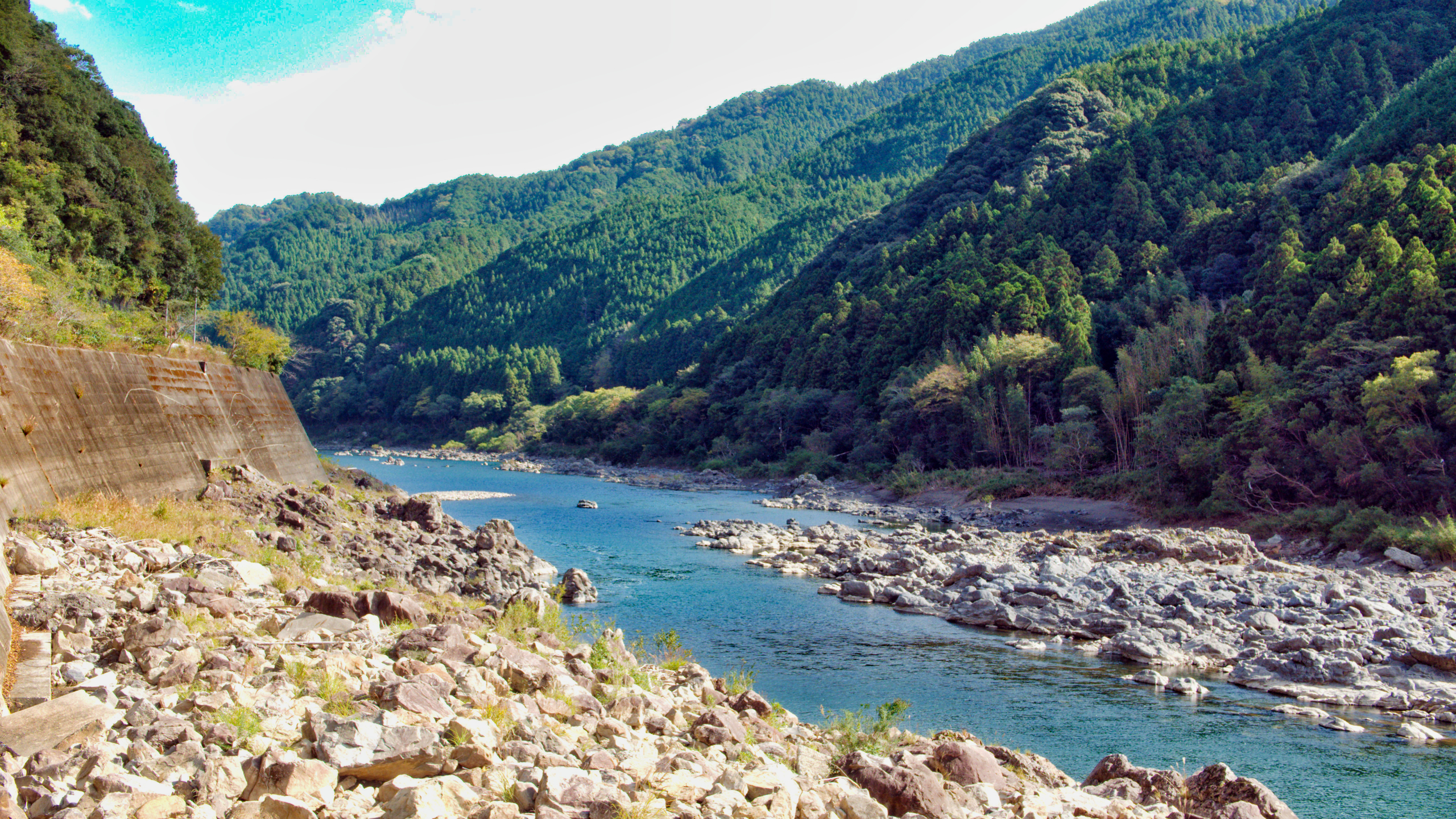 I wanted to try capture how the country roads swap from wide to narrow without warning. Here is one example taken with the cube, the road ahead actually became even more narrow beyond this with no passing spots for two cars. Fortunately on a bike there is always room but when I think about driving some of these roads it would be interesting.
Met some few bikers at the ferry also touring. As always with riders they were friendly and wanted to talk but sadly I was not able to communicate much as I still cannot get past the basics of the language. That 250 would be great little machine to explore all the abandoned mountain roads here but dunno about seat and fuel range. A couple from Yokohama on CB400's.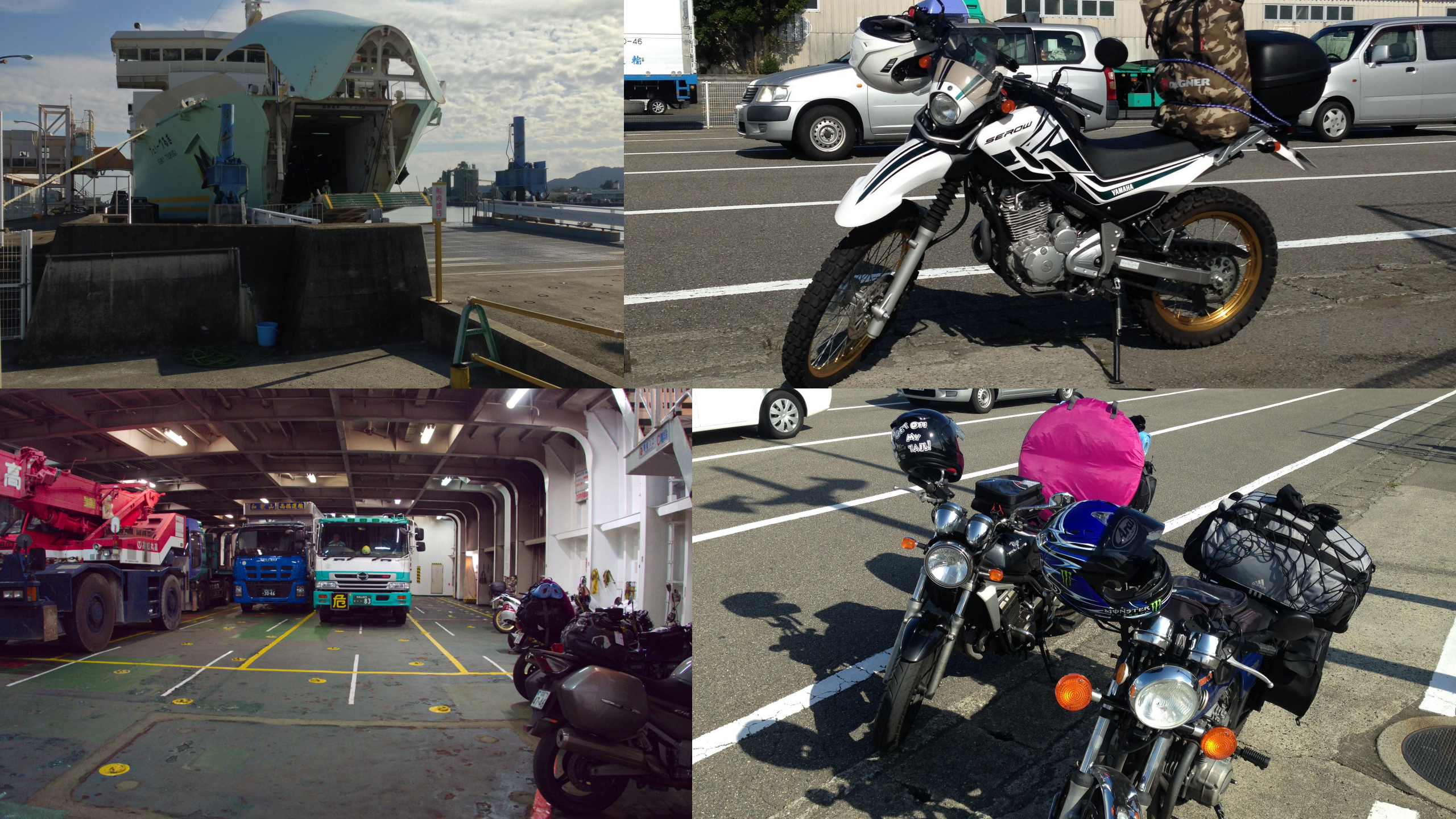 The ferry was a very relaxed trip and I just ended up having a nap for a couple of hours. No time really to look around Wakayama on arrival as sun was setting already by 4.30. Doutor coffee makes a encore appearance today.
Day thirteen. Today I had a bit of an ambitious route planned. First to revisit the Ryujin Skyline which had been very scenic last time but also crowded with vehicles on a public holiday so not much of a ride. Then some narrow less frequented roads in Nara which I wanted to explore despite the FJR being slightly too large for adventure riding. An over cast and cold morning was big shift in weather from the warm days on Shikoku but I kept reminding myself long as it is not raining then I shall have no cause for complaint.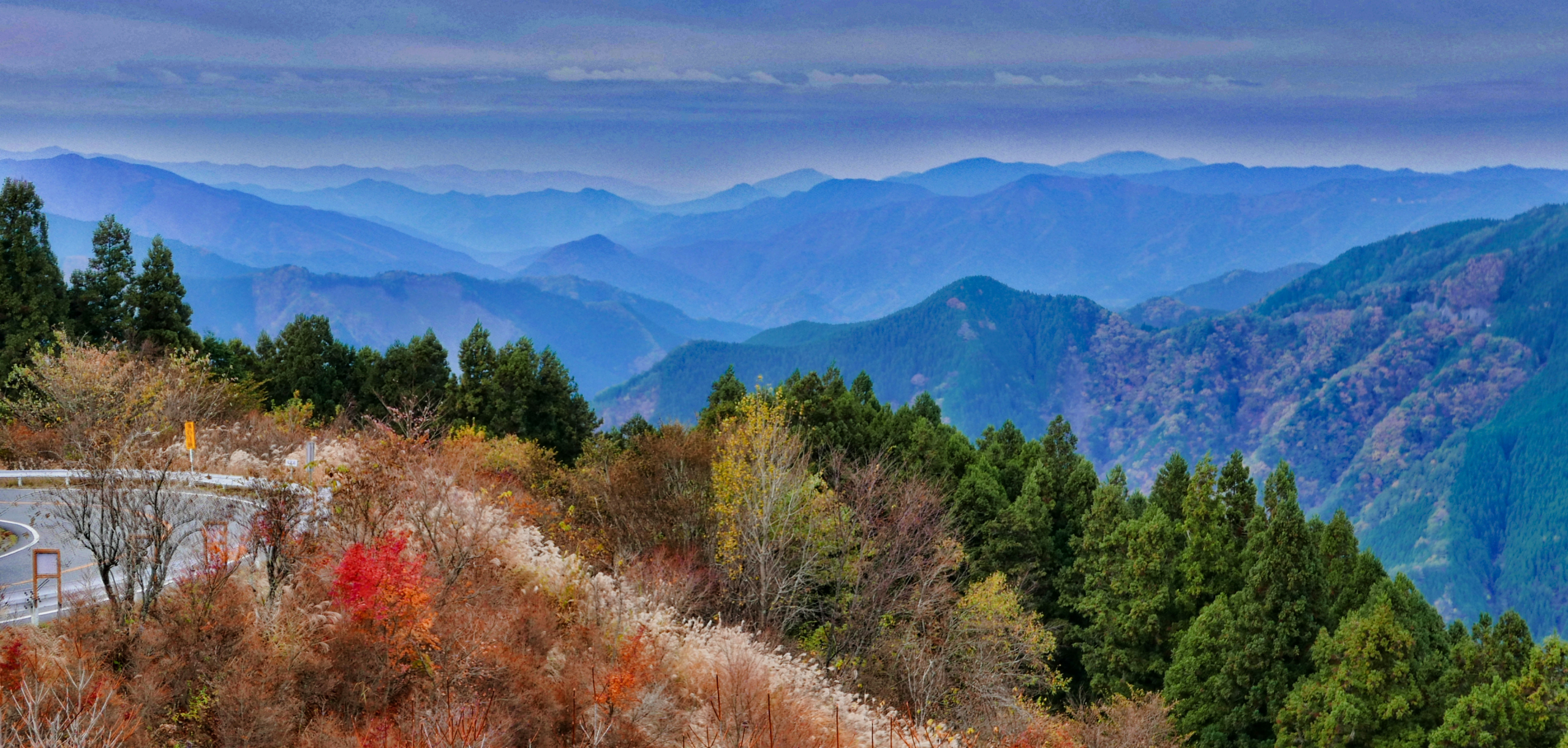 On the north the roads were dry and free of cars so in a uncommon move for me I rode on past my turn off and down a good portion of the northern side and then came back up just to enjoy the lovely set of bends and perfect surface on a day when I seemed to have the area to myself. Then I returned to my route which was a series of minor roads I wanted to try use to connect the Ryujin skyline route 371 with the 169 route. I really wanted to ride both but decided to do a bit of each. Often narrow one lane roads but very pretty riding along in these isolated valleys following small stony river beds.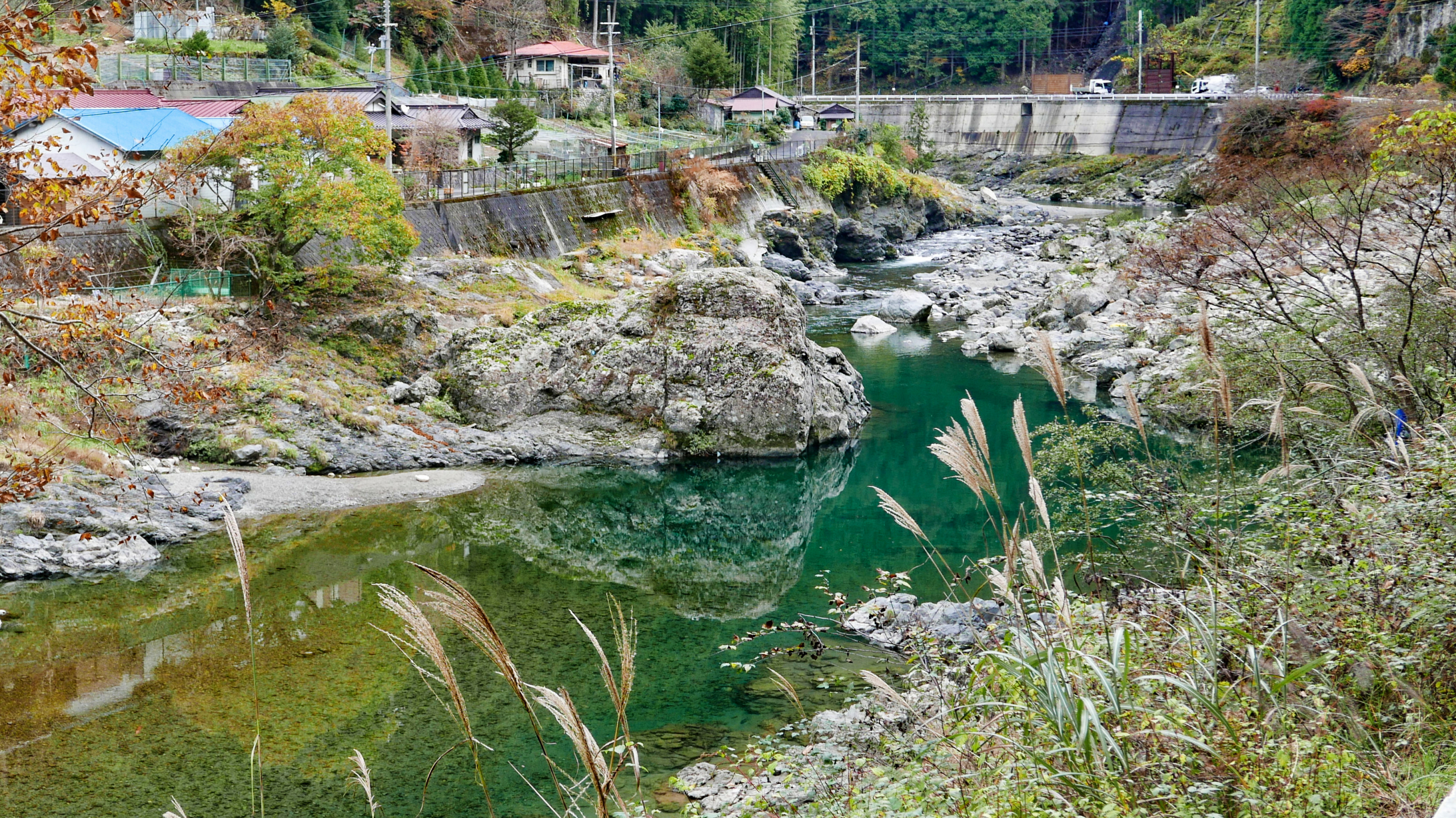 I was thinking every journey has a secret destination you are not aware of when starting out. Perhaps this pretty valley was it for me with small waterfalls like above and crystal clear rock pools, I had no idea this side road would be so enjoyable.
Then things got very isolated on route 309. I ran into some rain but fortunately it restrained itself to a light drizzle and some mist at the very highest points of the range. I stopped for lunch at the spot below. Not another car came past that whole time. I could see the clouds completely covered the ranges ahead I had planned to ride so I decided to cancel that side trip portion of the route as it would be pointless. That probably worked well for me time wise too as it had been slow going in the fog today. The saving of 40km would give me time to stop and look around a bit more.

Before leaving the interesting route 309 to join the 169 I came across this abandoned house in a beautiful position next to a couple of waterfalls which I did not manage to photograph well but it was like a post card setting and must have one time been someone's "falling water" weekend retreat but now left to fall apart. A reminder perhaps how fleeting time is.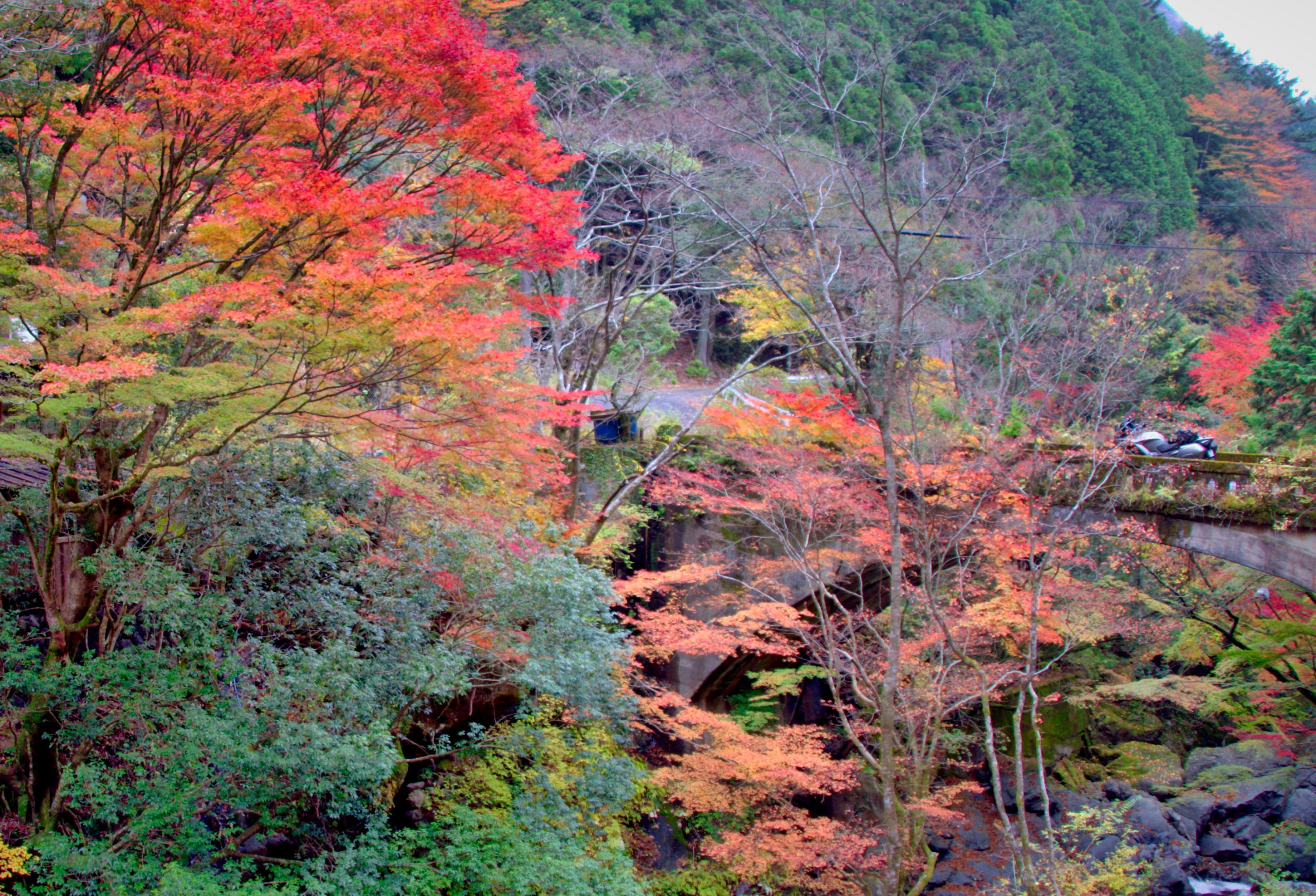 A few spots of rain but a nice ride from here to Matsusaka. First on some of the 169 which is a great road well engineered and then on more rural roads with small villages frozen in time.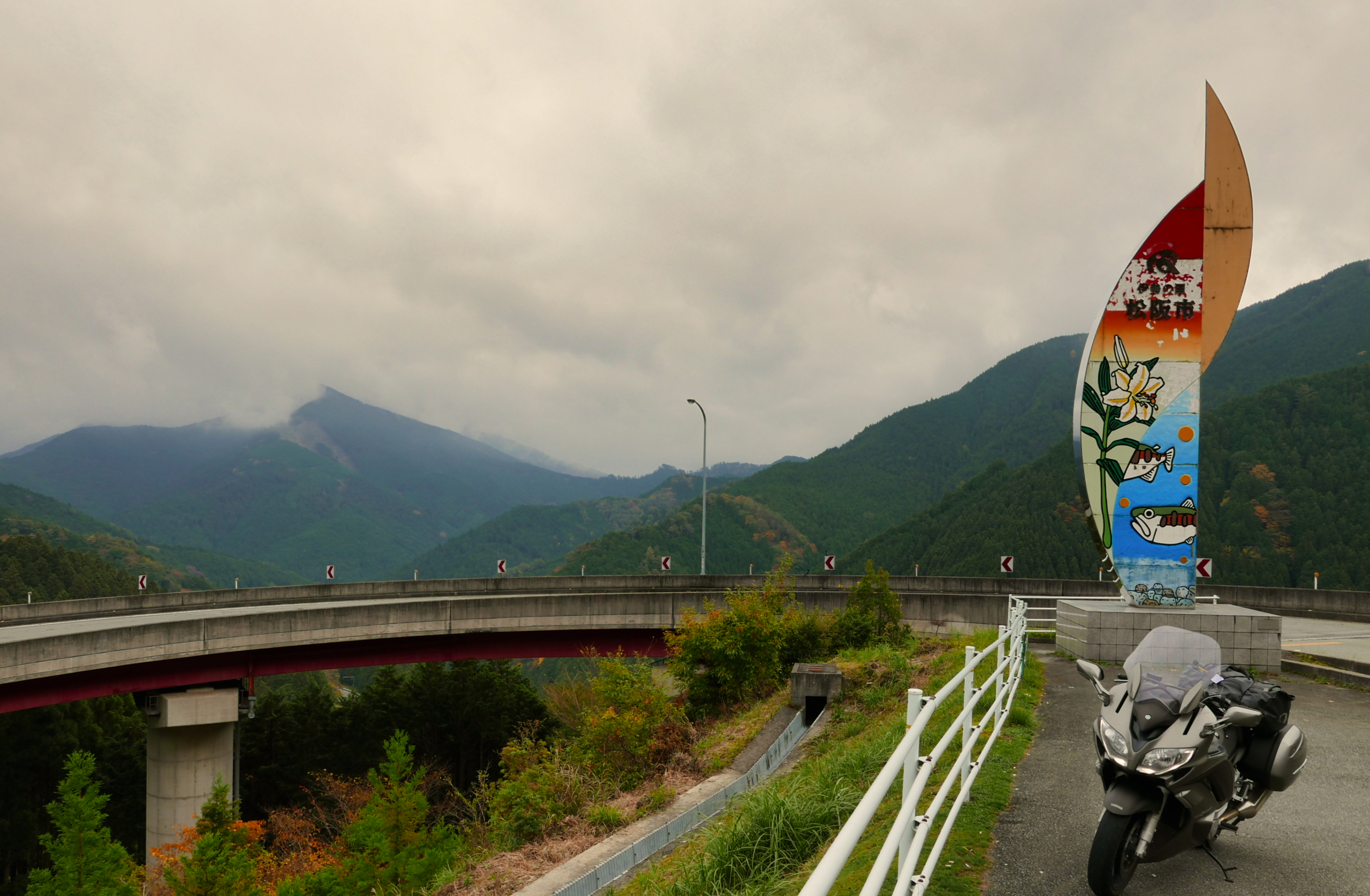 And todays route comes to you from Mt Rainer (the mountain of Seattle) rich caramel macchiato!
Day fourteen. Final day. With the exception of day two I have had an almost miraculous ride in between the rain which was often everywhere but on me. No escape today as there was strong wind and steady rain widespread. But still I think I was lucky as of all days this was the one when I had not much planned. My idea was to ride the Ise-Shima skyline then take the ferry from Toba just to see what it was like but I had the option to simply hop on the expressway and ride so that is what I did.
The weather was rather bad but I ventured out wearing my Alpinestar Andes drystar two piece and Halvarsson waterproof neck gaiter, Held Rainstar gloves and TCX Evo explorer Gore-Tex boots. Everything worked not too bad but one slight water leak. The Andes jacket had a leak at front collar like it did in Ireland despite the addition now of the neck gaiter. After about 3 hours I could feel dampness and pulled in to a service area and changed shirts and tried to secure the collar better. Still unsure on this problem but will update my review of the jacket elsewhere on the blog as things progress.
The gloves were fine until I used the grip heaters which on a 10 degree day I really needed. Being then warmer on the outside than the inside the Gore-Tex allowed dampness to penetrate the gloves. I had a spare set of winter Gore-Tex gloves to swap over to. The pants were ok but always want to ride up my legs which is annoying on cold days but a real problem on a day like this. At highway speeds eventually the insufficient coverage at the top of my boots meant a small amount of water came in. The boots themselves perfectly waterproof but these pants are a problem and as I mention on my review of them I have no idea how they can ride up from almost touching the ground when standing straight an amount of about 30-40 cm to the top of my boots when sitting on a bike. I will be going back to my old pants by the looks. Anyway good info to know for my future riding I guess.
If anyone would like the GPS routes then leave a comment. I am going to post the small maps generated by the Ride with GPS phone app in future rather then a link to the route at the site. Of course if you arrived here not having read part one of this tour then you have missed out on a bunch of good stuff so take a look HERE