I have now completed a few tours and (70,000km as of 2019) on a 2014 FJR1300 and feel able to give a detailed view of the bike and talk about some its strengths and weaknesses.
Please bear in mind my words relate to how the motorcycle fits my body and my riding style. Twisty roads here in Japan are nothing like what people consider twisty roads in North America. Switchback narrow one lane mountain passes are common. Most twisty roads here are 2nd gear. If I am not using the nationwide tollroad highway network then I am unlikely to use 4th or 5th gear in a entire days riding – no joke.
So nothing at all like any of the roads I have toured in Northwest States of USA or Canada. Lastly this is a dynamic article about my journey with the motorcycle. I am going to love and hate some aspects then over time I hope I adjust to things and moderate my comments.
First a recap how I came to currently be riding a FJR1300. (Feel free to skip down to the beginning of the review titled Drivetrain). After owning a series of naked/standard bikes I moved to Japan with a clean slate I got to thinking what sort of riding I would be doing in the future and decided I would be focusing on touring. I can tour on any motorcycle but thought why not get something built specifically for this purpose.
Three things came to mind I wanted. Electronic cruise control. Decent protection from cold wind as the best riding seasons here are Spring and Autumn – adventure bikes do not provide this. Lastly reasonable cornering clearance which eliminates cruiser motorcycles. So at the time of purchase early 2014 I was left with the BMW R1200RT, BMW K1600GT, Triumph Trophy, Yamaha FJR1300 and Honda Goldwing.
I half had my mind made up to get a BMW R1200RT. It is a bike that I had previously ridden in North America and is the lightest of the bunch but the one I rented had some electrical faults that plagued the screen and cruise control and heated grips. That made me examine the brands reliability and it was hard to work out on the net if the brand has poor reliability or simply a lot of haters. Still many people are fans so I took a trip to my local BMW dealer and there lost interest totally after encountering a bunch of rude people with elitist bad attitude. The Yamaha shop on other hand was full of down to earth people who made me feel at ease and confident to purchase from. That really was a big part of initially swaying me away from the BMW along with the significant price difference.
I chose the Japan designated FJR 1300A model without the electronic gear shift or electronic suspension. I normally set suspension once right then forget so no need to have that feature. The paddle shift interested me but my concern was with a big motorcycle how low speed maneuvering would be. Reviews of the electronic shift are impossible to find. (Now that I am used to the size and weight I think I would choose the electronic shift)
Even without those two electronic features there is still a lot of technology. You can read about specs galore elsewhere on the net as most reviews seem full of that but very short on actual 'bike review'.
Drive train
The 1300cc engine is powerful and turbine smooth up to 4000rpm where it gets a mild buzz that you feel in the bars. I rarely exceed this rev point with local speed limits as there is ample torque available 2000-4000rpm covers 90 percent of the riding I do on backroads. I do like how smooth the engine is.
(2016 notepad. Hoping back on the FJR after riding the 3 cylinder MT-09 the engine seems so silky smooth compared to the inline 3 raspy engine)
Passing anything on the FJR is just a twist of the throttle in any gear, even lumbering along in 4th gear 2000rpm it will surge forward. The engine only needs regular fuel not premium. Using premium Vs regular sees no noticeable power or fuel economy difference in my back to back full tank comparisons which is a strong point when premium fuel is much more expensive. (Note the engine computer is set for regular not premium on this Japan model but overseas might be different) (update I have switched to using premium after my injectors got clogged up)
Once run in the engine consumes an average of 4.5 litre per 100km which is really impressive considering the size and power. Smaller engines I have used often do not achieve any better economy so this is an excellent result, naturally work the engine harder and that sort of economy will vanish. (2016 notepad – it is using at least 25% more fuel than the computer is predicting when I encounter traffic but on a recent all open road ride in Hokkaido the economy improved to near 4l per 100km)
There are two engine modes Touring and Sport and whilst Sport has higher performance I use Touring mostly as I prefer the less abrupt acceleration and softer engine braking in that mode. Oddly the throttle has a overly firm return spring, something I see first reported back in 2006 by the editor of AMCN magazine. Now that it is purely electronic ride by wire throttle there is no reason for this.
In Japan everything motoring is a hybrid or eco and I wish Yamaha had tried made the electronic shift model have idle run stop like the new Gold Wing since you get bathed in heat at traffic lights. Nice in cool weather but terrible in summer. What you get is Eco displayed in the dash when you are riding it normally which disappears if you use the throttle more generously. I am always surprised at the push back from motorcycle press to safety and economy innovations on motorcycles. But then the motorcycle press has for as long as I can recall been made up entirely of ex motorcycle racers. We have them to thank for being fed press releases masquerading as reviews and any comparison being won by the most powerful bike regardless. But I digress.
The FJR engine sound track in my opinion is ok. The drivetrain has a whine that some people dislike but I kind of like it. The twin mufflers give a nice balanced look but I'd prefer a weight saving of just one if it still worked as well.
Journalists, perhaps burdened with finding something irrelevant to criticise, have been going on and on about the gear box not having a 6th gear. All you are getting with another gear is a further ratio split on the way to top not a whole new overdrive as is being suggested by these numpties. More shifting is completely unnecessary and a negative on an engine with this much torque.
On the FJR I often shift from 1st to 3rd immediately leaving the lights (2016 notepad – or now I often start in 2nd gear) and I simply leave the bike in 3rd whole time and rarely use 4th, then 5th is highway only. So I personally cannot see what the fuss is but throw enough mud and some will stick. (Yamaha have changed to a 6 speed for 2016 models caving in to the press.) That aside the gearbox itself was initially notchy to shift, maybe it has a very positive engagement is a nicer way to put it. Click into 1st at the lights results in a ker-thud and slight jerk of the bike but that is perhaps the final drive not the box. I was calling the gearbox agricultural initially but it is fine once it has some miles on it and now shifts precise.
The clutch however is old school in the amount of effort needed to operate. It is no exaggeration one of the heaviest motorcycle clutches I have experienced. I need to always put the bike in neutral when stopped in traffic as after a few hours riding I cannot comfortably hold the clutch in for any length of time. By the end of a long ride day I sometimes groan when coming to a red light as it means having to operate the clutch. (Update the 2016 model has lighter clutch)
Final drive is via shaft which for me is good as I dislike the noise and mess of a chain. A belt drive for me is nicer still since it has zero lash. When I owned my Buells this was something I loved but there was always a question mark about belt reliability. I can just ignore the lash with the shaft drive but it is certainly there and at times I notice it. Some people might find it bothersome but all these big tourers are shaft drive. (2016 notepad – the on off lag and the sound of the drive taking up the slack can be noticeable at times but no mess, no lubing, no new chain and sprockets…)
Brakes are linked with ABS. I find they need a very strong pull on the lever to slow the bike down. They do not always deliver as much stopping power as I would like and would benefit from having the master cylinder from the R1. (2016 notepad – an issue is not all the pistons in the front brakes are activated when you use the front brake lever. You have to also apply the foot rear brake which then lets the other front brake piston activate in the front calibers to apply full braking. Yes seems crazy I know but I am not making this up and it is a big negative)
Ergonomics
Seating is good for me. The seat is height adjustable and this was a feature I was looking forward too. I am 6' and in the high position I find the distance to the pegs is comfortable for all day riding. Much like BMW, Yamaha offer a 'touring' seat as an optional extra which is annoying considering you are buying their 'touring' motorcycle however the standard seat is quite good. The wide tank splays your legs a little but I found I soon adjusted to this. (Update 2016 – I do wish now the seat was heated like the BMW)
The position of the handle bars is poor for me. I have long arms and am 6 foot but they are too far forward and low. This puts the rider into a odd semi sports bike ride position. The bars can be adjusted in 3 positions which I assumed would bring them back to a more standard position however the amount of adjustment is tiny. I installed a bar riser plate to bring the bars up 25mm and back 40mm which given my arm length has them almost back to a neutral position.
Wind protection is close to spot on. The fairing and screen strike the perfect balance between protection from cold air and allowing some breeze to the rider in summer. Some reviews have commented that the riders hands are not completely shielded from wind like the other bikes in this range however I think that is one of the FJRs good points. In summer the rider can still get some air to his hands and into his jacket sleeves from the cuffs to keep arms cool which makes a big difference to rider comfort.
The electric screen is excellent. Lowered it allows good air flow in summer and raised it stops cold wind very effectively with almost no turbulence, I can even ride with my visor up at most speeds. The screen is one of the best feature of the FJR and one I am constantly using. I don't need so much focus on my riding gear as I can control the temperature by the screen and I get no strong buffeting turbulence unlike the short screens on adventure bikes but YMMV. (ignore the silver washer taped to dash – used to hold something at the time)
The instrumentation or dash is a generous array and one of the best I have encountered on any motorcycle. ( recent colour screens are making this look dated now). On power up the LCD on the right displays an animation using the FJR logo and then read outs as per your selection from the multifunction trip computer. (2016 Update – note the info the trip computer displays is custom set by you over three separate screens, I have on my main screen km range to empty, ambient temperature and trip time which I like to review to make sure I stop often when touring)
You can also see info on the heated grips, electric screen here. Everything is accessed by a rocker switch and select switch and the right screen. So much better than the new GoldWing with dozens of buttons, why didn't Honda use the 7″ screen and a menu system, but I digress.
Unsure if global models have these features but the Japan domestic one has the starter incorporated into the large power off button on the right hand side controls. This is a brilliant idea, the switch is a rocker that you flip down to start the bike and it then returns to run mode. Those power off switches are really a legacy item from old bikes where you kick started them so it is nice to see Yamaha think how to actually make better use of the limited handle bar space.
On the road
The FJR is a heavy motorcycle which any buyer would be well aware of however the issue for me has proved to be the weight does not disappear once moving as much as other large bikes. This could be due to a high COG. For example all 25 litres fuel seems to be sitting up high and wide. Then it's large battery and wire harness is placed in the upper fairing on the right hand side next to the dash. (Just while I am talking of this, access to the battery and fuses is very difficult)
The lack of mass centralization shows on the road with full fuel load. The FJR requires significant input to initiate turn in which was hard to achieve initially with the bars so far away from the rider. It also was seeking to understeer requiring the rider to keep applying pressure to hold a line. It is not due to brake use or off camber roads or under inflated tyres as the owners forums would try tell you, I've tried all tyre pressure suggestions (and now 6 brands of tyres) and this is not the issue at all.
There is a separate chapter at the bottom of this review on my progress in making the FJR1300 steer better. I have altered the steering angle at the front and rear and discovered how to make it steer better.
The suspension does a fair job soaking up bumps, dampening is not as plush as the BMW but the electronic suspension model FJR might be a match. For the majority of roads here it is fine but the forks high speed compression damping is harsh so depending on your road conditions this could be annoying. The weight of the bike can sometimes overwhelm the front end but it is a heavy tourer so ride with that in mind and it is fine.
The FJR has a huge 25 litre fuel tank and range is 400km or more on highway. This is terrific, I can go the day not needing to think about fuel. It is not hard to make rest stops and refuels coincide but it is nice to not have to and to not be constantly looking at the fuel gauge/odometer and doing the maths on the next refuel all the time. It is a burden lifted from my shoulders when riding and lets me enjoy the ride more. The down side however is a lot of fuel sitting up high and when you have a full tank it affects steering as already mentioned. The tank shape is very wide which splays your legs wide.
(Update 2015 – Note reversing the bike can be difficult. The tank splays the legs a lot when your legs are angled forward to get leverage needed to push the weight of the bike backwards. At this point you also have less traction on the ground. I have already lost grip and balance once twice and then the weight of the FJR and high COG was more than I could hold so it ended up on it's side. No damage except few scratches which I guess shows how tough it is but shorter legs would find it a little challenging at times to reverse due to tank design and mass and you really need to be careful when parking if at all on a slope must stop and back in or you may struggle to get the bike back out as no reverse gear unlike the Gold Wing)
I usually never ride at night, just too dangerous with wildlife in Australia but here there is less risk and I found myself stuck an hour from my hotel in the mountains as the last light faded. The FJR headlights are large but like most bikes do not light up the road ahead well when cornering. (Update I see Yamaha have updated FJR to full LED lighting for 2016)
The heated grips work very well. They have three levels of heat which are all sensible and useable unlike some grips which go from nothing to red hot in one setting. They are controlled within the multi function menus available to rider via the mode button on the left handle bar and this system makes it very easy to see what things are set to and move between the functions while riding. (Update 2015 – I never knew you can set the heat for each of the 3 settings custom to how you want – this is really great)
The electronic cruise control feature I wanted so much that it limited my candidates is wonderful even if so far I don't use it as often as I expected. An oddity for Japan models is the cruise control speed is capped at a indicated 108 kph but the speedo is 8 kph fast so actual speed cap is 100 kph. Now this isn't really a issue for me as the national expressway speed is 100kph (but mostly reduced to 80kph) and being in a foreign land I don't want any interaction with police so I just set it for 108 (actual 100) and limit my time on expressways.
The FJR actually works fantastic on the expressway at 130-140kph, I suspect that is the speed it would be used at on USA interstates. The FJR is enormously comfortable crunching miles. With the screen up and cruise set it almost rides itself home. You have a bike that on the expressway offers comfort levels of a maxi tourer (once the bars are raised) then off the expressway you return to a bike that is more sporting. How sporting you find it off the expressway depends on the roads and your stage in life of riding. Make no mistake it is a big bike but I find it enjoyable in the corners at the pace I ride these days. Sweeping corner type roads the bike works very well. Sharp switchbacks it is not as good of course as they suit small light bikes. There is perhaps no motorcycle that does everything perfectly but as a sport tourer this is not bad balance.
Fit and finish
The paint in Dusty Grey finish as it is called here looks a bit better in real life than in photos and while not as nice as the similar tone 'Atomic Silver' Toyota put on their Lexus cars it is a reasonably good finish but can appear dull for reasons I do not understand. Update – see the difference I was talking about, so close in tone yet look at how one is dull.
The other option here was chocolate brown metallic paint, a colour popular on many small cars in Japan. (2016 white, 2018 matt blue)
Plastics and panel alignment seems tight everywhere however the heel plates became lightly marked after a few months but that is not uncommon riding any bike in boots they rub together and this could be mostly buffed out I think. The screen still looks great with few applications of plexus plastic cleaner.
Update 2015/2016 – everything still fine with fit and finish. I am impressed with the build quality of this bike, all the plastics still look like new and I only wash it a couple times a year and it lives under a plastic cover not inside a dry garage so top marks to Yamaha in this department. Update 2019 – still looks almost same as when I got it, very good build quality this bike.
Looks are very subjective. I personally like the classic naked bike look of the 60's like the CB750. New bikes I like looks wise are models such as the Moto Guzzi V7 or CB11100EX but these are not as good for touring so as stated in the beginning I chose the FJR for function not form. But I think it is much better looking than the BMW R1200RT with it's ugly cyclops headlight.
There are two storage areas under the seats, one looks suspiciously like the original battery compartment. There is also a glove box in the left hand side that central locks with the ignition off and contains a power outlet but the glove box is very small. It's actually too small to be of much use. I would love to put my camera in there but it won't fit so it ends up unused, I just keep a small visor cleaning cloth inside. (2016 notepad – I use this compartment now for toll road tickets, very handy to drop them in there rather than fiddle about to put into a pocket at the toll gate. Wish the other side had one instead of the battery)
I have the factory Yamaha panniers which hold plenty without making the bike too wide. They operate by the same key and look quite stylish as far as luggage goes. They easy hold all my touring gear while I use a bag on read seat for personal items to easy carry into hotel. (Update 2015 – been in plenty of rain and nothing has gotten wet so the panniers are totally waterproof)
The front has a LED daytime running light bar but during daytime you can hardly notice it when the lights are also on, which in most countries is all the time hardwired. (see above) It looks very stylish on by itself in low light. Good on Yamaha for trying that at least.
The headlights have twin height adjustment knobs in the dash. With the large dash and a lot of plastics in the way it would be difficult to adjust the headlights manually so this is a nice touch. (Update – I see the 2016 model has lost the daytime running light bar but gained turn lights)
There are adjustable side panels in the fairing which I thought may offer the rider the option to deflect additional wind in winter however these according to the manual let you undo them if riding in very hot conditions for the sake of engine cooling. If they had some ratchet hinge then perhaps might be able alter the wind for further protection in winter which would be a unique feature. Perhaps designed for California where it can reach 46 degrees as I experienced when there.
Summary
I like the FJR1300, it has many great points. I think it is a superb long distance bike and also good for moderately sporty road riding. I can see why it is very popular in North America and would suit the roads I toured on there very well. Reliable engine has good torque and is fuel efficient as well as not requiring premium gas. With cruise control, comfortable seating with good cockpit aerodynamics it is a nice place to be on the open road. It is slower steering than the BMW R1200RT I rode most likely due to the higher COG, especially with a full fuel load but there are other factors at work. I have made some changes that bridge some of the gap (read on below). Apart from that I like the FJR in every way better than the RT.
I can't help wonder why Yamaha have done so little to lighten this bike which in some parts is unchanged since 2001 but the touring category is being replace by the ADV bikes. The FJR is known as a super reliable bike, something that was a strong attraction for me and this reliability does not come burdened with expensive frequent servicing. In Japan the FJR is half the price of the R1200RT which is a lot of icing on the reliability cake. That was not the decisive factor for me however the money saved will pay for all my touring and ownership costs for about 5 years or more which is pretty impressive. It is certainly a motorcycle worth considering if you are a touring rider.
Afterword
I guess all this reads a bit different to motorcycle magazines which are big on specs and small on details. Journalists and Youtubers tread carefully to keep getting things to review so honest feedback has been diluted down to a few non committal lines. Even forums are not independent these days, most are controlled by people with a financial interest. I was asked to leave the FJR owners forum because I started asking things they did not want published. But as I stated at the top, this post is my ownership journey.
---
Below is a diary of sorts about what I have done to improve the steering.
To save you reading through all this the main points are I raised the rear and lowered the front thus sharpening the steering and have tried many tyres and found the Dunlop RoadSmart 4 currently my favourite.
Making the FJR1300 steer quicker – a diary.
Update 1. I first switched to Bridgestone BT023 from Metzeler Z8 tyres. The Z8's the bike came with felt ok in the dry when new but the lifespan was very poor. Speaking to a long term owner who has over 200,000km on his FJR he suggested I try Pilot Road 2 or Pirelli Angel GT tyres. He actually rates the Bridgestone's as his least favorite tyre on the FJR (I already had them fitted before we spoke) He does not like the Metzelers Z8's either but did not elaborate on them. The BT023 feel terrific when new but after awhile they start to wear then they become slower to steer but otherwise I have no issues with them.
Update 2. I set the rear preload lever to firm all the time and this made a noticeable improvement to turn in effort but at the cost of making the ride a little firm on some surfaces. I set the front preload softer then further to as soft as possible, winding the adjuster to the stop to try get the front down and improve turn in and reduce understeer. Next I raised the fork legs in the triple clamps 20mm, I.e. lowered the front ride height which has further sharpened/increased the steering angle. This has made a 'slight' difference to turn in effort at lower speed but understeer persists.
Update 3. Angel GT tyres now fitted. To recap, I got 6000km from the original Metzeler Z8's. From 5000km they had noticeable scalloping on the front that would make the bike shake under deceleration and I did not like them in the wet either. Next I put Bridgestone BT23's on which I got 9000km from but with a still some tread left so could manage 10,000+km easy from a set. They performed more consistently than the Z8's. I have now fitted Pirelli Angel GT tyres and completed a 4 day tour. The initial understeer remains but a secondary minor steering issue that I have not really spoken about has now gone away. This is a higher lean angle overseer I.e. initial turn in on the FJR is very slow and the bike wants to not hold a line on mild curves but as you lean the bike over much more the bike attitude with the Z8 and BT23 tyres was to shift (abruptly) to oversteer where it wants to fall into the curve. (this FJR steering behavior I see was also noted by the editor of AMCN back when the 2006 Gen 2 model was tested, it's a long wheelbase thing). The Angel GT tyres with their slightly different tyre contact area radius have removed the sudden oversteer and they also are quite good in the wet but they are slower to turn in than the BT23's.
Update 4. I have further raised the fork legs in the triple clamps to 27mm, I was aiming for 30mm but this is as much as I could get the right hand leg to come up working by myself at home on uneven ground so I set the left side the same. The additional change to the steering angle has achieved nothing much that I can tell and I am not prepared to go further for fear of running out of cornering clearance. Altering the front ride height/steering angle would seem to make little difference to the FJR turn in speed. I was foolishly confident this would help after reading owners forums where slight changes were reported to make the bike 'too unstable' which of course turned out to be total nonsense, the turn in speed remains slow. The rear ride height is my next place to try and I have ordered new components to raise the rear. This is my dropped front now.
Update 5. I have installed new rear 'dog bones' links to raise the rear ride height thus further increase the steering angle to thus quicken the turn in. I ordered what was advertised as the 30mm raise links but not sure if I received that or the more popular size of USA imperial 5/8ths which equals 15.875mm. A small difference in length equates to a lot of height or drop vertical so not able to gauge by the part and I did not successfully measure the difference before and after but anyway it should go some way to making a difference and check back here in a few weeks for the results. A success of sorts.
The new dog bone rear links that I confirmed with the supplier to be 30mm raise has really made a difference. With the new links fitted the FJR turns easier than before and feels so much better in the corners. Even with a full tank the steering is improved but once the fuel load drops the bike really tips in easier (for the size bike it is) and feels a very different machine to before. The weight up high is still there and I don't think it will ever feel as light as a RT on the road but the change from these links is quite dramatic.
I just completed a two week tour and really enjoyed the way the bike rode while the tyres were good. The Pirelli Angel GT tyres unfortunately wore out quite fast, about 6000km the max before they were quite scalloped and made steering heavy. I have 7500km on them now only because I had to get back home and the tyres are completely bald on the sides. The best way to install the dog bone links is to put the bike on centre stand and loosen the dog bone links then use a jack to lighten the rear wheel from the link pins (not supporting the bike which is on stand just the wheel weight) take the top pin out then remove the shock lower mount pin and rotate the lower link pin forward past stand then remove. On install use the jack to position the wheel at correct height to get top pin back in with new length links.
Update six – 2016 – Michelin Pilot Road 4 GT tyres just fitted. Also I am trying a 190/55 on the rear. Initial impression is the turn in is much slower and not able to say this is the tyre tread design or the 190. The 190/55 if I believe the owners forums should correct the speedo which is annoyingly 10% under the real speed and the extra height of this tyre should offset the affect of the width. Time will tell… Righto I can update this now after a 9 day tour on the Michelins. First of all the 190/55 profile does not correct the speedo as reported on the owners forum. Typically the speedo is out about 10% on all digital dash FJRs. Why Yamaha deliberately does this is a mystery, but it is deliberate as they then set the cruise control to maximum 100kph as per the true speed. So i.e. they knowingly sell the FJR with the software that displays the speed altered to display 10% over the true speed.
In testing my speedo used to read 108-109kph when doing 100kph and now at the same 108-109kph reading the true speed is 102-103kph so only a slight alteration from the 55 profile. Wet and very cold these tyres are sensational. But compared to the Angel GT's the PR4 are slower to turn and has taken the FJR steering backwards wiping out some of the gains I had made in steering improvements. The other issue I have had is the PR4 tyres developed a mild shake of the bars, first just off throttle then also on throttle and then spreading to all speeds even on the highway. I was able to negate the shaking by simply holding the bars but it is a worry. The wheel has not lost it's balance weights so I will take it to the shop to see what is up with it.
Update seven – the problem is uneven tyre wear and premature failure of the front Pilot Road 4. Nothing can be done except replace the tyre. Seeing how slow they steer I decided to get rid of both of them. The rear had plenty of life left the front after 3000km was already half tread depth on sides like the Pirelli Angel GT's so very short life span on a FJR and even shorter when one has manufacture problems so never again Michelin tyres for me. Below how a 190 looks fitted – don't do it.
I now have Bridgestone BT023 R GT tyres fitted. At last the tyres I wanted right from the start as Yamaha reference these for the FJR in the Japanese literature. Naps Yokohama who fitted the 2nd set of tyres, the standard BT023's tried to tell me this model was not available. Admittedly this could have been lost in translation rather then a lie on their part (although they made a balls up of the service I had them do early this year (2016) not correctly installing the spark plugs or cleaning the air filter so I have zero trust in them now) First ride and the new tyres are a huge improvement over the Michelin Pilot Road 4. Not the shake issue but the turn in and steering is vastly better which makes sense as the steering went slower with the Angel GT's and slower again with the PR4's so I have regained two notches of steering improvement with this tyre change and looking forward to updating further on this.
August 2016 steering update.
The Bridgestone BT-023GT spec are the best tyre so far on the FJR. I have completed a 2 week tour to Hokkaido and was very happy with the way these tyres felt in all conditions. First of all in the dry they steer much quicker than the Pirelli or Michelin tyres. Bit hard for me to accurately compare them back to the Metzeler tyres when I had not made the alterations to the ride height then but since those tyres wore out prematurely on the front I shall not be revisiting them. I can only presume the last set of non GT Bridgestones fitted by Naps Yokohama were very old stock or something odd as they were 1/2 price and I did not like them in the wet at all where as three days of rain on these and they felt very secure all the time. The combo as it now stands, lowered front, raised rear, raised bars and BT-023GT works rather well. Once the fuel load drops a little say from 3/4 on it steers nearly as good as the R1200RT. So much it now has me unable to decide if I will change bikes as planned after this year.
So I got 10,000km out of the Bridestone BT-023GT tyres. Just. The rear was gone by 9,000km however these remain the best wearing tyre so far and more importantly they did not get dramatically harder to steer as they wore. Yes certainly the effort to turn increased but nothing like the Angel GT's that were incredibly heavy turn in when worn.
Current ownership thoughts December 2016.
The new 2016 Yamaha FJR has been released with some good updates to lights and clutch but alas is reported to be even more heavy. This is a motorcycle that so very much needed to lose weight. Everything now is about Adventure bikes so I presume sales of touring bikes like the FJR is probably low and there is little interest to properly update it which is a shame. I'll probably be riding this for another couple of years at this rate. I want the full fairing and adjustable screen and long range going forward – just in something lighter. At the moment nobody is making the motorcycle I want for riding Japan. A mid size full featured tourer. I would buy a R1200RT but seems a huge outlay for minor gain. It is a little lighter and further more positions it's weight lower so steers little better. But I prefer a inline four to a boxer twin and service cost of the FJR is next to nothing. It's like servicing a car, change the oil, blow out the air filter and good to go. Very very hard to move away from that sort of reliability.
Update April 2017
I have the FJR for another year. I have put new tyres on, BT-023GT's again, purchased online cheap from Yahoo store go-go-five here in Japan. These are the best for improving/lightening the steering so far. I got the dealer to renew my safety certificate and he changed the brake fluids and looked at rear drive oil but said it was fine and then blew out the air filter and looked the spark plugs but they were also fine so all up nothing much needed. This is such a low maintenance cheap to own motorcycle. I changed the oil myself as aftermarket oil and filter are fraction of cost of Yamaha branded items and as it was such an easy task. That's all up to now.
2017 Autumn update.
The FJR1300 works well for the riding I am now doing which is touring only no day rides, average 5000km per tour. The comfort of the wind protection, heated grips, seat and lazy power engine are a good match. On small narrow roads that I seek to explore more the FJR is too big, but so would be any model tourer or big ADV style bikes like BMW GS. Those forest lanes are venturing into territory for real dual purpose bikes not anything big and heavy but the sort of bikes that work well in those conditions are not comfortable for the long ride there and back.
I did a oil change recently and it is the easiest thing in the world on this bike. Google the replacement filter and you will find many online, I got mine from amazon along with the filter tool and 5 litres of oil all for about $30. It took no time at all and saved me $250 that is charged by shops. Oil in Japan still comes in tins, and only in tins, the like of which were replaced by plastic bottles in Australia as far back as late 70's.
2019 update.
Wow I have had this bike five years now and I shall have it at least some more as I cannot justify changing bikes here yet. In Japan a used bike is soon worth only half what it cost and mine at this age and mileage is worth virtually nothing resale. That's just the way the market is here, cars are the same.
Further more at this point in time there isn't really a bike that stands out as perfect for me riding Japan. I'd like something lighter but I want protection from the cold so am back looking at sport tour bikes since ADV things offer stuff all wind protection. Maybe when BMW replace the now long in the tooth F800GT that may fit the bill but I like all the bells and whistles on my long tours so it is possible the only bike that really fits is R1250RT. That is still one super expensive bike so it would have to wait until I reach a age I can access my retirement fund. At least by which time they may have replaced that stupid analogue dash with figures too small for anyone over 40 to read. I'd prefer another FJR if Yamaha properly updated it and shed some of the weight, but I doubt that will happen.
2019 second update:
The bike has developed a problem were it will not idle once warmed but dealer cannot find fault and its all controlled by software no manual settings. I have to hold the throttle open at lights or it will stall all the time, this is annoying to say the least.
On the positive I now have Dunlop Roadsmart 2 tyres fitted (could not find model 3) and these are terrific on the FJR. A noticeable improvement in steering lightness for the first 1000 km so far. Will report how long they last and if this continues and thus is compound related or if this fades soon and was merely initial tyre radius.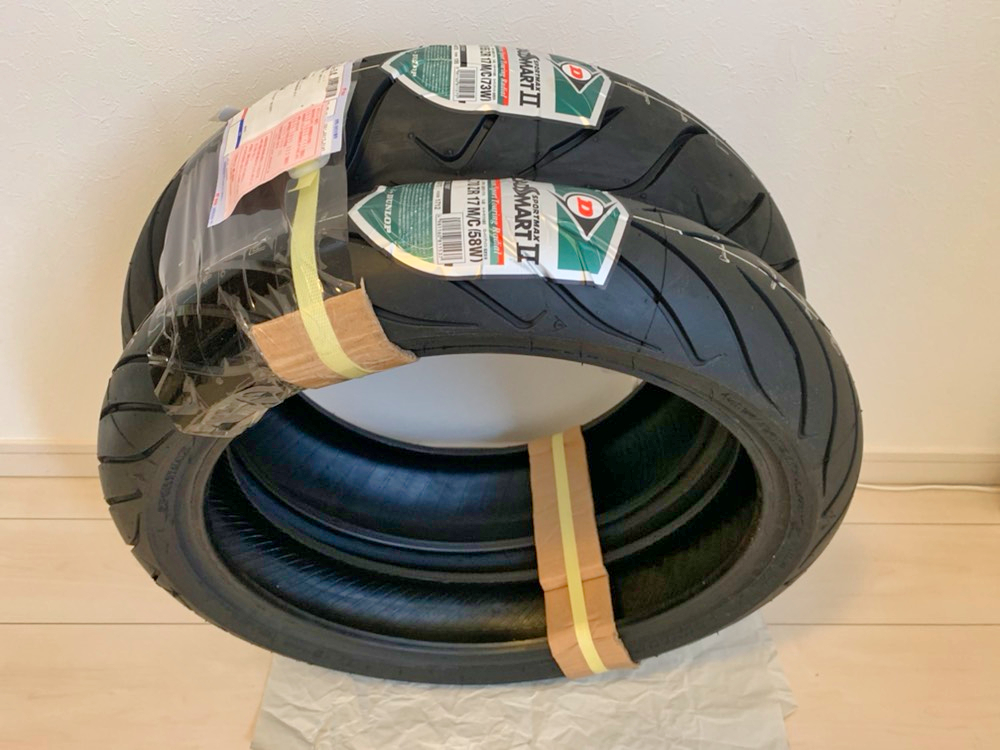 2021 Update
I still have the FJR. It will turn 100,000km in coming months.
The dealer fixed the engine idle problem eventually on 2nd visit, seems the injectors were clogged and I have returned to using premium gas despite the computer being able to use regular to help keep the injectors clean.
Those Dunlop RS2 tyres only lasted 5000km. After that I tried Bridgestone T31 GT's and they were very good match for the bike offering ease of turning and 9000km life. I am now testing Dunlop RS4's and will do a full tyre review of all the types I have used in future.
The FJR has been discontinued now which is a shame, I have come to really like this bike and if Yamaha were to do a modest update then I would certainly buy another. The Sports Tourer motorcycle category is dead, only the BMW R1250RT remains as a updated model for 2021. You can still buy the final model of the FJR which besides an unnecessary extra gear only adds LED lights. The Tracer 9 doesn't work for me, different category, Sport-ADV, offering neither offroad capabilities nor touring level of wind and rain protection. I wish Honda made the Goldwing a little smaller. Oh well for now I remain on the FJR.
Mid 2021 update.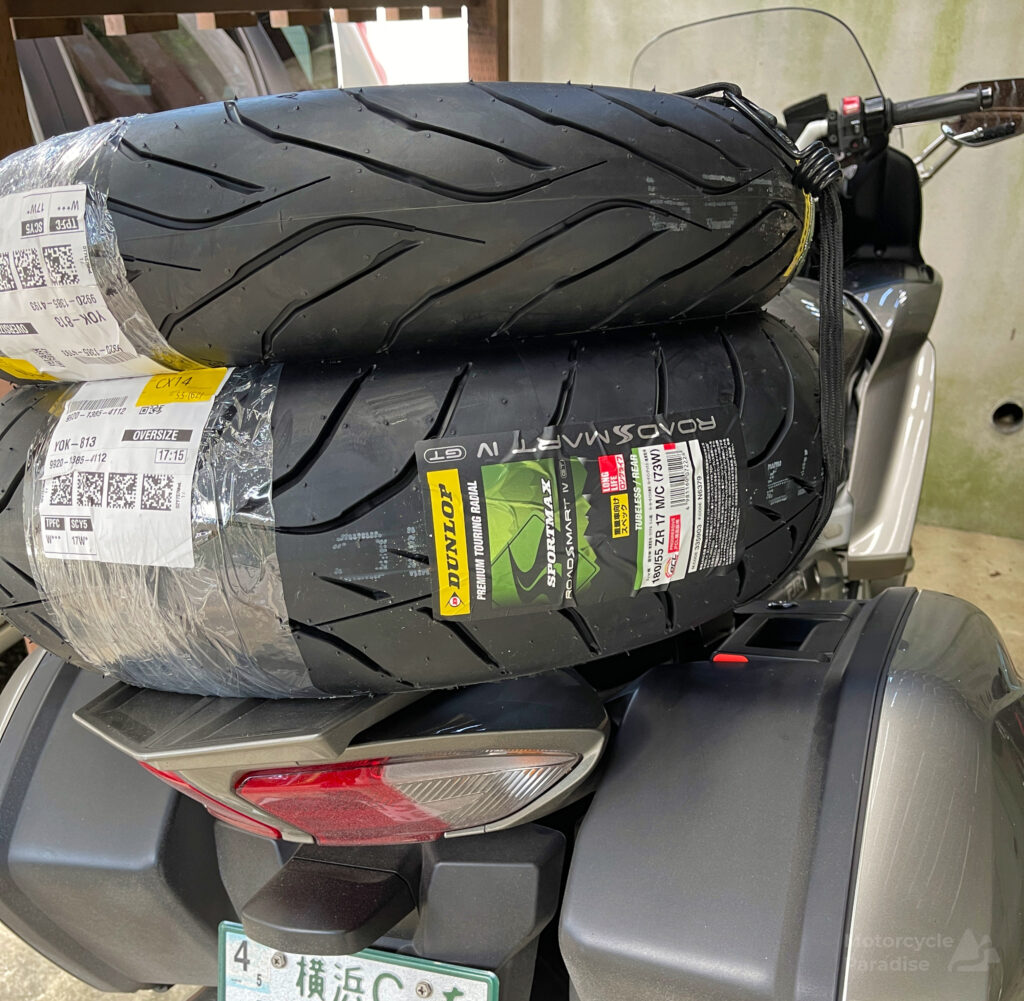 I am now on my 2nd set of Dunlop RoadSmart 4 tyres and these are the best tyres I have used on the FJR1300. The Bridestone T31GT tyres are a close 2nd and now that Bridgestone has released the T32GT they might beat the RS4 however the price is 10,000Y more so I am fitting the Dunlops again. They offer a easy turn in and decent grip but wear more even and maintain a more round shape into their later stage of life and last me 9000km.