This was my first big motorcycle tour. I have updated the photos to higher resolution than originally posted but remember 2006 digital cameras were low resolution. I added and deleted some images also to try freshen this post but left my original words as written at the time.
Day One Brisbane to Kempsey.
Things started out nice and warm, here in Brisbane it was 30 degrees and I really didn't think to take winter gear however I was soon to find I the southern states have very different weather to the tropics.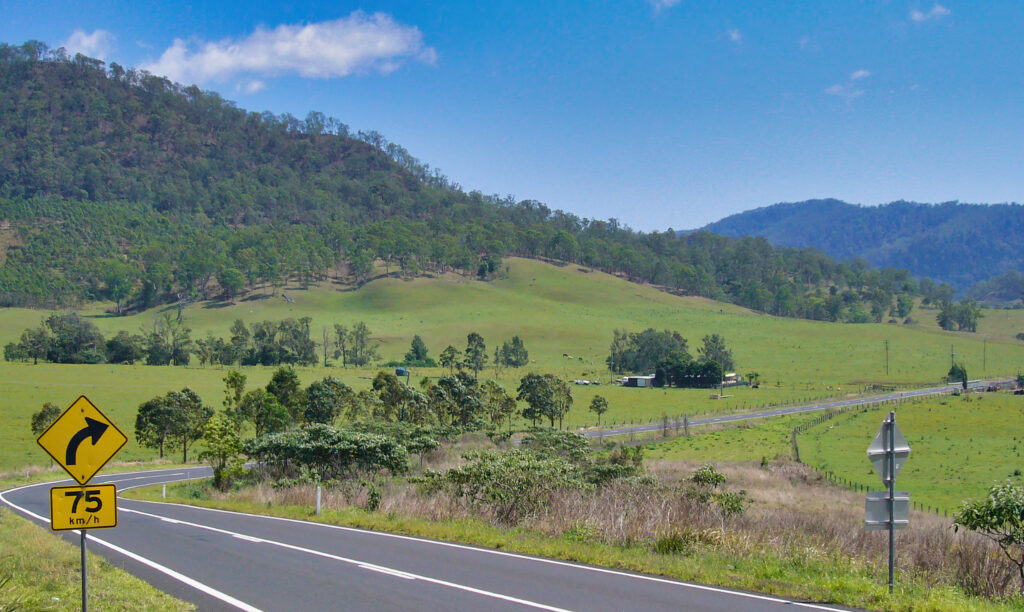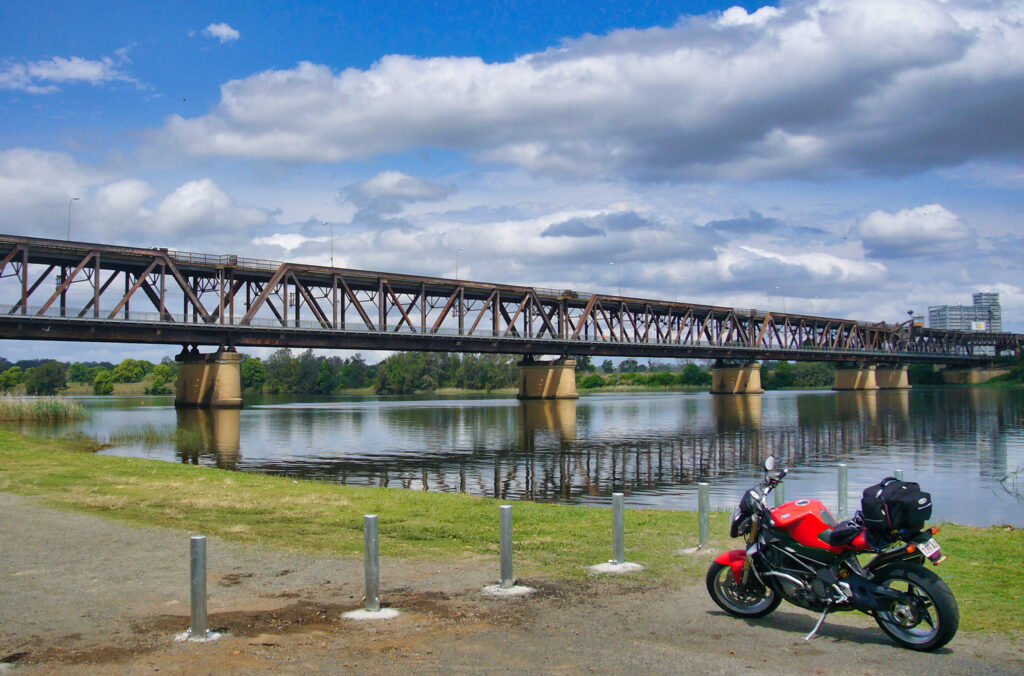 My first challenge came when I encountered a hail storm after lunch south of Grafton at Nymboida and had to hide myself and motorbike in a rural bus shelter. It was a wild storm but passed quickly enough to allow me to suit up with my wet weather gear and ride on. A miserable ride over the range, shame I was there in wet as its a superb bit of road but naturally in the rain and with the summit in cloud and cold it was no fun. (2020 note – completely under equipped for such a long ride)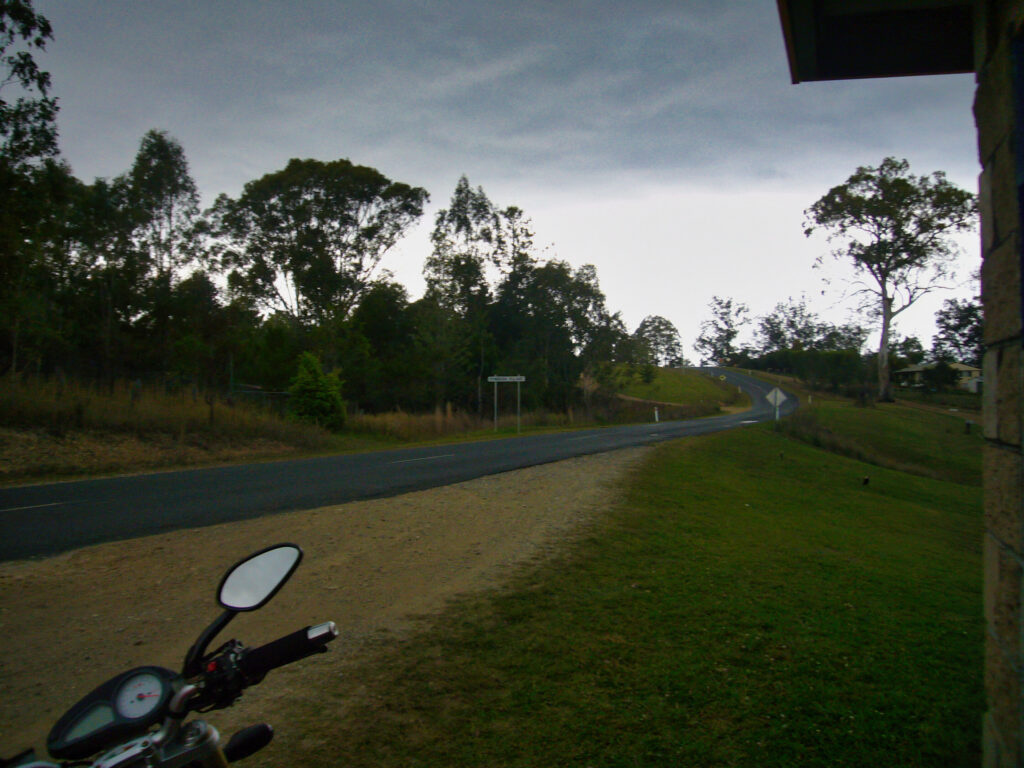 I stopped after the Nymboida range to take a photo of low lying clouds in the valley and a guy pulls up on a Suzuki SV1000 who had a misfire from wet plug leads, so while there he noticed my headlight fogged up (which was odd) I then saw the headlight glass loose and ready to fall out which would have killed the whole trip on day one! Very fortunate discovery and also the other rider had some cable ties that I used until next day when I glued the lens back in.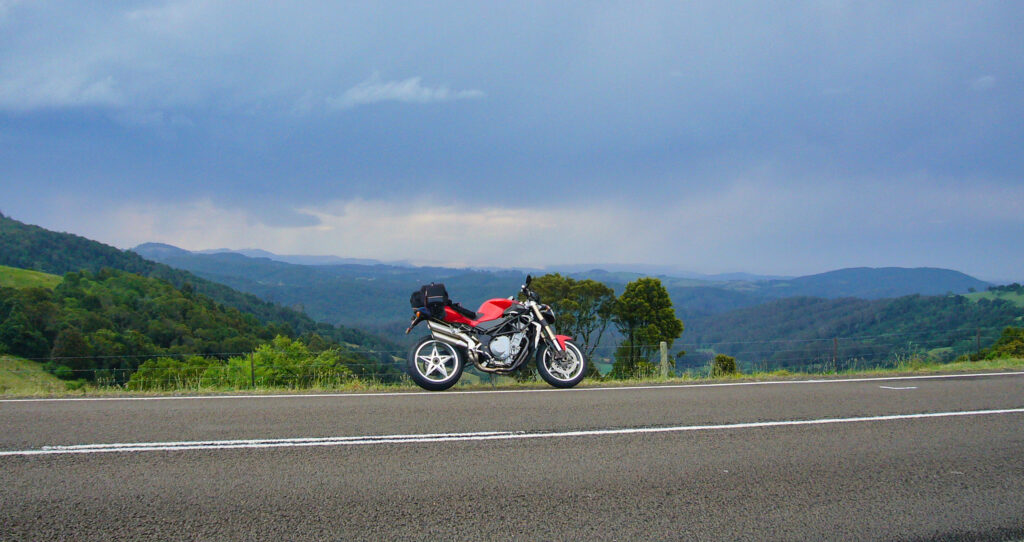 Wild storms lashed the whole area that afternoon (and worse the next day). Another storm chased me all the way down the Waterfall way road to the coast. Each time I would stop within minutes the rain would start so I kept moving to stay in front of it.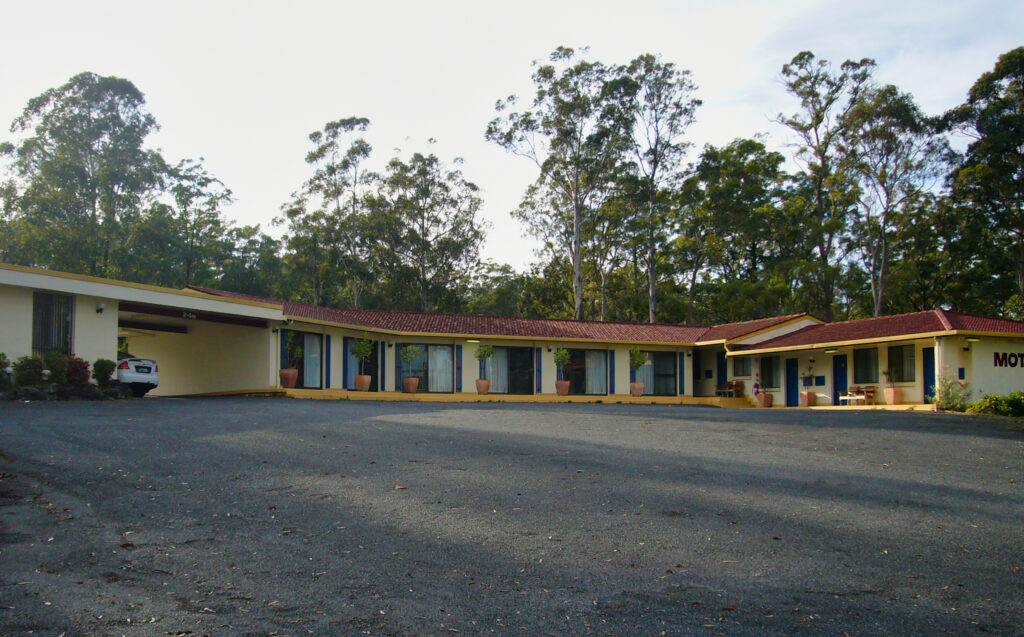 Day two I experienced some great riding in fine weather over the Oxley highway and visited the Aspley falls before Walcha.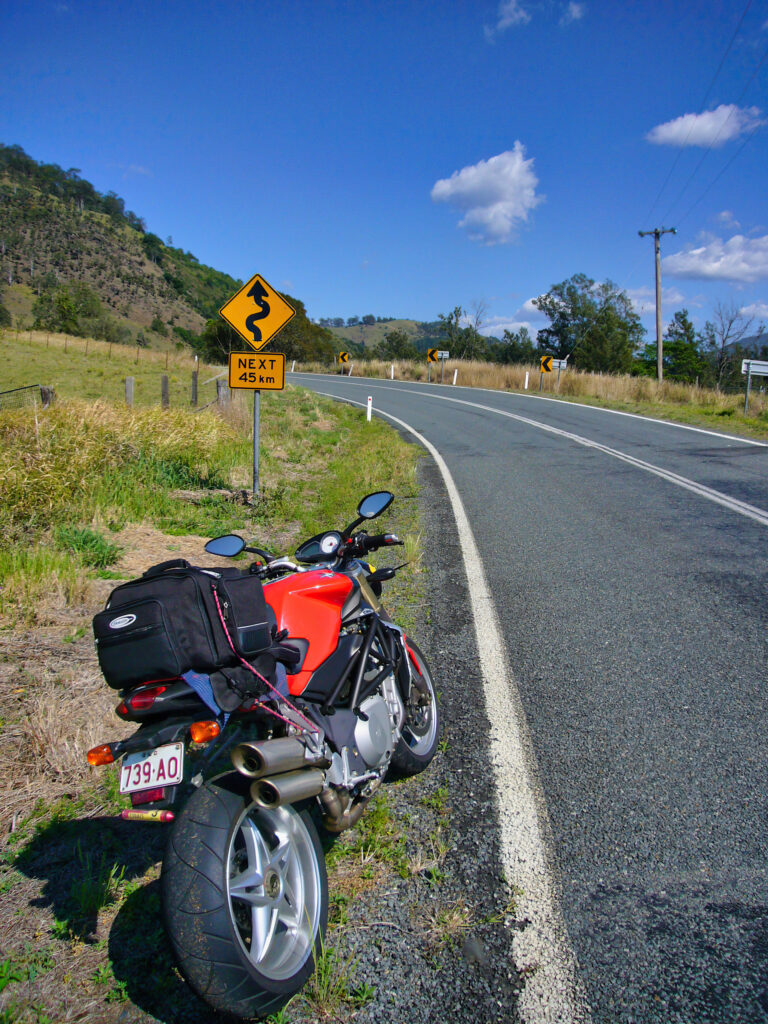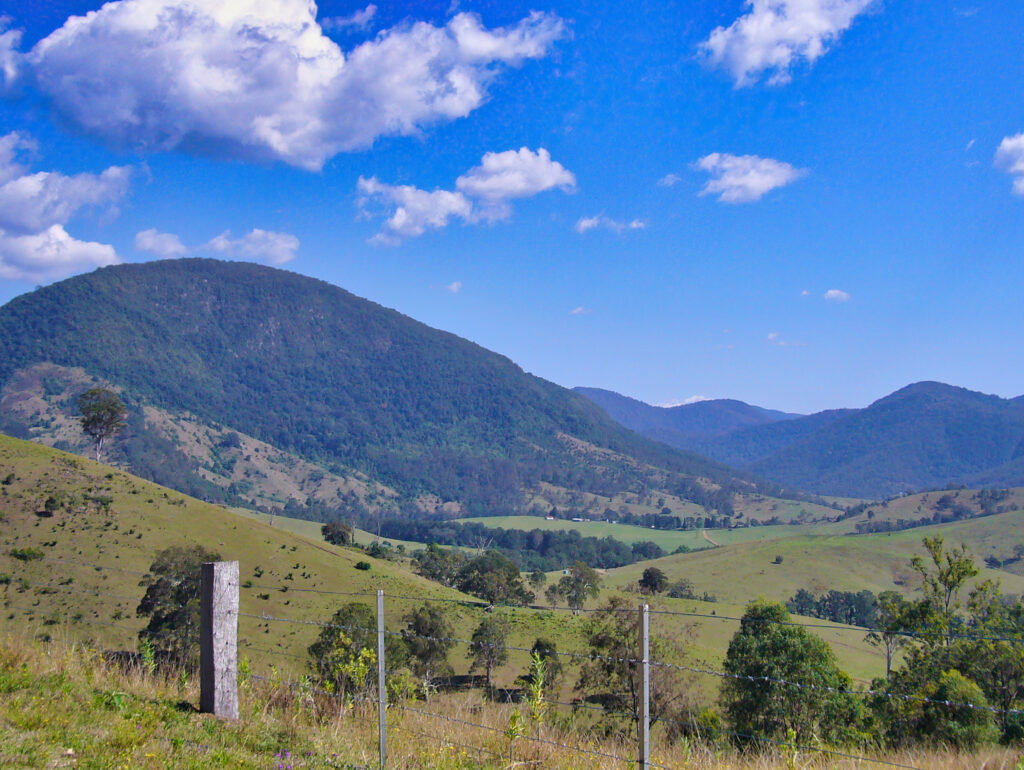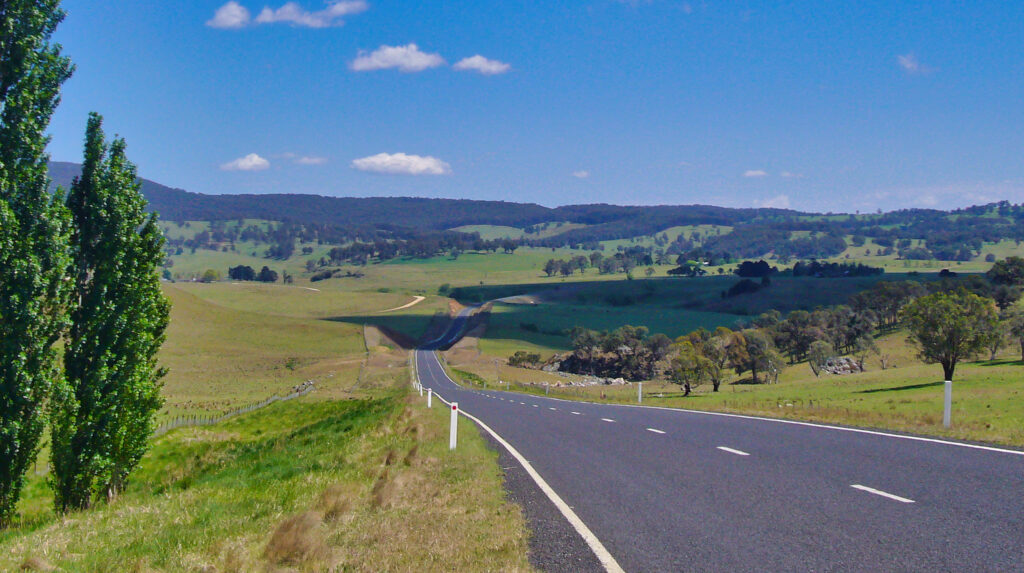 Then onto Thunderbolts way which is one of the best rides in the new england region then a zig zag back over to the coast on the sweepers of the Buckkets way. Then down the fabulous old highway at Bulahdelah and back over to the Devils Hills to Booral. After running late the previous day I was sure I would have plenty of time this day to sight see at will however I again was late arriving the motel. My kilometre target each day was already proving to take more time than I had calculated. (2020 note – far too many km per day)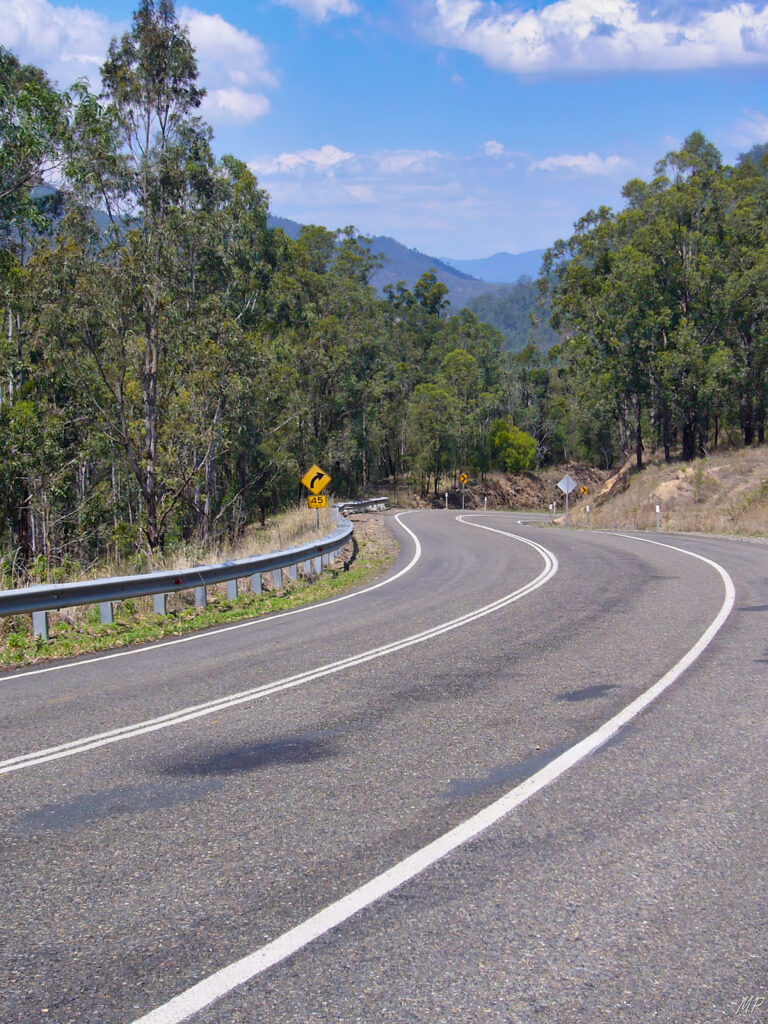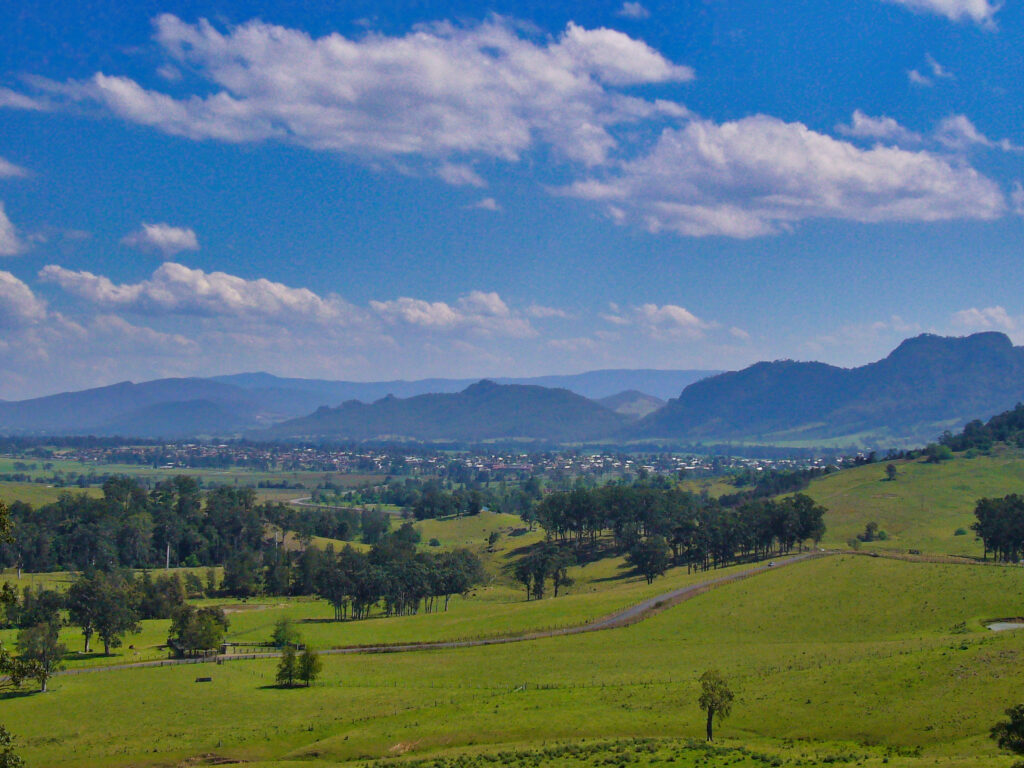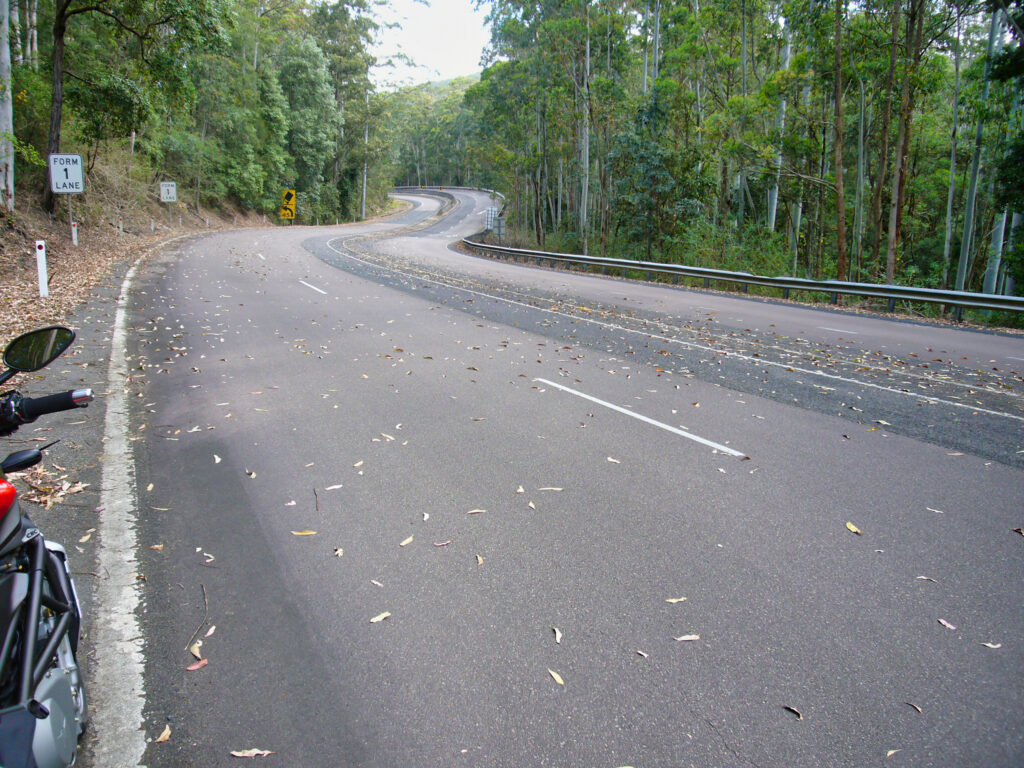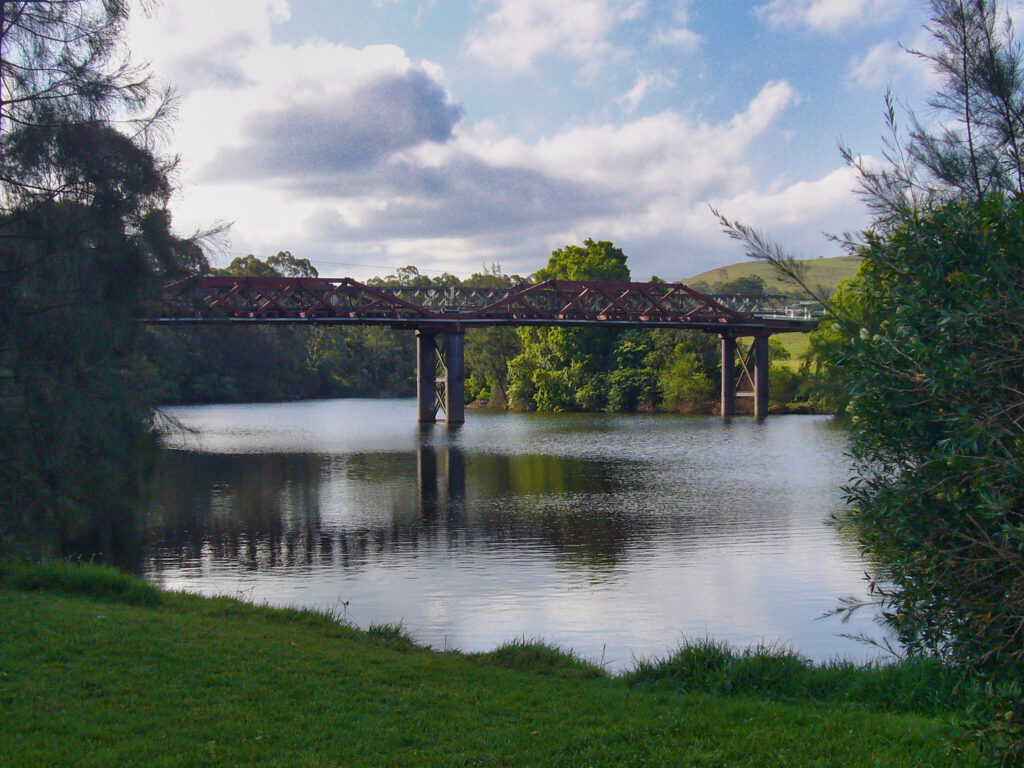 Day 3 Cessnock to Tumut
The next day the temperature plunged. Warm initially in the wine region of Cessnock . On the Putty road I had to stop a few times and add more clothes until I was wearing all my gear and still it was cold. I had seen a number of motorbike groups the previous days however today there were simply hundreds of motorbikes on this road and I began to get an idea of how many people ride down to the GP. At the half way roadhouse there was 30 or more motorbikes stopped all QLD plates and a continual flow of motorbikes going past.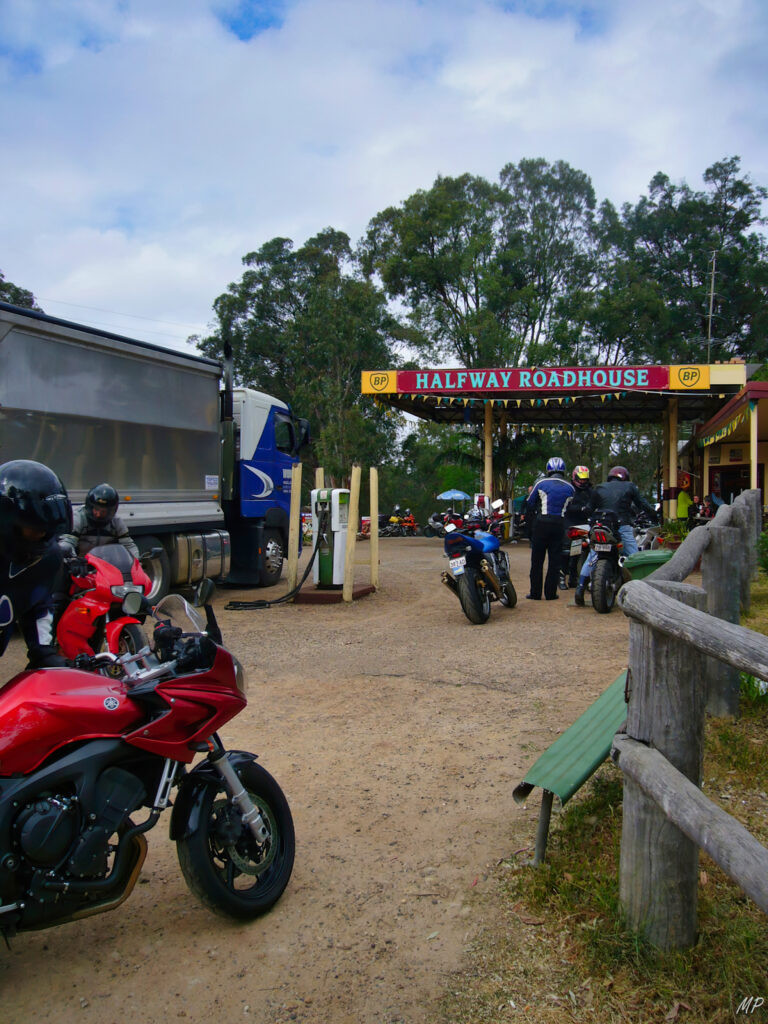 Riding over the Bells line of roads it got misty and the cold was such I had to stop try warm up – which in turn gave me time to enjoy the wonderful views.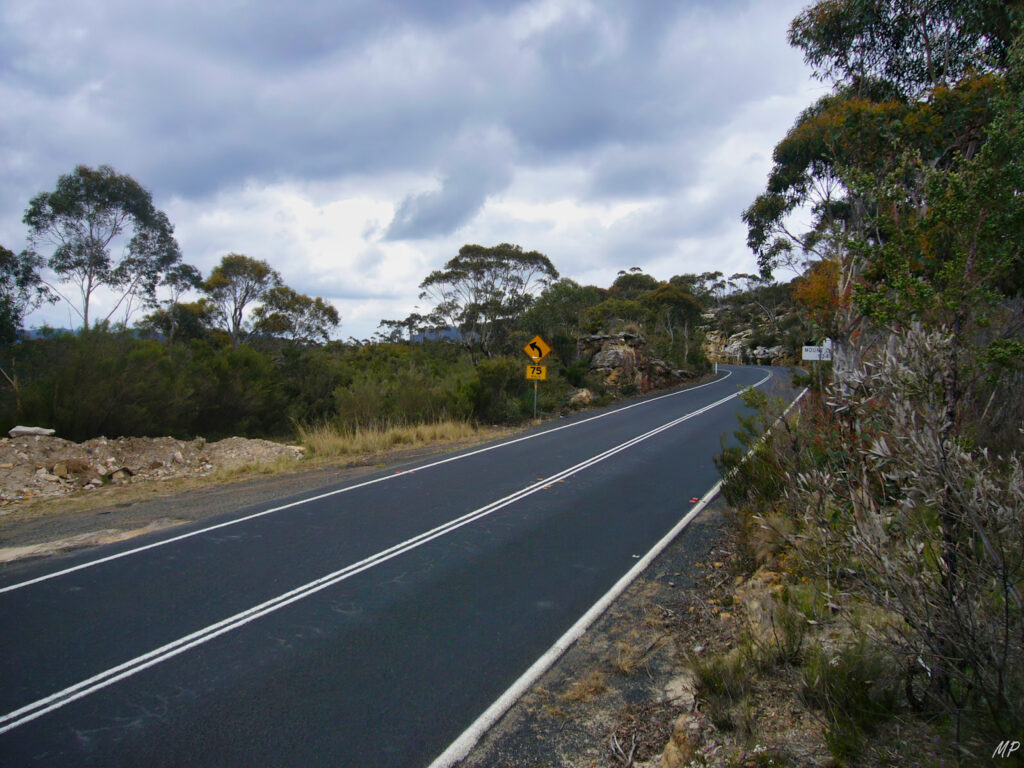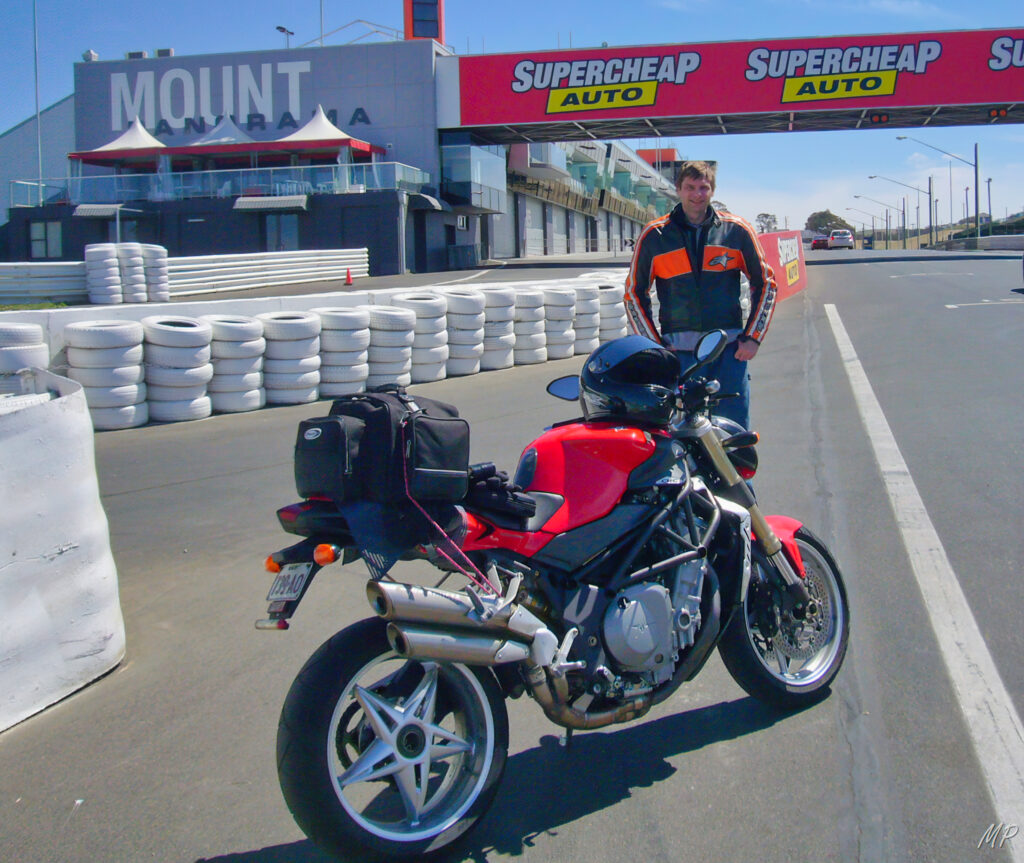 By the time I made it to Bathurst it had warmed up again but I went to a BCF shop and got some thermal underwear, I should have gone further and equipped myself better with a windbreaker top and pants perhaps from the fishing section but I was still not aware of how the climate was in the southern parts of Australia living in Brisbane where this time of year is 30 degrees.
I had a nice ride then to Tumut via the excellent Lachlan Valley h-way from Cowra to Boorowa and the historic Harden and more good road via Beggan Beggan. This is a really interesting area and I had planned to stop and see more but as would happen each day I simply didn't allow enough time to stop as I would have liked.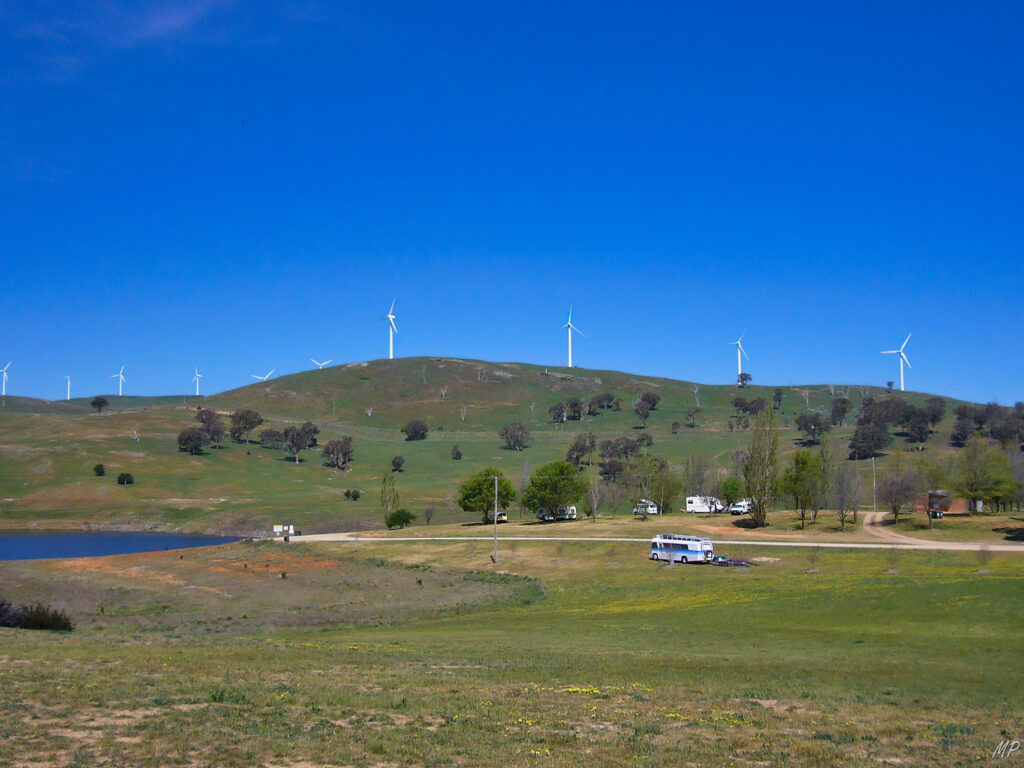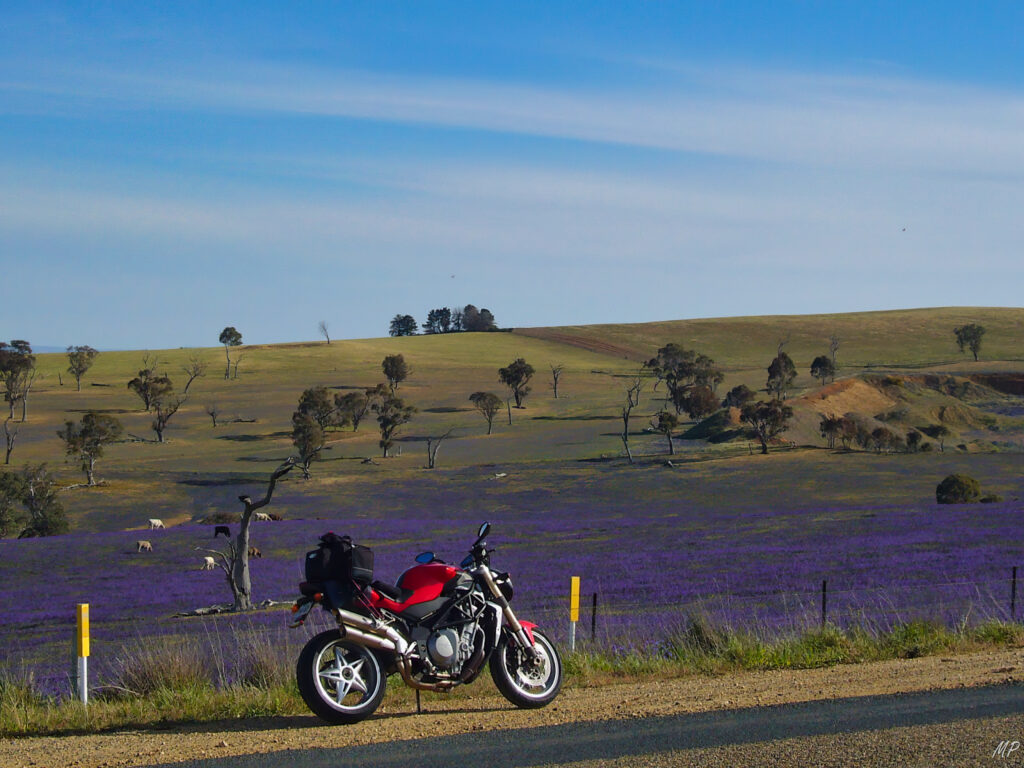 Day 4 Tumut to Bainsdale
Up early and onto the Snowy Mountains highway and good thing I purchased the thermals as the temperature was crisp and cold. Now I am seriously wondering why the Snowy Mtns h-way is not listed in the Australian top 100 rides atlas. A truly superb road, well surfaced, good surveying, wonderful curves – its what I expected the Alpine way to be when I rode that last year.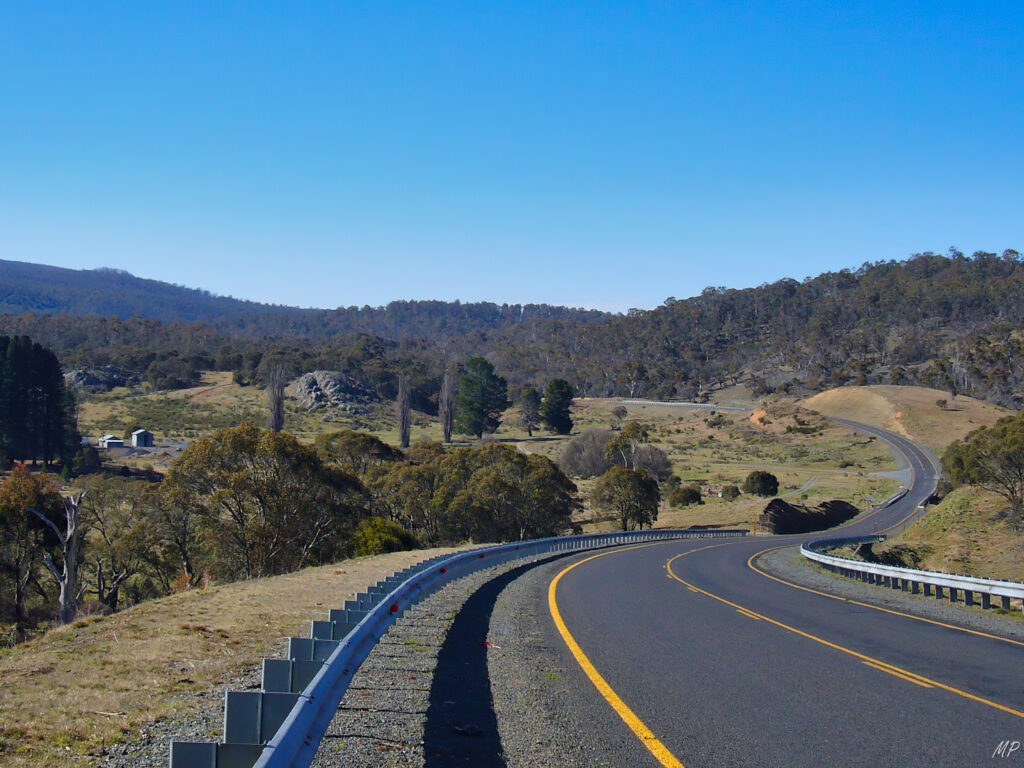 I rode over to Corryong and taking the wrong route via Tooma and this turned out to be a great ride, very scenic. It was about now that I first encountered a large group of riders from Sydney which I would bump into all the way to Bairnsdale. Nice enough guys but a few were riding dangerously and I would move ahead of them due to my stopping less but not traveling at warp speed only to have them roar past me on wrong side of road on blind corners to all pull up a short way down the road.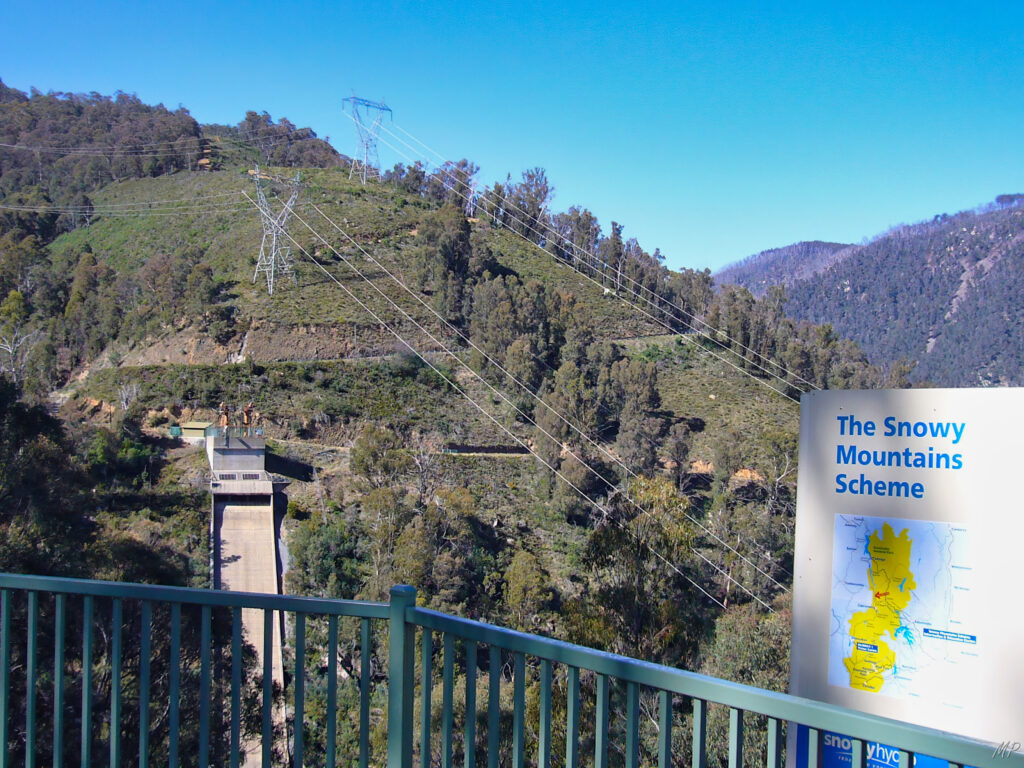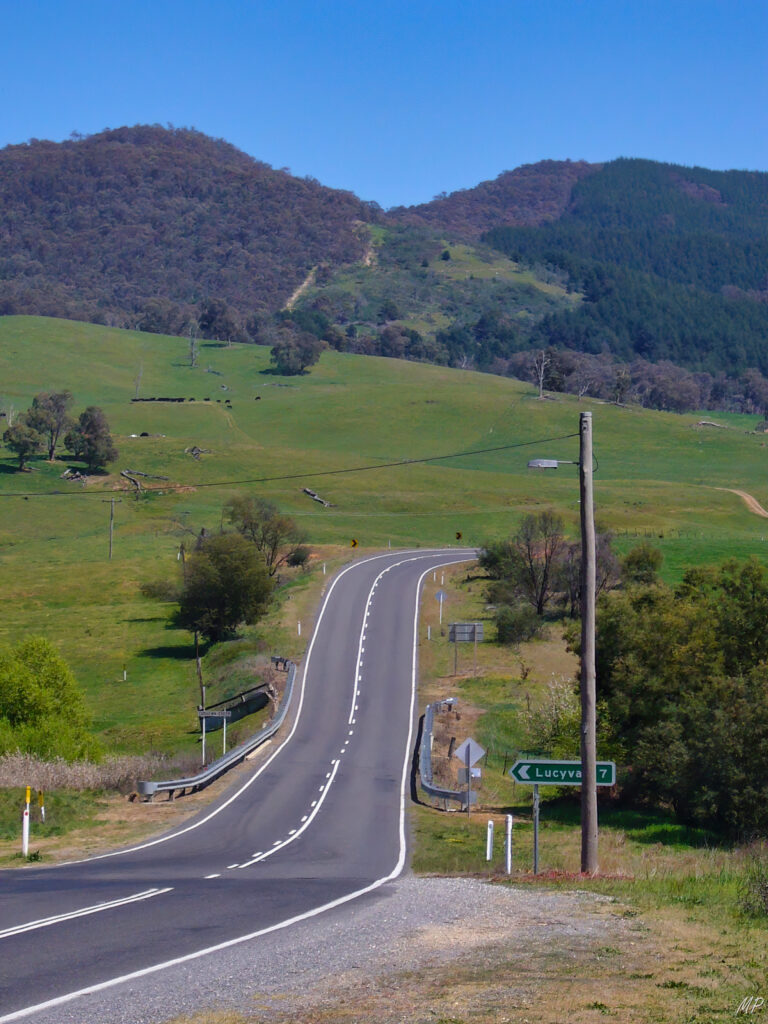 Murray Valley highway, Tawonga gap and the Great Alpine road, really superb riding roads. A little rain to end the day but nothing more than a brief shower and by the time I got my wet weather gear on and sat at roadwork stop for 30 minutes the rain had cleared.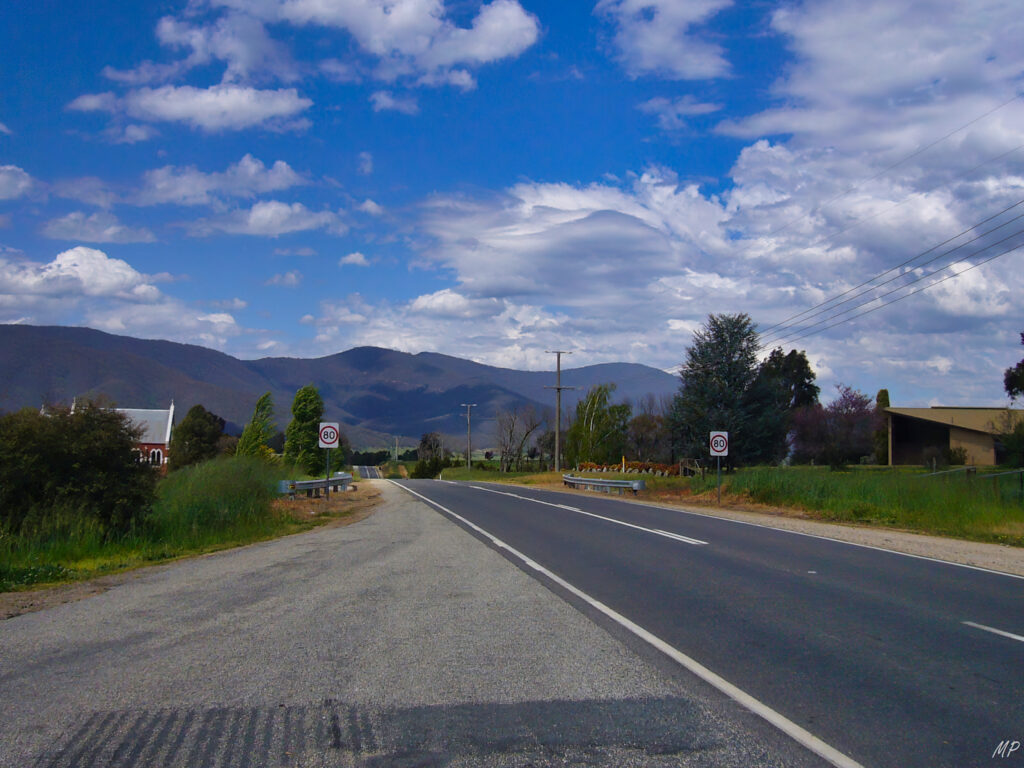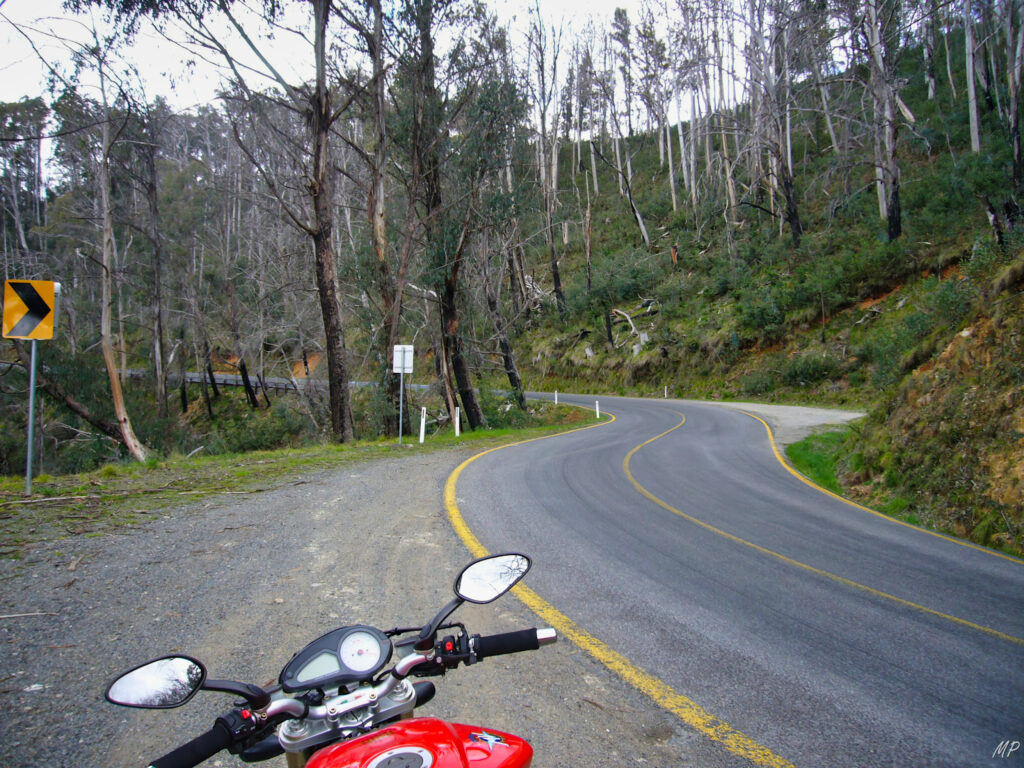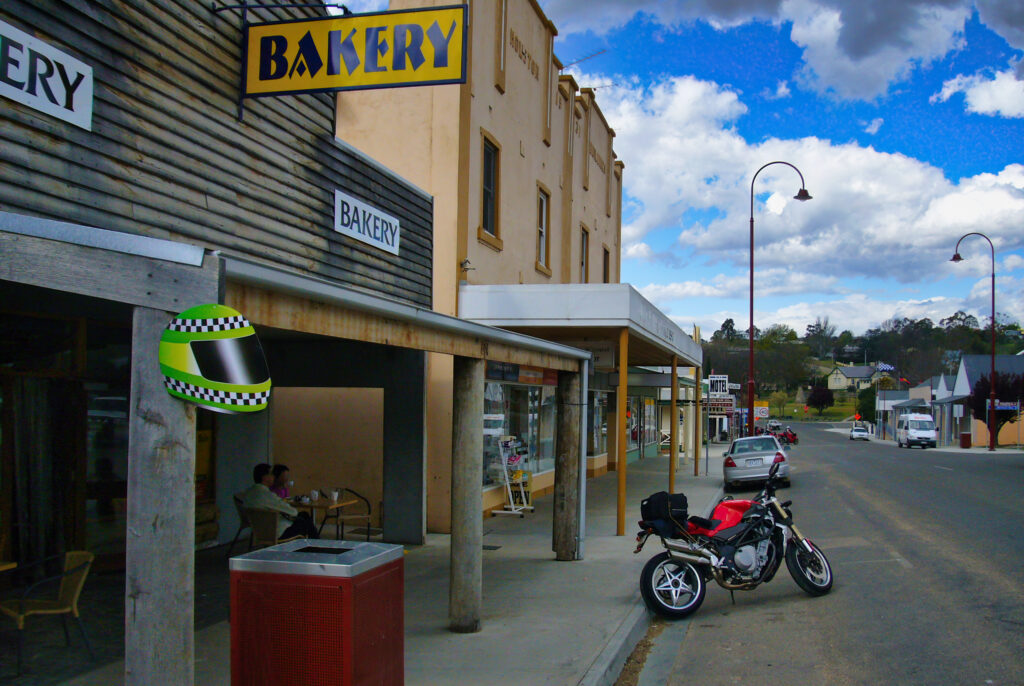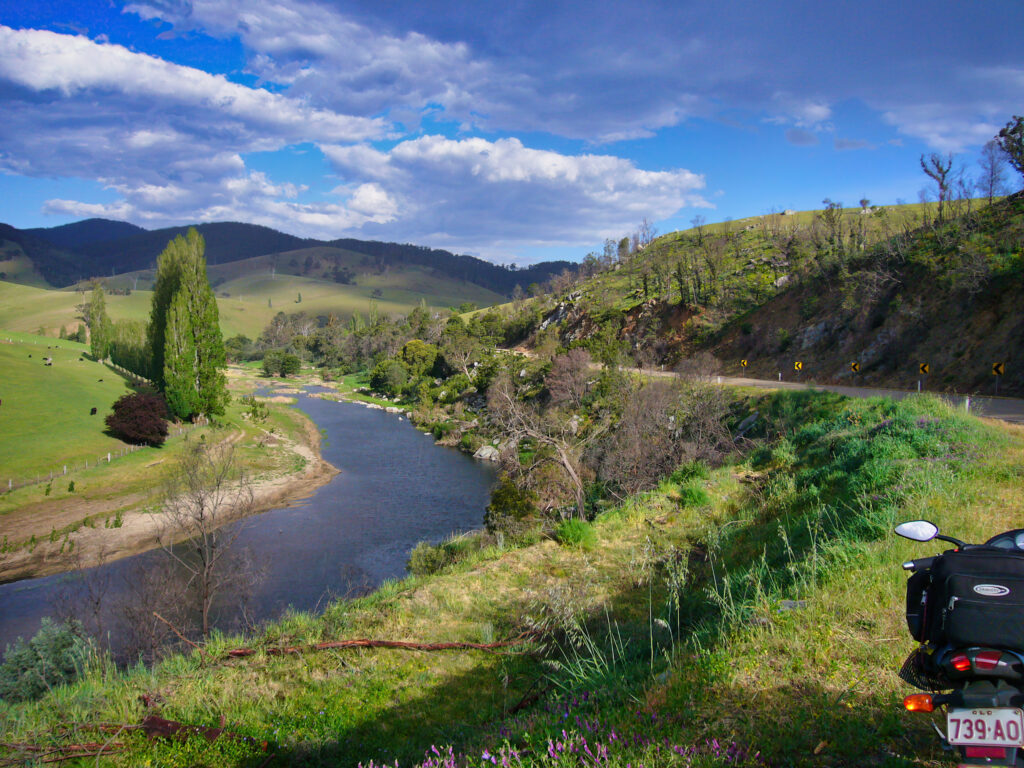 Day 5 Bairnsdale to Melbourne
I was going to visit Phillip Island today and take in a few sights and return for the GP. I wasn't staying on the island as I wanted to see Melbourne and it seemed better value to do that and take a shuttle bus.
On Friday leaving Bairnsdale I was upbeat about making it at least to the island without rain as seemed to look like one of those Brisbane days that are overcast but don't yield rain, how very wrong that was. Leaving Sale towards Yarram I knew I was in for it – black wild storm clouds and almost like night it was so dark then down it came. I got lashed by a massive storm with high winds and freezing cold rain. I struggled on to Yarram by which time my hands were numb my nose was running non stop and I was shaking with the cold. My thanks to the attendant at the Mobil for letting me place my motorbike under cover and some words of encouragement.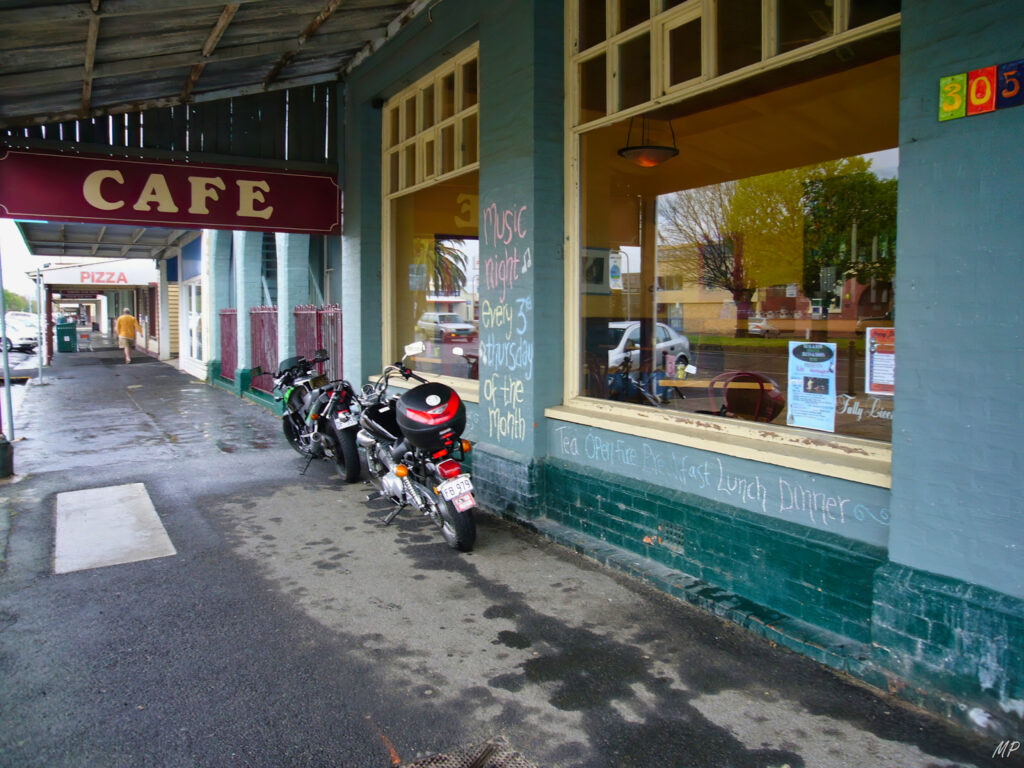 You know its cold when the locals are wearing beanies indoors and their breath is steam, now add rain and riding a motorcycle and being wet in certain places… after changing some clothes and rearranging some stuff I went to the nearby heated Coffee Palace cafe with lots of other riders trying to warm up. In hindsight I should have stopped and taken cover in one of the rural bus shelters like I did in Nymbodia and totally wait out the storm. Also in hindsight I should have had far better rider apparel. It was a tough test that nearly got the better of me. I crept on at a slow pace, I stopped a few more times and spent another hour or so in a diner trying to warm up. I didnt make it to the island for a look which might have been a good thing since the traffic probably was heavy. A beautiful area and nice roads but the Victorian weather in October was a shock.
I liked Melbourne. The city heart was interesting and I will go back, when it is warmer.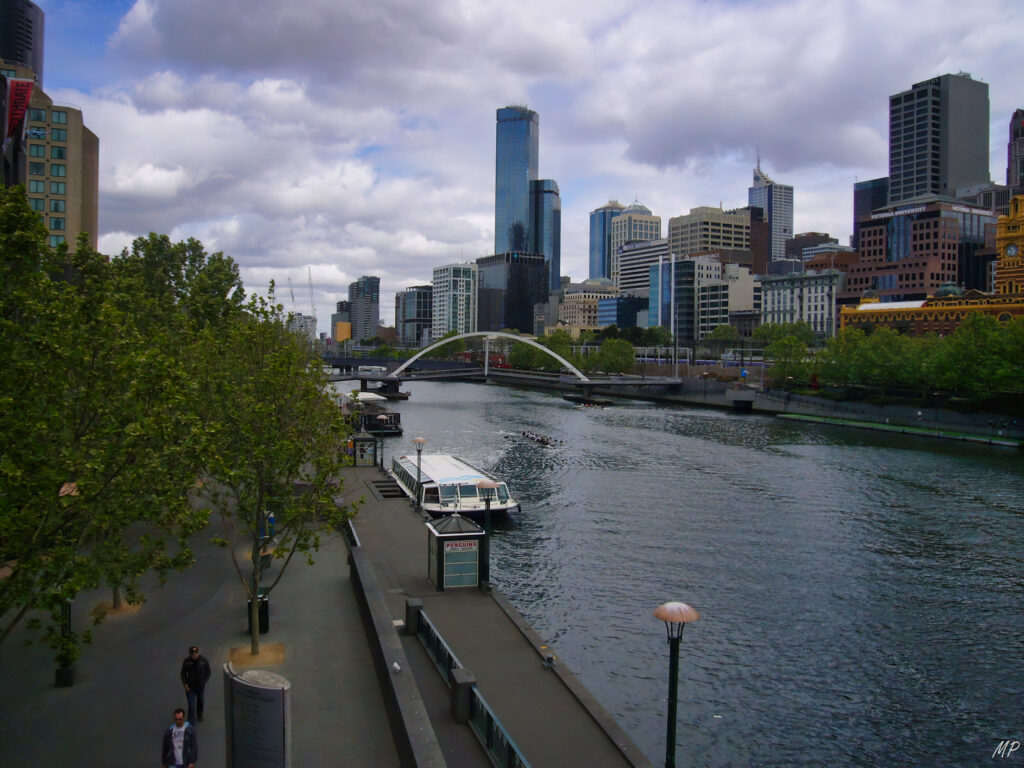 Race day and I went prepared for the cold weather but it turned out fine, in fact I ended up getting sunburned. It was great to hear the MotoGP bikes and see their real speed. There was so many people there to see Casey Stoner (claimed to be 150,000 on tv?) It was perhaps more than the track was set up for, but an interesting experience.
I walked the whole track but almost nowhere offered a view of the racing. I liked the end of the main straight where you could at least hear the bikes at 300kph. Pretty poor facilities and really general entry should as least have seating where you can see the bikes – but it doesn't.
It was a very blokey type of crowd with a lot of bearded men in HSV jackets smoking and drinking Jim Beam… I would not go back, entry to a grandstand is so expensive I could fly to Malaysia GP and have a much better experience for same price.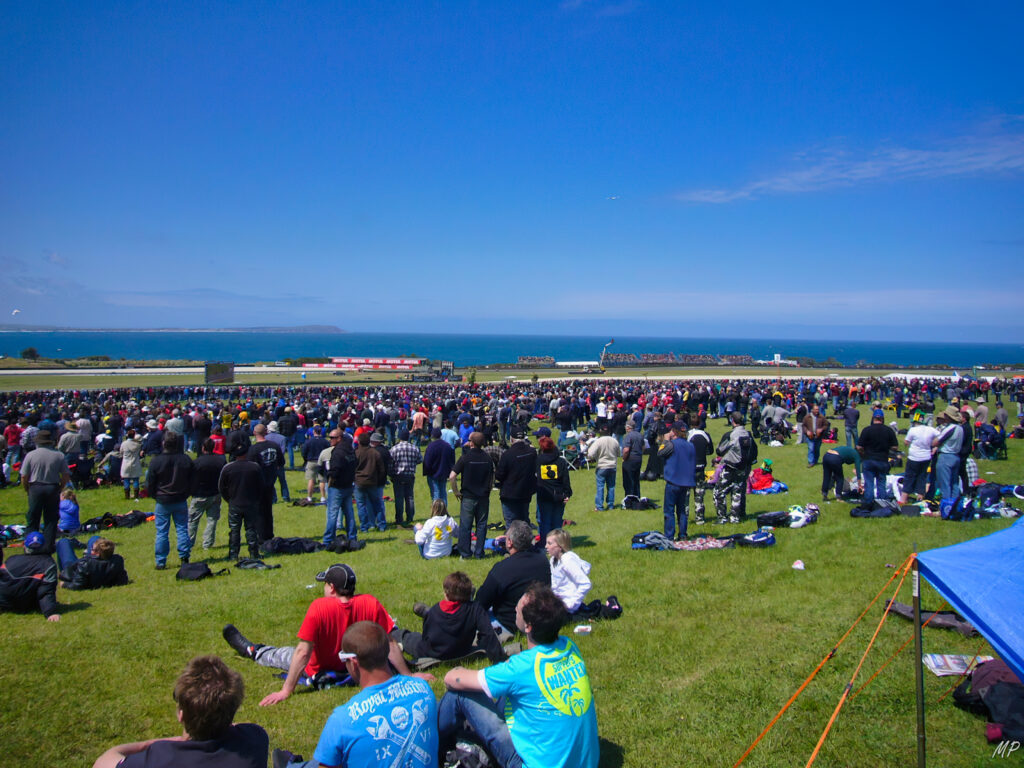 Week 2, Day 1. Dandenong to Ballarat via Sorrento and the GOR.
I rode off to the Great Ocean Road. The weather again turned cold and when I arrived at the Sorrento Ferry the number of other motorbikes there meant I missed my 9.00am ferry and had to wait an hour. This was to have a flow on effect later in the day.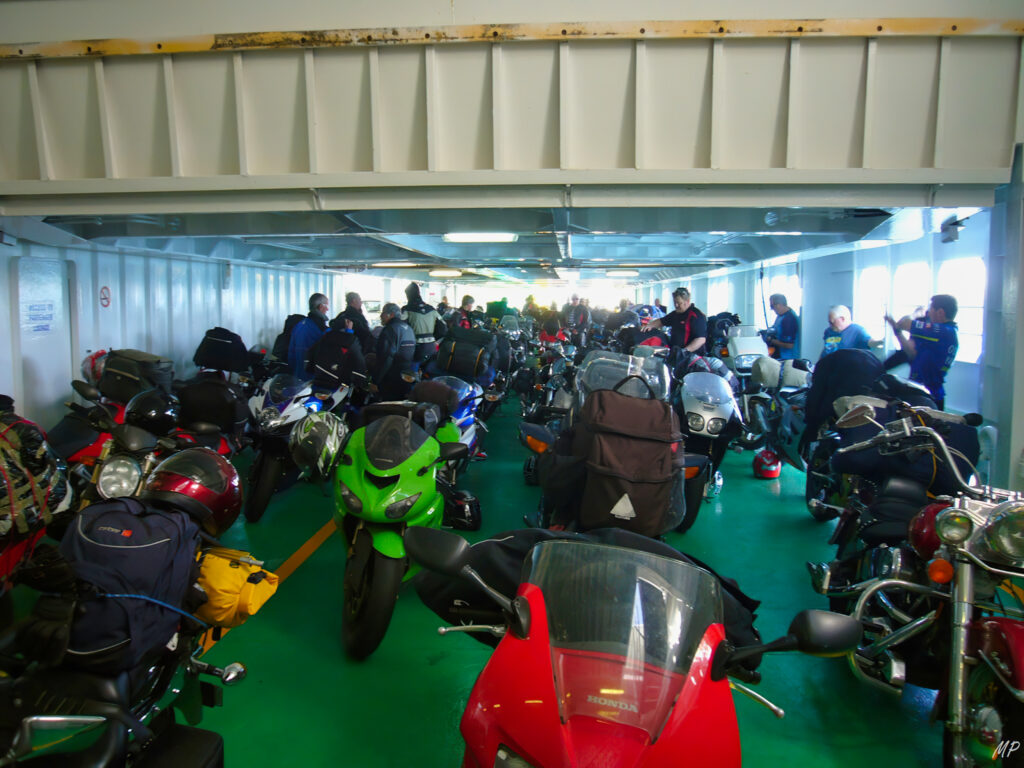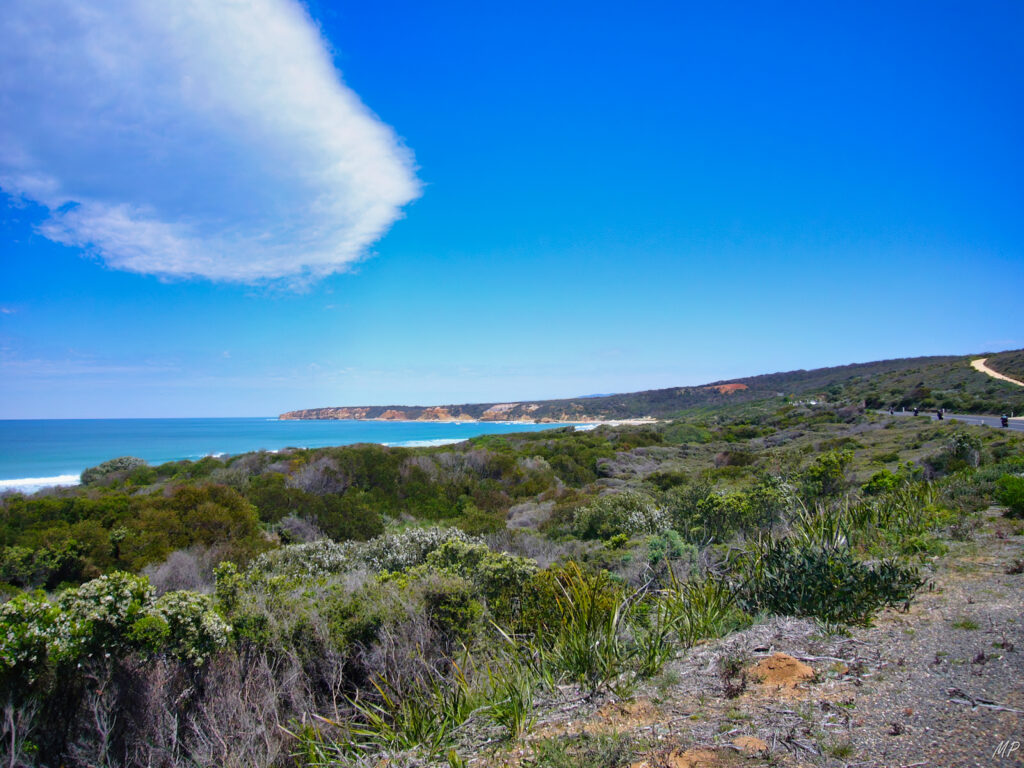 The GOR is a wonderful ride. Popular with grey nomad campervans and too many low speed limit areas yes, but the road itself is special (for Australians) but best visit it away from MotoGP period. 100's of motorbikes clogged the roads and meant simply getting fuel was a very long queue. Frustration set in a bit I could not get anything to eat or drink as shelves were empty like locusts had preceded me. Always getting slowed by cruisers riding in formation or hassled by sports bikes I just wanted to leave them behind and ended up in a sped trap.
I went on to the 12 Apostles and ran out of time to do more than this today. Superb twisty roads and magnificent scenery. I was still a bit angry at myself over the ticket so I didn't take as many photos of the mountain roads around this area but some excellent riding to be had between Lavers Hill and Princetown.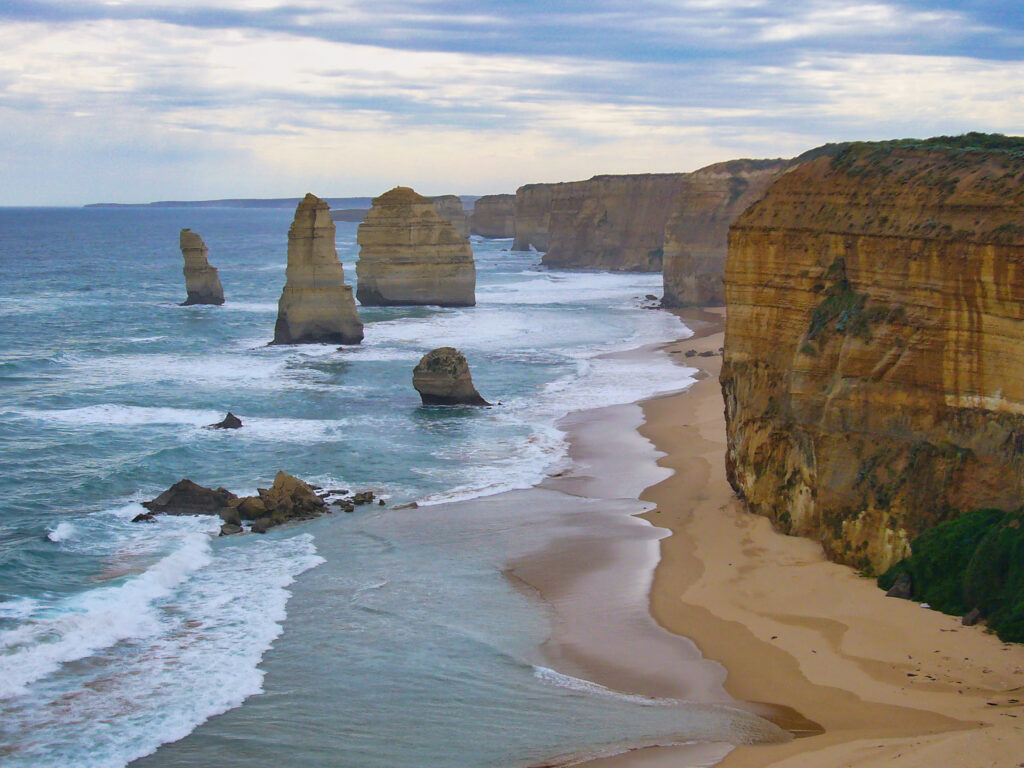 Week 2 day 2. Ballarat to Bright.
Next day and OMG its freezing cold and drizzling rain in Ballarat. Crazy as last night it was warm balmy night. I was in a T-shirt and hot walking back from a pub to the motel. Today it was really miserable conditions so I made my way slowly north east to Seymour and fortunately the rain cleared soon out of town but the cold remained. Skipped the old h-way ride from Seymour as suggested in the top 100 rides atlas, Mansfield to Whitfield next.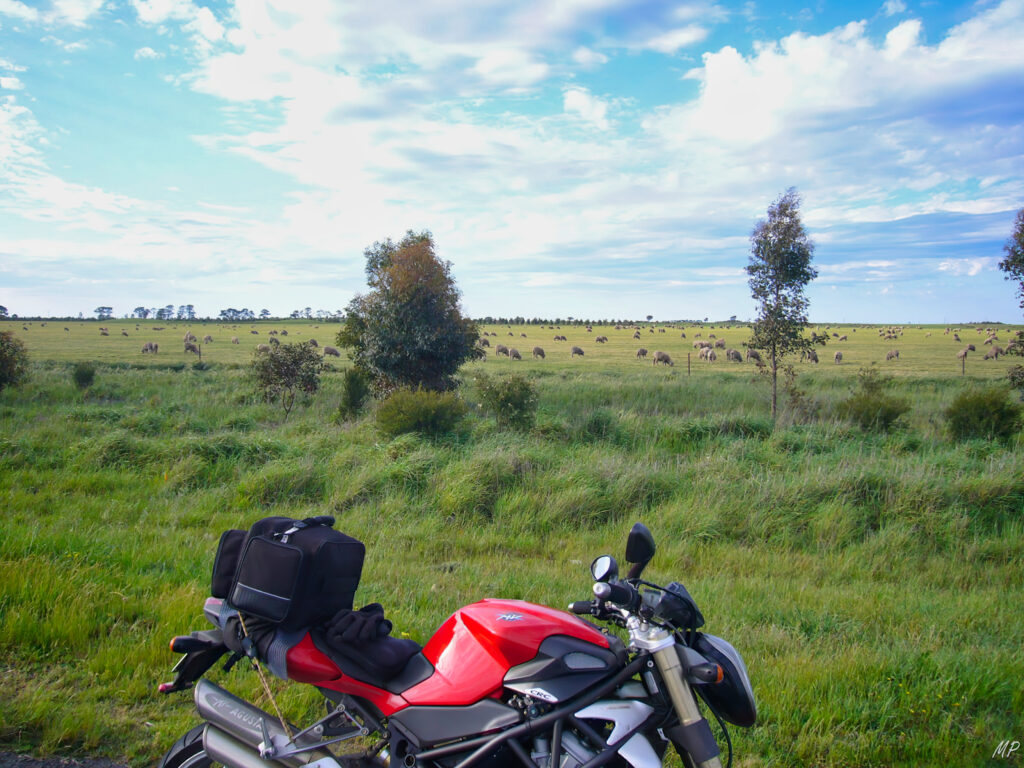 An absolutely cracker of a road that has a bit of everything – one of the highlights of the tour. Today I am running ahead of time – for the first time on the whole trip so I try to get a new rear tyre at Mansfield but they only have a touring compound but at Wangaratta I find a bike shop with a Michelin Pilot so I go with that rather than wait until Sydney to get something. Bit expensive but my rear was already quite low.
Week 2 day 3. Bright to Cooma.
This was to be my 2nd high country riding day and I had planned to revisit some of the great Alpine road however its 2 degrees in Bright so I elect to skip Mt Buffalo as I am simply so sick of being cold. I enjoy the Tawonga Gap more this time without hordes of other motorbikes and then I managed to find the Redbank road which I missed on the way down first time but its average and in fact the excellent surfaced main road from Wodonga has nicer curves and as good scenery.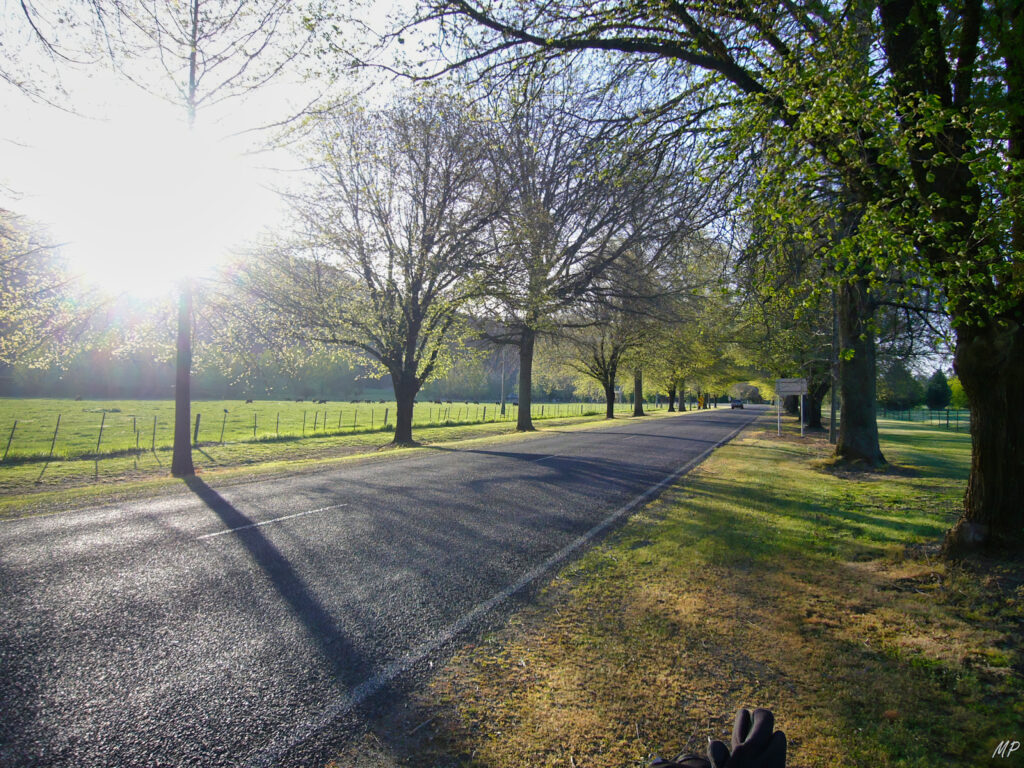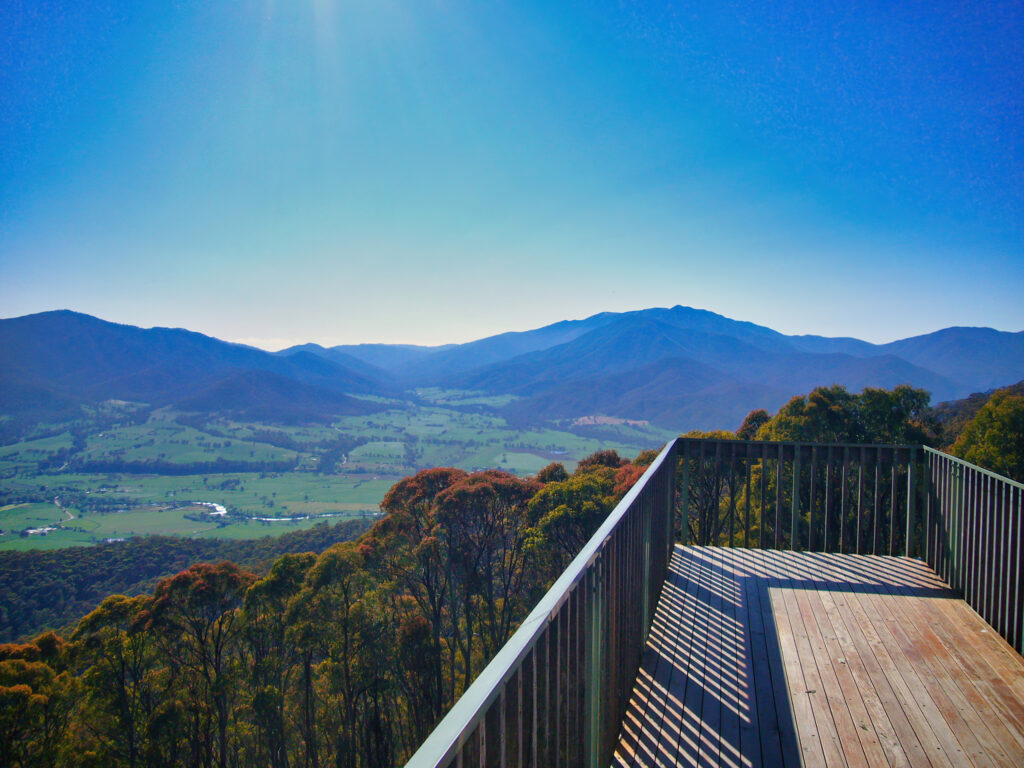 The Murray River road is however a true gem. I remember this road from when I was young and I am glad it remains the same superb road with lots of sweeping curves. This road reminds me of all the old roads traveling on with my parents when I was a lad – the white round wooden posts and rope fence used to be a common feature of roads in the past.
At Corryong I decide I have to jetwash the Brutale. By now there are so many dead bugs on the leading edges and front of bike that a swarm of flys descend onto it anytime I stop and its disgusting. While here also I elect to skip the Alpine way as there is a lot of snow visible and I am sick of the cold. I manage then to find my way to Cabramurra via the Tumut Pond dam the route. This is another service road for the Hydro scheme and really not well surfaced or surveyed. Then down to Cooma on the Snowy Mtns h-way that does indeed turn out to be excellent riding for a early finish in Cooma to warm up.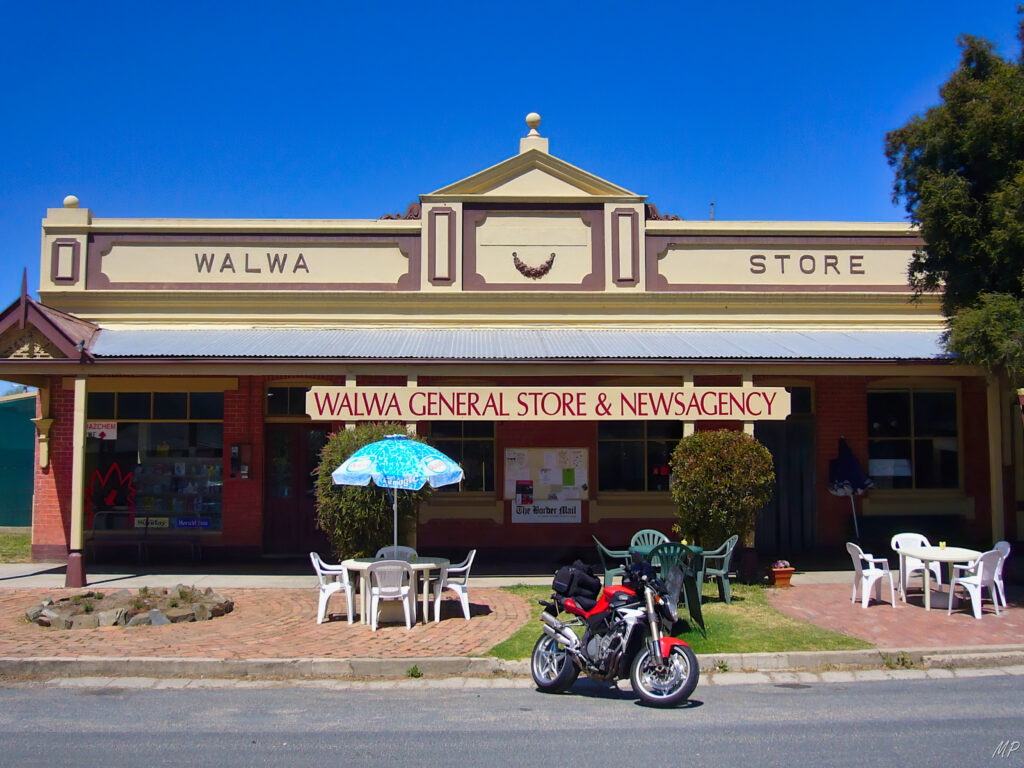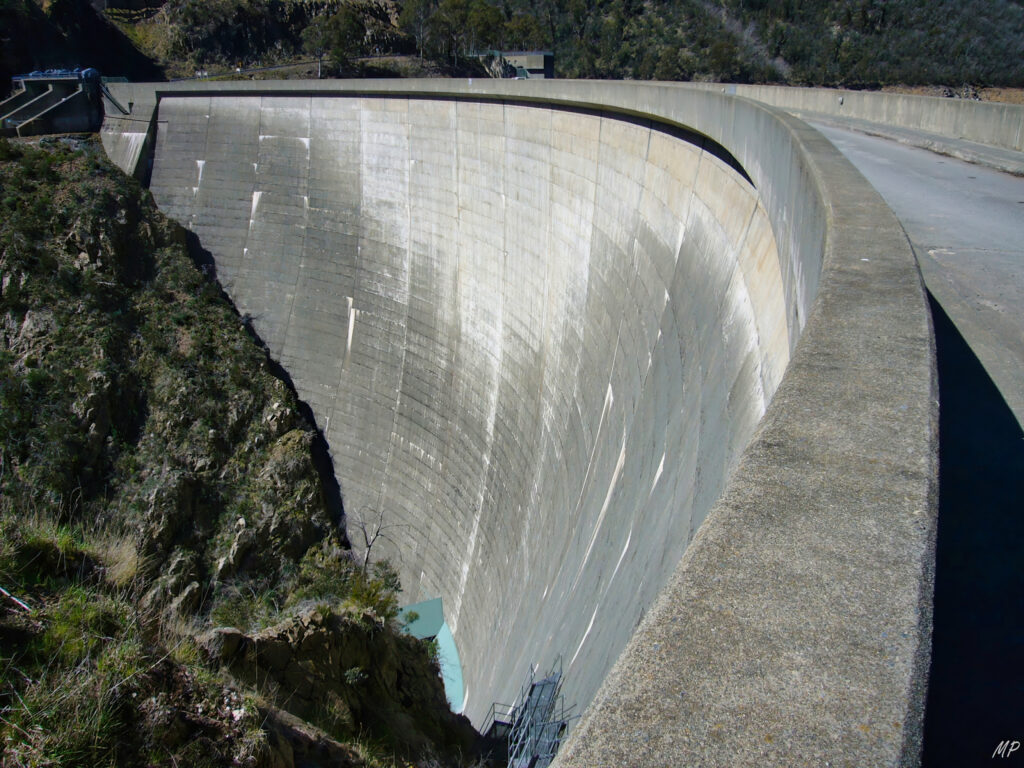 Week 2, day 4. Cooma to Sydney
Next day I decide to alter my route again. Since I had already seen Brown Mtn I elected to ride north to Canberra and down Clyde Mtn on the Kings h-way. Not sure if this was a good choice or not as it was cold as hell all the way to Canberra where I simply got lost. I got down to the sea at Batemans bay to finally be warm again. Clyde mtn is a fantastic ride although I hear the police love that road.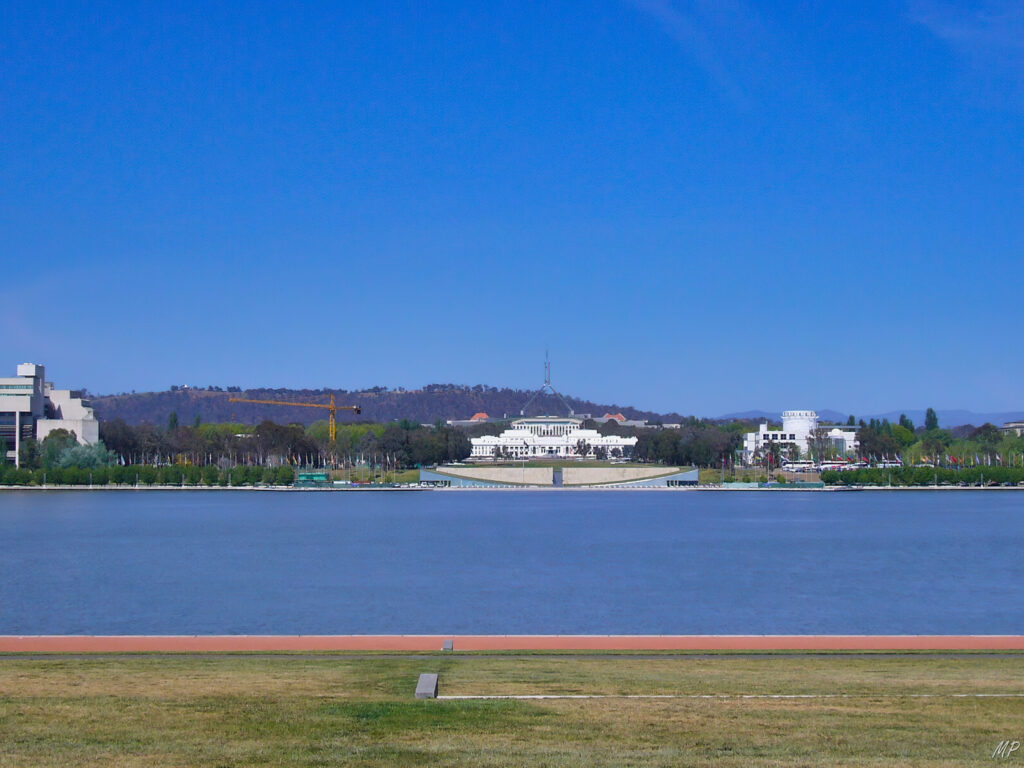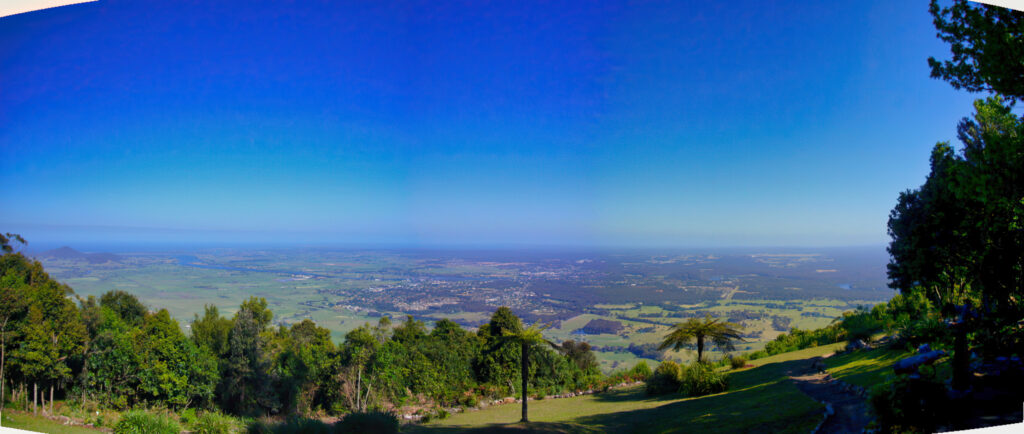 I rode north along the coast and into Kangaroo valley was warm again for first time in a week.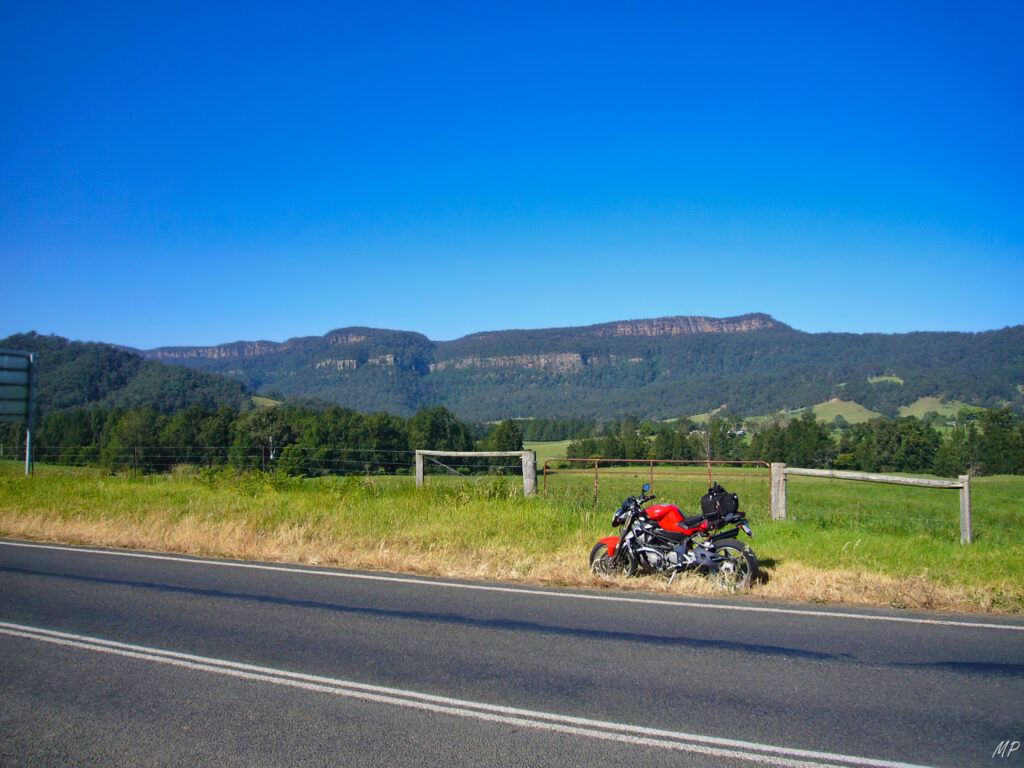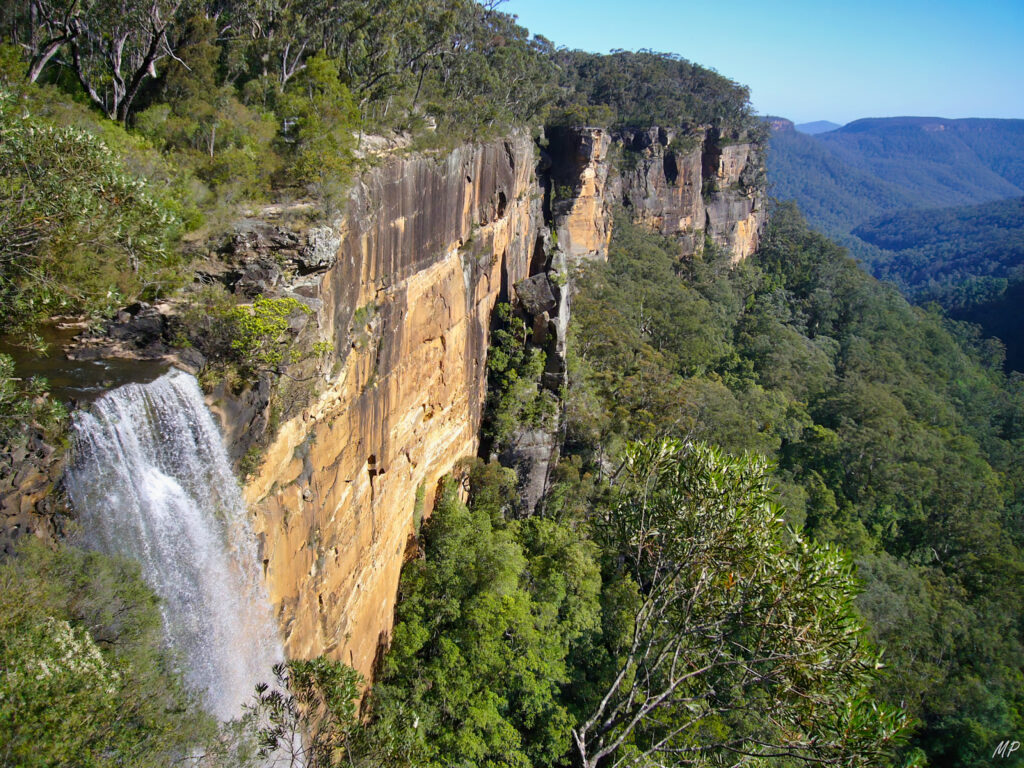 Fitzroy falls. Very scenic area.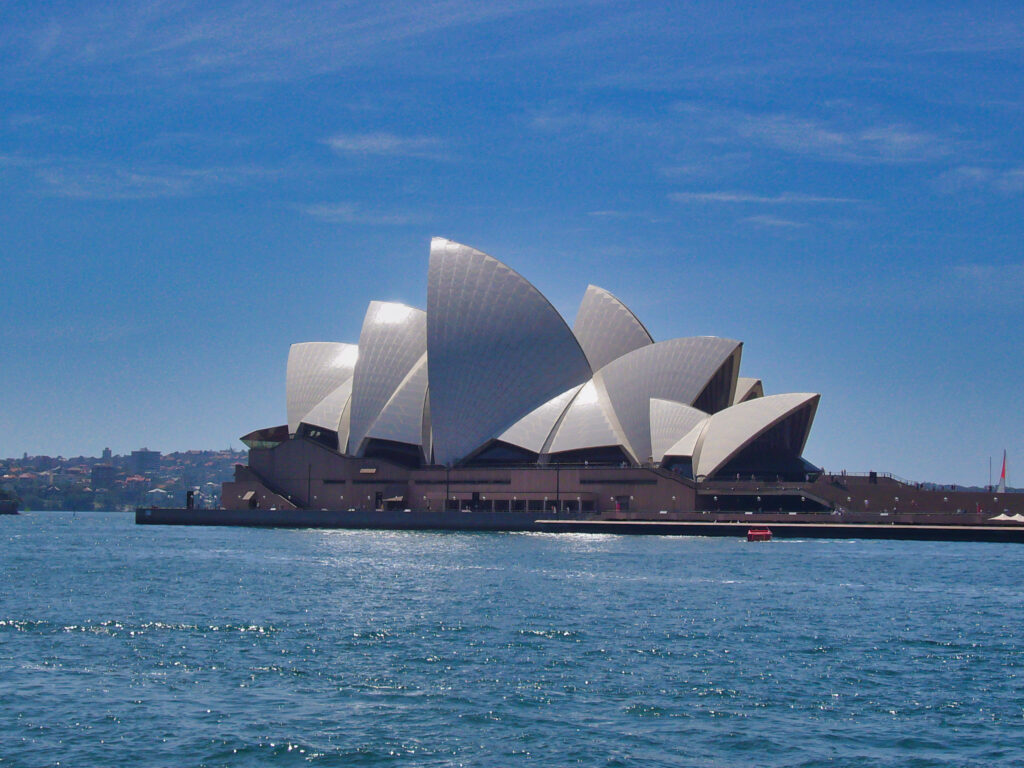 To be honest I did not like Sydney much. But I am not a big city person.


Week 2, Day 6. Sydney to Armidale.
Heading towards home on the 2nd last day the weather again turned cool. The Hawkesbury region was a bit of a let down, the scenery not quite as as I had imagined but perhaps I just struck it on a poor day. A lot of bikes on the Wollombi road from Sydney which was better surface than the bumpy Wisemans Ferry area.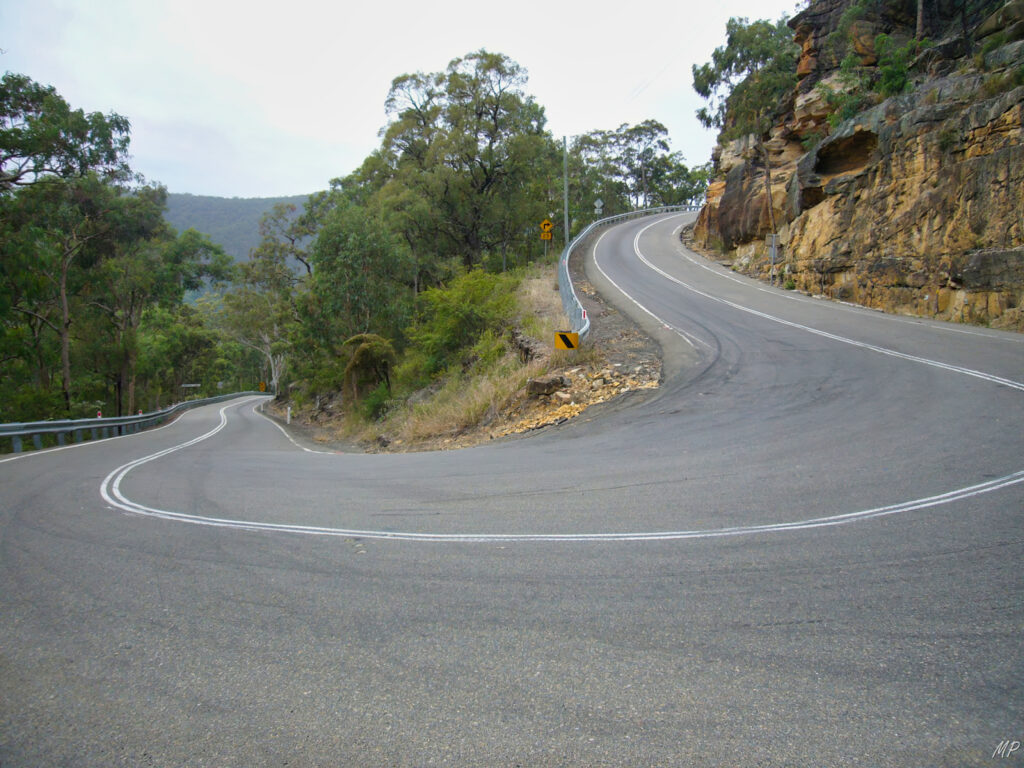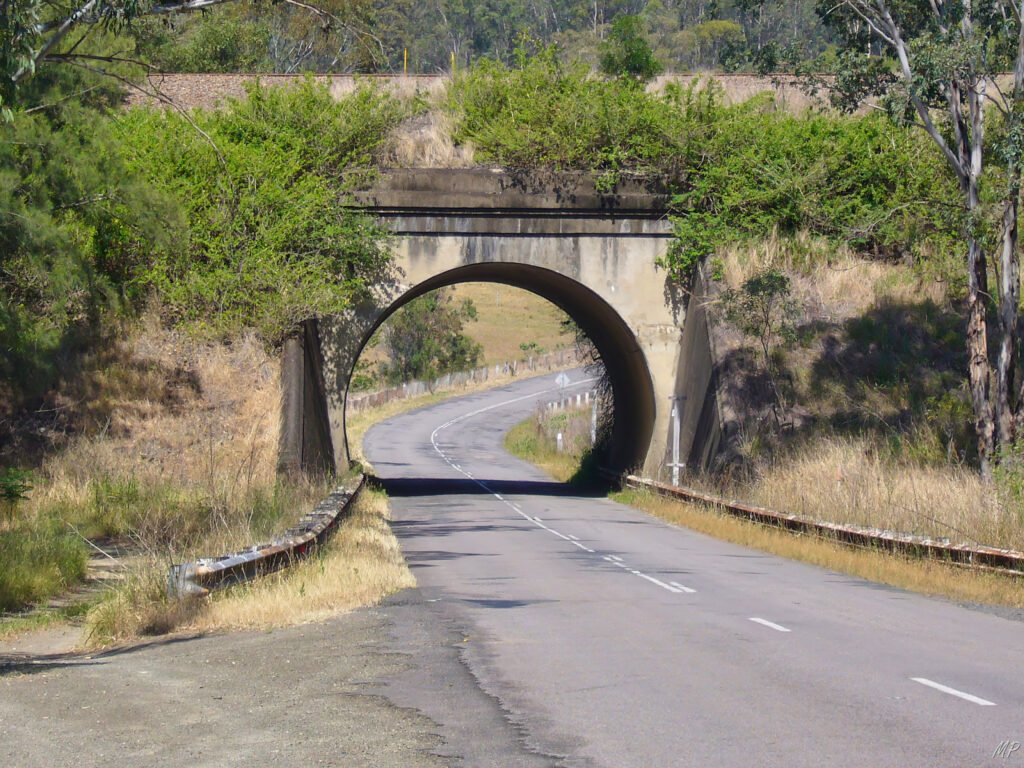 I cut over from Maitland to Stroud Road via Dungog and made a great find. The road via Paterson is nice scenery and well surfaced but then I find the road beyond Dungog to the Stroud Road is a superb bit of riding – beautifully surveyed and near new surface in parts . Back on to the Thunderbolts way and from Gloucster to Nowendoc is some great sweeping road. The resurveyed new river section suits me fine.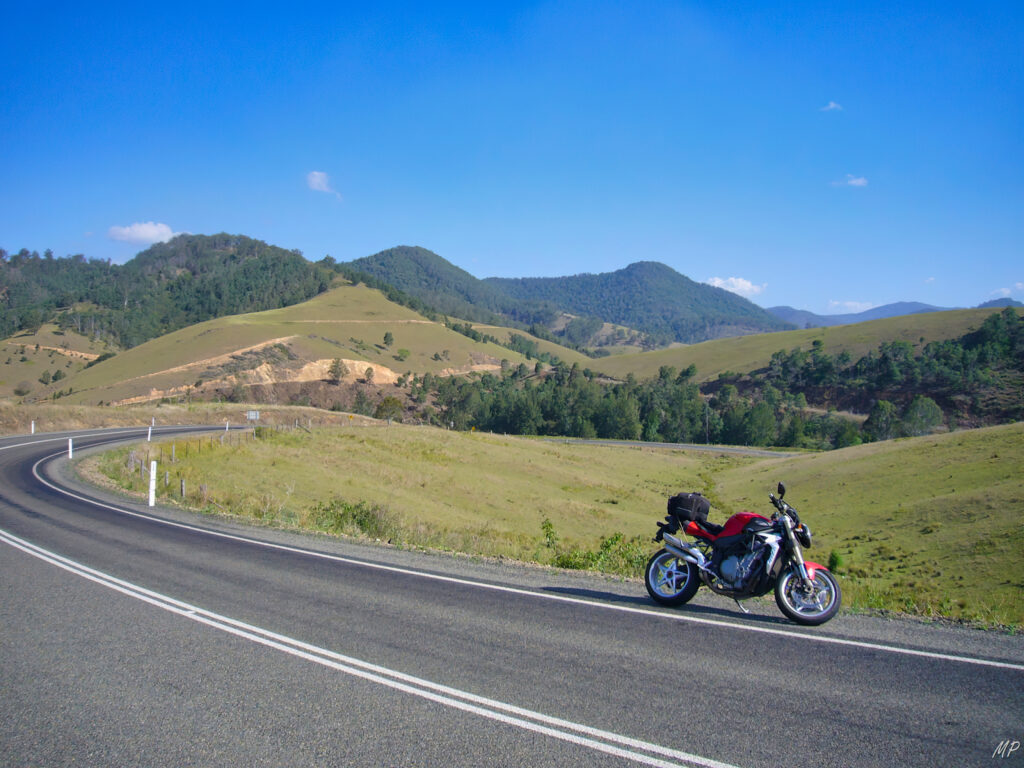 Week 2 Day 7. Armidale to Brisbane.
Last day and it's still cool this morning and I don't feel warm enough to switch back to summer gloves or remove my scarf until I get back to Northern Rivers shire. I ride down the wonderful Gwydir h-way a road I have never ridden before simply as there is so many other nearby great roads but now I know why people ride this going south as it's a top bit of road – however via Ebor to Armidale over the Nymbodia range is hard to bypass.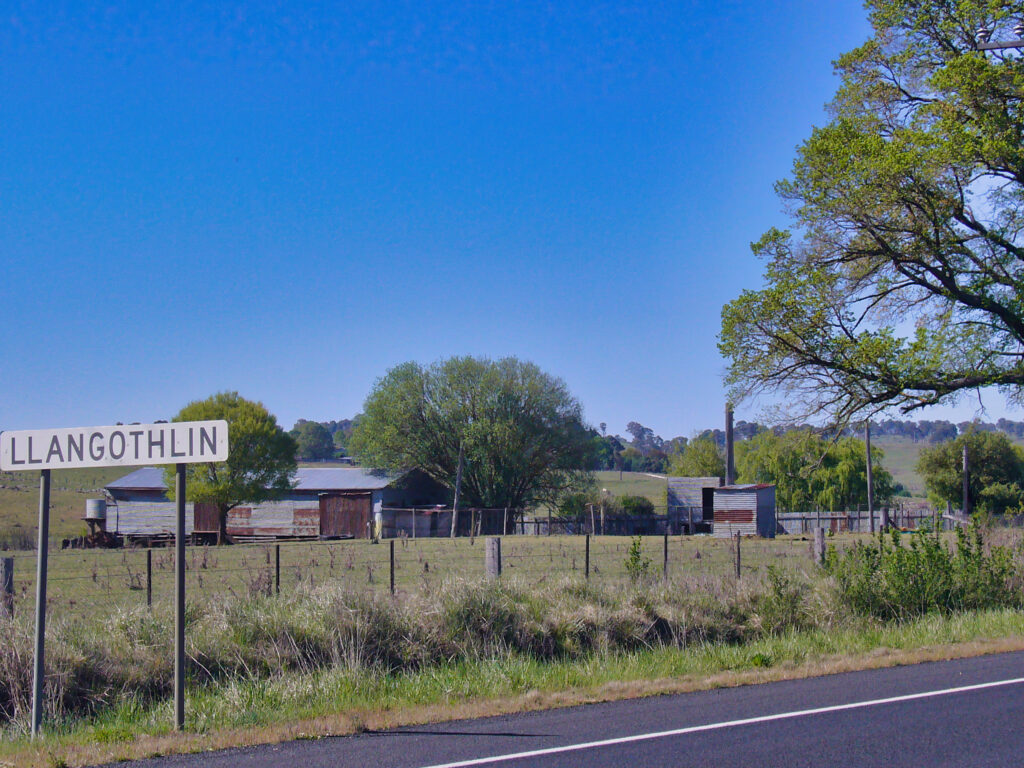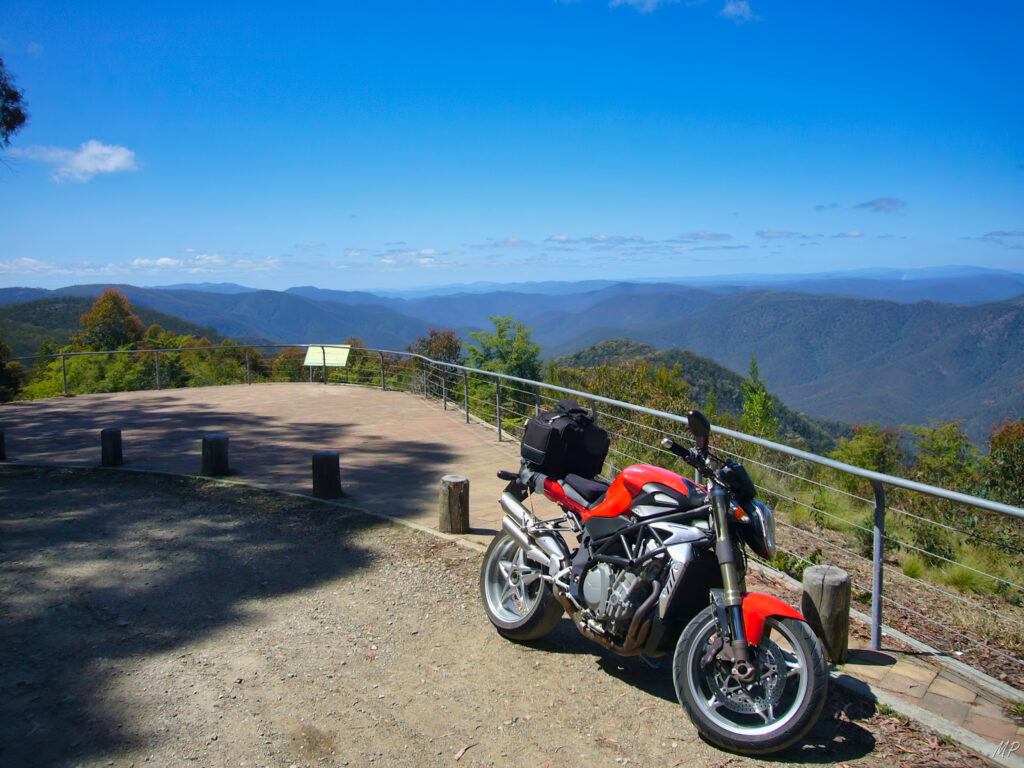 Back over the lower boring part of the Summerland way I reflect on all the roads I have enjoyed and consider I am starting to change what I think makes a good motorcycle road. Lots of tight corner roads are not uncommon. Even elsewhere a series of tight corners is easier to find than a series of sweepers. A road with good surveying offering nice sweeping corners, and a good surface is something I am starting to enjoy more than all the tight switchbacks around where I live.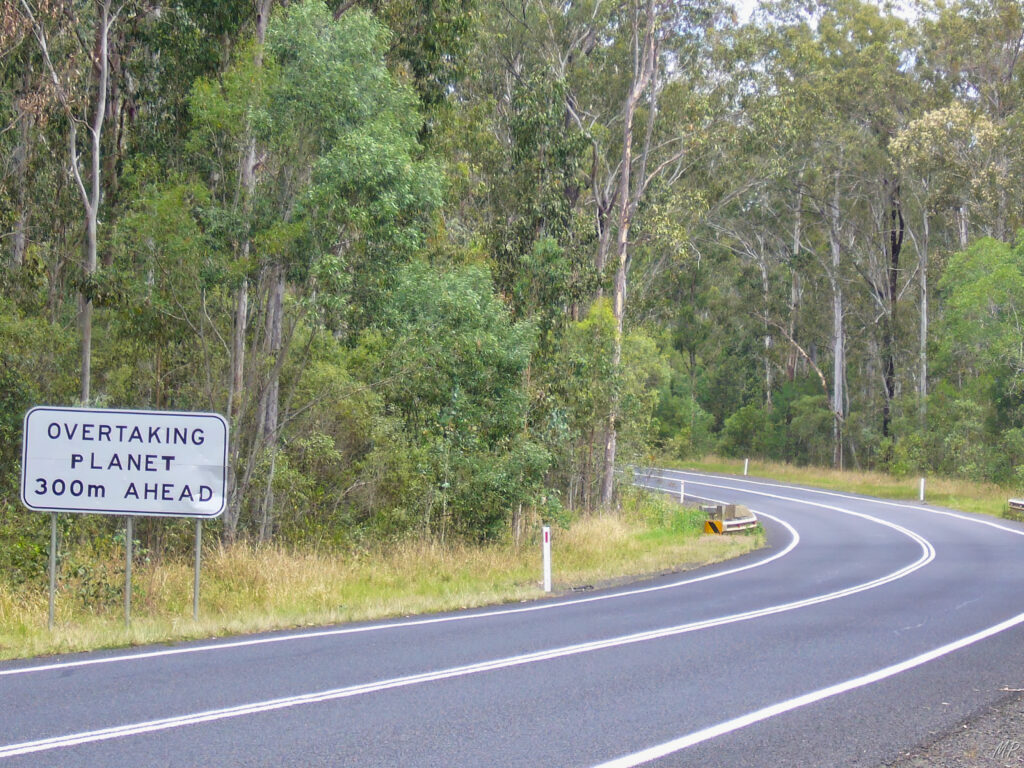 I sure learnt a lot on this ride. 6300km is a not an insignificant figure and too much for two weeks. About 400km per day would be better or even little less if wanting to have time to see things.
Some people have already asked me would I do the trip it again. Sure, but I'd be better prepared and not tour at the same time of year as the GP. I'd fly to the Malaysian GP if I wanted to see racing again, the facilities of Phillip island are poor and the cost too expensive. I would tour less travelled roads with more time to see things and perhaps have a dual purpose bike to ride more dirt roads.
Thanks for visiting the blog.