The MV Agusta has a high frequency buzz that is invasive at certain rpm. All inline fours I have ridden buzz a certain amount but this bike is terrible.
The Brutale's engine vibration is unfortunately the among the worst I have experienced as some members of the press have also noted. A few bolts have vibrated loose and fallen off and it makes my hands go numb on a ride.
I already replaced the bar ends with heavier weights which helped a little, the next thing I was going to do was replace the grips with foam ones which I did on my ZXR750 which also had high vibrations. While looking for foam grips I was on a touring bike forum reading threads about handle bar vibration reduction ideas and came across Grip Puppies.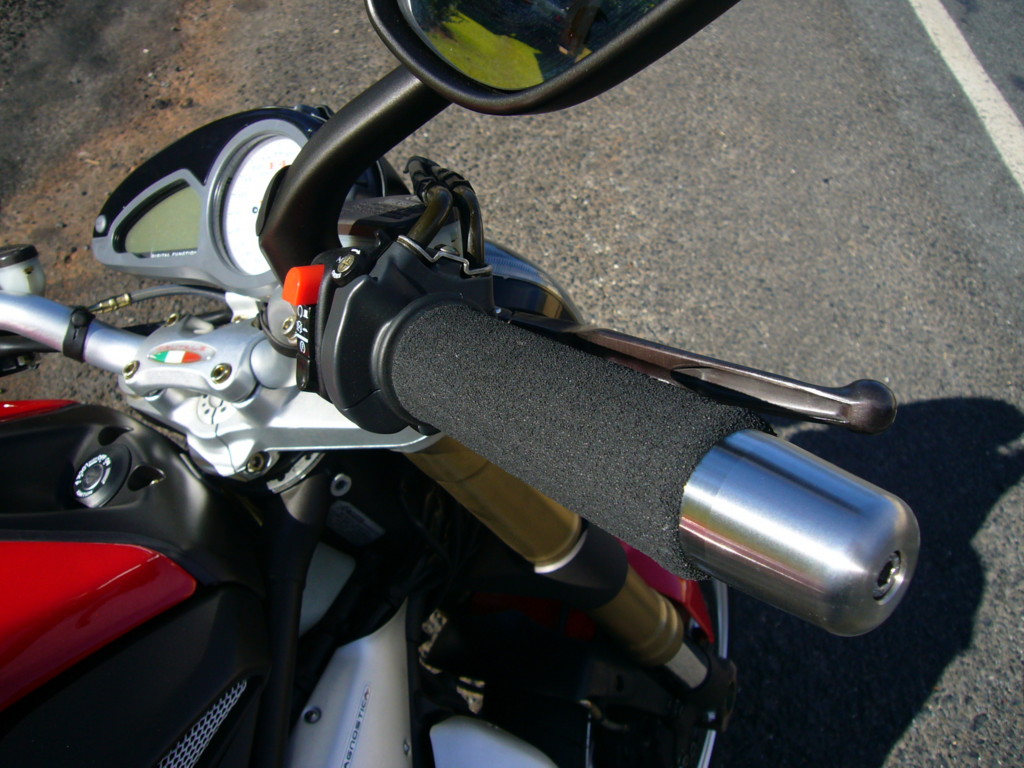 These are foam tubes that slip over your existing handle bar grips to give extra comfort and reduce vibes without the need to alter your factory grips. A simple idea that sounded great.
I order a set and they arrived promptly just one week later downunder without excessive postage charges – thats good service. Here they are fitted.
(Update: the company I previously ordered from no longer ships via regular air-mail – like many retailers in the USA they choose to now only ship International Express which makes the shipping 6 to 10 times what it should be if just sent air-mail , look on amazon or ebay instead) (update – can get them on aliexpress for $1)
You simply wet inside with some soapy water and slide on – takes all of 2 minutes start to finish and mine do not slip at all once fitted.
On the road they do help to slightly reduce the buzz like the heavy bar ends. They certainly made the MV more comfortable than standard rubber grips.
These will not suit everyone – you do need to adjust to a thicker grip, small hands may not be able to, but if you really have a serious comfort issue with vibration then for a few dollars these have got to be worth a try.
Update: Now 1 year into use and I can recommend them for buzz without hesitation. You will take a few rides to adjust to the extra thickness but they do reduce the vibrations.
Update 2: Still going fine, now fitted to my Buell in 2010 but perhaps not really needed on the twin.
Final thoughts. I am no longer using them, my new Honda has rubber mounted bars – that I think is what I could have looked at for the MV also, ie use thin rubber strip to isolate the bars. That would have been via a raising plate, probably not too difficult an item for any metal shop to make then thin hard rubber underneath.