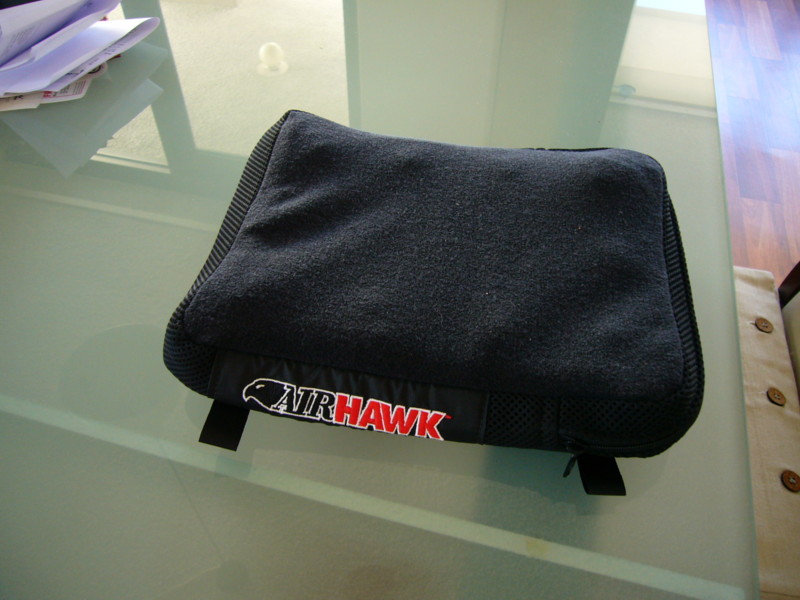 I have been having a terrible time with my MV Agusta's ride quality and tried to make it more comfortable via suspension but only got so far and then was going to get the seat re padded but it is so narrow until I remembered reading about these and thought I would give them a try.
These things really are seriously comfortable!
To start with there are many sizes but I had to go for the smallest actually listed as a pillion seat cushion as all the others were too big for the tiny MV seat.
To inflate you simply unzip the side and unscrew the valve and inflate so that you have something that wont bottom out when you sit on it bit also not over inflated either which lowers it's effectiveness.
Install on the MV is awkward … it doesnt fit really either way I lay it on due to the shape of the bikes seat. I elected to sit it across the seat (ie sideways) as length ways it seems too narrow – but I may try that way next.
Once rolling you can feel it absorbing the bumps. You float on top of the cushion of air and I can see how people could do very long rides with the larger versions of these on a tourer or cruiser in total comfort.
The only thing I didn't like first ride was how you do move around a little bit. Imagine sitting on some firm jello – thats the feeling but the jello moves backwards under acceleration which is bit off putting.
Update – now much better – worked out I had the pad over inflated, have it now 1/2 inflated and it doesn't move about like jello anymore and also have placed the cushion as far forward as possible which makes it fit well. Now 100% happy.
Update #2 – I can ride all day without any numb bum and have no lower back issues that I always experienced when in a saddle for a long day. I have had Corbin seats before and they are better than factory however the air hawk is significantly more comfortable again. They now come in more shapes and sizes too so you can get one that is shaped closer to your bikes seat shape than this simple square one I have.
I have completed a 7000km tour on the MV in comfort with the Airhawk. Compare that to when I first got the  bike I was in discomfort after 100km. While it does not blend into the the bike I am quite happy using this whilst I have the Brutale.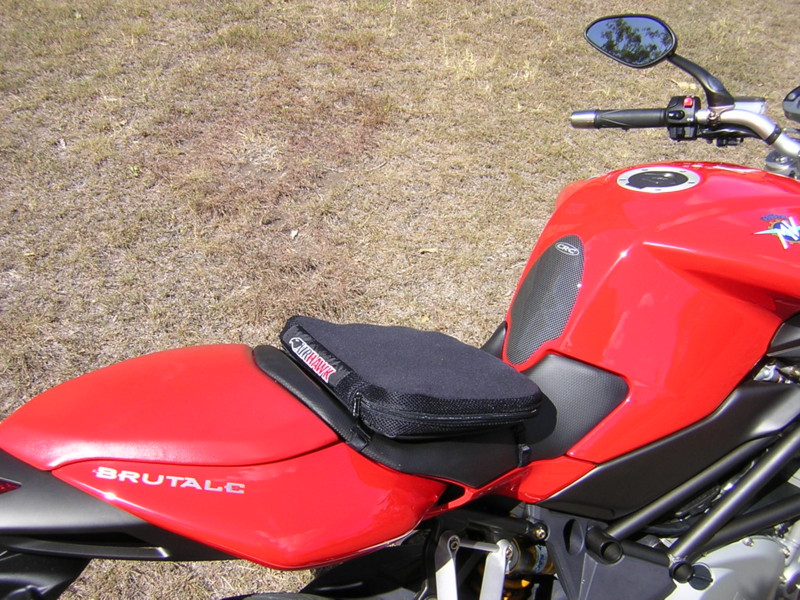 UPDATE THREE
Still using the same Airhawk, have done plenty of miles since interstate, 700km day rides and rain or sun it shows little sign of wear so far. I now have it on my 2009 Buell XB12r and it fits that well. I agree with the comments to try less air, you can get away with perhaps 1/3 inflated if your seat is flat enough, like the Buells. On the MV Agusta I needed to keep about half inflated due to narrow shape.
There are new models out from when I first purchased mine and I would look at the smaller of the regular models as an alternative to mine depending on the size of your bike seat (and bum) They have a dual purpose shape one now too which would be great on an adventure bike.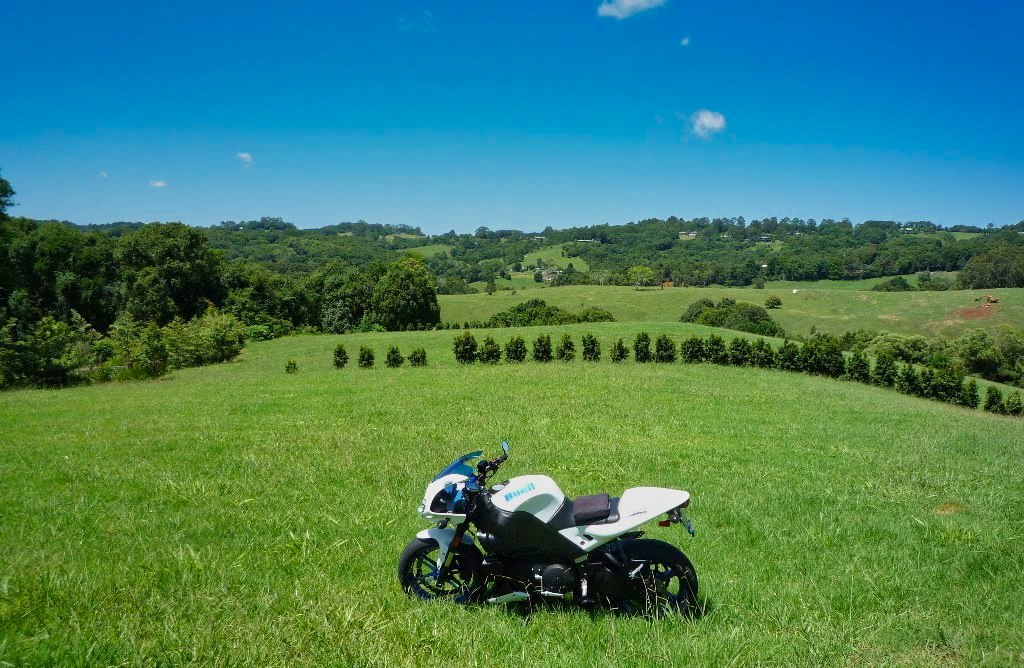 Had a few comments about "you sit on that?!" or "Wouldn't have anything on my seat" or "looks stupid" – You know what is stupid? the same guys not riding often or very far because they are more concerned about image.
Even my old square one above you can see is not overly noticeable. It certainly does not spoil the lines of your bike. My fabric is getting a bit faded. I could remove the cover and die it in some fabric die for a couple of dollars but honestly I am not that concerned.
Update 4. I was using the Airhawk on my CB1100 from 2011 to 2013 as despite having a wide seat it was hard as a rock. I could have gone with a larger one for that bike but this one is still in working order so why spend more. See it below.
Final update – my Airhawk is still working but I don't use it on my current ride a FJR1300 as the seat is really superb but I take the Airhawk with me when renting bikes overseas sometimes. You know those road-trail bikes with seats about as wide as a piece of wood and as soft as the same? Well take your Airhawk and curl it around those narrow seats and be amazed at the change in comfort. Very similar problem to my original MV Agusta seat which was narrow and hard.
Of all the things I have purchased for riding I cannot think of too many that has been better value than this item over the time I have owned it.