Beautiful day today. Sunny and mild weather with clear air, no wonder there we 100's of motorcycles out and about.
I picked the CB up from Pipemasters exhaust shop Saturday and was unsure if the revised baffles were still too loud or not. Well I can confirm after todays ride yes they are still much too loud so back it will go.
Todays ride was not too long in distance and besides the mufflers was also a test of my attempts to reduce chaffing of my hands inside gloves using silk glove liners this outing to see how they work. Will know tomorrow when I wake up as it is a delayed reaction.
I met up with a mate who I had been nagging about not riding his bike and we rode south via the Currumbin Valley and did a lesuirely loop around the roads to the east of Murwillumbah following the ridges of the hills zig zagging across the Pacific highway a number of times before arriving at Mooball.
The Mooball petrol station has stopped selling premium, which seems to be throwing away a opportunity to attract motorcycles on the weekend or any performance vehicle, oh well their loss as the Burrinbah petrol station obliged.
There were heaps of riders doing laps back and forward on Burrinbah range. Nice bit of road but I am past that stage of life. The back roads around Stokers Siding are a bit choppy in places still from flood damage however still rideable.
Lunch at the Tweed Valley gallery. I brought along a different lens today which I got cheap but clearly it is too long a zoom and I struggled to use it.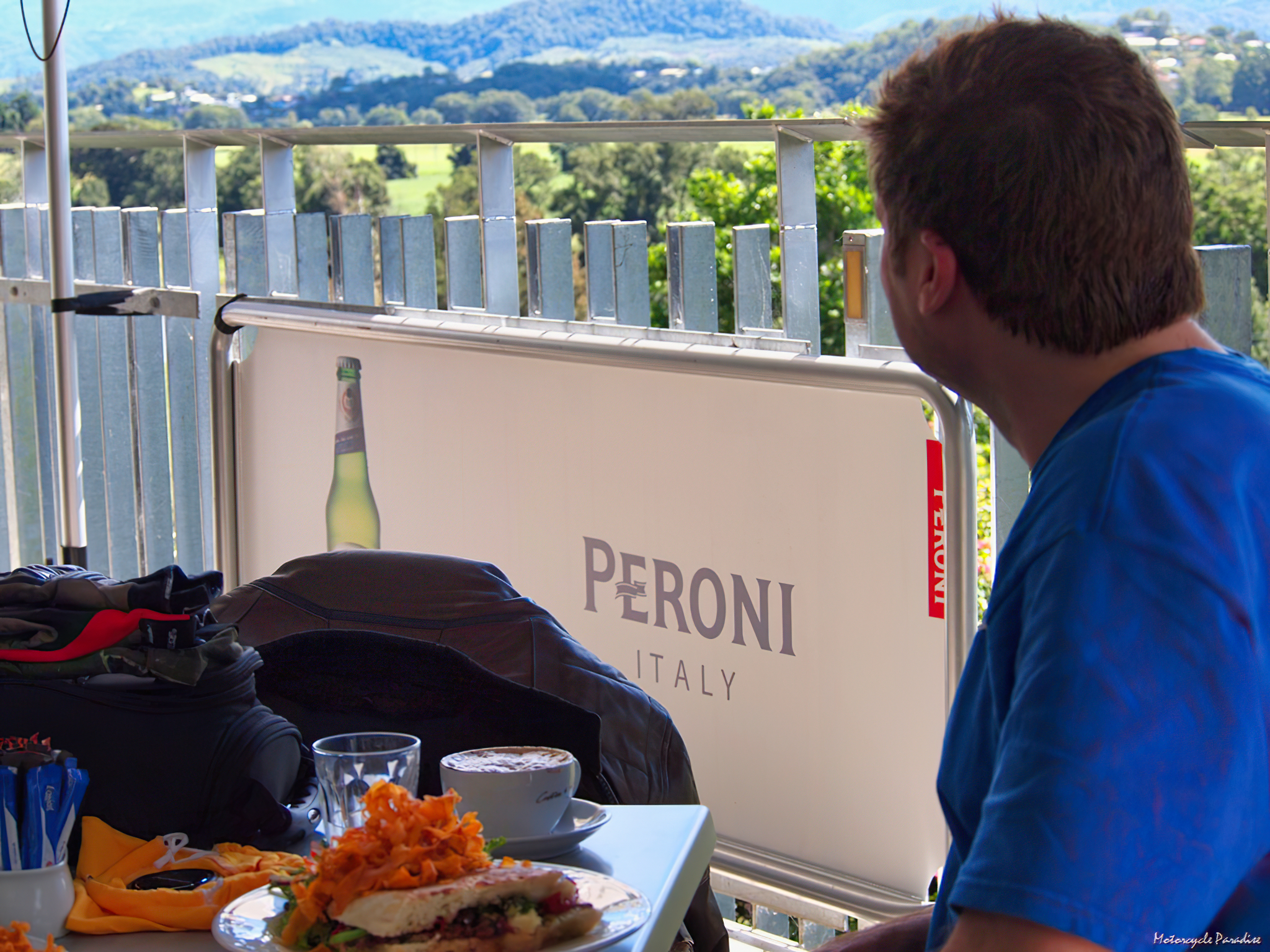 Actually I am considering changing cameras from the Olympus Pen to one of those new Fuji X100 cameras. Besides a basic idea of what is in frame I can rarely make out on the screen of the Olympus what my photos look like when taking them as the sunlight washes out the image so much. The X100 has a hybrid viewfinder that offers clarity of what you are shooting but the down side is a fixed lens which I don't know would work for me.
From Murwillumbah we did a long haul back to Coomera in one go which was much too long in the saddle. Just seem to keep coming across slow cars and after passing wanting to stay in front but that is a crazy game and I should have stopped at the border or somewhere to try the lens some more. The Numinbah valley café is closed down, they always were packed on a Sunday and with what would appear to be a shop operating from home there would be no high rent so quite surprised to see it shut up. Nerang Mobil petrol station also closed but for a makeover to a 7/11 outlet.
The CB continues to impress me like no other bike with the way you can enjoy your ride at a relaxed pace. Nice day, nice ride.