I was starting to think we were having an endless summer this year (albeit a wet one) as today is the first day of April and yet the forecast was for 30 degrees in western suburbs and 28 on the coast. Well time for mother nature to catch me out for 2012, it just reached 26 mid afternoon and all morning was a very Autumn low 20's. Guess who left home in his summer jacket thinking it was going to be hot.
Despite the chill at times on upper body it was bearable as was a little bit of rain encounter later in day.
A bit of a variation to my usual routes, today I turned off M1 at Stapelton (but kept clear of the nearby busy BP service centre) and followed Stanmore road to the Beaudesert–Beenleigh road for a nice run out to Mt Tamborine. They continue to work on the road that ascends Mt Tamborine from that side, there are a few good corners in what is a very short climb. Many motorcycles out up there and upon arriving in Canungra probably 100+ motorcycles in the main street near Outpost café – they must be pleased with all the custom from the riders. Too early in the day for me to think about stopping.
Riding over Mt Lindsey I was thinking about an post made by a fellow blogger who asked what makes the perfect road. I think I made some drunken comment on her blog about the right radius of the curves. This came back to me today as I approached one of the two corners on the Mt Lindsey road that to me are near perfect corners. They are not able to be captured in a photo but are conservatively sign posted as 30kph and 40kph left hand corners (travelling south) before reaching the border. You cannot see through them so can not know where the apex is but this won't bother you as neither are a decreasing or increasing radius, both are a nice constant radius and when banked over looking for the exit they seem to go on and on giving you a lot of that gravity defy feeling. I can ride to there just to experience those corners and arrive home happy.
However I went on to the next place on todays route where a couple of perfect radius corners exist, just west of Grevillia. These are a lot faster sweeping corners but again you will find a nice extended constant radius corner here to be enjoyed. I was surprised to see the Grevillia general store/café/servo was burnt down. Not sure what happened there but with Wiangaree not selling petrol anymore I was on reserve from there to Kyogle.
You could see the rain in the distance by about Cawongla when riding the Kyogle-Uki road. By the time I reached Mt Burrell the roads had increasingly become wet and rain was spitting so I decided the clouds must be moving away from me to the border ranges so I stopped at the Sphinx Rock Café for lunch to let the rain move on.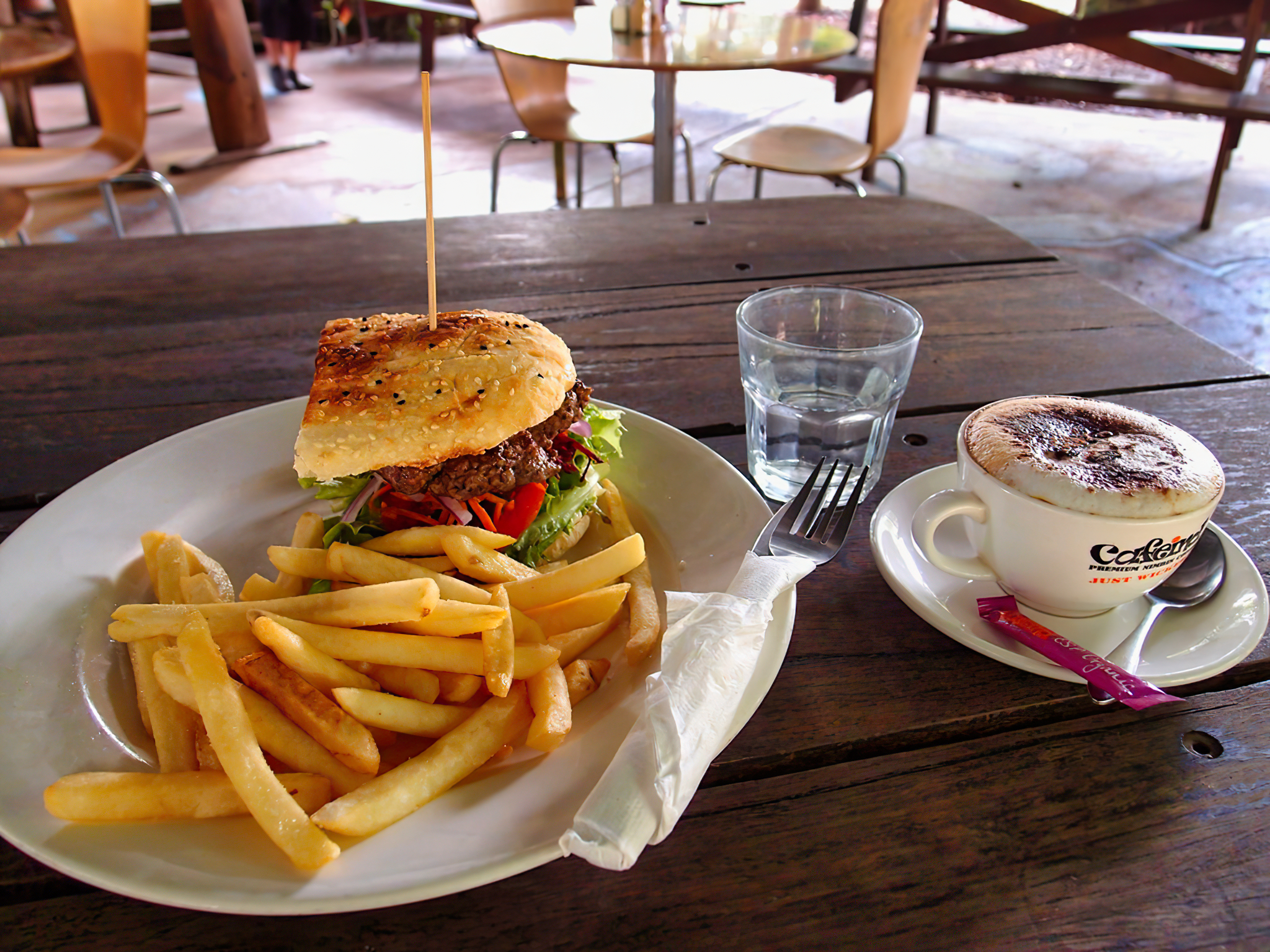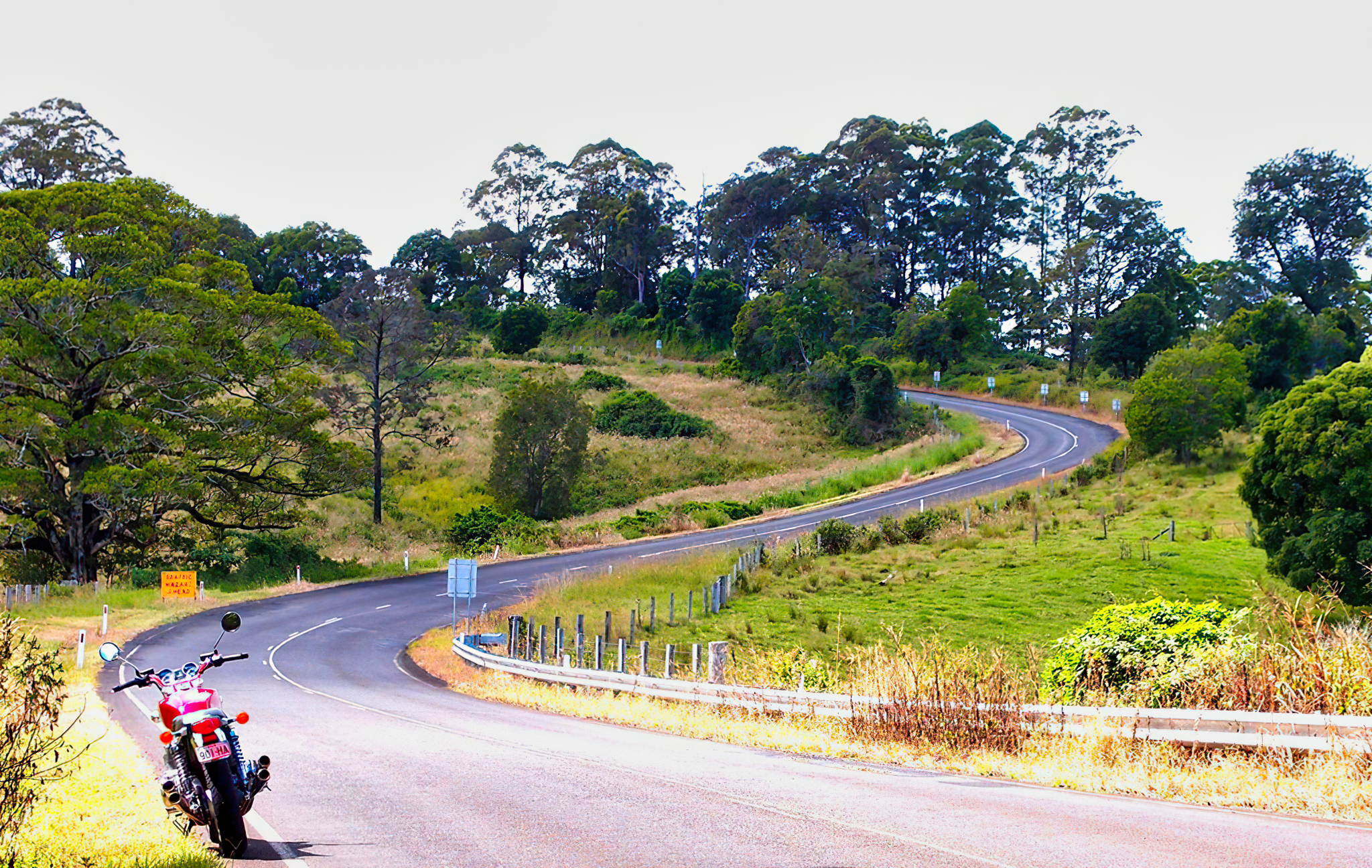 Lunch was good and the plan worked as by the time I was moving again the rain had moved away to the west to cling to Mt Warning and the roads were mostly dry again leaving Uki. With many clouds moving about still I decided not to press my luck and made a bee line to the border and back via Numinbah valley. I decided to ride via Mt Nathan to Oxenford on this return rather than the M1 from Nerang. This detour has some nice riding actually but depends on how much energy you still have left if you will enjoy it or not coming home. The good thing about the M1 is that you can cover the ground back to Brisbane very quick with it's 110kph limit and with very minimum effort if you are on a comfortable bike.