This winter instead of being in SE Asia I found myself in Japan but I have been getting out for small local rides on the coastal roads that remain free of ice.
Whilst the temperatures can be cold the right gear makes all the difference and the item I found most important beyond my normal winter ride gear is choosing a good base layer.
I have five thermal base layer shirts and their performance varies but all are vastly superior to cotton t-shirts.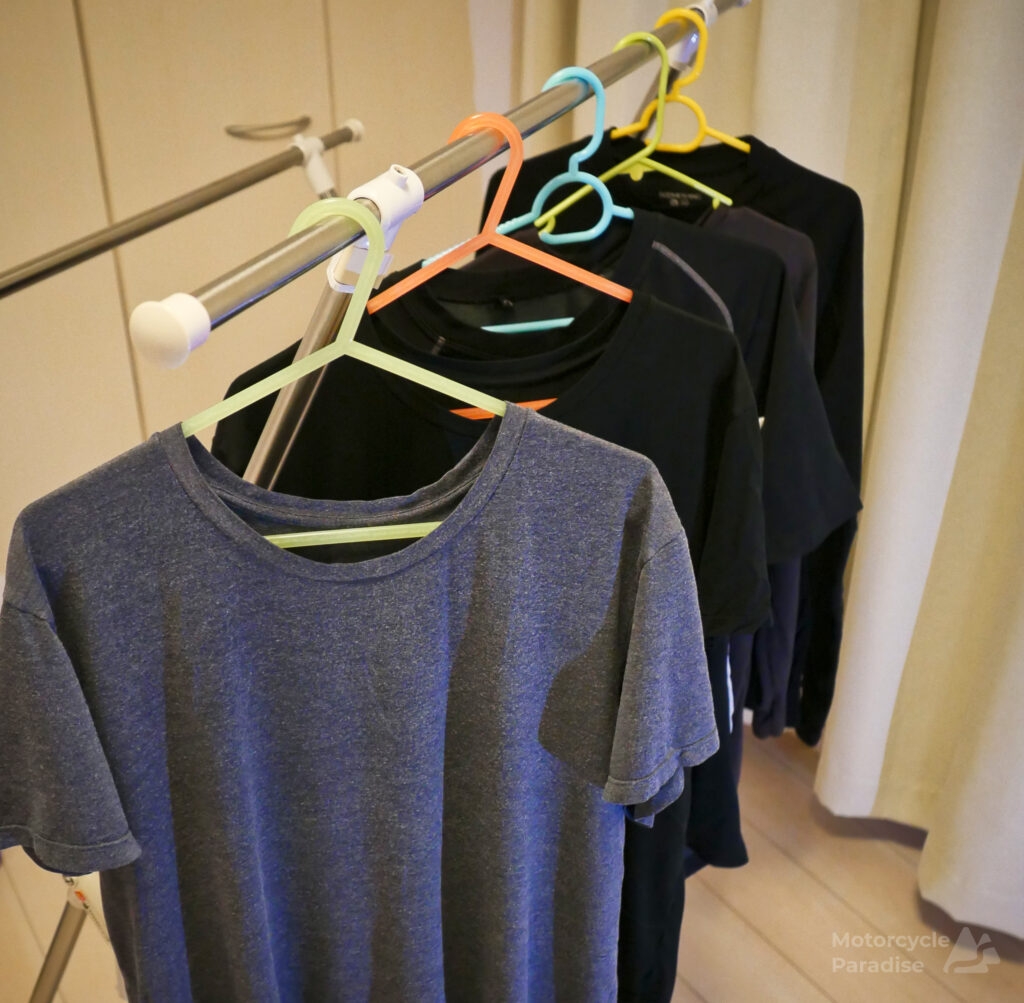 From left is Uniqlo Heattech short sleeve, Uniqlo Heattech Plus short sleeve, Ground Effect merino short sleeve, Uniqlo Heattech Ultra long sleeve, Boomerang long sleeve blend.
I am going to talk about how they perform worn under my Macna Vosges jacket that has an excellent thermal liner fitted as well a breathable rain liner installed. I also am riding a FJR1300 which has full fairing and large screen that combine to deflect a good portion of the wind from the rider – that is to say I feel some breeze but am not in full wind blast like people touring on an ADV bike are.
The Uniqlo basic winter heattech shirt is thin yet noticeably warmer than my cotton t-shirts. This is a synthetic blend which wicks moisture away further helping. It's thin enough I always pack one with me even for SE Asia and if I strike a wet cool day I can easy layer another shirt on top of this for some instant warmth. Good for mild days.
The Plus version of this shirt also synthetic is slightly thicker and slightly warmer. Both of these are loose fitting and limited to milder days above 10 degrees. Guys here layer these together and report that is good for lower temperatures.
The Ground Effect short sleeve is merino wool blend and it's performance is considerably better. This shirt is still not suited to the coldest days but beats the heattech shirts and if the day warms can regulate my body temperature better than the synthetic shirts.
The Uniqlo top shelve item is again synthetic but is much thicker with inner fleece and snug fit. This is very warm just by itself and worn with Macna thermal lined jacket can even get too warm. If I am off the bike not moving I have to open zippers to let air in even in low temperatures. I can ride comfortably down to 0 degrees with this.
The other long sleeve shirt is also close fitting and made by Boomerang and it is said to be a blend of natural and synthetic fibers. Again it is much warmer than the loose fitting short sleeve shirts but falls short of the Uniqlo top model, still I am able to use this on days when temperatures hover around 8 in Autumn so it is no slouch.
No real surprises here, just a reminder if riding in cold weather then ditch the cotton and pickup a good base layer, the form fitting long sleeve being the best performers for me.