It seems as I age my mind becomes increasingly difficult to live with. I get fatigue from it constantly replaying every obscure dumb thing I have done. Riding a motorcycle is a way to escape the B grade Dusk to Dawn Drive-in movie marathon of my life playing in my head 😂.
Two warm days are forecast however the bike needs some attention.
First up is new tyres. I am trying out Dunlop Roadsmart 4's. I loved how the Roadsmart 2 tyres felt but they wore out fast. These are said to have better mileage so lets see.
Much rigmarole at Naps Yokohama, staff insisting I fit Bridgestone GT spec tyres because that's the factory recommendation. Two staff go over my bike trying to find something to fault so they can refuse fitment then unsuccessful make me sign a waiver about fitting the Dunlops (◔_◔).
Back home I changed the engine and final drive oil. The famous Castrol advertisement said Oils ain't Oils – but Yamaha don't have oil wells, theirs comes out of same barrels as the other brands which cost far less so I use the later.
Wheels are rolling at daybreak to avoid heavy traffic. I am riding down the east side of the Izu peninsular. Its already 18 degrees by 10am which allows me to remove my jacket liner in winter!
Riding a motorcycle I am very focused on everything going on around me. I enjoy this. It's part of what makes travel by two wheels so engaging. The bonus is it leaves sufficient space in my head for pondering stuff I observe but not enough for inner demons. I'm following a guy in a red convertible. The roof is up. Hey buddy, it doesn't get any better than this, if not now then when?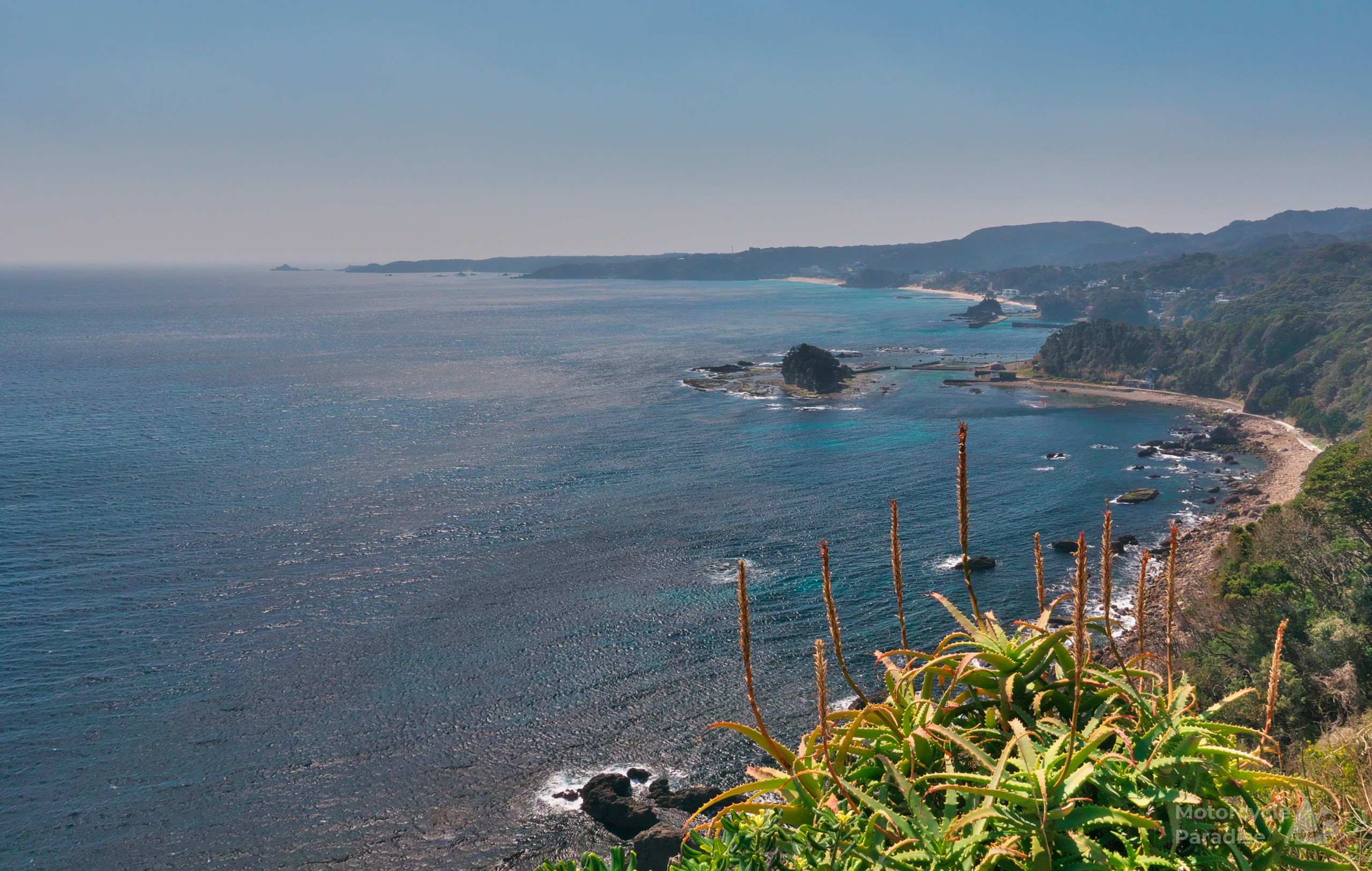 The coast line is quite scenic but initially only revealed in brief windows between onsen hotels that cling to the cliff side. The building frenzy subsides as does traffic the further south I go.
My latest phone firmware gave me Apple ProRaw. What that does is let the phone shoot in raw (non lossy) but still do computational photography stuff like composite images to improve dynamic range. I'm testing how it compares on this ride.
Above, round one, very harsh light winner: Lumix raw file.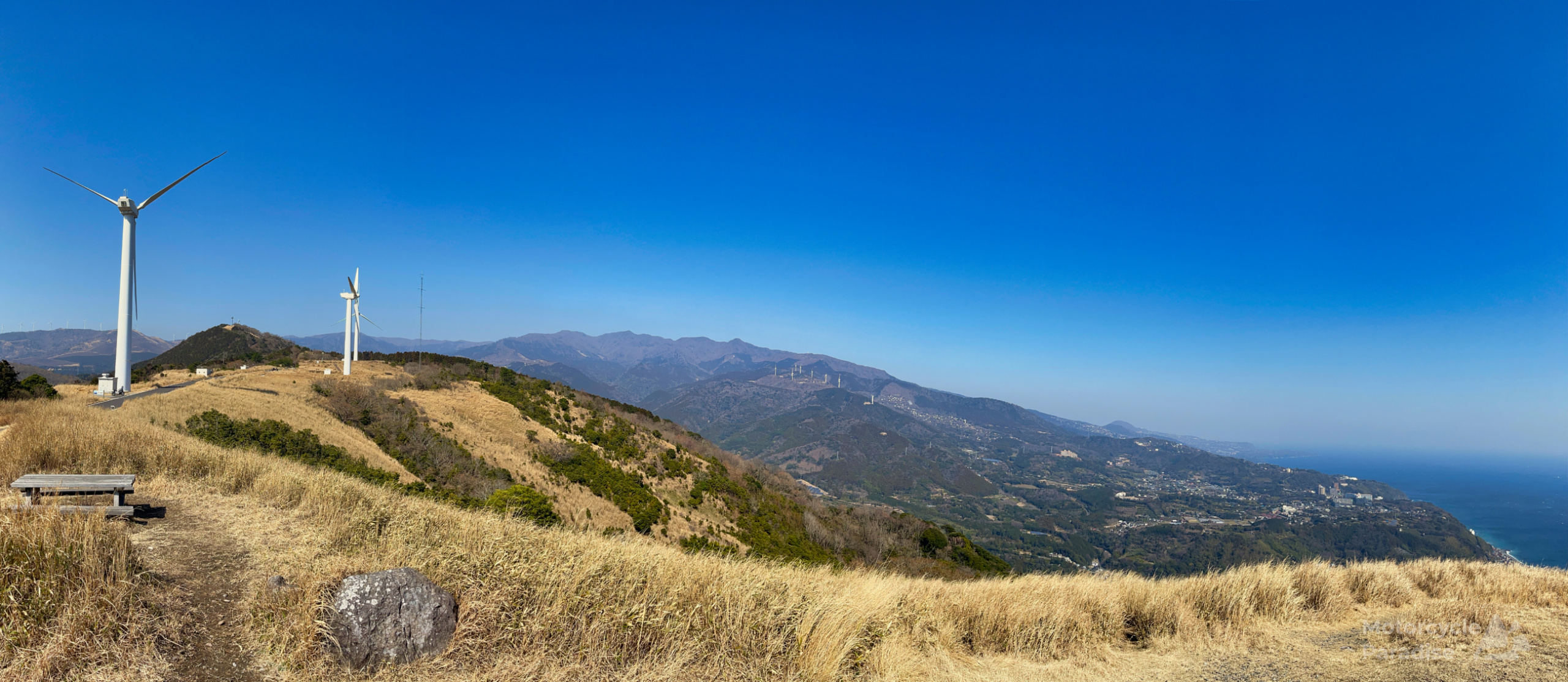 I went for a look up high and had an early lunch at this quiet spot. The phone still only does jpeg for panoramic images but I've always found these large files acceptable quality.
Back at sea level and "nobody on the beach" as Don Henley sang. Across the road the onsens are packed. Public bathing is the national obsession. Round two is a draw the phone could match the camera. My former Canon APS-C sensor would have beaten both, but it's controls drove me crazy.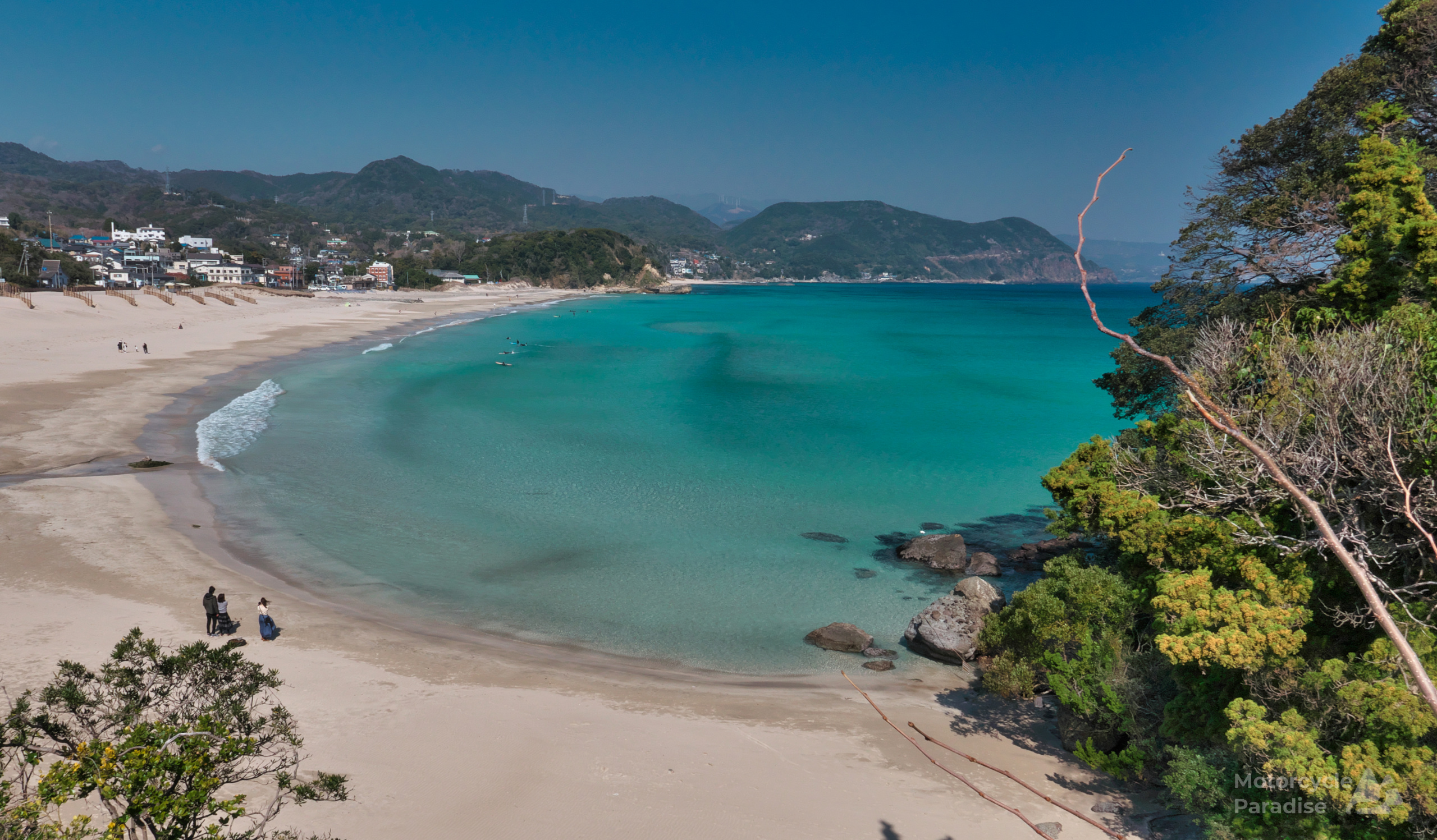 Arriving at Irozaki Cape the wind off the ocean was gale force. I could not hold either device stable.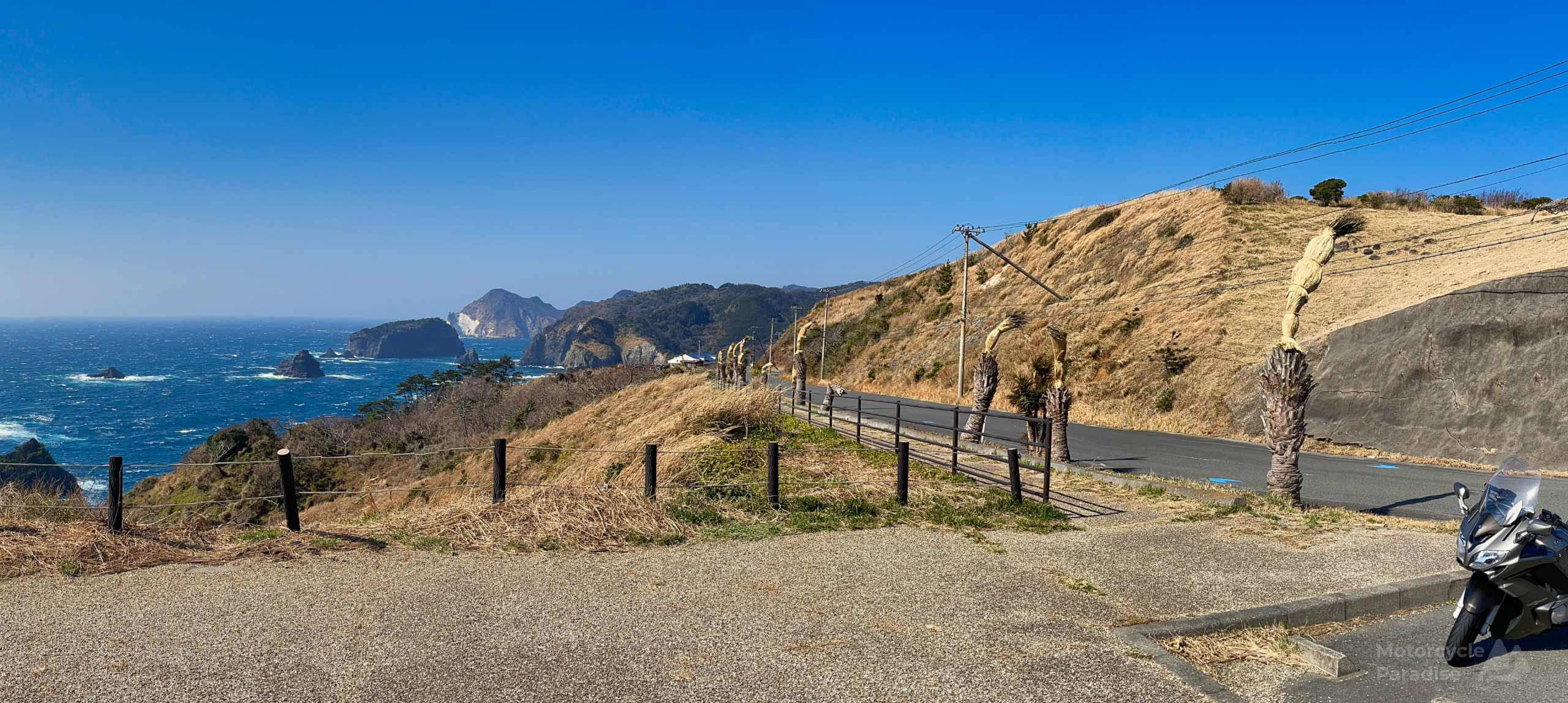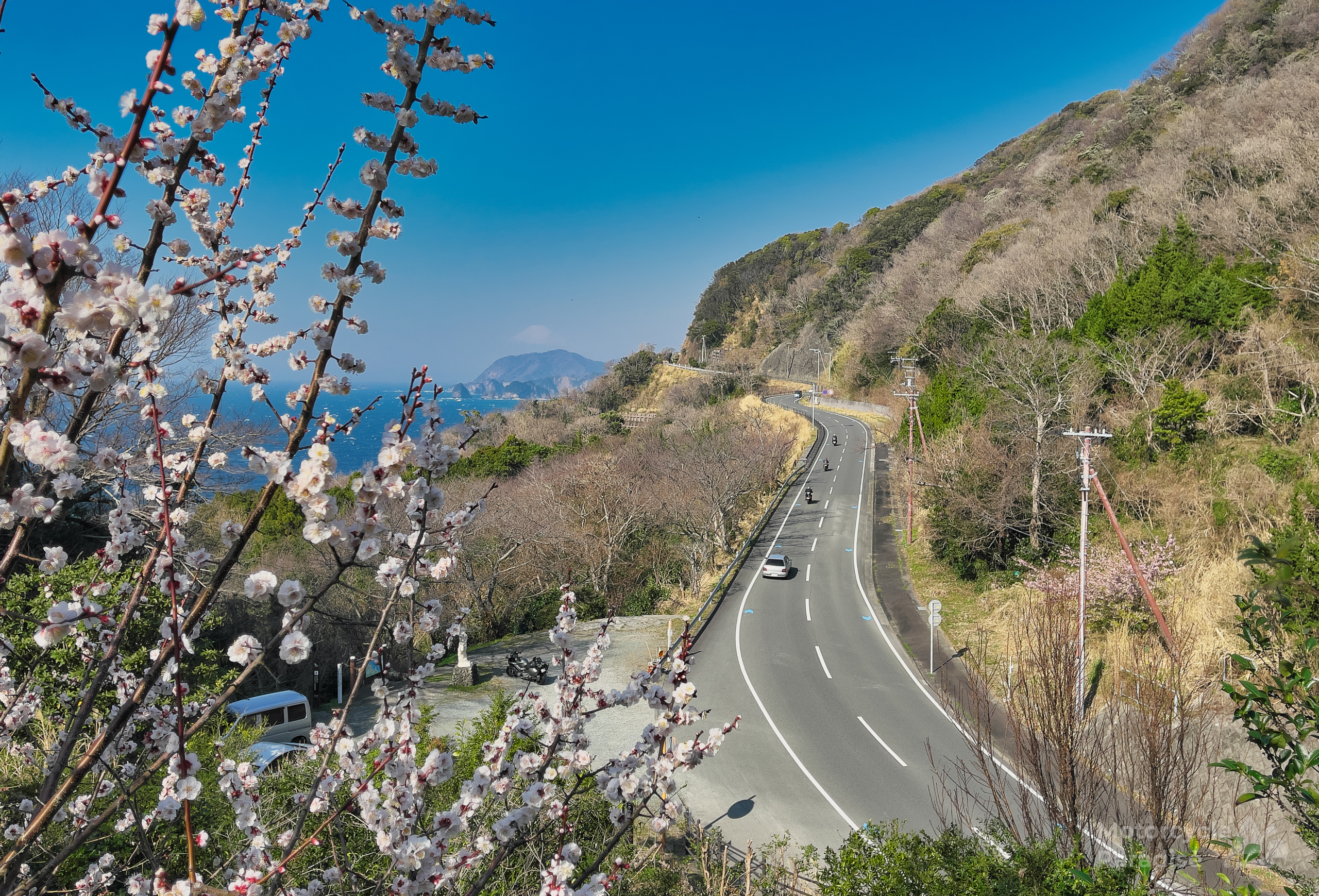 I find myself running well ahead of schedule so stop to take a look at anything. This is the touring pace I like. Above winner: iPhone 12 Proraw. Below winner Lumix raw.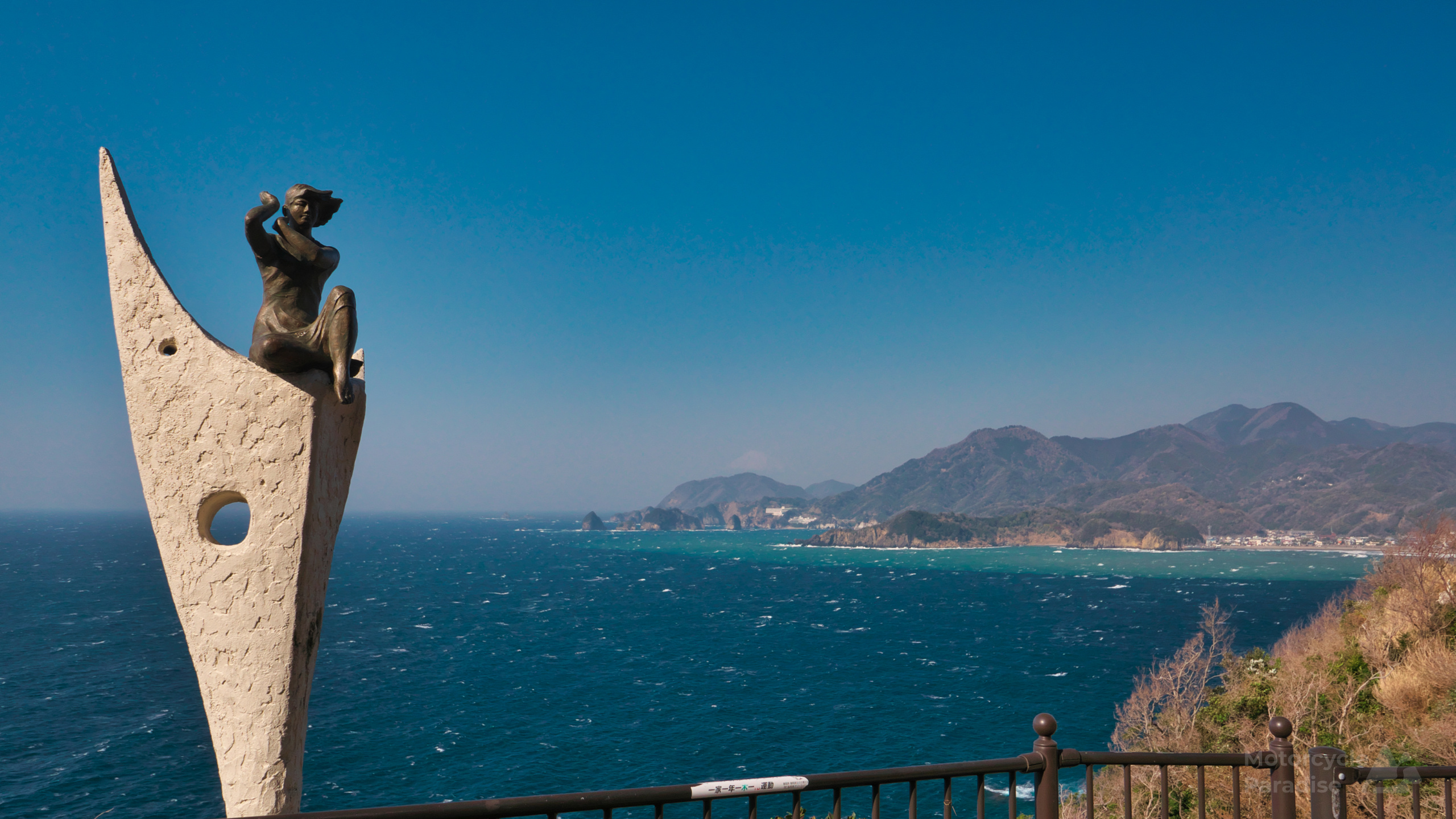 With time to spare and weather so warm I spontaneously turned inland to explore backroads.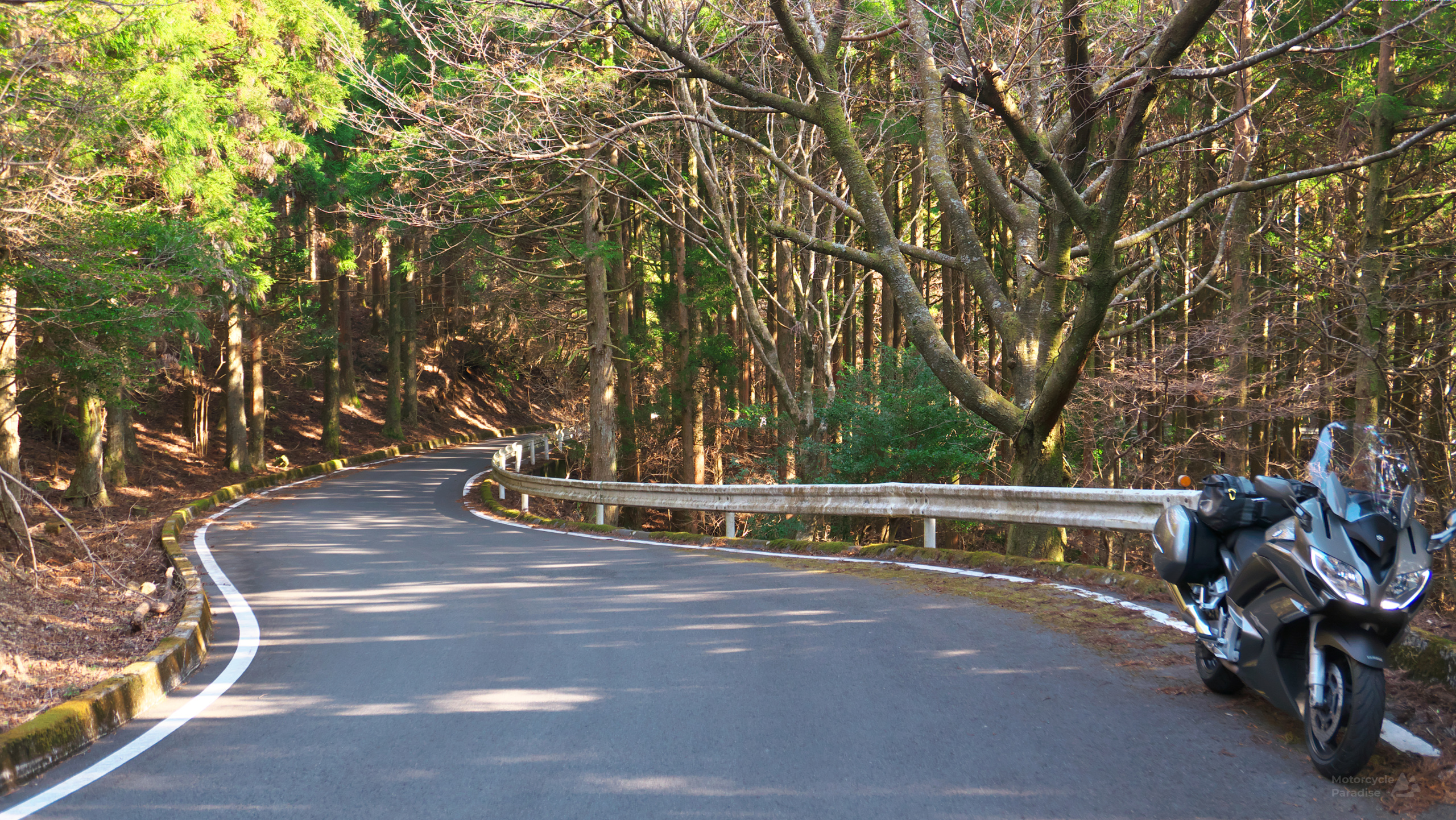 It's a lovely mountain route all recently resealed but I would not try it without the warm weather, too great the risk of black ice in shadows at altitude.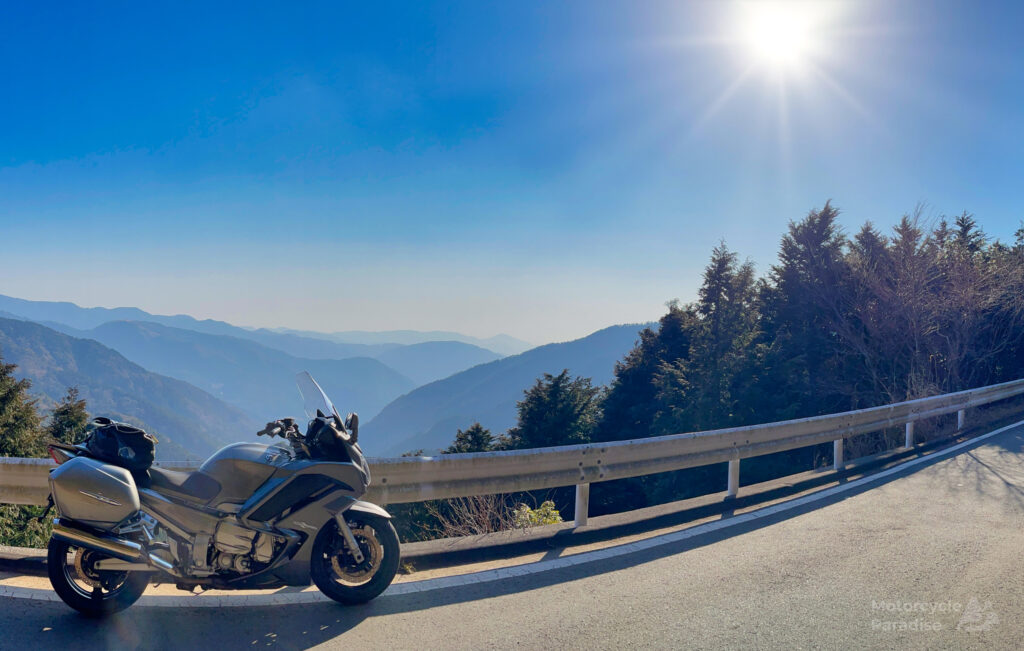 What a terrific afternoon. Winner here is the phone panorama sweep mode that can handle direct sunlight so well.
Riding to my hotel I was feeling fatigued and not watching the GPS it rerouted me into city gridlock when new roads confused it. Oh well, 'not my first barbeque' and I get there eventually.
---
The next day I set off to find a view point posted by blogger Touge Express. I seem to be in the right spot but can not see any road until I spot a narrow track – Oh! that's the way up.
In short order it deteriorated from above easy stuff to a ultra steep track full of loose stones. And just to see if I was "Game for a Laugh" I had a full 25 litre tank of fuel on board. Still, it was worth the effort.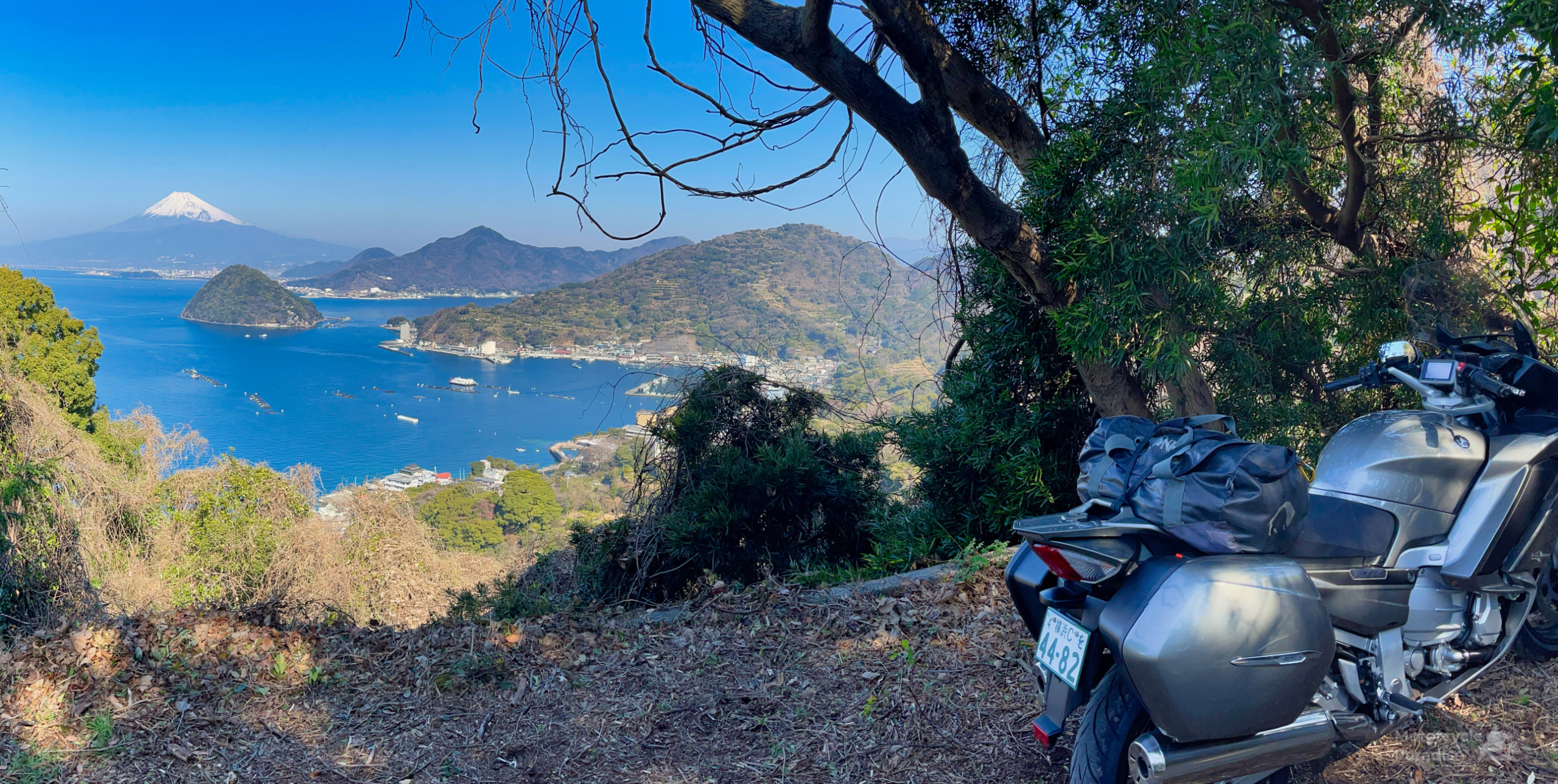 Visiting these sort of places is something I enjoy greatly and I find myself looking at bikes like the Africa Twin. Although returning down I was glad to have a low seat height, the track at one point turned 180 degrees while dropping like a roller coaster. Being able to have both feet planted firmly on the ground then walk the bike was key. The iPhone beat camera above.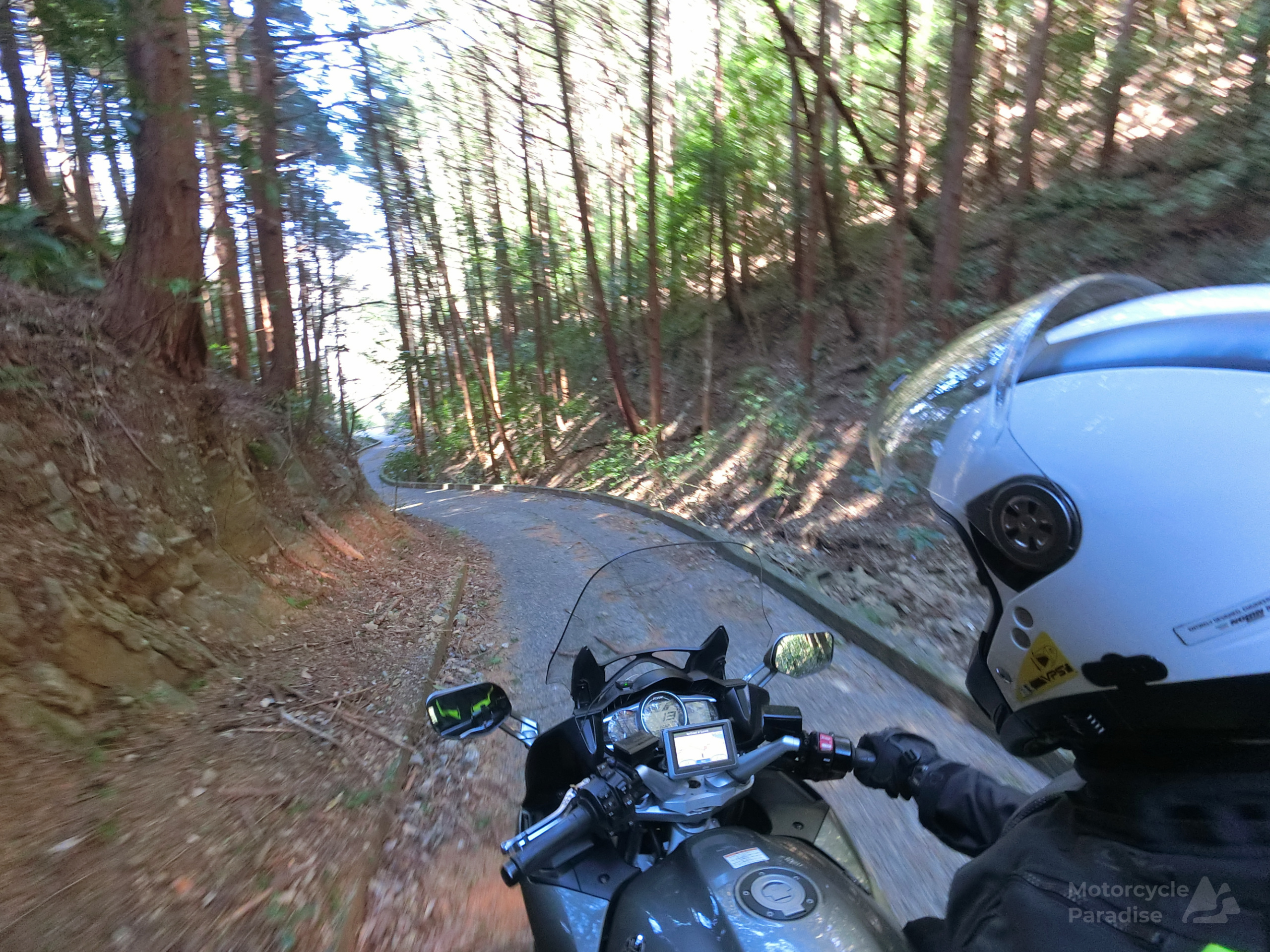 Descending the good bit. Did I mention it was steep? 😂. My mind was certainly 'in the now' here.
Riding south I'm in a happy place. It is warm and clear. I will be enjoying Fuji views across the bay all morning.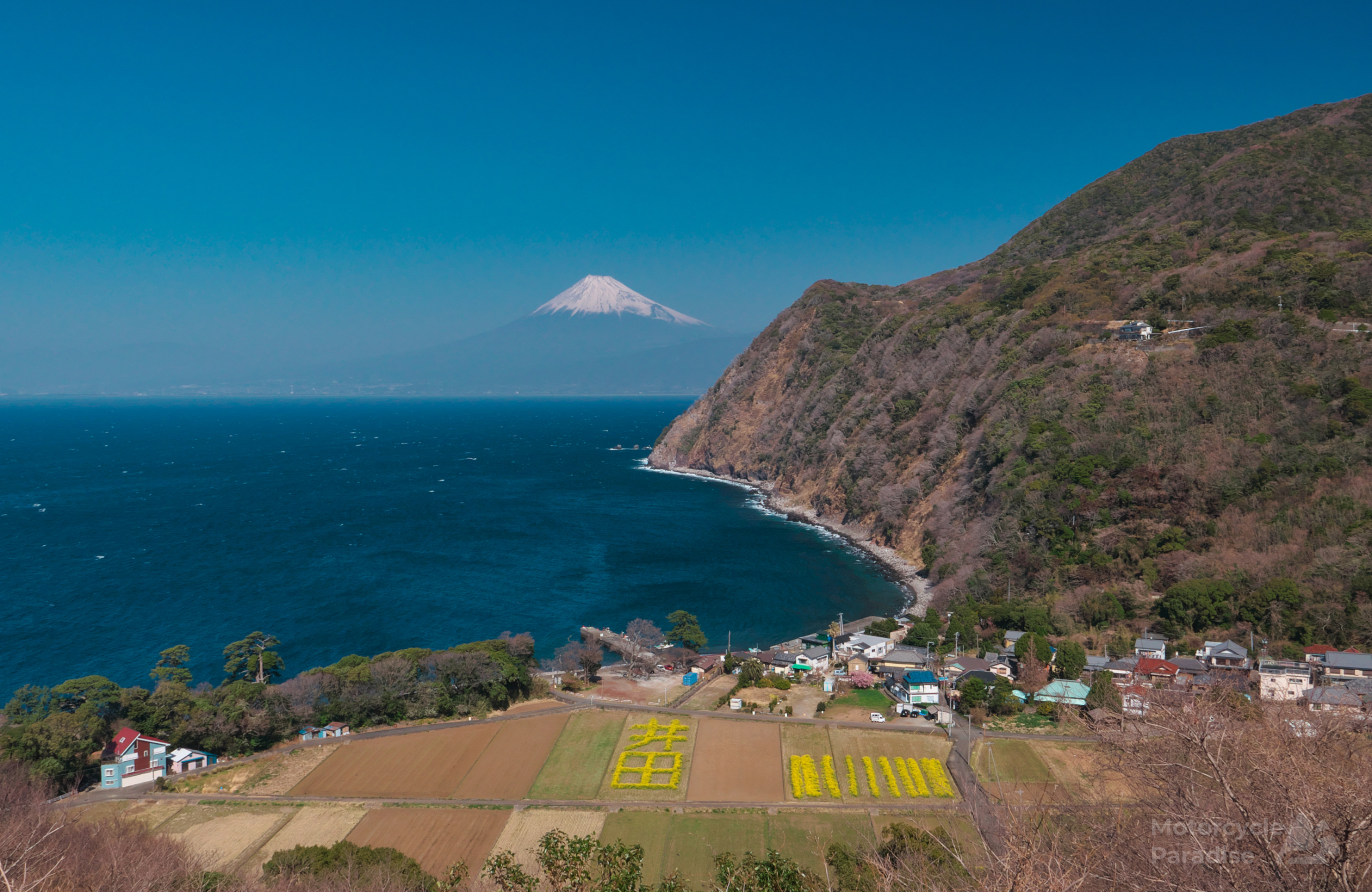 The name of this village Ita has been grown in the field. Its superb riding up high on these cliffs with wonderful road surveying. Riding here this morning a feeling of being at ease with myself washes over me.
Above the Lumix raw was assisted by CPL filter so perhaps not a fair contest.
I grab some bakery items and turn away from the ocean to the central mountain range where I find a quiet area for lunch. That I enjoy quiet picnic lunch stops is a bonus in this covid era to relax with mask off.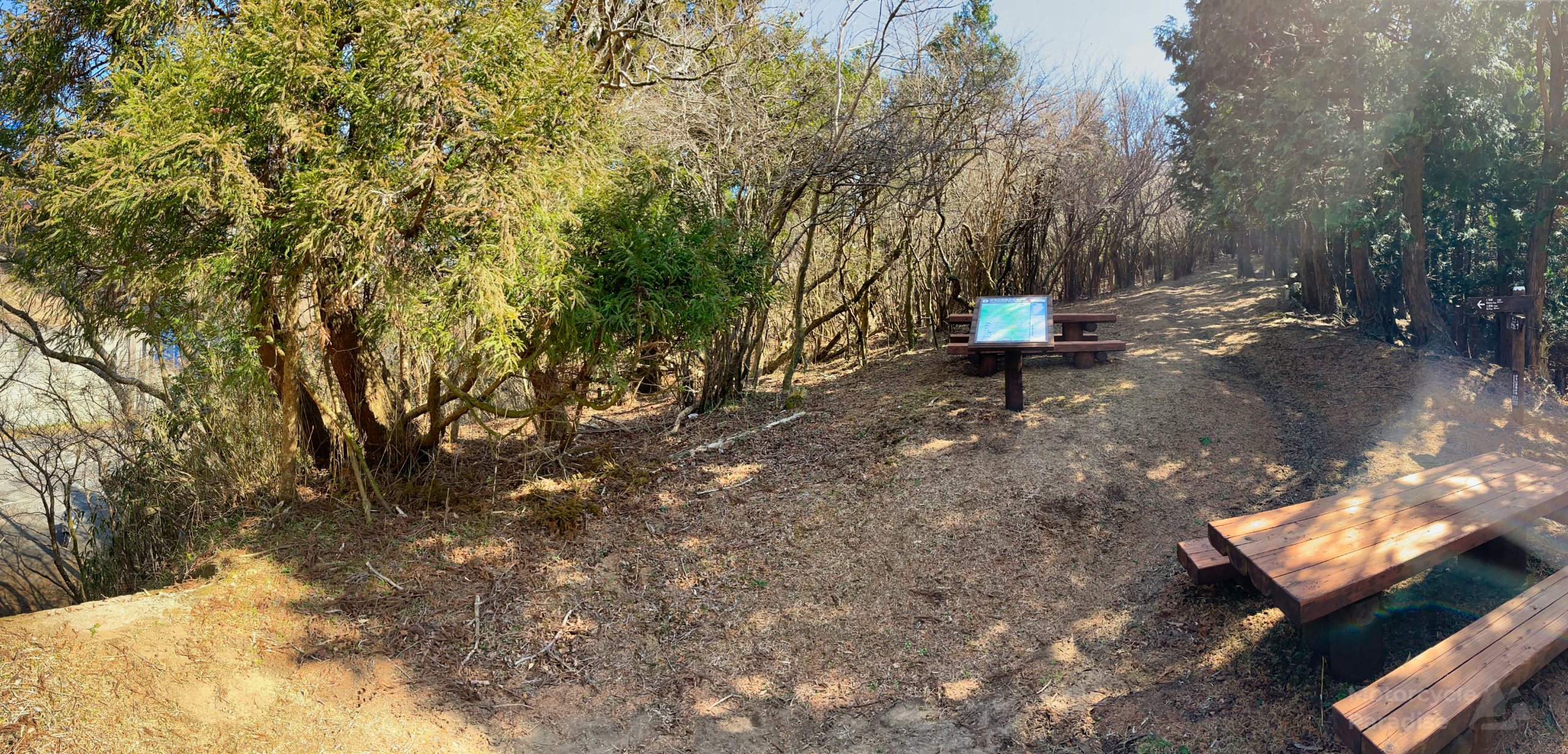 Rested, I ride along the mountain ridge top making my way north.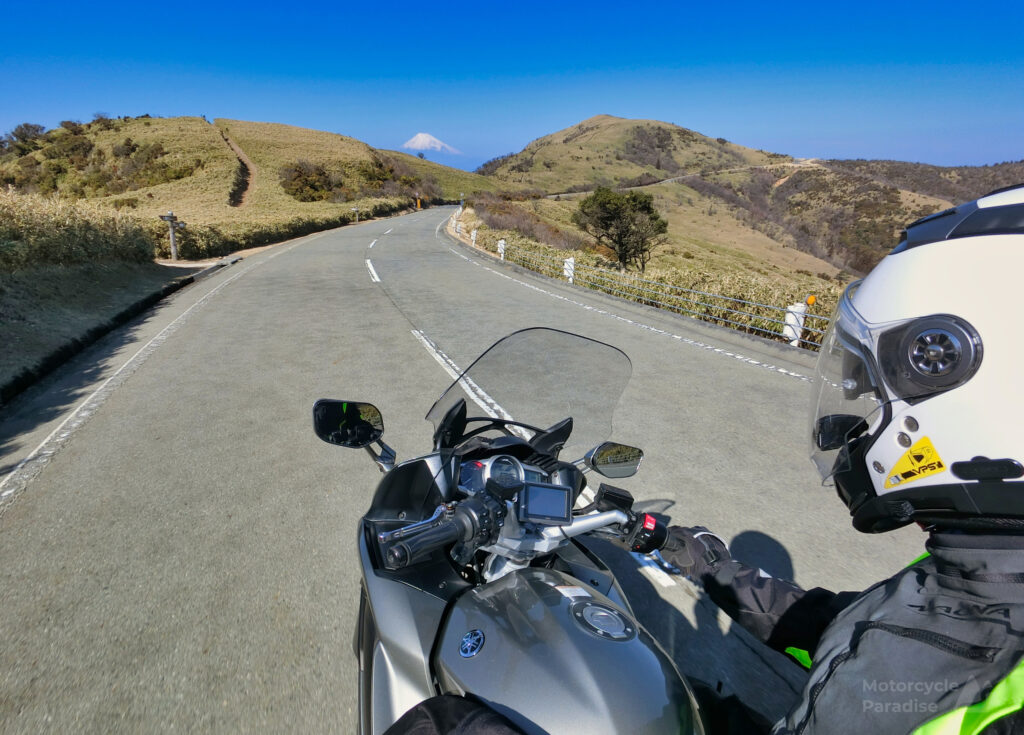 From here I cross over to the famous Izu Skyline.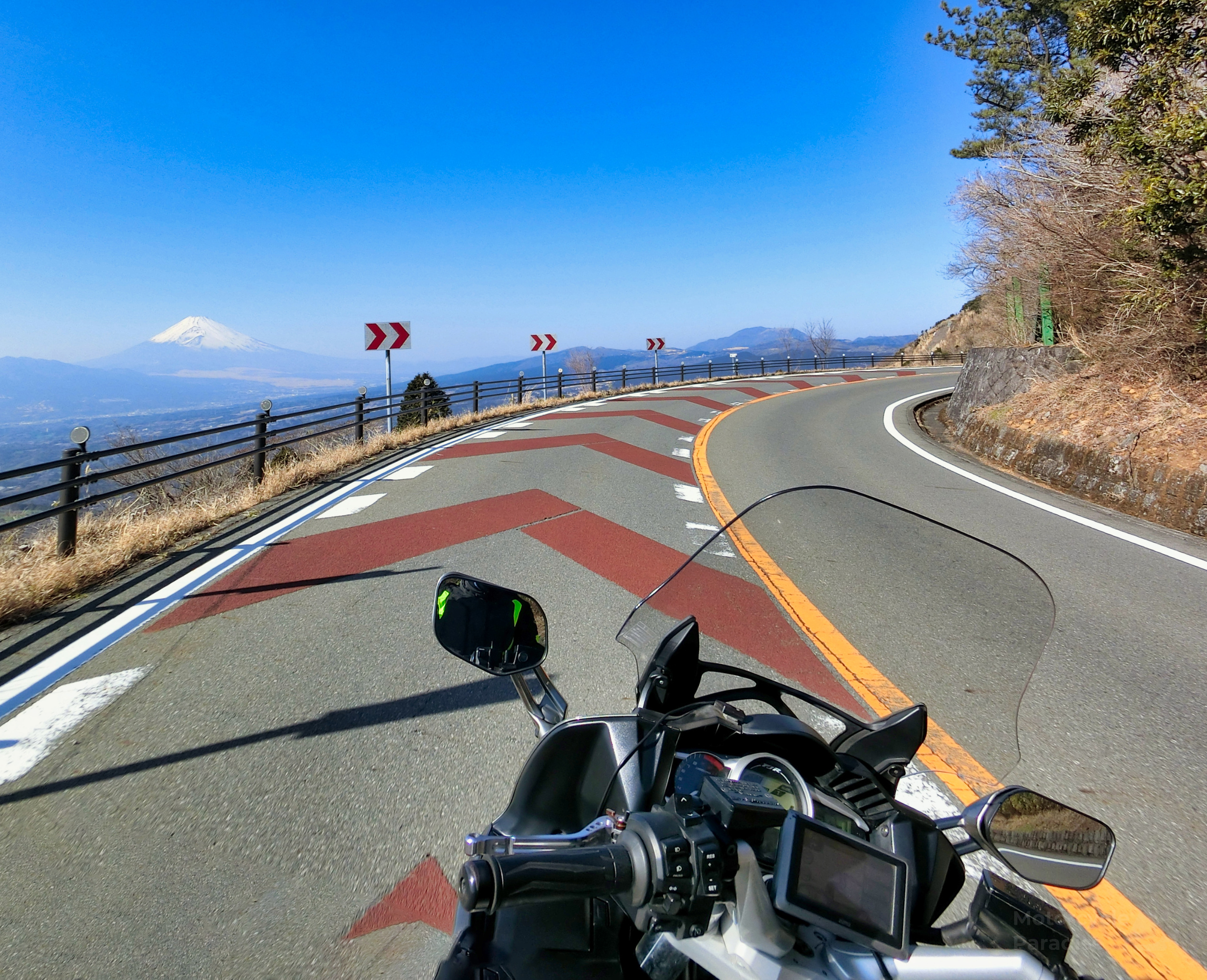 This is the first road in Japan I read about back in the 90's on Gaijin Bikers in Japan blog (now sadly defunct). The author described it as seemingly made for motorcycles and the description holds true today. It is sublime.
I have 500km on those Roadsmart 4 tyres here. They offer quick turn in and almost unlimited confidence. Alas I think that will equal shorter life than I desire but it's too soon to say.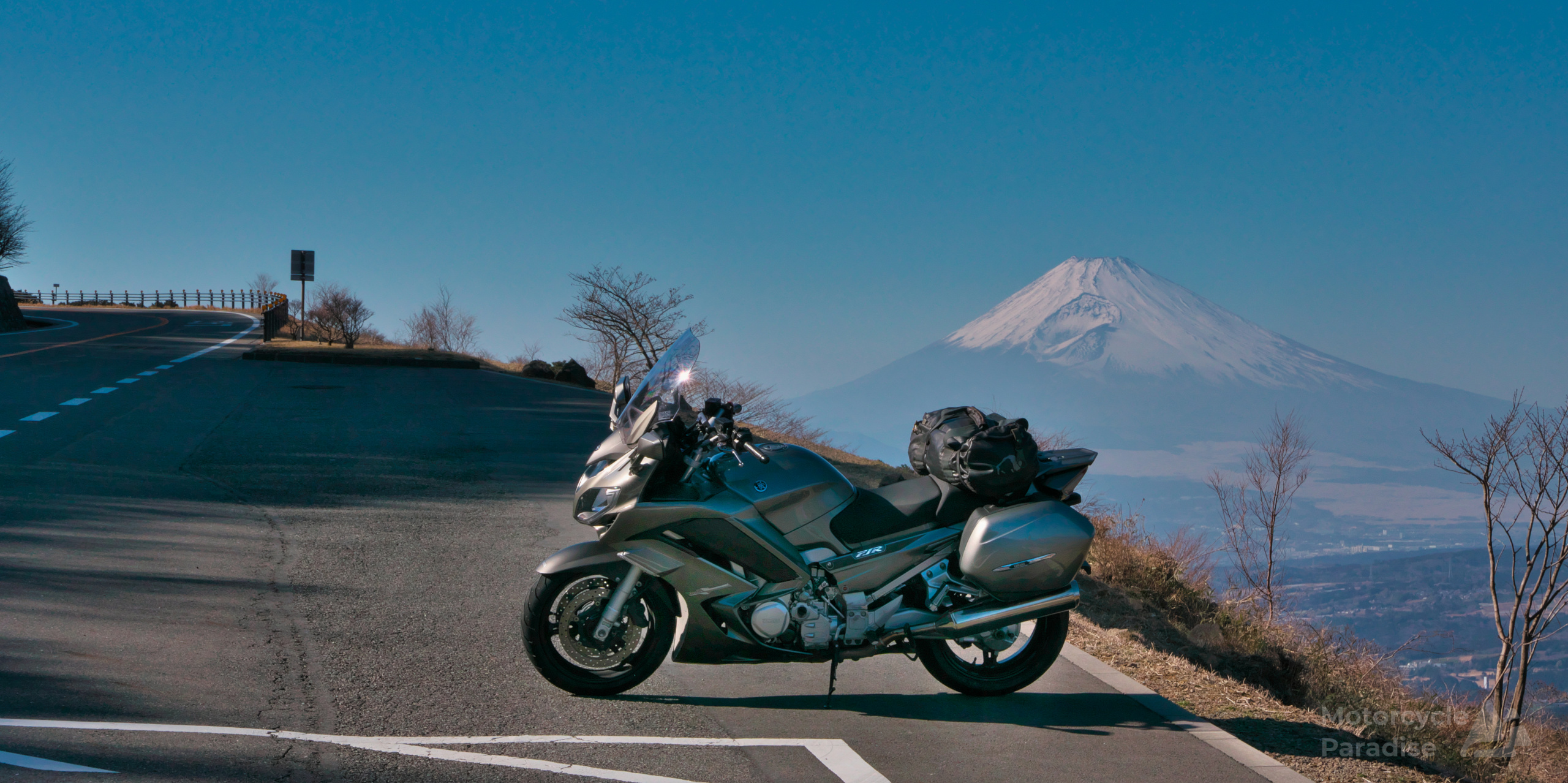 So long for now Fuji, been a treat gazing upon you today since you often are a cloud magnet. The Lumix again took a better photo here but the iPhones panorama (used in post header image) may be the more interesting composition?
---
iPhone 12 Proraw Vs Lumix LX100M2 Raw Vs iPhone panorama sweep.
There is more data in the Proraw files allowing more recovery in post. The Lumix could beat it but not always however that probably is my poor skills not the camera.
I am developing raw to tiff in Silkypix, a program that works well with Lumix files but something like Photoshop might process the Apple files better. Regardless this new feature lifts the phone even closer to the camera.
Despite the new raw mode I chose to use the sweep panorama jpegs a few times. The computational processing in that mode handles direct light superbly. An example is the bike on mountain in afternoon day one.
For this blog it's now entirely possible for me just to use the phone, the Proraw mode is really good. That overlooks the enjoyment from hands on a real camera so I am not ready to give that up just yet.
---
Drifting towards home I detour to check a location another blogger Nanikore wrote about. Nice park overlooking Sagami bay but crowded today with the very early flowering of a variety of pink cherry blossoms.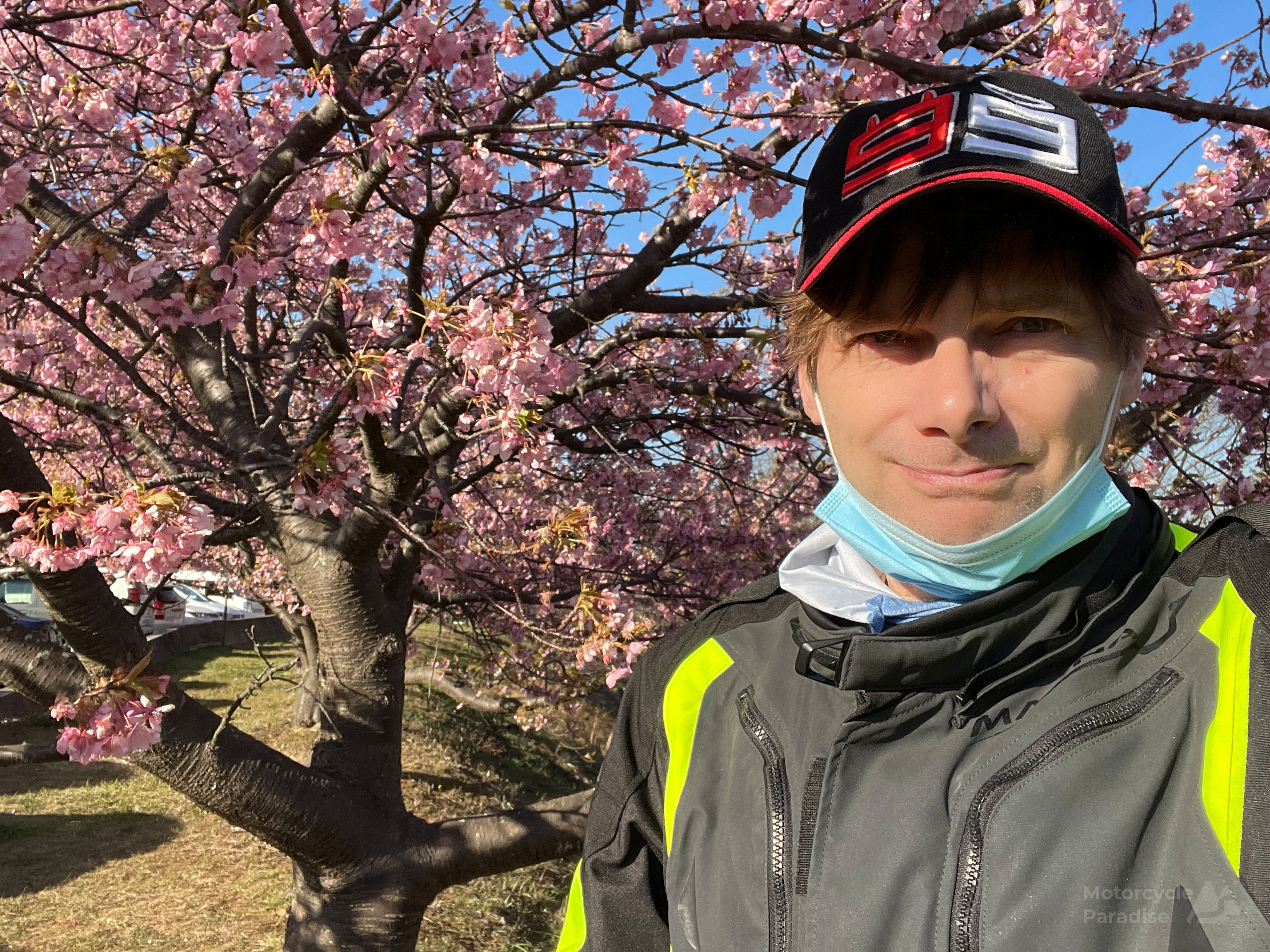 If these horses could speak they would be saying no need to hurry off Warren it's gridlock heading east.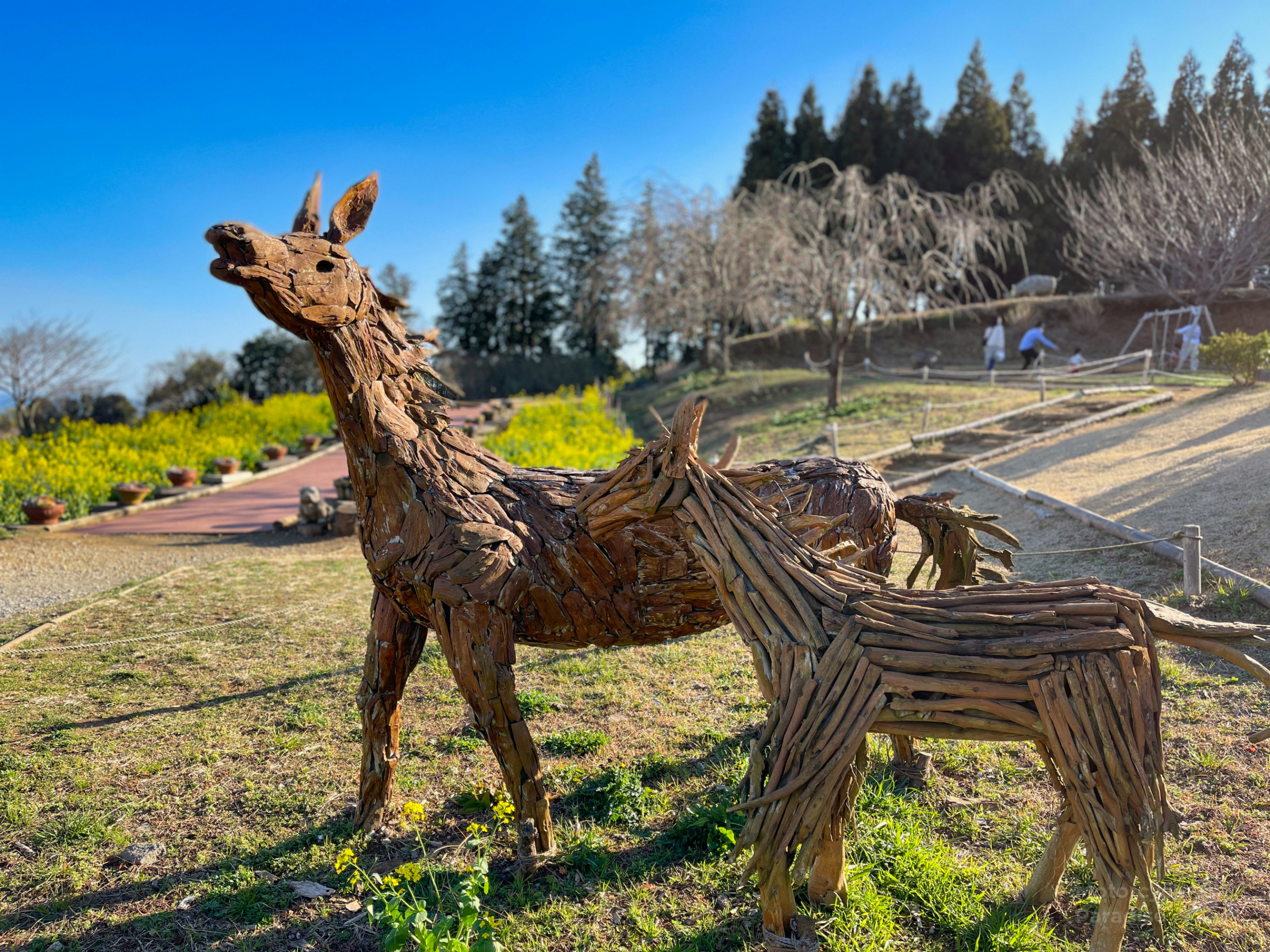 The coast road is always very bad traffic hence why I don't visit Izu more often but this being a public holiday it was complete standstill for 25km. The FJR is not the smallest bike to thread between cars and my eyesight recently started to make judging the tiny gaps between mirrors and cars much harder. Add angry drivers moving to block me and it was intense hour indeed. However that fades well before the memory of the beautiful sights this ride.