For this years ride in Northern Thailand I rented a CB650R and have a few notes on the bike.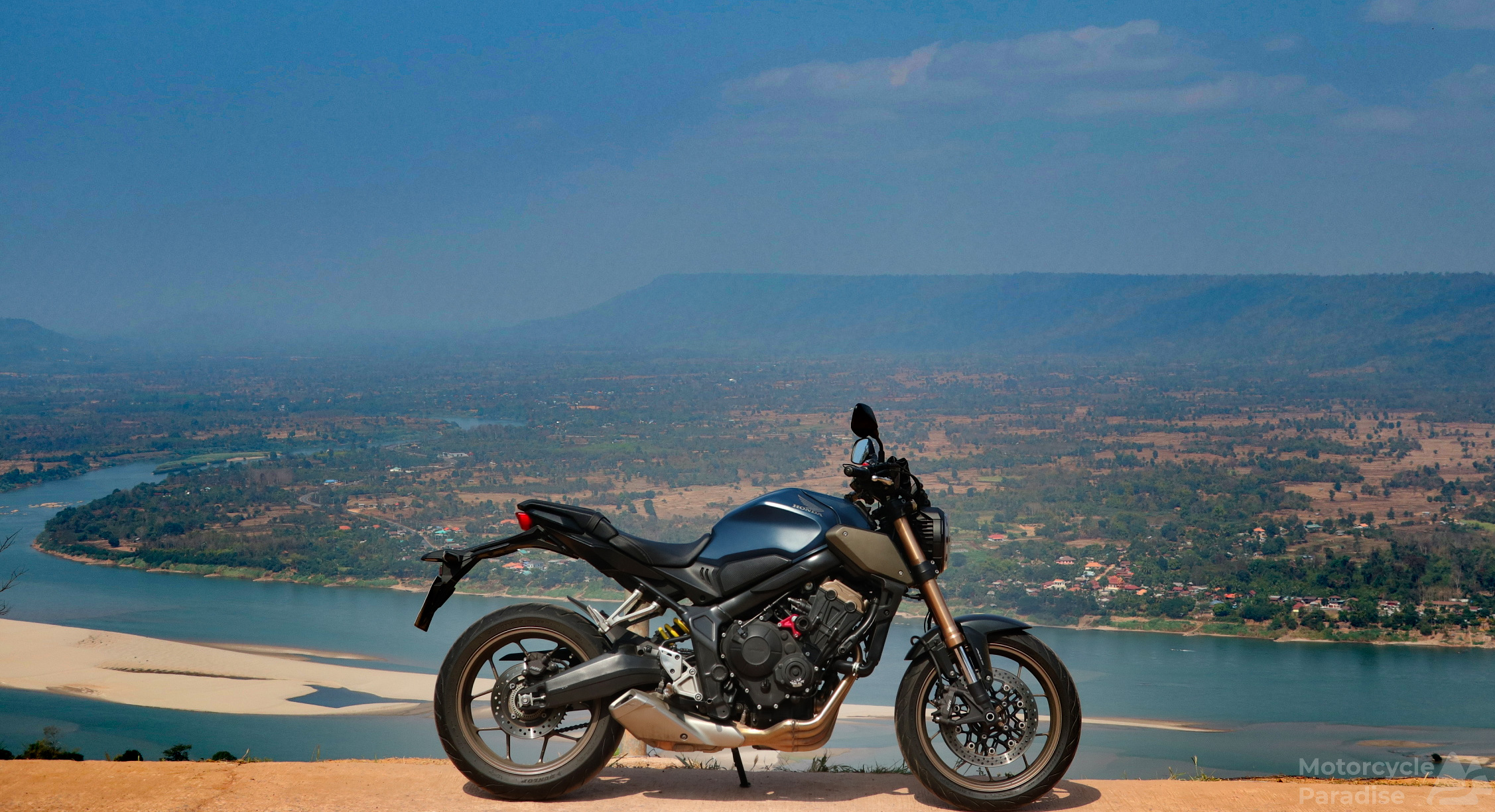 I like this class of motorcycle. Mid size naked. It doesn't suit my current location but if I was back in my old stomping ground I'd probably own something in this segment.
I also like the style of the CB650R. The swept back pipes and other details are stylish. Neo retro I think is the term used for bikes like this and it's bigger brother as well as the XSR range from Yamaha. It also comes in red which I didn't think suited and silver which I liked the best.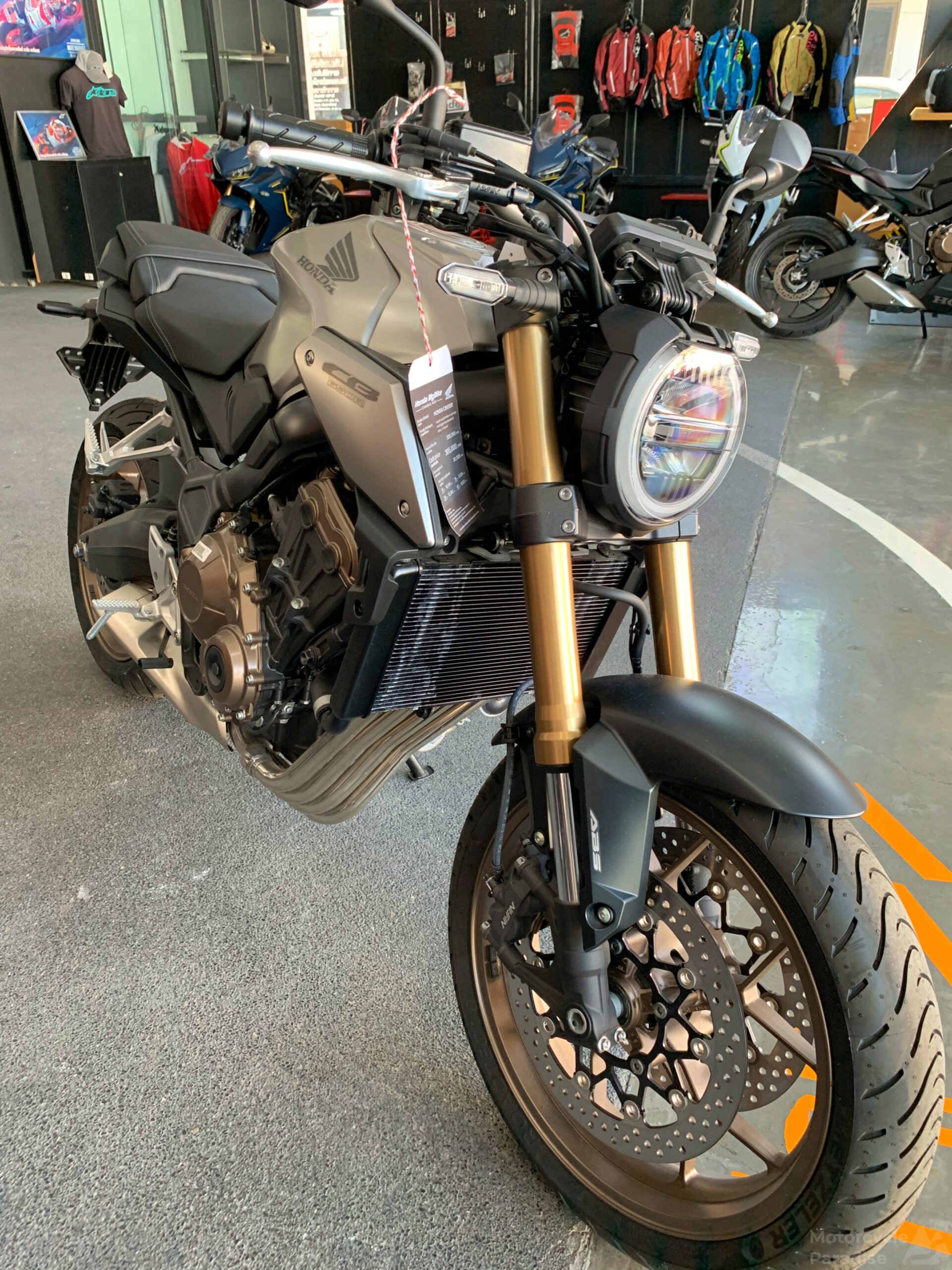 I'll get a couple of negatives out of way first and it should be noted my rental bike had 34,000km on it which is a few riders I presume but it was not an old bike either. First thing I notice is the paint finish seemed not particularly high quality, but it was a non glossy finish so the pronounced orange peel might be intentional.
What can not be easy dismissed is how coarse the engine is. From from about 6000 rpm up it vibrates noticeably and then 8000 rpm to 12000 where it makes most power it's virtually unusable as the engine vibrates that much my vision blurred. Worst I have experienced and I had a MV Agusta which used to vibrate all its parts off. I like inline fours, mostly more than any parallel twin, but this engine is no fun to spool up which is the fun with a four.
Perhaps the throttle bodies needed a balance. Other things you could do is fit heavy bar ends and even fill the bars to deaden the vibration. I'd fit 25mm bar raisers and make sure I had rubber mounted ones as a start. Other options are foam grips. You have a few options.
Anyway the lower half of the rev range the engine is nice and there is enough torque to make decent forward progress in higher gears. The gearbox shifts smooth, clutch is feather light and not even needed once moving. The brakes have good power and feel.
Northern Thailand is endless bends and there the bike is heaps of fun. To me it felt so light and playful because I ride a huge tourer at home but if I compare to it's rival the MT-07 then I'd have to say the Yamaha felt even more nimble where as the Honda feels more balanced. It's very confident bike on high speed sweepers. If both bikes had tyres that suited and were dialed in for the rider then I think nothing much between them and both are a ton of fun.
Ergonomics are cramped if you are tall but not worse than the MT-07 which is also compact. The ride quality of the suspension is excellent and better than the Yamaha. Six days on a real mixed bag of surfaces I had no lower back issues. The seat is surprisingly high quality finish and comfortable. Not common these days. The headlight and LED running lights are a stylish touch by Honda. I think the bike looks much better than the MT-07, but then you can get that in its XSR700 form which has better ergos and styling is as good or better.
The dash on the CB650R looks nice when I could see it like above at night. Its a very small screen, actually smaller than my phone and I could not read anything clearly except the speedometer which is an item not needed in Thailand. Daytime direct light it's very hard to see. The bike would have benefited greatly if it had a small cover to shade the dash and a well designed pod or screen would then have assisted with the wind blast on the rider which is 100% of course. (optional extra I think)
I was getting about 200km from a tank just before reserve. It has 15.4L capacity. This improved on a couple days but not by a huge amount, around 220km it flicked to reserve. No problems from heat in traffic the fan did not direct air at rider. That stylish exhaust sounds terrific at idle or slow riding, very nice sound back to the rider then once on open road you really don't hear it at all. Like the MT-07 I'd have a slip on aftermarket muffler.
Comparing another bike in this class I have ridden the ER6 Ninja is not even close to this. The Fazer 800 I rode in Spain had a certain flippant nature which the MT-07 inherited but it didn't get older brother's inline four which I think is nicer. The CB650R seems one of the last mid size fours and had the potential to be a perfect mix. It has the looks, the power about 90 hp is perfect for riders who like exercising their engines more regularly than possible with 200hp beasts. But that harsh upper rev range might be problem for some. If I was shopping in this class of motorcycle I'd have a hard time choosing.