I've been travelling about SE Asia during some of the long Japanese winter and enjoyed riding Myanmar, Thailand and Vietnam.
This post is merely a few thoughts or images that do not fit my usual motorcycle trip reports on the blog (as suggested by readers I add to the blog more often)
Whilst I now have a tried and tested formula for my travel I did try a few different things this time around. First of all I pre-purchased my travel sim cards in advance online from Amazon rather than when arriving at airports. This was much cheaper. The Thai travel sim is 299 baht but I got same in advance for 100 baht. Similar savings for the other countries.
I took all my GPS maps on old SD cards for ease of testing routes that I was tweaking along the way. (you swap maps this way using a Garmin) As I reconfirmed in Thailand my 12 year old Garmin Nuvi is still superior to using phone for navigation. If you do much touring you can get one of these old units refurbished for $50, add a case and power bank and never again need to be struggling to see phone screen or unable to pan and zoom with gloves.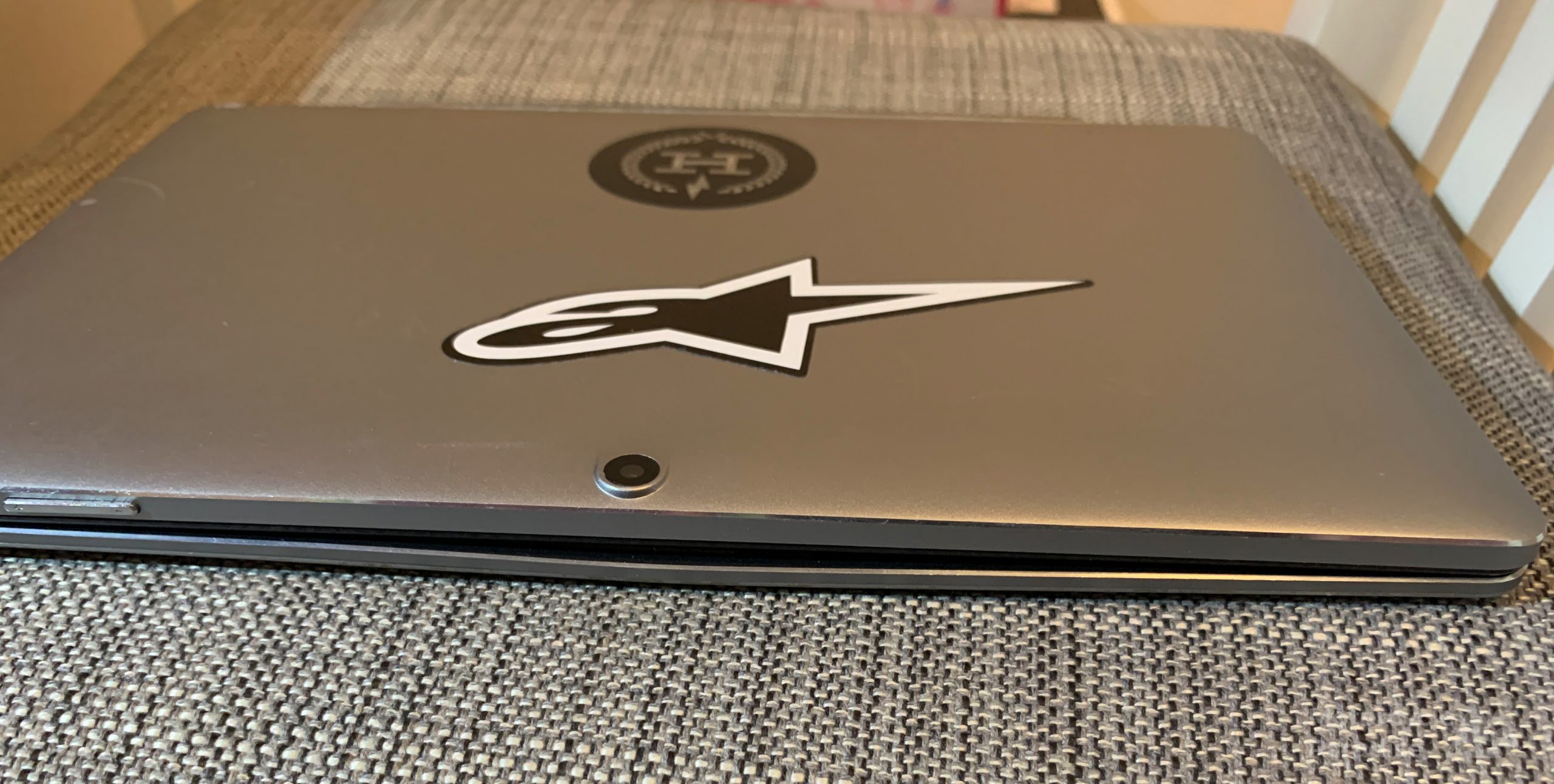 My old travel computer is not as robust as that Garmin. The keyboard has buckled and the screen is damaged in upper corner from my ride in Flores. Still works somewhat but I decided to update it to new version from same Chinese maker. Complete 10″ HD screen notebook with Windows from China for around $250AUD.
I stayed about six train stations out from centre of Bangkok on my way to Myanmar and this was terrific compared to downtown. Hotel was half the price, local mall was just Thai people and regular prices, food was far better. Well everything except the cheese which tasted like soap.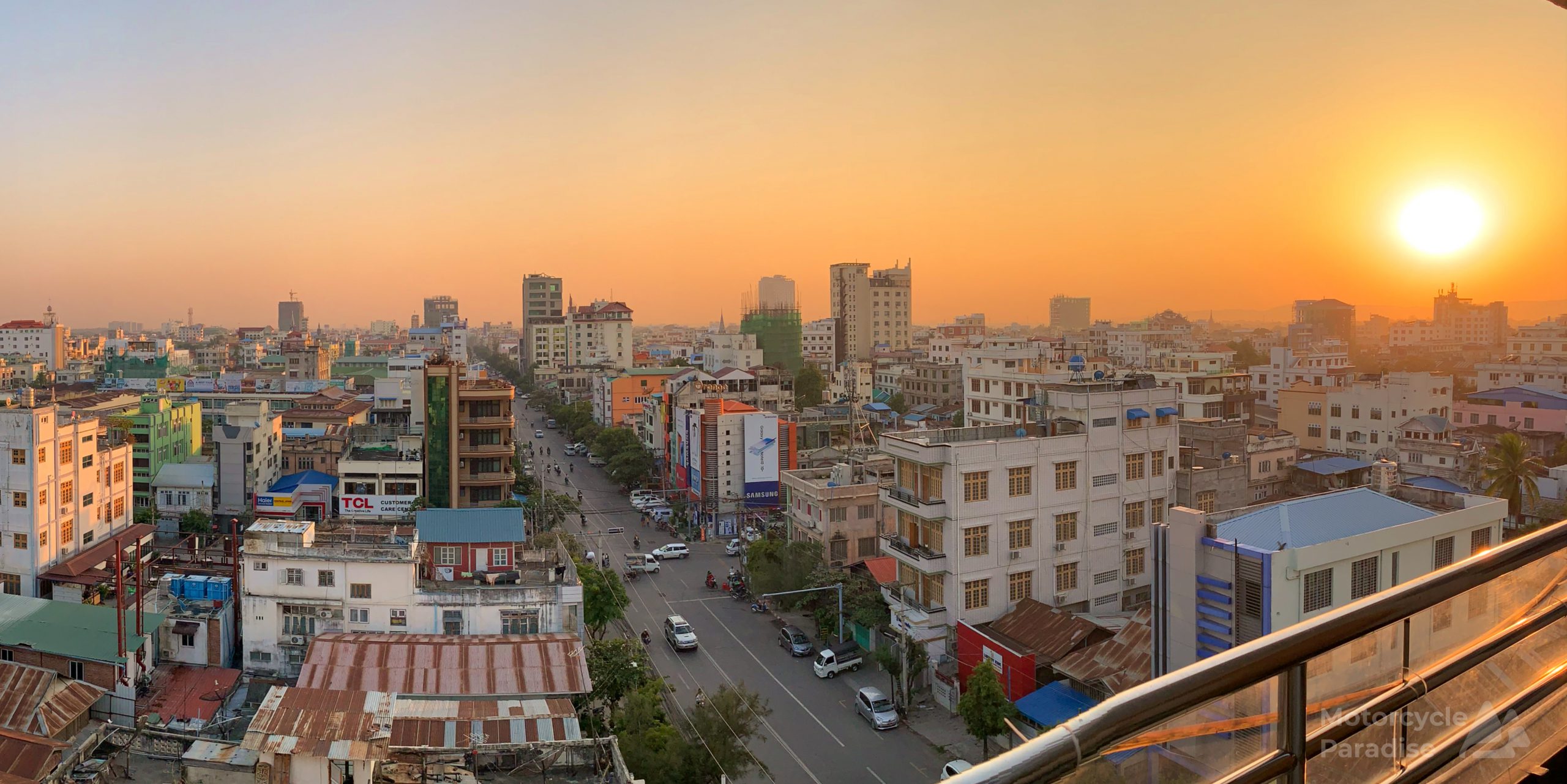 This is Mandalay in case you were curious. I took my Canon G1XM3 this trip but I could have left it at home. This photo (and 95% in the ride report) were panorama sweep and hope for best from my iPhone. I did try shoot this with the Canon. But I resign myself to the fact my photography skills are just not good enough. (although one big issue is I simply cannot see what I am doing in the EVF of the Canon and even with my glasses on the rear screen is also too small for my eyesight)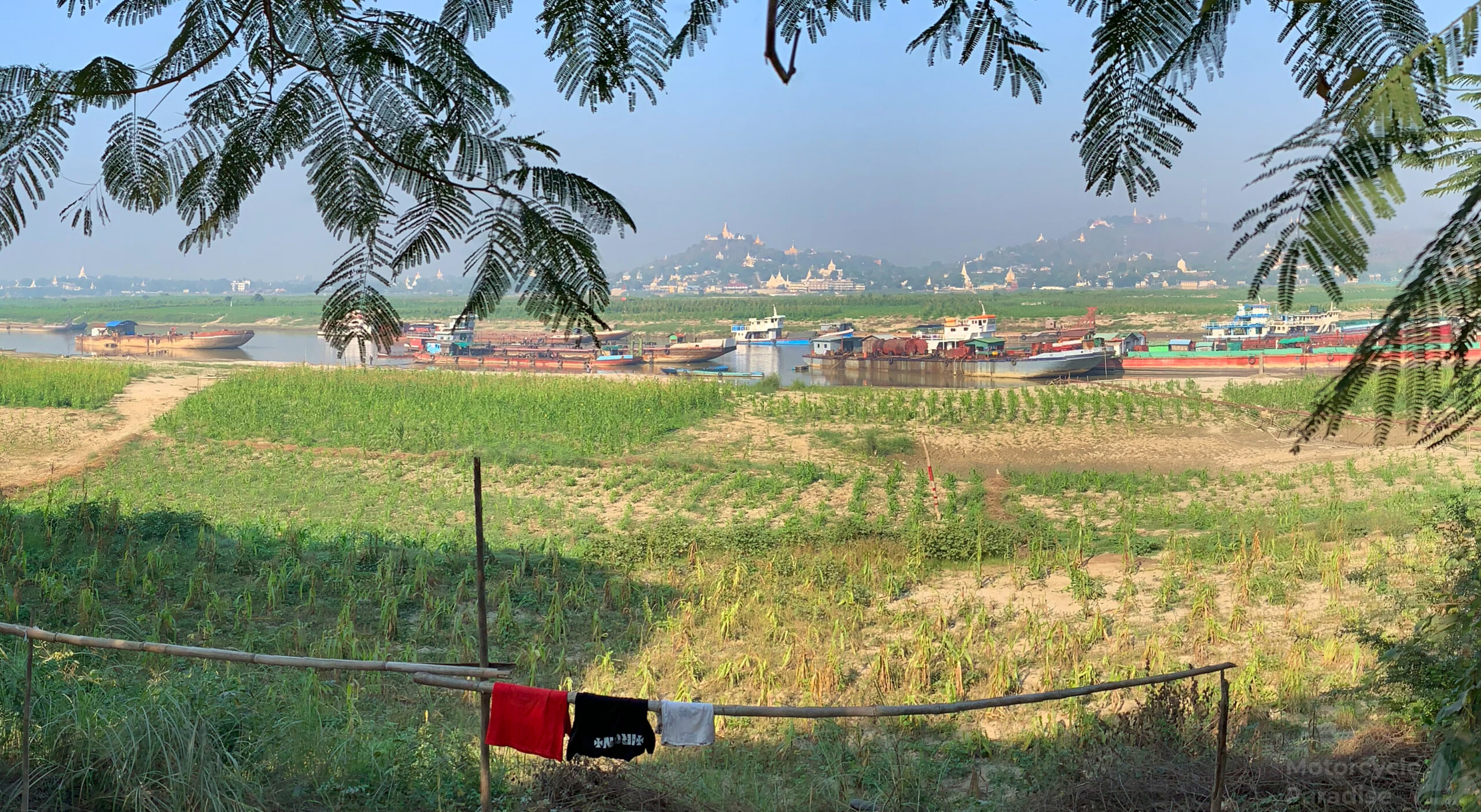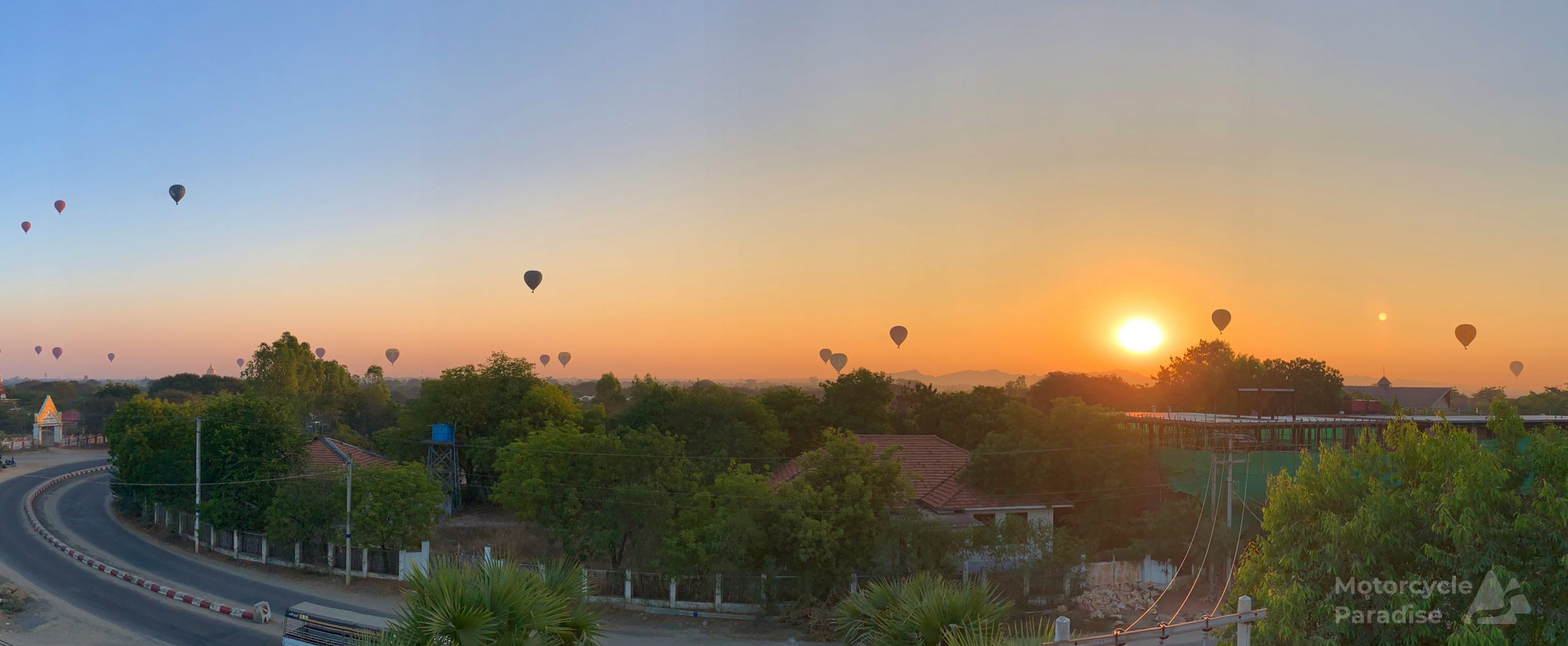 From a sunset at Mandalay to sunrise at Bagan. I did not post this in the ride as felt it was not good enough with the clutter in foreground but now kind of like the light on the power lines. I never took any onboard camera on these rides telling myself this would make me stop more and use the Canon but actually I missed having that so things learnt like every trip.
Post processing (photos) I gave up on Luminar. It crashes all the time and is woefully slow in file handling. I reverted to using Polarr. This limited editing options but the photos on these three tours look more natural from that. (the colours above are not boosted, the smoke haze in Myanmar creates that glow).
Back in Chiang Mai I became addicted to this green mango with chilli and sugar shake after finding a vendor that was using just the right sort of mangoes, not ripe but not totally hard either. I had to print and scan some documents on a USB stick and found an old internet cafe – the computers were still running on Windows XP! haha they would not be secure to use for anything. I went into the Honda dealer in Chiang Mai. It's impossible to imagine how big these new Africa Twin's are until you see one, the windscreen was taller than me, yet you are supposed to take them off road.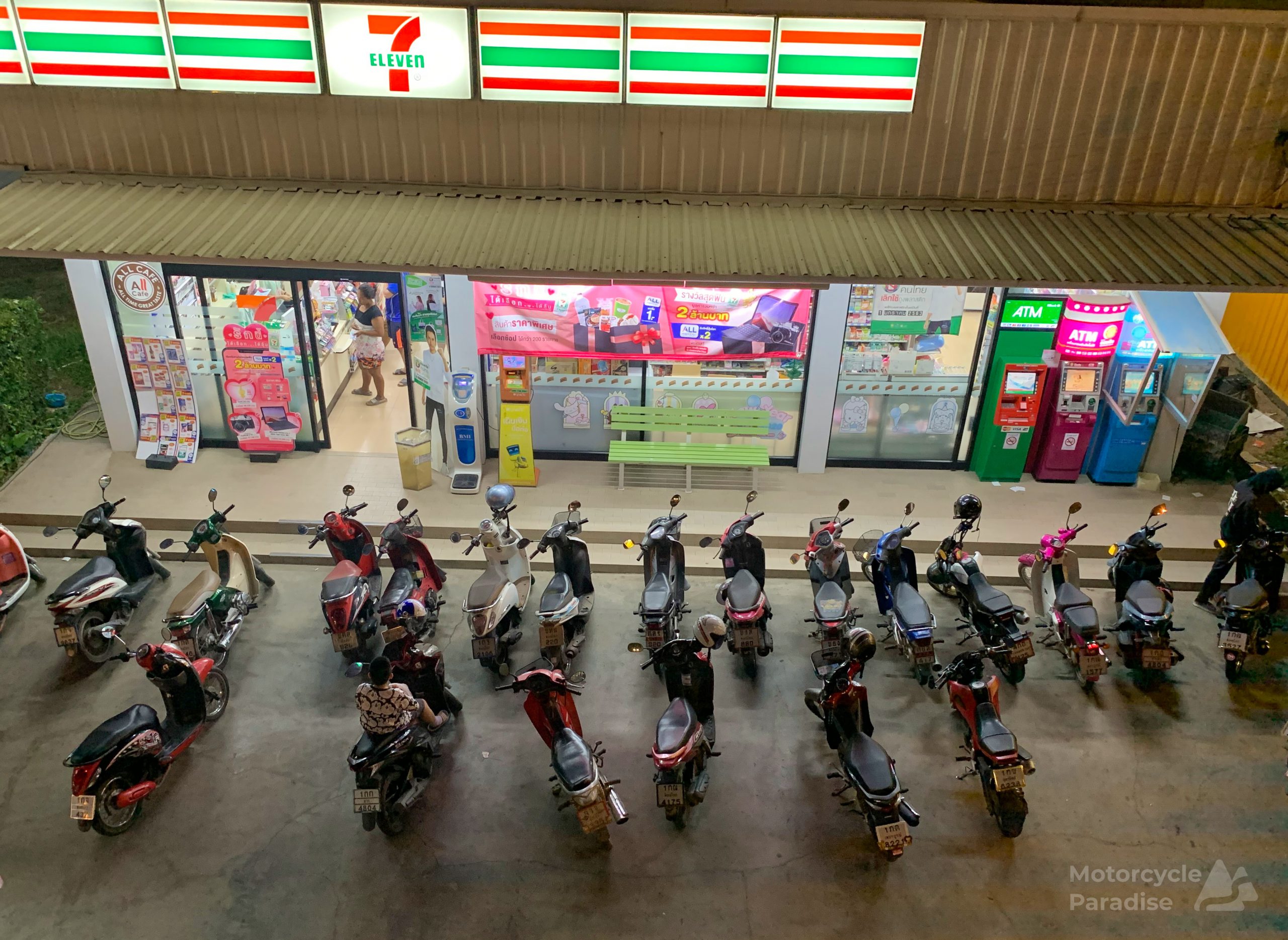 Reasonable food at places you might not expect. Shell gas stations cafe menu, KFC super spicy green chilli chicken on rice bowl (fantastic), and simple meals from the food court at any Tesco supermarket are all fine as far as I am concerned. Money saved means more rides less work. Never understand the mentality of the 'two week millionaire' traveler who splashes his money around then laments having to go back to work. The way I am able to travel so much is I do so frugally and independently. My ride in Thailand cost about $1000AUD for 2 weeks, the bike rent being biggest expense, I've seen tours there selling for $7000 and you have to share a room haha, what a joke.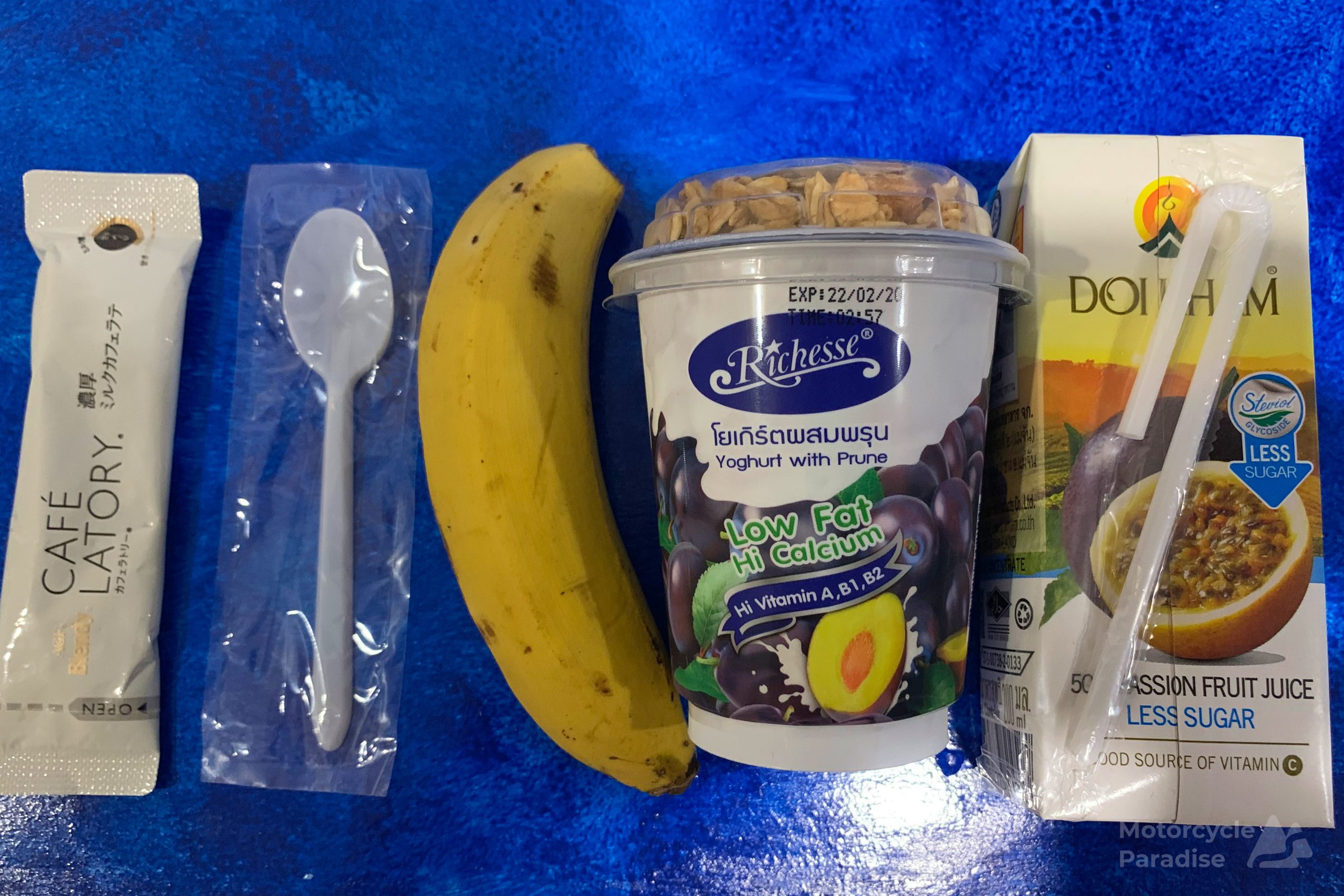 If the best value hotel doesn't include breakfast I often just get something simple from supermarket or 7/11 and always carry my own coffee mix, generally there is a kettle in room or urn at reception. If the supermarket has a bakery I might get a croissant or something. Need not be a buffet start to every day, can get on the road sooner and stop at coffee shop mid morning.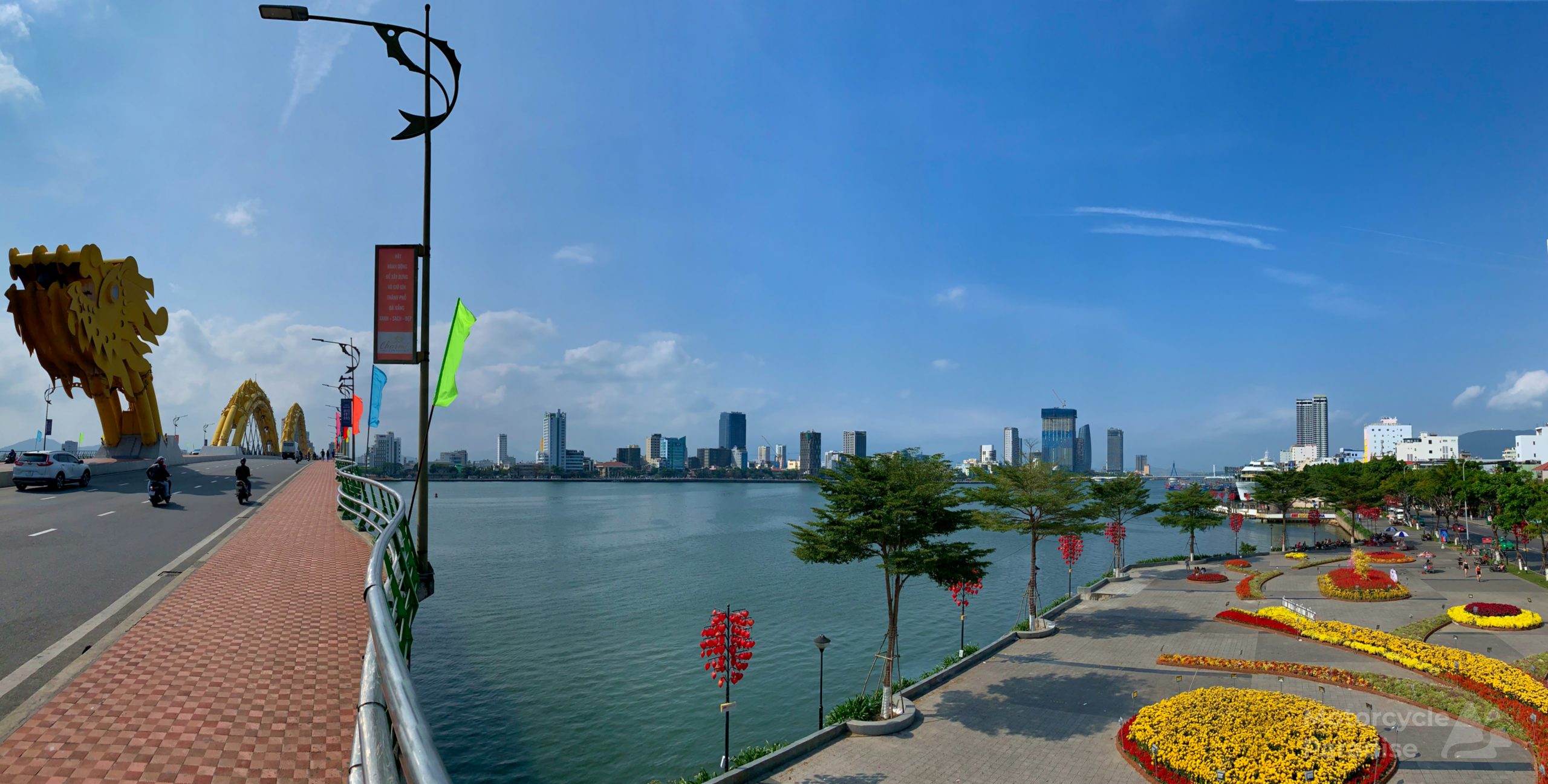 Da Nang is perhaps my 2nd favorite city in Asia now. I'll be back next year for sure.
Great pho, good beer (delivery vehicle above), wine not super taxed like Thailand and great riding close by.
I never completed my planned fourth ride on this trip which would have been Philippines. I put quite a bit of thought into the routes so here is what I was going to ride on a XR150 or CRF250L from Nice Bike Angeles. There is a new highest point in the Philippine highway system with the completion of new sealed route in the mountains and that was going to be on day 2 of this.
I'm posting the routes in case someone might want ideas for a ride there because I doubt I will go back to Philippines any time soon. The lousy internet in the country again got the better of me and I came home early but got to see my mate who is fighting cancer which was main reason for my visit. Hope I ride again with you my friend.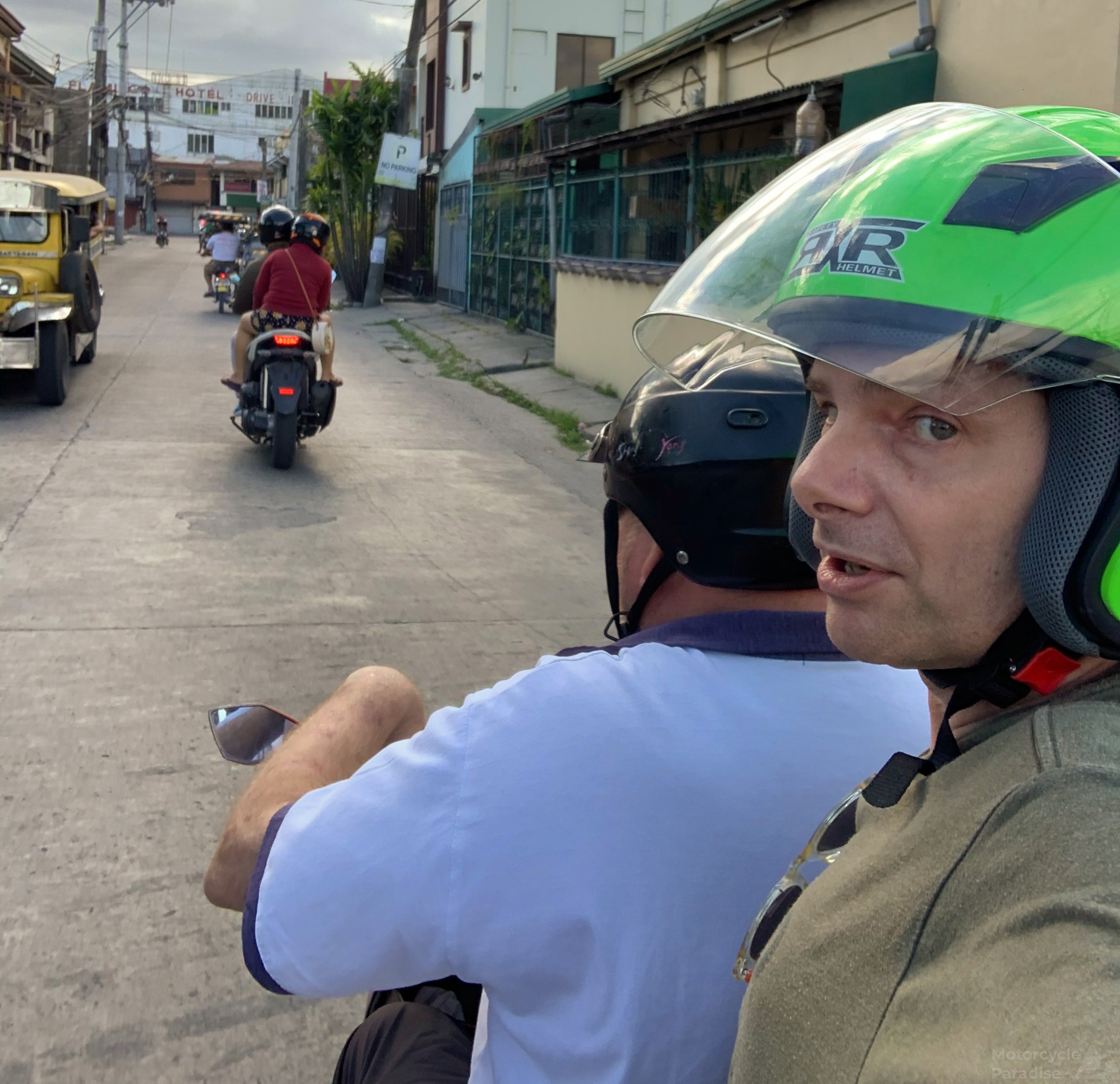 I do miss the weather he has but dial up speed internet (that drops out every 10 minutes) means I cannot do my part time online work. Back in Japan it's blazing fast connection while NHK is saying how its unseasonably warm… two examples of people living in bubbles perhaps.
So it's back to cup noodles now while I plan more rides but I wouldn't swap this for any nice meal in my former career. As Robert De Niro says in Heat – "I'm never going back".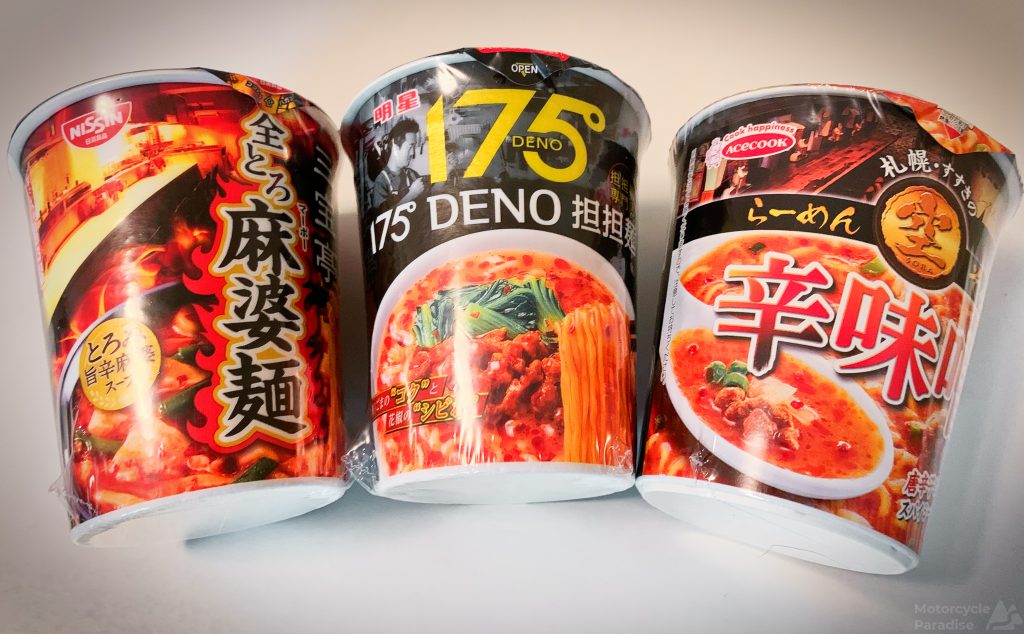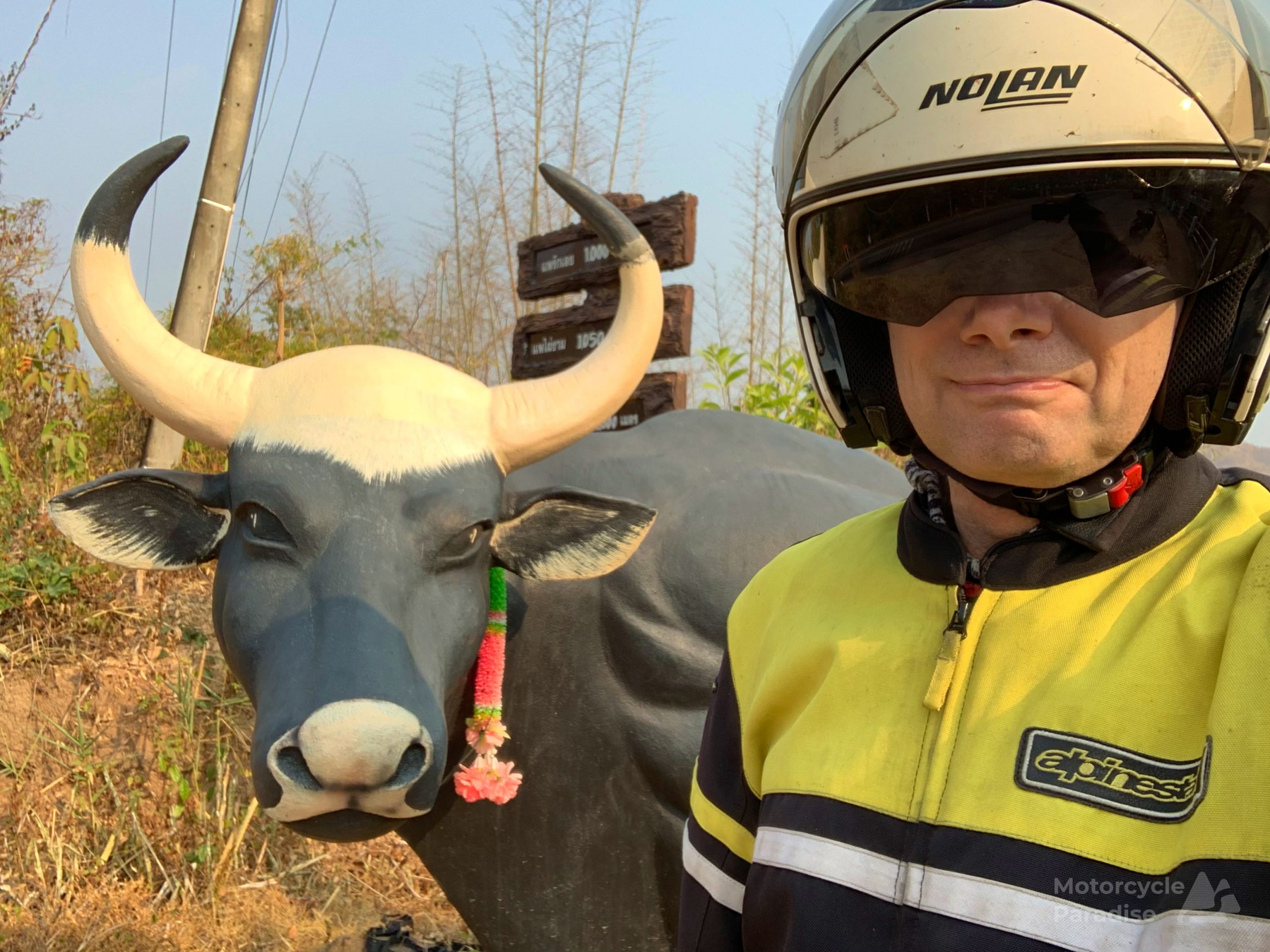 Sneak preview below of my new post processing software SilkyPix.