Autumn in Japan is beautiful but in recent years unseasonal typhoons have affected. This year I decided to try ride at the end of season hopeful of better weather.
The bike fired up despite sitting four months. It feels so big and heavy after riding a 150cc in Vietnam. I fueled up and then washed it day before thus ensuring it would rain.
And indeed I set off into rain but ride clear in 30 minutes. The highway west of Tokyo must be where the Japanese let out some suppressed aggression on a Sunday morning driving their cars extremely fast. I always encounter people driving pretty dangerous here.
Weather continues overcast with a little rain. However that lets me seek other photo opportunities.
Autumn has all but ended and the temple below was a rare burst of colour the next morning as weather continued gray.
I plan to explore back roads this trip and found myself in a remote spot this afternoon. I half expected a dead end at some point when I came to a dark narrow tunnel.
But then I dropped out the other side to a huge lake with superb roads.
The sun even made an appearance, albeit briefly.
I blasted along the lake enjoying the totally car free roads and would have enjoyed more time here but the sun is low by just 3.30pm and it's cold in the shadows.
I make it to Tsuruga in darkness as a huge storm rolls in. Its 6 degrees and rain tonight. I order level 3 spice from Coco Curry House which soon warms me up.
The rain stopped the next morning allowing me to revisit the Rainbow Line road.
Very scenic on a fine morning. Alas the sun disappeared and it again turned cold. I was exploring some nice roads but temps kept dropping, 10 degrees, 8 degrees then 6 degrees, enough already! I stopped for hot soup at a Lawson to warm up.
Gray afternoon but I spotted some colour passing through one village.
Exploring more remote spots this afternoon. Mixed bag, few good roads.
I revisit Wakasa rail (the line with Hayabusa station) and they have updated the train paint job. That bike has such a cult following here. Suzuki should give it a update and do better job than the recent Katana.
There are some interesting old streets which I explore but light is fading early so I ride on to Tottori.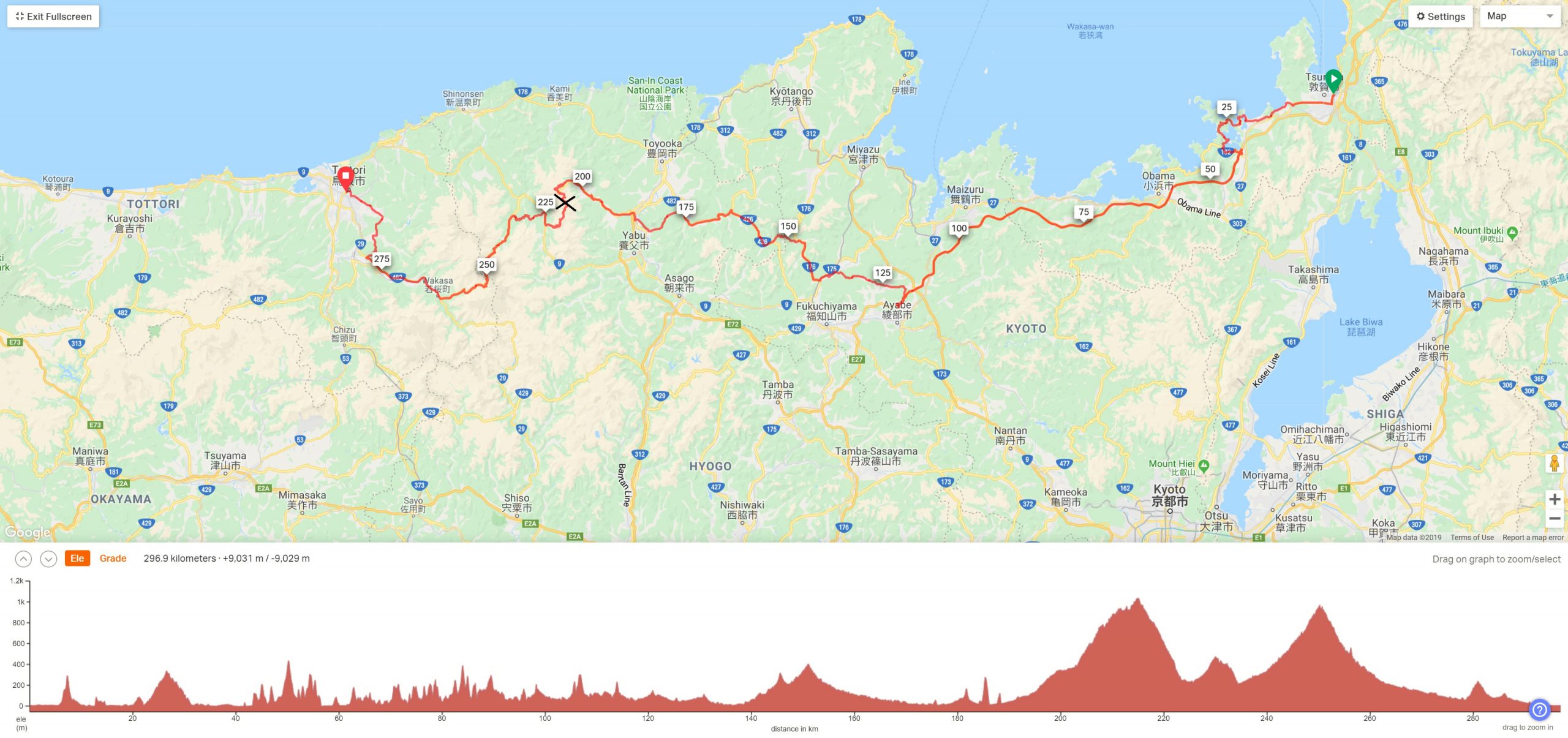 It again starts a nice day, Tottori and Shimane prefectures are full of low traffic rural roads.
I guessed the sun might not last and right on cue the temperature plunged.
I wasn't going to post vending machine coffee photos this trip, but I make an exception as this hot can was very enjoyable.
Despite the cold, riding remains good. I see a burst of orange passing a village and stop to look.
Just as I start to leave a brief moment of sun so I turned for this quick snap.
Nice empty roads this afternoon. I enjoy a small town Japan despite mixed conditions.
It's looking rather grim next morning. Rain, wind and 8 degrees. I go back to bed but I have to check out by 10:00 (standard time in Japan).
I prep the helmet and myself for a wet ride. The rain eases not too far into things and I try some of my route but then abandon it. I stop to try warm up with some healthy American food 🙂
It's clearing so I set off further and find more good roads.
Route 186 and 191 in Shimane are superb but the temperature dropped to 4 degrees and with slim chance of the sun returning I elect to abandon the ride and check in early for a hot bath.
Brand new Route Inn hotel Masuda last night, fabulous. This morning is clear skies. I tempt fate by thinking 'maybe today will be nice'… You know what happens next of course. The rain actually then set in and it's again 6 degrees. My plan B is head to closest expressway. Since Japan is so mountainous you will ride tunnels under several ranges in any direction and hopefully emerge to dryer roads.
Clear of the rain but still only 6 degrees I stopped to warm up with bowl of udon in highway service area then formulated a new plan to pick up my route from Yamaguchi city.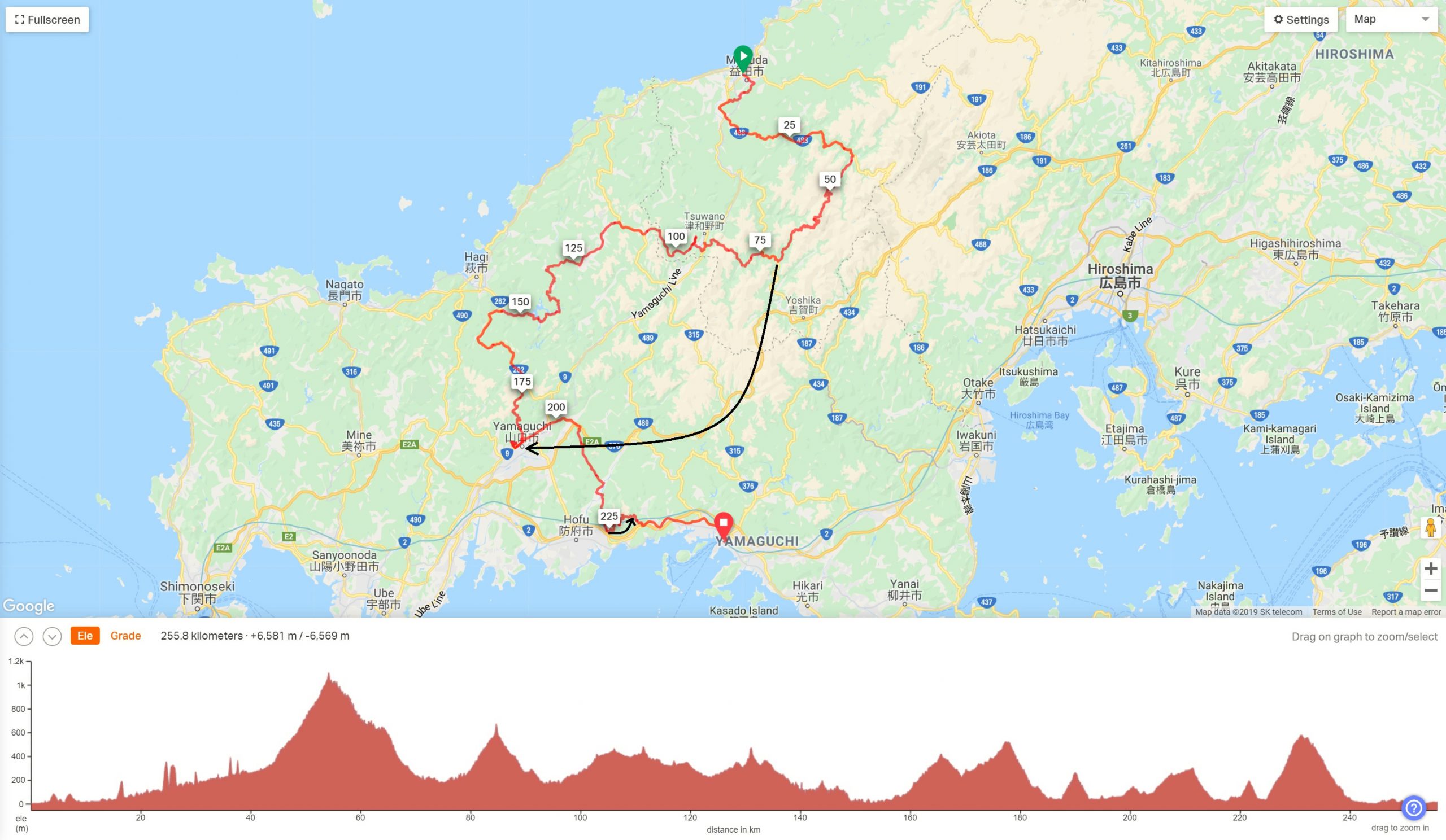 With time up my sleeve I went to a lookout above the city. The sun returned and I soaked up some rays. Four seasons every day.
My good fortune continued riding south to what is the best viewpoint I planned to visit this ride.
Lovely end to what was originally a challenging day to be on a bike.
I'm at the dock before dawn next day to take a ferry to Kyushu.
Japan has thousands of islands, nearly all inhabited. There is a small village perched atop that rocky islet. People visit Tokyo then tell me they have seen Japan…
I enjoy the superb Orange Line road in Oita then west to the fabulous riding in the Yufu region.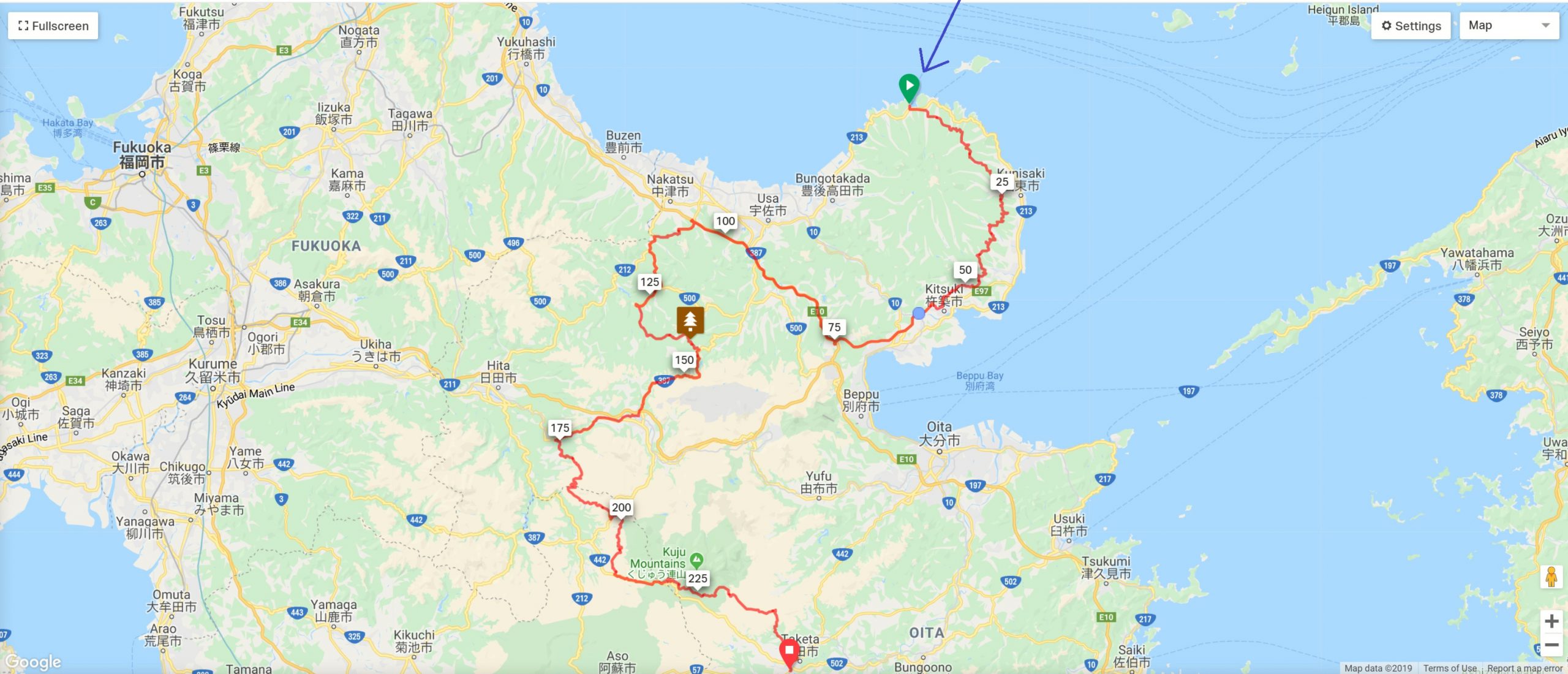 Small regional town with nothing open tonight. My hotel must have been really something in the sixties but it's at the end now and I'm the only guest. I have a hot water urn so dinner (and breakfast) is simple but tasty and I have some good Spanish wine stashed on the bike so I'm set.
Simple things make me happy now days, like seeing the grass steam in the morning sun.
Or the Kumamoto bear attached to a tree on this country lane.
I revisit a monument I found a few years ago on a side road that today I rode all the way. It's a memorial for a foreign priest who pioneered mountain climbing in Japan. Pretty rare on a number of levels…
The sun left before I got a chance to photograph but I enjoyed the view over the Takachihocho Gorge.
Then I discovered an incredible riding road. It's no exaggeration to say one of the top roads in Japan. Morotsuka Skyline is a beautifully surveyed mountain road that serves no towns so was totally car free but like many good roads difficult to capture without a drone.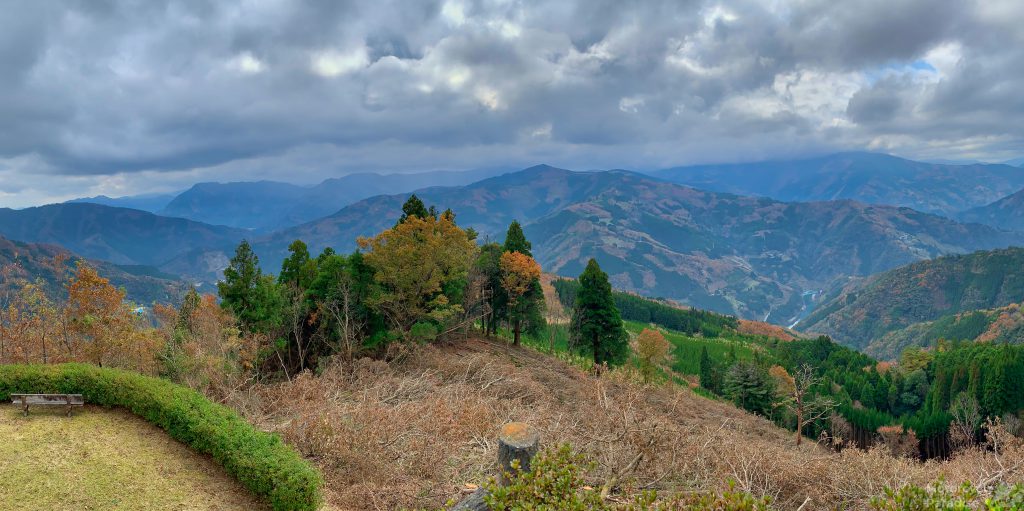 It looked very wet on that next mountain so I detoured via the valley. South I see a sign Himuka Myth Road and have to take a look.
Nothing special but it put me back on my original route and smack bang into that rain I saw earlier. No choice but to ride on and I am rewarded with nice post rain mountain scenery.
Incredible area I will come back and explore another time as today I'm out of daylight so make for the expressway with more rain on the way. I've heard that at 140kph the FJR aerodynamics keep you mostly free of rain. I wouldn't know of course but arrived at my hotel relatively dry.
Its already my last day of touring. I have to go south but not into that rain. I drift west no set route just ride a big arc. Sit out a passing shower over a tin of joe and pass some time at an old rail station.
I rejoin my route missing a national park where I was going to visit a volcanic crater as some roads are too slippery for me.
Then visit a weird building which on a fine day commands a superb view of Kagoshima however today it was not to be.
Further south however its dry and excellent riding along the coast and also the final ride north into Shibushi.
I'm taking the warm and dry way back.
15,000Y overnight to Osaka with tiny cabin is fantastic when many ferries cost a third of that for two hour sailing. I'll be using this again.
This ride needed good gear. Number one the thermal base layer shirts. I used quality merino items. Also my insulated neck gator from Halvassons and the Cold-Tex 3 gloves from Tourmaster. My hands were never cold or wet. Alpinestars Andes jacket managed just. Older Alpinestars Drystar pants have better liner and were fine.
My TCX boots were ok but my much loved Alpinestar boot socks are now old and lost their warmth. Nolan N44 helmet continues to impress me with its all day comfort. Cameras on this trip were the Air A01 and Ricoh Theta for onboard but I had little chance to use with the weather. The Canon G1XM3 continues to disappoint me. It's like the internal ND filter on the camera is faulty which may be case as I bought it used. All the photos bar a couple this report are from my phone.
The FJR1300 is the right bike for cold weather with its big screen and fairing. I still have the problem it won't idle once hot which shop could not diagnose. That become a chore and I am not enjoying the bike as much as previously. The highway comfort is great but I get fatigue on back roads. With all the wet and mulch this trip I found myself dreaming of a Yamaha Niken so I would not have to tippy toe around every corner but have to make do with what I have to continue my nomadic lifestyle
Regards, Warren.