In between heat waves and typhoons a fine week appeared. Time to ride. Previously I toured the remote Goto islands then Tsushima. Now Sado island was beckoning me.
I decided to trace some of the route used by an annual event here known as Coast to Coast Twisty Butt. An Iron Butt ride focused on curves rather than all out distance. I should attend it one year instead of being a recluse but for now it will be interesting to follow a route not designed by myself.
Day One
Some observations returning to the road here. The FJR feels huge after riding 250cc machines in SE Asia; Japanese only buy cars in White, Silver or Black; My engine is twice the size of the 600cc cars around me.
Despite a fine forecast there is a light mist rain but a bit of dampness is pleasant in the 31 degree heat however it does obscure Mt Fuji today. Passing by many exclusive golf clubs I see guys my age with their Lexus cars. No matter what path I am on in this life glad it is not that one.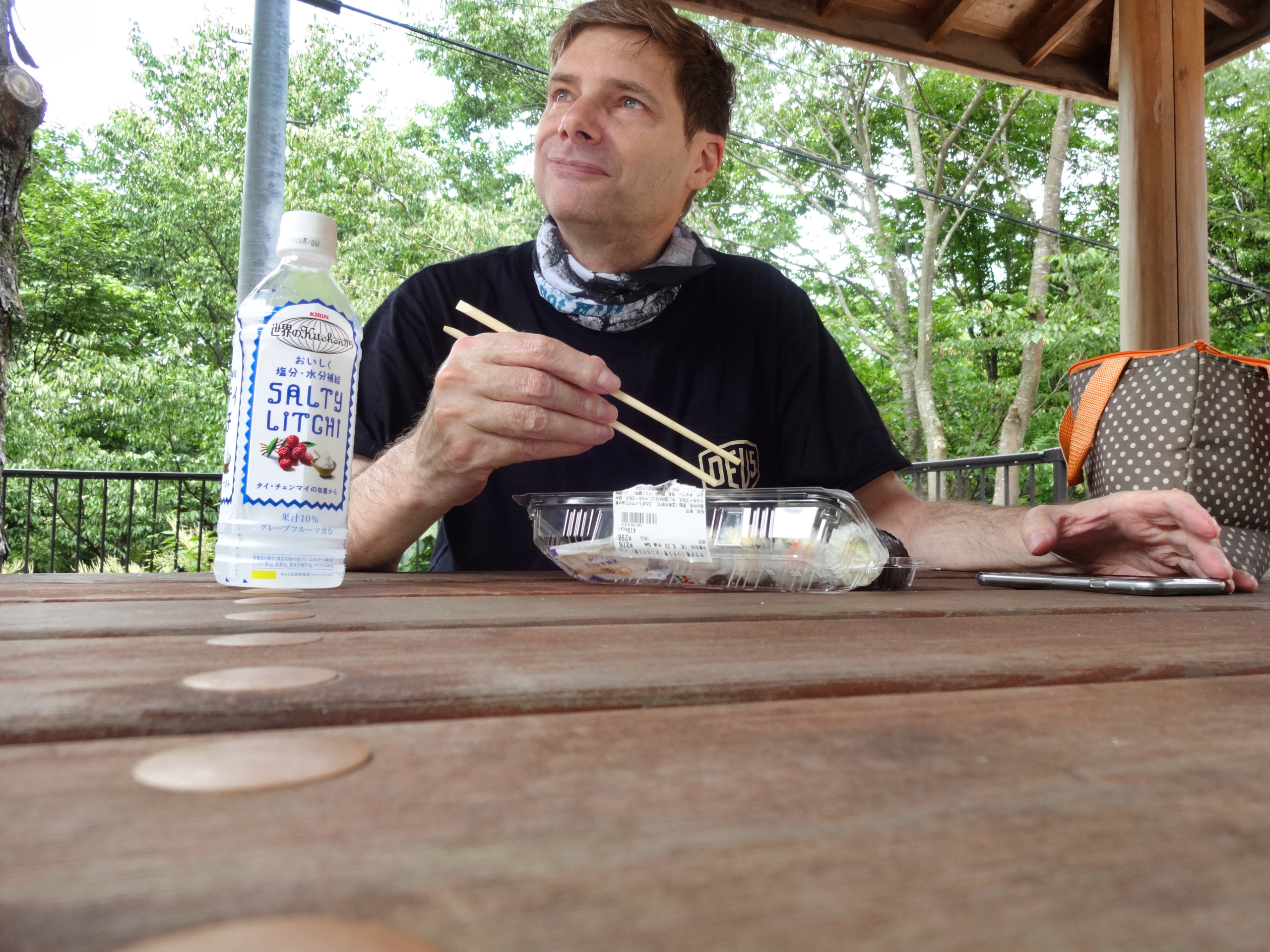 Nice to be on the road and in 'the now'. Feels like a heavy weight gets lifted off me when I ride.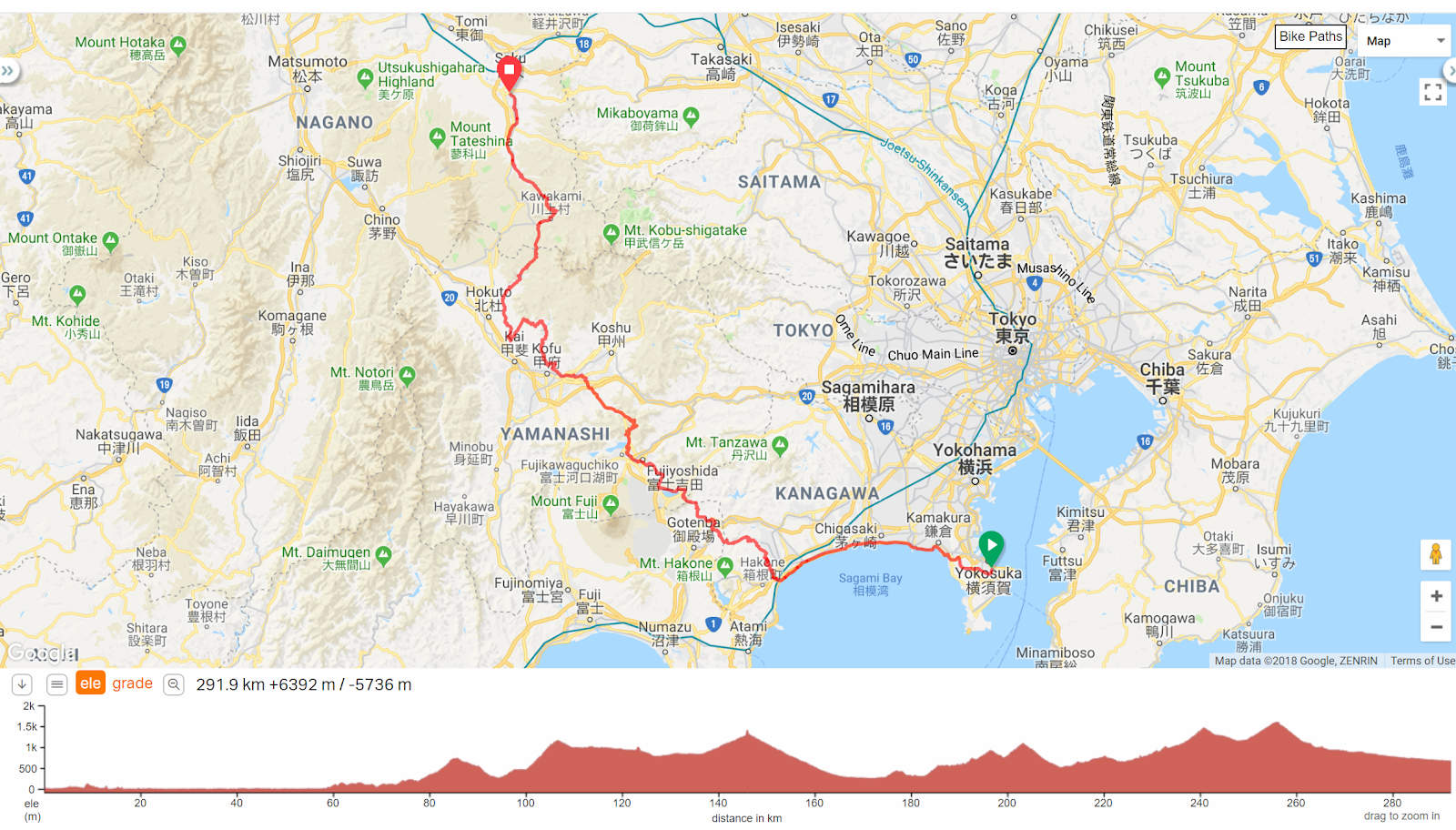 After lunch it dries and traffic thins on backroads of my choosing off the C2C route. The sun pokes through late afternoon.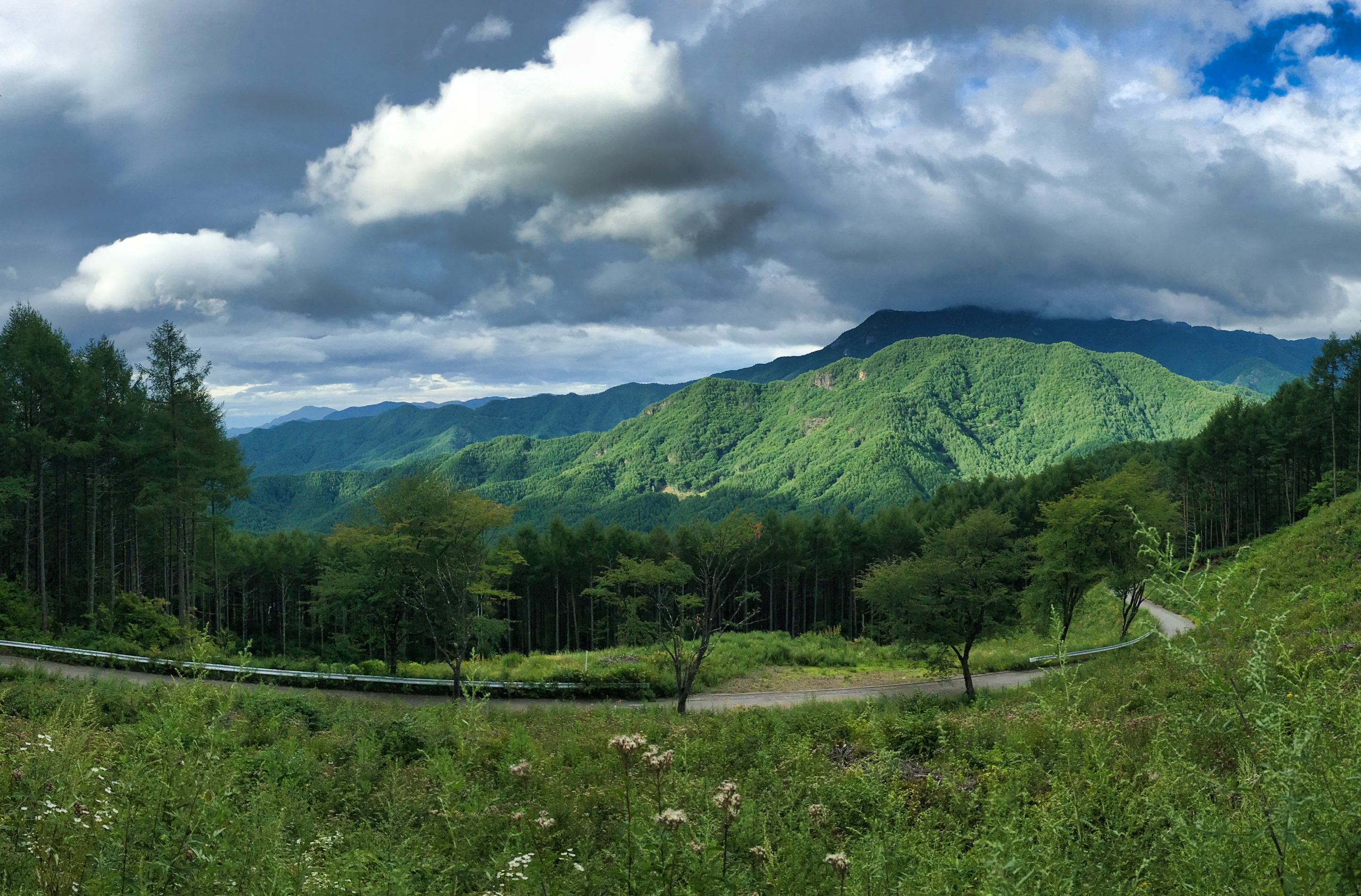 I am staying in Saku tonight, the old town is frozen in time like much of Japan. Besides the shrinking population Japan became more car orientated and retail moved to the big box stores with parking lots out of town.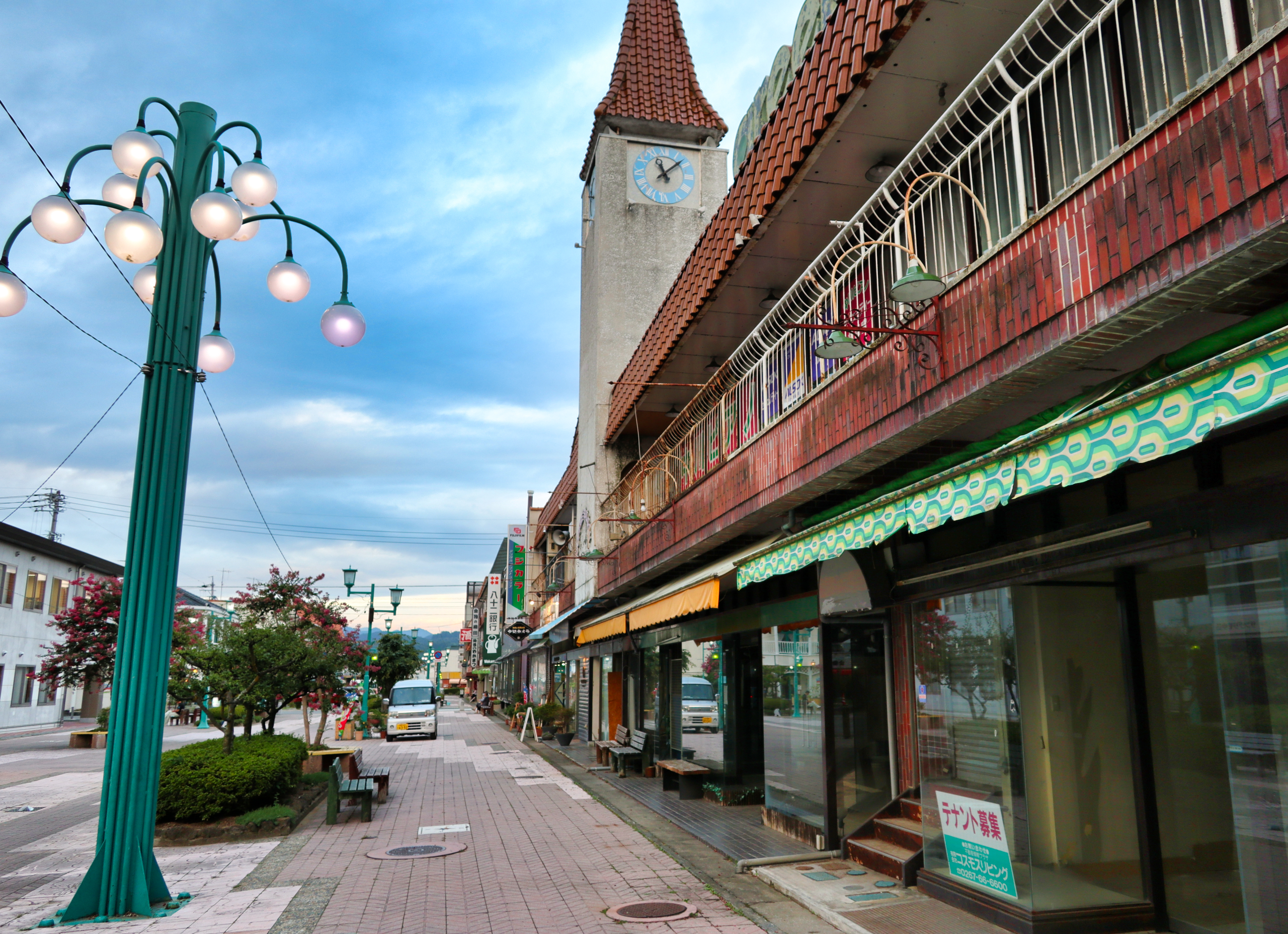 Every town has dozens of these small hostess bars, cities have 100's of them. Foreigners are banned from these establishments. I couldn't care except Japan has no general pubs or sports bars. None. There is no where at all for me to have a beer and strike up a conversation. If you seek solitude Japan is certainly your country!
Day Two
The weather seems better. I ride to Mt Asama but clouds close in and alas views are obscured. Riding down the western side I didn't know a portion is unsealed. It started easy then turned to fresh graded loose stones. I have off road experience but a FJR with 25 litres fuel onboard doesn't belong here.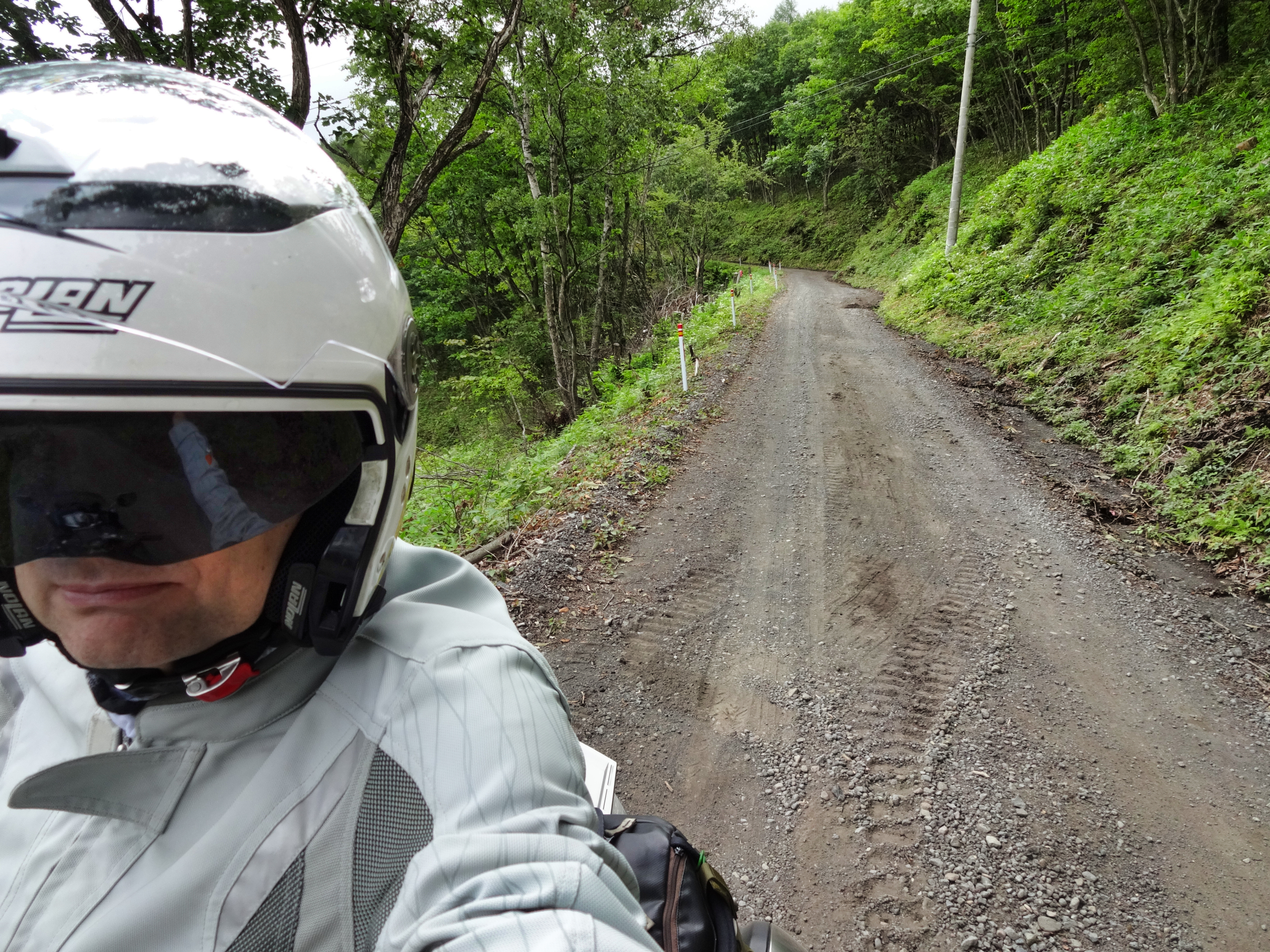 Glad to be back on tar.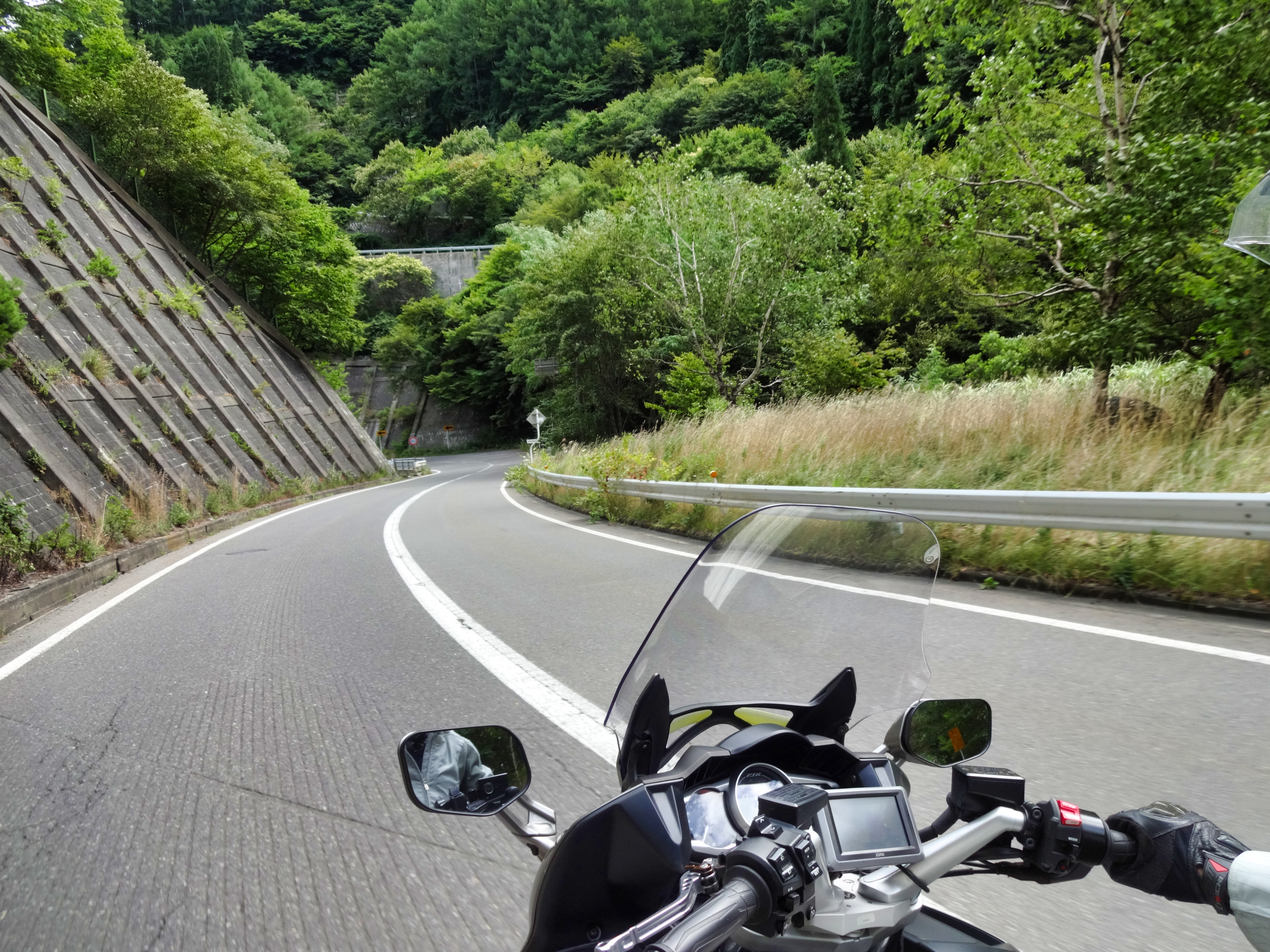 I returned to the C2C route after this and it introduced me to couple of places I had not ridden before.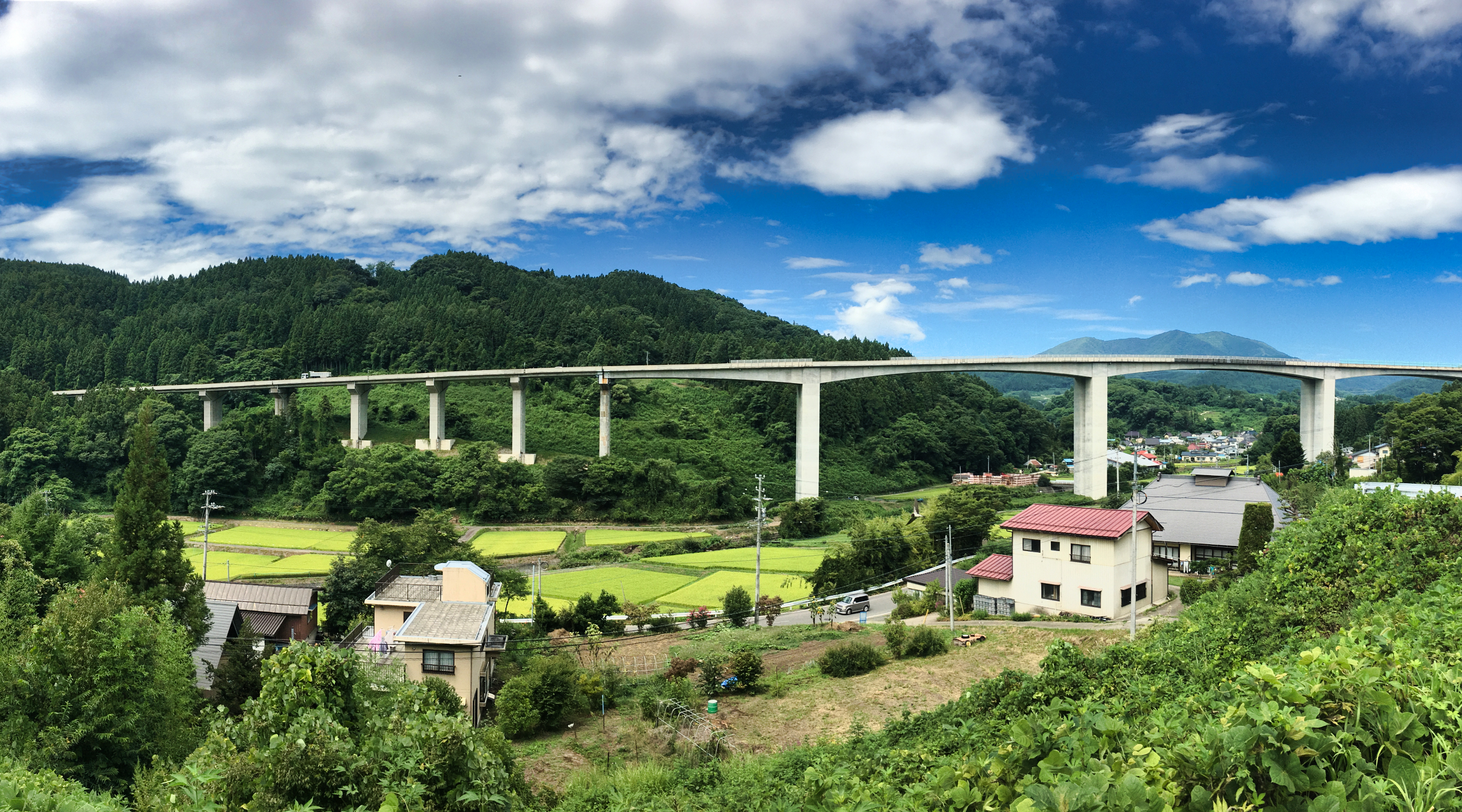 Mandarao mountain back roads.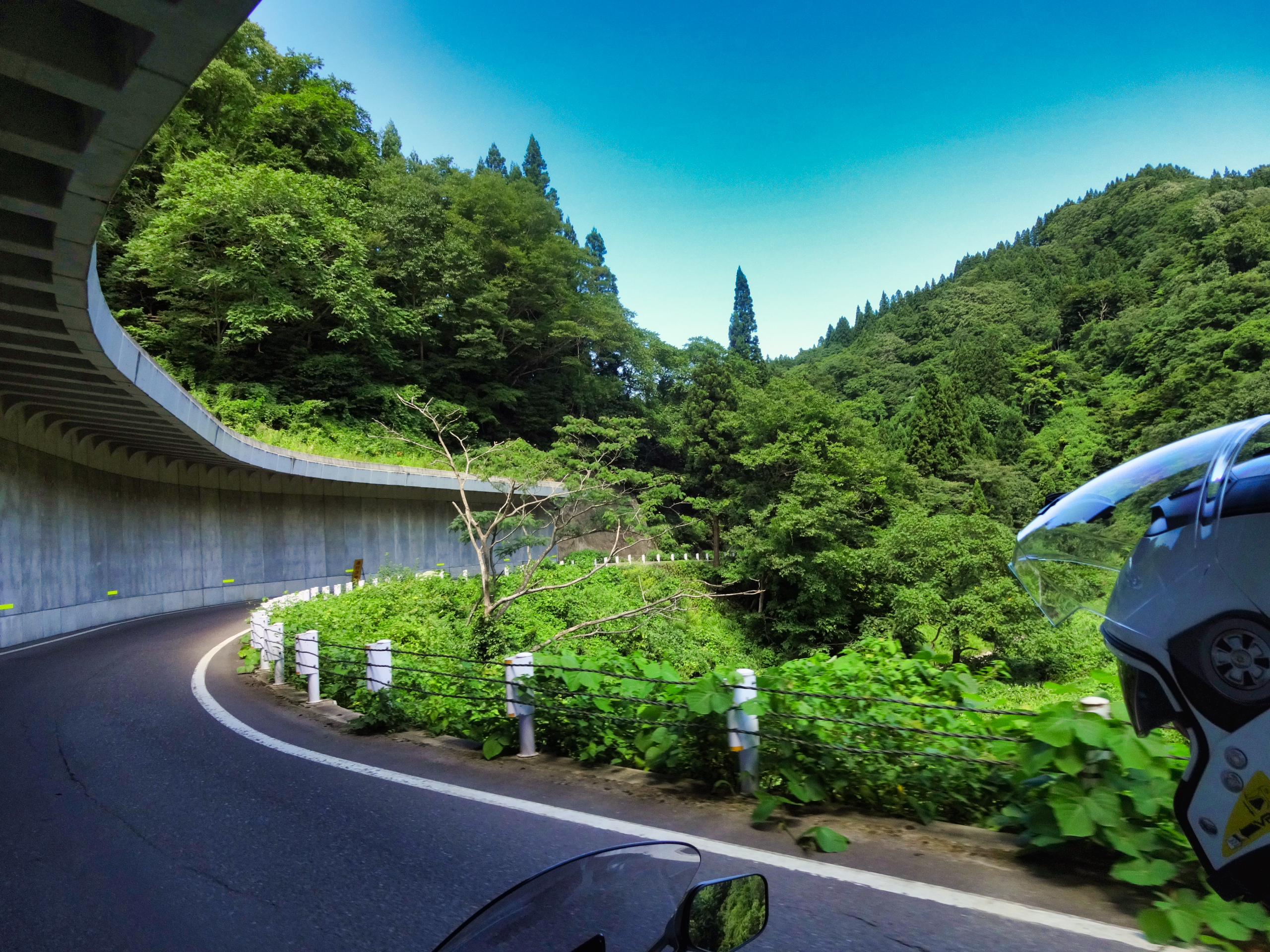 And scenic region around Myoko.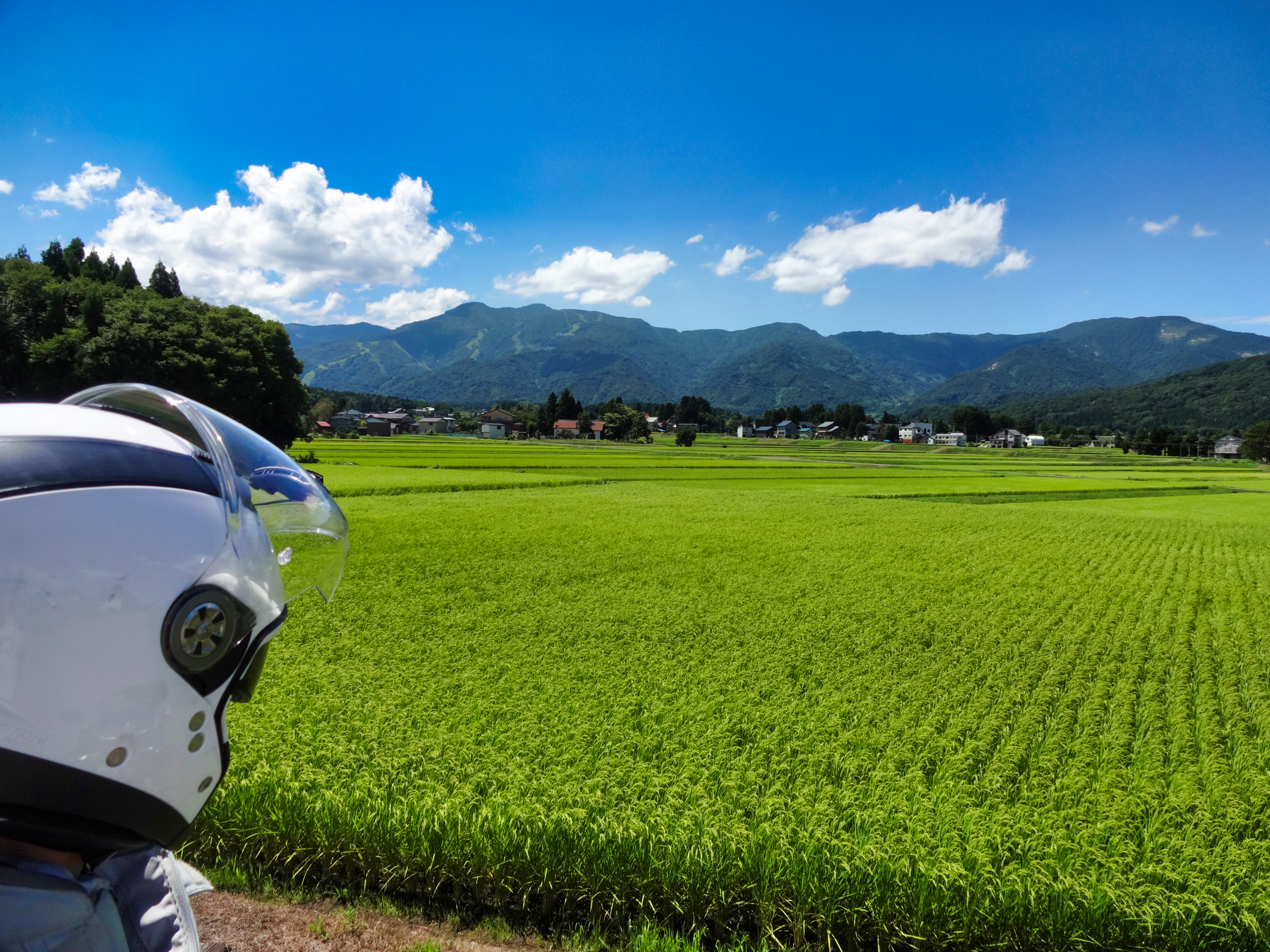 After a nice picnic lunch I made my way out of the hills into 40 degrees indicated.
 Fortunately Joetsu city has intelligent road infrastructure not untimed traffic lights so common in Japan. I could keep air flowing on me to the port.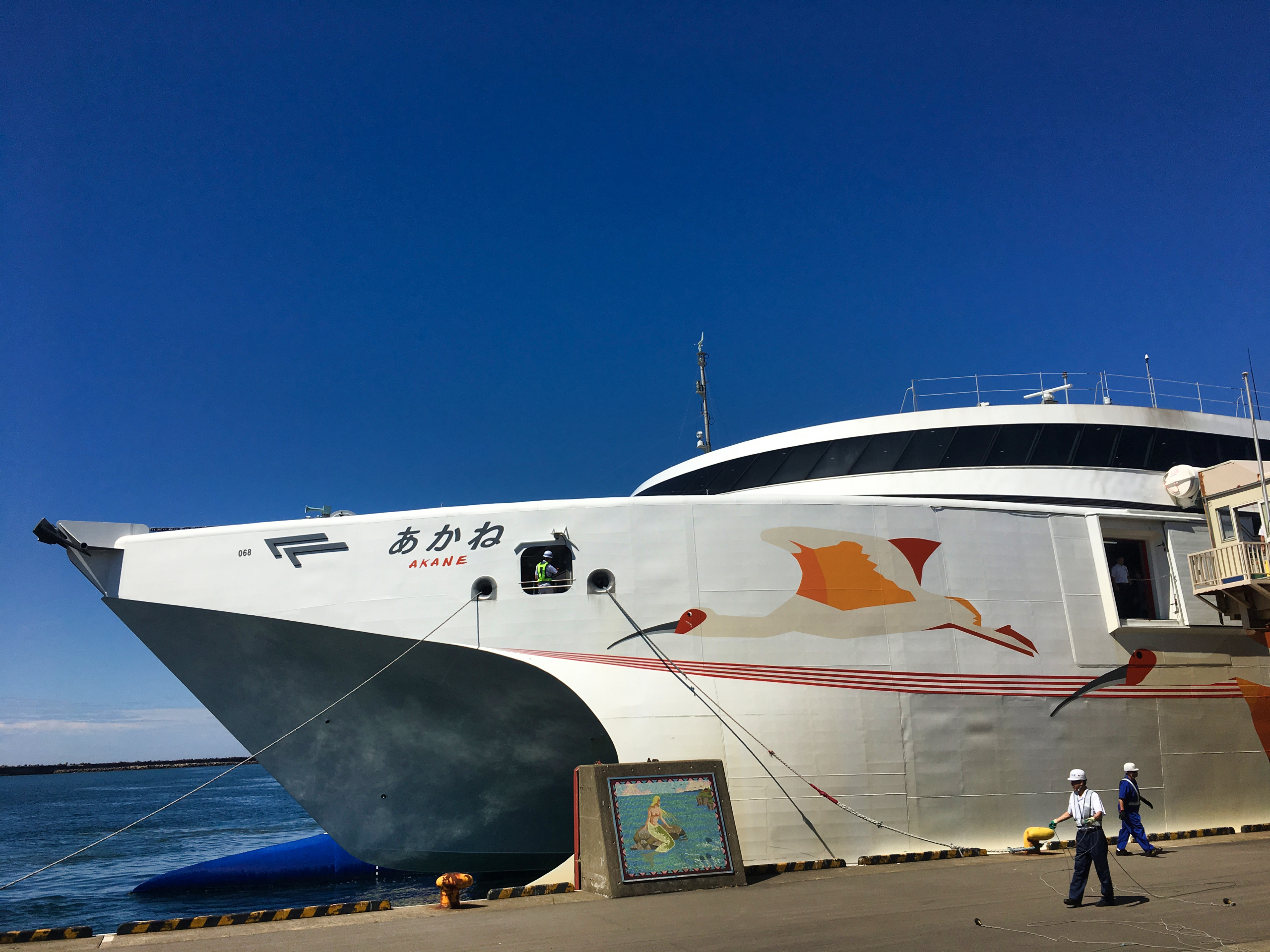 The ferry is a wave piecing catamaran. Made in Tasmania. Thought I was back in Australia when I paid too; about $250 round trip, ouch!Smooth ride, airline type seating. I prefer the old Japanese ferries with carpeted areas for everyone to sleep and lower prices.Sado island was immediately beautiful.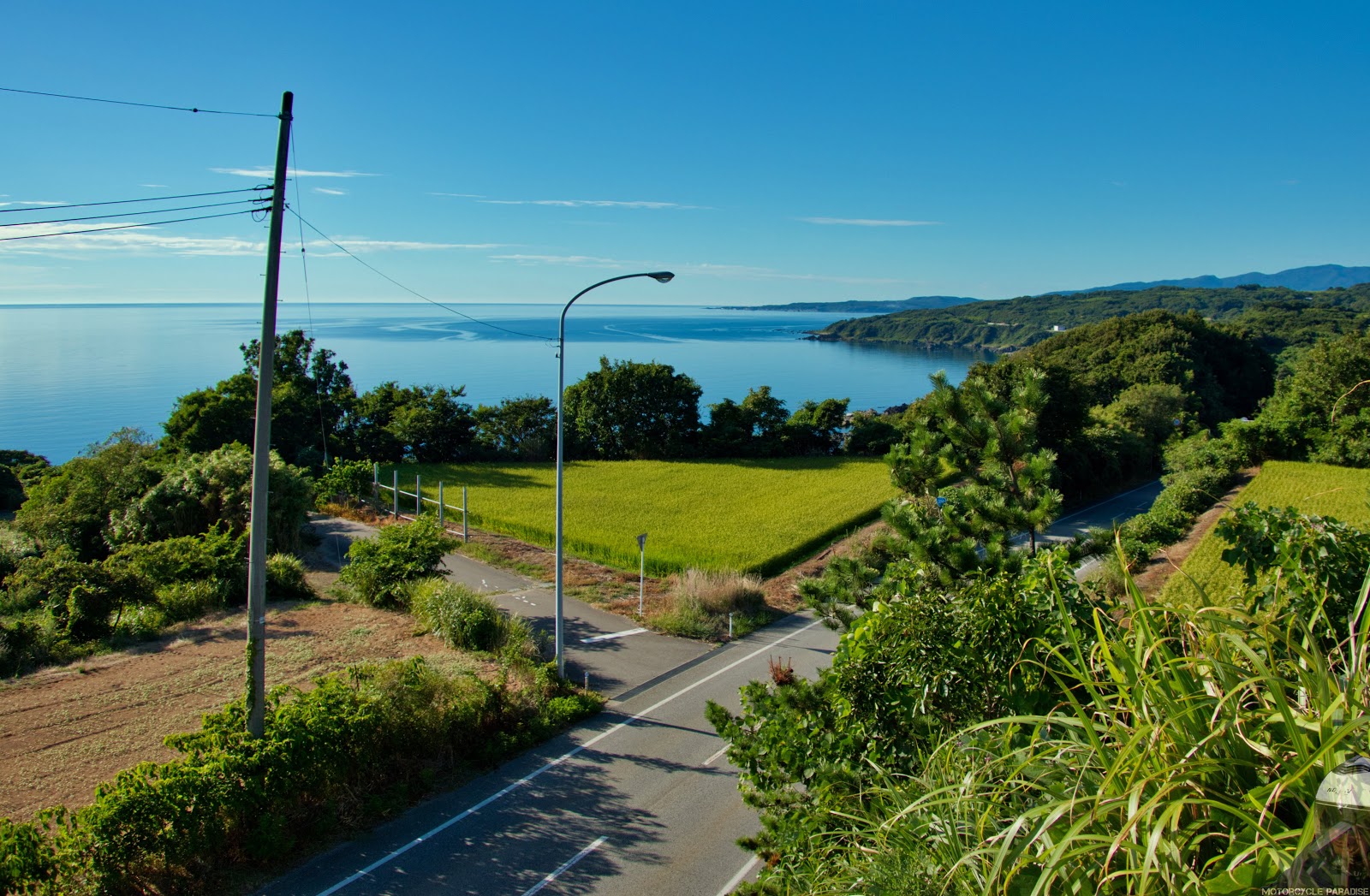 Riding often gives glimpses of scenery in windows between trees and our brain assembles the big picture but to capture this scene I needed to turn around and walk up a ramp. You're welcome!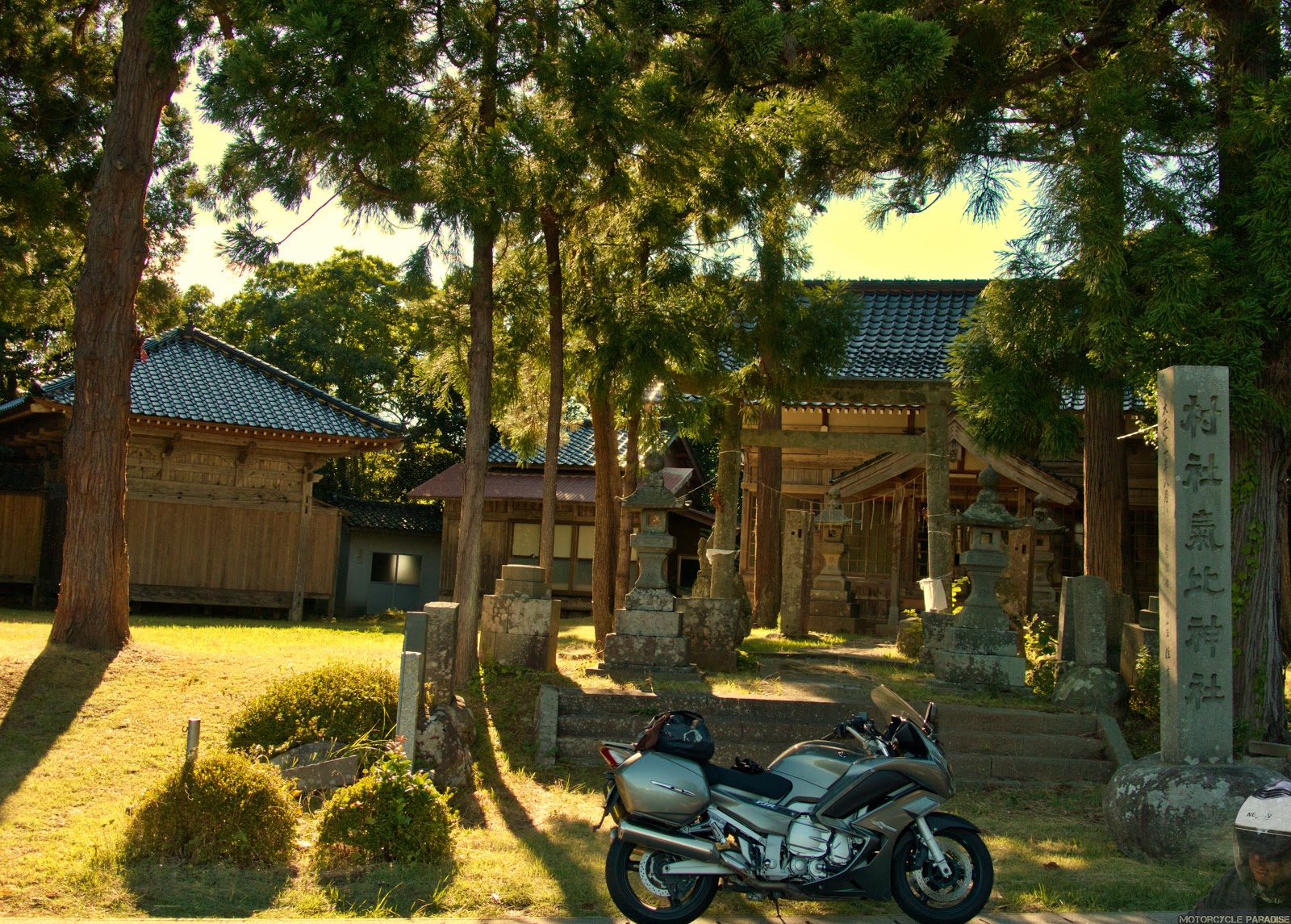 This temple would have photographed better in another couple of hours but motorcycle touring rarely aligns with the best light.I rode the Sado skyline. No decent viewpoint so I broke my no bike in photo rule twice today.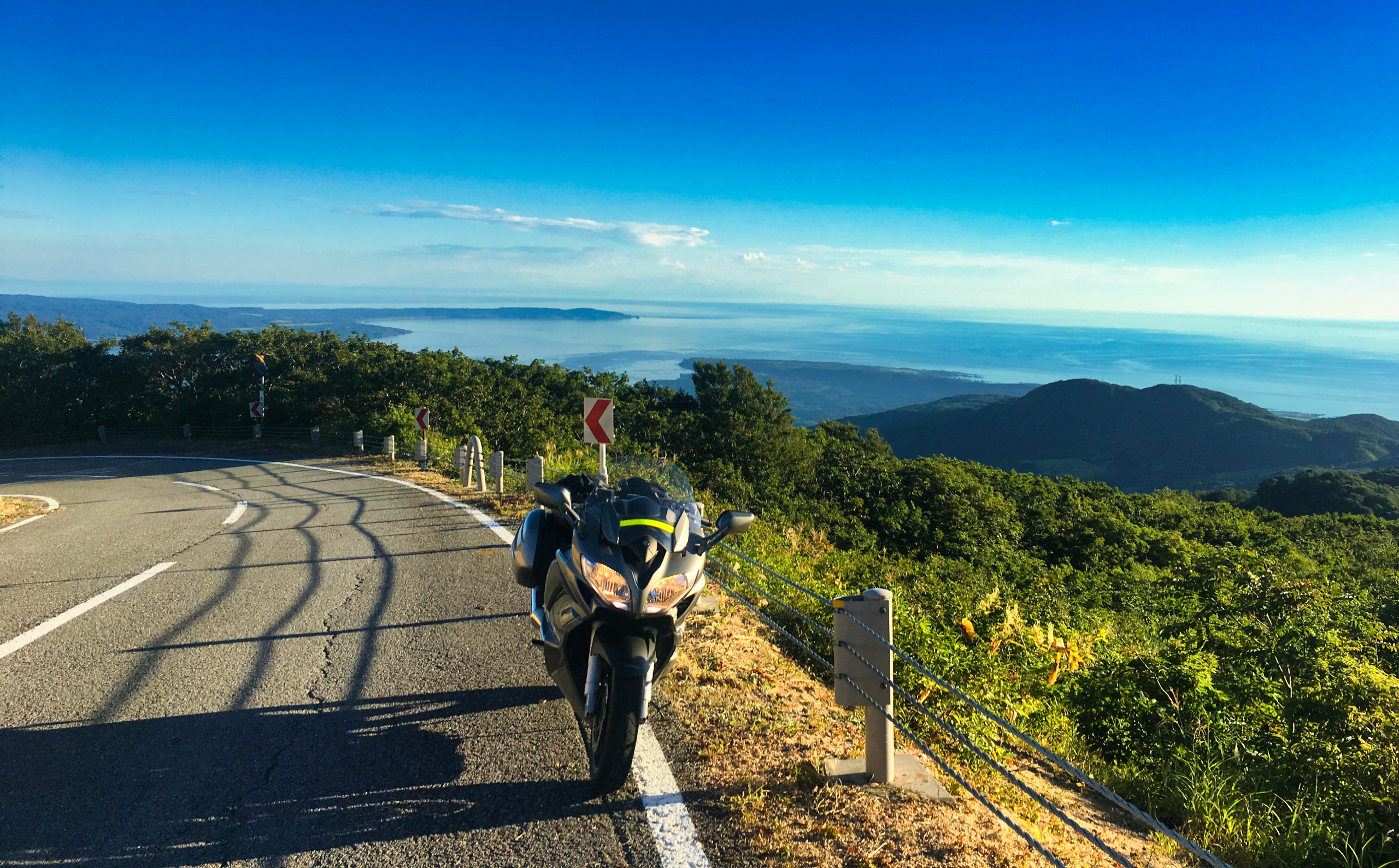 New hotel, nice room.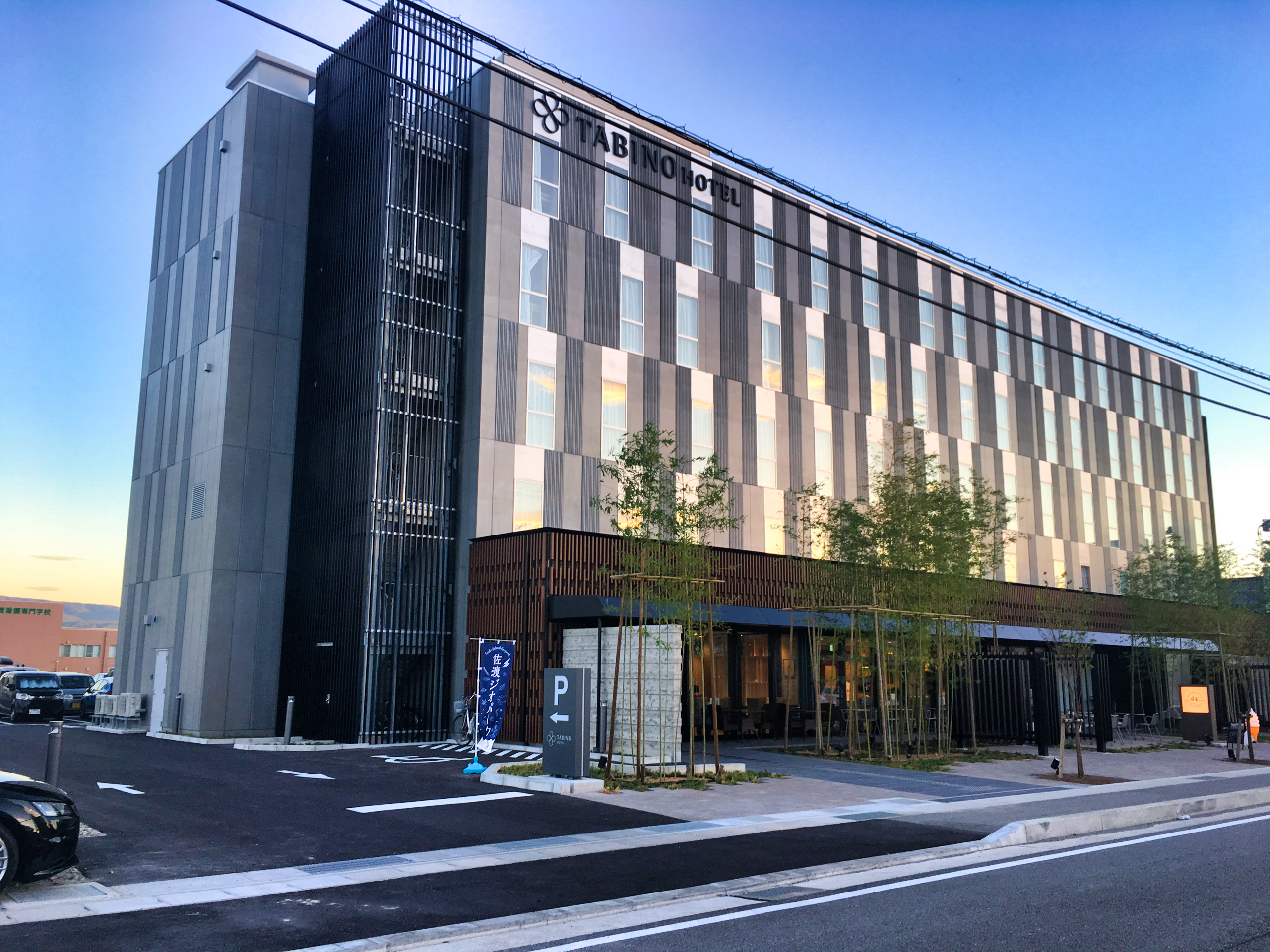 Long day despite short route.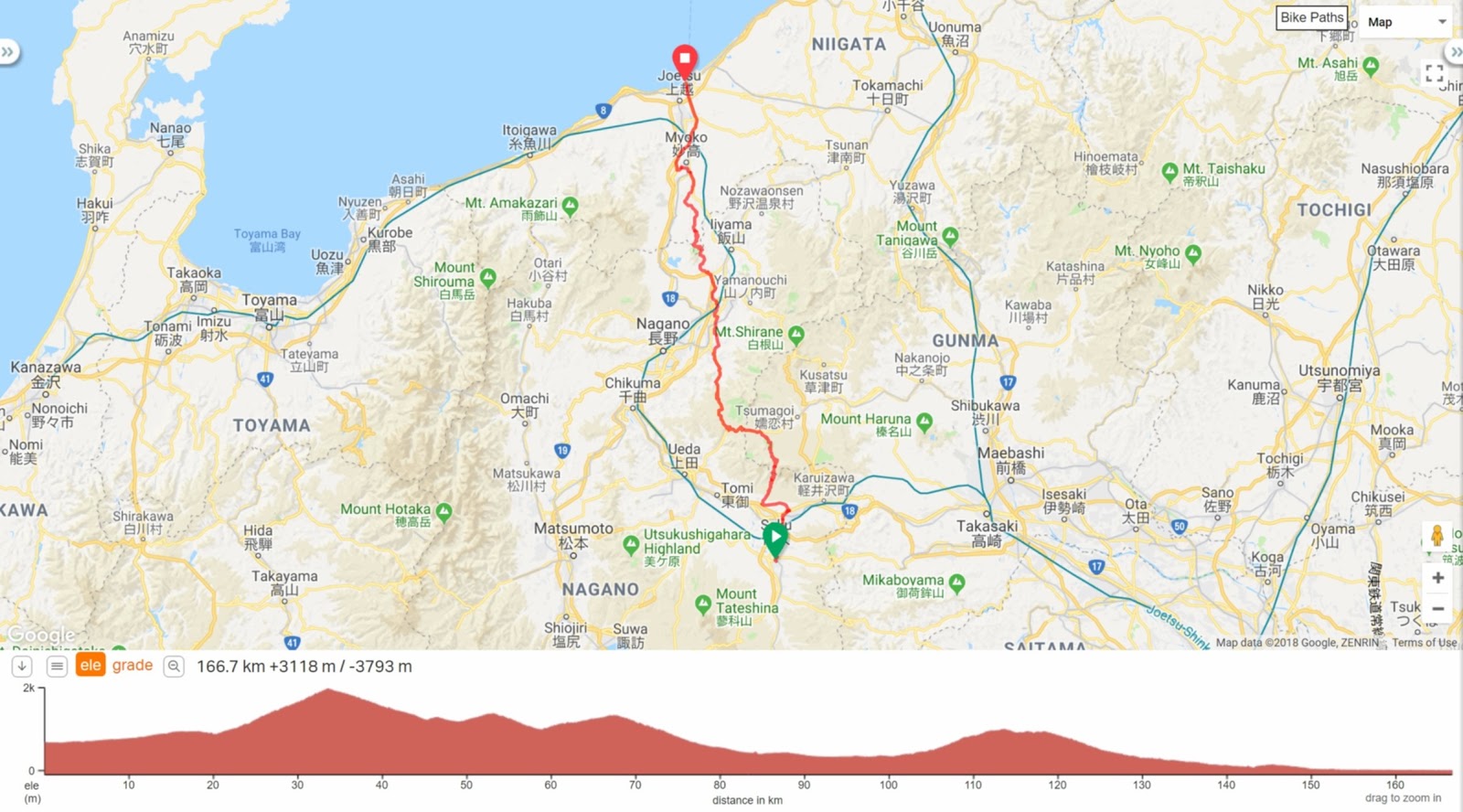 Day Three
Weather today is so clear and 34 degrees at 8.00am.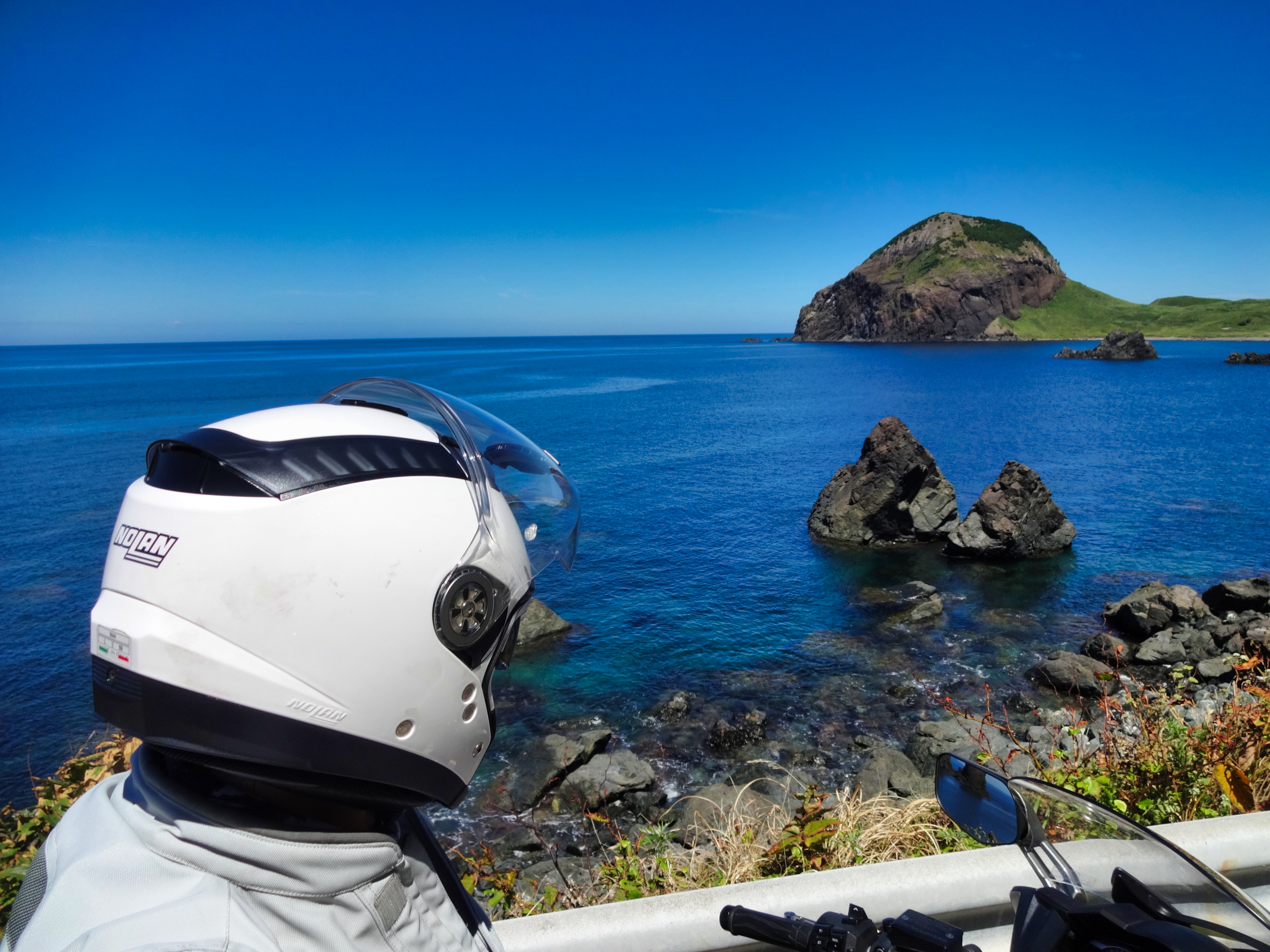 Western side of the island is Irish green with interesting rocky outcrops.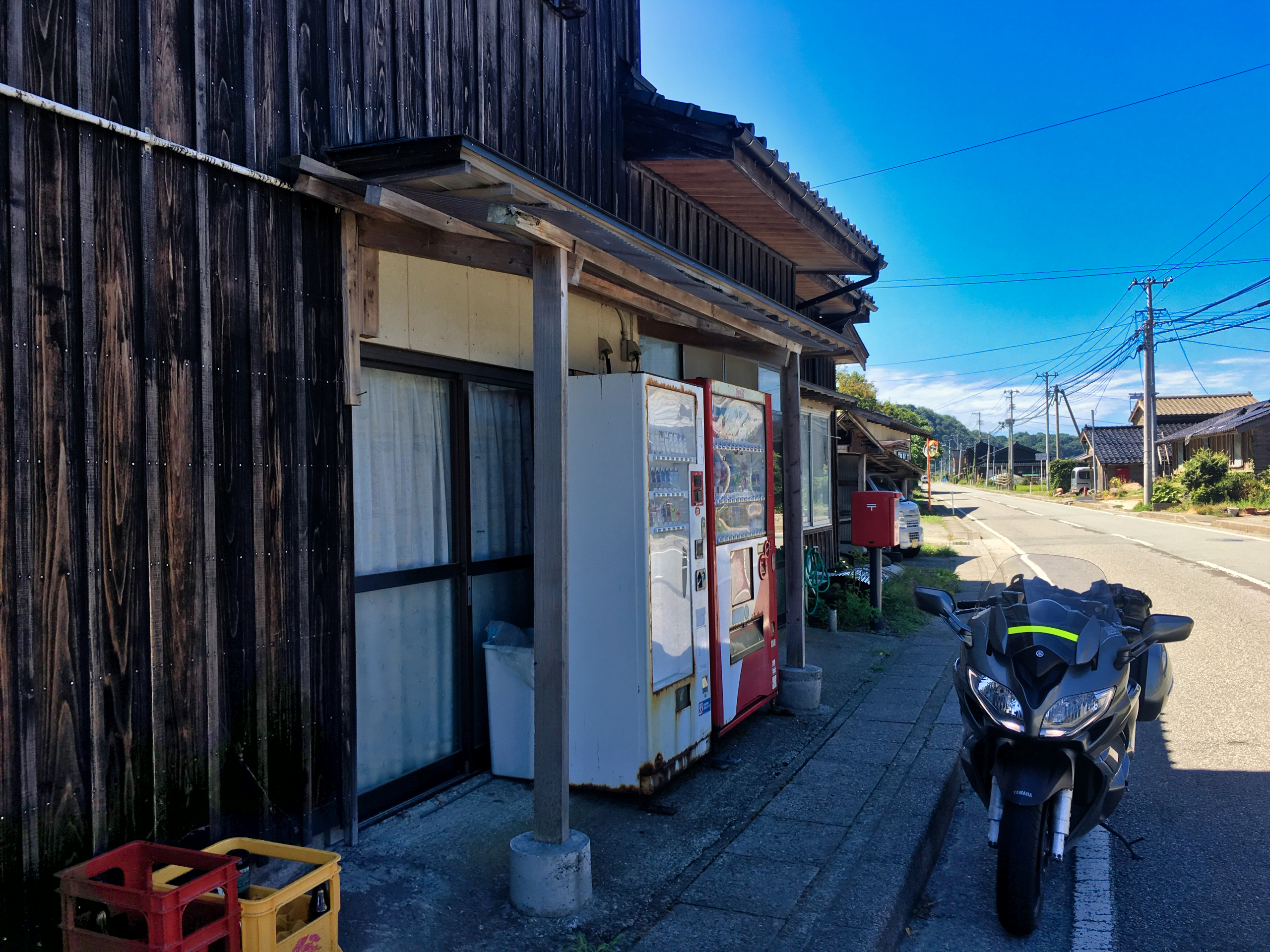 I am mindful of dehydration and stop in morning shade as already 36 degrees for a sports drink while locals look on from a distance. I reflect that in Indonesia you would be surrounded by smiling people despite the language barriers.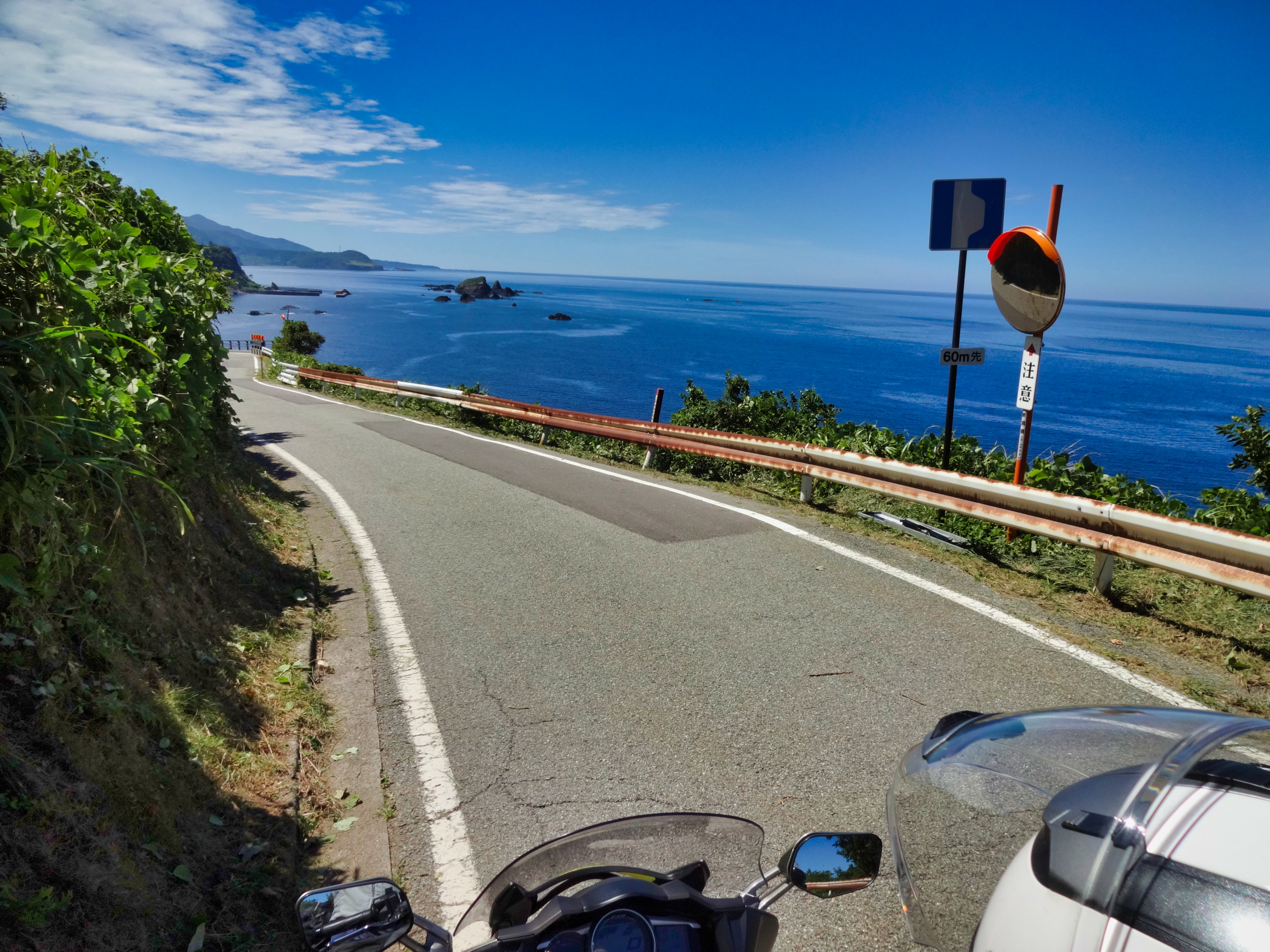 Scenery just gets better.
The above photo is my new camera with a polarizing filter letting you see into the water. I wanted to visit a remote viewpoint to the north but there had been nowhere to buy any food or water so I rode down the east coast. Grabbed some food and two bottles of water and visited another elevated road instead.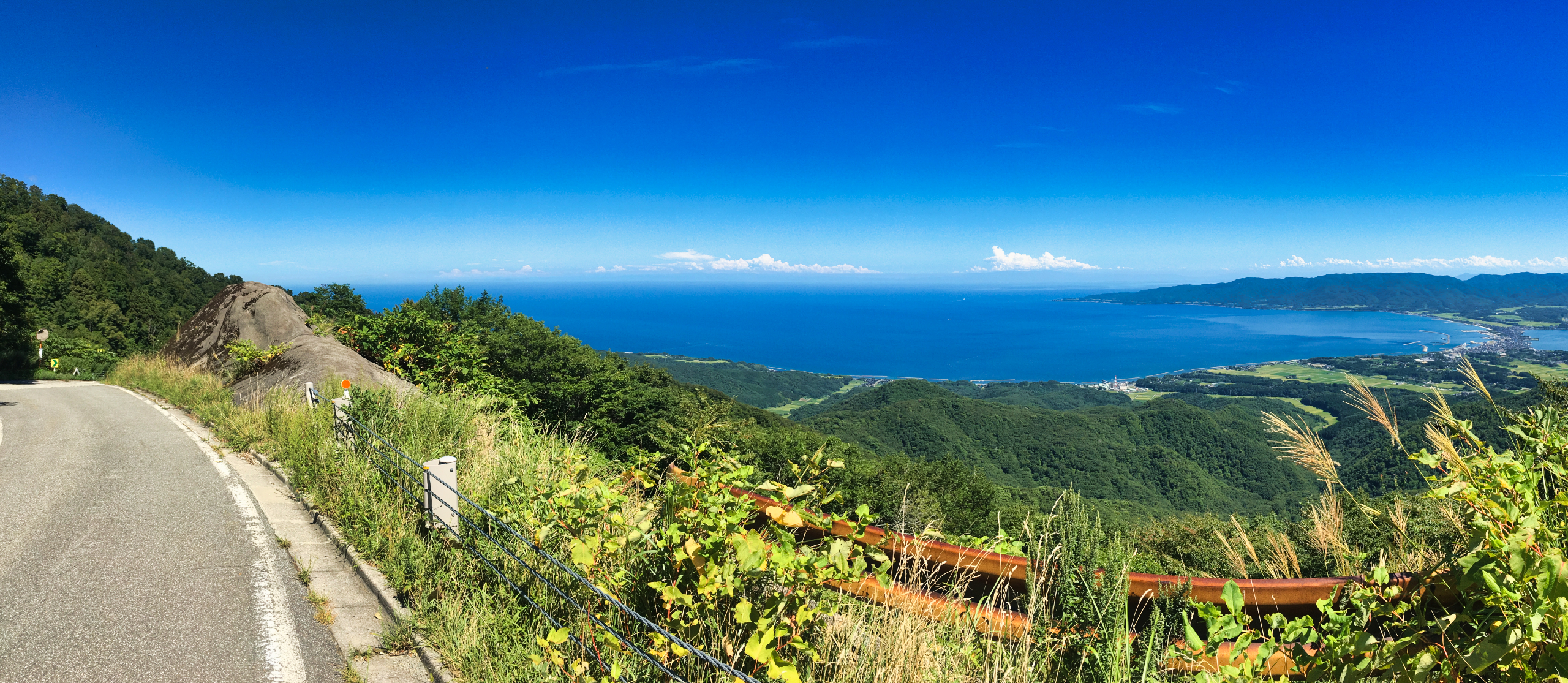 Continuing along the ocean the riding was easy flowing curves and 38 degrees. Too hot to walk out to this temple.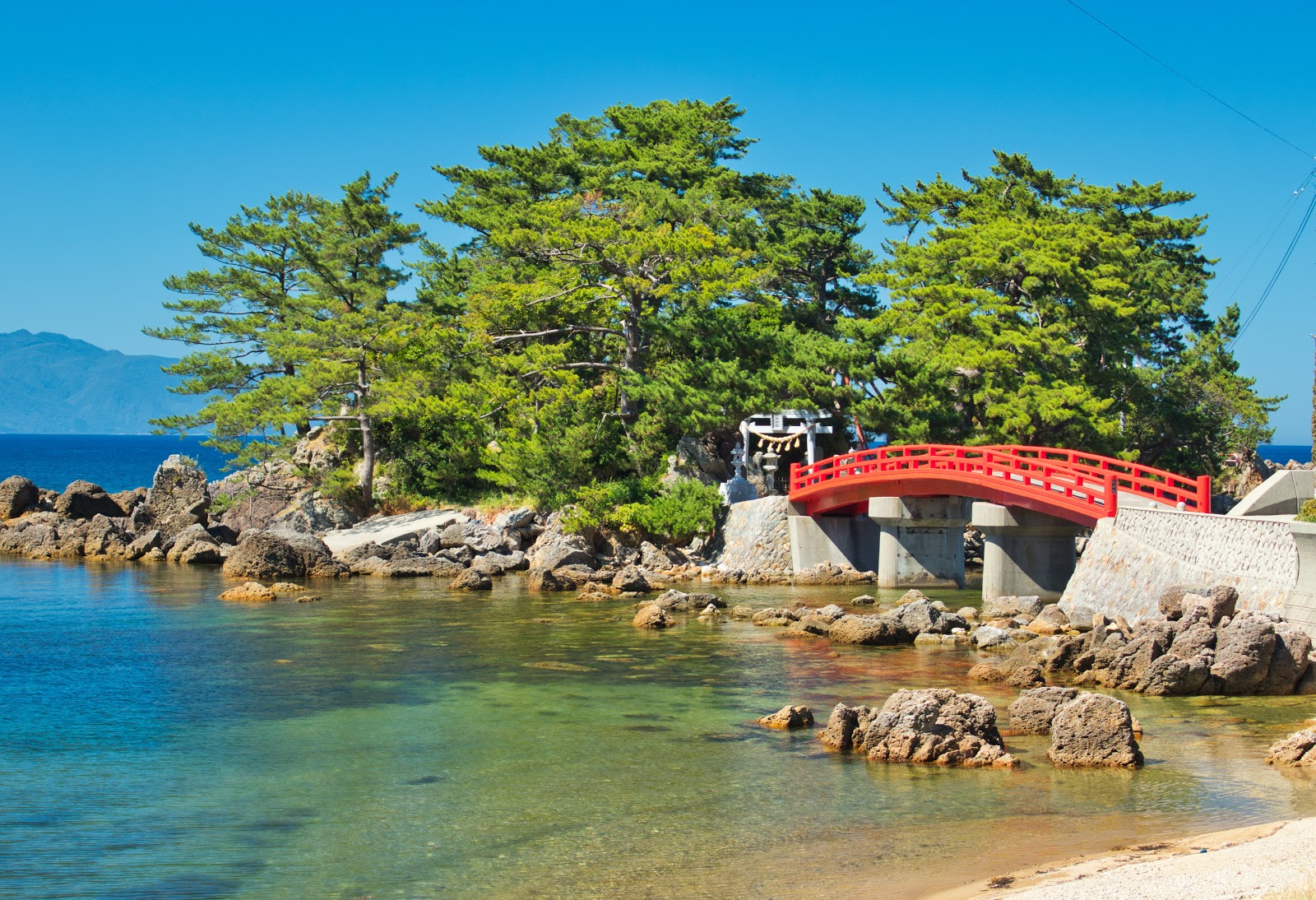 I detoured to see some rice terraces at a village called Iwasaki.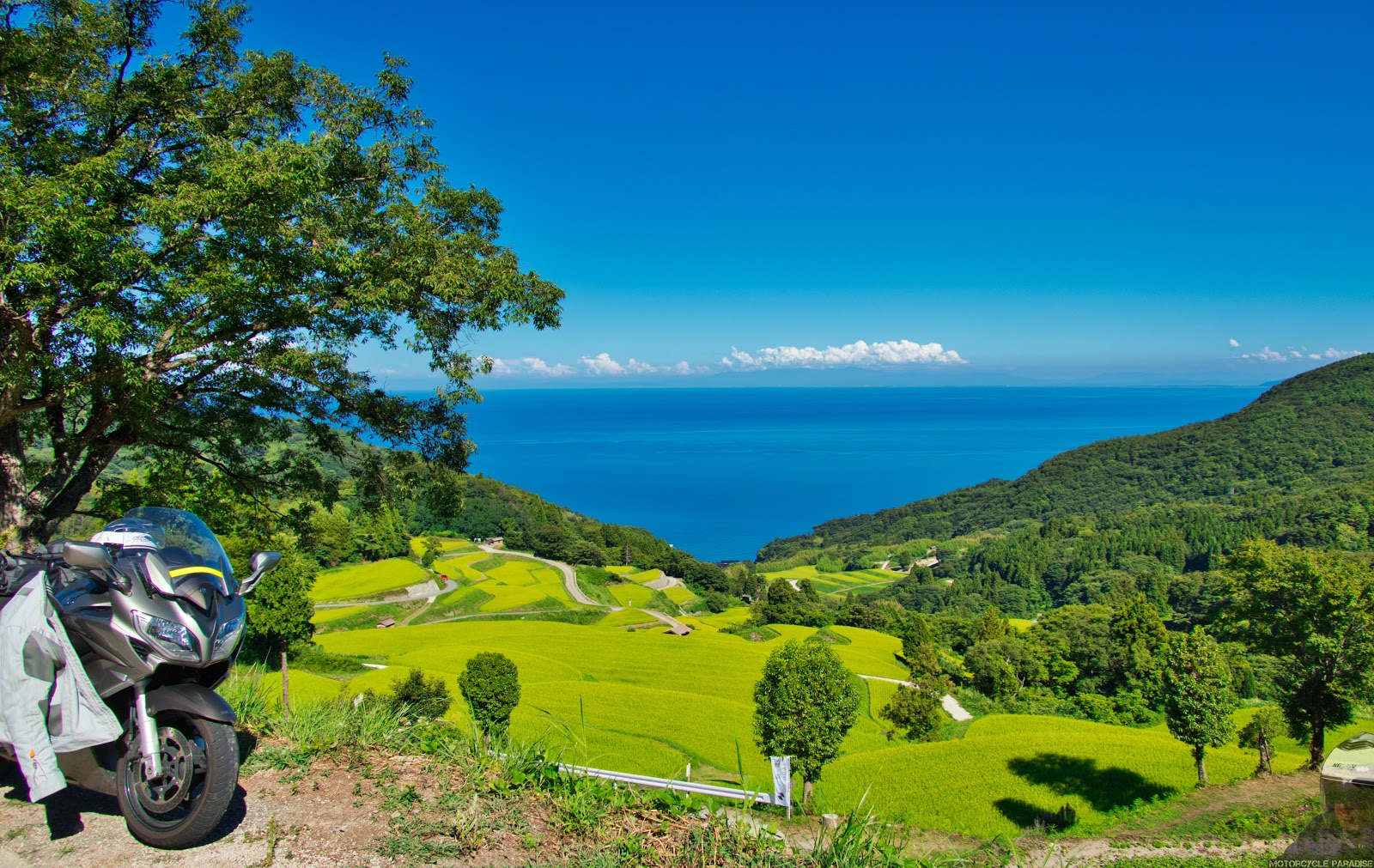 There was a lovely shady spot next to that tree and I was going to stay longer but again had run out of water in this scorching heat.
Not carrying enough water actually saved me. Leaving Iwasaki I came to a road block. Oh no I need to ride across the island. A 50km detour! Going to be cutting the ferry close. First time in couple years the engine has seen higher than 4000rpm haha.
Already having a return ticket was a big advantage arriving late and soon I was boarding the giant catamaran.
Tonight I mistakenly booked a hotel that has no private bathroom. People wax lyrically about going to an onsen but lets be clear it's just taking a bath with other men. If you are raised from a child that bathing is best done in public as the Japanese are then fine but frankly if you are a westerner not sure what attraction you see hot tubbing with other naked blokes.
36 degrees after sunset, a pool with swim up bar would have been great but you won't find such things in Japan.
Day Four
My plan was riding through the mountains of Nagano then over to Shizuoka however a typhoon had changed course and the weather was going to deteriorate from this afternoon.
I put together an impromptu new route to take me home and departed feeling a bit down. The hotel had paper thin walls and lousy breakfast but when I stopped to fuel my day was brightened.
Some gas stations in Japan still offer full driveway service. A not unattractive woman filled my tank then carefully wiped the front of the FJR removing some bugs and wished me a nice ride making it impossible for my spirit not to be lifted.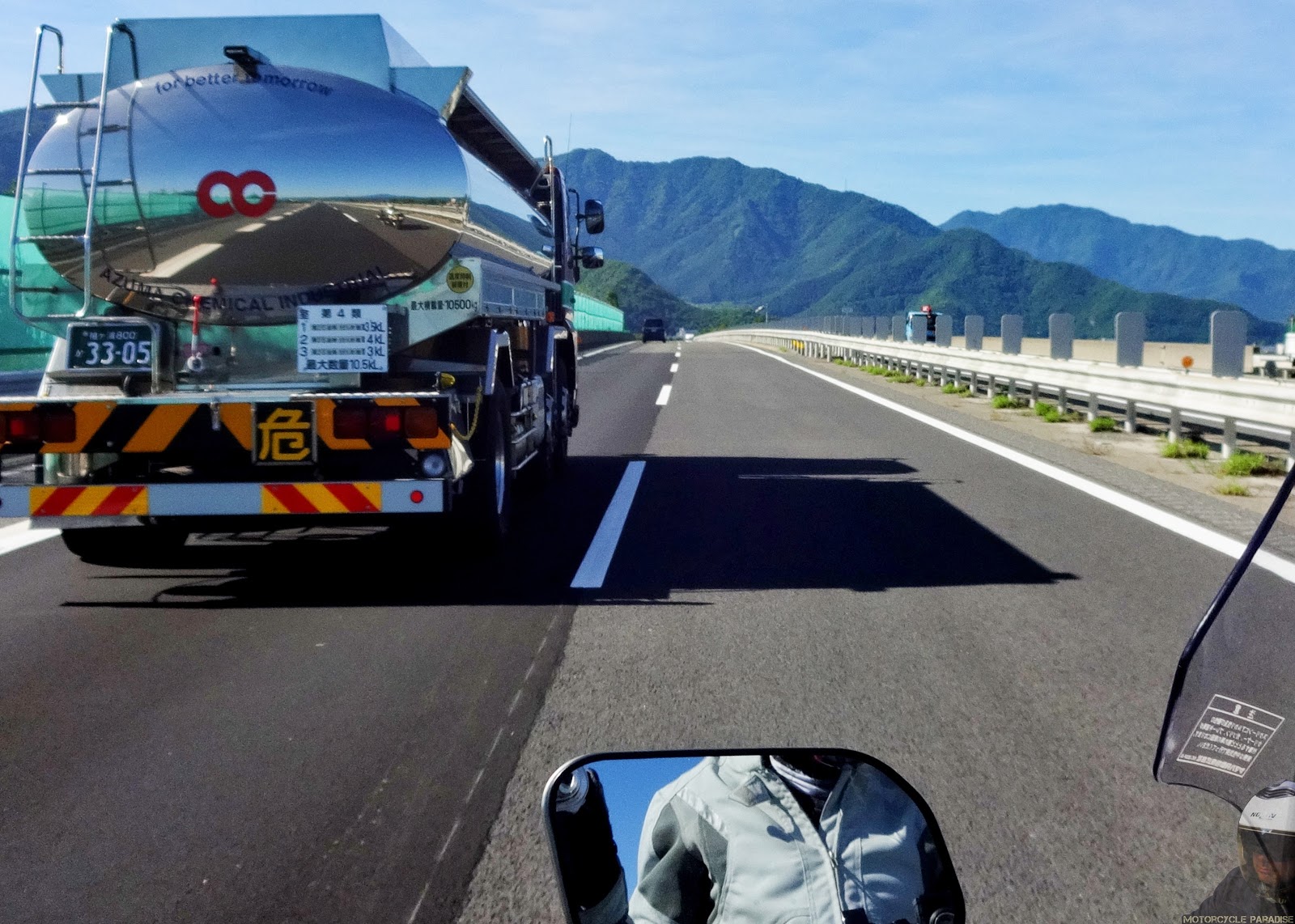 My GPS said 465km to go so I let the FJR do its mile munching thing with the electronic cruise control for the morning. Trying some arty reflection photo above, peeled off the expressway in Nagano to revisit one of my favourite roads.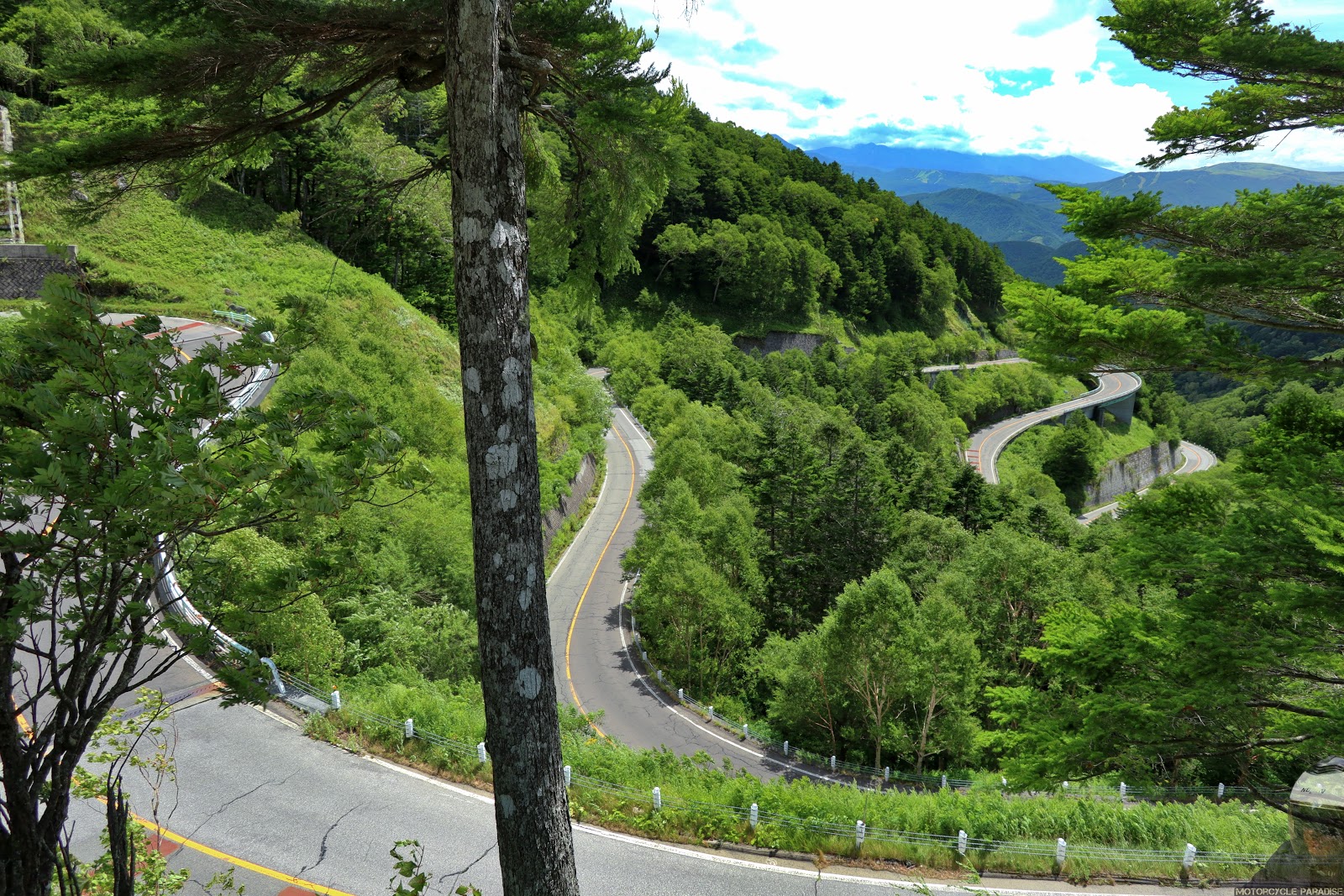 You may recognise it. The Venus Line used to be the header of this blog for many years. The road is actually more flowing but this upper section situated at 2000m is the most photogenic.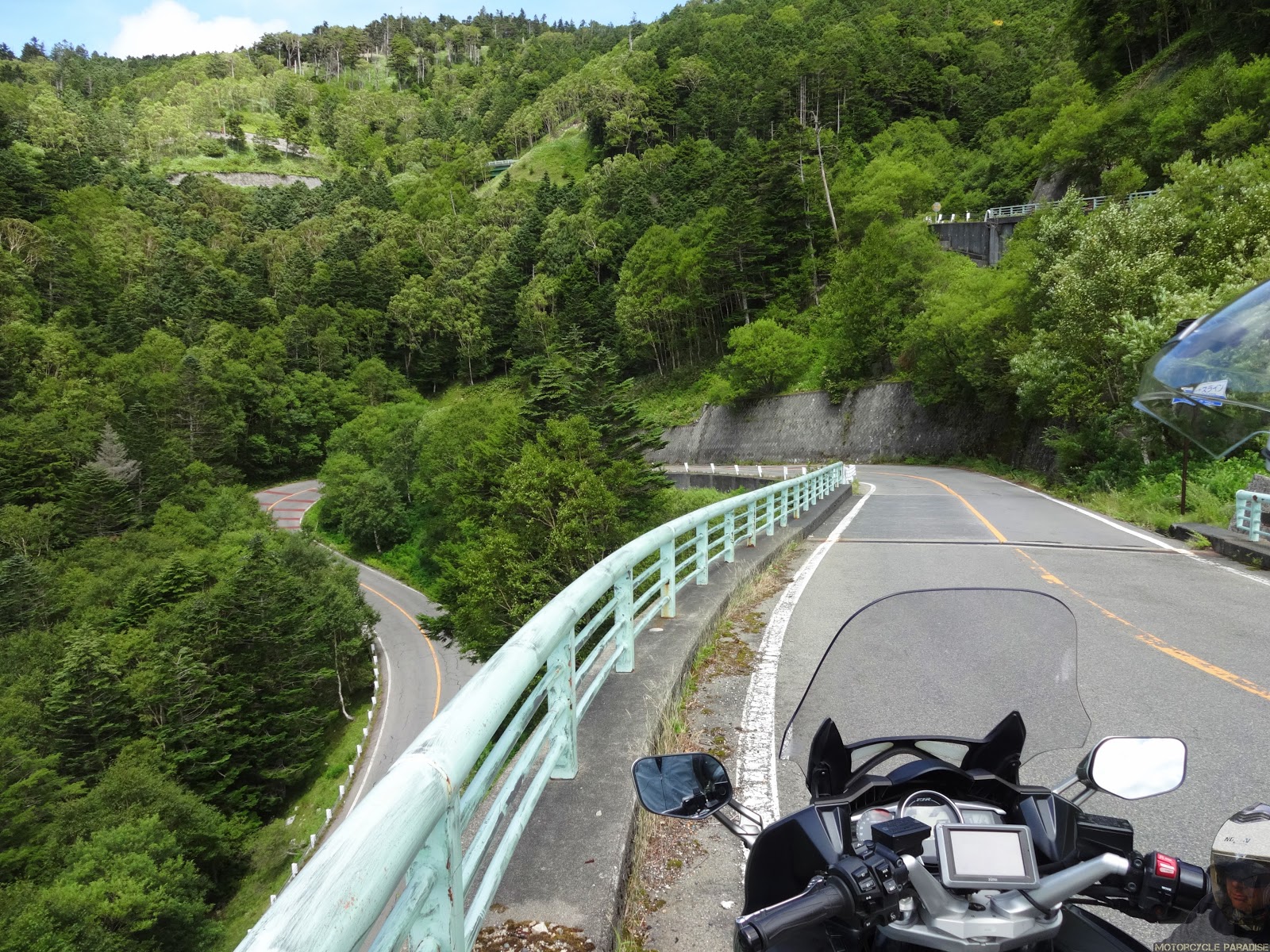 A terrific ride which I enjoyed before running into the first signs of the typhoon.I managed to ride between the showers for awhile but then smack bang into rain so heavy cars were pushing out bow waves. Not the best way to end but once the rain eased the FJR takes me home effortlessly.
My gear on this ride was the BMW City2 pants and BMW Airflow jacket. I actually don't fancy the BMW brand because I despise snobbery. However they make great clothing and these items have no big brand label. I got both discounted in Brisbane long ago and are easily the finest summer gear I have come across. Reviews are elsewhere in the blog.
I also dusted off my old summer boots from Vitesse for this ride and out of frame are a pair of RS Taichi vented gloves and my usual Nolan N44 helmet.

Thanks for your continued interest in the blog, next adventure is going to be something big in October.