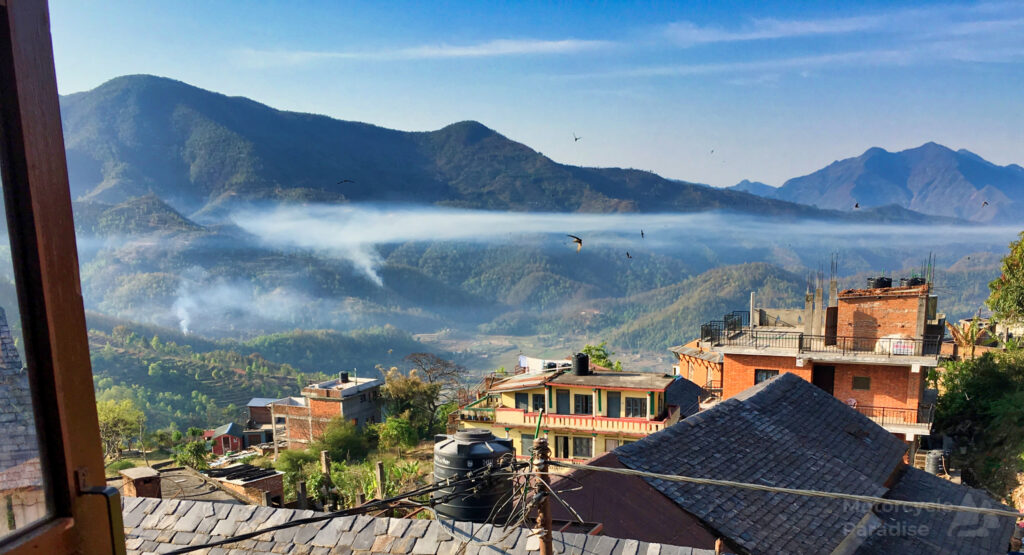 Woke up to a lovely morning after some rain last night with peaceful view from my window. Over breakfast chatted to the hotel owner who advised my intended route today was rough unsealed road and I best ride via Pokhara. That adds a few km and I decided I best get a move on.
I made my way to a small shop where I parked yesterday as no vehicles permitted in the old town and the young guy who is the bike attendant got my Duke out and was gushing about it. The 250 is a flagship model in a sea of smaller capacity bikes. I said take it for a quick spin and his eyes lit up like it was Christmas.
Afterwards we reviewed the Duke together then I had to bid farewell to my new younger brother as I really did have a long ride in front of me.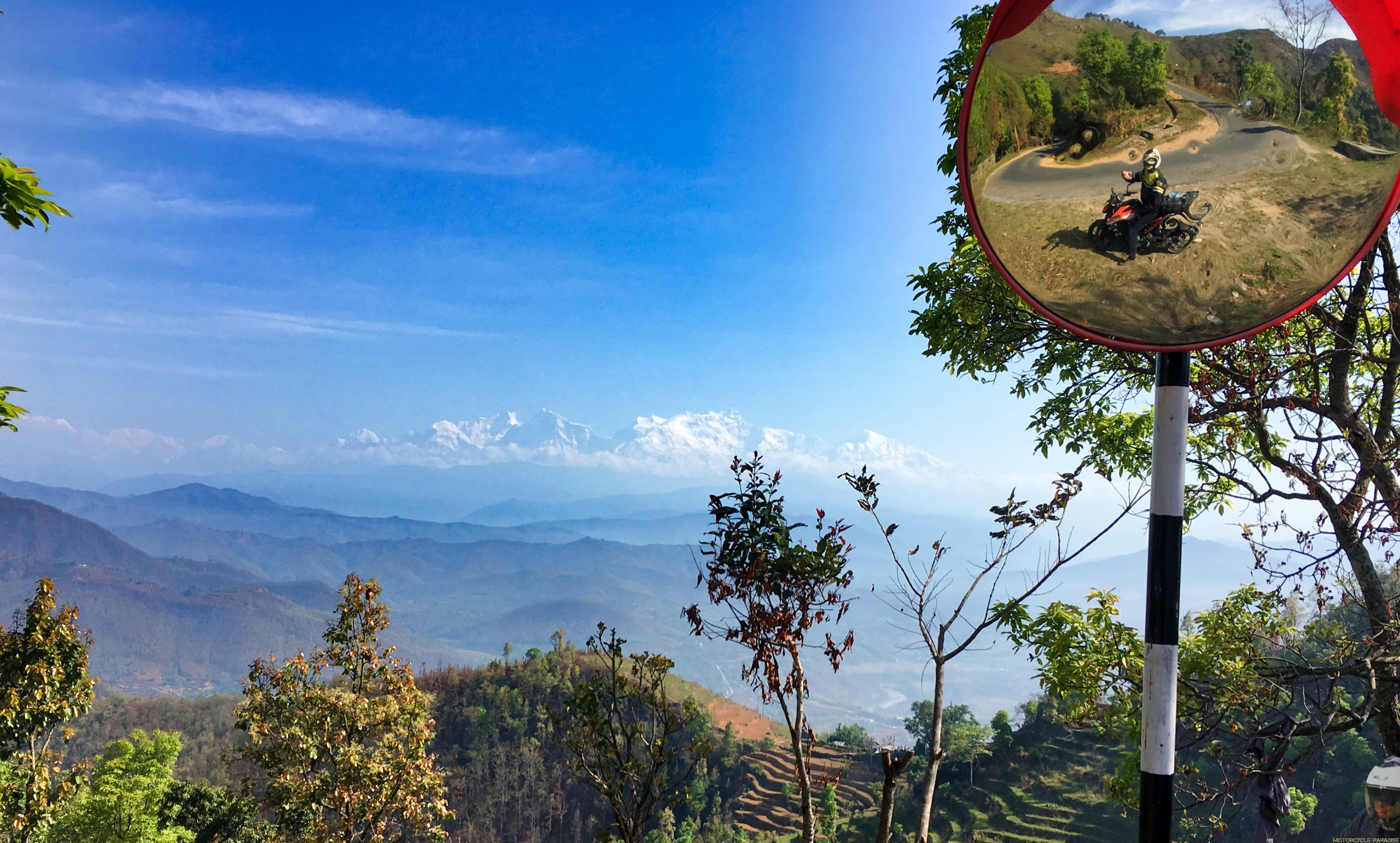 Did not get too far down the hill when this view stopped me. That's snow capped peaks not clouds.
Some easy riding for the most part into Pokhara but mostly gravel. The mountains appear through the smoke and dust haze briefly on the outskirts above.
I got a little extra cash from an ATM in Pokhara then turned left towards Tanzen. Terrific route but got to keep eyes peeled.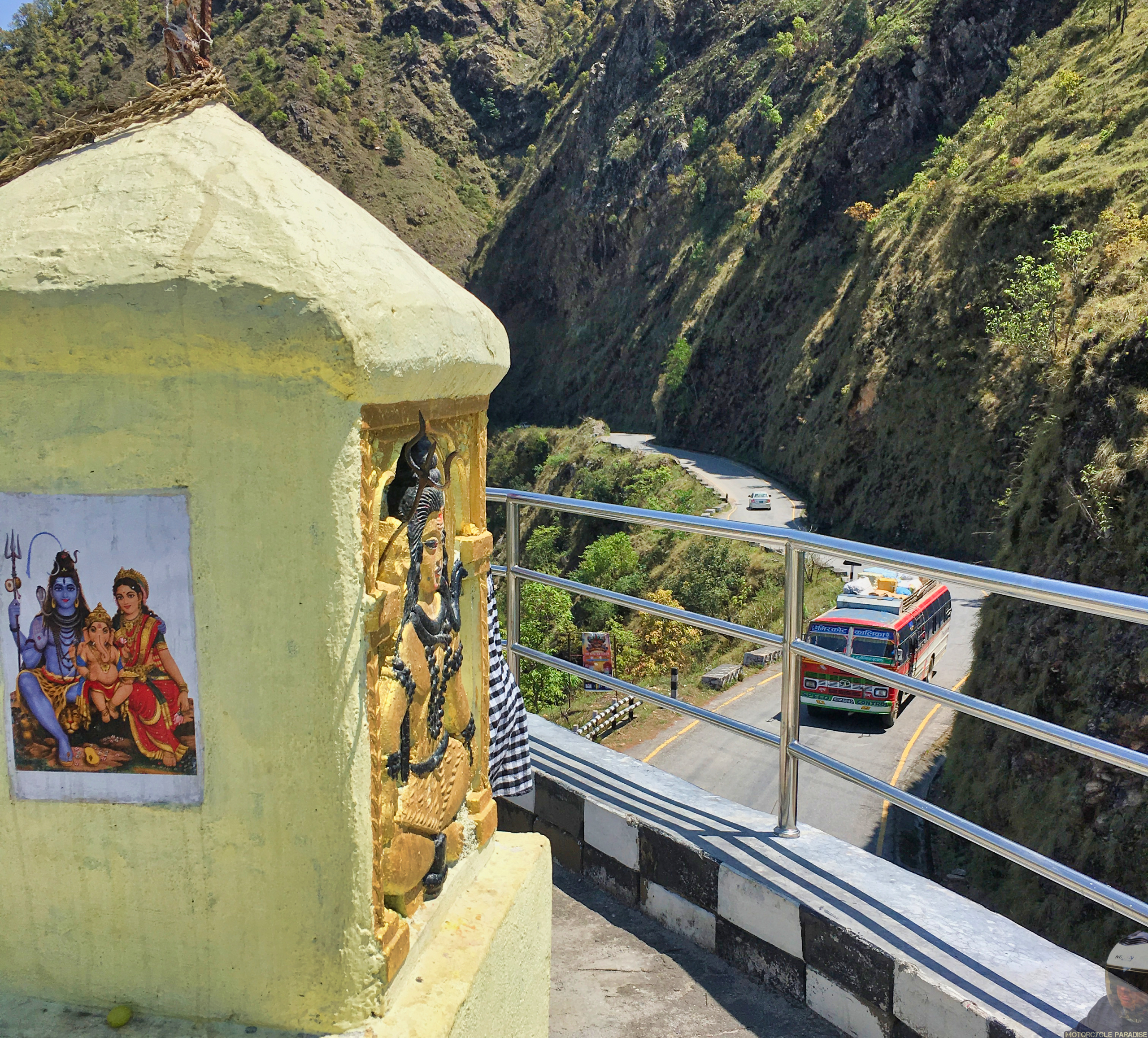 I stopped to stretch at a good luck shrine up half way up mountain and was enjoying the highway buses symphony of musical air horns when I became a celebrity to rival Ewan McGregor on the LWR with people wanting to take selfies with me.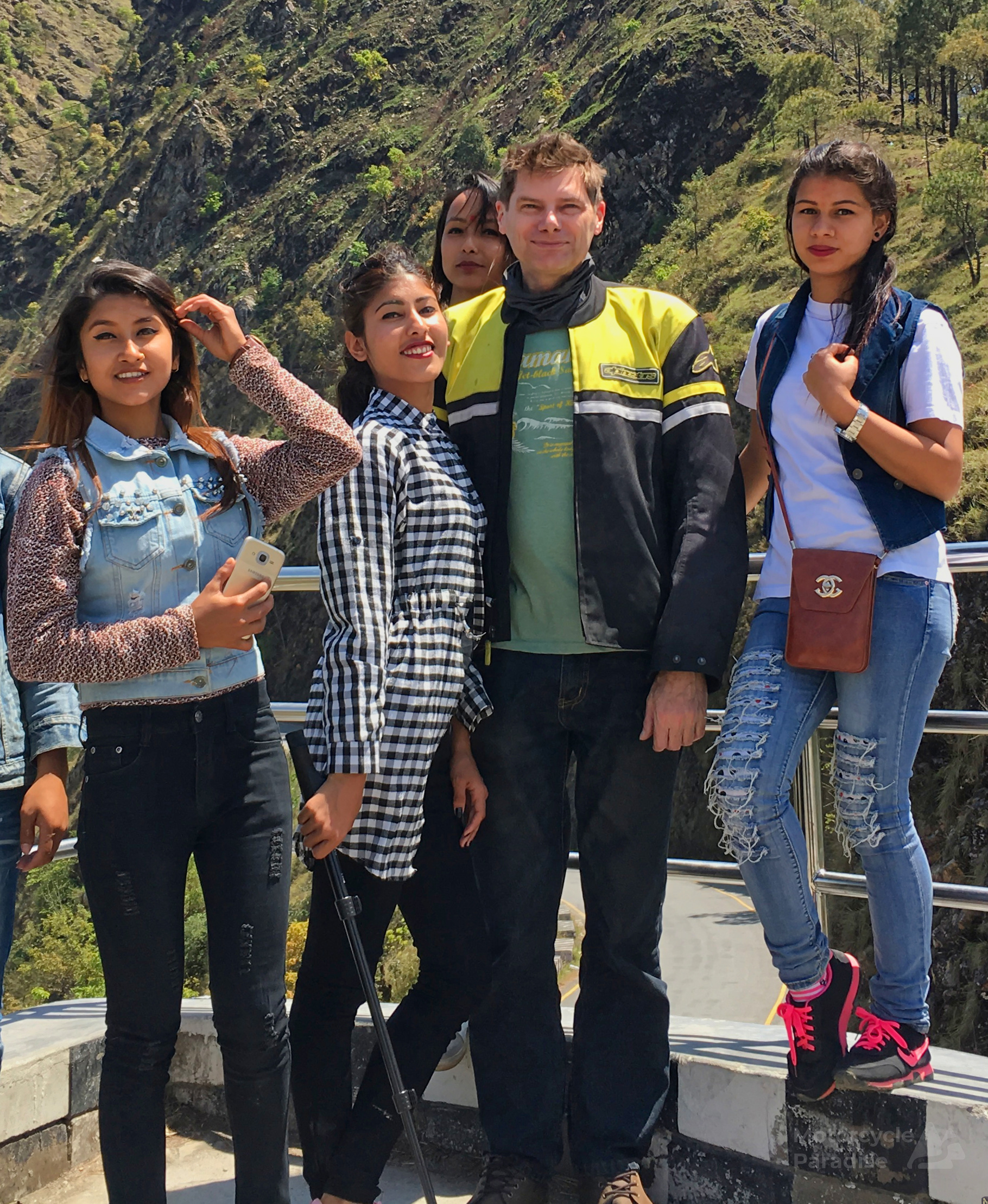 Crazy friendly people here. Reminds me of when I rode in Java Indonesia.
The Duke changes direction like energetic puppy and the 250 engine once spun up can pass the slower vehicles with ease the 390 version with lower pegs and better seat would be great bike.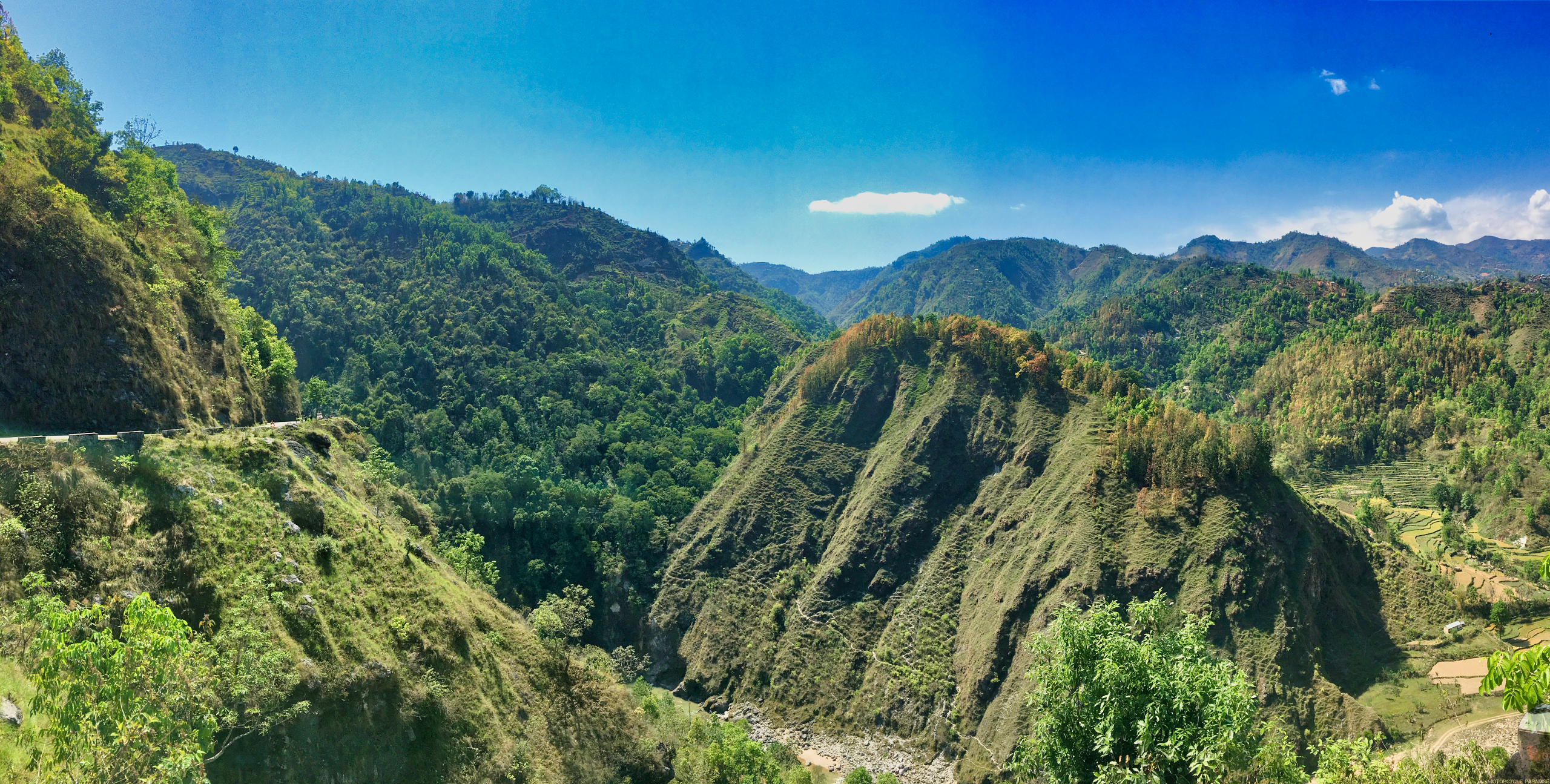 Stopped in mountains at a roadside eatery advertising espresso coffee. Nepal doesn't seem to have much of a coffee culture and I was craving a shot. Checking my location I am not even half way so just had some french fries and got rolling.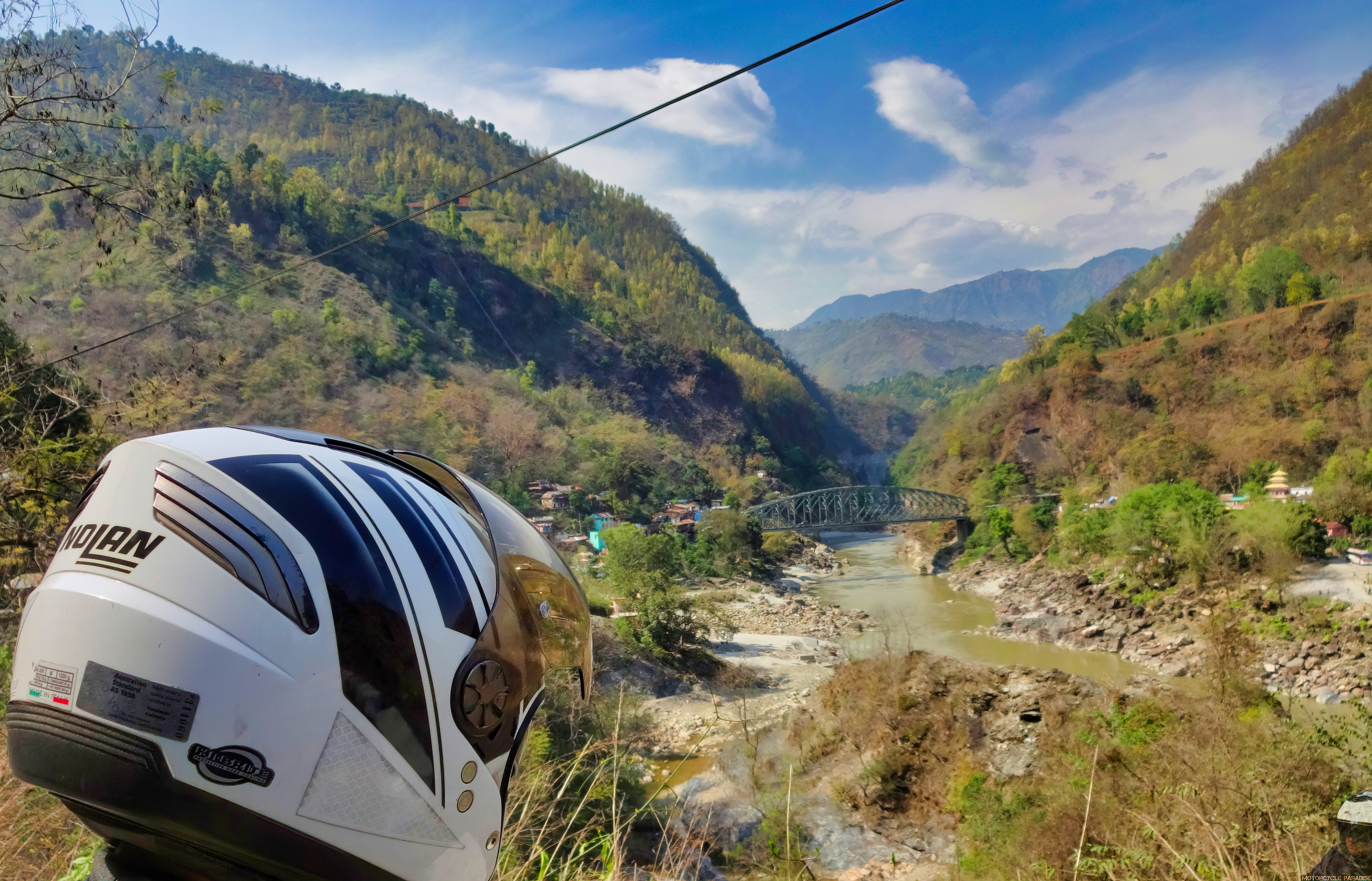 Good riding then on into the afternoon. The roads were non stop curves but bit bumpy in parts. A Honda CRF250 like I rented in Laos would have been a better choice here.
On the other side of the range the temperatures soared to the 30's and I had to stop to rest a few times. I always carry extra water with me now as dehydration is such an issue riding in heat.  Then the road climbed another range and this was a joy on the little Duke.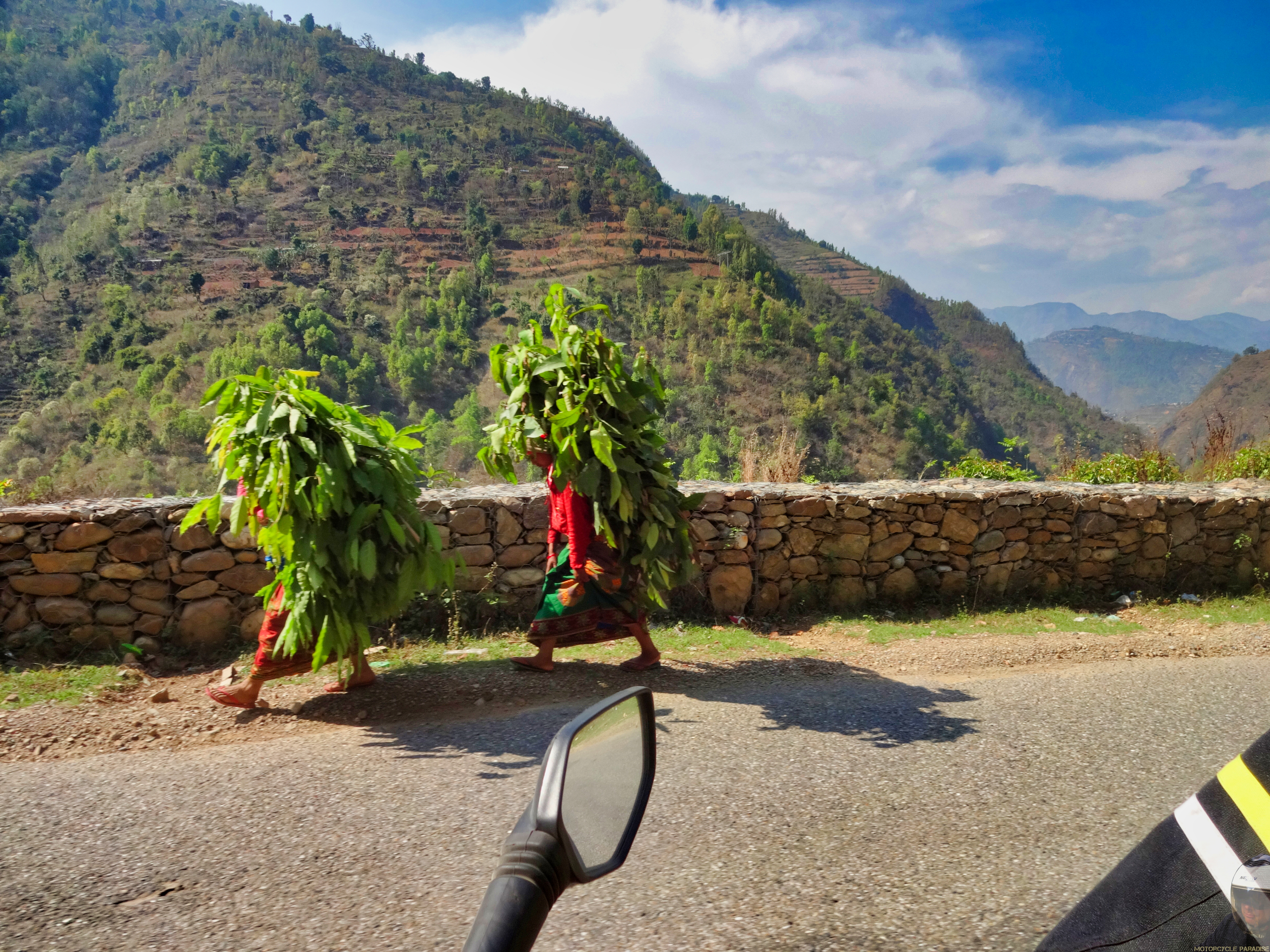 Some ladies farming leaves. I saw lots of weed growing wild, you could pick and roll your own if into that. From Tansen the corners just went on and on but I was starting to feel fatigued.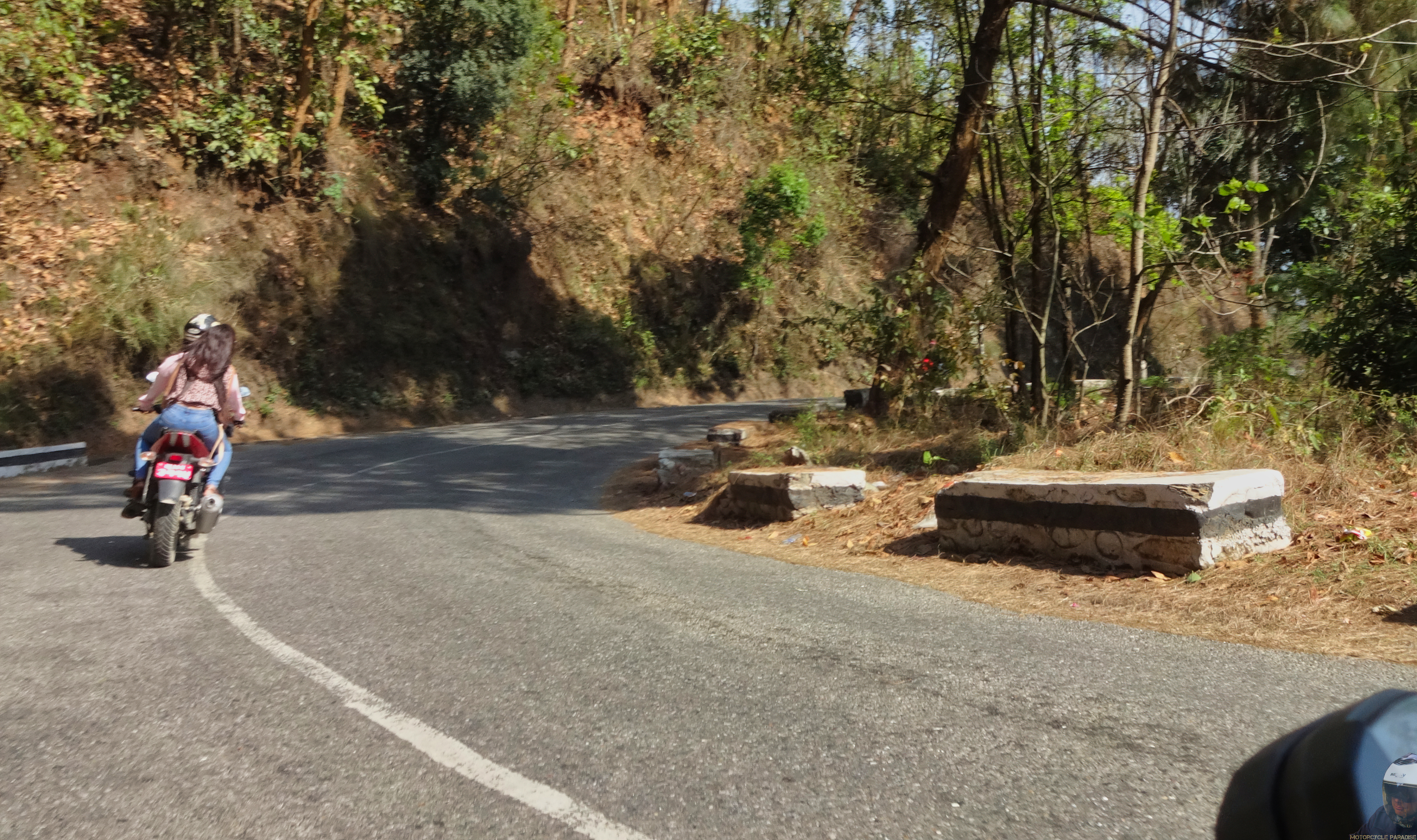 Pillion riders here by law need not wear a helmet.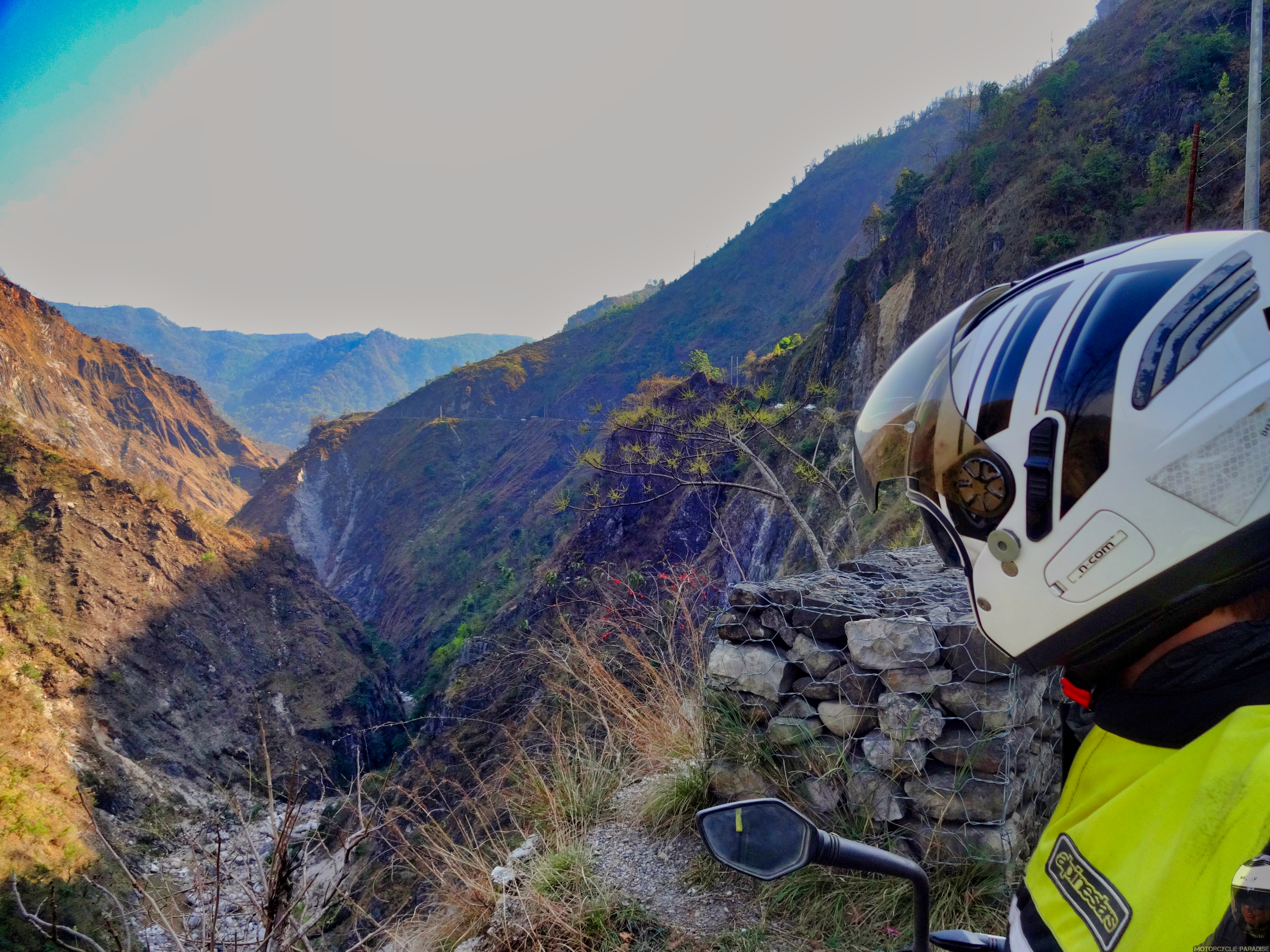 The police were stopping all the bikes but soon as I raised my visor to reveal I was foreigner I was waved on. Some rough stuff to end an otherwise superb day of riding.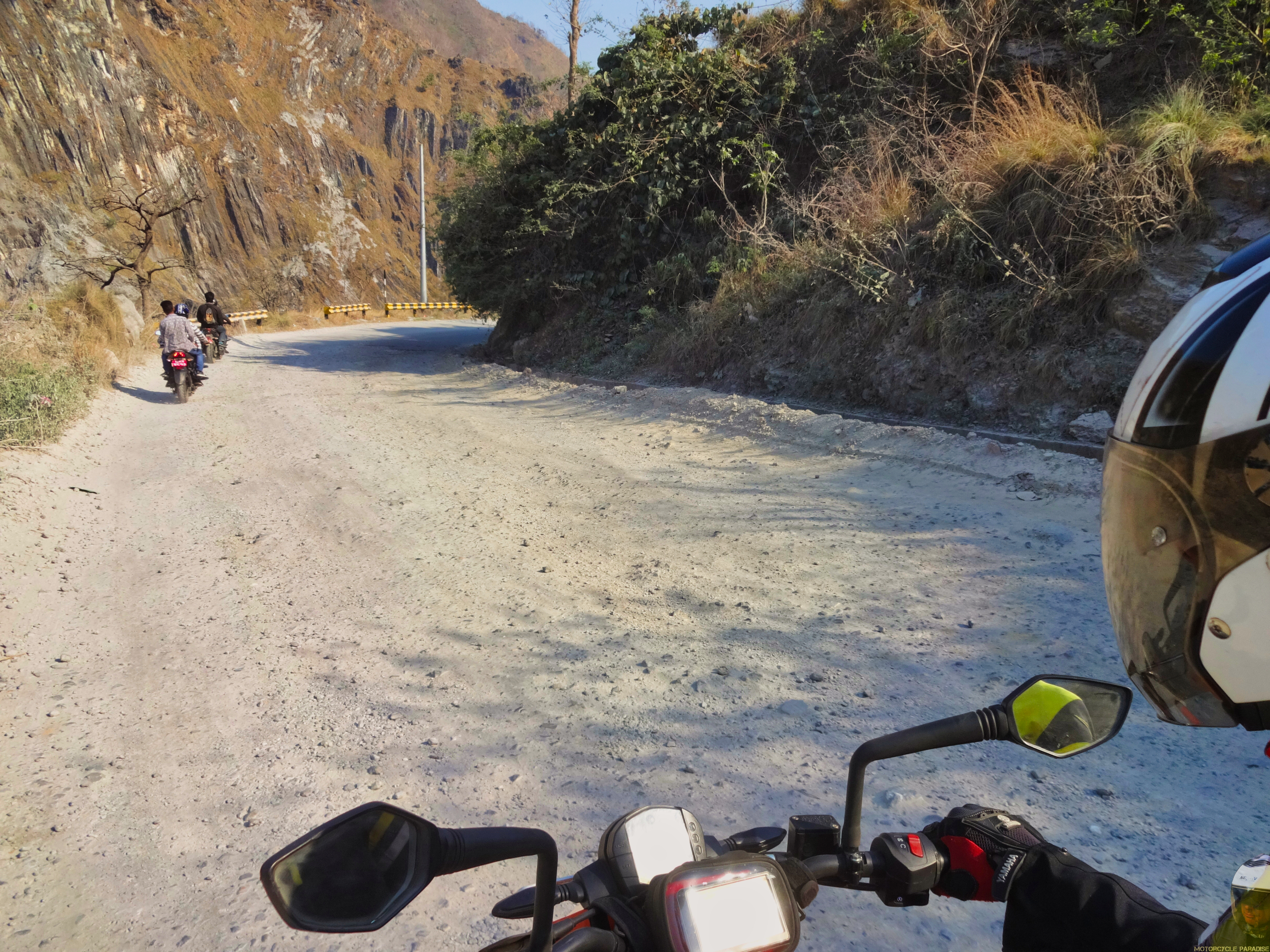 Staying at a nice hotel my bag and clothes were shed as I made a beeline for shower to cool down and wash away the dust. The hotels restaurant had a New Years day* dinner so I went to that which was great but somehow I lost the photos. (* Nepal has its New Years in April)
Breakfast next day was great today, fresh made breads with herbs and spices inside and sweet yet spicy Indian pickles and fresh yogurt. Delicious!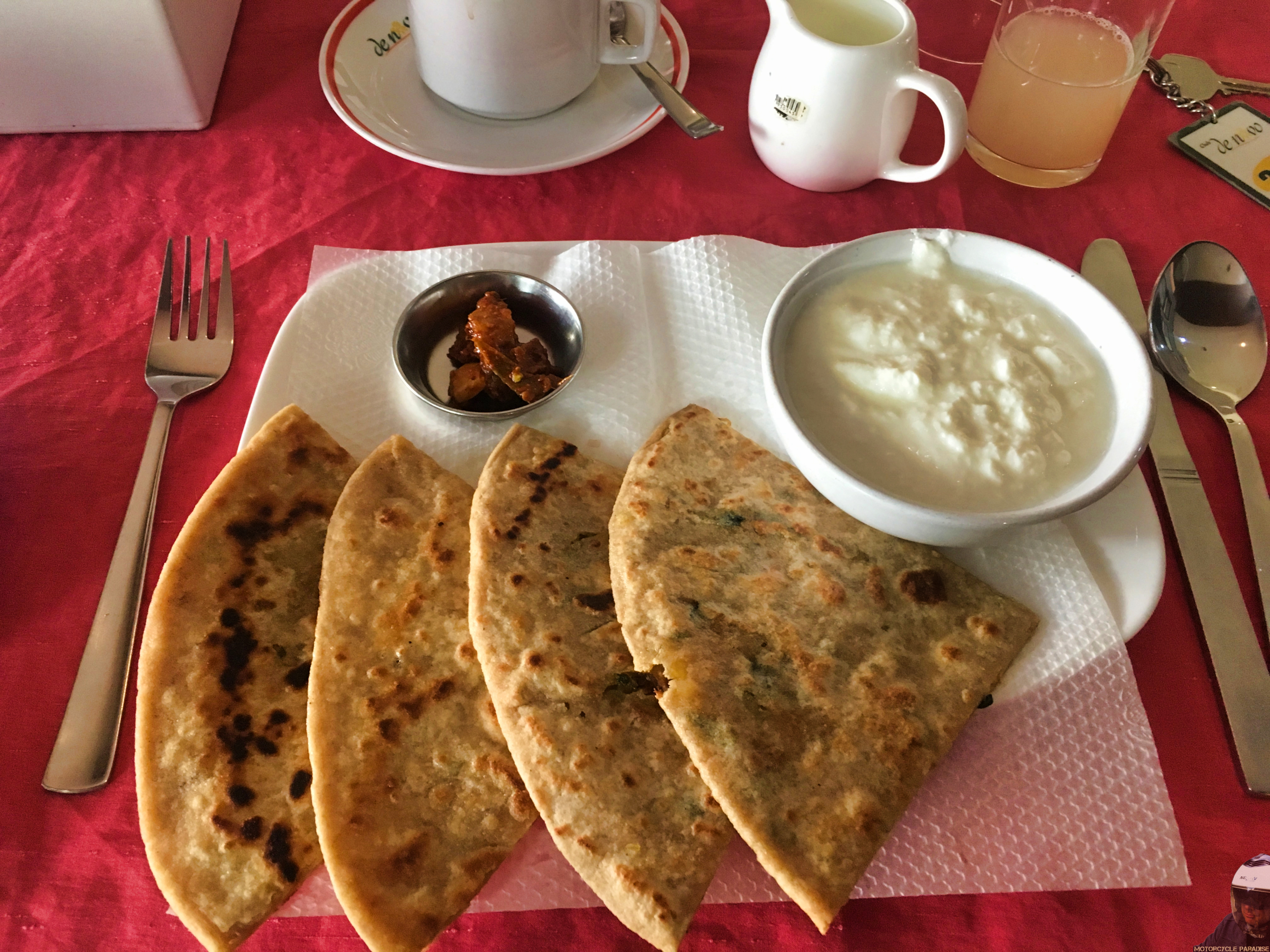 I see the forecast is 37 degrees! Wow, that is a huge difference to the Himalayan side of Nepal. Kathmandu today is a maximum of 23. My jacket is going to be hot, I chose it based on the temperatures I expected in the mountains. Once out of town the road was flat and hazy but the heat has not descended in full force yet.
At a toll booth I am told no charge for tourists – how refreshing. In Thailand tourists pay super high entry fees to national parks.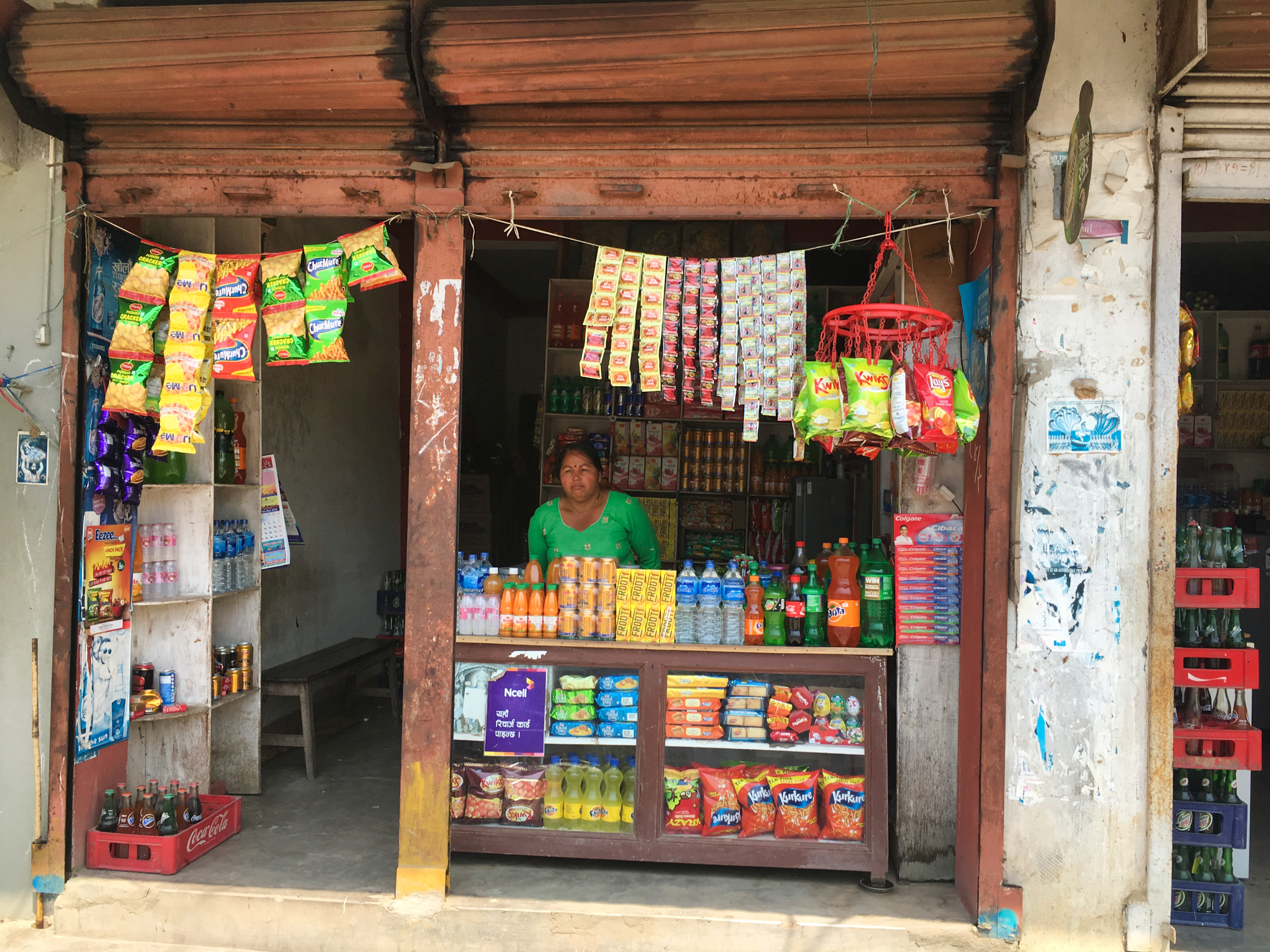 I stop mid morning for a stretch and get a mango juice and am invited into this ladies shop to sit in shade while I drink and she turns fan my way to cool me down. Such nice people here.
The road is smooth and wide and I am tempted to open it up a bit but there are many cows and stray dogs wandering so I just cruise. I come across this temple. Its just 100 rupee entry and a nice break from the road and many people are saying hello to me 🙂 Very nice place and I ponder the words below as I ride on.

That heat arrives and I stop at a roadside sari-sari stall. It was manned by young boy who seeing me hot instead of getting a water from fridge got one from freezer half frozen. Bliss! I was sitting there enjoying the iced water when a woman on a scooter pulls up to talk and take a selfie.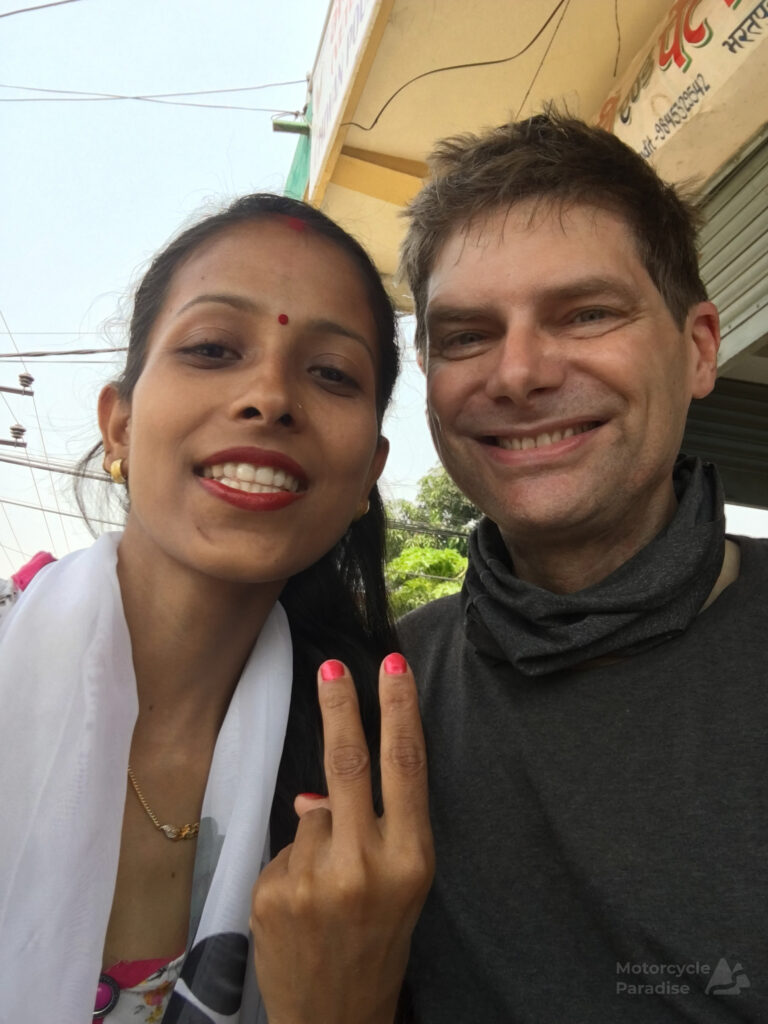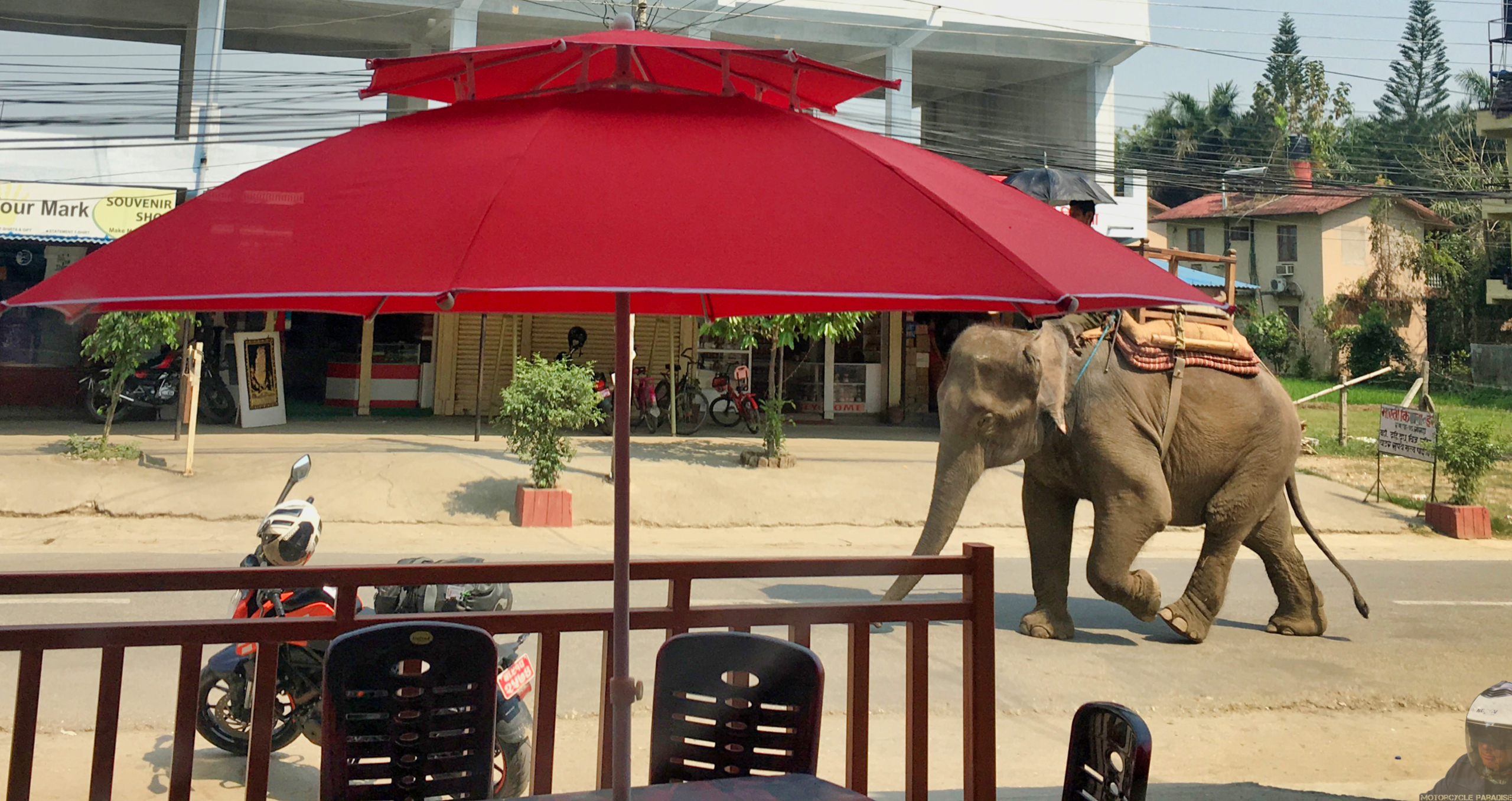 A bit further along I see the turn for the Chitwan village which is a tourist area and predictably I get served overpriced and poor quality food at a cafe. I should have eaten earlier back at the temple which had great looking meals for next to nothing.  
Uneventful ride to my hotel in Hetauda. Staying at a hotel tonight not on any of the booking sites, I just looked on the map and picked it and the price is so low I should be doing this more often. After hand washing some clothes I wandered about the dusty working town and found the mall. No air conditioning and the escalators did not work but up the top was a bar with fans so I ordered a tall beer. Wasn't going to eat here but I observed some others arrive to eat and asked the waiter what they ordered then got the same.
First I had a 'Nepal spring roll' which is large size with spice veg filling. Next I observed people eating what looked like Goyza with a dipping sauce and ordered same which I discovered is Mo-Mo, a popular snack food. Delicious!

Thanks for riding along with me on this dusty bike trip through Nepal. I shall update further soon.