I have two ways I can ride from Hetauda. Nicer roads lay to the east via Kamalamai however two of the best viewpoints for Everest are said to be Daman and Nagarkot so I am going to visit them.
Nepal has a lot of air pollution but there is a 2500m mountain to Daman so a slim chance it might be more clear up there.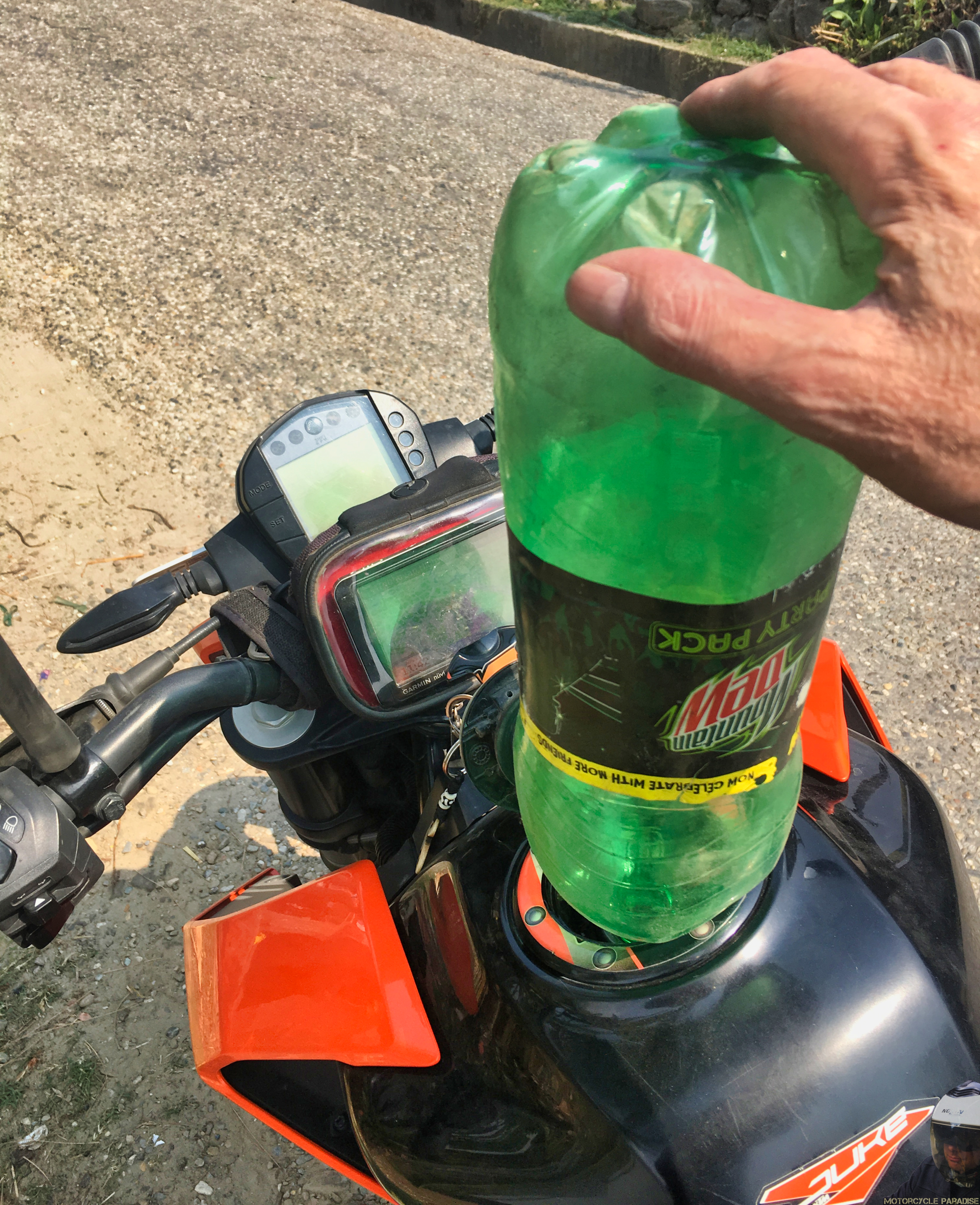 No gas stations as I left Hetauda and I rode getting down to about 1/4 tanks and stopped at next tiny village to enquire. As I had hoped they sold fuel in plastic bottles much like you see in Philippines. I put 2.25 litres in and felt I then had enough as bike is very fuel efficient.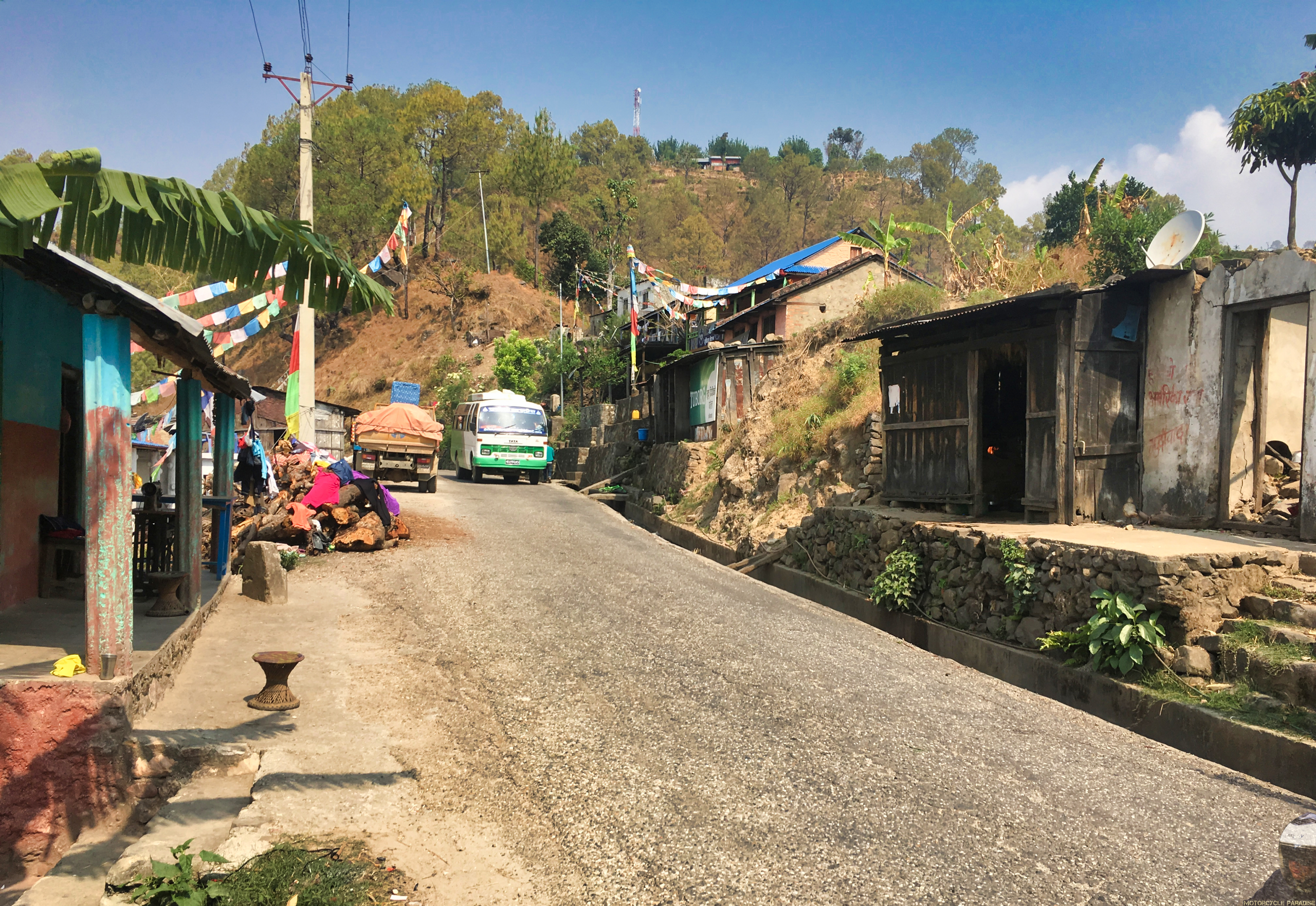 Out in the sticks today. I liked it as no traffic.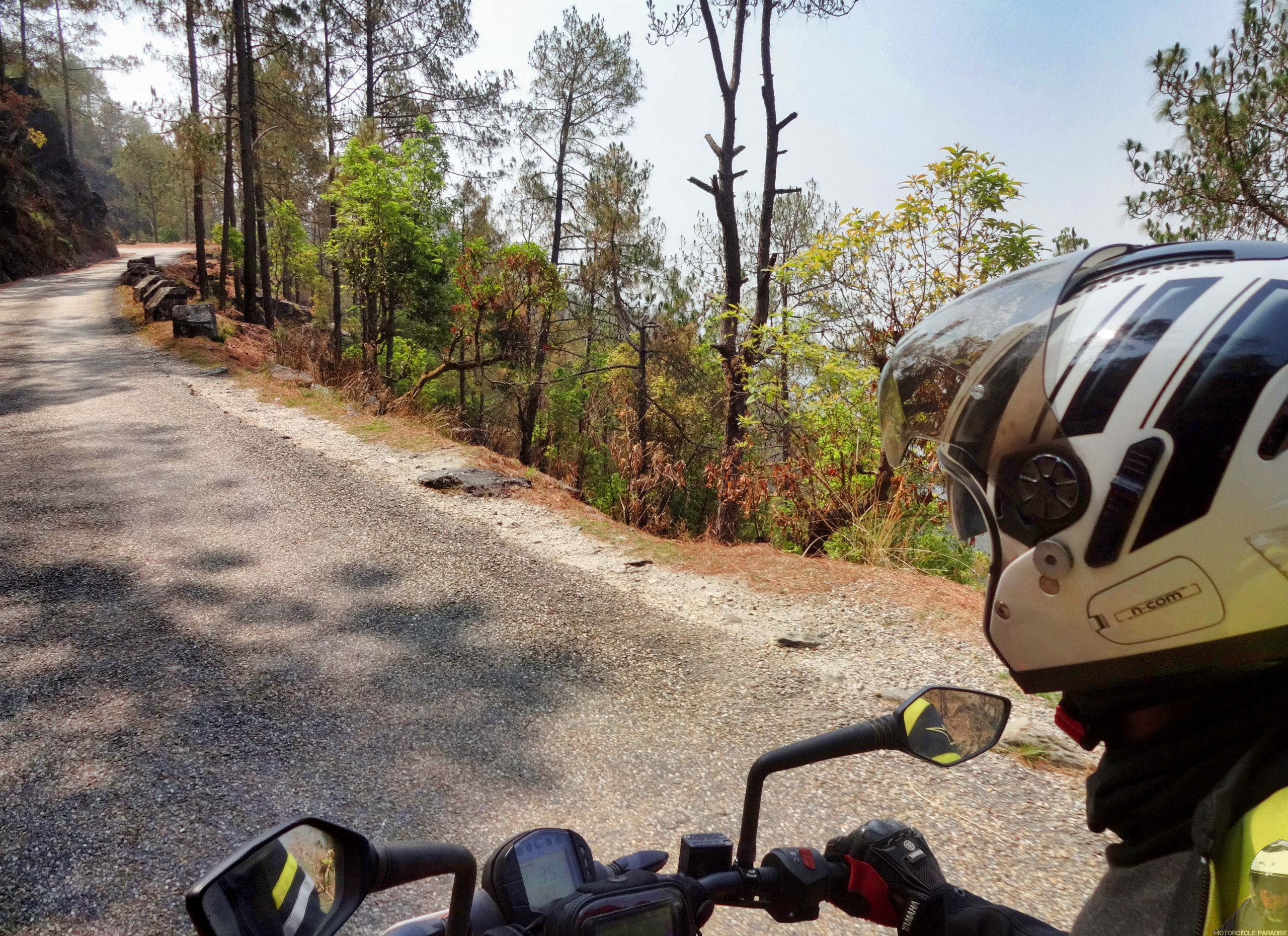 The road turned to gravel often with some rough sections before returning to tarmac near the summit. Shame the views were obscured by smoke.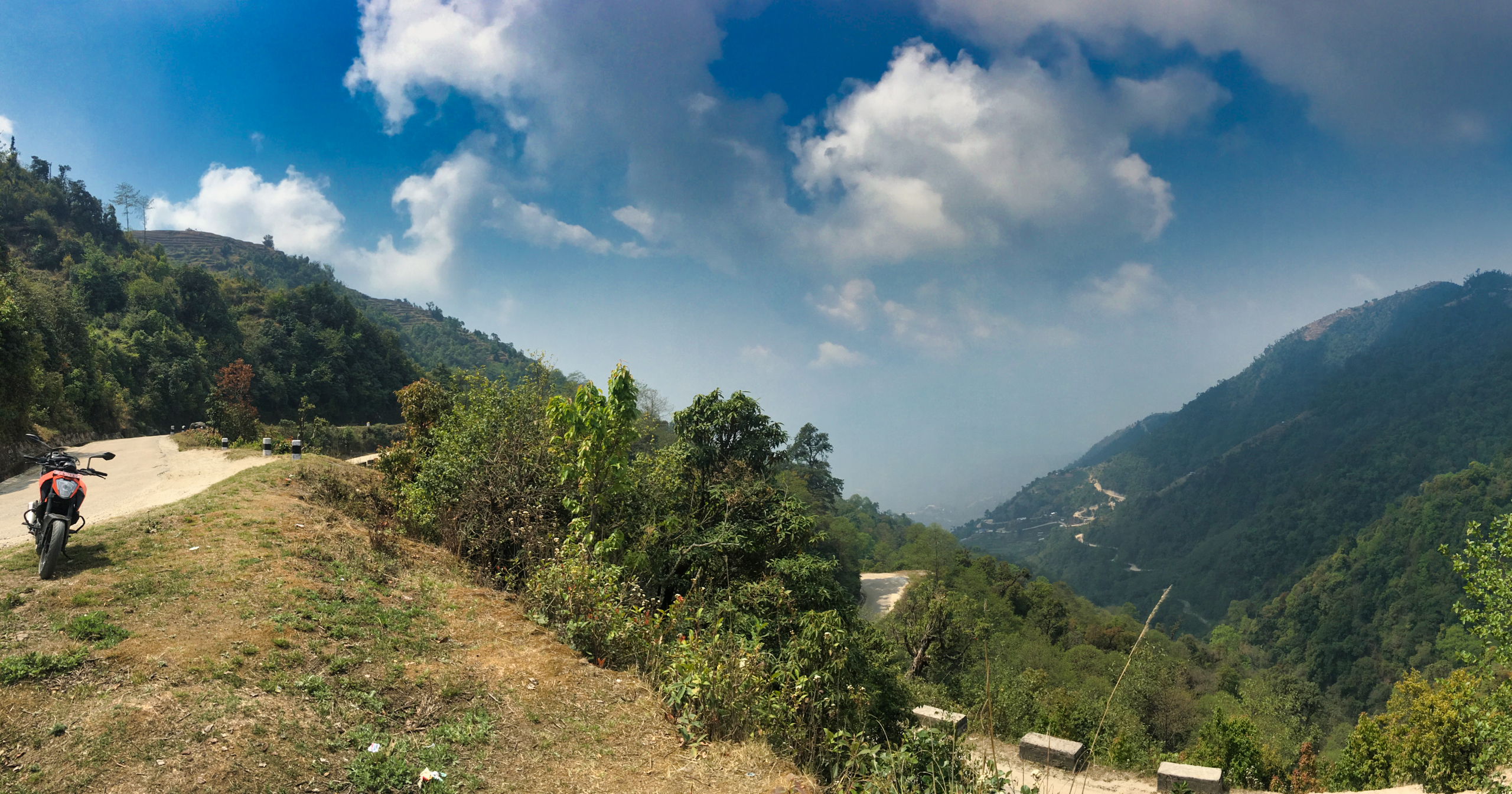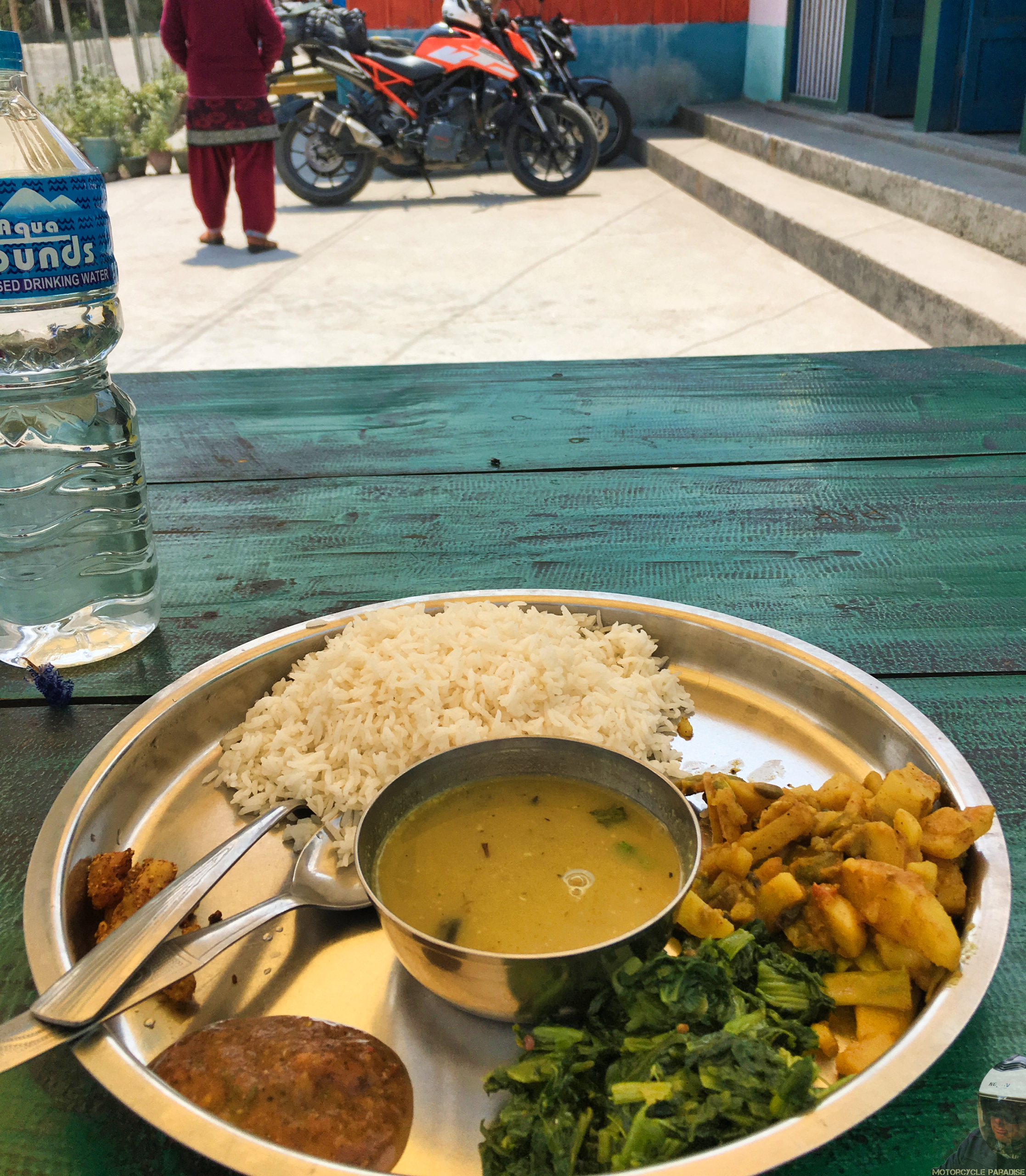 Arriving at Damon I knew the smoke was going to be too much but I paid the 50 rupees to climb the Himalaya view tower to see nothing. I had to try. I managed to get something basic to eat at a road side shack and it set me up for what lay ahead.
The road down the other side was in terrible condition. It was a lot of work and I wished I had a dual purpose bike. The surface every corner was rough gravel and exposed stones. Progress was slow but the scenery was ok and not many vehicles.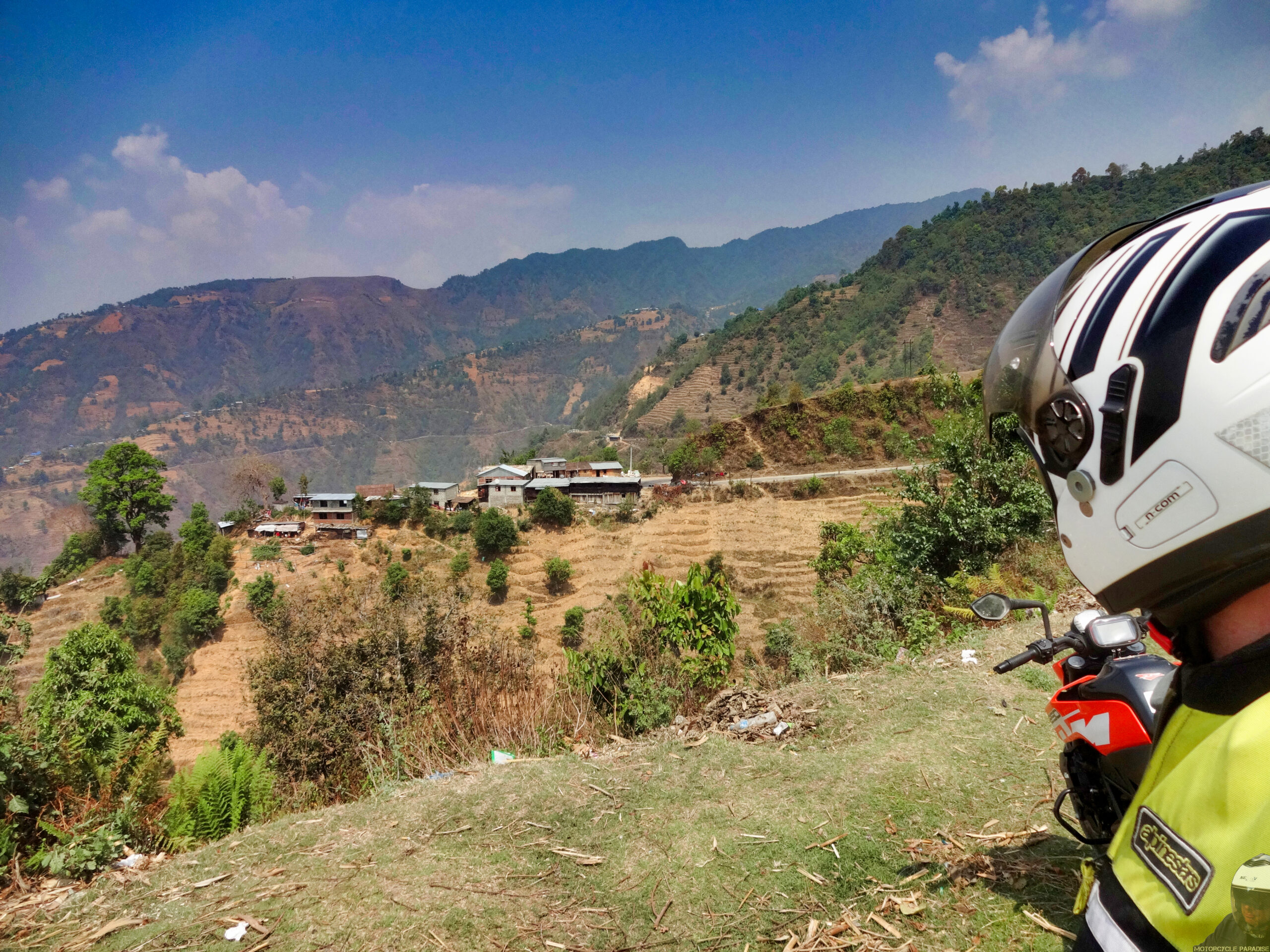 Still, I was glad to start seeing road stones for Kathmandu and get some tar under my wheels.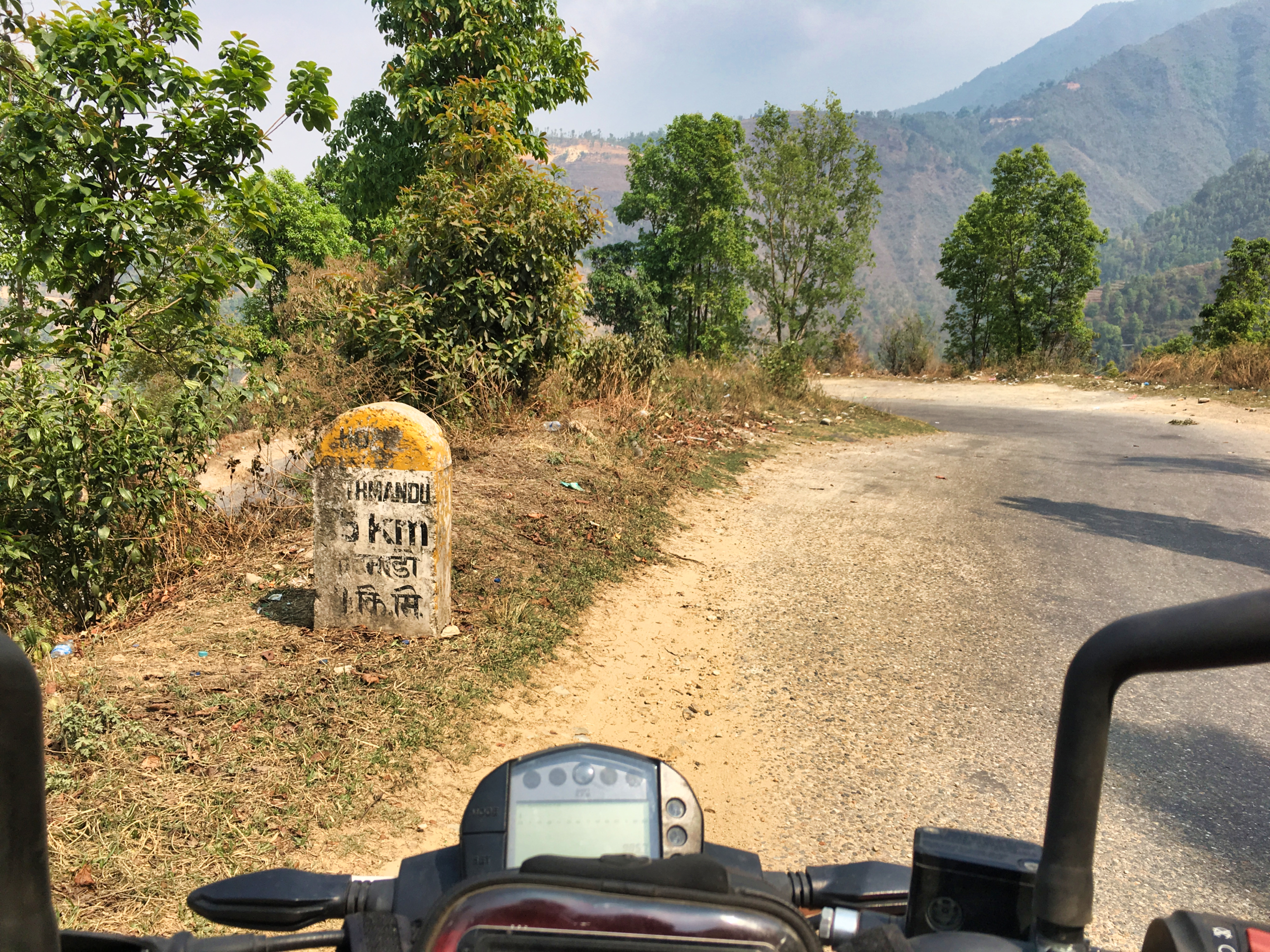 I thought why not stay at the next viewpoint tonight and increase my now poor odds of seeing Himalayas at sunrise next morning. To get there meant skirting around Kathmandu. This proved to be very challenging as the traffic was again gridlock and roads rough gravel filled with craters up to 1/2 a metre deep.
It would be fair to say if the road was any worse regular cars simply could not traverse it. Never seen a capital city before that has gravel roads let alone ones that look like surface of the moon.
The traffic was backed up 10km in a huge plume of dust. Bikes could make suicide lunges at oncoming trucks then squeeze hard up against a stationary vehicle to not get run over. Some of the most intense riding I have ever attempted.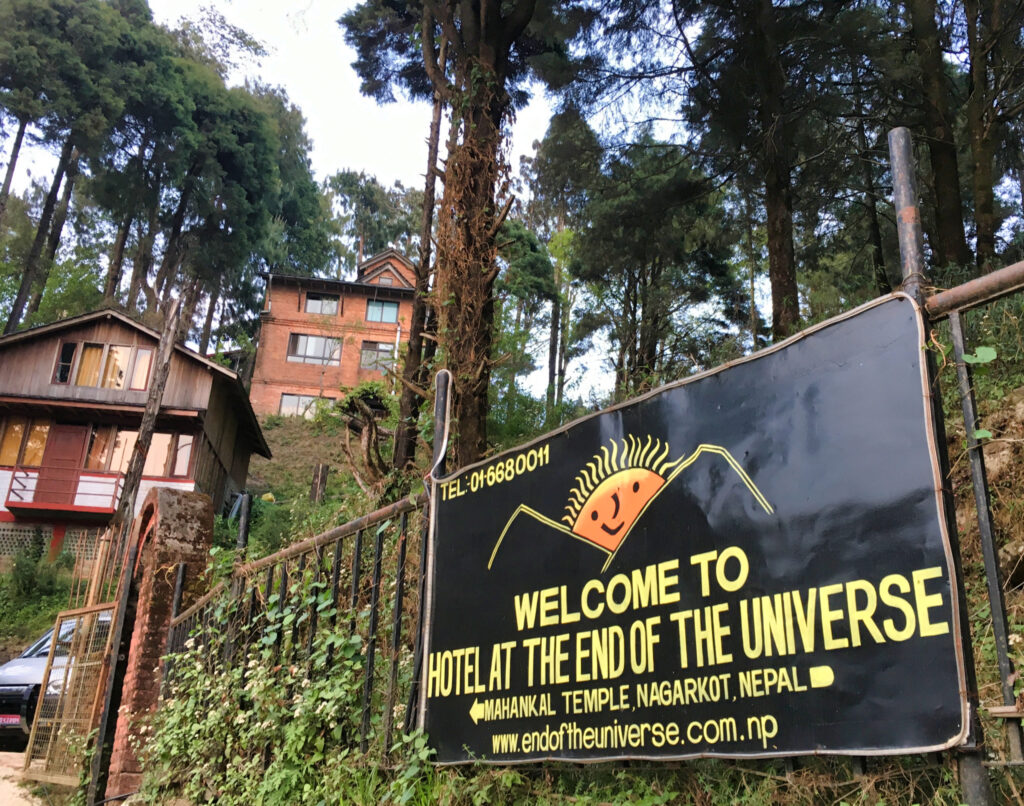 Finally I made it past the city to my next challenge the road to my mountain hotel was a one lane gravel track climbing steeply up 2000m. So much for 168km being an easy day. I finally got there on dusk.
A thunderstorm arrived and took the power out in the evening but I was hopeful the rain would clear the air the next morning and soon fell asleep exhausted. Nice breakfast on the deck but alas the Himalayas are still hidden in the smog. Sigh, I tried my best.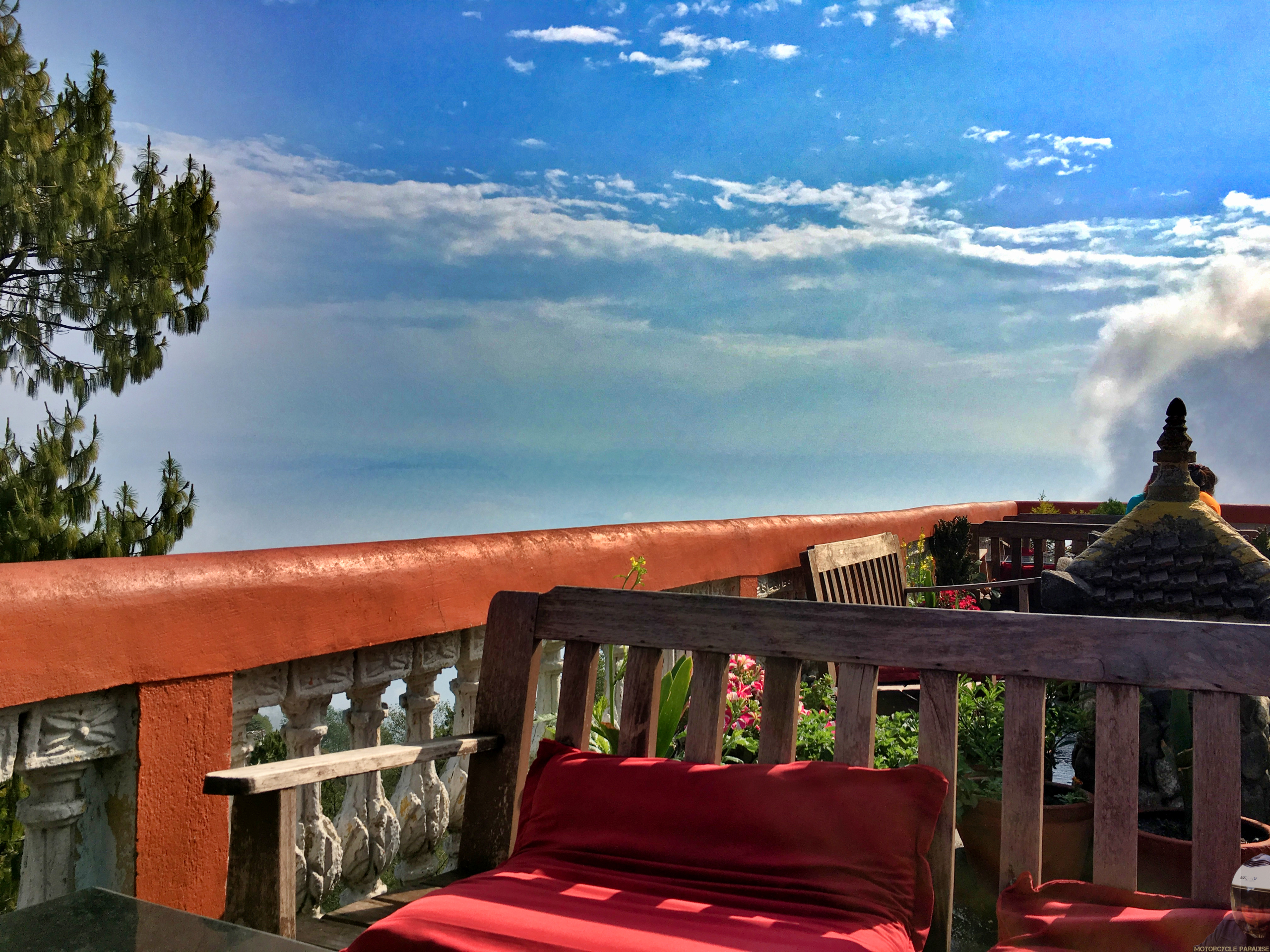 I retraced my route down the mountain via the goat track which thanks to the rain was now slippery mud. I have to abandon my ride today as the roads were just hopeless.
But even getting back into the city was a challenge. The muddy road surface was very slippery in places. I had the Duke crossed up a couple of times and very nearly crashed. So weird to be downtown and have huge ponds of muddy water that swallow bikes. 3 hours to ride last 34km, phew.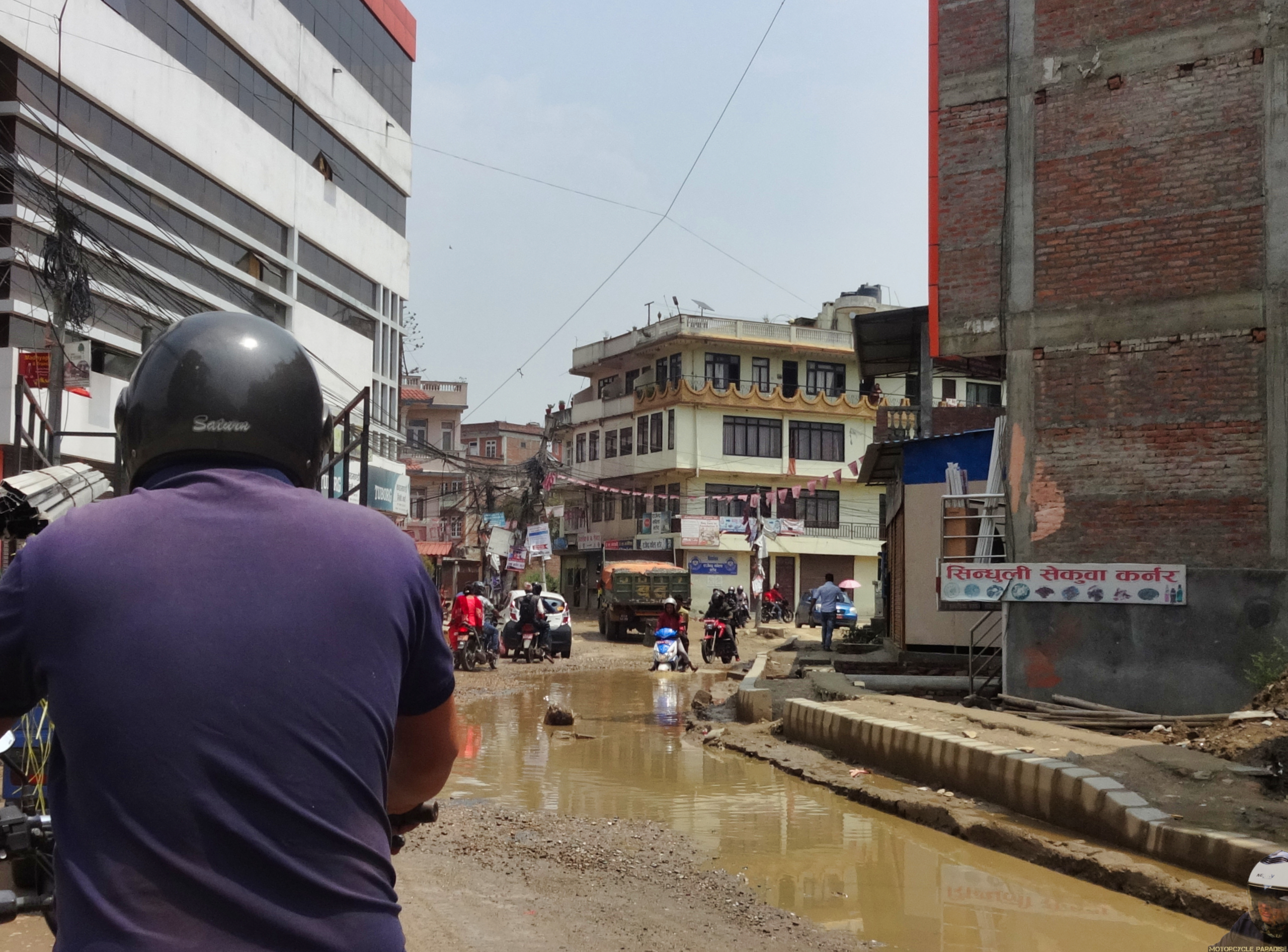 The bike was really good when I think about how much gravel and mud it traversed on road tyres. The ergonomics are little cramped but as always off the tarmac small and light is best. An adventure version of this would be vastly better than the mid sized ADV bikes which have high COG and are heavy.
I ended up with a touch of flu next day so never got around to seeing the temples which to be honest I had little interest in so no loss. Resting up in the hotel watching the Indian Premier League with a hot ginger tea I took some time to reflect on the ride.
I enjoyed meeting the Nepalese people so much. I've left out many other interactions to try keep things 'ride' focused but that was the best part of this trip and what will bring me back. If you come try to ride solo because join a group ride then you miss that interaction with locals.
I look forward to visiting again however I will skip Kathmandu if possible as the roads are truly a nightmare. I will try base myself in Pokhara and do the Mustang ride. Look forward to that.