Day eleven – Oita to Shimane prefecture
The Chukoku expressway is quite curvy from Kyushu north. The FJR is fun bombing along sweepers so I joined the Lexus drivers in the fast lane for awhile. Very amusing.
I rode across to the west coast on route 315. It is a nice flowing road with light traffic, an enjoyable easy day of riding.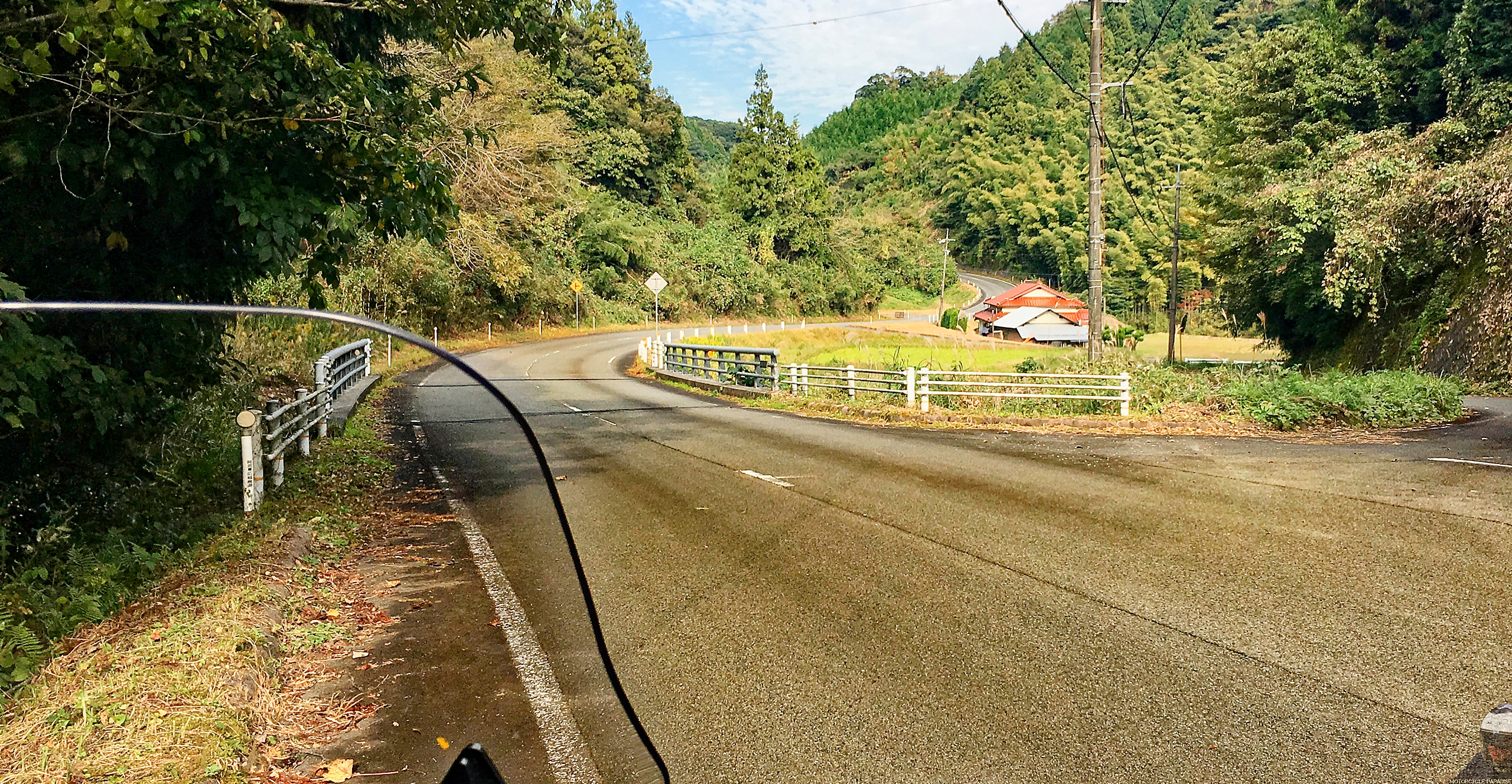 The hotel tonight is weird like some hybrid capsule arrangement. It was a whole floor of small rooms with only sliding doors. Tiny but nice space inside and shared bathrooms. I think oh well something new give it a go.
Day twelve – Shimane to Tottori prefecture
I get a few spots of rain leaving Masuda but seeing some blue sky pay no attention.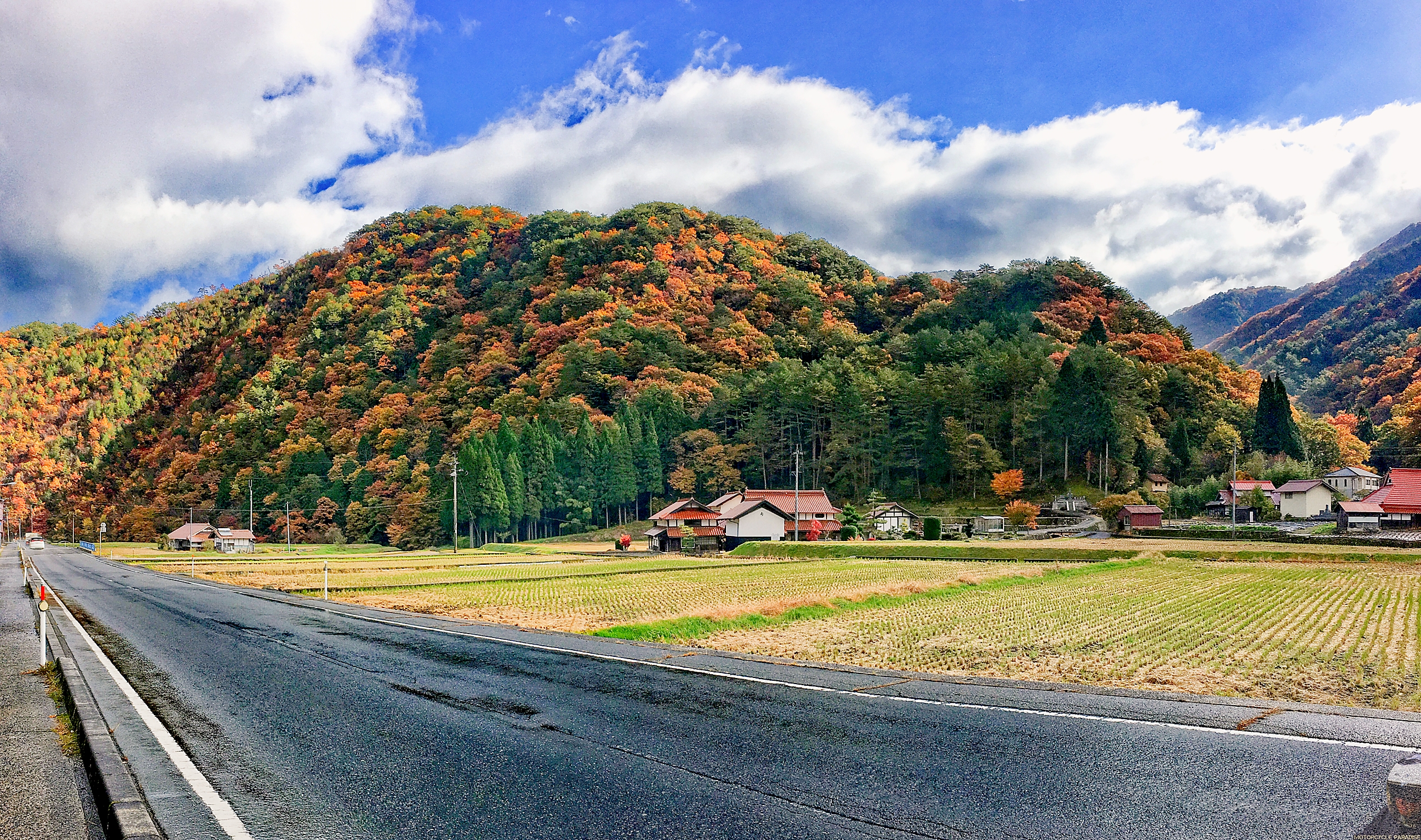 The blue sky however soon turns grey. Its hard to capture how colourful it is in this light.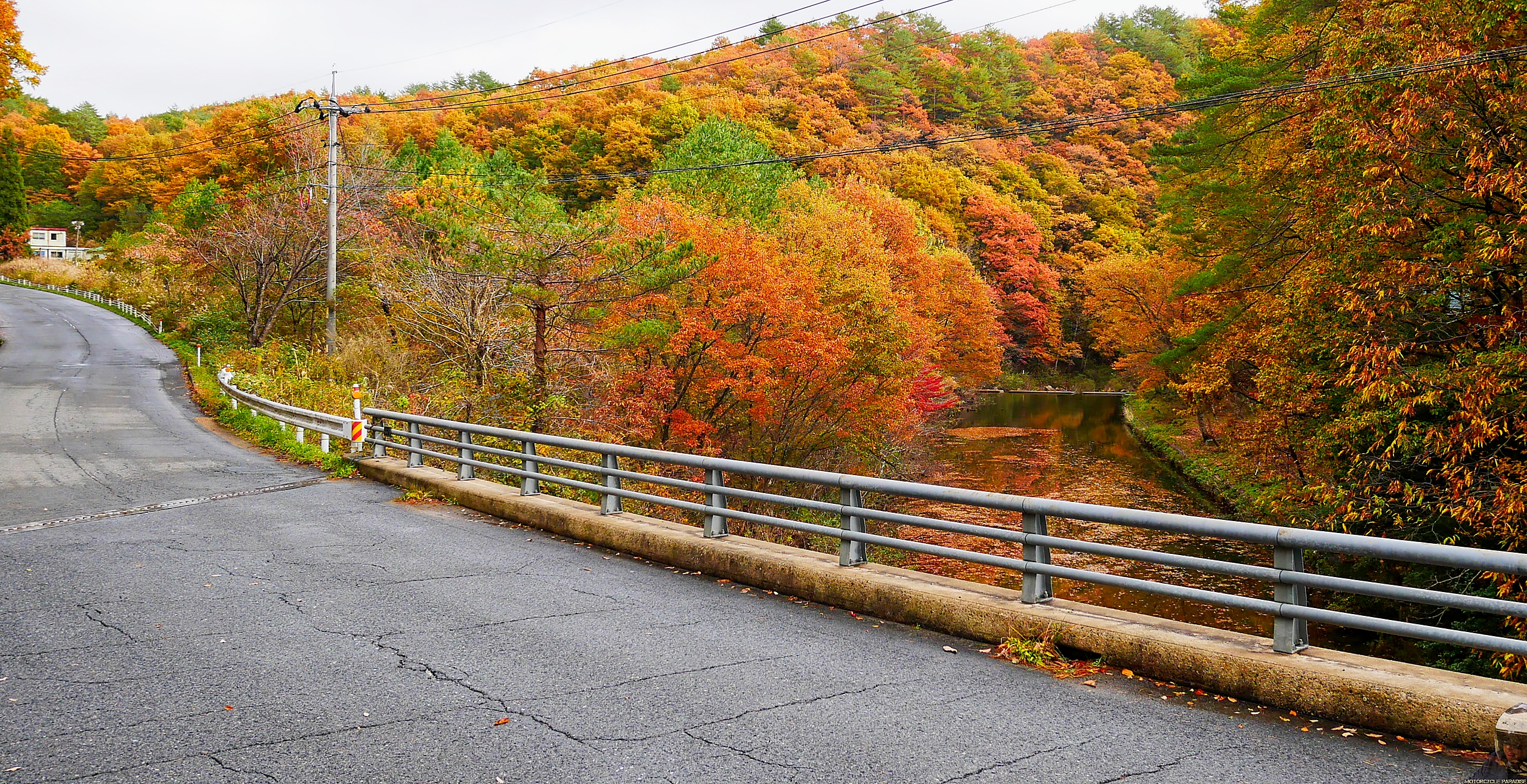 I try take one of those 'car on autumn road' type photos but realise I have wrong lens fitted and about now I notice it is raining light but steady.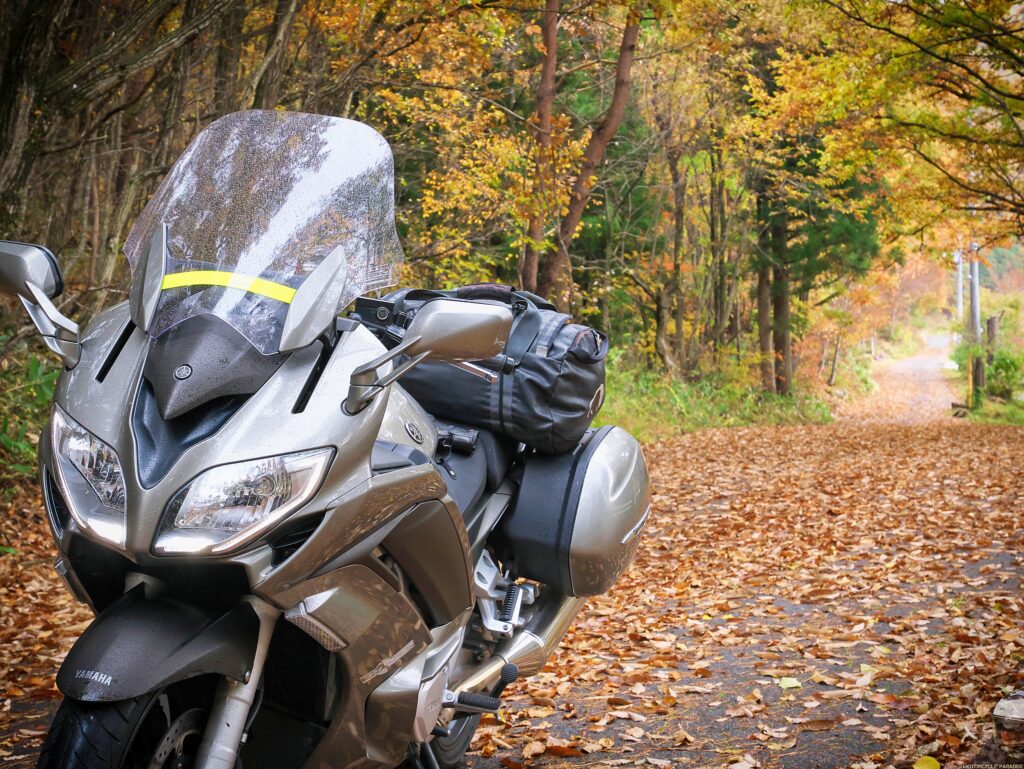 I should have picked up that the weather was turning but for better or worse I am often in my own world oblivious to the signs around me, be it weather or people. This selective lack of perception has been a curse and a blessing in life depending on how I review it.
The hi-vis reflectors on the front and rear of bike is for when it is parked. I've had it nudged a few times but am going to take the tape off as does nothing.
The temperature falls to 7 degrees and mother nature having grown tired of trying to get my attention sends the rain pouring down. This is not good. I find a rural bus shelter to hide in.
Looking at the rain radar the realization sinks in that I am not going to be able to follow my route today as it is wide spread. I sit a long time here dejected as all around me the countryside is in full colour.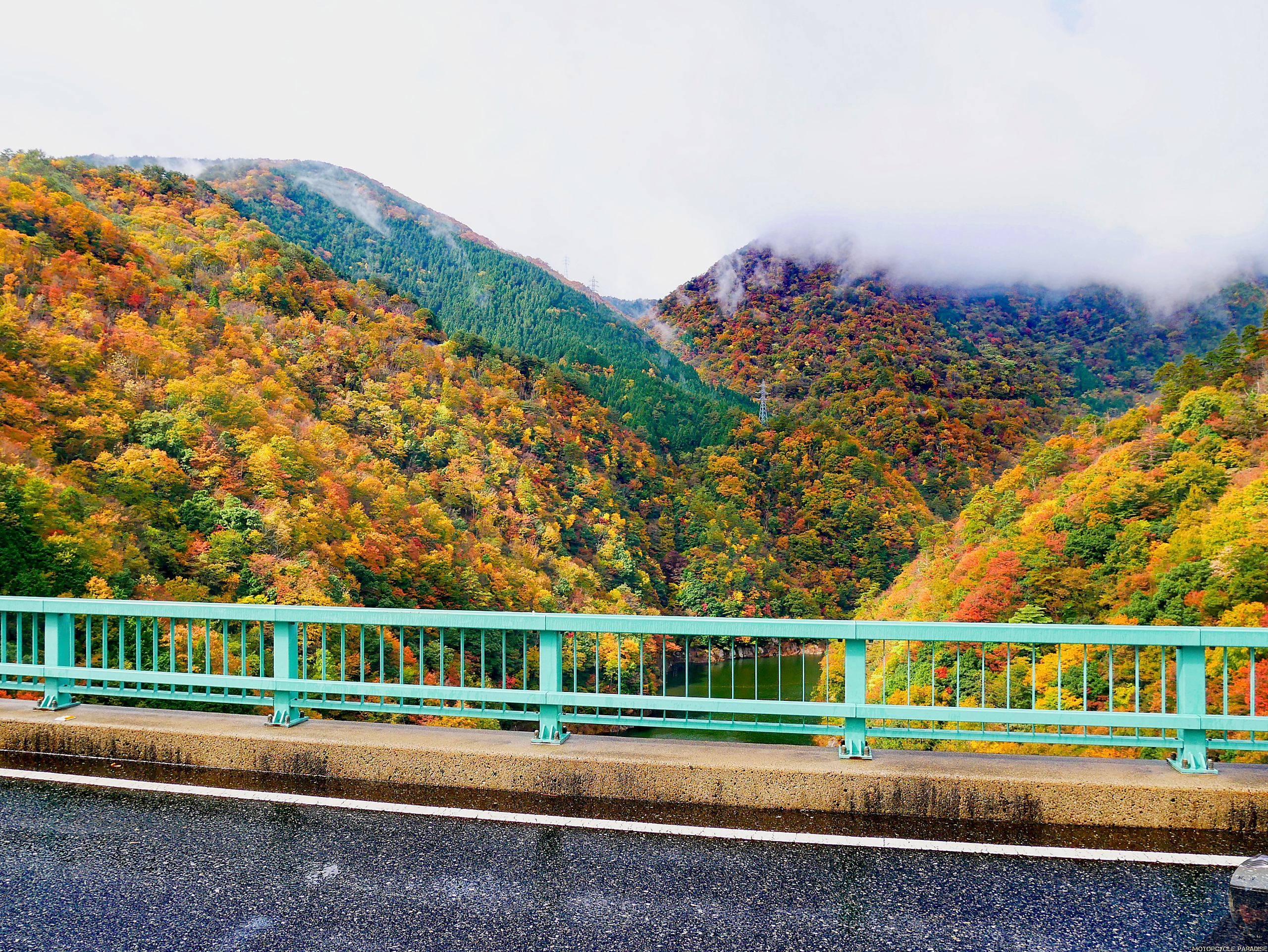 Nothing for it other than retreat to the expressway service areas. I got glimpses of the autumn colour at least.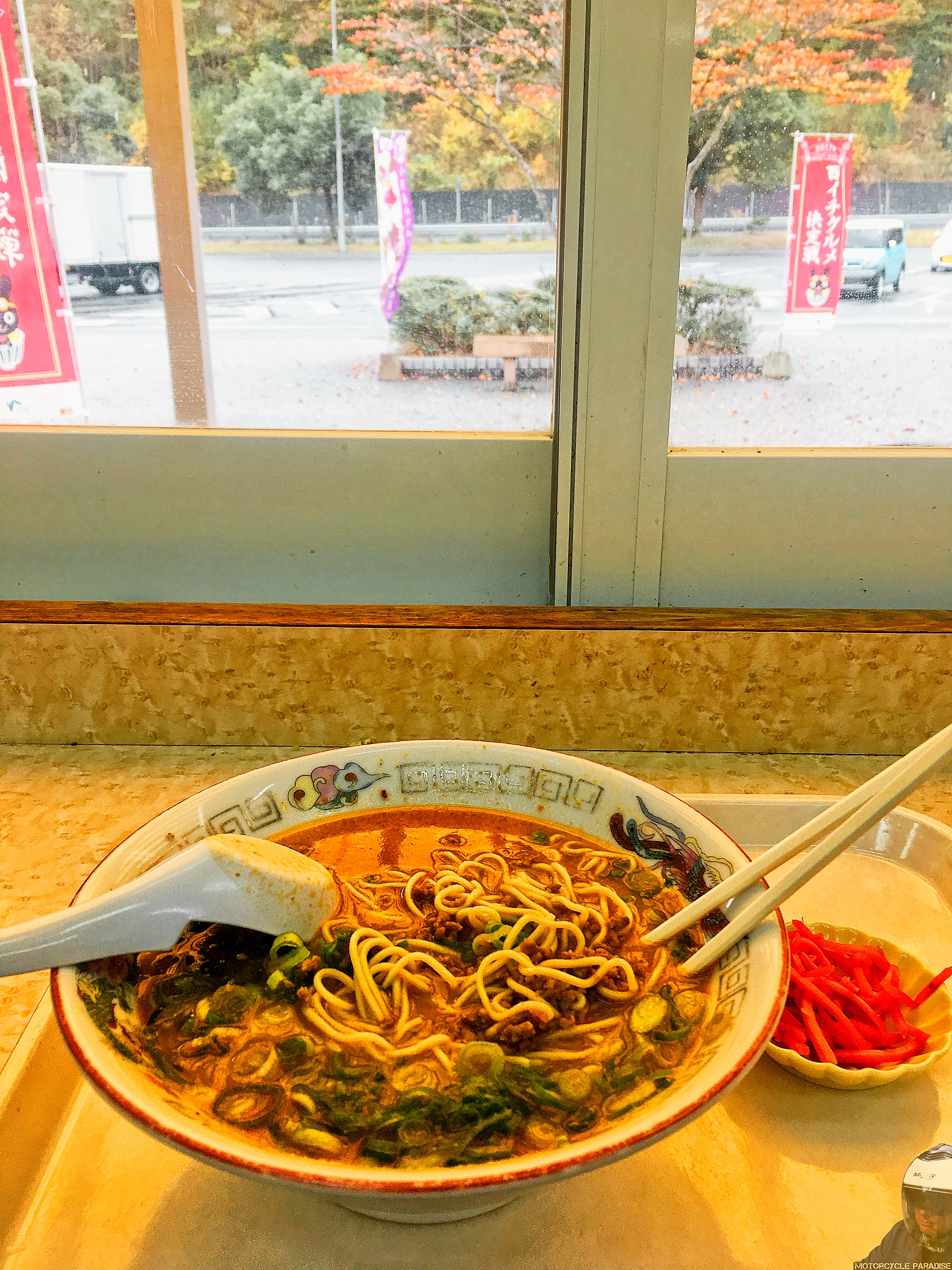 Nothing beats a big steamy bowl of ramen on a day like this.
The weather eased so I exited the expressway about 2.30pm and cut across to try rejoin my route but it was a fools errand as the low traffic mountain roads were still soaking wet but now also full of fallen leaves. After more slides than a Marc Marquez Moto-GP lap I decided to retreat to the expressway.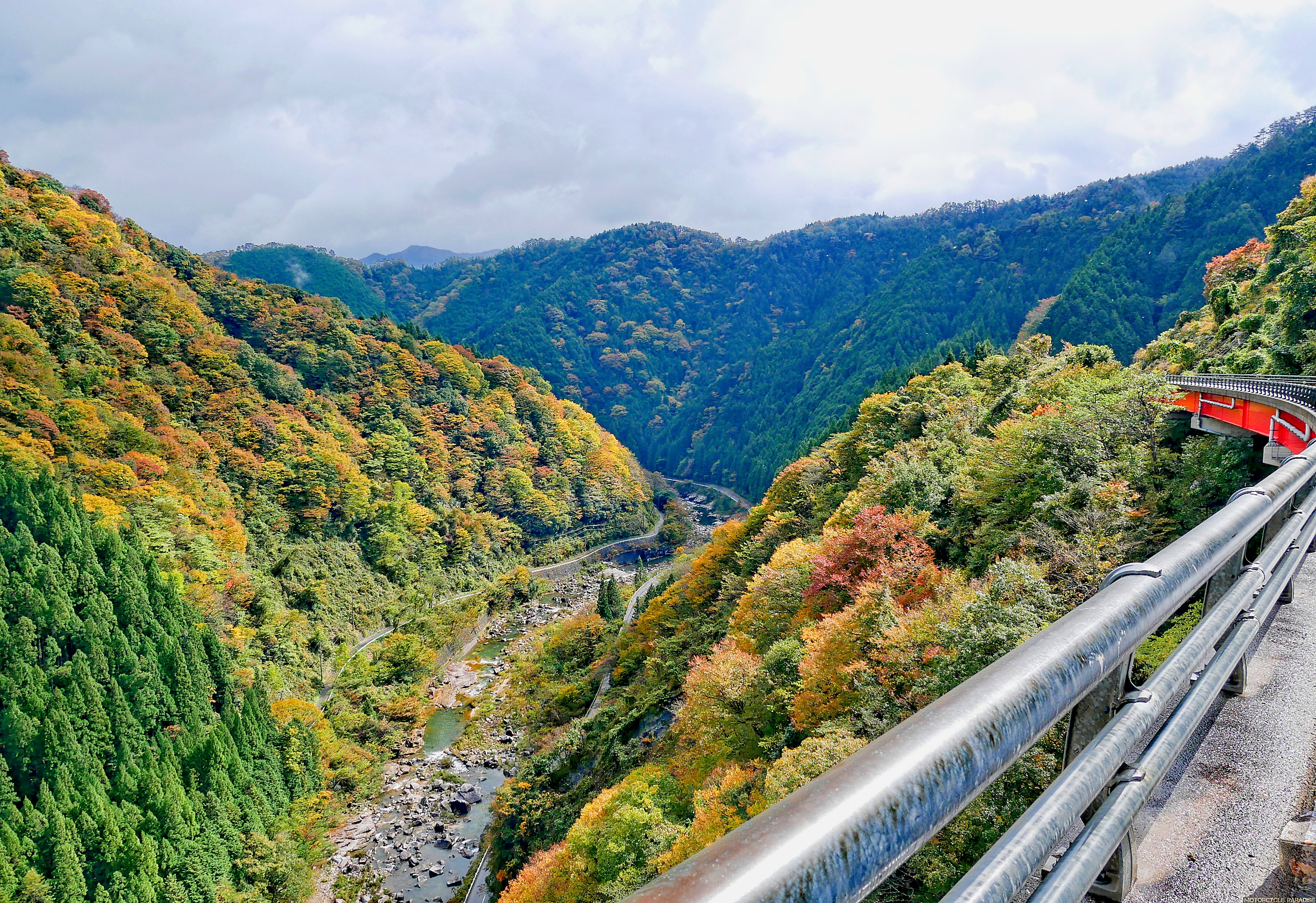 Away from the rain I really enjoyed the last part of today bombing along the sweeping curves on the big motorcycle is fun. Come and enjoy it while there are still no rear facing cameras, point to point devices or other nanny crap. The feeling is intoxicating.

Day thirteen – Tottori to Shiga prefecture
The weather is getting colder, 6 degrees this morning when setting off but fine. I had my thermal base layer on and the difference to yesterday wearing a cotton t-shirt is amazing.
I could enjoy some colour today revisiting the route I rode on my way south.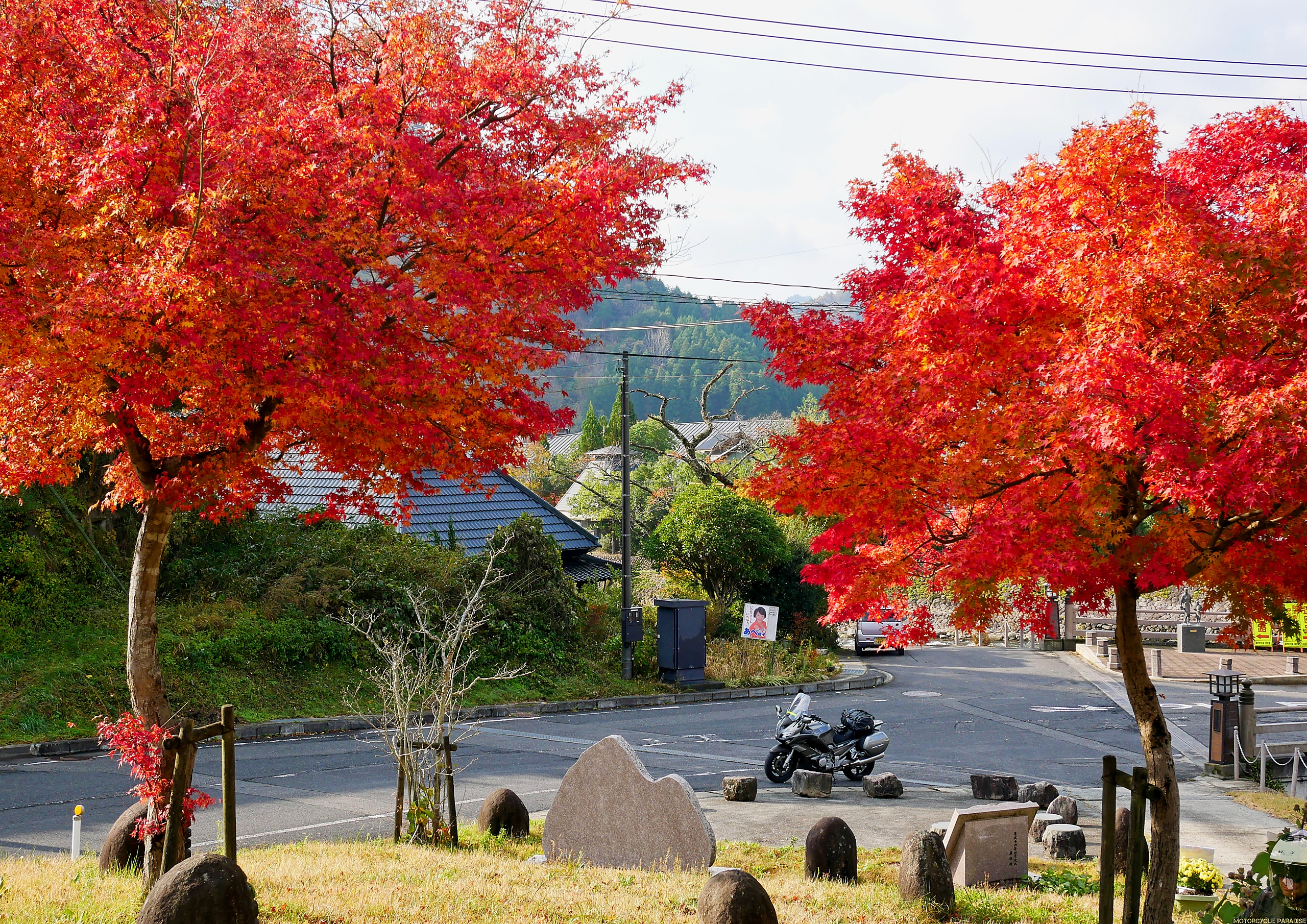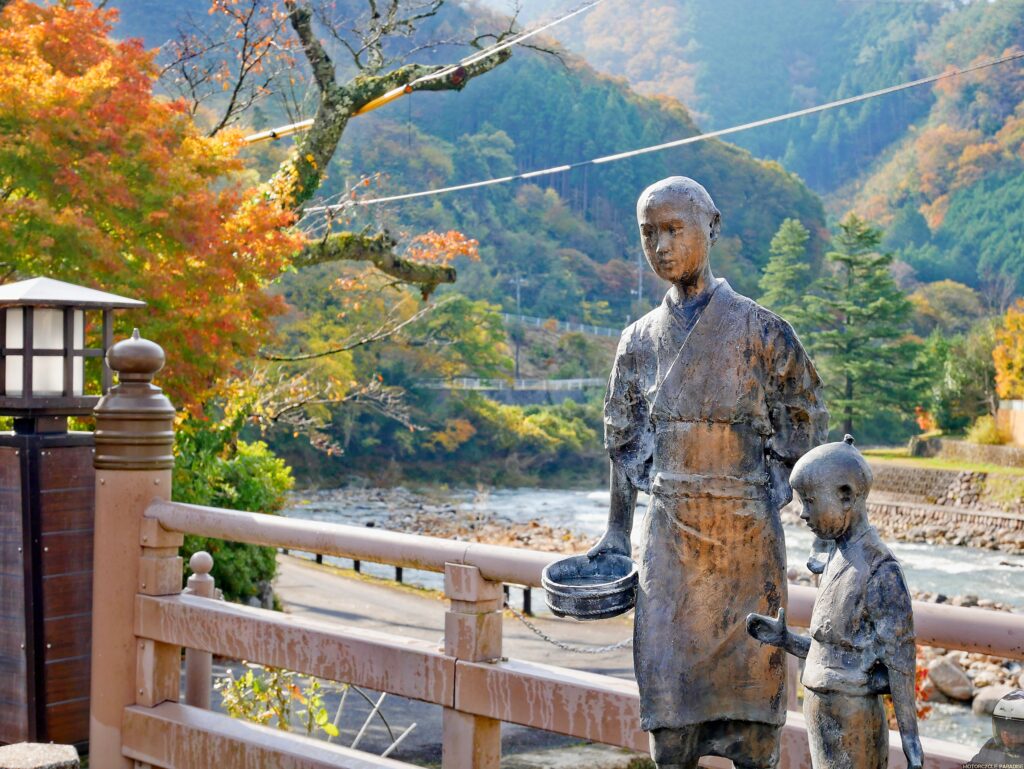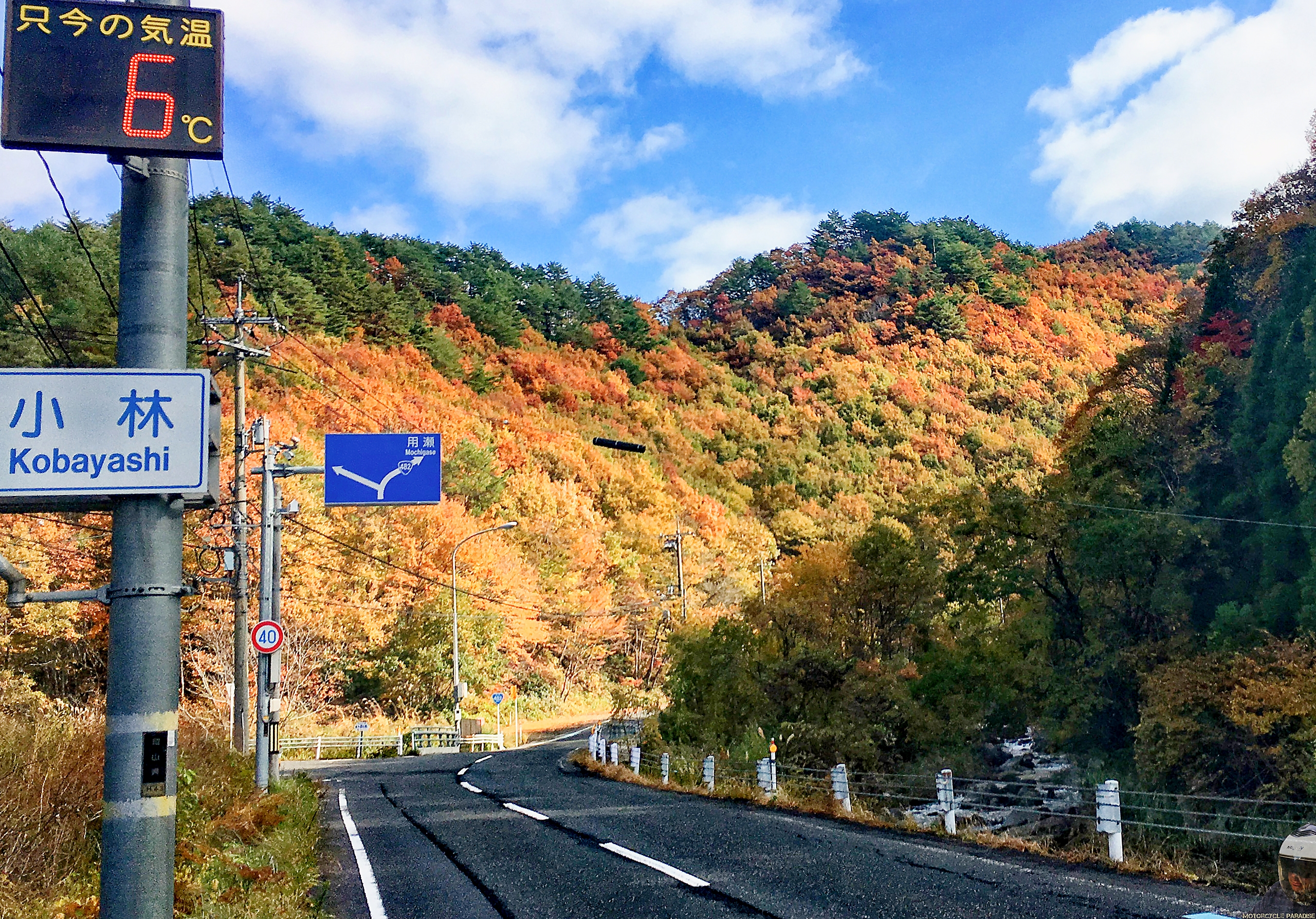 I am delighted by the way the landscape in Japan is illuminated selectively by sunlight filtered through the clouds.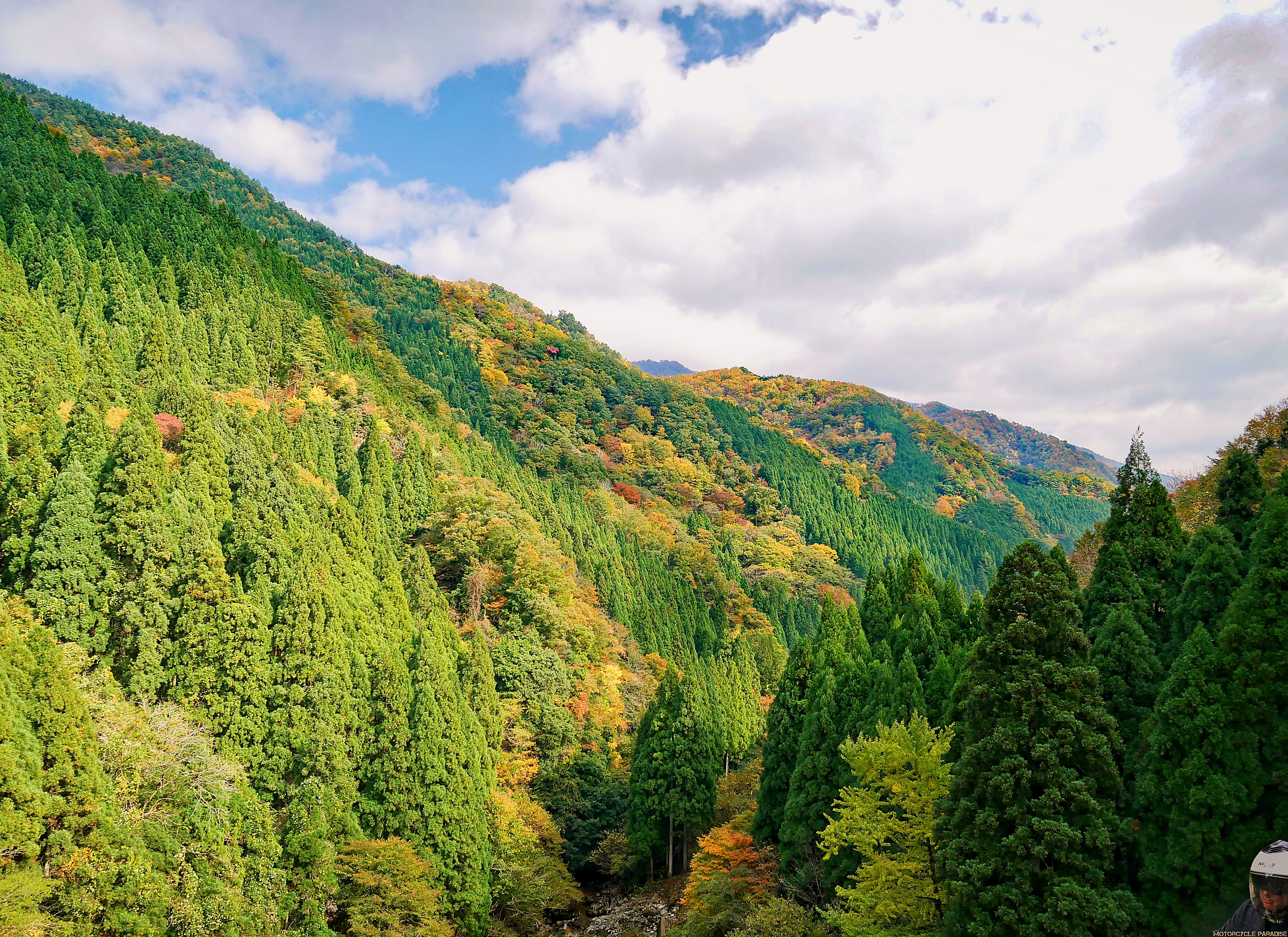 It is difficult to explain how dramatic the change of season is here.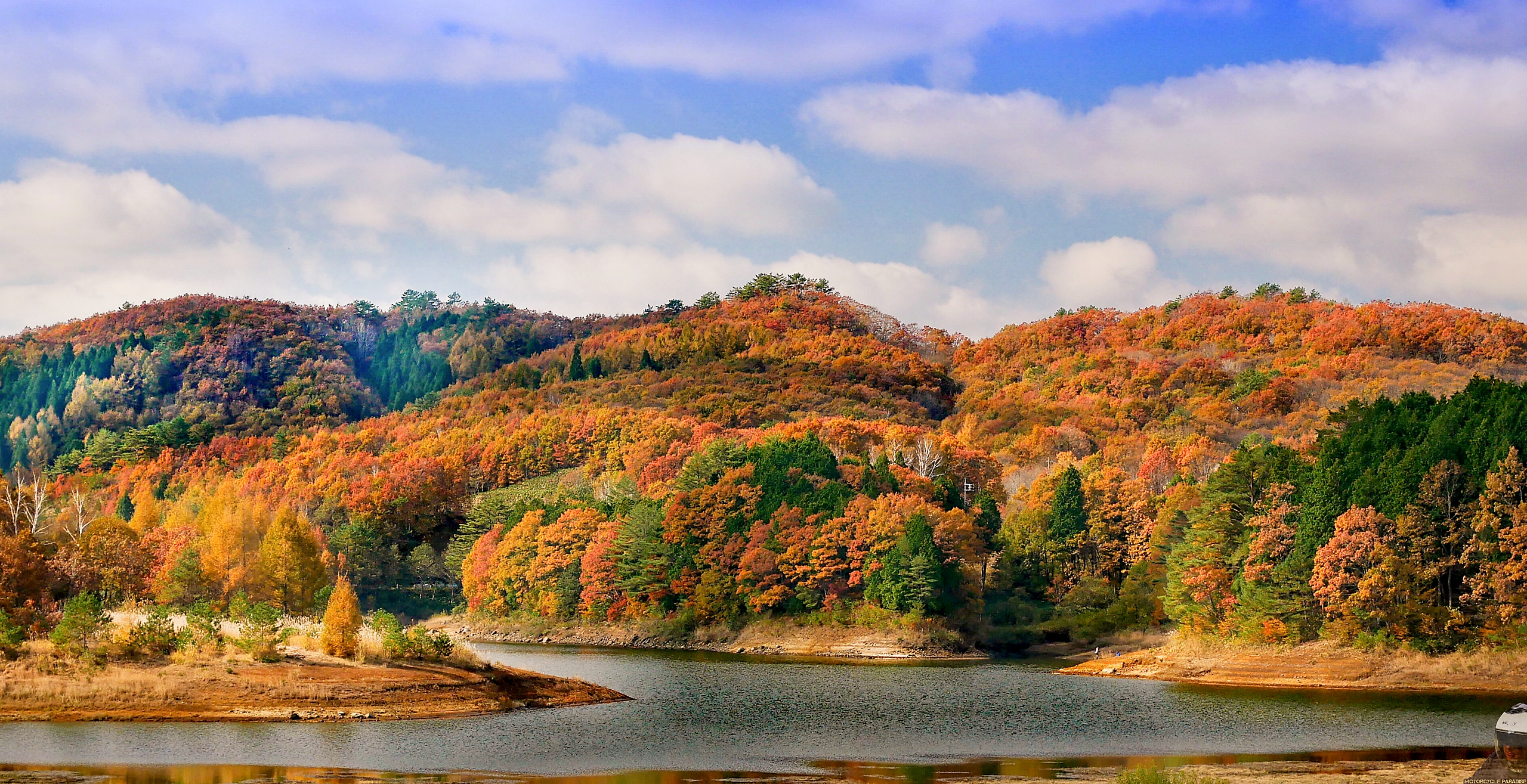 I wish I lived in an area like this where there seems to be almost endless country roads to explore on day rides.
I revisited Hayabusa rail station next since my route passed by. A local guy who promotes the station was there with his bike and I was awarded a gift for having travelled so far to visit. It was a foot peg stand which will come in very handy at home to stop the rust marks.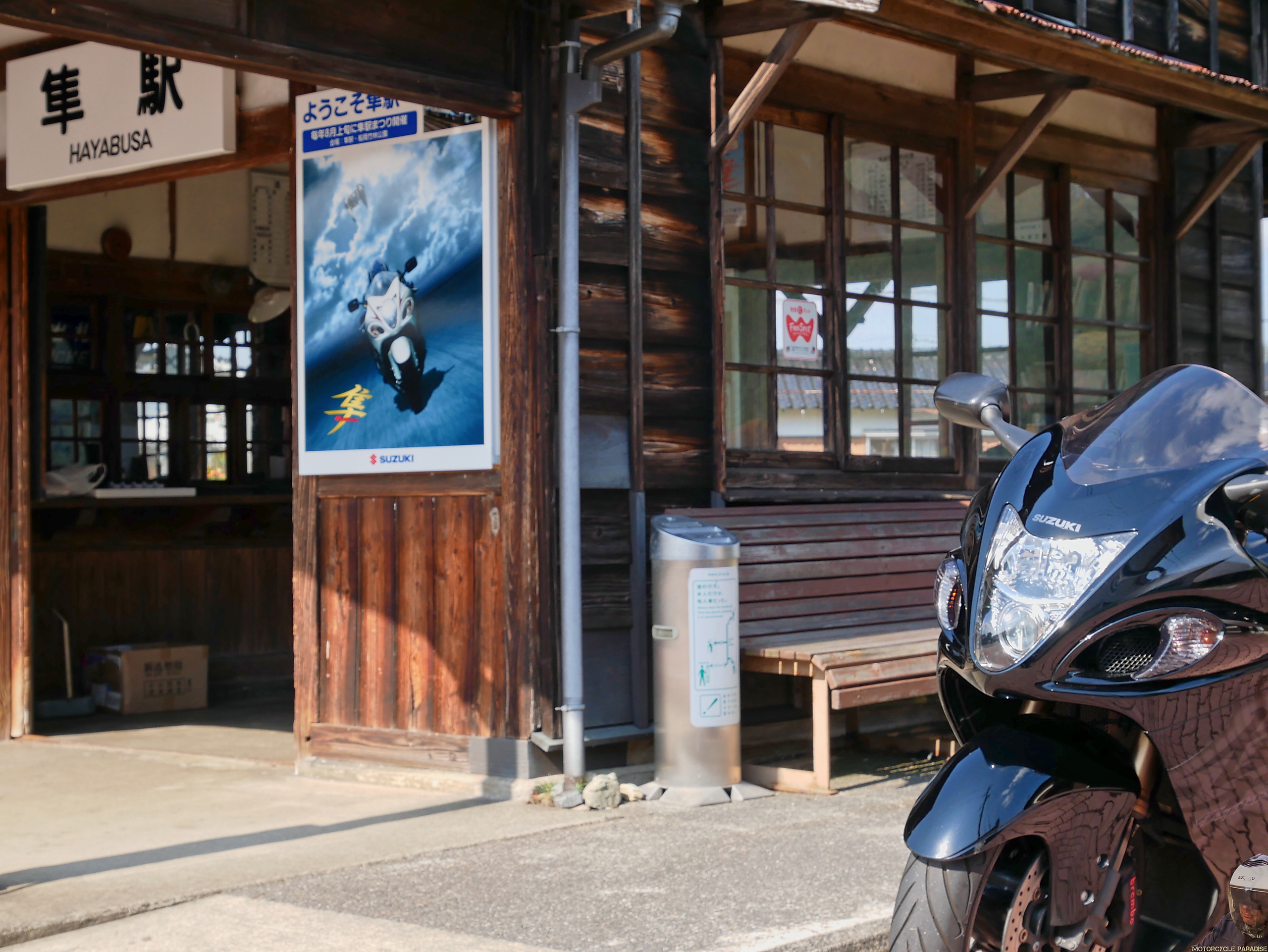 Take a look around inside.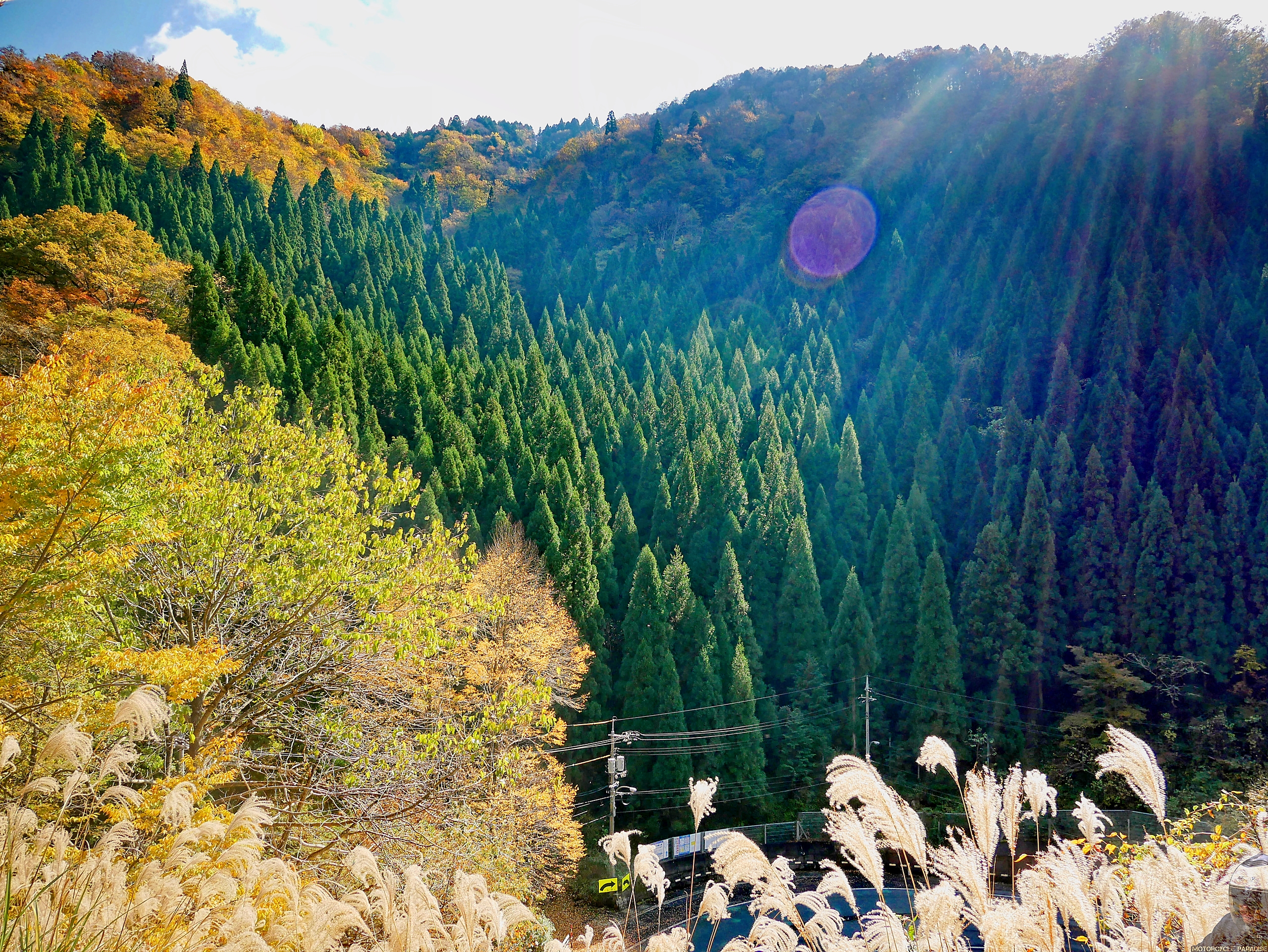 I enjoyed revisiting Wakasa valley which always strikes me as being a perfect example of rural Japan – yet I am so far unable to photograph it well. Route 29, a fantastic ride with the pine trees still green in defiance to autumn in the afternoon sun.

I take the expressway to Kyoto to try make my final destination before the sunset. Huge traffic jams approaching Kyoto which adjoins the metropolis of Osaka. Like Tokyo, places best avoided.
But I made it to Mt Hiei just as the sun was setting. A few photos – no filter is applied.
Sun is going; Going;
And gone, the last crimson moments with lake Biwa below.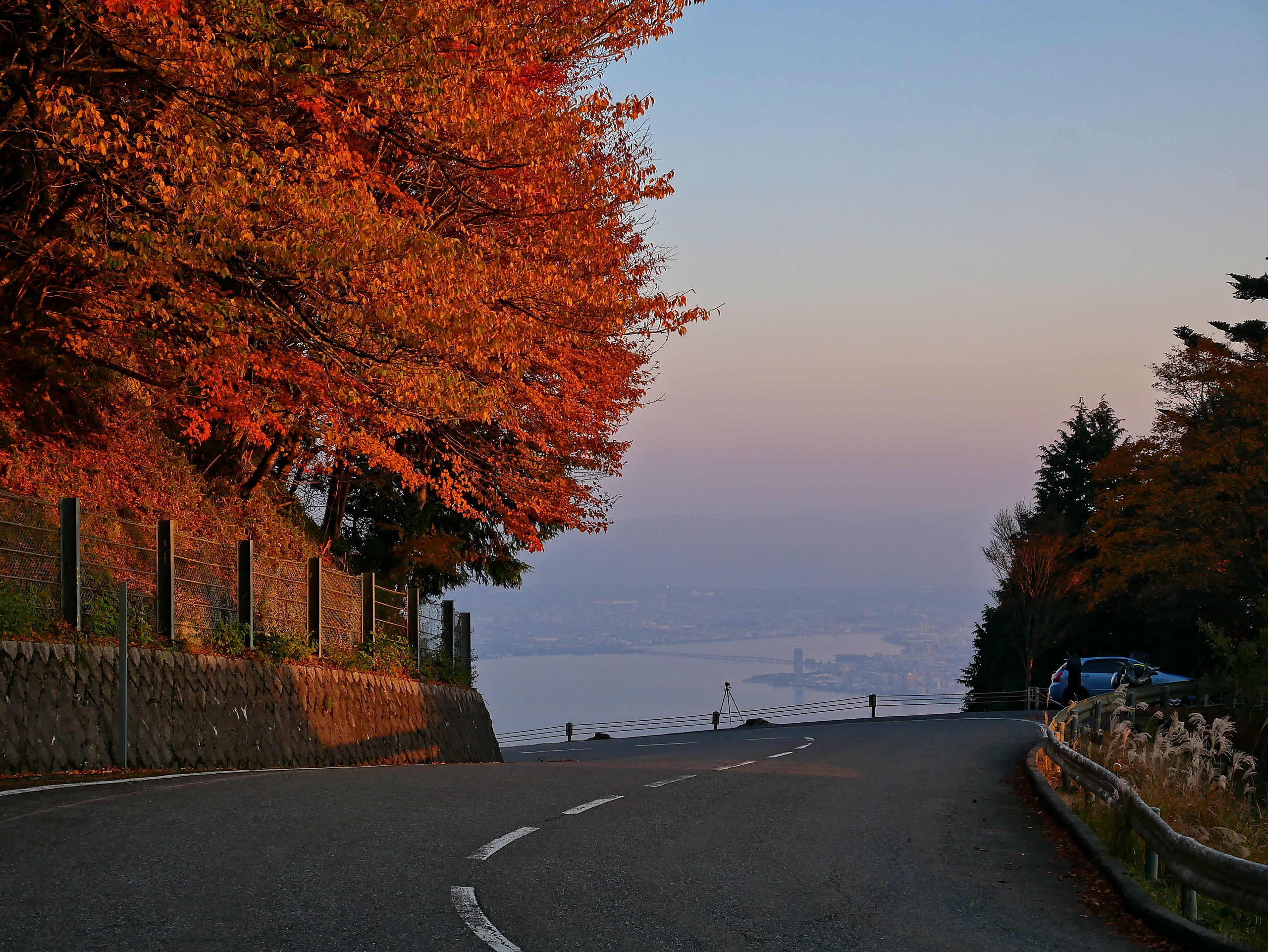 Day fourteen – Shiga prefecture to Kanagawa
Today is just homeward bound but I detoured to ride the Suzuka skyline. It is a fabulous bit of road. Made famous in a 90's arcade game if memory serves me correctly?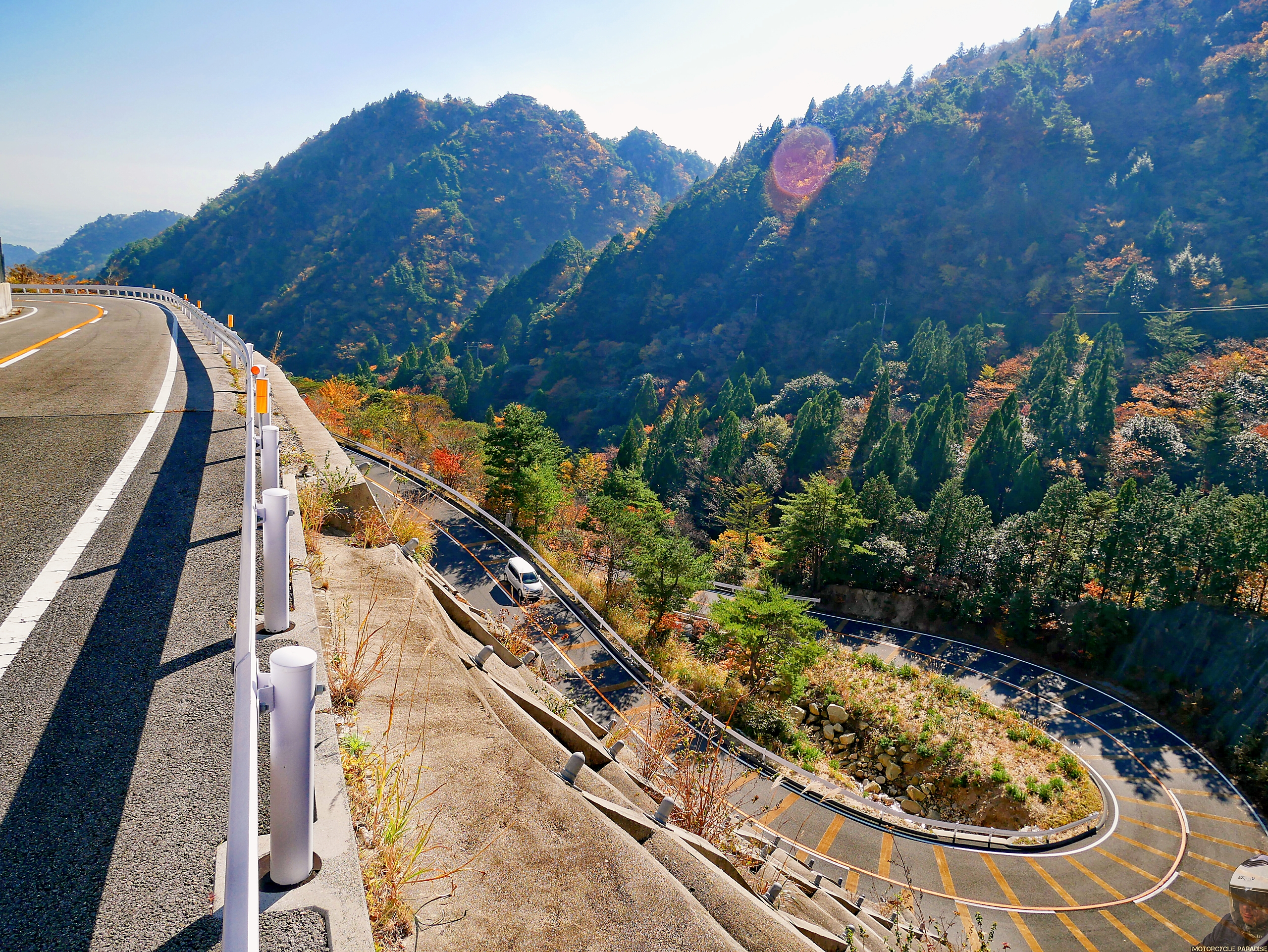 And then I just slab it back from Nagoya.
Despite the weather being against me at times I had a great ride. Especially to see that view from Mt Eboshi, Tsushima in such perfect conditions. It ranks up with the best travel sights ever for me.
To quote my neighbour – 'you really have seen a lot of Japan' and yes that is true. Despite my occasional grumble I do love riding around this country, it has so much packed into it.
My motorcycle is now parked for the winter. Not sure when I will ride here again. 
Camera gear used on this tour was the Lumix GX85 that is much bigger than it appears. The interesting Ricoh Theta SC that is much smaller than it appears and the Apeman A66 which is just a toy as I am not interested in making video. Most photos appear courtesy a now dated iPhone 6S.
---
On a light note – fret no more, I did not forgo the vending machine coffee this tour.
Bonus video for anyone who didn't get bored and made it to the end of the page
PART TWO