Slightly unexpectedly, I found myself in Spain for a couple of weeks. I dusted off my plans I once had for riding Andalucía. Spain has been one of the places on my bucket (ride) list so I was happy about the opportunity to be here.
I arrived in Madrid from Manila via Abu Dhabi and had a few days spare. Nice feel to this city; laid back. Then I took high speed train to Malaga where I was going to base myself for the next week and also found it relaxed and friendly.
The film festival was on and the red carpet laid out for the Spanish celebrities in town.
I have been to Europe a number of times and always found it interesting but also unwelcoming compared to Asia so I had decided that I wasn't going to return again. Maybe I have just had bad luck in past but I am enjoying Spain so far and maybe need to rethink my ideas.
Took three attempts to get a bike rental, ended up with a Yamaha FZ8 from a Malaga car rental agency Marbesol who are based at the airport. Marbesol also offered helmet and jacket rental which is handy as I did not have my full rider gear with me.
Nice thing about picking the bike up from the airport is within moments I am on a highway, no city streets or traffic. The highway speed limit is 120kph but the Spanish seem to do a minimum of 140kph and the FZ8 reminds me of my Buell XB9 with strong wind blast at speed.
I have a loop ride planned first up riding a famous motorcycle road the A-397 up the range to Ronda, a fabulous road but low clouds made photographing it impossible.
I am riding then towards El Chorro in some scenic rocky mountainous areas.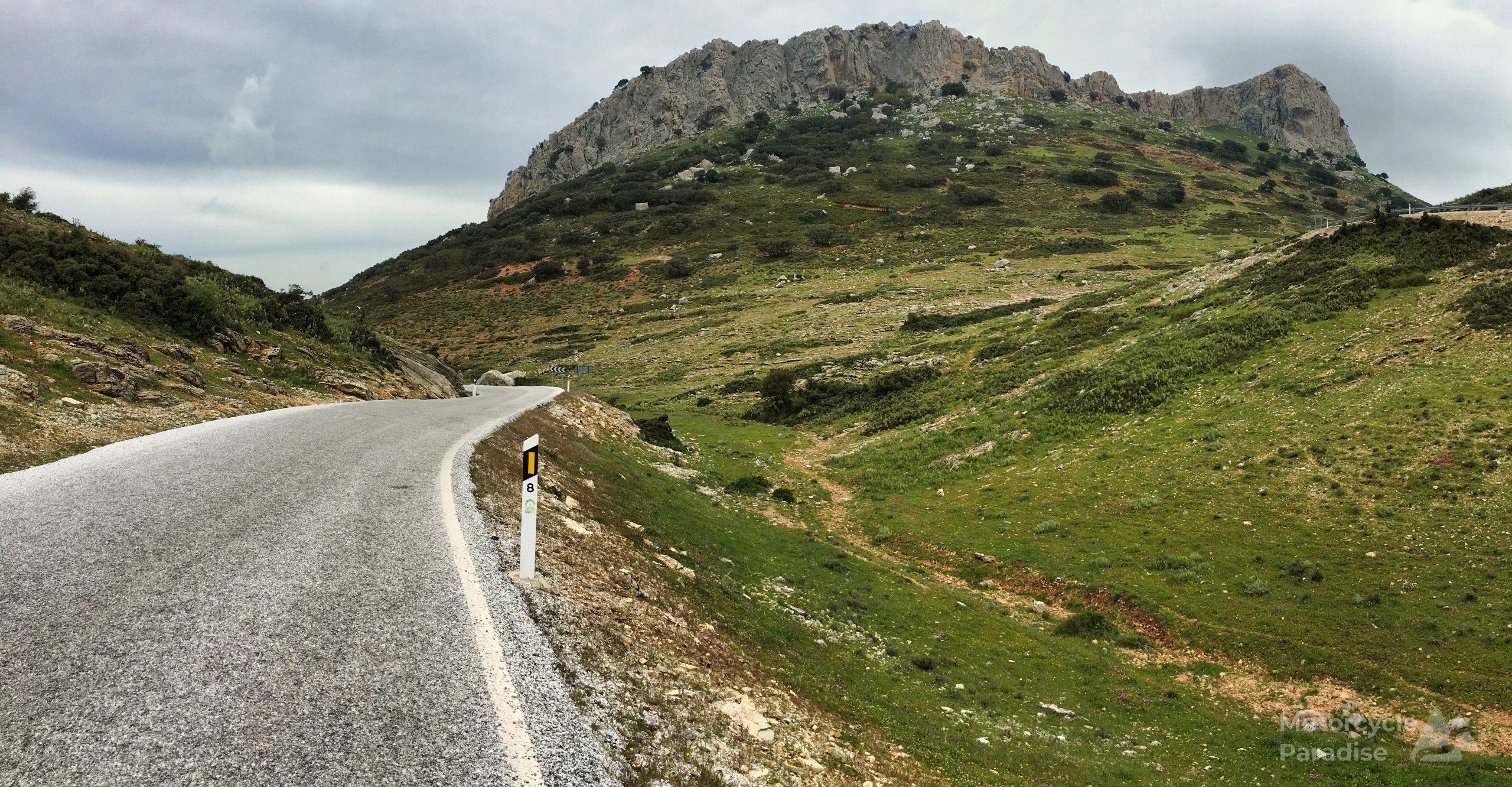 It's actually nicer than it looks but grey skies wash out photos.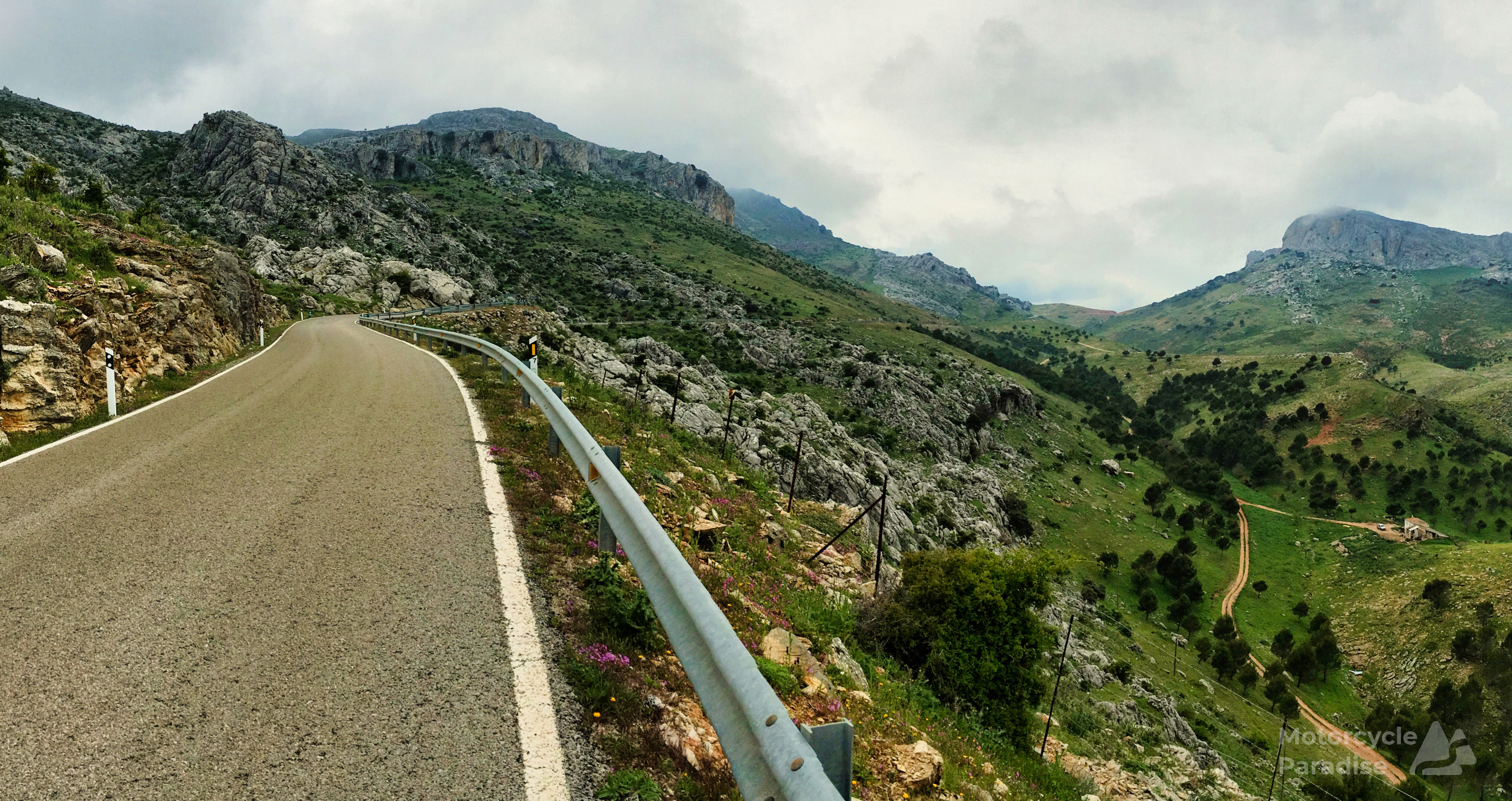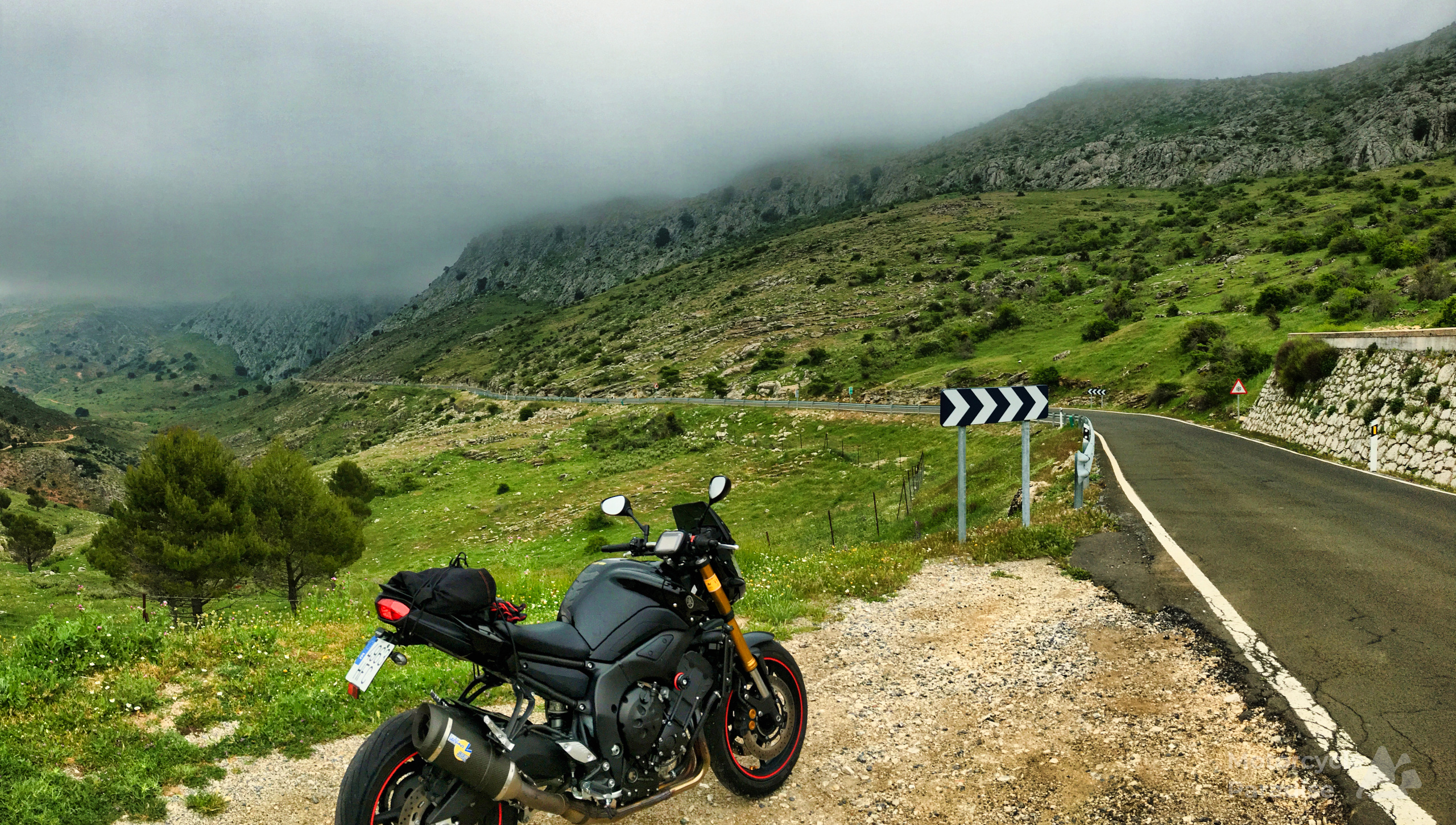 The temperature has gone from warm at sea level to chilly in the mountains then light rain arrived and my hands wet in summer mesh gloves are literally going numb so I have to turn back.
The weather was cooler than it should be so I went looking for gloves and a way to help keep my upper body warm. I was in a department store initially looking in the sports department was surprised to find it had a motorcycle area inside!
I got a pair of Alpinestars Transitions gloves and a thermal long sleeve base layer. Ok I am ready to try again tomorrow.
The next day was steady rain all morning but also my birthday so I decided to spoil myself with perhaps the most expensive burger in Malaga in some sort of gourmet burger place with some fancy German beer. I was rather pleased with both but disappointed not riding.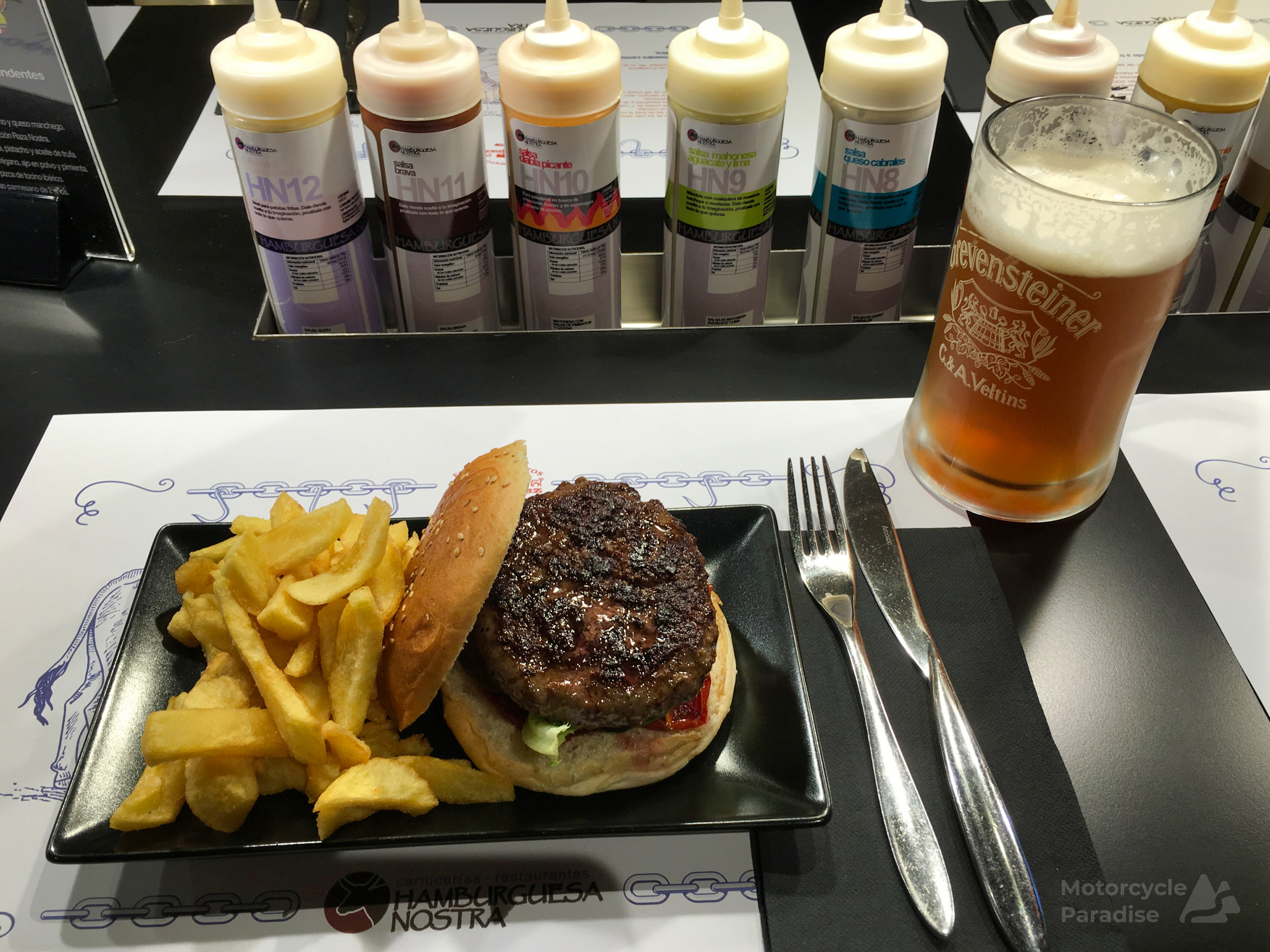 But come afternoon the weather is looking not too bad and since Spain has 3 hour daylight saving there is a heap of riding still possible and I set off to explore the white washed villages in the hills.
This is the pretty town of Mijas.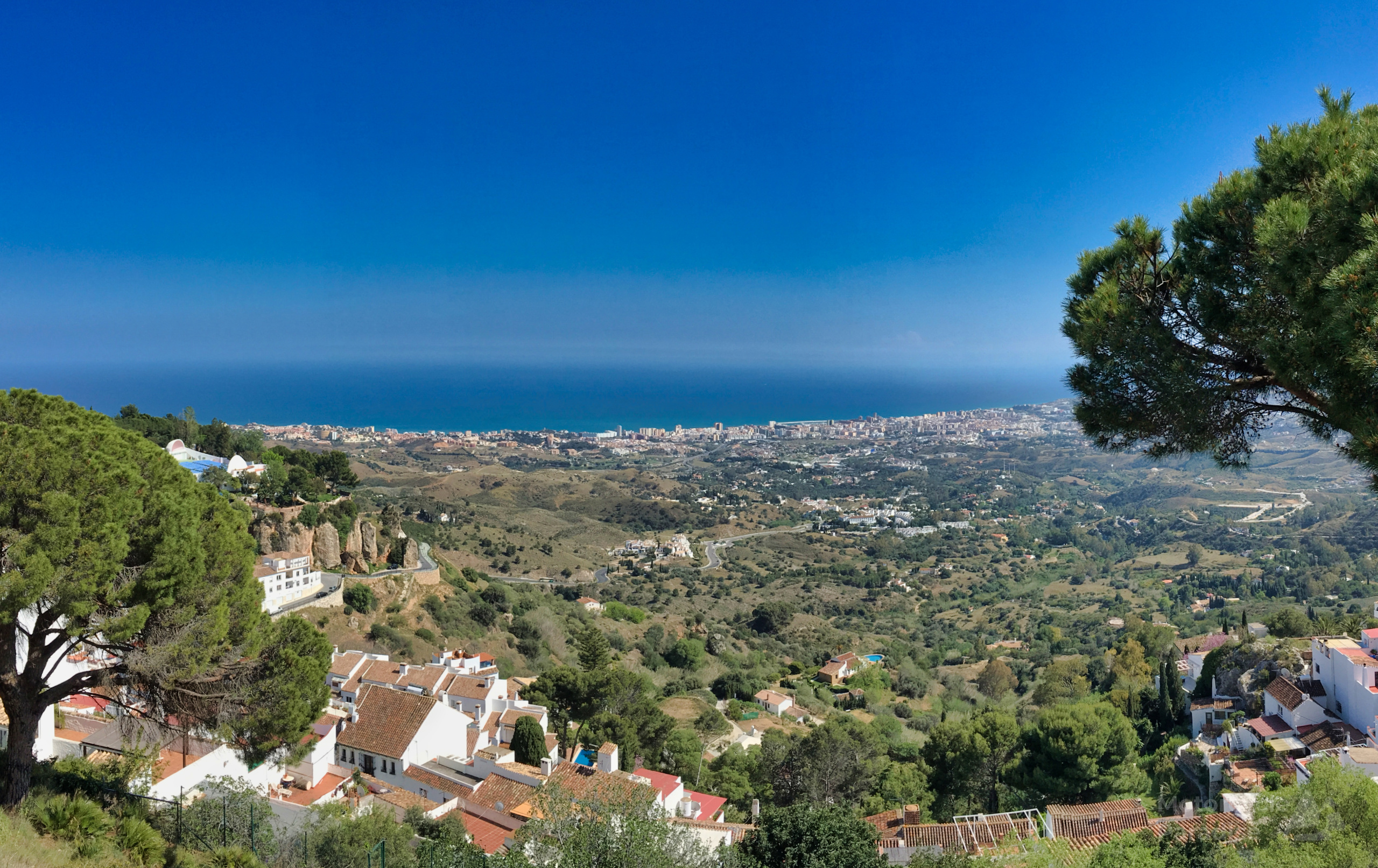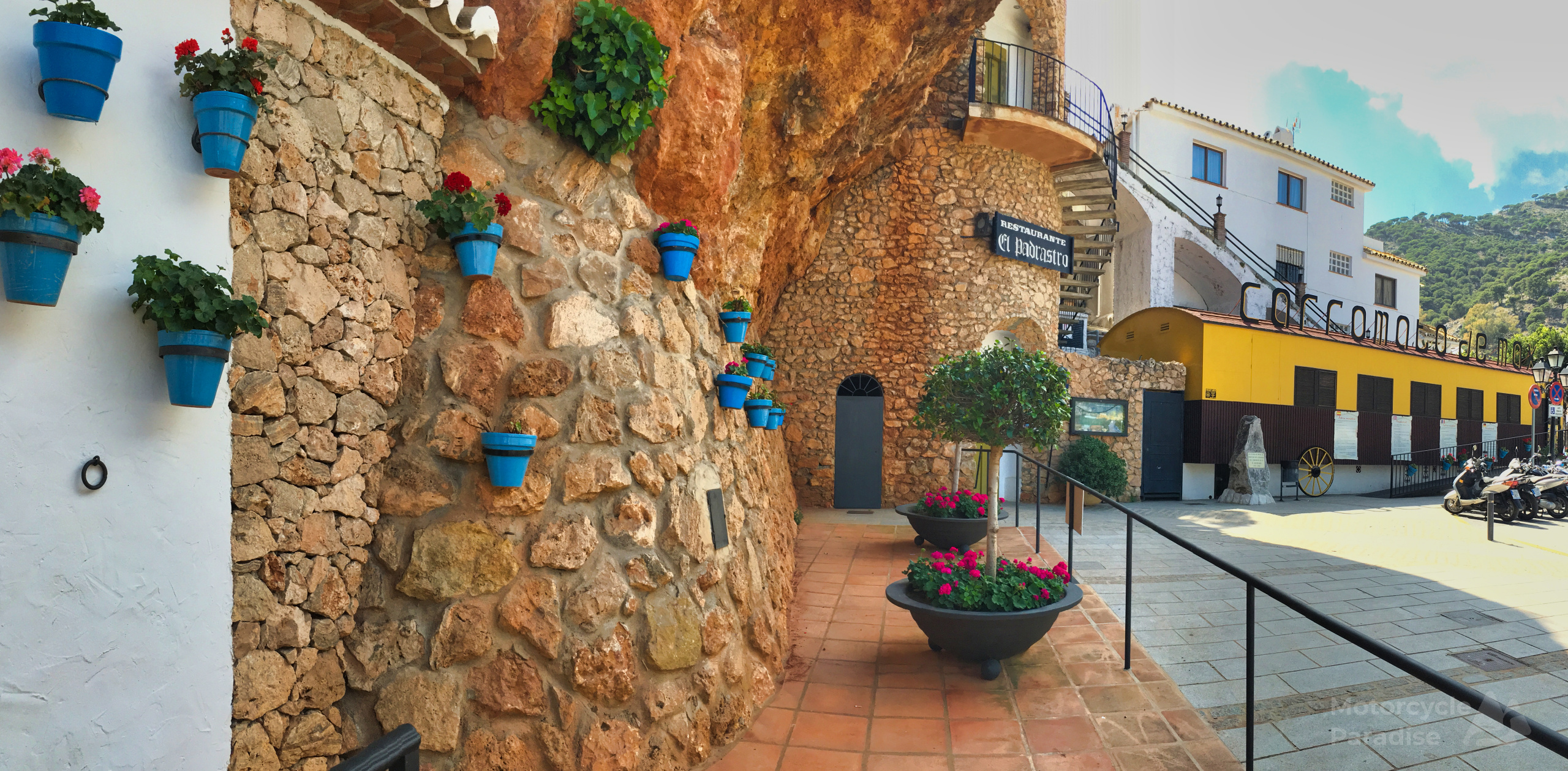 I could wander around these streets all afternoon with camera but the road beckons.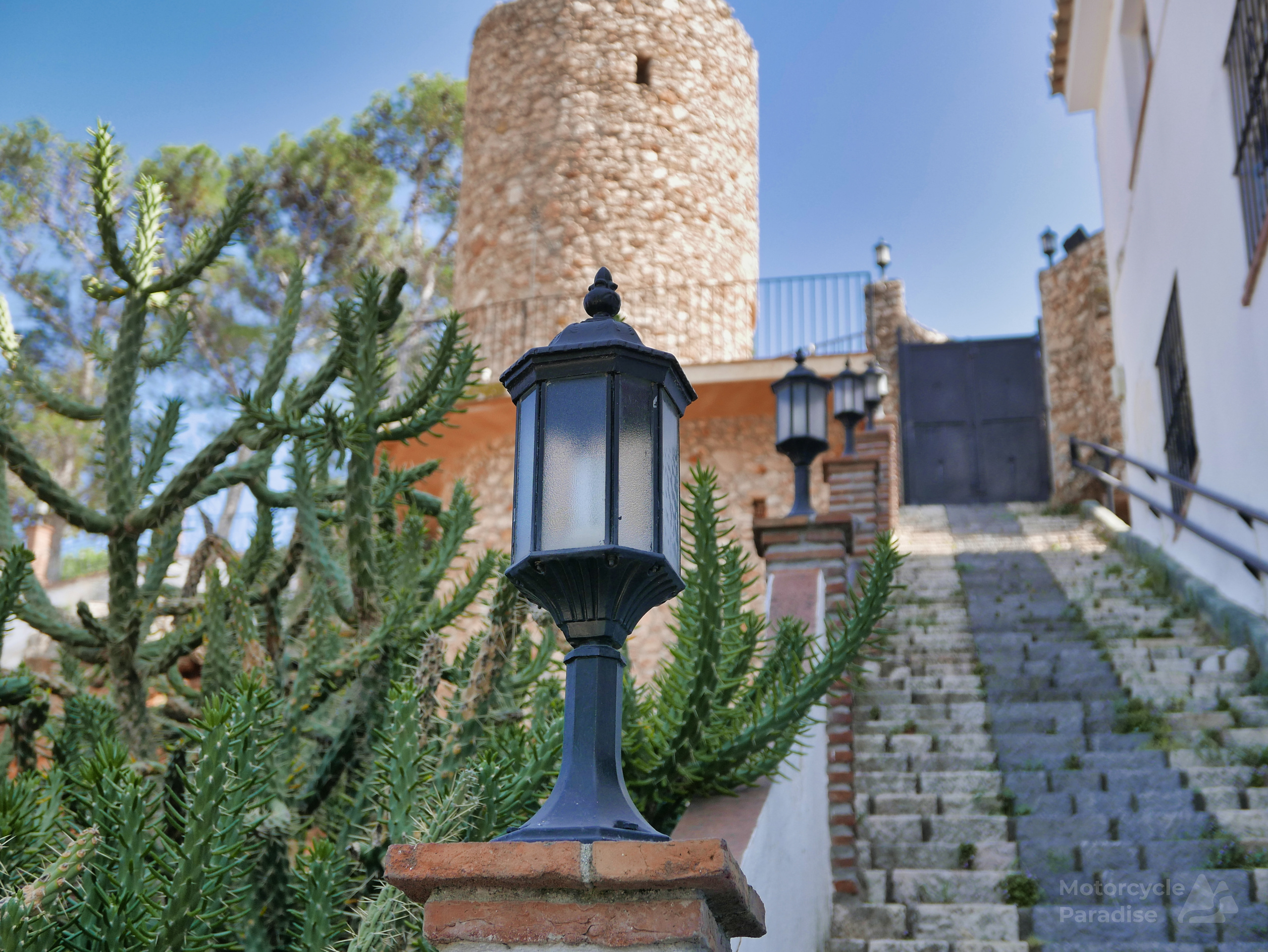 With plenty of daylight left thanks to Spain's unique time zone I went exploring in broad arc back towards Malaga just riding with no plan and taking what ever road looks interesting. I really enjoyed this outing today, more than actually doing my planned ride.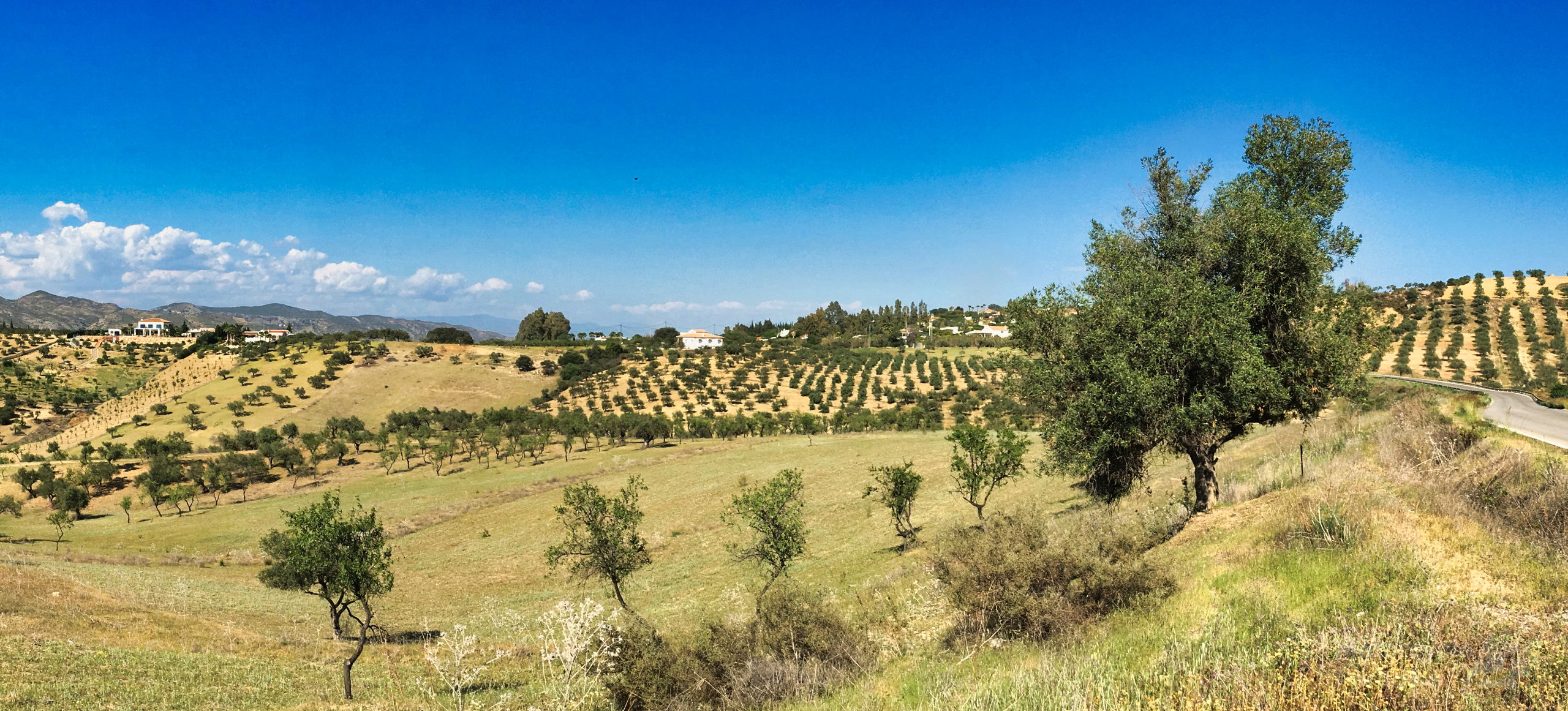 Grand houses or Haciendas with their own olive groves on the outskirts of Malaga and an old property below took my interest.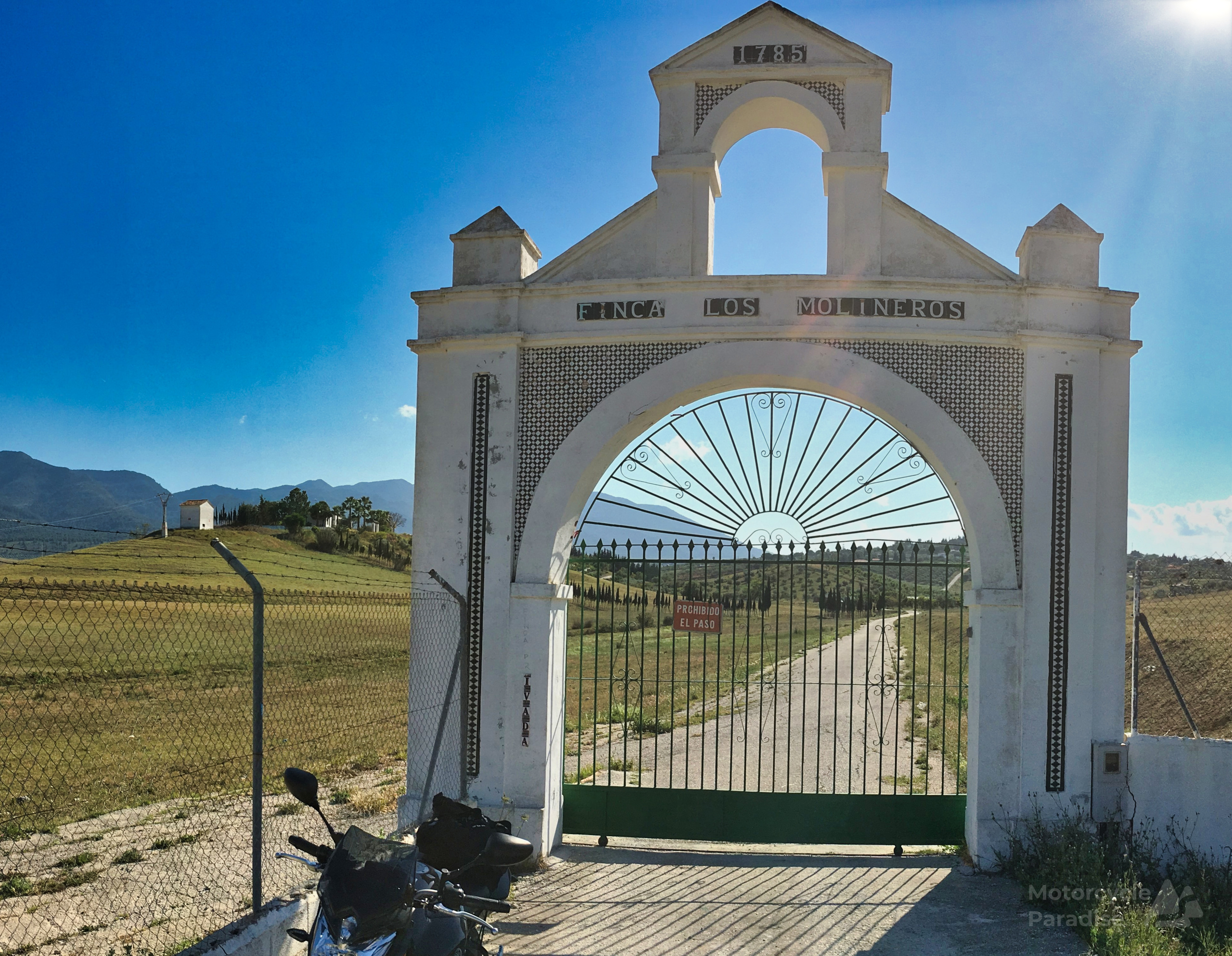 I pulled into a small town bypassed by the main road and rode along the narrow streets to arrive at the town square.
Have a look at the photo below and see where the sun is and now look at the clock which was accurate. The sun is so high still due to Spain aligning its time to Germany in the war and never adjusting it back after.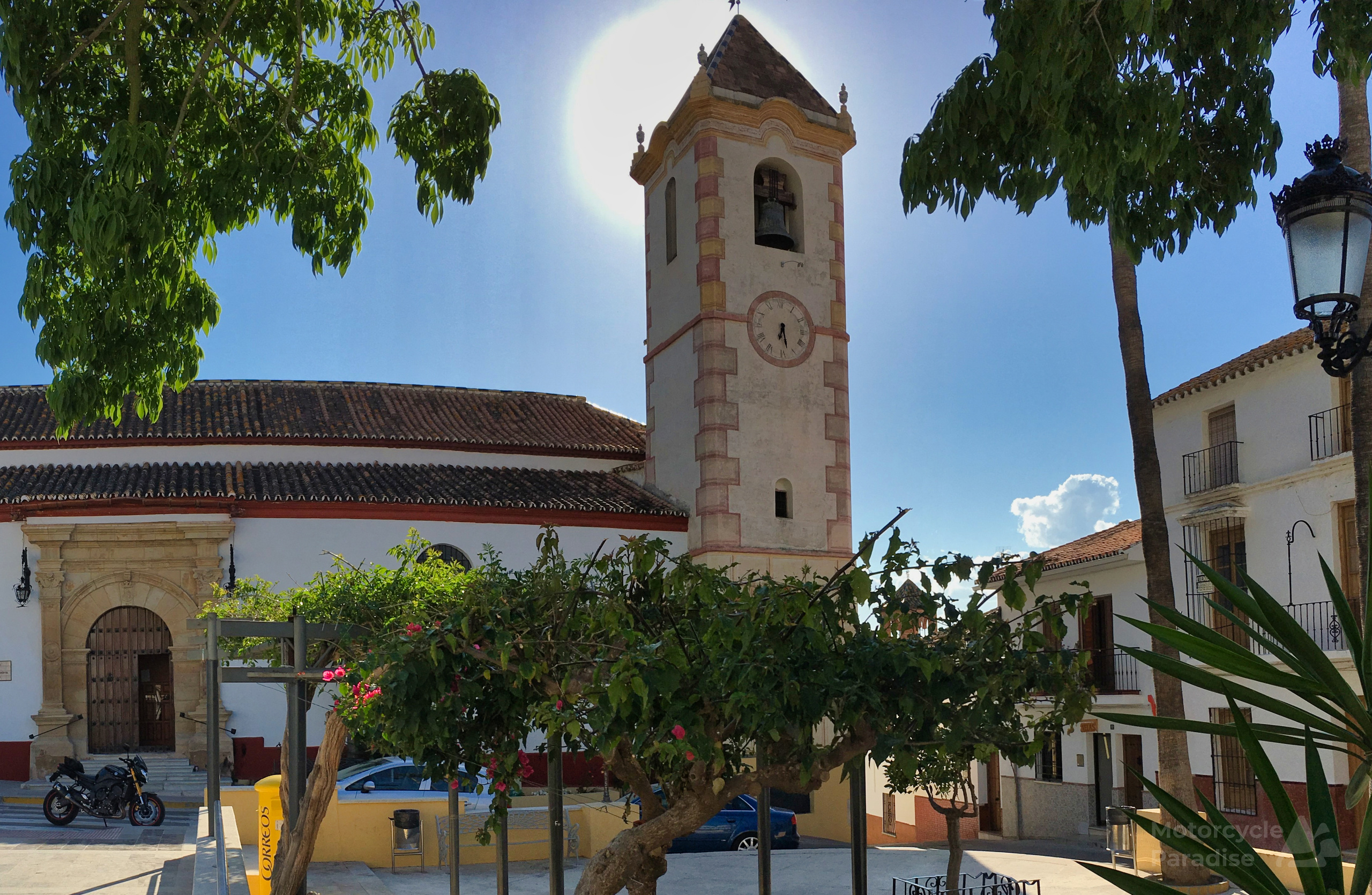 A motorcycle, fine weather, low traffic roads and no fixed plan – this combo is the best thing for me in life.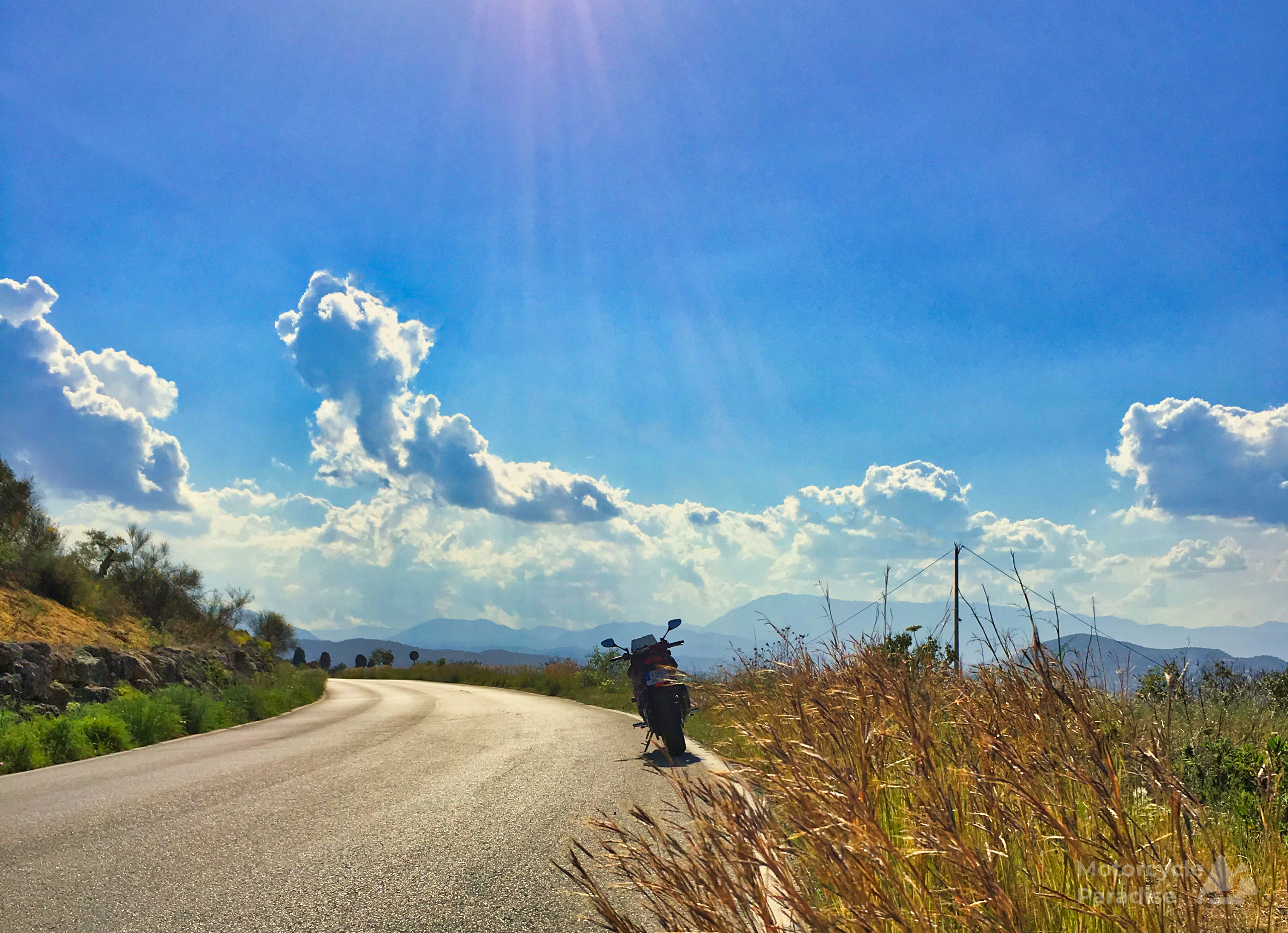 I have to go big the next day if I am to reach the special roads on my list in the region so an early night.
Feels weird setting off with the sun not a full orb in the sky until 9.00am.
I go east to the Carboneras region and enjoy riding the coastal road.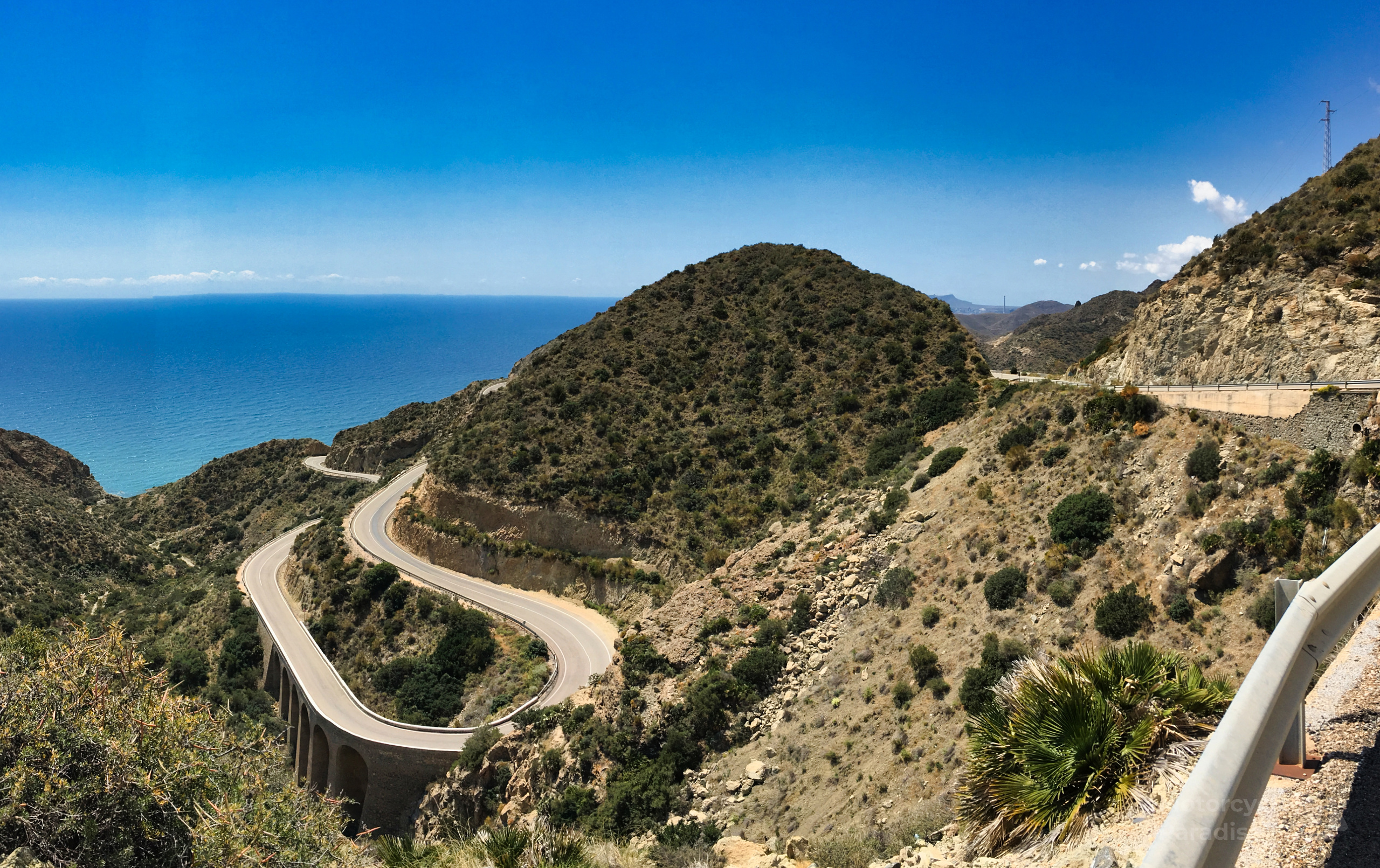 The section always photographed is lovely but short. Some nice beach towns here with less crowded feel where I stop for coffee and a burger while locals are having breakfast at 11.00. Ah the slow life!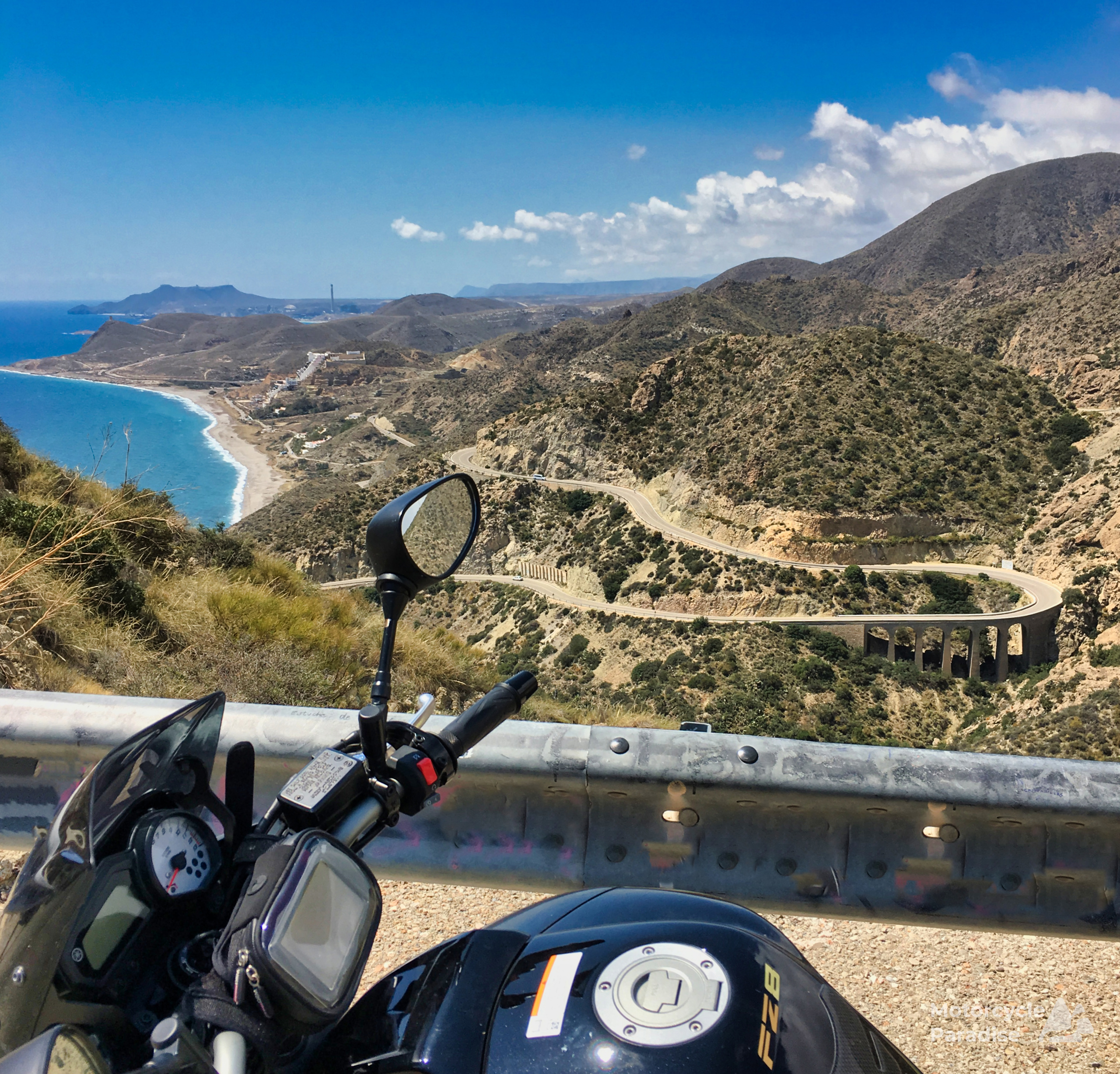 I am now where Sergio Leone made the famous Clint Eastwood Fistful of dollars westerns trilogy and rode past the movie sets location at Tabernas which have all changed since the 60's. A few physical locations of those movies can be visited. But as Lee Van Cleef said in A Few Dollars More – 'maybe later'. I just don't have the time having lost 1/2 to rain last two days.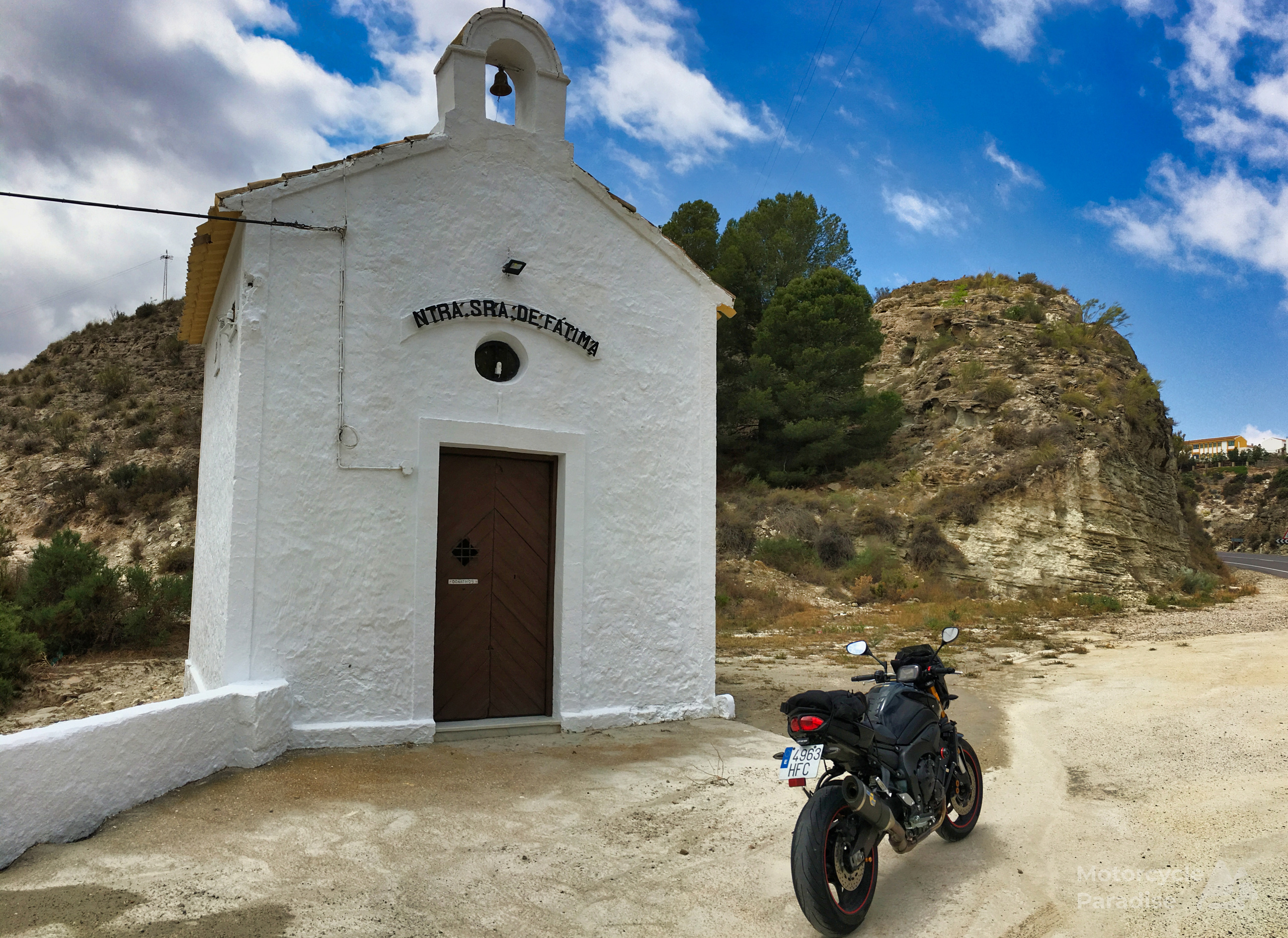 Off the highway to get fuel I stop at the worlds smallest church and ask for the fine weather to hold.
Finally I find the very special place I came to see. Puerto de Velefique located in Sierra de Los Filabres, in Almeria Province.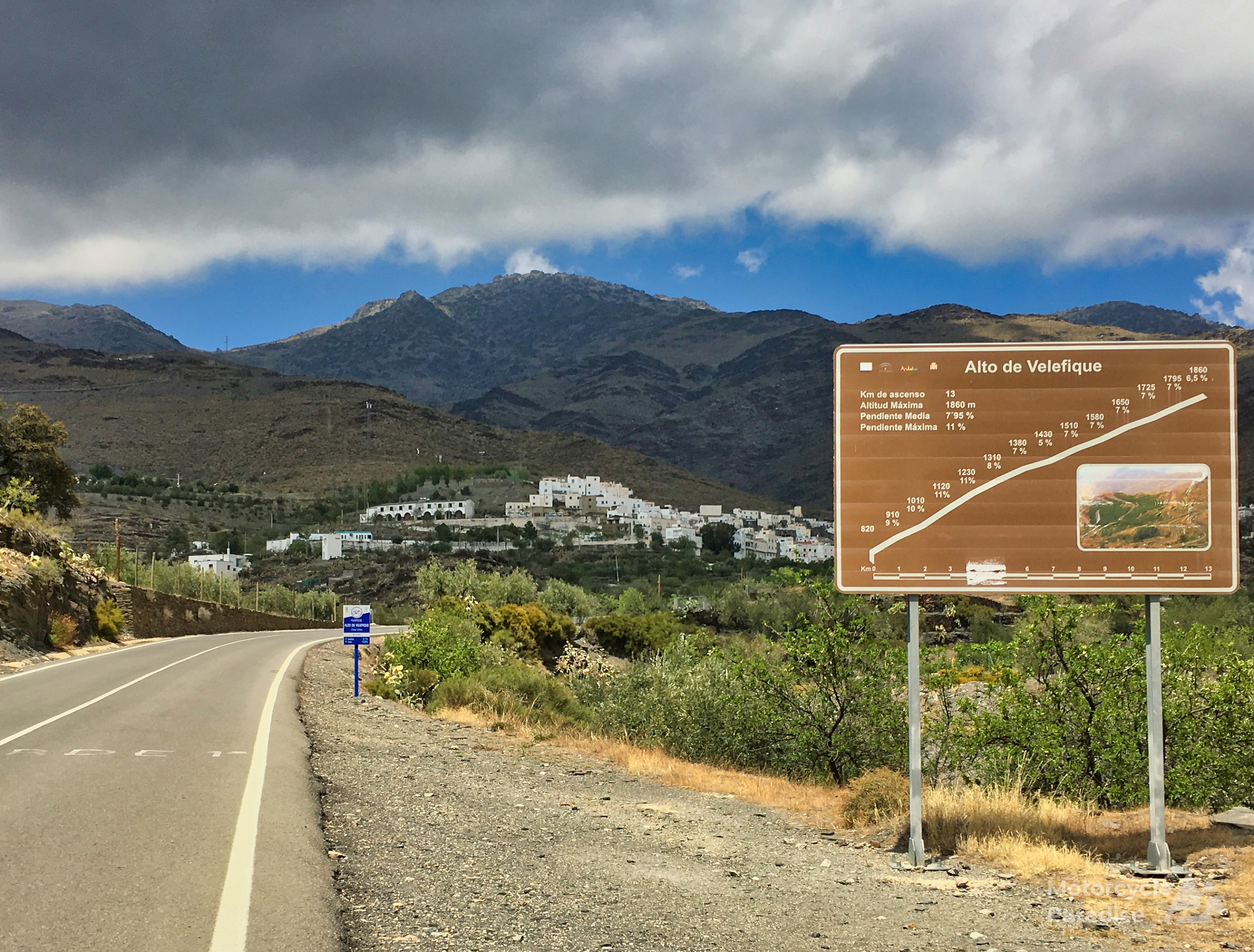 This is perhaps the best motorcycle mountain climb I have ridden. Much better than Stelvio.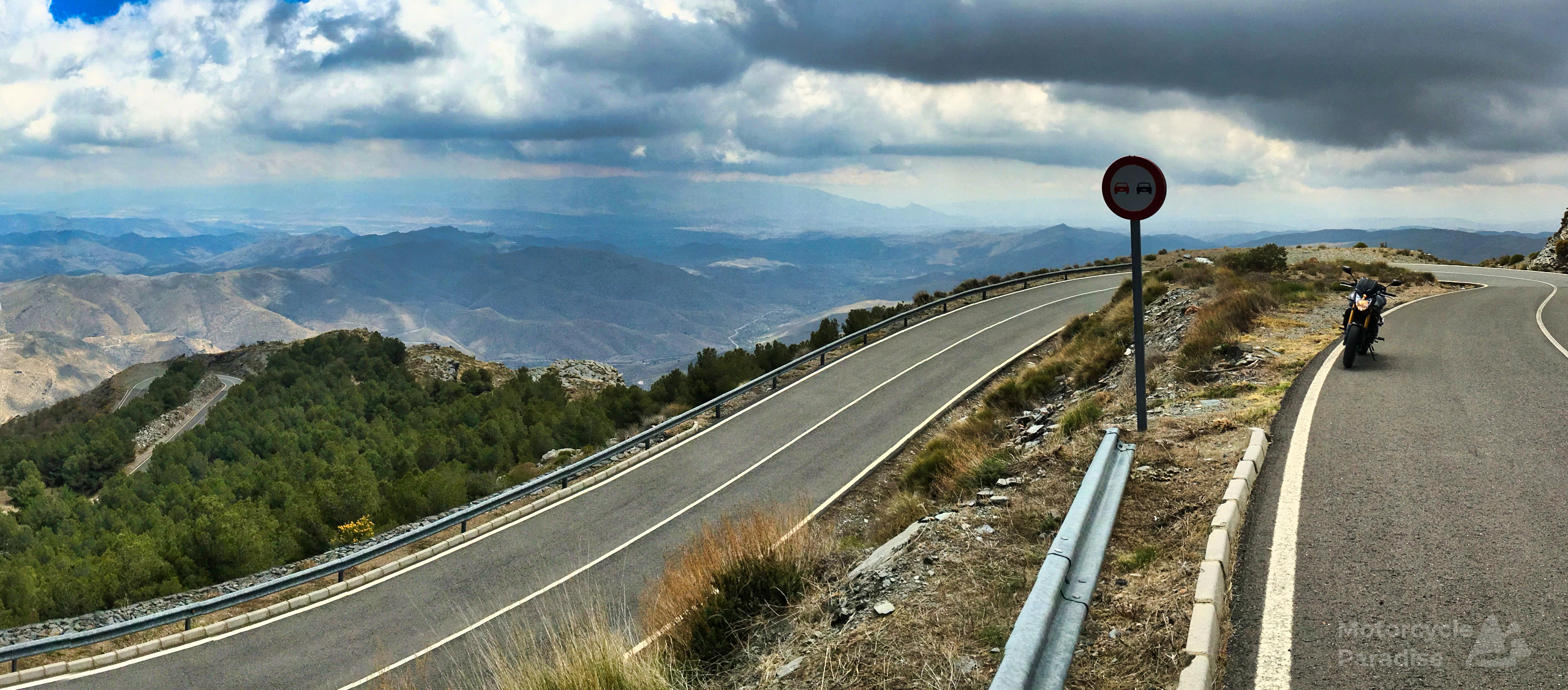 About half way. It's more incredible than I can photo without a drone.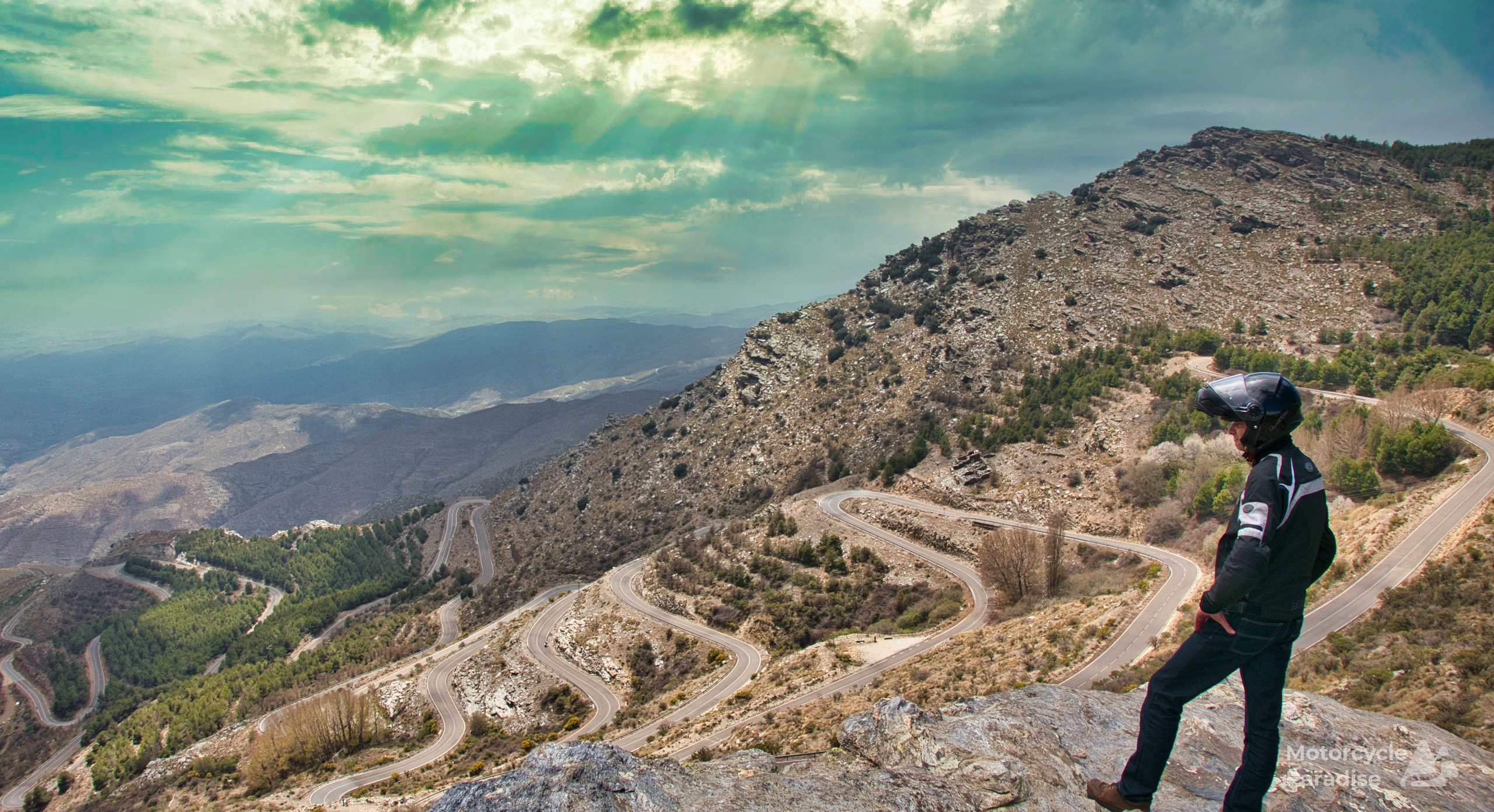 And near the top.
At the top I met two guys that had lifted a motorcycle onto one of the rocks for a photo shoot and also had a drone taking some video of this road. They are building a best motorcycle roads web site. Their web site will be called Motorcycle Diaries. Thanks for taking a great photo of me!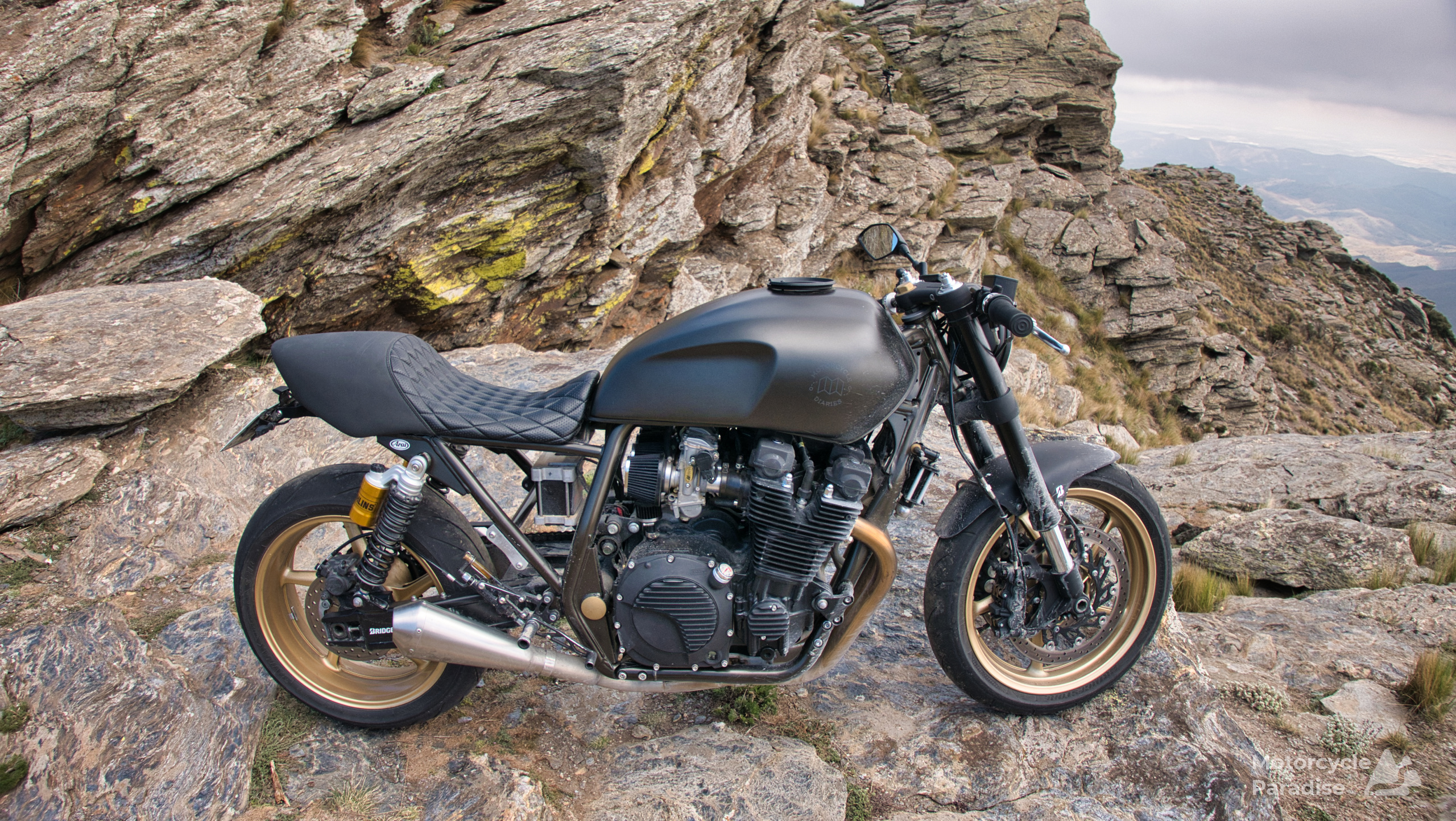 It was very satisfying to make it to this special place I had seen in a photo and taken long time to find what and where it was.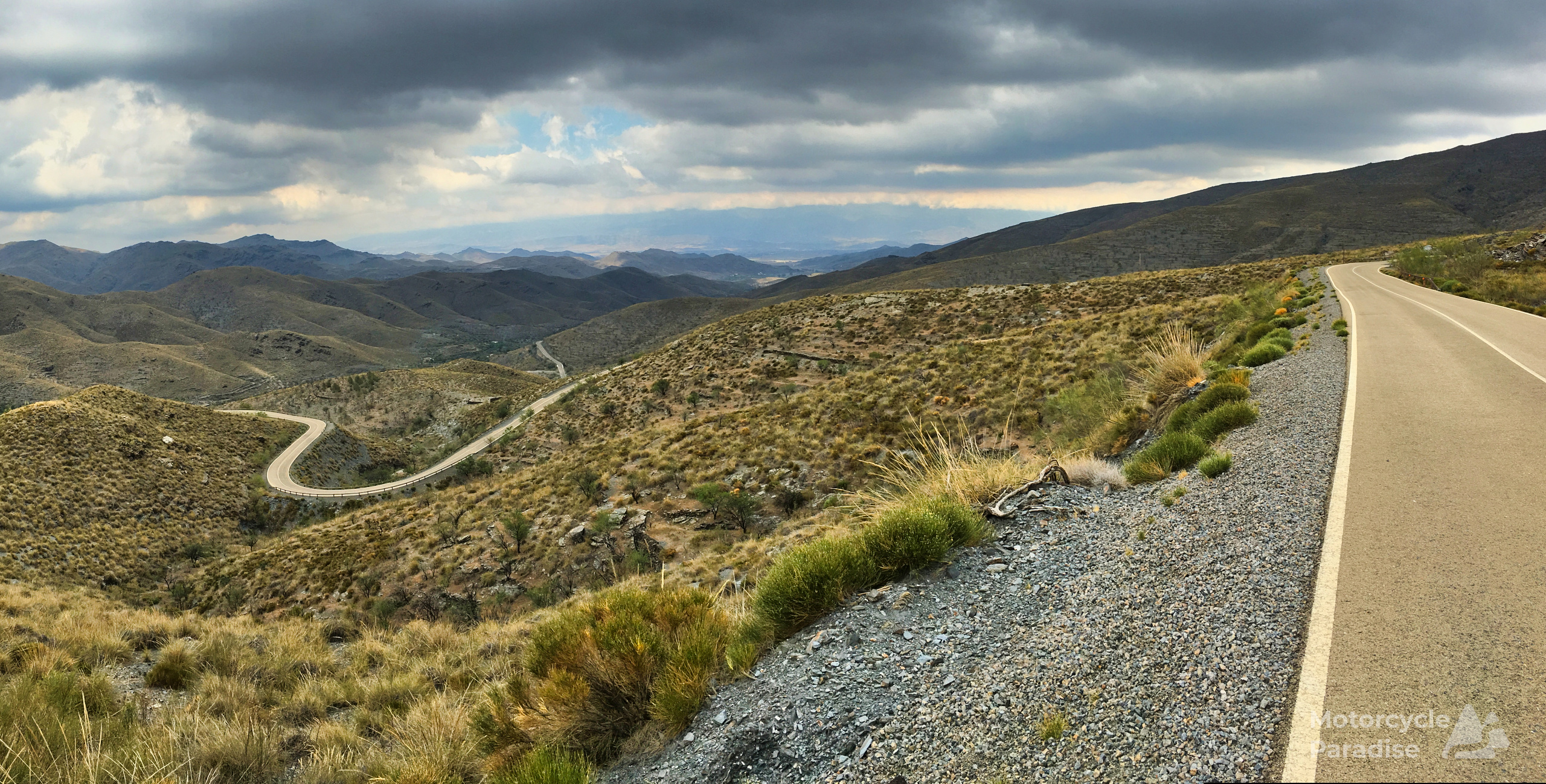 It was 2.30pm heading back down and I was told take extra care as this is most dangerous time on Spanish roads, the period of mid afternoon in a culture where people all drink with lunch then drive. The roads continued to be superb.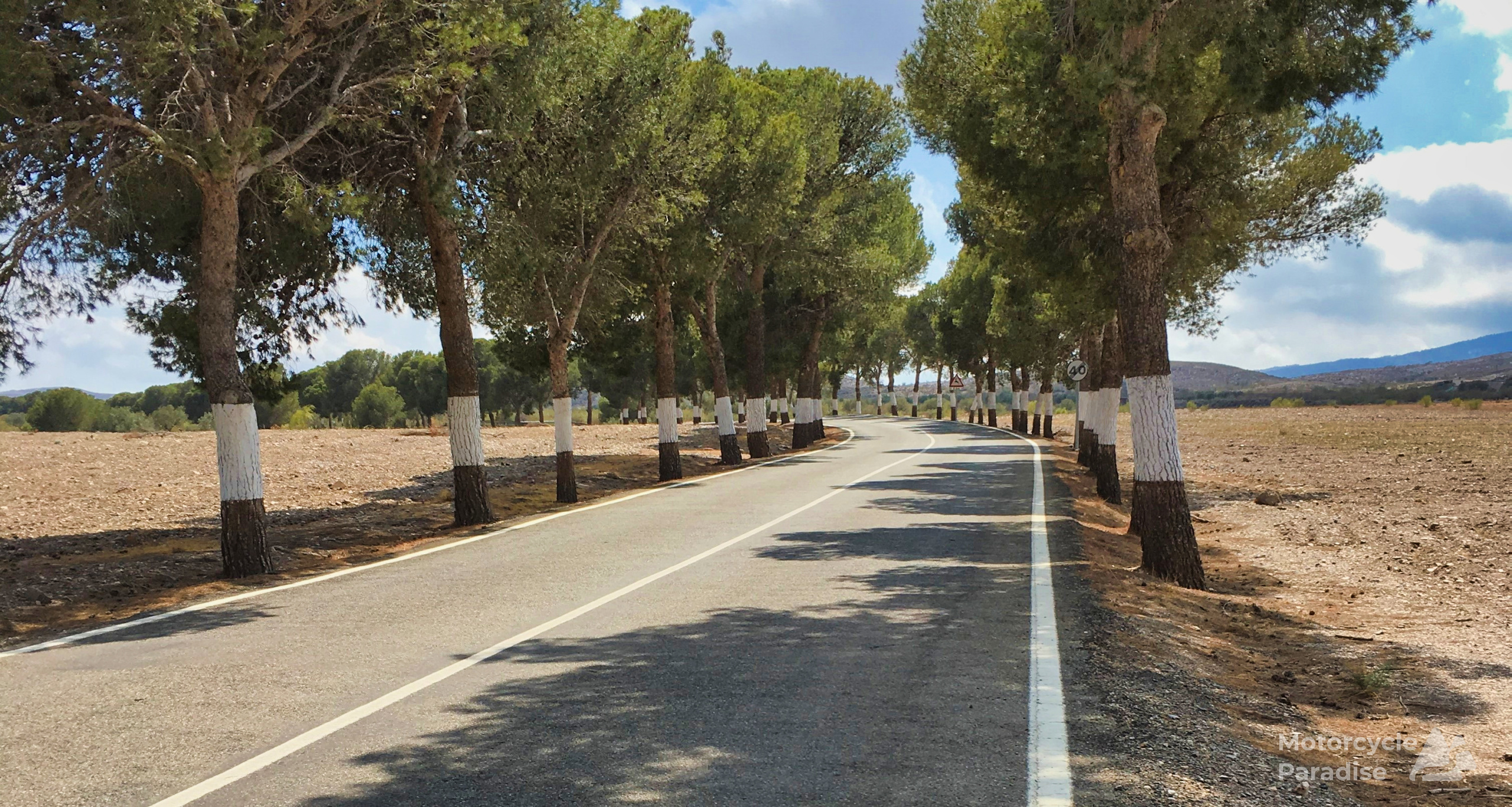 I am riding next over the eastern edge of the Sierra Nevada which offers some grand vistas. I was going to ride over the middle of the range if the weather had been warmer but with lots of snow on top still that would be unwise. Still very scenic.
Now I arrive at my other main target, a road which I am sure locals have a name for but I know as the AL-3404 in the foothills of the Sierra Nevada near the village of Canjayar (pictured).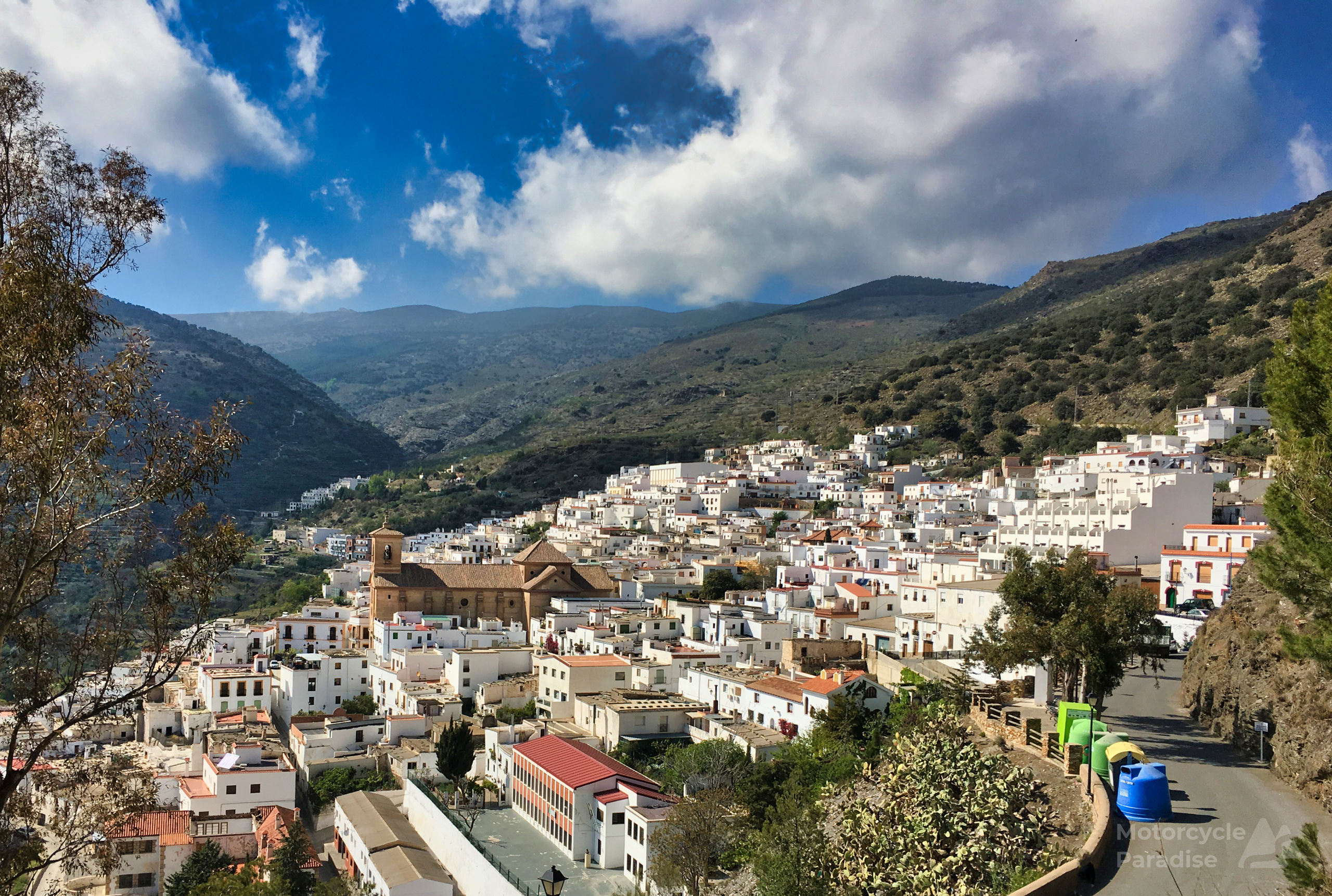 And then it begins.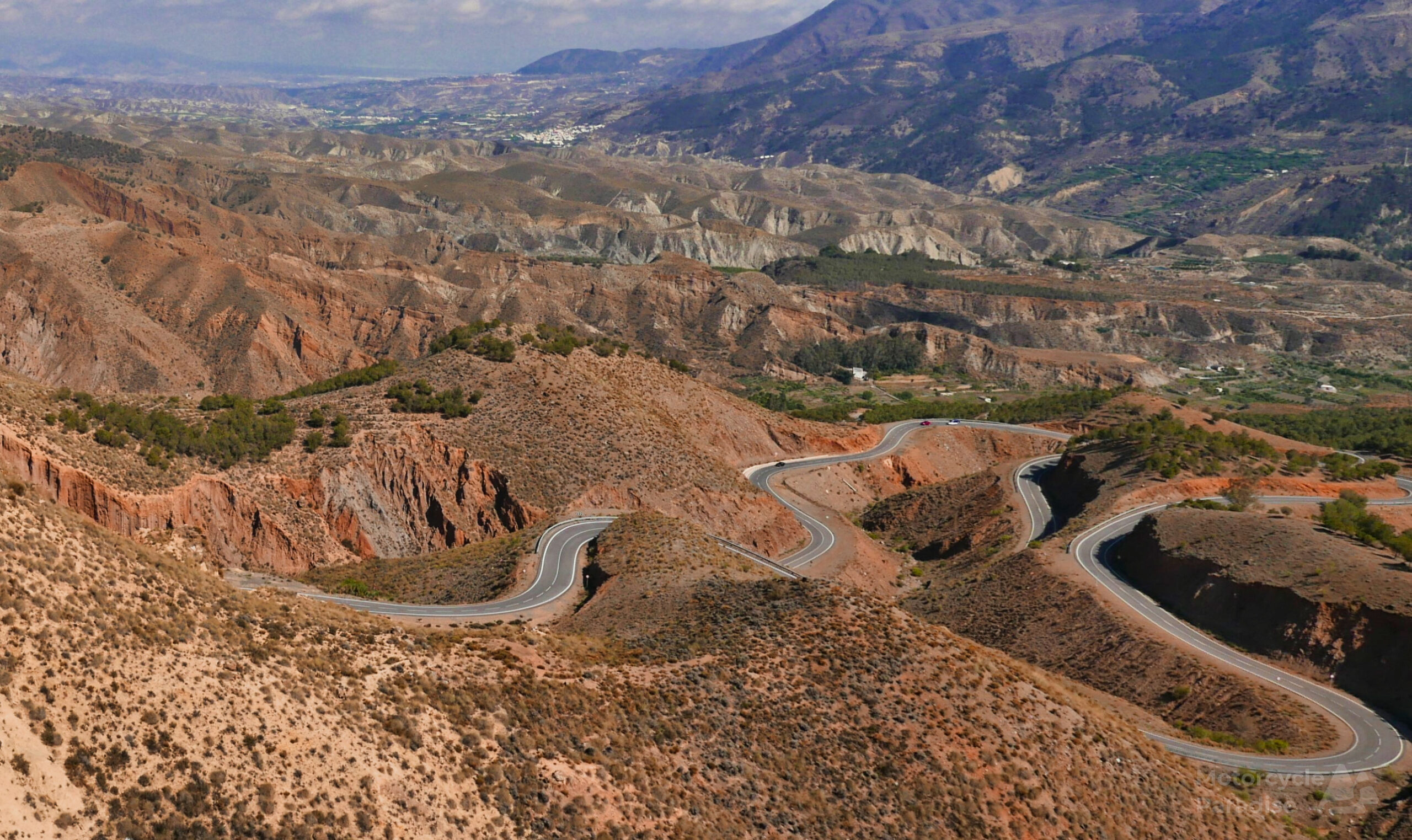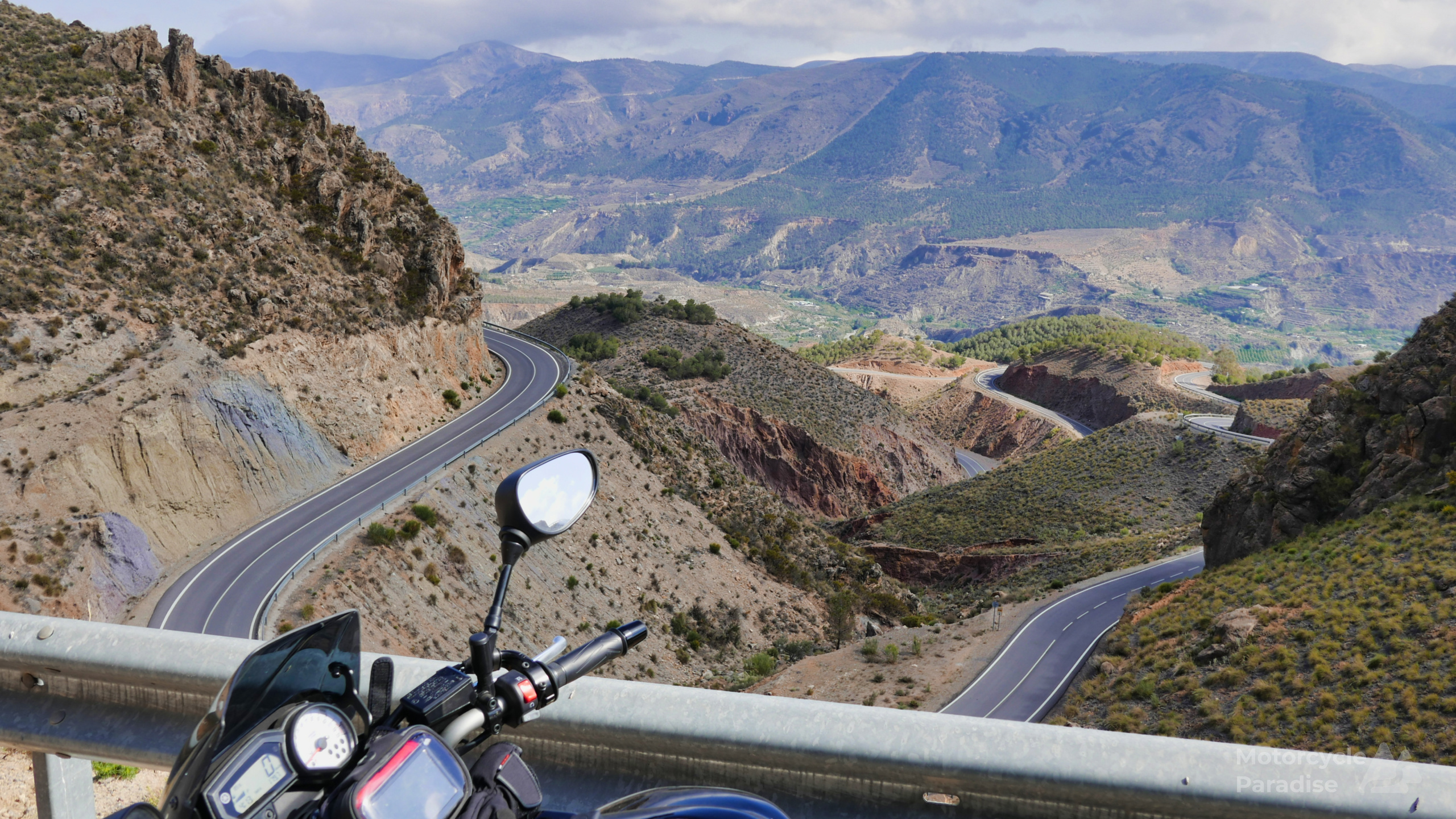 Still with me – this is all happening in the same day!! What an incredible place.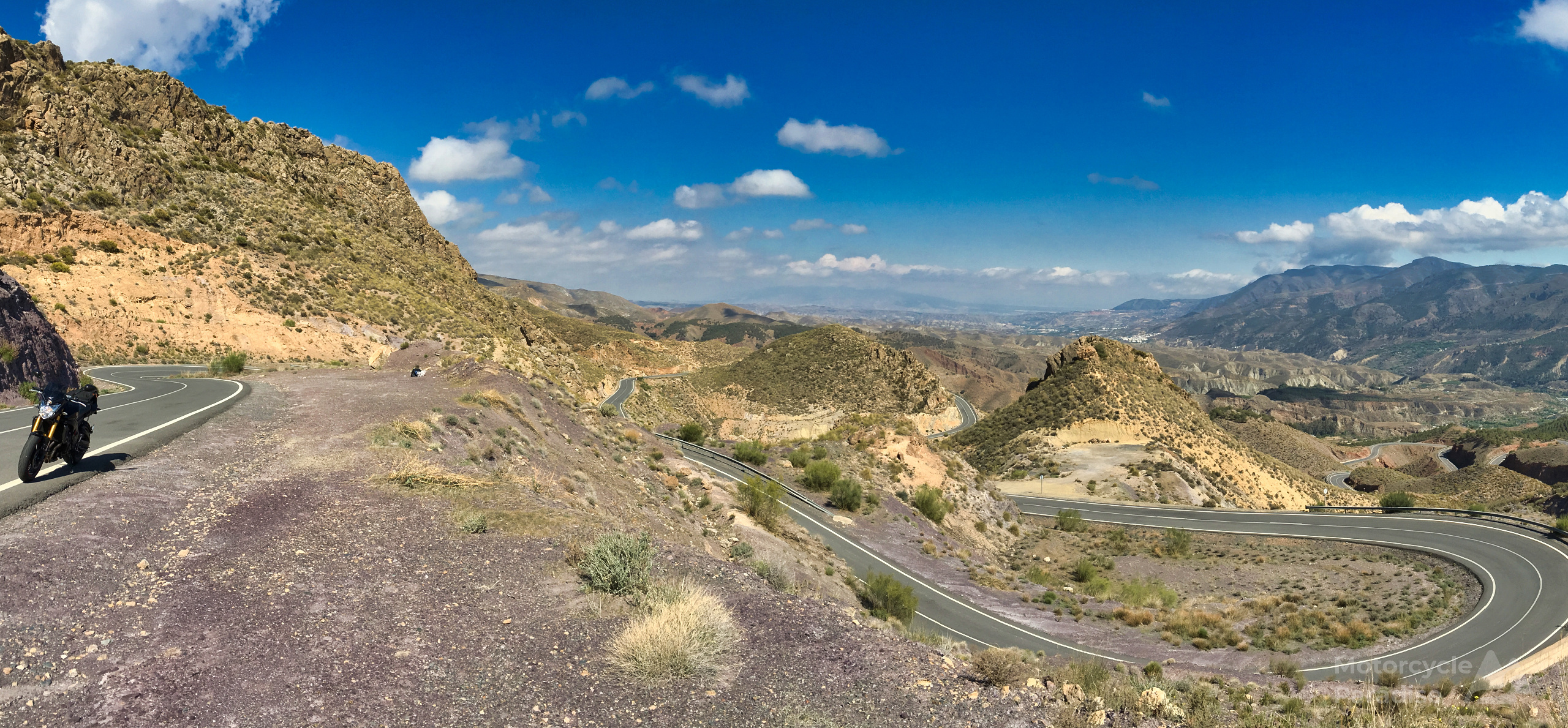 After this I am riding the southern side of the Sierra Nevada range for 75km on road A-348 which is also superbly surveyed but my photos of it are rubbish.
Some mist arrived near the coast thus no photos there either which is shame as that is very pretty but I am not complaining, this has been one huge day, 12 hours by the time I park back outside the apartment in Malaga.
Last day with the FZ8 and I have a few routes as options still but I decide to go exploring again since I enjoyed that immensely last time. Within 10 minutes I was high above Malaga with a terrific view riding some excellent roads thinking what a great place to live!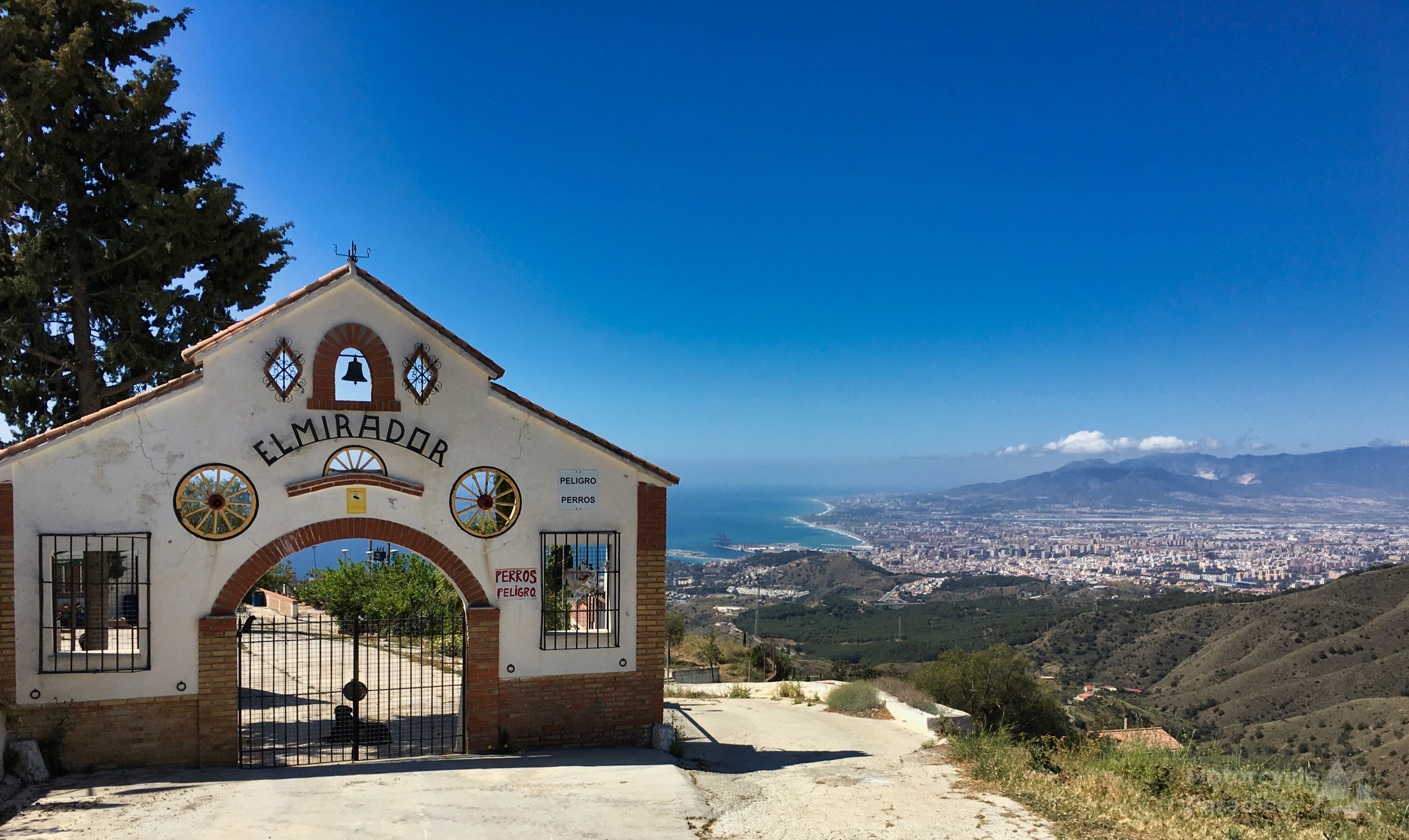 I was just free wheeling turning onto roads in a general arc to the west when I noticed a few bikes going a certain way so figured they probably know the best roads and followed them over this range.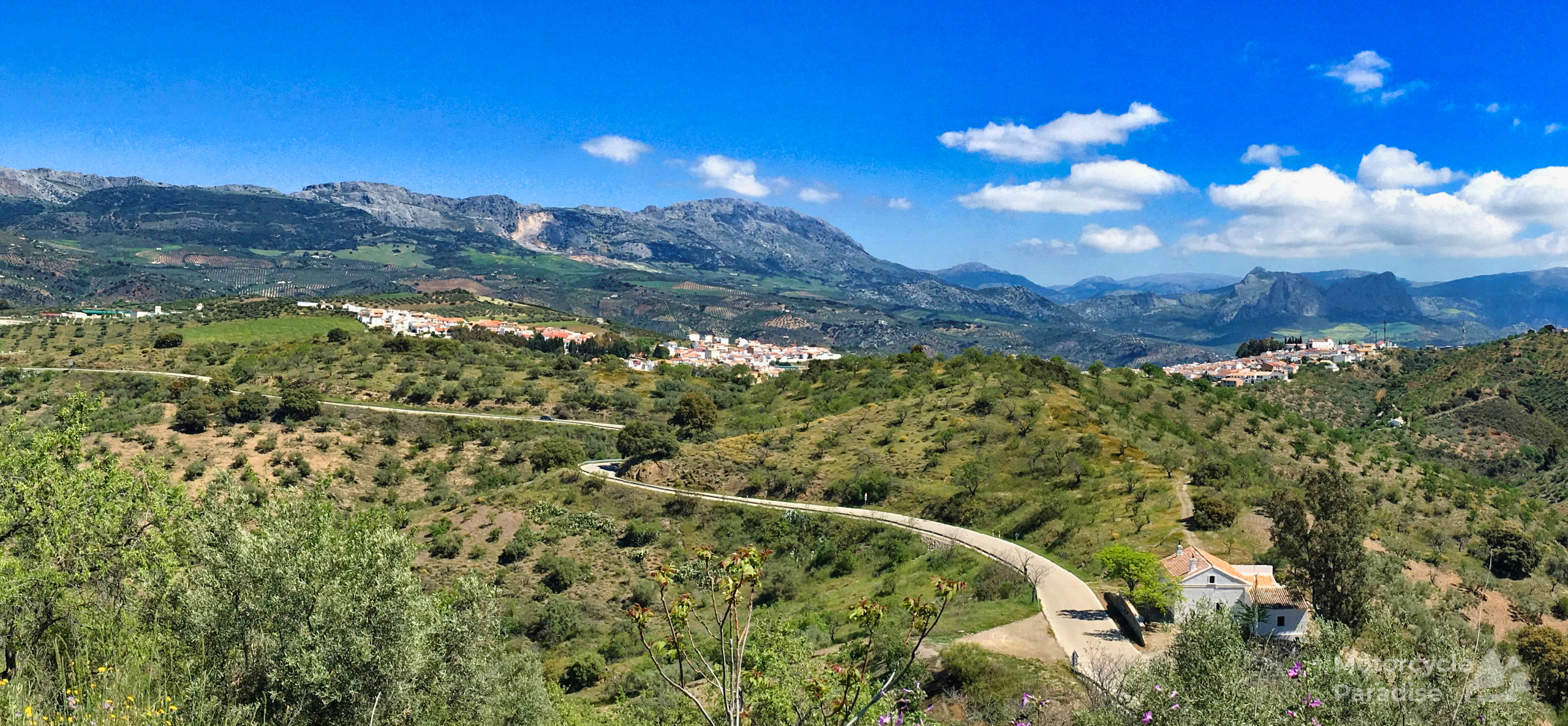 It is hard to capture landscapes effectively, the camera tends to push everything back and flattens the scene but the views are grand in real life.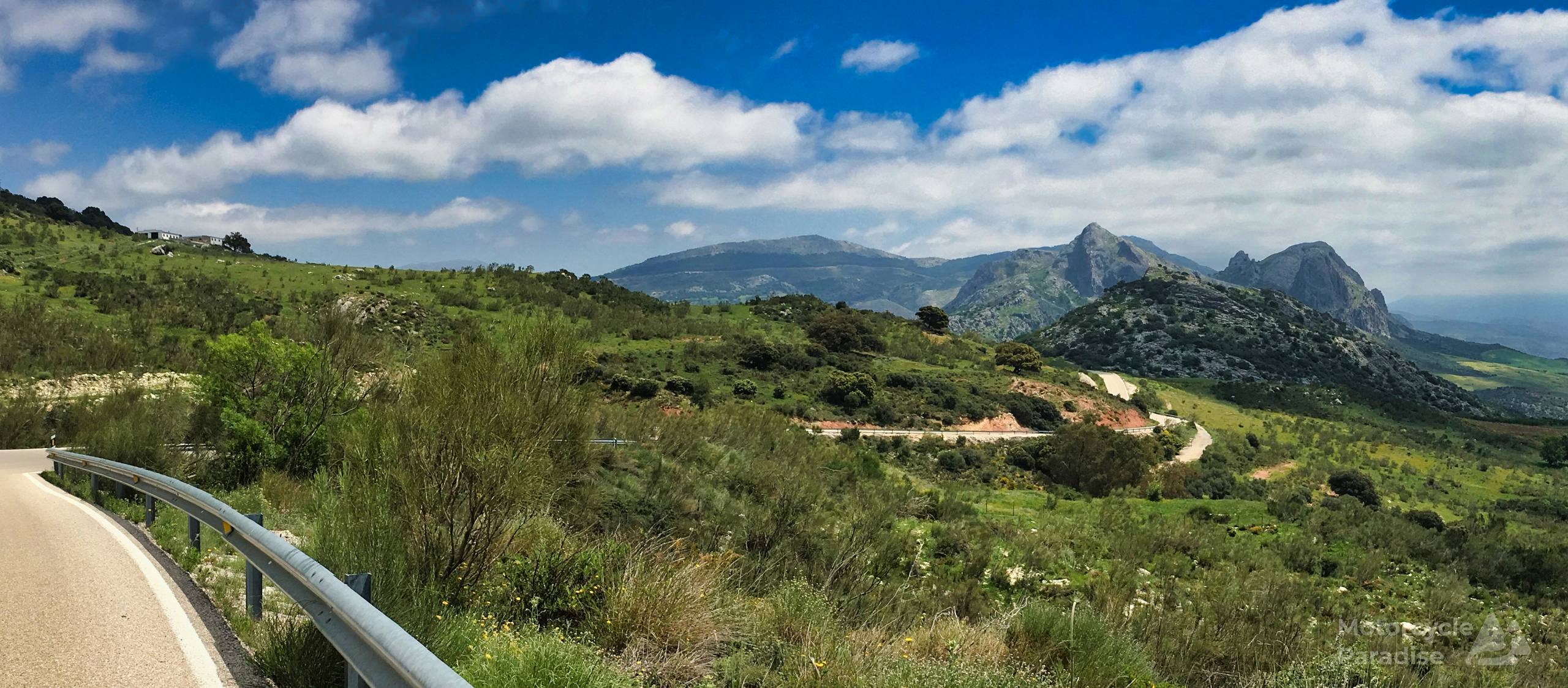 I'm not into McDonalds but it suited me to use their wi-fi. Interesting to see in Spain beer is a drink choice at no extra charge over Cola and dedicated parking for bikes.
Rested, I just wandered and explored towns I came upon. Not something I usually do but it was easy to make a arc back to the ocean and everywhere here is interesting and not overrun with tourists – actually I am only tourist, perhaps explains why people are not jaded like other countries I have visited where hoards of tourists jostle you.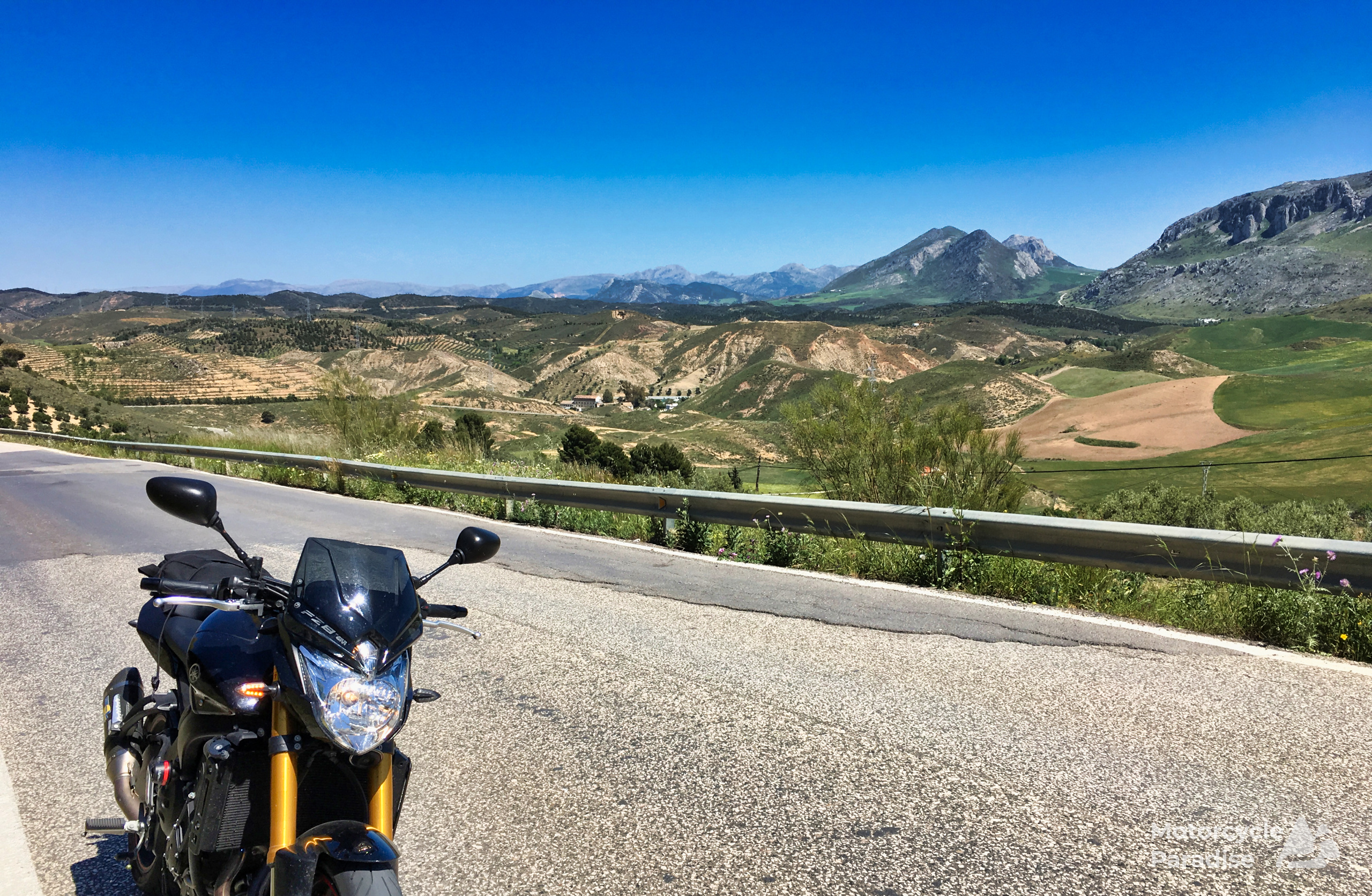 Almost back to the highway I spot an old ruins on top of a hill so spur of the moment decide to go take a look.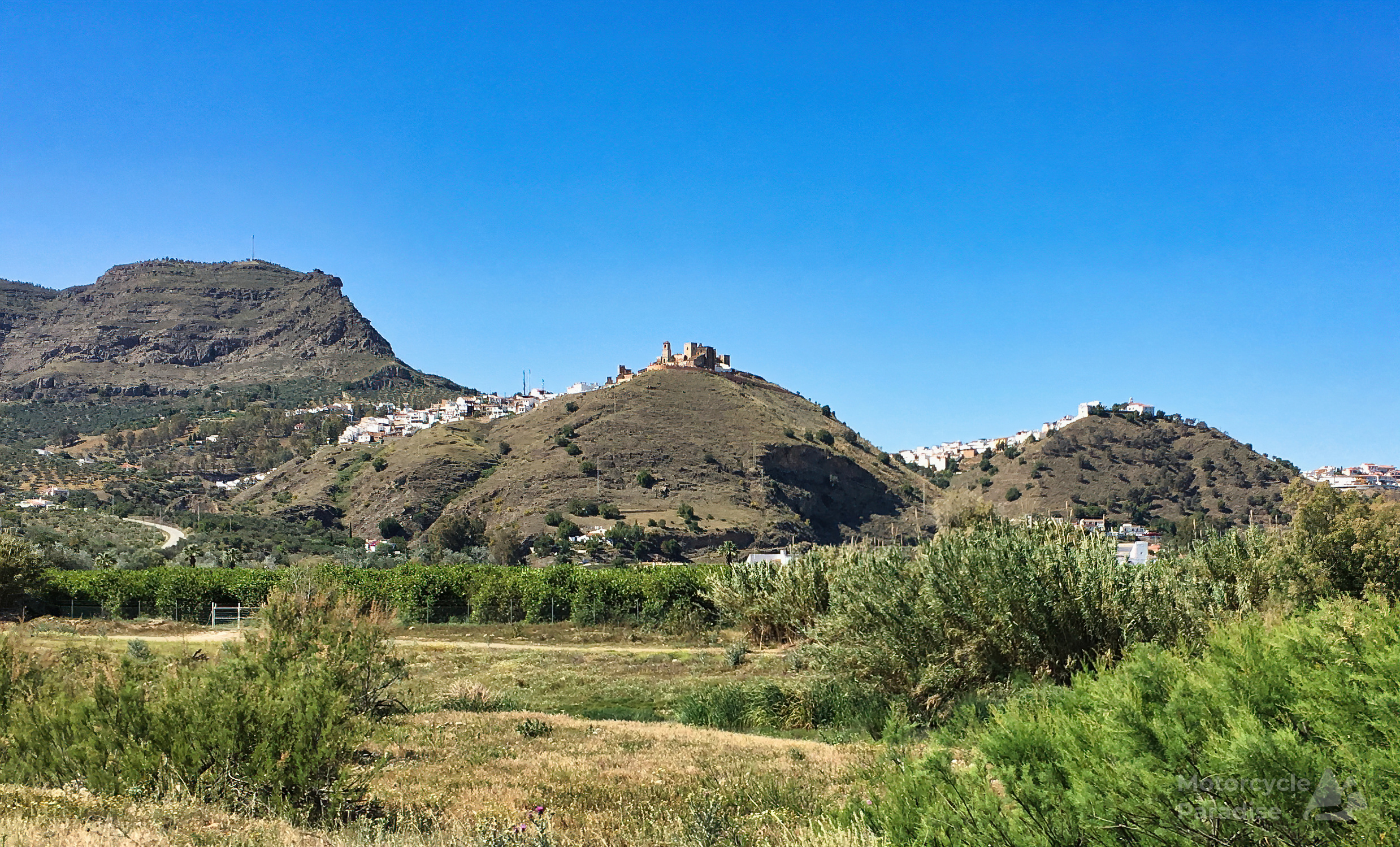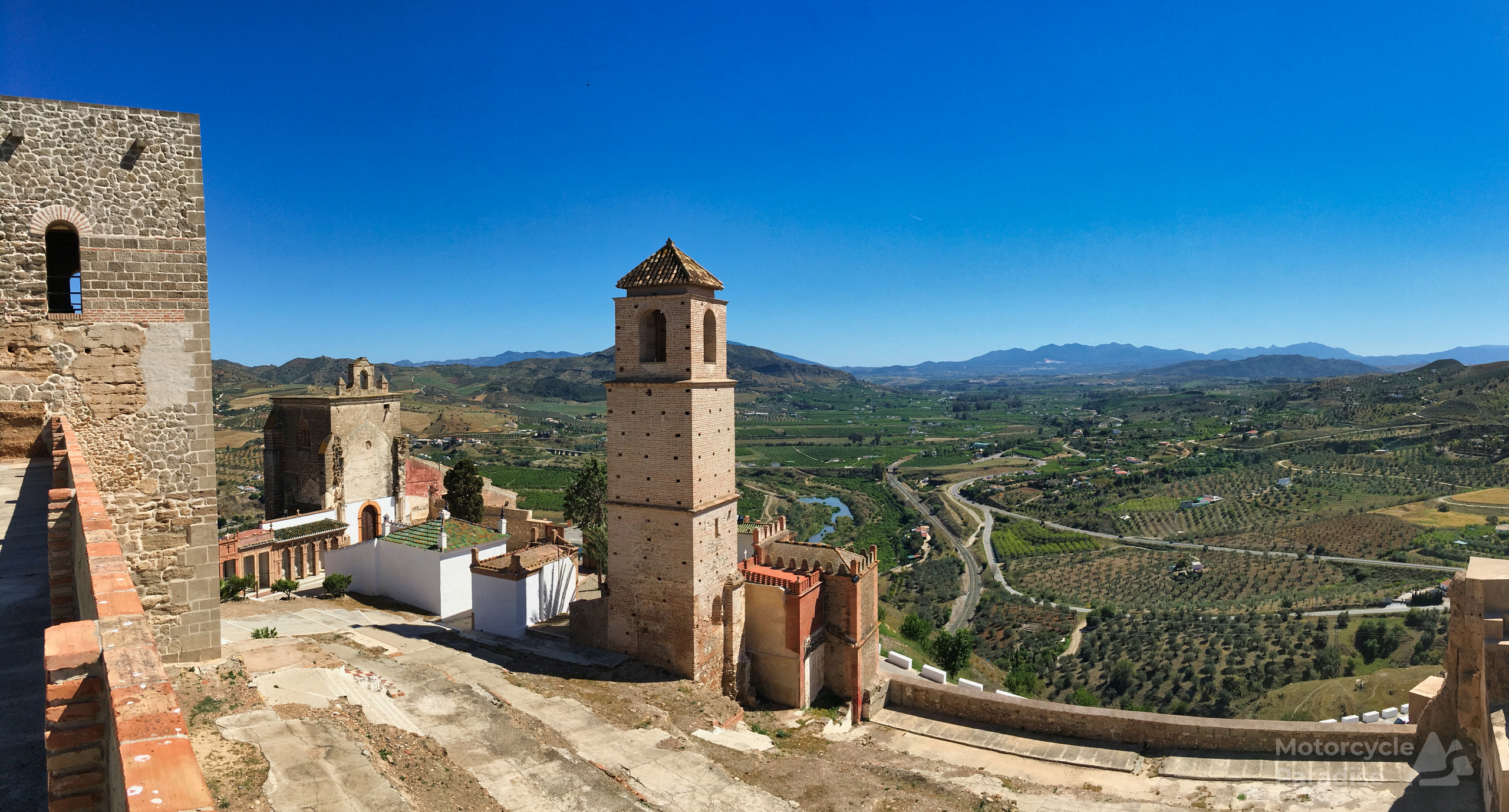 Another interesting town Alora with an old castle/cathedral open to explore. I enjoy the view and relax for awhile then reluctantly take the bike back to the shop and wound down with ice cold beer.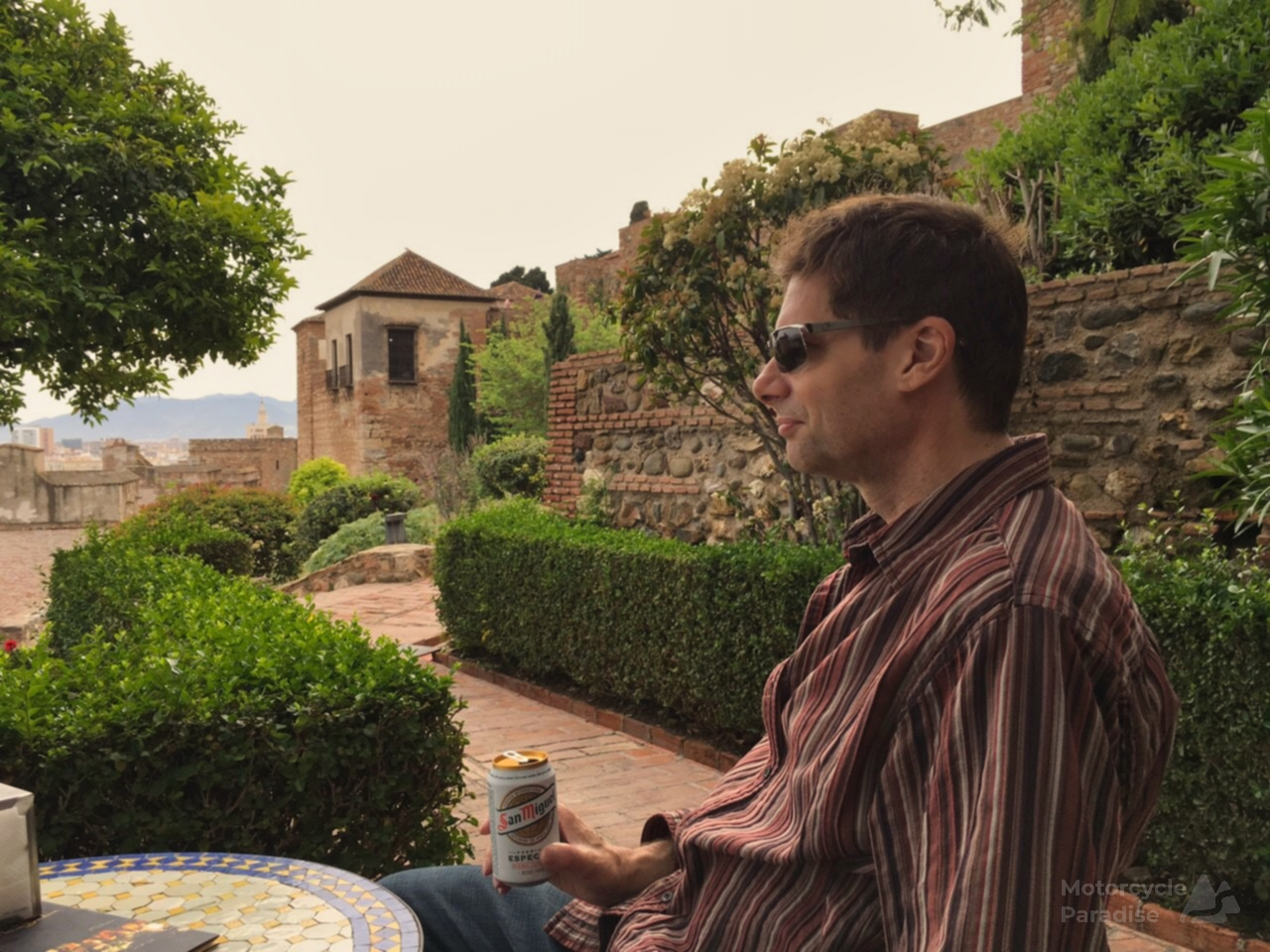 I actually decided to split my travel on this trip and rent a car to drive north through Spain to Barcelona simply as the cost of bike rental one way was prohibitive. I will share a little of that trip also even though it is 4 wheels.
First day retraced a little of my ride day one so I took a look around Rhonda with its many orange trees full of fruit and wonderful views now in the sun.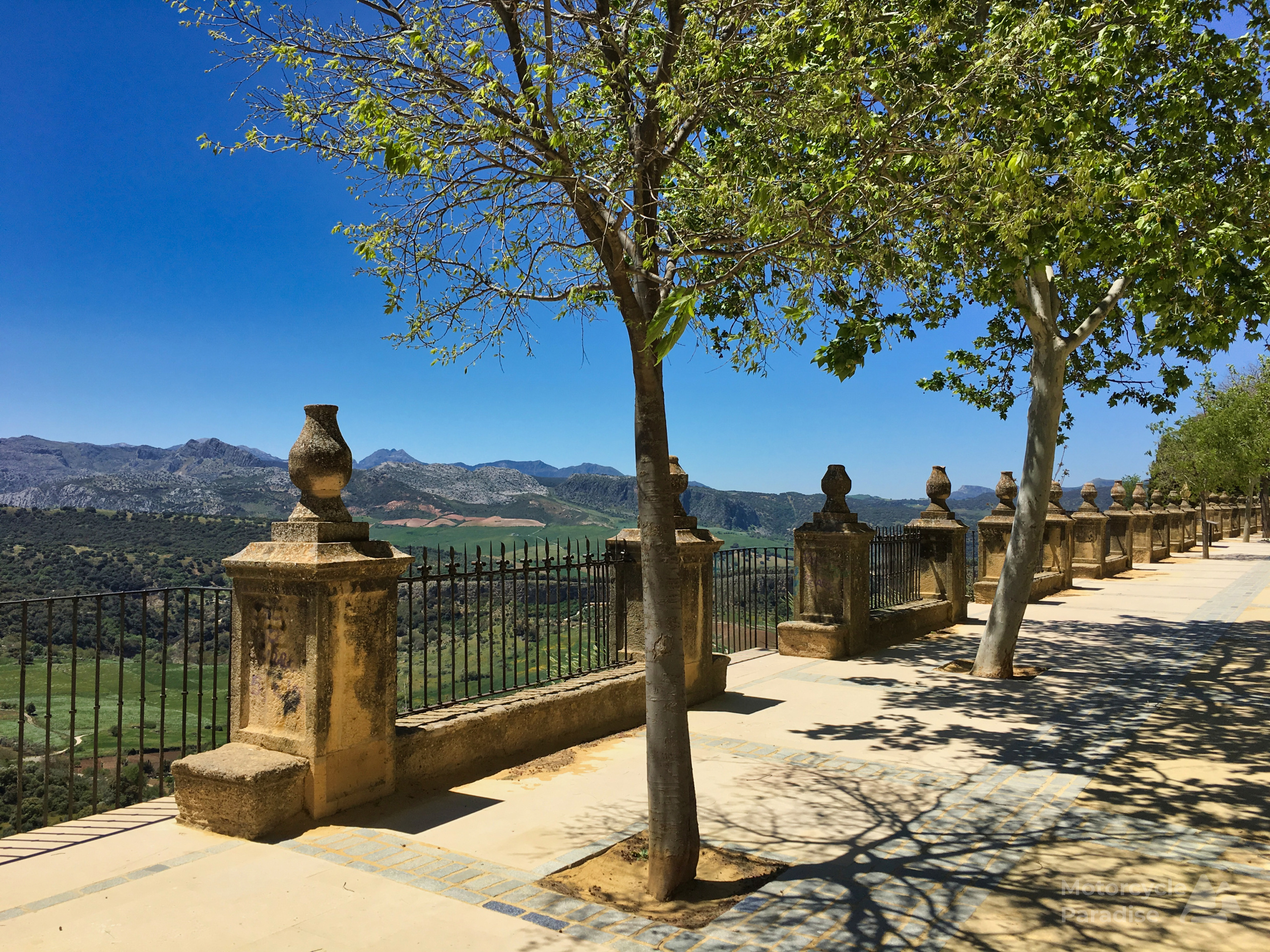 Then on to Seville.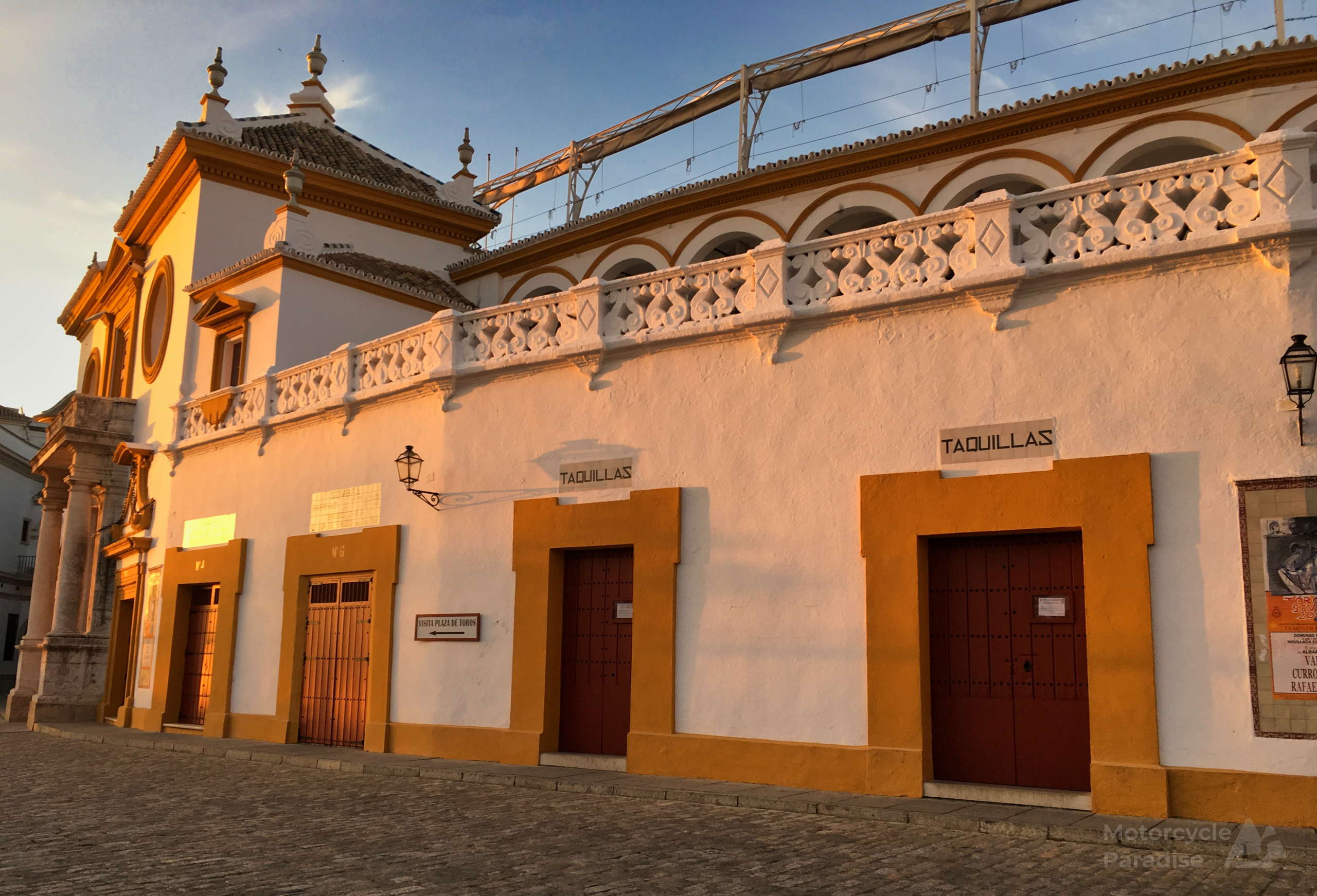 Bull fight arena Seville caught at golden hour.
Next day from Seville to Avilla on the N502 route north from Cordoba – a great route for motorcycling.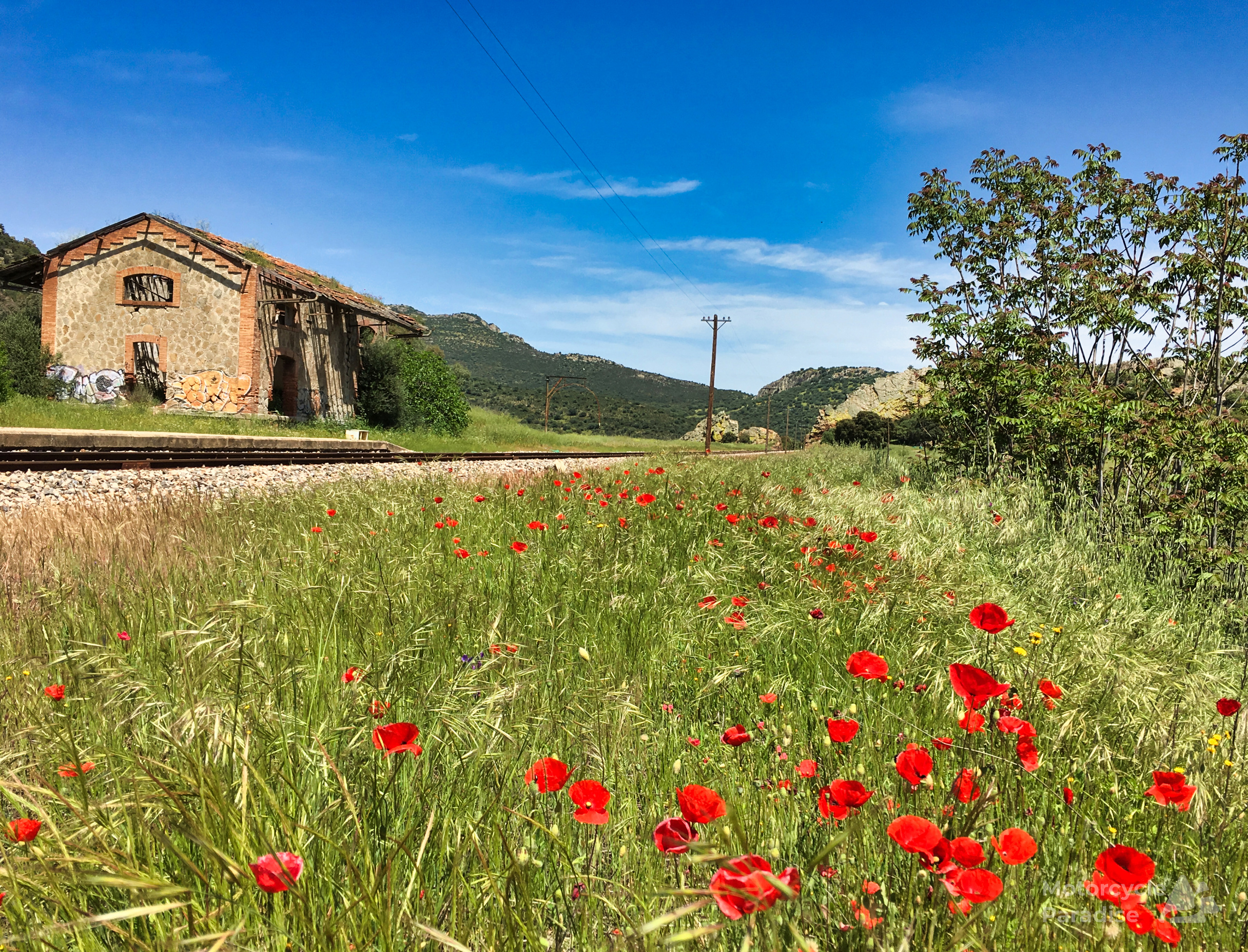 My interest in old railways led me to make a random stop and enjoy this beautiful field of wildflowers.
The countryside is olive trees as far as the eye can see on day one but day two the vegetation and soil changed to low scrubby bush with a couple of hundred km full of wild flowers.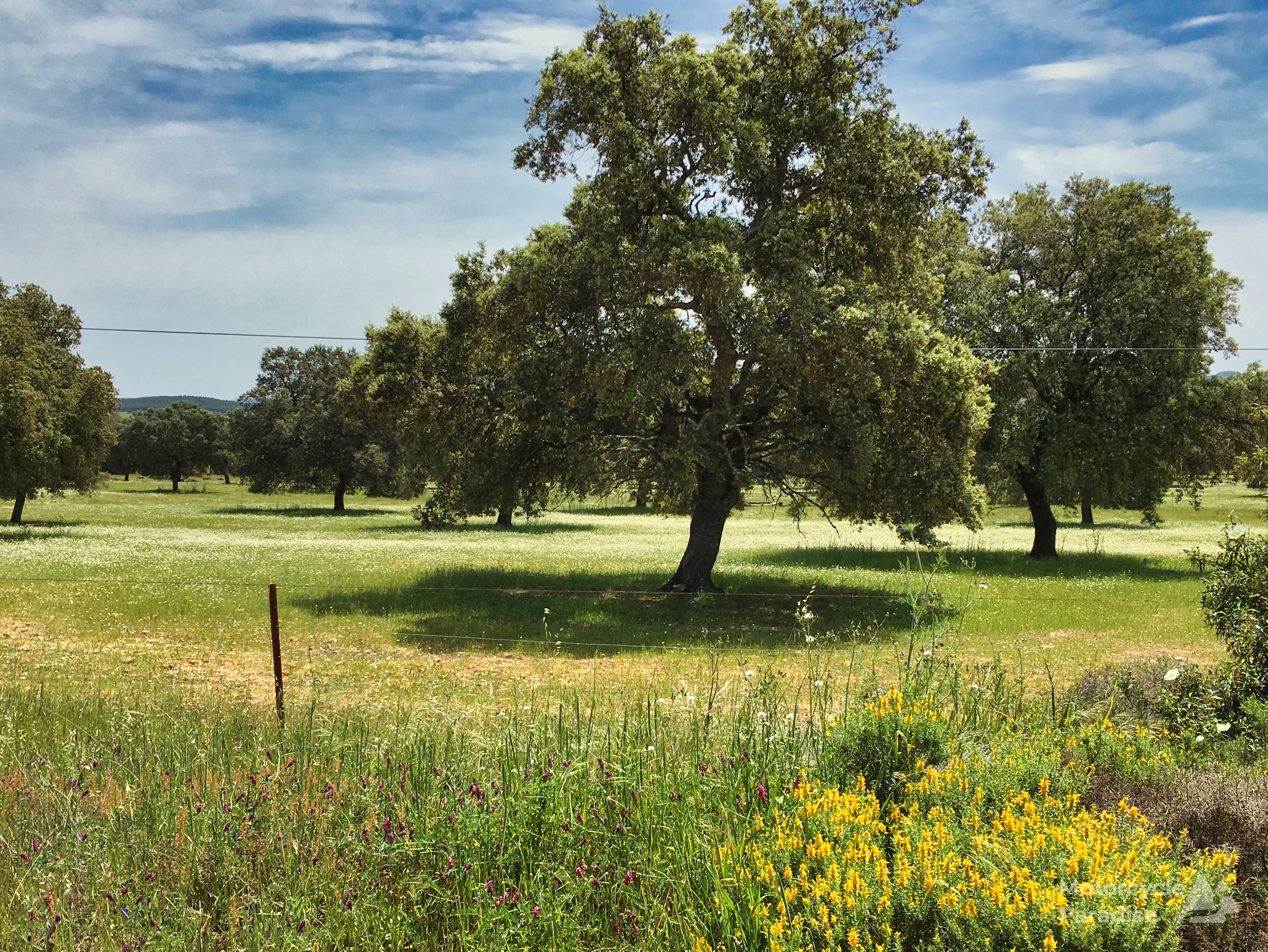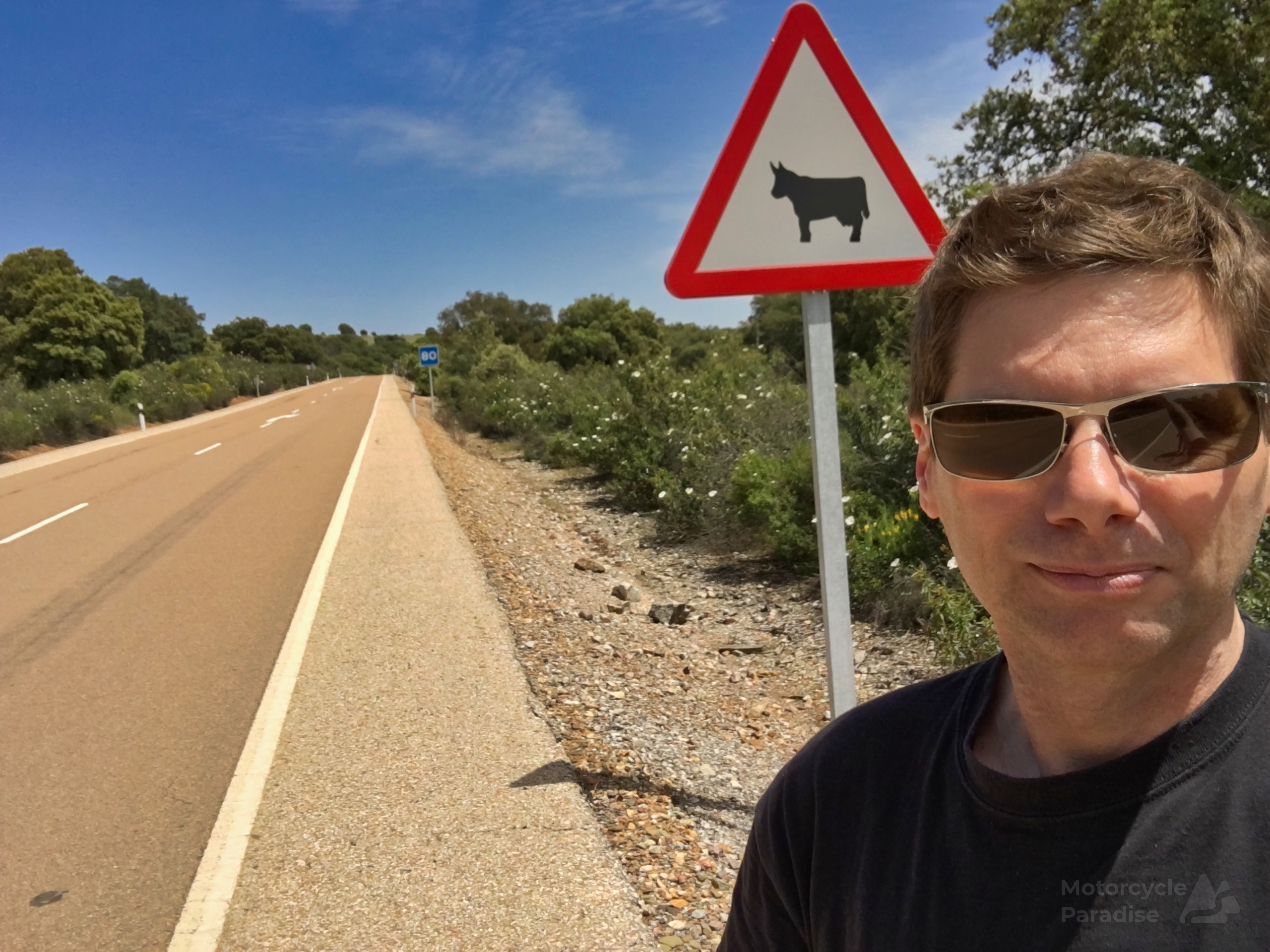 I got in trouble with highway police for stopping car to take photo. A forgotten advantage of a bike is can stop anywhere and be off the road.

Avilla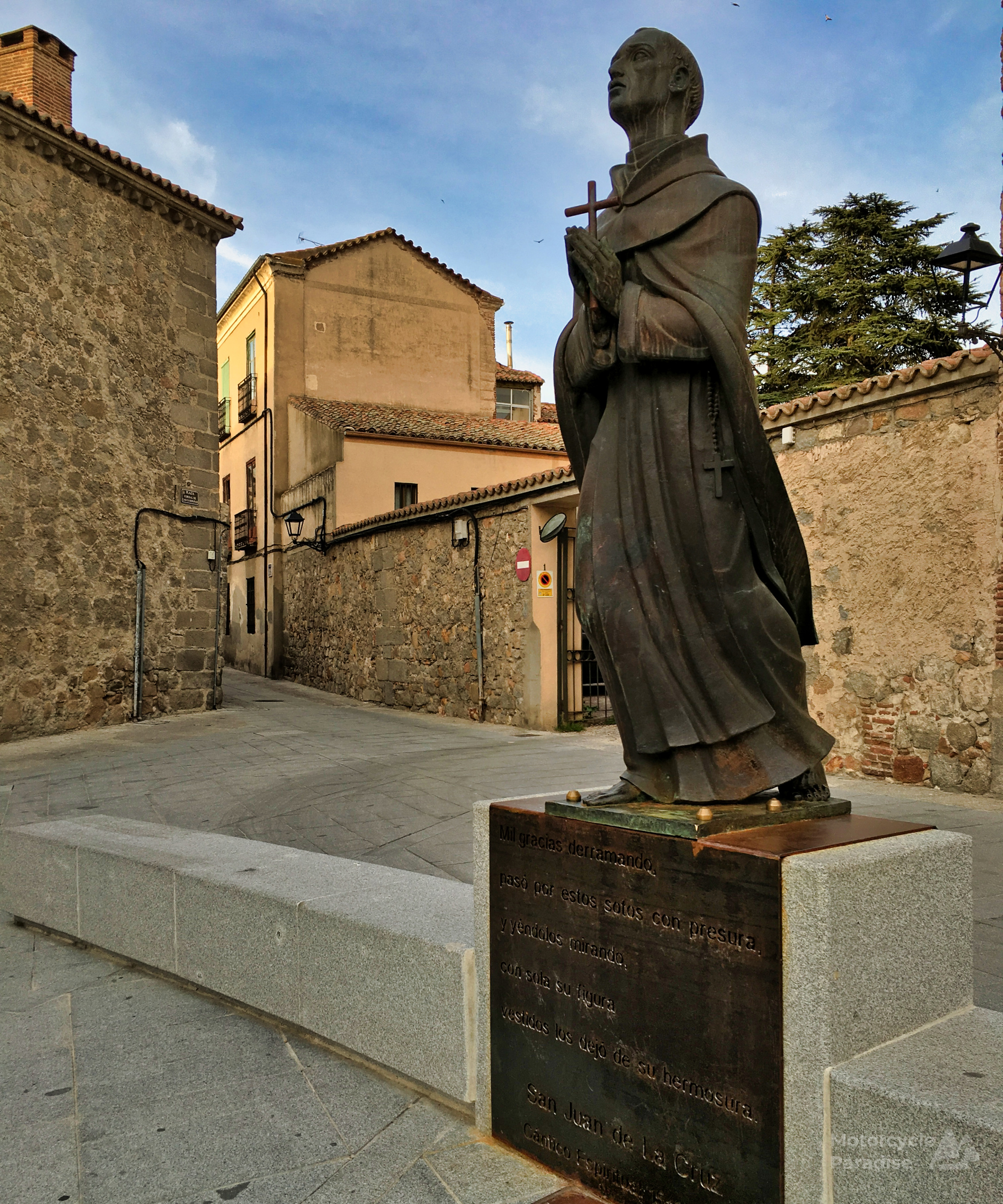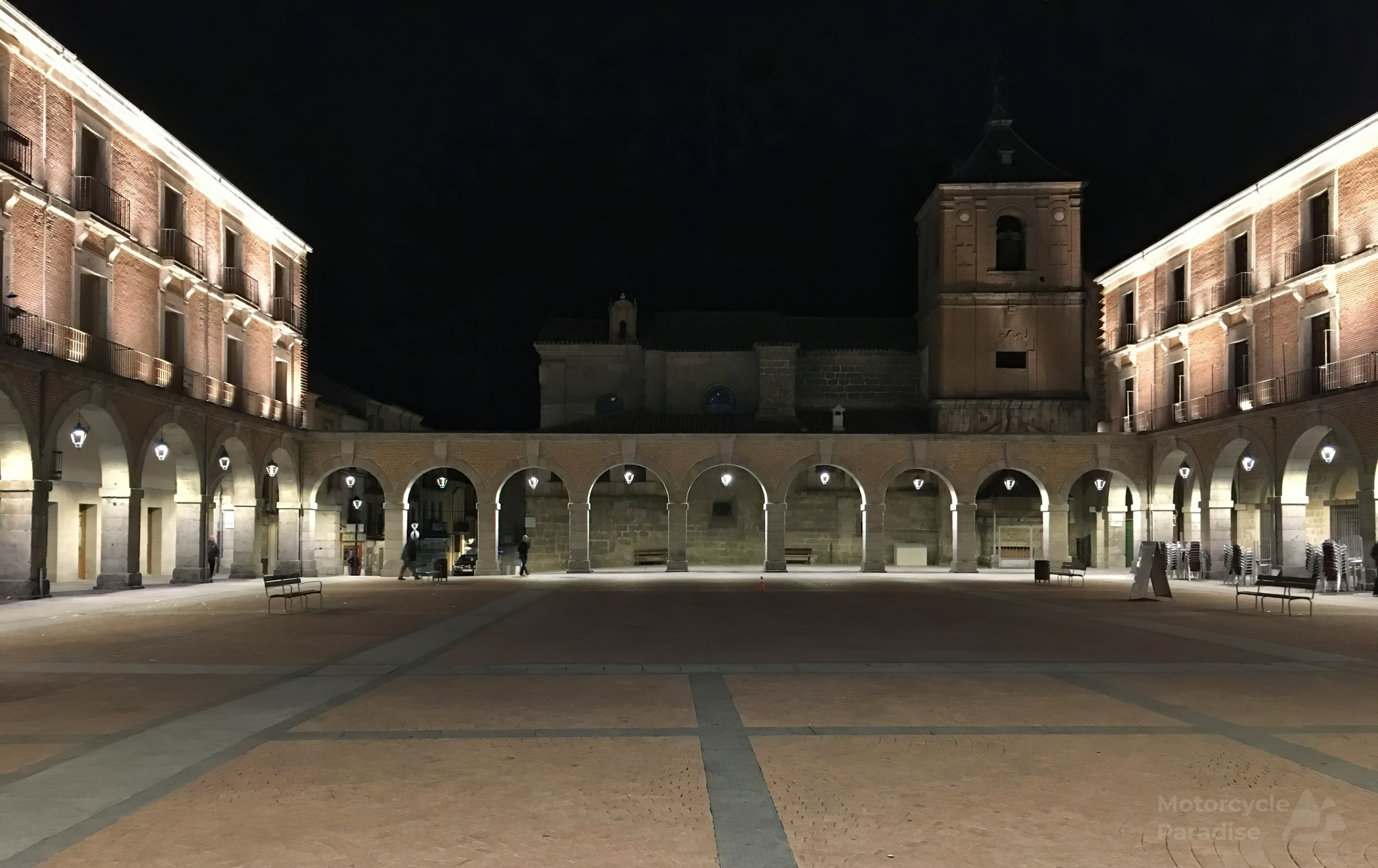 Another terrific place to wander around.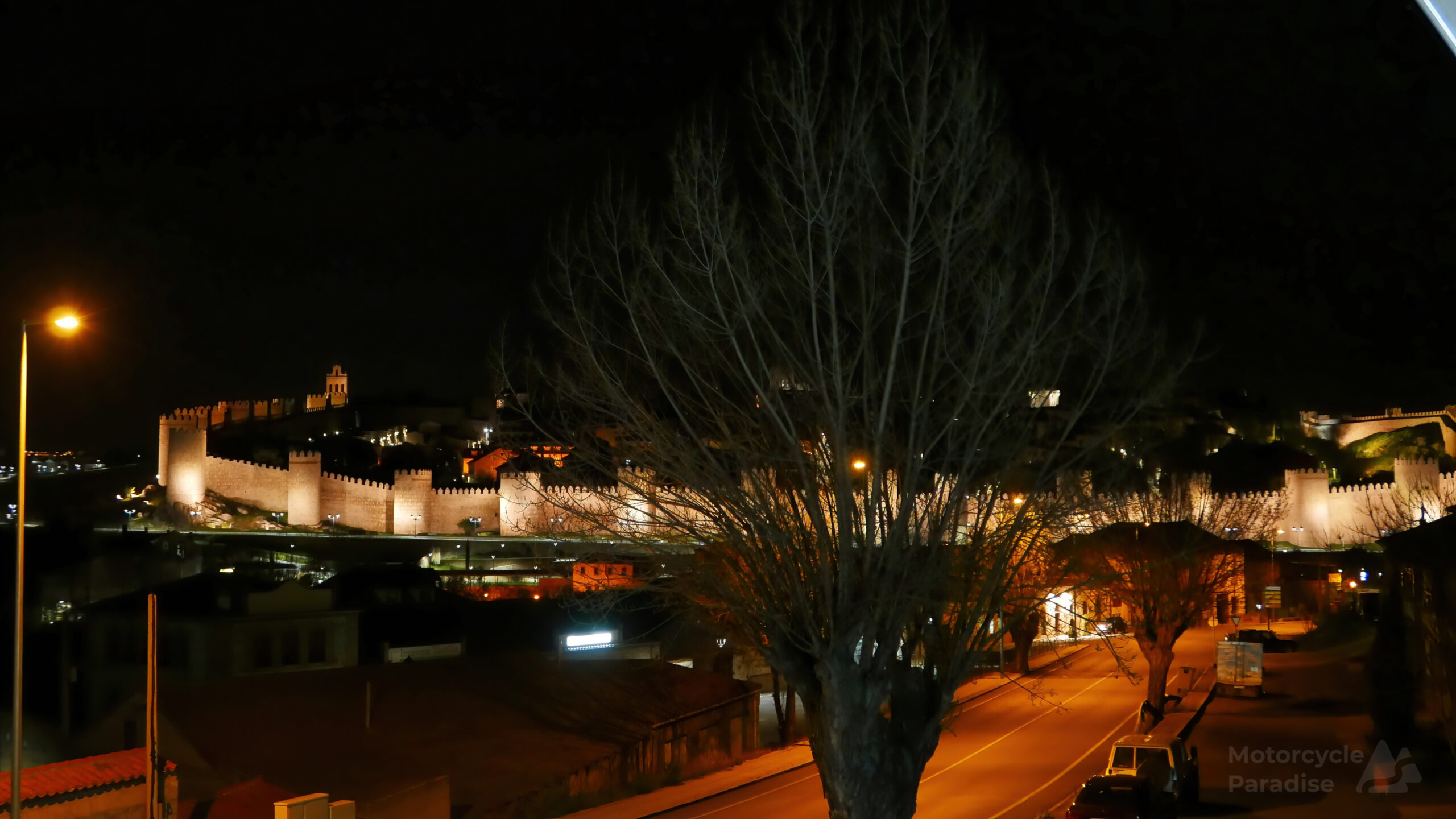 View from hotel.
Day three I was nodding off at wheel a few times in the afternoon. Never do that on a bike. Driving is such a boring way to travel. I need not wonder why I ride even if it is wet or a bit cold.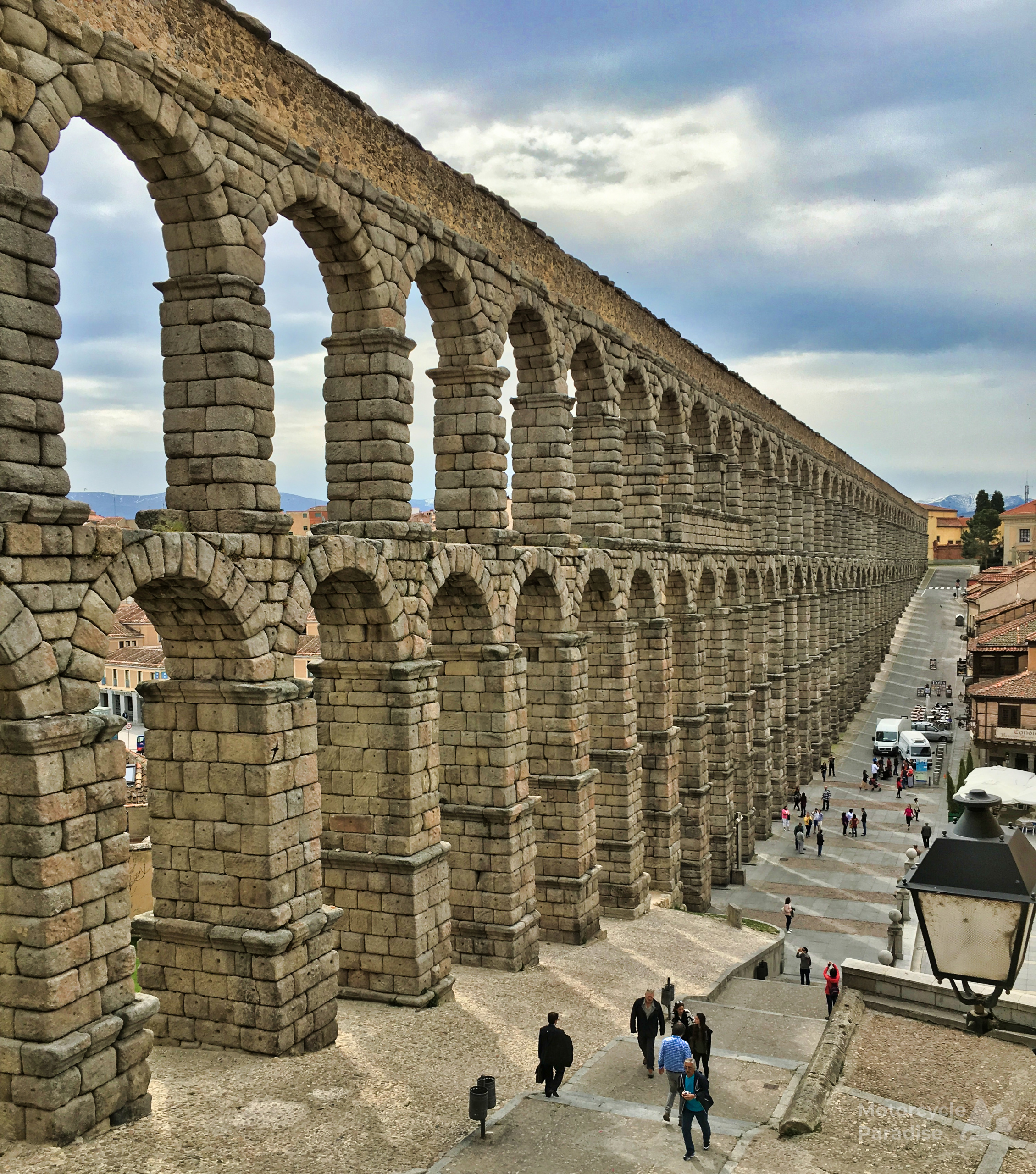 2000 years old – no mortar!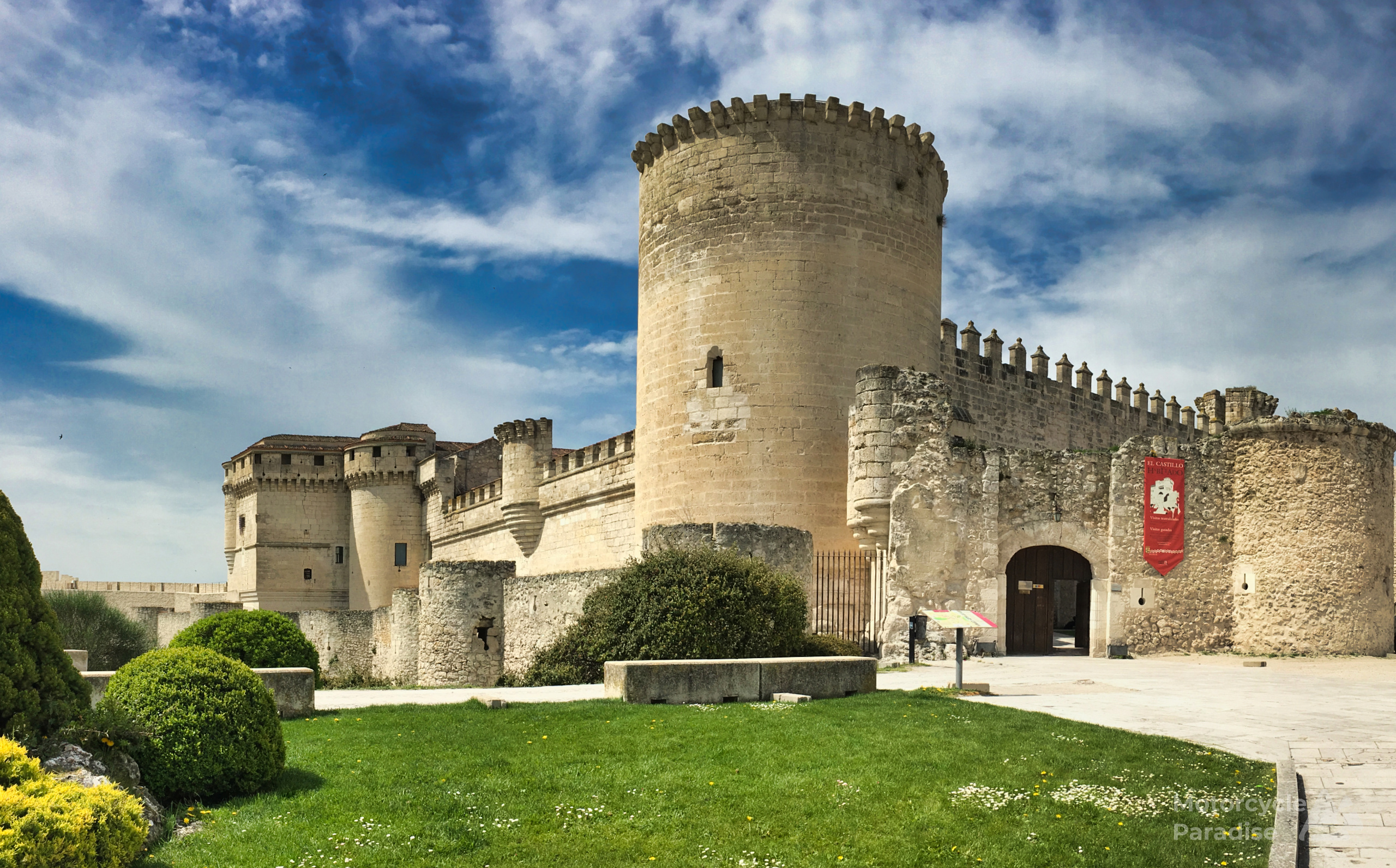 I dropped into a couple of castles but like Japan nothing was offered in English.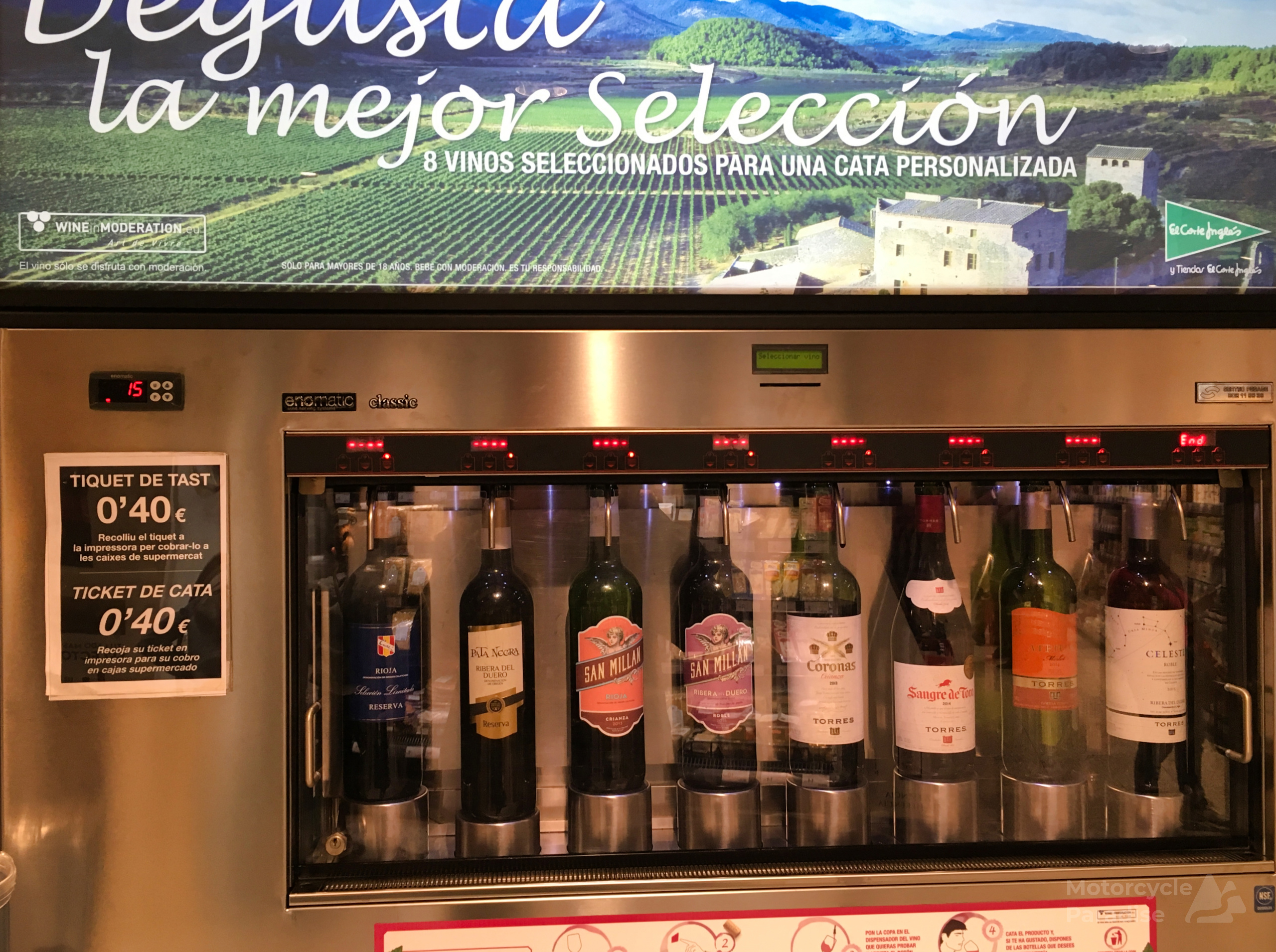 Barcelona, wine tasting in supermarket 0.40 a taste, an old guy took about 6 shots then left all the dockets bar one behind giving me a wink, haha.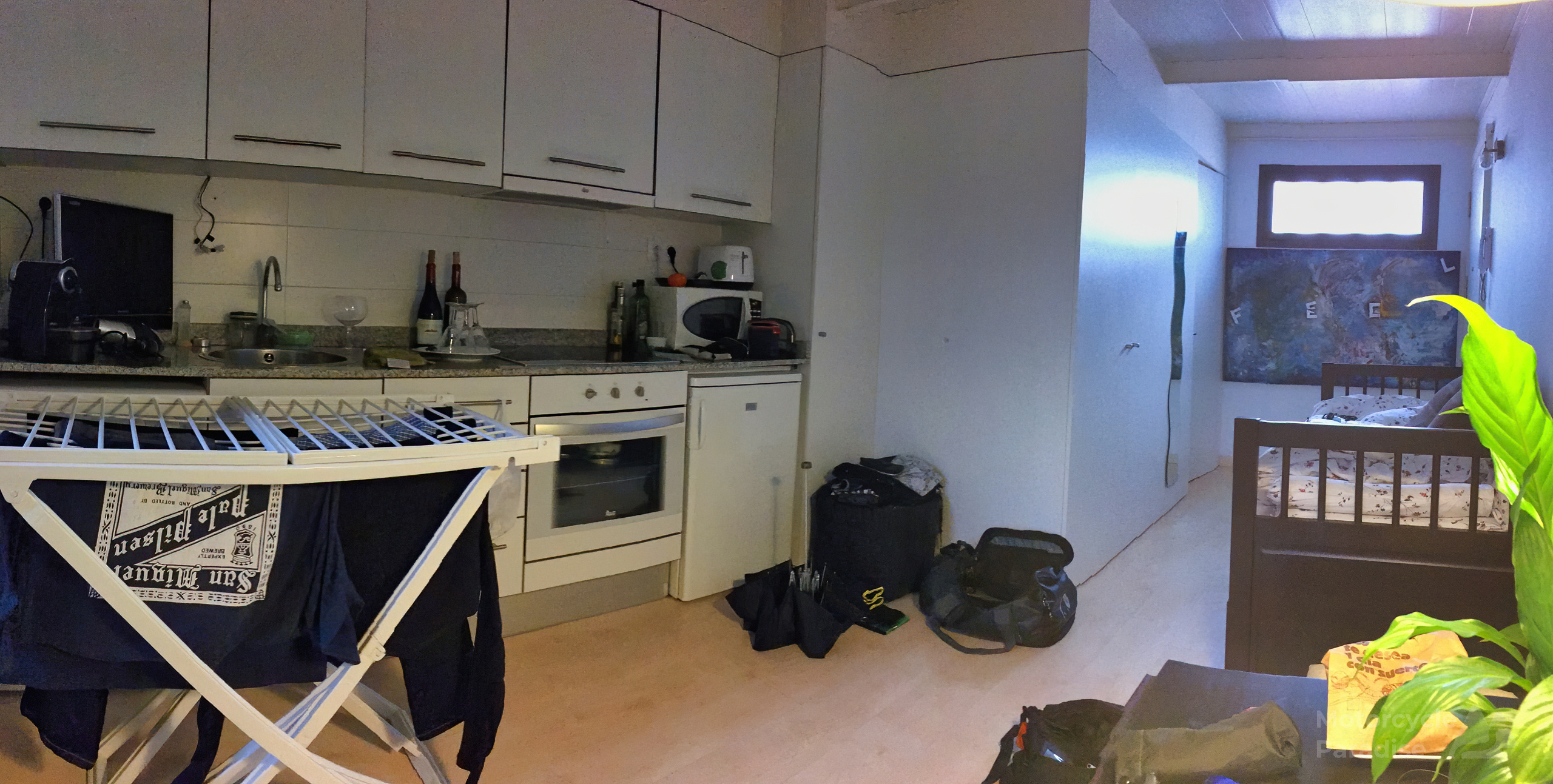 And my AirB&B city apartment. The city was a bit too busy for me frankly. Take me back to Andalusia.